Situated between Kowloon Tong of Kowloon and Tai Wai of New Territories, Lion Rock is one of the most famous mountains in Hong Kong. Not only does Lion Rock provide a place for recreational activities such as hiking, but it has been a symbol of Hong Konger's tenacious spirit.
Lion Rock earned its name from the rocky outcrop that resembles a crouching lion. At 495 meters high, Lion Rock provides a stunning 360-degree view encompassing Kowloon, Victoria Harbour, parts of Hong Kong Island (on a good day), and parts of New Territories.
That is why we have written this guide for the Lion Rock Hike, so travelers and locals can enjoy one of the most incredible hikes in Hong Kong!
We will also briefly discuss how you can hike Lion Rock at night!
Enjoy!
---
Hong Kong Lion rock Hike Summary
Not sure if the Lion Rock in Hong Kong hike is right for you? Here is a quick summary:
Duration Of Lion Rock Hike
It takes about 3.5 to 4 hours in total to hike lion rock if you go via the standard loop. This includes about 1.5 hours of breaks, taking photos, and watching the sunset (if you are hiking for sunset), so you are essentially hiking for only around 2.5 hours.
There is a shorter but less scenic route for anyone in a rush but still wants the scenic view at the top of Lion Rock. The shorter route takes a total of 1.5 hours of hiking out-and-back. (We will talk about the shorter route down below.)
Lion Rock Hike Difficulty
6.5/10
The hike is fairly short, but the most difficult part is the consistent incline on the ascent. It is also fairly shaded once you are inside the Lion Rock Country Park.

Elevation Gained On Hike: 523 meters (1,715 feet) gained in total on the standard loop route.
Total Distance Of Hike: 6.7 Kilometer (Standard Loop Route)
Why Hike Lion Rock?
Lion Rock (also called Lion Rock Hill) offers some of the most spectacular views of the Kowloon Peninsula. Victoria Harbour and Hong Kong Island can also be seen on a good day.
It is also a great outdoor activity (not too strenuous) in Hong Kong for any travelers looking to explore a more hidden side of Hong Kong.
---
Lion Rock Hiking Trail (Standard Loop)
Above is the Lion Rock hiking route for the standard loop.
While there are many Lion Rock hike starting points, the most common one is the Wong Tai Sin MTR Station Exit B3. That is because the MTR makes it so easy to arrive at this point.
Once you have arrived at this point, you have two options. Because you are still in civilization, you can decide to take the minibus to Temple Hill Fat Jong Temple (Point B on map) or decide to arrive there on foot.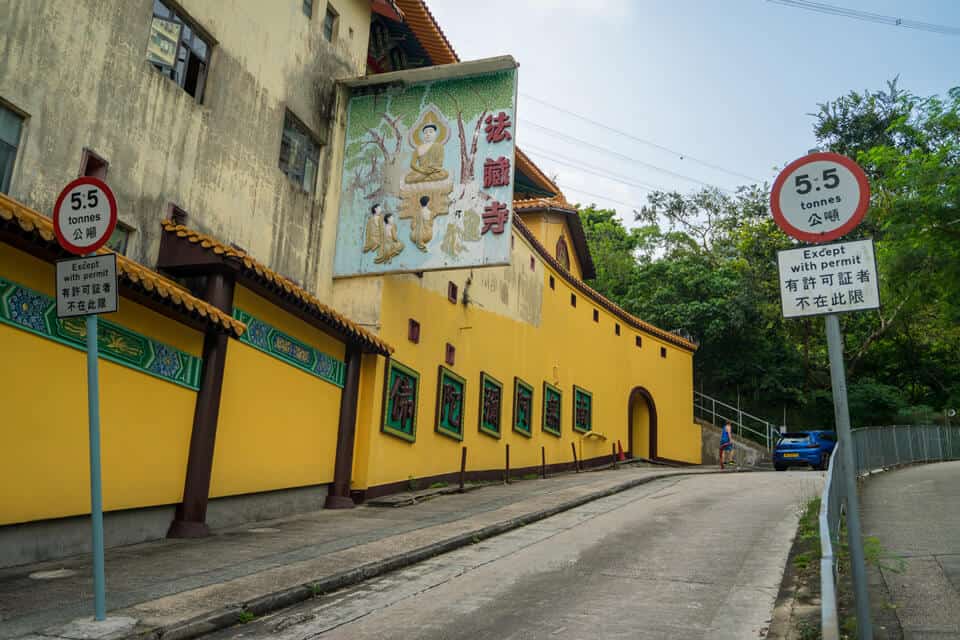 There is nothing particularly interesting from Wong Tai Sin Station to the temple, so you won't be missing out on much. Besides, that part of the Lion Rock trail is quite steep and takes about 20 minutes.
If you want to take a minibus from Wong Tai Sin Station, you can take No. 18M from Sha Tin Pass Road here. They run every 7 minutes or so.
After you have reached Temple Hill Fat Jong Temple, it is another twenty minutes of uphill walking before reaching the entrance to the Lion Rock Country Park trail (Point C). If you want to avoid all of that walking (hiking) before, you can also take a taxi here, but this is the furthest a vehicle can go.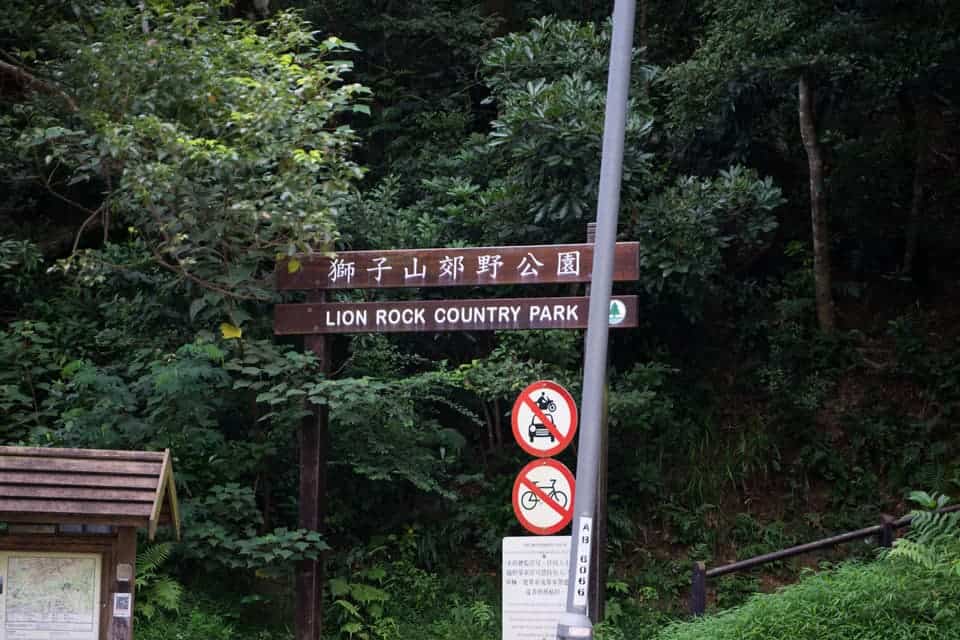 After you have arrived at the official Lion Rock hike starting point, it is a 1-hour hike to the top of Lion Rock mountain.
Once you reach the top, you will end up at the tail of Lion Rock. Walk along the ridge of Lion Rock and you will shortly arrive at Lion's Back and Lion's Head.
When you are done admiring the views and taking photos, there is a path to the right of Lion's Head that will take you down. It takes about 35 minutes to descend the mountain and arrive back at civilization. The path is very simple and paved with stone steps, making it a very safe option even if you are going down in the dark.
Once you have officially exited the hiking trail, find your way back home. The Lok Fu MTR Station is only a short 20-minute walk away downhill.
---
Our Experience Hiking Lion Rock In Hong Kong
Getting To The Start Of The Hike
Getting to the start of the hike is extremely easy, even if it is your first time in Hong Kong.
We took the MTR (Mass Transit Rail) from Jordan (where we were staying) to Wong Tai Sin MTR Station. To take the MTR, or any public transportation in Hong Kong, it is recommended to have the refundable contactless Octopus Card, though you can also buy single-ride tickets at the stations.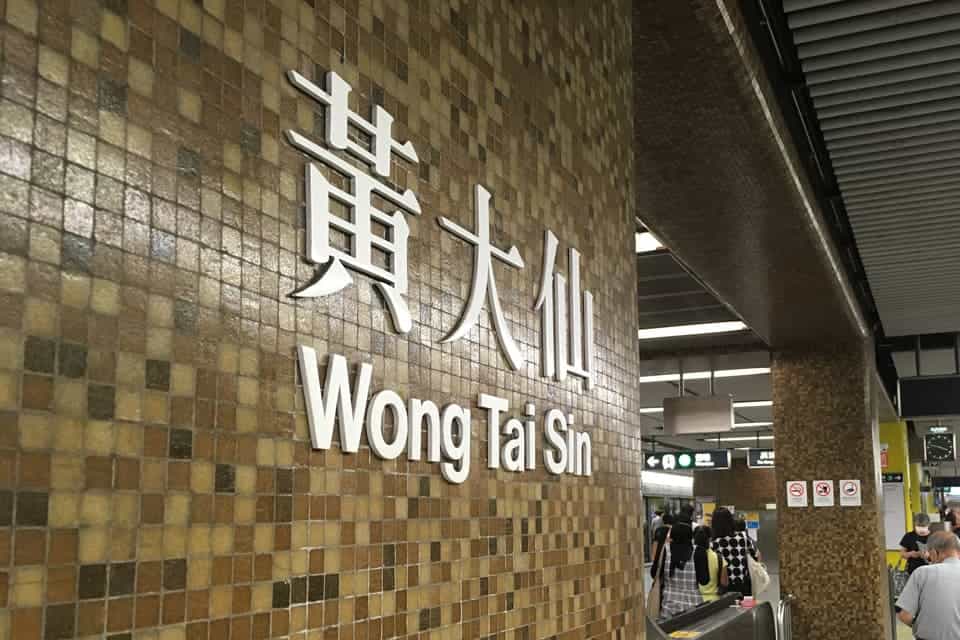 We arrived at Wong Tai Sin MTR Station at 4 PM because we wanted to do a Lion Rock sunset hike. Sunset was around 6 PM and we figured it wouldn't take us more than 2 hours to reach the top.
Arriving At The Entrance of Lion Rock Country Park (Start Of Dirt Path)
We decided to hike to the entrance of the Lion Rock Country Park instead of taking the minibus. It was only going to be a 40 minutes hike so we said what could possibly go wrong?
Oh boy was that path steep. It wasn't just the steep incline that bothered us, but the debilitating Hong Kong heat from a mixture of warm weather, congestion, and lack of shade.
To be honest, we felt that the first 40-minute to the official trailhead is harder than the 1-hour trail to the top of Lion Rock.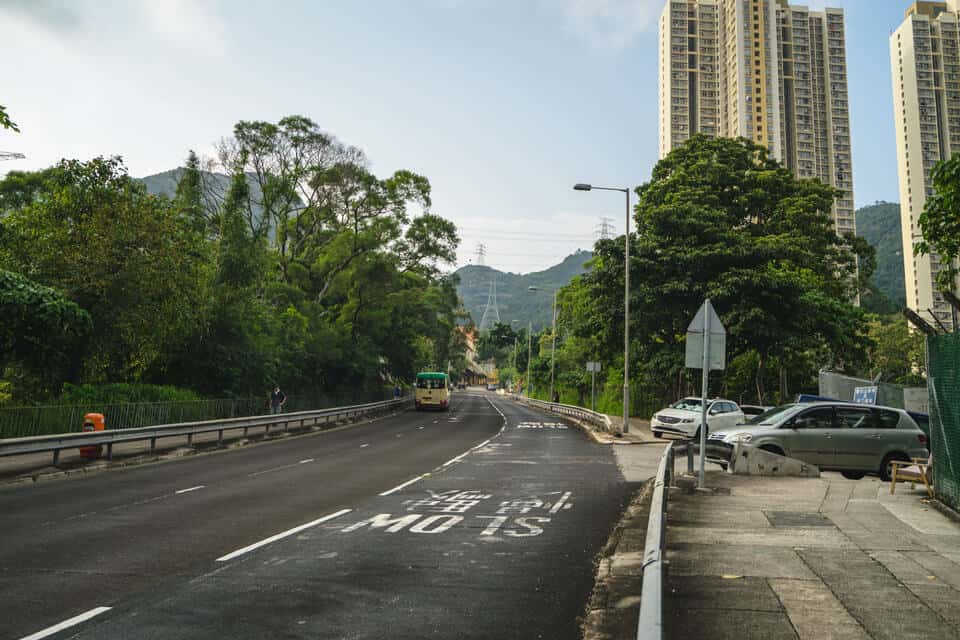 In about 20 minutes, we reached the Temple Hill Fat Jong Temple. The door was completely shut and we couldn't get a glimpse of what was inside. If you turn around at this part of the hike, you will notice that you are above some of the public estates in the area, and most of them are over 20 stories tall.
Once you pass the Temple Hill Fat Jong Temple, you will be on Sha Tin Pass Road, the road which will lead you to the entrance of the country park. This part is as steep as the part before but you will start getting some spectacular views of the Kowloon Peninsula.
Lots of hikers were coming down this road and most of them looked pretty exhausted.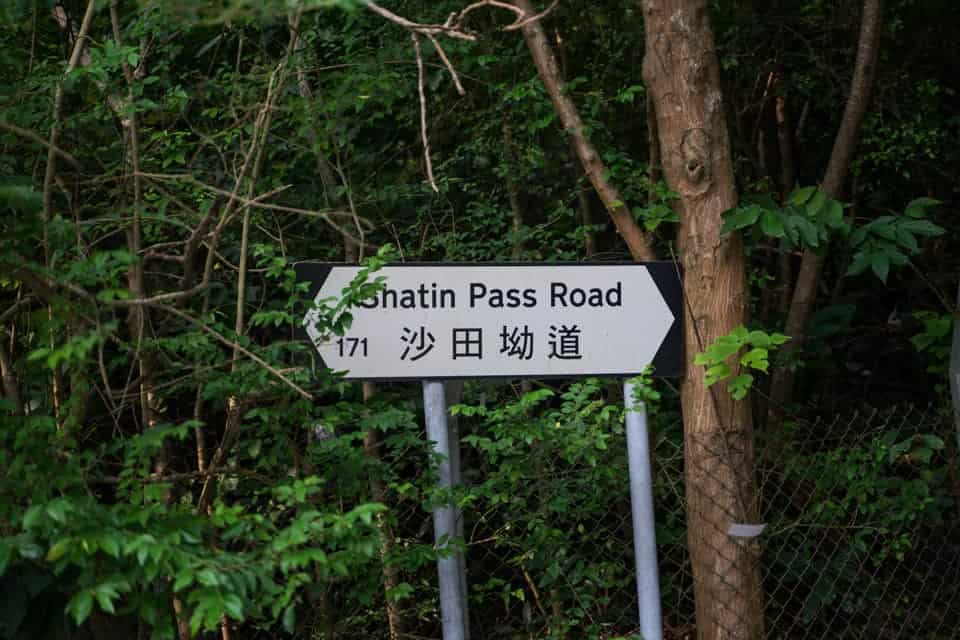 After 20 more minutes, we arrived at the sign that said Lion Rock Country Park. Behind it was a dirt trail that led into the woods on the mountain.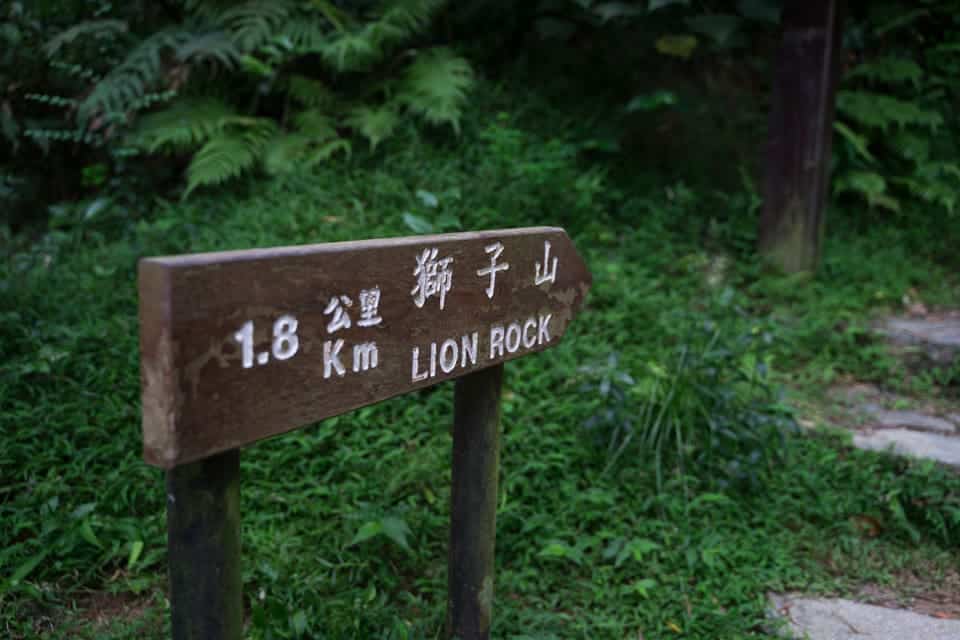 Hiking To The Lion Rock Peak
We took a small break before we entered the trailhead of Lion Rock. Honestly, we were a little exhausted and VERY sweaty by then.
We reluctantly (only a little) entered the Lion Rock Country Park, already expecting the worst. To our surprise, the hike from the country park entrance to the peak of Lion Rock wasn't that bad. It was mostly a dirt path with the occasional sections of stone steps.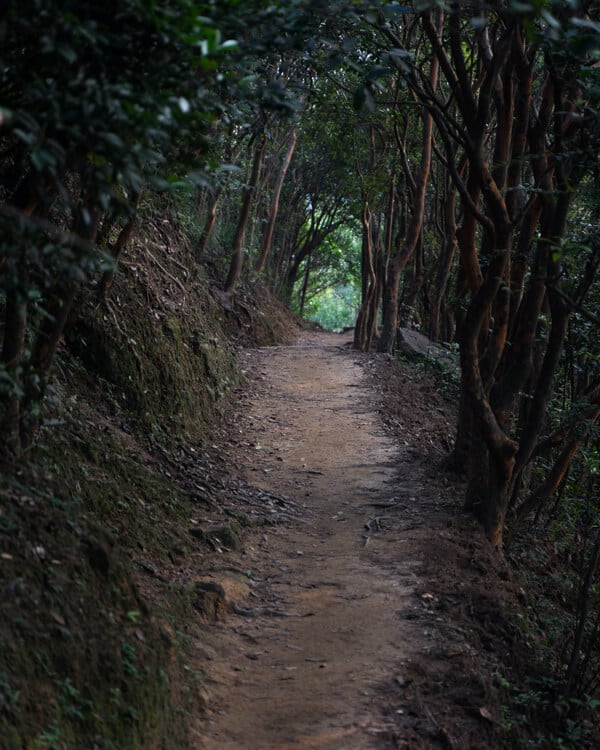 Along the hiking route were several small viewpoints where hikers could get some stunning views of the Kowloon Peninsula below. It was nowhere near as spectacular as the 360-degree views you get at the top, but it was enough to motivate us to keep going!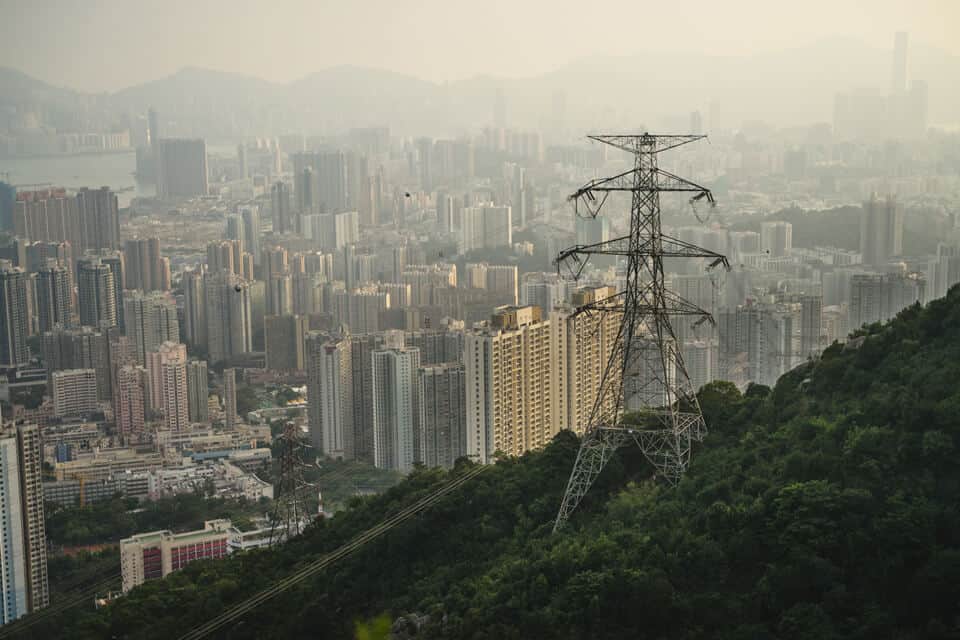 About 45 minutes into the hike, we ran into a sign pointing left that says Lion Rock Peak 0.5 KM. Once we reached that sign, we knew it was the final part of the ascent. This last part was full of high steps that seemed to never end.
It reminded us of one of the most tedious hikes in Hong Kong, the Violet Hill & Twin Peaks hike.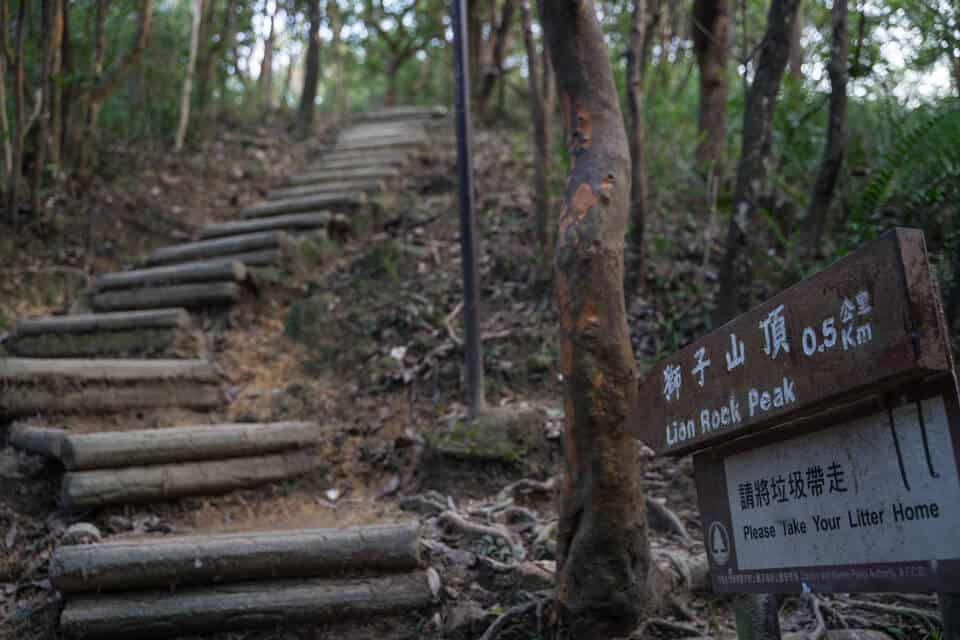 Though this bit was only 15 minutes long, it felt like the longest part of the hike. Eventually, we reached the Lion's Tail, one of the three parts on the ridge that forms the actual Lion Rock.
Here is where we found the sign for the peak of Lion Rock.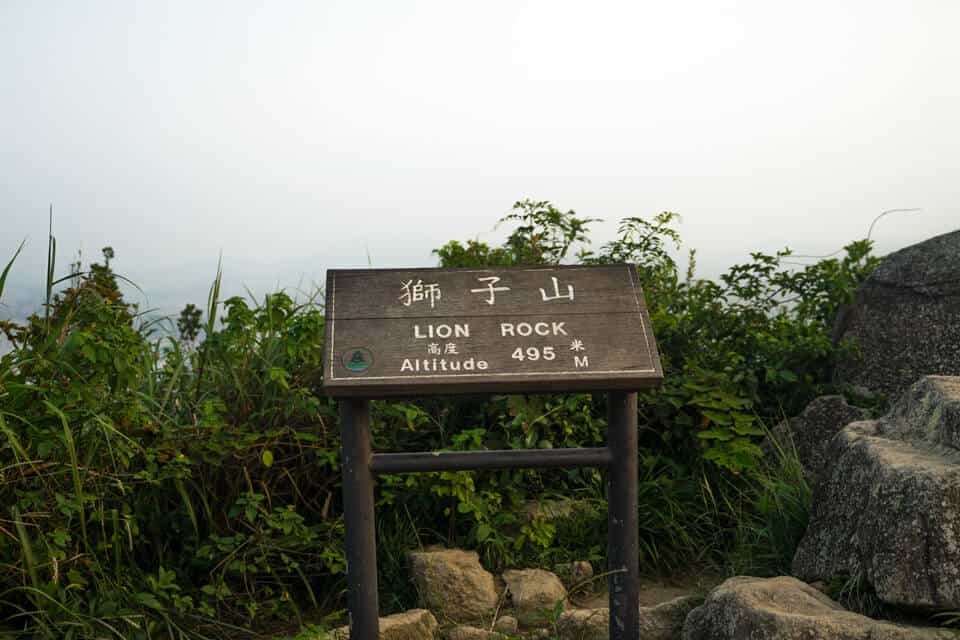 The view at Lion's Tail was actually not that spectacular, so we decided to move onto Lion's Back. This is the location of the most famous photography spot on Lion Rock. Don't miss the opportunity to snap a few photos here.
The hike wouldn't be complete without being on the Lion's Head, so we moved along after a few photos and went up Lion's Head. Many people decide to skip going up Lion's Head because it is a rather dangerous spot with no railings (actually, there is no railing at all on the ridge).
However, we didn't find it more dangerous than Lion's Back.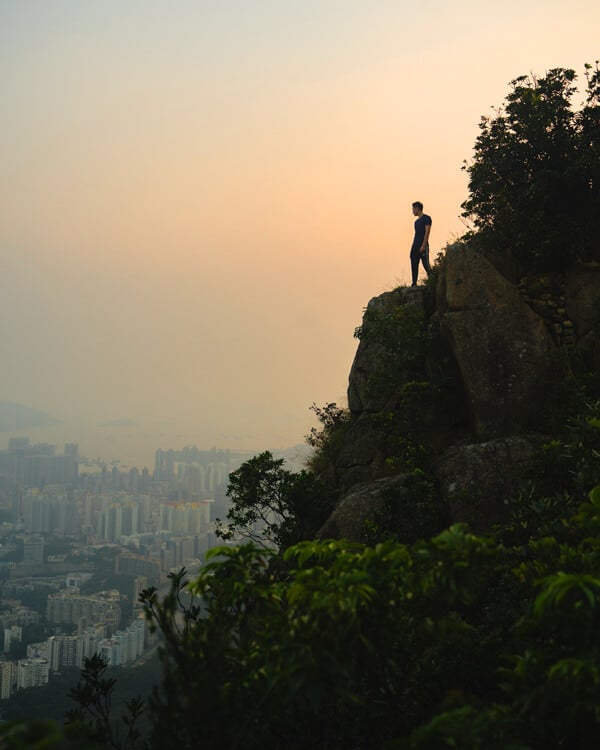 Here we flew the drone and captured a few photos. There were a few minutes left of golden hour and we were just in time for sunset.
We sat and watched the sun fade below the horizon, slowly igniting the sky into golden hues.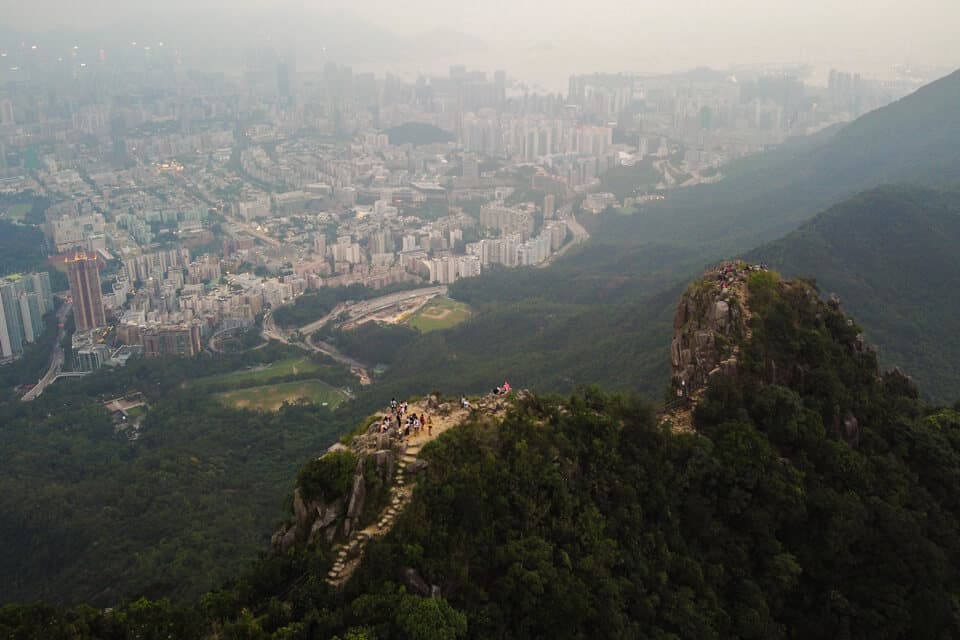 This only lasted a good 15 minutes before the night fell upon us. The reason why we like hiking Lion Rock for sunset is that we can also see the urban city of Hong Kong light up in the dark skies.
In the sea of darkness, the lights from the busy roads of Kowloon, the skyscrapers dotting the city, and the public housing estates were a magical view. In a way, it is similar to the view from the famous Victoria Peak, but just a little more authentic because you are not looking at skyscrapers.
It is no surprise why so many people do the Lion Rock hike at night!
Unfortunately, my camera died at that point (damn you Sony mirrorless) so I couldn't capture a nice photo. We did take one from the phone though but it was only a fraction of the beauty we saw with our eyes.
Descending Lion Rock At Night
Sacrifices have to be made if you want the stunning night view on Lion Rock peak because you must descend in the dark afterward. Fortunately, we didn't need to go back the same way we came from. There was a shorter trail that takes you towards Lok Fu.
It was our first time on the trail and we don't usually have much luck when hiking at night (like the hike at Suicide Peak). However, after chatting with some fellow Hong Kongers, we found out that was a commonly used trail for people hiking down the mountain.
To our surprise, the path was immaculate. Yes, there were some steep steps at some parts of the trail, but the majority of the trail is well-paved, sometimes even better than actual sidewalks. Usually, we will fall at least once when we descend in the dark, but this time we did not!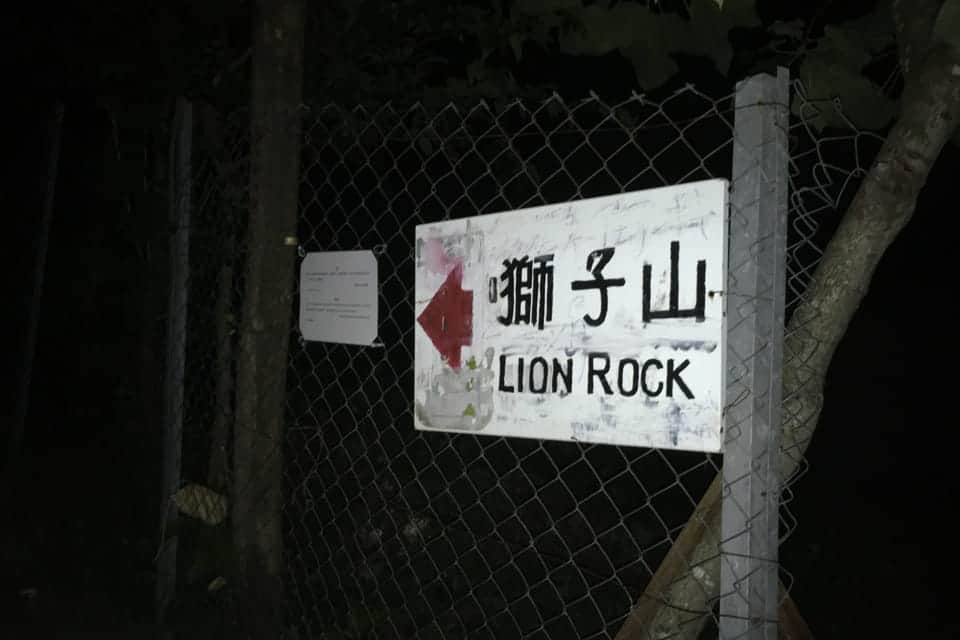 It took 35 minutes before we were out of the Lion Rock Country Park territory. Then we headed towards Lok Fu MTR Station because that was the quickest way from the end of the hike to our shower!
---
The Shorter Lion Rock Trail
If you are in a rush (maybe for the sunset), then consider this shorter route to the top of Lion Rock. The shorter route is simply the route we took on the descent. On the map above, it would be from Point E to Point D.
This shorter route takes about 1 hour to ascend and half an hour to descend, making the total time of hiking around 1.5 hours.
If you are considering this Lion Rock hiking trail, you will need to take the MTR to Lok Fu MTR Station or Wong Tai Sin Station. The trailhead for this route is located 20 minutes from both of these stations (not included in the hiking time).
---
Best Time To Hike Lion Rock In Hong Kong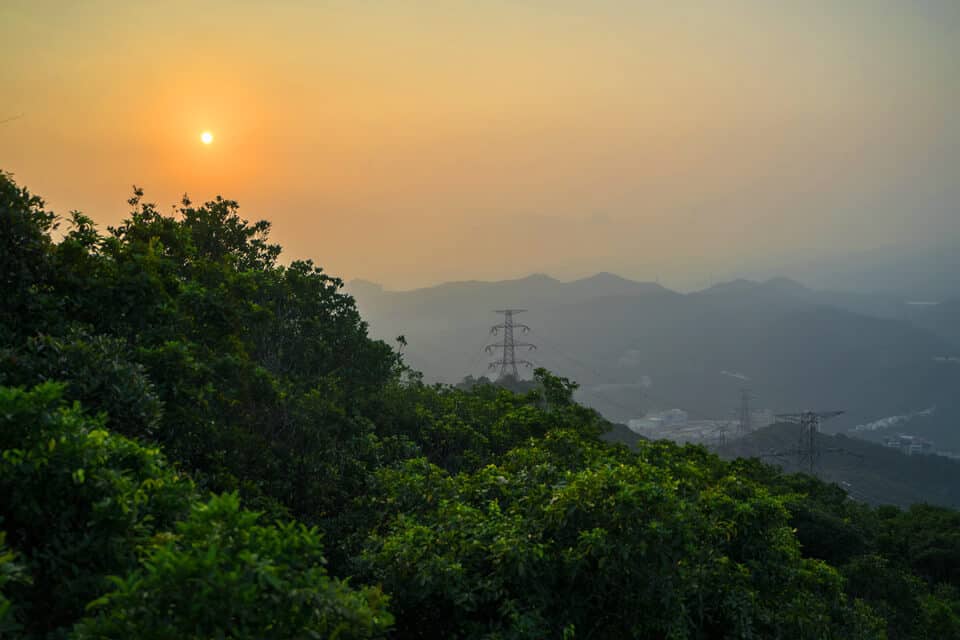 Generally speaking, the best time to do any hiking in Hong Kong is in the winter (December to March). The weather is the most moderate and rainfall is infrequent.
If you are visiting Hong Kong in the summer, you might want to consider some indoor activities in Hong Kong because it will be HOT (Hot Kong)! You might want to consider a Lion Rock night hike in that case.
You want to avoid weekends when hiking Lion Rock. Because it is one of the most iconic peaks in Hong Kong, you will find big crowds on the peak. And honestly, there isn't too much room at the top.
The best time of the day to hike Lion Rock is either early in the morning or around 2 hours before sunset. That way you can avoid the miserable Hong Kong midday heat and beat the crowd.
---
Tips For The Lion Rock Hike In Hong Kong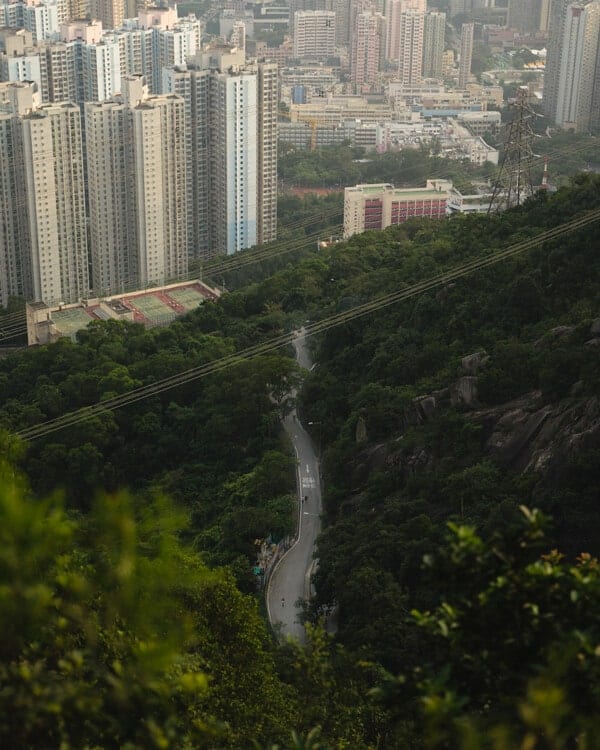 Monkeys are occasionally seen inside Lion Rock Country Park, so you might see some when you are hiking Lion Rock. In that case, stay calm, don't show them you have any food, and keep your belongings close to you and you will be fine. They are typically not aggressive.
Just because this is a relatively short hike, make sure you bring enough water. We only brought 750 mL per person and we wished we had more.
If you wish to hire a guide for the hike, check out this Lion Rock guided hike on Klook!
On the map, you might see another path to Lion Rock next to Temple Hill Fat Jong Temple. We highly advise against going on that path. It is a steep path where scrambling is required. There have been deaths on Lion Rock. It is not worth the risk.
Hiking Lion Rock is one of our favorite things to do at night in Hong Kong, but extra precautions should be taken. Keep an eye on where the edge is when you are at the top because falling off would result in serious injuries, possibly fatal ones. You can use either route to reach the summit at night; it is entirely up to your preference.
---
Lion Rock Hike FAQs
How Difficult Is The Lion Rock Hike?
The Lion Rock hike is not the toughest hike in Hong Kong, as it only takes about 2.5 to 3 hours of hiking to complete. Lion Rock also isn't one of the tallest mountains in Hong Kong, so we would have to rate this hike a moderate hike.
What Is So Special About The Lion Rock In Hong Kong?
As the name suggests, the Lion Rock mountain resembles the shape of a crouching lion and is one of the most popular hikes in Hong Kong. The mountain rises above the skyscrapers in Kowloon, one of the main regions of Hong Kong, and its presence is majestic!
---
Like this post? Don't forget to save it on Pinterest!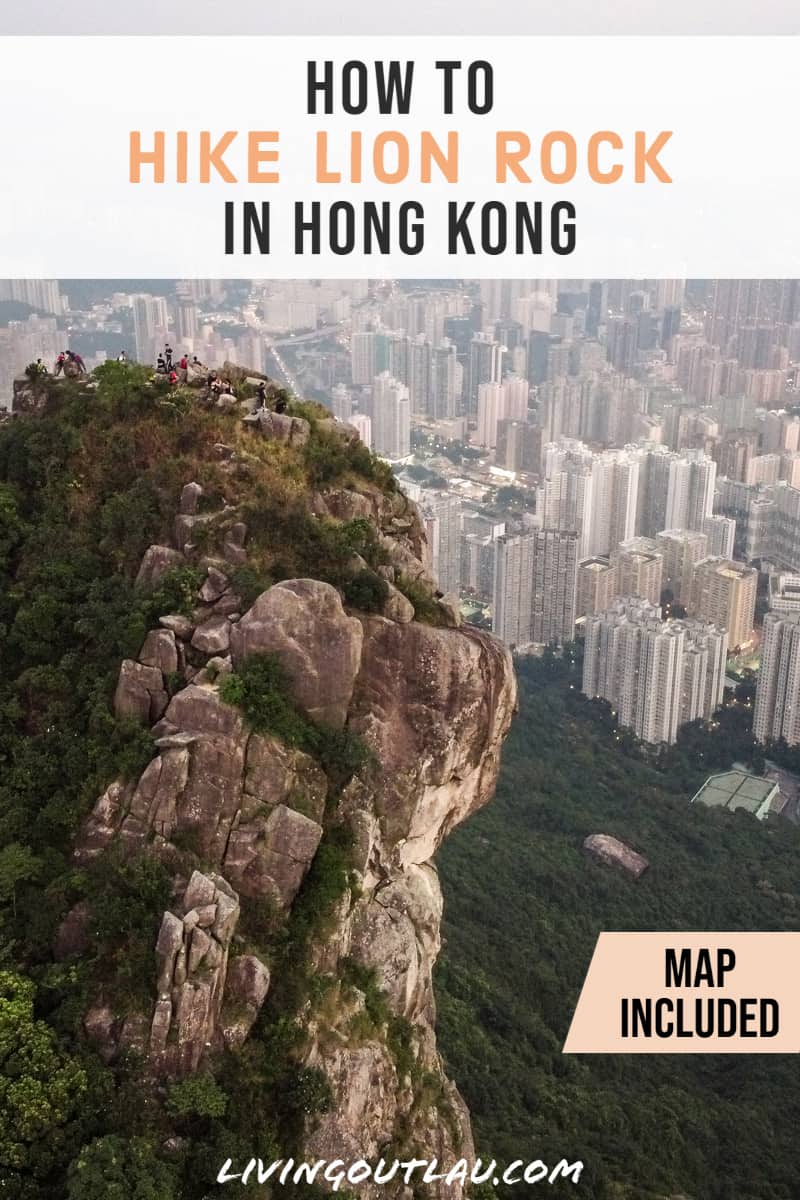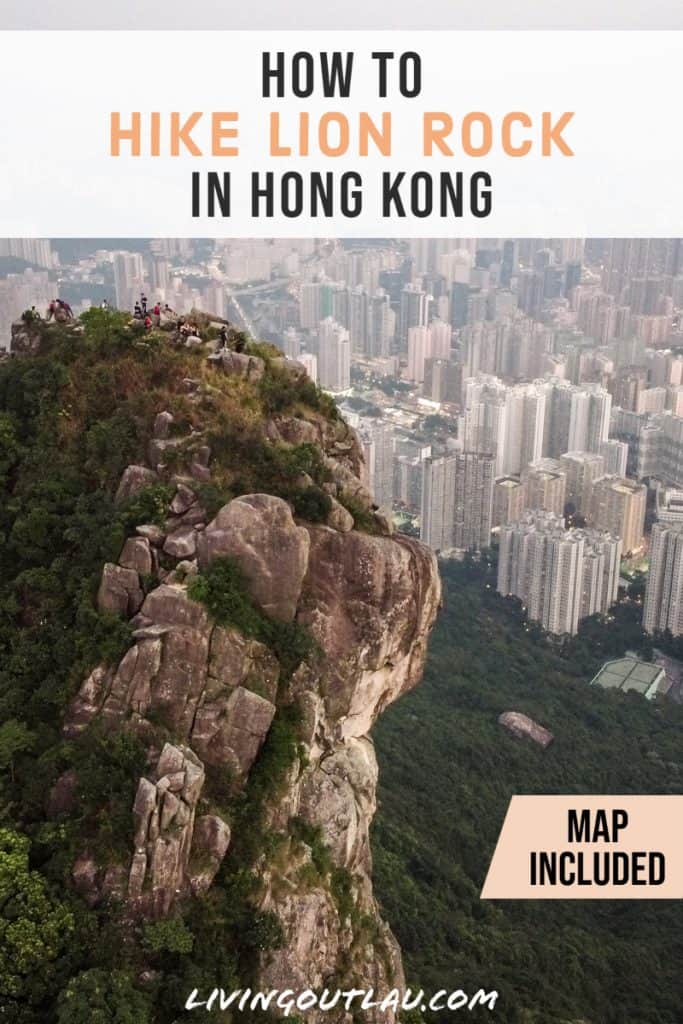 ---
This is the end of our guide to hiking Lion Rock in HK. We hope you get to enjoy this beautiful nature's creation the way we did!

Any questions? Let us know in the comments!
Disclaimer: Some of the links above are affiliate links. That means if you book or make a purchase through the links, we will earn a small commission at no extra cost to you! The money will help run this site! Thank you!