Not sure what to do at night in Hong Kong? Worry not.

With over 7.4 million people in Hong Kong, the mega metropolitan city might intimate first-time visitors, especially if they are not used to the city nightlife.
There are simply too many options.
From the skyscrapers in Central to the small fishing town of Sai Kung, numerous night activities are scattered throughout Hong Kong. Below we will talk about our 19 favorite things to do in Hong Kong at night so you can select the perfect one.

Enjoy!
---
20 Top Things To Do In Hong Kong At Night
1. Watch Horse Races At Happy Valley (Wednesdays Only)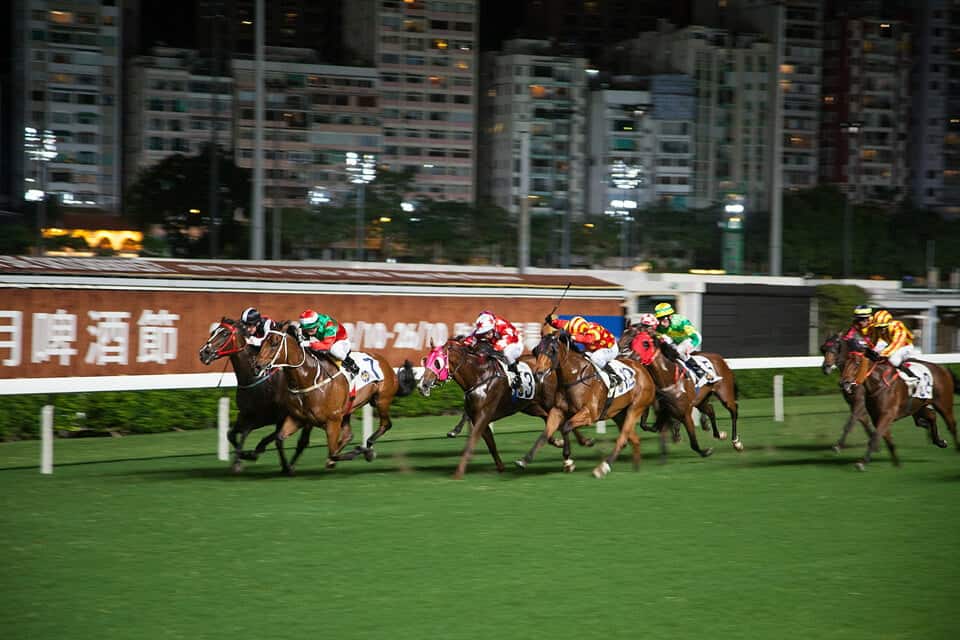 As a former British colony, the tradition of horse racing is ingrained into Hong Kong's culture. Locals love it so much that two racecourses exist in Hong Kong: Sha Tin Racecourse and Happy Valley Racecourse.
If you are a horse racing enthusiast and want to do some gambling, the Sha Tin Racecourse is the better place. The horse races usually occur on Sundays, the only days when the MTR (Mass Transit Railway) will service the Racecourse Station.
However, if you just want a fun and relaxing time, then Happy Valley Racecourse is the better choice. Always boasting a great atmosphere (probably due to the bars serving booze and greasy food), Happy Valley Racecourse is the ideal place to catch up with friends, go on a date, gamble, or just to enjoy some horse races.
The massive venue has a capacity of 55,000 people, and the open-air space offers stunning night views of the surrounding buildings.
One thing to note is that horse racing is a fairly common event in Hong Kong, unlike other parts of the world that treat it as a glamorous occasion. Don't be surprised when you see expats and tourists dressed up elegantly to the Happy Valley Horse Races while the locals are dressed down.
Don't forget, Happy Valley Racecourse only occurs every Wednesday night. The entrance fee is $10 HKD.
If you are traveling alone in Hong Kong, check out this pub crawl with horse races!
2. Shop 'Til You Drop At Temple Street Night Market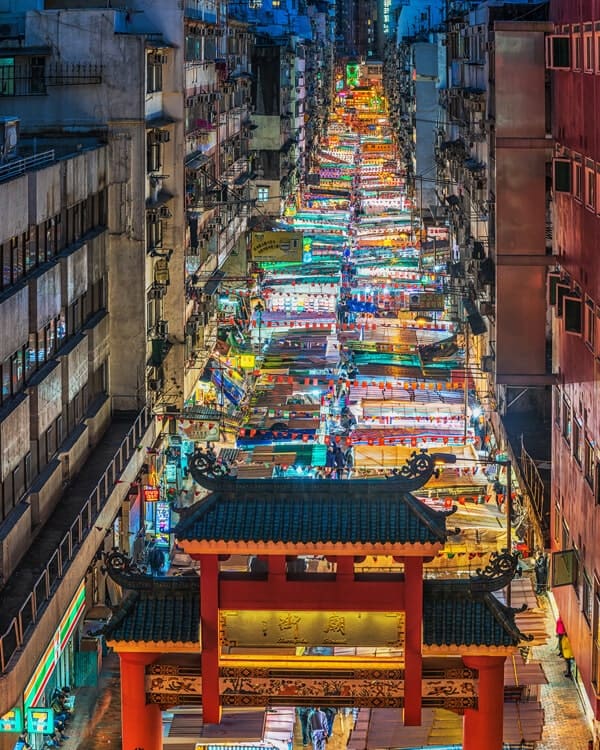 From Ladies Market in Mongkok to Apliu Street Market in Sham Shui Po, Hong Kong is in no shortage of exciting street markets. However, many of them close at dusk, leaving visitors with not a lot of things to do at night in Hong Kong.
Thankfully, the Temple Street Night Market is open until late into the night. Located in the busy area of Jordan and Yau Ma Tei, Temple Street becomes flooded with tourists and locals once the sun sets. Spanning a total of five streets, there are over hundreds of stalls there selling a variety of cheap goods.
Clothing, electronics, souvenirs, mobile accessories, antiques, the list goes on and on! Stroll down the narrow pedestrian-only street and you will find yourself overwhelmed (in a good way) by the lights, merchandise, and other tourists!
Though Hong Kong is usually not a place for bargaining, it is a must when it comes to night markets such as Temple Street Night Market (especially if you look like a tourist).
When you are tired from the sensory overload, stop by some of the roadside stalls for food and drinks. Some of the must-try foods in Temple Street are the seafood, clay pot hot-pot rice, noodles with dumplings, and tofu pudding dessert (Tau Foo Fah).
Featuring Hong Kongers' favorite activities (shopping and eating), it is no wonder why visiting Temple Street is a popular night activity in Hong Kong!
3. Go Squid Fishing In Sai Kung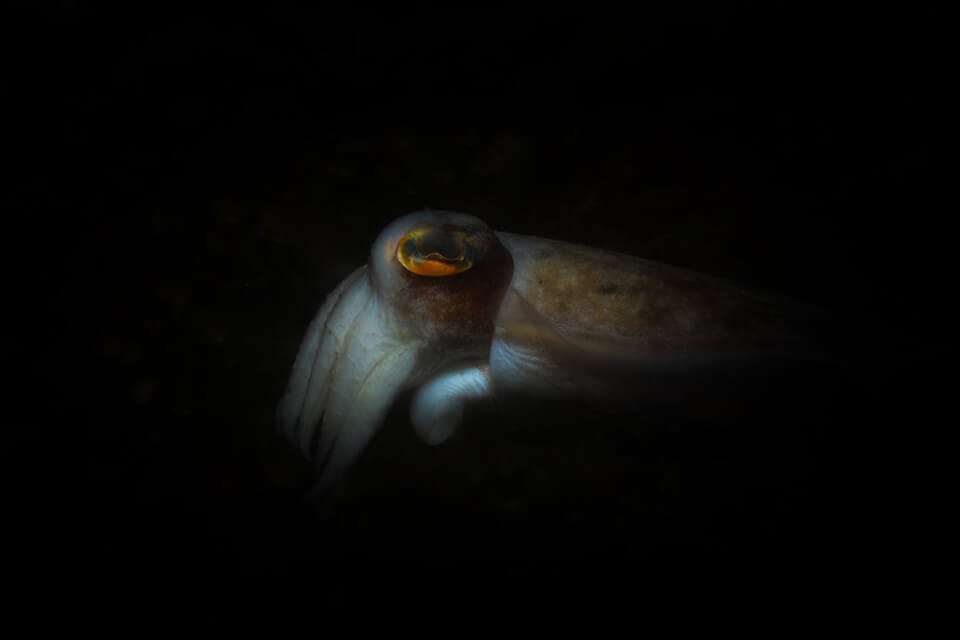 Away from the madness and skyscrapers of Hong Kong is a small fishing town called Sai Kung. Located next to the sea, Sai Kung is a popular destination for water sports and island hopping in the day time. Sai Kung is also the home of some of the most stunning hikes in Hong Kong.
This popular seaside town quiets down at night as many of its attractions are unavailable. The night brings upon a new set of activities in Sai Kung, namely squid fishing.
The only way to go squid fishing is via a tour company, as you need to take a cruise to the middle of the sea. Once you have reached the ideal location, bright lights are used to attract squid towards the boat.
Surprisingly, squid fishing is quite similar to regular fishing (at least in my experience), with bait attached to a hook at the end of the string and enough patience to earn a Nobel Prize.
If you are fortunate enough to catch a squid (cuttlefish), be careful when you reel it up. As a self-defense mechanism, they will shoot ink at you!
At the end of your squid fishing tour, the chef on the cruise will cook everyone's catch and prepare a small snack. Don't worry if you didn't catch any squid (like me and many other people on the tour), they will still feed you!
You can find tours on the pier of Sai Kung but you might have to wander for a bit. The tours usually start around 7 PM and last until 10 PM. It is the perfect ending to a day trip in Sai Kung.
4. Suicide Cliff Night Hike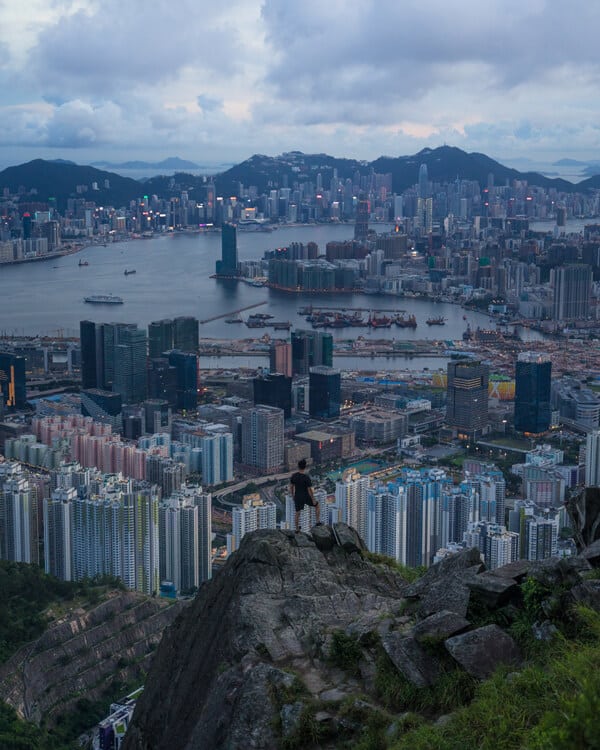 If you are looking for an adventurous night attraction in Hong Kong, consider the Suicide Cliff Hike in East Kowloon.
Relax. The Suicide Cliff did not earn its name from the suicides that happen there but the sheer drop at the cliffs.
Suicide Cliff gained popularity after a photo of it won first place in a National Geographic contest. Nowadays, tourists and locals flock to this picture-perfect location to photograph the stunning landscape of Hong Kong. Because of its popularity, Suicide Cliff is often crowded, especially in the day time.
Consequently, hiking Suicide Cliff at night is becoming more and more popular. The night time offers a unique view of Hong Kong, a rare side of Hong Kong that only the adventurous can see.
From the skyscrapers to the housing estates to Victoria Harbour, countless amounts of lights cover the city. Contrasted by the natural landscape of Suicide Cliff, you have the best of both worlds.
The Suicide Cliff is part of a mountain known as Kowloon Peak, or Fei Ngo Shan. At 602 meters above sea-level, it is the tallest mountain in Kowloon.
As the natural border between New Territories and Kowloon, many routes can take you to Suicide Cliff. However, some routes should be avoided (especially at night) because of how steep and dangerous they can be!
Another popular night hike is Lion Rock, one of Hong Kong's most iconic mountains.
---
Enjoy The Stunning Hong Kong Night View
1. Visit Victoria Harbour For The Renowned Hong Kong Skyline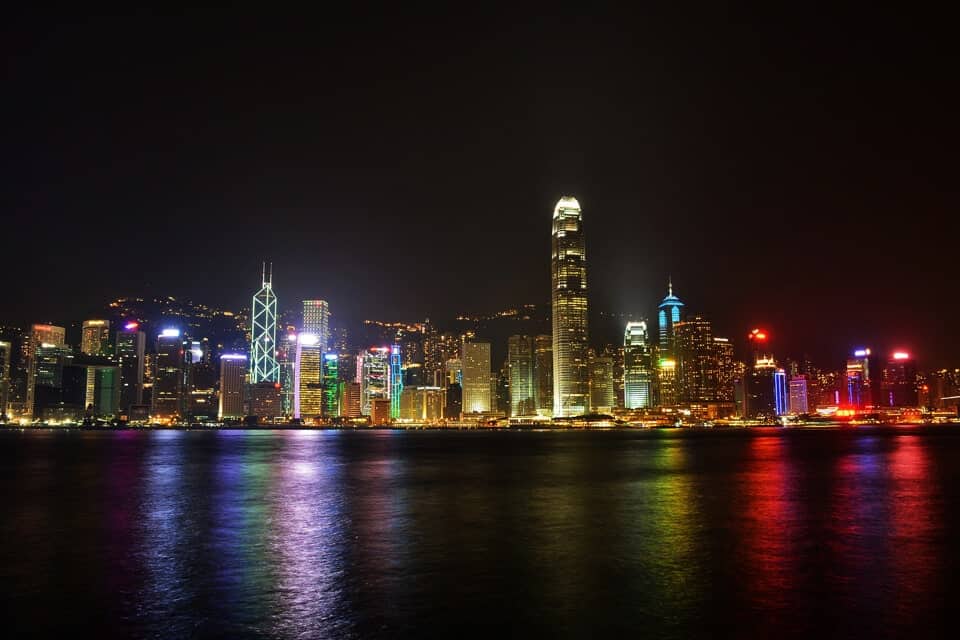 If you are not sure where to go in Hong Kong at night, Victoria Harbour will never disappoint.
Victoria Harbour is the most iconic landmark in Hong Kong, especially at night. Known as the birthplace of Hong Kong, Victoria Harbour was the home of many small fishing villages. Eventually, many of these fishing villages grew (along with British colonization) and turned Hong Kong into the Pearl of the Orient today.
Victoria Harbour acts as a natural separator between Hong Kong Island and the Kowloon Peninsula and offers unmatched panoramic views of Hong Kong's skyline.
Spanning over 40 kilometer squares, you might wonder where is the best place to see Victoria Harbour. Is it from the Kowloon side? Or is it from the Hong Kong Island side?
Both sides of Hong Kong offer spectacular views, but generally the Kowloon side looking towards Hong Kong Island is preferred.
Hong Kong Island is home to the majority of Hong Kong's skyscrapers, as well as the famous "The Peak" that looms over in the distance. Many of these skyscrapers have uniquely-designed facades that light up at night, making the night view much more spectacular.
On any given night, the Tsim Sha Tsui Promenade in Kowloon is filled with tourists and locals, enjoying the beautiful Hong Kong skyline and/or on a leisure walk. If you have not been to TST yet, then make sure you check out other things to do in TST like the Avenue of Stars and K11 MUSEA.
A more quiet location would be the West Kowloon Cultural District. Though a little harder to get to than Tsim Sha Tsui (TST), it has a much more peaceful and relaxing atmosphere.
If you wish to see it from the Hong Kong Island side, you have many choices such as the HK Observation Wheel, the Peak, Tamar Park, and many more.
2. Watch The Symphony of Lights (Hong Kong Light Show)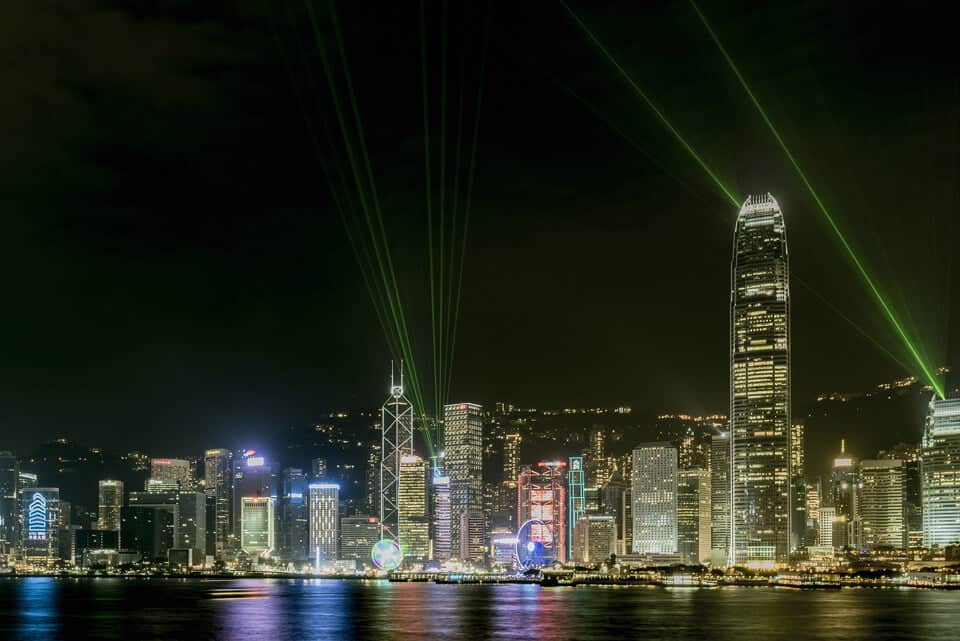 To further emphasize the beauty of Victoria Harbour, a light show known as the Symphony of Lights occurs every night at 8 PM (except in severe weather conditions). At 13 minutes long, this show holds the Guinness World Records for the world's largest permanent light and sound show in the world.
Using a mixture of lasers and light decorations, over 40 buildings in Hong Kong Island come together to create a mesmerizing experience. Luckily for you, you can be mesmerized as many times as you would like because the light show will happen again tomorrow and the day after tomorrow!
The light show occurs on the Hong Kong Island side, so naturally the best place to see it is across from it at Tsim Sha Tsui. The Tsim Sha Tsui waterfront is the only location where you can hear the music as well!
3. Hong Kong Observation Wheel (HK Ferris Wheel)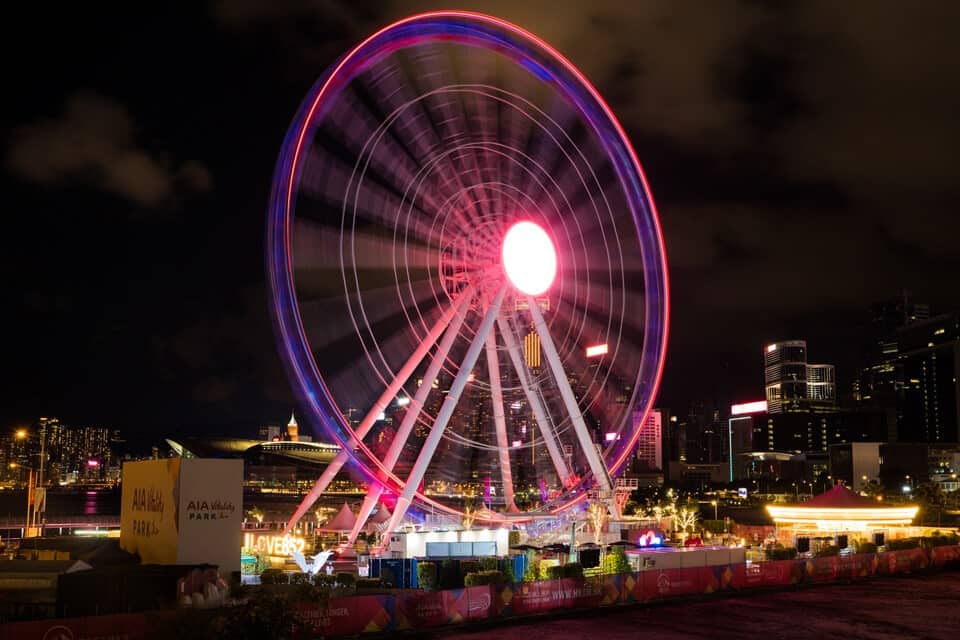 Located at the Central Harbourfront is the Hong Kong Observation Wheel, the only Ferris wheel in Hong Kong. Rising up to 60 meters (197 ft), the HK Observation Wheel provides a stunning 360-view of its surrounding. Visitors can not only see all of Victoria Harbour, but also parts of Hong Kong Island and Victoria Peak.
At a cost of $20 HKD (at the time of writing), the Ferris Wheel is quite a bargain. It takes you on 3 rotations and lasts 15 minutes in total.
While the night view at the top of the HK Observation view is sure to impress, visitors are also welcome to visit in the daytime. In the daytime, you will have more visibility and can see much further. At night, Hong Kong lights up like the stars in the night sky, a view that you won't forget!
We highly recommend you to secure your ticket beforehand for convenience, especially if you are visiting on the weekend!
4. Check Out Hong Kong's Iconic Night View At The Peak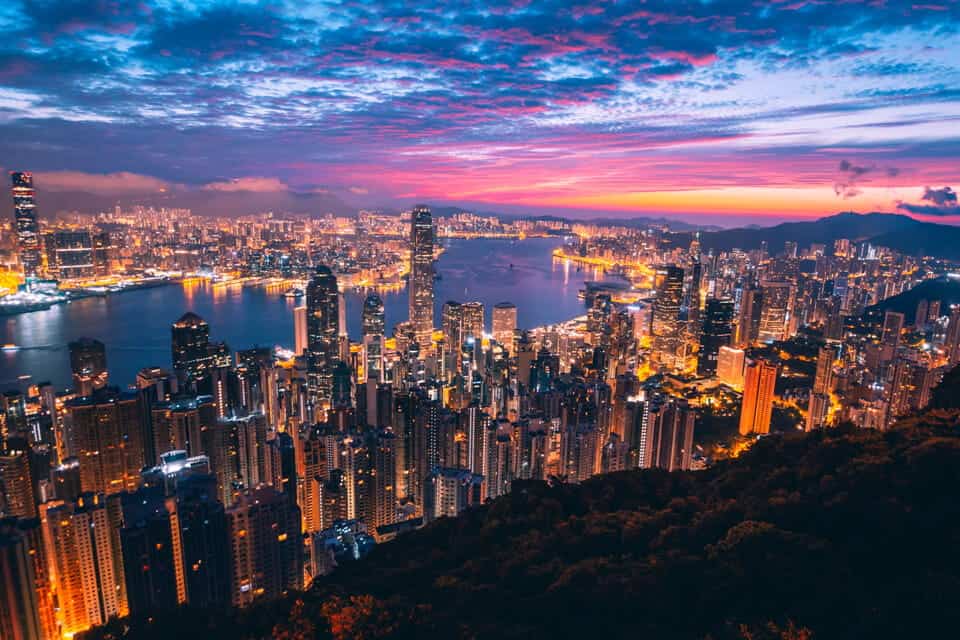 If you have ever seen photos of Hong Kong, then you are probably familiar with the night views from Victoria Peak, commonly referred to as The Peak. At around 550 meters in elevation, The Peak is a vantage point that rises above even the highest skyscrapers in Hong Kong.
It is also the highest mountain on Hong Kong Island.
If there is one night view to see in Hong Kong, it is the one at Victoria Peak. Towering over all the surrounding areas, you can see Central, Victoria Harbour, Lamma Island, and all the surrounding islands.
Like most vantage points of Hong Kong, The Peak is completely free. However, visitors usually tend to take the Peak Tram from Central to The Peak, and that costs $52 HKD for a return ticket. You can also elect to hike from Admiralty, which takes about an hour to reach The Peak.
Once you reach the top, you have the option to check out the view from the Sky Terrace 428 or just walk around. The view at the observatory is definitely better but the views from ground level aren't too shabby.
If you are interested, check out this Peak Tram and Sky Terrace 428 Observatory Combo. You can save some money!
5. Go On A Victoria Habour Cruise On The Aqua Luna Junk Boat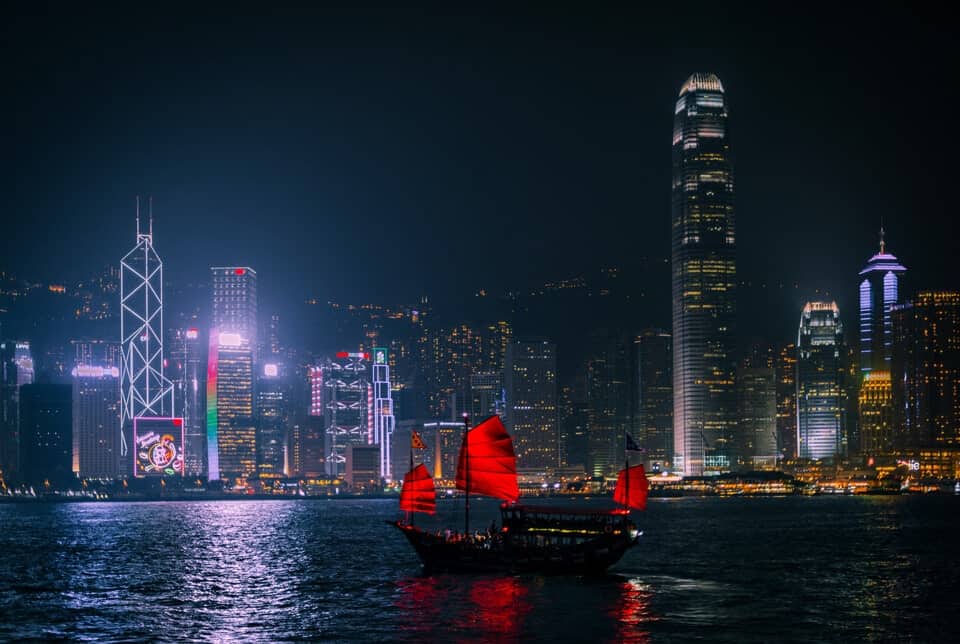 If you want a comfortable and unique experience to see Hong Kong's night view, then climb abroad a traditional red-sail Chinese junk boat and go on a Victoria Harbour cruise.
Known as Aqua Luna, these junk boats have been carefully crafted to provide guests with a glimpse into Hong Kong's heritage.
The bottom floor of the boat features ornate wooden tables and chairs, resembling historical Chinese aesthetics. On the upper floors, you will find lounge-like facilities such as lounge chairs and daybeds for guests to relax and enjoy the experience.
The Aqua Luna cruise tour lasts for 45 minutes and a complimentary drink is served upon boarding. You have the choice between wine, beer, soda, or just water, so don't worry if you are traveling in Hong Kong with kids.
We recommend you to go on the Aqua Luna Symphony of Lights tour, as you can see the beautiful skyline and the light show at the same time!
Sailing on the Aqua Luna junk boat is an experience we highly recommend!
6. Ride The Star Ferry Across Victoria Harbour For Cheap!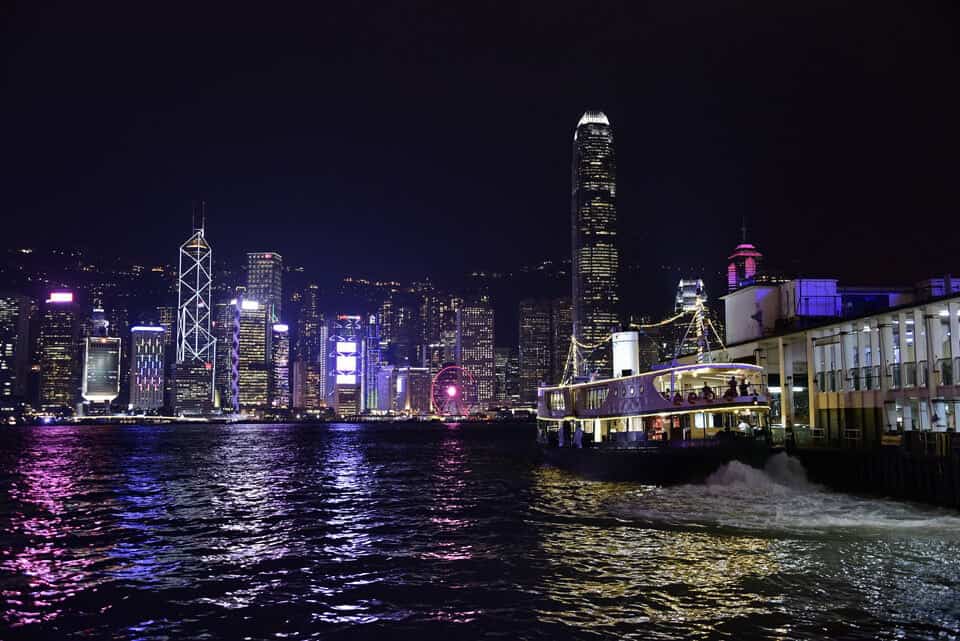 Founded in 1888, the Star Ferry is one of the oldest modes of transportation in Hong Kong. The main use of the Star Ferry is to carry passengers from Tsim Sha Tsui to Central and vice versa, though you could also go from Wan Chai to Tsim Sha Tsui.
While it used to be the only way of crossing the Harbour, nowadays there are tunnels and the MTR. But the use of the Star Ferry still remains popular today, as it is the cheapest way to get across Victoria Harbour.
At a maximum cost of $3.7 HKD (less than half a USD), it is not hard to see why it is so appealing.
Riding the Star Ferry is more than just getting from Kowloon to Hong Kong Island or vice versa. The journey offers superb views of both sides of the harbor, something that is rare unless you charter a private cruise.
If you are traveling in Hong Kong on a budget, taking the Star Ferry would offer you night views that would typically cost you a fortune!
7. Dine at The Jumbo Floating Restaurant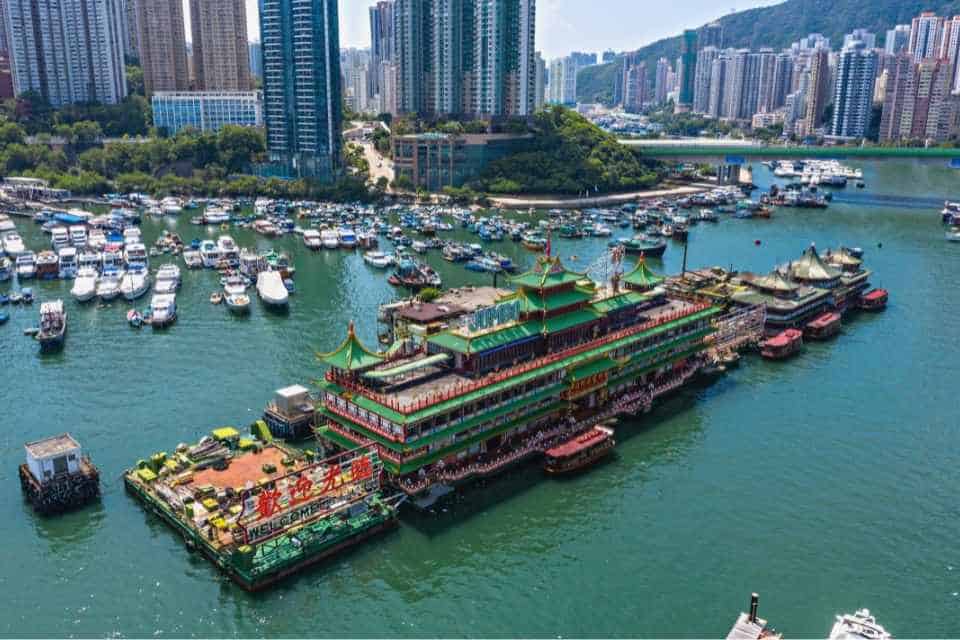 If you are searching for a unique night experience in HK, then consider dining at the Jumbo Floating Restaurant, the world's largest floating restaurant. This iconic HK restaurant is situated in the Aberdeen Typhoon Shelter, and the only way to get there is a ferry from Aberdeen or Wong Chuk Hang.
Built in 1976, this eatery has slowly become a Hong Kong landmark, an international tourist attraction, and a fine-dining establishment. The traditional Chinese architecture of the Jumbo Floating Restaurant is timeless, and anyone looking to explore the cultural side of Hong Kong will be blessed.
As one of Hong Kong's top attractions, expect to spend quite a bit of money on a dining experience at the Jumbo Floating Restaurant. The food, however, especially the seafood, is quite spectacular!
Because of the effects of the COVID-19 pandemic, the Jumbo Floating Restaurant is no longer in operation. The boat sank to the bottom of the South China Sea as it was getting moved out of the harbor.
8. Check Out Hong Kong's Rooftop Bars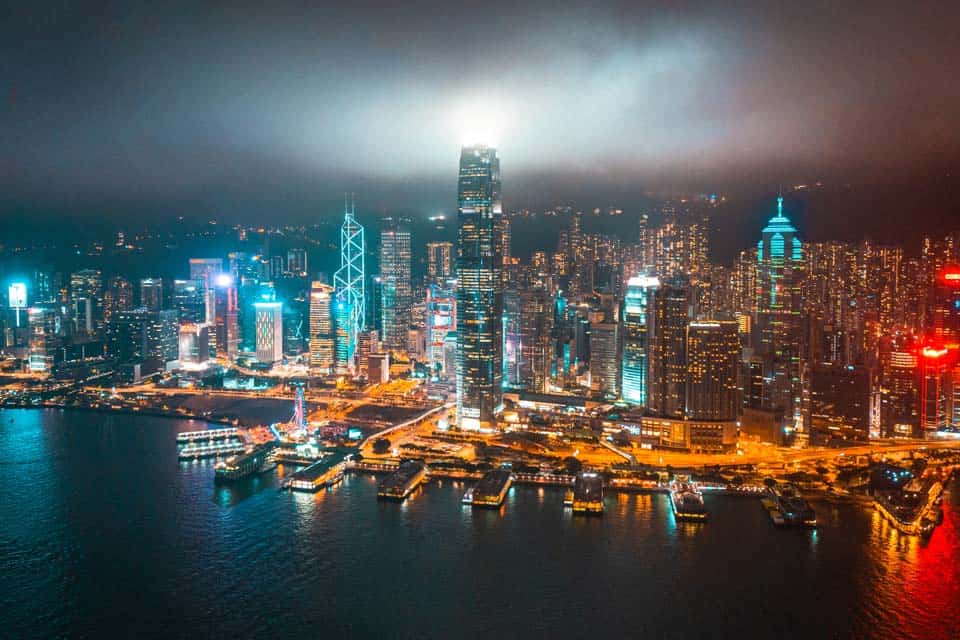 If you are looking for a place where you can admire Hong Kong's beautiful views while sipping on some yummy cocktails, then make sure you head to one of Hong Kong's rooftop bars.
The location is the most important when picking your rooftop bar. We recommend somewhere near Victoria Harbour so that you have views of the skyline plus the peaceful water.
Ozone is probably Hong Kong's most famous rooftop bar, and it comes with a heavy price tag. If you want somewhere cheaper, check out Sugar near Taikoo. It is a little bit more affordable because it isn't in a tourist district, but the views are still stunning.
---
Check Out Hong Kong's Nightlife
1. Let Your Voice Be Heard At Karaoke!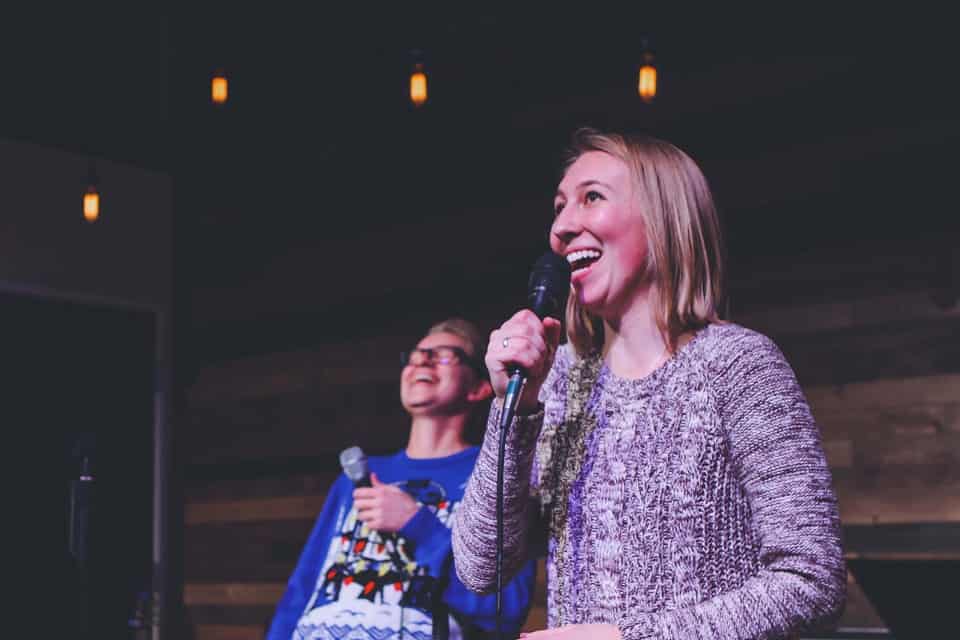 Karaoke is a big part of the entertainment culture in Asia, especially in Hong Kong. Unlike the western counterparts where you have to stand in front of a group of strangers and hope to not embarrass yourself, the Asian version is much more intimate.
Karaoke in Hong Kong involves renting out private rooms where you and your friends can select your favorite songs to lose your voice to. Many of these karaoke establishments serve food and drinks, perfect for anyone that wants to stay for a while. How else do they expect you to last until 5 AM (closing time)?
Typically, karaoke rooms are rented out by the hour. Don't forget to see if they have any promotions that will give you a better rate and let you spend the entire night in Hong Kong!
RedMr and Neway are our two favorite karaoke places in Hong Kong!
2. Dance Away At Lan Kwai Fong (LKF), Home Of Hong Kong's Best Night Clubs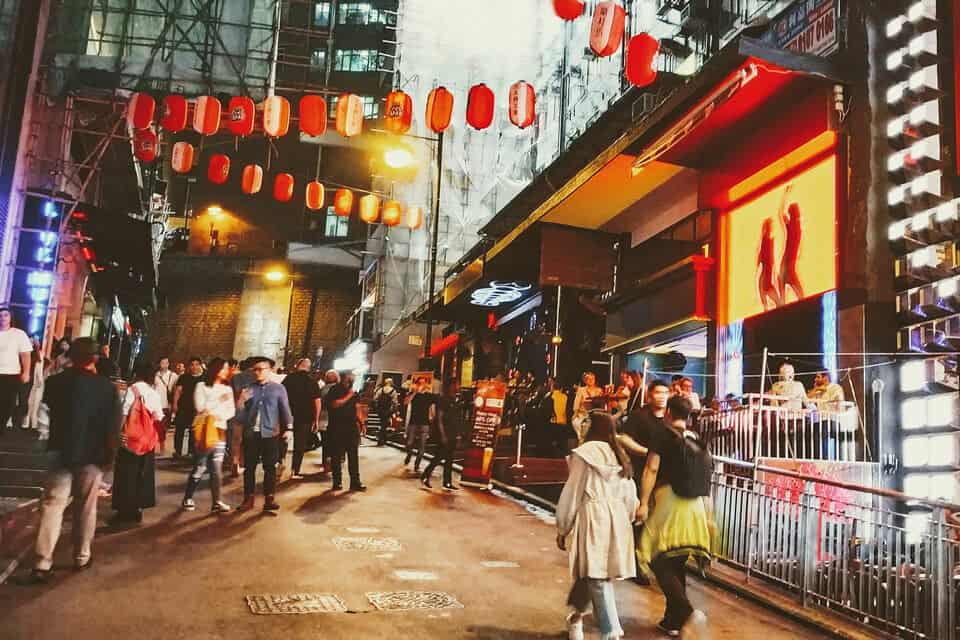 If you are looking for a crazy and unforgettable night out, then Lan Kwai Fong (LKF) in Central is the place to go. The L-shaped Lan Kwai Fong Street was dedicated to hawkers and street vendors in historical times, but now has one of the highest concentrations of bars and clubs in Hong Kong.
Considered one of the top tourist attractions in Hong Kong, expect to find high prices in the dining establishments, bar, and clubs. A beer there can cost around $78 HKD, which is around 10 USD.
As a result, you will mostly find tourists and expats here. We would say around 75 percent of the people in LKF aren't from Hong Kong.
If you do visit LKF, make sure you pre-game at the 7-Eleven at the entrance to LKF. With Hong Kong's open-container laws, you can drink in public without any consequences. You can have the same beer for a fraction of the price you would pay inside the venues!
Still, be prepared to spend a fortune in LKF.
3. Laugh Your Socks Off At An Open-Mic Comedy Night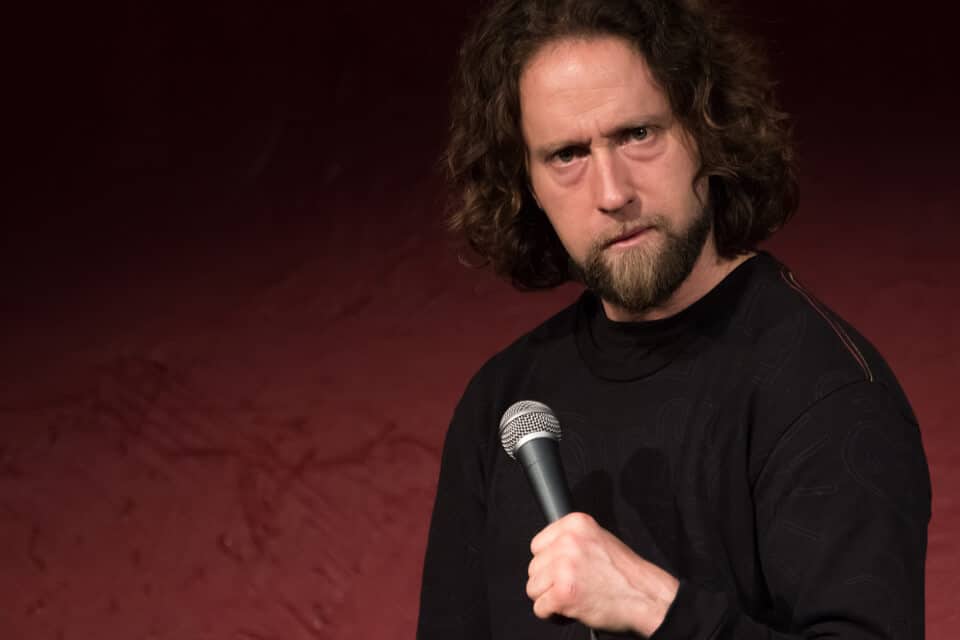 Though not too popular, the comedy scene in Hong Kong is worth checking out, especially if you are not sure what to do in Hong Kong at night.
With free entrances to most of the comedy nights, you don't have to spend a lot of money on a night out. However, many of these comedians are amateur and inexperienced, so just remember it is free when they tell a bad joke.
It is a great Hong Kong indoor activity for those rainy days when you still want to get out and do something fun and cheap. It is also a great place to meet people who enjoy comedy and having a genuinely good time!
Check out the comedy events calendar here.
---
Non-Touristy Things To Do At Night In Hong Kong
1. Go For Late Night Food (Siu Yeh)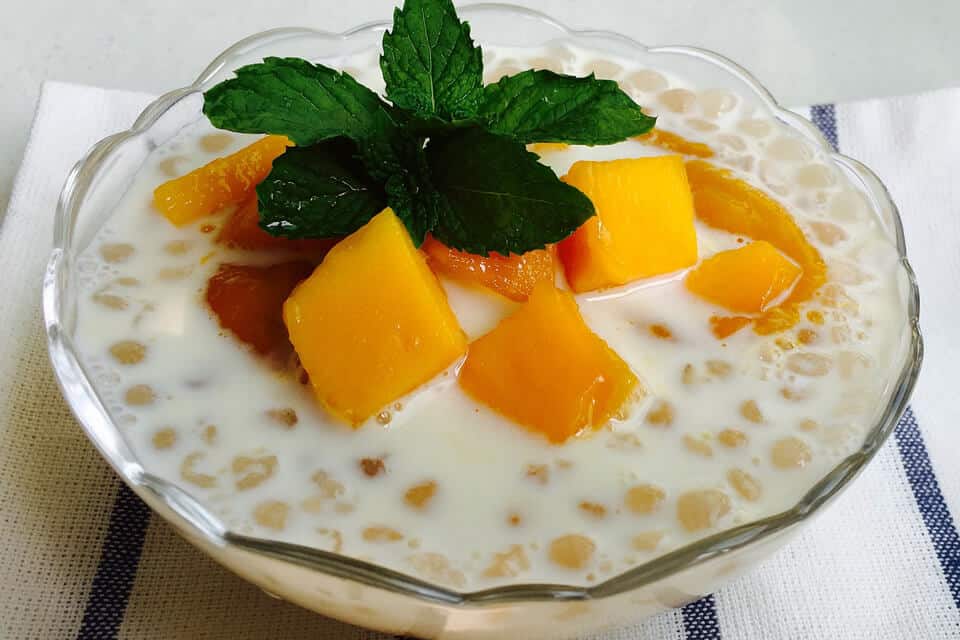 If you are a local Hong Konger, you must know their obsession with night late food (called siu yeh in Cantonese). In some Hong Kong style restaurants, you might even encounter a special promotion for "siu yeh", usually after 9:30 PM.

Don't confuse siu yeh with dinner, because it must come after dinner, usually between the hours of 9 PM to 2 AM. Think of it as a second dinner!
While the tradition of siu yeh is slowly dying in Hong Kong (because of how unhealthy it is to eat so late at night), it is still a rather popular thing to do at night in Hong Kong.
Rather than having full meals as siu yeh, locals are more likely to have a light dessert instead. In fact, many Tong Sui Po (dessert shops) open only at night and close in the early hours of the morning.
When visiting a Tong Sui Po, you must try the tofu pudding (mentioned above) and the mango pomelo sago. Those two are my favorite Hong Kong desserts of all time!
2. Challenge Your Friends At A Board Game Cafe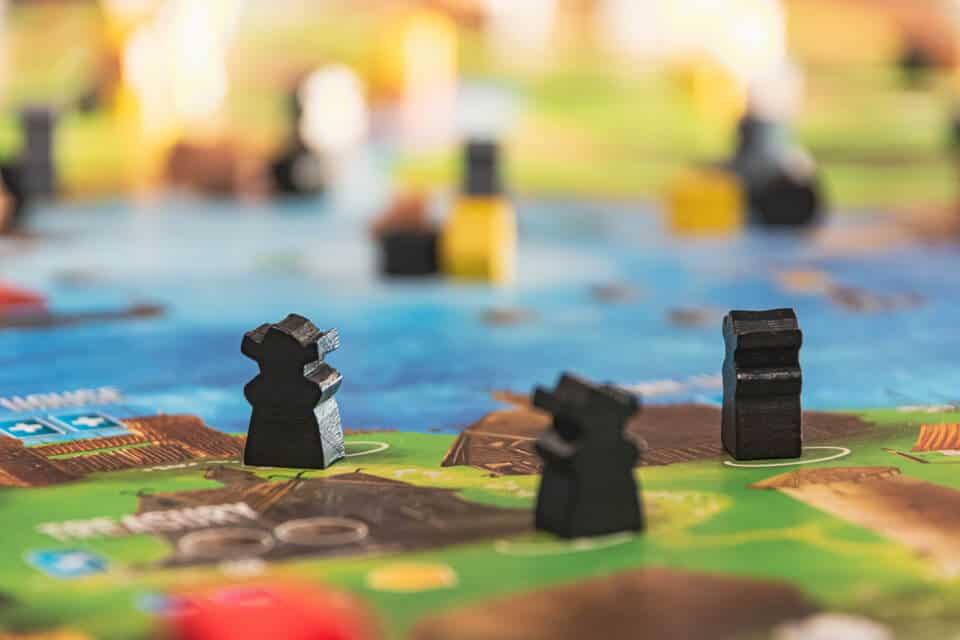 If you are looking for a more chill night with your friends, consider checking out one of the board game cafes.
Our favorite board game cafe in Hong Kong is Wheat and Wood in Kennedy Town. Featuring a friendly atmosphere, great drinks, and a great selection of board games, it is a great place to spend the night in Hong Kong.
Battle your friends over a game of Catan, Ticket to Ride, Codenames (one of our favorites) while sipping on a gin and tonic or herbal tea. The only downside to Wheat and Wood is that they close a little earlier than most of the other board game cafes in Hong Kong.
If you are looking to play Monopoly until you have no friends anymore (Monopoly is heated!), then consider Capstone Boardgame in Causeway Bay. Closing at 11 PM daily, that is plenty of time to get a full round of Monopoly in (if you are lucky).
There are also various types of board games in there, and a friendly owner that is willing to teach you how to play them!
3. Wind Down On A Long Tram Ride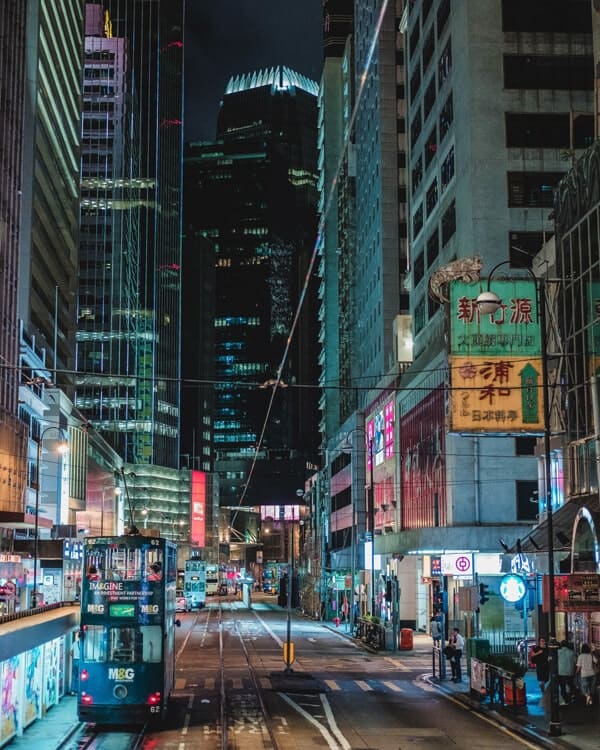 Living in Hong Kong can be stressful. With the long working hours, sometimes you just want to chill and enjoy some nice scenery with a soothing night breeze. If you want peace and quiet, one of the best things to do in Hong Kong at night alone is to ride the tram on Hong Kong Island.
Established in 1904, the tram is one of the earliest modes of transportation in Hong Kong. If you are talking about efficiency, the tram is definitely not fast by any means. On a busy day, it is possible to walk faster than the tram, but it is a relic of the past that Hong Kongers endear.
The electric double-decker tram (also called the Ding Ding) runs between Kennedy Town and Sau Kei Wan and passes beautiful places at night such as Central and Causeway Bay. With only a cost of $2.6 HKD (at the time of writing), you can ride the entire route of the tram, enjoying the changing landscapes and the night breeze.
As part of Hong Kong's heritage, the tram is one of the best attractions in Hong Kong.
4. Relax At Garden Hill In Sham Shui Po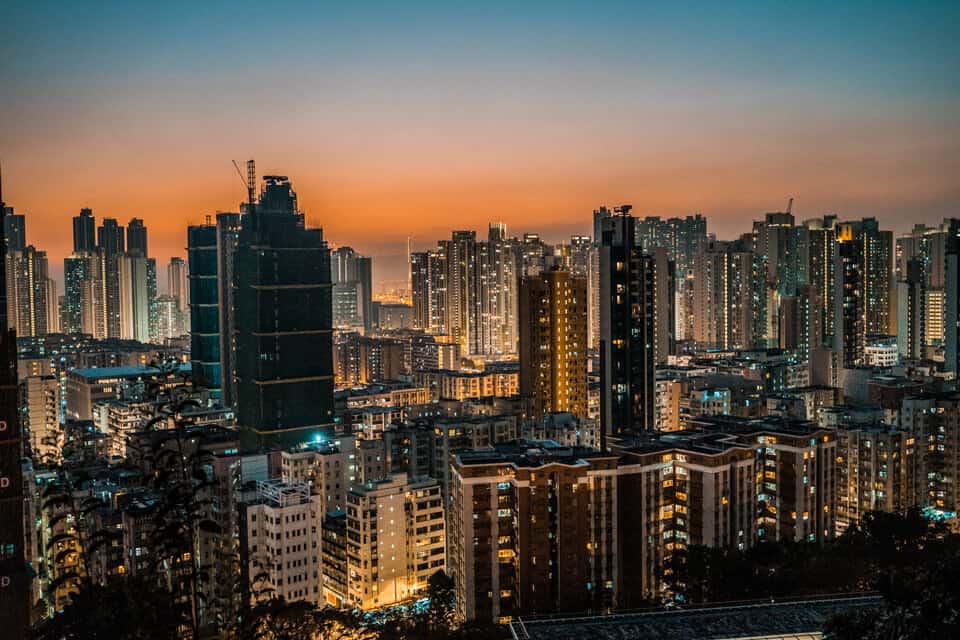 Garden Hill in Sham Shui Po is a hidden gem in Hong Kong that only locals know about. Situated on a small hill above the lively neighborhood of Sham Shui Po, it is a popular spot for locals to bring a beer and just sit and chat with their friends.
The name might suggest that a garden exists at the top of the peak, but in fact, it earned its name for locating across from Garden Bakery Plant.
If you are into night photography, Garden Hill offers unobstructed views of Sham Shui Po and beyond. Bring your camera and tripod early in the day to make sure you get the location you desire!
Sham Shui Po is one of the oldest neighborhoods in Hong Kong. Featuring lively street markets, the Golden Computer Shopping Arcade, cheap roadside food vendors, a stroll down the streets of Sham Shui Po will reveal Hong Kong's roots.
Sham Shui Po is also a much poor neighborhood in Hong Kong compared to the skyscrapers you see on Hong Kong Island. It is not uncommon for locals here to live in cage homes and subdivided flats.
We recommend you to spend the day exploring the bustling neighborhood of Sham Shui Po, then head up to Garden Hill to watch the sunset. Stay past the sunset and you will witness Hong Kong's metamorphosis. Slowly, the orange hues of sunset will turn into bright lights that dot the Hong Kong night view.
5. Chill Out By Instagram Pier (Western District PCWA)
Note: The Instagram Pier has unexpectedly closed due to the safety of the public. It is unsure whether this popular recreational area will be open again or not.
Instagram Pier is one of the latest attractions in Hong Kong.
The Instagram Pier is actually the Western District Public Cargo Working Area, a place you won't necessarily consider beautiful. However, what draws a ton of love to this place is its wide-open space.
As a visitor, you might not understand why open spaces deserve attention. Hong Kong has one of the most expensive housing in the entire world.
A sizable portion of Hong Kong locals lives in tiny homes that measure only a few meter squares. With no leg room or any stretching room, it is no wonder why open spaces such as the Instagram Pier is beloved.
In fact, it was named one of Hong Kong's best public spaces in the first ever "Hong kong Best Public Space" award in 2013.
During sunset, you will find loads of people at Instagram Pier, taking photos for Instagram and the beautiful sunset.
At night, the area is less crowded and is one of the most popular places for jogging, leisure, and just chilling out. It is also one of the most famous places to admire Hong Kong's most famous bridge, the Tsing Ma Bridge.
---
Hong Kong At Night FAQs
Is Hong Kong Safe At Night?
Hong Kong is very safe at all times of the day, including at night. Travelers can walk around the streets at night without fear of getting into any trouble or dangerous situation, such as pickpockets, theft, or robbing.
What Are Some Nice Places For A Night Drive In Hong Kong?
The most scenic night drives in Hong Kong are Fei Ngo Shan Road, Tai Mong Tsai Road, and Tai Mo Shan Road.
---
Like this post? Don't forget to save it on Pinterest!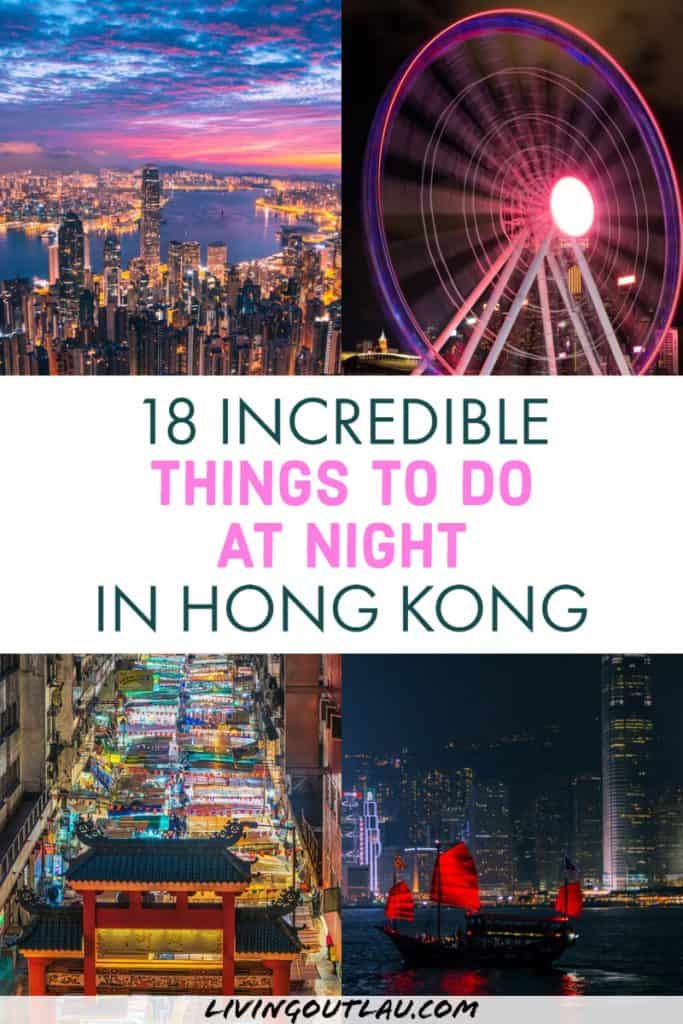 ---
This is the end of our guide for top things to do in Hong Kong at night! We hope this has at least given you a rough idea of what you can do on those long nights!

Any questions? Leave a comment!
Disclaimer: Some of the links above are affiliate links. That means if you book or make a purchase through the links, we will earn a small commission at no extra cost to you! The money will help run this site! Thank you!