Thinking about visiting Sky Mirror in Kuala Selangor?
Not sure if it is worth the trip or where to find the best tours? We are here to help. 
Below we will discuss our experience at Sky Mirror, one of the so-claimed best things to do in Malaysia.
Enjoy!
Looking for a reliable Sky Mirror tour company?
Check out our recommended tour company here!
---
What Is Sky Mirror (Sasaran Beach) In Kuala Selangor?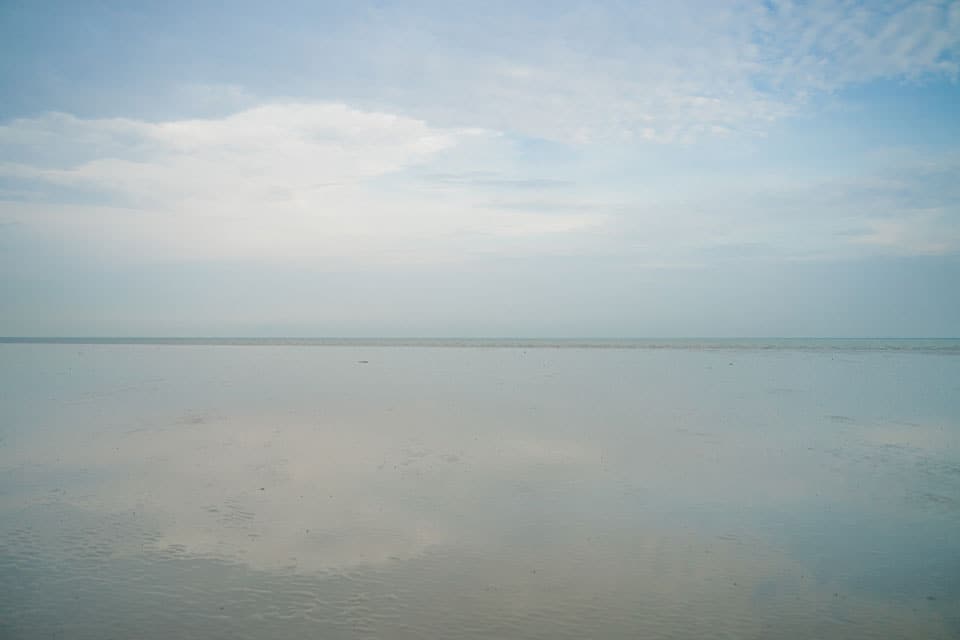 The Sky Mirror in Kuala Selangor is one of the most impressive hidden gems in Malaysia. During high tide, this secret island is completely invisible to the naked eye and undetectable because it is submerged. The miracle happens at low tide.
During low tide, a sandbank known as the Sasaran Beach (Sky Mirror) appears 1.74 nautical miles away from the fishing village of Jeram, in the middle of the Straits of Malacca Sea.
This natural phenomenon creates a place where shallow water covers the entire "island". The golden opportunity provides the perfect setting for photographers, as the shallow water fabricates the perfect reflection and the illusion of scale. Any photographer will unquestionably find the Sky Mirror in Malaysia to be a photographer's paradise.
Sky Mirror is often called Malaysia's "Salar de Uyuni", or the Uyuni Salt Flats in Bolivia.
---
Sky Mirror Kuala Selangor Price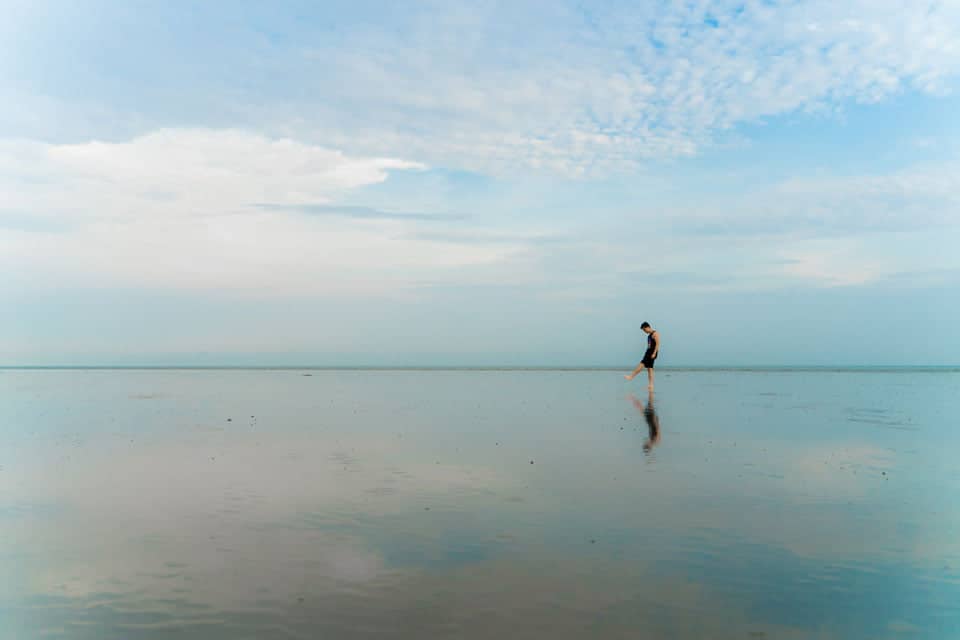 If you are thinking about visiting the Sky Mirror in Kuala Selangor, you must be wondering about the price. Luckily, the Sky Mirror in Kuala Selangor price is quite affordable, but you can only visit with a tour company.

It is impossible to do it without a tour because the place is located about 30 minutes away from Kuala Selangor in the open sea. Even if you had your own boat, it would be difficult to locate this secret island as it is not on the map.
Only tour companies know the location of this hidden attraction in Malaysia.
The price for Sky Mirror for a Malaysian citizen is around 80 Ringgit. For a non-citizen, the price is around 100 Ringgit. For children, the price is 60 or 90 Ringgit, depending on if you are a Malaysian citizen or not. (All those prices are at the time of writing.)
Those are the prices for a Sky Mirror tour without transportation to Kuala Selangor. If you have decided to visit Sky Mirror in Kuala Selangor from Kuala Lumpur, you must ask to be picked up or arrange your own transportation. It takes about an hour to drive from Kuala Lumpur to Kuala Selangor.
Since the tours are usually early in the morning, it is recommended that you stay nearby.
When we visited, the tour started at 6:30 AM in the morning and we were back by 9:30 AM, but the schedule depends on the tide table.
---
Where To Stay In Kuala Selangor?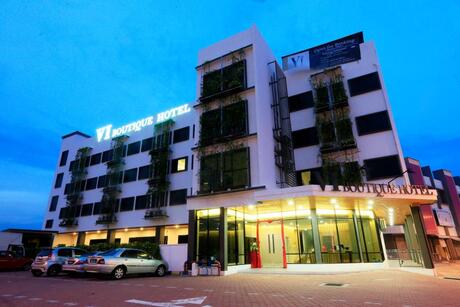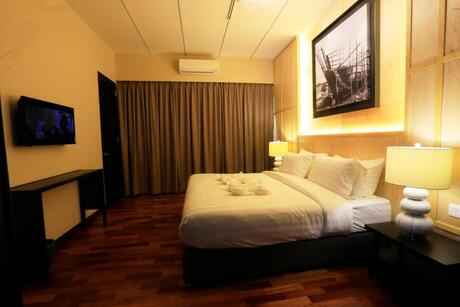 Vi Boutique Hotel is a good value-for-money hotel situated on the main highway, a short walk from the river and some of the best seafood restaurants in Kuala Selangor. It also has free parking which is a plus! I highly recommend it.
However, some people do find Kuala Selangor quite boring. There's an exciting town 30 minutes away called Sekinchan that many visitors stay at instead. The rice paddies there are utterly breathtaking!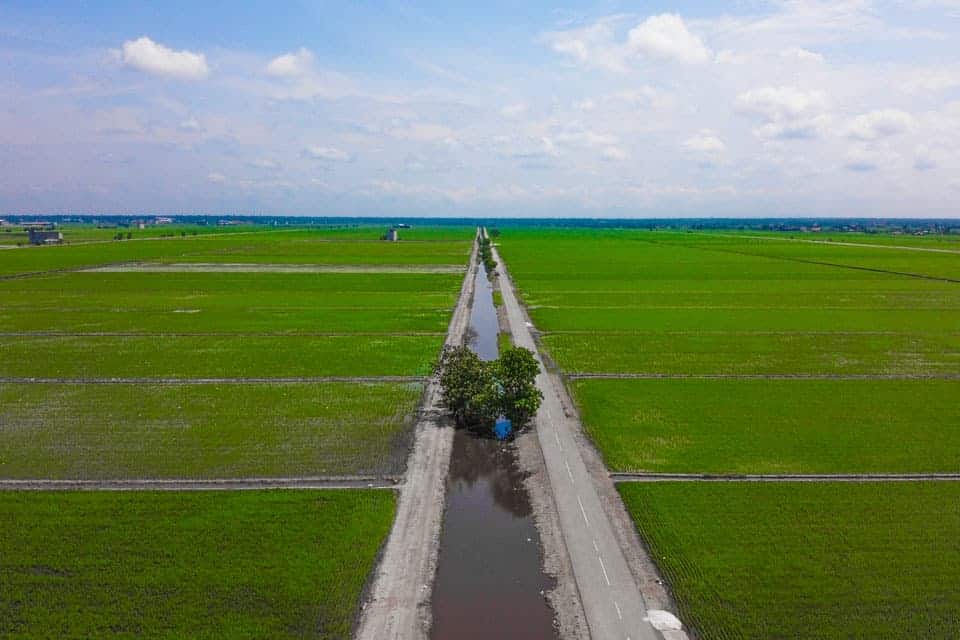 ---
Kuala Selangor Sky Mirror Tour Companies
Though there are many Sky Mirror tour companies in Kuala Selangor, not all of them are reputable and provide the proper equipment.
The one that we went with was called Sky Mirror Official, or so they claimed. They offered fair prices (though a tad above average), great equipment, and a generally good experience. No complaints whatsoever!
Another popular tour company is called Sky Mirror Malaysia. Though we did not use them, they have great reviews at a more affordable price. Their website also looks very reputable.
However, after we took our trip, we found out that Klook also offered a tour for Sky Mirror, and it was a lot cheaper than what we paid for! So in fact, though we went with Sky Mirror Official, we actually recommend just getting it off Klook!
It seemed to us that every company contained roughly the same experience for Sky Mirror. All the boats arrived at around the same time, spent roughly the same amount of time on the Sasaran Beach, then headed back to Kuala Selangor.

The general rule of thumb is to not go for a tour company that is offering ridiculously low prices and has little to no reviews.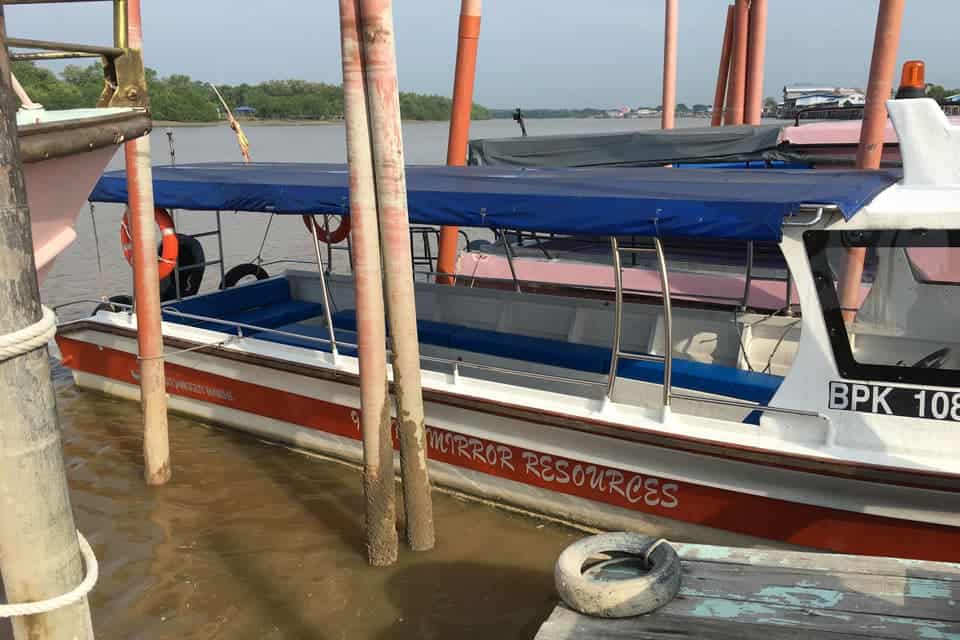 ---
When Is The Best Time To Visit Sky Mirror?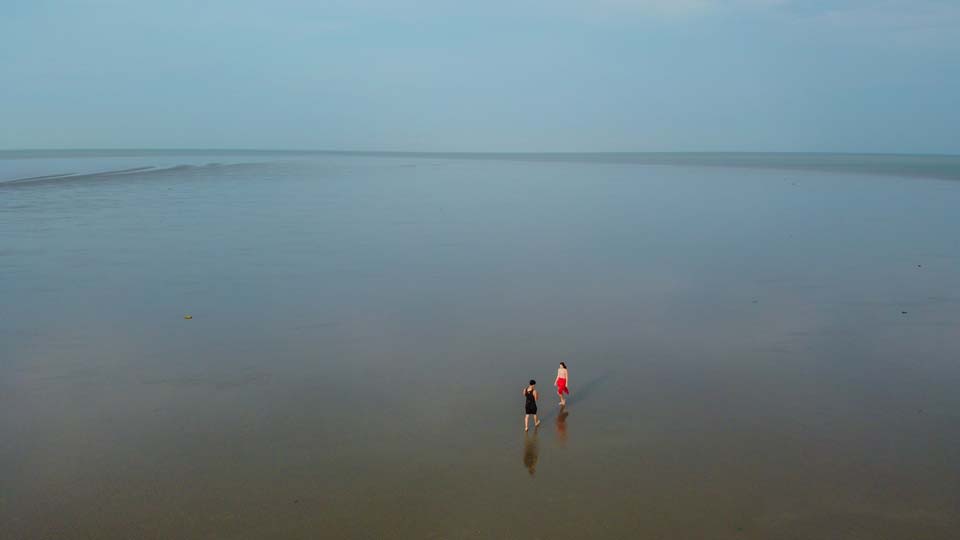 Tours to Sky Mirror aren't available every day because it depends on the tide conditions. Depending on the lunar phases and tides, your tour can begin as early as 6:30 AM or as late as 12:45 PM. There are several days during the month when the tours aren't available at all.
Occasionally, the weather conditions create a potentially dangerous situation out in the sea, so tours can also be canceled. Luckily, you can check out the schedule beforehand,
If you are visiting Sky Mirror during the middle of the day, we highly recommend that you pack lots of water and sun protection. There is no cover on the sand bar, and the elements can get quite harsh out there.
---
Is Sky Mirror Worth It? Our Full Review and Experience
I think the ultimate question that everyone has is whether the Sky Mirror in Kuala Selangor is worth the trip and money.
The answer is: Yes and No.
If you are looking for a Salar de Uyuni aka Salt Flats experience, you will be disappointed. The place does not look like anything compared to the Salt Flats in Bolivia. The pictures are deceiving because the tour guides artificially fabricate a location on the beach to create the perfect reflection.
After a 30-minute gruesome boat ride from Kuala Selangor (might want to pack some motion sickness pills), we arrived at the Sky Mirror.
The tour guides immediately start working and digging to produce the perfect puddle. The waves had left the sandbank with many raised ridges, making it impossible to take the famous reflection photos Sky Mirror is known for.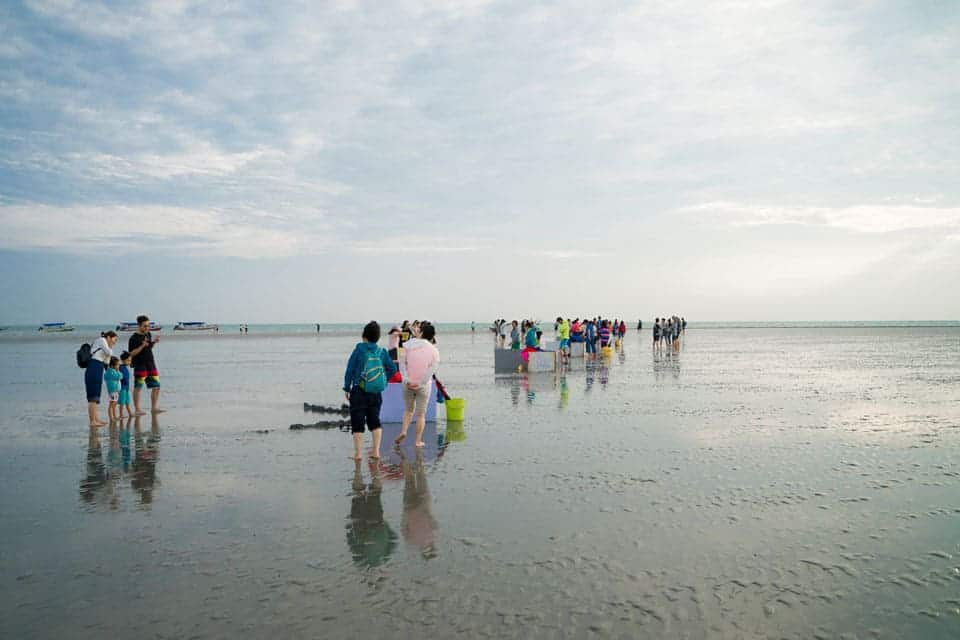 The guides used shovels and boards to funnel the water. After about 30 minutes of digging, it was finally ready. The visitors took turns standing in front of the artificially-made puddle to take the so-called perfect photo.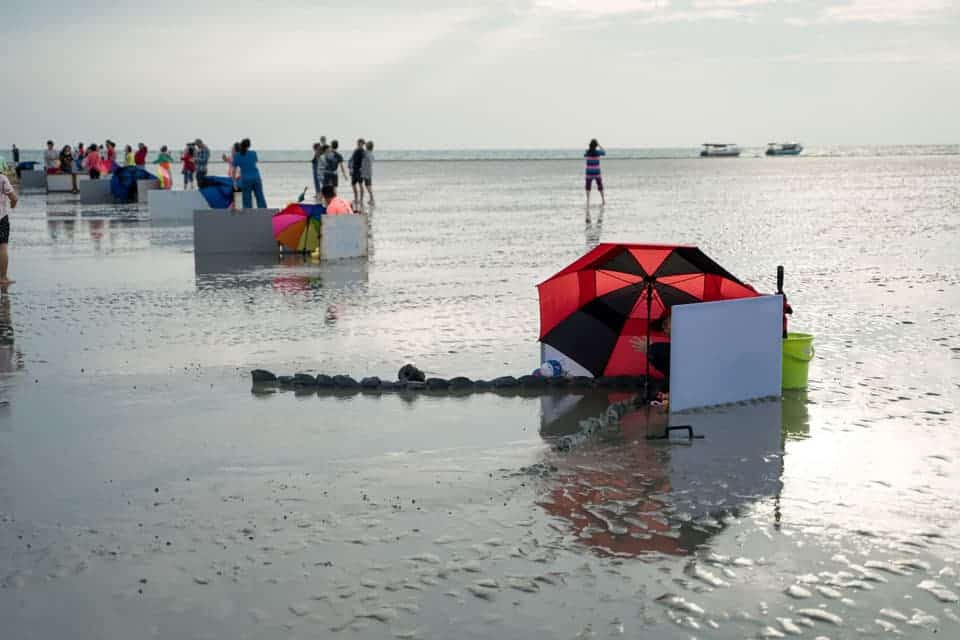 If you just want cool photos, then you will find that at Sky Mirror. However, if you are expecting a similar experience as Salar de Uyuni, you won't find it here.

The one redeeming factor that the tour companies do not tell you about Sky Mirror is the abundance of marine life there. As the tide drops and the sandbank reveals itself, the marine life that was living on the sandbank also appears.
It was incredibly fun to walk around and observe the numerous sea creatures that were left on the sandbank. We saw crabs, shells, more shells, and even some unidentifiable sea creatures!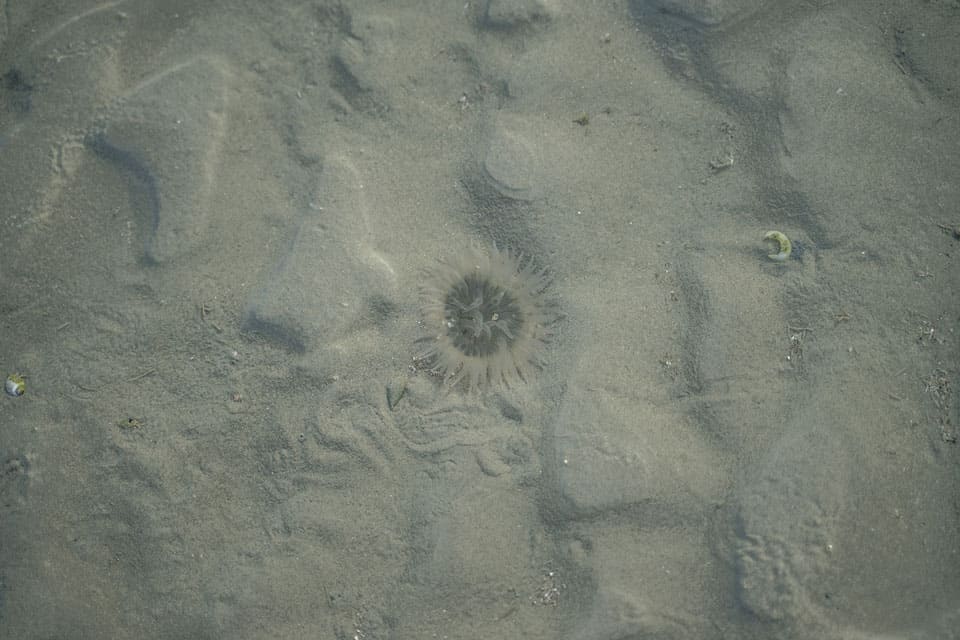 As we were preparing to return, we saw a very odd phenomenon. The crabs that live under the sand all came out and started marching towards the sea. I am talking about thousands of tiny little crabs crawling on the sand. That moment is one of the most unforgettable moments I had traveling in Malaysia.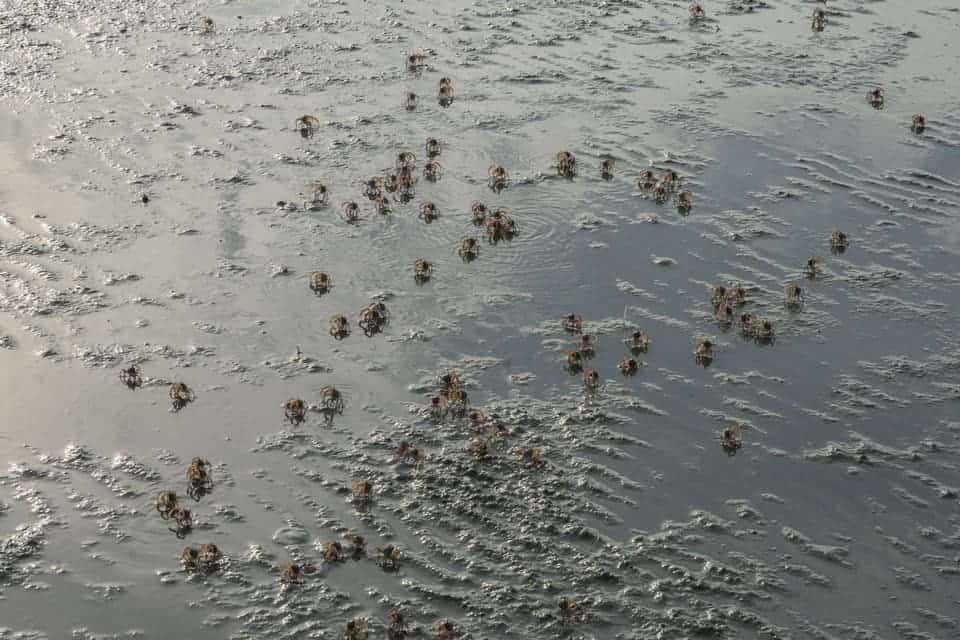 Though not the perfect place, Sasaran Beach is still extremely beautiful. The fact that you are on an island only available a few hours a day in the middle of the sea is an incredible adventure.

For as far as your eyes can reach, there is nothing but the sea and the horizon.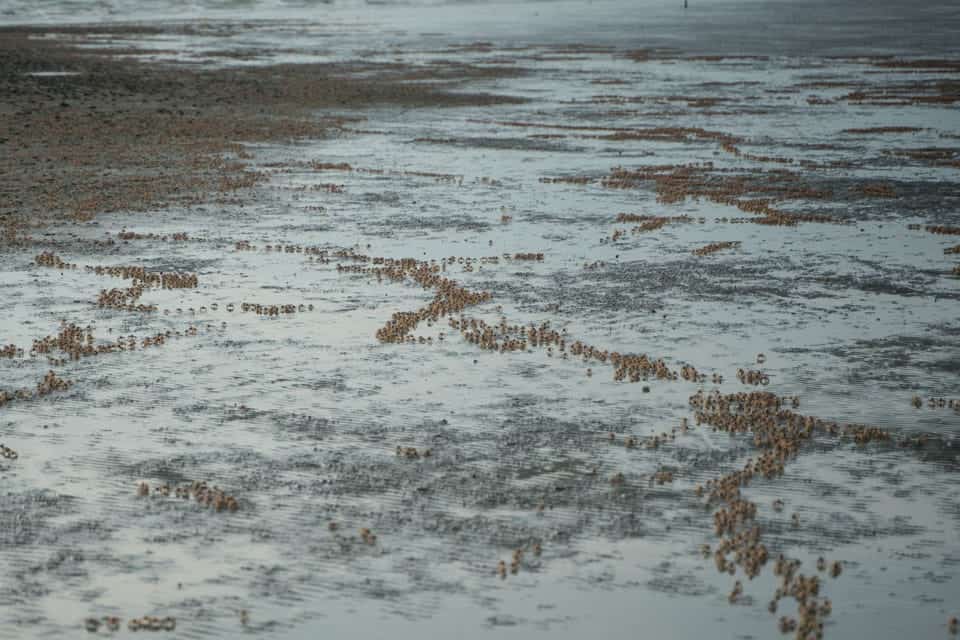 Conclusion: If you are already in Malaysia and happen to be nearby (Kuala Lumpur or Ipoh), then spend a day or a weekend at Kuala Selangor and the Sky Mirror. After all, it is still a unique and enjoyable place and I would recommend it.

Visitors typically spend the morning at Sky Mirror and the evening on the popular fireflies tour.

However, if you intend on coming to Malaysia with the sole purpose of seeing this "Asia Salar de Uyuni", save yourself the trip. There are many places worth coming to Malaysia for such as nature-paradise Sabah and beach-heaven Langkawi, but Sky Mirror should not be your main focus.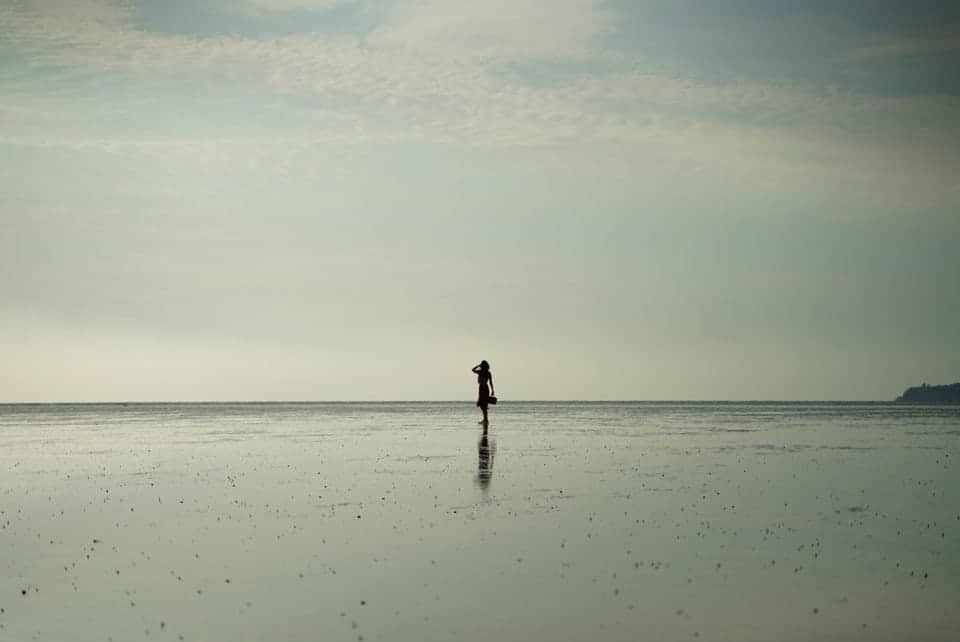 ---
Sky Mirror Kuala Selangor FAQs
How do you get to Sky Mirror in Kuala Selangor?
Sky Mirror is actually a sand bar that appears at low tide 1.74 nautical miles away from the fishing village of Jeram, in the middle of the Straits of Malacca Sea. The only way to see it is via a Sky Mirror tour, which will take you on a 30-minute boat ride from Kuala Selangor to Sky Mirror.
Is Sky Mirror expensive to visit?
While Sky Mirror isn't an expensive place to visit, tours can still cost around 80 RM (~20 USD) to 100 RM (~25 USD). Considering that the tour includes a round trip 30-minute boat ride, we would say that's a fair price!
---
Like this post? Don't forget to save it on Pinterest!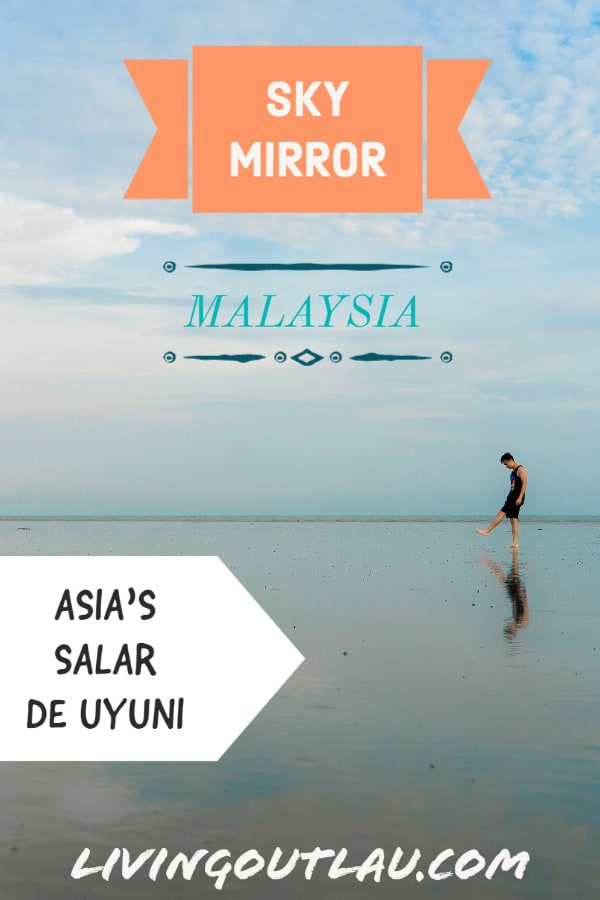 ---
This is our full review of our experience at Sky Mirror in Kuala Selangor. We hope it has given you an idea of whether you should visit it or not!

Any question? Leave them in the comments!
Disclaimer: Some of the links above are affiliate links. That means if you book or make a purchase through the links, we will earn a small commission at no extra cost to you! The money will help run this site! Thank you!