Not sure what to do in Sabah, Malaysia?
Borneo, especially the Malaysian State Sabah, has become a very popular spot for travelers in South East Asia over the past few years. It was once an island that was deemed too dangerous, or too remote, but now those perceptions are changing after more are discovering the wonders of Sabah.
If you're planning a holiday in Sabah, you are going to want to make sure you set aside a couple of weeks and take it at your own pace, as there are plenty of amazing places to visit in Sabah.
Below, we have compiled a list of the 15 best things to do in Sabah based on our own experience!

Enjoy!
---
What To Do In Sabah: 15 Best Things To Do In Sabah, Malaysia
1. Stay At A Homestay Under Mount Kinabalu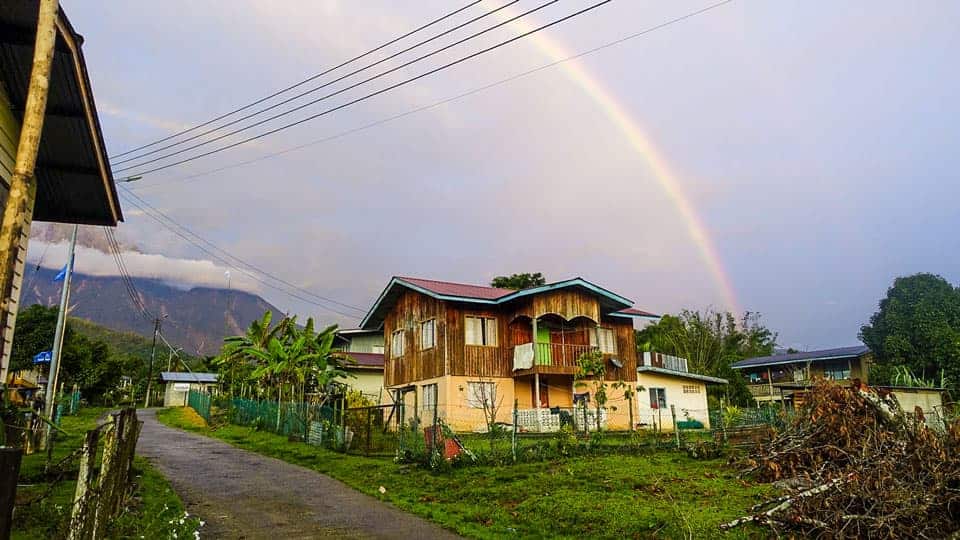 I always love to stay at a homestay, which is why I will always recommend staying in one.
But when I say homestay, I don't mean a guest house or B&B style homestay, I mean staying with a family and helping them to cook, farm or clean.
This is the most authentic way to experience what life is like for the locals and understand more about their rich culture and lifestyle.
Not only that, but you will taste the best food in Sabah at a homestay, trust me! Nothing beats a home-cooked meal.
The best place to stay in a homestay in Sabah is in the rural town of Kundasang, which is one of the many rural areas that nestle under Mount Kinabalu. Most of these villages offer homestays with much of the same offer, but if you're considering this unique experience, check out Kinabalu Valley Homestay!
2. Hike Mount Kinabalu, Malaysia's Tallest Mountain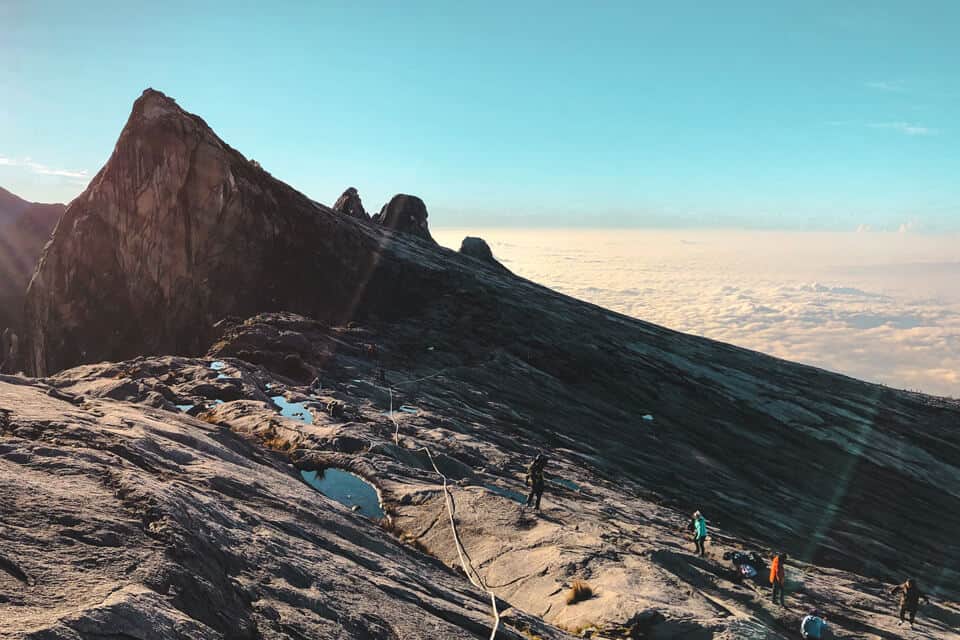 For adventurers, hiking Mount Kinabalu is ultimately the best hiking in Sabah. Mount Kinabalu is not only the highest mountain in Sabah, but the whole of South East Asia. At 4,200 meters above sea level, this hike is not to be underestimated.
Even if you're not a fan of hiking, Kinabalu National Park is one of the unmissable places to visit in Sabah. In fact, it is Malaysia's first UNESCO World Heritage Site, and it didn't become one until 2000.
From the park, you can feast your eyes on the immensity of Mount Kinabalu from ground level. If you are planning on hiking this mountain, it is worth seeing what you're getting yourself in for! If you're not interested in hiking, from the ground there are many small nature trails and family-friendly walks you can do.
3. Bask In The Poring Hot Springs, Best Place To Visit In Sabah After Hiking
No vacation is complete without soaking in some soothing natural hot springs.
After a long and arduous hike up Mount Kinabalu, this is going to be the best place to visit in Sabah in your whole Sabah trip, possibly.
The Poring Hot Spring baths are a welcoming 45-60 degrees and only 40km out of the Kinabalu national park, making it the perfect pit stop to soothe those aching limbs. And for 15 Malaysian Ringgit, it's hardly breaking the bank either.
4. Learn About The Sandakan Death March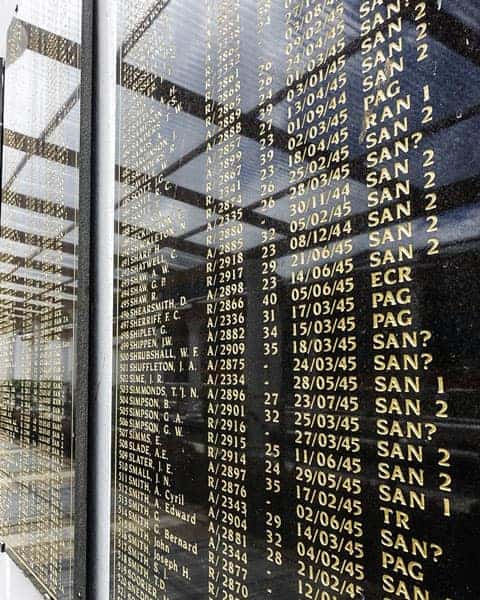 This is possibly the most somber thing to do in Sabah, but also the most important. When traveling anywhere, I always like to understand the history and culture of the place.
Notably for Sabah, the Sandakan Death March is one of the most poignant moments in the history of Sabah, and a must for anyone interested in dark tourism.
A brief history: during the second world war, the Japanese occupied the island of Borneo where they kept Australian and British prisoners of war.
During this time, they marched almost 2,500 prisoners from Sandakan to Kuching, through dense jungle and with limited rations and aid. No one made it to Kuching, and only six escaped. The rest sadly perished on the journey.
To learn more about the march, memorials are held in various places in the region.
Kundasang War Memorial and Sandakan Memorial Park are two important places to visit in Sabah if you want to learn more about this story and pay your respects to those who tragically lost their lives. Personally, I found the Sandakan Memorial Park one of the most interesting places in Sabah.
5. Visit The Gomantong Caves To See Bats
Just down the road from the hot springs is the Gomantong Caves, which is the largest cave in Sabah. This is possibly one of the lesser-known attractions in Sabah, Malaysia.
The cave in itself is impressive and full of bats (be careful, one pooped on me), but the reason most travelers venture here is not for the cave itself…
To enter the cave, you must first walk down a wooden boardwalk through the dense jungle. On this walk, if you're really lucky, you can spot an orangutan or two in the wild. I was lucky to see a mother and baby when I went, but as always with nature, you can never guarantee what you will see.
Oh and, don't touch the railings in the cave…trust me.
6. Jungle Trekking And River Cruise In The Kinabatangan River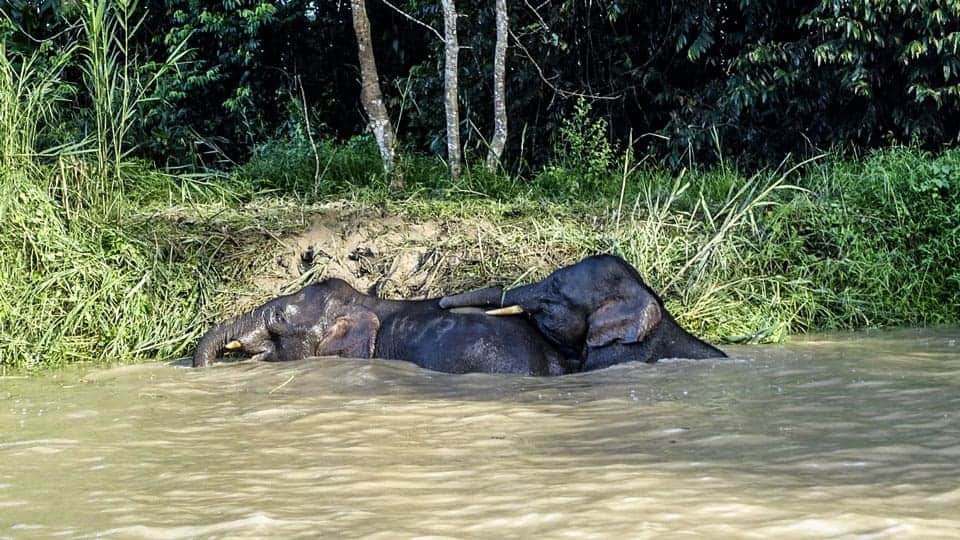 No holiday in Sabah would be complete without taking a jungle trek and river cruise expedition on the Kinabatangan river. To get there, you'll drive through miles after miles of palm oil plantations, which sadly sheds light on the sad truth of this island's current deforestation crisis.
After about 3 hours of driving through plantations, you'll reach the jungle corridor – the place where the plantations stop, and the jungle begins. The corridor is defined by the river, where you can see how conservationists have created ropes for animals to flee the plantations and make their way safely to the jungle on the other side.
The river cruise is the best place to see wildlife in Sabah as it patrols the corridor where most animals have found safety. However, as always with wildlife, you'll never know what you will see.
If you're lucky, you may see an orangutan or two who like to nestle high up in the tree canopy. Closer to the water, you may come across a herd of pygmy elephants – a cute breed of elephant native to Borneo that you can't see anywhere else.
Conservationists have worked hard to maintain the mangroves by the river, which is the best place to see pig-tailed macaques, gibbons and if you're really, really, lucky…a Proboscis Monkey. Other animals that have been found in the area are the slow loris (though they are very rare to find) and hose's langur, as well as hundreds of species of birds.
After the river cruise, make sure you take a jungle trek at night time when the wildlife really starts to wake up. At night, you are more likely to see slow loris, frogs, snakes, spiders and other insects. Make sure you put on your leach socks though, as leeches are prone to fall from the branches!
7. Labuk Bay Proboscis Monkey Sanctuary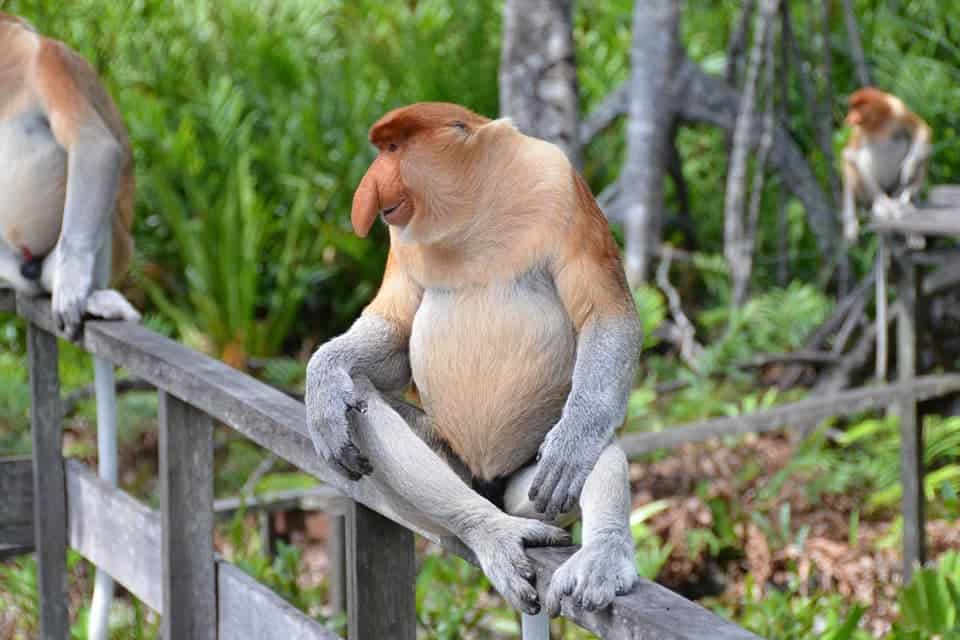 When you think of endangered monkeys in Borneo, you are probably thinking about the orangutans. And you would be right, they are endangered. But not as endangered, as the Proboscis Monkey…
Today, there are thought to be less than 7,000 in the wild. If you want to see these incredible animals, the best place to see Proboscis Monkeys is at the Labuk Bay Proboscis Monkey Sanctuary.
The Proboscis Monkey is native to Borneo and they predominantly live in mangroves. Due to the deforestation problem in Sabah, much of their habitat has been destroyed and today their numbers grow fewer and fewer.
For wildlife lovers, make sure you don't miss the chance to see these awesome creatures while you still can.
8. Experience The Best Wildlife In Sabah At The Sepilok Orangutan Rehabilitation Centre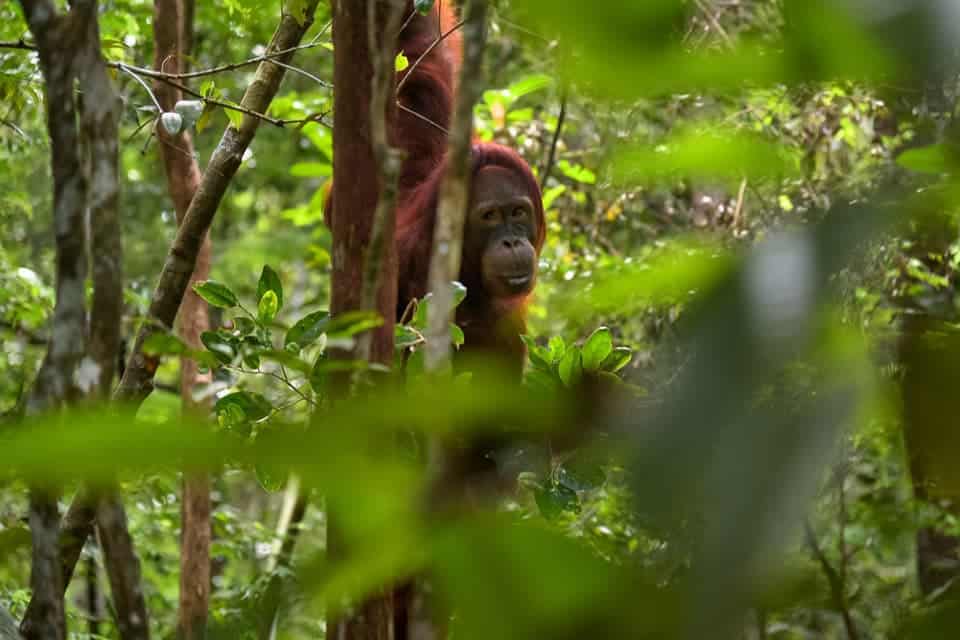 If you're traveling to Borneo, then you're probably wanting to see some Bornean Orangutans. The orangutans are the biggest Sabah attraction and unfortunately their numbers are declining, so if you want to see them in their home…you better go now!
Witnessing Orangutans in the wild is not impossible, but it's very rare. If you want to ensure you do get to see them, happy and free, then you should make a stop by the Sepilok Orangutan Rehabilitation Centre.
The center is located in the Kabili-Sepilok Forest Reserve, which has no walls or cages, so orangutans are free to roam as they please…although, the daily offering of food is not something these inquisitive animals can turn down.
As well as seeing the orangutans roaming wild and free, you can also see the extraordinary work the center is doing to protect those orphaned or injured orangutans rescued from plantations or illegally kept as pets.
Every orangutan saved is trained to live in the wild, so they can be one day released back into their natural habitat. Seeing the orangutans, in my opinion, is the best thing to do in Sabah, so make sure you don't miss the Orangutan Rehabilitation Centre.
9. Bornean Sun Bear Conservation Centre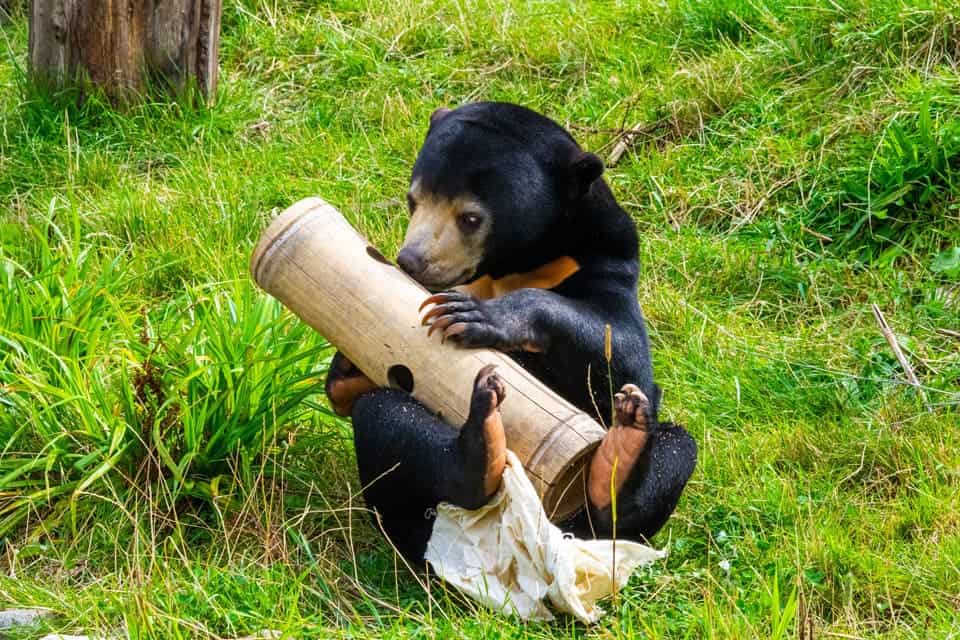 Across the road from the Orangutan Rehabilitation Centre is the Bornean Sun Bear Conservation Centre.
These adorable animals are the world's smallest bear species and native to South East Asia. Unfortunately, like the orangutan, their species is threatened by deforestation and illegal poaching and their numbers are dropping.
At the BSBCC, you can observe these bears in their natural habitat as they bask in the sun or chew on a few branches, while maintaining a safe distance from them.
For wildlife and nature lovers, this is a must-see attraction in Sabah.
10. Explore Turtle Conservation Projects At Turtle Island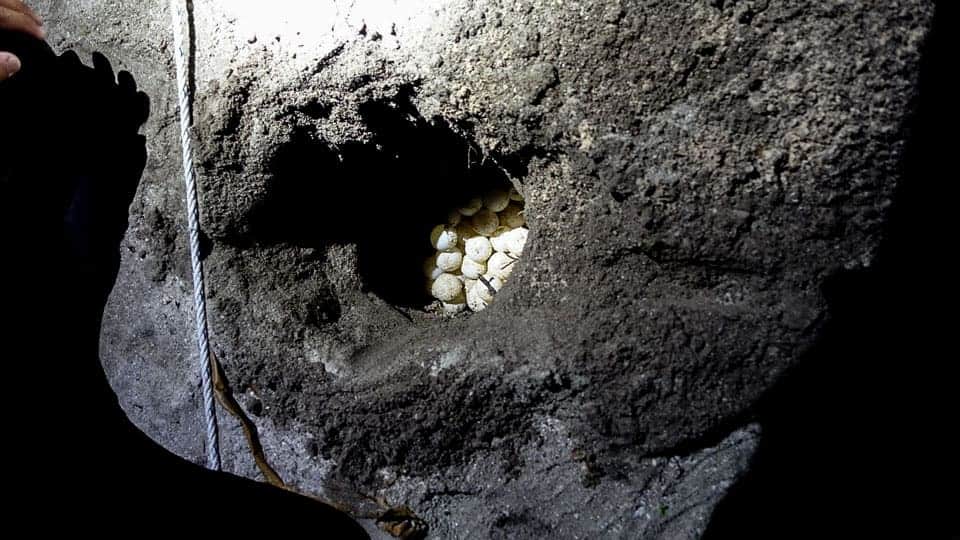 For nature lovers, you cannot miss a visit to Turtle Island, otherwise known as Selingan island. This entire island is a conservation project set up to protect these important and endangered animals.
During the day, there are beautiful white sand beaches you can chill out on and snorkel from the shore. But the real magic happens at night.
Amazingly, turtles always return to the beach they hatched from to lay their eggs during the night. Fortunately for Selingan, these sea creatures have been visiting the island for decades, which means that turtles visit this island's shore pretty much every night of the year to lay their eggs. This is great news for travelers who have a tight schedule, as any day is the best time to visit Sabah if you want to see turtles lay their eggs.
As well as witnessing the mother turtle lay her eggs (from a safe and unobtrusive distance) you can also witness the newly hatched turtles be released back into the wild.
This conservation project has been operating for decades and they have a real knowledge of these animals and how to protect them.
11. Learn About The Heritage of Borneo at Mari Mari Cultural Village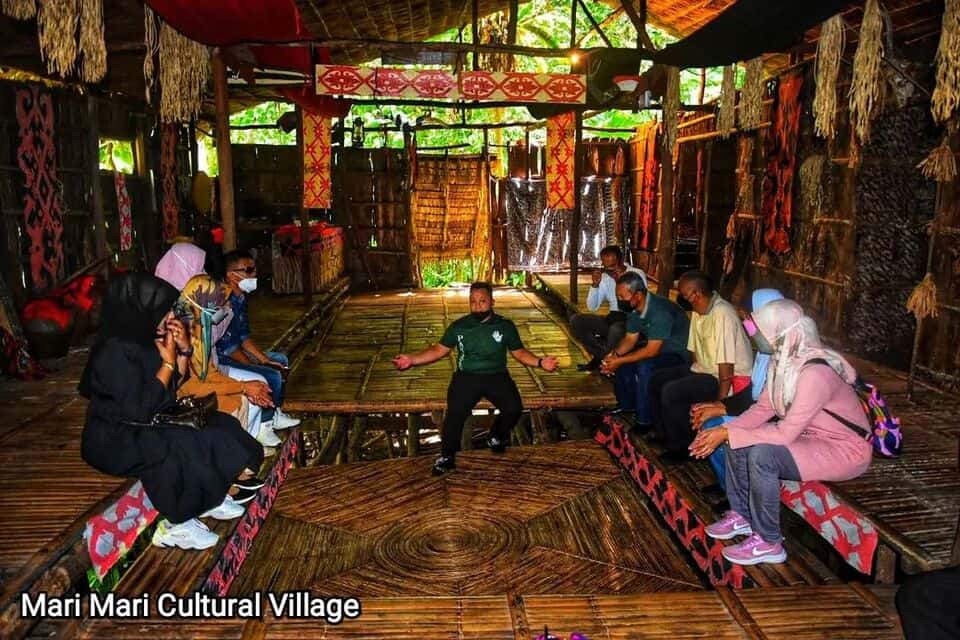 Travelers that would like to dive deep into the indigenous cultures and tribes of Borneo must not pass up on the unique experience at Mari Mari Cultural Village. An attraction designed to showcase the cultures, skills, and traditions of five different ethnic tribes in Sabah, Mari Mari Cultural is a must on any Sabah trip.
Come learn the ways of the hunters and fishermen of the Lundayeh, the cowboys and sea gypsies of Bajau, the farmers and traders Dusun and Rungus, and the mighty warrior tribe of Murut. Through demonstrations and performances, visitors can get a glimpse into lives in Sabah before the days of electricity! It is a great educational activity, especially for families traveling with kids.
Mari Mari Cultural Village is located only 25 mins away from Kota Kinabalu by car, making it the perfect half-day trip activity!
Find out about how you can get a tour to Mari Mari Cultural Village here!
12. Explore the Tunku Abdul Rahman Park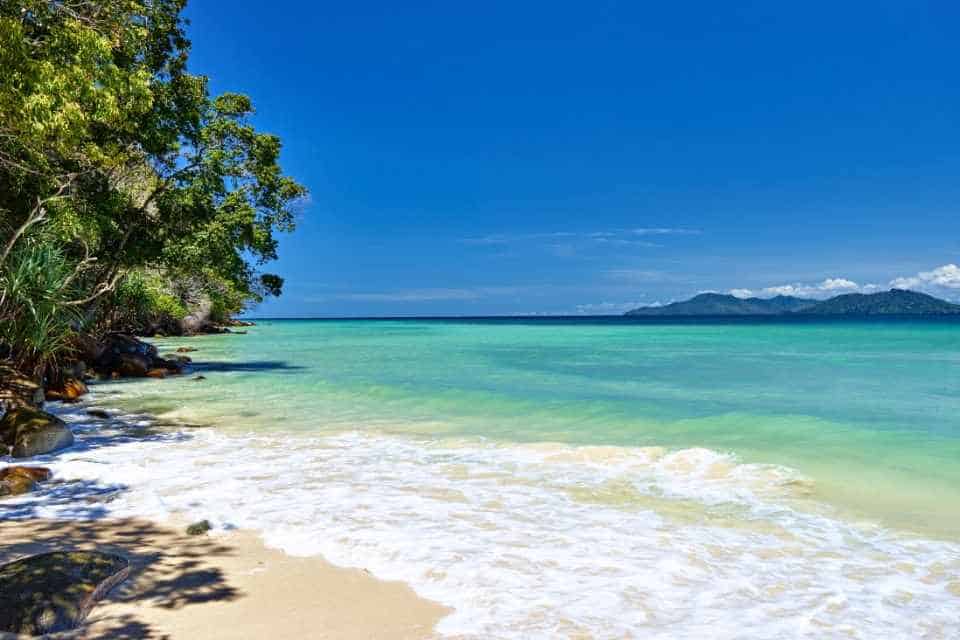 The Tunku Abdul Rahman Park is a state park comprising of 5 islands located about 3 kilometers off of Kota Kinabalu.
Visitors can come for a day, exploring the pristine nature the islands are known for, or participate in one of the many water-related activities such as snorkeling, diving, or just swimming. For those that just relax in nature, having a picnic on the beach is always an option!
The Tunku Abdul Rahman Park is also home to Malaysia's longest island-to-island zipline. The zipline starts on Gaya Island and ends on Sapi Island, and visitors can experience a thrilling journey crossing the sea on a zipline!
Find out how you can explore Tunku Abdul Rahman Park on a guided tour here!
---
Visit The Stunning Beaches In Sabah
If you want a bit of relaxation by the sea, the best beaches in Sabah are in the "Palau Islands", off the Northern Eastern town of Semporna. Not to be confused with The Palau islands in Micronesia, Palau in Malay simply translates to "islands" and so many of the islands in Sabah start with the name Palau.
These exotic islands are known for having retained their unspoiled beaches and untouched sea life, making them the perfect spot for beach lovers and divers.
1. Palau Bum Bum Island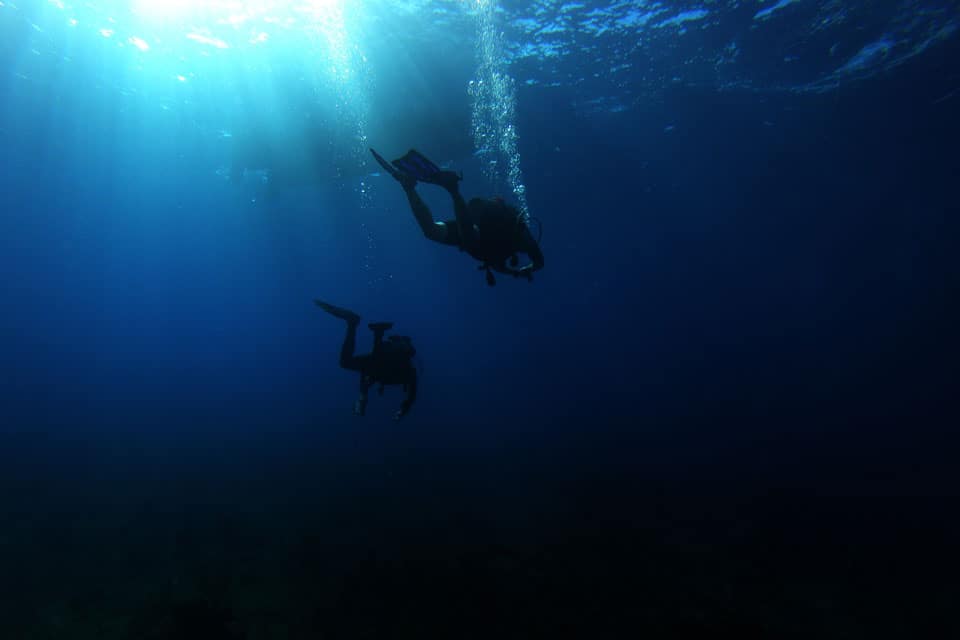 Perhaps the easiest island to get to is Bum Bum Island, the biggest island in the Palau collection. Although not a popular destination for tourists, yet, it is a hidden gem waiting to be explored. Palau Bum Bum has a quiet and peaceful atmosphere, as well as beautiful green hikes and views that will take your breath away. So, if you don't go for those reasons, at least go for its comical name!
To get to Palau Bum Bum island is very simple. You can take a boat from Semporna. The distance across is only 1km, so boats are not hard to come by.
Where To Stay On Palau Bum Bum Island
If you're on a super tight budget, there are some awesome on-water budget hotels and hostels on the island. We would recommend ND Divers, who not only offer a reliable, comfortable and clean place to stay, but also sort you out with a diving tour too.
Staying on-water tends to keep bugs away, so if you get the opportunity to stay in an on-water accommodation, do it!
2. Palau Mabul Island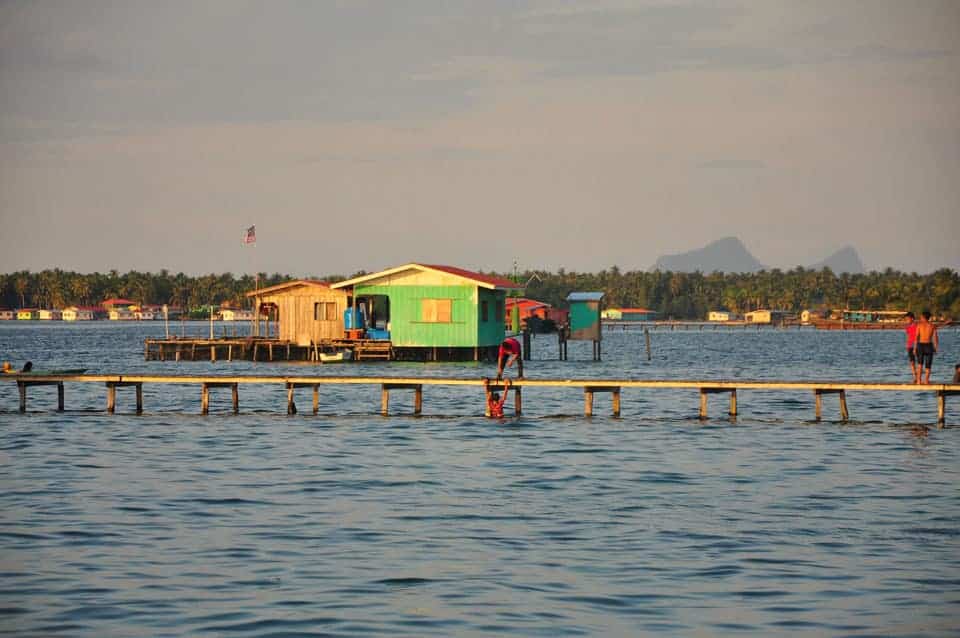 For serious divers, Palau Mabul island offers some of the best diving in Sabah. If you're not big on diving, there are snorkeling and sea kayaking tours available too. Palau Mabul island is small and quaint. A few days here is all you need to relax and let go of your worries.
Where To Stay On Palau Mabul Island
If you have ever dreamed of the water-beach hut resorts you see in the Maldives, but can't quite afford it, then Palau Mabul is the place for you!
The Sipadan Water Village is possibly the best place to stay in Sabah, offering a luxury on-water resort that offers private cottages at a fraction of the price of the Maldives, and the beauty is that you can organize your diving tours through the resort.

You can get there either by boat from Semporna or you can fly from Kota Kinabalu.
3. Palau Sipadan Island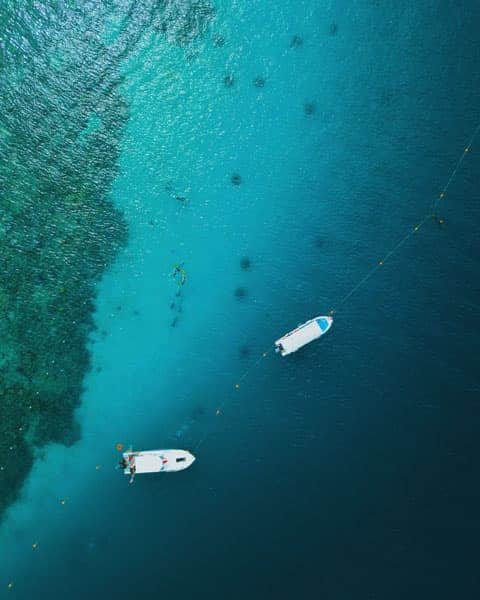 If you want to know which is the best island for diving in Sabah, then Sipadan is the answer! The diving from Sipadan will be the best diving Borneo has to offer you but getting there is not easy…though completely worth it!

As far as I know, the only way to get there is by boat from Mabul island, which in itself needs a boat or a plane to get to. If you have a bit of time in Sabah, make sure you include Sipadan in your Sabah trip.
---
Things To Do In Sabah Map
Above is an interactive map featuring all the attractions we've just talked about. Using this map, you can get a better understanding of how far the attractions are from one another. This will hopefully help you plan your Sabah itinerary!
---
What To Pack For Sabah, Malaysia
If you are planning to do all, or some, of the attractions in Sabah that I've mentioned above, you will want to be prepared. You will be going from the mountains, to the jungle, to the beaches, and each of these activities needs specialist equipment that you shouldn't forget to pack!
Outside of the regular packing items you need for every trip, you should pack:
High-Zoom Camera – Photographing wildlife is no easy task, especially if they are quick and far away. Unless you have an interchangeable lens camera and a telescopic lens, chances are you might not be able to capture anything. That is why I recommend the Sony CyberShot-RX10 IV. With its 24-600mm zoom, you won't miss a shot anymore!
Sunscreen – Do you expect to go to South East Asia and not pack any sunscreen?
Insect Repellent with Picaridin – Filled with tropical jungles, Sabah is inundated with insects and mosquitos. If there is one thing you pack for Sabah, it is insect repellent
Filtration Water Bottle – One of my favorite traveler items. It will save you money from buying water, and will also save you in dire circumstances, especially when hiking Mount Kinabalu.
Reliable Hiking Boots (

Him

/

Her

) – If you are planning on hiking Mount Kinabalu, you will need some good quality hiking boots. The terrain of the hike is very rocky and can be slippery if it rains. There are some steep inclines and muddy patches, so you will put a lot of pressure on your ankles.
Rain Jacket (

Him

/

Her

) – Rain is common in Sabah, especially near the rainforest. Always pack a lightweight rain jacket with you!
Travel Medicine Kit – With the sanitation and hygiene of some South East Asia, it might be wise to pack an all-purpose medicine kit. Nothing is worst than getting sick abroad!
Warm Clothing – There are a few activities where warm clothing is necessary. Mount Kinabalu reaches 4,160 meters above sea level and can be quite cold at the summit. I would also recommend wearing a long-sleeve t-shirt when doing a jungle trek, to help stop leeches from getting in!
Hiking Leech Socks – If you are planning on doing the jungle trek, then you should probably take your own leech socks. If you go with a guide, they usually provide rain boots and leech socks, however, the ones provided to me were worn and muddy, and didn't stop leeches from entering.
Mosquito Head Net – When I did the jungle trek, another traveler in the group wore one of these and she was the only one to not get a leech on her! I wish I had one of these when I went to Sabah. The pull-cord fastening provides an impenetrable fortress for leeches and will protect you from getting bugs in the eyes too!
---
Visiting Sabah FAQs
Is Sabah Worth Visiting?
Sabah is one of the most unique places in the world. It is home to lush rainforests, towering mountains, and gorgeous beaches. Many endangered species call this Malaysian state home, including the Orangutans, Proboscis monkeys, and more!
How Many Days To Stay In Sabah?
Between the epic Mount Kinabalu hike, beautiful islands, and exotic wildlife, we recommend spending at least 7 days here to fully allow yourself to discover Sabah.
---

Like this post? Don't forget to save it on Pinterest!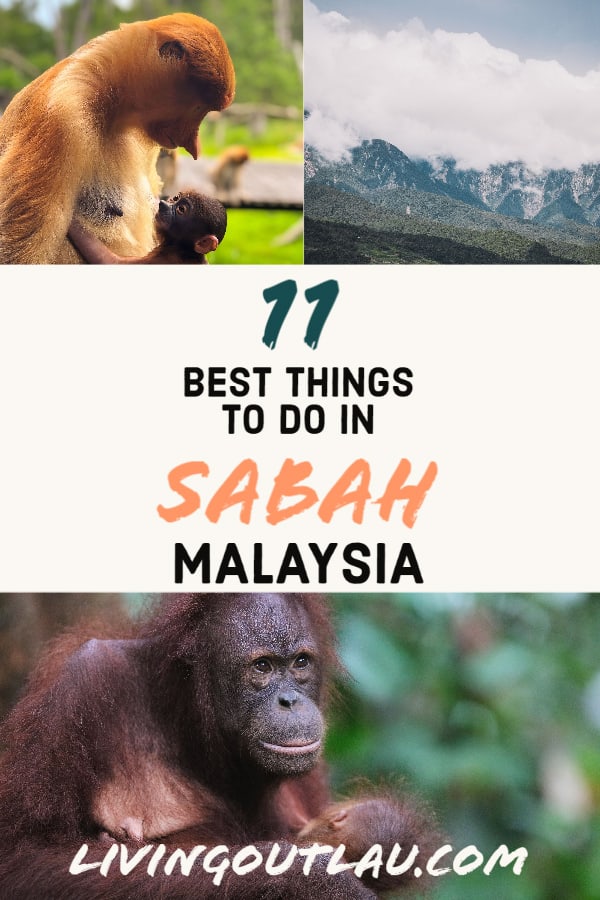 ---
So that's it! The top 15 things to do in Sabah. Which one was your favorite? Mine was definitely the Mount Kinabalu hike.

Any questions? Leave a comment!
Disclaimer: Some of the links above are affiliate links. That means if you book or make a purchase through the links, we will earn a small commission at no extra cost to you! The money will help run this site! Thank you!