Looking for the best quiet beach towns in Florida? Worry not. As a frequent traveler to Florida, I'm here to show you some of my favorite small Florida beach towns. These towns are quaint, peaceful, and ideal for a relaxing vacation right by the water!
Whether you are looking to escape the chaos of Miami and Orlando, just looking for a destination where you can enjoy some quality time with your family, or want to go somewhere that is a little bit cheaper, there is a beach town in Florida perfect for you.
Without further ado, here are 21 of the best small beach towns in Florida!
Best Small And Quiet Beach Towns In Florida
1. Gasparilla Island
If you're looking for peace, relaxation, and tranquil white-sand beaches – head to Gasparilla Island in Southwest Florida. This off-the-radar destination is home to a mile-long beach that boasts calm aqua waters (perfect for snorkeling and swimming) and offers the chance to see dolphins, turtles, and manatees swimming offshore.
The crowning glory of Gasparilla Island is the Port Boca Grande Lighthouse, built in 1890, and now houses an interesting museum. The main town on the island, also called Boca Grande, is, in our opinion, one of the best small beach towns in Florida – and we really love that it's car-free.
Yes, the only way to get around here is by bike or on the island's recognizable pastel-colored golf carts. This small town is so photogenic, and it's lined with palm trees and Key West-style cute stores and restaurants.
2. Fernandina Beach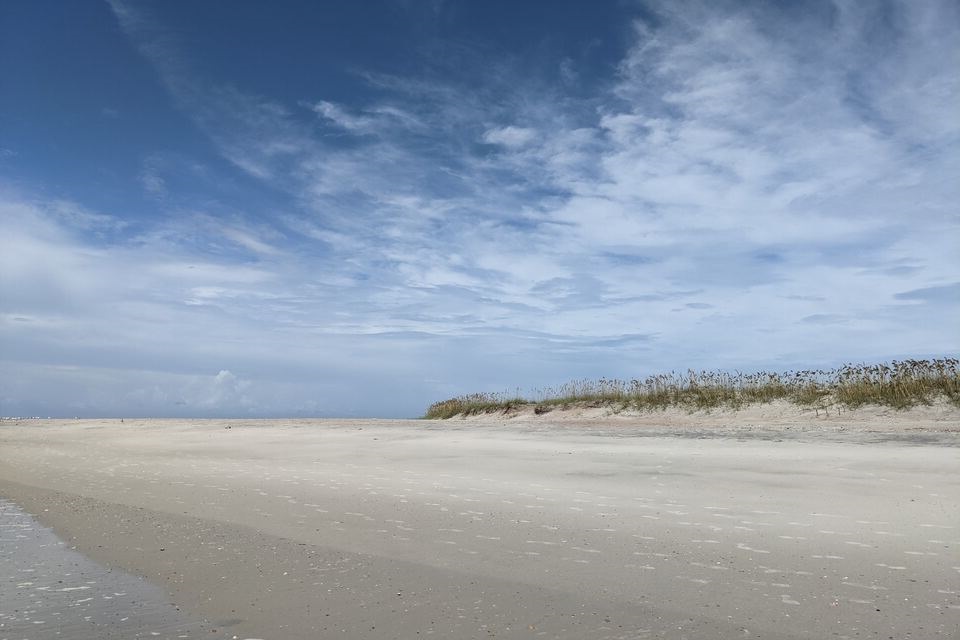 With no less than 13 miles of gorgeous beaches, we think it's fair to say that the coastal town of Fernandina Beach on Amelia Island is a top-class beach vacation spot! And it's never too busy here, except in May when the super-popular Isle of Eight Flags Shrimp Festival takes place.
And despite its relaxed vibe, there's plenty to do here, from golfing to wandering the cute downtown area that's filled with adorable coffee shops, quirky stores, and galleries. Be sure to stop into Fernandina's Fantastic Fudge for a sweet treat you'll remember!
3. Lauderdale-By-The-Sea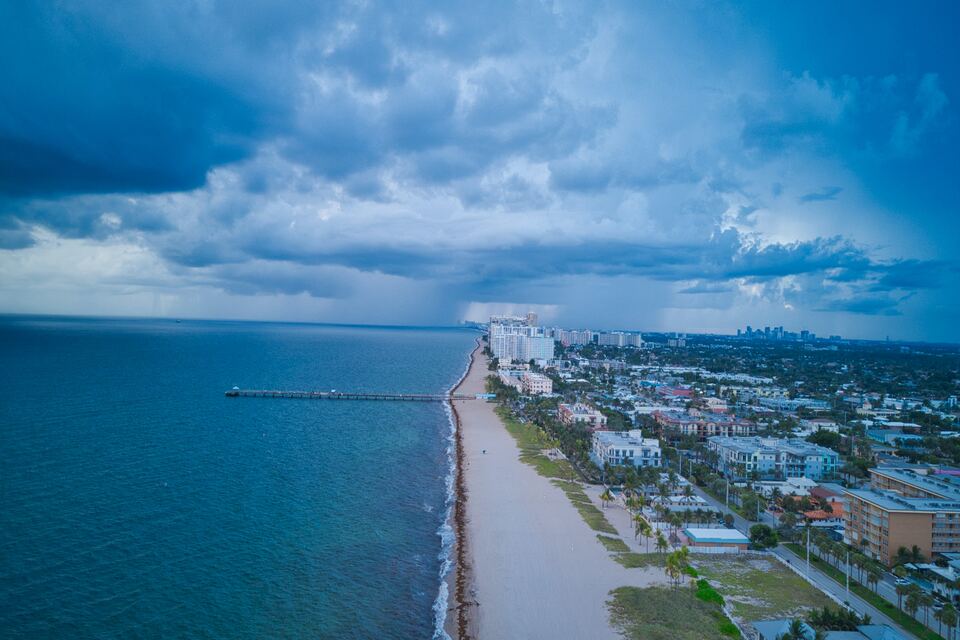 Just a 15-minute drive from the more famous, similarily-named Fort Lauderdale, Lauderdale-By-The-Sea couldn't be more different from its buzzy neighbor. This small coastal enclave is home to just 6,000 residents, and everything is walkable – which means you could be at one of the town's blue flag beaches and five minutes later checking out the adorable stores along Commercial Boulevard.
Lovely Lauderdale-By-The-Sea exudes an old-world charm as there are no tall buildings in the town nor along the beach, so visiting here is like stepping back in time to the Florida of the 1950s.
Interestingly too, Lauderdale-By-The-Sea is Florida's Beach Diving Capital. Only 100 yards from the shore is a three-tiered coral reef filled with marine life like nurse sharks, stingrays, and lobster.
4. Captiva Island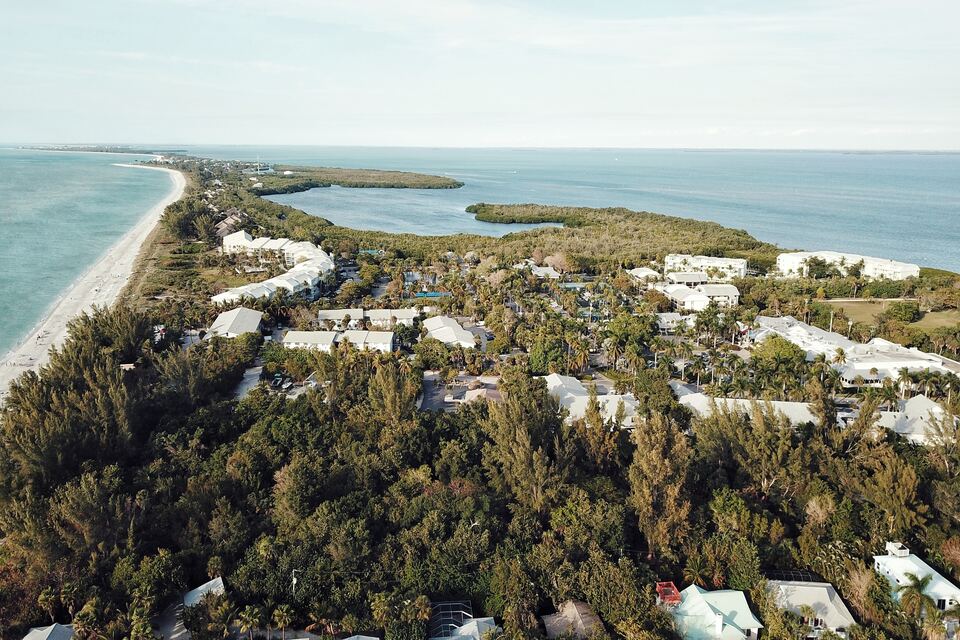 If you want to escape the hustle and bustle of everyday life, look no further than the remote Captiva Island on Florida's southwest coast. Known for having some of the best sunsets in the state as well as excellent water activities and sailing, it's no wonder this tiny island is gaining in popularity of late!
Captiva Island is picture-perfect with colorful bougainvillea and huge cacti growing all over the island, and that, coupled together with the island's easy-going, friendly atmosphere, makes this a great alternative to busy Miami or Key West!
Spend your days here relaxing on one of the island's beaches (we love Turner Beach or Captiva Beach), hop on a sailing boat to explore the nearby islands, or watch for manatees or dolphins from the shore.
Read More: What Are The Warmest Places In Florida In December and January?
5. Key Biscayne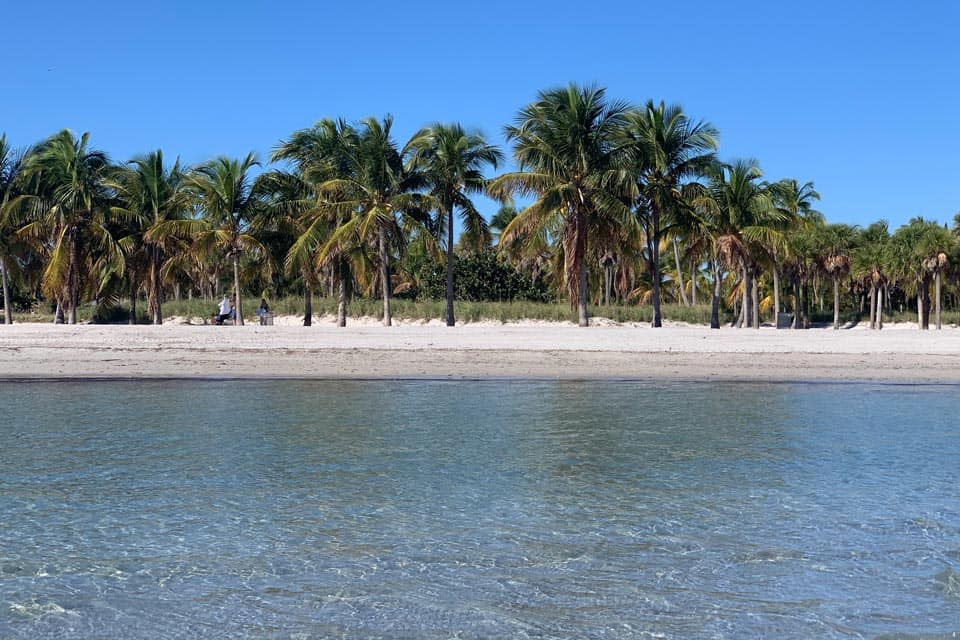 Key Biscayne is just 15 minutes down the road from Miami but feels worlds apart. It's widely regarded as one of the best small beach towns in Florida, and it's home to glorious white sand beaches and excellent eateries.
And when you tire of beach time, head to Crandon Park, which has a tennis court, a lovely marina, and the Marjory Stoneman Douglas Biscayne Nature Center.
In fact, Key Biscayne is sandwiched between two parks – the other is Bill Baggs Cape Florida State Park, and spending a few hours here is a must. It's home to a historic lighthouse (which you can explore on a guided tour) and a glorious public beach.
Read More: Best Warm Winter Destinations In The United States
6. Islamorada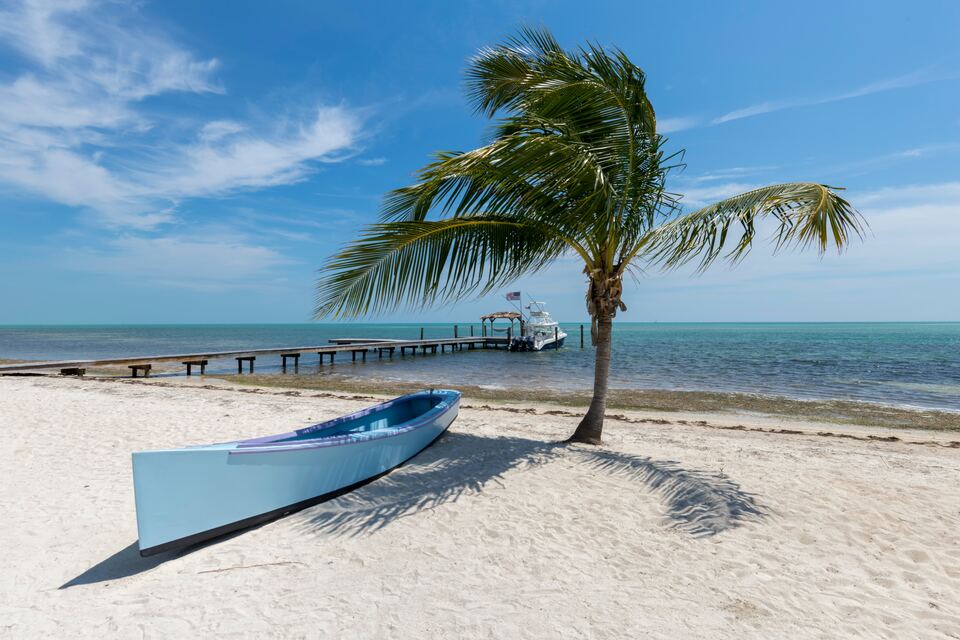 With a nickname like the 'sport fishing capital of the world, ' it's no surprise that Islamorada in the Florida Keys is one of the Sunshine State's best small beach towns! Located only 90 minutes from Miami and surrounded by bright blue ocean, fill your days here fishing, sampling fresh seafood from one of the waterside restaurants, and ending the day catching the sunset from one of the island's piers.
One of our favorite spots to visit here is the History of Diving Museum, a non-profit museum that displays a wide array of diving artifacts – which the owners have collected for over 40 years.
7. Siesta Key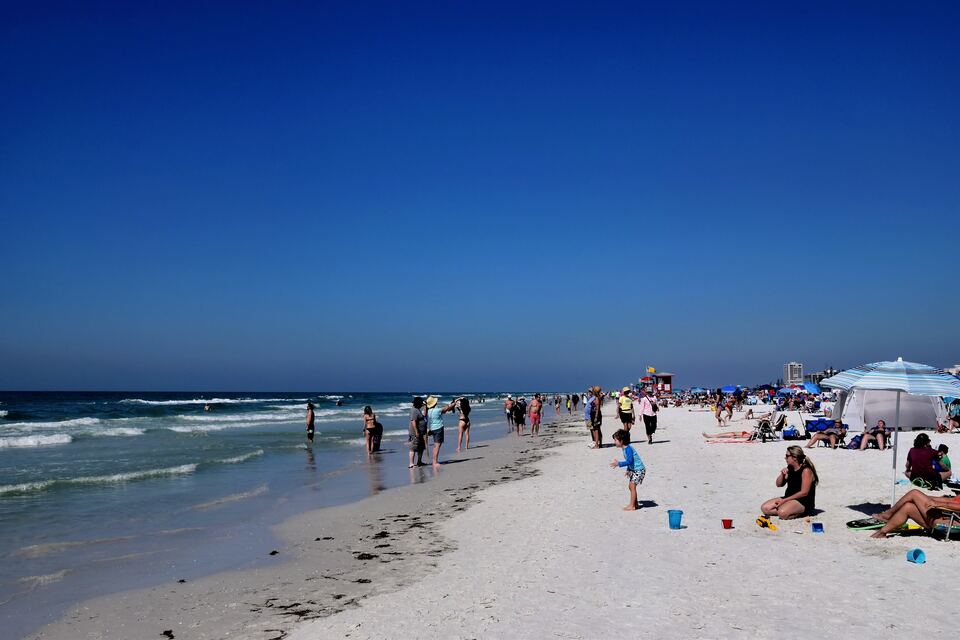 Despite its name, Siesta Key ain't a sleepy town. Home to what TripAdvisor ranked in 2023 as the second-best beach in the U.S., this destination attracts many tourists but maintains a 'quiet town' atmosphere.
The town's jewel is its award-winning beach, which features sugary soft white sand. Here, you can sunbathe or go for a dip in its warm waters or try something more adventurous, like renting a jetski or parasailing.
Other than the beach, you can rent a bike and cycle across to nearby Siesta's Sands, ride the free Siesta Key Breeze Trolley, and catch the sunset from the aptly named Sunset Point.
8. Anna Maria Island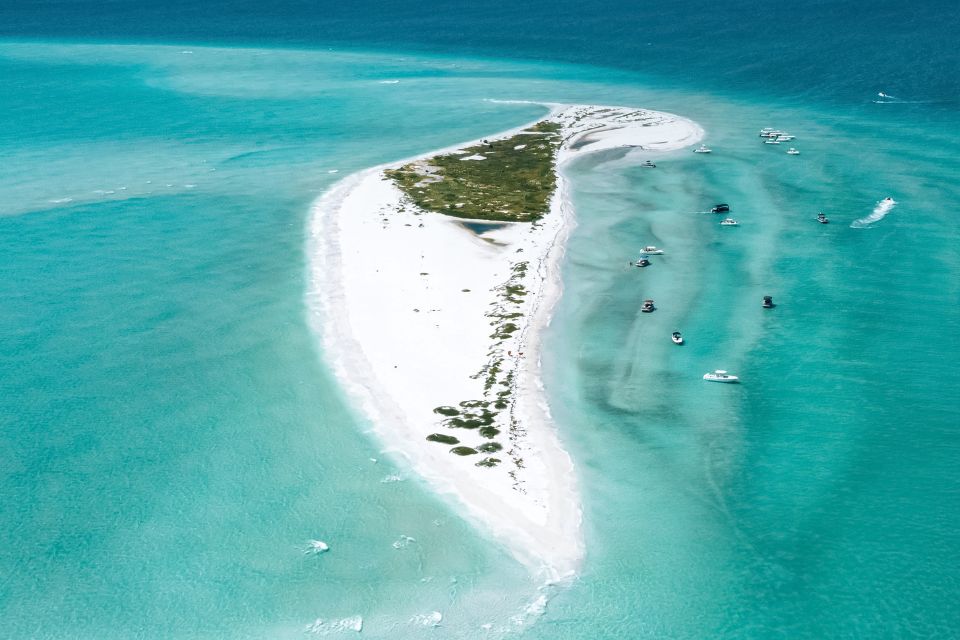 Another quiet beach town in Florida that will make you feel like you've stepped back in time is Anna Maria Island – hugging the Manatee County Coast; it offers vacationers seven miles of pristine white sand beaches and crystal clear waters, ideal for swimming, kayaking and, snorkeling!
Downtown, you'll find colorful, historic buildings which house everything from antique stores to art galleries to restaurants. In fact, the buildings here look like they belong in the 1950s as strict laws forbid modern-looking buildings. There's a free trolley that starts at the pier and ends at Coquina Beach, with 14 stops along the way, so you can hop on and off where and when you please!
Read More: What Is Miami Known For?
9. Flagler Beach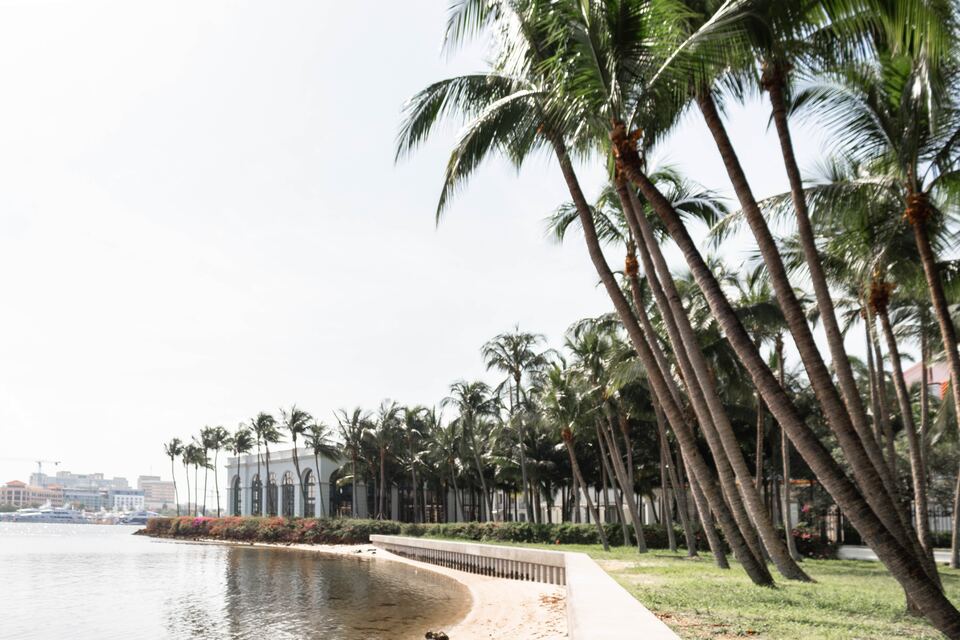 In between St. Augustine and Daytona Beach and along the wild Atlantic Ocean is Flagler Beach, an eclectic town that enjoys miles of white sandy beaches and a cozy downtown area with plenty of stores and excellent restaurants. Oozing a kind of retro vibe, this is the type of quiet beach town in Florida you come to if you're looking for a truly laid-back vacation.
As for things to do here – you can try your hand at fishing from the pier, sunbathing, swimming at Flagler Beach, or enjoying a coffee (or stronger beverage) from one of the rooftop Cafes on Ocean Boulevard.
10. Madeira Beach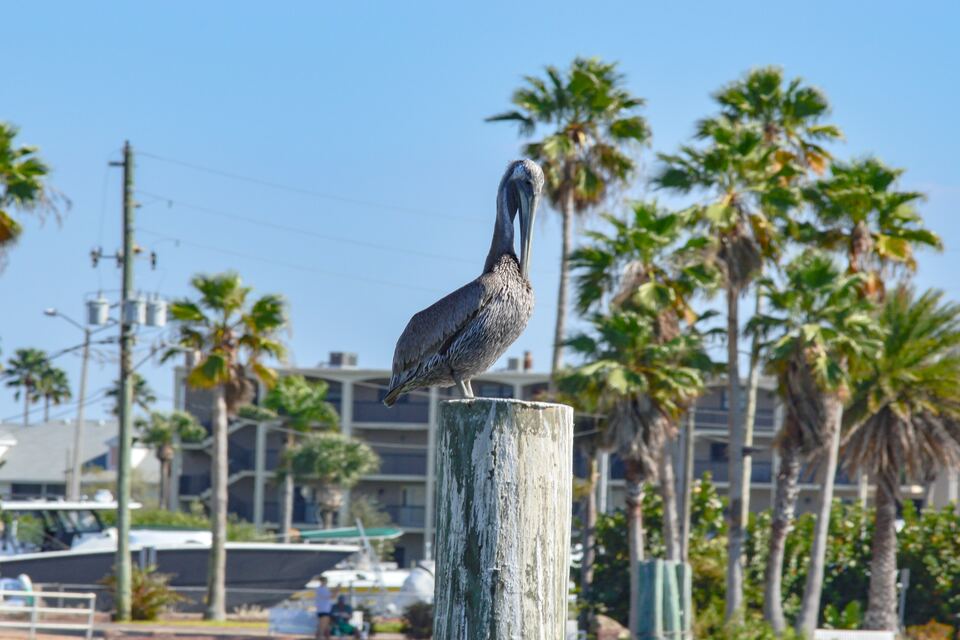 Under 30 minutes from St. Petersburg is Madeira Beach, a small beach city most well-known for its 335-meter-long boardwalk, lined with some fantastic stores and restaurants, and its 2.5-mile white sandy beach!
Fishing is the best and most popular thing to do here, as John's Pass has more grouper than any other fishing spot in Florida! If you're visiting in the Fall, try to plan your stay for October when the Seafood Festival takes over; this fun celebration of food, music, and art attracts upwards of 130,000 tourists!
Read More: What Is Florida Known For?
11. Dunedin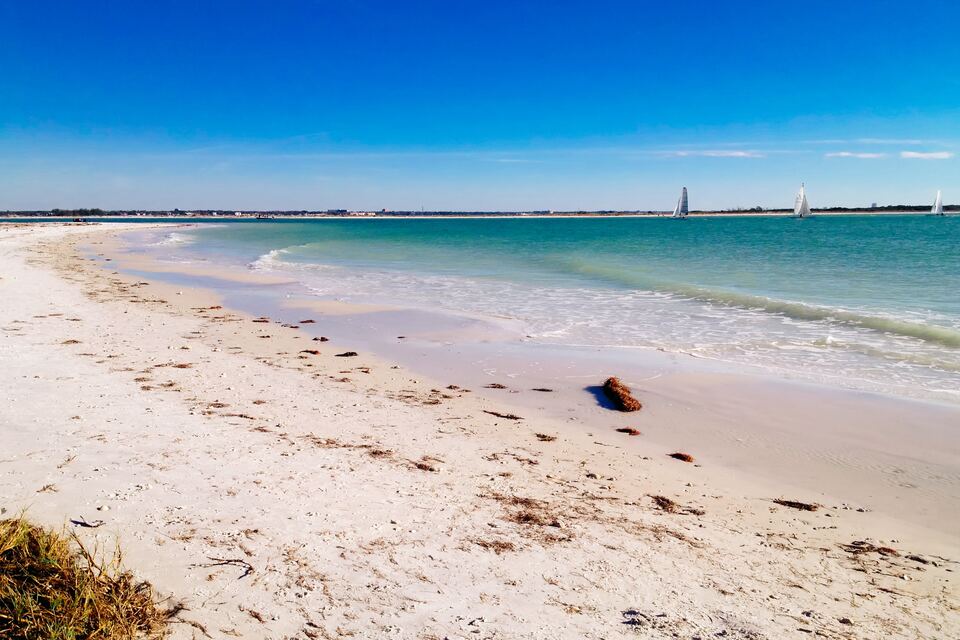 Dunedin, a coastal city on Florida's Gulf Coast, is one of the oldest cities on this side of the state. Although it offers a relaxing escape, there's still plenty to do in this city conveniently located an hour from Tampa – from relaxing on the gorgeous beaches of Honeymoon Island State Park (and keeping your eyes peeled for ospreys while you're there) to exploring the wildlife haven of Hammock Park in the downtown area, home to a butterfly garden, owls, and woodpeckers!
While more adventurous tourists can kayak through the mangroves of nearby Caladesi Island State Park. Beer lovers will be happy here with several popular craft breweries to enjoy!
12. Sebastian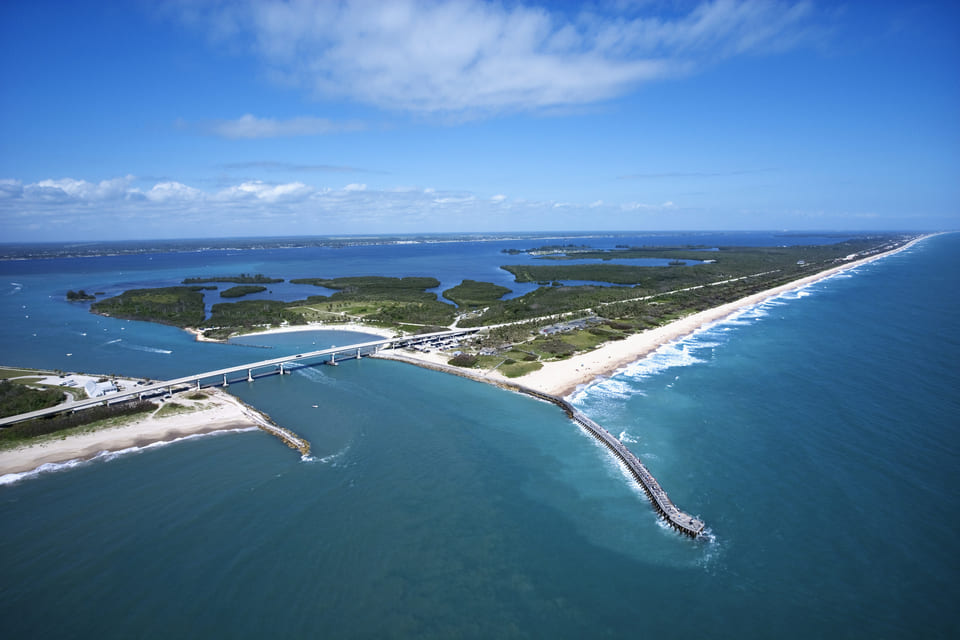 Another Florida gem with a fantastic fishing scene is Sebastian on the central Atlantic Coast. It's also regarded as one of the best surfing spots on Florida's east coast, so if you're into that sort of thing, you couldn't choose a better Florida vacation spot!
Steeped in history and renowned for its natural beauty, you can fill your days in this small, charming town examining lost treasure from historic voyages at Mel Fisher's Treasures or enjoy the stunning great outdoors with a kayak or SUP down the Intracoastal Waterway here.
13. Vero Beach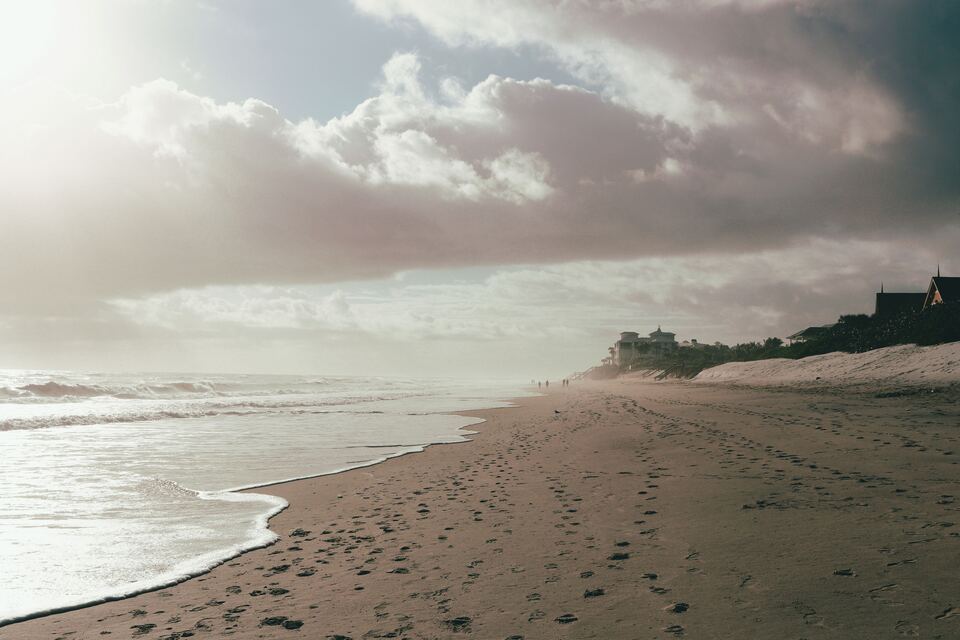 This treasure of a city, along Florida's treasure coast (see what we did there?!), is a bit of a hidden gem but beloved by those in-the-know for its fishing, golf, and water sports. Vero Beach is a growing city with oodles of small-town charm, and its vibrant but small downtown area has everything you need, from restaurants to museums to lovely parks.
A two-hour drive from Orlando will get you to this laid-back city with ease, and once here, you should check out South Beach, a gorgeous beach park with plenty of grassy areas, shade, and forested walking trails.
And on the Intracoastal Waterway (aka Indian River Lagoon), you can enjoy kayaking and fishing, or if you're after something truly bucket-list-worthy, how about a speedy airboat ride along the waterway?!
14. Miramar Beach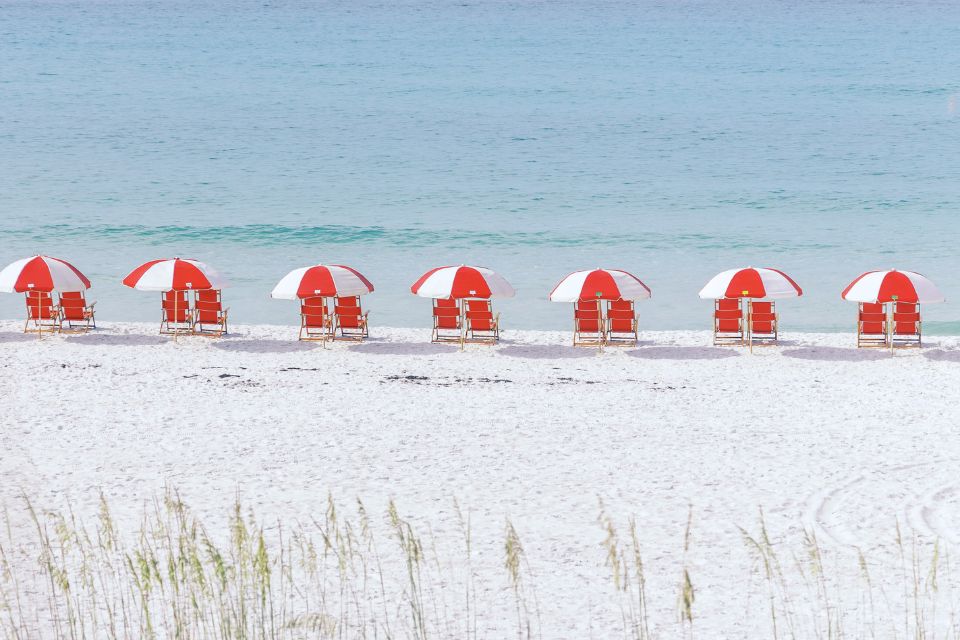 Located on the Gulf Coast and in Walton County, Miramar Beach is another small beach town in Florida that embraces its nostalgic vibe. Just under an hour from the more famous Panama City Beach, Miramar is reminiscent of a 1950s beach town with its colorful beach houses, retro-looking restaurants, and surf shops.
Miramar Beach offers all the contemporary amenities a modern-day vacationer needs, like luxury resorts and vacation rentals and fun activities such as jet skiing and parasailing. Hikers or cyclists, too, will love the 3-mile Scenic Highway 98 Trail here.
Plus, you can shop 'til you drop at one of the biggest designer outlets in the U.S. – Silver Sands Premium Outlets boasts over 100 stores. And some of the best sunrises in the country can be witnessed in nearby Grayton Beach State Park, home to Grayton Beach and its glorious sugar-white sand!
15. Amelia Island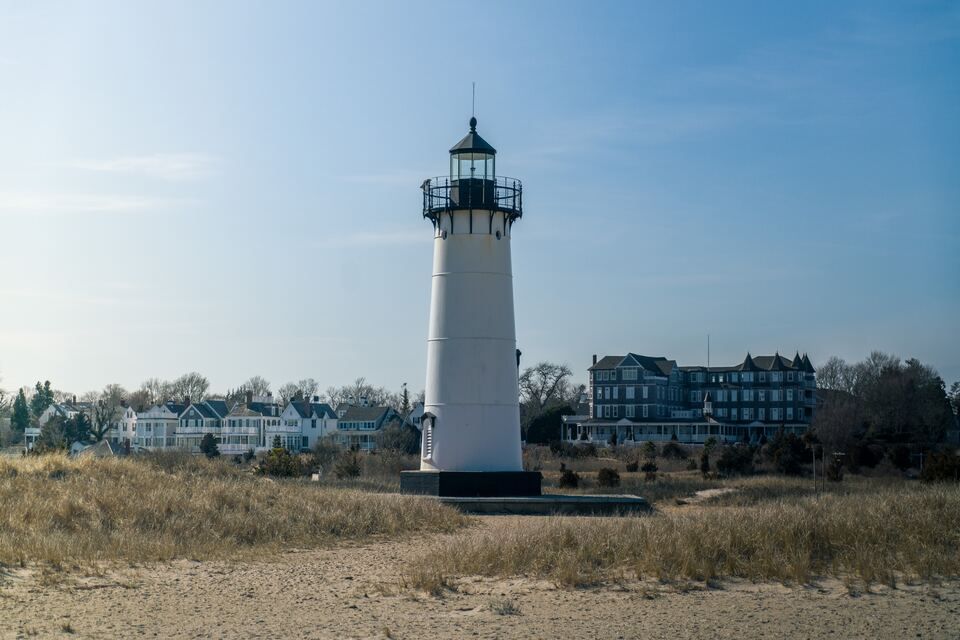 Offering no less than 13 miles of uncrowded, beautiful beaches, awesome, highly-rated eateries, and world-class golf courses, this barrier island on Florida's Atlantic Ocean has been a popular luxury holiday destination for holidaying Floridians and overseas visitors for decades.
But one of the coolest things about Amelia Island is its turtle nesting season. From May to October, hundreds of sea turtles (namely the Leatherback, the Loggerhead, and the Green Sea Turtle) come to the beaches here to lay their eggs.
16. Atlantic Beach
Atlantic Beach, which is, yes, you guessed correctly, nestled along the Atlantic Coast of Florida, offers vacationers over two miles of uncrowded beaches. This small beach community is one of the least-visited regions in the state, so if it's a peaceful vacation you're after, you're in luck!
Fishing, sunset-watching, and hiking through nearby Howell Park make up some of the best things to do here. The almost 800-meter-long nature trail here passes by unique vegetation and ponds (which are home to many turtles) and offers the chance to see wildlife like coyotes, great-horned owls, bobcats, and bald eagles.
17. Sanibel Island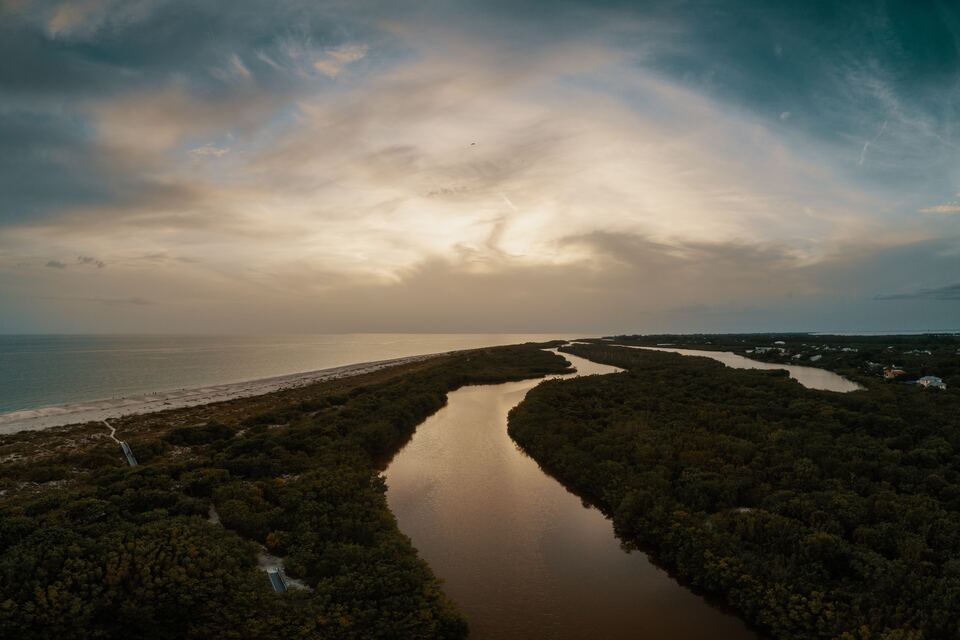 Sister island to the earlier mentioned Captiva Island, Sanibel Island, is known for having some of the best beaches in Florida. The beautiful beaches here are popular with shell hunters, with shells of all shapes and sizes scattered along its shorelines.
When you're not treasure hunting for shells (there are 400 different types here!), you can stop by the historic Sanibel Lighthouse or drive through the J.N. "Ding" Darling National Wildlife Refuge. Here, visitors (for a small fee) can drive for around 4 miles through the mangrove ecosystem and see many different species of birds up close!
18. Delray Beach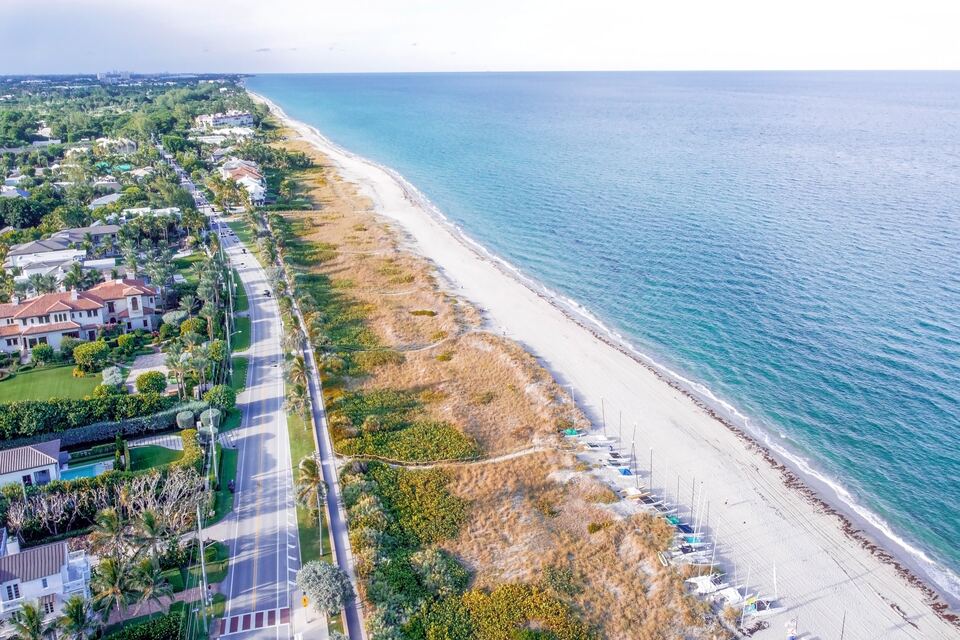 Sandwiched between Boynton Beach and Boca Raton, you'll find the fun-loving city of Delray Beach, which was once awarded the title of the 'most fun small town in the U.S.' by USA Today. The center of the action here is Atlantic Avenue, with its lovely brick sidewalks and a seemingly neverending stream of restaurants, Cafes, and stores.
Art lovers will be in heaven in Delray Beach, as just off Atlantic Avenue is the Pineapple Grove Arts District which is lined with art galleries and plenty of art murals and public art displays. Other things worth checking out in this small city include the Morikami Museum & Japanese Gardens and the Cornell Art Museum.
19. New Smyrna Beach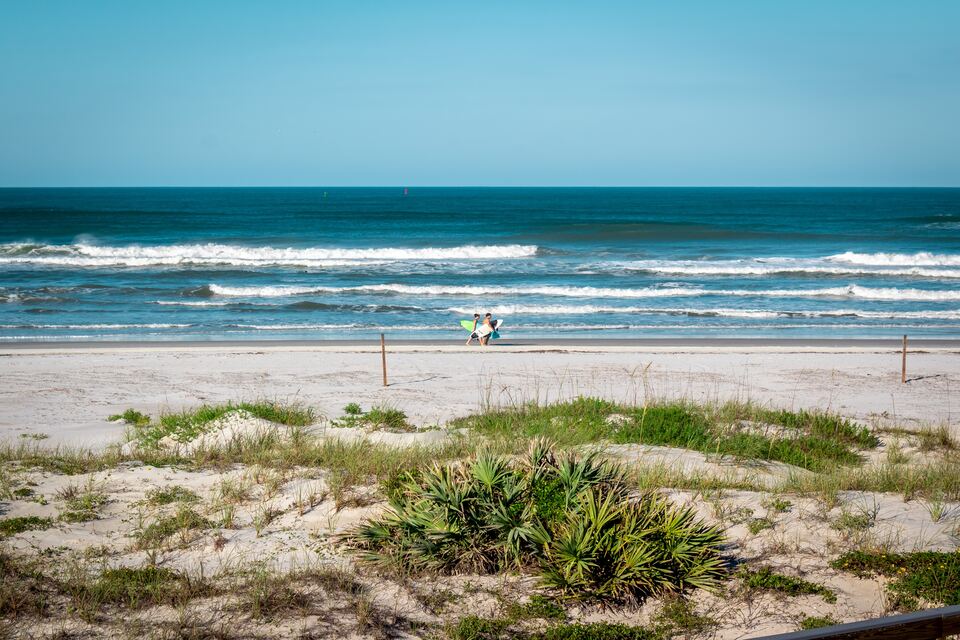 For a taste of the Caribbean in Florida, head to New Smyrna Beach on Florida's Central Atlantic Coast, which boasts miles of pristine beaches that wouldn't look out of place in Barbados.
It's a renowned surf destination too, and surfers worldwide flock here to catch some of the best waves on the East Coast at Ponce Inlet. Keeping with the surf theme, try to visit the Museum of East Coast Surfing here, which houses hundreds of surf-related memorabilia. Or, for some of the best views in the area, climb the more than 200 steps to the top of the Ponce de Leon Inlet Lighthouse.
20. Seaside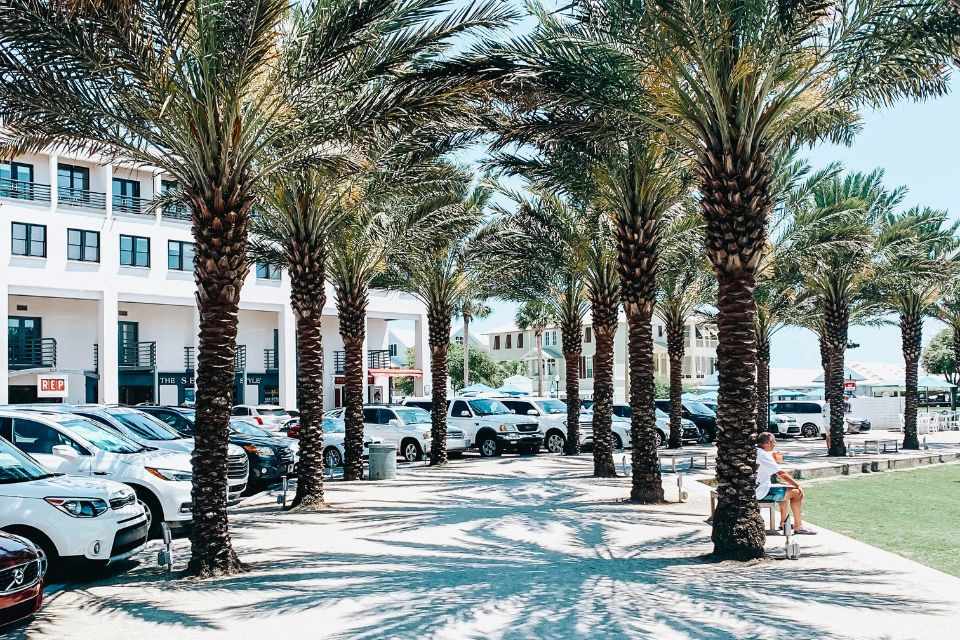 With a name like Seaside, it's no surprise this small town along the Gulf of Mexico made the list of the best Florida beach towns. And in fact, you may recognize Seaside from The Truman Show – yes, this lovely town was the setting for the famous 1998 movie starring Jim Carrey!
Named the prettiest town in Florida by Architectural Digest, the downtown area is full of adorable cafes and colorful storefronts, and it's just a hop, skip, and jump from the town's famous white sand beach. Spend your vacation here, hiking one of the many stunning coastal trails here, swimming or trying out the watersports on offer at Seaside Beach, or shopping at the great Farmer's Market held every Tuesday and Saturday morning.
Read More: What Is Key West Known For?
21. Juno Beach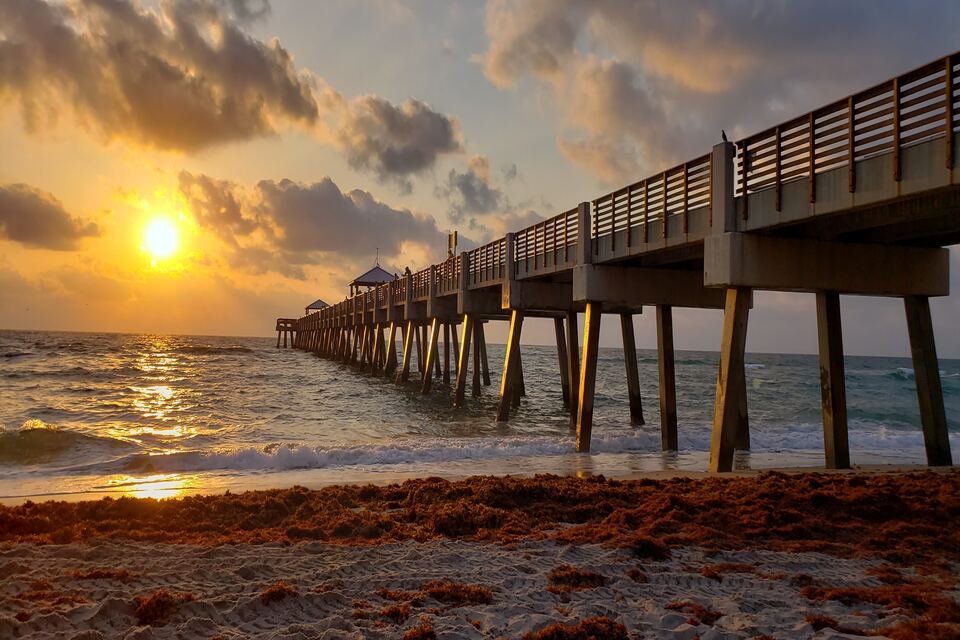 And last but certainly not least is Juno Beach – nestled in-between West Palm Beach and Jupiter. This chilled-out town is home to immaculate beaches and some very famous residents – the nesting sea turtles who take over the beaches between March and October.
The Juno Beach Pier is the place to be in this picturesque beach town, and it's a popular fishing and sunrise-watching spot. While if you're keen on a fun beach day, head over to Juno Beach Park, one of the best surf spots in Palm Beach County.
Map of The Best Florida Quiet Beach Towns
Quiet and Small Beach Towns In Florida FAQs
What Is The Most Affordable Beach Town In Florida?
The most affordable beach town in Florida is Cedar Keys. This small historic fishing village is considered the cheapest beach town in Florida, with a mere cost of 1,330 USD per week on average.
What Is The Quietest Beach Town In Florida?
Gasparilla Island is considered the quietest beach town in Florida. It is the only beach town in Florida that is completely car-free, and visitors must get around by bicycle or golf carts.
Are There Any Small Beach Towns Left In Florida?
There are plenty of incredible small beach towns left in Florida, such as Lauderdale-By-The-Sea, Key Biscayne, Islamorada and more. Whether you are looking for a laid-back getaway or to enjoy watersports in peace, you can do so in one of the small beach towns in Florida.
Are There Any Quiet Beach Towns In Florida?
Yes, there are several quiet beach towns in Florida that are perfect for those looking for a more laid-back and peaceful vacation, such as Boca Grande, St. George Island, Sanibel Island, Captiva Island, and more.
Final Thoughts
The Sunshine State of Florida is famous for its bustling seaside cities and towns. But for those that look closely, you'll also find that there are plenty of small and quiet beach towns that are perfect for a relaxing visit.
Not only are they quieter, but they are only cheaper and offer better value for money in terms of attractions, activities and accommodations!
So what are you waiting for? Pack your bikini and swimwear and book your ticket to Florida!
Disclaimer: Some of the links above are affiliate links. That means if you book or make a purchase through the links, we will earn a small commission at no extra cost to you! The money will help run this site! Thank you!