Key West is known for its laid-back atmosphere, vibrant nightlife and stunning natural beauty. Located at the southernmost point in the continental United States, this US city offers pristine beaches and a plethora of outdoor activities such as snorkeling, paddle boarding, and kayaking.
It is also home to some of the most unique attractions in Florida including Ernest Hemingway's house, Duval Street, and access to the Dry Tortugas National Park.
Along with its warm weather all year round, Key West has become one of our favorite tropical destinations in the United States. That is why we have decided to write this article on the 13 things Key West is known for, so you can have the best trip possible on your next visit!
---
What is Key West Known for?
1. Key Lime Pie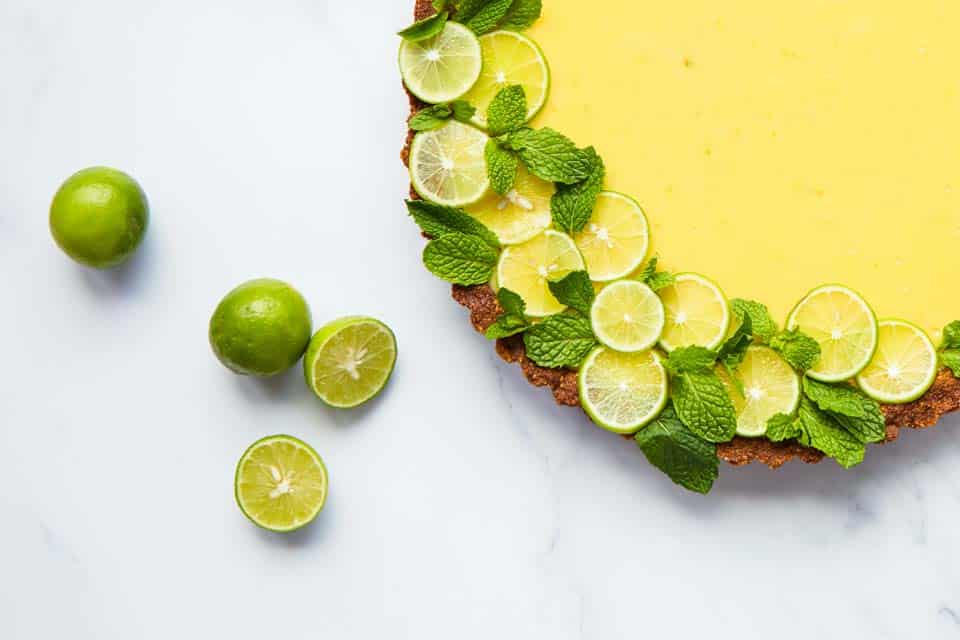 One of the most famous food from Key West is the Key Lime Pie. It is a desert with a creamy, sweet and tart filling inside a crisp honey graham cracker shell. There are many debates over the true origins of key lime pie.
Some people claim key lime pie was invented by the Borden Milk Company in 1931.
Others claim that key lime pie was invented by fishermen from the Keys who would take a trip to the sea with carrying nothing but canned milk, eggs, key limes, sugar, and soda crackers.
And yet others claim that key lime pie was invented by Aunt Sally, the cook for Key West businessman and millionaire, William Curry.
Whatever the true origins of key lime pie, there is no question that this delicious dessert would not be possible without the tart key limes Key West is known for producing.
2. Southernmost Point of the Continental USA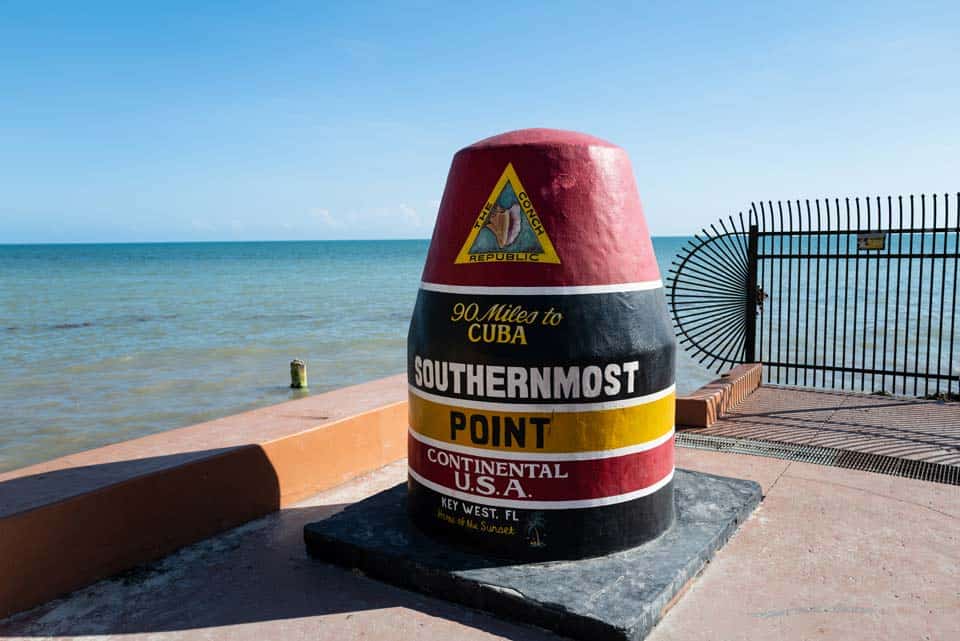 Stretching out into the Gulf of Mexico, the island town of Key West is home to the Southernmost point of the Continental United States of America. In 1983, the citizens of Key West marked the southernmost point of the country with a large painted buoy.
Tourists line up at the corner of Whitehead and South Street to take a picture with this famous Key West landmark. Written on the buoy is a reminder to all visitors that Cuba is a mere 90 miles away from Key West!
3. Snorkeling
Absolutely no trip to Key West would be complete without a snorkeling tour in the crystal-clear waters surrounding the island. The moment you strap on your snorkeling mask and dive into the water, you'll find a vibrant coral reef, colorful tropical fish, shipwrecks, and even dolphins!
Due to Key West's location, most snorkeling destinations are only accessible by boat or seaplane. Among the most popular snorkeling spots are Dry Tortugas National Park and Cottrel Key, which is famous for its unique coral garden and the sharks and stingrays swimming around.
Fort Zachary Taylor and Higgs Beach are the best coral reef snorkeling spots in Key West where no boat is required.
4. Stunning Beaches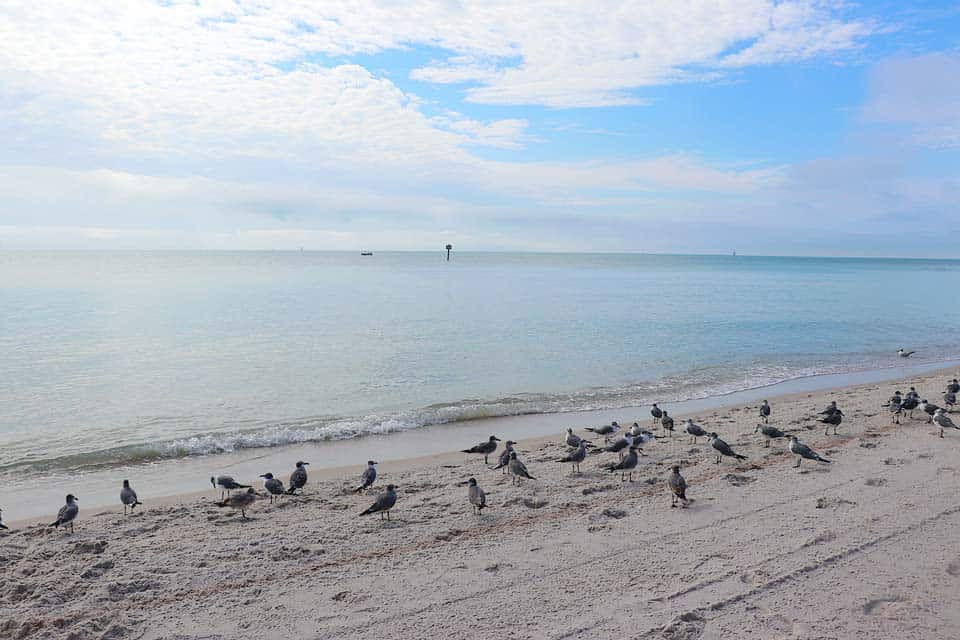 This small island town has more than its fair share of stunning tropical beaches, it's no wonder the island is such a popular cruise ship stop. The island does not have the wide, sandy beaches that mainland Florida has. Instead, this island has coral reef beaches similar to the Caribbean.
The most fun and popular beach destination on the island is Smathers Beach. Smathers Beach is the only beach in Key West with 1/2 miles of imported sand.
5. Ernest Hemingway Home and Museum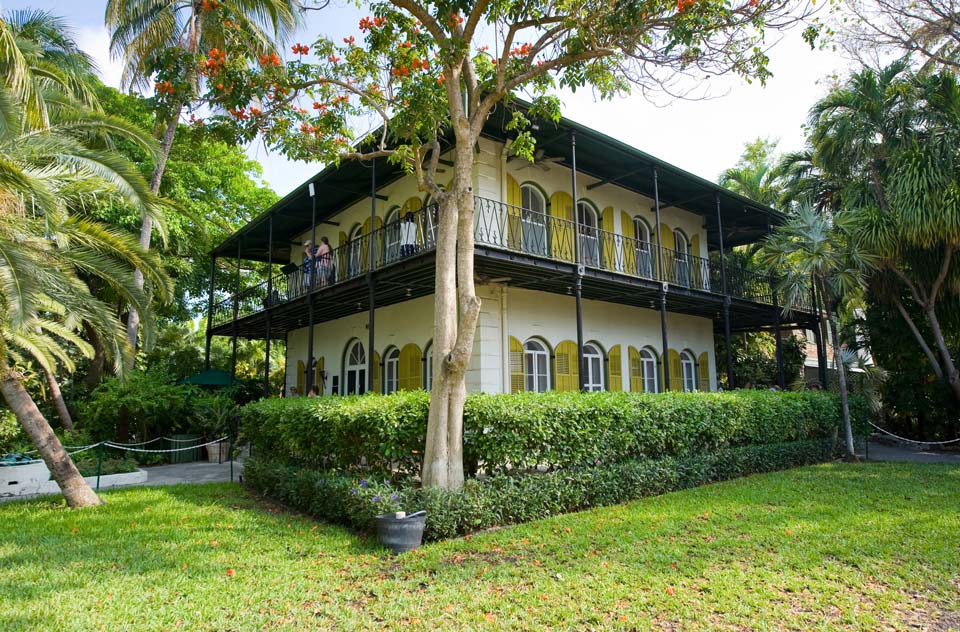 While Key West has beautiful nature, most visitors come to the island town to experience the history and culture Key West has to offer.
One of the most popular landmarks in Key West is the historic home of renowned author Ernest Hemingway.
Hemingway traveled around the world, but Key West was always home and some of his greatest works were created in his home there. Today his beautiful estate has been transformed into the Ernest Hemingway House Museum.
One interesting fact about the Hemingway House is that there are more than 50 six-toed cats roaming the property. They are believed to have descended from Hemingway's own six-toed pet cat.
6. Lively Atmosphere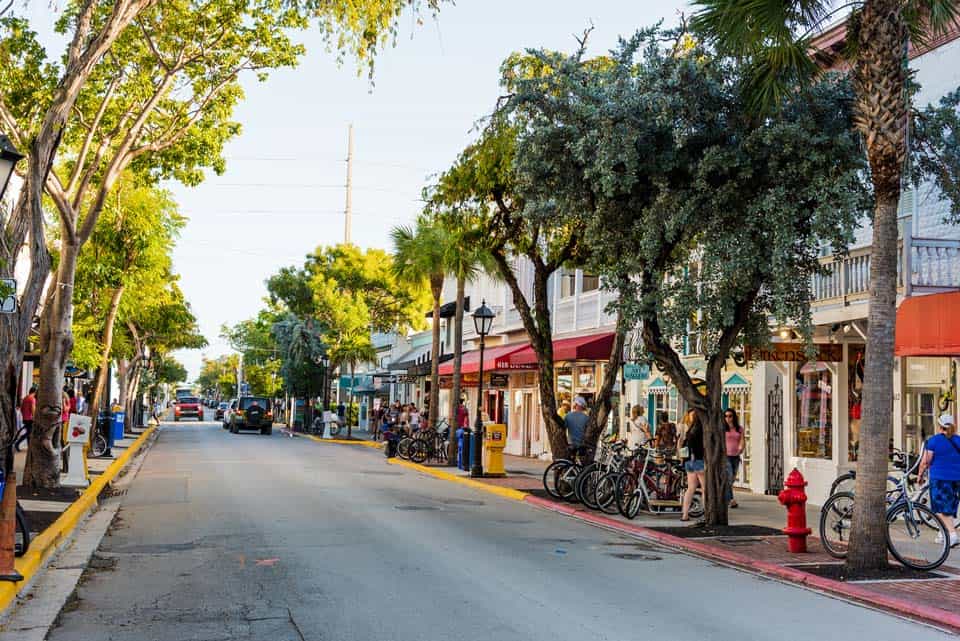 Key West's unique, lively atmosphere has a reputation for drawing all kinds of people from all around the world. The island is a flurry of activities from music and cultural events to parties and architecture.
Duval Street is one of the liveliest streets in downtown Key West. On Duval Street, you'll find live music, art galleries, coffee shops, bars, and small shops. There's something for everyone on Duval Street, like the wild Fantasy Fest street party for adults and the Key West Butterfly Conservatory for the family.
Mallory Square is a waterfront plaza located in the Key West Old Town, right across from the cruise ship port. In Mallory Square, you can catch a ferry for a Dry Tortugas day trip, participate in the Key West sunset celebration each night and explore fun local shops and bars.
7. Gorgeous Weather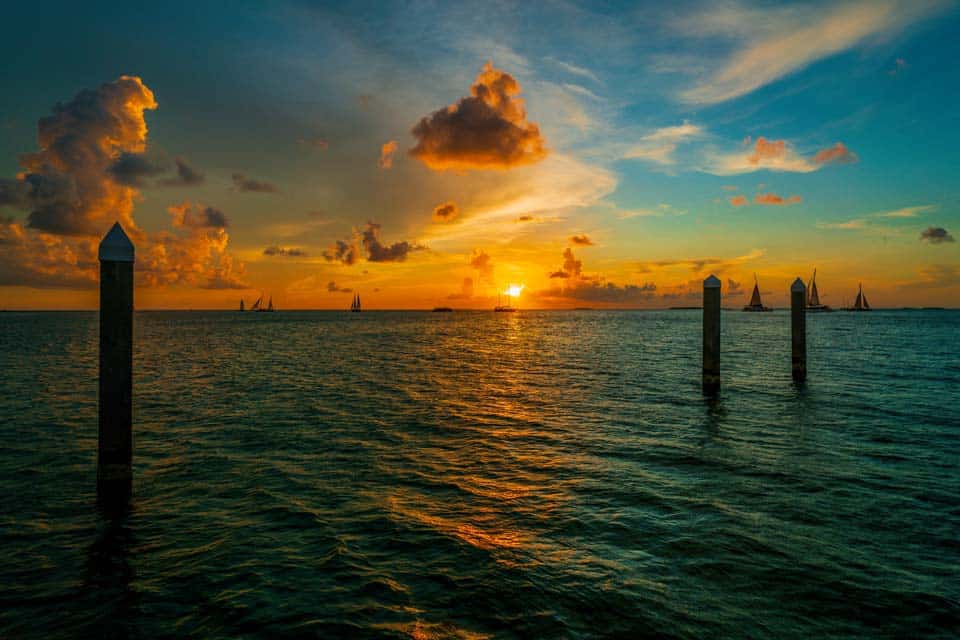 The Florida Keys are known for having perfect weather almost all year round. Key West is one of the warmest places in winter in Florida, but the best time for a visit to Key West is between March and May. This is when the winter crowds taper away but hurricane season hasn't hit yet.
During these months, the weather in Key West will average between 80-85 degrees Fahrenheit, perfect weather to explore Key West and all it has to offer.
Read More: 23 Things You Didn't Know Florida Is Famous For
8. Delicious Seafood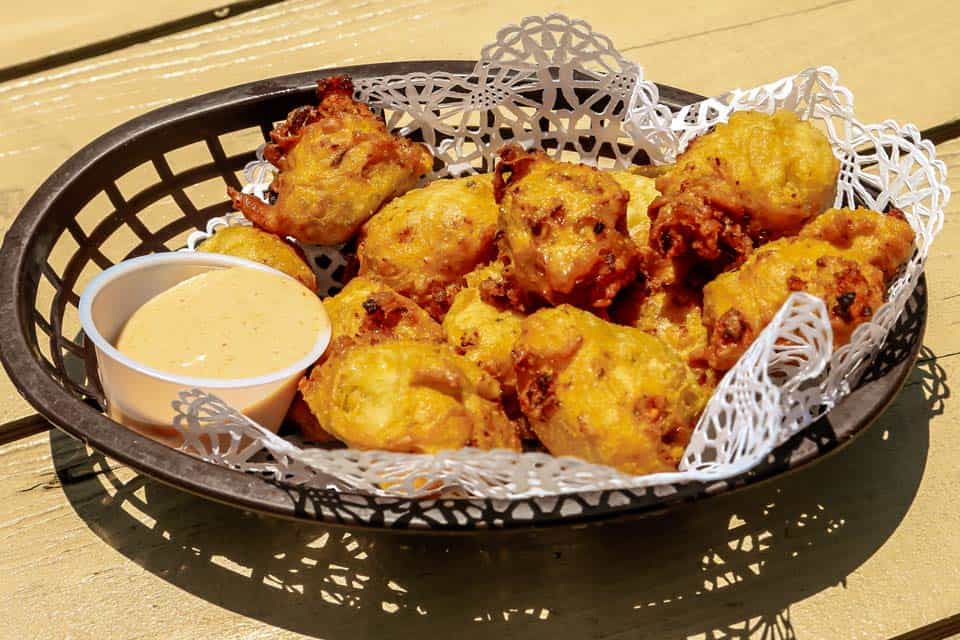 When you visit Key West, you must try some of the delicious, local seafood dishes. Key West definitely has an amazing food scene and with shrimp, lobsters, clams, and fish galore, seafood is the star of the show.
One dish that Key West is known for is conch fritters. These fried seafood fritters originate from several nearby Caribbean Islands like the Bahamas.
To make this tasty tropical food, chefs dice up fresh conch, onions, and bell peppers mixed with spices like cayenne and red pepper flakes. Yum!
Another mouthwatering food to try when visiting Key West is fresh oysters topped with garlic, butter, and lemon.
Read More: Best Quiet Beach Towns In Florida
9. Charming Architecture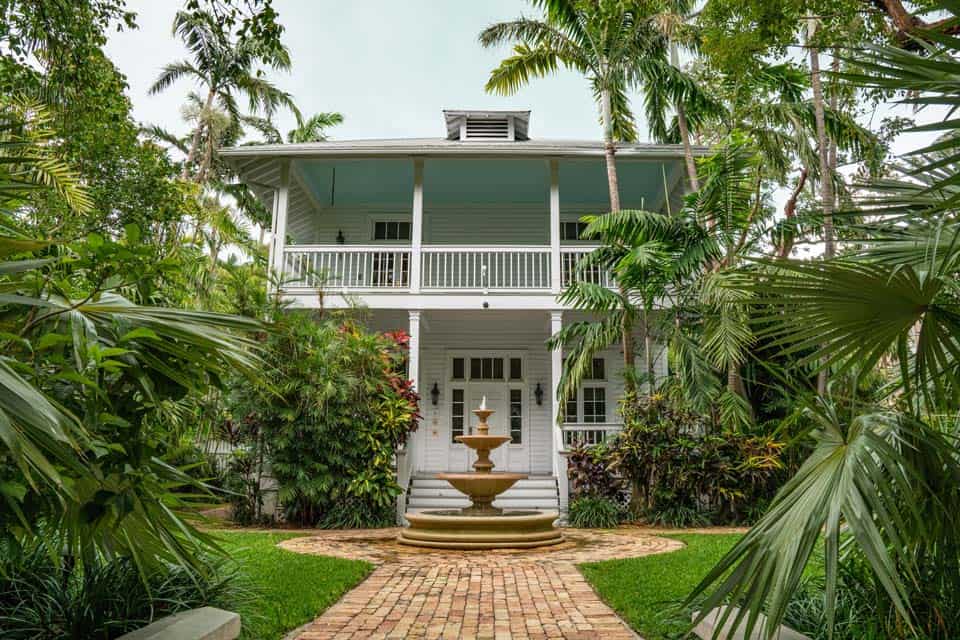 Part of Key West's charm is its eclectic and historic architecture. Key West's Old Town has over 2,000 historic buildings within a 5400 acres (22 km²) boundary.
One visit to Old Town will show you just how many different architectural influences this tiny island has.
Some buildings exude an old southern charm with tall windows and large wraparound porches. Other buildings are quaint cottages painted pastel with picturesque white picket fences.
Key West is very proud of its architecture and the heritage it represents. Many of these historic buildings, like the Curry-Amsterdam Mansion, are now operated as a hotel for guests to stay in. Other buildings are open for visitors to tour and enjoy.
The Key West lighthouse located right on the beach is another iconic Key West site for all to visit.
10. Beautiful Sunsets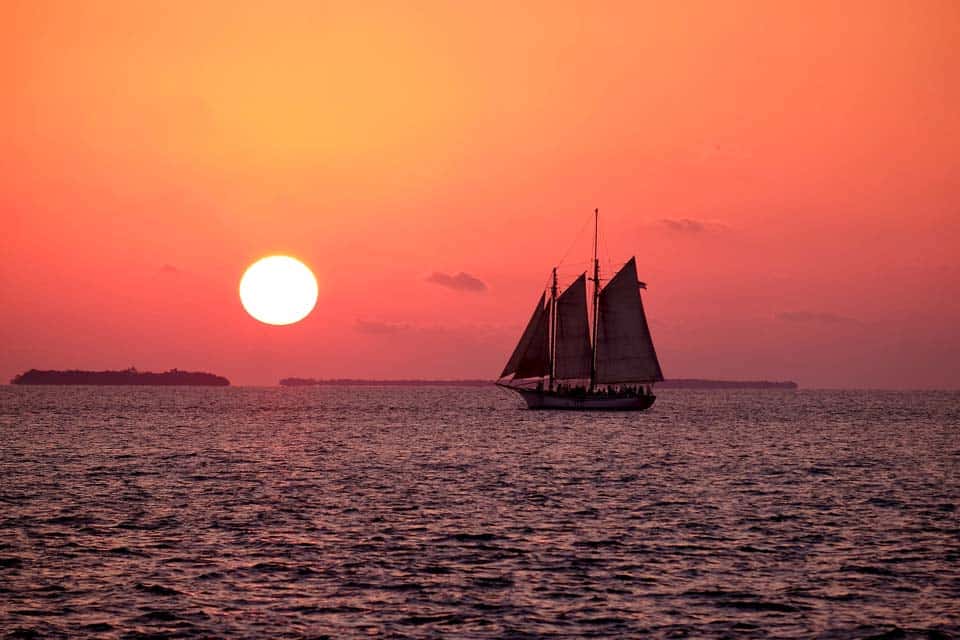 The nightly Sunset Key West Celebration is one of the best free things to do in Key West. It is quite a famous event and all visitors to the island must attend it at least once in their life.
Each evening, people will gather in Mallory Square for two hours before sunset, meaning the time of this event changes throughout the year.
During this time, all kinds of street vendors will set up in the square sharing their art, food (like conch fritters), live music, and street performances.
This celebration is an excellent way to support local artists and purchase unique souvenirs from Florida.
Once the sun sets across the beach, a magnificent, colorful sunset will appear. Don't forget to take a photo of the sunset and the Key West lighthouse!
Read More: What Is Miami Known For? 20 Famous Things
11. Access to Dry Tortugas National Park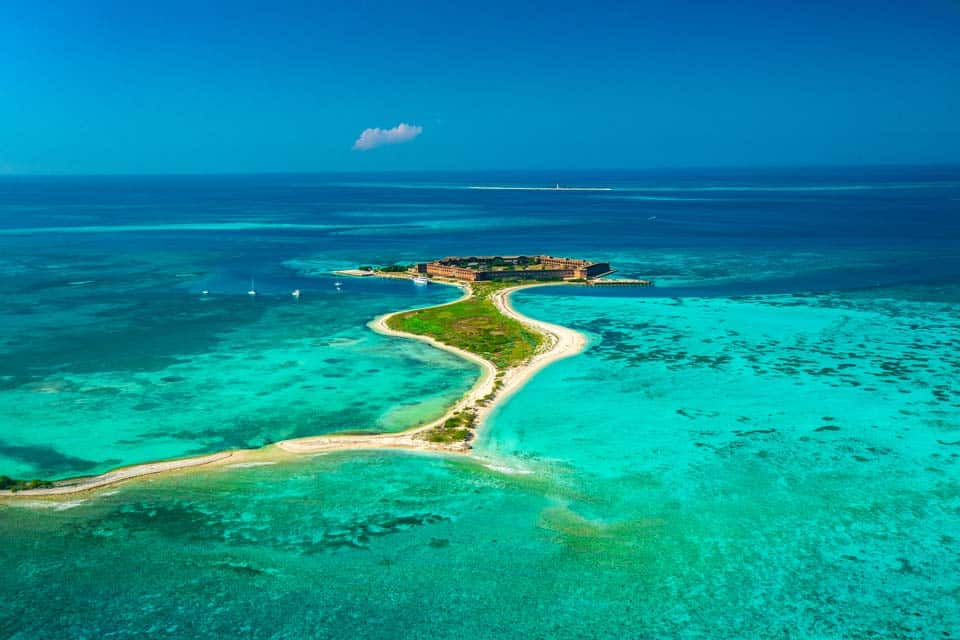 Key West is the gateway to Dry Tortugas National Park, one of the best destinations for nature and beach lovers in Florida. This is a group of islands located at the end of the Florida Keys, about 70 miles from Key West.
This unique national park is only accessible by seaplane or ferry from Key West Florida.
This secluded group of 7 islands has lots of history, activities, and wildlife to offer to those who visit. One such attraction is Fort Jefferson, a 19th-century fort that used to be occupied by 2000 people.
Today this fort is a history museum that features brick buildings, gunrooms, barracks, and a lighthouse.
In addition, visitors to these islands can snorkel in crystal clear water, relax at an Instagram photo-worthy beach, and go camping.
The area is a vital migration area for many birds from South America, making it one of the best bird-watching spots to visit in the world.
12. Historical Sites and Museums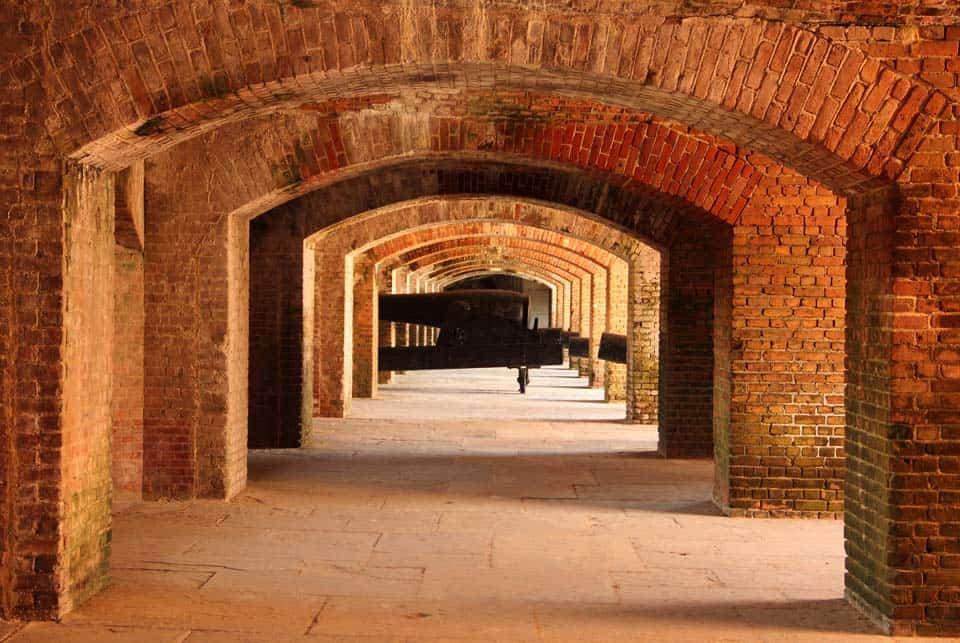 Key West has often been a part of many significant historical events in the United States. Today there are many famous historical sites like homes of well-known artists and Civil War-era forts that are great things to do when visiting Key West.
Perhaps the biggest historical site in Key West is Fort Zachary Taylor State Park. Home to the largest cache of Civil War weapons in the world, it is one of the best places to learn about the American Civil War. This one-of-a-kind state park combines profound history with a magnificent natural setting.
Tour guides around the park will show you cannons and guns while explaining the significance of the fort during the Civil and Spanish-American Wars.
After your visit, make sure you check out Fort Zachary Taylor Beach, where you can snorkel, rent a straw hut, or just relax on the beach.
Read More: What Is Tampa Florida Known For?
The House of Tennessee Williams, one of the greatest playwriters in American history, is today a favorite museum in Key West Florida. The American playwriter wrote plays such as The Glass Menagerie, A Streetcar Named Desire, and Cat on a Hot Tin Roof. He called Key West home for over 30 years.
Williams played an important part in the literary and cultural movement that helped place Key West on the map as the historical location it is today.
The house holds an extensive collection of first-edition plays, rare newspaper articles, the author's typewriter, and more.
The Glass Menagerie author was not the only well-known figure to call Key West home. The United States' 33rd President, Harry S Truman would visit Key West each winter at The Little White House.
This darling house was once the president's favorite winter retreat but today is Florida's only presidential museum.
This large white house has a vast tropical garden, acres of military grounds, and loads of memorabilia. All of the original house decor put in place when Truman used the home is still intact for visitors to see and step into the President's shoes.
13. Scenic Drive (from Miami to Key West)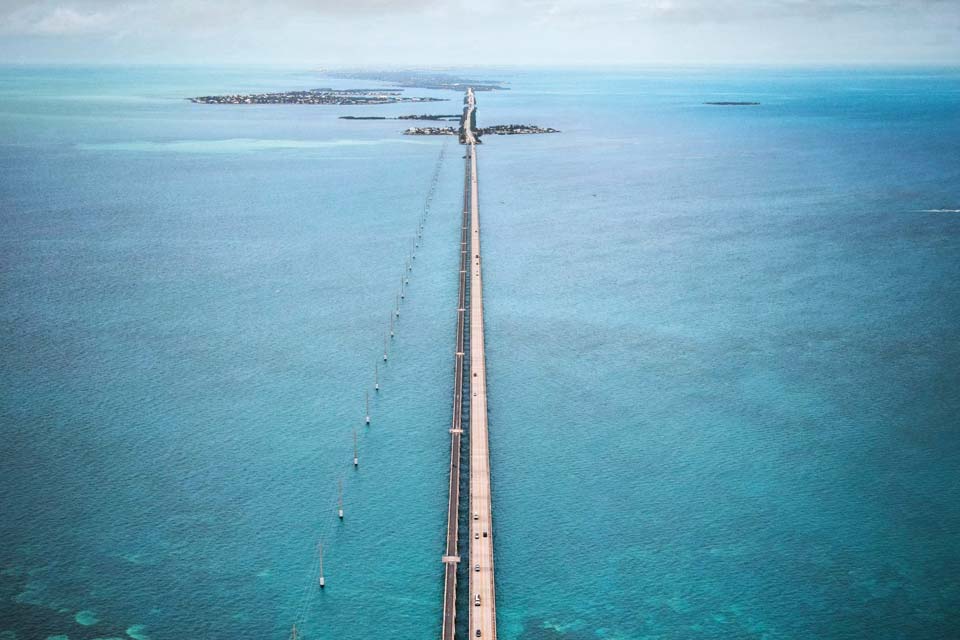 When you are in Miami, you'll want to visit Key West for the drive alone. The drive from Miami to Key West is known as one of the most photo-worthy Florida road trips.
Key West is connected to the mainland through a long highway.
Along the way, make pit stops in Everglades National Park, Key Largo, Islamorada, Coral Castle Museum, and Duval Street.
---
Key West Most Famous FAQs
What Is Unique About Key West?
Key West is home to one of the world's biggest barrier coral reefs. It is known as the Florida Straits and stretches 70 miles west to the Dry Tortugas National Park and 150 miles north toward Miami. It is also home to the Southernmost Point of the Continental U.S.A.
Is Key West Worth Visiting?
Absolutely! If you are looking for a tropical vacation that combines a historical Old Town, fun watersports, and a laid-back atmosphere, then Key West is worth visiting. Key West also has great nightlife for those that would like to party hard!
---
Now you should know all the reasons you should be visiting Key West. So, what are you waiting for? Go, and visit some of the wonders of Key West!
Disclaimer: Some of the links above are affiliate links. That means if you book or make a purchase through the links, we will earn a small commission at no extra cost to you! The money will help run this site! Thank you!