The Cocora Valley, or Valle del Cocora in Spanish, is one of the top things to do in Salento, Colombia. A hike through the valley allows travelers to see the tallest wax palm trees in the entire world, an experience only available in the Cocora Valley and the surrounding Quindio Department.
These stunning palm trees are the national trees of Colombia, and they are actually on the verge of extinction.
Travelers often think that the public transportation (Jeeps) will take them directly to the viewpoints to see these beautiful giants, but they cannot be more wrong.
In this guide to hiking the Cocora Valley, we will tell you the different hiking loops, how to get the best view of the wax palm trees, and how to get to there from Salento!
---
Where Is Cocora Valley (Valle De Cocora) In Colombia?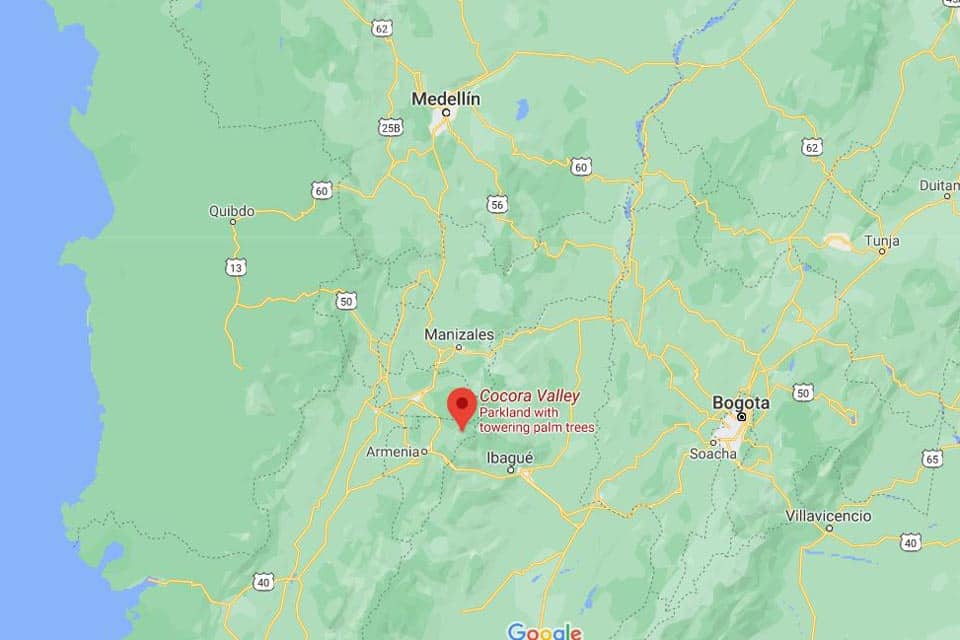 Before you put on your hiking boots and grab your trekking poles, let's talk about where is Cocora Valley.
Cocora Valley is a valley in the department of Quindio in the Central Cordillera of the Andean Mountain. For that reason, it is situated somewhere between 1,800 to 2,400 meters in elevation, making the weather very temperate (and even chilly at times).
The easiest way to visit the Cocora Valley is via Salento, a small town located 11 kilometers away.
However, because of Salento's geographical location, it might be difficult to get to. Salento does not have its own airport so visitors must take a flight and switch to a bus.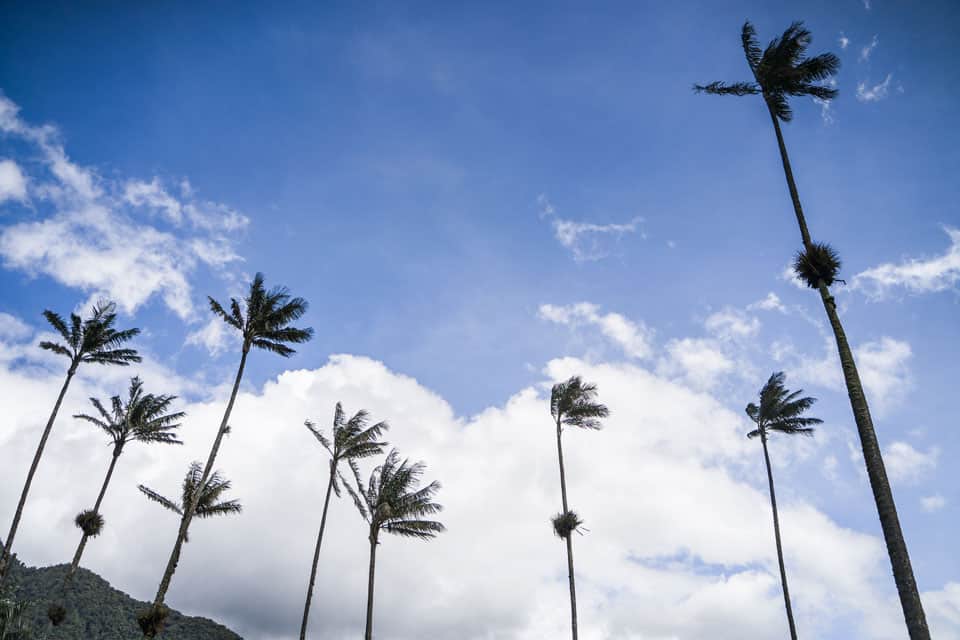 ---
How To Get To Cocora Valley (Valle de Cocora)
Since Cocora Valley is only 11 km (6.83 mi) away from Salento, the best way to get to Cocora Valley is to base yourself in Salento and take a day trip.
There are many ways to get to Salento, with the quickest being flying to Pereira, a city 36.4 km away from Salento, and then switching to a bus. Alternatives include flying to Medellin and then taking a long bus ride to Salento. Visitors can also fly to Bogota, the capital of Colombia, and take a bus from there but it is very long.
If you are not coming from Bogota or Medellin, then the best (and only) option is to take a flight to Pereira.
Once you are in Salento, it is easy to get to this famous Colombia attraction.
The best way to get to Cocora Valley from Salento is to take one of the public Jeeps at Plaza de Bolivar. Jeeps leave once they are full and when I visited Cocora Valley, it was full every 10 minutes or so.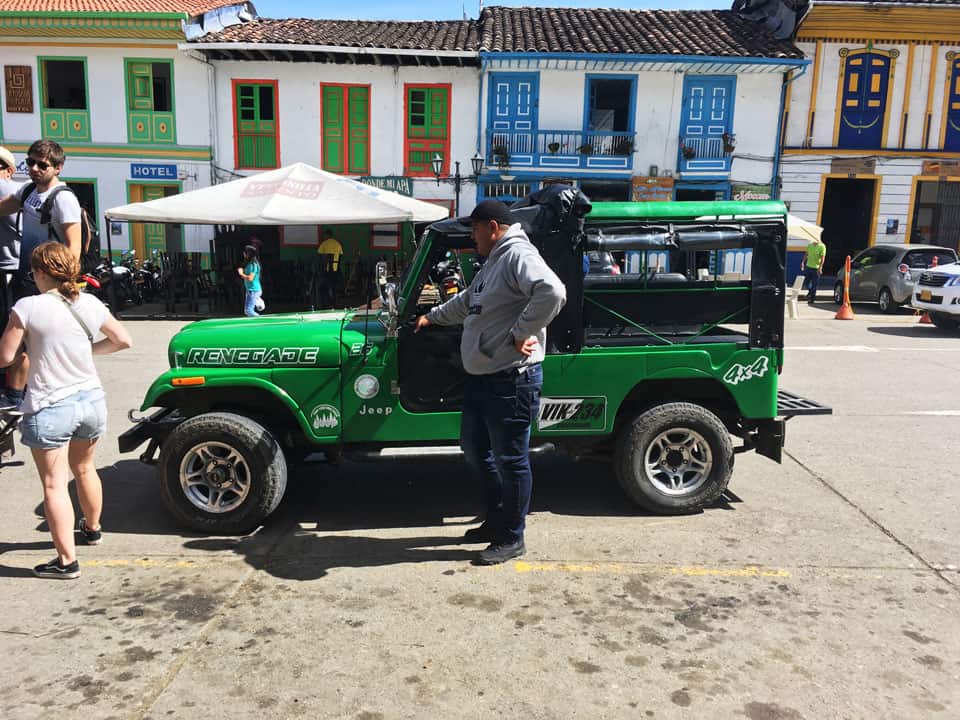 The Jeeps to Cocora Valley cost 4000 Colombian Pesos per way and the journey lasts about 20 minutes! If you have the option to stand in the back of the Jeep, I would highly recommend doing so. The view on the way there is incredible.
There is a ticketing counter at Plaza de Bolivar where you must purchase your tickets. Here you can opt to purchase both the return ticket as well. Otherwise, there is the option to purchase the return ticket at Cocora Valley as well.
---
The Best Time To Visit Cocora Valley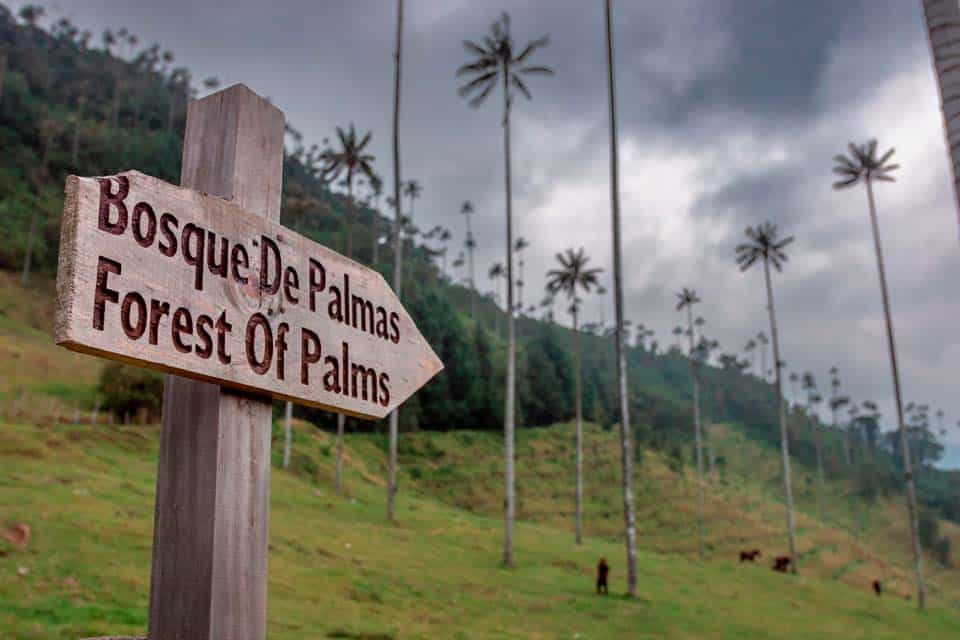 The best time to visit Cocora Valley is the dry season, which runs from around December to February and July to September. This is the peak travel season in Salento, as many locals and international tourists come to take advantage of the incredible weather.
You are more likely to have clear skies and excellent views of the wax palm trees during this time. And since rain is more infrequent, the hiking trail will be in better condition.
There are clear disadvantages if you visit Cocora Valley in the rainy season. But you are also more likely going to find a cheaper place to stay in Salento. Because the valley is situated in a cloud forest, you might encounter mystic foggy conditions which make the palm trees even more enchanting!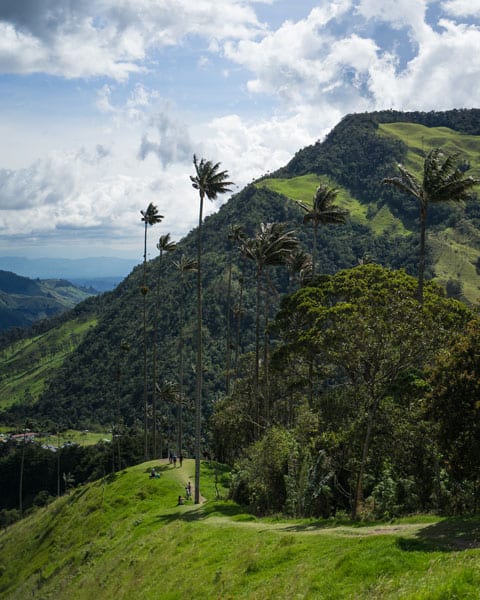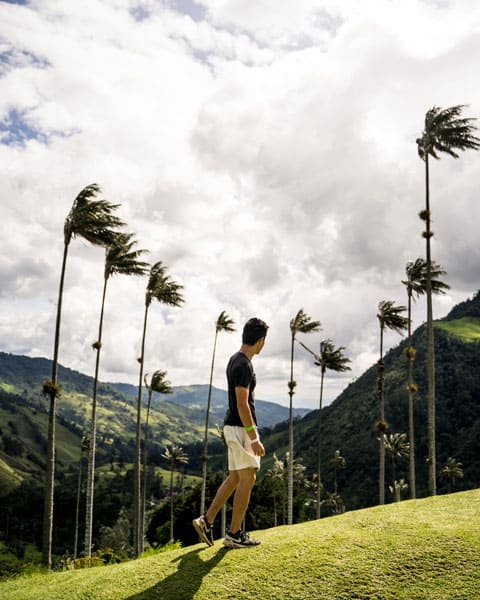 ---
Quick Facts For The Cocora Valley Hike
There is no better way to explore the Cocora Valley than hiking it. You can walk amongst the giants and see why they are so famous firsthand. The hiking trail is gorgeous as you enter the lush jungles of the Los Nevados National Park. It is one of our favorite hikes in Colombia!
How Long Does It Take To Hike The Cocora Valley Loop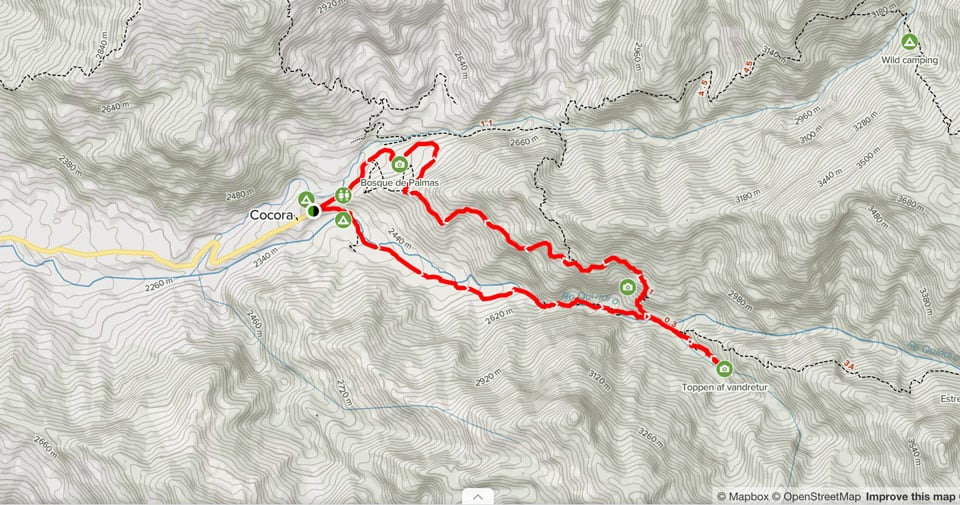 On average, it takes about 4 to 6 hours to hike the 9.2-kilometer (5.7-mile) Cocora Valley Loop. If you include a visit to the Acaime Hummingbird Sanctuary, you'll need to add an additional 2 hours to your hike.
Because the hike is very long, make sure you pack enough snacks and water. There are multiple stops where you can buy some snacks and drinks, but you might want to consider getting bringing a packed lunch with you.
How Much Elevation Is Gained On The Cocora Valley Loop
Hikers can expect to gain about 660 meters in elevation when hiking the Cocora Valley Loop. The loop isn't strictly uphill. There are lots of ups and downs that contribute to the total elevation gained.
How Hard Is The Cocora Valley Hike
Because of its long duration and substantial elevation gained, the Cocora Valley loop is a strenuous hike. We would have to rate it somewhere between moderate to difficult. But because shade is abundant on the trail, it makes it a little bit easier even if you are hiking in the summer.
The views along the way are going to make you stop frequently for photos, which means you get lots of short breaks in between!
Cost of Hiking The Cocora Valley Loop
The total cost of hiking Cocora Valley is 11,000 COP. This includes the Jeep to and back from there, which is 8,000 COP. Along the way, you'll also have to pay 3,000 COP because you are passing through two private fincas (farms). Think of them as entrance fees.
Note that the prices do change frequently and unexpectedly, so make sure you bring some extra cash with you for this hike!
The Different Hiking Trails At Cocora Valley
One of the questions I get asked the most is what is the best hiking trail in Cocora Valley? After hiking the loop myself, I notice that people usually ask this question because they are confused.
There is only one hiking trail in Cocora Valley. That trail is a loop and starts near where the Willy Jeeps drop you off (near the trout farm). From there, you have the choice to hike it counter-clockwise or clockwise. Clockwise means you see the viewpoint at the beginning of the hike and counter-clockwise means you see it at the end.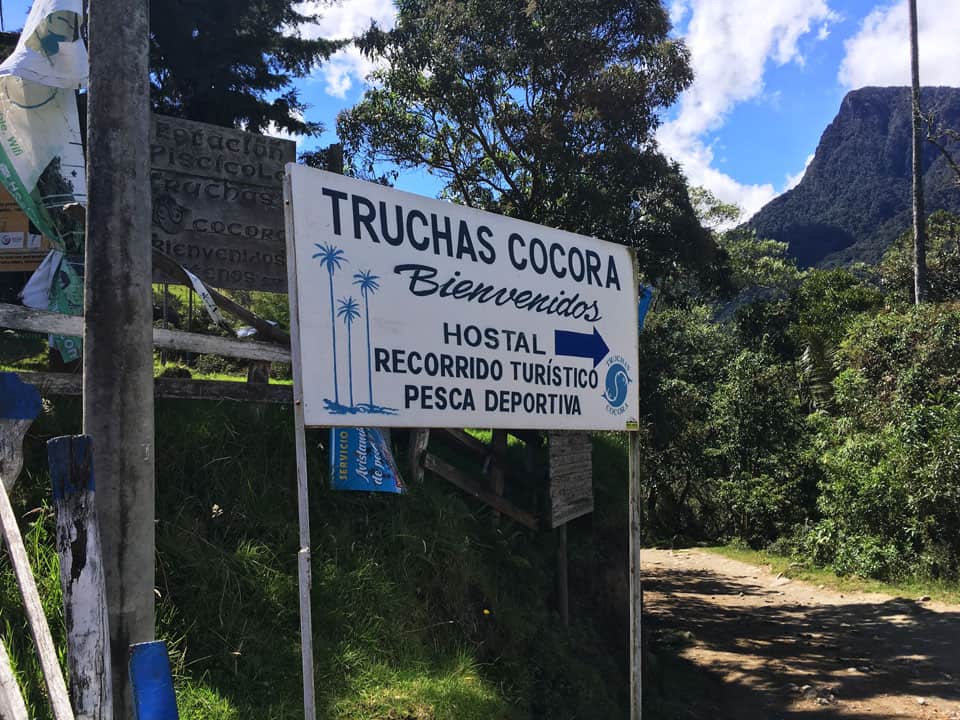 We highly recommend hiking the Cocora Valley loop counter-clockwise. It is much sweeter to get the epic panoramic views at the end of the hike and much safer. Because of the climate of Salento, the weather is often rainy which makes the trail very muddy and slippery.
Going counterclockwise means you'll do all the hiking in the slippery terrain uphill, which is considerably safer than doing it downhill.
There is another way to hike Cocora Valley which many people mistake for the "short trail". That is simply going straight to the viewpoint, which is about 1 kilometer from where the Jeeps drop you off. In my eyes, that is not a hike, but I guess that's up to you to decide.
On the loop, you have to pay twice, but you only need to pay once on the "short trail".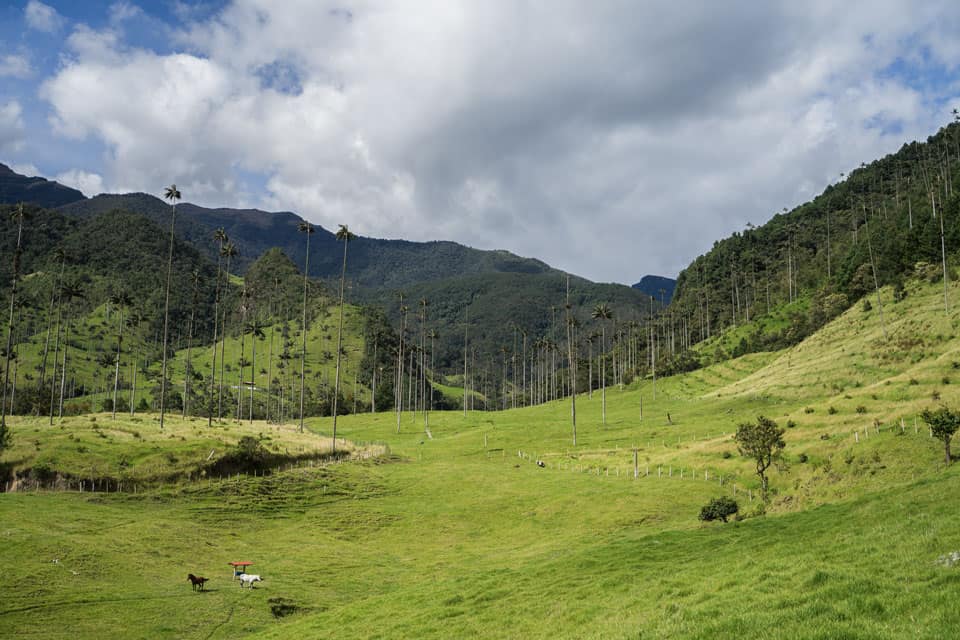 ---
Acaime Hummingbird Sanctuary
The Acaime Hummingbird Sanctuary is an attraction you can add to your Cocora Valley hike. The place is reachable by making a slight 45-minute one-way detour to the Acaime Hummingbird Sanctuary.
It is a nice addition to your experience in Cocora Valley but it does add an additional 2 hours to your trek. It is a place where visitors can watch hummingbirds fly freely as they sip local coffee and relax.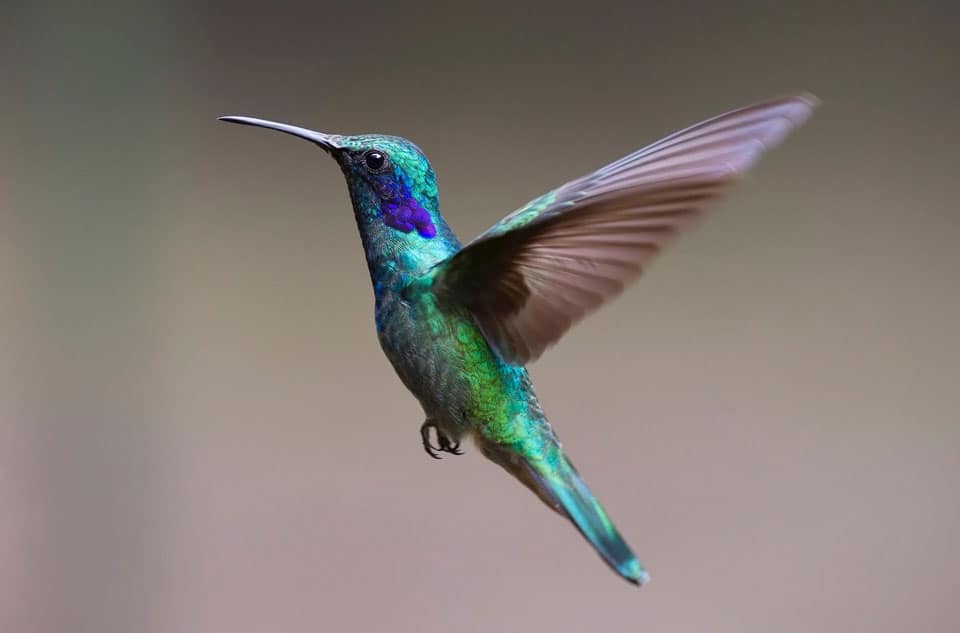 In our opinion, it isn't really worth the extra hike. If you really want to see it, you can go on a horseback riding tour in the valley and get there easier.
Follow the trail to the right and you will be on your way! This trail follows along a small stream before making its way up the mountain.

If you take the clockwise loop, just keep following the main dirt road!
---
Our Experience Hiking Cocora Valley
Hiking Cocora Valley was one of the most unforgettable experiences we had in Colombia. Prior to the hike, we were staying at Coffee Tree Boutique Hostel in Salento. On the day of the hike, a bunch of us went to catch the Jeep from Salento to Cocora Valley early in the morning.
Because we visited in July, there were plenty of people waiting for the Jeeps at the main square already. But it didn't take us long before we were on the back of a truck and heading toward this Colombian landmark. The road was a little bit bumpy but the views were lush along the way.
When we arrived at Cocora Valley, we immediately started the hiking the loop counter-clockwise. We knew that the trek was going to take a lot out of us and we wanted to enjoy it, so we allotted extra time.
The beginning of the trail was flat. We walked along a stream and passed through several farms before entering a dense jungle. This part of the hike was actually quite boring, because it was really dense and there wasn't much to see.
The most interesting part of that hike was crossing a really terrible-looking suspension bridge. It didn't look sturdy at all but we all got across safely. About 1.5 hours into the hike, we reached the point where we decided if we want to see the Acaime Hummingbird Sanctuary.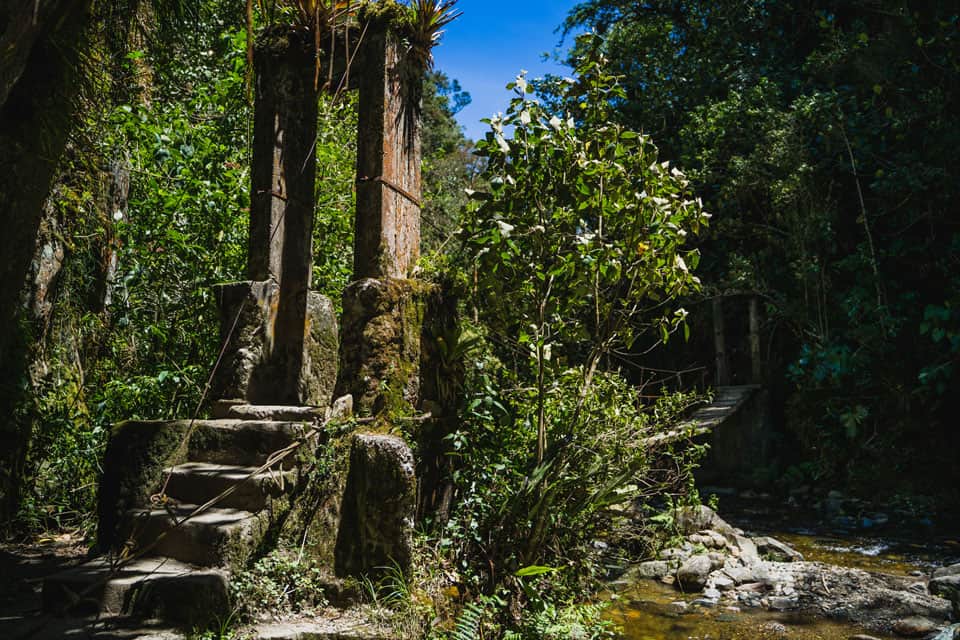 We discussed and said it wasn't worth the extra hike, especially knowing that the worst part is still ahead.
After the crossroad was the toughest part of the hike. It was switchbacks that ascended the side of the mountain. During this entire time, we were shrouded in a really thick forest of palm trees. Little light leaked through and all we heard was the grinding of the palm trees in the wind. The sound was a little unsettling.
When we got to the top, we reached Finca la Montana. It had a small snack shop where we got a tinto (shot of black coffee) and said down and relaxed a little bit.
After a short rest, we continued on. The vegetation wasn't as thick as it was before, and there were spots where we could get good views of the Cocora Valley. About 30 minutes in, the trail led to a wide viewing area where you can literally see wax palms 360 degrees around you.
From there on, the views just got better and soon we were near the final viewpoint of the Valle de Cocora hike. The hike took us 5 hours to complete, and we could've probably done it quicker had we not stopped so many times for photos and breaks.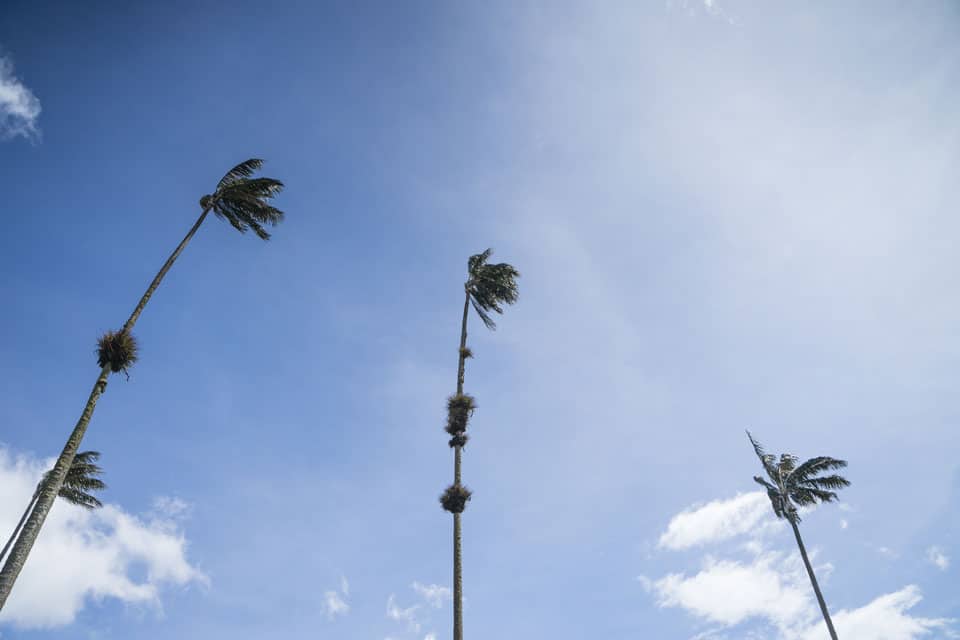 ---
What Do You Need For The Cocora Valley Hike
Hiking the Cocora Valley is no joke and you should always be prepared. Because of its long duration, here are some items you should bring with you on your long trek!
Sunscreen – If you decided to do the long loop, you will be in the shaded forest for about half the hike. However, once you rise above the canopy, you are at the mercy of the blazing sun. These tall wax palm trees do not provide any shade!
Rain poncho – The Quindio region of Colombia where Salento is located is known to receive lots of yearly rain. If you will be hiking for a long time, I highly recommend bringing a rain jacket or rain poncho!
Filtration Water Bottle – On your trek in Valle de Cocora, you will encounter streams and rivers. A filtration water bottle will allow you to drink directly from the water source so you don't have to carry so much weight. It is an environmentally friendly life-saver that has transformed my hiking experiences. I highly recommend bringing one!
Insect Repellent with Picaridin – As you hike through the lush trails of Cocora Valley, you will inevitably encounter many insects. Some of which bite you and some of which will leave you alone. That is why it is important to pack some insect repellent. I particularly like the ones with Picaridin instead of DEET because it is as effective and better for your skin!
Comfortable Daypack (Him/Her) – Though I am putting this as the fifth item on the list, a comfortable and reliable daypack is one of the most important items to bring with you. If you are hiking for 6 hours or more, you will need something with a nice hip belt and a frame. That is why I highly recommend the Talon 22 and Tempest 20!
Hiking Poles – Not only is the hike long and the trail steep, but the common rain in Salento can make the trail muddy. We recommend hiking poles to help with your trek!
Waterproof Hiking Shoes (Men's/Women's) – You'll need to wade through a river on your hike, plus there can be lots of wet mud on the trail. Waterproof hiking shoes are essential to the Cocora Valley hike, especially if you are visiting during the rainy season.
Extra Cash – To pay for the fees along the trail and for buying something to eat or drink at Finca La Montana.
---
Where To Stay In Salento, Colombia
If you are visiting Cocora Valley, it is best to base yourself in Salento. That is why we are recommending some places to stay in Salento!
Best Hostel in Salento – Coffee Tree Boutique Hostel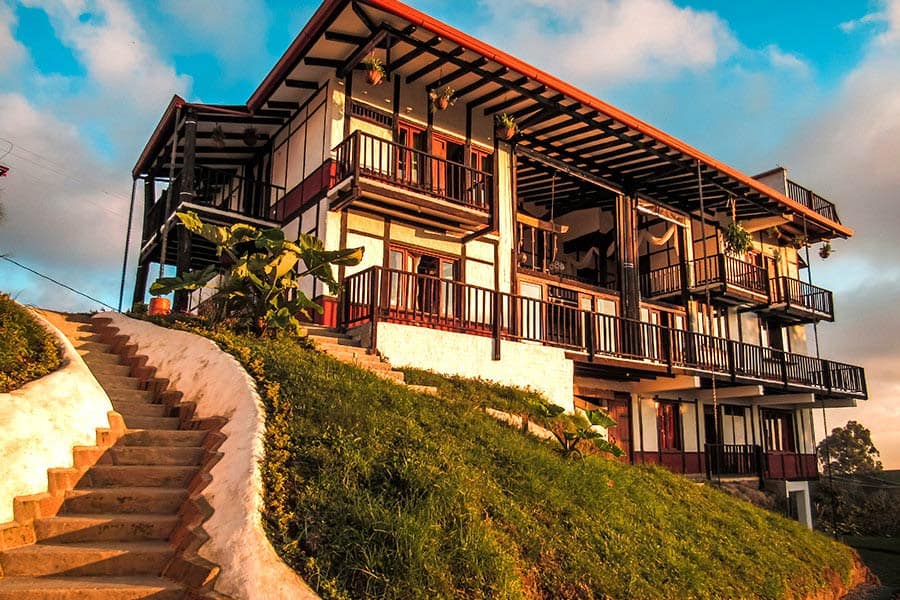 Coffee Tree Boutique Hostel is definitely the best budget hostel in Salento. Don't let the price fool you. Coffee Tree Boutique hostel has some of the most amazing facilities such as a balcony with the best views of Salento. An amazing free breakfast is included in their low prices, how is that even possible? Highly recommended.
Best Vacation Rental in Salento – Real Traditional Salento House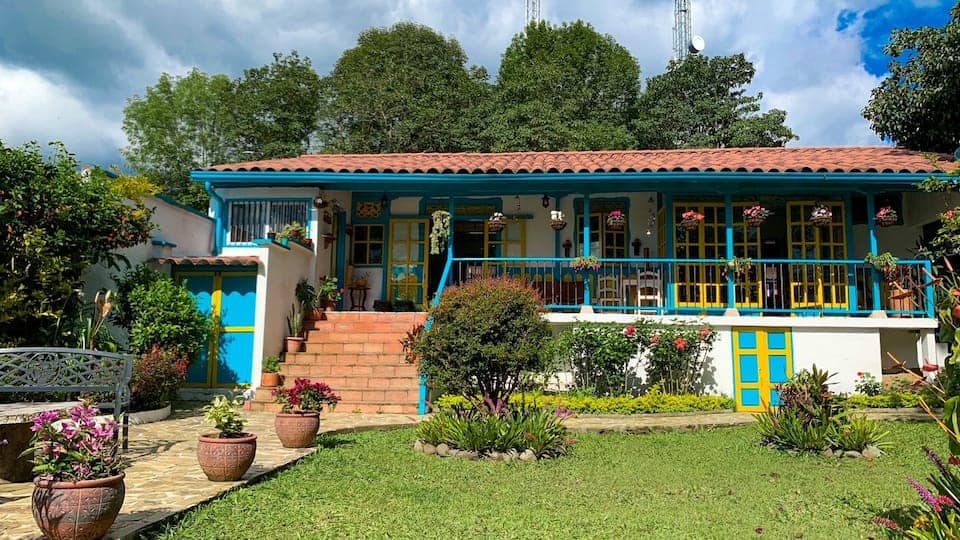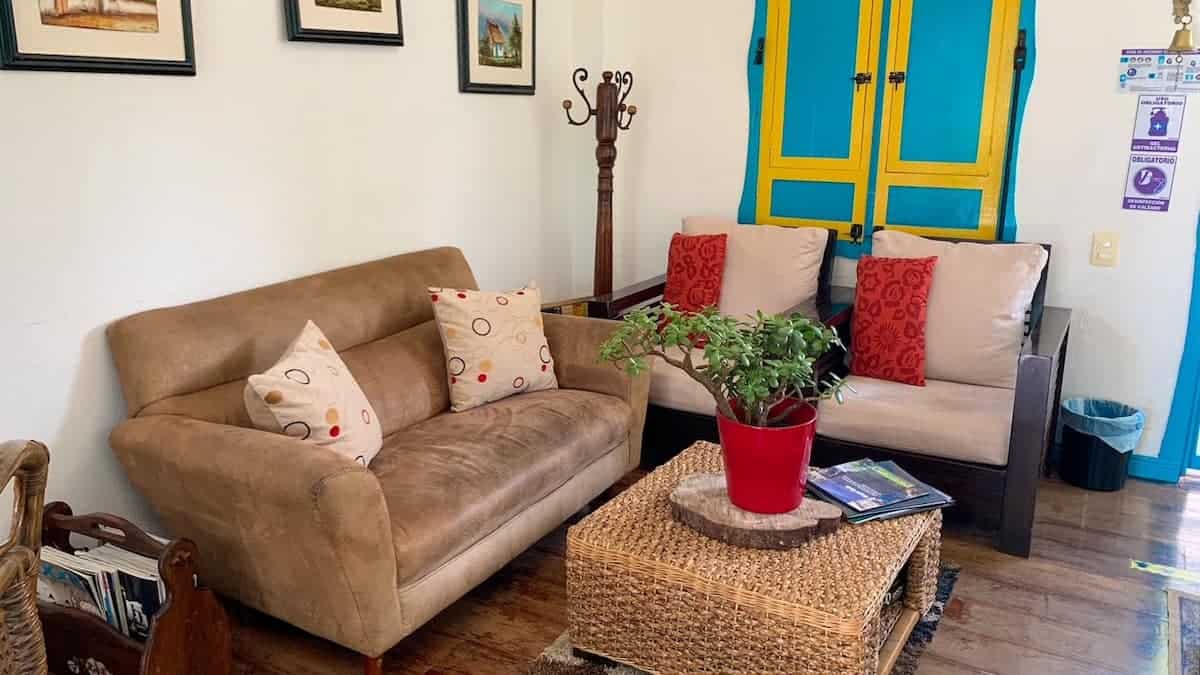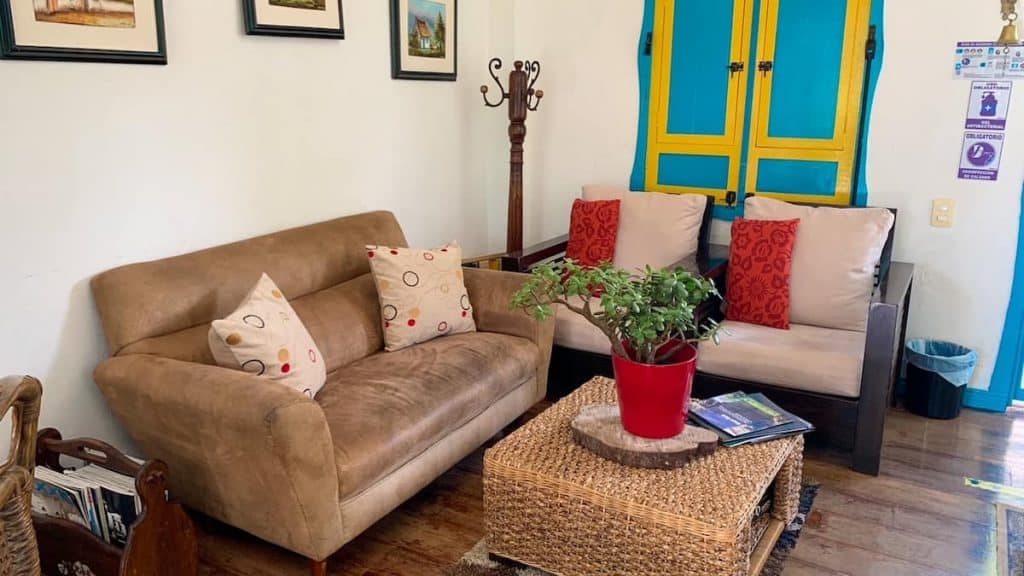 This charming traditional Antioquian house is one of the best places to stay in Salento. With its white tiles and colorful wooden roof, guests can immerse themselves in the typical Colombian lifestyle.

This Salento vacation rental features 3 bedrooms and can comfortably allow 9 guests to enjoy the best of its amenities such as a lush backyard with your own personal coffee plants, a smart TV with Netflix, laundry machines and more!

Its ideal location near the center of town means you can stroll along the quaint Calle Real anytime you want or visit Salento's best eateries!
Best Hotel in Salento – Casa De Las Dos Palmas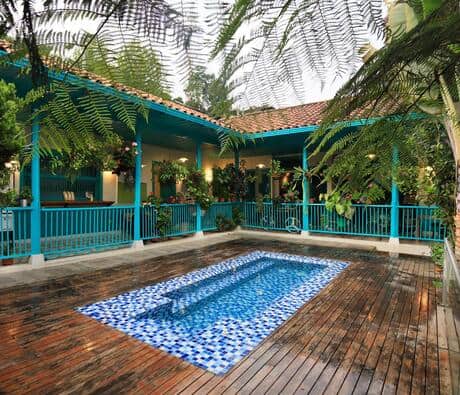 Casa De Las Dos Palmas is a small and lovely hotel with some of the cutest decor in Salento. Amazing and helpful staff. Free delicious breakfast. Spacious and clean rooms. The property also has a jacuzzi to help you relax after the Cocora Valley hike!
---
Cocora Valley (Valle de Cocora) FAQs
What is Cocora Valley Known for?
Cocora Valley is known for the Quindío wax palm trees, the national tree of Colombia. The wax palm trees are the tallest type of palm trees in the world, and visitors can see them firsthand in Cocora Valley.
Is Cocora Valley Worth Visiting?
The Cocora Valley is one of the best things to do near Salento, Colombia. It is home to the world's tallest wax palm trees, and visitors can admire their grandeur in Cocora Valley.
---
Like this post? Don't forget to save it on Pinterest!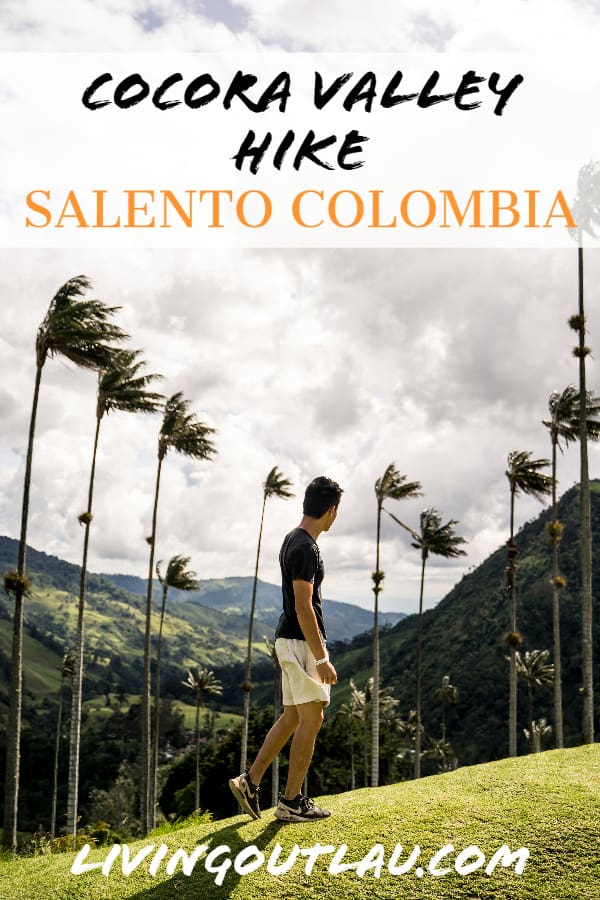 ---
Have you hiked Cocora Valley in Salento, Colombia? Which route did you take? Let us know in the comments!
Disclaimer: Some of the links above are affiliate links. That means if you book or make a purchase through the links, we will earn a small commission at no extra cost to you! The money will help run this site! Thank you!