Tayrona National Park, one of the best places to visit in Colombia, is a place where the beautiful Caribbean Sea meets the magical forest. Filled with exotic wildlife, indigenous tribe, and coconuts trees everywhere, Tayrona National Park is a place that should be in every Colombia Itinerary.
However, arranging accommodations in Tayrona National Park can be confusing, especially if you want to camp. Since camping is one of the best ways to connect with nature and enjoy the surroundings, there are numerous campgrounds in Tayrona National Park.
With so many campsites to choose from and so many pros and cons, which one will you choose to be your base for your Tayrona adventure?
This guide to camping in Tayrona National Park will answer all the questions you have about the different campgrounds in Tayrona National Park! 
---
Tayrona National Park Map
Camping in Tayrona National Park can be quite tricky because you cannot book most of the campsites online beforehand. This guide will give you an overview of the different camping grounds available in Tayrona National park through the El Zaino entrance (the most popular one).
Visitors can also enter through the Calabazo entrance or the Palangana entrance, but these entrances are rather remote and have limited
The majority of the campsites can be booked the day of at the park entrance, except for Ecohabs and the two hotels in the park. 
---
Where To Stay In Tayrona National Park
Don Pedro Camping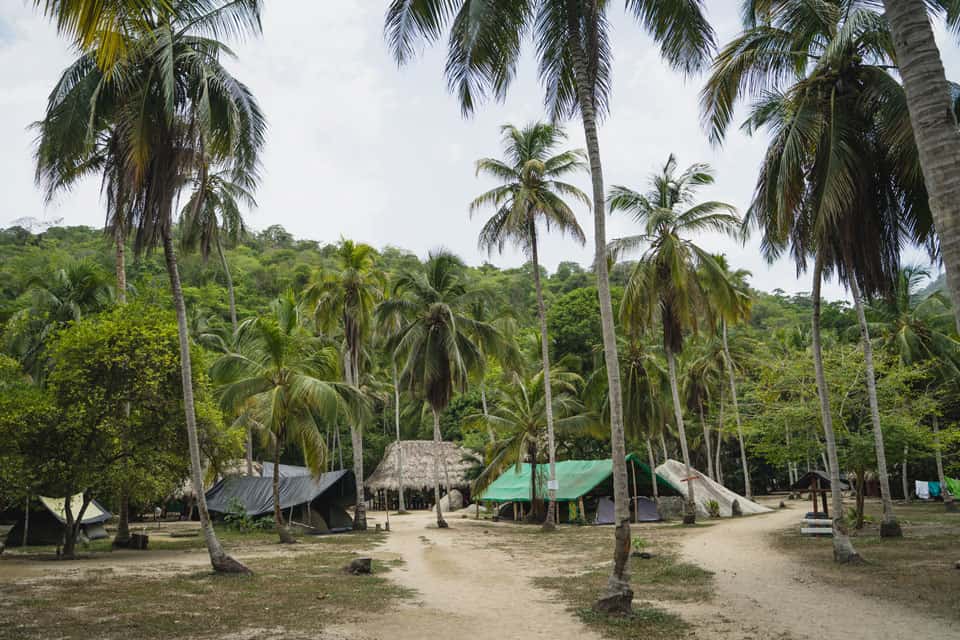 Don Pedro camping is one of the most popular campsites in Tayrona National Park. Located about an hour from the shuttle drop-off point, Don Pedro is a convenient campsite for travelers that want to explore a little deeper inside Tayrona National Park but still want to be close to the exit.
Don Pedro campsite features an on-site restaurant (with hour restrictions), showers (with hours restrictions), bathrooms, a basic kitchen, tents, and hammocks.
In general, Don Pedro is a solid choice for any travelers looking to camp in Tayrona National Park. Though it is not right on the beach, the closest beach can be easily reached within 10 mins of walking. However, you are not allowed to swim on that beach because it is dangerous.
Watch out for falling coconuts when you are in camping Don Pedro. Coconuts kill more people than sharks per year!
---
Cabo San Juan, Best Place For Hammocks In Tayrona National Park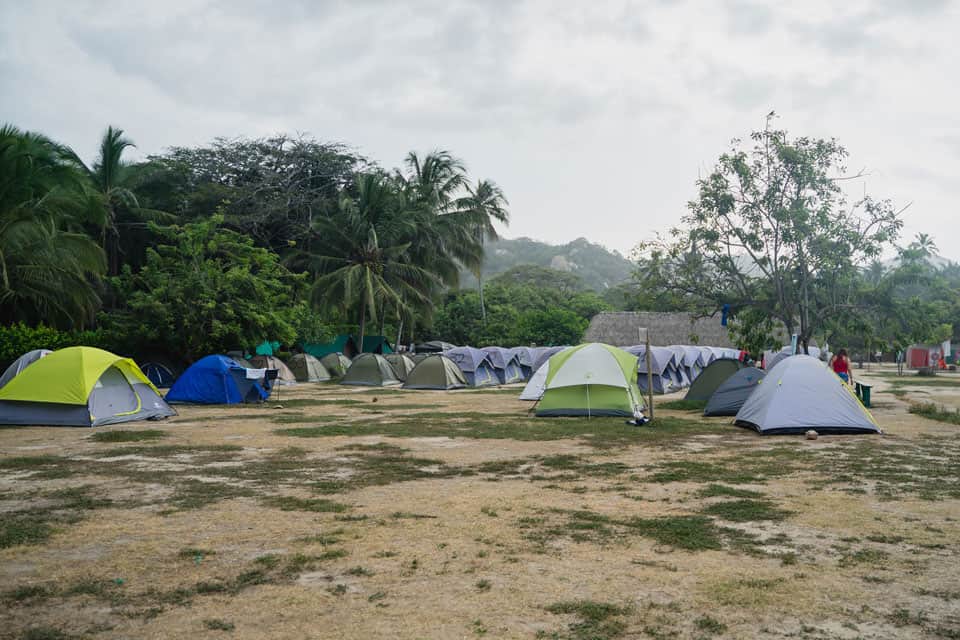 Cabo San Juan is the most popular camping spot in Tayrona National Park, and for good reason. Located about 1.5 hours away from the shuttle drop-off point, Cabo San Juan is the furthest camping site there is from the Zaino entrance.
There are two places where you can stay in Cabo San Juan, the watchtower that is jutting into the Caribbean Sea, or on the beach. If you do stay on the watchtower, they only have hammocks and it gets very windy and chilly at night.
Bring a blanket if you want to stay at the watchtower. Also, you might want to bring some insect repellant because those hammocks do not come with a mosquito net.
If you stay on the beach, you can decide between staying in a tent or staying in a hammock. The hammocks on the beach also do not have mosquito nets.
The hammocks at the watchtower are famous in Colombia and tend to get sold out quickly, especially during peak season. Make sure you reserve them in advance by arriving at the park early.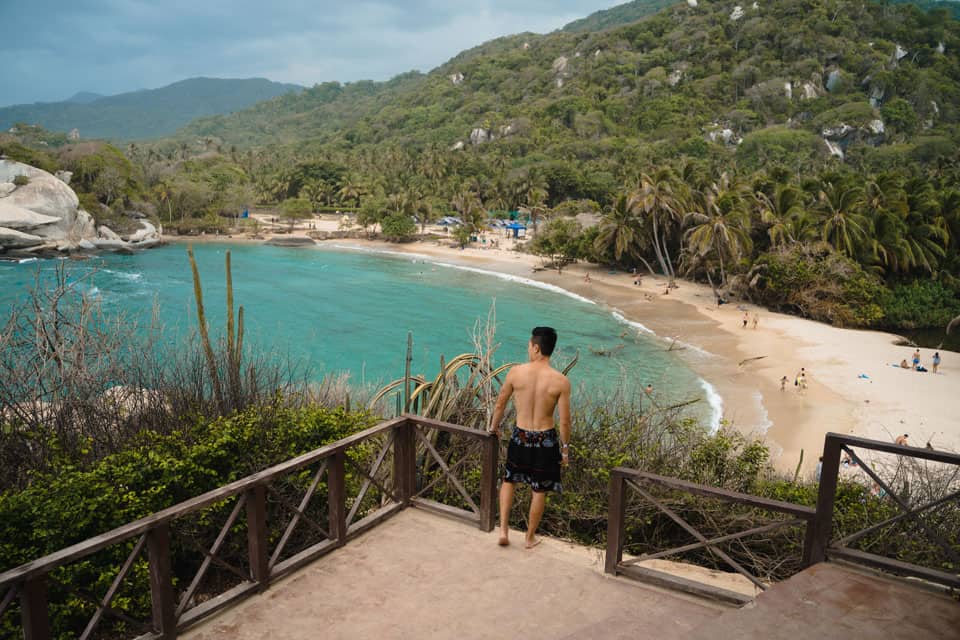 You can reserve your Cabo San Juan accommodation at the entrance of the park or at the reception on site. Cabo San Juan now has its own official site. Though it was glitchy (and useless) when I last checked it, you can give it a try here.
Cabo San Juan campsite also features an on-site restaurant, showers and toilets, snorkeling equipment rental, and boat trips to Taganga (a small beach town).
Though a bit touristy and crowded, I would highly recommend staying at least one night in Cabo San Juan for the experience.
---
Castilletes Campsite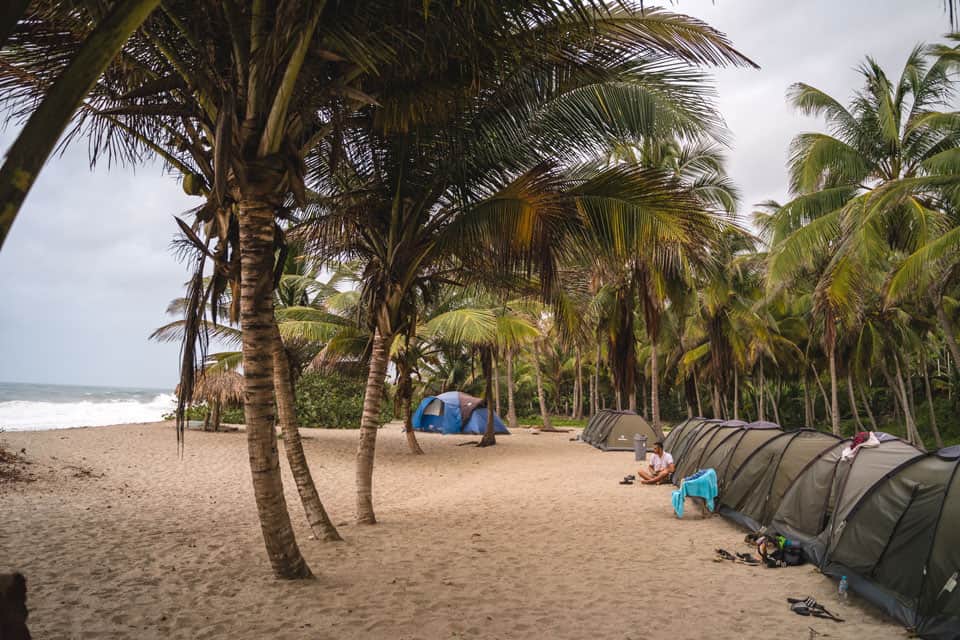 Castilletes is the closest campsite from the Zaino entrance of the park that is on the beach. It is one of the campsites that you could book online, but recent changes have disabled that feature.
Located a 45-minute walking from the entrance of the park, Castilletes camping ground is the only campsite that the shuttle can take you to because the shuttle passes by it. If this is your first or last day in the park, you might want to consider staying at Castilletes for an easier time leaving and entering the park.

Castilletes is a very beautiful campground with many amazing amenities including a restaurant, showers and toilets, hammocks, tents, and even Wi-Fi. Though you might be sleeping right next to the sea, you cannot swim in the water adjacent to the campground because the waves are rough.
It is a whole completely different atmosphere than Don Pedro or Cabo San Juan. Compared to Cabo San Juan, Castilletes is much more peaceful and relaxed. The amenities are generally much cleaner and better than any of the other campsites we stayed in Tayrona.
Castilletes camping ground is gorgeous and a whole paradise on its own!
---
Arrecifes
Though we were told it wasn't an option to stay in any of the Arrecifes camping grounds at the entrance of the park, we did see a lot of people at those camping grounds.
When I say Arrecifes camping ground, I am referring to the campgrounds that are closest to the Arrecifes beach. However, none of these camping sites are actually on the beach itself, they are the best option if you don't want to walk far to reach the beach.
It is unsure how you can book these tents and hammocks at the various campsites in Arrecifes since we were not given the option when we rented our tents at the entrance of the park. Honestly, from what I saw, you are better off staying in Don Pedro, which is a few minutes away from the campsites in Arrecifes.
Don Pedro has better amenities and is only a few minutes more away from the beach.
---
Ecohabs, The "Luxury" Tayrona National Park Hotels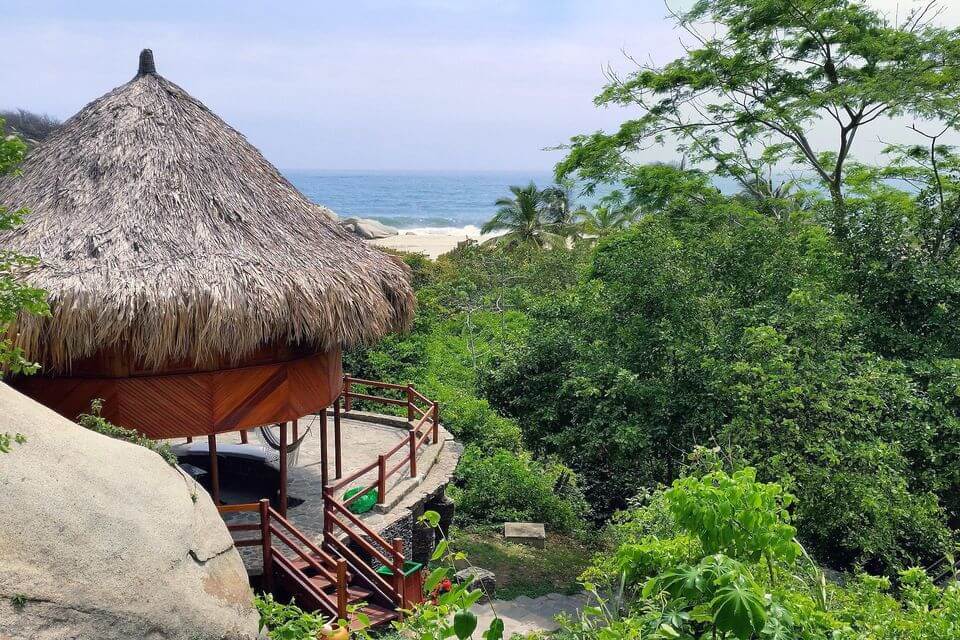 Ecohabs, or most commonly miscalled as Ecohuts, is the most luxurious type of accommodations you can get in Tayrona National Park. Though Ecohabs are not for camping, I would like to include them in this guide to outline all the options there are.
Located at Cañaveral beach, the Ecohabs are situated on top of a hill surrounded by dense vegetation. Each Ecohab offers spectacular views unmatched by any other viewpoints in the park, miles of turquoise Caribbean Sea and white sand beach.
If you can afford to splurge on the Ecohabs, I would highly recommend doing so. It is an experience you will not forget.
---
Hotels In Tayrona National Park
The last type of accommodations in Tayrona National Park are the handful of hotels near the entrance. At the time of writing, there are a total of 3 hotels inside Tayrona:
These three hotels are situated right next to each other and are the closest hotels to the entrance of Tayrona Park.

That means you won't have to go that far into the park to reach your accommodation but that also means you will it will take you longer to reach other parts of the park, especially the beautiful Cabo San Juan.

Both of these hotels are located in the heart of the forest, meaning that at night there will be a lot of insects. The hotels do offer mosquito nets but light attracts them so you will find them everywhere within the vicinity of the hotel.

It is a totally surreal experience to fall asleep to the sound of the jungle and to be woken up by the mesmerizing birdsongs!

Breakfast is included in the stay but their on-site restaurant also serves some amazing dishes. Additionally, the hotels have WiFi if you need it.
If you are not sure where to stay in Tayrona but don't want to camp, those hotels are great options.
Tayrona National Park Hostel
I am going to address one of the most common questions I get about Tayrona National Park.
Are there hostels in Tayrona National Park?
The answer is… NO!

There are no hostels in Tayrona National Park. However, there are many great hostels near the entrance of Tayrona National Park.
I personally stayed at one of the top-rated hostels, The Journey Hostel, and had an amazing time. I would recommend staying there or in Santa Marta before going into Tayrona Park.
---
Bringing Your Own Tent Into Tayrona National Park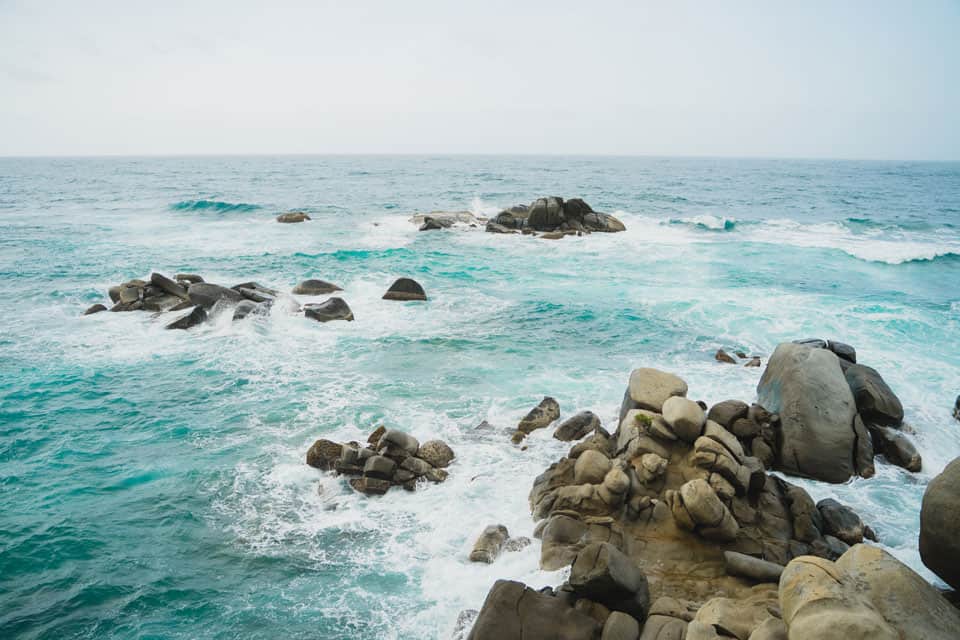 You are allowed to bring your own tents into the park. However, you are only allowed to camp in the designated campsites like the ones I mentioned above. You are NOT allowed to camp in the wilderness.
In addition, you will need to pay a fee to erect your tent in the designated areas. In July 2019, it was 10,000 COP to do so. It is still much cheaper than renting one of their tents (and much cleaner as well).
---
THings To Know Before Visiting Tayrona National Park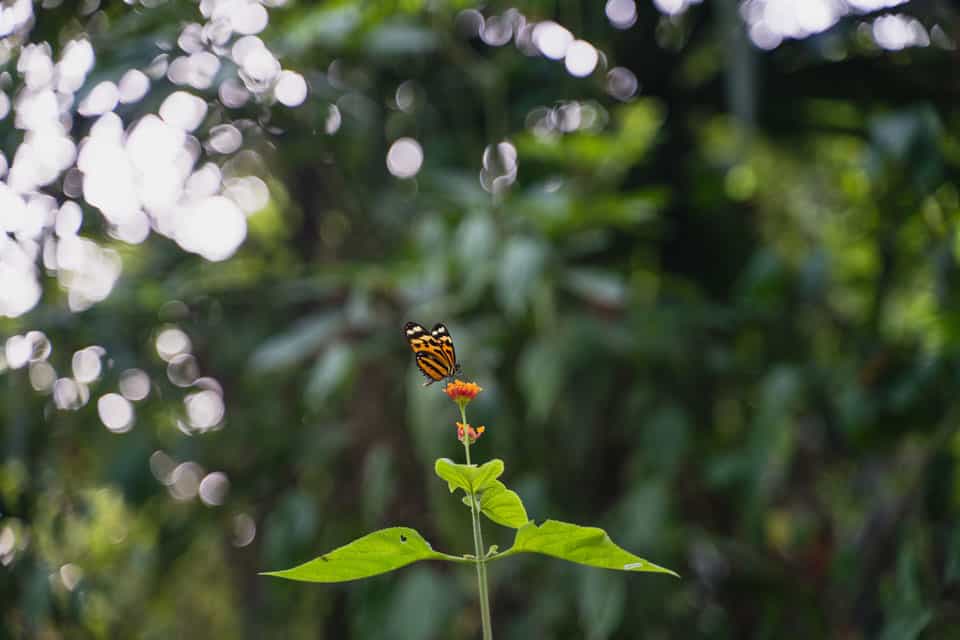 Tayrona National Park is one of the most protected areas in Colombia. As a result, there are many regulations and rules.
Yellow Fever Vaccine is "required" – Though the Yellow Fever vaccine is listed as a must to enter Tayrona National Park, I was never asked if I had proof of it. The same thing also happened to many travelers I have met. However, better safe than sorry.
Water and Food Are Available in the Park but are Overpriced – If you were thinking of just buying water and food in the Tayrona National Park, think again. Though there are many places that sell water and a proper meal, they are quite overpriced.
No Alcohol is Allowed
No Loud Music is Allowed – Headphones are allowed but if you were planning on blasting some reggaeton in the park, you will be stopped by the patrols and obviously tossed into the sea. Music is detrimental to wildlife in the area, sometimes disrupting their way of life.
No Plastic Bag is Allowed to Enter the Park – In the effort to stop the littering of plastic, Tayrona National Park has banned all plastic packs, though we did sneak one in (we are badasses). Just make sure you dispose of it properly!
Store Your Big Luggage in Santa Marta – If you are camping, you should not take more than a small backpack with you. Store your luggage in your accommodation in Santa Marta or wherever you are staying before visiting Tayrona National Park.
Tayrona National Park is Closed in February! – Due to the agreements with the indigenous tribes that still live inside Tayrona National Park. The park is closed every February. For the exact dates it is closed, refer to the Tayrona Park official site.
---
Packing List For Tayrona National Park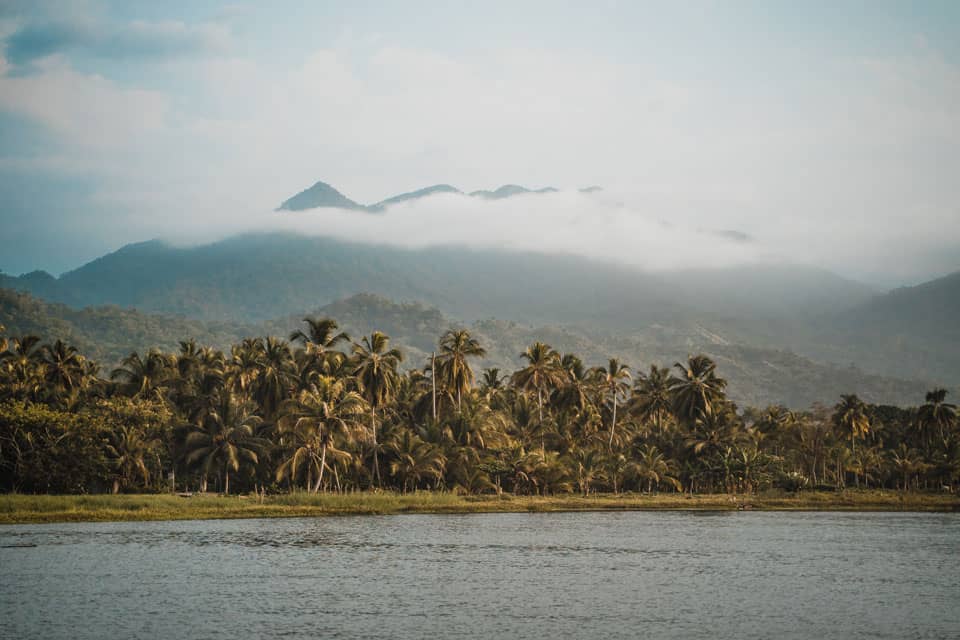 Located in the heart of the rainforest as well as on the Caribbean coast, there are many things you should pack for your visit to Tayrona National Park. Here are things we recommend:
Passport – Not because you want to, but you have to in order to enter the park! You cannot enter Tayrona National park without your passport.
Cash – There are no ATMs in the park and the restaurants and other vendors only accept cash.
Insect Repellent and Sunscreen – Insect Repellent for the army of insects you will encounter in Tayrona National Park. Sunscreen to avoid looking like a burnt lobster.
Bathing Suit and Microfiber Towel – You will want a quick-drying towel such as a microfiber one.
Combination Locks – Every campsite has lockers but they do not give you a padlock. Bring your own to use the lockers or even for locking up your tent!
Warm clothes – Especially if you are sleeping in the hammocks!
Reliable Flashlight – For going to the bathroom at night or traveling inside the park after sunset. A must-have for Tayrona National Park.
---
Like this post? Don't forget to save it on Pinterest!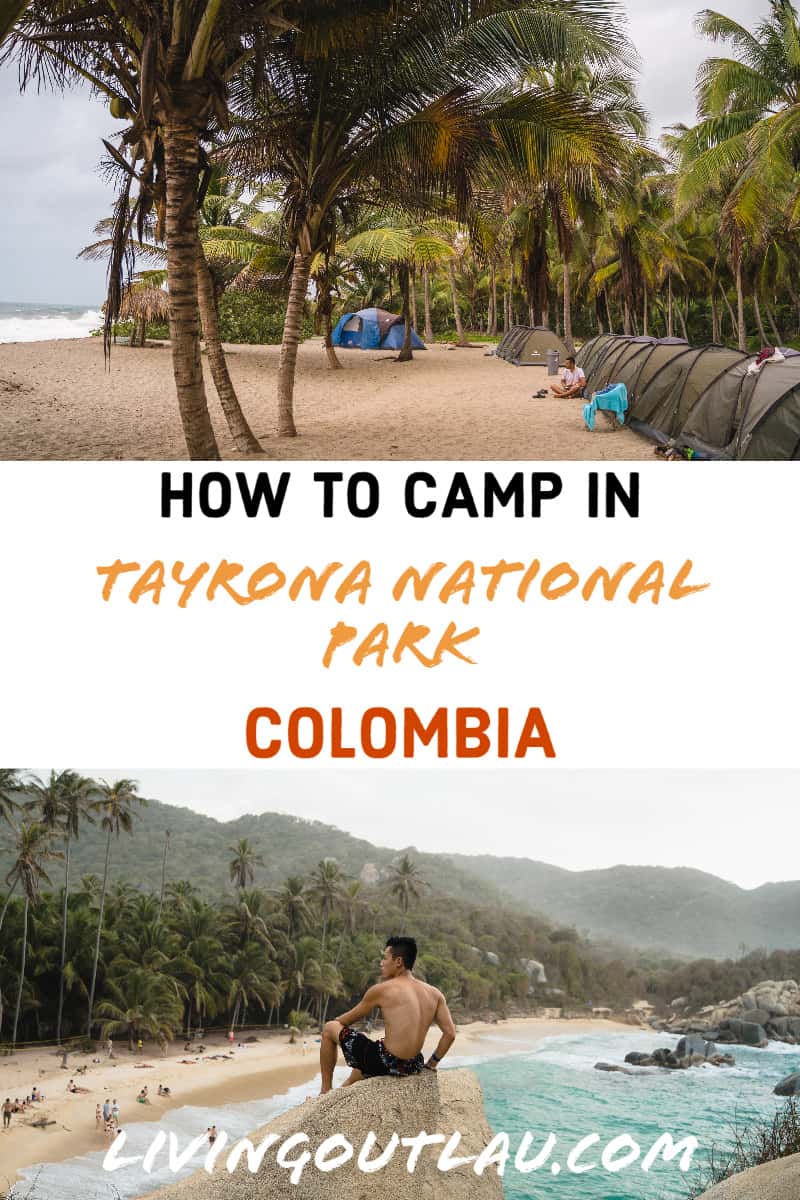 ---
This marks the end of the guide to camping in Tayrona National Park. Camping really enhances your whole entire experience in the park and I suggest not doing it any other way.
Disclaimer: Some of the links above are affiliate links. That means if you book or make a purchase through the links, we will earn a small commission at no extra cost to you! The money will help run this site! Thank you!