Not sure what to do in Banff in winter? Worry not.
Situated in the pristine Canadian Rockies, Banff is a small Alberta town that provides an exciting Canadian winter adventure like no other. From ice-skating on frozen lakes to staying a night in one of the most luxurious hotels in the world, Banff can cater to any winter wonderland expectation.
Deemed one of the world's best destinations by National Geographic, it can be difficult to decide what to do when you visit Banff. That is why we have written this post on the 17 best things to do in Banff in winter.

Enjoy!
Is Banff Worth Visiting In Winter?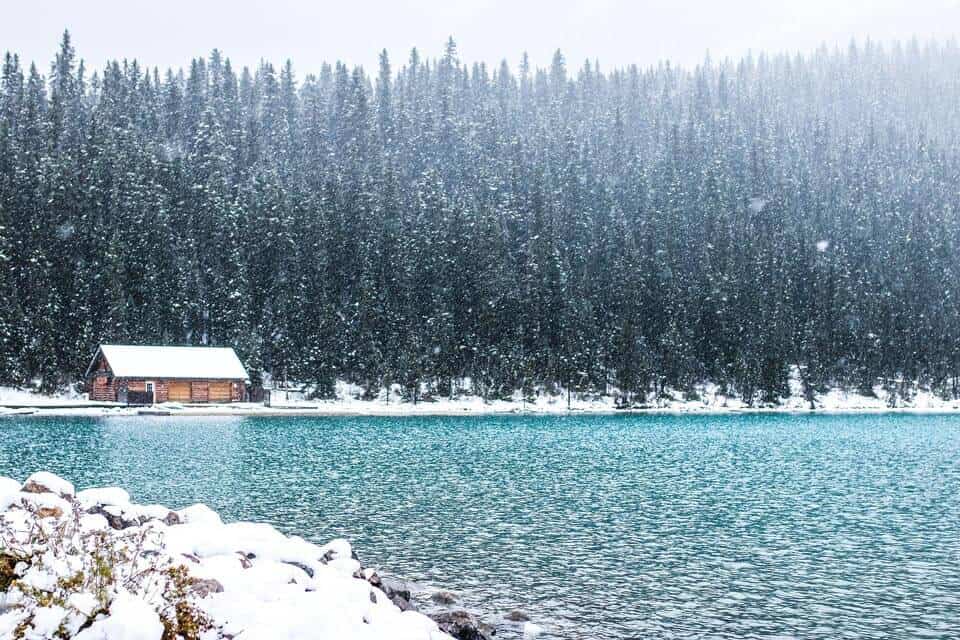 Located deep in the heart of the Canadian Rockies, Banff is the flagship destination for the world-famous Banff National Park.
In the summertime, Banff is awash with eager hikers and outdoor enthusiasts hoping to catch a glimpse of the resident grizzly bears. In the wintertime, however, the town of Banff is draped in a layer of impenetrable snow, and the surrounding mountains are littered with adrenaline-seeking skiers and snowboarders.
Winter in Banff is truly magical. From snowshoeing underneath the snow-capped peaks of Banff National Park to wandering in and out of the many cafes and shops that populate the main street, Banff offers an abundance of world-class winter attractions that will complete your winter getaway.
Banff In Winter Attractions Map
Above is a map showing you all the winter attractions in Banff we will be discussing below. Using this map properly should allow you to properly plan your Banff itinerary and the number of days you intend on staying. After all, staying in Banff isn't exactly a cheap ordeal so you might want to spend your time efficiently.
17 Winter Activities In Banff
1. Explore the Town of Banff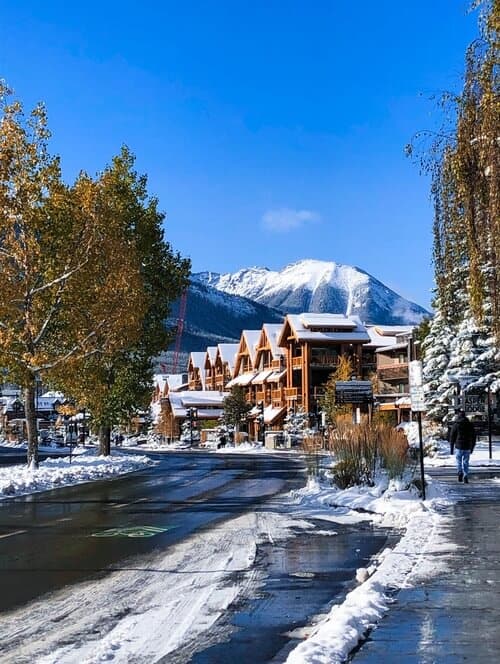 The town of Banff itself is an incredible adventure waiting to be discovered.
Walking down Banff Avenue, the main street in the town, you will find a number of amazing cafes, restaurants and bars flanking either side of the road.
Take a look inside the Banff Park Distillery, selling 100% homemade, local spirits, or perhaps you'd prefer The Grizzly House – a log-cabin styled restaurant serving Canadian staples such as elk and bison, alongside its signature Swiss Cheese Fondue.
When you are finished gorging on some of Banff's favorite dishes, there is no better way to explore the town of Banff than by grabbing yourself a hot chocolate, and wandering in and out of the many skiing and outdoor shops that can be found dotted among the town's side streets. Don't forget to get one of the authentic Canadian souvenirs here!
Often Banff can be considered a mere stop-off point for your Canadian Rockies adventures, but the town itself has a lot to be discovered.
2. Soak in The Banff Upper Hot Springs
In the late 1800s, when workers from the Canadian Pacific Railway were excavating the ground to lay the railway tracks, they stumbled upon something that would change the course of Banff's history forever – the Banff Hot Springs.
The discovery, and subsequent fallout, of the Banff Hot Springs led the Canadian government to declare Banff as the country's first-ever national park. Today, you are still able to visit the Banff Hot Springs and soak in the healing water.
While the original hot springs discovered can still be visited at the historic Cave and Basin site just outside of Banff, the main commercially used hot springs can be found at the end of Mountain Avenue, approximately 4km south of Banff.
Though the hot springs are open all year round, there is nothing quite like climbing into the warm, soothing water just as the snow begins to fall around you. Without a doubt, it is one of the best winter activities in Banff.
Hot springs around the world are known for their healing effects, but there really is nothing quite like the Banff Hot Springs.
3. Skiing/Snowboarding at the 'Big 3' Ski Resorts Near Banff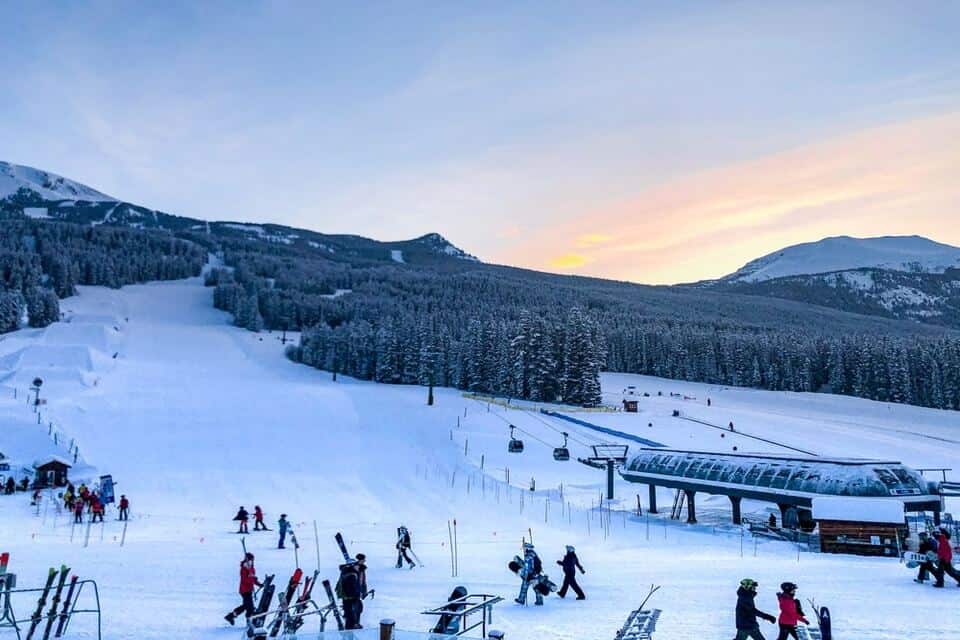 One of the main draws for thousands of visitors to Banff each winter is the chance to ski or snowboard at one of the 3 world-famous ski resorts that are within driving distance of Banff.
Mount Norquay, Sunshine Village and Lake Louise collectively make up the world-class 'Big 3 Ski Resorts'. Having one ski resort is usually impressive, but the fact that Banff is home to 3 separate resorts, makes it one of the best destinations in the world to visit when you are a skiing enthusiast.
Mount Norquay, the smallest of the 'Big 3', is a short 12-minute drive from Banff, with regular shuttles on offer to take you from the town directly to the ski resort.
Banff Sunshine Village is perhaps the most famous of the 3 ski resorts, and can be accessed via a 20-minute drive along the Trans-Canada Highway. With 139 skiable runs, Sunshine Village is an ideal place to dust off those skis and try out one of the best things to do in Banff in winter.
Lake Louise is the third of the 'Big 3' resorts, and is a further 30-minutes from Sunshine Village, along the Trans-Canada Highway. Any credible Lake Louise ski resort guide will inform you that the thing that sets Lake Louise apart from the rest, is the world-class back-bowl terrain it has on offer. Skiing in the back bowls at Lake Louise is an experience like no other.
4. Gondola Ride to The Top of Sulfur Mountain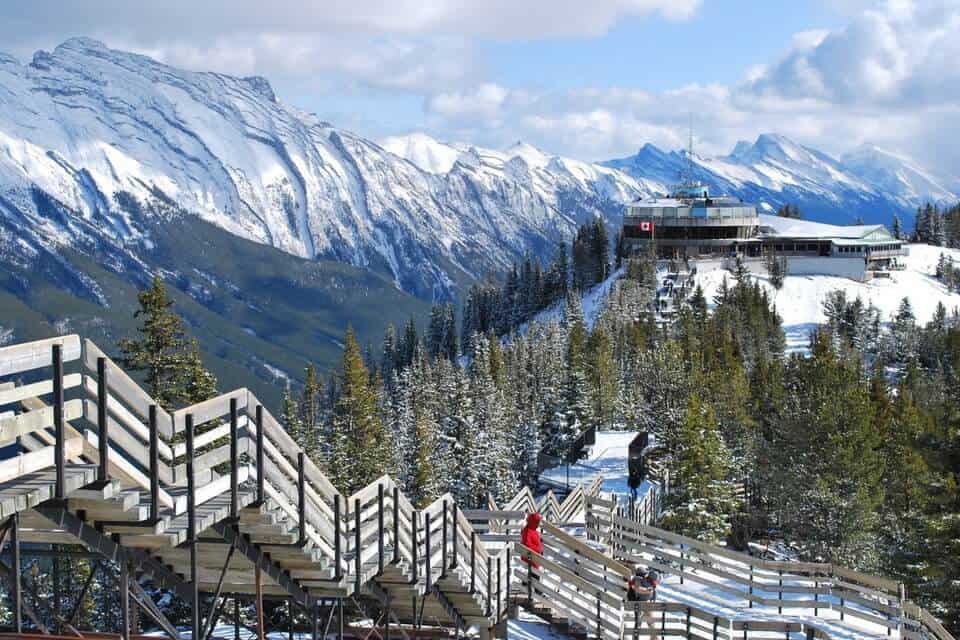 If you're visiting Banff in the winter and want the chance to visit one of the famous peaks, but don't feel comfortable skiing or snowboarding back down again, then a gondola ride to the top of Sulfur Mountain will be perfect for you.
The Gondola ride, also known simply as 'Banff Gondola', is located at Banff Sunshine Village Ski Resort. Offering timeless Rocky Mountain views, the 8-minute journey takes you up 698m (2,292 feet) above the town of Banff.
When you arrive at the top, you are greeted by panoramic views of the valley below, as well as a spectacular 360-degree view observation deck.
From the observation deck, take the Sulfur Mountain boardwalk to Sanson's Peak, the true highest peak of Sulfur Mountain.
Gliding over the trees in the Gondola at Sulfur Mountain is a truly breathtaking mountain experience over the town of Banff.
5. Ice-skating on Lake Louise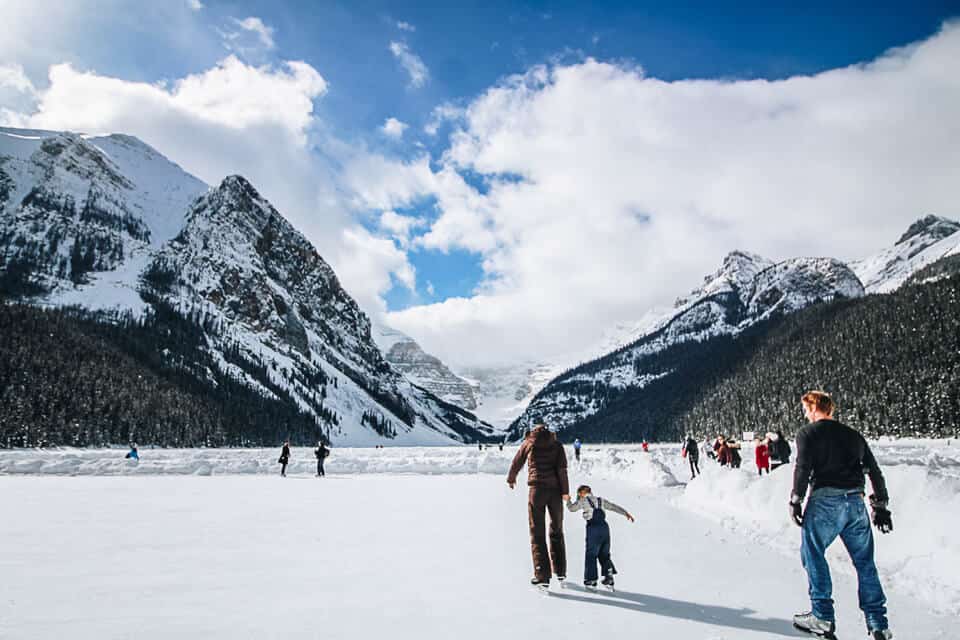 Wintertime in Banff brings about an entirely new set of activities waiting to be discovered, and one of these is ice skating on one of the many frozen lakes that are scattered around the National Park.
Although there are several options for natural ice skating in Banff, it is hard to overlook the opportunity to skate over one of the most photographed lakes in the world – Lake Louise.
Ice-skating over the frozen water is undoubtedly one of the most amazing winter activities in Lake Louise, and is sure to be a highlight of your winter trip to Banff. Lake Minnewanka and Two Jack Lake are also alternatives where you can ice skate on a frozen lake, but only when the conditions are ideal.
With skate rentals available in the town of Banff, as well as at the Fairmont Chateau Lake Louise, there are endless options for ice-skating enjoyment in Banff.
Skating on top of a natural frozen lake will make you feel like a Canadian in no time.
6. Dog-sledding Along The Great Divide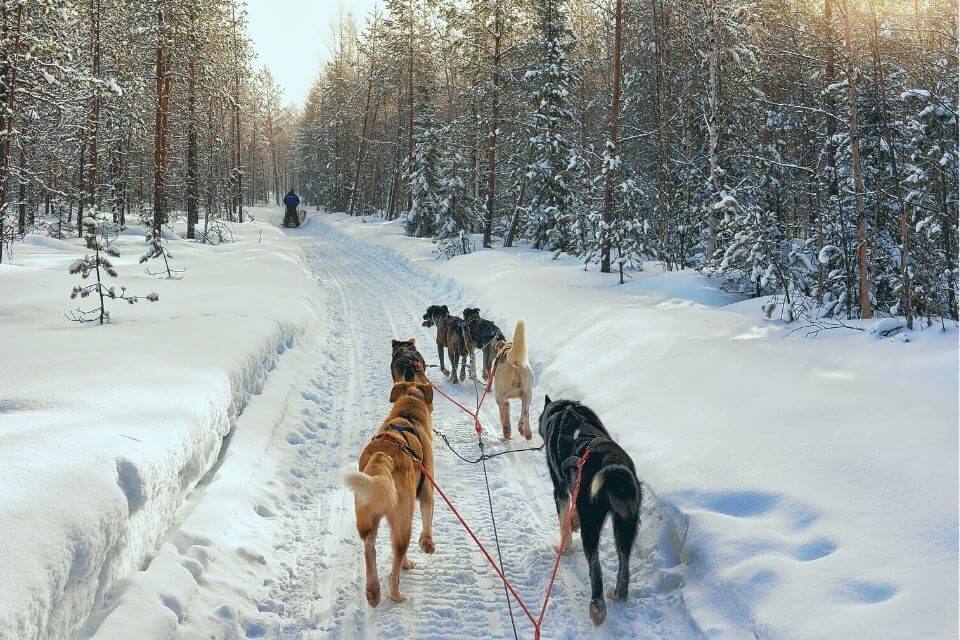 It is hard to imagine feeling more like you have stepped into a winter wonderland, than when you are being pulled along the wintery trails of Banff by a pack of Alaskan Husky dogs, with the driver whooping and hollering them along.
The happy and hardworking huskies guide you through the incredible scenery of the Canadian Rockies, while your driver delivers an insightful talk on the history of the area.
The most popular dog-sledding tour in Banff can be found just outside of Lake Louise, along the Continental Great Divide. On the 1.5 hour tour, you are even given the opportunity to steer and lead the pack, as you glide swiftly across a fresh dusting of snow.
If you are searching for a once-in-a-lifetime winter activity in Banff, then Dog-sledding is certainly your answer.
7. Winter Walks in Johnston's Canyon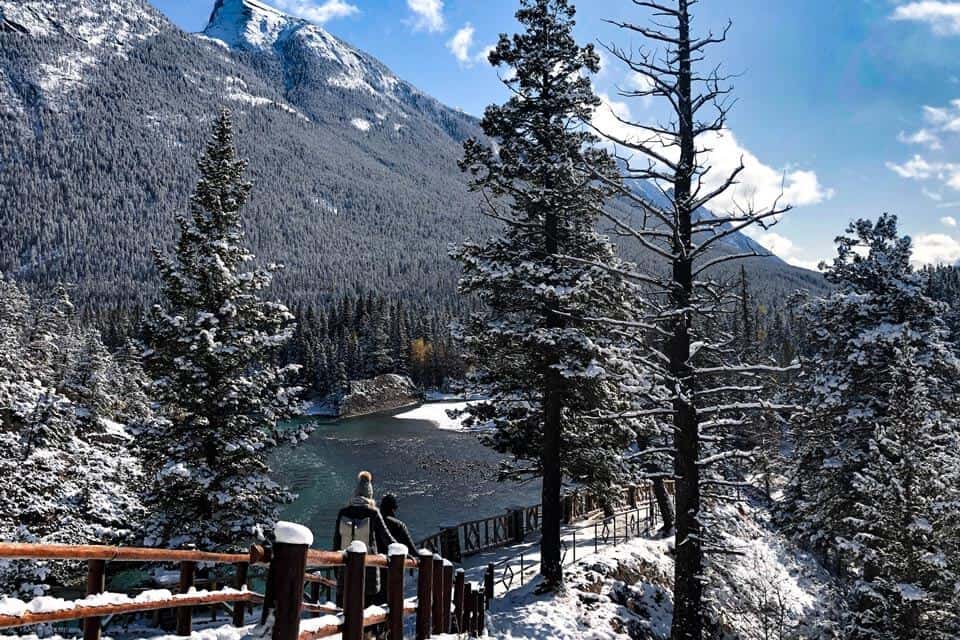 Many of the activities on the list require planning, time-scheduling and the appropriate funds to complete, but one of the best free activities you can experience in Banff is the prospect of winter walks.
There are very few destinations in the world that boast the variety of winter walks, hikes and strolls that Banff has to offer.
Johnston's Canyon, one of the best places to visit in the Canadian Rockies, is a short 30-minute drive from the town of Banff and offers spectacular views of gorges and frozen waterfalls along its many trails.
The simple out and back trails at Johnston's Canyon represent some of the easiest, but most rewarding hiking trails in Banff National Park.
Often people forget that there are so many great, free activities on offer in Banff, and taking wintery walks through the forests of the national park is certainly one of them.
8. Helicopter Ride over the Canadian Rockies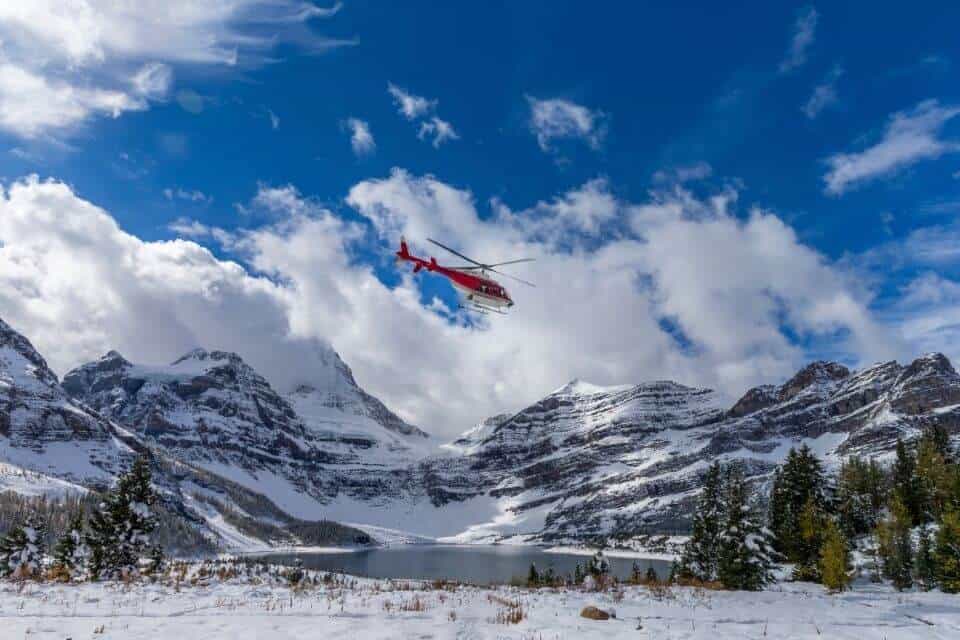 There is arguably no better way to uncover the beauty of the Canadian Rockies than by flying over them.
The Banff & Canmore Sightseeing company offers helicopter rides starting from Canmore, a 30-minute drive from the town of Banff. Though Canmore is located just outside of the National Park boundary, the majority of the flight takes place over the stunning Canadian Rockies.
For an alternative helicopter experience near Banff, you can drive for a couple of hours along the scenic Icefields Parkway, to the base of Abraham Lake. Here you will find Rockies Heli Canada, which offers helicopter flights over glaciers, waterfalls and mountains.
Wherever you decide to take off from, one thing can be sure – a helicopter ride over the Canadian is undoubtedly one of the best things to do in Banff in winter.
9. Caving in Canmore
Touted as the 'Best Adventure In the Canadian Rockies', Caving is a Canmore activity that can be enjoyed in Banff all year around.
While the ground outside is enveloped with a fresh dusting of snow, the walls inside the intricate Rat's Nest Cave system outside of Canmore have remained untouched, frozen in time, for centuries.
Whether it's squeezing through seemingly impossible narrow gaps, or repelling into deep dark pits, Caving is certainly not for the faint-hearted. What it does represent however, is the chance to explore a network of caves that have been inaccessible to humans for a number of years.
If you don't mind tight spaces, and fancy a true, authentic thrill in Banff, then you have to try a caving adventure with Canmore Cave Tours. It's a chance you certainly won't want to miss.
10. Stay a Night at The Fairmont Banff Springs Hotel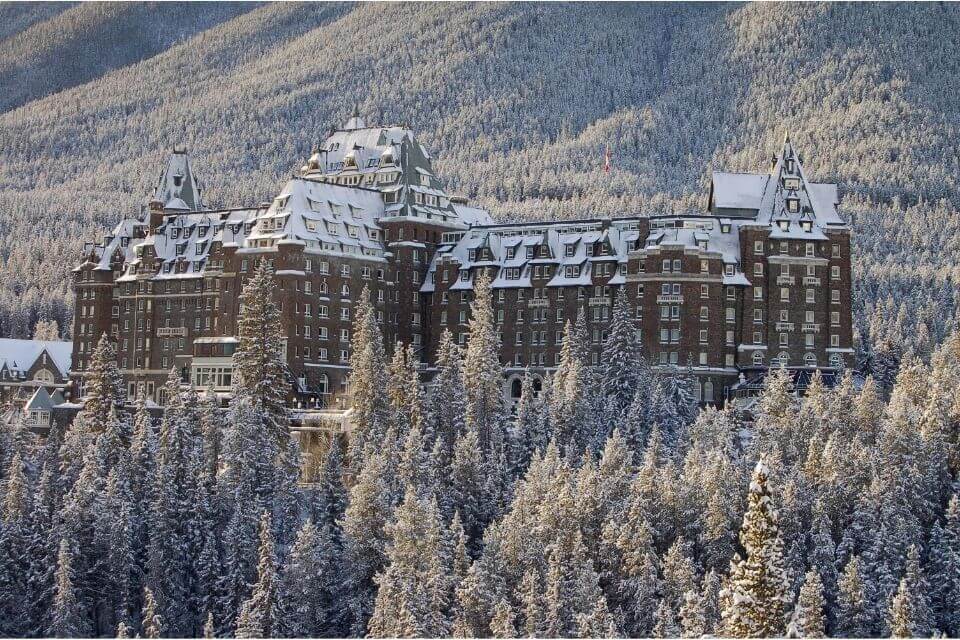 Dubbed the 'Castle in the Rockies' by many of its distinguished guests, the Fairmont Banff Springs Hotel is the epitome of luxury and hospitality in Banff.
Located on the banks of the Bow River, and a 10-minute walk from the town, the Banff Springs Hotel stands as a landmark in the famous, picturesque mountain town. The Hotel has been catering to wealthy and noble guests for over 130 years, and with sweeping views of the surrounding Alberta mountains, it is easy to see why guests continue to return year after year.
As well as boasting 757 guest rooms and suites, the Fairmont Banff Springs Hotel is also home to a spectacular golf course, a premier spa and numerous luxurious dining options.
A culinary experience that cannot be missed during your stay at the Fairmont Banff Springs Hotel is the 1888 Chop House Restaurant. Offering exquisite cuisine and an award-winning wine list, a visit to the Chop House will be the culmination of one of the most extravagant hotel stays you are likely to experience in your life.
It seems odd to add a night in a hotel to a list of the best Banff winter activities, but once your head touches the silky pillows at the Banff Springs Hotel for the first time, you will understand why it has been included.
11. Tubing at Mount Norquay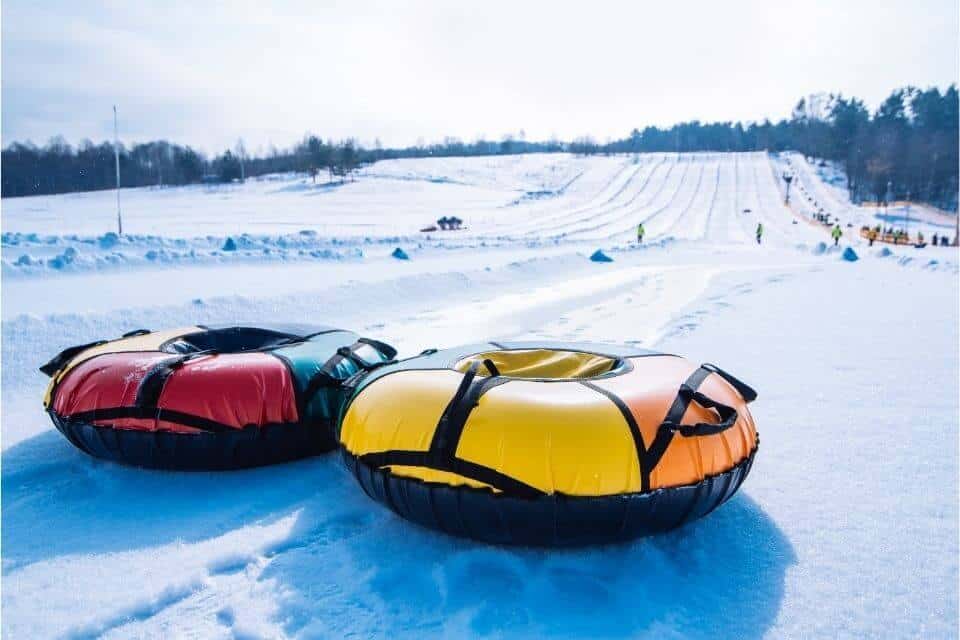 If you're looking for a slightly less strenuous activity than skiing, but still fancy a fun, winter activity in Banff, then look no further than tubing.
Tubing essentially involves riding down the side of a mountain on top of a rubber ring. As simple as it sounds, it can often lead to some incredible, adrenaline-raising memories.
Banff's best tube park can be found at Mount Norquay, which is home to Alberta's longest and fastest tube lanes. Tubing is a real thrill, and with no special skills required, can be enjoyed by any and all visitors to Banff in winter.
12. Visit Banff Central Park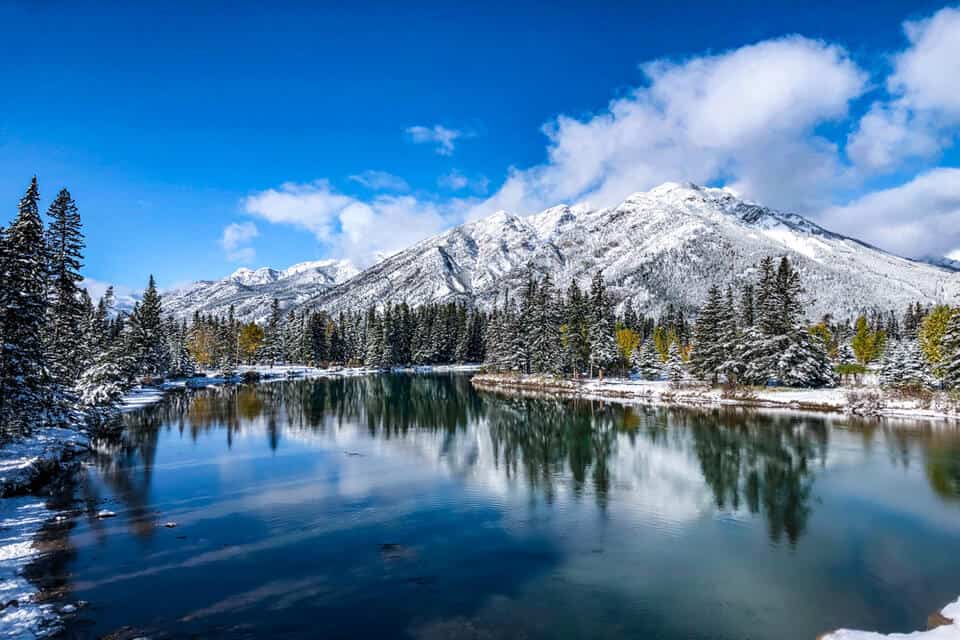 One of the best things to do in Banff in the winter is to visit Central Park.
Located at the very Southern tip of Banff Avenue, Central Park follows the winding Bow River and is a wonderful place to discover some of Banff's exquisite nature.
Take a walk along the trails, snow crunching underfoot, while staring out to the imposing Mount Norquay, one of the many mountain peaks that towers over the town of Banff.
Bring a fresh coffee with you to Banff Central Park, and watch the world go by in one of the most stunning towns in North America.
13. Discover Bow Falls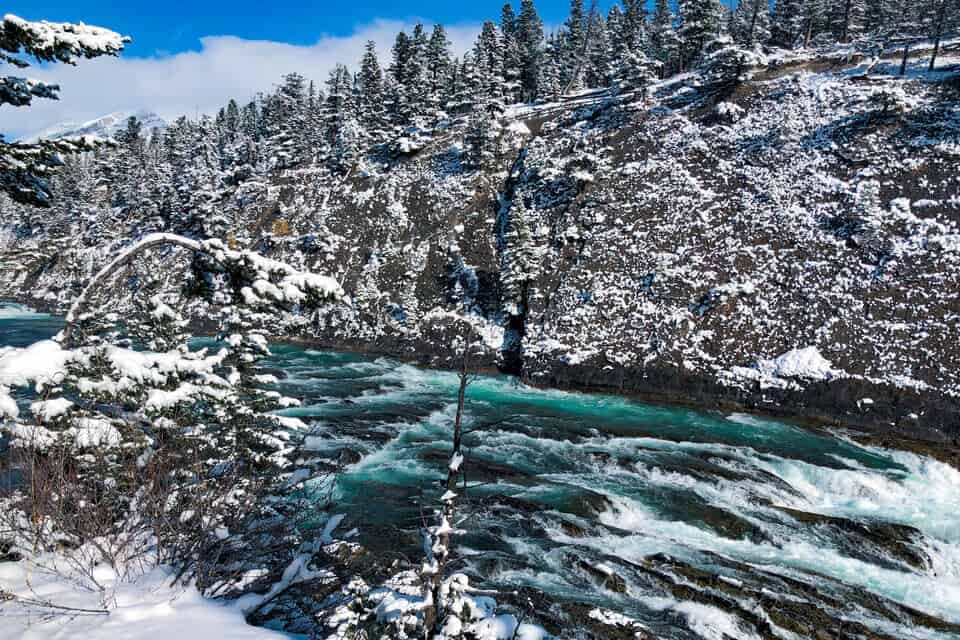 Within walking distance of the town of Banff, along the Bow River Trail, you shall find the impressive Bow Falls.
In winter time, the Falls are particularly mesmerizing as the deep shades of blue glacial water permeate the snow above.
Once featured in the Marilyn Monroe film River of No Return, Bow Falls are widely considered one of the best winter attractions in Banff, despite their relatively modest size.
A word of warning, the trail to Bow Falls from the town of Banff can be very icy and slippery, so be sure to come prepared with appropriate clothing and footwear.
14. Cross Country Skiing at Tunnel Mountain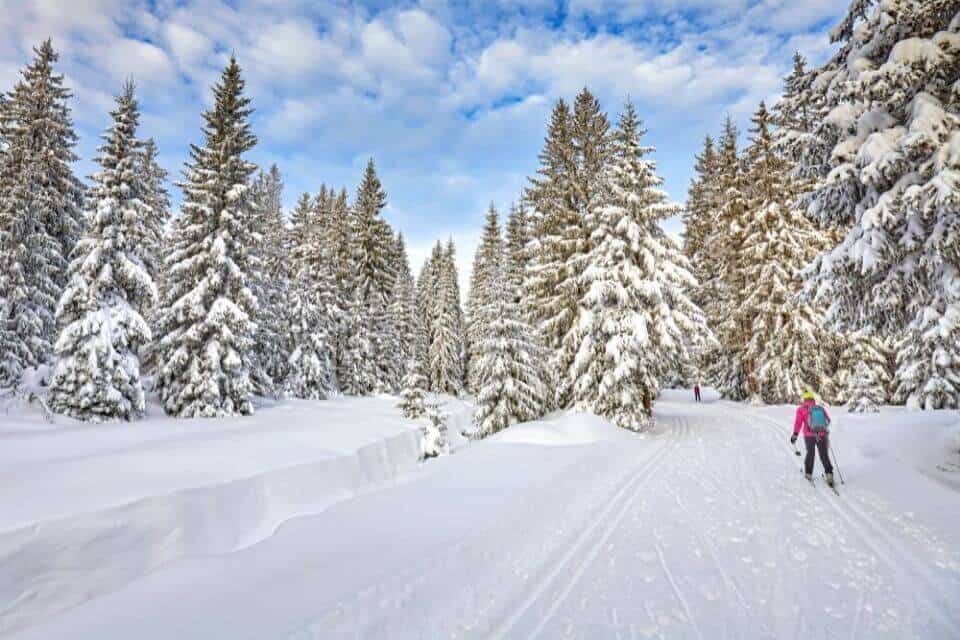 Despite being less popular than traditional skiing, cross-country skiing through the snow-covered trails of Banff is sure to be one of the highlights of your trip to the famous mountain town.
Despite being invented in Scandinavia, cross-country skiing is one of the favorite national past-times of Canadians and has been adopted by the entire country.
Traditionally used as a form of transport, Cross-country skiing has graduated to become more of a recreational activity in recent decades, and where better to try it out for the first time, than in the heart of Banff National Park?
Hire a set of skis, boots and poles in town, and head to the Tunnel Mountain campgrounds. The flat trails surrounding the campgrounds offer first-time cross-country skiers the perfect place to try out the new sport.
15. Ice-climbing in Canmore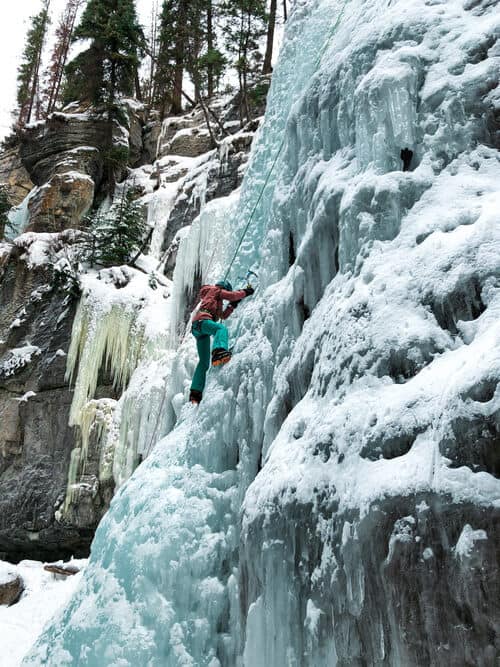 If the prospect of using pick-axes and ropes to ascend the side of a frozen waterfall sounds like a great adventure to you, then you will love Ice-climbing in Banff.
With tours available for beginners or experienced climbers, Banff has some world-class ice-climbing options that are sure to satisfy your desire for a winter thrill.
The Canmore Junkyards, a 30-minute drive from Banff, provide excellent conditions for an introductory course into the discipline of ice-climbing, but for those feeling even more adventurous, perhaps a climb up the frozen falls at Johnston's Canyon would be better suited.
With all the necessary training, guiding and equipment provided on any tour from Banff, it is relatively straightforward to find the perfect ice-climbing option for you and your travel partners.
16. Snowshoeing Around Johnson Lake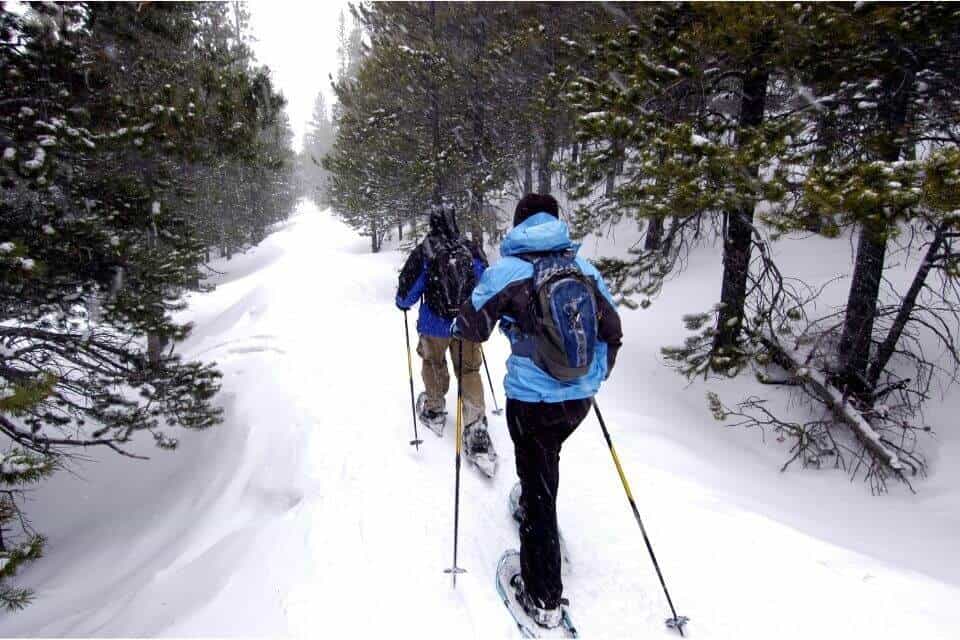 Canada plays host to some of the best snowshoeing conditions anywhere on the planet, and nowhere is this more apparent than in the heart of Banff National Park.
Invented by Native Canadians as a means to help them navigate and hunt in the dense Canadian tundra, snowshoeing has become a staple activity for any visitor to Banff in the winter.
Once you have hired a pair of snowshoes from one of the many rental shops on Banff Avenue, head straight for Johnson Lake. Less than a 15-minute drive outside of town, Johnson Lake is home to a simple 2.8km loop trail that acts as a perfect introduction to snowshoeing.
The trail follows the lakeside shoreline and features unprecedented views of Cascade and Rundle mountains.
Snowshoeing may not have the same sense of adventure and thrill as some of the other activities on this list, but if ever there was a place in the world to try it out for the first time, it would be Banff.
17. Experience The Ice Magic Festival At Lake Louise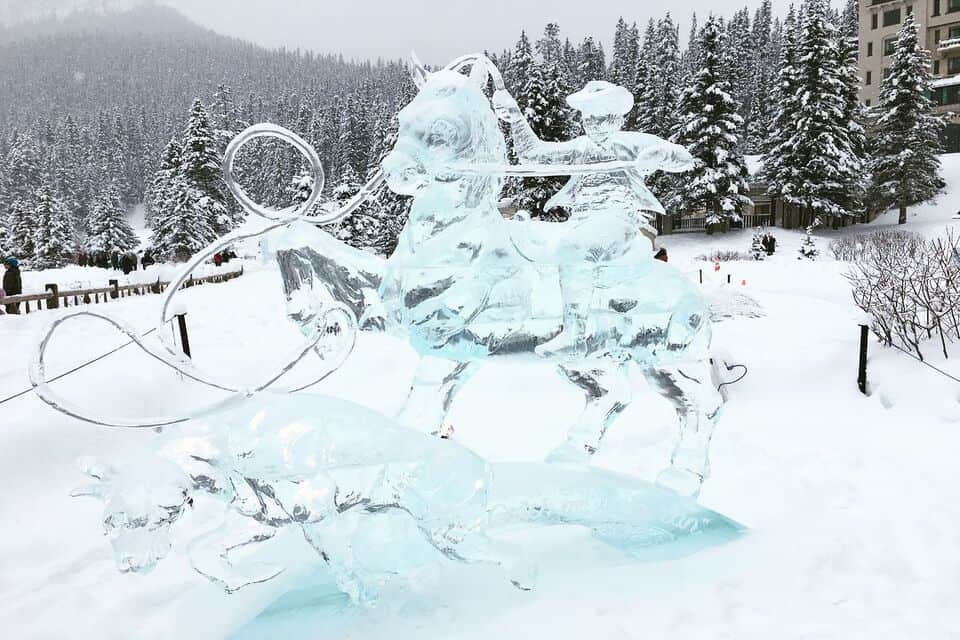 If you are visiting Banff with kids in the winter, then the annual Ice Magical Festival At Lake Louise is an unmissable attraction. Skilled artists from all over the world showcase their craft through a series of hand-crafted ice sculptures.
The craftsmen gather in front of the iconic Fairmont Chateau Lake Louise and spend a total of around 3 days bringing their creations to life. The sculpture can stay standing for a few weeks or until they are deemed unsafe.
The sculpture especially looks spectacular with the dramatic snow-capped mountains in the background! If you are staying in the Fairmont Chateau Lake Louise hotel, then this is an experience in Banff you cannot miss!
Where To Stay In Banff, Alberta
In the small town of Banff, surprisingly, there are a huge variety of accommodations to pick from. Travelers can choose between luxury resorts, lodges, chalets, or even campgrounds.

However, though there are plenty of choices, there are also plenty of visitors per year, especially during the popular skiing season, which usually runs from late December to March. As a result, we highly recommend that reserve your place to stay in Banff at least 3 months in advance.

Here are the accommodations we recommend staying in Banff.
Budget Accommodation in Banff – Banff Inn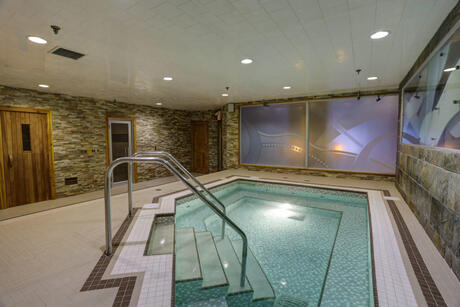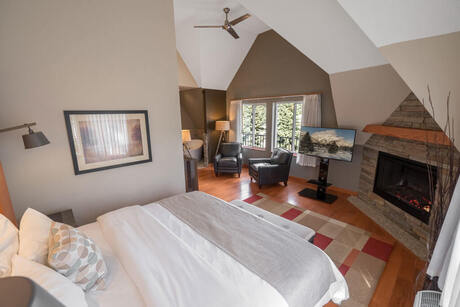 While the word "budget" and Banff National Park don't go together, Banff does offer some cheaper accommodations for travelers on a smaller budget. One of the best cheap hotels in Banff is Banff Inn.

Banff Inn is located in the center of the town, giving guests the much need convenience to some of the best facilities in town, especially on a winter visit. This Banff hotel features spacious rooms and a spa area with saunas and jacuzzis for guests to relax in after a long exhausting day.
Best Vacation Rental in Banff – Banff Getaway w/ Outdoor Jacuzzi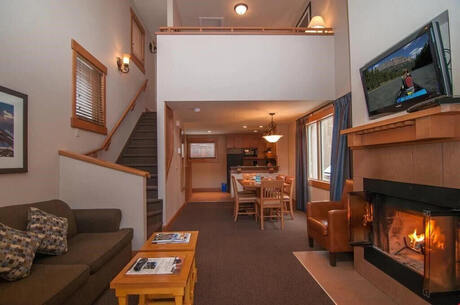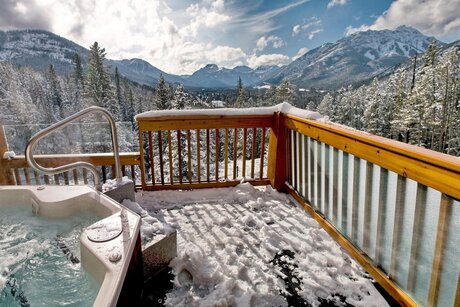 Credit: Vrbo

If you prefer something a little bit more cozy, consider one of the vacation rentals in Banff. There are plenty of jaw-dropping vacation rentals inside the town of Banff, but none can compare to this lofted condo with a private outdoor jacuzzi.

When you are not exploring downtown Banff (which is only a few minutes away), cozy up to the heart-warming fireplace in your living room. Better yet, head over to your balcony and soak your worries away in your hot tub as you admire the gorgeous mountain views.
Luxury Accommodation in Banff – Fairmont Banff Springs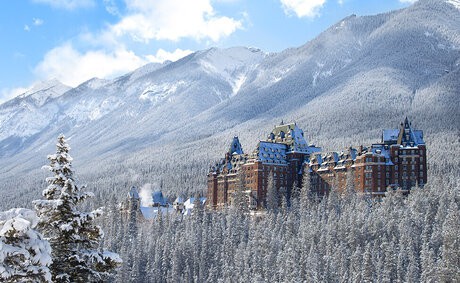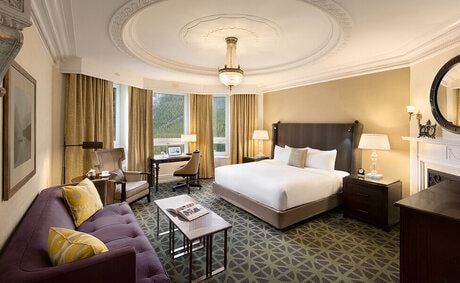 If money isn't an issue for your Banff trip, then there is no reason to not stay at the Fairmont Banff Springs Hotel. Built in 1888, not only is the Fairmont Banff Springs Hotel one of the most luxurious hotels in Banff, but it is also a national heritage site.

Guests will unquestionably find the utmost comfort and unparalleled services here. From the stylish rooms to the fairytale-like location, there is nothing not to love about this hotel.

Some of its most iconic features include the 30-meter-long lap pool, 19-meter-long heated outdoor pool, professional spa services, and activities such as bowling, tennis, and golf.
How To Get To Banff In Winter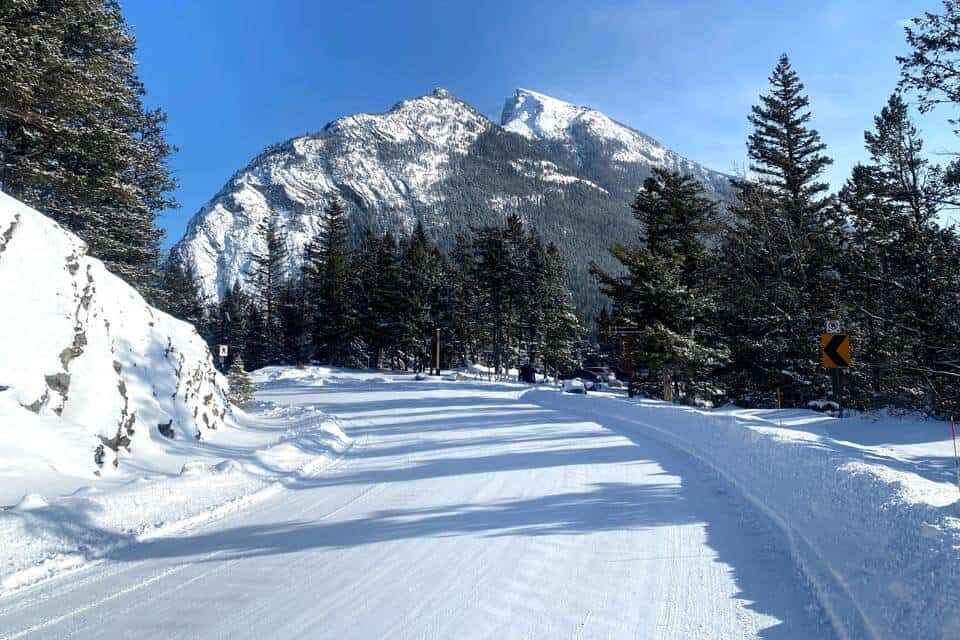 Because there is no airport in Banff, getting to Banff is often not quite that easy, especially in the winter. The most popular way to get to Banff is usually flying into Calgary, which is located a 1.5-hour drive from Banff.
From Calgary, it is a good idea to rent your own car and drive to Banff. Rental cars are usually quite affordable in Calgary. However, because of the extreme winter conditions, you must get a car with four-wheel drive and winter tires. These are two things you must look for when picking your rental car in Calgary!
Check out the rental car deals in Calgary here!
Getting Around Banff in Winter
One of the biggest questions and concerns about traveling in Banff is how to get around once you have arrived. If you have a rental car, that is easy. Just fire up that engine and take it wherever you want to go. But how do you get around Banff if you don't have a rental car?
Because the town of Banff is so small, everything is within a 15 to 20-minute walk away. When you wish to explore some of the attractions around Banff, visitors can make use of their public transportation service, Roam Transit. Visitors might also find shuttle services around town.
While that ensures you don't need to have a car to visit Banff, it is MUCH more convenient to have your own car, especially in the winter. We highly recommend you to rent one when you visit Banff in winter.
Like this post? Don't forget to save it on Pinterest! 🙂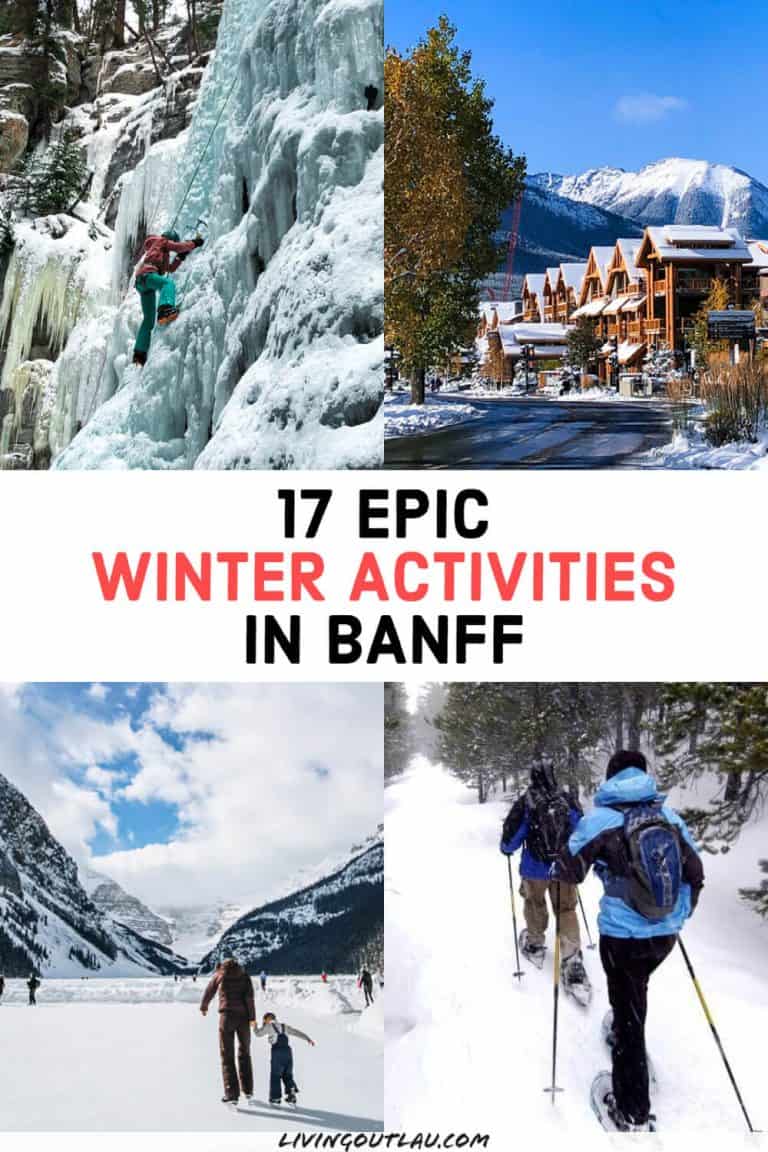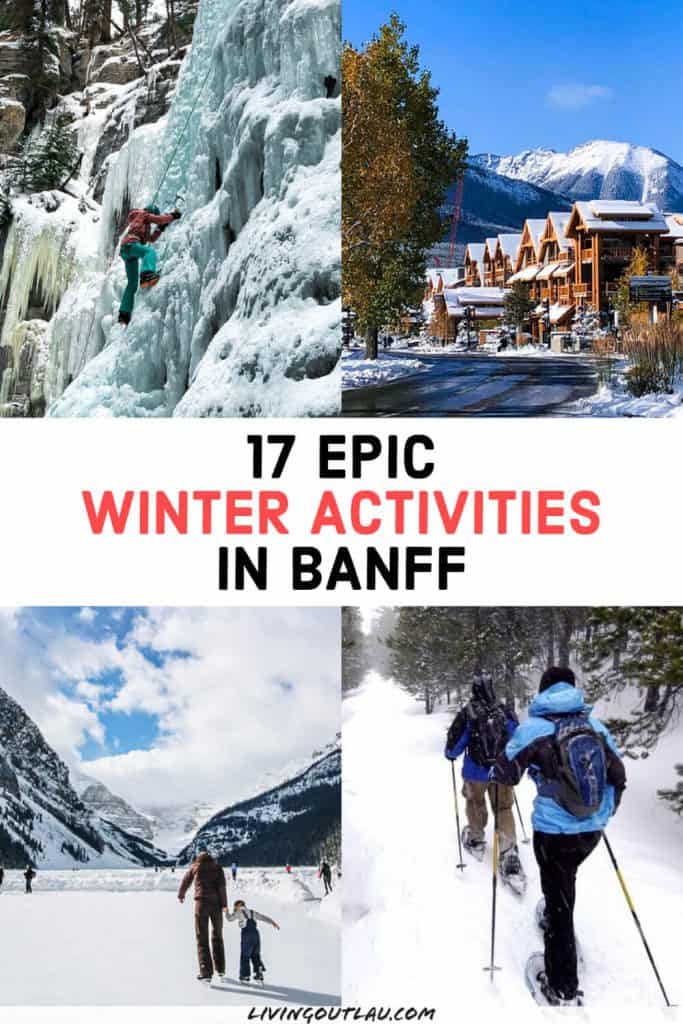 There we have it, a conclusive round-up of the best things to do in Banff in winter. Hopefully, this guide has inspired you to visit Banff National Park this winter – you certainly won't regret it!
Disclaimer: Some of the links above are affiliate links. That means if you book or make a purchase through the links, we will earn a small commission at no extra cost to you! The money will help run this site! Thank you!