In the Canadian province where the prairies meet the Rocky Mountains, the best small towns of Alberta offer a mix of alpine escapes and serene grasslands.

Known for its wild beauty and historic landmarks, Alberta is home to roughly 4.3 million people scattered across a province full of coniferous forests, barren badlands, over 600 lakes, and renowned mountains. All of this diversity has made for unique small towns that offer a ton in both variety and charm.

How do I know this? Because I lived in Alberta for a year and I grew up in the adjacent province. I've spent more time in Alberta than I can tally, and have made a point to visit all the gems it has to offer.
For the sake of this list, we're going to say that a "town" generally consists of between 1,000 and 10,000 people (which is also how the province of Alberta defines it).
Ready to read all about the best small towns in Alberta? Let's dive in!
---
Map Of The Best Alberta Small Towns
Above is a map of the Alberta small towns we will be talking about. Using this map, you will be about to tell how far each town is from the big cities such as Calgary or Edmonton. This way, you can decide whether you might want to take a day trip or maybe a weekend getaway to your destination.
Clicking on the map will take you to a personalized map where you can find a complete list of all the small towns in Alberta in our guide! We highly recommend you to check it out.
---
17 Best Small Towns In Alberta, Canada
1. Town of Banff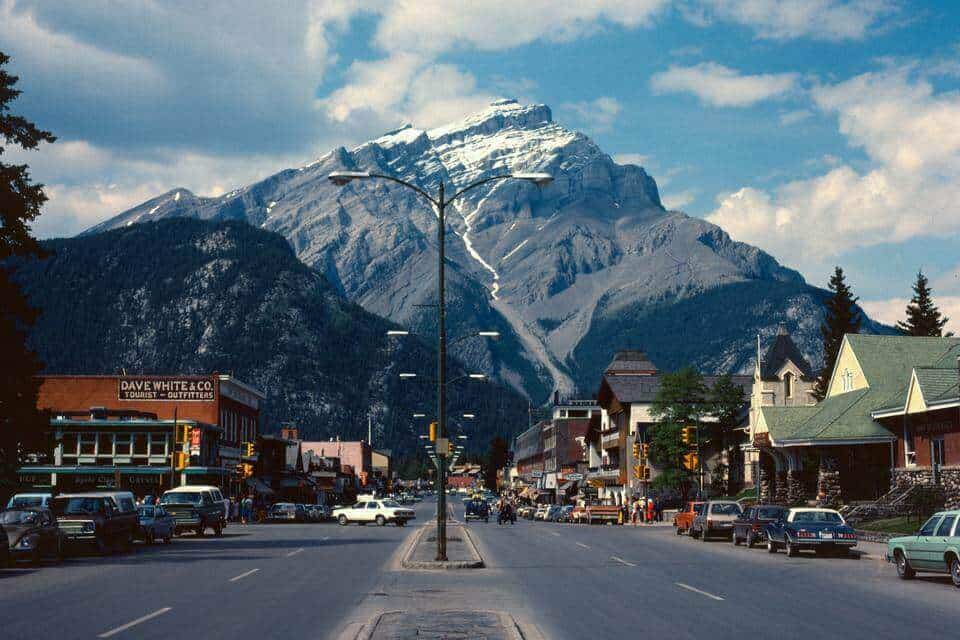 As the namesake resort town of Canada's most visited National Park, the Town of Banff in Alberta is a national treasure home to about 7,800 people.
First established in the 1880s as a mining settlement, the town played a key role in setting up the Canadian Pacific Railway — a coast-to-coast transportation project.
Today, the town is primarily a tourist hub full of museums, art galleries, restaurants, and amazing views. Staying here is a great base while visiting the rest of the park. Whether you are visiting Banff in winter or summer, you will find plenty of tourists enjoying the great Canadian Rockies.
While in the Town of Banff, head to the Banff Park Museum, the Buffalo Nations Luxton Museum, have tea at the Fairmont Banff Springs, and check out the best of the local gastronomy scene.
Of course, there's no visiting the Town of Banff without exploring Banff National Park, of which the most popular sites are Bow Falls, Cave and Basin National Historic Site, the Banff Gondola, Lake Louise, Moraine Lake, Columbia Icefield, Tunnel Mountain, and Vermillion Lakes (to name just a few).
Visiting Banff? Check out some of the best vacation rentals in Banff here!
2. Bon Accord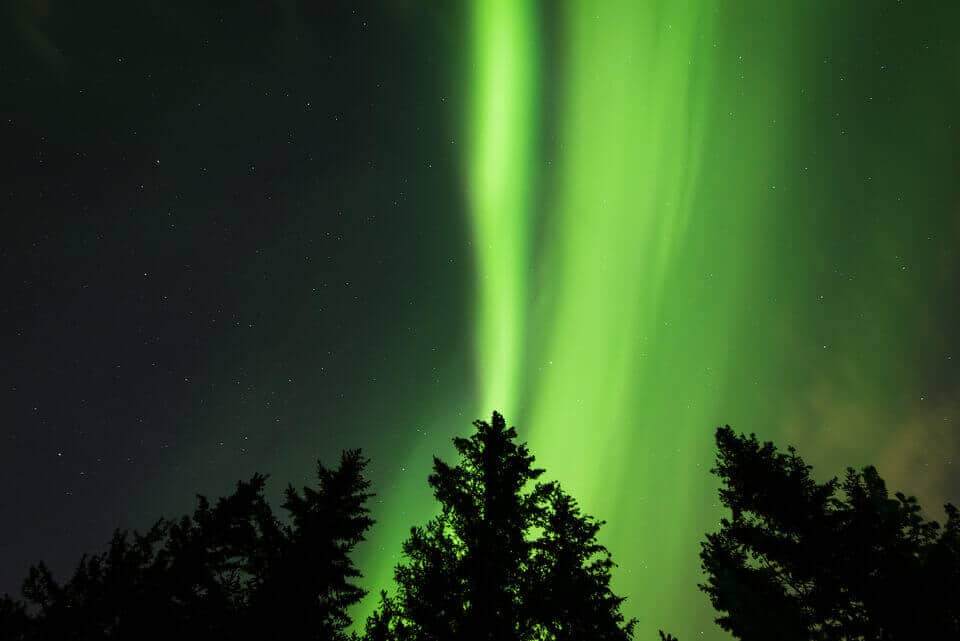 Home to roughly 1,500 people, Bon Accord is a rural community located 40 km (24.8 miles) north of Edmonton, Alberta's capital city. The town was originally settled by the Scottish in the late 1800s, and the name "Bon Accord" is derived from an ancient motto from Aberdeen, Scotland, meaning "Good Agreement".
Though much of the town is reminiscent of others in the area, in that its main industry is agriculture, what makes Bon Accord stand out is its exceptional Dark Sky Community.
Through the implementation of outdoor lighting bylaws, education, and community support, Bon Accord has branded itself as an International Dark Sky Community (IDA) — a location where there is little or no artificial light.
The first of its kind in Canada, this designation means that the town is one of the best spots in North America to view the stars (the town has periodical stargazing experiences and festivals) and the Northern Lights, which have been known to make an appearance in the cooler months.
3. Slave Lake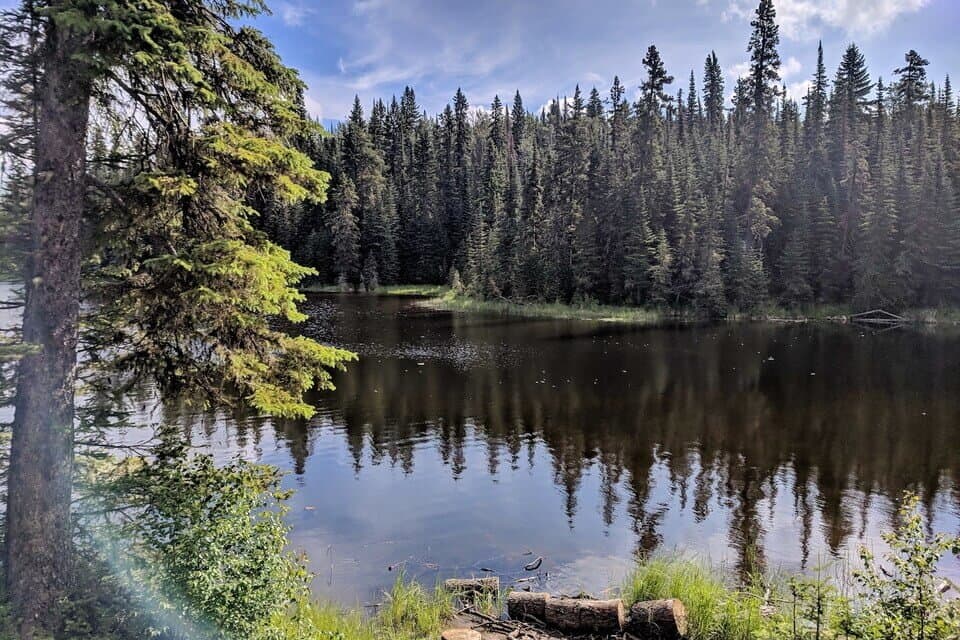 Just a couple of hours north of Edmonton, Slave Lake in central Alberta is home to just under 7,000 people and is a popular destination for all things nature. Originally settled in 1906 under a different name, Slave Lake was a boomtown from the 50s to the 80s when it became known for its lumber and oil resources.
Since then, with more people catching on to the natural beauty of the area, tourism has increasingly played a larger role to Slave Lake's economy; with outdoorsy activities being at the forefront.
In particular, Slave Lake is home to Lesser Slave Lake Provincial Park, the Boreal Centre for Bird Conservation, breweries, golf clubs, and so much more.
Some of the best hiking trails in the area include Jack Pine (1.75km/1.8miles), Lily Lake (2.8km/1.74miles), and Northshore to Boreal Centre (8.4km/5.23miles).
4. Pincher Creek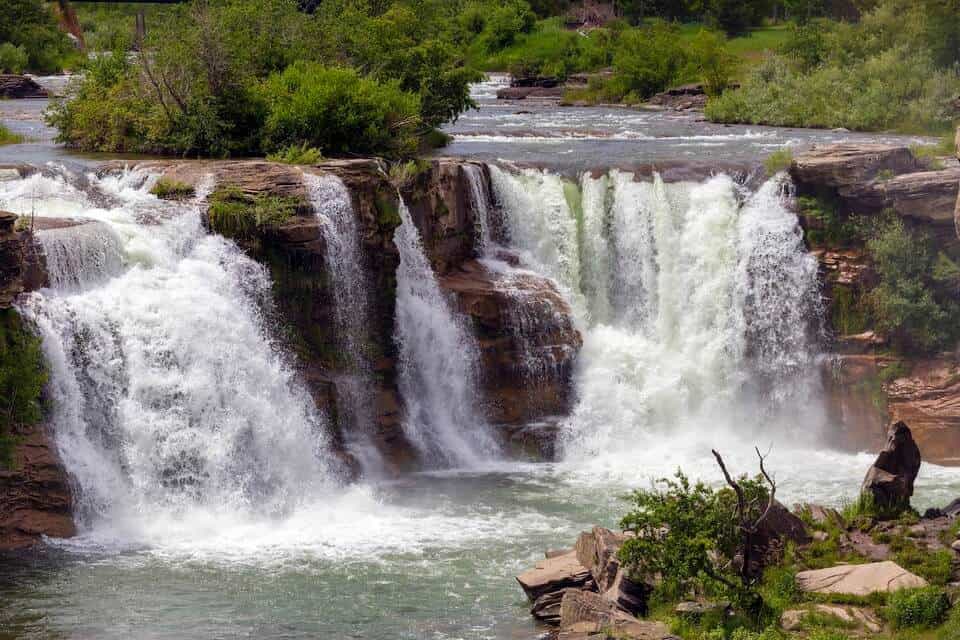 The gateway to Waterton Lakes National Park, which is just an hour away, Pincher Creek, Alberta is located slightly east of the Rockies and is home to about 3,700 people. Though the town is small, it does pack a punch with amazing things to do nearby.
Specifically, I recommend making your way out to Lundbreck Falls, checking out the Buffalo Reserve, experiencing a Pincher Creek Cowboy Show (which is essentially a rodeo), exploring the Kootenai Brown Pioneer Village, and heading to Head-Smashed-In Buffalo Jump.
In regards to the latter item on that list, Head-Smashed-In Buffalo Jump is a UNESCO World Heritage Site where early indigenous people of the area hunted Buffalo. They would herd the animals so that they would create a stampede, and then force them over the steep cliff.
It's estimated that the site was in use for about 5,700 years, and to this day there is a pile of bones several feet thick on display. There is also an Interpretive Centre that aims to provide exhibits, varied programming, and events that help to educate visitors on the significance of the site.
Although you can visit independently as well, I highly recommend experiencing one of the special events that are regularly held here for a more in-depth view.
5. Drumheller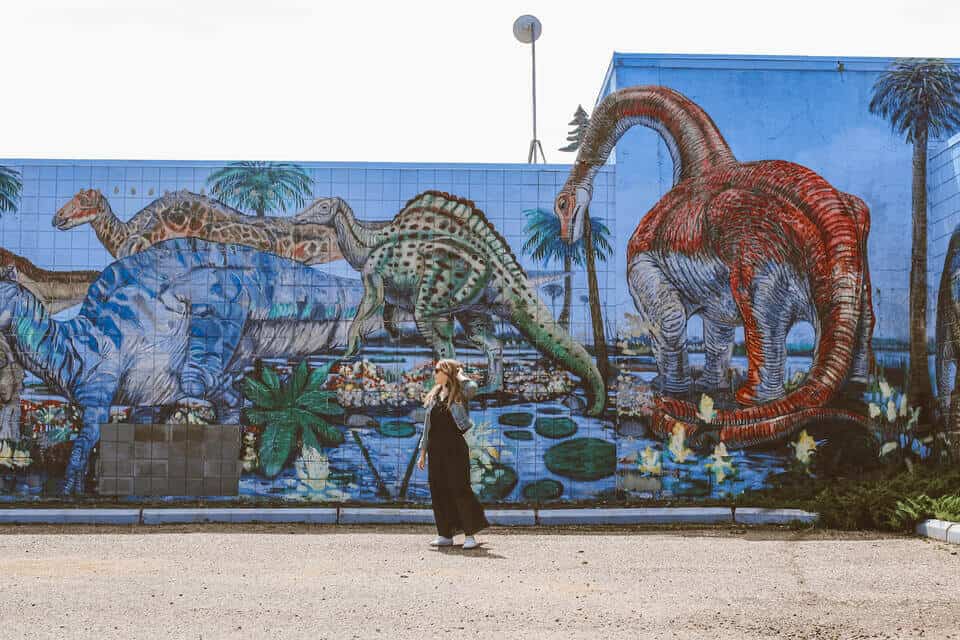 Located 135km (83miles) from Calgary, Drumheller is a quintessential stop on any Alberta road trip, is the epicenter of the badlands, and is famously known as being the Dinosaur Capital of the World. Home to about 7,900 people, this town is chock-full of dinosaur paraphernalia, yet is a really aesthetically pleasing small town in its own right.
If you're interested in Dinosaurs, then check out the Royal Tyrrell Museum, climb the World's Largest Dinosaur, and check out the Fossil World Dinosaur Museum (this last one being very family-oriented).
And, if you need a bit of a break from all the Dinosaur activities, head to the Atlas Coal Mine National Historic Site, explore the hoodoo's, go hiking in Wander Midland Provincial Park, visit the ghost town of Wayne, and drive the Dinosaur Trail.
In regards to that last point, I particularly love driving the Dinosaur Trail as it'll give you so many great experiences and viewpoints. The trail is 48km long and includes stops such as Horsethief Canyon, the Bleriot Ferry Crossing, the Last Chance Saloon, and Orkney Lookout. Honestly, you'll be stopping for photo ops every few minutes.
This area of the province is filled with so many lunar-esque landscapes and interesting tidbits of history, you'll find filling a few days here a breeze.
6. Devon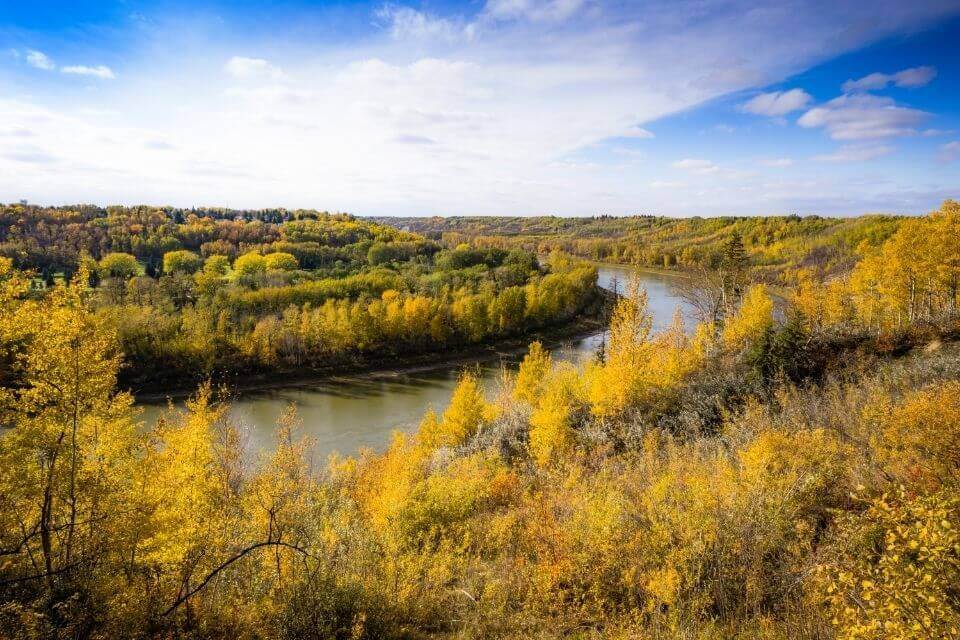 Located 26 kilometers away from Edmonton, Devon is one of the closest small towns near Edmonton. Home to about 6,500 residents, Devon offers an easy escape from the hustle and bustle of city life.
The founding of Devon is rather simple. In 1947, one of the oil wells nearby struck oil, and the town of Devon was quickly constructed to accommodate the workers. In fact, the town of Devon is named after the Devonian formation strata where oil was found.
Nowadays, the center of attention in Devon is no longer oil mining, but the beautiful nature that surrounds it. Visitors can enjoy the University of Alberta Botanical Garden, where they will find a variety of flora from all around the world. Its most iconic feature is the peaceful Kurimoto Japanese Garden.
Other than the spectacular Botanical Garden, incredible parks and nature surround this small Alberta town. Enjoy a relaxing stroll through some of the town's best green spaces such the Clifford E. Lee Nature Sanctuary, Devon Voyageur Park and more!
7. Fort MacLeod
Located just down the road from Pincher Creek in Southern Alberta, Fort MacLeod is a beautiful National Historic Site noted for its boomtown history and the natural sites nearby. And, with a population of just over 3,000, the small-town charm is palpable.
Specifically, Fort MacLeod is home to the Museum of The Northwest Mounted Police, the Empress Theatre, Fort MacLeod Golf Club, notable Indigenous landmarks, and horse/ranching experiences (it's worth booking a horseback riding tour).
Additionally, the town sits along the Oldman River, which has a view that combines the Rocky Mountains, prairies, and Porcupine Hills.
For the best viewing opportunities of both landscapes and wildlife, head out to Oldman River Valley Wilderness Park. Early in the morning and late in the evening are both great times to get glimpses of the moose, deer, beavers, and bobcats in the area, just remember to stay a good distance away from any animals you spot.
8. St. Paul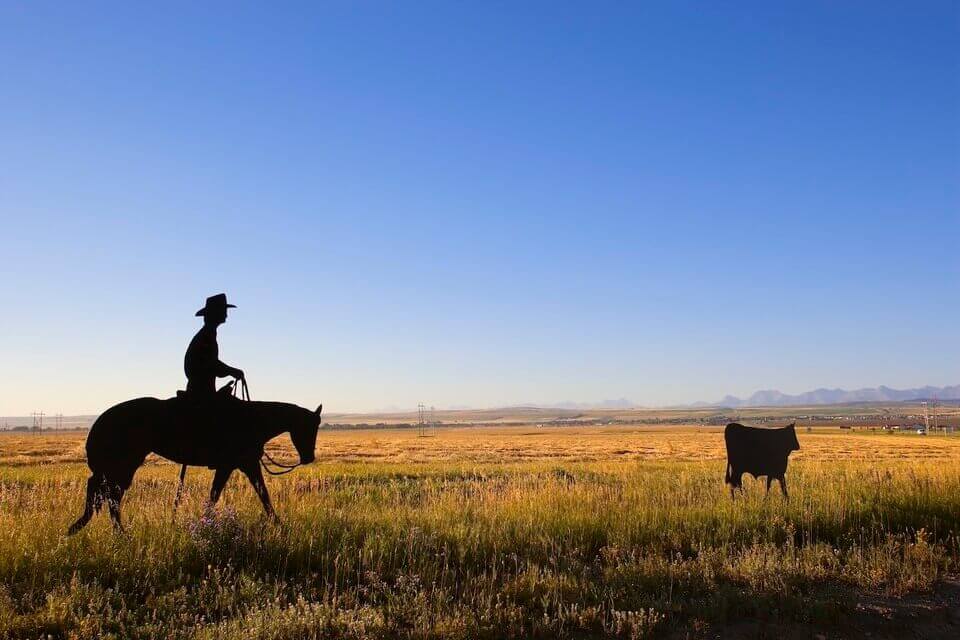 Located in central Alberta about 200km (124 miles) from Edmonton, the town of St. Paul is a dynamic destination home to roughly 6,000 residents. The town is located within Alberta's Lakeland district, and leans heavily into its cow-country/ranching ecology.
While in St. Paul, it's worth stopping at the Visual Arts Centre, the St. Paul Historical Museum, visiting the Ag Corral (a riding arena where they have regular rodeo-style events), and making the trek along some of the 300km (186 mile) Iron Horse Trail.
But, what the town is perhaps best known for is a little thing called the UFO Landing Pad.
That's right, in 1967 the Government of Canada designated St. Paul to be the location of the world's first-ever UFO Landing Pad, a site that has drawn in curious visitors ever since. The landing pad itself weighs over 130 tons and features a time capsule that is set to be opened on its centennial in 2067.
More than just a place for aliens to park, the site also features a UFO tourist information center that includes an exhibit full of photos of crop circles, cow mutilations and, of course, UFO's. In fact, many of the items that are displayed at the information center include ones that were bought from the J. Allen Hynek Center for UFO Studies.
9. Crowsnest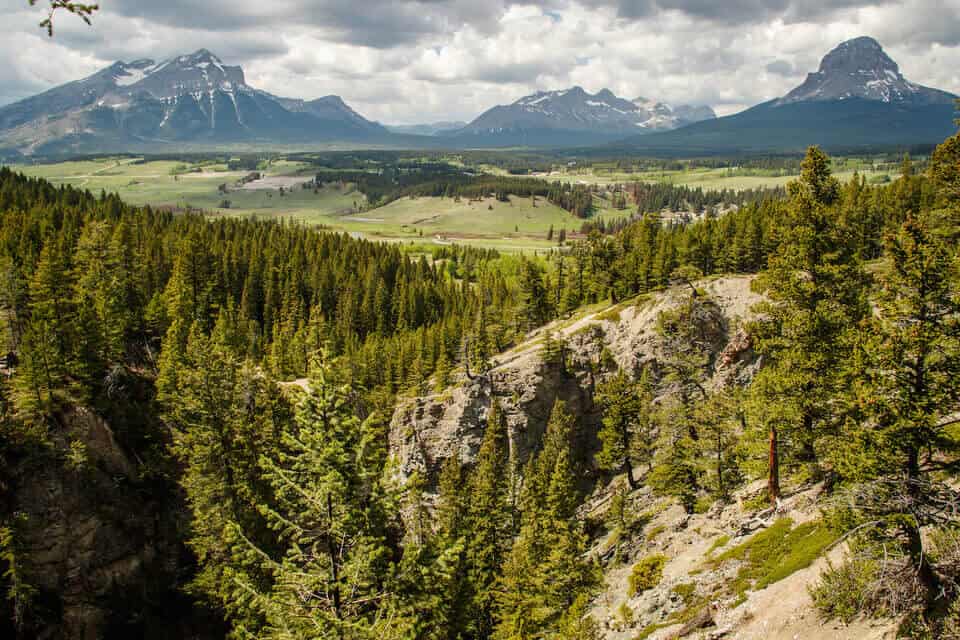 Located just west of Pincher Creek, Crowsnest Pass (which is also the name of the nearby mountain) is an amalgamated municipality of what are technically 5 smaller towns and villages — Hillcrest, Bellevue, Frank, Blairmore, and Coleman. This municipality is located in the foothills of the Rocky Mountains and is home to roughly 5,600 people.
While perhaps best known for the Frank Slide disaster of 1903, Canada's deadliest rockslide to date, today the municipality is known for its outdoorsy lure.
In particular, I recommend visiting the Heritage Trails, the North York Creek Plane Crash Trail (it'll take you past an actual plane crash), and the Frank Slide Trail (it loops around from the Frank Slide Interpretive Centre.)
Hiking up Turtle Mountain, visiting the Crowsnest Pass Golf Course, and swimming in Chinook Lake are also very popular activities.
Additionally, the area is home to the Bellevue Underground Mine, a site where you can descend 1,000 feet into the earth and learn about how early 20th-century miners lived and worked.
The tour offered here is excellent as one of the Heritage Interpreters will equip you with a helmet and headlamp, tell you the stories and significance of the area, and help you understand what a coal miner would have experienced here.
10. Vegreville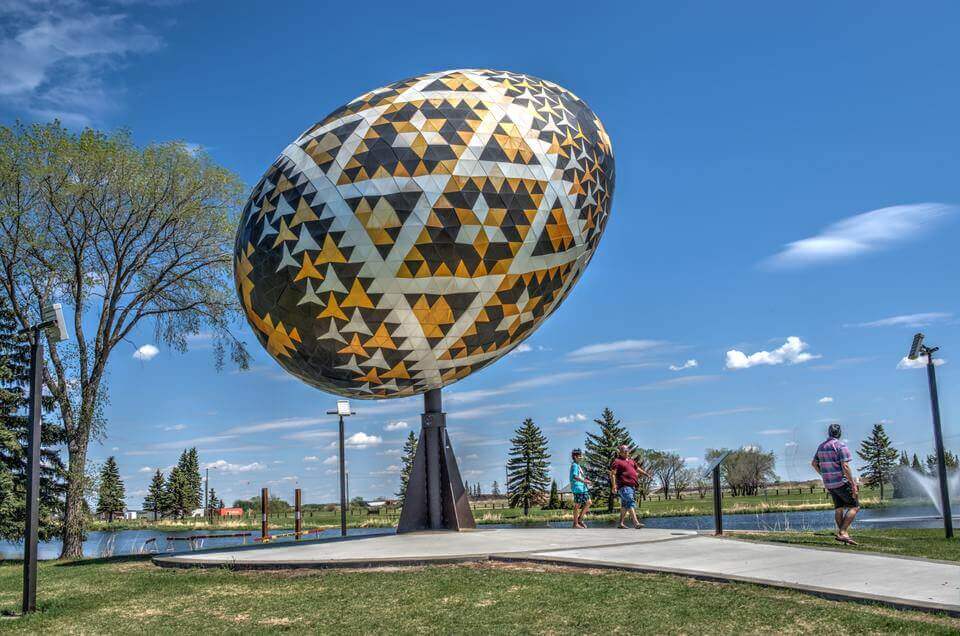 Vegreville is a small town in Alberta located approximately 103 km east of Edmonton, Alberta's capital city. It has a population of 5,700 residents and was incorporated into a ton in 1906.
The majority of Vegreville's residents are Ukrainian Canadians, and there is no denying that from the gigantic pysanka that sits in the center of town. For anyone unfamiliar with pysanka, they are traditional Ukrainian Easter Eggs. Decorated with traditional Ukrainian folk designs, they are an important part of Ukrainian heritage.
Besides checking out the world's largest pysanka (and taking a few photos), you might also encounter other Ukrainian traditions. If you are lucky and visit during the Pysanka Festival, you will get a glimpse of other Ukrainian traditions!
Other than checking out the pysanka, there really isn't any other notable attraction in Vegreville. It is a nice quiet town where you can enjoy a nice and peaceful stroll.
11. Hinton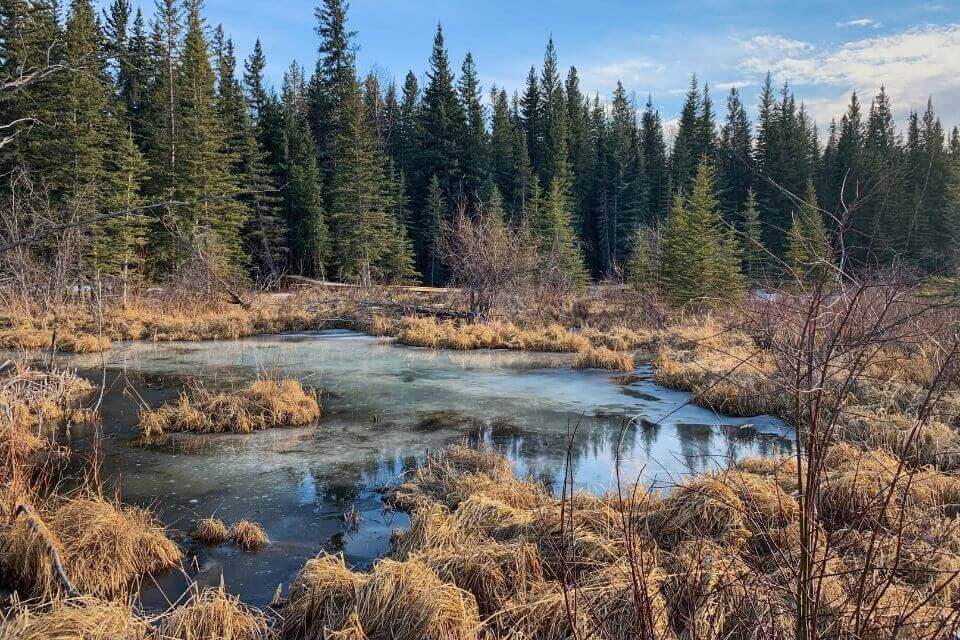 Hinton is a town in west-central Alberta, approximately 284 km from Alberta's capital city, Edmonton. With a population of approximately 10,000 residents, Hinton is as big as a town in Alberta can get.
It is located a 15-minute drive east of the Jasper National park gates, providing guests easy access to some of the best of Alberta. Hinton's location offers visitors year-round outdoor activities.
One of the most famous attractions in Hinton is the Beaver Boardwalk, a 3-kilometer boardwalk that takes you through some of the lushest scenery in the area. Besides the scenery, Beaver Boardwalk is known for its diverse wildlife. It is not uncommon to see beavers on this trail!
Other than nature, this small town is filled with museums that tell its founding history. Don't miss the Hinton Coal Branch Archives and the Northern Rockies Museum of Culture and Heritage if you would like to know more about Hinton's history!
12. Nanton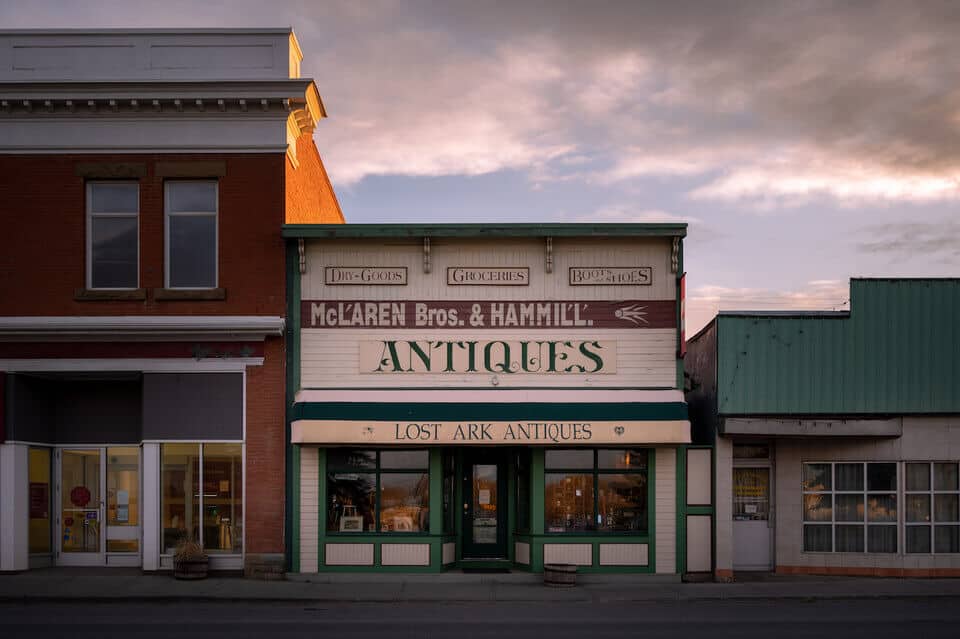 Located about an hour south of Calgary (92.8km/57.6miles), Nanton, Alberta is home to about 2,200 people and is known for its historic buildings, boutique antique shopping, and museums.
Some of the more popular sites here include its famous Candy Store, The Hive (full of artisan goods and honey), the Canadian Grain Elevator Discovery Centre, a golf club, and the Bomber Command Museum of Canada.
In regards to that last point (and what really puts Nanton on the map), the Bomber Command Museum of Canada is home to one of the only Lancaster bombers in the world with a working engine.
The museum boasts virtual reality experiences, flight simulators (so you can enjoy the unique experience of flying a Lancaster bomber plane), airplane tours, engine runs, and so much more. Admission is done on a donation basis.
If you're feeling hungry after an afternoon of roaming the museum, then you're in for a treat with the local restaurant scene. Great eats can be found at The Auditorium Hotel, Sweet Queen Family Restaurant, or Wild Thyme Cafe.
13. Grande Cache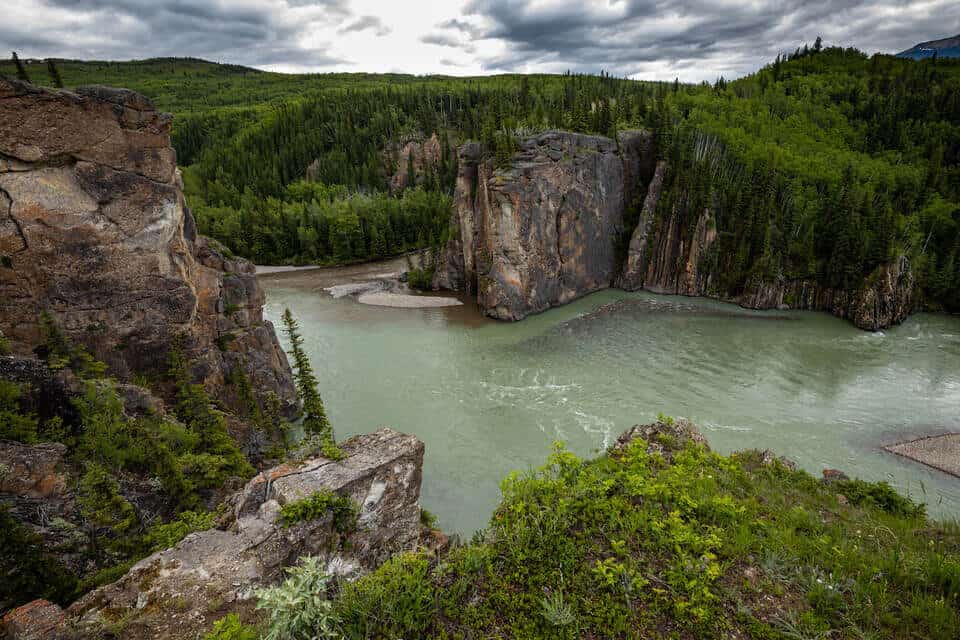 Looking for a great place to base yourself while exploring Jasper National Park? Then look no further than Grande Cache! The town was originally on the fur trade route of the early 1800's, and has been firmly on the tourism trail ever since.
Staying in Grande Cache will give you access to a ton of cool stuff nearby including the Sulphur Gates Provincial Recreation Area, Grande Cache Lakes Beach, the Crack of Doom (a huge crack in a rock left over from the last ice age), and a great Historical Drive Tour.
If you're looking at hiking in the area, then Twin Falls Hike, Muskeg Falls Hike, and Eaton Falls Hike are all great options.
Plus, with Jasper National Park at your footsteps, you'll have access to some of the most unreal sites in the country. In particular, head out to Maligne Lake, Athabasca Glacier, Athabasca Falls, Maligne Canyon, Sunwapta Falls, take the Jasper SkyTram, and go skiing in the Marmot Basin.
14. Legal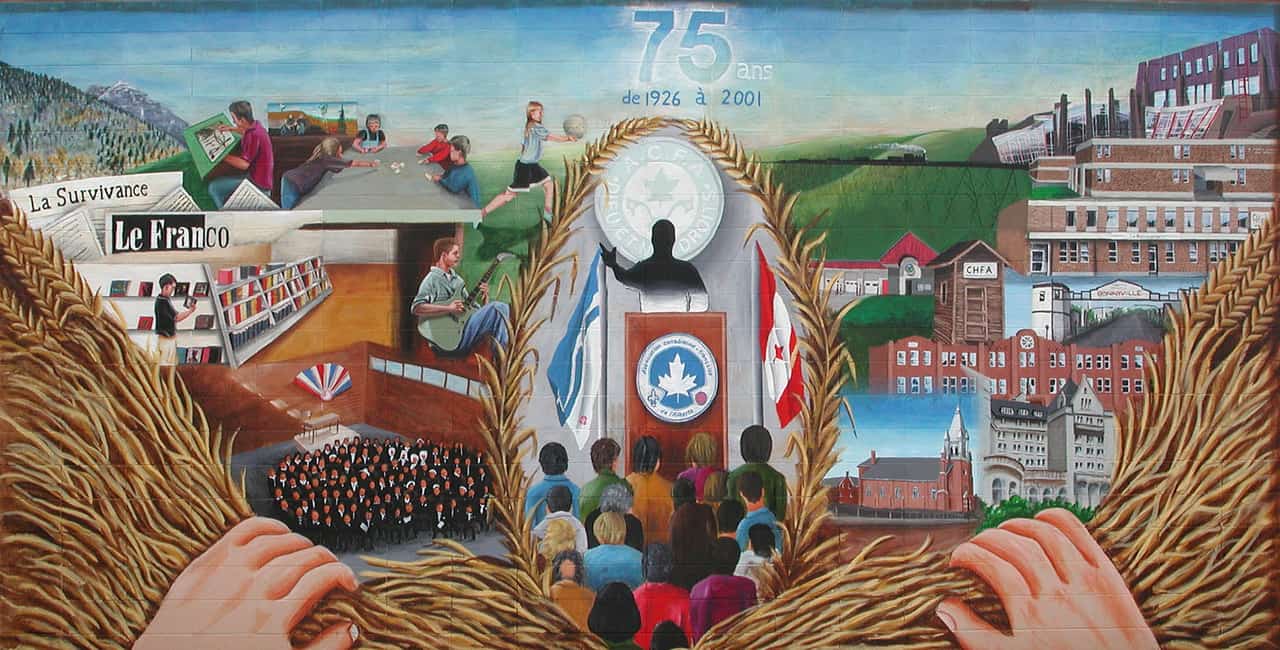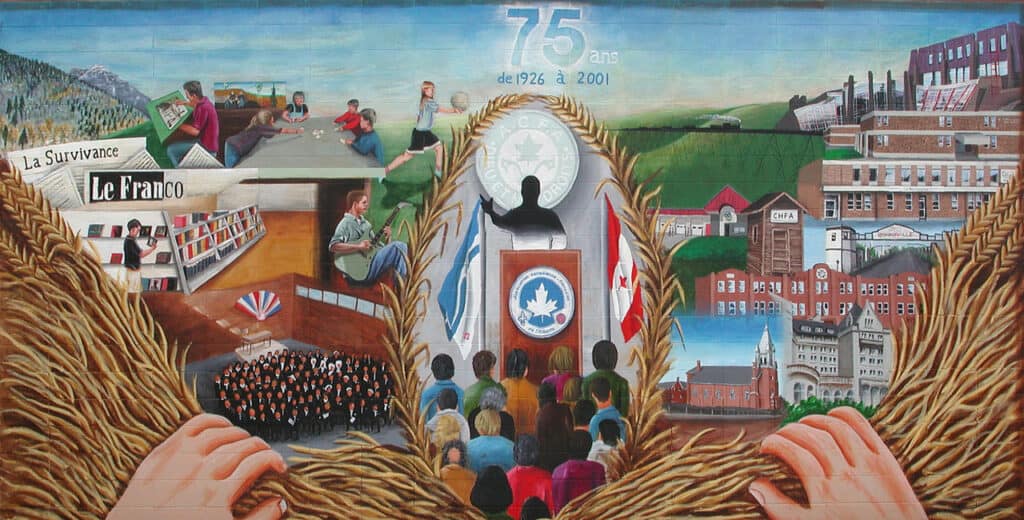 Located approximately 42 km (26 mi) north of Edmonton, Legal is a beautiful and peaceful town of approximately 1345 residents. Founded in 1894 as a Francophone community, the large majority of the residents are bilingual, speaking both French and English.
What makes Legal such a small town is its murals. In fact, Legal is recognized as the French Mural Capital of Canada and French Mural Capital of the World per capita. There are over 35 murals displayed in an area of 3.18 km2 (1.23 sq mi).
Come spend a day exploring the creativity of Legal and enjoy some of its excellent shops on the main street!
15. Sylvan Lake
Sylvan Lake is one of the most popular destinations in Alberta with nearly 1 million visitors per year. That is not surprising, considering how beautiful this small town is and how easy it is to get to from both Edmonton and Calgary.
As the name suggests, the town borders a pristine lake that provides plenty of activities, especially in the summer. Visitors can enjoy kayaking, stand-up paddleboarding, or just relaxing on the beach. In the cooler months, the marina is an excellent place to have a nice relaxing stroll.
On the main street (Lakeshore Drive), you will also find plenty of excellent shops, restaurants, and bars. In fact, the nightlife at Sylvan Lake is quite lively, considering how small the town is!
16. Jasper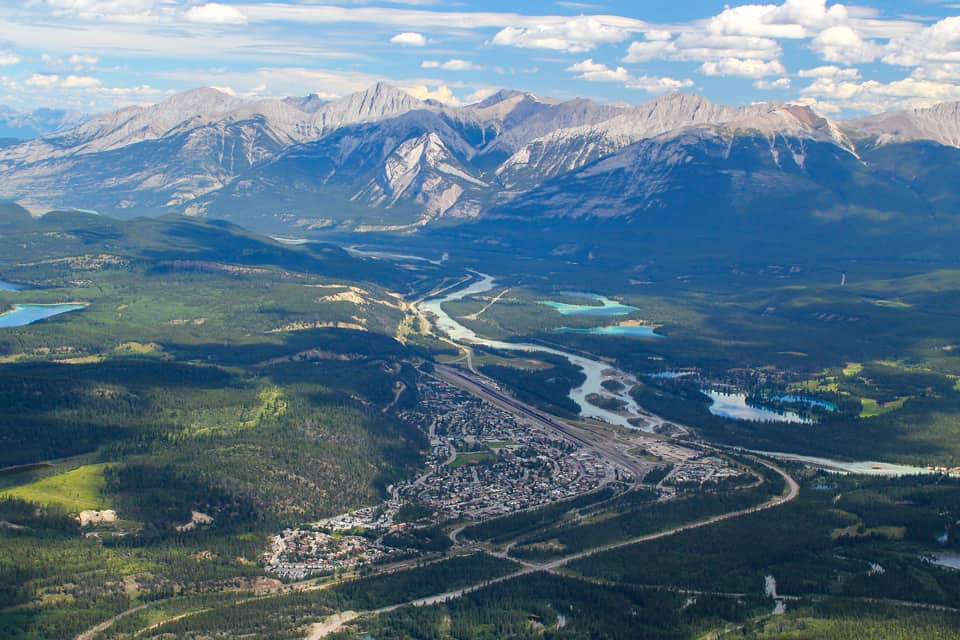 No list of Alberta small towns is complete without including the popular town of Jasper, the gateway to some of the most incredible outdoor attractions in Canada. This town of 4,201 residents (in 2021) is situated in the heart of the Canadian Rocky Mountains, offering visitors breathtaking views that belong in magazines.
The charming town offers plenty for all types of travelers. Outdoor lovers will enjoy the plethora of hiking trails the wind through the mountains and pristine glacial lakes. In the winter, visitors can go skiing or snowboarding on some of the best slopes Canada has to offer.
Situated in the heart of the Jasper National Park, the town also boasts excellent wildlife-watching opportunities. And because of the little light pollution, astrophotography is especially good here. There is nothing quite like a stay in Jasper, but make sure you book in advance because the accommodation in the town is very high in demand.
17. Peace River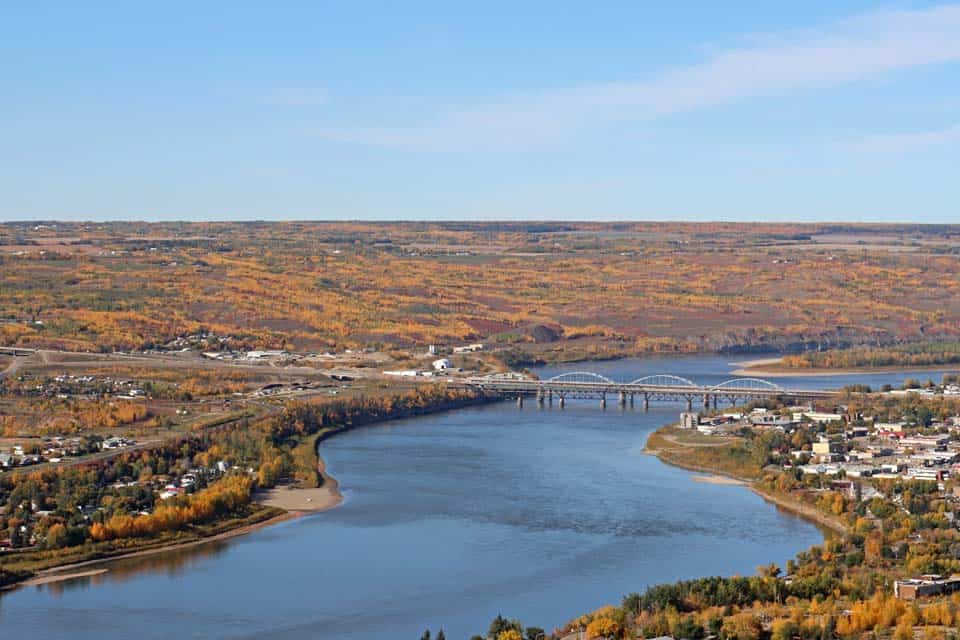 As the name suggest, Peace River is a small town in the province of Alberta named after its neighboring river – the Peace River. Historically, the Peace River served as the boundaries for some of the tribes that once lived here. It was also used as a fur trading post in the 1700s to 1800s, and was named for the peace which prevailed among the First Nations who traded there.
Nowadays, Peace River is a beautiful town surrounded by forest and rivers. Its unique location offers visitors plenty of opportunities for fishing, hunting and other outdoor activities. There are also several museums throughout the town where visitors can learn about its rich history.
If you are looking for a quaint town in Alberta for a weekend getaway, then the small town of Peace River is definitely worth checking out!
---
Like this post? Don't forget to save it on Pinterest! 🙂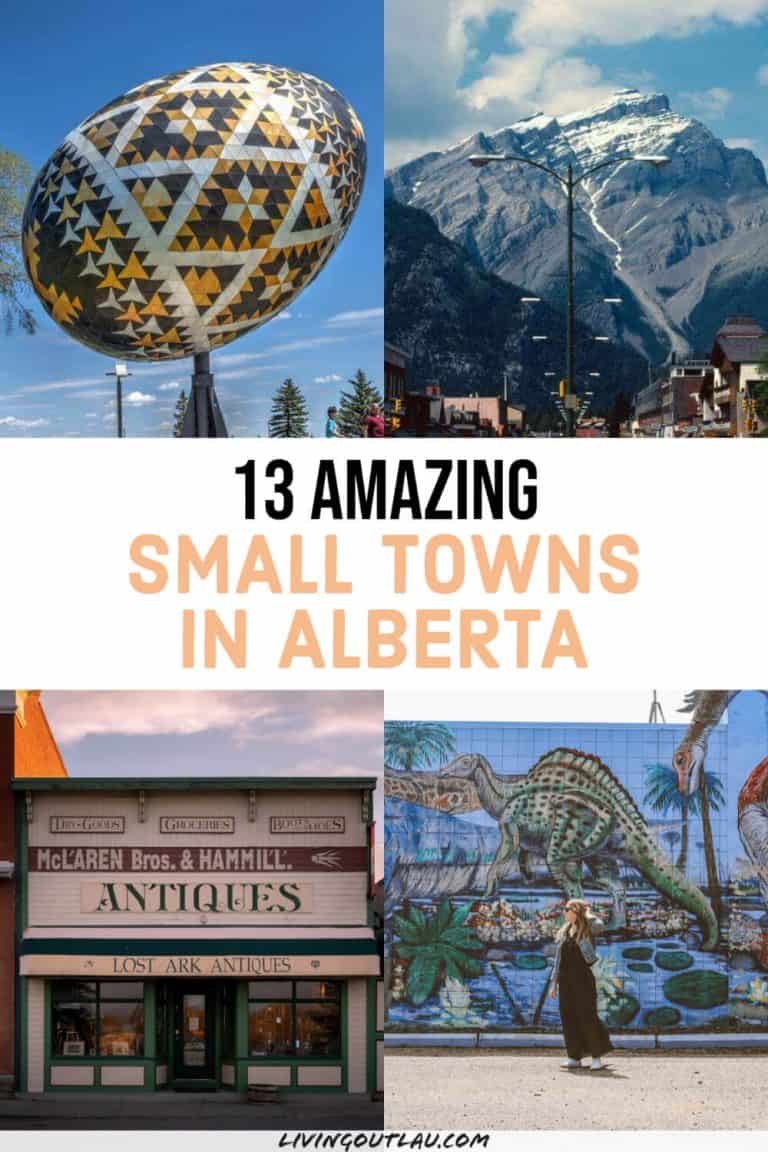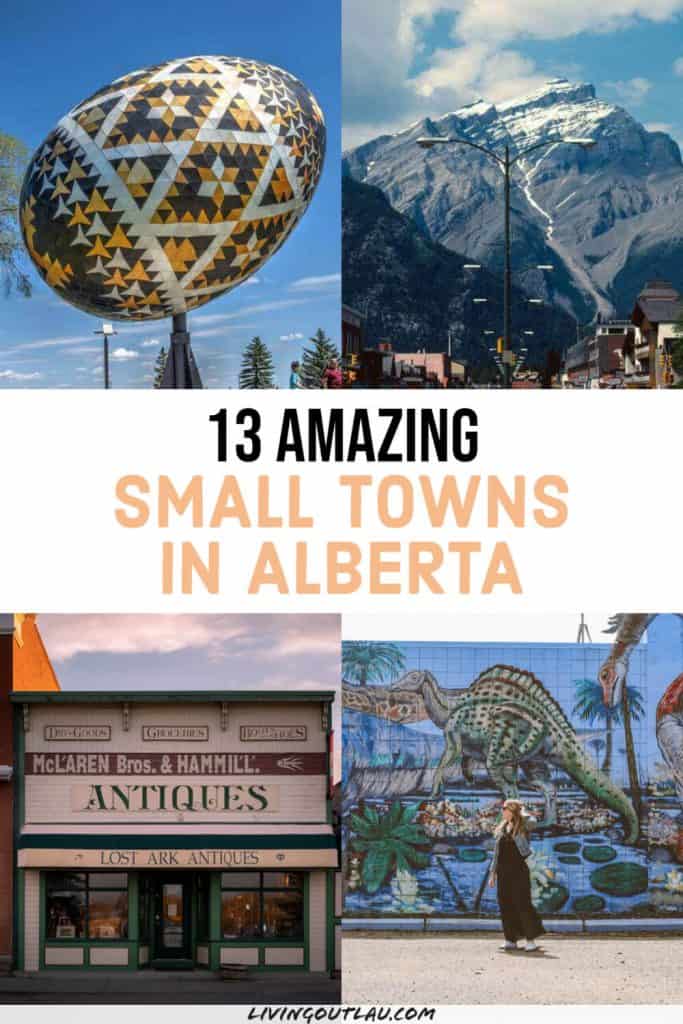 ---
That's it for the 17 best small towns in Alberta, Canada!
I hope this gave you a ton of inspiration for your next trip to this truly spectacular and diverse province.
Author Bio: Taylor Herperger is a traveler and writer at Travel Lemming, with a passion for environmentalism and adventure travel. A lover of Guinness and window seats, Taylor got her first taste of international travel in 2007 and has been exploring the world slowly and steadily ever since.
Disclaimer: Some of the links above are affiliate links. That means if you book or make a purchase through the links, we will earn a small commission at no extra cost to you! The money will help run this site! Thank you!