Not sure where to stay in Banff, Canada? Worry not.

Banff National Park is undeniably one of the most beautiful places in Canada. With stunning views of the Rocky Mountains, incredible alpine lakes and jaw-dropping waterfalls, it is no surprise that Banff was featured in the 20-dollar Canadian note.

It is also home to Moraine Lake, one of the most photographed locations in Canada. Whether you are visiting Banff in winter or the summer, you will find many tourists out to enjoy the pristine nature.

With many tourists, there is an incredible amount of places to stay in Banff. That is why we have created this guide to help you select the perfect accommodation for your Banff trip!

Without further ado, here are the 10 best Airbnbs in Banff Canada!
---
Want A Quick Tip On The Overall Best Airbnb In Banff Canada?
Banff 2-Bedroom House w/ Hot Tub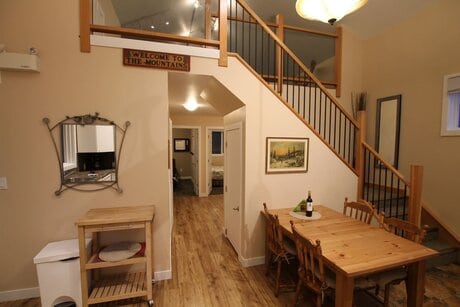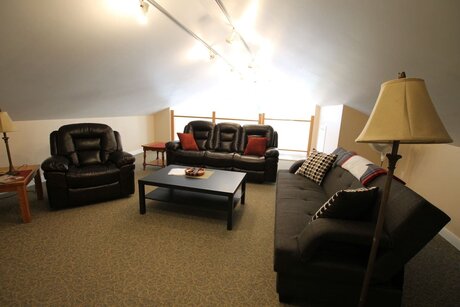 If there is an Airbnb in Banff that checks off all the boxes, it is this Banff 2-bedroom house with a hot tub! Obviously, the most fantastic feature is the outdoor hot tub, which is seen as a luxury in Banff. However, in the backyard of this affordable Airbnb is a hot tub, perfectly prepared for guests to soothe their aching limbs.

As one of the best value-for-money Banff Airbnbs, this vacation home can fit a total of 5 guests in its 2 bedrooms. The master bedroom features a queen bed for couples or pairs. In the second bathroom, you will find a bunk bed set up with a double bed on the bottom and a twin bed on top.

The bunk bed setup is perfect for anyone traveling to Banff with kids. Kids under the age of 10 also stay for free in this Airbnb!

Located in a quiet neighborhood in Banff, guests can have the utmost peace and quiet to enjoy the pristine Rockies. When you are not having a barbecue or soaking in the hot tub, explore downtown Banff, which is located a short walk from this Airbnb!

Maximum Occupancy: 5 Guests
---
Best Banff Airbnbs For Luxury Travelers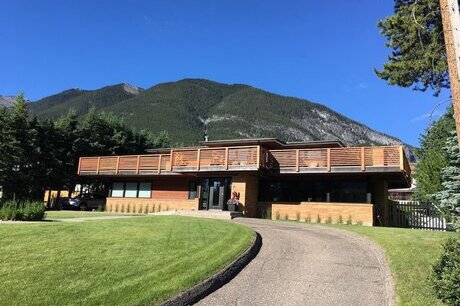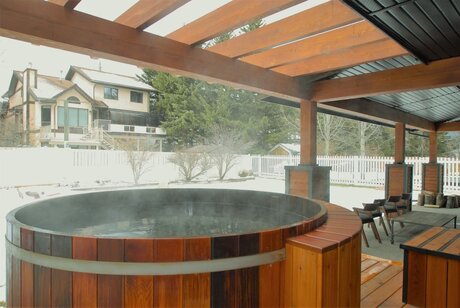 Anyone looking for the ultimate luxurious stay in Banff cannot miss this massive Banff Estate Home. Featuring a 3000-sq-ft backyard and a front yard big enough to be a small park, guests are guaranteed to enjoy this enormous space.

Located just off the Bow River in the heart of Banff, it is a 2-minute walk to the main street and a 5-minute walk to the renowned Banff Springs Hotel.

When you are not exploring the best attractions of Banff, come and relax in the infrared sauna or the steam room.

Looking to get in shape before tackling one of the hikes in Banff such as Johnston Canyon? Hit the private gym and get yourself a nice workout. Or are you sore from all the outdoor activities? Soak in the private hot tub and listen to some tunes through the house-wired Sonos sound system.

Are you traveling with kids? Perfect. They will find themselves at home in the huge kid's playroom stocked with games and toys. This Airbnb also includes a mudroom for storing your outerwear and a fully-stocked chef's kitchen in case you get tired of eating in the restaurants in Banff!

Maximum Occupancy: 8 Guests

Click here for more details!
---
2. Incredible Banff Getaway w/ Private Hot Tub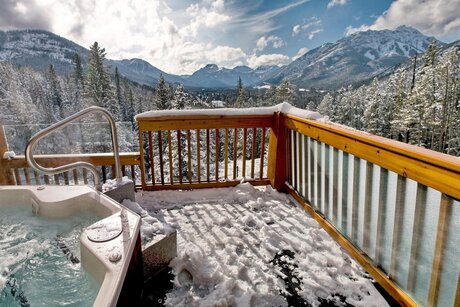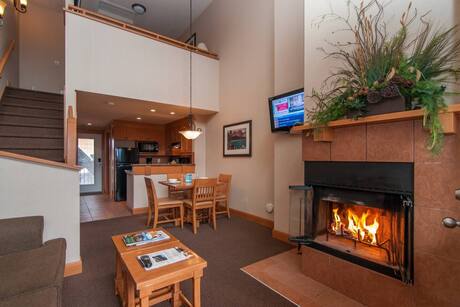 Tucked in the Rockies of Banff, this 1-bedroom spacious condo is the perfect mountain getaway. Guests will find the utmost relaxation when sleeping amongst these alpine peaks, especially after soaking in the private outdoor hot tub and admiring the gorgeous landscapes.

On the spacious balcony, there is a high chance you will see some native Banff wildlife!

When guests are not relaxing in the hot tub, they can cozy up on the double sofa bed in the living room, where there is a beautiful wooden fireplace with free firewood provided.

Eager to explore Banff? Guests can take advantage of the free unlimited use of the Banff Roam bus service. But you might not need to, because downtown Banff is only located a few minutes away.

Its unique location allows guests to immerse themselves in the beautiful nature of Banff and be not too far from the action at the same time!

Guests will also have access to the amenities of Hidden Ridge Resort such as multiple shared hot pools, sauna rooms and bike rental services!

Maximum Occupancy: 4 Guests

Click here for more info!
---
Best Airbnbs in Banff For Families or Groups
1. Rocky Mountain Retreat – Enormous House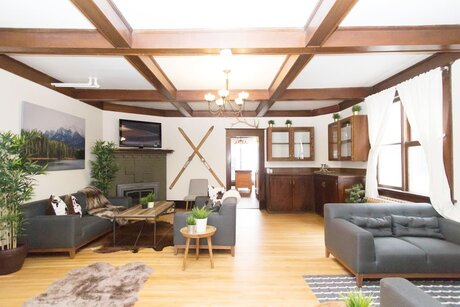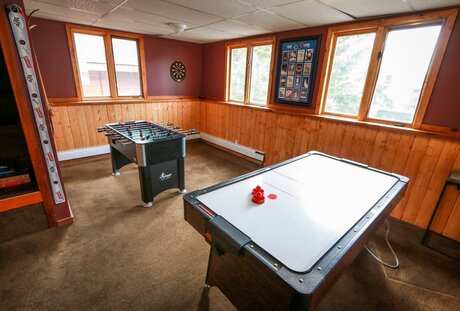 Airbnbs in Banff for families are abundant, but none of them as spectacular as this 10-bedroom 8.5-bath Rocky Mountain Retreat.

Featuring 4 stories, this newly renovated home can fit up to 23 guests! (I don't think I can even name 23 people I know.)

The top floor is a unique apartment-style unit with its own living room, bathroom, and kitchenette.

On the third floor, there are 6 bedrooms, 2 small sinks, and 4 full bathrooms.

The main floor includes a massive living room, a small bar and a flat-screen TV. Alongside you will find a dining room that can accommodate up to 16 guests and a fully-equipped chef's kitchen. Here is also the games room, equipped with game consoles, a foosball table, dartboard and an arcade. This is also where you will find all the kids (and kids at heart) if you are traveling with any!

Lastly, the basement features 3 bedrooms with full bathrooms and a small living area, all equipped for the perfect night's sleep.

Want to get some air? The outdoor deck is the perfect place to relax in the sun or have a BBQ!

Maximum Occupancy: 23 Guests

Click here for more photos and availability!
---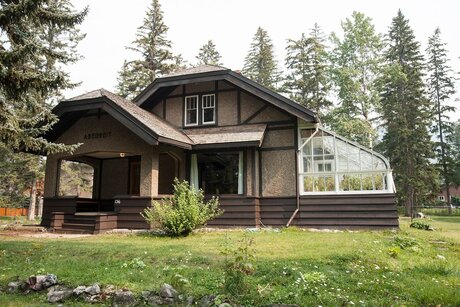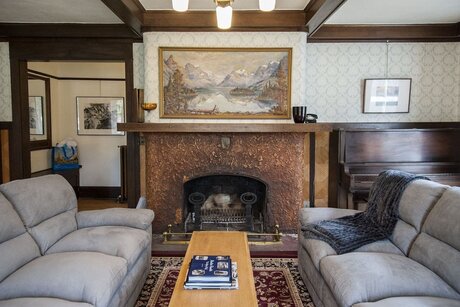 Abegweit On The Bow is a century-old recognized heritage property located in Banff National Park and within a UNESCO Heritage Site. It is also one of the most beautiful Airbnbs you can possibly rent out with money!

With modern comforts and a rustic charm, guests will find the perfect balance of luxury and relaxation here. Features like a large kitchen, two bathrooms, an entertainment room and four bedrooms provide the perfect weekend getaway or family vacation.

Besides its irresistible appeal, its location cannot be any more perfect. Situated across the street from the calming Bow River, this Banff Airbnb is within distance to everything the town has to offer.

All the proceeds from this rental go to support this heritage property and the programs and collection of the Whyte Museum of the Canadian Rockies. By staying in this beautiful Airbnb, you are giving back to preserving Banff's heritage.

What are you waiting for?

Maximum Occupancy: 8 Guests

Click here for more details!
---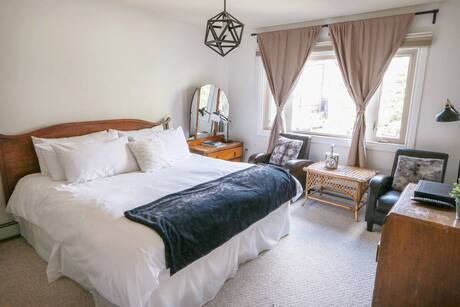 This incredible 4-bedroom 4-bath Banff Mountain Home is the perfect Airbnb for families that would like to stay in the action. Located one block away from Banff's main street, guests are within close proximity to the best Banff has to offer.

This is the perfect getaway for any family that might have older kids and would like some extra privacy, as each bedroom comes with its own bathroom and shower/tub combo. It even has 4 free parking spaces, in case guests are coming together from different places.

When you are not out exploring Banff's best attractions, lounge in the cozy living room or get some fresh mountain air in the spacious back deck. With enough space for all your friends and family members, it is the perfect place for a BBQ and to make some memories!

Maximum Occupancy: 11 Guests

Click here for more info!
---
Best Banff Airbnbs For Couples
1. Bohemian Dreams – Luxury Tent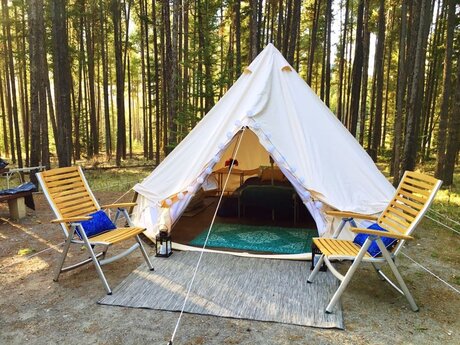 With alpine peaks and lush vegetation, Banff is the perfect place for a romantic adventure! And what is a more romantic place than a luxury tent in the most pristine national park in Canada?

This glamping experience is the best way to experience the breathtaking nature of Banff and have some fun along the way. It will make you feel like you're living out of a storybook set in Canada.

When you make this reservation, the host will personally prepare the camping space. They will reserve the permit for camping in Tunnel Mountain, provide you with the necessities such as a propane stove, hammock, cooking spray, salt & pepper, pots and pans, cutlery, plates, bowls, glasses, bottle openers, chopping board, flashlight and more.

If you want to cut some firewood, the host will even provide you with an ax.

While this experience isn't for anyone, it is a cool Airbnb in Banff for anyone seeking a more adventurous experience.

Maximum Occupancy: 2 Guests

Click here for more info!
---
2. Cascade Cabin Bed & Breakfast Banff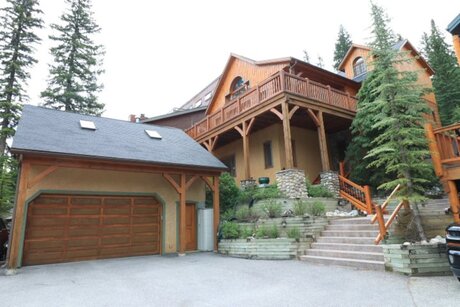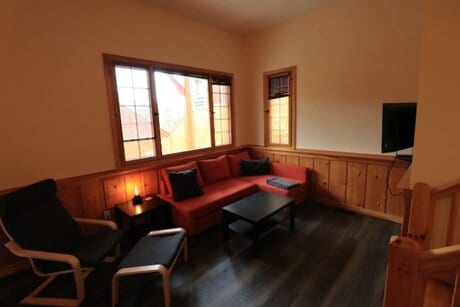 If you are looking for a traditional Banff Air b and b where breakfast is provided, then Cascade Cabin Bed & Breakfast is ideal for you.

Each morning you are provided with locally roasted coffee and tea, artisan bread, farm fresh eggs, 3 types of cereal, fresh fruit, milk, cream, jams, natural peanut butter and butter to make your own perfect breakfast!

Located in an exquisite Trappeur-style log cabin, this newly renovated 2-bedroom suite allows four guests to indulge comfortably. Downtown Banff is only a few minutes away by walking, but far enough for guests to enjoy the mountain's tranquility.

When you are not admiring the incredible views of Cascade Mountain from the outdoor deck, you might want to go on some hiking or skiing trails. Luckily for you, the hosts are very knowledgeable in this area and can offer you great advice!

Maximum Occupancy: 4 Guests

Click here to see more photos and availability!
---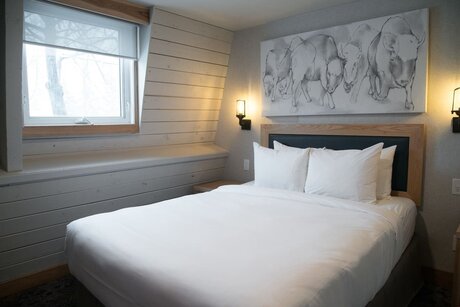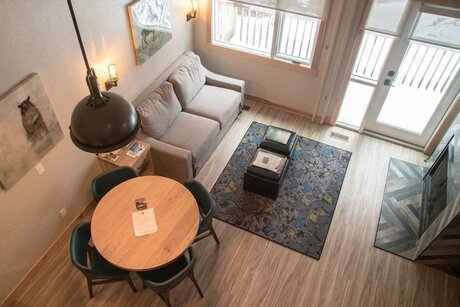 Nestled in the pines of Tunnel Mountain, this 1-bedroom deluxe condo is the perfect peaceful haven in the Rockies.

Though only featuring 1 bedroom, this condo can accommodate up to 6 guests because of its cozy loft which contains 2 queen beds. It is the perfect Airbnb in Banff for anyone traveling with a small child. If you need more sleeping space, the couch in the living room is a pullout couch.

This comfy condo features a neat wood-burning fireplace, which can turn any vacation rental into a home away from home. When the fireplace becomes too hot, grab a breath of fresh air in the private balcony.

As part of the Tunnel Mountain Resort, guests have the ability to enjoy many of the resort's amenities. These include an indoor pool, a soothing sauna room, a fitness center and a children play area.

Because of its location on Tunnel Mountain, downtown Banff is a 2-minute drive away. Though that might be a small issue if you don't have a car in Banff, guests can find buses in front of the resort. All buses are free because of the complimentary roam bus passes.

Maximum Occupancy: 6 Guests

Click here for more info!
---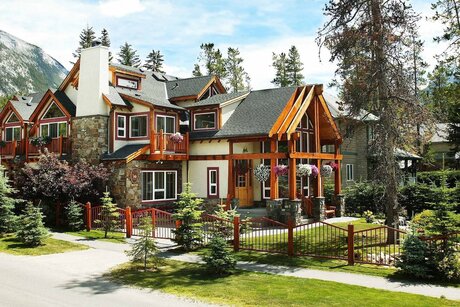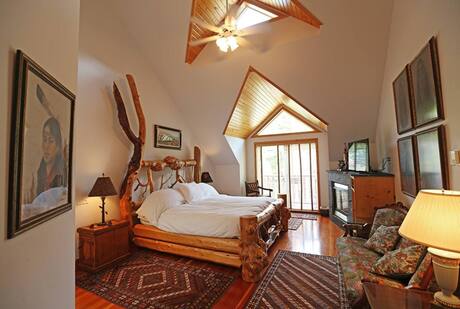 Beaujolais Boutique B&B in Banff is one of our all-time favorite Airbnbs. Featuring pine-vaulted ceilings, fir flooring and antique furniture, staying in this Airbnb feels like you have teleported in time. Though these "old" furnishings might alarm you, this B & B in Banff offers the comfort of a boutique hotel.

Guests will feel like they are sleeping on clouds when laying down on the beautiful king-size bed. The gas fireplace will warm you up even in the coldest winters in Banff. The private room also features other amenities such as a smart TV, Nespresso coffee maker, air conditioning and free Wi-Fi.

If you aren't convinced yet, this Airbnb also includes one of the most delicious breakfasts you will find in Banff. Reviews all rave about the amazing complimentary breakfast.

We highly recommend this Airbnb!

Maximum Capacity: 2 Guests

Click here for more information!
---
Like this post? Don't forget to save it on Pinterest!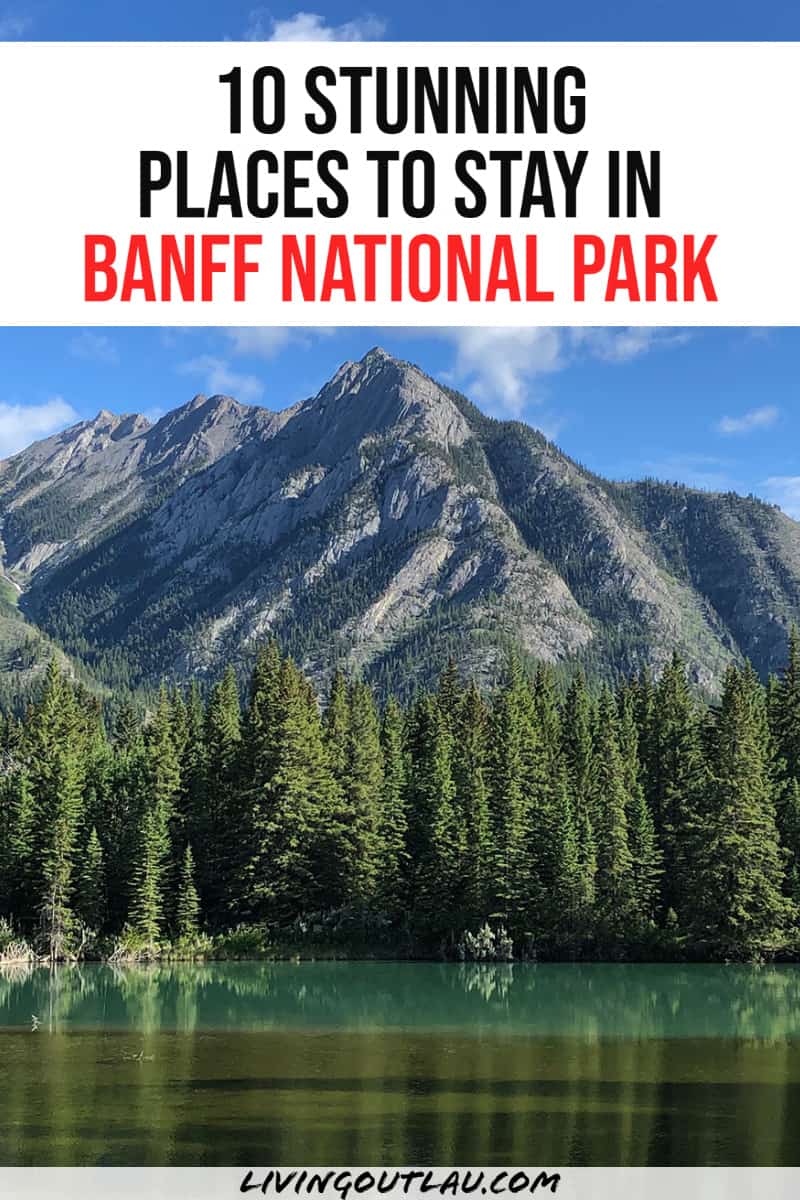 ---
With so many Airbnbs in Banff National Park, finding the perfect one is not easy. We hope our Banff guide has given you a good idea of the best places to stay in Banff so you can have the perfect trip in the Canadian Rocky Mountains!

Any questions? Leave a comment below!
Disclaimer: Some of the links above are affiliate links. That means if you book or make a purchase through the links, we will earn a small commission at no extra cost to you! The money will help run this site! Thank you!
All Images Of Properties Courtesy of Airbnb