Cuenca is one of the most important cities in Ecuador for many reasons. For starter, the city center of Cuenca is considered a UNESCO Heritage Site due to the 52 churches it has, one for every Sunday.

But after visiting so many churches in the city, I think it is time for you to get some fresh air out of the city.

With jungles, mountains, ruins, national parks, and other wonders around Cuenca, there are plenty of incredible attractions near Cuenca.
Here are the 7 best day trips from Cuenca, Ecuador!
---
What Are The Best Cuenca Day Trips?
1. Cajas National Park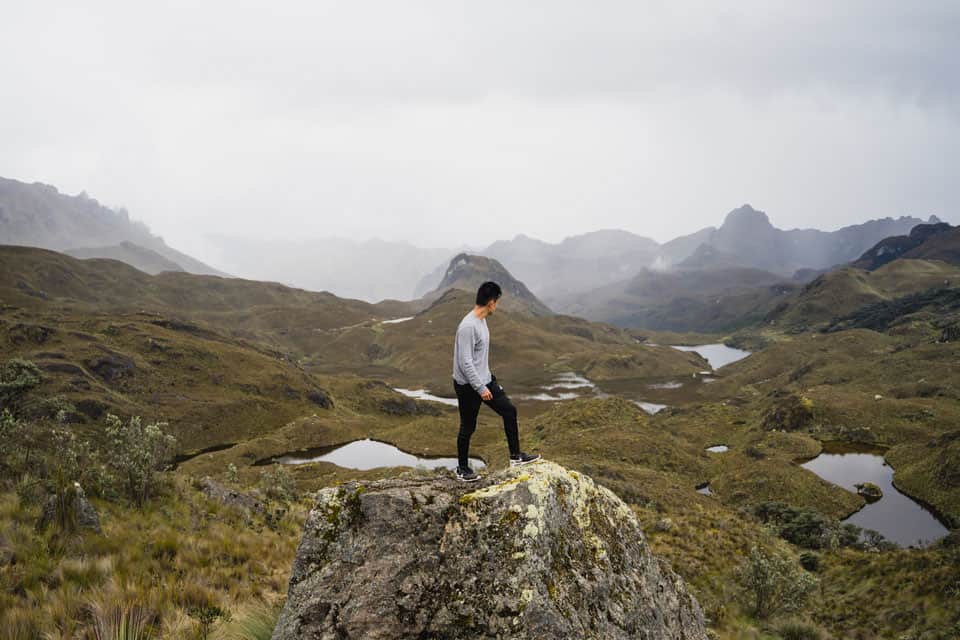 Cajas National Park, one of the most unique national parks in Ecuador, is located only 30 km west of Cuenca. Located 3900m above sea level (yes, super high), Cajas National Park offers a tundra environment. You can find plants and landscapes you won't normally encounter in any other parts of Ecuador.
Cajas National Park can be easily done as a day trip because it is beautiful and easily accessible. But before you go make sure you are well-prepared. You don't want to be stranded out there at this altitude. The climate can change from sunny to pouring rain in a few minutes.
Find out what you need from this full guide to hiking Cajas National Park!!
How To Get To Cajas National Park From Cuenca
Cajas National Park can be easily reached from Cuenca. All you have to do is get to Terminal Terrestre in Cuenca, which shouldn't be more than a 20-minute walk from the city center.
When you arrive at Terminal Terrestre, go to booth 40 to buy tickets for Cajas National Park. The ride should cost you $2 USD. Get on the bus and you should arrive at Cajas National Park 45 minutes later.
If you don't want to go alone, you can check out one of the guided tours here.
2. Ingapirca Incan Ruins
Ingapira Incan ruins, or otherwise known as "Machu Picchu of Ecuador", are ruins about 2 and a half hours from the city of Cuenca. It is a very popular day trip from Cuenca because of how accessible it is and how much significance the Ingapirca ruins have.
Back in the days before the Incans came to power, Ingapirca was the home to a group of native people called the Cañaris. When the Incans conquered the Cañaris, they forced everyone to move to Cusco.
Archaeologists believe that Ingapirca was used for religious purposes, as there are indications of human sacrifices. Many female skeletons were found underneath the earth at Ingapirca ruins.
I don't want to spoil any more of this story, so why don't you go find out what happened there yourself?
How To Get To Ingapirca Incan Ruins From Cuenca
To get to the Ingapirca ruins, there are two options.
You can take a bus directly from the Terminal Terrestre in Cuenca. They are supposed to leave at 9 AM and 1 PM daily. The buses returning to Cuenca from Ingapirca depart at 1 PM and 4 PM. I say supposedly because I have gotten mixed information from different people.
You can take a bus to El Tambo, and at El Tambo there are buses running to Ingapirca every 30 minutes or so. This is the method we took because we departed at around 10 AM. We went to the station and asked for El Tambo and told the driver to drop us off where we can take the buses to Ingapirca. Buses to El Tambo run every 30 minutes or so as well.
To return, either take the direct bus or catch a bus back to El Tambo or Cañar Terminal. If you catch a bus to El Tambo, then you can either get a bus back to Cuenca from there or a bus to Cañar and then another bus to Cuenca. If you catch a bus to Cañar, you will be dropped off at the terminal where you can take the bus to Cuenca.
The Ingaprica ruins are open from 8 AM to 6 PM. There is an entrance fee of $6 USD to get in that includes an English or Spanish tour guide and access to the museum. Public transportation in Cuenca can be confusing, which is why we recommend a guided tour.
3. El Chorro Waterfall At Giron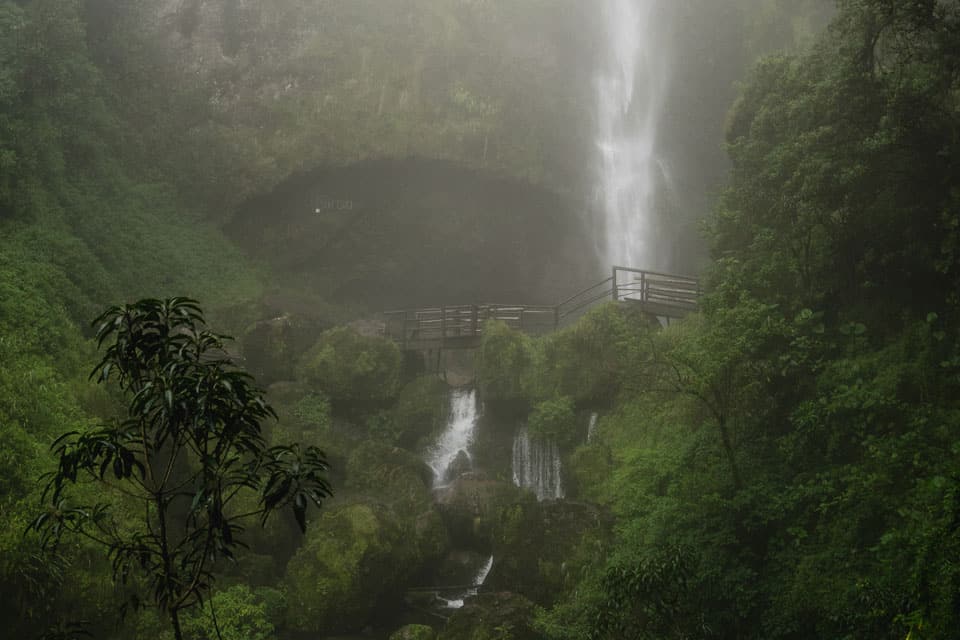 El Chorro waterfall, or otherwise just known as the Giron waterfall, is definitely a hidden gem in Ecuador. There were no guides online about El Chorro or Giron waterfall when I went. The only reason I knew about it was through the owner of the hostel I was staying at.
El Chorro waterfall at Giron is probably the most exciting day trip from Cuenca for adventure lovers.
And if you don't know yet, I am a sucker for waterfalls, especially those that make you feel like you are deep in nature.
And the El Chorro, or Giron waterfall is definitely one of those. It made me feel like I was in Jurassic Park. A short hike into the jungle left me in the face of one of the most beautiful waterfalls I have ever seen. And I was only barely able to see due to the amount of water mist that was in the air caused by this gigantic beast.
There are three levels to this waterfall. The lowest level is easily accessible and only a short hike (The photo is from the lowest level). The middle level is about 1.5 hours worth of hiking. And to reach the top of the waterfall is about a 5-hour hike. Of course, this all depends on the weather. Sometimes the hike would be closed due to inclement weather.
How To Get To El Chorro Waterfall At Giron From Cuenca
El Chorro waterfall or Giron waterfall can be easily reached from Cuenca by bus from Terminal Terrestre.
At Terminal Terrestre, you can take a bus to Giron for $1. The bus ride is about an hour.
When you get off at Giron, you will see white pick-up trucks that will take you to El Chorro (Giron) waterfall for 10 dollars ($2.5 each if you have 4 people) one way.
I suggest you take down the driver's number and give him a call to pick you up when you are ready to go back to Giron. The walk back to Giron from the waterfall is more than 2 hours.
The entrance is $2 USD and the El Chorro (Giron) waterfall is open from 8:30 AM to 5 PM.
4. Busa Lake (Laguna de Busa)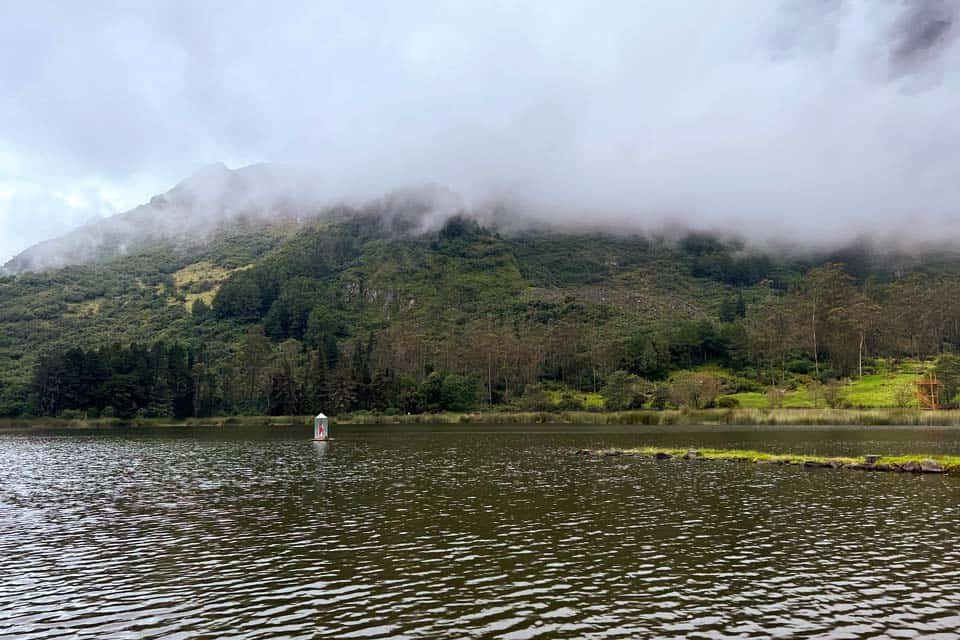 If you are looking for a day in nature, then an excursion to Busa Lake might be perfect for you. This beautiful lake near San Fernando has many activities for visitors, from canoeing in the lake to horseback riding, camping and much more. Visitors can even stay overnight in one of their cabins and enjoy its beautiful natural surroundings.
Laguna de Busa is especially a popular place for families. They can stroll around the lake and admire the lake from a different angle. There is an on-site restaurant where guests can have some decent food amidst nature. And of course, kids won't get bored with the plethora of activities here.
There is an entrance fee of 1 USD and visitors might have to pay extra to participate in their activities and excursions.
How To Get To Laguna de Busa from Cuenca
Getting to laguna de Busa from Cuenca is easy. There are private buses that depart hourly from Cuenca's Terminal Terrestre. The bus takes a little over 1.5 hours to arrive to Laguna de Busa.
5-7. SigSig/ Gualaceo/ Chordeleg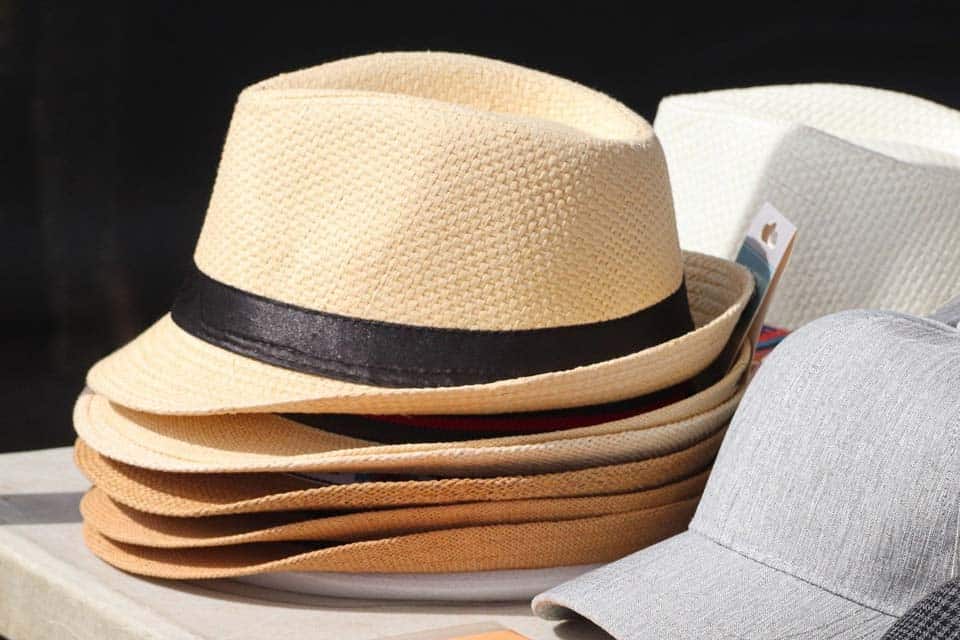 Sigsig, Gualaceo, and Chordelag are three colonial towns close to the city of Cuenca. Each town has its only specialty.
Sigsig is known for its Panama hats woven by hand. Oftentimes around town, you will see natives in that area weaving hats. The prices here are much cheaper than the Panama hats you can buy in Cuenca.
Gualaceo was once known as the town for dying clothes and weaving, but all of those activities have moved out of town. Now Gualaceo is known as a small colonial town great for relaxing. You can stroll along the river and be one with nature!
Chordeleg is known for its jewelry stores, especially silver. If you are in the mood for some shopping and purchasing some nice silver products, Chordeleg is a must-go-to place.
How To Get To SigSig/ Gualaceo/ Chordeleg From Cuenca?
Sigsig, Gualaceo, and Chordeleg are easily reachable by bus from the Terminal Terrestre in Cuenca.
Just show up at the terminal and ask at the information center. The person that works there will be able to tell you which bus to take.
It is possible to do all three towns in one day, you will have to ask where to take the bus to your next destination at the main plaza in each town!
---
Where To Stay In Cuenca Ecuador
Best Hostel in Cuenca – Selina Cuenca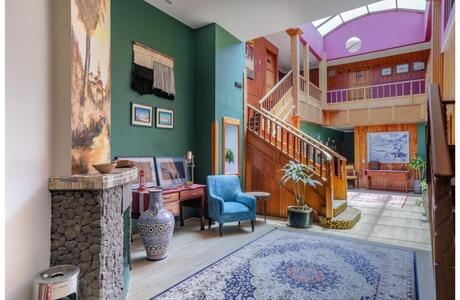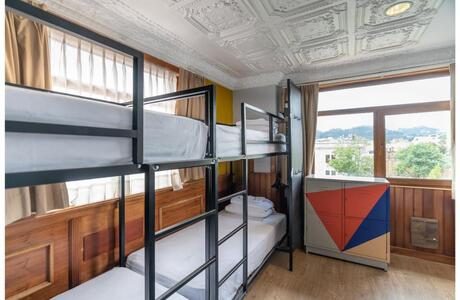 If you are looking for a cozy hostel where you can work remotely and meet other travelers, then Selina Cuenca is your best bet. A famous chain of hostels in Latin America, Selina is known for its great value-for-money, comfortable beds, and artsy interior decor.
The hostel also features a nice restaurant and bar where people can enjoy good food and meet other guests.
---
Best Hotel in Cuenca – Hotel Boutique Santa Lucia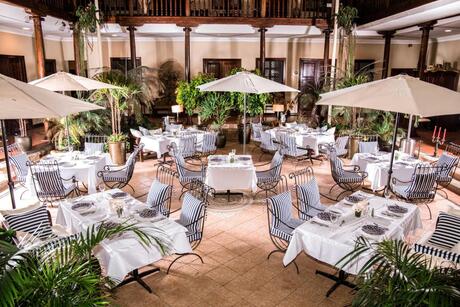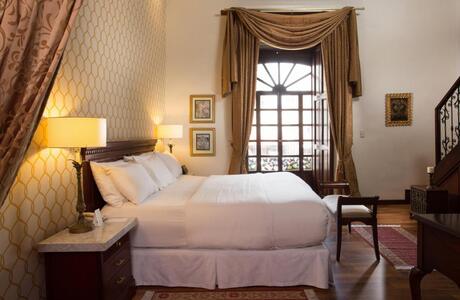 Hotel Boutique Santa Lucia is a gorgeous boutique hotel located inside a timeless colonial-style house. Guests will feel like absolute kings and queens staying in this hotel, especially with the attentive staff.
The hotel offers a free complimentary breakfast. For dinner, there are 3 onsite restaurants to choose from, covering anywhere from local dishes to international cuisine.
---
Like this post? Don't forget to save it on Pinterest!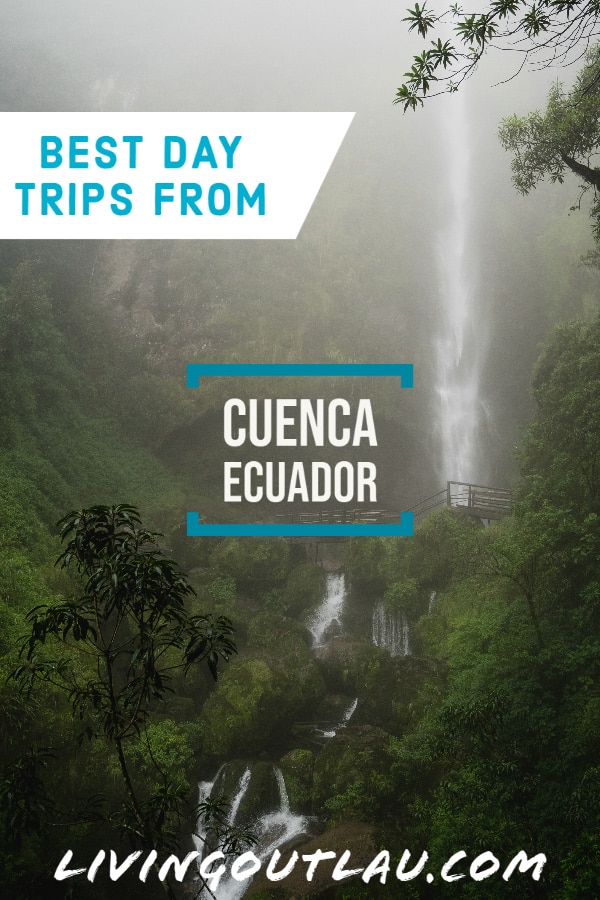 ---
If you are heading to Peru through Mancora after, make sure you read this guide!

Which one was your favorite day trip from Cuenca? Mine was definitely Cajas National Park! Let us know what you think in the comments!
Disclaimer: Some of the links above are affiliate links. That means if you book or make a purchase through the links, we will earn a small commission at no extra cost to you! The money will help run this site! Thank you!