Cajas National Park is a national park located in the Andes of Ecuador. Located only 30 km west of the famous UNESCO city of Cuenca, hiking Cajas National is one of the many popular day trips from Cuenca.

The Cajas National Park offers a tundra vegetation 3900m above sea level, something that is unique from other national parks in South America.

Travelers looking to do some hiking around Cuenca should not miss Cajas National Park!

Without further ado, here is the guide to hiking Cajas National Park in Ecuador.
How to Get to Cajas National Park From Cuenca (And Back)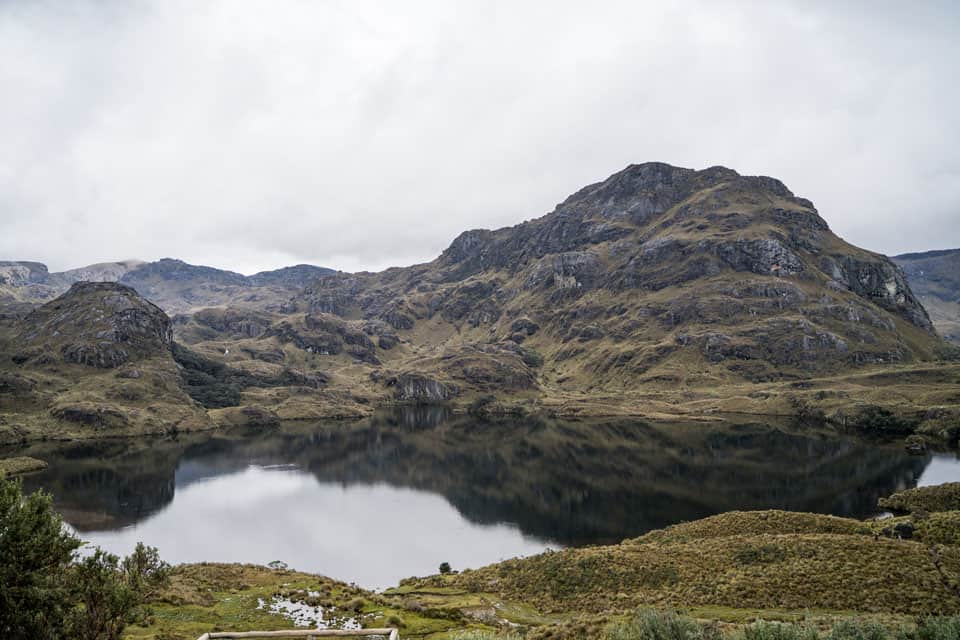 The easiest way to get to Cajas National Park is with a tour agency. However, I wouldn't recommend doing so because getting to Cajas National Park is easy on your own, safe, and is really what traveling is all about! To get to Cajas National Park, you will want to base yourself in Cuenca.
Don't feel comfortable going solo or want the insight of a professional local? Check out our recommended Cajas tour!
Cuenca is only a short 45-minute ride to Cajas National Park and there are buses that run regularly from Terminal Terrestre. Terminal Terrestre is a quick 20-minute walk from the historic center or a 5-minute taxi ride.
Once you arrive at the Terminal Terrestre, there are 2 booths that sell tickets to Cajas National Park, booth number 39 and 40. When we arrived, booth 39 wasn't open so we bought our ticket to Cajas National park at booth 40 for $2.
They have departure times as early as 7 AM but the park doesn't open until 8 AM. The buses are also quite frequent so if you miss one you can just take the next one.
Buy your ticket and you are on your way to hiking Cajas National Park.
To get back to Cuenca, you can take any bus on the road that is going towards Cuenca. You don't need to be at a bus station or anything. Just be on the same side of the road as the bus and wave it down when you see it coming.
Technically, there are buses that run in that direction all day but I would recommend being back before nighttime.
Things to Know Before Hiking Cajas National Park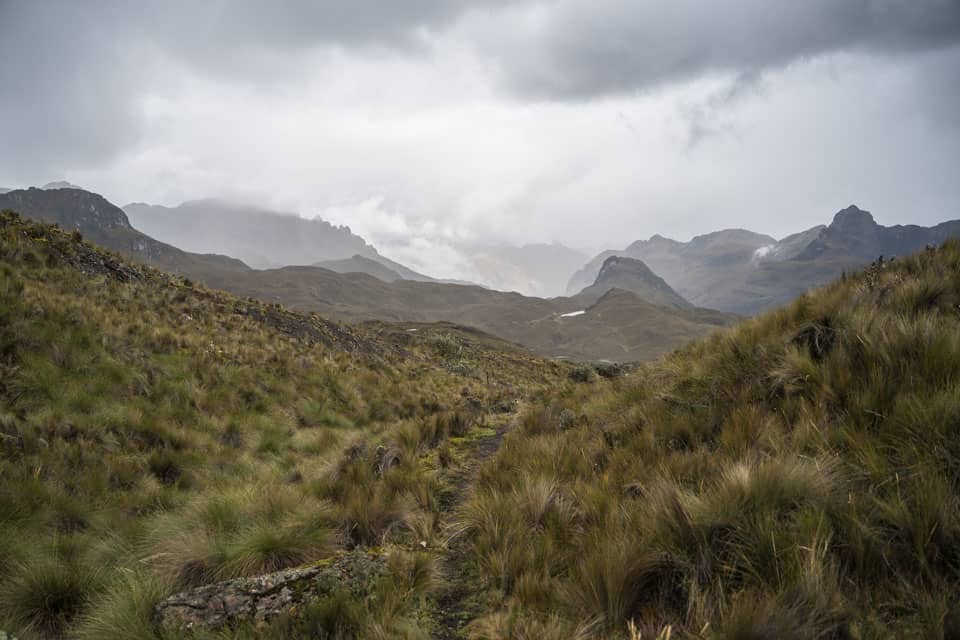 Bring your passport or ID – At the visitor center, you will need to register yourself with the ranger. You will have to advise him which route you plan on taking and how long you are to stay in the park. However, you do not need to sign out.
Cajas National Park is located 3900m above sea level. Many people experience symptoms of altitude sickness at around 3000m. That means chances are you will also experience symptoms of altitude sickness if you are hiking Cajas National Park. Here's a guide on how to prevent altitude sickness.
Download maps.me and Parque Nacional Cajas App on your phone. Maps.me is a map app similar to Google maps but much better. Their offline maps are one of the best out there. Paruqe Nacional Cajas App is the official app for Cajas National Park.On there, you will have all the information you need including trails, opening hours, camping information, and much more.
Start hiking early in the day to avoid clouds and rain coming in. Check the weather too before you go!
What to Bring When You Hike Cajas National Park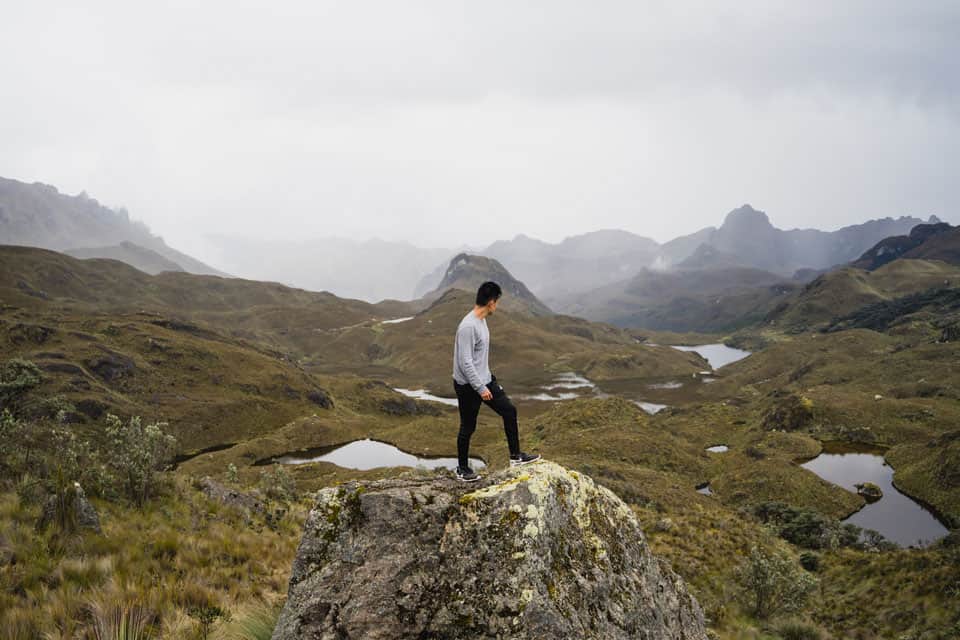 Hiking Cajas National Park can be a little bit tricky due to the biosphere and altitude. Below are things you should bring on your hike.
Sunscreen is a necessity – The sun at high altitudes is much stronger than the sun at sea level. In addition, you are on the equator, and the sun is even stronger there.
Rain poncho or raincoat (Him/Her) – Weather can change so quickly at such high altitudes. Pack one for safety.
Filtration Water Bottle – A filtration water bottle is one of my favorite outdoor gear as it lets you drink from any water source, and there is plenty of that in Cajas National Park.
Mud shoes – Or shoes that you are willing to sacrifice to the mud and water.
Food/Snack/Water – Pack accordingly to how long you plan on staying at Cajas National Park. There is a restaurant on-site next to the visitor center but they only have something simple.
Our Experience Hiking Cajas National Park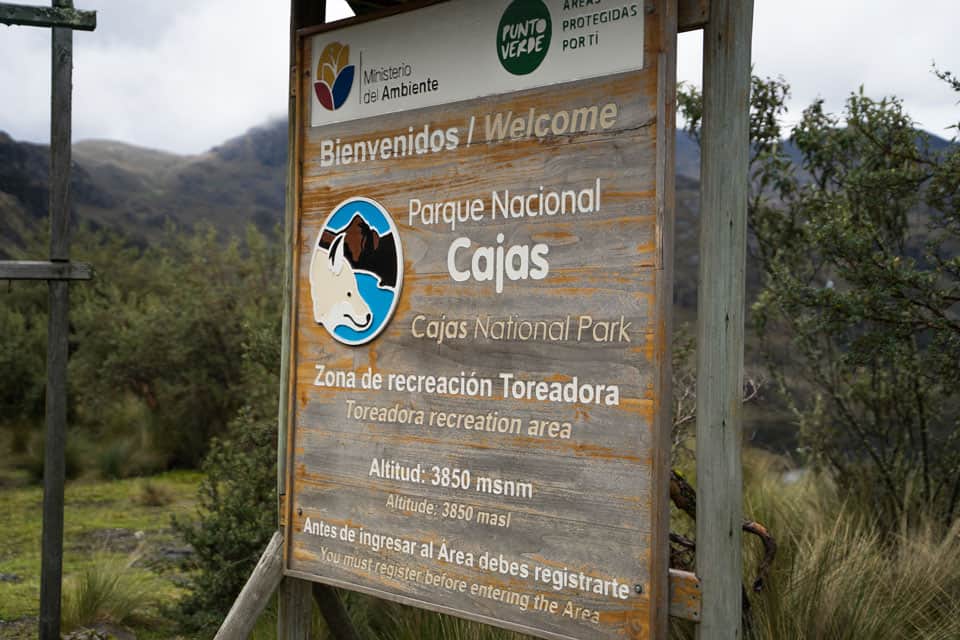 The bus dropped us off at the visitor center. Immediately, we started to notice that the weather was not quite the same as it was in Cuenca. We walked towards the visitor center and encountered a sign that said altitude 3,850m.
That is the highest altitude I have ever hiked in at that point in my life. At the visitor center, we signed in our names and the ranger explained to us the trails that were available. Some trails were unavailable due to the rain from yesterday.
He said if this is your first time here, you will want to do the pink trail, or Ruta 1 on your Parque Nacional Cajas App. Ruta 1 ends on the road where you can conveniently get the bus back to Cuenca, but make sure you are on the correct side of the road! (make a left once you get to the end of the trail)
The other popular option is the green trail (Ruta 2 in the App), which has you summiting one of the mountains in the park for a panoramic view of the park. Feeling already short-breathed from the altitude, we picked the pink trail, or ruta 1.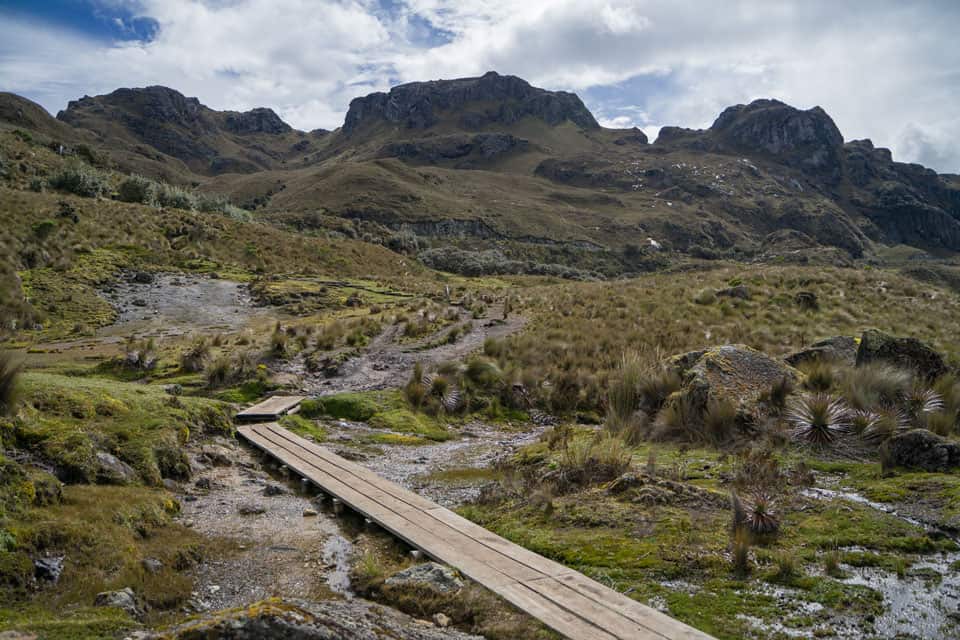 In this altitude and biosphere, it tends to rain quite often. Even though we were prepared for the cold weather, rain, and the sudden change of weather, we were not prepared for the mud that resulted from yesterday's rain.
Yesterday's rain had caused a major part of the trail to be flooded, muddy, and extremely slippery. We continued for about 2 hours on the pink trail (Ruta 1) and then the rain started to come in. We looked at our maps and realized that we were at least 3 hours away from the end of the trail.
The heavy rain from the day before had also caused the trail to be very undetectable, and we were losing confidence as to if we were actually on the right path. So we decided to head back the same way we started.
On the path, you will see landscapes you have never seen before. The tundra vegetation created some of the most exotic plants I have ever seen. All the colors, the scenery, and the climate, Cajas National Park is truly a wonder on its own.
We also saw some native llamas roaming the park! It was our first time seeing wild llamas in real life.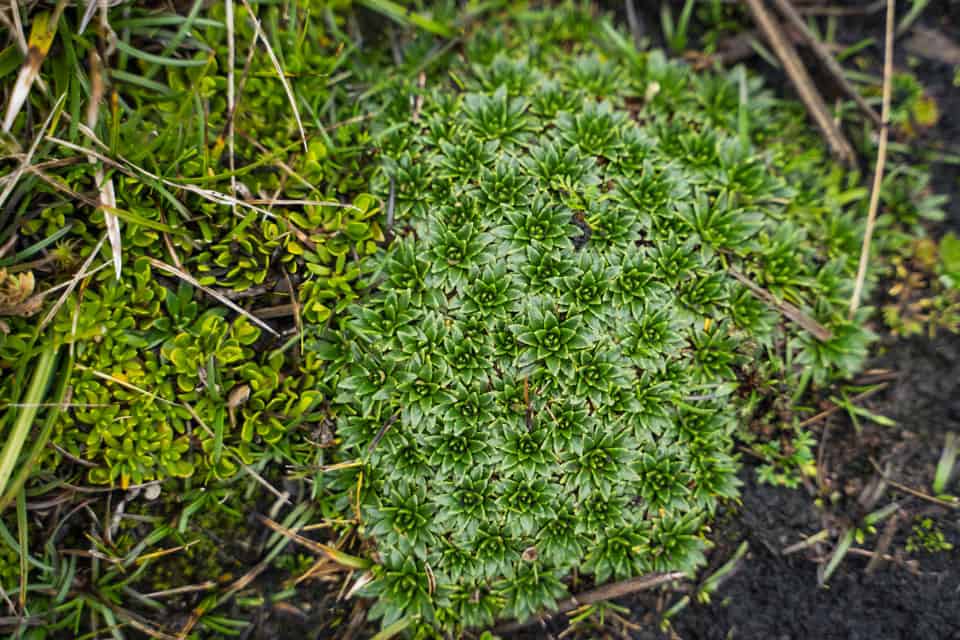 Best Hostel in Cuenca – Selina Cuenca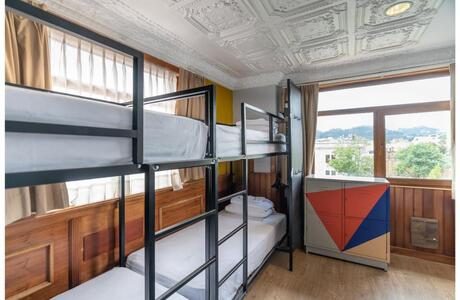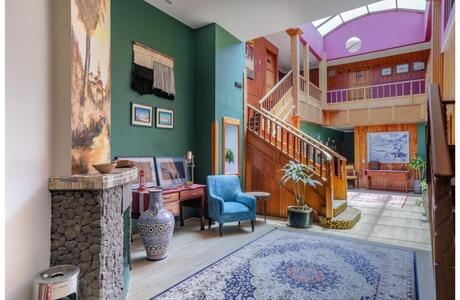 If you are looking for a cozy hostel where you can work remotely and meet other travelers, then Selina Cuenca is your best bet. A famous chain of hostels in Latin America, Selina is known for its great value-for-money, comfortable beds, and artsy interior decor. The hostel also features a nice restaurant and bar where people can enjoy good food and meet other guests.

Click here for more details!
Best Airbnb in Cuenca – Comfortable Suite w/ Jacuzzi & Terrace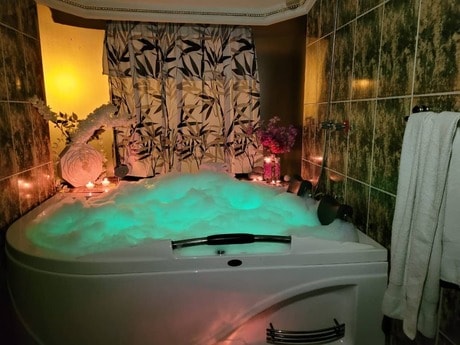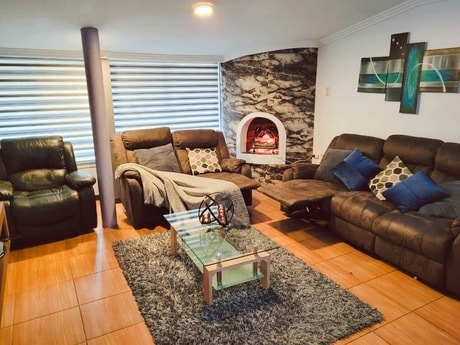 (Images Courtesy of Airbnb)

Thanks to Cuenca's huge ex-pat and affluent community, there are many stunning Airbnbs for rental.

This 2-bedroom suite apartment can accommodate a maximum of 4 guests, allowing them to enjoy excellent amenities such as a gorgeous rooftop and a relaxing jacuzzi to soothe their aching limbs.

The comfortable living room features a heart-warming electrical fireplace and a 65″ Smart TV, perfect for relaxing after a day of hiking. If you have more energy to explore Cuenca, many of the city's best attractions are located walking distance away.

The Cuenca Airport is also just 15 minutes away.

Click here for more info!
Best Hotel in Cuenca – Hotel Boutique Santa Lucia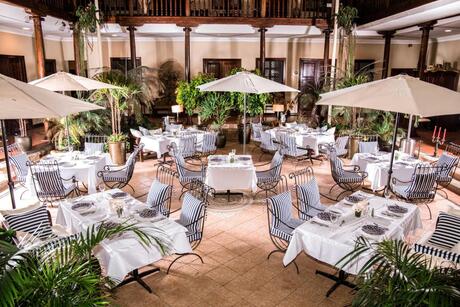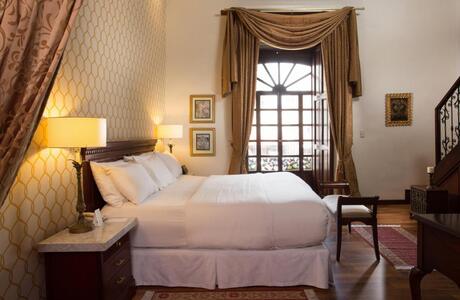 Hotel Boutique Santa Lucia is a gorgeous boutique hotel located inside a timeless colonial-style house. Guests will feel like absolute kings and queens staying in this hotel, especially with the attentive staff. The hotel offers a free complimentary breakfast. For dinner, there are 3 onsite restaurants to choose from, covering anywhere from local dishes to international cuisine.

Click here for more details!
Like this post? Don't forget to save it on Pinterest!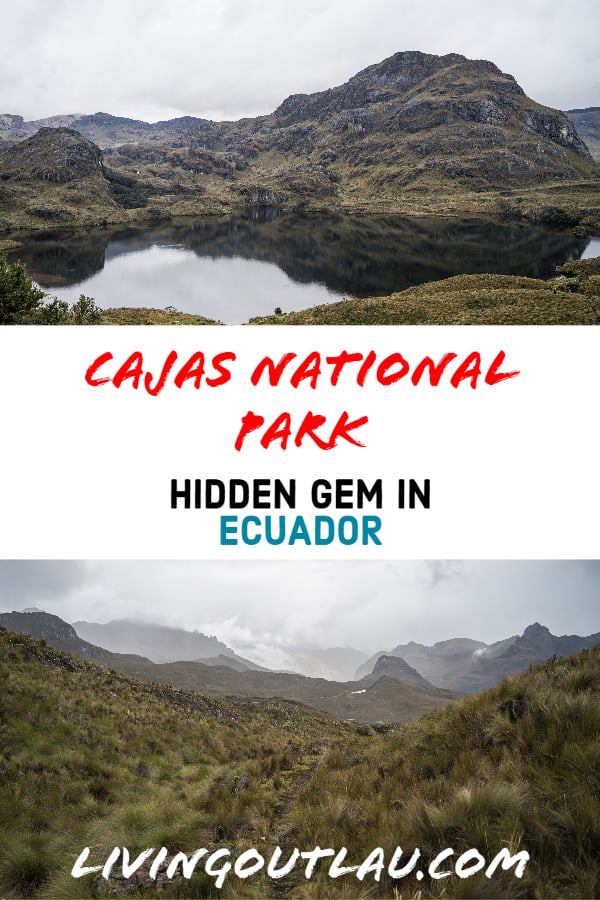 That's the end to the guide for hiking Cajas National Park. Have you hiked Cajas National Park? Let us what you think in the comments!
Disclaimer: Some of the links above are affiliate links. That means if you book or make a purchase through the links, we will earn a small commission at no extra cost to you! The money will help run this site! Thank you!