If you are wondering how to get from Aguas Calientes to Machu Picchu, worry not.
Aguas Calientes is the gateway to Machu Picchu, and from this small town, there are two simple ways to get to Machu Picchu: a 30-minute bus ride or a 1.5-hour hike.
As simple as these two ways sound, there are many factors to consider. The bus ride, while quick and convenient, does come with a cost and may have long queues during peak times. On the other hand, the hike, although free and scenic, can be physically demanding, especially for those not used to high altitude.
After doing both ourselves, we want to save you the headache and trouble. Read on and find all the information you need about getting a bus from Aguas Calientes to Machu Picchu and hiking from Aguas Calientes to Machu Picchu!
📖 Note: If you are doing the Inca Trail, you won't be passing by Aguas Calientes to visit the Inca citadel, but for other methods of getting from Cusco to Machu Picchu, such as the Salkantay Trek, the train or bus, you'll need to stop by Aguas Calientes, aka Machu Picchu Town.
Getting From Aguas Calientes To Machu Picchu By Bus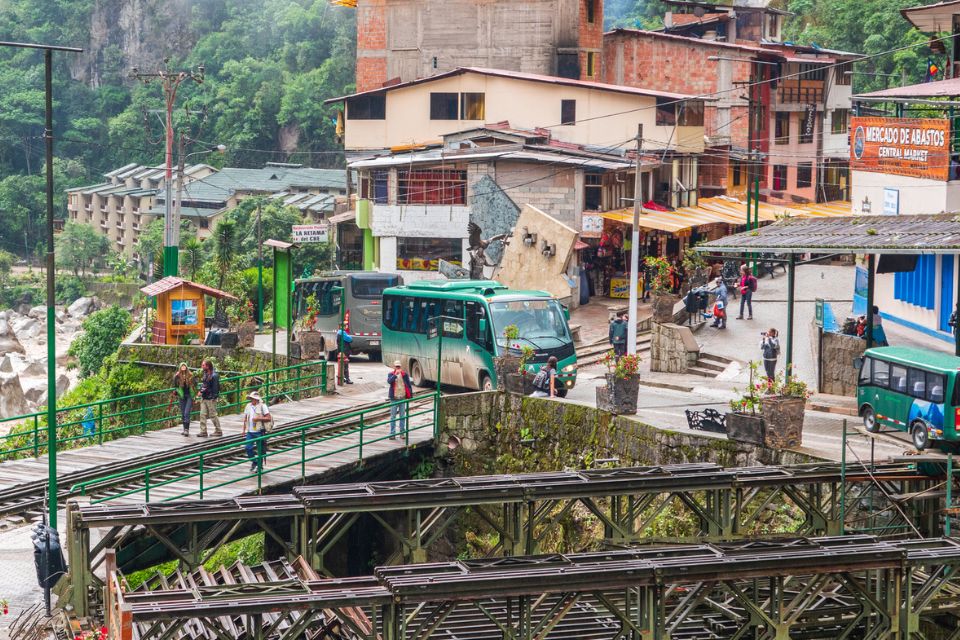 The easiest way to get from Aguas Calientes to Machu Picchu is by bus. It is a 30-minute journey (9 km or 5.6-mi journey) and departs from Avenida Hermanos Ayar and goes along Carretera Hiram Bingham to get to the entrance of Machu Picchu.
The buses are supposed to leave every 10 minutes or so, but from our experience, we find that they just depart when full or almost full from the bus stop at Avenida Hermanos Ayar. You won't miss this bus stop, as you'll likely see hundreds of people queuing there.
You must buy bus tickets before queuing at the bus stop, and you can do so at the bus company ticket office just off Avenida Hermanos Ayar or you may purchase tickets online, which is what we recommend to do because the queues can be massive.
Because the entrance to Machu Picchu has time slots, you must join the queue for the bus at the appropriate time. For example, if your Machu Picchu ticket states 9 AM, you will join the bus queue that says 9 AM.
Once you've finished exploring Machu Picchu ruins, you can catch the bus back into Aguas Calientes from the same spot you were dropped off (FYI, it's at the entrance). If you didn't buy a return ticket, you can do so at the small ticket booth here.
How And Where To Get The Bus To Machu Picchu From Aguas Calientes?
Buying The Bus Tickets To Machu Picchu
It's important for you to know that the Machu Picchu bus tickets from Aguas Calientes DO NOT sell out. And handily, the buses will continue operating for everyone with tickets for that day.
However, you will only be allowed to hop on a bus that departs no earlier than 30 minutes before the time on your Machu Picchu entrance ticket. For example, if your Machu Picchu entrance ticket says 9 AM, you should get the 8:30 AM bus.
📖 Note: Though the bus tickets do not sell out, the Machu Picchu entrance tickets do. It is important that you buy your Machu Picchu entrance tickets as soon as you know when you are going to visit. The best time to visit Machu Picchu is as early as it opens, around 6 AM.
There are many tour operators and vendors selling these Machu Picchu bus tickets in Aguas Calientes. However, we recommend only purchasing your bus ticket from the bus ticket office on Avenida Hermanos Ayar or online. You can pay with cash (either Peruvian Soles or USD) are accepted or by credit card.
You'll need your Machu Picchu entrance ticket (a digital copy on your phone will suffice) and a Photo ID to purchase a bus ticket in person.
As we mentioned, you can buy a one-way bus ticket at Machu Picchu, so if you think you'd like to hike back, then just buy a one-way and decide later.
How Much Is The Bus From Aguas Calientes To Machu Picchu?
At the time of writing, a bus ticket from Aguas Calientes to Machu Picchu will set you back $12 for a one-way ticket or $24 for a return ticket. For children aged from 5 to 11 years, the return ticket will cost just $12 USD, and helpfully, kids under 5 years are free!
What Are The Operating Hours of the Bus to Machu Picchu?
The buses from Aguas Calientes to Machu Picchu run from 5:30 AM to 3:30 PM daily. Generally speaking, you should get the bus at least 30 minutes before your entrance time.
The bus supposedly leaves every 10 minutes or so, but they generally just depart whenever they are full (or near full), or whenever someone's entrance time is getting close.
💪 Pro Tip: We recommend arriving at the Aguas Calientes bus stop about an hour earlier than your Machu Picchu entrance time. That'll give you enough time just in case the queue is very long.
How Long Is the Bus Ride From Aguas Calientes to Machu Picchu?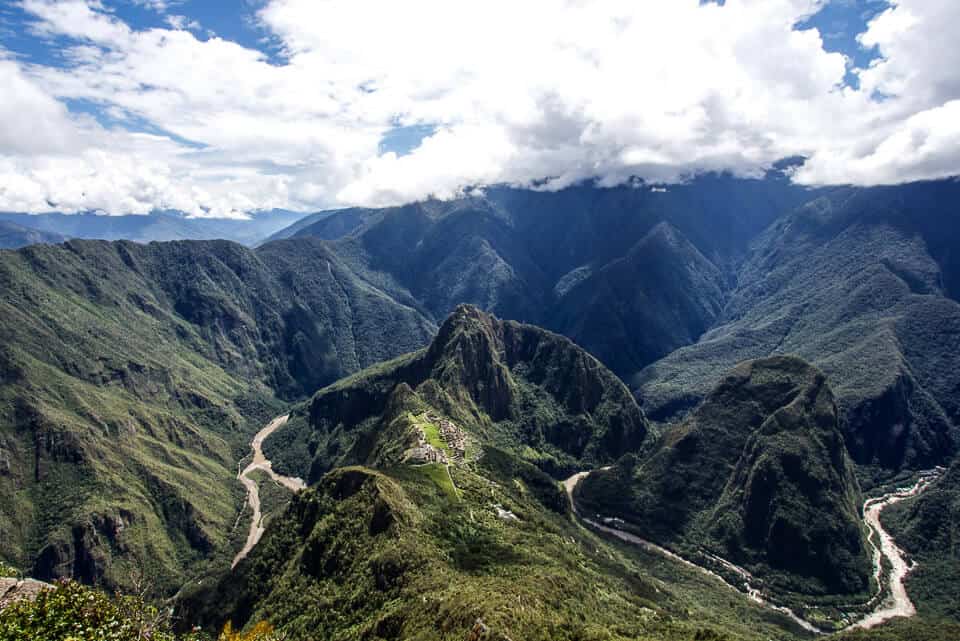 The bus ride takes between 25 to 30 minutes from the bus stop in Aguas Calientes to the Machu Picchu Inca ruins.
The bus follows Avenida Hermanos Ayar before crossing the bridge across the Urubamba River and continuing along the exclusive Hiram Bingham Road. The total distance of the journey is around 9 km (5.6 mi).
Getting Back To Aguas Calientes from Machu Picchu with the Bus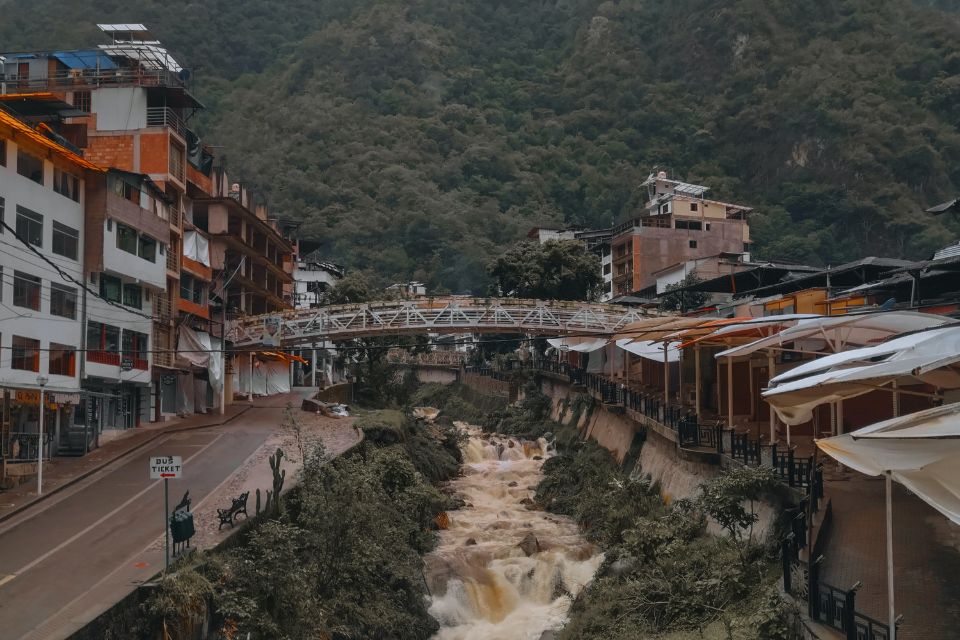 The bus stop to get you back to Aguas Calientes is just outside the Machu Picchu entrance; again, it will be hard to miss as a long queue of people will likely be waiting.
If you have yet to purchase your return ticket, you can do so from the small ticket booth here. Just remember to buy your ticket before joining the queue, as tickets cannot be purchased onboard the bus.
Unlike on the way to Machu Picchu, you don't have to aim for a specific bus timeslot; instead, just join the queue, and you'll get the next bus.
📚 Read More: 2-Week Peru Itinerary: The Best of Peru
Getting From Aguas Calientes To Machu Picchu By Hiking or Walking
The best option for budget travelers to get to visit Machu Picchu from Aguas Calientes is to hike, as this is completely free. The hike is 3.4 km in length and should take most people between 1.5 to 2 hours to complete.
It's highly advisable to be of a decent fitness level for this hike, though, as it's a steep and strenuous hike with lots of steps. In fact, you'll be gaining 450 meters in total elevation along the 3.4 km!
The first section of the hike takes you to the checkpoint for the Machu Picchu trail is 1.7 km long. To reach the checkpoint, you will need to walk along the road from Aguas Calientes town in the direction of Hidroeléctrica.
Once you get to the checkpoint, a ticket attendant will be waiting here to check your Machu Picchu ticket and photo ID. You won't be allowed to enter the second section of the trail until an hour before the time on your Machu Picchu entrance ticket.
💪 Pro Tip: Make sure you bring your passport to Machu Picchu, there is a unique Machu Picchu stamp you can get for your passport!
This second section is also known as the Camino Peatonal. It's also 1.7 km long, but it's the most strenuous part of the hike as you must climb up steep and uneven stone steps through the jungle. It isn't the most exciting hike in Peru as there isn't much to see.
If the stairs are too tough for you, you can head out onto the road and enter Machu Picchu that way. This is slightly longer but easier as it has a more gradual incline.
How Hard is The Hike from Aguas Calientes to Machu Picchu?
The hike from Aguas Calientes is challenging, and although you may be keen to save money (this option is completely free), you'll need to be of a good level of fitness to complete the 3.4 km hike to reach Machu Picchu successfully.
Before embarking on this hike, you'll need to take into account the high altitude of your starting and finishing point. Aguas Calientes sits at 2,040 meters above sea level, and Machu Picchu at 2,430 meters above sea level.
Therefore to avoid altitude sickness, we recommend taking it easy the days before your hike to reach the Machu Picchu ruins so that you can acclimatize. And along the hike itself, take regular breaks and drink plenty of water.
📖 Note: If you have spent several days in Cusco before coming to Machu Picchu, you might already be acclimatized. That is because the elevation of Cusco is much higher than the elevation of Aguas Calientes and Machu Picchu.
Besides the altitude gain, there are other things you'll need to consider before undertaking the hike, including the bugs, humidity, and steep stone steps you'll encounter.
And remember, after the steep hike to the entrance, you'll then be spending at least another 2 hours walking around the Machu Picchu ruins.
Plus, if you have a ticket to hike Huayna Picchu Mountain or Machu Picchu Mountain, you'll need to take in the additional hiking you'll do inside the Inca ruins.
Personally, we don't think it was a very tough hike to Machu Picchu, but your results might vary.
How Long Is the Hike From Aguas Calientes to Machu Picchu?
The hike from Aguas Calientes to Machu Picchu is 3.4 km long (2.1 mi) and will take most people between 1.5 to 2 hours to finish.
Is it Safe to Hike From Aguas Calientes to Machu Picchu?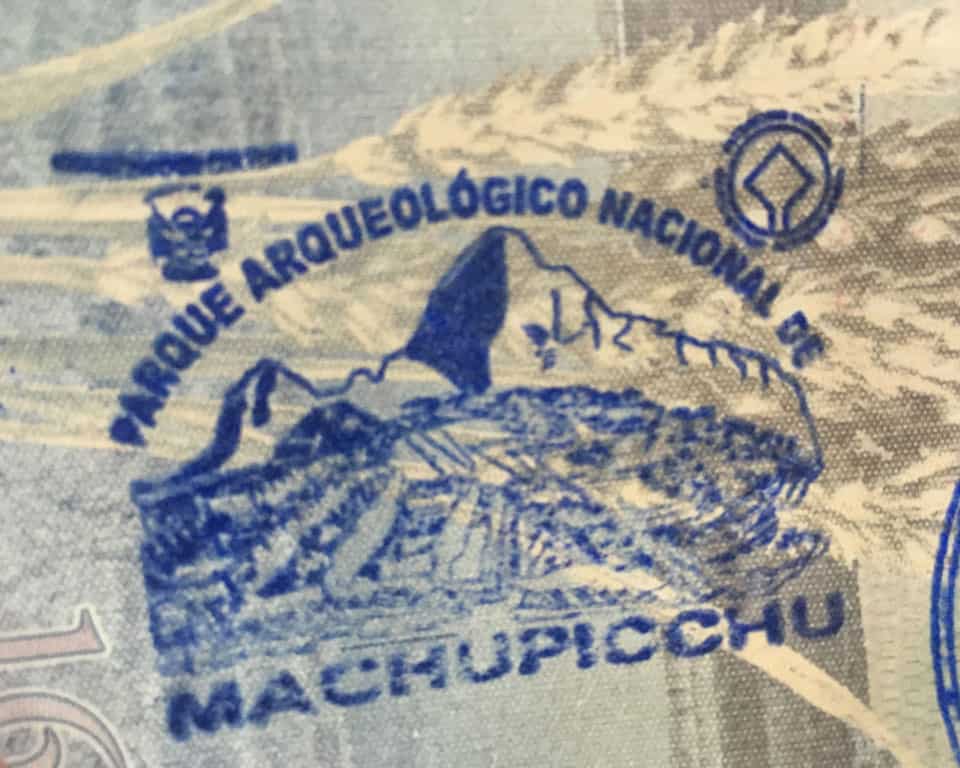 Yes, it's completely safe to hike from Aguas Calientes to Machu Picchu. As it's through the cloud forest, be mindful of bugs and wear bug spray. Thankfully, at this high altitude, the chances of being bitten by a mosquito are pretty non-existent.
It's also advisable to have a good level of fitness as it's a challenging hike and pack water to hydrate you in these humid conditions. If the weather is very rainy, you might want to be extra cautious going up the steep steps.
Can I Do the Walk to Machu Picchu With Children?
Yes, kids are welcome to walk the trail from Aguas Calientes to Machu Picchu, but because it's a difficult, mostly uphill hike, we don't advise parents to hike with very young children. As a general rule of thumb, children over 5 with a good fitness level should be able to complete this 3.4 km hike successfully.
What Is There to Do in Aguas Calientes Besides Machu Picchu?
As the gateway to Machu Picchu, Aguas Calientes (or Machu Picchu pueblo) might not appear like there is much to do, but that cannot be any further from the truth. There are several activities here that are worth checking out.
1. Machu Picchu Hot Springs (Baños Termales Machu Picchu)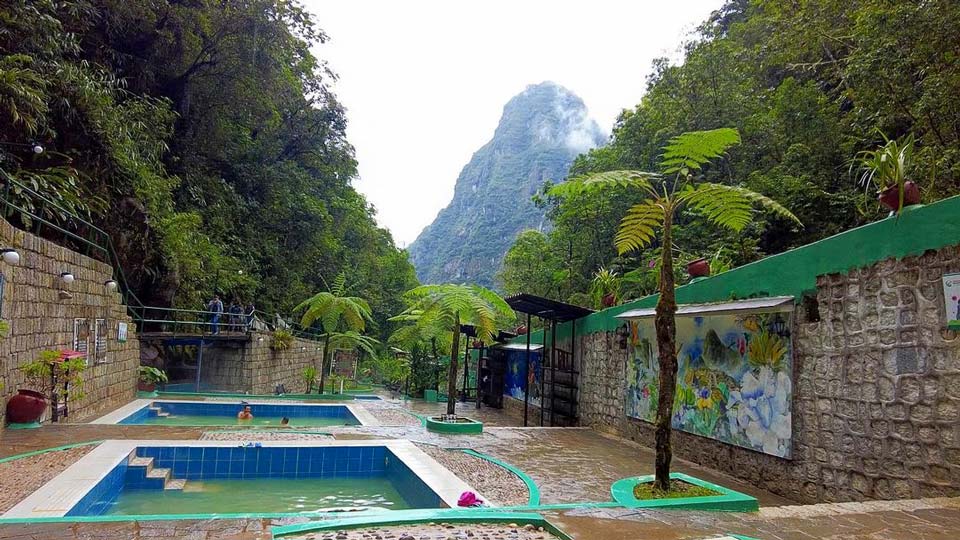 About 1 kilometer away from the Aguas Calientes train station, travelers will find the Machu Picchu hot springs. Here travelers can soak in steamy mineral waters as they admire the surrounding landscapes. There is also a hiking trail, waterfall, and a bar here.
2. Mandor Gardens
Mandor Gardens is a 27-acre botanical garden with hummingbirds on former Inca farmland and one of the places with unspoiled nature in the region.
The garden is beautiful with stunning views of the nearby mountains and a river that leads to the Mandor Waterfall. You can easily spend a few hours getting lost in the trails and exploring the flora of the region.
3. Mariposario of Machu Picchu (the Butterfly House)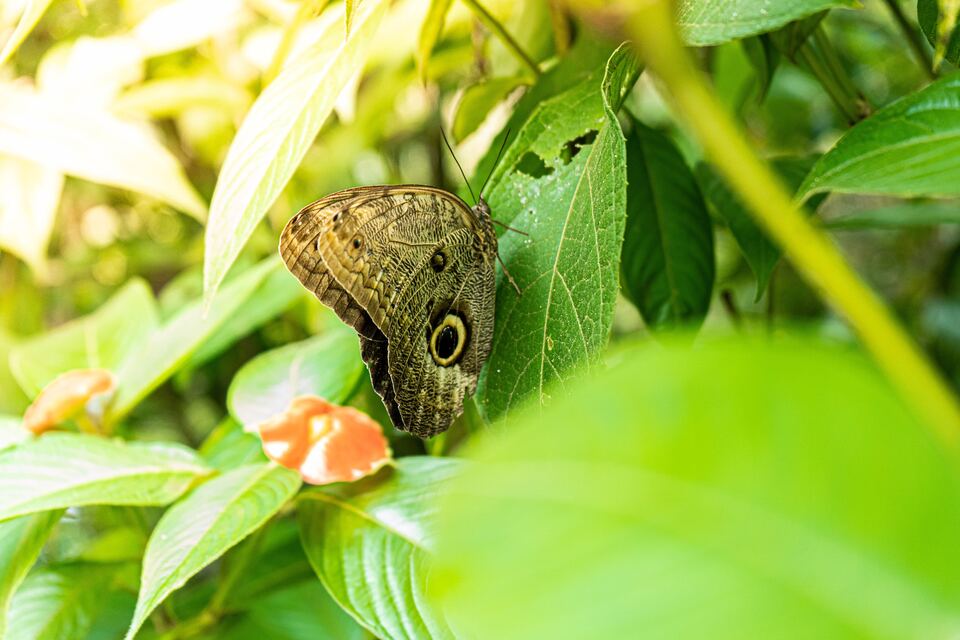 If you're a wildlife lover, a must-visit in Aguas Calientes is the Butterfly House (aka Mariposario de Machupicchu). This butterfly sanctuary aims to increase the butterfly population through a special reproduction-and-release program.
To get a clearer picture of the work they do here, we recommend booking one of the affordable guided tours. On the guided tour, your knowledgeable guide will teach you all about the butterfly's anatomy, behavior, and life cycle and introduce you to the different flowers and plants that attract butterflies. You'll also learn more about the butterflies in Peru.
4. Manuel Chávez Ballón Site Museum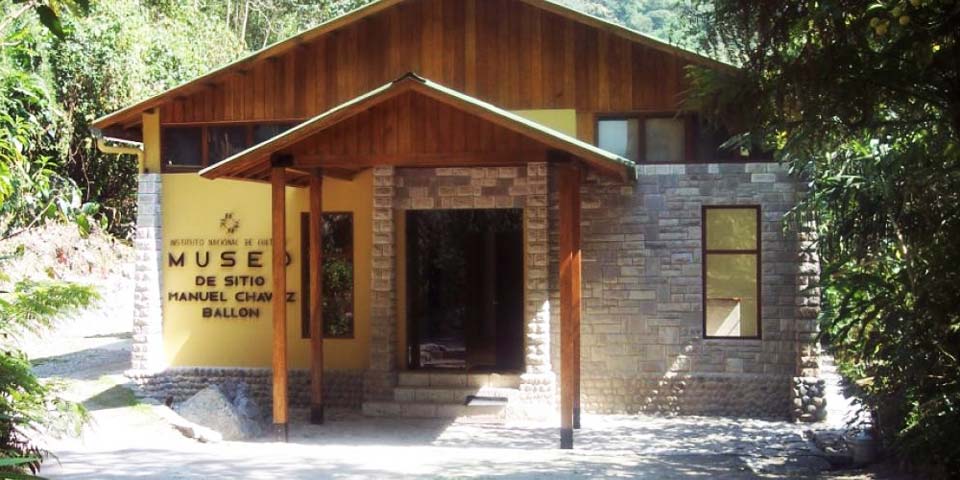 While history lovers or anyone keen to find out a little more about Machu Picchu should visit the Manuel Chavez Ballon Site Museum, more commonly known as Machu Picchu Museum.
There are lots of exhibits and displays here that will help to give you a clearer picture ofthe Inca people who once called Machu Picchu home, and you'll also learn how this Inca citadel was built.
Some of our other favorite things to do in Aguas Calientes include wandering the Mercado Artisinal craft market in search of unique souvenirs and people-watching and taking in the incredible mountain views at Plaza Manco Canac (the town's main plaza.)
Aguas Calientes To Machu Picchu FAQs
How Much Is The Machu Picchu Entrance Ticket? 
The standard entrance ticket to Machu Picchu costs 152 Peruvian soles for adults, 77 soles for students, and 70 soles for minors. This does not include Machu Picchu Mountain or Huayna Picchu, which travelers can hike for additional costs.
Can I Walk From Aguas Calientes to Machu Picchu?
Yes, you can walk from Aguas Calientes to Machu Picchu. The walk is approximately 3.4 km (2.1 mi) long and takes about 1.5 hours to complete. The elevation gained on the hike is about 450 meters.
Getting From Aguas Calientes to Machu Picchu: Final Thoughts
As you can see, getting from Aguas Calientes to Machu Picchu is quite simple. There are pretty much only two options, taking the official bus or hiking.
For those that don't mind paying a little bit more, the bus is definitely the most convenient way to get to Machu Picchu. However, for those that want to save a little bit of money or go for some exercise, then hiking to Machu Picchu is a great option too!
Disclaimer: Some of the links above are affiliate links. That means if you book or make a purchase through the links, we will earn a small commission at no extra cost to you! The money will help run this site! Thank you!