Kyoto, the cultural capital of Japan, is one of the most visited tourist destinations in Japan. As its cultural capital, it shouldn't surprise you that there are many attractions in Kyoto, including 17 UNESCO World Heritage Sites, the Arashiyama Bamboo Grove, Fushimi Inari Taisha, and many more.

This 1 day Kyoto itinerary will cover some of the best things to do in Kyoto in 1 day. However, if I must be honest, 24 hours in Kyoto is not sufficient to see all the amazing sights it is known for. It is advised to stay at least 2 days in Kyoto to see all the main attractions.

However, we understand that sometimes you are time-restricted and you might just have one day in Kyoto.

In our Kyoto itinerary, we will cover the things you must do in Kyoto in one day and how to maximize your time! We'll also talk about visiting Kyoto on a day trip, including where to depart from, what to see, and if it is worth doing!
---
Guide To 1 Day In Kyoto
Kyoto Tourist Map: 1 Day Kyoto Itinerary Attractions
This is the personalized Kyoto tourist map you will use to visit all the things you must see in Kyoto in one day.
Clicking on the star next to the name of the map will allow you to save it onto your own personal device, making it much easier when you are looking for each thing to do in Kyoto. Since this 1 day itinerary in Kyoto, you won't be able to cover all of the attractions in Kyoto.
The red circles on the map are what I consider the best attractions in Kyoto. Under no circumstances should you switch them out unless you have been there before.
The blue stars on the Kyoto attractions map are the alternatives you could use to replace the main attractions. They are also great places to visit in Kyoto if you plan on staying for two days.
The green question marks are all the "average" attractions in Kyoto. Some of these places are UNESCO World Heritage Sites such as the Ryoanji temple. They are by no means bad places to see but are not as good as the must-visit attractions.
Kyoto One Day Pass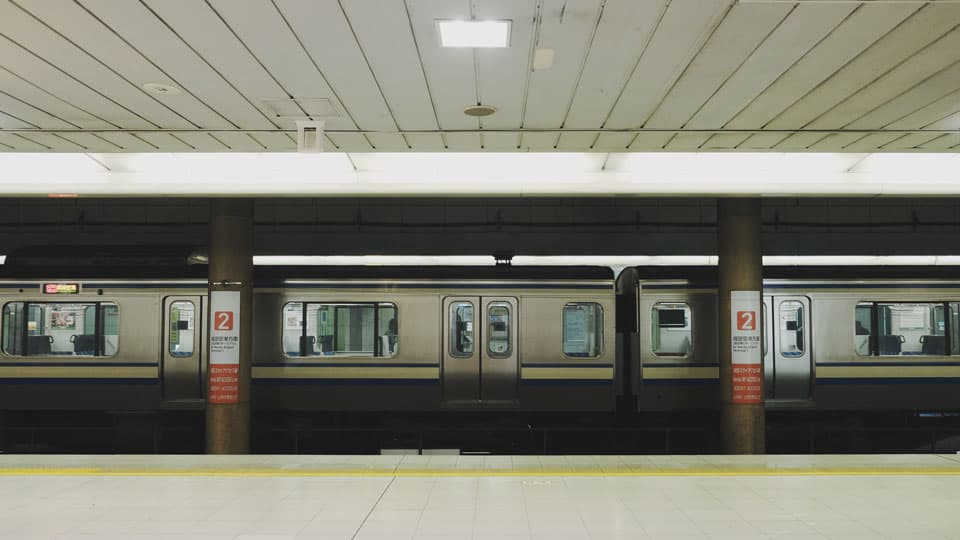 Many tourists that visit Kyoto in 1 day are tempted to buy the Kyoto one day pass because they think it will save them money. Let me tell you why that might not be the case.
There are two types of passes that are worth considering:
One-day bus and subway pass
One-day bus pass.
Costing only 900 yen for 1 day, most travelers are tempted to buy the Kyoto one-day bus + subway pass to save money. It is true that with that pass, you can visit all the attractions in this Kyoto itinerary.
The problem is, it might not be the most convenient or fastest way. The Kyoto one-day pass doesn't cover all the transportation in Kyoto, such as the JR lines or even the trams. The buses are also infrequent, inconsistent, crowded, and often stuck in traffic. If you only have 24 hours in Kyoto, this is your worst nightmare.
For those reasons, I recommend you to NOT buy the Kyoto one-day pass.
---
Step-By-Step Itinerary of The Best Things To Do In Kyoto In 1 Day
Morning: Arashiyama Bamboo Grove, Tenryu-ji, Nishiki Market
Welcome to Kyoto and good luck!! You have a long day ahead of you. This 1 day in Kyoto itinerary covers a lot of the things you must see in Kyoto.
Before you start your first attraction on the Kyoto 1 day itinerary, make sure you have a good breakfast. If your accommodation doesn't offer breakfast, my favorite place in town for a quick breakfast is either 7-Eleven or Lawson.
Unlike the 7-Eleven in the western part of the world, 7-Eleven in Japan offers nutritious and affordable meals. Try some of the onigiris, egg sandwiches, or even pancakes!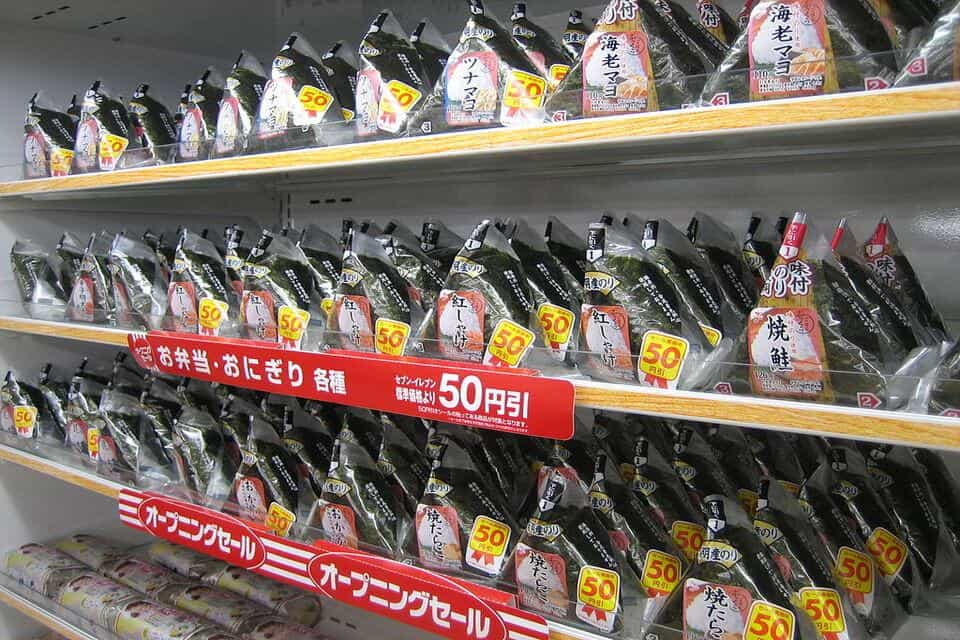 Your first stop will be the Arashiyama bamboo grove, also called the Arashiyama bamboo forest. One of the best things to do in Kyoto, the Arashiyama bamboo grove gets crowded quite easily. Sprawling with countless number of soaring bamboo trees, it is quite an unworldly feeling when you are alone.
For that reason, you will arrive no later than 8:30 AM. In the early morning, there are fewer people and you can feel the real magic of the Arashiyama bamboo forest. It will also guarantee you will photograph the best picture of the bamboo grove!
Trust me, it is worth the effort!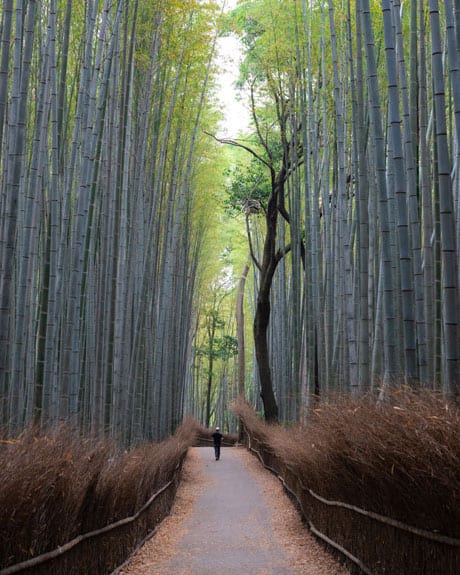 The best way to arrive at the Arashiyama bamboo grove is via the JR San-In Line, also known as the JR Sagano Line. Take the JR San-In line to Saga-Arashiyama station and the bamboo forest is a 15-minute walk away. If you have Japan Rail Pass, all JR lines are free!
After you are done strolling around the Arashiyama bamboo grove, head over to Tenryu-ji. Within a walking distance from the bamboo forest, it is the best way to hit two birds with one stone.
Not only is Tenryu-ji one of the most famous Zen temples in Kyoto, but it is also one of its proud UNESCO World Heritage Sites. Come stroll around the historic buildings and the tranquil gardens, it has a sense of serenity unlike anywhere else.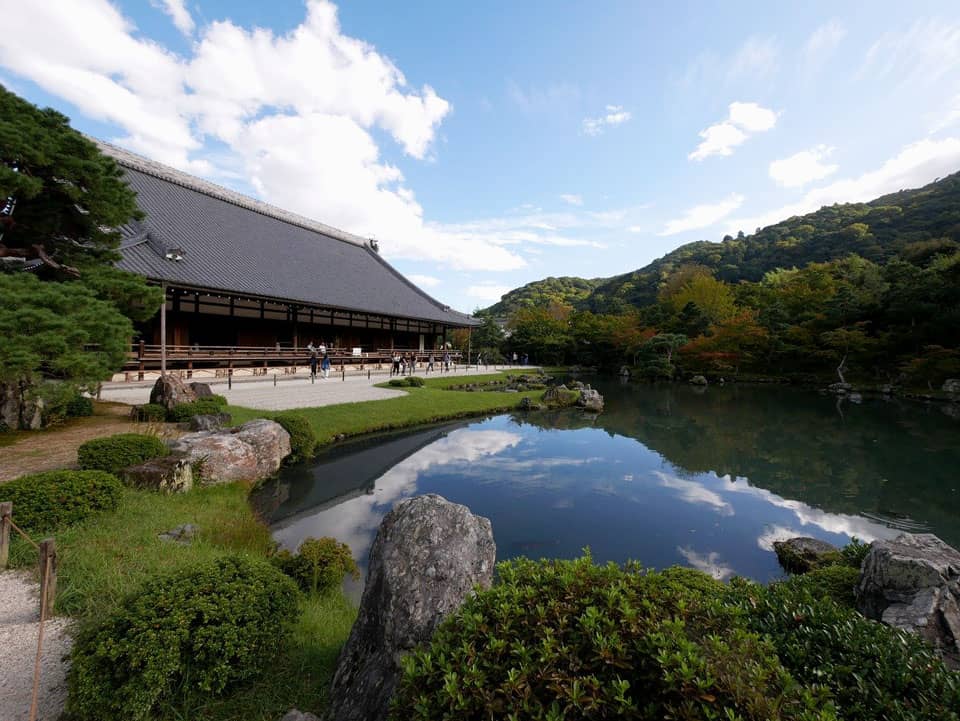 Aim to leave Arashiyama no later than 10:30 AM.
The next stop on your 1 day in Kyoto itinerary is Nishiki Market. There are many options to get there from Arashiyama. My favorite is taking the Randen and switching to the Hankyu-Kyoto Line. The Randen is the last tram line in Kyoto and takes you on a beautiful sightseeing journey.
Once you arrive at Nishiki market, spend some time wandering around. Nishiki market is the biggest food market place in Kyoto, specializing in many of Kyoto's specialties. Though the Nishiki market only spans 5 blocks, there are over hundreds of stalls, and some have been there for centuries.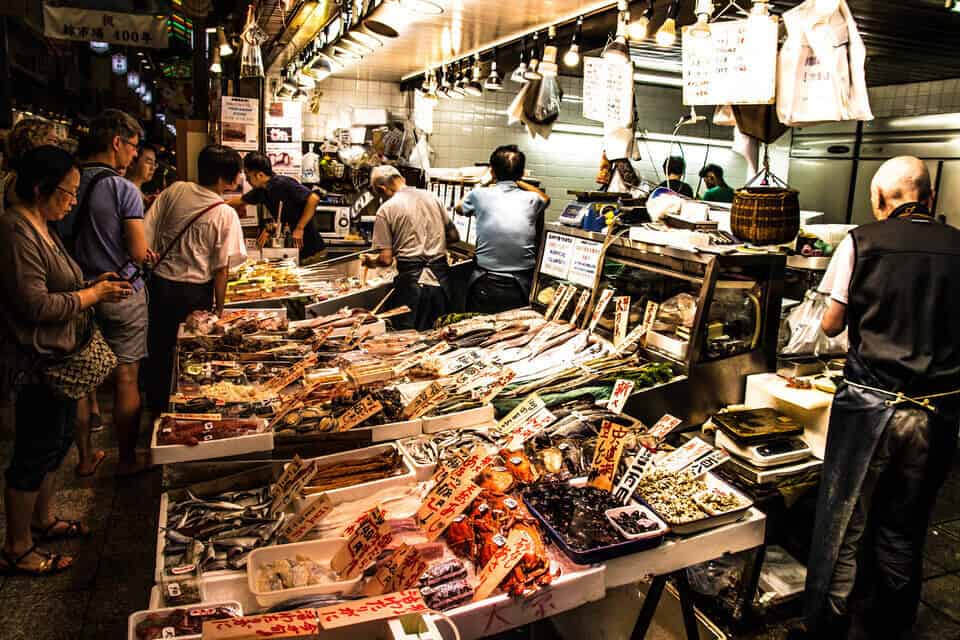 One of the best places for Japanese street food, don't hesitate to try anything that fancies you. My favorite snack was definitely the octopus on the skewer. Though slightly unsettling at first, once you bite into the head, you will be fully intrigued. Trust me!
Don't walk and eat at the same time! In Japanese culture, it is one of the most disrespectful things you can do!
You are probably tempted to spend your 24 hours in Kyoto here sampling the local seafood, trying the pickled vegetables, shopping for souvenirs, but there are still plenty of amazing things to see.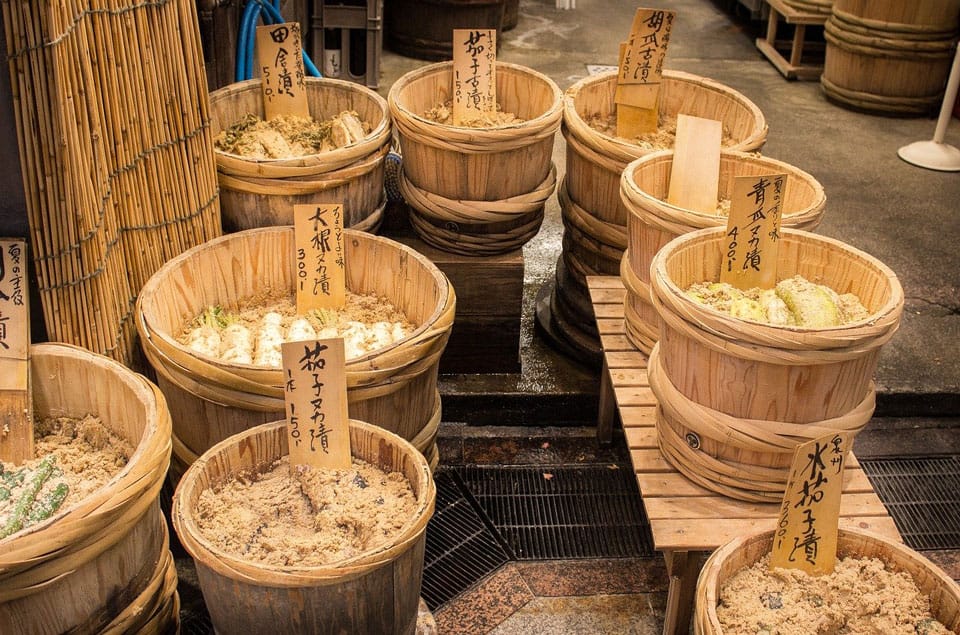 Grab your lunch in the surrounding area but remember to leave Nishiki Market no later than 1 PM. What is next on the itinerary? The famous Fushimi Inari Taisha.
Afternoon: Fushimi Inari Taisha, Kiyomizu-dera
To get to Fushimi Inari Taisha from Nishiki Market, the quickest one is to take the Keihan Main line at Gion-Shijo station to Fushimi Inari station. The journey is about half an hour.
Fushimi Inari Taisha is one of the most important Shinto shrines located in Kyoto. Famous for the thousands of vibrant orange torii gates that reach the top of the sacred Mount Inari, Fushimi Inari Taisha is as beautiful as it is important.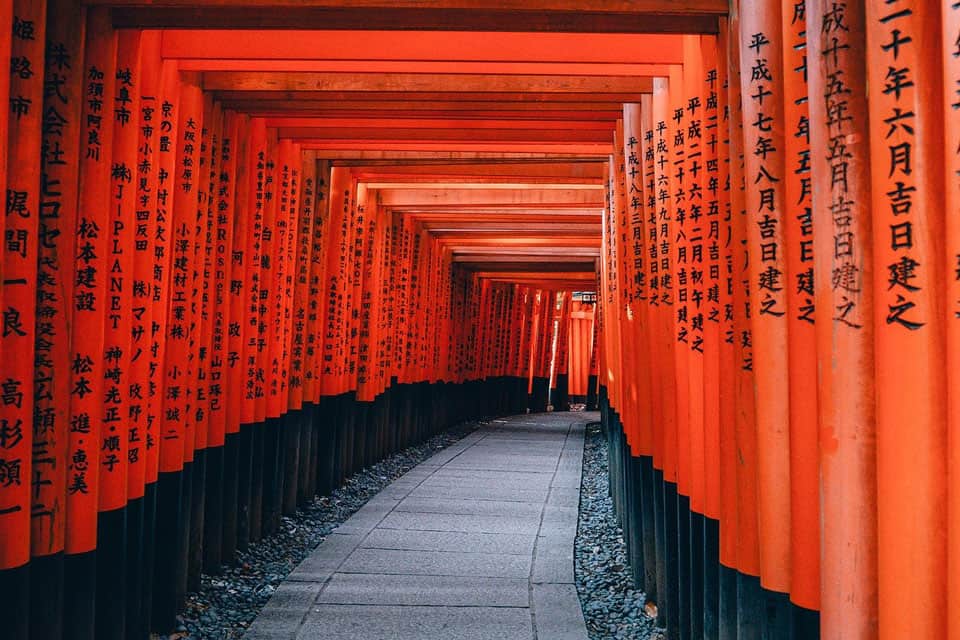 Fushimi Inari Taisha shrine is the most important shrine dedicated to the Shinto god Inari, the goddess of rice. And I don't think I need to tell you how important rice is for the Japanese, it is almost in all of their cuisines. The fox statues you will see as you ascend up Mount Inari are the messengers of Inari.
Many travelers already know Fushimi Inari Shrine as one of the top sights in Kyoto, but many do not do that it is actually a hike! The trail to the top of Mount Inari takes about 2 hours one way.
With the frequency of the torii gates decreasing and not much to see at the summit, it is not recommended you hike all the way up.
However, do spend 45 minutes to an hour hiking up to the Yotsu-Tsuji intersection. A great viewpoint with a few houses and shops, it is a great place to relax and enjoy the scenic views of Kyoto. Though there are a lot fewer tourists beyond this point, the torii gates offer no variation.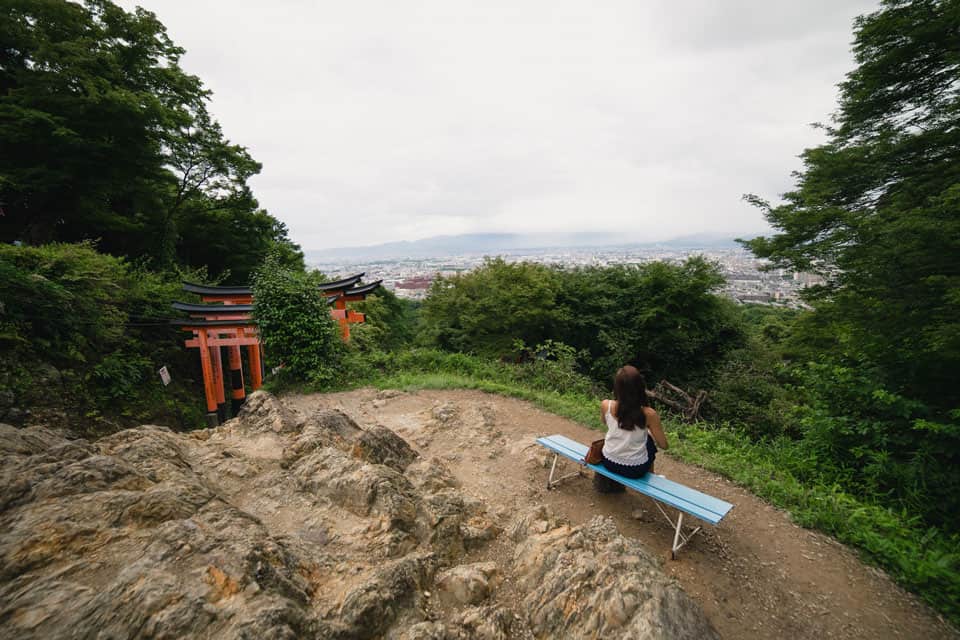 The Yotsu-Tsuji intersection is the highest point you will hike up to.
When you are ready, head back down. You want to head down at least 2 hours before sunset because the next attraction is the best place in Kyoto to watch the sunset! This depends on the month you are visiting Kyoto, so make sure you check the sunset time beforehand!
The next thing to see on the 1 day Kyoto itinerary is Kiyomizu-dera, or the "Pure Water Temple".
To arrive at Kiyomizu-dera from Fushimi Inari Taisha, you will take the Keihan Main line from Fushimi-Inari station to Kiyomizu-Gojo station. Then you will walk for about 20 minutes to arrive at Kiyomizu-dera. It might be tempting to take a bus but the buses are infrequent, unreliable, and often crowded. It is better to walk.
On your way to the temple, you will go through the Higashiyama district. Filled with cool shops and beautiful traditional streets, it might be tempting to stop and look around. We will come back to this place after Kiyomizu-dera, don't worry!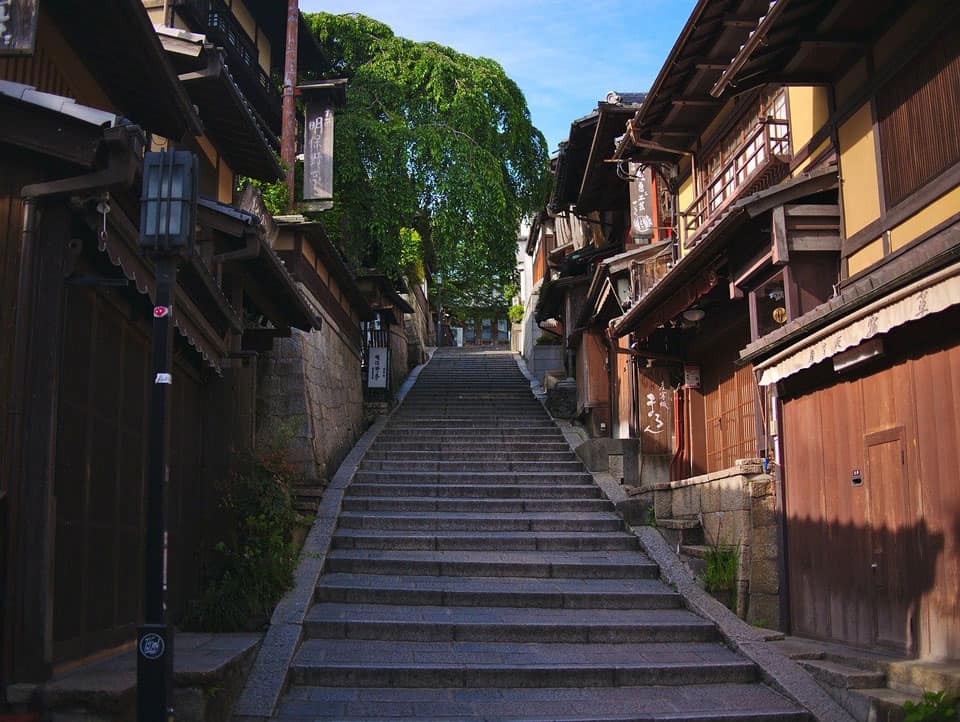 Kiyomizu-dera is one of the most famous Buddhist temples in Japan. Founded in 778, this religious relic is one of the many UNESCO World Heritage Sites in Kyoto. Featuring many different buildings inside with different significance, it is a great way to learn about traditional Japanese culture.
Check out the Otowa waterfall and its wish-granting water. The waterfall's water is divided into three streams and they all have different effects. But drink from all three and you are considered greedy and none of your wishes will be granted.
Afterward, head over to the Jishu Shrine, a shrine dedicated to the god of love. In front of the shrines are 2 stones places 18 meters apart. Anyone that can navigate from one stone to the other with their eyes closed is promised to have everlasting love!
Visitors can also rent a kimono in Kiyomizu-dera if they want!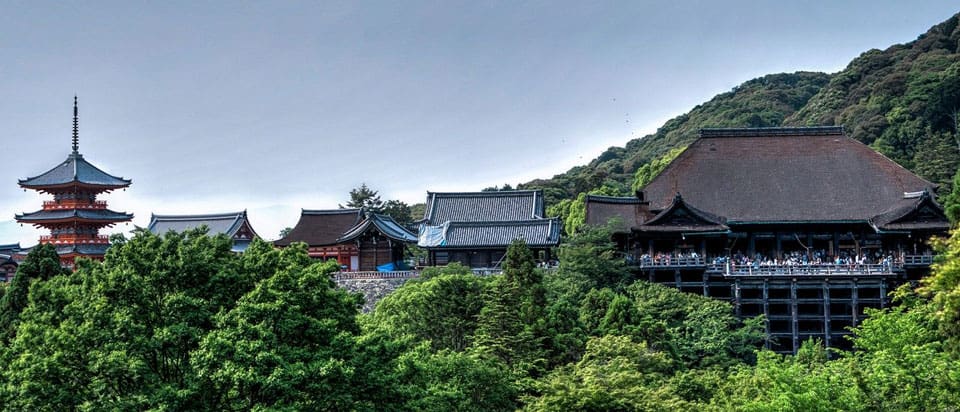 Besides being an important historic temple, Kiyomizu-dera is one of the best places in Kyoto to watch the sunset. It is exactly why we saved it for the last thing to do in Kyoto before the night sets in.
Head over to the Butai, or otherwise known as "Kiyomizu's wooden stage". This wooden stage is where you will watch the beautiful sunset over the beautiful city of Kyoto. If you are lucky enough to come during autumn or cherry blossom season, the view will even be more spectacular. Either way, you will be stunned by Kyoto's beauty.
Keep in mind the opening hours of the Kiyomizu-dera temple change with the seasons. It opens at 6 AM daily and can close anytime from 5:30 PM to 6:30 PM. If there are seasonal illumination events, such as the cherry blossom event, the temple might close as late as 9 PM.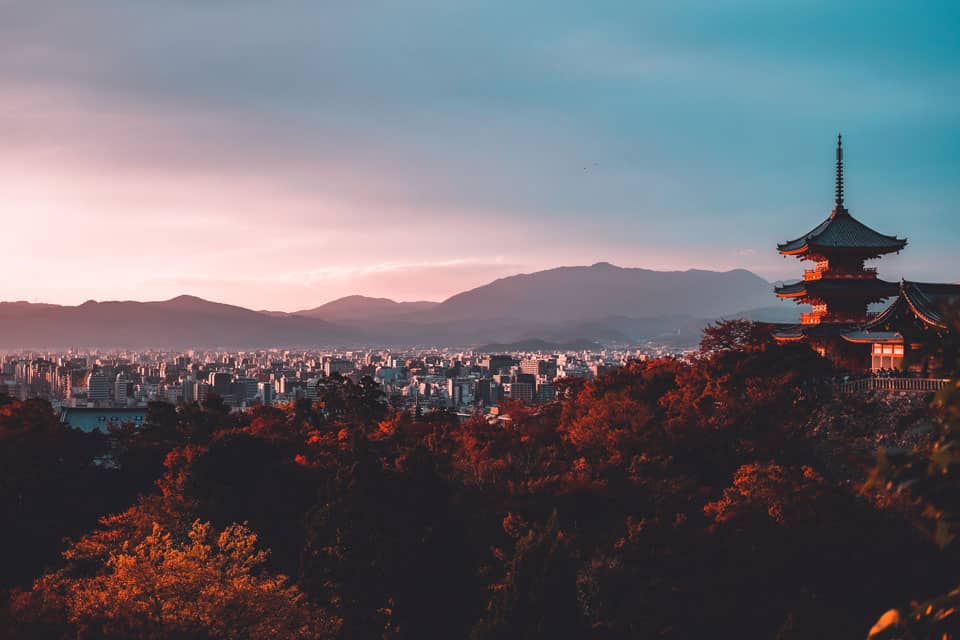 Night: Yasaka Pagoda, Higashiyama District, Gion, Shirakawa Canal
After visiting Kiyomizu-dera, head back down the same way you came. You will do a little bit of exploring in the Higashiyama District, one of the most well-preserved traditional districts in Kyoto. Dainty wooden buildings, old narrow roads, the Higashiyama District is a glimpse of the past when Kyoto was the capital of Japan.
Make sure you stop by Ninenzaka and Yasaka-dori (No.5 and 6 on the map) on the way. These two spots are some of the greatest places to catch a glimpse of Yasaka Pagoda, considered one of the most beautiful places at night in Kyoto! It is also one of the best places for photography in Kyoto!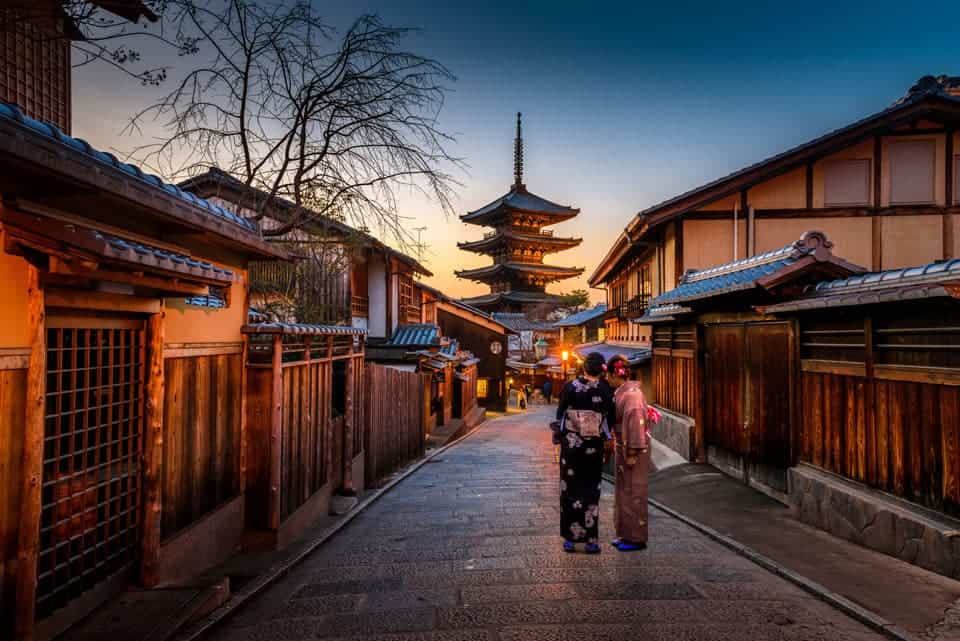 The rest of this Kyoto one day itinerary will have you explore the Higashiyama District and Gion District. There are no time restrictions, trains to catch, or closing hours you have to make. Take your time and explore at your pace, going down the narrow alleys and checking out the wooden merchant shops.
Kyoto is known as the cultural capital of Japan and you can really see it in the streets of Higashiyama. After visiting Yasaka-dori, make your way to Hanamikoji street.
Located in the Gion district, Hanamikoji street is one of the oldest streets in Kyoto and the one that you are most likely to see a Geisha or Maiko strolling down the street.

Originating from the 18th century, Geishas and Maikos are an important part of traditional Japanese culture. With years of practice in arts, dance, and singing, their main role is solely to entertain the clients in ochayas (traditional tea houses).
The difference between Maikos and Geishas are that Maikos are apprentice Geishas, and you can usually tell the difference in their clothing and accessories.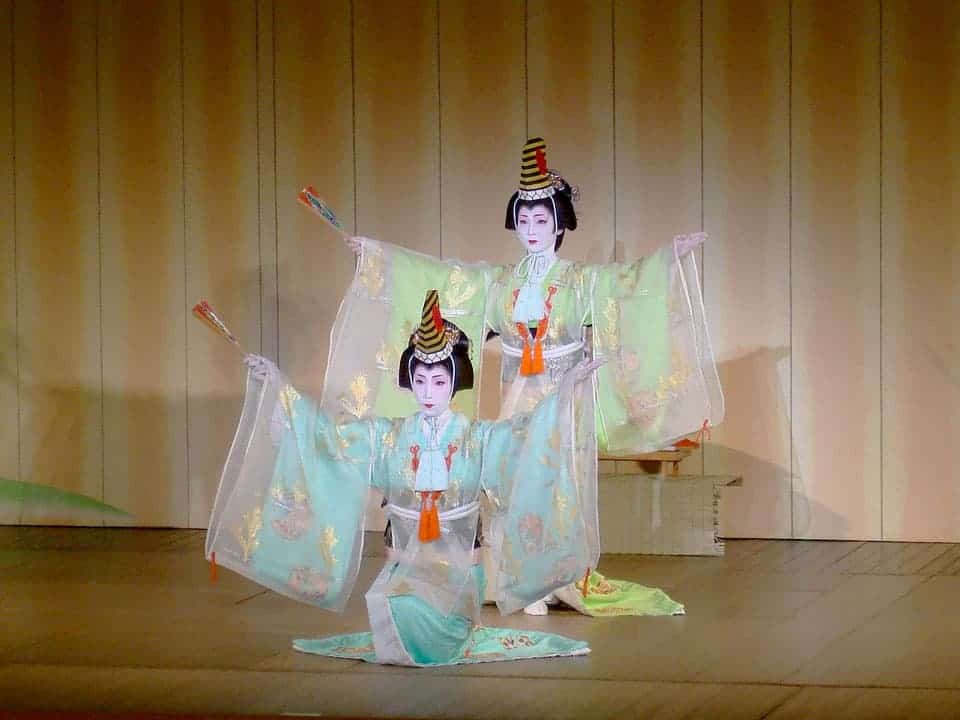 There are only a handful of Geishas and Maiko that live in Kyoto, so it is a rare occurrence that you encounter one while walking in the Gion District. However, if you do see one, please don't intrude on them and disturb their lives. They are usually on their way to work or home, and none of them would appreciate the aggressiveness. 
For more information on Geishas and Maikos culture, check out here.
When you are in Gion district, make sure you stop by Shirakawa Canal. The tranquility of the water along with the timeless wooden houses along the street creates a unique ambiance, it is almost as if you just stepped into a time machine.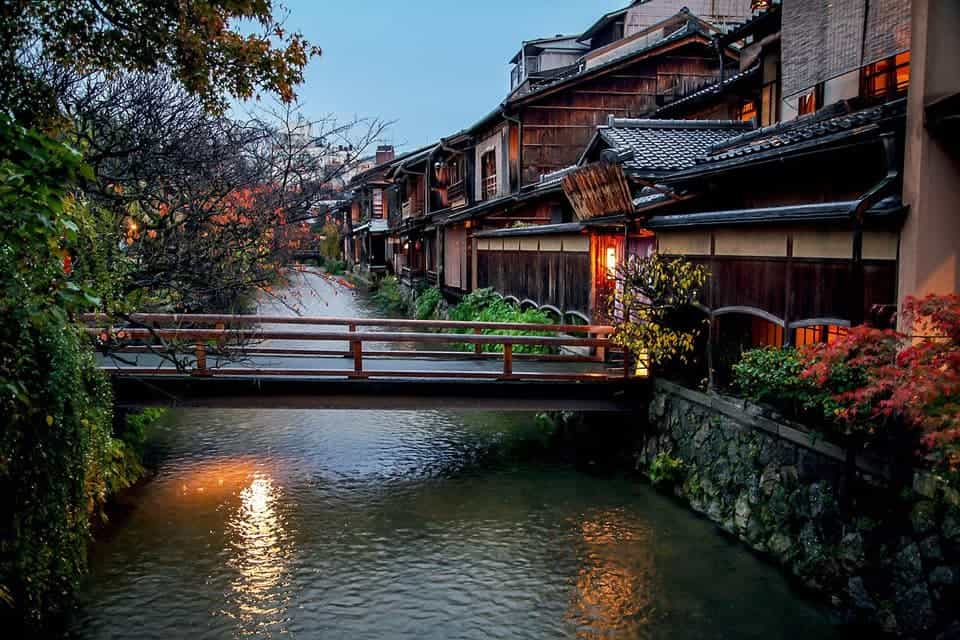 This is the end of the one day in Kyoto itinerary! At this point you must be tired, go grab some dinner in the area or go to downtown Kyoto. Make sure you try some of the traditional dishes of Japan such as sushi, ramen, takoyaki, okonomiyaki, and more. The ramen in Kyoto is some of the best in Japan!
Alternative Attractions to the 1 Day Kyoto Itinerary
In this section, we will talk about other attractions that we didn't make the cut in our Kyoto 1 day itinerary.
Golden Pavilion (Kinkakuji)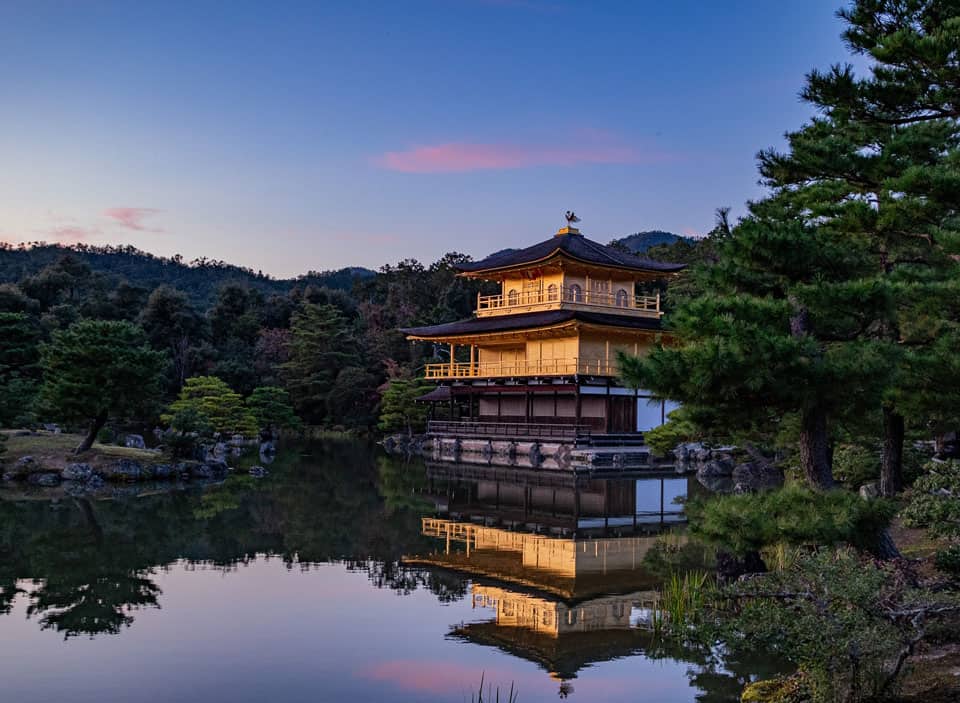 One of the most impressive Zen Buddhist Kyoto temples. Its top two floors are completely covered in gold, showing the luxury Kitayama culture during the Yoshimitsu reign.
The 1 day itinerary in Kyoto doesn't include Kinkakuji simply because it is too far and only accessible with the rather inconvenient buses. Probably the best UNESCO World Heritage Site in Kyoto, you should visit it if you have 2 days in Kyoto. If you must see this on your Kyoto trip, swap it out for one of the other attractions.
Ginkakuji (Silver Pavilion)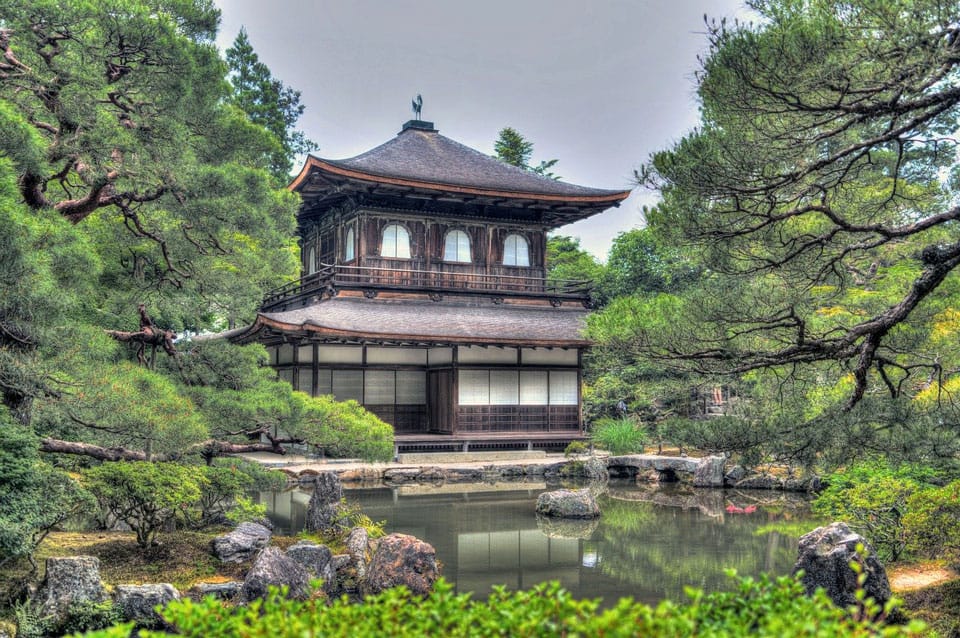 Ginkakuji is a Zen Buddhist temple built a few decades after Kinkakuji (Golden Pavilion). Unlike the Golden Pavilion that is partially covered with gold, the Silver Pavilion is not covered in silver. However, the Silver Pavilion is not as crowded as the Golden Pavilion and is a perfect place to feel zen and tranquil.
Philosopher's Path
A path right outside of Ginkakuji, you can easily pair this attraction with a visit to Ginkakuji. The Philosopher's Path is one of the best streets for cherry blossoms in Kyoto but it is rather unimpressive during the other seasons.
However, if you are looking for some peace and quiet, this could be the perfect place for you to see.
Kyoto FREE Walking Tour
The Kyoto free walking tour runs every day in the morning. The schedule can be found on their website here. It is a 2.5-hour walking tour and the guide gives you a lot of information about the city of Kyoto and its history.
Kyoto Tower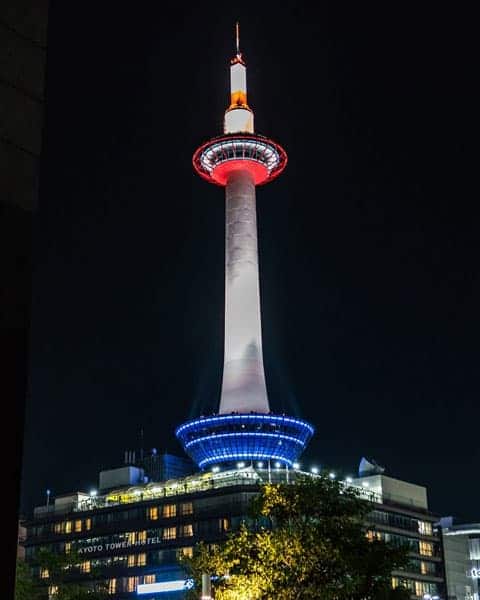 The viewing tower of Kyoto Tower is one of the best places for a panoramic view of Kyoto. However, you have already been to places like Fushimi Inari Taisha and Kiyomizu-dera. Kyoto Tower will seem repetitive compared to those.
---
Where To Stay In Kyoto To Maximize Your 1 Day In Kyoto
Best Hostel in Kyoto – K's House Kyoto: Backpackers Hostel
If you are looking for a backpacker's hostel in Kyoto, then consider K's House Kyoto: Backpackers Hostel. Hostels in Japan aren't known to be particularly social but K's House boasts many common areas for guests to meet and a nice bar to help loosen everyone up!
The facilities, like the rest of Japan, are clean and top-notch. It is also like you are staying in a hotel but for the price of a hostel.
---
Best Vacation Rental / Airbnb in Kyoto – Private Kyomachiya with Garden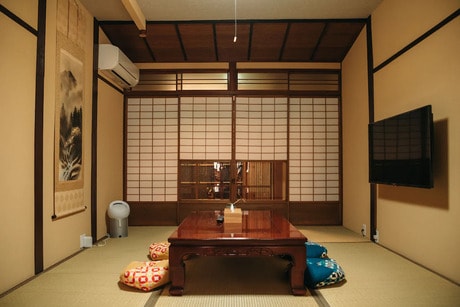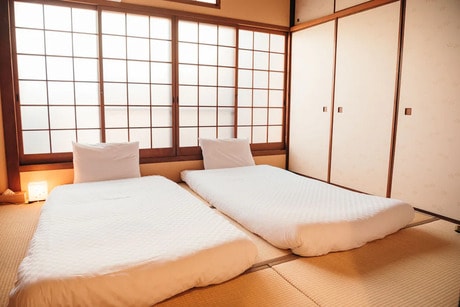 (Images Courtesy of Vrbo)

One of the best ways to experience the culture in Kyoto is by staying at one of the traditional Japanese homes in Kyoto! These are called Machiya, but in Kyoto, they are called Kyomachiya. Luckily, there are plenty of vacation rentals and Airbnbs in Kyoto.

This private Kyomachiya is a traditional Japanese wooden house that features a beautiful garden. Guests can also experience what it is like to sleep on a tatami mat!

One of the most outstanding features of this vacation rental is the location. Its central location near Gojo subway station means that you can walk to some of the best sights in Kyoto in a short amount of time.
---
Best Luxury Hotel in Kyoto – The Share Hotels Rakuro Kyoto
The Share Hotels Rakuro Kyoto is a meticulously clean and modern hotel in Kyoto. It is known to be some clean that you can eat your meal off the floor, not that we would recommend it.

The hotel has nice and comfortable decor, creating a feeling of home. Breakfast is included, free coffee throughout the day, a bar on-site, and much more are offered here at The Share Hotels.
---
How To Get Around Kyoto?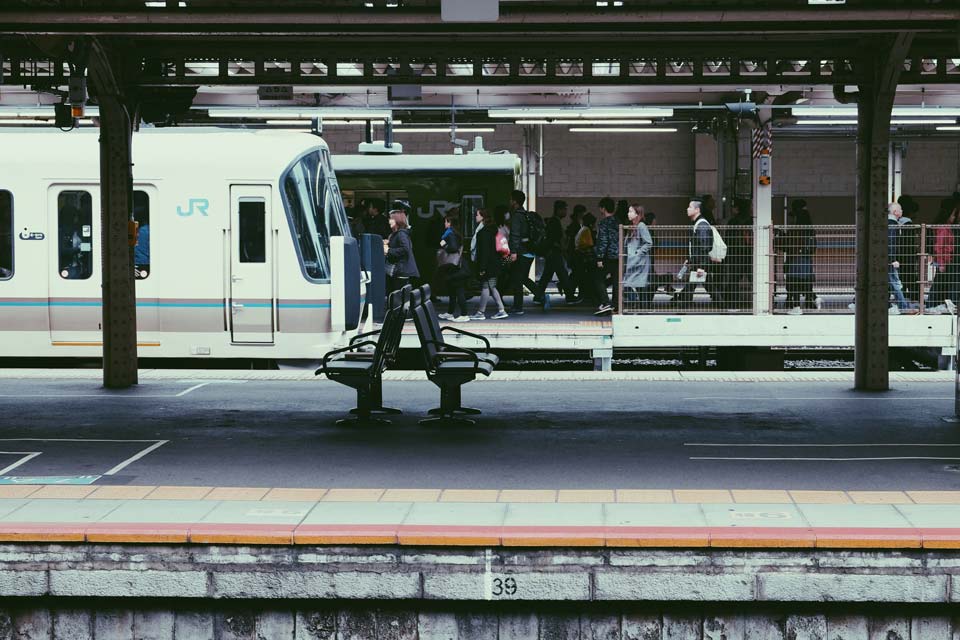 Luckily for travelers with only 1 day in Kyoto, this ancient capital of Japan is quite easy to get around. The city is well connected by public transportation such as the subways, trains, and city buses. Most of these attractions on our itinerary are no more than a 5 to 10 minute walk from the nearest subway station.
On our itinerary, it is totally feasible to get around with public transportation, especially since Japanese public transport is always on time. However, if you find yourself behind schedule, it might not be a bad idea to take a taxi.
Many of the places to visit in Kyoto are situated in the center, so going on foot is also an option. Just make sure you pack some nice comfortable walking shoes because you'll be doing lots of walking!
---
Taking A Day Trip To Kyoto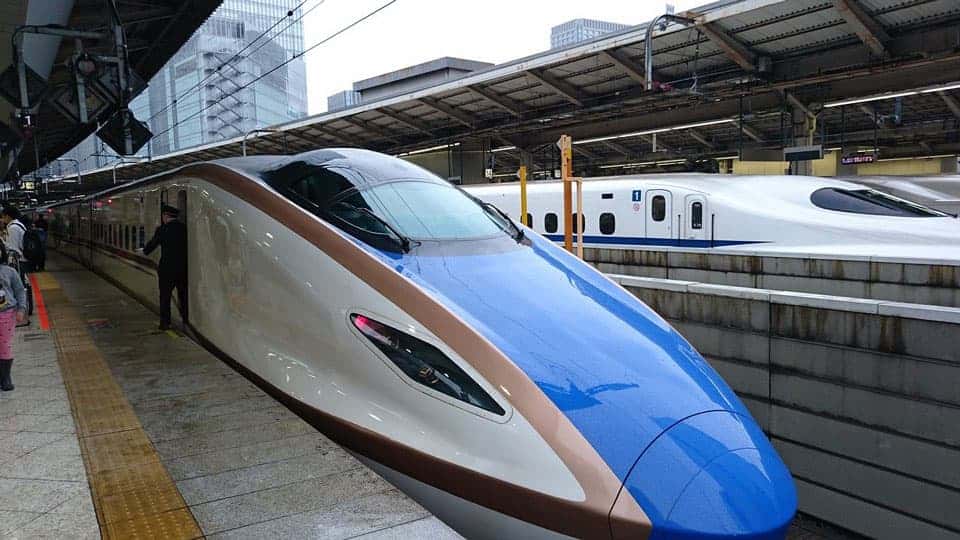 If you are short on time, you might consider taking a day trip to Kyoto and following our itinerary above, especially if you are staying in Osaka.
From Osaka, it is definitely doable to take a day trip to Kyoto, since it takes less than half an hour to travel between the two cities by train. Even from Nara, another popular destination in the Kansai region, only takes less than an hour to arrive in Kyoto.
With that said, it is totally feasible to turn our itinerary above into a Kyoto day trip itinerary. Please allow extra time for commuting and you should be all set.
However, if you are planning to take a Kyoto day trip from Tokyo, it isn't really feasible since it takes a minimum of 3 hours to get there, even with the Japanese bullet train.
---
How To Get To Kyoto?
By Air
Getting to Kyoto by air is the simplest way to get to this historical Japanese city. The nearest airport to Kyoto is the Kansai International Airport, which is about 100 km (62 mi) away by car.
The Kansai Airport has both domestic and international connections, so it is very likely you'll be arriving here if you are taking a flight. From the Kansai Airport, you can take the JR Haruka express passenger train that operates between Kyoto Station to Kansai International Airport.
Alternatively, you can get a private airport transfer or rent a car!
By Train
Getting to Kyoto by train is as simple as getting there by air. Kyoto Station is one of the most prominent stops on the Shinkansen lines. This allows travelers to get to Kyoto from almost every destinations in the country in a timely manner.
If you are traveling in Japan by train frequently, we recommend getting the JR Pass. This gives you unlimited selected train rides in Japan for a certain period of time. This includes the Shinkansen, which is very expensive without the JR Pass.
By Bus
It is also possible to get to Kyoto by bus, but they are not as common as other modes of public transportation. Although they are well connected, and often times slightly more affordable than trains, they are just not as fast as trains.
Buses also depart in only selected places in the city, whereas you can depart from any train station. With that said, it is possible to get from Tokyo, Osaka, Nara, or Kobe to Kyoto with the bus!
---
Visiting Kyoto FAQs
How Many Days In Kyoto Is Enough?
Three days in Kyoto is the perfect amount of time to explore all of its attractions leisurely. However, if you are short on time, it is possible to see Kyoto in two days, but it'll be stressful.
Do You Need A Car For Kyoto?
Just like most of Japan, the public transportation in Kyoto is very reliable and quick, so you won't need to rent a car. Matter of fact, renting a car in Kyoto is probably going to hinder your sightseeing because you'll need to find parking.
Is One Day In Kyoto Enough?
24 hours in Kyoto might not seem like a lot of time, but it is just enough to see the main sights of Kyoto. However, you'll have to wake up really early and spend the entire day sightseeing, which might not be the relaxing vacation you had hoped for.
---
Like this post? Don't forget to save it on Pinterest! 🙂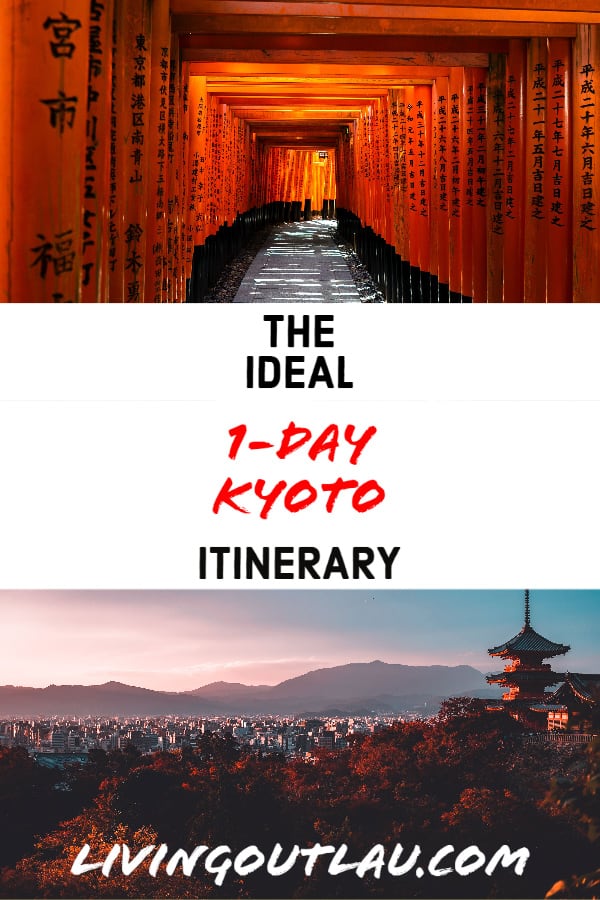 ---
This concludes the 1 day Kyoto itinerary! I hope this guide helped you determine the things to do in Kyoto in one day. Any question? Leave them in the comments!
Disclaimer: Some of the links above are affiliate links. That means if you book or make a purchase through the links, we will earn a small commission at no extra cost to you! The money will help run this site! Thank you!