Not sure what to do in Kyoto at night?
Kyoto might not get the same recognition as Tokyo or Osaka when it comes to nightlife, but there are still plenty of amazing things to do in Kyoto at night.
From exploring the popular Gion district to visiting some of the off-the-beaten-path places, our guide will feature an array of Kyoto night activities.
Enjoy!
---
What To Do In Kyoto At Night: 17 Best Night Activities In Kyoto
1. Explore Gion, Kyoto at Night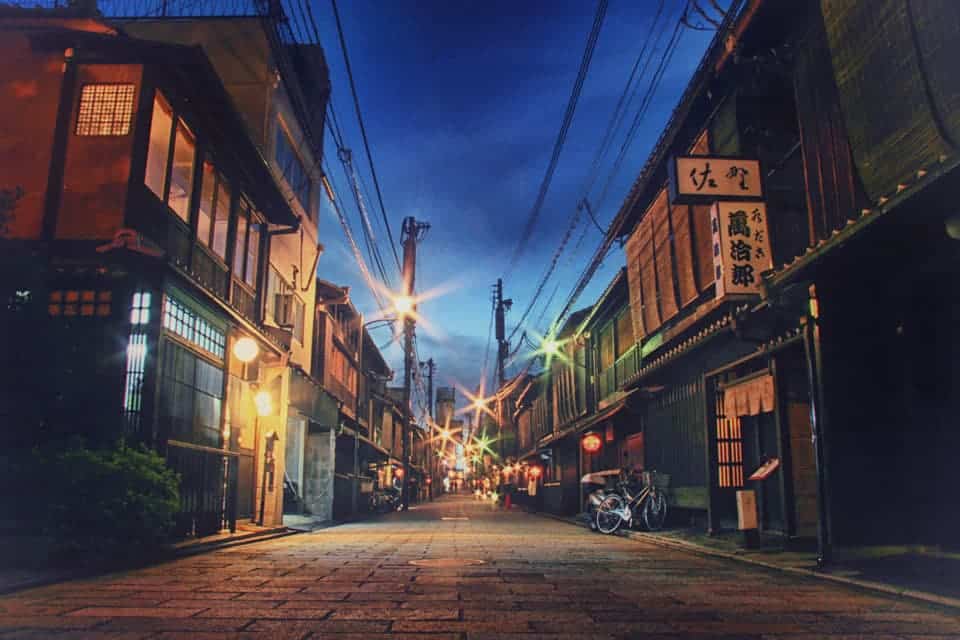 Gion is the most famous geisha district in Kyoto. Filled with many elements of the past, the Gion District is the best place to get a good glimpse of Kyoto's culture. Walk down the historic streets and you will see wooden machiya merchant houses, ochaya (teahouses), and if you are lucky, a geisha or two.
Though ochaya translate to teahouses in English, don't mistake them for your ordinary cafes or something similar. Ochaya are the finest dining establishments you can find in Kyoto.
Guests are entertained by geishas and maikos (geisha apprentices) as they dine. The admission fee for a well-established ochaya can be astronomical, and many only accept guests that have been personally invited.
Gion District is a huge area and exploring it thoroughly would take a long time. However, there are some streets and places you must see in Gion at night. They are Hanamikoji Street and Shirakawa Canal.
Hanamikoji Street is the most famous street in the Gion District. If you take any Kyoto tour, chances are the tour guide will take you on this street. Timeless houses, traditional alleys, a visit to Hanamikoji Street is like stepping into a time machine. You also have a high chance of spotting a geisha here!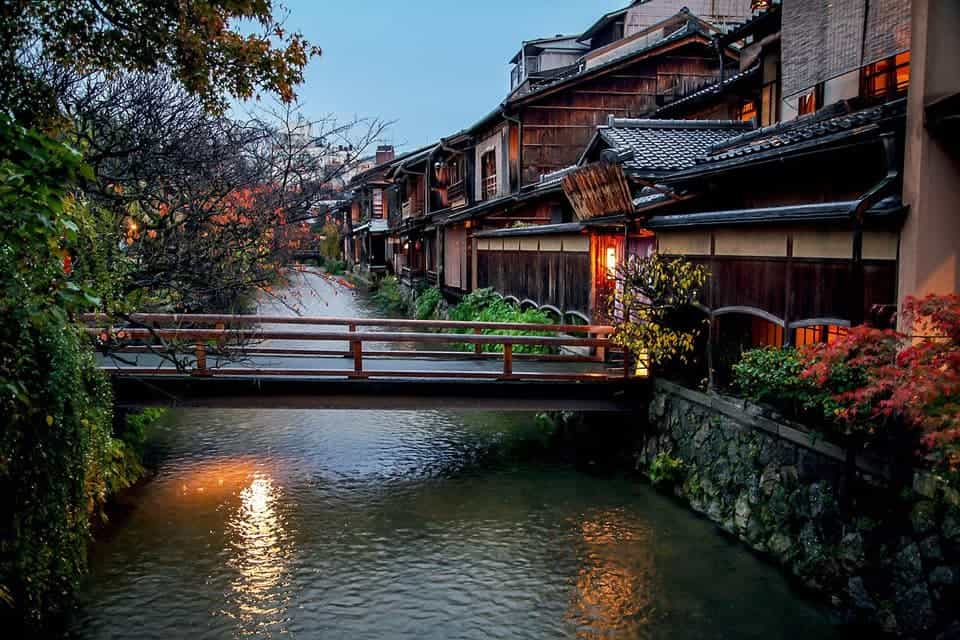 Shirakawa Canal is personally my favorite spot in the Gion District. It has everything the Hanamikoji Street has but with fewer tourists and a serene river passing through. It is the most picturesque part of Gion, especially during the cherry blossom season!
2. Go For Late Night Food In Kyoto!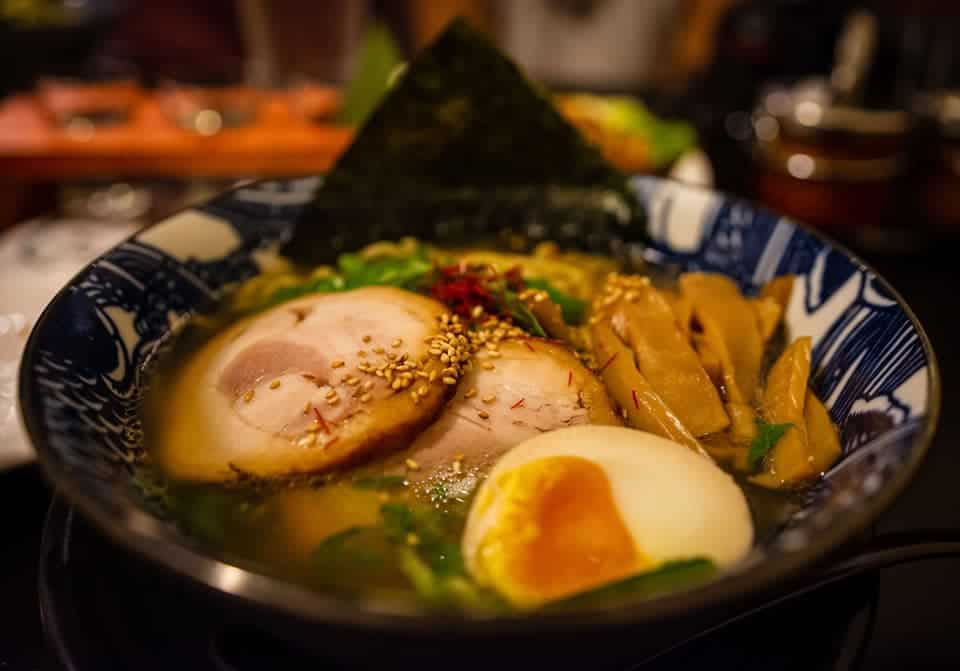 If you visit Japan, you must try some of their traditional mouth-washing cuisines. Luckily for you, Kyoto is one of the best cities in Japan to get your hands on some of its internationally-famous dishes.
There are many worthy dishes to try such as sushi, okonomiyaki, takoyaki, and plenty of other quirky Japanese street foods, but my favorite has to be the timeless Japanese ramen.
Hot-steamy thick delicious broth with hand-made al dente noodles, Japanese ramen is one of the reasons why I gained so much weight on my trip to Japan. Ramen is an international dish and I have confidence that you have had it before.
A ramen-lover myself, I have tried ramen in many big cities such as Hong Kong, New York, and many others.
Nothing compares to the ramen I had in Japan.
Many of the ramen shops are open till late at night in Kyoto. My favorite ramen restaurant in Kyoto has to be Ramen Sen-No-Kaze. The broth is so deliciously-addicting it should be banned.
3. Take A Kyoto Night Tour
Known as Japan's cultural capital, Kyoto is filled with riveting but dense Japanese history. Trying to learn everything from the culture to the history alone might seem like a daunting task. Luckily for you, there are many night tours in Kyoto, some tours are even free.
The one Kyoto night tour I highly recommend is Kyoto Localised Free Night Walking Tour. Led by experienced locals, there is no better way to learn about the various traditions and UNESCO World Heritage Sites of Kyoto. The night tour is completely free but the tour guides make their money off of tips.
If you don't think the tour was worth your time or money, you don't have to tip a single dime!
There are also many private Kyoto night tours. These are more costly but will provide you with more information as well as more personal attention.
Here are some Kyoto night tours we recommend:
4. Have A Nice Stroll Down Kamogawa River And Have a Beer!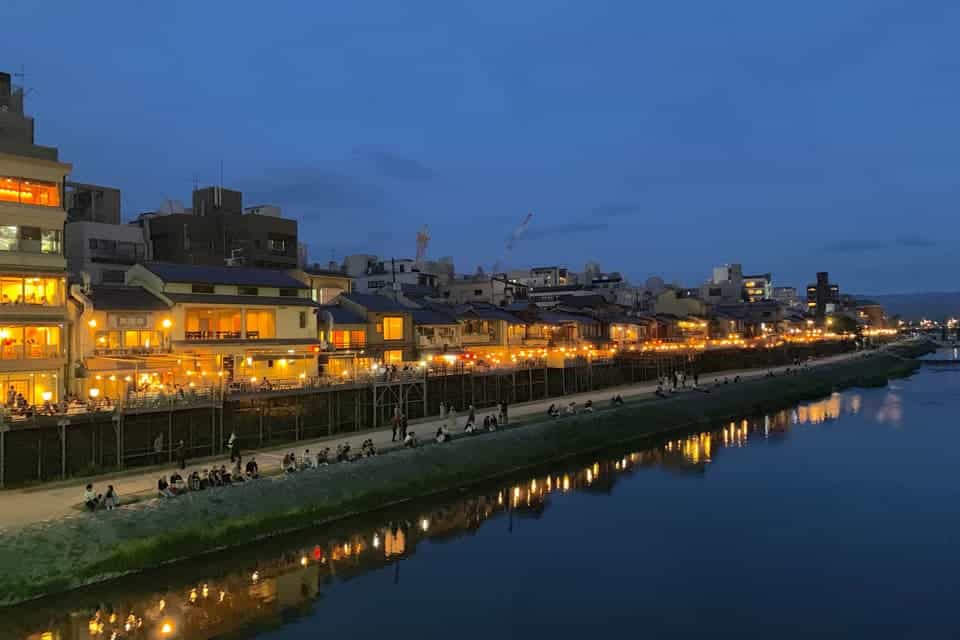 The Kamogawa River, or Kamo River, is a 31-kilometer river that goes through some of the most popular tourist spots in Kyoto.
In the daytime, the riverbanks of Kamogawa River are bustling with activities: people are walking their dogs, going on dates, and generally having a good time.
At night, nothing changes. Everyone is still out having a good time. I personally like strolling down the riverbanks of Kamo River at night, people watching with a beer in my hand.
The feeling of a sedative evening breeze along with the mesmerizing music of the soothing river is the perfect way to rejuvenate your body after a tiresome day in Kyoto.
It is legal to drink outside in Japan so head over to your nearest convenience store, grab a beer and some snacks, and have a good time at the Kamogawa River!
(Just don't go in the winter!)
5. Visit Gion Corner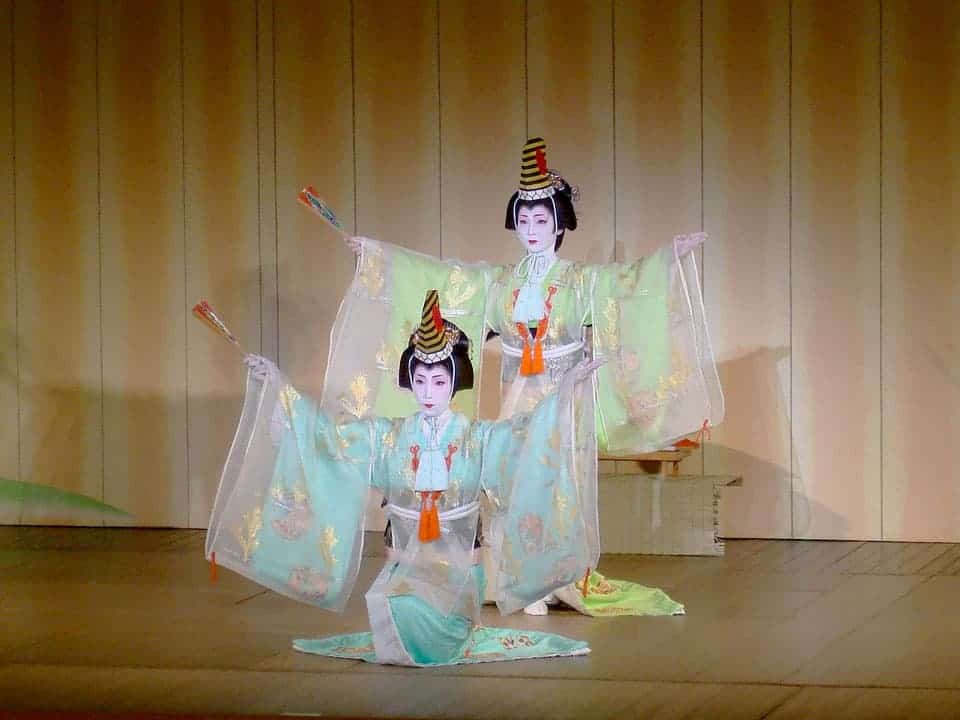 Suggested by ASocialNomad

Many of the experience in Japan relates to how different Japanese Culture is compared to western culture. From traditional ryokans, onsens, and Japanese food experiences, there's a host of different things to try.
If you don't have much time in Japan, and Kyoto especially but want to understand a little more of some of the cultural aspects of Japan, then a visit to Gion corner at night in Kyoto will cover a few bases for you.
A visit to Gion Corner will let you explore 7 of the cultural arts of Japan in one evening. You'll experience Japanese flower arranging and a maiko and geiko dance as well as listening to the traditional art of koto music.
There's also Gagacou musical theater – once performed at the Imperial court shrines and temples and the humourous Kyogen theatre. Japan's traditional puppet theatre, Bunraku is also shown – this was added to the UNESCO list of intangible cultural heritage of humanity in 2003.
Finally, you may be lucky enough to be chosen to take part in a traditional Japanese tea ceremony at Gion Corner, a great experience and worth the ticket price alone!
Performances last a total of around 50 minutes and adult tickets cost 3,510 Yen – but discounts may be available in low season.
Want a local to take you around Gion?
Check out our recommended Gion Tour!
6. Eat Till You Drop At Pontocho Alley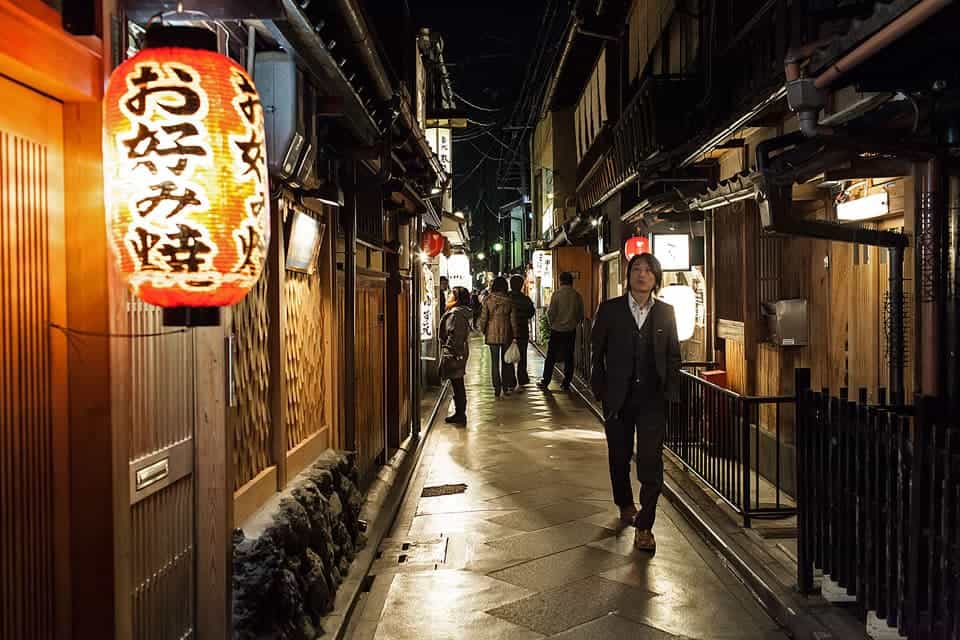 Though there aren't any Kyoto night markets, Pontocho alley is the closest thing to a night market in Kyoto! When the stalls in Nishiki Market start to close around 6 PM, food lovers start migrating a few blocks east to the Pontocho Alleys.
Featuring diverse dining establishments from cheap street food to traditional and modern Japanese cuisine, Pontocho is the place to be if you have a growling stomach. Takoyaki, yakitori, okonomiyaki, if there is a Japanese dish your heart desires, chances are you can find it at Pontocho alley.
Most of the restaurants on the eastern side of the Pontocho alley overlook the Kamogawa River. In the summer, temporary terraces are built so guests can dine outside with the beautiful views of the river. It is the perfect place for a romantic date in Kyoto!
7. Visit A Japanese Onsen (Natural Hot Spring) or Sento (Public Bath)
Some of the best attractions in Japan are the numerous natural hot springs (called onsens in Japanese) throughout the country. As a volcanic island, Japan is home to over 30,000 naturally occurring hot springs. Though there are plenty of onsens in the country, unfortunately Kyoto is not in the prime region.
For those cities that are not lucky enough to have natural hot springs, man-made sentos (Japanese public baths) are available to the public.
Luckily for you, due to technology, Kyoto has a few proper onsens. The one closest to town is called Tenzan-no-yu Onsen, and it is located near the Arashiyama Bamboo Forest. The onsen water comes from a well drilled 1,200 meters below the city and is rich in minerals.
For those that do not want to venture out into Arashiyama, there are public baths closer to the city center. One of my favorites is the Goko-yu Sento.
The public baths are separated by gender so if you are visiting with your partner, you will have to separate. One of the striking features of a Japanese public bath or onsen is the nudity. Anyone entering the baths must be completely nude.
This might be shocking in western culture but the Japanese are used to it. Don't worry if you are a little shy at first because the locals are used to seeing the shock on foreigners' faces!
Most baths and onsens are open till midnight and beyond. If you are unsure of what to do in Kyoto at night, just head over to a sento or onsen!
8. Go On A Food Tour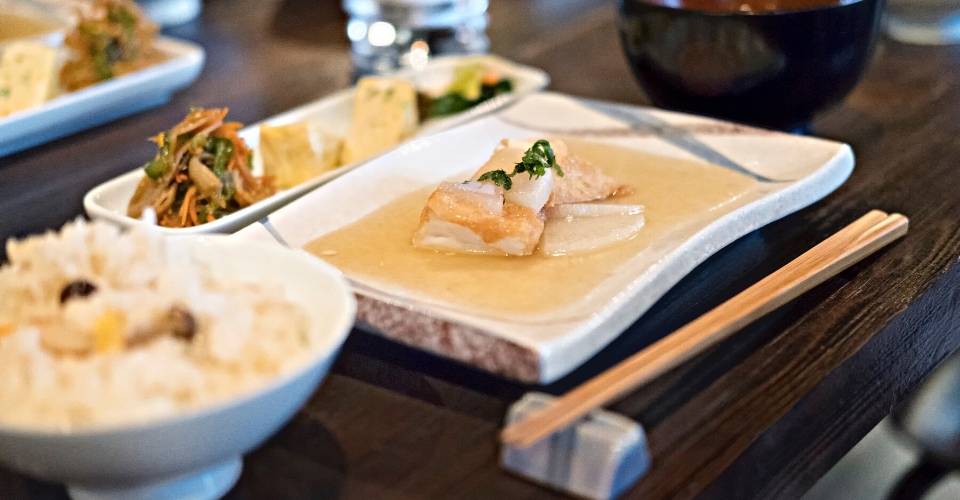 There is no debate on how good Japanese food is. And there might not be a better way to appreciate the beauty of Japanese cuisine than going on a food tour. Luckily, at night in Kyoto, there are plenty of professionally-led food tours that showcase the diverse Japanese dishes.
This is the perfect way to avoid all the restaurants targeted towards tourists and try something a little bit more local and unique, such as Obanzai, a traditional type of Japanese cuisine native to Kyoto.
Obanzai is quite interesting as it is only considered Obanzai if more than half of the ingredients are produced or processed in Kyoto!
---
Enjoy Kyoto Nightlife!
9. Drink Sake at A Traditional Izakaya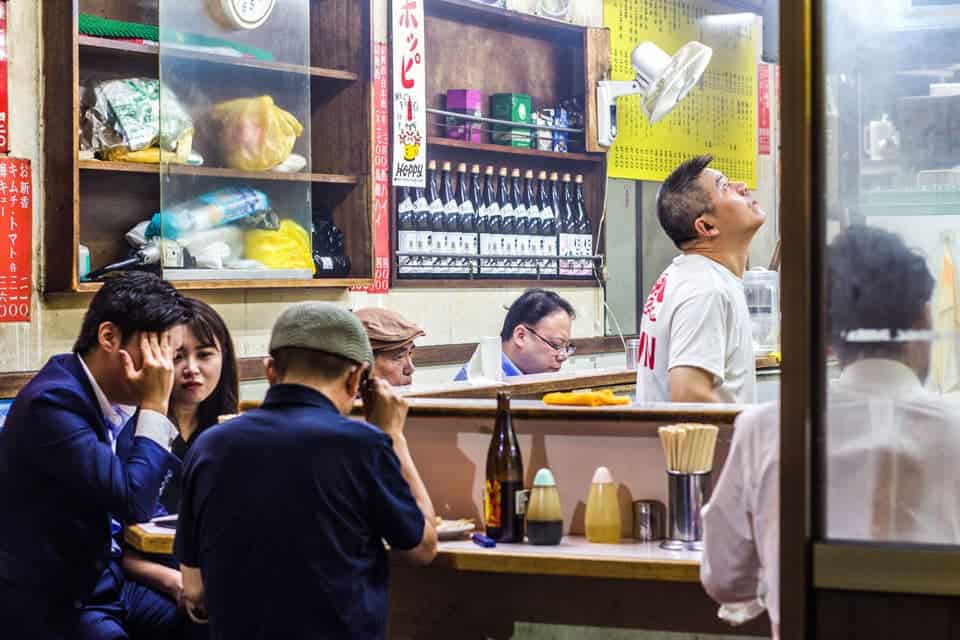 Suggested by The Nomadic Vegan

Eating and drinking at a traditional izakaya is a quintessential Japan experience. The word "izakaya" doesn't really have an equivalent in most languages, although one possible exception is "bar de tapas" in Spanish.
Of course, the type of cuisine served in an izakaya is different from typical Spanish tapas, but it is similarly served in small portions.
The idea is that you order a bunch of dishes and share them with friends while having a drink. Sometimes the word "gastropub" is used to translate the concept of an izakaya into English, as this emphasizes the point that an izakaya is not just for drinking but also for eating.
Renkon-Ya is a very authentic yet still tourist-friendly izakaya right in the center of Kyoto, near Sanjo station.
The place is very small, with just a handful of Western tables, a few stools at the bar, and some Japanese-style seating at low tables on a tatami mat platform in the very back.
It's run by two hardworking women who do everything themselves, including the cooking, the washing, and the serving. They don't speak very much English, but they have arranged for someone to create a hand-written English menu for them.
The dishes change often depending on the season, but you can always find a few veggie options that are clearly identified as such. This means that vegans and vegetarians in Kyoto don't have to worry about missing out on the izakaya experience.
Make sure you try the national drink of Japan, sake, when you are at an izakaya!
10. Party at World Kyoto, The Biggest Nightclub In Kyoto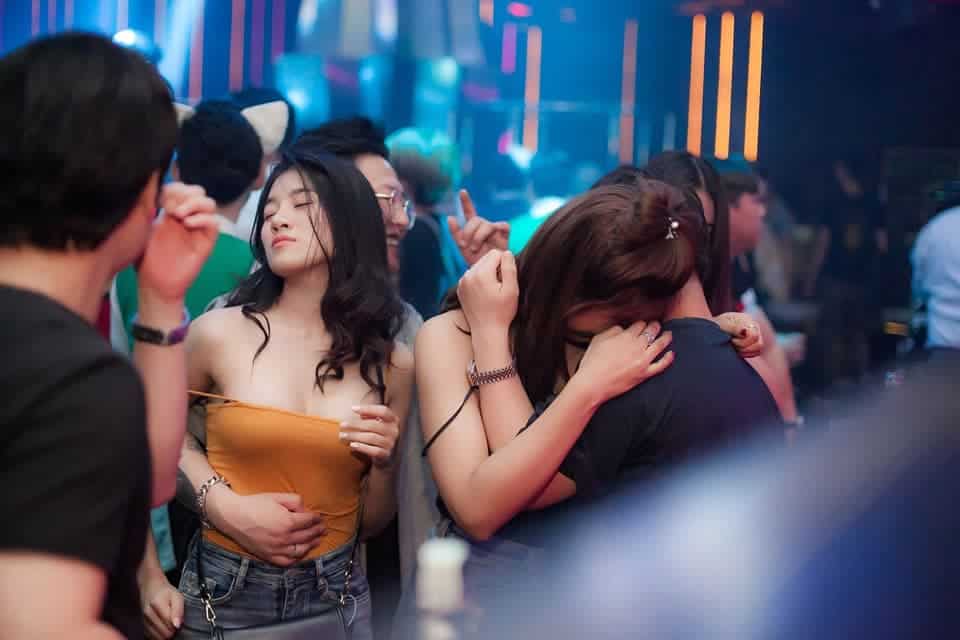 Though the nightlife in Kyoto is not as crazy as the nightlife in Osaka or Tokyo, there are still many clubs and bars you can go to.
The most popular nightclub in Kyoto is unquestionably World Kyoto. As the biggest nightclub in Kyoto, World has two floors: one with lockers for guarding your stuff and another for dancing the night away.
With a variety of music and frequent events, guests will have an unforgettable night here. Well, unless you drink too much.
If you are not sure where to go in Kyoto at night, you can always find a good crowd at World Kyoto!
11. Sing Your Heart Out At A Japanese-Style Karaoke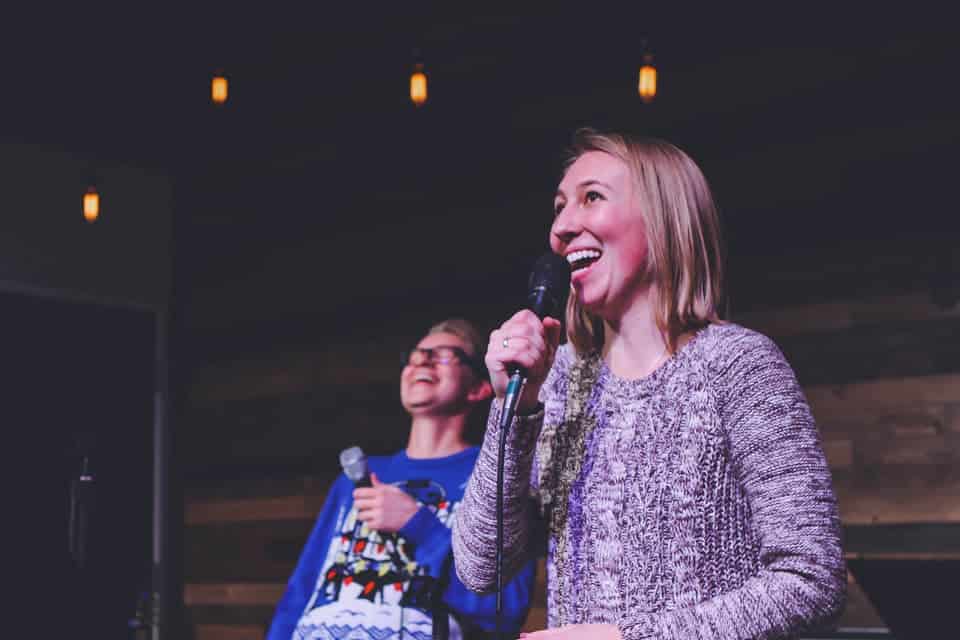 Japanese-style karaoke is one of the Japanese locals' favorite things to do at night. Unlike the western counterpart where you have to embarrass (I mean sing) in front of a group of strangers, Japanese karaoke is a lot more private, and a lot more fun in my opinion.
In Japanese karaoke, you sing in a private room that you rent out by the hour. Not only do you get to choose the type and size of the room, but you also get to decide who is invited or not. No more singing Backstreet Boys in front of people you don't know!
Most karaokes in Japan sell snacks and drinks. That way you can get loose and have some fun with your friends in Kyoto at night!
The two karaoke places I recommend are Jankara Kawaramachi and JOYSOUND.
Opening Hours: Usually until 5 AM the next day
12. Go Bar Hopping in Kyoto
If you are traveling Kyoto and would like to meet other travelers, why not go on a bar hopping tour in Kyoto? Led by local professionals, you (and your new friends) will be taken to some of the best local bars and restaurants in the area.
No more going to super touristy places and enjoy Kyoto like a local!
Try some authentic Japanese sake at a local izakaya (Japanese bar), sample some Japanese street food, and have a fun and unforgettable night!
---
Check Out The Kyoto Night View
13. Kyoto Tower At Night!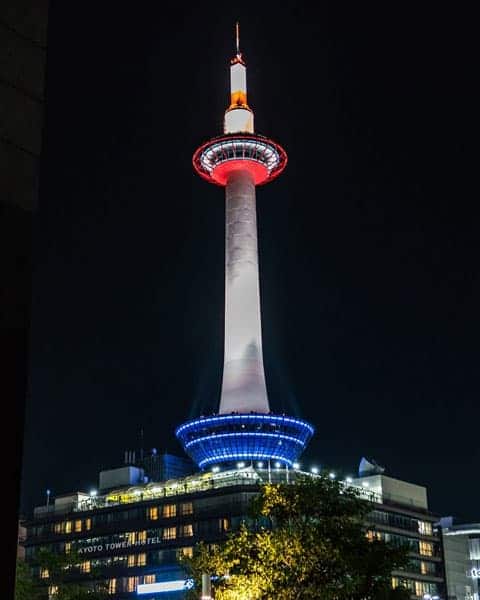 If you are looking for the ultimate panoramic night view of Kyoto, head over to Kyoto Tower. Measuring at 131-meter tall, Kyoto Tower is officially the tallest building in all of Kyoto. Nested in the historic city of Kyoto, this modern iconic landmark is the perfect juxtaposition of old and new Kyoto.
Inside the Kyoto Tower, there is an observation deck 100 meters above the ground. It is the highest observatory in all of Kyoto. The viewing platform offers an unobstructed 360 degrees view of the city below. Your eyes will jump from one temple to another, completely tranced by its historic beauty.
In the basement of the Kyoto Tower is a Japanese public bath where visitors can enjoy some of the best ways to relax in Japan! It is situated next to the JR Kyoto Station so it's very easy to get to!
Hours: 9 AM to 9 PM (entry until 8:40 PM) Daily
Fee: 800 yen
14. Yasaka-dori (Yasaka Street) And Yasaka Shrine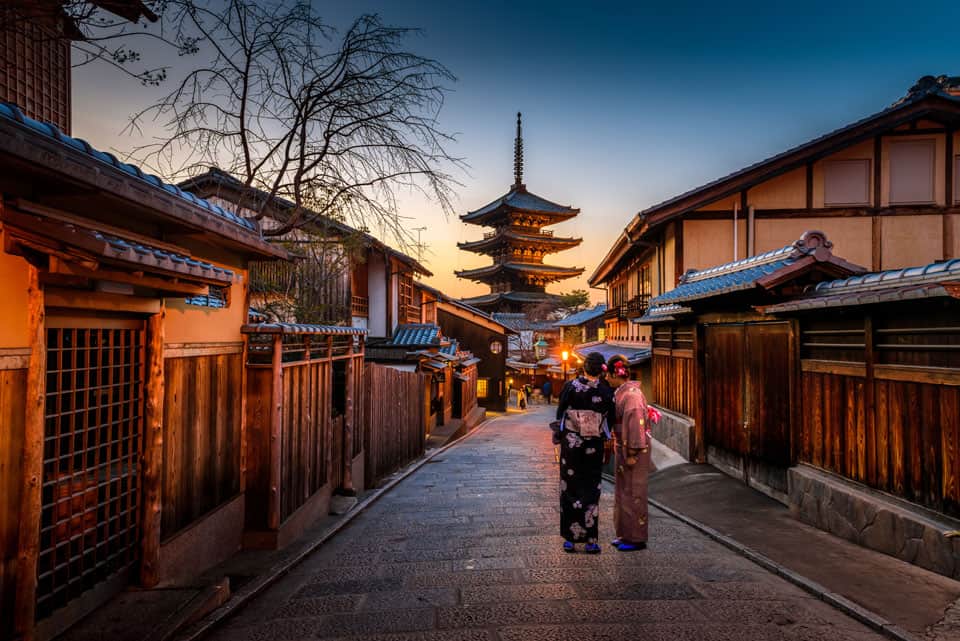 Yasaka Street is one of the most popular streets located in the charming Higashiyama District. As one of the most well-preserved areas in Kyoto, the Higashiyama District is filled with ancient wooden houses, narrow alleys, and many relics of the past.
The most scenic location of Yasaka Street is near Ninenzaka, a small narrow street containing many traditional Japanese houses. Starting at the intersection of Ninenzaka and Yasaka Street, head down the slopes of Yasaka Street.
Soon you will come to a narrow path with quaint wooden houses on both sides and the glowing Yasaka Pagoda in the distance!
Bustling with life in the daytime, unfortunately, it is a lot quieter at night. Personally, for me, that meant fewer people in my way to get that perfect photo! If you are an avid photographer, visiting Yasaka Street is one of the best things to do at night in Kyoto!
If you have extra time, stop by Yasaka Shrine on the way. This shrine is opened 24 hours and is one of the best shrines to visit in Kyoto at night.
15. Visit K36 Rooftop Bar
If you want to spend a place at night where you can have spectacular views of Kyoto while getting tipsy, then a rooftop bar is the perfect place to go. Unfortunately, the options for rooftop bars in Kyoto are rather limited, but you don't need a lot of options when you have K36 Rooftop Bar.
From the K36 Rooftop Bar, visitors can enjoy delicious cocktails as they admire at the unique views of the Kiyomizudera Temple, one of the sites that make up the Kyoto UNESCO World Heritage Site. If you are lucky, you can even see the temple light up on special occasions.
Unfortunately, like most rooftop bars, the drinks and food are quite overpriced for what they are. We also had to pay a hefty cover charge to enter, but we heard that some people don't. We believe it all depends on the time of day and if they are busy or not.
Nonetheless, for the panoramic views of Kyoto and the Temple, it is certainly worth it! If you want to secure a table, it might be best to call and make a reservation in advance! Sunset is an especially busy time, and even more so during the cherry blossom season!
---
Unique Things To Do In Kyoto At Night
16. Visit The Arashiyama Bamboo Forest At Night!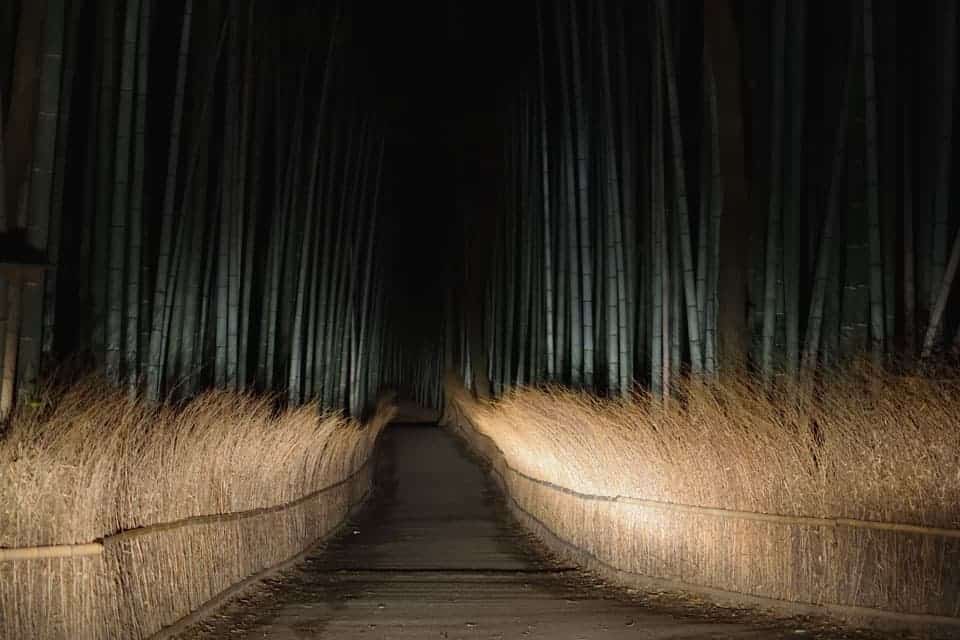 Arashiyama Bamboo Forest is considered one of the biggest attractions in Kyoto. The countless number of bamboo trees soar into the sky, giving this unique place a sense of mystery and unworldliness. Visiting the bamboo grove is a popular thing to do in the daytime, but what about at night?
Though you can't see the individual bamboo trees as well at night, the atmospheric feeling intensifies. With fewer tourists, you can properly enjoy the beauty of this natural wonder. For me, it was quite eerie to visit at night.
The path is illuminated by small lights so you can see properly, but there was a sense of uneasiness when you are the only one alone in a bamboo forest. It felt like I was in a survival/horror movie though I was in one of the safest countries in the world.
Without the staggering amount of tourists, it is also much easier to photograph the Arashiyama Bamboo Forest. The photo, however, won't come out the same as the ones in the daytime.
17. Check Out The Torii Gates At Fushimi Inari Taisha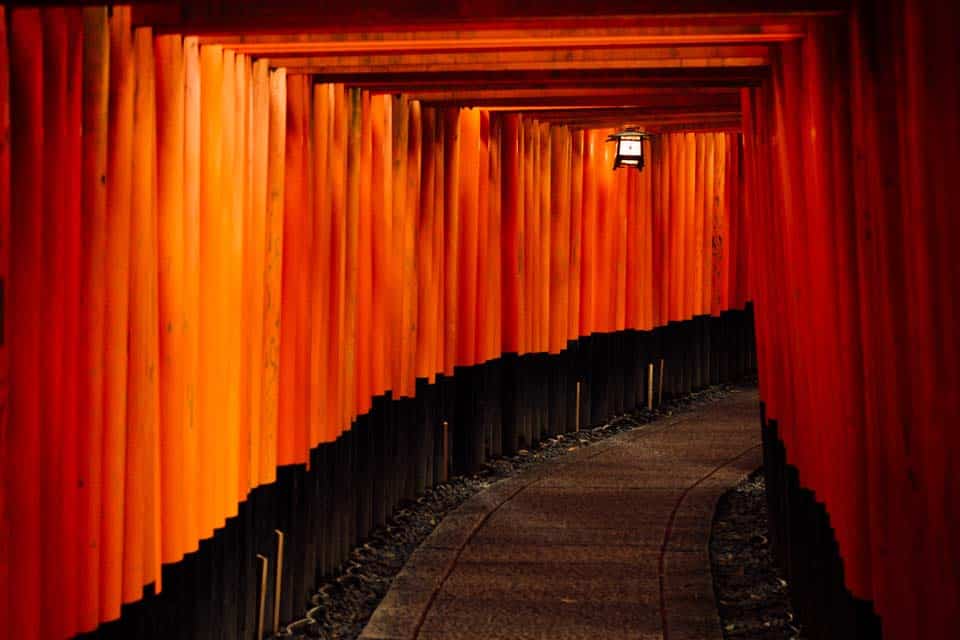 Similar to the Arashiyama Bamboo Forest, Fushimi Inari Taisha is one of the top places to visit in Kyoto.
As one of the most important Shinto shrines in Kyoto, Fushimi Inari Taisha's sacredness is lost when you are constantly smacked in the face by selfie sticks.
The thousands of vibrant vermilion torii gates that lead up to the sacred Mount Inari no longer seem so impressive when it is overcrowded with tourists.
That is why I recommend visiting Fushimi Inari Taisha at night. Though the colors are not as beautiful as when the sun is shining on it, Fushimi Inari Taisha is still very pretty at night. Without the tourists, you are free to do whatever you want: hike all the way to the top of Mount Inari, or just wander until where your heart's content.
Boars can occasionally appear during non-peak hours, so keep an eye out when you are visiting Fushimi Inari Taisha at night.
Hours: 24 hours, 7 days a week!
---
Things To Do In Kyoto At Night Map
Above is an interactive map featuring all of the night activities we have mentioned above. Click on the star next to the name of the map to save it onto your device. This will help you when you are looking for things to do at night in Kyoto!
---
Where To Stay In Kyoto
Best Hostel in Kyoto- K's House Kyoto Backpacker Hostel
If you are backpacking Kyoto, then you must stay in K's House Kyoto Backpackers. A social hostel filled with guests from around the world, come solo and leave with family! The hostel is also attached to an affordable bar to chill and relax!
The atmosphere is usually very lively and guests are always looking for something to do in Kyoto after dark!
---
Best Luxury Hotel in Kyoto- Dormy Inn Premium Kyoto Ekimae Natural Hot Spring
If swimming in a pool is too cliche, why not change it up for some natural hot springs in the Dormy Inn Premium Kyoto Ekimae Natural Hot Spring. Nothing beats sitting in one of the natural outdoor onsens with beautiful views after a tiresome day of exploring Kyoto!
---
Kyoto At Night FAQs
Does Kyoto Have A Good Nightlife?
Though Kyoto might not have as big a reputation for nightlife as Osaka or Tokyo, Kyoto does have a bustling nightlife. There are plenty of nightlife districts filled with bars and clubs that everyone (foreigners included) can enjoy.
How Many Nights in Kyoto to Spend?
We recommend spending at least two nights in Kyoto. There are plenty of historic sites in Kyoto to see. Without at least two nights, it is impossible to see all of Kyoto's main sights.
---
Like this post? Don't forget to save it on Pinterest!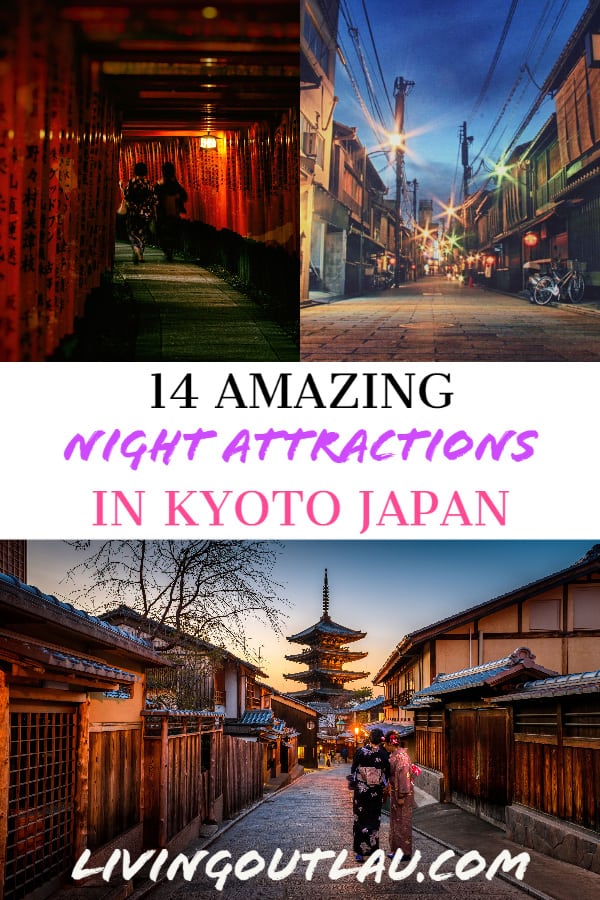 ---
If you weren't sure what to do in Kyoto at night before, we hope you surely do now! This sleepy town might look like it lacks the entertainment for a fun night, but that is certainly not true!

Any questions? Leave a comment!
Disclaimer: Some of the links above are affiliate links. That means if you book or make a purchase through the links, we will earn a small commission at no extra cost to you! The money will help run this site! Thank you!