Ramen, one of the most iconic foods in Japan, is something you just try when visiting. A dish with a complicated history, ramen has evolved to be a stable and popular food in Japan. Rich and thick broth, tender yet "al dente" noodles, along with traditional Japanese seasoning, ramen is surely going to claim the heart of food-lovers.

One of the best places to try Ramen is in Kyoto. As the cultural capital of Japan, Kyoto is not only filled with beautiful Geishas walking down these traditional alleys, but also some of the best ramen restaurants in Japan.

Without further ado, here are 6 BEST Ramen in Kyoto, as suggested by fellow travel bloggers!

Make sure you add them to your Kyoto itinerary!
By: The Nomadic Vegan

Towzen Ramen is a traditional Japanese ramen restaurant with tatami mat seating as well as Western-style tables. But unlike most ramen restaurants, Towzen is 100% plant-based! It's obviously a great choice for vegetarians and vegans in Japan, but meat-eaters will love the ramen here too.

You can choose between two types of soymilk ramen: Musashi (made with mushroom and nori) and tantan (made with tantanmen-style soy meat). Then you choose how much noodles you want. Small (120g), medium (180g) and large (240g) are all the same price. You only pay extra if you want an additional 80g of noodles beyond the large portion.

After that, you choose the type of noodle: regular thin ramen noodles; gluten-free rice noodles, or chlorella noodles, which are similar to udon. For the traditional ramen experience, I recommend the thin noodles. For an additional nutrition boost, you can also choose to add chlorella, vitamin B12, hemp or charcoal to the broth.

I chose the Musashi ramen with a medium serving of thin ramen noodles and the standard flavor. It was by far the best ramen I've ever had in my life!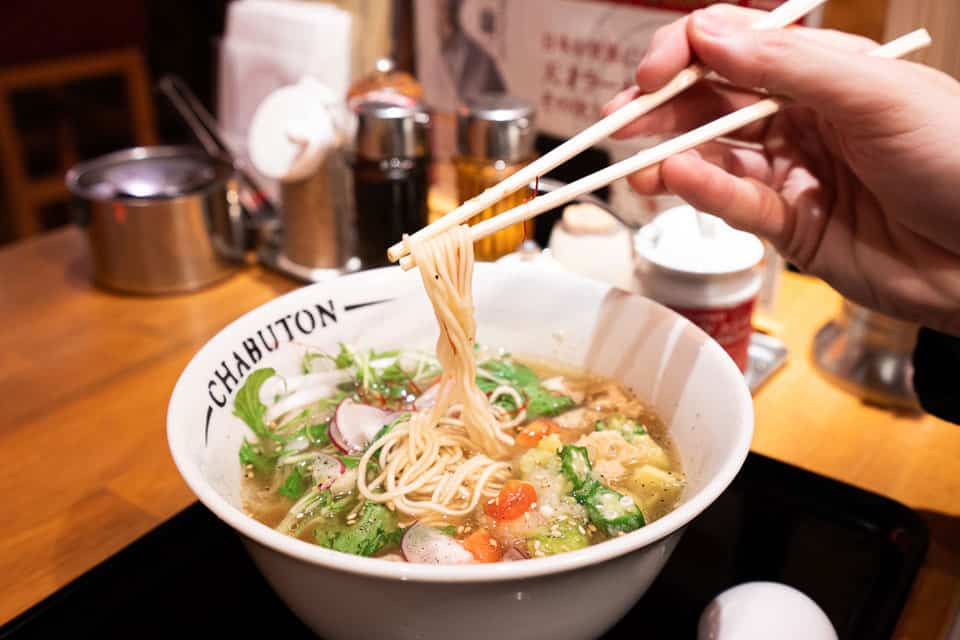 By: Never Ending Voyage

It's not easy to find vegan ramen in Japan, but thankfully the Chabuton ramen chain has both vegan ramen and gyoza. Chabuton is in a convenient location close to Kyoto Station in the food hall on the 6th floor of the Yodobashi camera store.

You order and pay at the vending machine then give the ticket to a waiter before sitting down. Although the machine is in Japanese, there's an English menu (with the vegan ramen highlighted in green) that you can use to work out which button to press.

The vegan ramen is inexpensive (750 yen), huge, and delicious. It's packed with vegetables including avocado, okra, tomato, and radish. There are condiments like chili and sesame seeds on the table to spice it up. You can ask for a second portion of noodles for free. The gyozas are well worth ordering too.

For more meat-free eating options in the city, read my vegetarian Kyoto guide.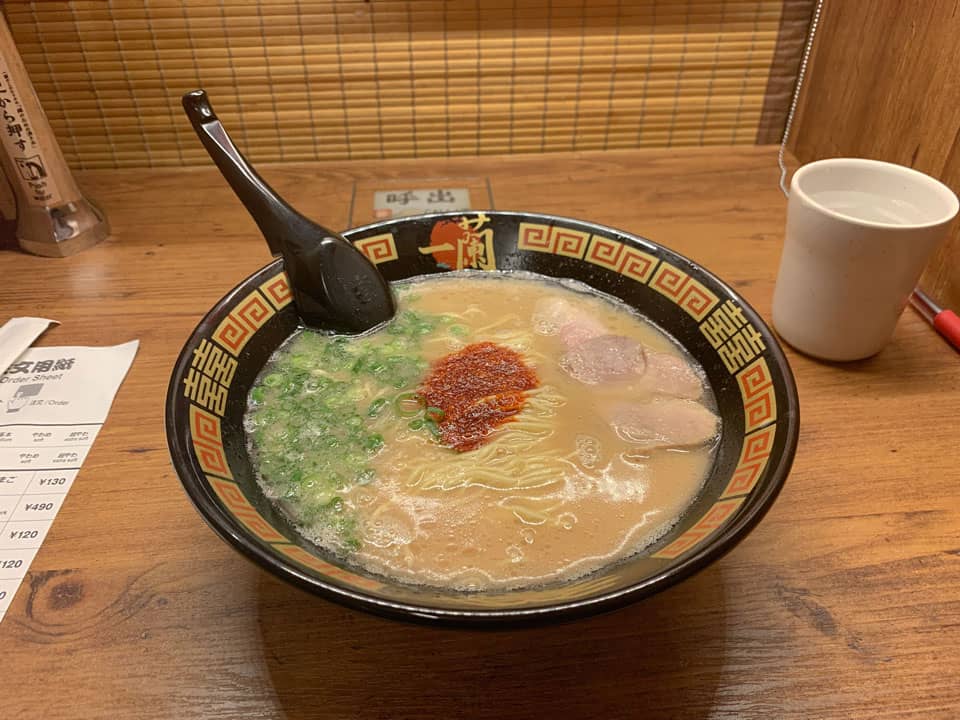 By: A World in Reach

After traveling to Japan, I've learned that just because a restaurant is a chain doesn't mean that it's not delicious. Ichiran, a Japanese ramen chain with locations all around the country, is believed by many to be the best ramen in the world. In my opinion, it's definitely one of the best ramen spots in Kyoto.

Ichiran specializes in tonkatsu-style ramen, meaning that its broth is made from pork bones. The dining experience at Ichiran is unique.

You'll first order your bowl of ramen and any extras you'd like (sliced pork, soft boiled eggs, matcha tea, etc.)

After ordering, you'll be directed to an empty seat, which is more like a personal ramen booth, and given a form where you can customize your ramen to your liking. You'll be able to select the richness of the broth, the amount of garlic added, the spiciness, and more.

Once you're ready, you can call the server using a button in your booth to take your sheet; soon after, a hot bowl of delicious ramen will be brought to you! If you need anything else during your visit, such as a kaedama (noodle refill), you can fill out the extra items order sheet and call back your server.

There are two Ichiran locations in Kyoto: Kawaramachi and Karasuma. No matter which one you choose, you'll be in for a delicious meal!

When eating ramen, make sure you are slurping loudly! Slurping is a sign of appreciation and it important that you know if you are eating out in Japan!

Ichiran is open 24 hours, 7 days a week so don't worry if you are craving ramen in Kyoto at night!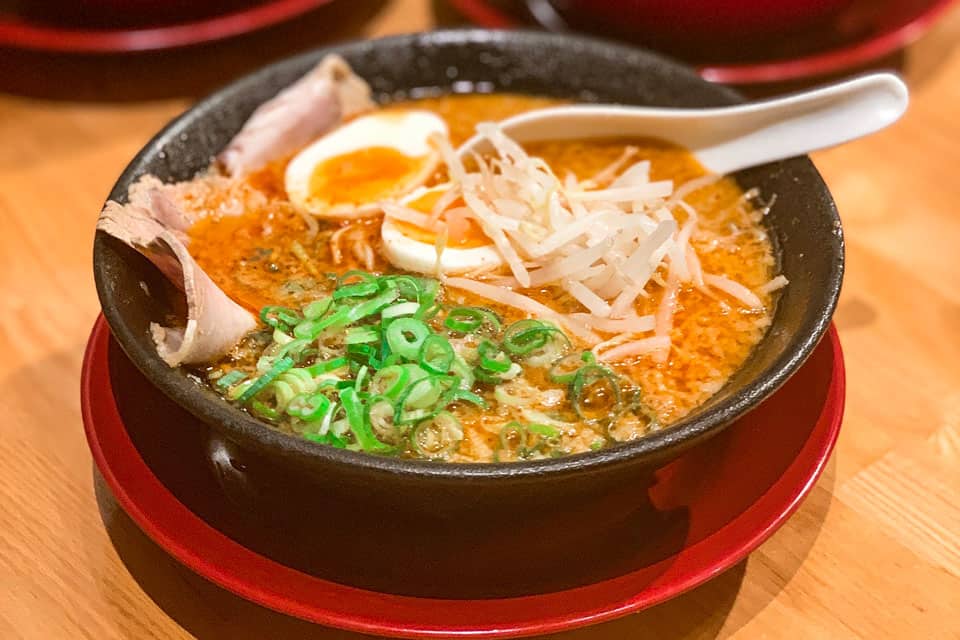 By: Greta's Travels

Menkiya ramen restaurant, located in the Gion neighborhood of Kyoto, just on the outskirts of the Nishiki market, served one of the best ramens I had throughout my whole Japan trip.

The restaurant is split over three floors, but all of them are fairly small. On the ground floor you'll find the kitchen, counter where you can pay and a counter where you can eat on tall stools. The middle floor has a few separate tables and seats along the windows and the top floor has one big table. If you're visiting with a big group you can ask them to reserve you the top floor all to yourself for free.

All the staff are Japanese and speak very minimal English, and we were the only non-Japanese people eating there when we visited (usually a good sign)! They have some English menus though so don't worry, you'll be able to order even if you don't speak Japanese!

I had the curry ramen with pork and egg and loved it. It was a little bit spicy for me (despite being advertised as a 2 out of 5 on their spiciness scale) but the overall taste was great. Menkiya offers a genuine Japanese experience and tasty ramen, I recommend it to anyone visiting Kyoto!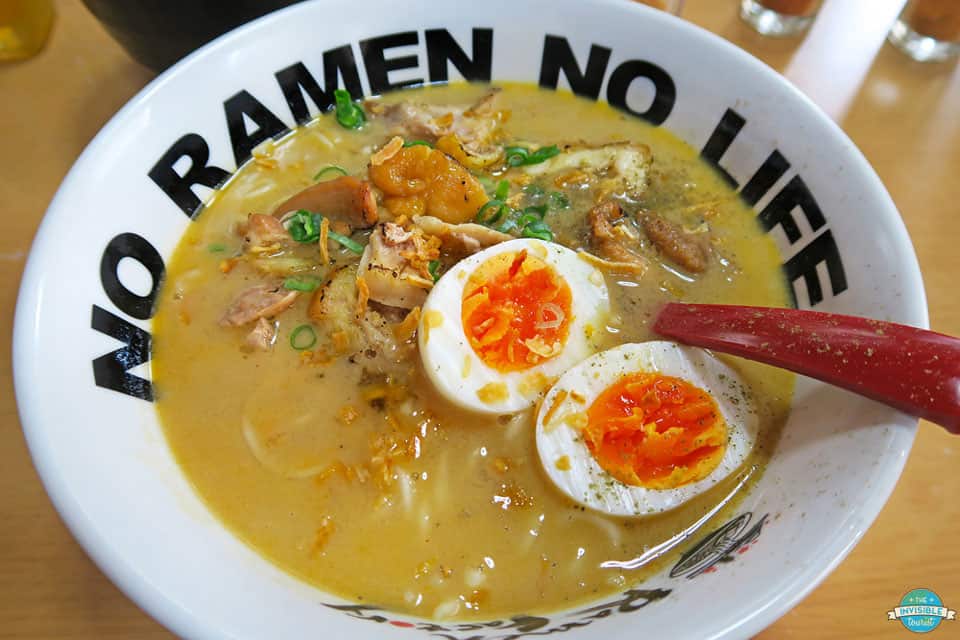 By: The Invisible Tourist

When it comes to finding the best ramen restaurants in Kyoto, there's one in particular you shouldn't miss. This is because it's the only restaurant in Kyoto where you can actually cook your very own ramen from scratch!

I absolutely love learning more about the local culture through experiences (and of course food), but taking my own Kyoto cooking class made me a little nervous. I am definitely not a chef, but the lovely staff at Ramen Factory Kyoto make everything super easy for amateurs like me.

Ingredients are pre-measured and each table has a step-by-step instruction guide in English. You even get to create a custom ramen broth flavor, with traditional white miso paste that's exclusive to the Kyoto region. It's perfect with chicken!

The most enjoyable part (aside from eating) was kneading the ramen noodle dough. Actually, I should say punching it into shape no less than 100 times. What a workout! The experience gave me a whole new appreciation for ramen and I was quite proud that even I managed to create something so delicious!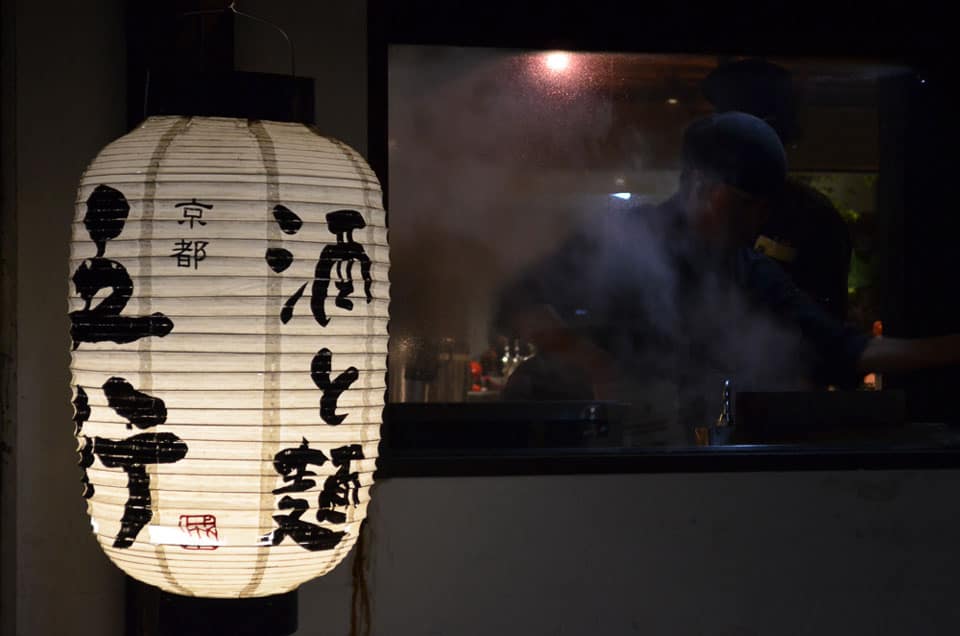 By: Our Passion For Travel

The intimate Gogyo Ramen is a popular option amongst locals, and is this travel blogger's all-time favorite ramen in Japan. You can expect to queue for 30-60 minutes during peak periods, but put your name down on the door and brave the wait. We did so twice on our last trip to Kyoto and still have dreams of returning.

When the door finally opens for you, the aroma will smack you in the face. I'm sure the wood panels help keep the scent alive in a way a French Oak barrel makes a wine taste so much better. There are a couple of options here, but it is difficult to go past the burnt miso ramen (Kogashi Miso ramen). There's a magic to scent, the anticipation as it greets your lips and then that sensation when it hits your taste buds.

I'm not sure what the Japanese word for 'al dente' is, but the noodles are exactly where they need to be. The soup is thick and super-rich. There's no doubt the flavor is strong, and if it's your first ramen ever may be little overpowering. For those with a taste for ramen though, you won't look back after this one.
Best Hostel in Kyoto – K's House Kyoto: Backpackers Hostel
K's House Kyoto: Backpackers Hostel is the most popular hostel in Kyoto for backpackers. You must stay at this place if you want to meet other travelers. The facilities are clean and sufficient. There is also a bar linked to the restaurant that serves good and reasonably-priced drinks. The terrace also gives an amazing view of Kyoto.

Click here for more details!
Best Airbnb in Kyoto – Sakura Inn 2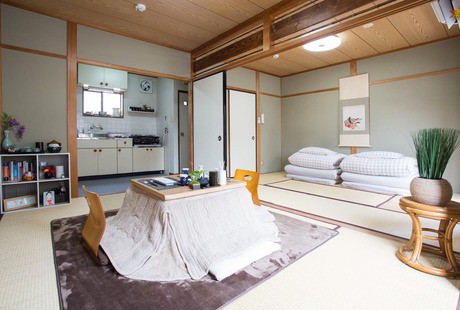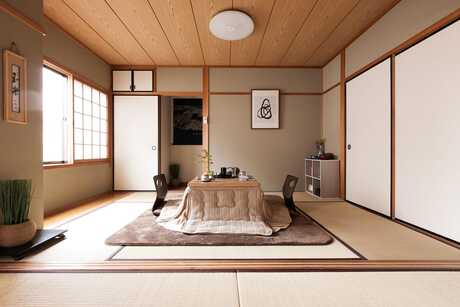 (Images Courtesy of Airbnb)

If you want an all-encompassing experience in Kyoto, then indulging in its food is not enough. You must stay at one of the traditional Japanese homes! Luckily, there are plenty of Airbnbs in Kyoto.

Sakura Inn 2 is a traditional Japanese apartment that was originally inhabited by a Geisha. Experience what it is like to sleep on a tatami mat when you stay at Sakura Inn 2.

This Airbnb features a total of 4 tatami mats, so a family of four can comfortably experience this lifestyle. Kids will especially love the terrace as it offers views of the Takase River. Ducks are often seen in that river.

If you are visiting during cherry blossom, your terrace will become your own personal paradise. The terrace of this apartment faces one of the best cherry blossom streets in Kyoto!

Click here for more details!
Best Luxury Hotel in Kyoto – The Share Hotels Rakuro Kyoto
The Share Hotels Rakuro Kyoto is a meticulously clean and modern hotel. You won't find a speck of dust in your room. The hotel has nice and comfortable decor, creating a feeling of home. Breakfast is included, free coffee throughout the day, a bar on-site, and much more are offered here at The Share Hotels. 

Click here for more details!
Like this post? Don't forget to save it on Pinterest! ?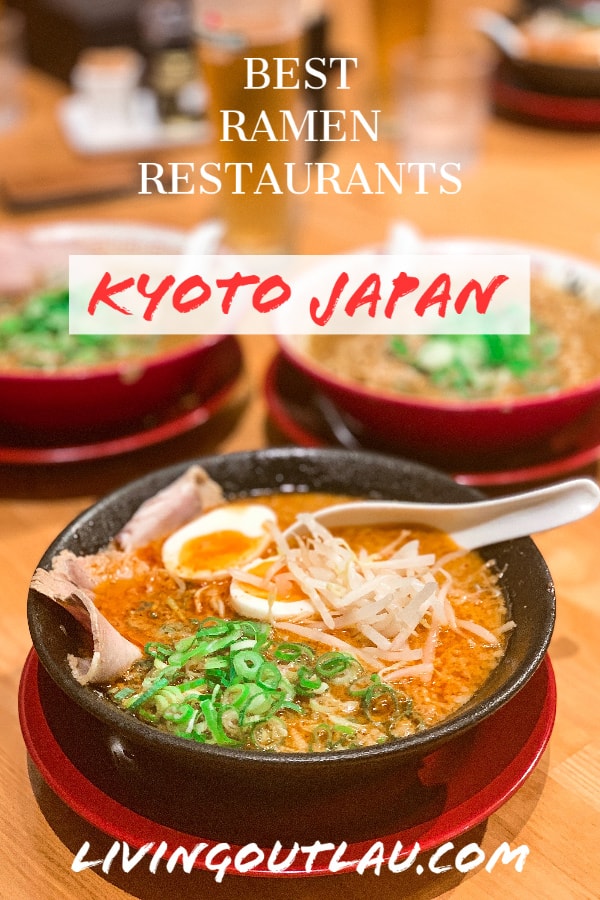 These are the 6 BEST ramen restaurants in Kyoto! Have you tried ramen in Kyoto? Let us know in the comments!
Disclaimer: Some of the links above are affiliate links. That means if you book or make a purchase through the links, we will earn a small commission at no extra cost to you! The money will help run this site! Thank you!