Not sure what to do in Bucharest in one day? Don't worry we are here to help.
Tackling the capital of Romania can be difficult, especially if you have a short amount of time such as a day or a layover in Bucharest.
That is why we have created the following Bucharest itinerary to help you maximize your time and see as much as possible.
Enjoy!
Is 1 Day In Bucharest Enough?
If you are planning a trip to Bucharest, you must wonder how long is the ideal time to spend in Bucharest.
After all, is 1 day in Bucharest enough to see all the famous attractions the capital of Romania is known for?
The answer is: Unfortunately, yes.
While I would've loved to spend more time in a city known as Paris of the East, there really isn't much to do outside of the historical attractions.
Bucharest Old Town is unquestionably beautiful, riddled with stunning medieval buildings and interesting history. However, all of that can be seen in one day, leaving visitors with a busy metropolitan city filled with congestion and noise.
If you are in Bucharest to see its culture and heritage, one day would be sufficient. If you enjoy city life, maybe even a bit of nightlife (Bucharest has some amazing nightlife), you can spend more time in Bucharest, especially given how affordable this city is!
The nightlife and historical attractions are the main reasons why Bucharest is worth visiting. 
More Than 24 Hours In Bucharest Or Spending A Weekend In Bucharest?
This part of our Bucharest guide is for anyone visiting Bucharest for a layover, one day, or even a weekend. Here we will recommend other things to do in case you have extra time!
1. Pasajul Victoriei (The Famous Umbrella Street In Bucharest)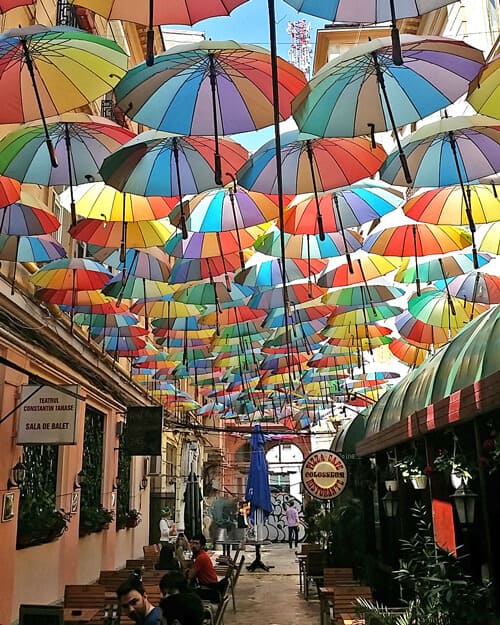 The Pasajul Victoriei is a small alley where colorful umbrellas hang above the narrow walkway. Not only does this provide shade for anyone passing by, but the beautiful umbrellas make this place of the most popular photography spots in Bucharest.
Pasajul Victoriei is also the home of numerous cafes. In good weather, you can see patrons enjoying a nice meal or a cup of coffee in the outdoor seating area.
2. National Museum Of Romanian History (Muzeul Național de Istorie a României)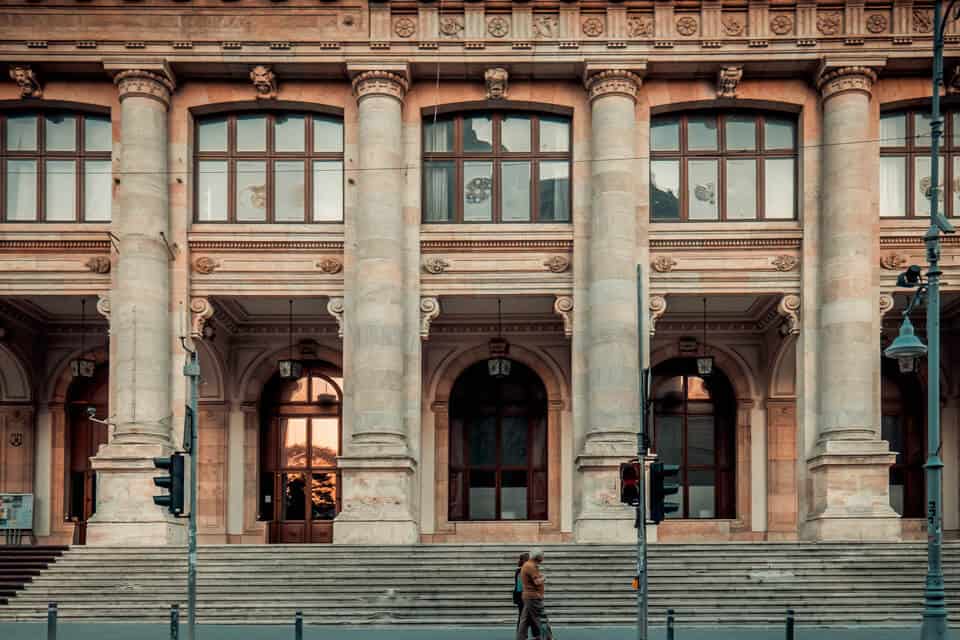 Anyon that just cannot get enough of the rivetting history of Romania needs to visit the National Museum of Romanian History. Located on Calea Victoriei in Old Town Bucharest, the museum features historical artifacts dating from prehistoric times up to modern times.
The exhibit on the fall of Nicolae Ceaușescu (the last communism leader in Romania) is quite interesting and perfect for anyone that isn't familiar with the USSR occupation of Romania.
The museum also features a copy of the Trajan's Column, a replica of the famous landmark in Rome.
If you find history interesting, you can certainly spend some time in the National Museum of Romanian History.
Just keep in mind that it is open from 10 AM to 6 PM daily except for Mondays and Tuesday when they are closed.
3. Cișmigiu Park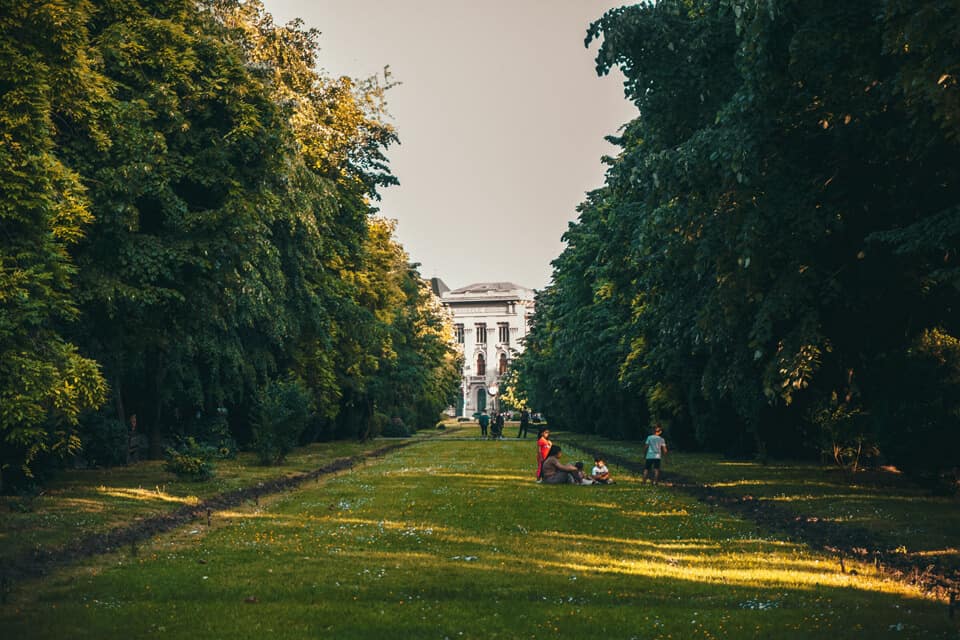 If you wish to spend more time in the green spaces of Bucharest, head over to Cișmigiu Park. Located near the University of Bucharest, Cișmigiu Park is a popular location of students to hang out.
The park features an English-style garden with numerous fountains and a popular boating lake. In the summers, the park comes to life as you can see families out and about, kids chasing pigeons, and lovers on romantic dates.
Green space like Cișmigiu Park is rare in a big metropolitan city. If you are looking for a more peaceful Bucharest trip, consider adding a visit to the Cișmigiu Park to your itinerary.
4. Day Trip To Transfagarasan Road, The Best Driving Road In The World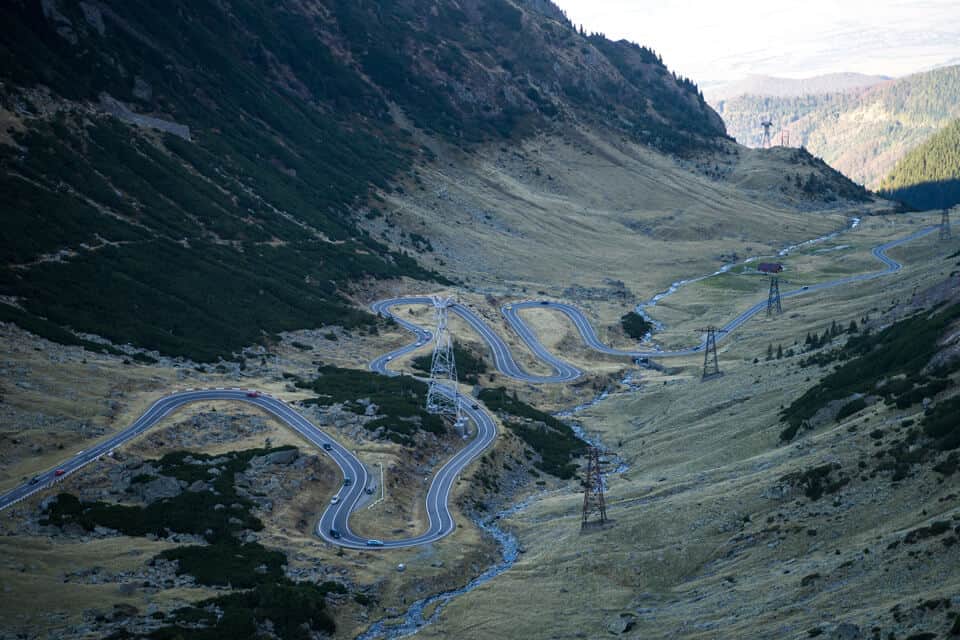 If you are a huge fan of the British television series Top Gear, you might already be familiar with the Transfagarasan Road. Deemed as the best driving road in the world by Top Gear, the Transfagarasan Highway is why most people rent a car and do a road trip in Romania.
The twists and turns of the Transfagarasan Road (also know as DN7C) traverse the famed Carpathian Mountains, which acted as the natural protective barrier for the medieval Transylvania.
Nowadays this natural fortification is the home to one of the best places to visit in Romania. If you want to admire the Transfagarasan Highway, you must go to the Balea Lake viewpoint.
A glacial lake located at the top of the Fagaras Mountains, Balea Lake offers unparalleled landscapes of the natural landscapes surrounding the Transfagarasan Road.
Balea Lake is also the home of the famous ice hotel, as well as many street vendors selling traditional Romanian crafts and goods.
If you don't have a car and would still wish to visit the Transfagarasan Road, check out our recommended Transfagarasan Road tour!
5. Bran Castle And The Legend of Dracula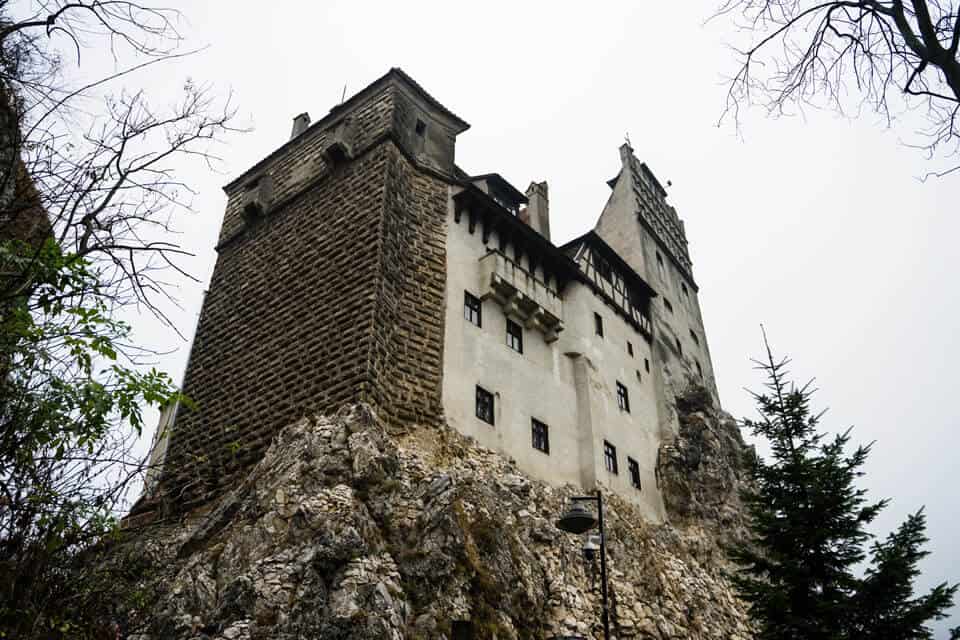 Because of the Legend of Dracula, Bran Castle is the most famous attraction in Romania. Inspired by the spine-tingling horror novel Dracula by Bram Stoker, Bran Castle has become the alleged Dracula's Castle.
When Bram Stoker was writing Dracula, it is believed that he took inspiration from Vlad III (also known as Vlad Dracula).
During his reign of the Wallachia Empire, Vlad Dracula developed a reputation for his cruelty methods. Some say that he would impale his enemies and let them bleed to death. Rumors also said that he would drink his enemy's blood.
Nowadays, the Bran Castle is mostly a museum for the art and furniture collected by Queen Marie. At the top level of Bran, there is a special exhibit dedicated to Dracula where visitors can learn about the truth!
Bran Castle is located about 2.5 hours north of Bucharest. Visitors can decide to take a day trip from Bucharest and drive themselves there, or they can decide to go on an organized tour.
Find our recommended Bran Castle tour from Bucharest here!
If you are planning to go to Brasov, we recommend visiting Brna Castle from Brasov instead. It is much closer!
Best Time To Visit Bucharest, Romania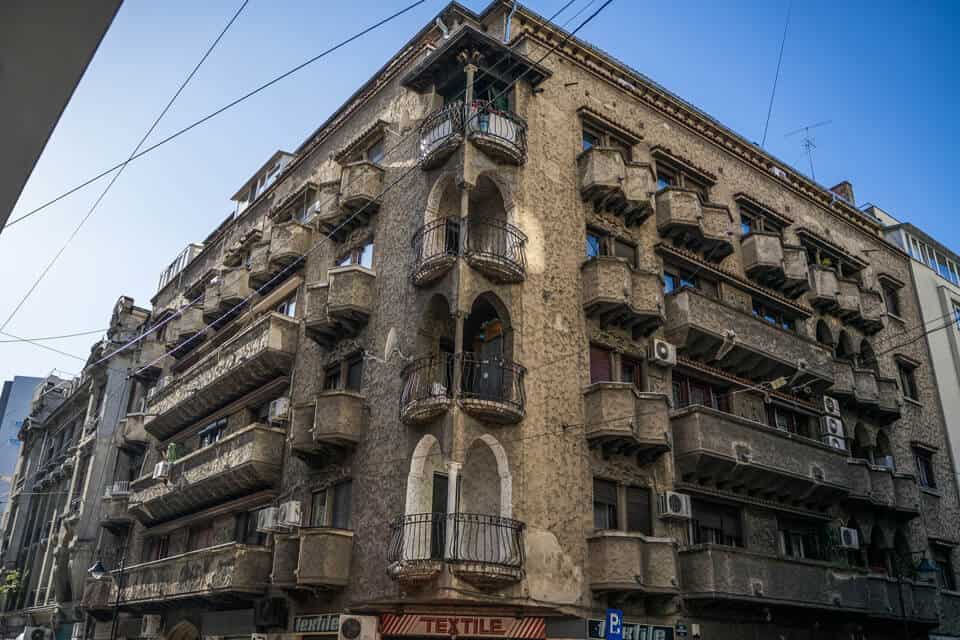 The best time to visit Bucharest depends on what you are looking for. The climate is relatively mild in Bucharest and many compare it to the climate in New York City.
The spring and fall seasons are generally considered the best seasons to visit Bucharest. The warm temperatures and sunny weather bring out everyone, and parks are filled with the year's blossom. Tourism at these times tends to be so-so as well, perfect if you want a more local experience in Bucharest.
Summer is undeniably the peak season in Bucharest. The streets of Old Town are inundated with locals and tourists having the best times of their lives. The Old Town is known to be ridiculously busy, with music playing from sunup to sundown. One drawback of visiting Bucharest in the summer is the hot temperature, which can be uncomfortable for some travelers. 
Winter in Bucharest sees very little tourism, and it's because of the freezing weather. Strangely, the bleakness of winter combined with the lingering trauma of communism gives off a certain charm, and Bucharest feels like it is at its rawest form. 
Where To Stay In Bucharest, Romania
Whether you have a layover in Bucharest, a weekend, or even just a day in Bucharest, deciding on where you base yourself is going to be critical. Pick the wrong place to stay in Bucharest and you will be far from the places you want to visit.
For that reason, all of our accommodation recommendations will be located in the Old Town, which is the best place to stay in Bucharest. Most of the points of interest in Bucharest are walking-distance away.
If you are looking for an affordable hostel located in the center of Old Town Bucharest, Little Bucharest Old Town Hostel is your best bet. This no-frills hostel is equipped with basic amenities but makes up for it with its great staff and communal spaces.
At night, noise can be an issue as the Old Town is filled with bars and clubs. The reception does give earplugs to ease the noise.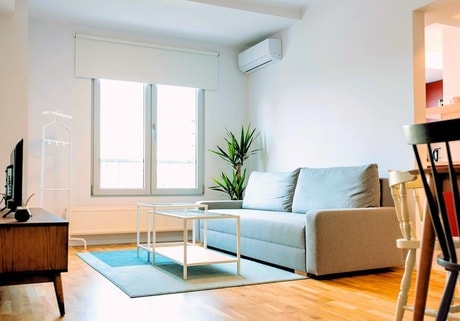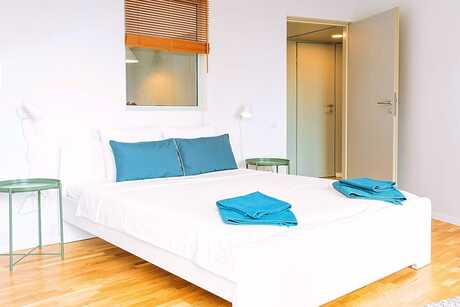 Like this post? Don't forget to save it on Pinterest! 🙂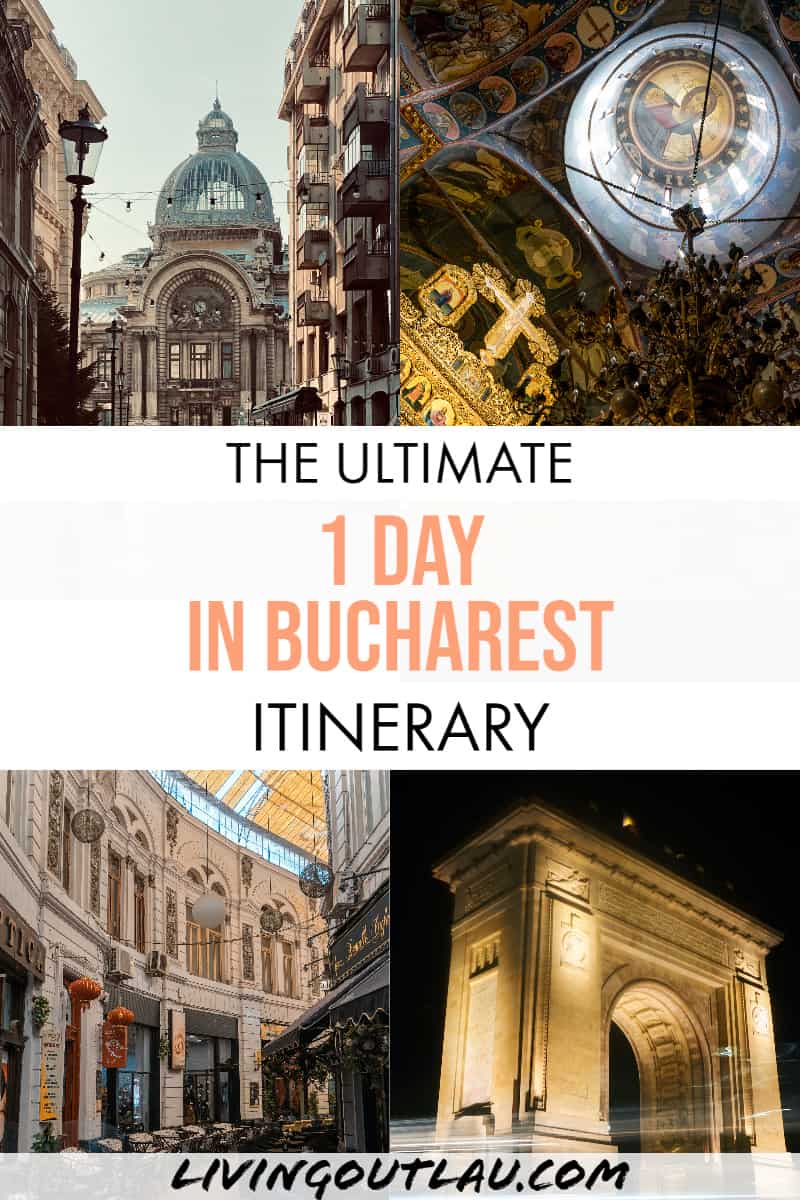 This is the end of our guide on the one day in Bucharest Itinerary. We hope you have learned something to help you plan your perfect Bucharest trip!
Any question? Leave them in the comments!
Disclaimer: Some of the links above are affiliate links. That means if you book or make a purchase through the links, we will earn a small commission at no extra cost to you! The money will help run this site! Thank you 🙂