No visit to Colombia is complete with enjoying the legendary nightlife in Medellin. From world-class nightclubs and trendy bars to relaxed lounges and live music venues, this so-called City of Eternal Spring has something for everyone.
However, the party scene in Medellin isn't exactly the easiest to navigate. There are many neighborhoods, venues, and overall just too many choices when it comes to where to go out at night in Medellin.
That is why we have written this guide on Medellin Colombia nightlife, so you can explore the scene like a pro. What are you waiting for? Grab your friends and get ready for an unforgettable night!
---
How Is The Nightlife in Medellin?
Before I visited Medellin, I had high hopes for its nightlife. Everyone I've met in Latin America was telling me how amazing the nightlife is, so I had pretty high expectations going in.
And I'm happy to say that Medellin's nightlife did not disappoint. Here are some of the best things about it!
The Paisas Know How To Party – Colombians party hard, and there is no doubt about that. They go out at 1 AM and party until the early morning. Most of them are out to just have fun and dance the night away, not looking for someone to go home with.
The Locals Are Super Friendly – Going out in a foreign country when you might not speak the native language can be intimidating, but we found that the locals were quite friendly and easy to talk to. Most will even initiate the conversation and ask about you!
Colombian Women Are Beautiful – Colombian women, especially the paisas, are known to be some of the most beautiful women in the world. If you are a man traveling in Medellin, then you are in luck!
There Are Plenty of Venues To Pick From – From world-class nightclubs to relaxed lounges, Medellin has a venue for everyone. And with so many options, you can always find one that fits your mood.
Nightlife Is Affordable – One of the best things about Medellin's nightlife is that it is very affordable. Drinks are cheap, and most places don't have cover charges. You can easily have a great time without breaking the bank!
Before we begin, above is a map of all the venues and neighborhoods we'll be talking about in this article. Clicking the top left toggle will let you see each and every individual place.
There is also a star to the right-hand side of the title of the map. If you click on it, you can save this map onto your Google Maps on your own device. This'll allow you to use this handy map on your trip to Medellin!
If you are traveling alone in Medellin, we highly recommend you to go out at night with a group.
---
Best Neighborhoods For Nightlife In Medellin
In Medellin, the party is only concentrated in a few areas in the city. Though Medellin is fairly safe, there are plenty of neighborhoods in Medellin you shouldn't even go to at night, let alone try to enjoy the nightlife there. Below, we'll talk about some of the best areas for nightlife in Medellin!
El Poblado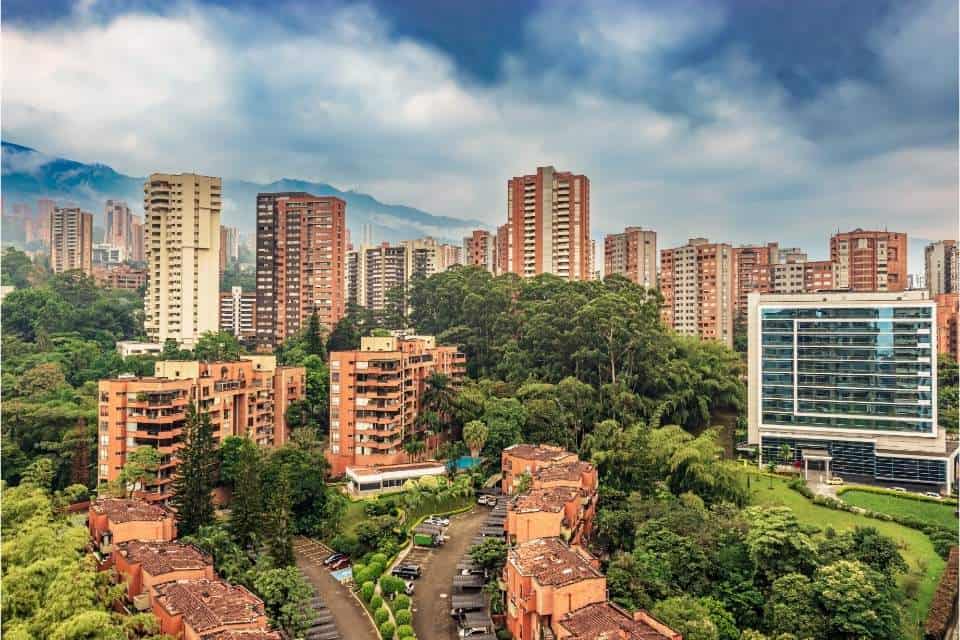 El Poblado is the most popular neighborhood for nightlife in Medellin, thanks to all the expats that live here. It is one of the most tourist-friendly areas in Medellin. Not only will you find a higher police presence here, but many of the local paisas here speak English (which is an indication of their wealth).
Consequently, El Poblado is the heart of all the nightclubs and bars in Medellin. You'll find everything from high-end dance clubs to more relaxed and intimate bars. This is the best area for those who want to enjoy Medellin's nightlife scene to the fullest!
El Poblado is a big neighborhood, and there are plenty of sections where nightlife is more thriving than others, such as:
Parque Lleras
La Provenza
Parque Lleras
If this is your first time in Medellin, then a night out at Parque Lleras is a must.
Parque Lleras is a small park in the El Poblado neighborhood, and on the perimeter of the park is full of bars and nightclubs. On a weekend night, you can hear all different types of music blasting from the different clubs in the area.
Perhaps what draws everyone to Parque Lleras is the variety of options there is. Visitors can find anything from heavy techno to reggaeton clubs and laid-back bars. No matter what your mood for the night is, you'll find a place that suits you here. There is something for people with any type of budget here.
When I went out to Parque Lleras, the clubs were really fun, but what I actually enjoyed was just drinking in the park and mingling with the locals. That is usually what happens near the end of the night as the energy of the crowd dies down and people just want to chill and talk.
One of the disadvantages of Parque Lleras is that there are typically a lot more gringos and foreigners here than locals.
La Provenza
La Provenza is a small street a few blocks away from Parque Lleras uphill. Though walking distance away, the vibes of the two neighborhoods are very different.
While Parque Lleras attracts the party-till-the-sunrise crowd, La Provenza has a more relaxed environment. Don't get me wrong, there are still plenty of bars, nightclubs, and restaurants to go crazy in, but the atmosphere is generally a bit more calm and organized.
Laureles
If you are someone that likes to mingle with the locals and party with them instead of a bunch of expats and travelers, then Laureles is the neighborhood to go to.
Laureles is a lot less touristy than El Poblado, so the prices of drinks and food here are a lot cheaper. Plus, this neighborhood feels much more authentically Colombian than El Poblado. You'll find plenty of salsa clubs and locals out to have a good time.
A lot of the nightlife venues are not as fancy as the ones in other parts of the town, but that is exactly the charm of Laureles. As long as there's music, Colombians know how to let loose and have fun!
Similar to El Poblado, there are plenty of sub-sections in Laureles for nightlife. Here are some of the best ones:
La 70 (La Setenta)
La 70, or La Setenta in Spanish, refers to Carrera 70, or Lane 70 in Spanish. This short street stretches from Pontifical Bolivarian University to Atanasio Girardot Football Stadium and is home to some of the cheapest bars and clubs in town.
Its affordable prices attract plenty of locals to come here for happy hours or to pregame before heading to more expensive venues. You won't find any luxurious cocktail bars or the likes here, but you'll find plenty of locals chugging a beer and watching a game of football on the TV.
This area is home to two of the best salsa clubs in Medellin – Son Havana and El Tibiri. So if you are into salsa dancing, or want to admire some Colombians that can seriously move on the dance floor, then head to La 70!
La 33 (La Trenta y Tres)
La 33 or Lane 33 is a little bit more upscale than La 77. In comparison, La 33 is a long avenue that features a wide variety of bars and clubs, with some more high-end than others.
Compared to El Poblado, La 33 is a lot less popular with foreigners. The clubs and bars are most likely going to be filled with locals, especially since the prices here are a lot more affordable than El Poblado.
From our experience, if locals want to party with themselves, they'll likely head to Laureles. But if they want to meet travelers or expats, then they'll head to El Poblado. This means you might not find a crowd that is always happy to meet foreigners when you are in La 33.
Las Palmas
Las Palmas is arguably the most luxurious place to party in Medellin. This hilltop neighborhood is home to some of the most extravagant nightclubs and bars in the city. Its location means that it offers some of the best night views of the city.
Combined with a nice atmosphere and upscale surroundings, it is certainly the perfect place for a romantic evening.
Getting into the clubs here is going to be somewhat challenging. The cover charge is high and some even require you to have a certain ratio of men vs women before allowing you in.
Barrio Colombia
Barrio Colombia is a neighborhood situated outside the city center of Colombia. This area is known for its massive clubs that are perfect for dancing the night away. The best nightlife venues in this part of town tend to be a bit more upscale, but the experience of partying in these mega clubs in Medellin is something you shouldn't miss!
---
Best Nightclubs In Medellin, Colombia
Black Dog Club (Club Perro Negro)
Location: La Provenza, Poblado
If you are a lover of reggaeton music, then Black Dog Club might just be the perfect nightclub for you. This intimate nightclub is known to play both new and old-school reggaeton music that'll have you shaking your hips and twerking in no time!
This nightclub in Poblado usually has a live DJ that throws out some amazing remixes.
The venue is quite intimate and the space is quite small. If you want to be able to dance freely, make sure you come before 11 PM, otherwise it'll start getting crowded. Plus, you are likely going to have to pay a cover charge then.
Later into the night, Black Dog Club can get so jammed-packed that you can barely move. If you are someone that enjoys this kind of atmosphere, make sure you check out this nightclub!
Sweet Jesus Mine (Dulce Jesús Mío)
Sweet Jesus Mine is one of the most iconic nightclubs in Medellin. It is an entertainment venue where visitors come grab a table, order some food and drinks, and watch a performance. Throughout the night, as the crowd gets more and more drunk, it becomes a nightclub with lots of dancing and music.
Perhaps the most striking feature of this nightclub is the interior decor. Everything is kitschy and overdone with splotches of colors everywhere. It is colorful, it is quirky, and it is one of the all-time best places to go at night in Medellin.
So if you are not sure where to party in Medellin, check out Dulce Jesus Mio!
The Blue Bar
If you are looking to dance to some electronic and rock music, then the Blue Bar in Parque Lleras is perfect for you. If you spend a night in the Blue Bar, you'll surely hear some of the most iconic rock songs from the 90's.
The crowd is always good at the Blue Bar, and the price of drinks at the bar is quite affordable.
The only downside is that the old school rock music attracts an older crowd, so if you are a young backpacker, then this might not be the best nightclub for you.
Calle 9+1
Calle 9+1 is one of the most popular nightclubs for backpackers because you don't have to dress up to get in. You can even rock up in your sandals and a tank top!
The venue isn't massive as it has only 2 rooms. But the atmosphere is always quite intimate and there's usually a big crowd.
This is one of the few clubs in Medellin where you won't find any salsa or merengue music, which could be a blessing if you've been in Colombia for too long. The music is more alternative and funk with an upbeat vibe, perfect for people that aren't very good at dancing!
Salón Amador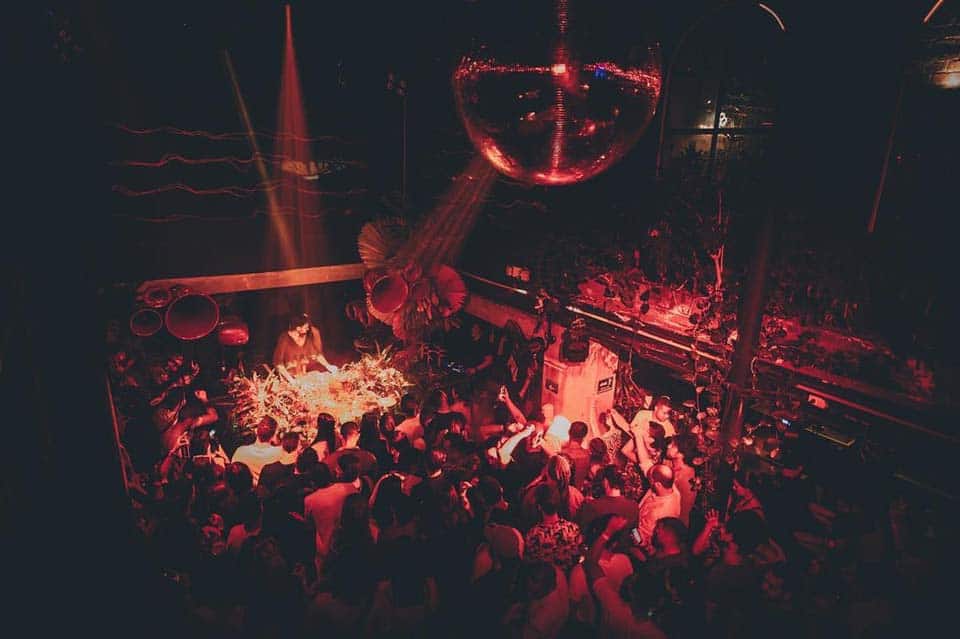 If you are looking for a big party playing techno and house music, then Salon Amador is perfect for you. Nearly every weekend, the club invites a DJ to play some live music for the crowd.
This place is a little bit more pricey than the other venues in the area, and the club is usually packed. If you want a good time, you might have to pay for an overpriced table so you can have a little bit of space.
Club Diecinueve92 (1992)
Club Diecinueve92 is a popular club in the La Provenza area. It plays lots of crossover music, so you'll find little bits of salsa, reggaeton, and every genre in between. This is great if you don't want to just listen to salsa music or reggaeton all night.
Cub 1992 is usually quite crowded, thanks to its good selection of music and reasonable prices for drinks. The venue is not exactly the biggest, so you can expect a big crowd here on the weekends. There is a cover charge that you need to pay to get in.
---
Best Bars In Medellin, Colombia
Bogota Beer Company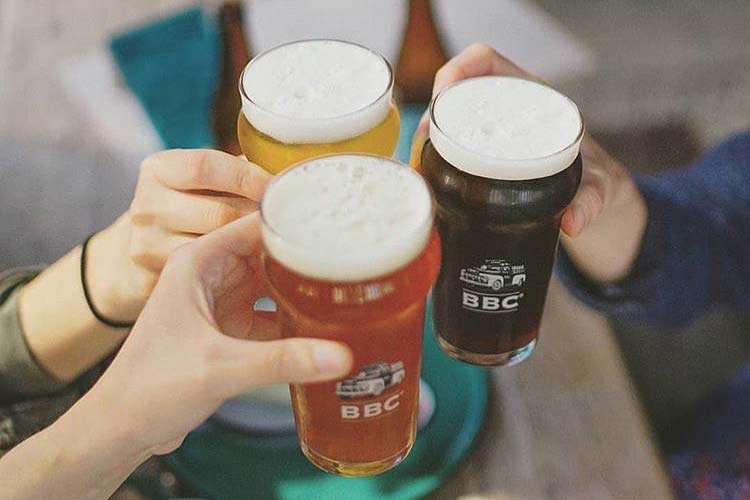 Perhaps the most famous bar in not just Medellin, but all of Colombia, is Bogota Beer Company, or BBC for short. As the name suggests, this bar started in Bogota and made a name for themselves, and now has shops all over Colombia.
The one near La Provenza has an old English pub brewery style and features tons of Colombian craft beer and seasonal beers to choose from. Along with a nice relaxing atmosphere and some good music, it is the recipe for a nice good night out.
The venue has both an indoor and outdoor space, as well as a pool table for guests to enjoy. The downside is the crowd is typically more gringos than local Colombians, but other than that, the place is amazing.
Envy Rooftop Bar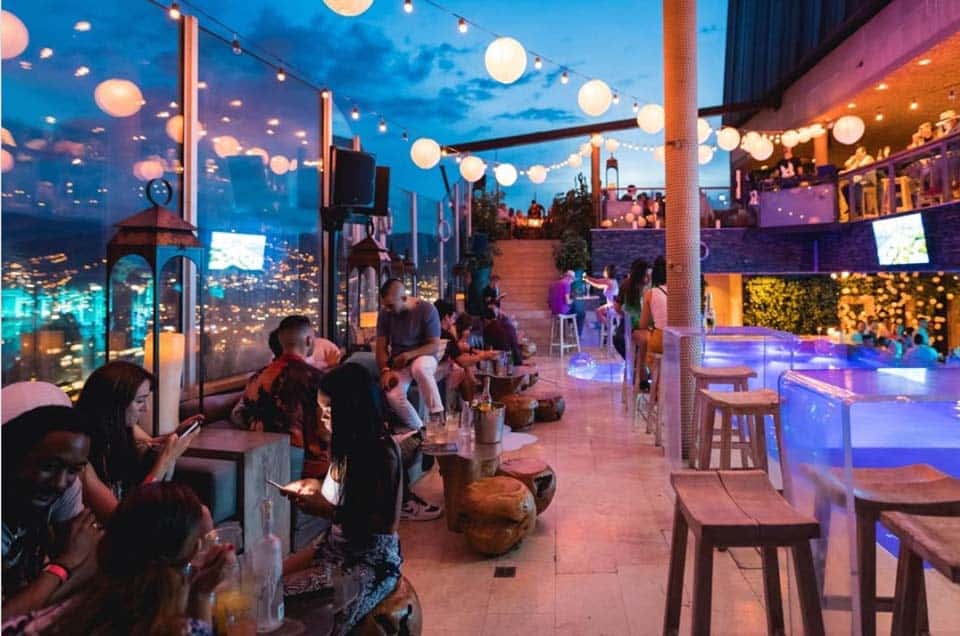 If you are looking for a nice luxurious place to watch the sunset or spend the evening, then Envy Rooftop Bar is the place to go. Situated at the top of Charlee Hotel, visitors can enjoy panoramic views of the city as they sip on delicious cocktails and enjoy some sushi.
There is also a rooftop pool, but never have I ever seen anyone use it at night. Coupled with the live DJ that they have for most nights, Envy Rooftop Bar always has a good vibe. But that is if you don't mind splurging a bit on your night out!
La Chula Las Palmas
La Chula Las Palmas is one of the most quirky places in Medellin. The decor is very Mexican-inspired and they even have a mariachi band that plays live there.
Everything from the crowd and the music to the venue is just incredible, and the atmosphere is always lively. However, there is a big cover charge, especially targeted towards foreigners. When we went, there was a minimum spending of 1 bottle but we have already spent more than that on food and other drinks. Eventually, the issue was fixed but it did leave a sour taste in our mouths.
This is a great place not just for dancing and drinking, but the evening entertainment sets the right mood for the rest of the night. Just remember to come after 10:30 PM as that is when things start to get fun!
El Social Tienda Mixta desde 1969
El Social Tienda Mixta desde 1969 is one of my favorite places to start the night. It is a small bar that features a very relaxing vibe, perfect for enjoying a meal and a few beers as you chat with your friends.
I particularly enjoyed people-watching and seeing how the night unfolds. Because this bar is situated in the heart of the nightlife in La Provenza, it is usually full of entertainment. It is a great place to meet tourists and Colombians as well!
La Tienda de la 70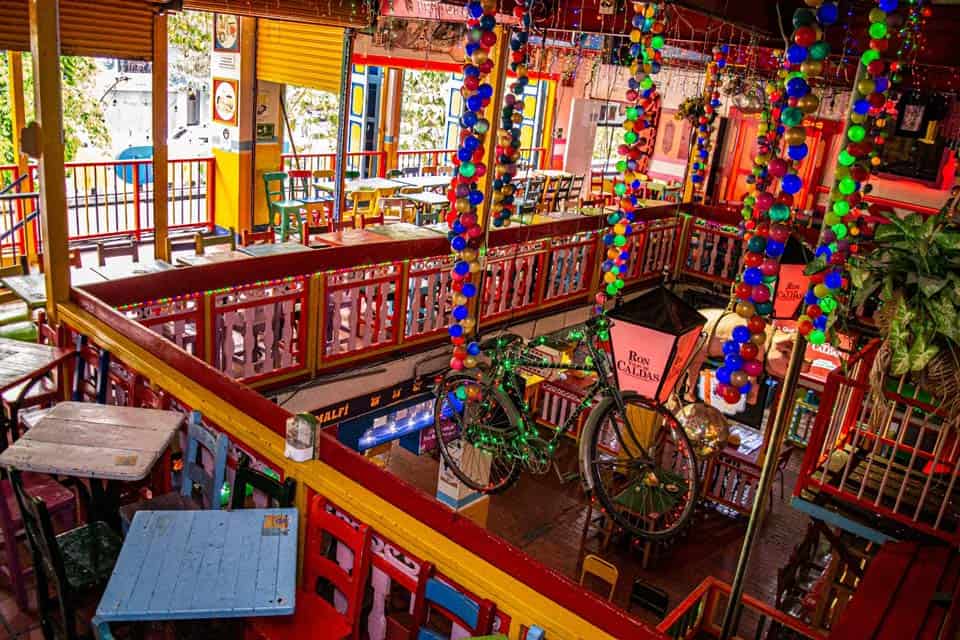 La Tienda de la 70 is a traditional Colombian restaurant that becomes quite the hangout spot after dark. Throughout the day, they serve authentic Antioquian cuisines such as Bandeja Paisa in a charmingly decorated property that resembles the beautiful colonial houses in Jardin and Salento.
As it gets later into the night, the venue becomes more crowded and the music begins. This place is a local hotspot, meaning that you typically won't find too many gringos here. But in return, you are unlikely going to find any other kind of music besides Latin American music such as reggaeton and salsa.
If you want to party with the locals at night, La Tienda de La 70 is a good choice.
La Octava Bar
La Octava Bar is one of my favorite bars in the Parque Lleras neighborhood of El Poblado. The front of the property looks like an exotic speakeasy while the back features a giant ball pit for guests to jump in. It is the definition of an adult playground!
The crowd is usually very friendly and the vibe is quite relaxed. Every time I've been there, I've enjoyed my time. Don't forget to try the Cocaina Rusa (Russian Cocaine) shot! It is delicious and a sure way to get you loose!
Vintrash
Vintrash is a nightlife establishment in the La Provenza district. It features three floors with each playing a different type of music. The two main floors play electronic and reggaeton music, which are our favorite two types of music!
Besides the music, Vintrash is a pretty average place when it comes to bars in Medellin. None of the decor really stood out to us and the cover charge is quite expensive. However, it is also guaranteed to be crowded on a weekend night, and the crowds are usually quite friendly.
Trilogia Bar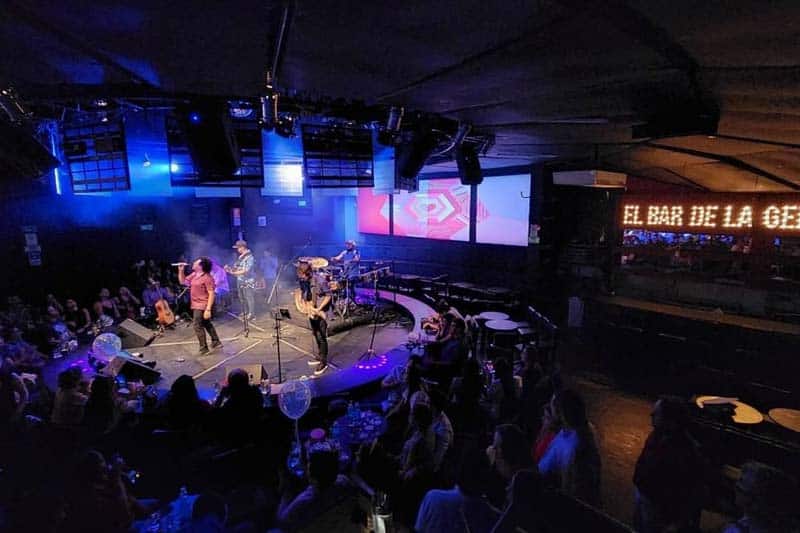 Location: Barrio Colombia
If you are into live bands and don't mind spending a bit of money, then check out Trilogia Bar in the Barrio Colombia neighborhood. This bar typically has live band that features anything from salsa to rock to merengue and old-school classics.
Because of its high prices, it is not a place that people go to every weekend. Locals usually come to this pub/Discoteca to celebrate something, whether that is a promotion or a birthday!
Compared to other places in Parque Lleras, Trilogia Bar is a lot more sophisticated and less trashy. It is a place where you can talk, drink, and dance to your heart's content all night!
---
Best Salsa Clubs in Medellin, Colombia
Son Havana Bar
There is no better place to dance salsa and move those hips than Son Havana, arguably the best salsa club in Medellin. This small intimate place attracts some of the best salsa dancers in town, and you'll find a nice crowd any night of the week. On some nights, you'll even find a live band, which really turns the atmosphere up a notch.
If you are a salsa beginner, Son Havana Bar has free salsa lessons at 8 PM. Not only is it a great place to meet other salsa learners, but you get to learn from some of the best salsa dancers in Colombia. This is one of the best things to do in Medellin, so don't miss out if you are there on a Wednesday!
Buena Vista
If you are looking for a place to dance salsa in El Poblado, then head to Buena Vista. This nightclub features multiple floors with various types of music, with one floor entirely dedicated to salsa.
I'm by no means a salsa expert but some of my Colombian friends have told me that the salsa music at Buena Vista is really good. I don't doubt that because this club is usually packed with people swaying their hips until closing time.
The drinks here are decent and nothing to brag home about.
El Tibiri
Perhaps the most popular place in Medellin for salsa dancing is El Tibiri in La 70. This unassuming venue is small, underground and often crowded, but that doesn't stop people from coming here every night of the week to show off their dancing skills.
The venue has very little to offer. Everyone that comes here purely enjoys the art of salsa dancing and nothing more. It is truly an authentic salsa bar in Medellin. It might be a little intimidating if you've never danced salsa before, especially since most people there have a good amount of experience with it. But if you know a bit and can get into it, it is surely a night of fun!
---
Clubs And Bars That Are Now Closed In Medellin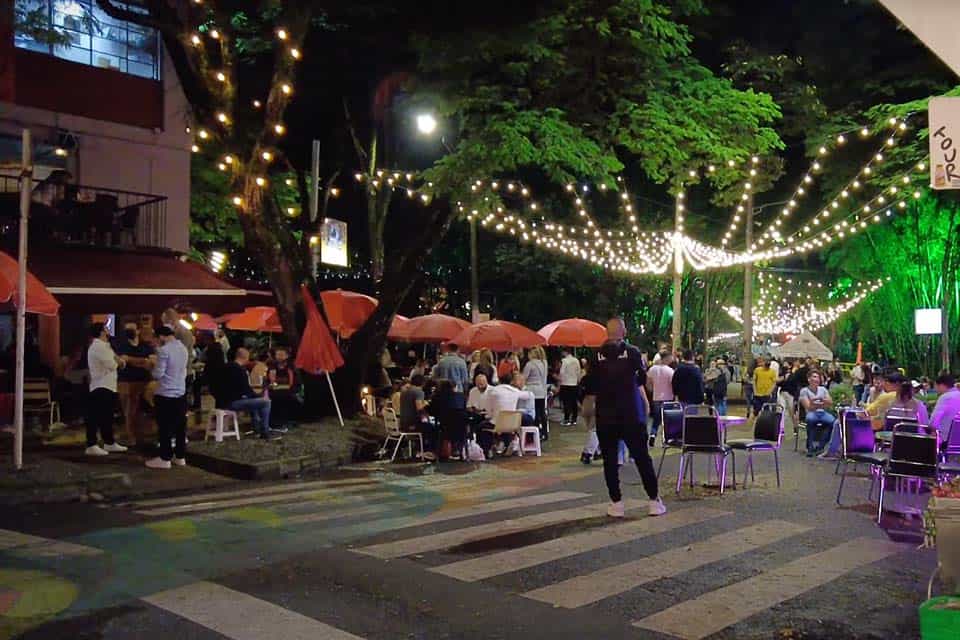 The COVID-19 pandemic has affected the tourism industry in Medellin tremendously. Many of the nightlife venues that were once thriving establishments are now closed. So to give you some of the most updated information, here are some clubs and bars in Medellin that are no longer operational.
Permanently Closed:
Club 1984
Cuchitril
Kukaramakara Club
Babylon
Temporarily Closed:
And avoid Gusto Night Club in Medellin for your own safety, we've heard of people getting drugged there and it is a club that'll overcharge the living hell out of you.
---
Tips For Enjoying The Nightlife In Medellin
Medellin nightlife is extraordinary, and that is because it is very different from other parts of the world. If this is your first time going out at night in Medellin, you might be shocked. Here are some tips so you can enjoy the nightlife in beautiful Medellin:
Thursday Is Ladies' Night – Every Thursday of the week is ladies' night, which means some nightlife venues offer free admission to ladies and sometimes even free drinks. Thursdays are great nights to party too because the free alcohol usually attracts a more balanced crowd (instead of it being more men than women).
Take An Uber When Getting Around – Medellin is generally safe, but that doesn't mean bad things don't happen. Most of these incidents occur at night with people that not in a group. Just to be safe, we recommend taking an Uber to get around at night.
Watch Your Drinks – Though this has become a lot less common nowadays, drink spiking is not unheard of. You should always watch your drink no matter which part of the world you are in, but you should be a little extra cautious in Colombia thanks to Scopolamine. If someone offers you a drink, make sure you know where it came from.
Take Only Cash Out – Taking only cash on your night out will ensure that not only do you not spend more than what you want to, but you don't run the risk of losing your credit card. If you could, take a copy of your ID or passport instead of the actual thing as well.
Know When To Say No – This tip goes out to the women travelers in Medellin. Machismo culture is very much alive in Colombia and if you are a blonde European with blue eyes, Colombian men are going to fall in love with you. However, their approach might not be exactly smooth (especially after a few drinks), and sometimes it can make you feel uncomfortable. Respectfully decline them if you are not interested. It is okay to say no.
---
Medellin Nightlife FAQs
Is Medellin Safe At Night?
There are many neighborhoods in Medellin that aren't safe at night, but the ones with nightlife are usually quite safe. When you are in the clubs and bars, watch your belongings and keep an eye out for pickpockets. When walking around, we recommend taking an Uber (not a taxi) to ensure your safety, especially if you are a solo traveler.
Is Medellin Nightlife Expensive?
Medellin nightlife can be expensive, especially if you go to places that are targeted towards tourists or just extravagant venues. If you don't want to spend that much money on your night out, we recommend hitting up the local venues, such as the bars and clubs in Laureles instead of El Poblado.
Is There Nightlife In Medellin On Weekdays?
Sunday and Mondays are usually quite dead when it comes to nightlife in Medellin. You'll still find a small crowd in popular places such as Parque Lleras, but they'll mostly be gringos. We recommend heading to the bar in Los Patios Hostel if you want a good night on Monday. Things start getting better as the week moves along, and by Thursday night, the crowd gets quite big again.
What Is The Dress Code For Nightlife In Medellin?
Typically speaking, locals dress to impress when they go out at night. Men usually wear a nice button-down shirt with a solid pair of chinos or jeans. Women tend to dress up more than men when going out, and you'll see them in a nice skirt or dress. You'll rarely see any locals dress up with scruffy attire.
---
This concludes our ultimate guide to nightlife in Medellin. Hopefully, not only do you now know the best clubs and bars in Medellin, but what is the best way to enjoy them and how to stay safe!
Disclaimer: Some of the links above are affiliate links. That means if you book or make a purchase through the links, we will earn a small commission at no extra cost to you! The money will help run this site! Thank you!