When visiting Hong Kong, Ma Wan Ghost Village probably doesn't immediately spring to mind. However, for those of you seeking adventure and cool photography spots in Hong Kong, Ma Wan should not be missed!
Once home to a thriving fishing village, today it remains mostly abandoned; offering an eerily cool village full of wild, derelict buildings that have been taken back by the elements of nature.
While the name 'ghost village' implies it is haunted, it's not actually a haunted village…so don't expect to see any ghosts.
Read on to find out more about the cool and underrated Ma Wan Village in Hong Kong!
---
History of Ma Wan Ghost Village
Hong Kong is not short of abandoned villages, sadly, and the village of Ma Wan is one of the must-see abandoned villages in Hong Kong.
This old fishing village located between Tsing Yi and Lantau island was once home to several thousand residents, who thrived under the Tsing Ma Bridge (the longest suspension bridge in the world for rail and road traffic).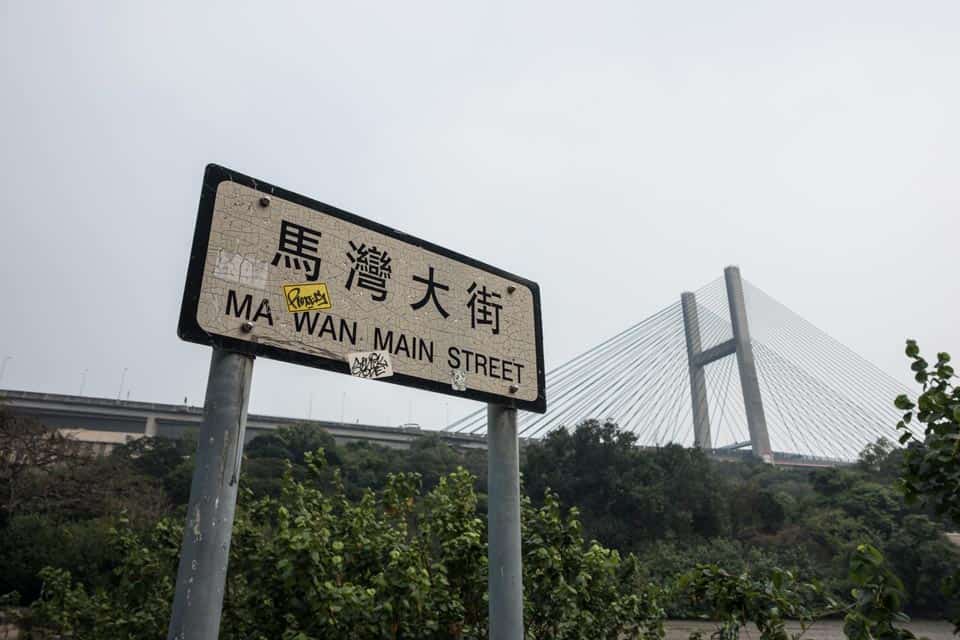 Once home to over 2,000 people, this unique stilt house fishing village was thriving, and famous for its seafood restaurants and dried shrimp paste.
However, in 2011, a property developer called Thomas Kwok, owner of Sun Hung Kai Properties, bought most of the land on the island and built the luxurious Park Island complex that stands there today.
According to the stories, the developer asked the residents of Ma Wan village to leave their houses to make way for their new development.
But it wasn't all doom and gloom. Working with the government, the developer offered residents a plush new apartment in the new Park Island complex, or a three-story house nearby, which most people accepted (I mean, why wouldn't you accept an upgrade?) but a few stubborn residents declined the offer.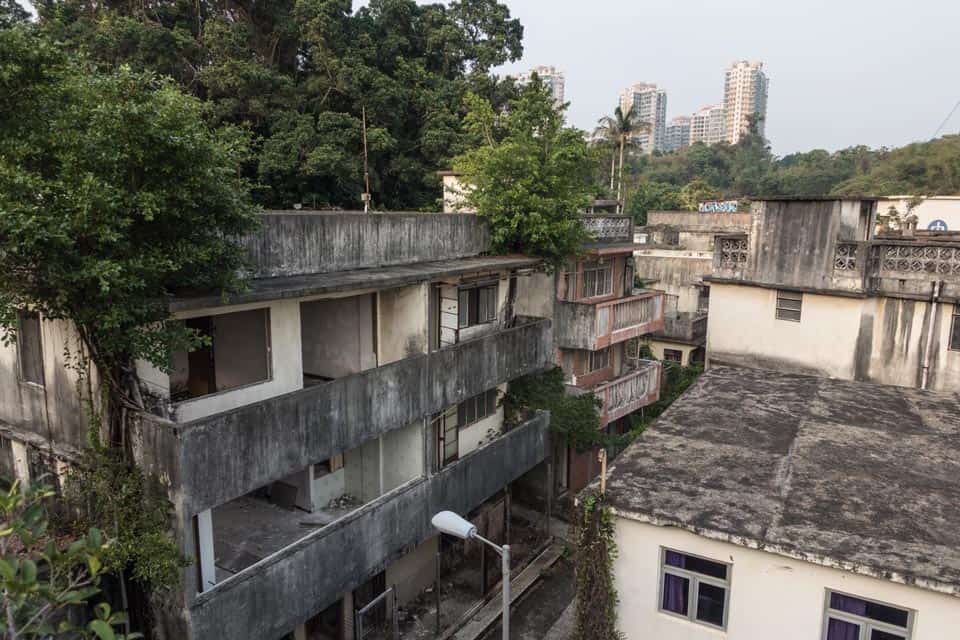 Today you can still see signs of protest from residents who refused to leave.
As well as offering a swanky new home, it was revealed that the developer also built the Noah's Ark theme park next to the village as a way to encourage the last remaining people of Ma Wan Village to leave their homes.
In short, the developer wanted to rehaul the whole island, but due to a court case that landed the developer in jail in 2014, plans to pave way for the development project were put to a halt.
Today, Ma Wan village has barely a handful of residents left, and the old houses which were supposed to be demolished, have been left to the effects of nature and many are now derelict and dilapidated.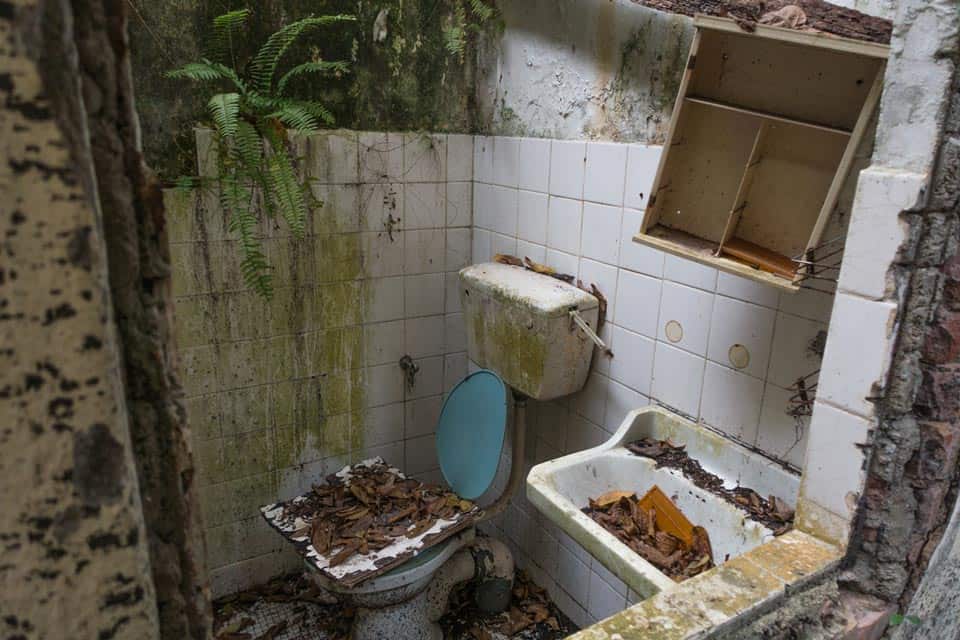 Bad news for the building developers, great news for photographers. Within its eerie demeanor, this village has beauty surrounding its decaying walls. Situated next to the ocean and thick forestry, Ma Wan has become a ghostly hit with urban explorers, tourists and wedding photographers.
---
How To Get To Ma Wan Ghost Village
Don't worry if you are not sure how to get to Ma Wan, it is relatively easy. Located on Park Island, Mar Wan Village is accessible by the ferry or a combination of bus or MTR (Mass Transit Railway).
Taking The Ma Wan Ferry (Park Island Ferry)
Taking the ferry to Ma Wan is usually the easiest and fastest way (depends on where you are staying in Hong Kong). Visitors can get to Ma Wan by taking a 25-minute ferry ride from Central Pier 2 to Park Island.
The ferry from Central costs 27 HKD.
A different ferry is also available from Tsuen Wan Pier, but it departs much more sporadically.
Once you have disembarked the ferry, it is only a short 10-minute walk to Ma Wan Village.
Exit the ferry terminal and walk straight towards Park Island. Then, follow the Park Island promenade on the left until you reach the Noah's Ark Theme Park,  the amusement park built by property developers to oust out the Ma Wan residents.
You will also pass by the beautiful Ma Wan Tung Wan Beach (or just commonly Ma Wan Beach).
Keep walking straight until you reach the end of the footpath, and then bare right under the bridge. Cross the road under the bridge and follow the path in front. The path should look green and overgrown…then you know you are on the right path into the village.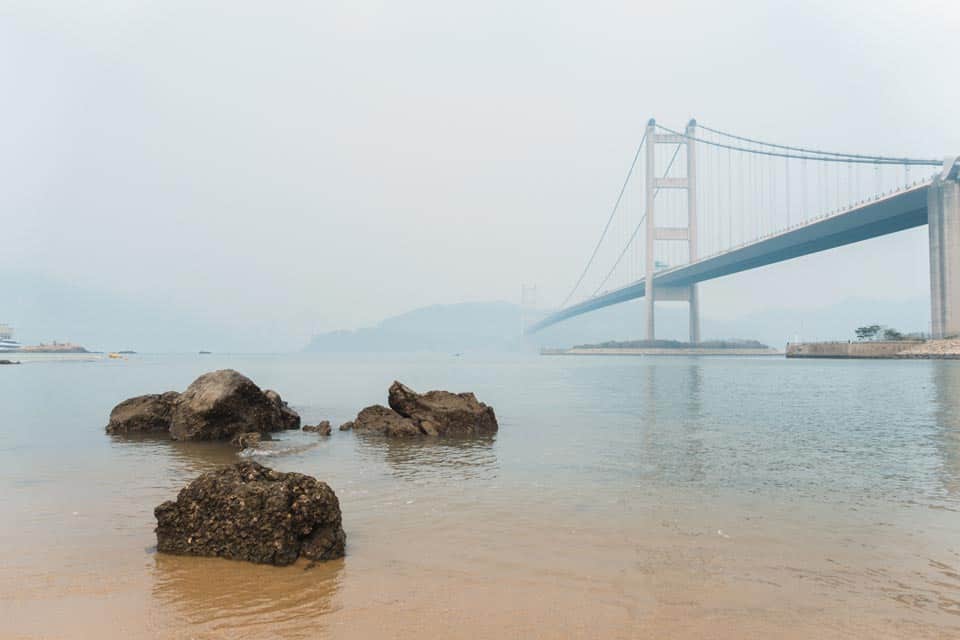 Taking The MTR And Bus To Ma Wan
If you're not a fan of boats, there are buses available from Tsing Yi MTR station or Kwai Fong MTR Station.
From Tsing Yi MTR Station, visitors can take NR330 which costs 9.5 HKD. From Kwai Fong MTR Station, you can take the NR332 which costs 10 HKD. 
Get off at the Beach Commercial Complex (the first stop on Park Island). The Ma Wan ghost town is a 10 to 15-minute walk from here.
With the beach to your left, continue down Ma Wan Road until you reach Noah's Ark, then follow the instructions above.
---
Why Visit Ma Wan Village In Hong Kong?
Undeniably, the main attraction in Ma Wan Village is the abandoned buildings. While some people prefer the new and fancy, these old buildings in Ma Wan are a part of Hong Kong's heritage.
In a sense, the whole village is a small museum showing you a glimpse of the past. It showcases the forces of nature and how quickly nature reclaims its territory, similar to the town of Pripyat in Chernobyl. Well of course, the magnitude of the disaster in Chernobyl cannot compare to the eviction in Ma Wan Village.
Though it isn't haunted (as far as we know), the empty buildings, broken windows, and overgrowing vegetation do provide an eerie feeling, perfect for urban explorers of Hong Kong looking for a thrill. Consider visiting Mo's Mansion of Po Toi Island for another spooky endeavor.
It is a place that can have everything and nothing at the same time, depending on how far you are willing to go. Just be careful when entering some of these buildings though, as Ma Wan was evicted in 2011.
Some of these buildings will have gates, chains, and/or locks around them. There is a reason for that, don't try to enter those buildings!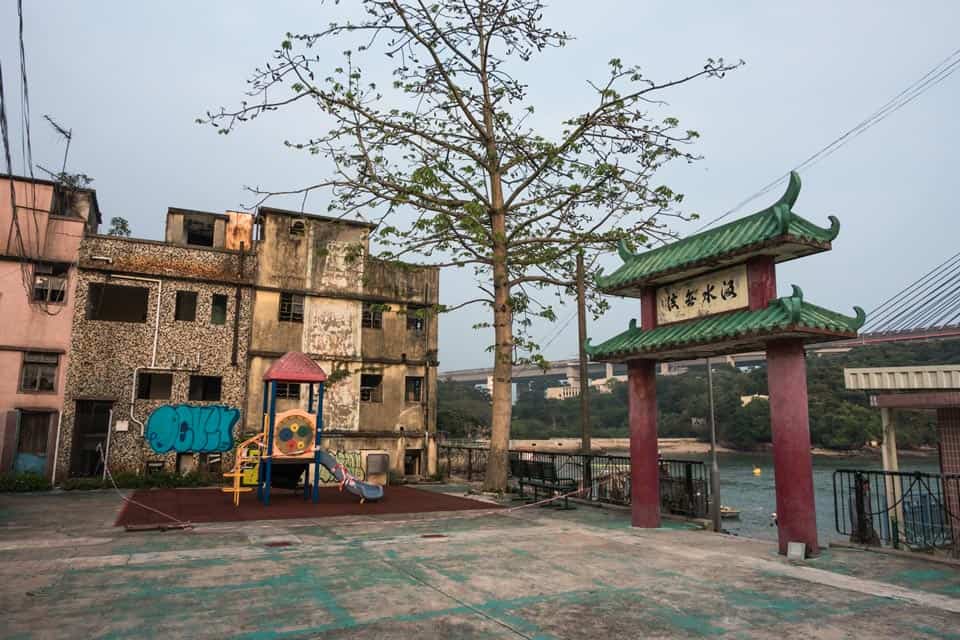 Aside from the insanely cool abandoned villages, Ma Wan is also an area of outstanding natural beauty (though nothing beats Cape D'Aguilar). From the old fishing village that now remains abandoned, you can still see fishermen flock to its shoreline to fish under the Tsing Ma bridge.
Around Ma Wan Village are lush vegetation and mountainous views (a common sight from most islands in Hong Kong). Pre-warning though; with lush vegetation there comes a price…mosquitoes! Make sure you pack some mosquito repellent when visiting Ma Wan.
Ma Wan is also a little less crowded than the hustle and bustle of Hong Kong Island and Kowloon, making it a nice place to visit if you want to experience an area with more history and avoid the crowds.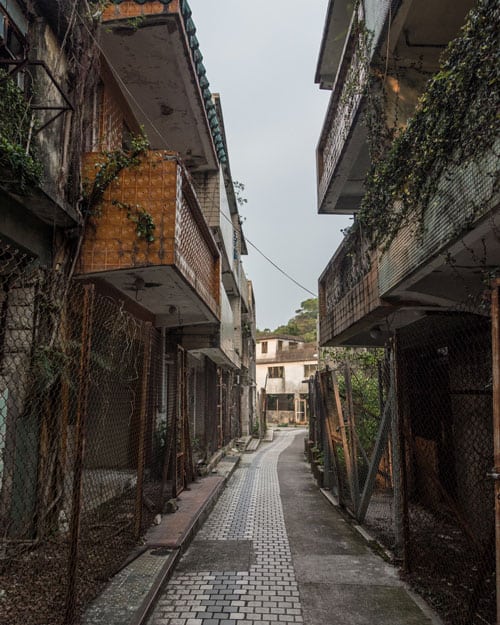 ---
Other Things To Do In Ma Wan On Park Island
If you have come to Ma Wan as a day trip, you might want to add some other nearby attractions to fill in your time. Luckily, there are plenty of other things to do in Ma Wan and Park Island. 
Ma Wan also has a beautiful and slightly less crowded beach, Ma Wan Tung Wan beach, which is a nice rest stop on a sunny day. It doesn't take too long to get there and it's far less crowded than the popular Clearwater Bay and Repulse Bay beaches.
There is also a pleasant nature garden, Ma Wan Park Nature Garden, which is a great place to take the kids.
Aside from that, there really isn't much else to see and do in Ma Wan. It's mostly a residential island with a few nice restaurants to sit and chill in.
1. Ma Wan Beach (Ma Wan Tung Wan Beach)
Ma Wan is home to the Ma Wan Tung Wan Beach, a family-friendly beach with one of the best views of the Tsing Ma Beach. Though not as big as some of the other beaches in Hong Kong (like Ham Tin or Long Ke in Sai Kung), it features clear water and soft fine sand.

If you are traveling in Hong Kong with kids, the smaller space might be favorable!
2. Explore Noah's Ark Theme Park
Noah's Ark is one of the many theme parks in Hong Kong. Its uniqueness comes from its full-size replica of the Noah's Ark, an important biblical artifact.

Visitors can learn about Noah's story through an interactive experience, as well as other exhibits that combine nature, education, and entertainment.
The Noah's Ark Theme park also has its own resort called the Noah's Ark Hotel & Resort, perfect for any family that want to enjoy a staycation or a luxurious experience in Park Island.
3. Check Out The Solar Tower
The Solar Tower in Ma Wan is an excellent museum for kids to learn more about the solar system.
The centerpiece of the Solar Tower is the 350mm diameter vacuum solar telescope, which is the largest professional telescope in South East Asia opened to the public. With this powerful instrument, the telescope projection, visitors can observe the Sun's surface activity in real time.
4. Check Out Ma Wan Park Nature Garden
Adjacent to the abandoned Ma Wan Village is surprisingly one of the most beautiful gardens in Hong Kong. Stroll through this relaxing garden and find numerous art decorations, plants, and flowers. It is an excellent place for some photos with nature!
---
Ma Wan Park Island FAQs
Can You Drive To Ma Wan Abandoned Village?
Yes, you can drive to Ma Wan Abandoned Village. It is located on Park Island, and visitors can get there through the Tsing Ma Bridge, one of the most iconic landmarks in Hong Kong.
Is Ma Wan Village Haunted?
Though Ma Wan Village is abandoned and left to be reclaimed by nature, it is not haunted. The residents of the village relocated due to a housing development project.
---
Like this post? Don't forget to save it on Pinterest!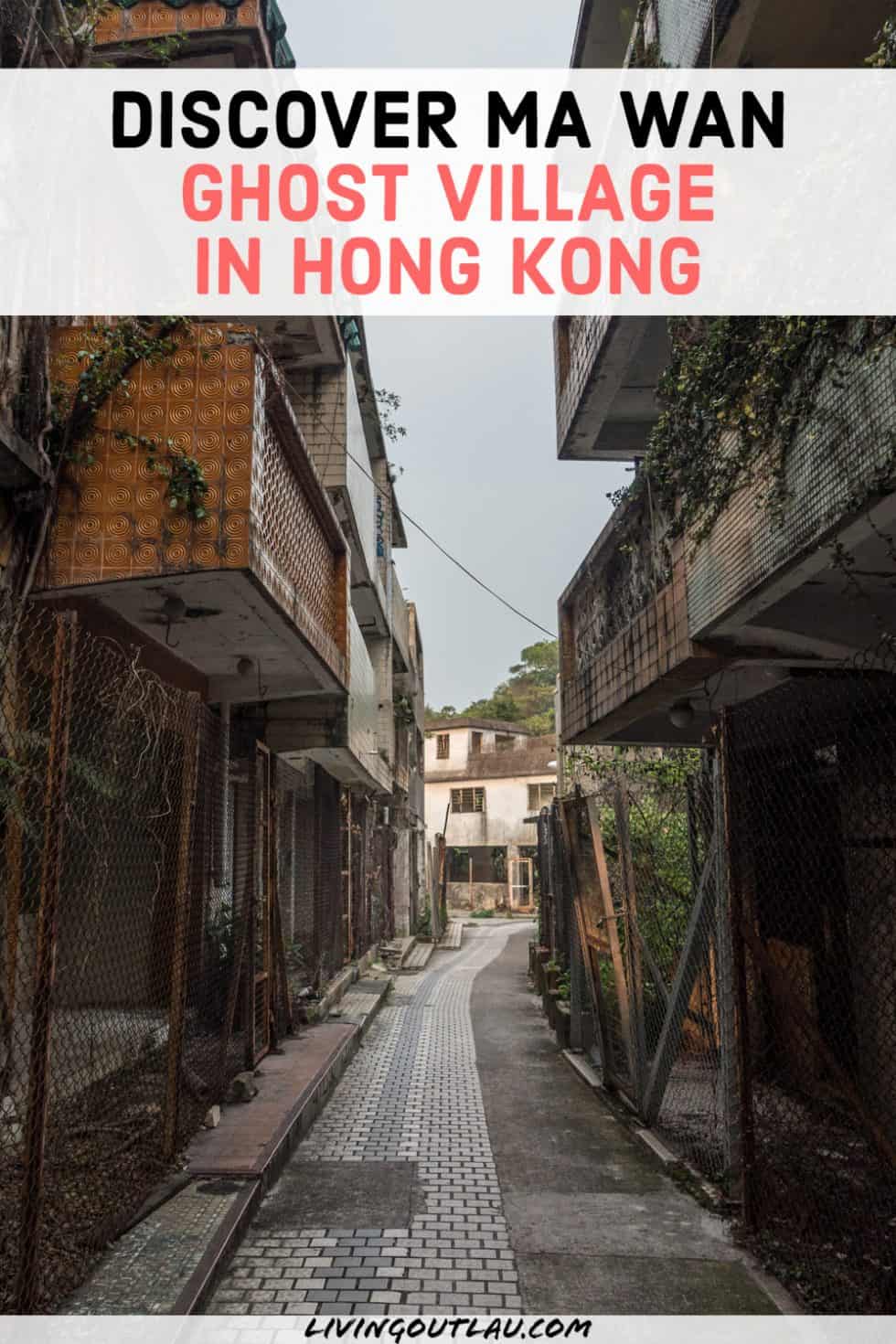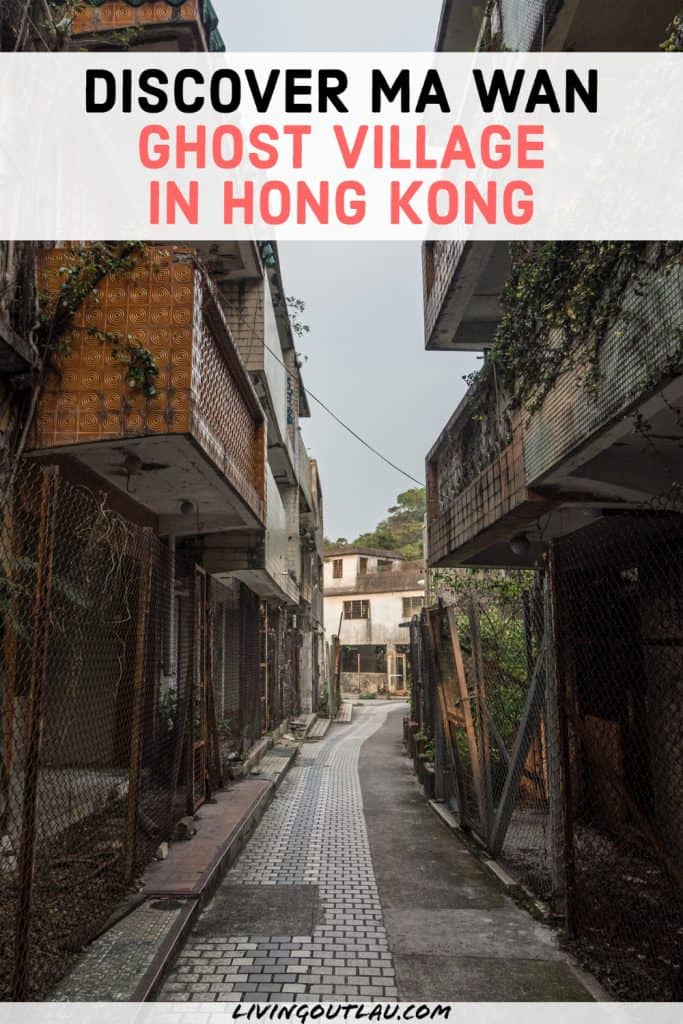 ---
This is the end of our guide to Ma Wan ghost village. We hope that it shows you what a cool place this is and that you enjoy your experience there.

Any questions? Let us know in the comments!
Disclaimer: Some of the links above are affiliate links. That means if you book or make a purchase through the links, we will earn a small commission at no extra cost to you! The money will help run this site! Thank you!