Planning a memorable vacation to Tulum? Instead of opting for a busy hotel smack bang in the middle of this bustling resort, why not book a private luxury villa?! There are plenty of stunning villas in Tulum, and which one you choose depends on your budget and how many people you're traveling with.
To make your decision easier, we've come up with a list of the 18 best Tulum villa rentals in Tulum – from a secluded lodge with a private cenote to a luxury villa situated on a white sand beach in the picturesque Sian Kaan.
After reading this article, you will be itching to hop on a plane to the Riviera Maya!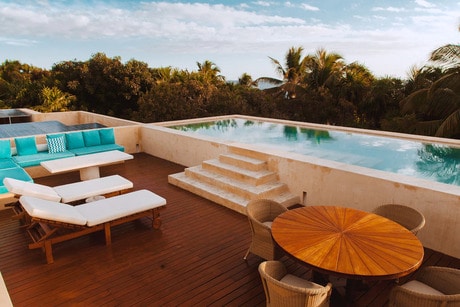 Hacienda Chekul
Hacienda Chekul is one of the most incredible beachfront luxury villas in Tulum. It sits on 100 meters of untouched white sand and comes with a private chef, so all you have to do is relax! (not hard right?)
---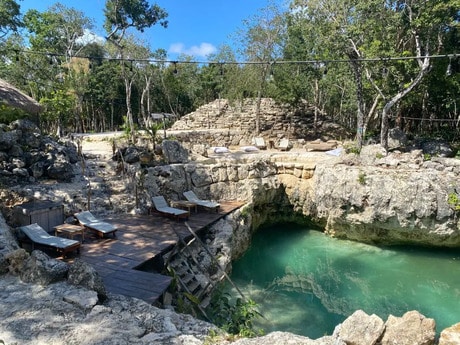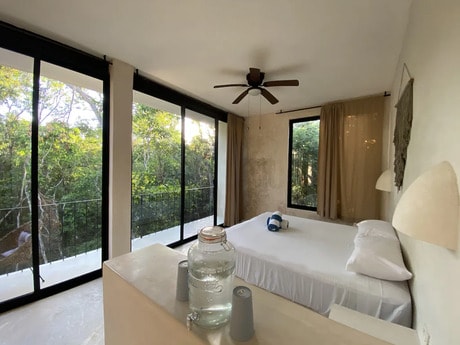 If you are looking for a truly unique villa in Tulum, then check out this luxurious jungle lodge with a private cenote. With 8 bedrooms and 9 bathrooms, this is the ideal place to stay for a group vacation in Tulum or an epic party!
Don't forget the incredible outdoor space, which is the real selling point of this luxury villa in Tulum – this space boasts a large deck with sunloungers, an outdoor pool/ cenote, and a BBQ grill area!
Located minutes away from some of the best cenotes in Riviera Maya, such as Cenote Caracol, Cenote Nohoch Nah Chich, and more, guests will never be bored here. The Caribbean Sea is also within minutes away at Soliman Bay, perfect for those that want to enjoy the beach, swim in the glistening sea, or listen to the sound of the waves.
The interior of the villa is minimalistic yet stylish, with white-washed concrete floors and high ceilings. What's great, too, is that most of the rooms offer a stunning balcony to take in the peaceful surroundings.
Other amenities include onsite parking, WiFi, air conditioning, a washing machine/dryer, and a limo/town car service to take you into town. This Tulum villa is also pet-friendly, which is perfect for bringing your furry friends on vacation!
This extravagant villa is the epitome of bohemian luxury in Tulum Mexico!
---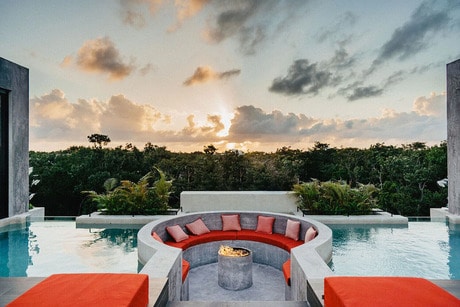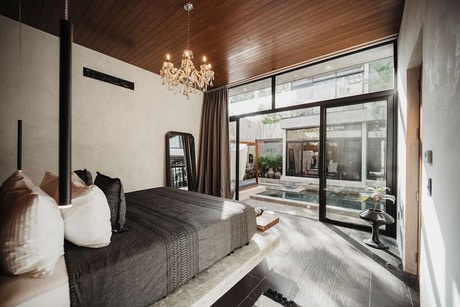 Casa Donn Rey is perhaps the most stylish Tulum villa rental in Aldea Zama, one of Tulum's most desirable neighborhoods. The villa itself makes quite the statement from the outside – with its perfectly symmetrical design and beautiful large windows. In fact, if you didn't know better, you would think it's a high-end store or museum.
Casa Donn Rey is one of the biggest luxury villas in Tulum, with a total of 10 bedrooms and 10 bathrooms. It has a total of 17 beds that can accommodate up to 26 guests, perfect for big gatherings and celebrations.
The design of the building wraps around a stunning courtyard that contains a large swimming pool and a cozy outdoor lounge complete with a firepit! Decorated with an abundance of lush tropical plants, this outdoor space is a complete harmony between modern luxury and outdoor living.
The interior features an Eastern-inspired lounge area, essentially blending in designs around the world into the perfect luxury villa.
When you want to have a lazy day in Tulum, there is a private cinema where you can watch some of your favorite movies.
While the bedrooms are thoughtfully styled, and some feature outdoor bathtubs, the real showstopper here is the elegantly designed rooftop, which has another swimming pool plus an outdoor bar!
---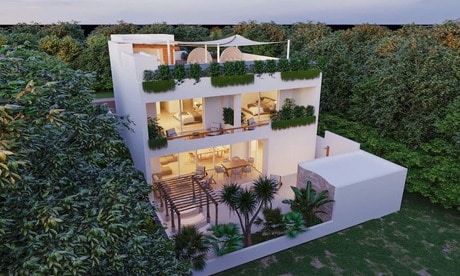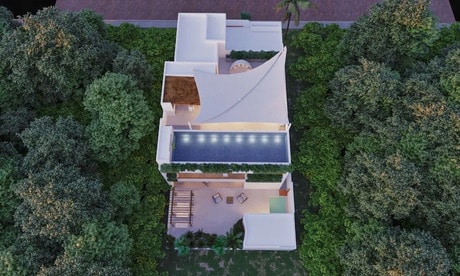 Casa Vida is a modern 5 bedroom 7 bathroom villa that looks as if it's been supplanted from the Mediterranean with its white-washed exterior complete with an abundance of lush green plants. It has a total of 8 beds, which is capable of accommodating 15 guests.
This stylish Tulum villa is located within the exclusive gated community of Aldea Zama, so safety and privacy are pretty much guaranteed here.
Boasting a gym, steam room, and ice plunge pool within the unique spa zone – you can listen to the sounds of the Tulum wildlife while you relax in the steam room or work out in the state-of-the-art gym! Casa Vida features 2 lounge areas and 3 balconies, so you might never want to leave this gorgeous villa!
This large space boasts 6,000 sqft of indoor space and a 2,000 sqft rooftop area complete with sunloungers, perfect for relaxing and soaking in the heartwarming Mexican sun.
When you are not enjoying your Tulum private villa, downtown is a short walk away. Tulum Beach is also a few minutes away, if you have a car.
---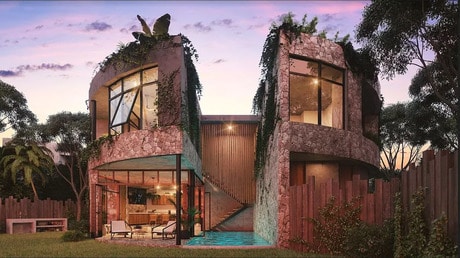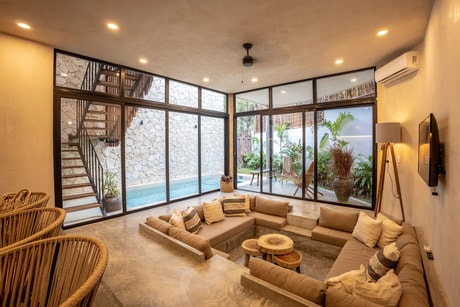 This jaw-dropping architecturally designed gem is surely one of the most unique luxury villa rentals in Tulum. Designed in the shape of a circle with a split in the middle to accommodate the pool, this unusual space looks like it belongs in the pages of Architectural Digest. With 5 spacious bedrooms and 3 bathrooms spread out over 1,650 sqft, this villa can sleep up to 7 guests.
This unique private villa in Tulum features high-speed internet, air conditioning in all bedrooms and the living room, a washer and dryer, a fully equipped kitchen, and much more. Not forgetting the private pool, which leads from the open plan living room – this is without a doubt the perfect site for a memorable Tulum vacation!
This eco-chic luxury villa is 100% solar-powered, so you can feel as though you are doing your part for the environment by staying here. As one can imagine this incredible space is a top choice in Tulum!
Situated near Tulum downtown, guests are close to some of the most popular sights in Tulum, such as Tulum Ruins, Gran Cenote, and Cenote Calavera.
---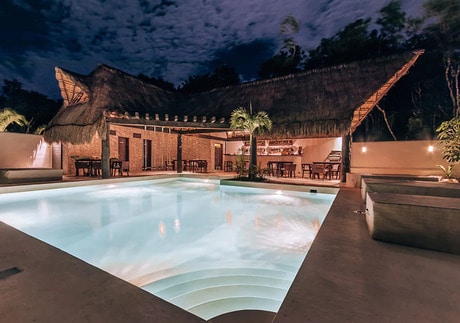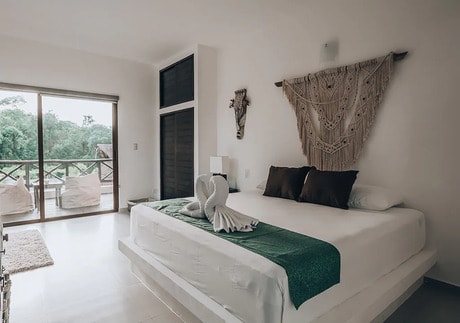 Welcome to your own private slice of heaven! Escape from your busy life with a stay at Xcacel Dreams – a luxurious 6 bedroom 8 bathroom villa nestled in the lush jungle near Tulum.
The big selling point of this home is the zen roof garden which offers one of the best sunset views in town. Imagine yourself setting here with a cold drink in the evening, feeling worry-free and relaxed!
This large villa in a tranquil setting can sleep up to 16 people with 4 king suites and 2 double suites – all with private bathrooms. And the interior is tastefully decorated with white walls and linen and local Mayan artwork.
Most suites feature a wooden balcony to take in the scenery! While the outdoor pool is large and boasts a bar, super-comfortable sunloungers, and even a swing set.
Plus, one of the most beautiful beaches in the region – Xacel-Xcacelito is just 1,500 meters from this Tulum villa. As well as that guests will be spoiled for choice with an abundance of activities like snorkeling, scuba diving, and kite surfing in nearby Soliman Bay, Chemuyil and Tulum.
If you're looking for a luxury villa surrounded by nature, this is the spot for you!
---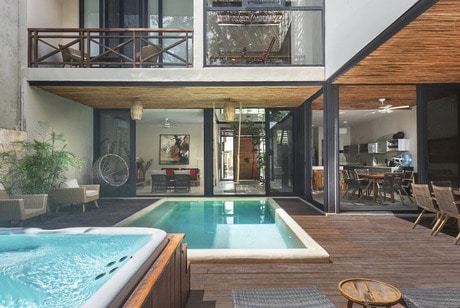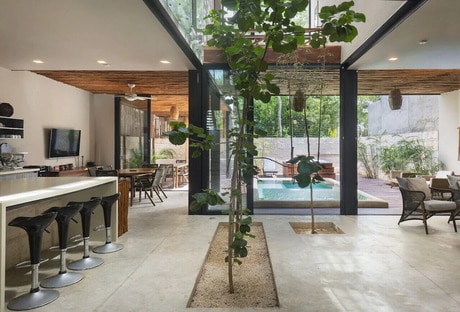 If you are looking for a high-end villa without breaking the bank, then KINICH might be the perfect place for you. Designed to sleep 11 guests across 4 spacious bedrooms, it has enough space even for big groups.
This tasteful luxury villa is located within the premium Aldea Zama neighborhood and boasts an incredible outdoor lounge with a pool and jacuzzi. You'll also find sun loungers, a dining table, and two swings, perfect for a day of relaxation.
The interior of the villa keeps with the local design style of the Riviera Maya with concrete floors, white walls, and an open plan design. Guests can choose to have a local chef come to this home and prepare some excellent local dishes, perfect for a night in or a special occasion.
It's thoughtfully designed with floor-to-ceiling windows on the back of the villa – enabling you to overlook the pool area from the living space.
Other amenities include high-speed WiFi, air conditioning, and a fully equipped kitchen! If you are looking for a long-term stay in Tulum, this can be your perfect home away from home.
---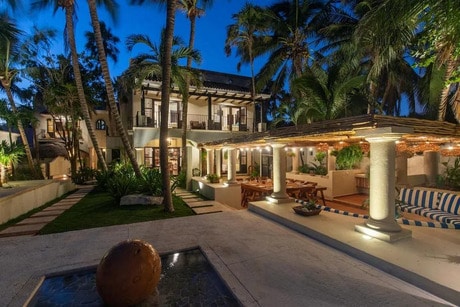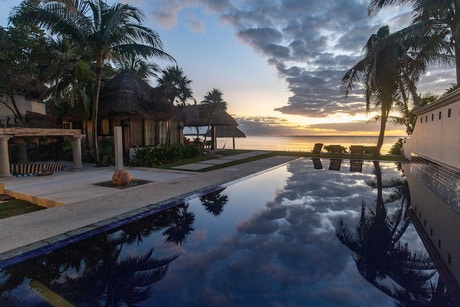 Spreading over a whopping 13,000 sqft, the oceanfront property of Casa Buena Suerte is one of the most desirable villas in Tulum. The soft white sand and the vast ocean are literally right at your doorstep!
This 6 bedroom, 6 bathroom villa can sleep up to 17 guests and boasts a plethora of epic features – from the roof deck with ocean views to the sunroom, which overlooks the nature reserve, and best of all, the cobalt blue 50 ft infinity pool which looks out to the Caribbean Sea. This is undoubtedly a bucket-list-worthy property!
The outdoor space is huge and has giant palm trees, a water feature, and several spaces to relax in, from a palapa to an outdoor dining table. And the best part is this space leads onto a quiet beach!
The interior is luxuriously furnished with authentic Mexican rugs and Mayan artwork, adding a pop of color. There are 5 king suites within the villa and an additional suite located in the outdoor palapa. Other amenities include Wifi, a satellite kitchen on the second floor, and a chef's kitchen with a breakfast bar.
Of course, the real selling point of Casa Buena Suerte is its beachfront location – right outside the villa; there are chaise loungers, a beach palapa, hammocks, and 3 kayaks set up for you to enjoy – making for an unforgettable stay in Tulum!
---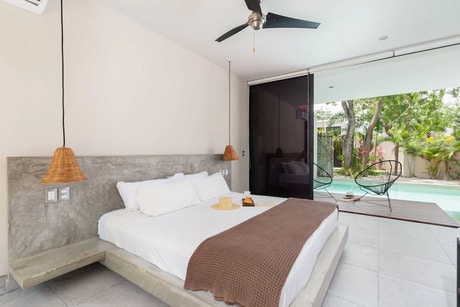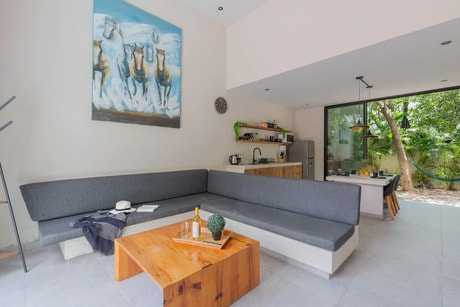 If you are looking for a luxury villa for couples, then this Stylish Villa 7 is perfect for you. Featuring two large bedrooms with incredible California King beds and two full bathrooms, this luxury villa can accommodate up to 6 guests (with 2 on the sofa).
The bedrooms are stylish and beautiful, however, the best things about this Riviera Maya villa are the 2 private pools! One pool is located on the ground floor with the second on the top floor – guests will never want to leave this magnificent abode!
This brand-new villa is conveniently situated just 5 minutes from downtown Tulum and 15 minutes from the Caribbean Sea and its gorgeous beaches.
Other features of this ultra-modern villa include indoor parking, a security guard, and a kitchen with basic equipment. Air conditioning is provided in the bedrooms while ceiling fans can be found in the living spaces.
---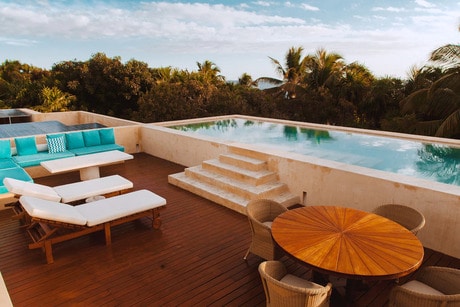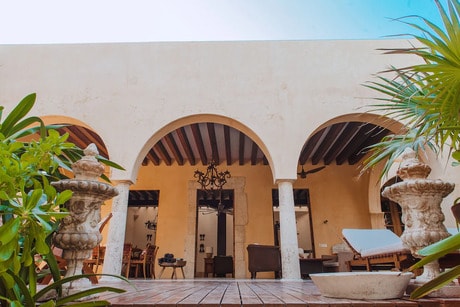 Next up is the fantastic Hacienda Chekul a 4 bedroom, 4.5 bath beachfront luxury villa situated within the stunning Sian Kaan Reserve. It's a short drive from Tulum and nestled within a 6-acre lush wilderness estate!
Designed in a classic hacienda style by the famed architect Salvador Reyes Rios, this flawless casa sits on 100 meters of untouched white sand beach and sleeps up to 8 guests! You'll feel a world away from the hustle and bustle of Tulum here in Sian Kaan but the lively town is in fact just a 7 km drive away!
In abiding with the strict building standards in the Sian Kaan the villa is just one level, with a magnificent infinity pool on the rooftop which overlooks the beach and jungle. The views are simply breathtaking!
All 4 luxury bedrooms are spacious and thoughtfully designed with private bathrooms (one with an outdoor shower) and air conditioning. Please note that 2 of the master bedrooms are located just off the main house, offering ultimate privacy!
This Tulum villa includes a chef who will prepare all your meals for you, and can accommodate any dietary requirements or preferences. With everything taken care of, all you have to do is relax and enjoy this slice of paradise!
If you're after an unforgettable 5-star experience in Tulum, check out Hacienda Chekul!
---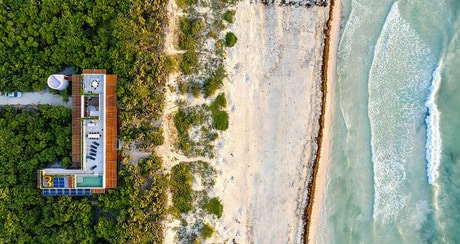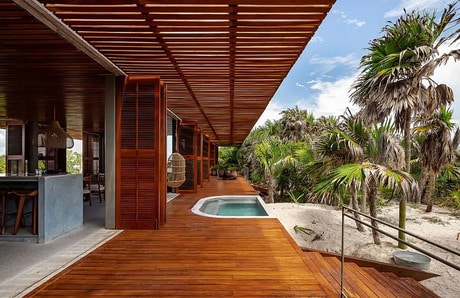 Villa Bautista is situated inside the UNESCO World Heritage Site of Sian Ka'an Biosphere Reserve. However, it is only 3 kilometers from the south of Tulum gate, and a short 5 minute drive away.
Its superb location offers guests seclusion and privacy in one of the most pristine settings while being within easy access to the best Tulum has to offer.
This luxury villa is owned by the Pueblo Del Sol organization, a project that is dedicated to working with indigenous communities in the Riviera Maya and beyond. In fact, their delicious gourmet coffee and honey are provided free of charge when you stay here and your stay supports this great project!
This 5 bedroom, 4 bathroom villa sleeps up to 10 people and is surrounded by lush, tropical trees, while a quiet white sand playa is right on your doorstep.
The interior is open plan and flows naturally to the outdoor space, creating the perfect outdoor living area for guests! An added bonus is the plunge pool which sits adjacent to the living room. If you are looking for a secluded oceanfront and beachfront property with beautiful surroundings, then check out Villa Bautista!
---
Luxury Tulum Villas FAQs
What Is The Best Tulum Villa With Chef?
The best Tulum villa with chef is undoubtedly Hacienda Chekul. It is designed in classic Hacienda style and sits on 100 meters of untouched white sand, allowing guests to enjoy the Caribbean Sea effortlessly.
What Is The Best Beachfront Villa Rental In Tulum?
The best beachfront villa rental in Tulum is Villa Bautista. It is situated in Sian Ka'an, a protected area with some of the most pristine beaches in Tulum. If you want privacy and seclusion on the beach, there is no better place than Villa Bautista.
---
Deciding on a luxury villa in Tulum is a difficult task; I mean, there are so many great rentals to choose from! But ultimately, it all comes down to your budget and the number of people in your group.
We've listed some purse-friendly options here as well as some super-opulent villas with a high price tag! Whichever villa you choose from this list, I just know you will have an awesome time in this epic Riviera Maya destination!
Disclaimer: Some of the links above are affiliate links. That means if you book or make a purchase through the links, we will earn a small commission at no extra cost to you! The money will help run this site! Thank you!