Are you in search of the fabled winter sun in Europe? Worry not.

Winter in Europe doesn't mean you have to freeze your toes off, wrap yourself up like a mummy, or become a hermit. With a variety of climate zones, there are many warm places in Europe, even in the winter months of December, January, and February.

From the tropical Canary Islands off the coast of Northern Africa to the Greek Islands, numerous warm cities and regions dot the European continent.

Below are the 25+ best destinations for winter sun in Europe.

Enjoy!
---
What Are The Best Destinations For Winter Sun In Europe?
1. Bay Of Kotor, Montenegro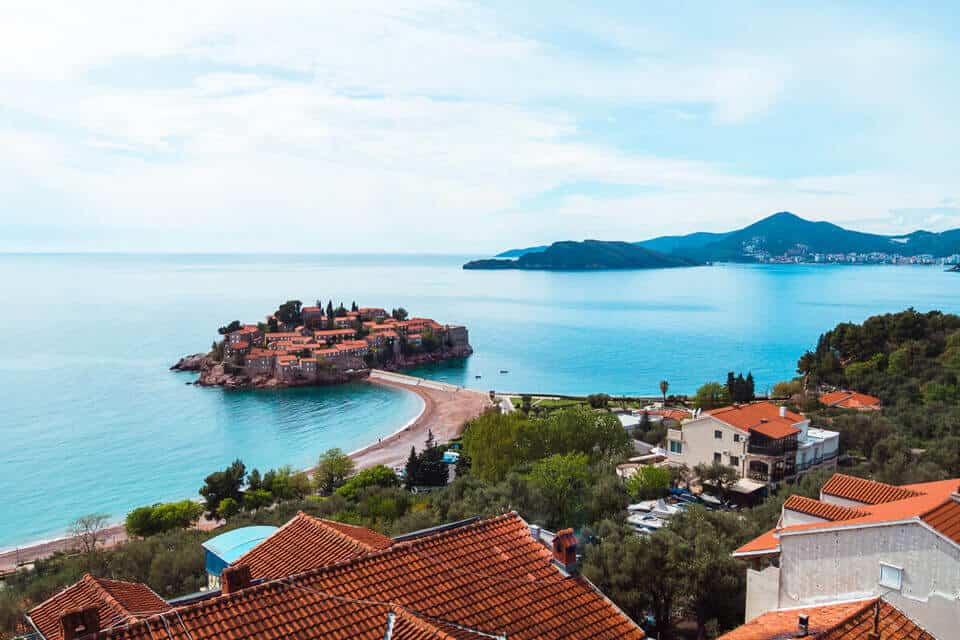 If you're chasing the winter sun and looking for a less conventional destination, consider the Bay of Kotor on Montenegro's Adriatic Coast.
Dotted with historic Venetian towns and picturesque islands, the Boka Kotorska was the 'it' place for summer holidays in the former Yugoslavia. Today, the bay has a very different, much quieter vibe – especially in the off season.
Daytime temperatures hover around 13 degrees Celsius during winter on the coast. Although you should come prepared for rain, there are plenty of blue-sky days as well.
Some of the most beautiful places in Montenegro are located on the bay, including the UNESCO-Listed Kotor and Budva. One of the best things about traveling in winter is that you'll avoid the cruise ship crowds, which make the narrow alleys of the old towns almost unnavigable in summer.
You might have to skip swimming, but there are plenty of other activities on offer. Walking the Seven Bay Trail from Budva to Sveti Stefan is a great way to take in the prettiest slice of the coastline, and is ideal in winter when temperatures are mild.
Rent a car to explore at your own pace, setting aside a few days to drive up the mountains that rise above the coast as well. Lighter traffic and an abundance of car parks are two more perks of traveling in winter.
On the flipside, tourism on the bay is very seasonal, so you'll find some restaurants and cafes are closed in winter. But there will always be something open – more likely a local joint serving traditional seafood.
2. Sao Miguel, Portugal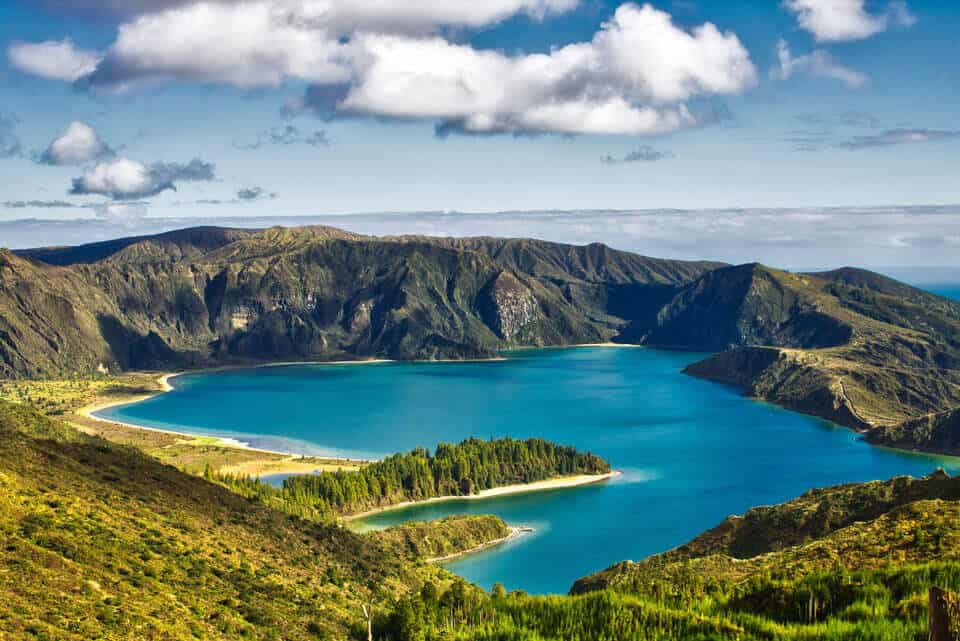 Sao Miguel island is set in the middle of the Atlantic Ocean and is part of the Azores archipelago.
What makes the island of Sao Miguel such a desired European winter sun destination is its mild climate and plenty of sunny days. However, occasionally the island might be covered in thick overcast that might last for a few days. This should not bother you, as this is the perfect time to visit the hot springs on the island.
Sao Miguel has plenty of hot springs, which you can dip into. Most of them can be found in the middle of the island in the city of Furnas. The most famous hot springs and thermal spas are Poca da Dona Beija and Parque Terra Nostra (entrance is free if you stay or eat at Terra Nostra Hotel)
Other hot springs in Sao Miguel for leisure are in Caldeira Velha, near the Cabrito Waterfall.
If you prefer a more secluded place to take a dip into the hot water, then head to Ponta Da Ferraria natural pools. They are set on the western side of the island of Sao Miguel and are free to use.
However, it is good to check when is high tide so that the water is not that hot, as the water is coming straight from the bowels of the earth.
Other things that you can do on Sao Miguel are hiking to some of its most prominent landmarks – Sete Cidades or Lagoa do Fogo. The lakes on the island are surely the most beautiful landscapes in the Atlantic Ocean and will blow your mind with their beauty.
3. Tenerife, Spain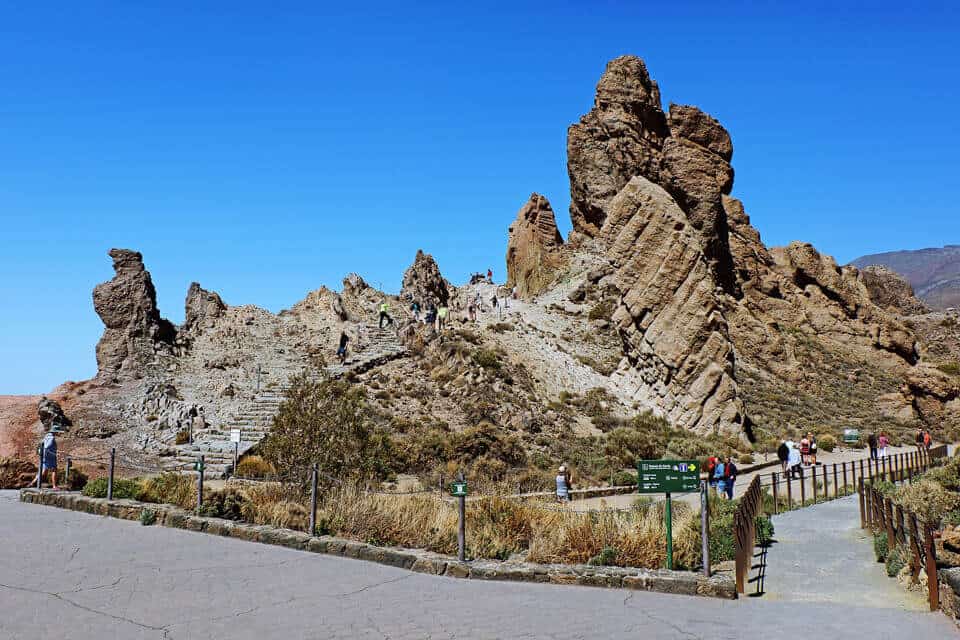 With a great all-year-round climate, Tenerife is an awesome choice for winter holidays in Europe.
Considering one of the hottest places in Europe in December, the average temperature is 17°C and the sea temperature is 21°C, perfect for swimming! But you wouldn't just go someplace because of its great weather unless it has something to offer. While studying in Spain, I visited Tenerife and I will tell you that it has a lot to offer.
Situated to the west of North Africa, it is the largest of Spain's Canary Islands. You can hike the volcanic landscape of Mount Teide National Park, a World Heritage Site and home to Mount Teide, a volcano and the highest mountain peak in Spain.
Being an island, Tenerife has a great variety of beaches, starting from popular blue flag beaches to secluded, off-the-beaten-path gateways. You can go scuba diving in Tabaiba, in the central north of Tenerife. Into kitesurfing? Head over to El Médano beach.
And while you are there, don't miss the mysterious stone pyramids of Pirámides de Güímar Ethnographic Park. And, in case you are planning to be there in February, maybe you can add Santa Cruz de Tenerife Carnival to your list. Over the last week of February, festivals, processions and parties flood the streets of Santa Cruz with color, and glitter, and a lot of fun.
4. Syracuse, Italy
Sicily is one of the most southerly destinations in the Mediterranean so it's perfect for winter sun-seekers.
One of the most appealing cities in Sicily at any time of year is the city of Syracuse. The historical heart of Syracuse is the small island of Ortigia, connected to the mainland by two bridges. Due to its size, you're never far from a mesmerizing sea view in Ortigia.
Although there is plenty of history to take in when you visit Syracuse: the Archaeological Park, Castello Maniace, and the fine Baroque architecture, the most appealing aspect of the city is being outside enjoying the sunshine.
There are pleasant walks along much of the seafront and the white limestone on the buildings in the Piazza del Duomo glow in the sunlight. Wonderful cafes and restaurants dot the streets of Syracuse, warmly inviting travelers to come in.
There is also an excellent street Market is also available should you decide to self-cater during your stay.
If you're visiting Sicily with kids, Syracuse is a brilliant destination for families: small and compact, it's easy to explore on foot and children will love the traditional puppet theatre and the wonderful castle.
The weather in Syracuse is often influenced by the sirocco winds from Africa so temperatures can reach 20 degrees in wintertime.
5. Crete, Greece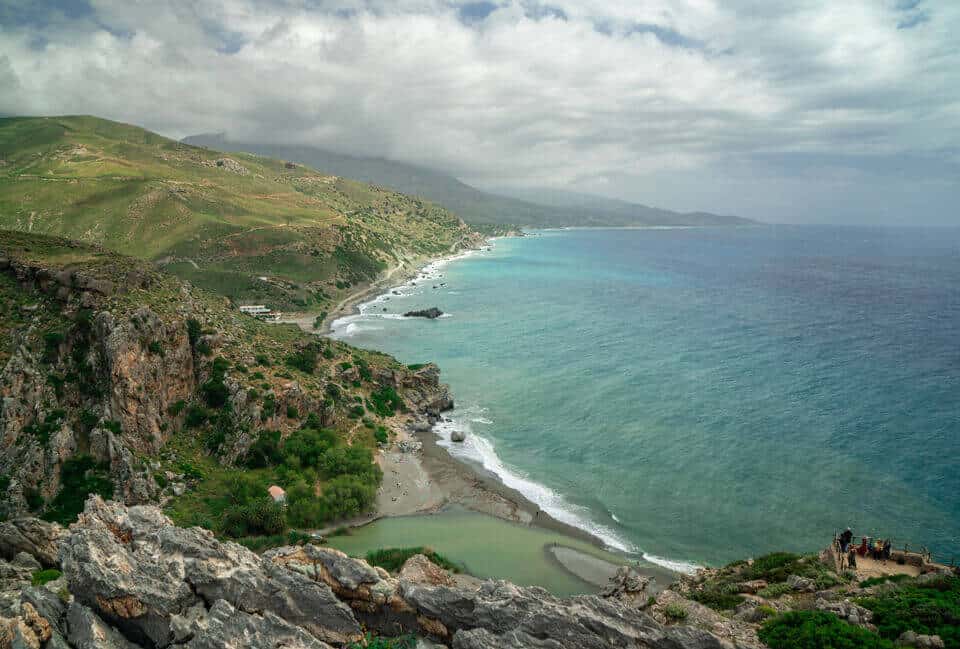 Winter in Crete, the largest Greek island, means having blue skies, beautiful beaches, and outstanding mountains.
Crete has more than 500 stunning beaches and it sees sunshine year-round. The average daytime temperature during the winter doesn't go below 14 °C, which means swimming could be quite bearable.
If swimming is not your favorite activity, you can still enjoy sunbathing, relaxing or playing on the beach. Preveli Beach, Balos Lagoon, Elefossini Beach, Rethymno Beach, and Missiria Beach are some of the most beautiful beaches in Crete.
Crete is also home to some large mountain ranges, three beautiful national parks, historic towns, and numerous natural and historical landmarks.
This island is one of the most popular islands in Greece, but the good news is not many tourists visit this charming destination during the winters, so you will be able to have some beautiful beaches to only yourself.
Above that, there are tons of things to do in Crete during the winters, and the price of accommodations and tours are cheaper.
While in Crete, roam around Chania, the second-largest city on the island, take a cooking class, hike in the Patsos Gorge, visit the Pottery Village of Margarites and visit the Arkadi Monastery.
6. Cyprus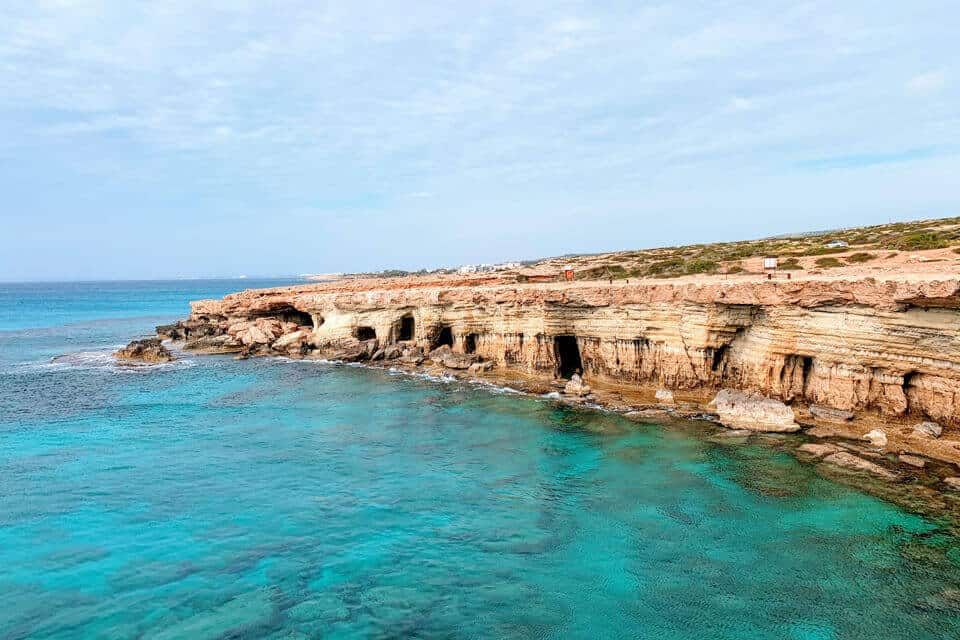 With its mild weather, stunningly scenic coastline, and fascinating legends and history, the beautiful Mediterranean island of Cyprus is one of the most perfect winter sun destinations in Europe.
Located at the crossroads of three continents, there is a strong influence of, and a beautiful medley of several cultures in Cyprus. Winter is the perfect time to explore the various historical treasures of the island – the crowds are much thinner and the sun is much milder.
The archaeological park at Paphos contains sites dating back 2000+ years, as does the site of the city-kingdom of Kourion. Remains of intricate mosaic floors and grand theatres & buildings are some of the highlights of these locations.
From history to legends, Cyprus has a lot to offer! The Greek Goddess of love & beauty, Aphrodite, is said to have taken birth on the island at the beautiful beach of Petra tou Romiou. Legend says, Aphrodite's Rock at this beach grants eternal youth to those who visit it!
The sparkling turquoise sea makes for a stunning sight which you can take in while sunbathing at one of Cyprus' many pretty beaches – winter means there will be no crowds to interrupt the view!
The scenic beauty of Cyprus' coastline is unparalleled – from stunning natural landscapes (including the island's famous sea caves!) at Cape Greco on the east to the incredible Akamas Peninsula on the other side of the island. One of the best things to do in Cyprus is to hike and explore these beautiful areas!
Cyprus is a beautiful winter destination and a worthy addition to anyone's bucket list.
7. Almeria, Spain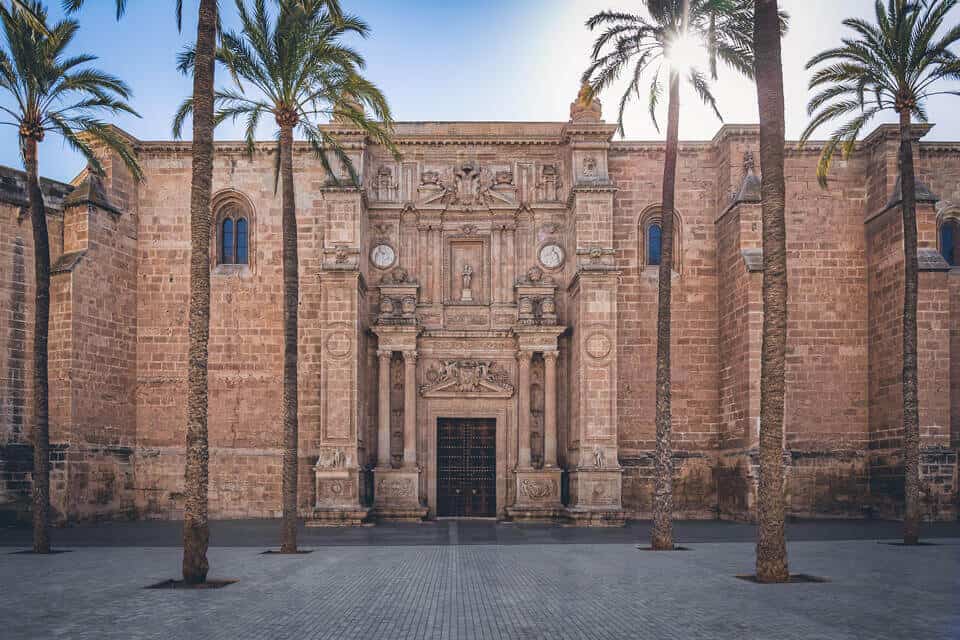 Spain is one of the best travel destinations globally, all because of its diversity in terms of geography, food, and culture. One of the reasons which makes a tourist destination throughout the year is the fabulous weather.
Almeria is one of the places in Spain where you can expect warm temperatures until the end of November and mild temperatures throughout the winter. The average winter temperature in Almeria goes up to 16 degrees Celsius, perfect for a European winter city break!
When you are visiting Almeria's town, be sure to check out the natural park Cabo de Gata, it is one of the most underrated places in Spain.
Almeria is a great European escape at an affordable price. During the winter months, hotels near Cabo De Gata offer attractive deals that can save you a lot of money.
One of the best things to do in Almeria is to visit the white sand beaches, which are relatively isolated during winter months. During the winter season, the climate is perfect for cycling enthusiasts as they can easily travel between small towns without getting too sweaty.
You can visit famous castles such as Castillo de San Cristobal and the Alcazaba. To make your lady happy, you can take her to Las Ramblas, a series of walkable routes that combine the city's main route. These routes offer several cafes, famous restaurants, and bustling shops for purchasing local art.
8. Sardinia, Italy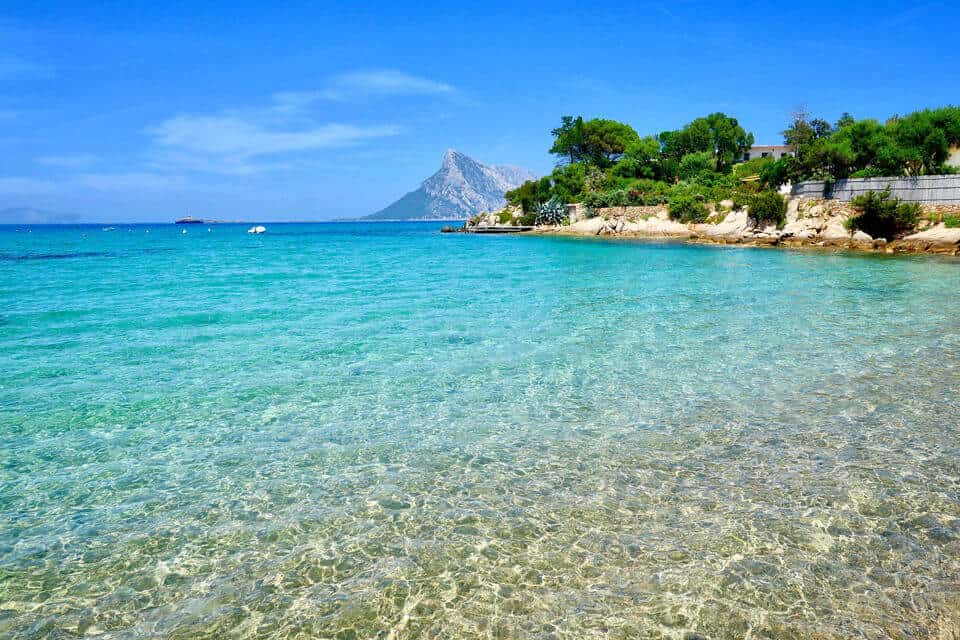 Sardinia is a wonderful place to visit in winter in Europe. No crowds, comfortable temperatures, and lower accommodation prices make Italy's second-largest island an excellent winter escape.
While it would be a lie to say that Sardinia is extremely hot in winter, temperatures are still around a comfortable 12-15 degrees Celsius on average with some days even reaching 20 °C.
While days are relatively short, they are generally sunny and perfect for outdoor activities as well as exploring the pretty little towns found on this beautiful island.
In fact, winter temperatures are much more suitable for such endeavors then the hot summer months, when it's often too hot to do anything but relax on one of the splendid beaches. Those beaches are still beautiful in winter and perfect for an afternoon; however, swimming is only for the very brave during winter.
Alghero is a must-visit on any Sardinia itinerary, as is the marvelous Maddalena Archipelago.
Be sure to visit Bosa, a cute as a button town about an hour driving from Alghero. Hike up to the castle on the hill for a beautiful view over the colorful town and the bay.
Those interested in history should definitely visit one (or several) of the ancient Nuraghi, ancient fortified towers built from large rocks, and the Ruins of Tharros.
Cagliari is the capital of Sardinia and also highly worth a visit. And it may surprise you, but there are actually four ski resorts on Sardinia! So if you want to escape the warm winter sun for a day and engage in winter sports, head to the Gennargentu area for a day of fun in the snow.
9. Barcelona, Spain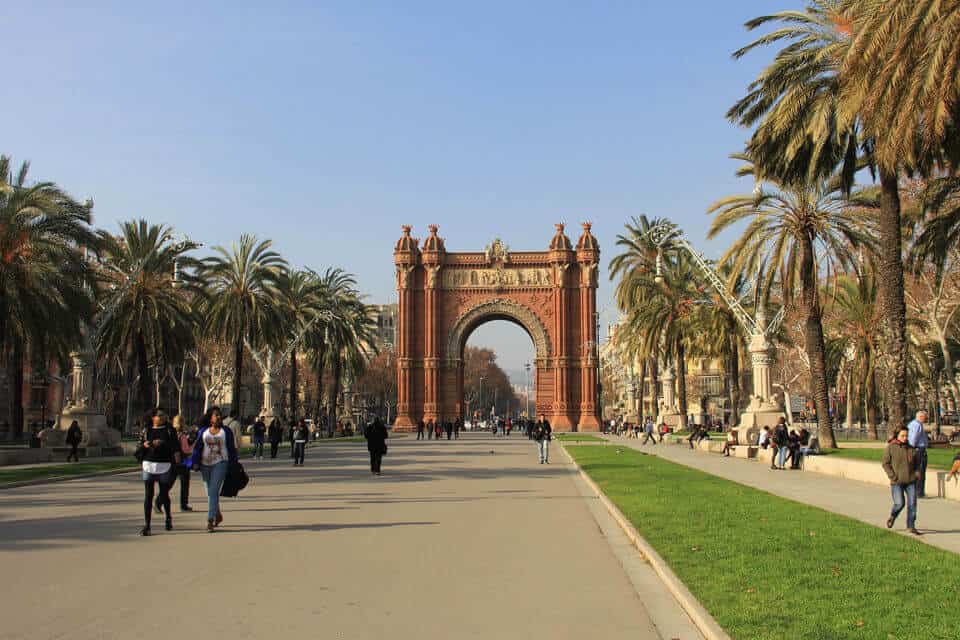 When you think of Barcelona, you probably immediately have images of a typical summer destination in mind: Beach vacations, long warm nights, and ice-cold sangria are typical for a trip to the Catalan capital. But did you know that you can also expect a lot of sun when you visit Barcelona in winter?
Barcelona is simply the perfect travel destination with only around three rainy days a month, even in winter. During the day, you can sit outside on one of the numerous terraces while you let the Spanish sun warm you and enjoy a few typical Spanish tapas.
You should also not miss a visit to the beach in winter because the beach of Barceloneta is simply part of every visit to Barcelona. Unfortunately, at this time of year, the Mediterranean Sea is no longer warm enough for swimming.
However, a walk on the beach is even nicer during the cold season because you have enough space to take a long walk and breathe in the salty water of the sea.
Afterward, you can sit down in one of the cafés or restaurants on the beach promenade and relax with a hot coffee with a sea view.
A winter trip to Barcelona is also great for discovering the city's many attractions. Since there are far fewer tourists in town at this time of year, you have more flexibility in purchasing tickets and no need to stand in line at the city's most popular attractions.
10. Malta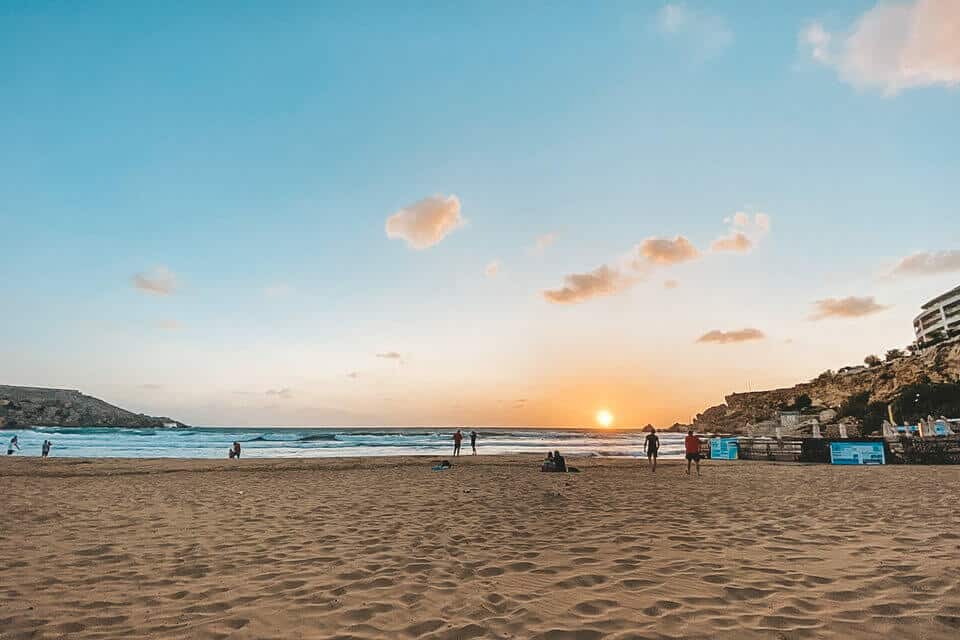 For a spot of Mediterranean winter sun, Malta is a great option. Within reach of destinations in Europe, North Africa, and the Middle East, Malta basks in sunshine a reported 300 days of the year, and it has been known to enjoy t-shirt weather well into winter.
Whilst the humidity and wind can be bitter at times, the temperature remains firmly in double digits (Celcius).
The best times to visit in winter are November and December after the summer rains have ended but the weather is still warm and sunny – often still swimmable!
Outdoor events last all the way up to Christmas with festivals, concerts, and museums all in full swing. Moreover, it is much less busy than the summer season meaning you have more of Malta to enjoy and at a more affordable rate.
Taking advantage of fewer crowds, one can enjoy a stroll in the historic Silent City, Mdina, Malta's capital until 1530. Within the fortified walls of the tiny city of 400 residents, one can find beautiful churches and historic palaces owned by the Maltese noble families.
Mdina was built atop of a hill with amazing views across the island, so be sure to enjoy them from the wonderful restaurants or tea houses.
Valletta, the nation's capital, is a great full day of activity with shops, quaint cafés, and stunning vistas across its two natural harbors.
Valletta has a great offering of boutique hotels from repurposed baroque palaces often with interesting cellars, which connect to the network of tunnels hewn from the bedrock anchoring the city.
These tunnels are often open to the public at the well-attended Notte Bianca festival in October or November in which shops, museums, and restaurants open all night.
11. Gran Canaria, Spain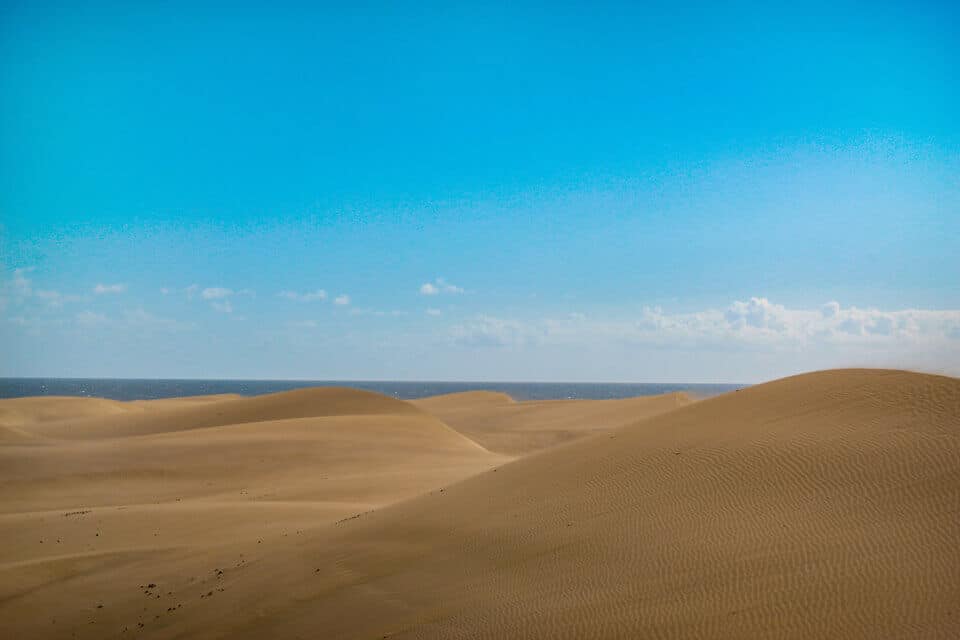 Gran Canaria is a sought after destination by Europeans, more so during winter. Located in the Atlantic Ocean 150 km off North Africa's coast, this second-most populous island in the Canary Islands receives 360 days of sunshine.
Although a year-round holiday destination, winter is actually the peak time to visit Gran Canaria because the temperature is still around 25 degrees (It is one of the warmest places in Europe In January!). Due to the island's diversity in climate, Gran Canaria is also known as a miniature continent.
Enjoy the myriad beaches that Gran Canaria is famous for. Walk on the Maspalomas, a 1000 acre of sand dunes that makes you think you are in a sub-Saharan desert. The best time to walk the sands is around the time of sunset, soaking in the views of the vast dunes and blue sea.
Visit the pretty whitewashed coastal town of Puerto de Mogan. There are boat and submarine trips if you fancy one.
Gran Canaria is also a paradise for hikers. One of the best hikes is to volcanic rock Roque Nublo, a famous landmark and a UNESCO Site. Alternatively, hike the Caldera de Bandama, an ancient crater in the center of the island. For extreme water adventures, you can choose from an array of activities like scuba diving, snorkeling, surfing, jet-skiing, or paragliding.
Visit Valerón's monastery, an impressive archeological site of pre-hispanic collective granary containing 298 compartments distributed on 8 levels. For an offbeat experience, why not stay in a cave house in Gran Canaria?
Whatever it may be, Gran Canaria is an experience in itself. The unspoiled coastline, dramatically changing landscape, and historic sites make for a great road trip in Gran Canaria any time of the year.
12. Santorini, Greece
Santorini is often overlooked as a winter sun destination once the crowds start to dwindle and the charter holiday flights end for the year. However, while the scorching temperatures of summer may leave with the crowds, the island remains temperate and positively warm compared to the frozen cities of Northern Europe.
The advantage of traveling to Santorini in winter is that you get to visit and enjoy the incredible beauty without all the crowds. Many of the places to stay in Santorini are much more affordable.
During the day, spend time hiking the amazing trails that cross the island, and taking in the historical sites that date back thousands of years. As the sun starts to set, the magic of Santorini comes to life with the setting sun basking the white-washed buildings in gold, pinks, and purples.
The beaches transform into a wilder landscape during winter and swimming isn't advisable, but without the crowds, you can take in the raw beauty of the beaches with their red and black volcanic sands.
At night, in the capital Fira, there are still plenty of places to eat, serving up traditional Greek and Santorini dishes. The traditional dishes of the island are hearty and perfect for re-energizing after a day of exploration, with the mashed fava beans being one of the most popular local dishes.
13. Algarve, Portugal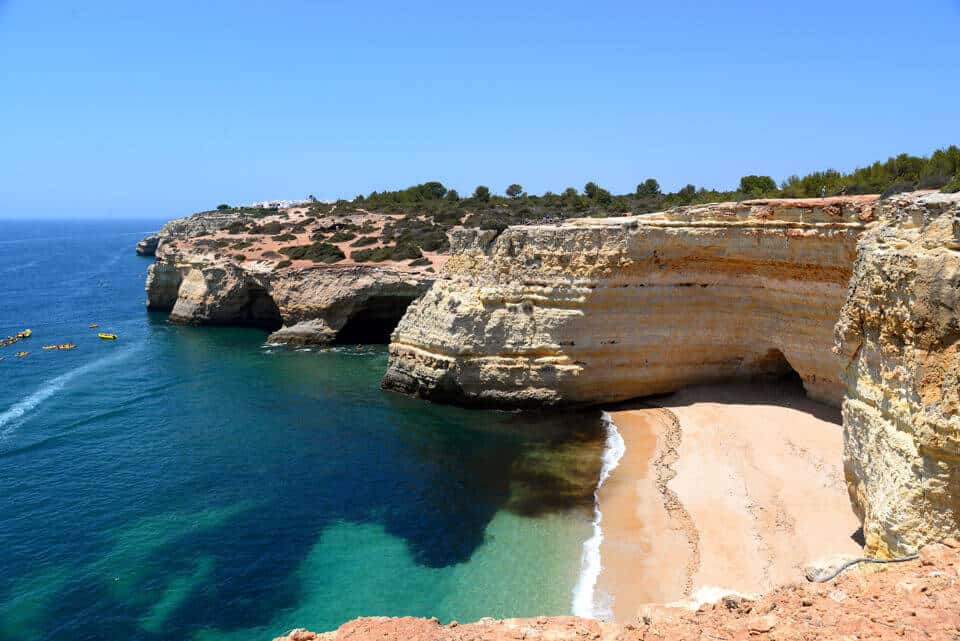 Algarve is perfect for winter sun as it remains balmy throughout much of the winter months. This beautiful region at the very bottom of Portugal is filled with pops of color thanks to an abundance of beautiful flowers that thrive even in winter.
While many of the traditional activities aren't on offer there is still plenty to do throughout the season from visiting the numerous golf courses to horse riding, cycling, and tennis.
There are some fantastic Algarve family resorts and unlike some of the other European tourist destinations, many of these are open throughout the year along with plenty of the region's best restaurants.
While the sea may not be warm enough to swim in (although some do), the beaches are beautiful and even in winter it can feel warm enough to walk barefoot in the sand.
In the coldest months of December to February, the air temperature ranges from 9 °C to 16 °C. With the clear sun during the day, it can be in the low 20s outside!
There are still places to visit even out of season from the wonderful pottery shops which this region is famous for through to the atmospheric Sagres, once thought to be the end of the world in Roman times.
Winter is also a wonderful time to visit the Ria Formosa Natural Park, 60 km of lagoons and islands where you can spot some of the beautiful wildlife which is best seen during these more peaceful months.
Algarve in winter is somewhere that feels good for the soul.
14. Taormina, Italy
One of Europe's best winter sun destinations is the hilltop city of Taormina Italy on the island of Sicily. The city is located on the east coast of the island with sweeping views of the Ionian Sea and Mount Etna. 
The walled medieval city is enchanting with cafes, piazzas, promenades, and boutiques. One of the most visited sites is the Teatro Antico di Taormina, an ancient Greco-Roman theatre that's still in use today. It sits atop cliffs high above the sea and coves below. 
Taormina is a great destination for natural attractions as well like the trails that lead to Mount Etna and hiking the volcano itself.
Another popular natural attraction is the nearby Gorges of Alcantara. These gorges are carved into the black lava walls of the Alcantara canyon where you can swim in the cold waters that run through them.
The beaches in Taormina are another main attraction for visitors and the most well-known beach is Isola Bella. It's most easily reached by taking a funicular to the coastline from the town above.
Once you reach the shore you will immediately notice the beautiful island just off the coast. It sits in the protected bay and is connected to the island's mainland by a narrow strip of land.
During high tide, the strip disappears and you have to wade to the island which is also a nature reserve. It's worth the wet ankles to reach the rocky beach as it's one of the best sunbathing spots in Sicily.
15. Seville, Spain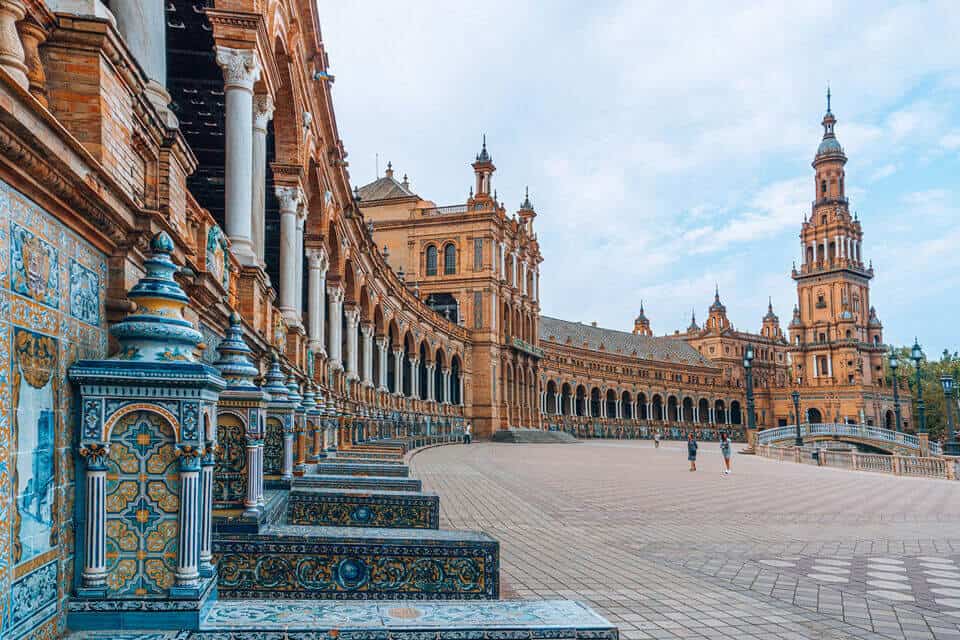 One of the warmest places to spend winter in Europe is Seville, Spain. This city is the capital of the Andalusia region and is also one of the sunniest places in Europe.
In fact, temperatures range from roughly 8°C – 17°C there during the winter months, and there are only about 80 days of rain in Seville per year!
I recommend spending at least three days in Seville to fully discover what this city has to offer. One of the best attractions in town is Plaza de España, a large square filled with gorgeous architecture, stunning azulejo tiles, and a charming canal.
You can stroll around, take photos, and even rent a boat and row around the canal. It's a very relaxing and beautiful experience. 
Another not-to-miss attraction is Casa de Pilatos, a civil palace dating back to the 16th century. You'll find tons of fascinating architecture and statues there!
Make sure to also stop by the nearby Metropol Parasol, an enormous wooden structure that resembles a mushroom. Right by this place, you'll also find lots of restaurants, cafes, and tapas bars!
A trip to Seville also wouldn't be complete without a visit to the Royal Alcázar, the Cathedral, and the Giralda Tower. I also highly recommend watching a flamenco show and eating at a tapas bar while you're there; both of those activities are crucial to an authentic Seville experience!
16. Alicante, Spain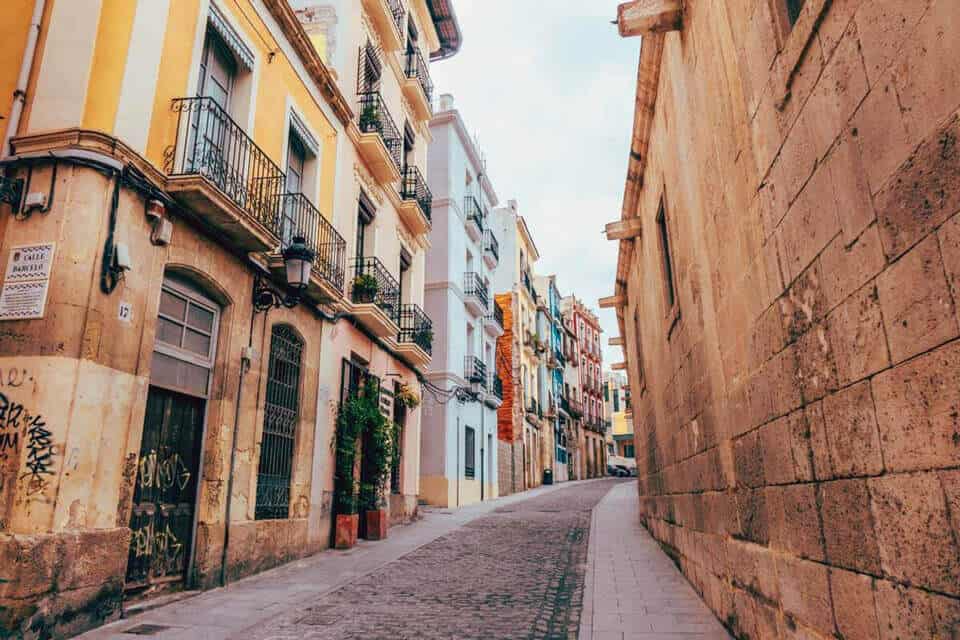 If you are looking for the best winter sun destinations in Europe, consider spending your holiday in Alicante. This Mediterranean town southeast of the Iberian Peninsula in Spain sees 3,000 hours of sun per year with an average temperature not dropping below 18 degrees C.
Who would say no to such weather when it's gloomy elsewhere in Europe?
With a rich history, beautiful sandy beaches, colorful streets, and charming little towns around it, Alicante is a perfect place for those who would love to escape the cold weather, yet enjoy stunning landmarks, hidden gems, and delicious food.
The Castle of Santa Barbara, overlooking the shore, is the main attraction in Alicante. Considered as one of the biggest medieval strongholds in Spain, the area offers breathtaking views over the town and the Mediterranean. It dates back to the 9th century when Muslims ruled the Iberian Peninsula.
Santa Cruz, a small neighborhood just below the castle, is a lovely area of white-colored buildings adorned with colorful windows, doors, balconies, and flowers.
Also, Alicante is home to a couple of notable cathedrals and churches, along with various museums for art and history lovers.
Alicante's geographical location makes it a perfect place to make day trips and explore the Province of Alicant and charming towns of Costa Blanca.
More importantly, if you are after hidden gems and unusual natural phenomenons, Torrevieja Pink Lake is also quite close either by driving on your own or taking public transportation.
17. Lisbon, Portugal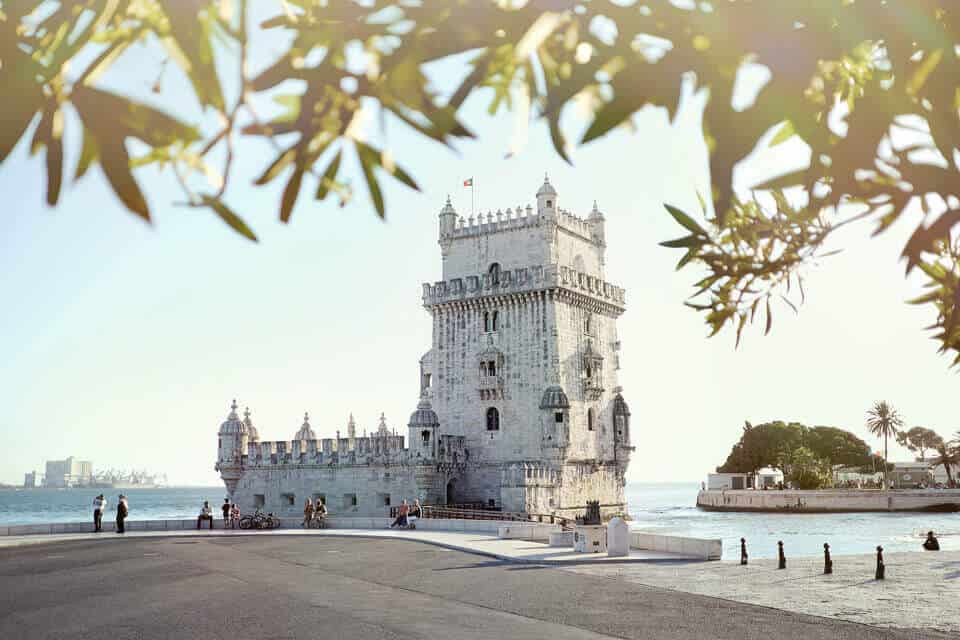 Lisbon is the capital city of the seaside country of Portugal with a summer temperature touching 30 °C and winter daytime temperature hovering around 15 °C. Sunny on most days, Lisbon is a perfect destination for those who need to escape the cold harsh winters.
Lisbon is a stunning place to see for history & culture lovers. The 2 most important places to see here are the Belem Tower and Jeronimos Monastery, both of which are UNESCO World Heritage Sites. These 2 are located on the outskirts of the city and need a short train ride to reach there.
Belem Tower was built in the early 16th century when the Portuguese voyagers began exploring around the world and Vasco da Gama reached India.
It has 3 towers in it and the view from atop of the 25 Abril Bridge, the huge sculpture of Jesus Christ, and the National Sanctuary of Christ the King are splendid. Close to it is the Jeronimos Monastery which is the final resting place of Vasco da Gama.
Entry to the church is free of cost but the monastery is ticketed. This was built throughout the 16th century. The place is exquisite with its sculptural details and hand-painted traditional Portuguese tiles. The octagonal cloister is an architectural marvel that cannot be missed.
18. Lanzarote, Spain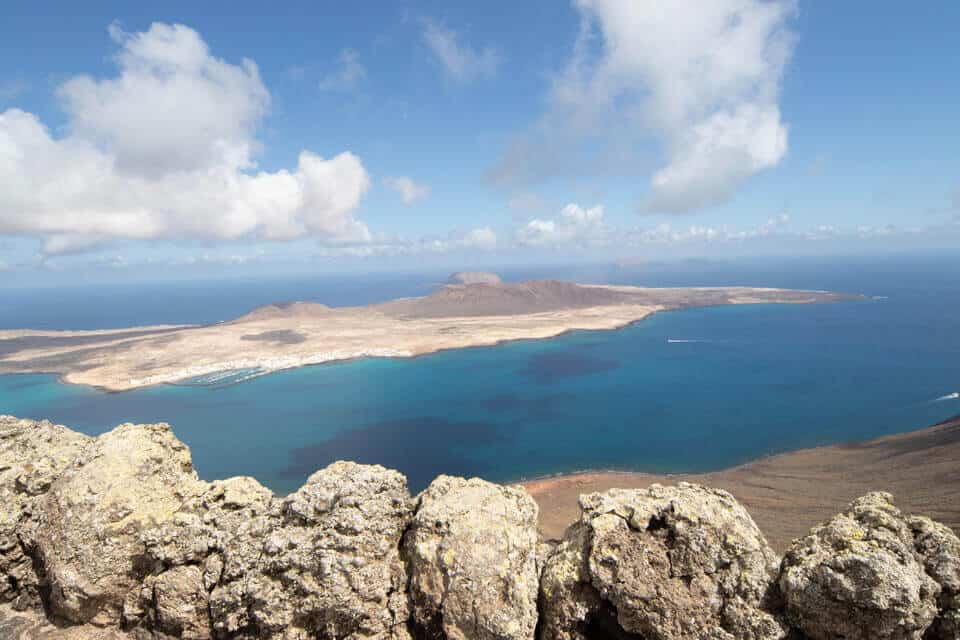 By: Chris Of Punta Cana Travel Blog

Lanzarote is the northernmost main island of the Canary Islands and a perfect destination to fill up your need for Vitamin Sea & Sun.
It features a very dry climate year-round with only 3 days of rain per month in winter. The highest temperatures between December and March reach up to 23 degrees and you'll get an average of 7 hours of sunshine per day.
Isn't this perfect to get away from any cold and rainy weather?
But Lanzarote not only features an excellent sunny climate but also a lot of things to do, doesn't matter if you are a nature lover or culture lover.
As Lanzarote is a volcanic island, dry vegetation is predominant, with Timanfaya National Park being the most impressive site to see the remnants of the volcanic eruptions from "just" three hundred years ago.
Other highly recommendable nature attractions include Mirador del Rio with an amazing view, the picture-perfect beaches at Costa Papagayo and the secluded little island in the north of Lanzarote, La Graciosa. 
If you are interested in culture and architecture, Lanzarote won't disappoint you either, especially when visiting Jameos del Agua, Teguise, the Monumento del Campesino or the Fundación Cesar Manrique, named after Lanzarote's most important personality.
When visiting Lanzarote, it is recommended to rent a car, as the roads are well maintained and feature amazing views all over the island. Some of my favorite roads were the winding road south of Haría (LZ-10), the LZ-67 through Timanfaya National Park, and the western access to Mirador del Rio along LZ-202.
19. Malaga, Spain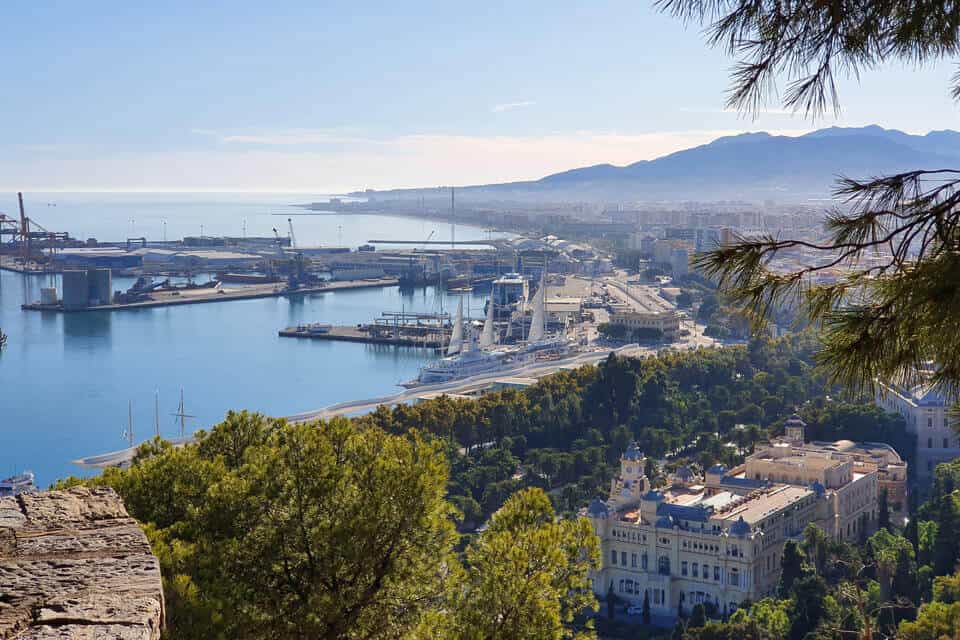 With over 300 sunny days a year, Malaga is a perfect winter sun holiday destination in Europe. The weather in Malaga during winter is quite mild, with temperatures around 15 degrees Celsius, which feels much more in the sun.
Malaga is a city that never sleeps, so no matter when you visit, there will always be things to do. One of the great things to do in Malaga, to join in with the locals, is having tapas at an outdoor terrace, either in the old center of the city or in the harbor.
Visiting Malaga in winter also means that the prices you will pay for accommodation and transport will be much lower. Some of the top end four-star hotels in the city will sell rooms for only 60-70 euros a night in winter.
Whilst it might not be sunbathing weather (though you never know, as I was on the beach at the beginning of December last year), you can still walk along the numerous kilometers of promenade that Malaga has and enjoy the sunshine. Or, you can jump on a boat and go see the dolphins who love to play just outside the main harbor of the city.
If you choose to spend a weekend in Malaga in winter, you also need to know that the airport is literally 10 minutes away by underground train from the city center.
20. Palermo, Italy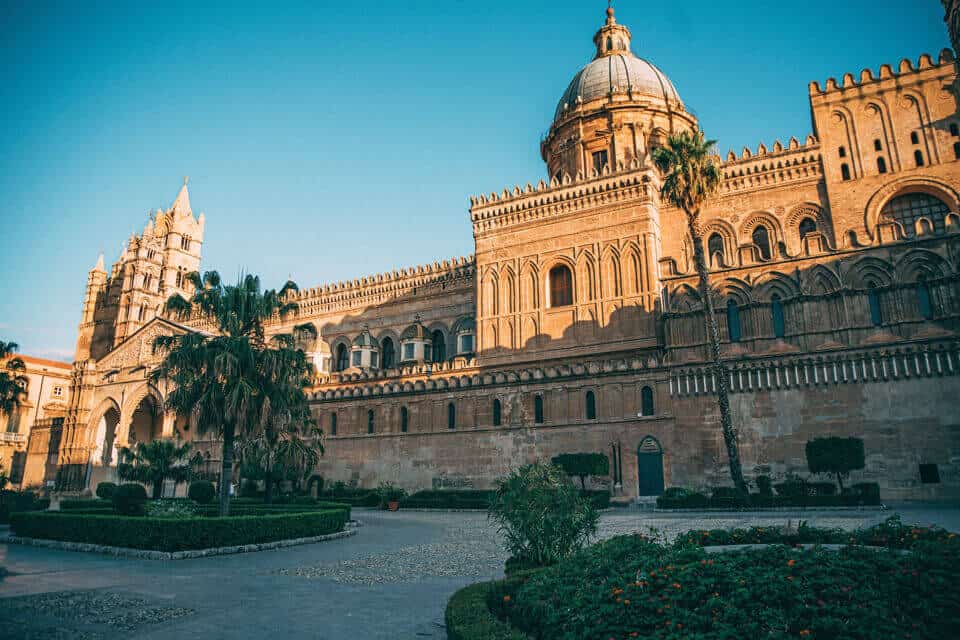 By: Caroline Of Veggie Wayfarer

Palermo is the capital of beautiful Sicily. It is known to be the home of amazing street food, extraordinary architecture, and very erratic drivers. It is the perfect getaway for the winter as the average temperature is a cozy 15°C and rainy days are few and far between.
Now, let's delve into the street food scene.
Be sure to pop into the Antica Focacceria San Francesco and try out the typical Arancini (fried rice balls with ragu or alternatively a la norma for vegetarians). For the more adventurous souls, you could try out the Focaccia Maritata, a sandwich filled with veal spleen, fresh ricotta, and caciocavallo cheese.
When it comes to churches, Italy might just blow your socks off. Sicily however, is on a whole other playing field.
Be sure to pop into the Church of the Gesu, San Giuseppe dei Teatini, and the 12th century Arab Norman architectural gem called the Church of San Cataldo.
Speaking of Arab-Norman architecture, one cannot leave Palermo without having stepped foot in the Norman Palace. The oldest parts of the palace date back to the 9th century, making it the oldest royal residence in Europe. These days it functions as the seat of the Sicilian Regional Assembly.
Make sure to take enough time to wander through the Capella Palatina which is a stunning masterpiece of eclectic mosaics, wooden ceilings, and jaw-dropping frescoes, delicately covered in a glittering layer of gold.
As for those erratic drivers, best to ignore those and go about visiting the bite-size city on foot.
21. Cadiz, Spain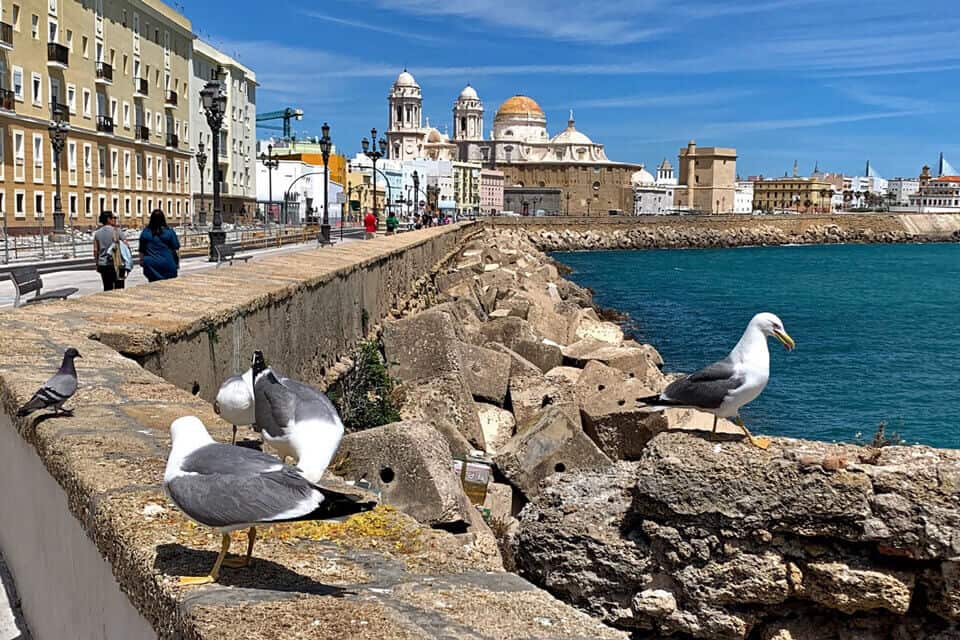 Cadiz is one of the most beautiful cities in southern Spain and one of the most popular Spanish destinations for the warm and temperate climate, pretty urban beaches, impressive architecture, great seafood, and welcoming people.
This magical port city is located on a picturesque peninsula surrounded by the mighty Atlantic Ocean and gorgeous sandy beaches in southwestern Andalusia.
While summers in Cadiz are hot with average daily air temperatures climbing to 30°C, winters in Cadiz are mild with an average daily air temperature around 20° C. Even more, Cadiz has more than 3.000 hours of sunlight in a year.
Sun-blessed Cadiz is well-known for some of the best beaches of Spain on the powerful Atlantic Ocean. The most popular Cadiz beaches are La Caleta beach, Santa Maria Del Mar beach, and La Victoria beach.
The iconic landmark of Cadiz is the breathtaking seawater promenade that stretches around the peninsula. Cadiz sunsets and romantic walks along the promenade are hardly beatable in Spain.
Visiting glorious Baroque and Neoclassical Cadiz Cathedral, having lazy coffee-time on Plaza de San Juan de Dios Square, exploring UNESCO World Heritage Site of San Sebastian Castle and Santa Catalina Castle, enjoying the stunning Genoves Park and beautiful Alameda Apodaca Park, and wandering around the medieval Barrio El Pópulo quarter are undeniably some of the best things to do in Cadiz.
If you are a foodie, sampling fresh local food in Mercado Central and pampering yourself with seafood tapas in traditional taverns in Cadiz are the absolute must do's. If you are chasing winter sun, ocean views, tasty seafood, and history-filled architecture, book your flight and pack your suitcase to Cadiz.
22. Catania, Italy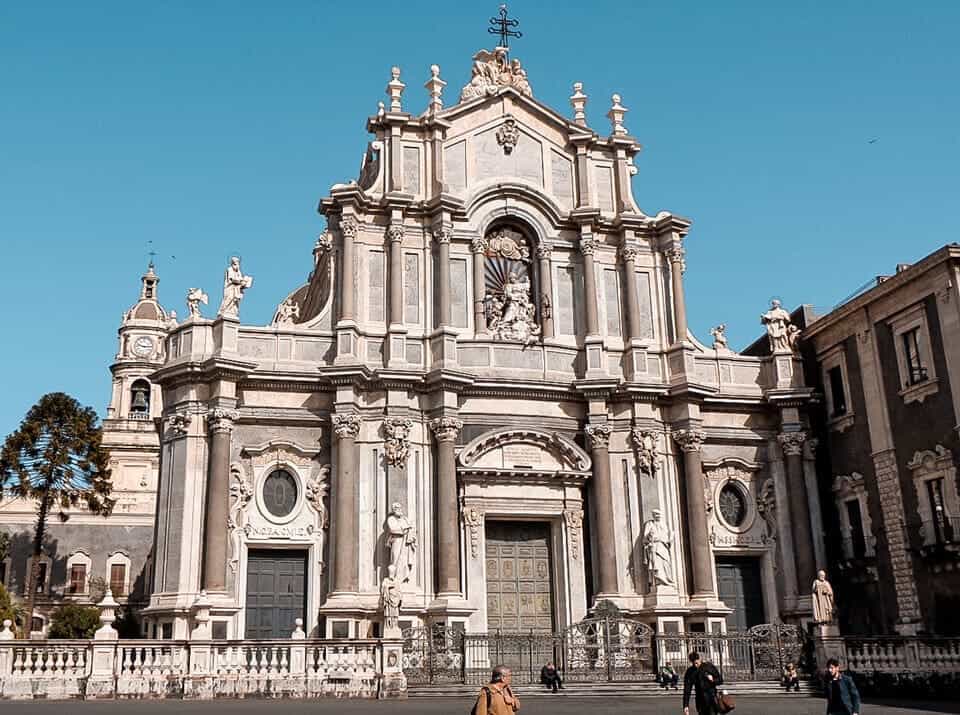 When winter comes, we start dreaming about sunny, warm destinations and sometimes book our summer vacation. A good idea is to plan a sunny winter escape too, and enjoy that weather when you yearn for it the most.
Catania in Sicily is a fantastic winter sun destination in Europe. It has pleasant weather in winter, it never reaches 0 degrees Celcius and most days are clear and sunny. At the same time, if you want to try skiing, you can do that on Mount Etna nearby, then come back to the warmth, and enjoy the city.
Catania itself offers plenty to do. Explore the baroque city starting from Piazza del Duomo-the heart of Catania, visit Sant'Agata Cathedral, Ursino Castle, and the city gardens.
Another 'must' in Catania is the food. Visit the open-air markets like La Peschiera close to Piazza del Duomo, try the fresh local products, fruit, vegetables, or fish.
Also, leave room for desserts. The sweets of Sant'Agata are among the best in Italy, and the granitas are to die for. Taste the cannoli, typical Sicilian rolls with a ricotta filling, and the incredible pistachio spread.
All-in-all, Catania is a perfect place to spend a winter holiday if you're looking for a sunny destination with a lot of things to enjoy.
23. Rota, Spain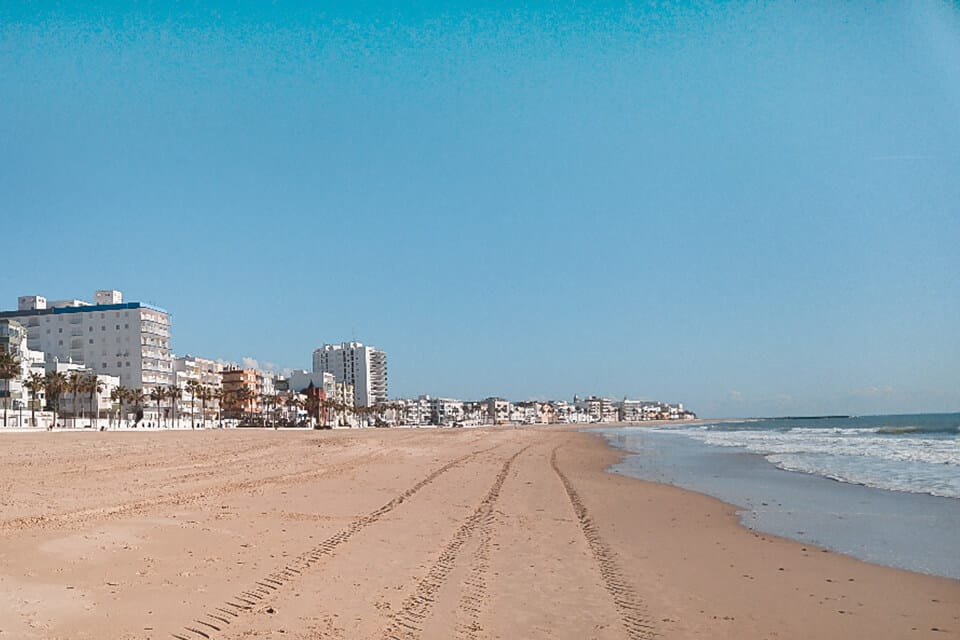 If you're looking for a sunny, peaceful place to relax this winter, look no further than Rota, Spain. This charming town of approximately 30,000 residents sits on the Bay of Cadiz and has some of the most beautiful and well-maintained beaches you will ever see.
Winter temperatures are generally in the 60's degrees Fahrenheit (approximately 16 to 20 degrees Celcius) during the day, but the strong sun makes it feel warmer. The weather is perfect for relaxing on the beach, strolling Rota's 9 miles of coastline, or enjoying an epic Spanish-style lunch on an outdoor terrace.
The narrow, winding streets of "old" Rota are full of restaurants, tapas bars, bakeries, and small shops, nearly all of which are unique to Rota. The vibe is casual, and the people are friendly; no one is in a hurry.
During your stay in Rota, take the ferry across the bay to Cádiz and spend the day visiting Europe's oldest city. The journey takes about 25 minutes and offers great photo opportunities.
The best place to stay while in Rota is the Hotel Duque de Nájera. It's the only hotel in town that is directly on the beach and only steps away from Rota's historic center. It's also across from the ferry terminal, where you can catch the Cádiz ferry.
Rota is the perfect place for a sunny winter getaway. This little-known, picturesque town on Spain's Costa de Luz will surely become one of your favorite escapes!
24. Lagos, Spain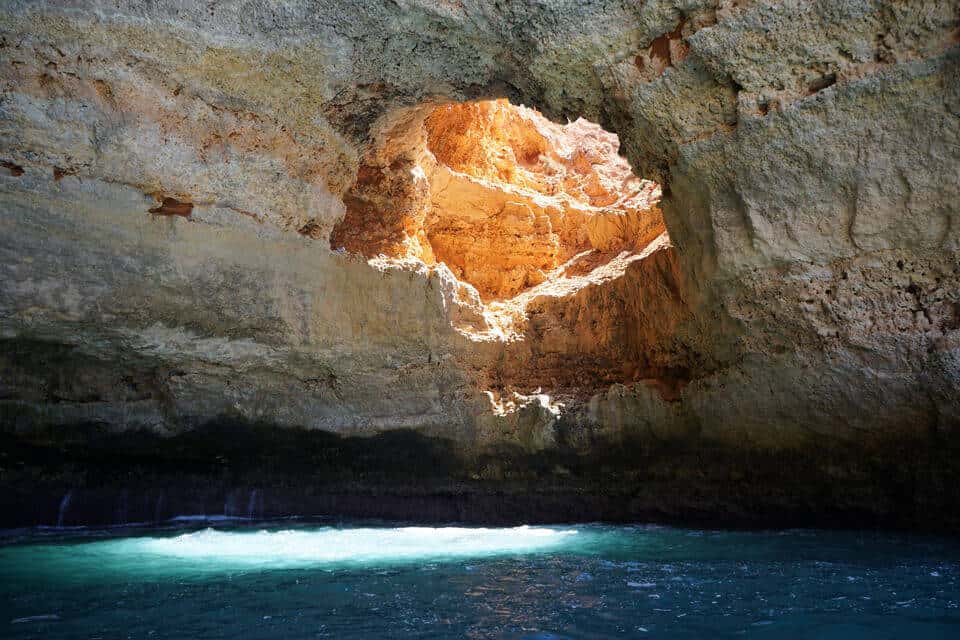 When looking for winter sun in Europe, Lagos is the perfect destination. Algarve being one of the sunniest places in Europe, Lagos is spoiled with warm days, even in the winter months.
Temperatures can drop to around 9 degrees Celsius, but can also rise close to 20, which means it's warm and comfortable in the sun.
There are so many fun things to do in Lagos and surroundings all year round, but in winter, there are fewer crowds. You can go surfing the waves with the locals, enjoy nearly empty, mesmerizing beaches, and walk the many coastal walks along jaw-dropping cliffs.
To mention one, the Seven Hanging Valleys Trail is definitely worth it. It's a good day hike return between Algar Seco and Marinha Beach. There are also boat rides to explore the many caves along the coast, among them, the world-known Benagil Cave.
There are dive centers in Lagos if you want to learn how to scuba dive or if you're already a certified diver, there are many amazing dive sites where you can explore the underwater cave systems and one of the world's largest artificial reefs. Though it's colder to scuba dive in winter, it's still possible with a warmer suit.
Lagos old town is also beautiful to get lost in and relax with a drink or with food at a bar or restaurant. Make sure you go on a day trip to Sagres cliffs and to Ponta da Piedade for amazing views.
25. Agistri, Greece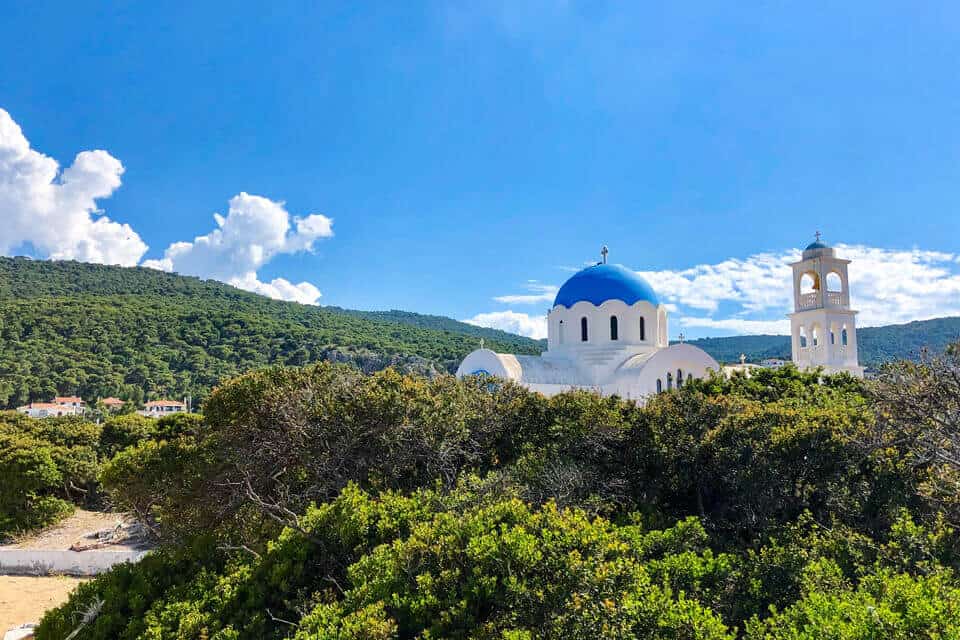 If you're looking for a great winter sun destination in Europe, the Greek Islands are definitely worth considering, especially Agistri. You can easily reach the small, rather unknown island with a short ferry ride from Athens or Piraeus.
Agistri belongs to the subtropical climatic zone with a pleasant maritime climate – perfect as a winter destination. The annual average temperatures are 21 degrees Celcius and 14 degrees Celcius in winter. The water temperature in the Saronic Gulf is 23 degrees in October and 14 degrees even in winter.
You can spend relaxing days on the tiny island of Agistri, which only has seven villages, two taxis, and one bus. Even in summer, this hidden gem is not too crowded, but be careful if you are visiting on the weekends. Agistri offers a peaceful retreat for locals and tourists coming from the packed city of Athens.
On Agistri, the charm isn't a list of UNESCO Heritage Sites or the most popular travel hotspots.
Travel slow, stroll through the alleys of Skala, Megalochori, and Limenaria where white houses, Mediterranean churches, and picturesque beaches invite you to linger. Enjoy a cup of frappé – the typical way of preparing coffee in Greece – and a plate of fresh seafood.
In order to explore the island, it is particularly advisable to rent a scooter or a bicycle due to the lack of public transportation.
26. Nice, France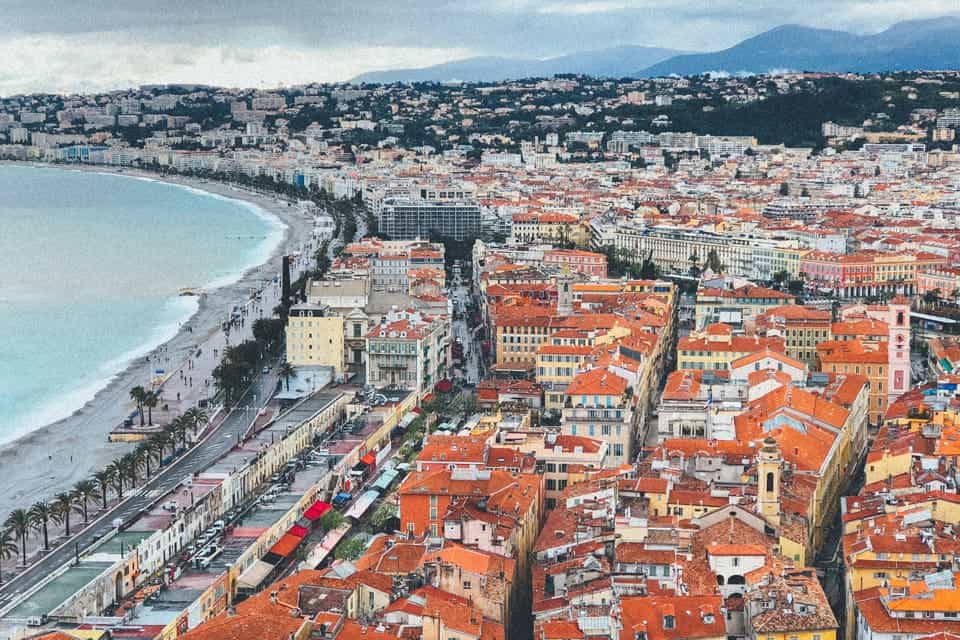 Nice in southern France is a good destination for a sunny getaway in Europe in the winter. Bathed by the Mediterranean Sea, it is never too cold in Nice, with temperatures that reach 16 °C and only drop to 7 °C (from November to February).
When the sun shines, some courageous people even consider taking a dip in the sea in Nice in the winter!
Nice is an interesting city to visit, and at least 2 days in Nice is recommended to get a taste of what the city has to offer and visit the main sights.
There is the picturesque old port with its colorful boats, beautiful squares, and baroque architecture, especially in the Old Town.
There are also some good museums and if you are interested in modern painting, you need to check the Matisse Museum and the Chagall Museum.
And of course, it is always pleasant to walk along the world-famous Promenade des Anglais, which is even more beautiful without the summer crowds.
When in Nice, don't forget to taste the local cuisine, which is much more than the Niçoise salad! And winter in Nice is never too cold for ice cream on the go.
Finally, use Nice as a base to explore other pretty towns in the French Riviera: Cannes, Villefranche-sur-Mer, or Menton. 
---
Like this post? Don't forget to save it on Pinterest!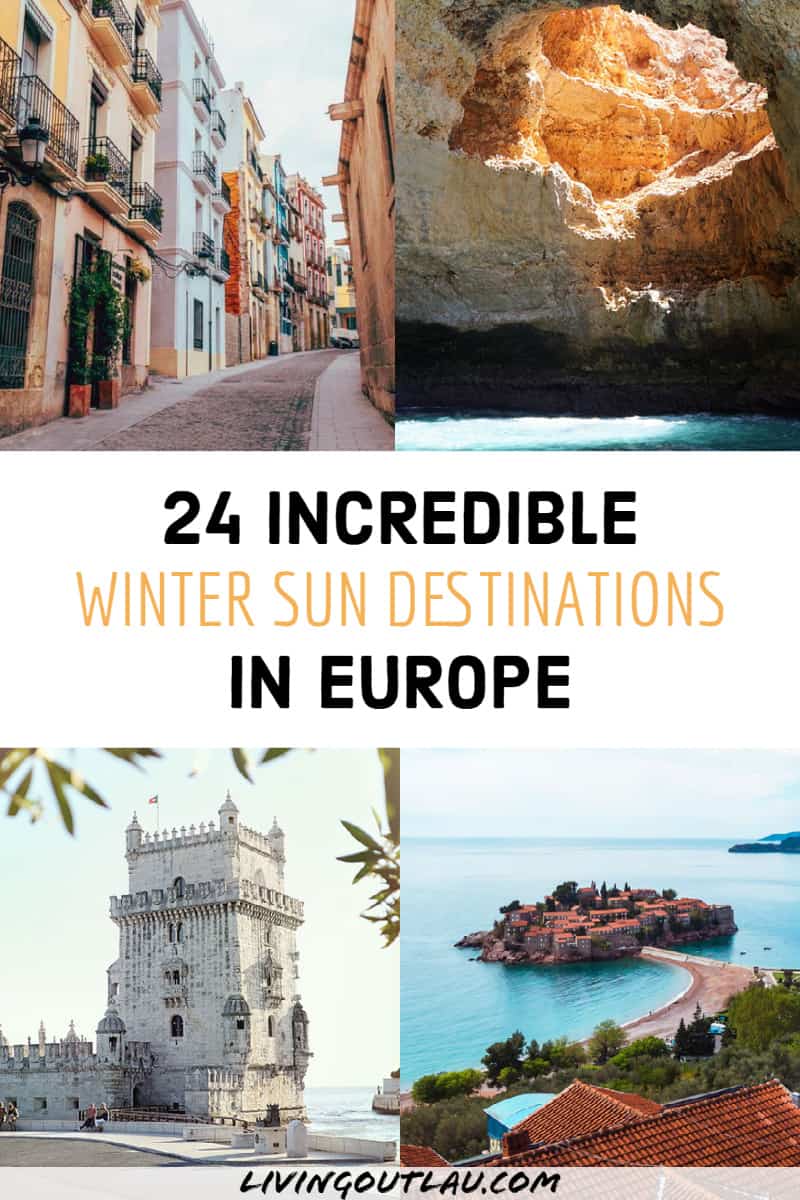 ---
These are the top destinations for winter sun in Europe. What are you waiting for? Pack your bags, book your flights, it's time to thaw those fingertips!

Any questions? Leave a comment!
Disclaimer: Some of the links above are affiliate links. That means if you book or make a purchase through the links, we will earn a small commission at no extra cost to you! The money will help run this site! Thank you!