Not sure where to stay in Santorini? Worry not.
Santorini, Greece has to be THE number one destination in the world to catch an unmissable sunset. Located in the gorgeous Mediterranean, flocks of visitors head to Santorini every year for a once in a lifetime trip.
The lively Greek island houses a number of fantastic restaurants, quaint beaches, impressive historical landmarks, a wonderous volcano, and a generally all-around relaxed vibe that is typical of the Greek culture.
There is no doubt, that Santorini is the perfect destination for all, whether it's a romantic honeymoon or a luxurious holiday with friends.
We know that there is an abundance of sunset views, pool villas in Santorini, which makes choosing a place to stay very difficult.
Whether you're looking for the perfect honeymoon hideaway or a cozy pool villa with friends, we have put together a list of the 17 best Airbnbs in Santorini, Greece, to host your stay. This list includes private pool villas, sunset pool villas, cave villas, relaxing apartments, unique stays and more!

Enjoy!
---
Where To Stay In Santorini: Best Areas
Before choosing the perfect Airbnb, you must first decide which area to stay in Santorini. As Santorini is famous for its sunsets, you will no doubt want to stay somewhere where you can marvel at this phenomenon.
There are four main towns that are popular places to stay in Santorini; Fira, sometimes called Thira (the capital), Oia, Imerovigli and Pyrgos.
All four towns are located on the West coast of the island and are all less than 30 minutes from the airport.
Santorini is not a big island but getting around requires some effort. Because Santorini towns are often built into the cliffside, you should expect to walk up some steep slopes to get to your Airbnb, especially if you want one with a fabulous view!
There are buses from the capital in Fira to most of the seaside towns, so if you're thinking you want to explore other parts of the island, Fira is the most convenient and best area to stay at in Santorini.
If you're not bothered about heading out of the town, then Oia is probably the most beautiful seaside town in Santorini and the one you have probably seen in the postcards or on Instagram.
Each town on this beautiful Greek Island is easy to get around on foot. So, start packing your sandals and sunglasses, because it's time to book your perfect Airbnb in Santorini, Greece!
Fira – Great for Nightlife, Santorini's Capital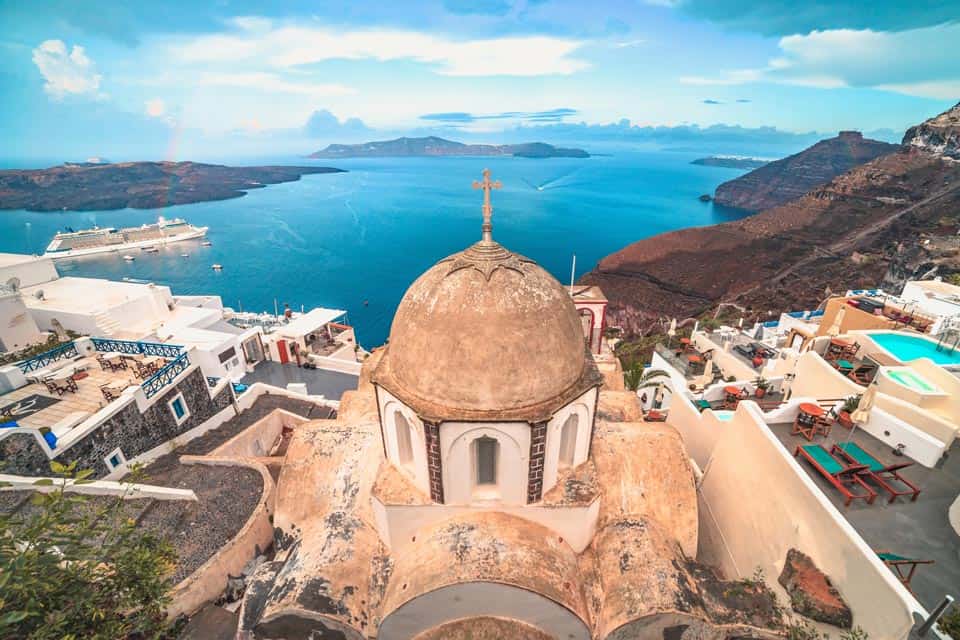 Because of its convenient location and accessibility to other parts of the island, Fira is our favorite place to stay in Santorini.
Fira is known for its exquisite shops and fantastic views. Being the capital of the island, it's the best place to visit for nightlife in Santorini with some of the best bars and clubs, but that doesn't mean it's a party town. If you want somewhere quiet, you can still find that in Fira.
With bus access links (though notoriously late bus access links) to most seaside towns and Santorini volcano, if you're someone who likes adventure, this is the perfect spot for you.
Guests looking for some of the most idyllic sunset views and views of the famous Caldera (Santorini volcano's crater), will find them in Fira.
Oia – Most Popular Town in Santorini & Sunset Paradise
Wanting to catch that perfect sunset Instagram shot? Want a chilled seaside town with good food and a private pool with a view? Then you won't want to miss Oia.
This is one of the best areas to stay in Santorini for couples and honeymooners, and it's easy to see why. This town is really for those wanting to relax and enjoy the moment.
In Oia, you will find lots of trendy restaurants and cafes, quaint little shops, the nearby castle of Oia for culture lovers, and incredible Greek hospitality.
Oia is also home to some of the most famous landmarks in Greece – iconic blue-domed churches. There are plenty of things to do in Oia that will give you a vacation you'll never forget.
Imerovigli – Less Crowded, Perfect for Budget Travelers
If you want to stay somewhere a little less crowded but still beautiful in Santorini, then Imerovigli might be the place for you.
Located just a short drive from the airport, and only 10 minutes from the capital of Fira, Imerovigli is perfectly located for those who want to escape the busy summer tourist crowd and still have access to the transport links to the sites.
If you're traveling Santorini on a budget, you might want to consider Imerovigli as prices tend to be a little cheaper than Oia and Fira.
Pyrgos – Quaint & Beautiful, Perfect for Wine Lovers
Just south of Fira is the quaint and stunning setting of Pyrgos, which nestles close to Santorini airport and Santorini's vineyards.
Pyrgos is somewhat quieter than the other three towns and is situated further inland, but that does not mean you miss out on the stunning sunset sea views as it is the highest town on the island with panoramic views of the ocean.
As well as being a little quieter and further away from the hustle and bustle, it is also nearer to some of the more historic settlements on the island such as Kasteli castle and Profitis Ilias Monastery.
It is also a very short distance from Santorini's best vineyards, so a trip to Hatzidakis winery and Santo winery should not be missed.
It should also be mentioned that Pyrgos has zero traffic, and all cars have to be parked outside the village. So it is advised to pack using wheeled luggage, as you will have to walk into the village and, most likely, up the hill to your accommodation.
---
Want A Quick Tip On The Best Santorini Airbnb In Each Area?
---
Best Airbnbs In Santorini
Best Airbnbs In Fira, Santorini
1. Evgenia Villas & Suites (Hot Tub Cave Villa)
Whether you have a week, a month, or a day in Santorini, there is no better Airbnb in Fira than one that offers a sea view, rooftop pool, and a hot tub in a cave. Wait what? Evgenia Villas and Suites offers exactly that.

As well as offering a luxurious hospitality treatment to all their guests, these suites are also newly refurbished in the beautiful Santorini colors of white and blue. Each suite is fitted with modern furnishings, a comfortable mattress and private hot tubs.

There is also a shared rooftop pool and bar for guests to enjoy.

Located just 2.5 km from the center of Fira, this is the perfect place for those wanting to relax in a quiet location, but not be too far away from the nightlife.

The result? An affordable and comfortable stay.

Maximum Guests: 2 Guests
---
2. Cycladic House w/ Private Jazcuzzis & Terraces
(Images Courtesy of Airbnb)

While there are many unique Santorini Airbnbs, none is as elegant and inviting as the Cycladic House in Fira. With two private verandas and two outdoor heated jacuzzi's overlooking the Aegean sea, this Airbnb will make your group vacation a stay to remember.

Guests staying at the Cycladic House can also enjoy daily breakfast and one of three comfortable kingsize beds.

The villa is located at the top of the mountainous Fira town, which means you have the best views in the house to admire those sunsets Greece is famous for.

In addition to your own personal Santorini apartment, your host also arranges airport transfers and has the local's knowledge of the best restaurants in town.

This luxurious villa is perfect for guests looking to experience the finest and most luxurious apartment in Santorini!

Maximum Guests: 6 Guests
---
3. Villa Murat w/ Private Pool & Sea Views
Villa Murat in Thira (Fira) is perfect for travelers that enjoy a balance of outgoing and privacy. Perfectly located on the upper part of Fira, guests are spoiled with a spectacular view of the Caldera cliff and Aegean sea.

The villa is situated in one of the most photographed spots in Santorini, so you not only get to witness the most iconic view in Santorini, but you get to stay there too!

The villa also comes with a private veranda and pool, which looms 2m (6.5 ft) above the cobbled path, allowing for total privacy from passers-by wanting to get that perfect postcard photo.

Located just five minutes walking distance from the town center, if you want to experience the nightlife and lively greek hospitality, you don't have to venture far. That being said, because of its prime location, it's quiet and peaceful at night too.

Whether you are traveling Greece with family or friends, you'll be sure to have a comfortable stay at Villa Murat.

Maximum Guests: 6
---
This stunning two-bedroom Airbnb is the definition of what Santorini is all about. Beautiful traditional architectural style mixed with modern touches, offering visitors glimpses of the Greek culture.

Whether you're looking for the perfect honeymoon suite in Santorini or a group this gorgeous villa will meet (and probably exceed) your expectations!

This Airbnb's most iconic feature is the private and spacious patio with outdoor furniture. Here guests can sip on a cold drink, take a dip in their refreshing pool, get the perfect tan, or just watching the mesmerizing landscapes dance in front of their eyes.

When you are not lounging on your private terrace, you have the option to chill on the stone-built couch in the living room, make a nice homemade meal using the fully-equipped kitchen, or explore the town of Fira.

Finish your night off in one of the two stylishly-designed bedrooms, one of which is carefully crafted into the famed Santorinean rock.

Maximum Guests: 6 Guests
---
Located at the heart of Oia, this stunning and authentic cave villa is perfect if you're looking to stay in a traditional cave in Santorini.

Though modest in size, this cozy villa has been newly renovated with a new build-in round bed, perfect for couples on a romantic getaway.

It is also kitted out with a coffee station including an espresso machine, and a modern bathroom with all the amenities.

What really gives this Airbnb the wow-factor is the private veranda with a heated jacuzzi pool overlooking the world-famous Santorini sunsets across the Aegean Sea.

There is no doubt this is one of the most serene Santorini vacation rentals in Oia.

Maximum Guests: 2 Guests
---
2. Artistic & Affordable Cave House in Oia
(Images Courtesy of Airbnb)

If you're looking for a unique place to stay in Santorini, then you might enjoy this artistically designed cave house in Oia.

While cave houses are common across Santorini's mountainous seaside towns, this villa rental in Oia literally looks like it was built in the stone age…and that's what gives it its charm!

The cave hot tub with the twinkling lights is what gives this villa character. Guests have raved about how serene and tranquil they felt at this Airbnb in Oia, and with breathtaking ocean views from the private veranda, it is not hard to see why.

Located just a short walk from the center of Oia town, the location could not be any more perfect. Nestled close to the restaurants, shops and iconic blue dome of Oia, what more could you want?

And, the best thing about this Airbnb, is the price. Santorini is not a cheap place to visit, but if your looking for somewhere to stay that's both beautiful, memorable, and not breaking the bank…then this is the villa for you.

Maximum Guests: 4 Guests
---
3. GeorgOia HousVilla w/ Volcano View
(Images Courtesy of Airbnb)

For those traveling with friends or families, space is very important. That is why our favorite Airbnb for groups in Santorini is this GeorgOia House Villa.

This luxurious accommodation is one of the few Oia Airbnbs that can accommodate up to 6 guests, with its two gorgeous double bedrooms, a third bedroom with two single beds, and a sofa bed.

Don't worry though, there's still plenty of space in its two private shower rooms, private veranda with a jacuzzi facing the volcano and sea view, as well as a fully equipped kitchen and dining area.

Guests traveling in groups will find the perfect stay here!

This villa's prime location is situated just 2 minutes away from the main pedestrian street in Oia, which allows you to visit all the top Oia attractions easily (that is if you want to leave your luxurious Airbnb).

Maximum Guests: 6 Guests
---
4. Thetis Cave Studio w/ Sunset Views
If you are looking for a unique stay with a cozy atmosphere, this Airbnb in Oia might be the one for you!

This classicly designed cave studio is small but elegant with a queen-sized bed, compact kitchenette, and decent sized shower with all the amenities.

What really gives this cave villa its charm is the veranda which overlooks the Aegean sea and its world-famous sunsets.

Though it does not come with a private pool, it does come with a lower price to other Airbnbs in the area. So you are not sure where to stay in Santorini but want something cute and affordable, then this Airbnb might be right for you.

Whether you're traveling with a friend, alone, or as a couple, this cute cave villa will leave you breathless!

Maximum Guests: 2 Guests
---
5. Cliff-Side Villa w/ Unique Architecture
If you are looking for a visually striking stay that will leave you in awe, then perhaps you might want to stay somewhere designed by a popular family of architects!

This unique modern cave villa used to be an old bakery but was renovated by local craftsmen who added a traditional and yet homely touch to its aesthetic.

The use of local techniques in its refurbishment and antique furniture give this villa its charm, but with added luxury found in the built-in beds and top-of-the-range amenities.

This stylish cave villa in Oia has two private bedrooms, one of which is an elegantly designed couples' nest with an emperor size (200 x 200 cm) built-in bed and vintage wooden furniture.

The second bedroom, a master bedroom, is connected by the village's original path with a private entrance, and a door that separates it from the rest of the house – perfect for those wanting a bit of private time.

Outside the villa is a private terrace, which expands on different levels, creating unique and comfortable sitting spaces. Finally, guests can take a relaxing dip in the semi cave whirlpool with an unobstructed view of the volcano.

This is the perfect villa for anyone looking for something a little bit special.

Maximum Guests: 4 Guests
---
1. Abyssos Suite w/ Private Jacuzzi
(Images Courtesy of Airbnb)

There are many incredible Airbnbs in Imerovigli, Santorini, but none can compare with this gorgeous cave villa that can combine luxury and authenticity with ease.

With traditional architecture and a small but cozy bedroom, a comfortable living area, and a private indoor cave pool, guests can find elegance in every corner of this Airbnb.

Staying in this Imerovigli is quieter and more affordable than the capital of Fira or the popular seaside village of Oia, but there is still magic and charm in this unique town!

Situated at the top of the village, you can feel secluded enough to feel at peace and relaxed, but close enough to the town that you'll never feel alone.

The most defining feature of this villa is unquestionably the private indoor cave pool, but on top of this, there is also a rooftop jacuzzi with outstanding views across the Aegean Sea.

You'll find nothing but pure paradise here.

Maximum Guests: 2 Guests
---
2. Villa Kisiris in Imerovigli, Santorini
(Images Courtesy of Airbnb)

When you think of traditional Airbnbs in Greece, Santorini has a very unique aesthetic that is historical and distinctive to the island – plain white walls, bright blue roofs, and historically built into the mountainside.

It is refreshing and unique to find a villa that goes against the norms and tailors its physique to an all-round, quintessentially greek style.

Capable of housing up to 8 people, this is the perfect villa for those traveling with families or groups.

Situated between Imerovigli and Fira, those wanting seclusion and comfort, as well as be close proximity to the capital (15 min by foot), Kisiris Villa is the perfect option for you.

The house was built in 1857 and served as a canava (winery), which produced traditional sun-dried wine up till the 1980s. In 2007, the owners sensitively renovated the house with authenticity and care in mind, which guests can enjoy today.

Spawning across two levels with a large courtyard. Kisiris villa has three large bedrooms with double beds and en-suites, an open plan living area with large, plush sofas and an open fireplace. It also occupies a fully equipped kitchen, perfect for large groups wanting to cook and dine together.

There is also a large, private terrace with an outdoor Jacuzzi (not heated), and sun loungers looking over the panoramic views of the Aegean sea from the top of the mountain.

Maximum Guests: 8 Guests
---
This stunning suite in Imerovigli is located at the highest point of the village with an outdoor jacuzzi offering dramatic views of the sunset and caldera.

The suite has been renovated to resemble the looks of a traditional cave house but with modern amenities.

Inside the suite, guests will find 2 semi-private double bedrooms, one on the ground floor and one in the attic.

Two private bathrooms with a shower, a living room with a sofa, a fully equipped kitchen with all modern facilities along with a dining room area and a large private terrace equipped with a hot tub are all ready for you to enjoy.

Located next to the famous "Skaros" in the center of the village, guests can within walking distance to many of Santorini's best attractions. Visitors can easily explore Imerovigli easily on food, checking out the quaint cafes, chapels, and boutiques.

If you want an unforgettable experience, then we highly recommend this Imerovigli Airbnb in Greece!

Maximum Guests: 4 Guests
---
4. Maisonette Suite with Outdoor Jacuzzi
(Images Courtesy of Airbnb)

Looking for a spacious private pool villa in Santorini? Look no further. This amazing cave villa is a 1-bedroom maisonette located at the top of the cliff in a desirable location in Imerovigli.

Capable of occupying up to four guests, this wonderful villa is just a short walk away from the town's lively restaurants and bars, but nestles in a quiet location away from the hustle and bustle.

When you are not catching the famous Santorini sunsets from the communal jacuzzi or pool, you can find the utmost comfort in your stylish 2-floor cave villa.

Uniquely decorated with a traditional design, guests can enjoy a peaceful night's sleep from the overhang or from the comfortable sofa bed.

With breakfast included, this charming little villa is incomparable to any Santorini hotel.

Maximum Guests: 4 Guests
---
Best Airbnbs In Pyrgos, Santorini
1. Santorini Sky (As Seen on the Bachelorette)
First seen on the American Reality TV series, The Bachelorette, this unique Airbnb villa is now available for public bookings.

Unique Airbnbs in Santorini are not too hard to come by, but what makes this villa so special is its location at the highest point in Santorini.

With its stylish and clean look, with floor-to-ceiling windows, marble bathrooms, and gigantic outdoor seating area, you are sure to be blown away by this place before you even notice its heated jacuzzi and private infinity pool.

It also offers complimentary airport transfers, breakfast baskets and concierge throughout April-October… nice!

Nestled in the quiet location of Pyrgos, guests are raving about how much they love being away from all that hustle and bustle.

Maximum Guests: 4
---
(Images Courtesy of Vrbo)

A rare find in the heart of Pyrgos, this 2-bedroom Airbnb in Pyrgos offers guests a serene and luxurious haven from the crowded and hectic areas of Santorini.

With 2 bedrooms, 2 bathrooms, a full-sized kitchen, spacious living area and a large, double-layered terrace with outdoor Jacuzzi, there is enough space and serenity for as many as 5 guests.

This house rental in Santorini is located in the most exquisite village of Pyrgos, centrally located with transport links to Fira and other popular towns, but with a quieter caldera setting.

From the terrace, guests can enjoy an idyllic view of all the caldera bay and the Aegean Sea as well as the nearby islands.

The house is built in the rock of the hill, creating an awesome cave villa that is traditional to Santorini. The whole property was refurbished in 2014 by an experienced architect, so you know the amenities are going to be of the highest quality.

Pyrgos Terrace House aims to provide absolute comfort. And if you're looking for a winter villa in Santorini, then you'll enjoy the underfloor heating in every room!

Pyrgos Terrace House provides an authentic Greek island experience with everything you need for a magical vacation in Santorini.

Maximum Guests: 5 Guests
---
3. Santorini Folia Cave House, Pyrgos
For anyone looking for a Santorini cave villa experience with a medieval vibe, then the Folia Cave House Airbnb is for you!

This Airbnb has a cozy bohemian nest (Folia means nest in Greek) vibe, with two stunning bedrooms, a bathroom, a sizeable living space and a kitchen, this funky Airbnb will have you speechless.

When staying at this Santorini Airbnb, guests also have access to their own private pool and a pristine courtyard all to themselves.

The rooftop terrace provides panoramic and uninterrupted views of the caldera beyond, and its quiet location adds peace and serenity to any stay.

Capable of housing up to 4 guests, there is no better place to stay for your group vacation to Santorini.

Maximum Guests: 4 Guests
---
(Images Courtesy of Airbnb)

For a couples vacation to Santorini, you might be looking for a cozy and romantic studio with a quiet setting. If that's you, then you'll love this gorgeous 1906 white cave studio in Pyrgos.

When staying in this Santorini Airbnb, guests have a king size bed, spacious bathroom, and a private roof terrace with views that will take your breath away.

This is certainly a romantic spot for any honeymoon in Santorini, with privacy and seclusion in mind, you'll be able to escape the tourist crowds and enjoy a peaceful vacation with your loved one.

Everything about this traditional and yet modern cave studio cries bliss from every angle. This cute Airbnb in Pyrgos will make sure you never want to leave.

Maximum Guests: 1-2 Guests
---
Like this post? Don't forget to save it on Pinterest!
---
Picking the perfect Airbnb in Santorini, Greece is tough because there are so many beautiful villas to choose from. We hope our guide has helped you choose the perfect one for your Santorini vacation!

Any question? Leave a comment!
Disclaimer: Some of the links above are affiliate links. That means if you book or make a purchase through the links, we will earn a small commission at no extra cost to you! The money will help run this site! Thank you!