If you are looking for the best beach clubs in Cartagena, then you have come to the right place.
This beautiful Colombian city is situated next to the glistening Caribbean Sea, offering visitors plenty of opportunities to enjoy a relaxing tropical holiday. One of the best ways to soak in the tropical vibes is by visiting one of its beach clubs.
There are plenty of options in Cartagena, from luxurious day beach clubs with all the amenities to laid-back beach bars that offer great food and drinks. In this blog post, we'll talk about some of the best Cartagena Beach Clubs!
---
Quick Summary
The best Cartagena beach clubs are located on Isla de Tierra Bomba, an island about 30 minutes off of Cartagena.
Beach clubs offer day passes that include transportation (from/to Cartagena), food, and more, but guests can also book to stay overnight. Day passes are usually included for guests that stay overnight.
Each beach club's day pass offers something different, and visitors typically can stay until around 5 PM to 6 PM.
Many beach clubs are usually quiet and relaxing on the weekdays, but they are usually quite lively on the weekends and have live DJs.
---
Best Cartagena Beach Clubs
Bora Bora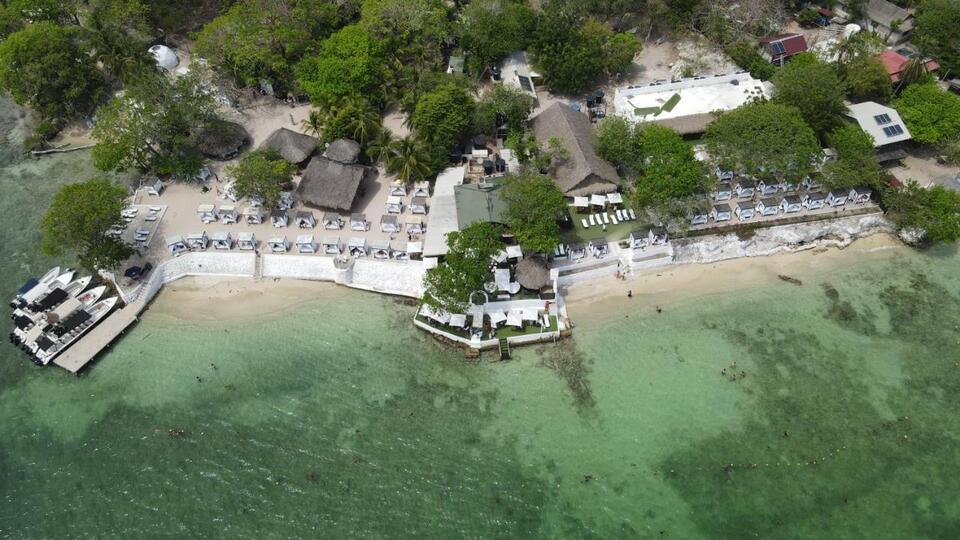 Location: Rosario Islands
Bora Bora is one of the best beach clubs in Cartagena and it is easy to see why. Situated on the pristine Rosario Islands, visitors can enjoy a nice secluded getaway on the most beautiful beaches in Cartagena.
Bora Bora beach club overlooks the Caribbean Sea, and visitors can admire its different shades of blue as they sip on a delicious cocktail from their private beach cabanas. With nothing but beautiful waters and lush scenery for as far as your eyes can reach, Bora Bora is the definition of a tropical paradise.
If you are looking for a beach club to party in Cartagena, Bora Bora is a perfect choice. Being one of the most popular attractions in Cartagena, the atmosphere is lively even on weekdays. On the weekends, the parties are even better and you can dance to the music all night long!
The service here is also excellent, but it is quite pricey!
Blue Apple Beach Club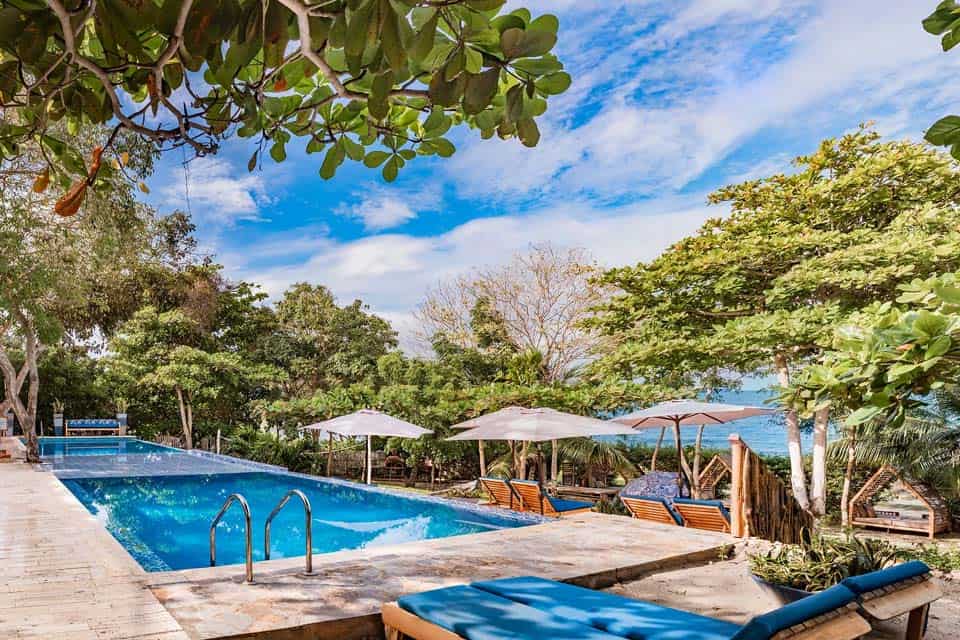 Blue Apple Beach Club is one of the best beach clubs on Isla de Tierra Bomba Island. It is one of the places that allows you to appreciate the relaxing tropical vibes of Cartagena but also the party vibes of the island life!
During the day, plenty of people come from Cartagena on the day pass and enjoy everything this beach club has to offer, from its delicious lunch options to the turquoise waters of the beach and loud-thumping music by the pool. The property is inspired by the lively beach clubs of Ibiza and the South of France, so you know it's going to be a good time here.
At night, Blue Apple Beach Club is peaceful because it only has 10 available rooms. Guests can listen to the sounds of the waves as they fall asleep, or go stargazing on the beach. It is one of the most unique experiences in Cartagena!
The property is also very sustainable with programs for recycling and more! There is nothing to not love about Blue Apple Beach Club!
Fenix Beach Club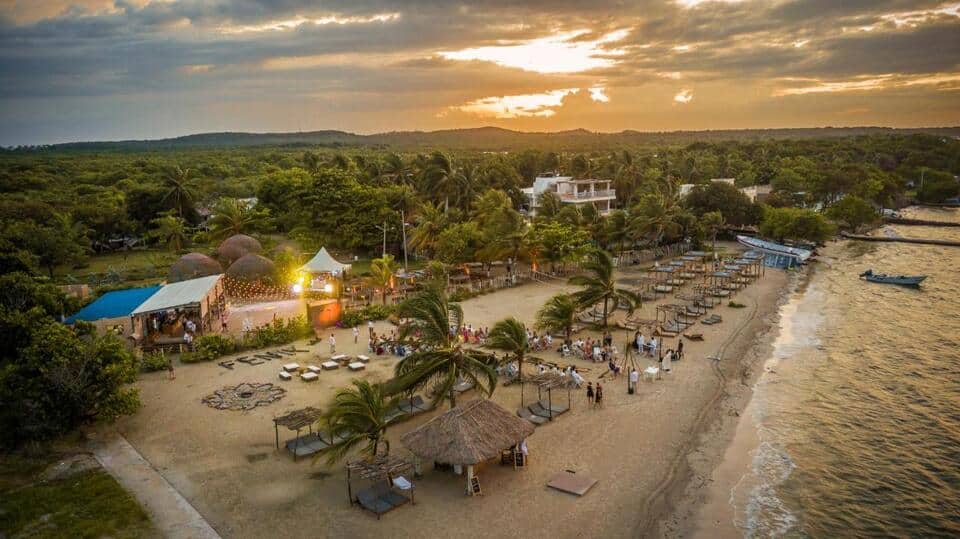 Location: Isla de Tierra Bomba
One of the most popular beach clubs in Cartagena is Fenix. It is situated on the Northeastern tip of Isla de Tierra Bomba, and visitors can see parts of Cartagena from the beach. Because of this, it is one of the most accessible beaches in Cartagena, and a boat ride from the historic center to here only takes about 15 to 20 minutes.
During the daytime, many tourists come from Cartagena to enjoy this piece of paradise. They come to swim in its beautiful claiming waters, relax on one of the day beds on the beach, or dance to the music from the live DJ!
Besides this, the property is absolutely charming. Visitors can enjoy their outdoor pool, go on one of the hammocks on the terrace, or try out some delicious seafood fresh from the Caribbean Sea. The atmosphere here is always lively and fun, but visitors will find plenty of calm by the beach.
Once the day trippers are gone, Fenix Beach Club builds a nice bonfire at night where everyone can get together. It is quite a nice experience and a good way to meet other guests! If your itinerary allows, we recommend at least staying a night here.
Amare Beach Club
Location: Isla de Tierra Bomba
If you are looking for a cozy and intimate location on a nice stretch of soft-sand beach, then Amare Beach Club is perfect for you. The beach here is beautiful and quiet, so guests will find plenty of space to relax.
The property features a nice swimming pool so loungers around it, and this is usually where everyone gets together, dance to music, and have a good time. The beach club isn't as extravagant as some of the other ones, but it doesn't stop the guests from enjoying themselves.
Amare Beach Club has an amazing restaurant where they serve some local delicacies such as seafood and even chicharron (fried pork rinds). You can even go on one of their horseback riding tours around the island!
Amare Beach Club is a great place to relax and enjoy the beach life in Cartagena. It is also one of the most affordable beach clubs on this list!
Bomba Beach Club
Location: Isla de Tierra Bomba
Bomba Beach Club is one of the most beach clubs in Cartagena and it is not difficult to see why. A beautiful property on a beautiful stretch of sand on Tierra Bomba, visitors can easily relax and find themselves zen here.
Bomba Beach Club is a great choice for any type of traveler visiting Colombia. It has a friendly atmosphere thanks to its attentive staff that's ready to make your stay pleasant. The restaurant serves incredible food and drinks that are iconic to this region. And the property offers plenty of activities to keep everyone entertained.
Our favorite part is the comfortable full-size beds on the beach where you can feel the sea breeze and admire the views. There is also a pool area with some reggaeton where guests can dance if they wish.
The best part is Bomba Beach Club situated at Punta Arenas of Tierra Bomba, so it is only a 10-minute boat ride away, perfect for those that might get seasick quickly on the boat.
Palmarito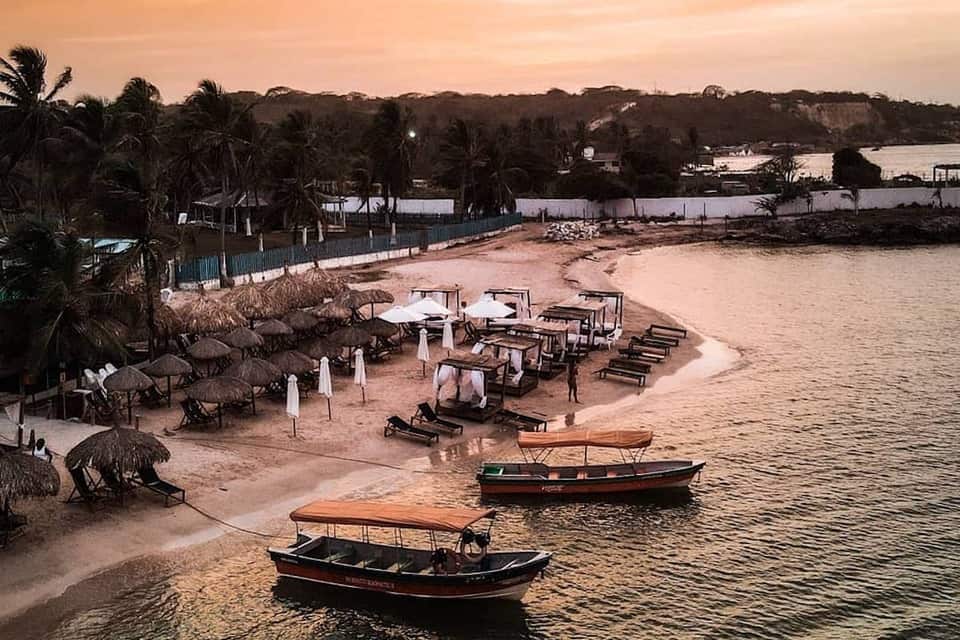 Location: Isla de Tierra Bomba
If you are looking for a place to listen to music while you lay on a bed under a palapa hut on the beach, then Palmarito is ideal for you. This Cartagena Beach Club features multiple sun loungers and beds right on the beach, as well as a bar where you can sip on a nice refreshing cocktail while admiring the views of Bocagrande from across.
This beach club is one of the best value for money, especially for day visitors. It is a great place to come and relax on the beach, enjoy some drinks and food, and listen to music. The staff here is incredibly friendly which makes the experience all the better.
The boat ride from Cartagena only takes about 10 minutes, which is definitely a bonus!
Eteka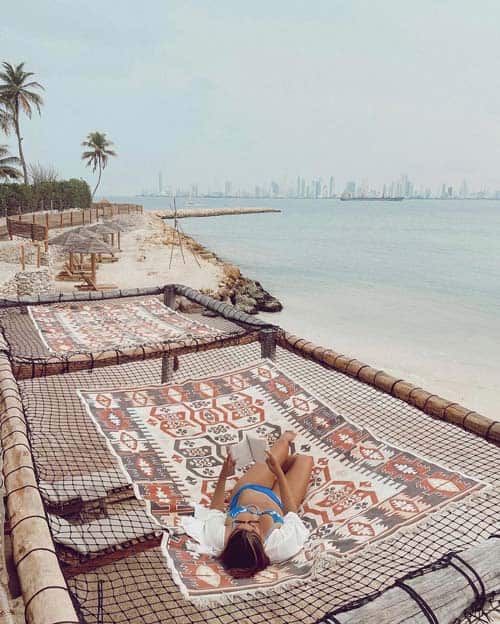 When it comes to the aesthetics of the beach club, perhaps there is no better place than Eteka. Situated on the northern tip of Tierra Bomba, it's only a 7-minute boat ride to get to this piece of paradise.
This property features plenty of sunloungers by the sea, but its most iconic feature is the upper deck giant hammock areas where you can relax in style. With plenty of palm trees surrounding this beach club, visiting Eteka is quite the authentic tropical island experience.
The property believes in offering the "Slow Life" experience, allowing guests to reconnect with nature through its rustic yet charming architecture, all made with locally-sourced material. With the calmness of nature, the deliciousness of fresh seafood, the breeze of the sea, and the genuineness of the staff, guests can have the perfect relaxing stay here!
---
This concludes our list of the best beach clubs in Cartagena. We hope you enjoyed reading and that you find the perfect beach club for your next vacation! Thank you for reading!
Disclaimer: Some of the links above are affiliate links. That means if you book or make a purchase through the links, we will earn a small commission at no extra cost to you! The money will help run this site! Thank you!