Looking for the perfect souvenirs from Cancun to remember your epic trip? You're in the right place! This vibrant Mexican City is one of the most tourist destinations in Mexico, and you'll find tons of amazing gifts to buy!
From traditional handicrafts and locally-made jewelry to authentic food products, there is a perfect Cancun souvenir that'll cater to your taste and budget. Matter of fact, we've visited Cancun many times now, and we are always bringing a new memento home every time.
So, whether you're a seasoned traveler wanting to expand your collection or a first-time visitor seeking memorable keepsakes, here are the 15 best souvenirs from Cancun you need to buy.
We have always included a list of places to go shopping in Cancun and some shopping tips to make your souvenir shopping experience as enjoyable as possible!
---
What are the Best Souvenirs from Cancun?
1. Tequila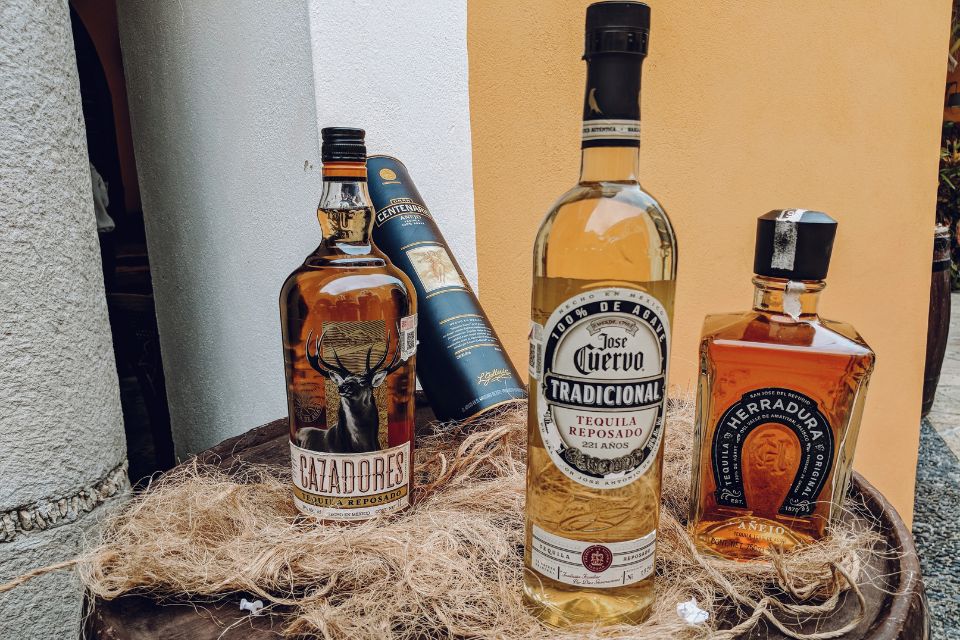 If you are looking for some simple things to buy in Cancun, you can't go wrong with bringing back a bottle (or two) of tequila – the national drink of Mexico. This super-strong drink is made from distilled blue agave spirits, and the blue agave thrives in the volcanic soil near Santiago de Tequila in the state of Jalisco.
There are three types of tequila defined by age, and all have subtle differences that could be the difference between being the perfect bottle, and one that gets left in your drink's cabinet for years on end.
Blanco, or silver, is un-aged tequila that has strong, heady notes of agave and is stored in steel barrels or neutral oak barrels. Blanco is the one to get if you want the true taste of Mexican tequila.
Reposado tequila is aged for a minimum of 2 months, but no more than 1 year. This balance fuses the natural agave flavor with notes of the woody barrel that is used in storage.
Anejo tequila is aged for a minimum of 1 year all the way up to 3 years in oak barrels. This gives Anejo tequila a deep flavor profile with sweet notes of caramel and vanilla.
2. Hammocks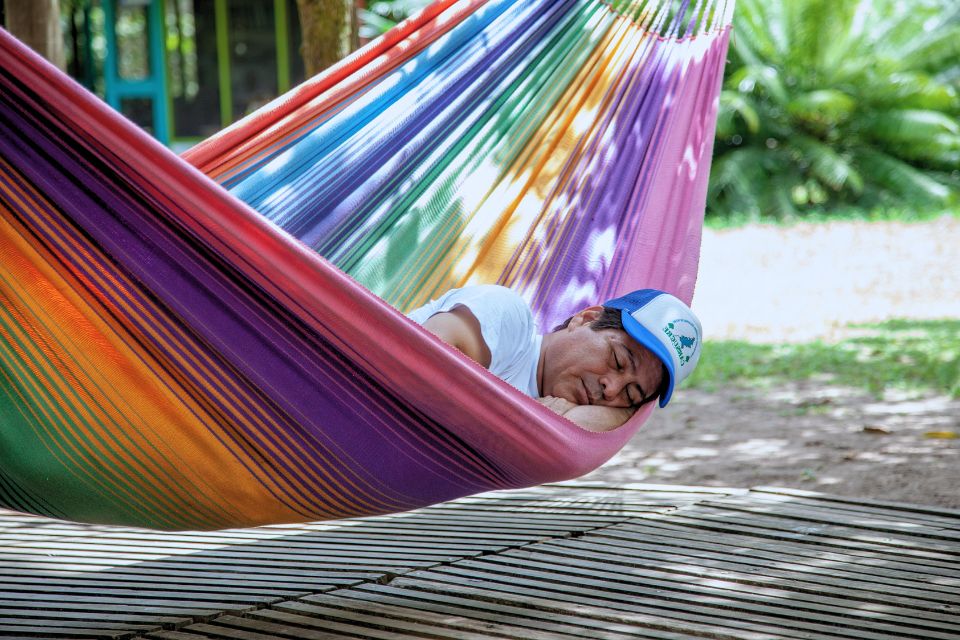 There aren't many things on Earth that are more calming than relaxing in a soft, hand-woven hammock beside the beach. They're a staple in Mexico, whether they're on the porch, in the garden, or even just hung up in the local park to watch life pass by.
Originating in the Yucatan Peninsula, virtually everyone owns a hammock and they're easy to spot due to the colorful and intricate weaving pattern featured and are usually made from cotton or nylon.
They're perfect for getting a little bit of quiet time outdoors and can also help to reduce stress. Net hammocks are a popular choice due to their open-net design that allows for much better airflow. These varieties are lightweight and perfect for hot climates.
3. Mezcal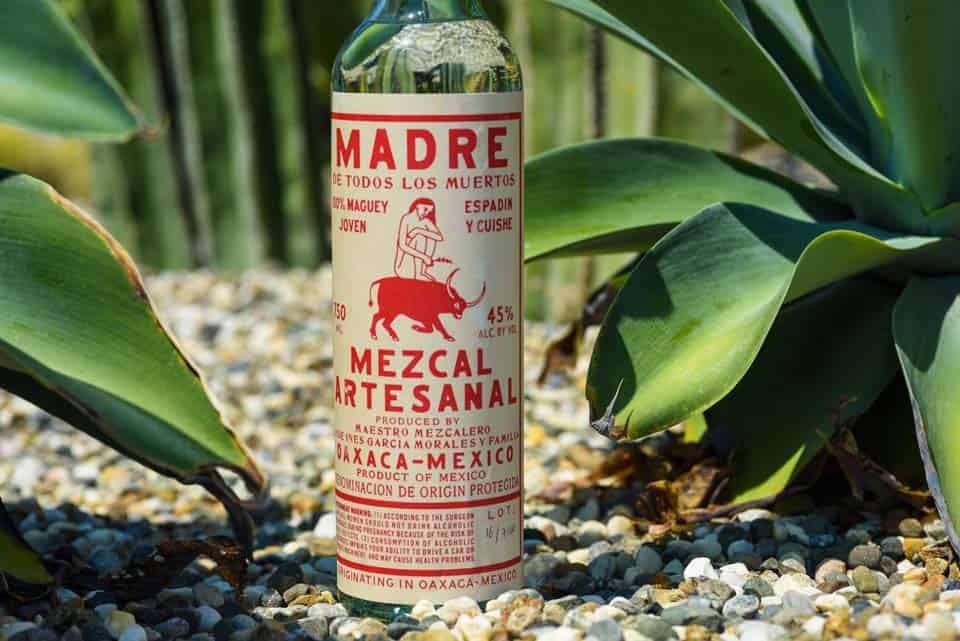 Instead of tequila, why not bring back a bottle of Mezcal? This drink is very famous in Mexico and is similar to tequila in the fact it's produced from the agave plant, but very different in taste.
Tequila has a distinctive flavor from the blue agave that makes it unique, whereas Mezcal has a much more earthy flavor with smoky notes that linger on the tongue thanks to its different production process. If your gift recipient likes whiskey, then Mezcal would be a unique and excellent gift to bring back from Mexico.
Before buying your Mezcal, make sure it meets the high standards of quality set by the "Denominacion de Origen" (DO) certification which you can find on the label of the bottle.
4. Huaraches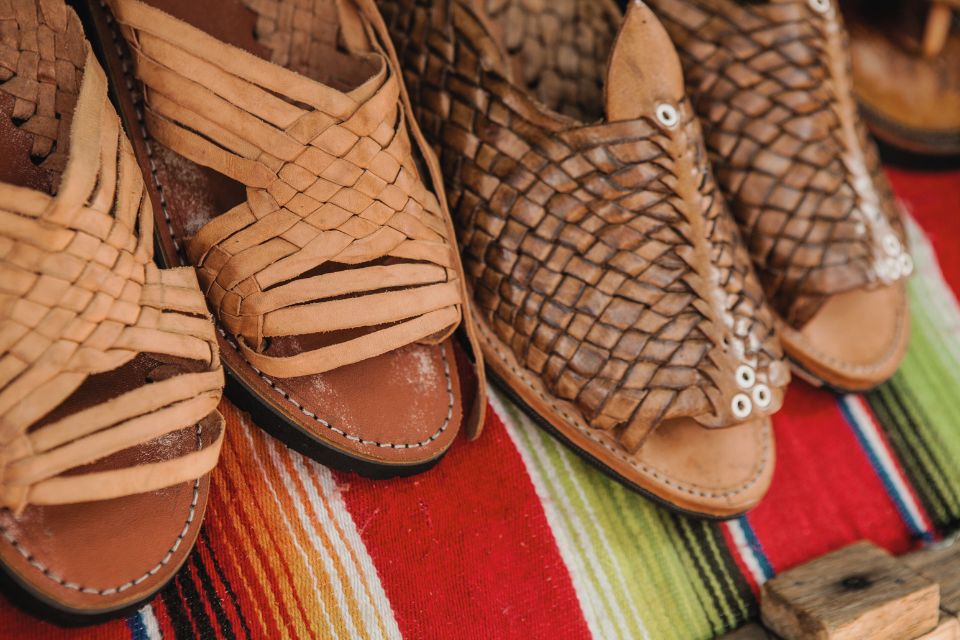 A traditional type of Mexican footwear, the Huarache is a sandal that has been carefully crafted using strips of thin but durable leather. Due to the open nature of the sandal, they're perfect for wearing in the heat as they're breathable and very light.
Originally worn by the indigenous tribes, today the Huarache can come in various styles ranging from the traditional leather strap style to rubber-soled ones and varied colors. Huaraches would make for a brilliant gift for someone as they're very traditional and can be worn casually with plenty of different outfits.
5. Xtabentun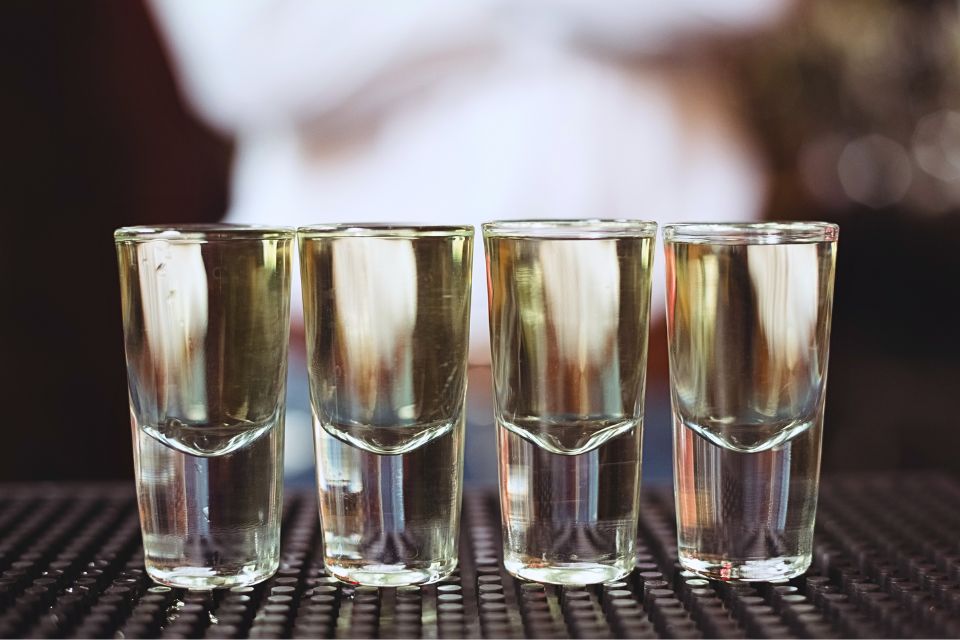 I know what you're thinking, not another type of alcohol? But bear with us, because Xtabentun is without a doubt the most unique alcoholic drink you can bring home and is an excellent choice of gift for someone that enjoys and appreciates unique and traditional alcohol.
Pronounced "shhta-ben-toon", xtabentun is made from the anise seed and fermented honey made from the nectar of the xtabentun flower which is native to the Yucatan region. It is fermented honey, as opposed to distilled, which gives Xtabentun its strong flavor and is produced by skilled local producers in small batches which ensures a high-quality product.
It's very uncommon for the spirit to be found outside of Mexico which appeals to bringing it home as a gift.
6. Mexican Sombrero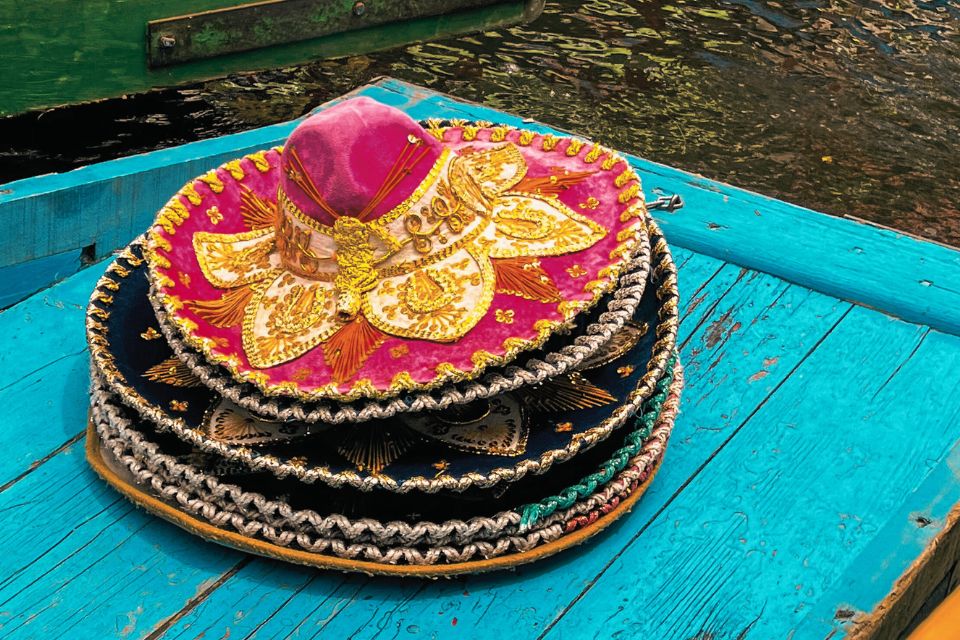 Whilst tequila is one of the most well-known products to come out of Mexico, nothing quite beats the culturally symbolic Mexican sombrero. It's one of the most recognizable pieces of traditional clothing out of any culture in the world, and as a result, the sombrero would make an amazing gift from Cancun.
With their typical extra wide brims and intricate colorful designs, a sombrero can be an authentic addition to any themed outfit or even as a unique decorative piece for your bar area, for example.
Sombreros are very practical, with the wide brim offering maximum protection from the beating sun, keeping it off of your face and shoulders. Admittedly sombreros aren't the most practical of gifts due to their large size, so you might want to look out for ones that can be easily packed into a suitcase.
7. Mexican Pottery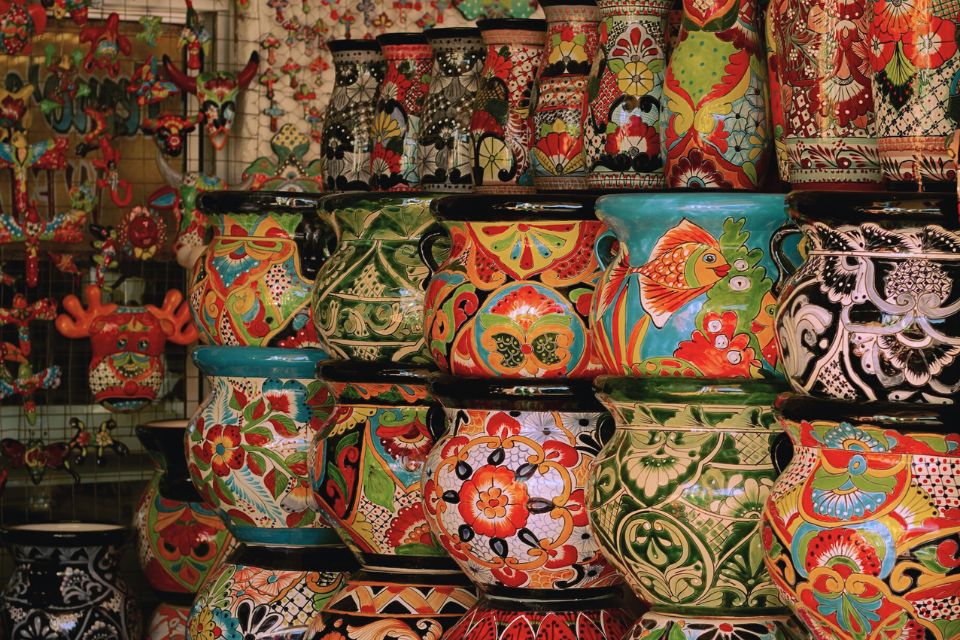 Quite literally dating back thousands of years, pottery and ceramics in Mexico is kind of a big deal. Travel any amount of time in the country and you'll surely notice the plethora of pottery being sold in boutique shops, local artisan markets, and even along the roadside.
Indigenous techniques passed down through generations, together with more modern methods, are used in today's offerings, but the vast majority are all vibrant with rich colors, intricate patterns, and unique shapes.
Cancun in the Yucatan Peninsula has a deep and rich Mayan history, so perhaps bringing back a Mayan-inspired piece of pottery adorned with traditional symbols would be a unique idea.
8. Serape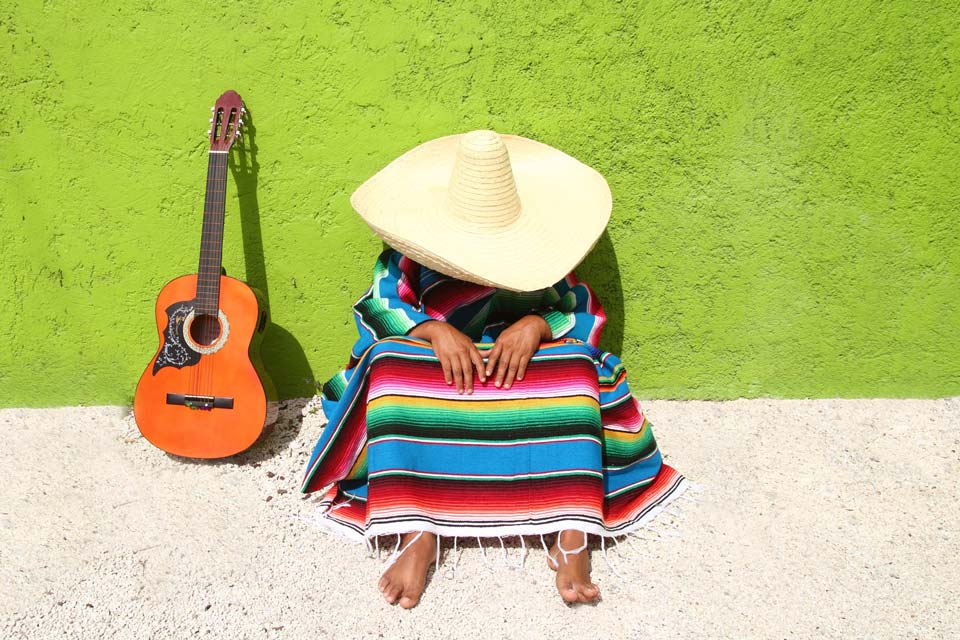 Similar to the poncho, a serape is a piece of long traditional clothing that typically drapes over the shoulders and has its origins in Mexico's colonial period.
Originally for the Mexican men of the poorer working class, the serape has gone on to become an integral part of Mexican culture, sometimes even being referred to as the Mexican poncho. Their handwoven design is a wonderful showcase of local craftsmanship that has been passed on from generation to generation.
If you purchase a traditional Serape, you can be guaranteed each one is unique with beautiful patterns and bright and vibrant color combinations. Don't think you're just getting a piece of clothing, serapes are incredibly versatile and can serve as a cozy blanket, decorative throw for your furniture, or even as a picnic blanket!
📖 Read More: When Is The Worst Time To Visit Cancun?
9. Hand-Painted Margarita Glasses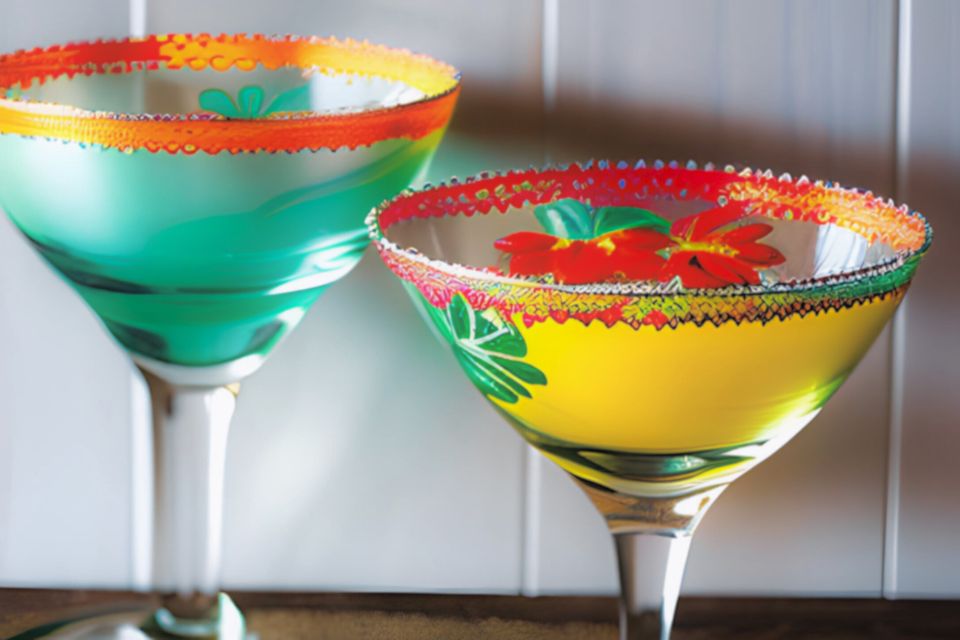 The exact origin of the margarita cocktail is a subject of fierce debate, but one thing is certain – it's a Mexican creation, one way or another. You'll find them on the menus of pretty much any bar across the country, and all over the world.
Hand-painted margarita glasses can be found all over Mexico, but particularly in Cancun where the demand for Mexican-themed souvenirs is sky-high and there are plenty of local markets and boutique shops.
The glasses themselves are crafted by skilled workers that specialize in traditional Mexican pottery and glassware. The hand-painted vibrant designs add even more flair to a beautiful-looking glass and make for an excellent, memorable gift for friends or family.
10. Mayan Jewelry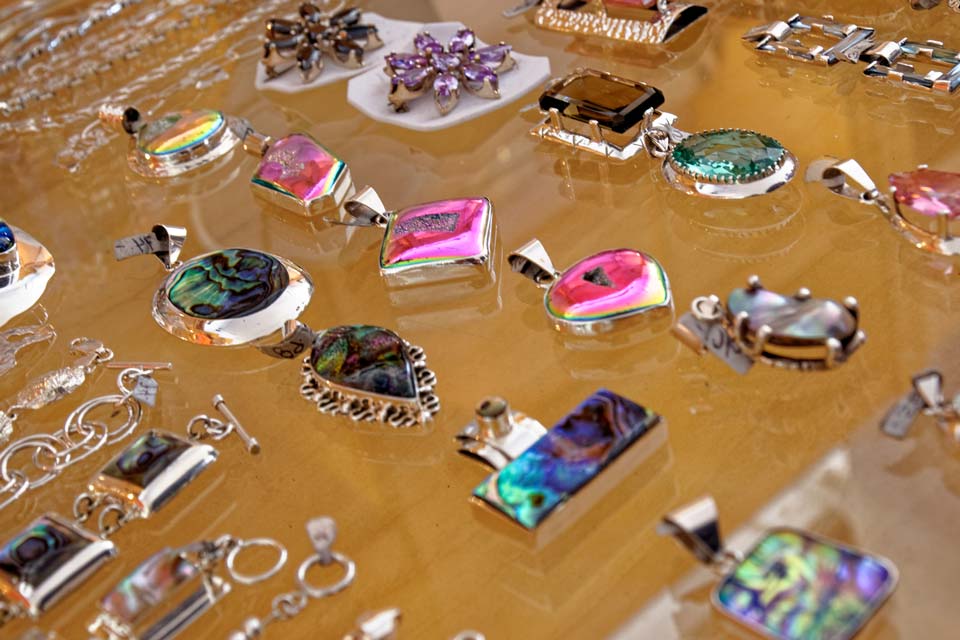 Thriving in what is now present-day Mexico, the Mayans were one of the most advanced civilizations in the world. Their knowledge of astronomy, mathematics, architecture, and agriculture was virtually the most advanced that the world had ever seen.
This is evidenced in several ways, with one unexpectedly being in their jewelry. Intricately crafted and decorated with beautiful designs, each piece was unique and reflected the beliefs of the ancient civilization, as well as cosmological ideas and social status.
Wild animals and plants were featured heavily as were important symbols, with pendants, necklaces, bracelets, and earrings all often being made from metals and gemstones like gold. As time has gone on, Mayan jewelry is still produced today by the skilled descendants of the Mayan people making it a fantastic gift idea for a lucky person.
11. Chocolate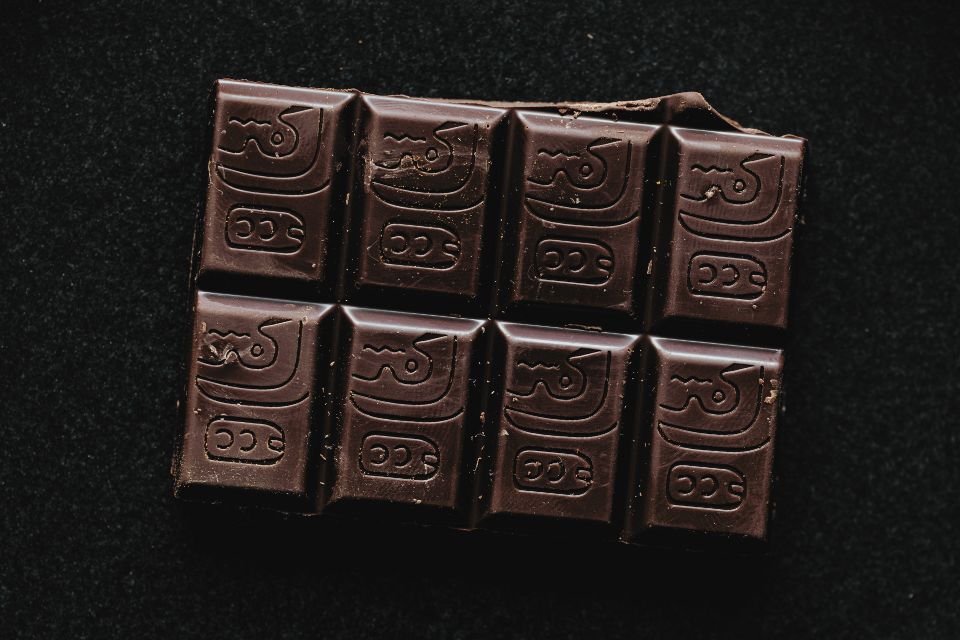 As its official birthplace, there's no country prouder than Mexico when it comes to chocolate. Dating back thousands of years to when the ancient Mayans and Aztecs ruled the land, chocolate was initially consumed as a bitter hot drink.
With the cacao tree being native to Mexico, some of the purest forms of chocolate can be found here, with many producers wanting to prove to the world that their chocolate is indeed the best in the world.
Chocolate tours can be arranged from Cancun, visiting major cocoa plantations complete with a tasting of the incredible bitterness of natural chocolate and the opportunity to buy real chocolate from its source.
12. Silverware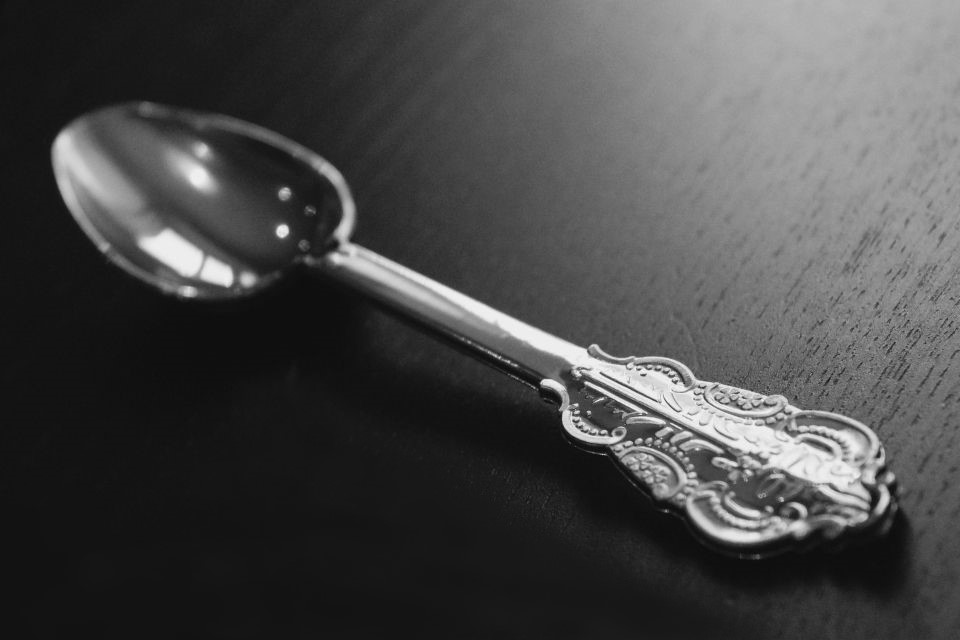 It may come as a surprise, but Mexico is known for its silver and holds the title of being the world's largest producer of silver. Over 6,300 metric tons of silver were mined in 2022, mostly from two of the largest silver mines anywhere in the world in the state of Zacatecas.
You'll be able to purchase a wide array of silverware in Cancun, particularly in local markets like Mercado 28 and Plaza Bonita as well as the silver jewelry shops dotted around the entire city block. Whether you are looking for silver rings, silver necklaces, or any kind of silver jewelry, you can find them here.
Hand-crafted individual pieces can be bought as well as smaller souvenirs, but whichever you choose, it's important to make sure that your silver jewelry is stamped with .925 indicating it is comprised of 92.5% silver signifying its status as sterling silver.
13. Shot Glass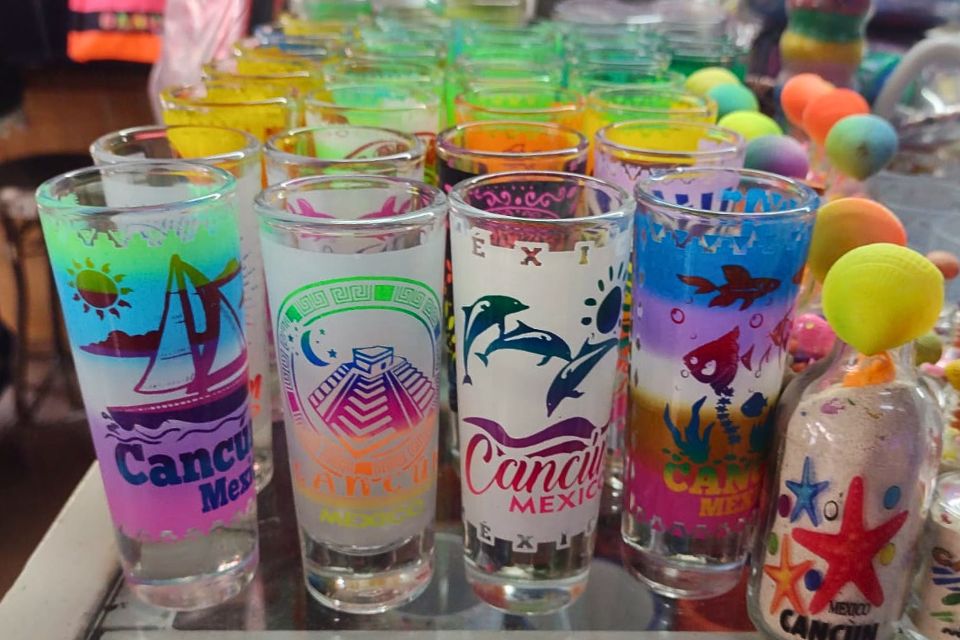 If you're struggling to think of a good souvenir, you can't go wrong with a brightly colored shot glass. Not only is it one of the most popular souvenirs from Mexico, but they're pretty cheap and they're also extremely handy because of their size.
Mexican shot glasses are almost usually always decorated with bright colors and designs that reflect the vibrant culture of the country, as well as a nod to the Mexican-produced spirits like tequila and mezcal that is drunk from them.
Ideally, it'd be great to purchase your shot glass(es) from a local producer as opposed to the mass-produced ones because you'll find more unique designs in all different shapes and sizes, as well as contributing to the local economy.
14. Leather Goods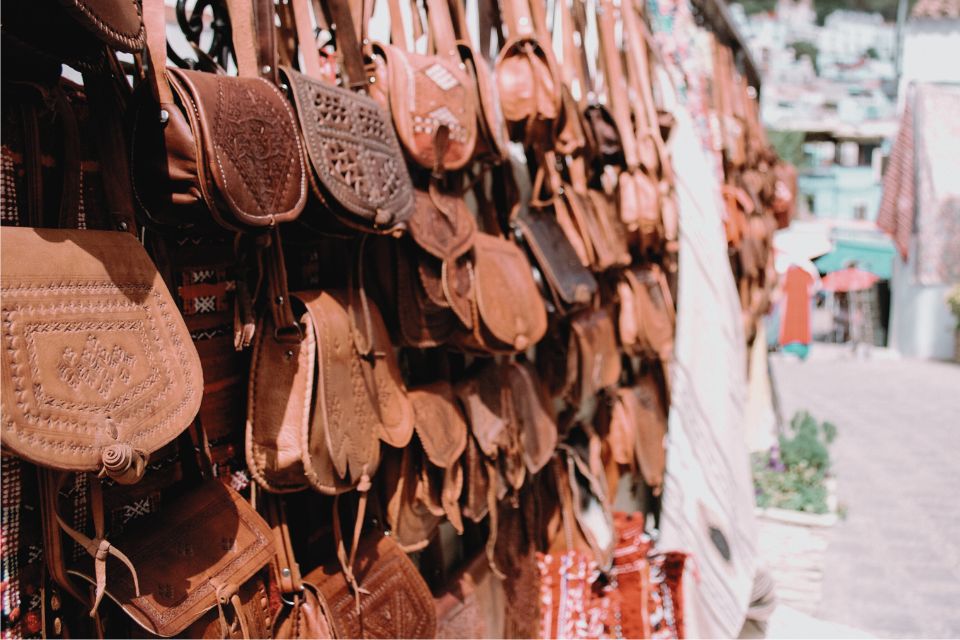 Leather can be an expensive commodity back home so it would only make sense to purchase leather goods where not only is it cheaper, but also extremely good quality.
Backpacks, wallets, purses, laptop cases, briefcases and more can be bought in plenty of shops and markets all over Cancun, with some specialist shops and stalls being able to personalize your product to your taste, possibly with names, initials, or even just a patterned design.
If you'll be looking for leather goods in the market, don't forget to haggle. If you're polite and respectful, you'll be surprised at how much of a bargain you might be able to get.
15. Day of the Dead Items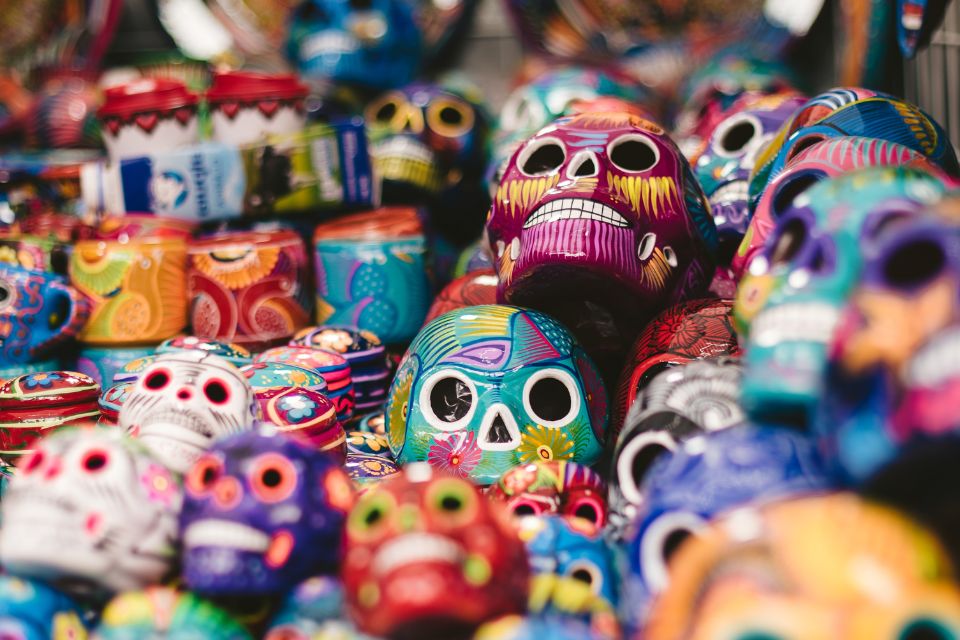 The Day of the Dead, or 'Dia de los Muertos' in Spanish, is a festival celebrated throughout the entirety of Mexico that honors friends and family members that have died in the years gone by.
Combining indigenous Mexican tradition with Catholicism that was brought over by Spanish colonizers, it is thought that the spirits of those that have died return to Earth on the ceremony day.
Plenty of items can be purchased in the run-up to the festival and on the two days which can be brought home as a unique souvenir for someone. Skeleton masks are a popular choice with locals, as are the unique artwork or paintings that are displayed by stall owners in markets.
---
Where To Buy Souvenirs in Cancun?
1. Mercado 28 (Market 28)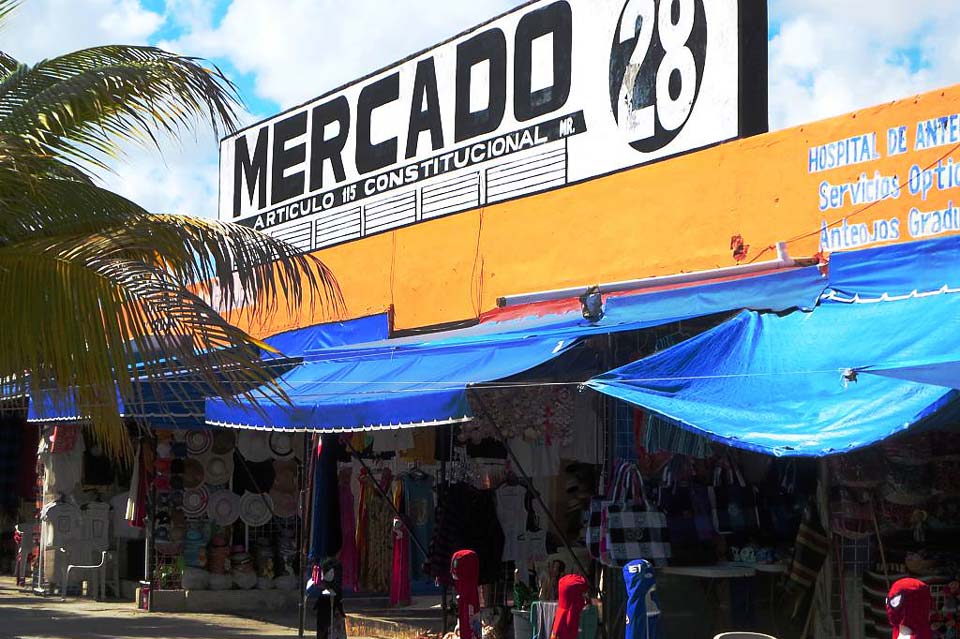 Mercado 28, or Market 28 in English) is the first place you should go if you're hunting for authentic souvenirs from Cancun. It's one of the best places in Cancun to go shopping and can be a welcome respite from the grounds of your hotel.
The flea market spreads an entire city block in downtown Cancun and is packed full of weird and wonderful souvenirs from leather goods, to traditional Mexican clothing, brightly painted pottery, and Mexican lacquerware, and hand-made accessories. It is one of the places you must visit on any Cancun itinerary.
2. La Isla Shopping Village
La Isla Shopping Village is one of, if not the most popular mall in Cancun. Its wonderful open-air market design allows you to shop until you drop whilst still basking in the glorious Mexican sunshine.
La Isla Shopping Village features a diverse range of shops with luxurious high-end designers and more affordable options meaning there should be something for everyone's budget. There's even a fantastic aquarium to keep the kids happy.
If you are looking for something near the hotel zone to go shopping, then check out La Isla shopping village.
3. Plaza Las Americas
For a more traditional mall experience, Plaza Las Americas is great for souvenir shopping too. Similar to La Isla in the fact it has numerous international brands alongside more traditional artisan shops and stalls, you'll notice that there are a lot more locals walking around Plaza Las Americas giving you a more authentic experience.
It is one of the biggest shopping malls in Cancun, so you'll surely find plenty of places to shop for souvenirs. It even has a food court where you can recharge your energy before you go for another round of shopping!
4. Plaza La Fiesta
Plaza La Fiesta is a huge souvenir shop located in the heart of the Hotel Zone in Cancun. It is full of unique handcrafted items and souvenirs that showcase the creativity and craftsmanship of local artisans.
From intricately painted ceramics, traditional textiles, and beautiful silver jewelry to iconic sombreros and delicately embroidered clothing, there's something here for everyone.
Whether you are looking for food souvenirs, a gift for children or just tacky t-shirts, make sure you stop at Plaza La Fiesta and check out their selection. Bartering here is strongly discouraged though, as the items have a sticker indicating their price.
5. Coral Negro Market (Mercado Coral Negro)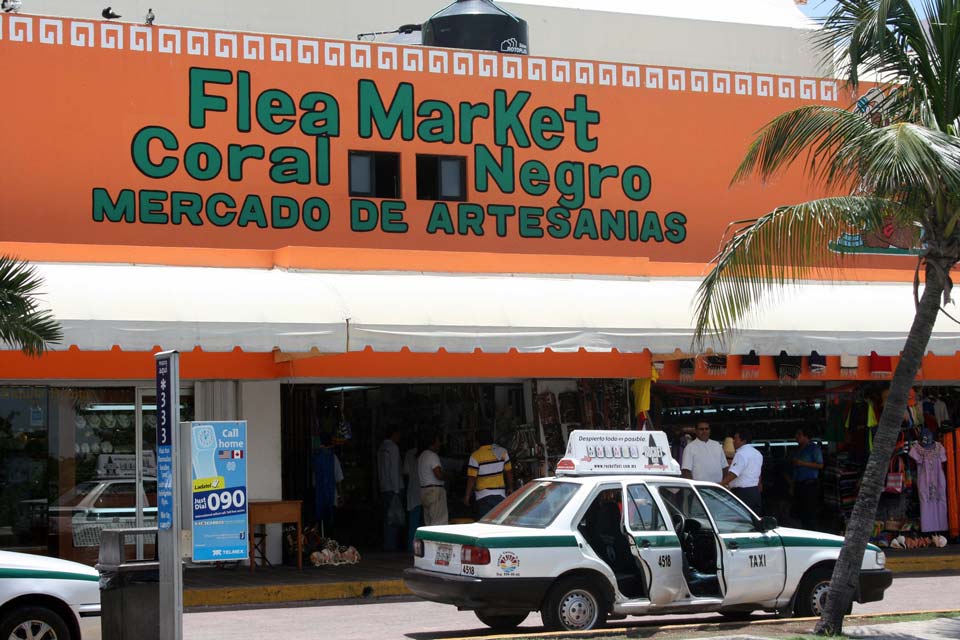 In the heart of the Hotel Zone is Coral Negro Market, or Mercado Coral Negro in Spanish. Haggling is second nature here to the stall owners, so don't come to the Coral Negro Market without expecting a barter. This usually means you'll be able to get some great deals here on some fantastic local souvenirs.
Coral Negro Flea Market is a true Mexican experience and is vastly different from the huge malls of La Isla and Plaza Las Americas, so come prepared with an open mind and immerse yourself in the local custom. There are plenty of shops here, and if you have patience, you can find the perfect souvenir from Cancun to take home.
6. Walmart
Any locals in Cancun would tell you to just get your souvenirs from Walmart in Cancun and avoid all the haggling and getting ripped off.
Surprisingly, Walmart is actually a great option when it comes to shopping for souvenirs in Cancun. Unlike specialty souvenir shops or markets, Walmart offers a vast selection of items at consistently low prices, making it an excellent option for those traveling to Cancun on a budget.
At Walmart, you can find various Mexican-themed products that make perfect keepsakes or gifts. These can range from traditional Mexican snacks and candies, local coffee brands, and Mexican spices to tequila and other local liquors.
For those interested in non-edible souvenirs, Walmart offers a selection of Mexican crafts, clothing items, and accessories. You might find beautifully embroidered shirts, traditional Mexican pottery, colorful woven baskets, or even silver jewelry.
Though shopping at Walmart does not provide the same cultural experience as shopping in a bustling Mexican market, it does offer convenience and affordability. Plus it is air-conditioned which is great for those visiting Cancun during the hot summer months.
---
Tips For Shopping in Cancun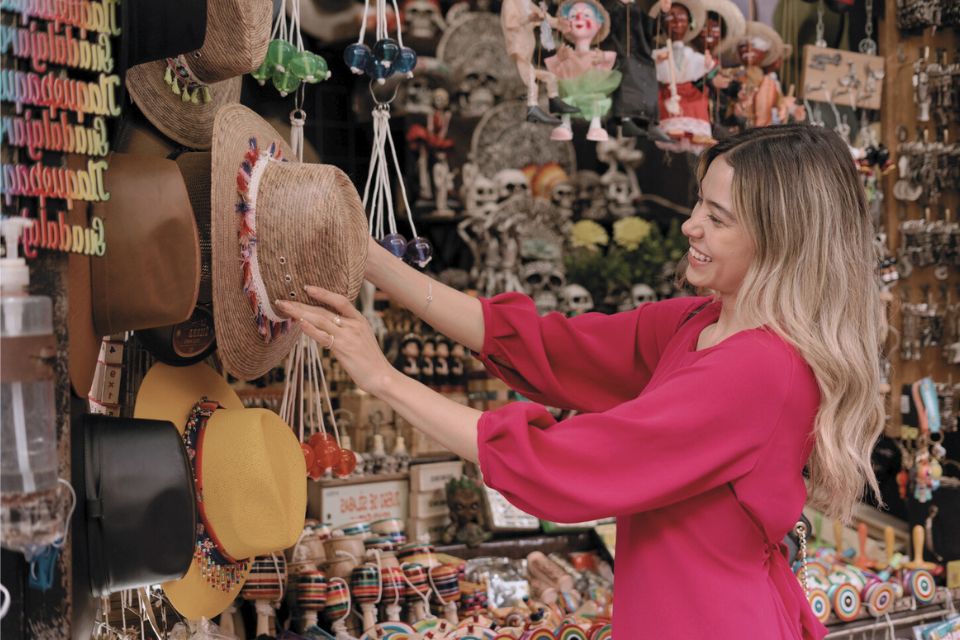 Shopping in Cancun is not an easy task. Just like most touristic places, there are a lot of scams, haggling, and making sure you are getting what you paid for. Here are some tips to make your shopping experience better.
Pay pesos, not dollars – Paying in pesos will always give you a better deal because it's the local currency. You'll frequently be asked if you'd like to pay in dollars, but it's usually always best to pay in pesos.
Drive a hard bargain – Markets are meant for haggling. The initial price is always marked up by about 50% so remember to start low and gradually raise your offer. Be respectful though.
Make sure it's authentic – Look for special certifications to prove the authenticity of certain products like alcohol. Try not to buy items from mass-produced shops as they won't be as authentic as hand-made goods from a local maker.
Learn basic Spanish – You'll be surprised at how far knowing some basic Spanish phrases can get you. It's seen as an appreciation of the culture, not to mention it'll make your life easier when conversing with shopkeepers or haggling.
Double-check customs regulations – Depending on where you fly to, there might be certain restrictions on products like food and drink. It's always best to double-check before getting to the airport.
---
Buying Cancun Souvenirs Online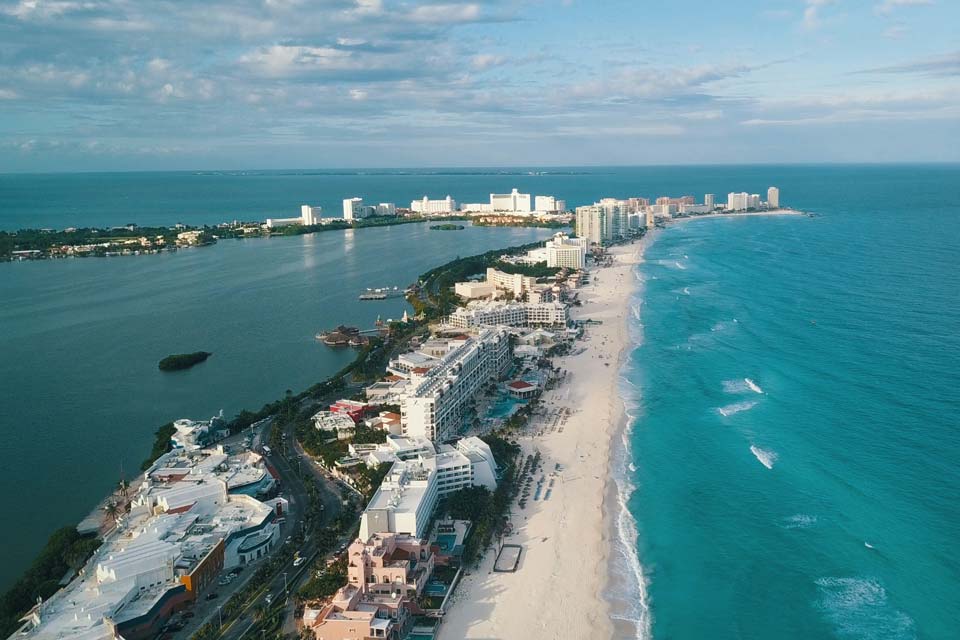 If you have just traveled to Cancun and missed your chance to purchase some authentic souvenirs, worry not. There are many places where you can purchase some souvenirs from Cancun online.
The most challenging part when shopping for souvenirs online is deciding whether they are authentic or just cheap knock-offs from China. And unfortunately, there are many places where they claim to be authentic but are actually selling counterfeits.
If you have already left Cancun and want to get high-quality souvenirs, we can only recommend Etsy. Etsy has sellers that are from Mexico, and that is the only way you can know the item is being produced in Mexico.
Amazon can also be a good place, but do note that the majority of the products there are not authentic.
---
Can You Buy Souvenirs At Cancun Airport?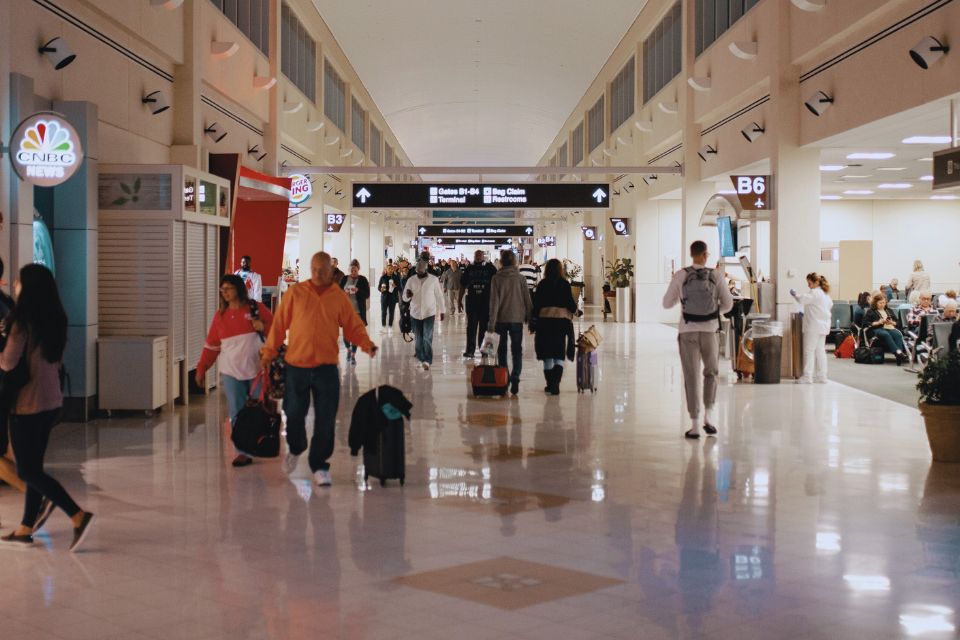 Yes, you can buy souvenirs at Cancun International Airport (CUN). There are several shops located within the airport that sell a wide range of souvenirs. From traditional Mexican crafts and clothing to local food products like tequila and chocolates, you'll find plenty of options to grab a last-minute memento of your trip or a gift for someone back home.
However, it's worth noting that prices at the airport can often be higher than those in downtown Cancun or other local markets. Therefore, if budget is a concern, it might be best to do most of your souvenir shopping elsewhere before you arrive at the airport.
Top Tip: For more local souvenirs, check out Los Cinco Soles shop in Cancun airport. But for more high-end gifts and alcohol, you've plenty of duty-free shops in the airport for that!
---
Cancun Souvenirs FAQs
Where Can I Buy Cheap Souvenirs in Cancun?
There are several places where you can buy cheap souvenirs in Cancun, such as Mercado 28, Coral Negro Flea Market, and Walmart (Yes! Walmart.)
Where Is A Good Place To Buy Souvenirs In Cancun Hotel Zone?
A good place to buy souvenirs in Cancun Hotel Zone is the Coral Negro Flea Market. This bustling market offers a wide array of souvenirs, from traditional Mexican crafts and jewelry to clothing and local food products. Just remember to haggle when you are there.
What Are The Most Famous Products in Mexico?
The most famous products in Mexico are Tequila, Talavera Pottery, Mexican textiles, silver jewelry and various Mexican Food Products:
---
Final Thoughts
As you can see, there are plenty of souvenirs to buy from Cancun. Whether you are looking for something small and edible like tequila or mezcal, or something big and memorable like a Serape or leather goods, you can easily find them in the various markets in Cancun. Our tip is to just remember to always haggle and make sure you are getting an authentic product. Stay safe, have fun!
Disclaimer: Some of the links above are affiliate links. That means if you book or make a purchase through the links, we will earn a small commission at no extra cost to you! The money will help run this site! Thank you!