Indoor pools are a sought-after commodity for many travelers, especially those looking to escape the bustling city streets of San Francisco.
Luckily, there are some amazing hotels with an indoor pool in San Francisco, offering a sanctuary of relaxation amidst the chaos of the city.
Many of these hotels allow guests to swim, lounge on a chair, or soak in an indoor pool's calming environment while enjoying a beautiful view.
This experience can set the tone for a great day or evening ahead or help guests refresh and recuperate after a long day of travel or sightseeing.
That is why we have written this article on 15 of the best San Francisco hotels with an indoor pool, so that you can have the perfect trip to SF, one of the cities we keep coming back to.
We've selected some of the best 5-star, 4-star, and 3-star hotels from the city, so you have a variety of accommodations to pick from based on your budget!
5-Star Hotels In San Francisco With An Indoor Pool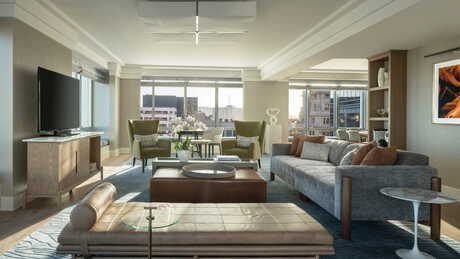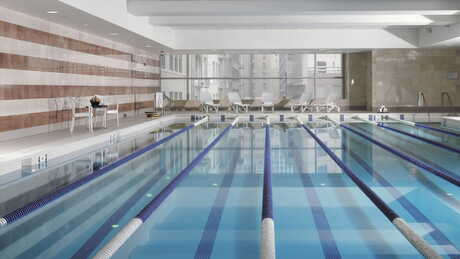 Located right in the heart of San Francisco's bustling Financial District, the Four Seasons is undoubtedly one of the plushest hotels with an indoor pool in the city.
With exceptional views of the Bay and iconic landmarks such as California's most famous Golden Gate Bridge, this five-star luxury hotel offers guests super spacious rooms complete with modern décor and amenities, including the all-important 25-yard indoor lap pool.
Situated on the hotel's fifth floor, the lap pool is available for all hotel guests as part of their collaboration with the luxury fitness club Equinox, also including their world-class spa facilities.
As you would expect, the pool is heated to a comfortable temperature and has huge floor-to-ceiling windows that offer swimmers a wonderful view of the immediate skyline.
Whether you're looking for a bit of rest and relaxation, or there on business, you can be sure you'll be well taken care of.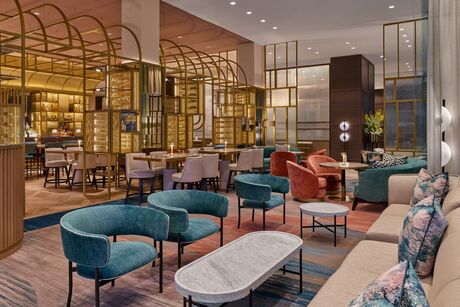 Located in the city's famed SoMa (South of Market) district is The St Regis, a famous five-star hotel with an indoor heated lap pool. Famed all over the world for its personalized service, The St Regis is a first-class experience from start to finish.
The stunning 260-room property features a 24-hour fitness suite with a 50-foot indoor heated lap pool. At the time of writing, the indoor swimming pool and spa areas are currently undergoing an extensive transformation with an imminent reopening.
The art-focused San Francisco indoor pool hotel features a luxurious yet unpretentious design. Its interiors feature a mix of modern artwork, plush seating, and bright colors that create an inviting atmosphere. Guests can immediately feel at ease upon entering the hotel lobby.
4-Star Hotels In San Francisco With An Indoor Pool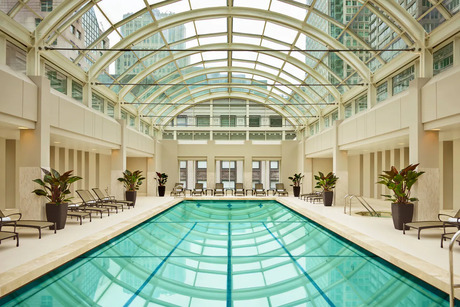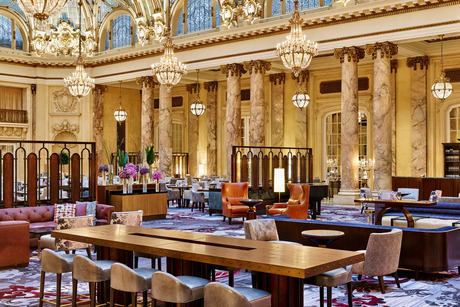 Palace Hotel is one of the most unique 4-star hotels in San Francisco with an indoor pool. Walk in and instantly it feels like you've flown back a hundred years, as everything from the marble staircase to the stunning chandeliers looks like they've been shipped directly from Gatsby's mansion.
The heated pool is one of the most desirable features of this hotel. It is heated to 27 degrees C or 80 degrees F, the perfect temperature for swimming. The all-glass rounded ceiling allows plenty of natural light as you indulge in a relaxing swim.
There are plenty of sun loungers on the side of the pool where you can enjoy listening to the sounds of the water or chill out.
The indoor pool at Palace Hotel is 20 yards in length and features three lanes, perfect for guests to do a little bit of exercise or just cool off.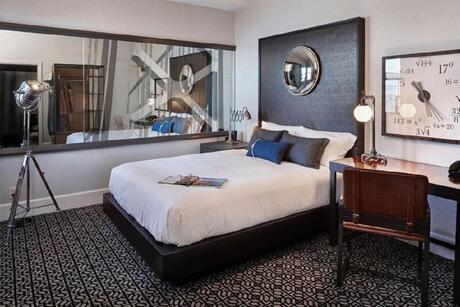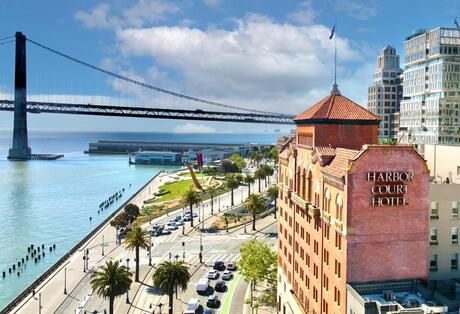 The Harbor Court Hotel is a hidden gem among the big hotel chains in San Francisco's Financial District. Situated in the Embarcedero neighborhood right by the bay, visitors can have incredible views of the San Francisco – Oakland Bay Bridge every day when they wake up.
The hotel's super-friendly staff and boutique feel create a warm and inviting atmosphere that is hard to beat. Free room upgrades aren't uncommon reinforcing the hotel's 'everyone is welcome' ethos.
The Harbor Court Hotel doesn't technically have an indoor pool per se, but guests do get complimentary access to the YMCA next door which houses a full gym, sauna, and 27-yard indoor lap pool.
This pool is perfect for getting some lengths in as there are five lanes to choose from and it's heated to a toasty 28 degrees.
The iconic Ferry Building is within walking distance from Harbor Court, giving guests easy access to other attractions in and near San Francisco such as the Fisherman's Wharf, Sausalito, Berkeley, and more!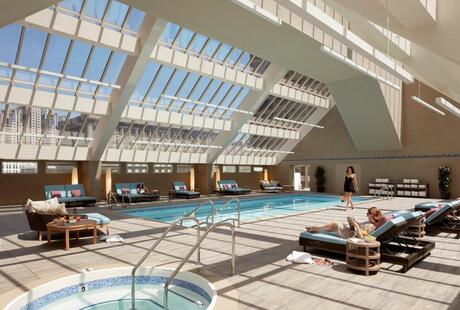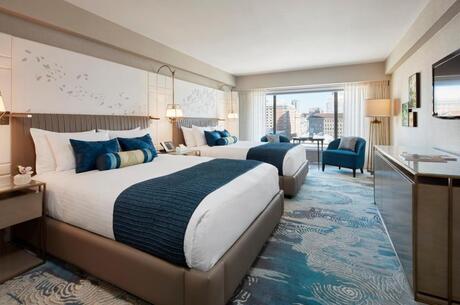 The Asian-inspired boutique Hotel Nikko is placed right in the heart of the city, barely a minute's walk from Union Square.
It has a very modern and sleek design, with clean and minimalist rooms that have been furnished to a really high standard, including huge windows giving superb views of the city.
The ANZU restaurant is also a must-visit, serving up some of the city's finest Japanese fusion cuisine.
Nikko's 15-meter glass-enclosed indoor pool is also an excellent place to unwind after a hard day exploring. Like the hotel, the pool area is well-designed with a huge number of comfortable lounge chairs and a wonderful amount of natural light from the ceiling skylights.
If you don't fancy taking a dip in the swimming pool, there's also a relaxing whirlpool to make use of. It is certainly one of the best value-for-money San Francisco Hotels with an indoor pool!
Note: The swimming pool has adult-only hours between 7 AM to 9 AM and again in the afternoon between 5 PM to 7 PM.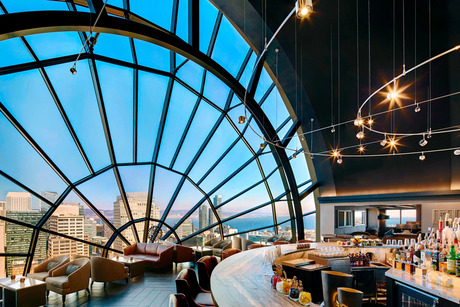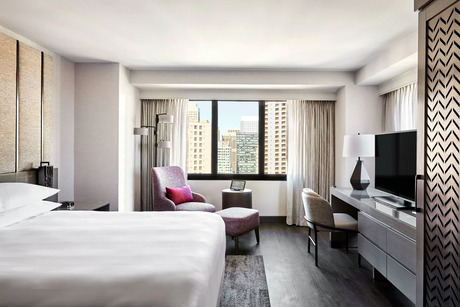 No matter where you are in the world, the Marriott Marquis brand always offers top-of-the-line accommodation and great service for reasonable prices.
In San Francisco, it's no different. With its iconic building and massive floor plan – the Marriott Marquis is gigantic, with over 1,500 rooms all specced to a great standard.
You can expect huge beds with soft cotton bedding, a 32-inch flat-screen TV, a stocked minibar, and a massive bathroom complete with Paul Mitchell toiletries.
The Marquis' indoor pool is a great spot to retreat to as well, not closing until 10 PM which is great for guests with busy days.
It's not the largest of indoor pools, but it's super clean and gets the job done. There's even a marked lane for those wanting to raise their heart rate and get some laps in.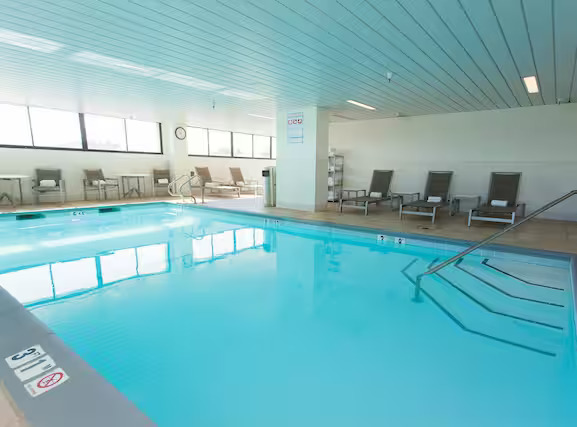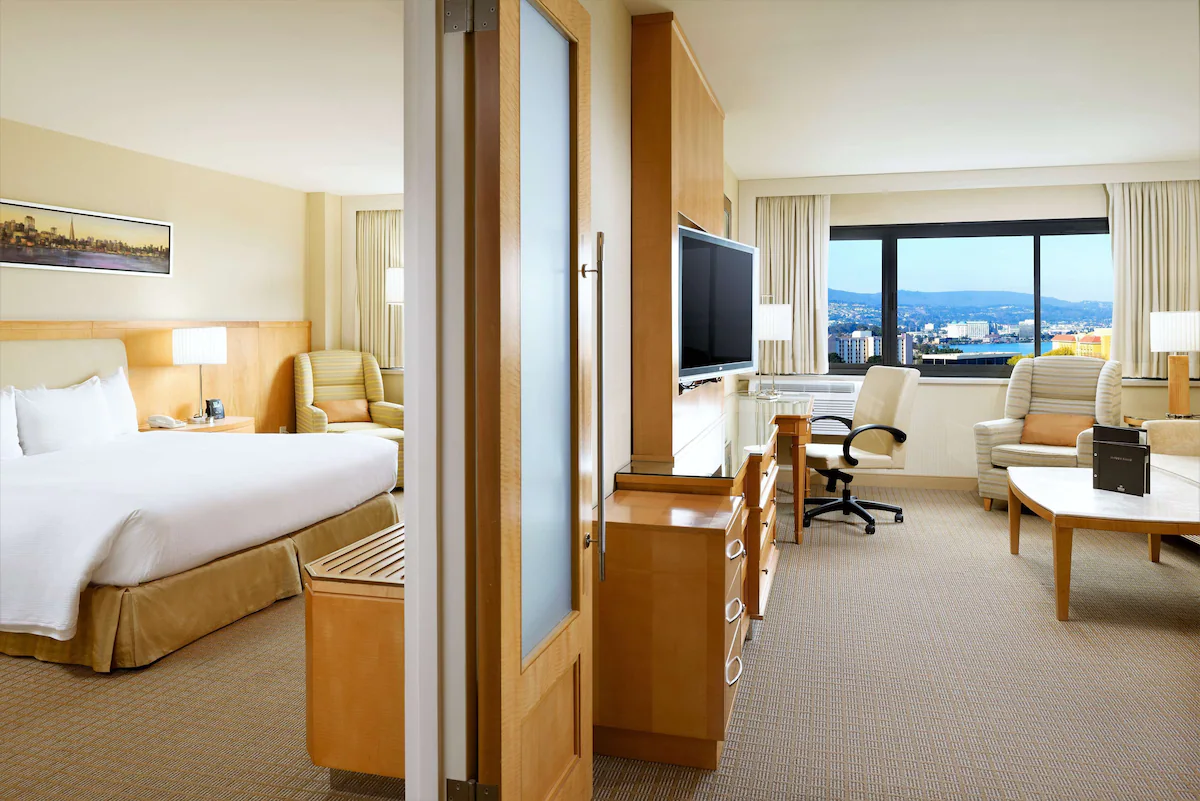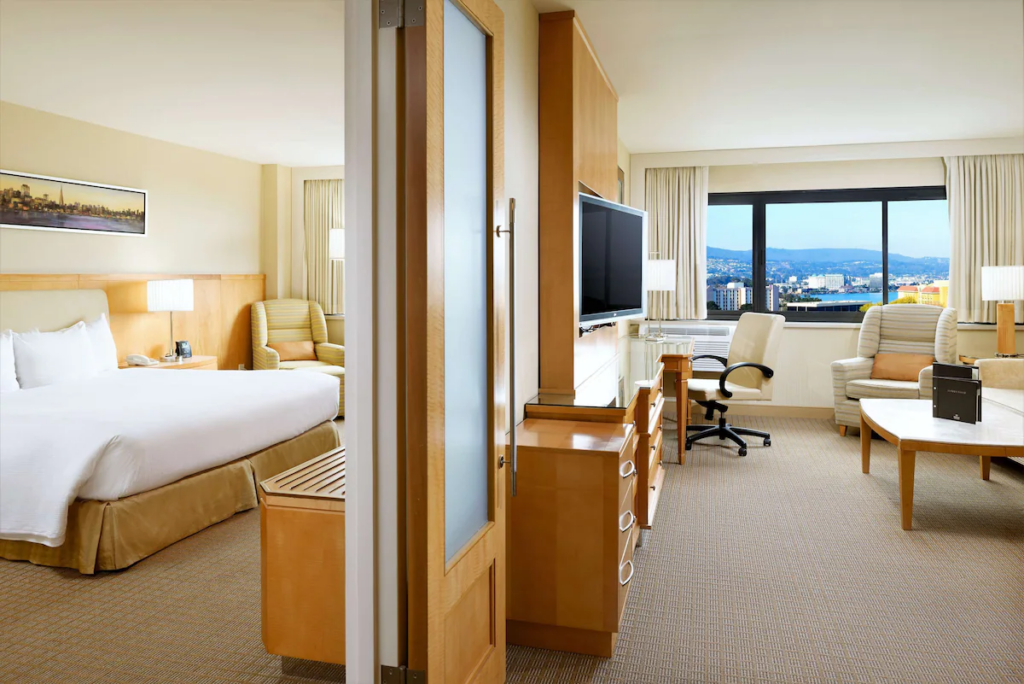 If you are looking for a hotel with an indoor pool near the airport, then Hilton San Francisco Airport Bayfront might be perfect for you.
Featuring a complimentary shuttle to and from the airport terminals, guests can relax without the added stress of getting to and from one of the busiest airports in the world.
The non-smoking rooms are fully furnished and bright and airy with flat-screen TVs, a mini-bar, and ultra-comfortable beds perfect for after long-haul flights.
There's also a tip-top fitness center, complete with a small indoor pool and hot tub for guests to relax or exercise in. The depth of the pool maxes out at 5 ft, and whilst it's not the most luxurious of indoor pools, it's clean and gets the job done.
It's usually a fairly quiet pool, and with ample seating around, you won't have to worry about not getting somewhere to sit.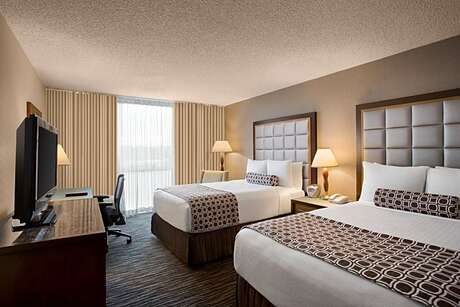 If you are looking for comfort, convenience, and a nice indoor pool, then look no further than the Crowne Plaza San Francisco Airport Hotel.
As an IHG hotel, the rooms have everything you could possibly need after a long flight or a pre-departure stay making sure you're well-rested and relaxed.
Plenty of people visit this hotel for its excellent West Bay Restaurant & Bar, which serves classic American favorites alongside some exciting dishes with a twist.
On top of the delicious food, they also have a mind-blowing 200-inch projection screen perfect for watching sports. The Crowne Plaza also features a plush indoor corner pool that's recently been refurbished.
There are no lanes to make use of, but there's no reason why you can't make use of the pool's size and swim its circumference.
It's heated to a perfect temperature, and after your swim in the pool, you can relax in the whirlpool spa. Pool opening times are from 05:30 AM to 11.00 PM at night, perfect for the night owls and early risers.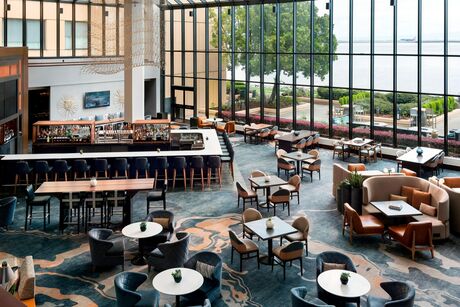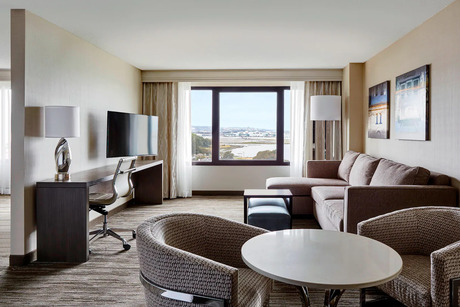 Though San Francisco Airport Mariott Waterfront might be a little bit more than your typical 4-star hotels in San Francisco, it is certainly well worth paying for the extra luxury and attentiveness of the staff.
As the name suggests, it is situated on the waterfront, which means that on top of its indoor pool, it is one of the best hotels in San Francisco with a view!
The staff at the front desk are seriously knowledgeable about the entire San Francisco area and will help you with any questions you might have regarding your trip.
It's a huge hotel too, 685 rooms in fact, that are all well-equipped with super-soft bedding, flat-screen TVs, and some with beautiful views of the Bay. Burlingame is just 10 minutes away which is great for food and a spot of shopping.
Once you've returned, you can enjoy the beautifully decorated marble indoor pool that has just recently been renovated.
As you would expect from a Marriott hotel, the pool is heated and whilst there aren't any designated swimming lanes, the pool is a great length to get some laps in.
There are also floor-to-ceiling windows at the back end of the pool area which makes the whole area a pleasant place to be.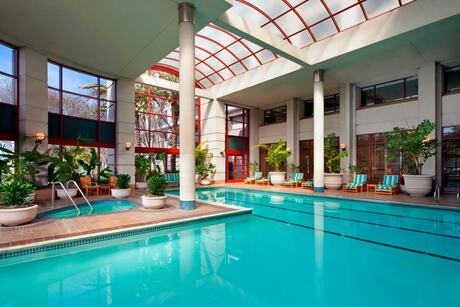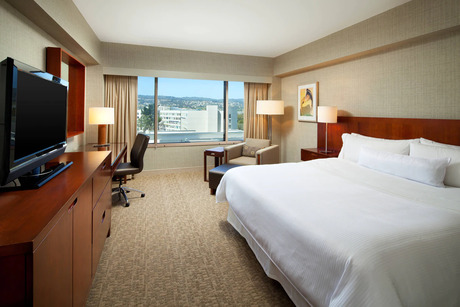 Another luxury hotel close to San Francisco's Airport is The Westin San Francisco Airport and plane-spotters – this hotel is for you! Upon booking, you can request to have your room facing the runways which will give you unparalleled views of all of the action at the airport.
The kids too will love that added touch of excitement, and the staff are super friendly and will do their best to accommodate your request. The hotel room showers are some of the best you can get too, with huge rainfall-style heads and excellent water pressure.
The Westin's heated indoor pool is really well-designed, with a large L shape maximizing the amount of space for pool guests. In fact, it's much larger than the majority of hotel swimming pools, with a nice whirlpool also in the offering.
Towels are provided to guests for you to make use of the wide variety of lounge chairs and seating options. To give the poolside a relaxing, calming atmosphere, plenty of luscious green plants have been placed around too.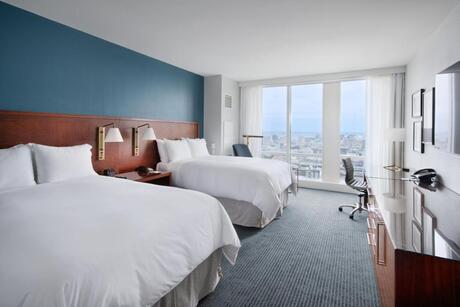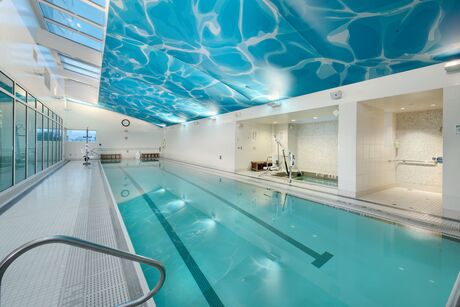 One of the best hotels in San Francisco with an indoor pool is the famous InterContinental San Francisco.
It's located in the middle of the ultra-vibrant South of Market (SoMa) district, making it perfect for city explorers, being within walking distance from numerous sights like the Museum of Modern Art, Union Square, and the Theater District.
Completed in 2008, it's one of the largest hotels in the area, with over 550 rooms, and a two-story underground car park for hotel guests' usage.
For guests that are partial to some fine dining, the hotel's very own Michelin-starred restaurant Luce is open, serving contemporary Mediterranean cuisine.
Before filling up your belly with some exquisite food and even better wine, you should head up to the pristine indoor pool for a quick dip. At 20 yards, it's a long and skinny indoor lap pool with three lanes for exercise.
It's also heated too, to a comfortable 81 degrees Fahrenheit. For those that don't want to raise their heart rate, there's also a whirlpool that's ideal for you to relax in before retreating to your soft sinking mattress.
3-Star Hotels In San Francisco With An Indoor Pool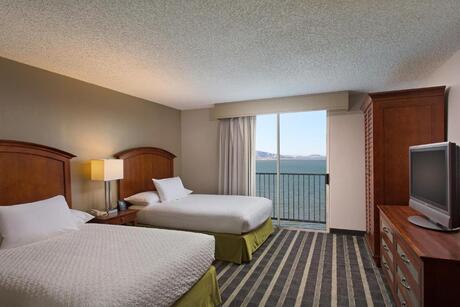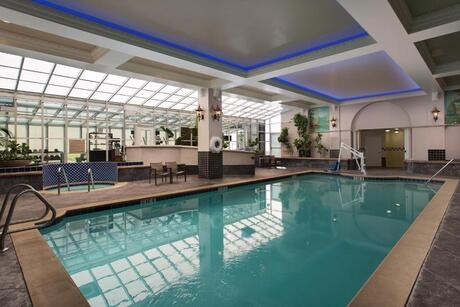 With three-star hotels, the drop-off in quality can be significant if you don't choose the right hotel. However, the Embassy Suites by Hilton do an excellent job of keeping things to a great standard whilst keeping the price affordable.
Here, the two-room suites are all equipped with living quarters, complete with cooking appliances and all offer great views of the Bay, with the King Suite offering runway views.
It's got super-easy access to the downtown San Francisco area so it makes for a great place to stay if you're looking for apartment-type accommodation.
The 15-meter and 5-ft deep indoor pool area for guests is superb with ambient colored lighting on the ceiling and plenty of space for adults and children, to swim, splash and relax.
There's not much seating available besides a few chairs, but if you've come to swim, that shouldn't be too much of an issue.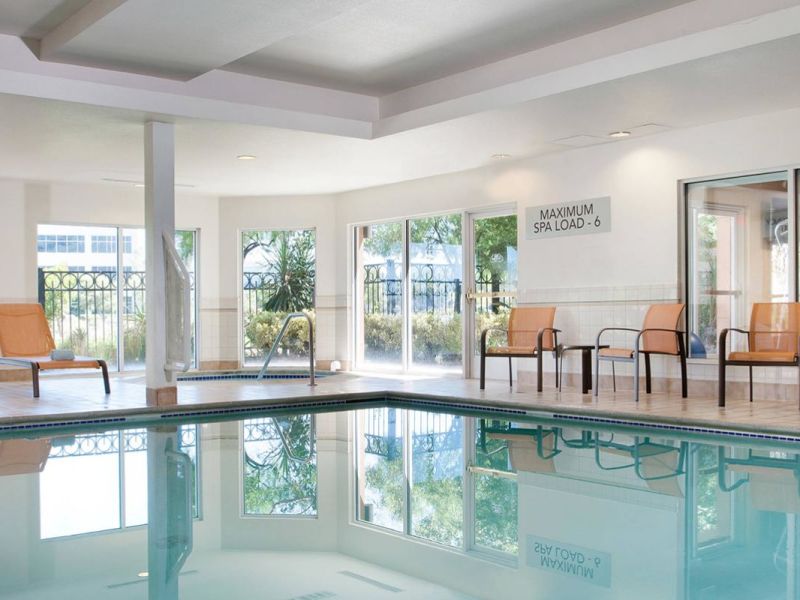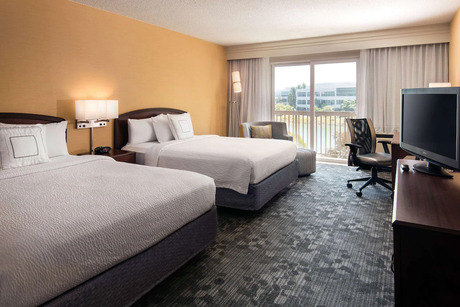 If you're after a cheap, no-frills but perfectly acceptable stay, the Sonesta Select SF Airport Oyster Point Waterfront is a great option, especially if you've brought your pet with you.
The clean, comfortable, and spacious rooms all have soft luxurious bedding, a mini-fridge, and desks for those that might need to do a little bit of work during your stay.
Outside of the room, guests have private workspaces in the lobby, a great restaurant that stays open pretty late, and also a fitness center complete with an indoor pool.
As it's a splash pool, there aren't any designated swimming lanes but it is a decent size for swimming so getting your lengths in here is entirely possible.
The splash pool area is also light and airy thanks to the huge windows and also comes with ample amounts of seating. Sonesta Select also provides a free complimentary shuttle service to and from the airport, which is really handy too.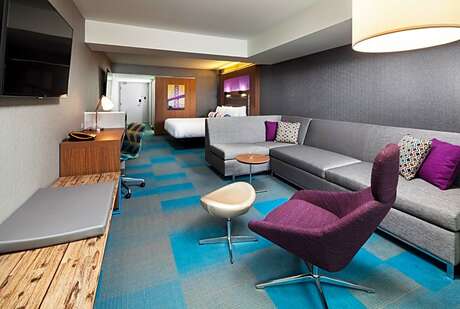 Aloft San Francisco Airport is one of the new hotels in San Francisco with an indoor pool. It's of the 'trendiest' in the city, boasting tech-savvy rooms and modern design throughout.
There's a bar, W XYZ, which is perfect for meeting fellow travelers and relaxing with a cocktail or bite to eat. Not only that, but they also have live music here too. The hotel's rooms are decorated plain, but cool, and all feature huge king-sized beds and super-fast Wi-Fi.
For the fitness freaks, there's a fully-equipped gym with a quaint indoor pool perfect for an early-morning swim. Be warned, at just 5 meters, the pool itself is pretty small meaning you'd struggle to get any serious amount of exercise in it.
It is heated though, which makes it great for relaxing in.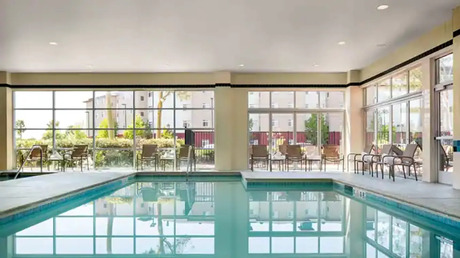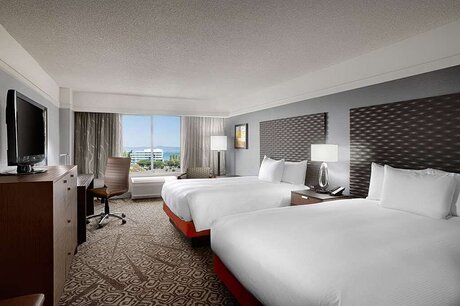 Our final hotel brings us to the well-known DoubleTree by Hilton brand and its San Francisco Airport North Bayfront location. This hotel is definitely worthy of its three-star rating, many guests have mentioned its age and how it's in need of renovation.
With that being said, the rooms are large and all come equipped with modern amenities like a mini-fridge, multiple charging points, and flat-screen TVs.
The hotel's indoor pool is also a nice place to spend some time, either relaxing on the numerous tables and chairs or for a swim.
There are also huge windows from the floor to the ceiling. It is rather the small size though, being just 3ft across, which won't be good for large swimmers.
The pool is also meant to be heated, but numerous reviews have claimed that the pool has been cold. It's best to double-check with the hotel if a heated pool is important to you.
One of the best things about this DoubleTree hotel is that the rooms all have large windows, giving you great views of either the city or the San Francisco Bay.
San Francisco Giants fans will like this hotel as Oracle Park is just a 10-minute drive away, and it's also super convenient for business travelers too with the Moscone Convention Center nearby.
Hotels With Indoor Pool In San Francisco Map
Finding a hotel in San Francisco is not the easiest task. Here is an interactive map with all of the ones we have discussed. This way you can see where the hotel is in comparison to some of the attractions in San Francisco!
San Francisco Hotels With Indoor Pool Comparison Table
Hotels In San Francisco With Indoor Pool FAQs
What Are Some Of The Best Hotels In San Francisco With An Indoor Pool And Views?
The best hotels in San Francisco with an indoor pool and views are Four Seasons Hotel San Francisco, Harbor Court Hotel, and The St Regis San Francisco.
What Are The Best Hotels With Indoor Pool In The Bay Area?
The best hotels with an indoor pool in the Bay Area are the Four Seasons Hotel San Francisco, The St Regis San Francisco, Palace Hotel, and Harbor Court Hotel.
Conclusion: Best Hotels In San Francisco With An Indoor Pool
Picking the perfect hotel with an indoor pool in San Francisco can be difficult. There are just so many choices. Hopefully, whether you need a lengthy lap pool, or just something for a splash around with the kids, we have narrowed it down for you for your next trip to SF!
Disclaimer: Some of the links above are affiliate links. That means if you book or make a purchase through the links, we will earn a small commission at no extra cost to you! The money will help run this site! Thank you!