Not sure what Arkansas is known for? Worry not.
Though Arkansas might be the 45th most popular state for tourism in America, that doesn't mean that Arkansas is not famous for anything.
Arkansas is nicknamed the "Natural State", and it has gorgeous lakes, stunning mountainous peaks, and lush valleys to show. The state is known for its gems, with Mount Ida named the Quartz Capital of the World. Lastly, perhaps the most famous landmark in Arkansas is Hot Springs National Park and its waters with healing powers.
But that isn't all, read on to find out 23 things Arkansas is famous for!
---
What Is Arkansas Known And Famous For?
1. Hot Springs National Park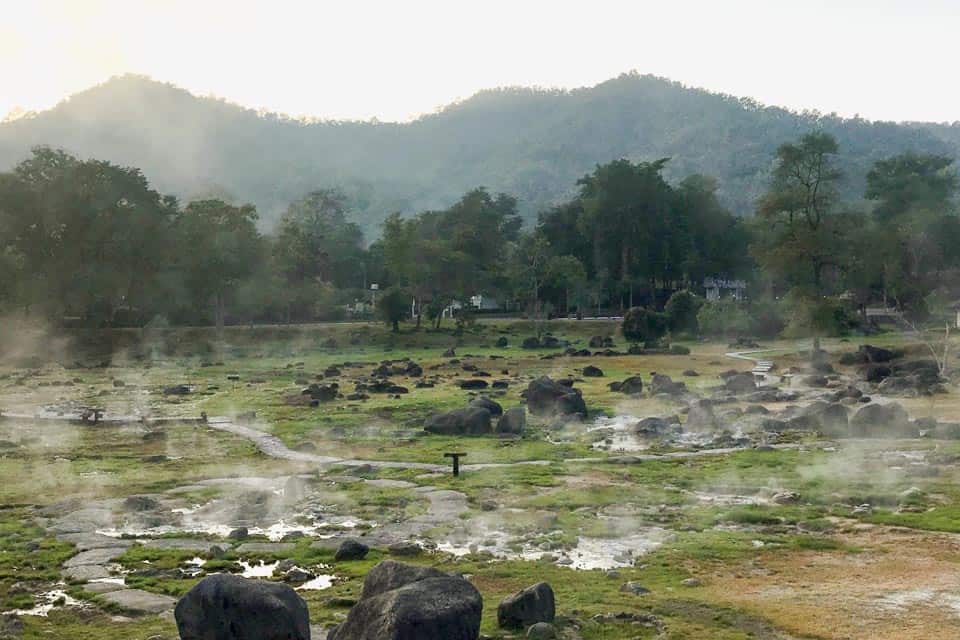 Hot Springs National Park is one of the most popular places to visit in Arkansas– and for good reason. It is nestled between the Ouachita Mountains, making it the perfect home for its hot springs, which is where the town got its namesake. Many believed that the water itself has "healing powers."
Today, Hot Springs tourists can walk along Bathhouse Row and dip their hands in an actual "hot spring." While on Bathhouse Row, you might as well unwind with a massage or personal thermal bath at one of the historical bathhouses.
You can also visit Garvan Woodland Gardens, a botanical garden situated a few miles from the National Park. The 210 acres of this garden is home to the stunning Anthony Chapel, a glass chapel designed by Lloyd Wright, Frank Lloyd Wright's son. Flower enthusiasts and architectural gurus both find peace in this sanctuary.
2. Crater of Diamonds State Park
If you are looking for a great family get-away in Arkansas, Crater of Diamonds State Park is the place to go. It is the only active diamond mine in the United States!
Located in Murfreesboro, the state park allows visitors to bring or rent mining equipment and search for diamonds. More than 33,000 diamonds have been found within the park and you can keep any gemstone you find! Talk about a perfect souvenir from Arkansas.
If diamond mining isn't your thing, no worries! You can also take a hike down the Little Missouri River Trail or the Prospector trail within this Arkansas state park.
Fun fact: Diamonds come in all colors of the rainbow. You can find white, yellow, and even brown diamonds at Crater of Diamonds State Park.
3. World's Championship Duck Calling Contest
Arkansas is famous for being the home of the World's Championship Duck Calling contest.
Whether you have been duck calling your whole life or just want to witness a piece of Arkansas history, head over to Stuttgart, Arkansas (45 miles southeast of Little Rock) during Thanksgiving week and experience the World's Championship Duck Calling contest.
If you need some motivation to dust off your old duck call, the grand prize is $15000. Some of the events surrounding the Duck Calling Contests include an Arts & Crafts Fair and a 5k or 10k run. You won't want to miss out on the highly-anticipated Duck Gumbo Cook-Off either.
4. Quartz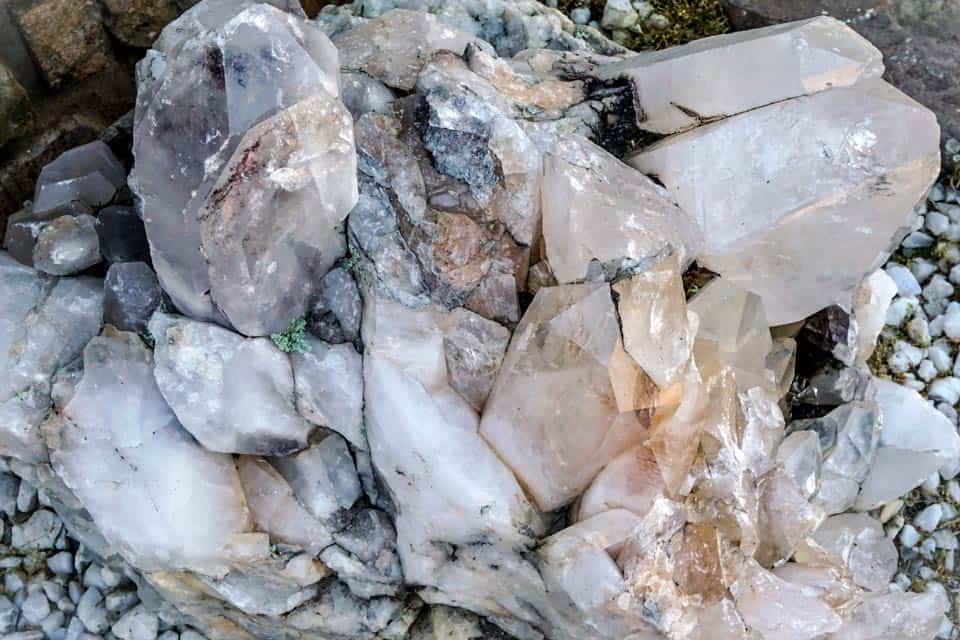 Arkansas is known to produce the finest quartz in the United States. If you are looking to dig up your own crystals, you will want to head over to Mount Ida, the Quartz Crystal Capital of the world.
There are numerous mines near the city where visitors can enjoy mining their own quartz.
The Twin Creek Crystal Mine has knowledgeable and helpful employees that both novice and experienced diggers will appreciate.
If you aren't interested in digging up your own quartz, there are plenty of shops lining the streets of Mount Ida that sell beautiful quartz pieces.
5. Beautiful Nature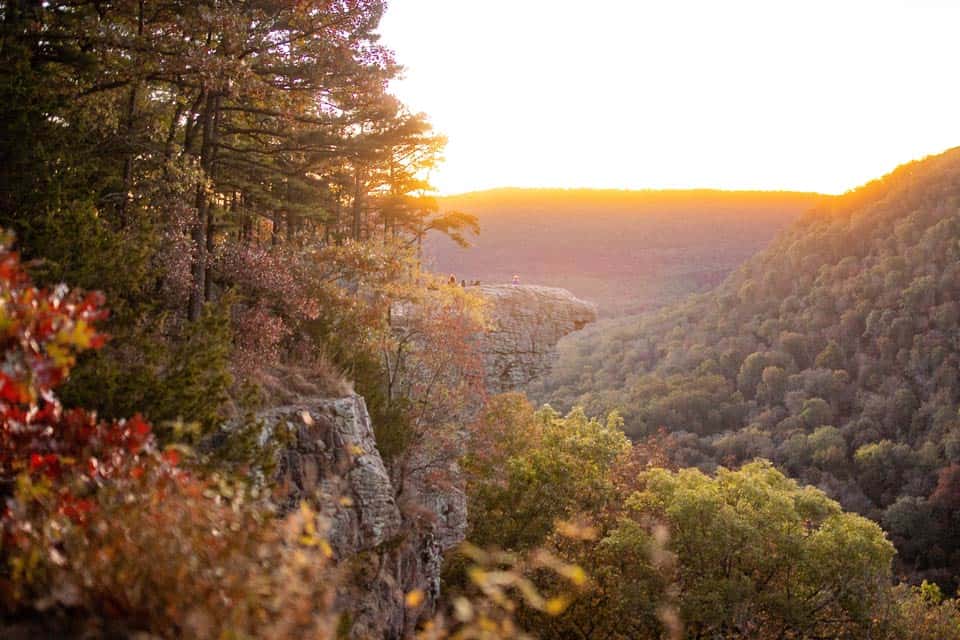 There's no secret as to why Arkansas is nicknamed "The Natural State."
When you enter Arkansas from the Northwest side of the state, you are greeted by the Ozark Mountains. If you enter from the Lower Delta, you get to experience the beauty of Lake Chicot.
No matter where you find yourself within Arkansas's borders, you get to experience a unique geographical feature.
The sparkling lakes, mountain peaks, and valleys make Arkansas a special place.
6. Rice Production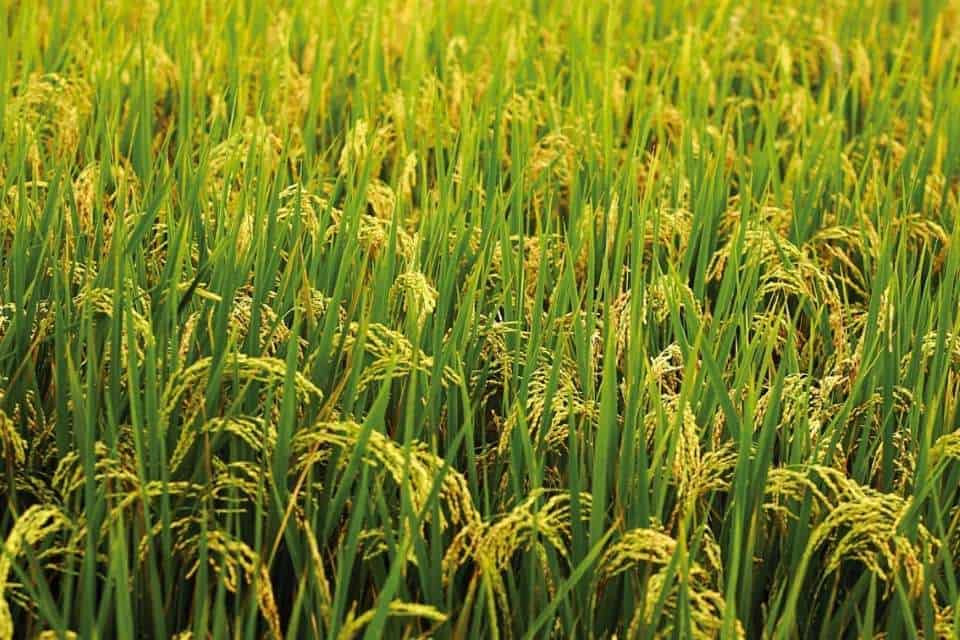 If there is one thing Arkansas is known for producing, it is rice. Matter of fact, Arkansas is the number one rice-producing state in the US.
Arkansas farmers typically plant about 1.3 million acres of rice each year and produce more than 9 million pounds.
This Midwest state is capable of producing so much rice because they use curved levees that follow the field's contours, allowing the roots of the rice plant to stay fully submerged in water.
Every October, the city of Weiner hosts a Rice Festival where attendees can view an Old Time Rice Threshing Demonstration and celebrate the heritage of rice farming.
7. The City of Mountain View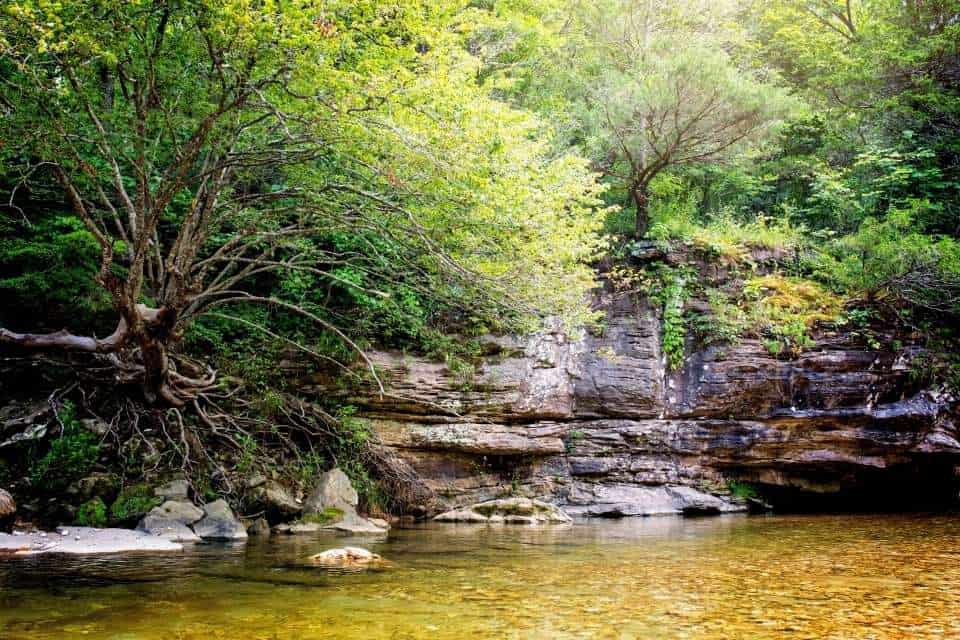 The city of Mountain View is located about 100 miles north of Little Rock and is a free-soul, music-lover's delight. Although the Folk Music Festival is hosted in April, this close-knit community of 3,000 can be found celebrating folk music each and every day of the year.
On any given evening, if one person starts playing on their porch front, there's bound to be at least two or three others that can't resist joining in.
If the idea of hearing the sounds of a mandolin or banjo flowing down the streets makes you warm and fuzzy, you won't want to miss visiting this Folk Music Capital of the World in Arkansas.
8. Ben Pearson
Perhaps one of the most famous people from Arkansas is Ben Pearson, the so-called father of modern archery. Born in Little Rock, Arkansas, he began the creation of the bow and arrow in a backyard workshop.
After selling some of the arrows he crafted to Carl Haun in 1938, Haun generously gave Pearson funds to begin the first mass production of bow and arrows in Arkansas.
9. World Cheese Dip Championship
Arkansas cheese dip is in a league all of its own– differing from queso and even rotel dip. Arkansasians claim that cheese dip originated within Arkansas's borders. For this reason, the competition for the best cheese dip is steep. Foodies unite every October in Little Rock, AR to witness the World Cheese Dip Championship. So buy your tickets now and bring your appetite to have a once-in-a-lifetime experience at the World Cheese Dip Championship.
10. Johnny Cash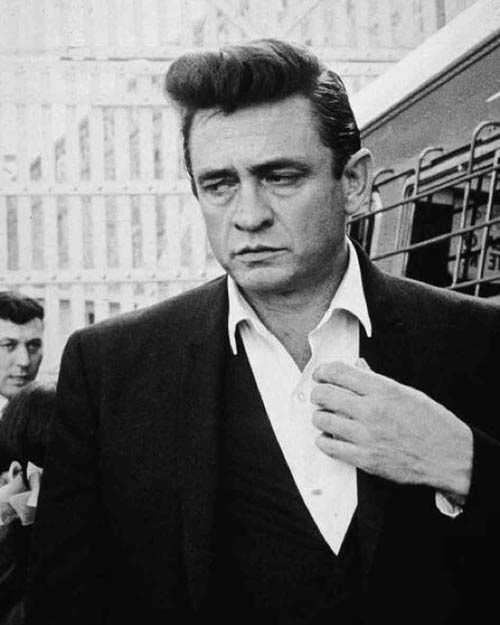 "Ring of Fire". "Folsome Prison Blues". If either of these songs sound familiar, you just might be a Johnny Cash fan. However, you may not know that Cash's boyhood home, Historic Dyess Colony, is located in Arkansas's Upper Delta and is open to tourists. The house is staged so that fans can see what the home looked like as the famous musician grew up.
11. Ozark Mountains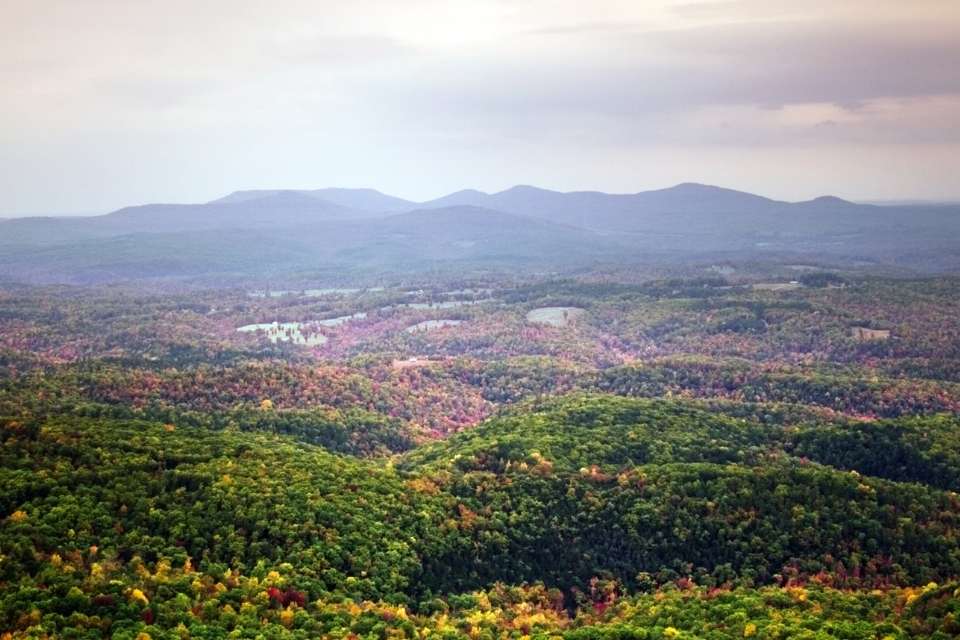 To some, the Ozark Mountain range is considered the crown jewel of Arkansas– and can you honestly blame them? The Ozark Mountains are one of the main reasons Arkansas is so inviting to nature lovers. With over 218 miles of hiking opportunities, 11 different rivers, and quaint mountain towns, the competition for a better place to visit is slim.
12. Fried Foods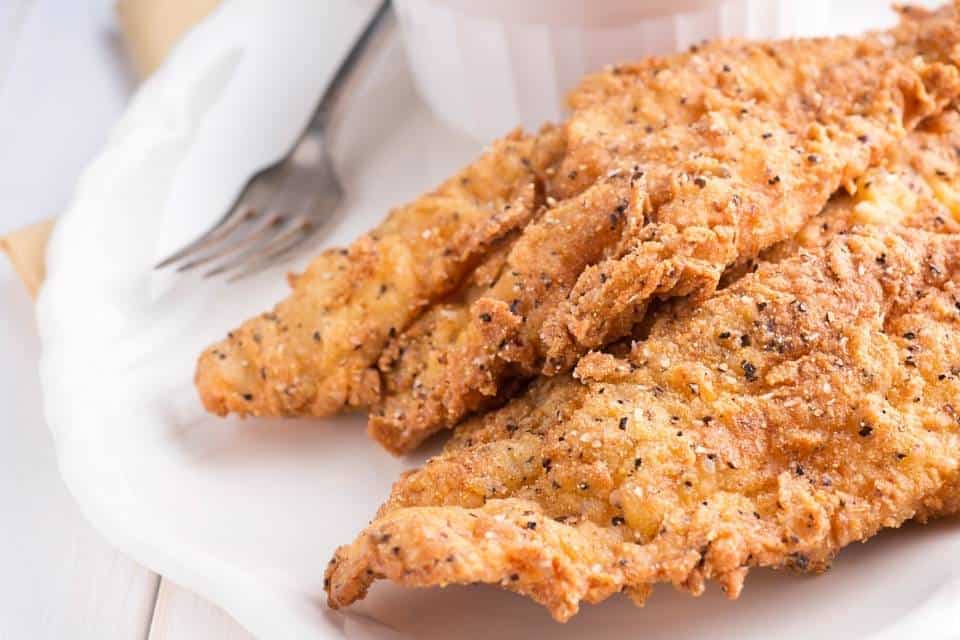 When it comes to famous foods in Arkansas, nothing can compare to its fried foods. Visitors can find fried pies, fried catfish, fried okra, and even fried pickles throughout the state.
Ask any Hot Springs local where to get the best fried food and they'll probably send you to Morrison's for a fried hand pie with a crispy crust and fruity goodness on the inside. Or, they may send you to The Ohio Club for fried pickles.
If you are looking for fried catfish and fried okra, head over to Jojo's Catfish Wharf in Mountain View. I can almost guarantee that no other state's fried food compares to Arkansas's.
13. Mount Magazine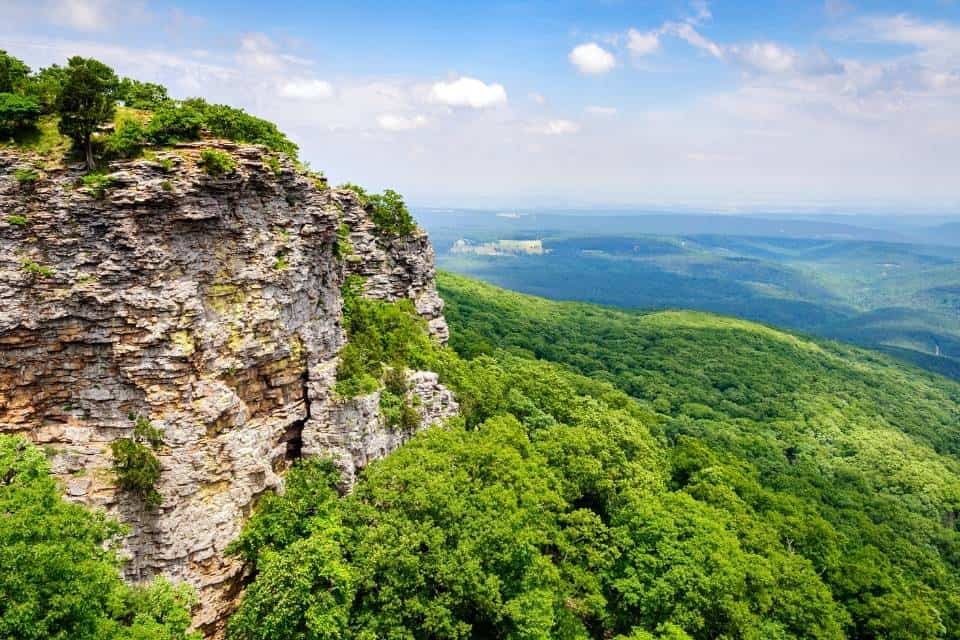 Mount Magazine is the highest point in Arkansas and is located in Paris, Arkansas.
Its state park boasts at offering extreme adventure for adrenaline junkies, such as hang gliding. It is only one of two parks to offer a hang-gliding launch. Because of Mount Magazine's endless beauty, it is also an ideal location for romantic getaways and even weddings.
14. Fishing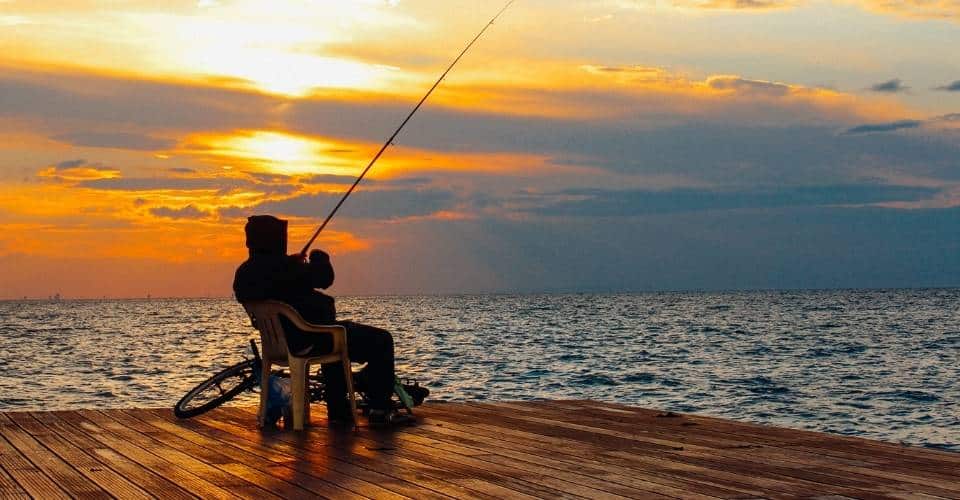 Arkansas is also well-known for fishing because it has one of the largest warm-water hatchery systems in the world and year-round fishing opportunities.
There are about 90,000 streams and rivers to fish from, with trout being the most common fish. Bass, crappie, and catfish can also be caught in Arkansas's waters.
Popular fishing locations include White River, Arkansas River, and Greers Ferry Lake. During the winter months, fishermen can visit The Little Missouri River.
15. Watermelon Capital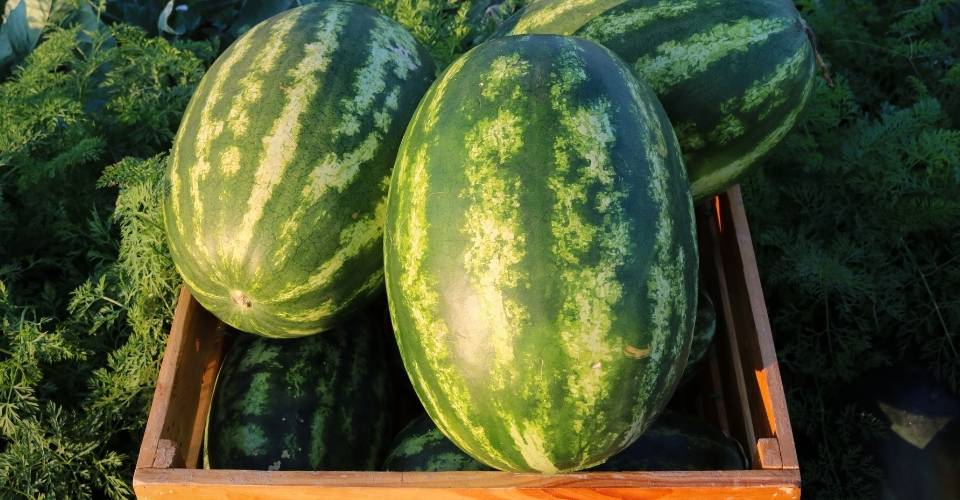 As if Arkansas weren't a fascinating enough state, it is also home to the "Watermelon Capital of the nation".
Hope, Arkansas, located Northeast of Texarkana, prides itself in producing some of the largest watermelons in the world and even had a Guinness World Records to prove it. In 1986, Bright made history in Hope, AR with a 260lb watermelon.
Although the city no longer holds the world record, the town continues to honor the memory of Bright and his accomplishment. Every August, the town gathers together for its annual Watermelon Festival. At the event, you can witness a watermelon eating contest, watermelon weigh-ins, and live music. 
16. University of Arkansas Razorbacks
Since Arkansas does not have an NFL (National Football League) team, most Arkansans band together to cheer on the University of. Arkansas Razorbacks.
"Call the hogs!" and "Woo! Pig! Sooie!" chants are commonly heard on game days in Fayetteville, AR.
The team was actually known as the "Cardinals" until 1910 when the team voted to change their mascot after a victorious football game against LSU when their coach commented that they played like a "wild band of razorback hogs."
17. Ernest Hemingway
The Hemingway-Pfeiffer Museum and Education Center can also be found in the state of Arkansas.
Fans of the famous American novelist, Ernest Hemingway, can visit the family home of his second wife and the barn studio in which portions of A Farewell to Arms were written in Piggott.
Hemingway enthusiasts can also witness a rare piece of history. During one of Hemingway's visits to his in-laws' house with his wife, the barn studio caught on fire and destroyed many of his belongings. Evidence of the fire can still be spotted by museum visitors.
18. Magnolia Blossom Festival
Arkansas is known for for its Magnolia Blossom Festival and World Championship Steak Cook-Off.
For three days in May, attendees can observe art shows, car shows, and live entertainment. But the best part is, with the purchase of a ticket, you can enjoy a 16 oz. ribeye dinner with a baked potato and a side salad.
The Festival originally started off as a sidewalk art show in the 1950s. In 1990, "Buddy" Franks proposed to incorporate the steak cooking event to promote Arkansas's beef industry.
19. First Walmart
If there is one thing Arkansas is famous for historically, it is for being the home of the first Walmart! The native Arkansasian Sam Walton and his wife founded the first "Wal-Mart Discount City" in Rogers, Arkansas in the 1960s.
The Waltons' goal was to "help people save money so they could live better." Today, Arkansas prides itself in being the first location for a Wal-Mart store and even has a Walmart Museum located in Bentonville, AR.
Visitors can take a step into Walton's family history and learn how Wal-Mart came into existence. 
20. Crystal Bridges Museum of American Art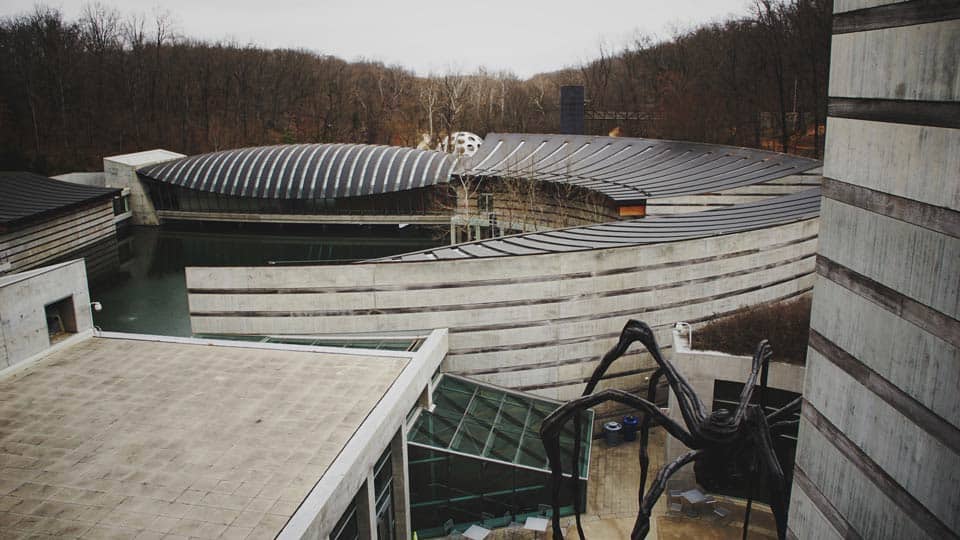 The Crystal Bridges Museum of America Art is perhaps the most iconic landmarks in Arkansas. It's a three-in-one experience that combines art, architecture, and the beautiful nature Arkansas has to offer.
The building is inspired by Frank Lloyd Wright and his belief that buildings should pay respect to the natural environment. The museum currently houses artwork from colonial times to today.
Crystal Bridges is located on 120 acres of the Ozark Forest and allows access to over 5 miles of trails, making it an unmissable Arkansas experience.
Fun fact: This museum was founded by Alice Walton, daughter of Sam Walton (aforementioned founder of Walmart)!
21. Petit Jean State Park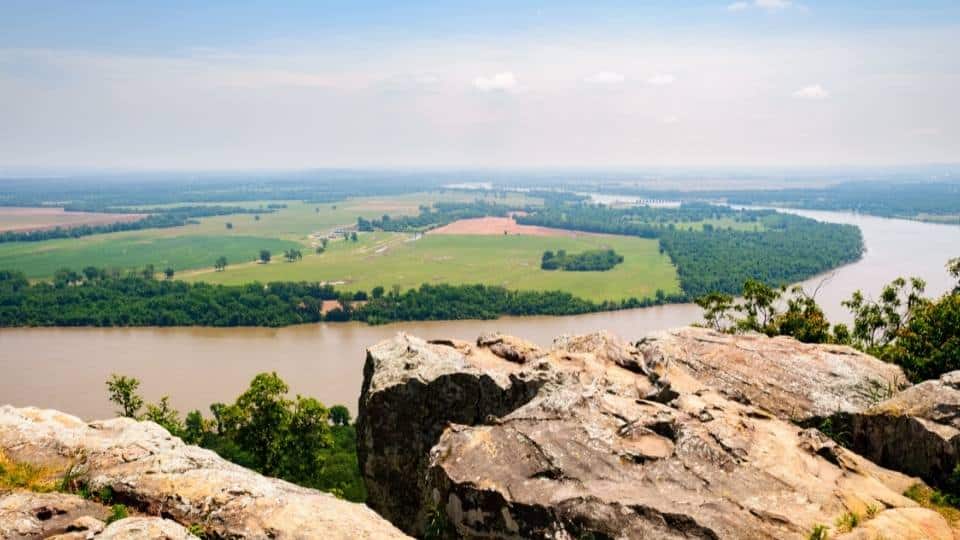 Last, but certainly not least, Arkansas is well-known for Petit Jean State Park. Petit Jean State Park was the state's first state park and is certified as a Trail of Tears Historic Trail Site.
Because Lake Bailey is located within the park, there are at least 100 acres for fishing, kayaking, and other water sports. There are also numerous hiking trails, ATV trails, and mountain-biking trails.
One of the most infamous hiking trails within Arkansas's borders happens to be in this park – Cedar Falls Trail. Many people travel here to bask in the beauty of the 95-foot waterfall at the end of the strenuous 2-mile trail.
The park boasts mountainous views and several different lodging options, including cabins, campsites, and even yurts.
22. Hattie Caraway
Perhaps the most famous person from Arkansas is Hattie Caraway, the first woman in the history of America to serve a full term in the Senate.
She first became a member of the Senate in 1932, filling the vacancy caused by the death of her husband. Many believed that she would not be a Senator for a long time, but she was re-elected in 1938.
She served until 1945 and her political career is a turning point for American politics.
23. William J. Clinton Library and Museum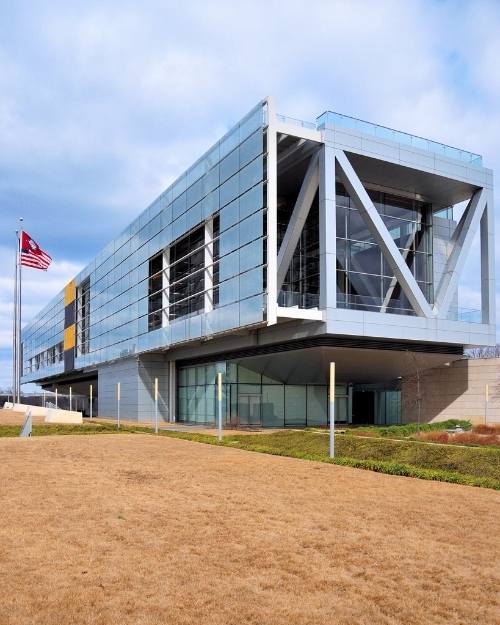 The William J. Clinton Library and Museum is a presidential library dedicated to Bill Clinton, the 42nd U.S. president. He was born in Arkansas, which is why the museum is situated in Little Rock, the capital of Arkansas.
Besides detailing the time of the 42nd president in office, the museum is an absolute architectural feat. It has a unique design that makes it appear as if the building is floating off the ground from far away.
This archive is a place you must visit in Arkansas if you want to learn more about the presidency, especially Bill Clinton's term.
---
Things Arkansas Is Famous For FAQs
What are some interesting facts about Arkansas?
1. Arkansas is home to Hattie Caraway, the first woman in the United States to serve a full term in the Senate.
2. Visitors can mine their own Quartz and other gemstones at Mount Ida, the Quartz Crystal Capital of the world.
3. Crater of Diamonds State Park in Arkansas is the only active diamond mine in the United States.
What animal is Arkansas known for?
Arkansas is known for its white-tail deer, which so happens to be its state animal. Elk is also a common animal found in the land of Arkansas.
---
Final Verdict
Though Arkansas might not be one of the most popular states in America, it surely does have lots of fascinating and unique features. From the stunning nature to the gorgeous crystals that hide beneath the earth, Arkansas is a state that surely won't be a hidden gem much longer!
Disclaimer: Some of the links above are affiliate links. That means if you book or make a purchase through the links, we will earn a small commission at no extra cost to you! The money will help run this site! Thank you!