If you're thinking about visiting Antalya, you may be wondering if it's worth it. This is one of the most popular destinations in Turkey, and it is not uncommon for popular places to be exaggerated on social media or the internet.
We also had the same concerns when we decided to visit Antalya. But after spending a considerable amount of time in the city and the province, we knew we did not make a mistake.
Generally speaking, Antalya is definitely worth visiting. Thanks to its geographical location next to the Mediterranean Sea, the city is known for stunning beaches and exhilarating water sports. This region is steeped in history, so travelers can still find ancient ruins and historic towns. Whether you want to enjoy a tropical vacation or a culturally enriching one, Antalya has something for you.
There are many reasons why Antalya is worth visiting! In our article. That is why we have written this article on why you should travel to Antalya!
---
What Are The Reasons To Visit Antalya?
1. Gorgeous Beaches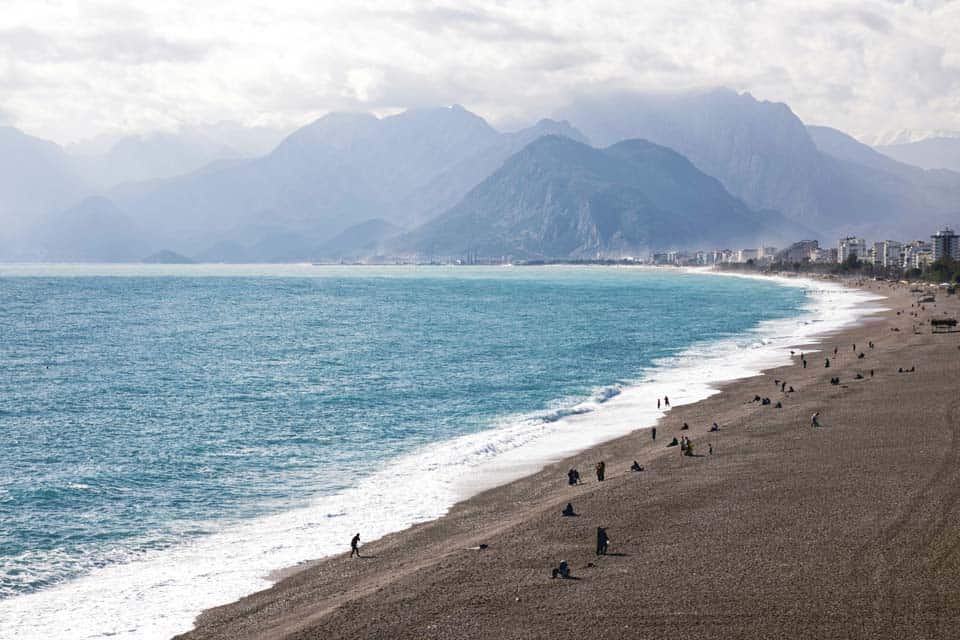 Without a doubt, one of the things that make Antalya so worth visiting is its world-class beaches. This region of the Turkish Riviera is nicknamed the Turquoise Coast because of the long stretches of sandy beaches and clear blue waters. Matter of fact, the region of Antalya is home to 213 blue flag beaches, making it the city with the highest concentration of blue flag beaches in the world.
The beaches in Antalya aren't just perfect for swimming and sunbathing. Many of them are popular spots for water sports and other activities. Visitors can enjoy jet skiing, windsurfing, parasailing and more!
It is no wonder why the beaches are some of the most popular attractions in Antalya.
Some of the most popular beaches in Antalya include:
Lara Beach
Konyaalti Beach
Olympos Beach
2. Rich History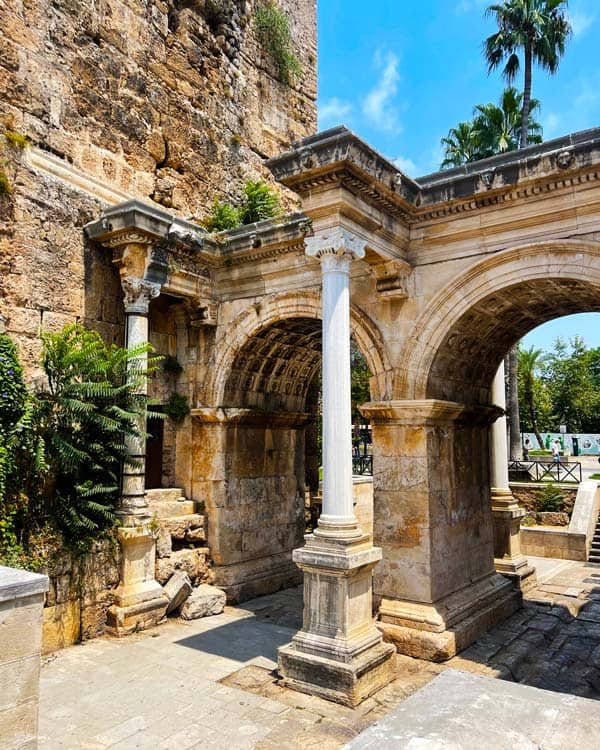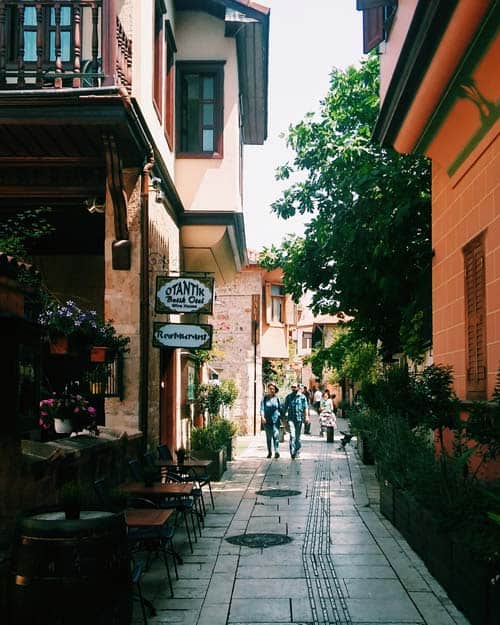 Antalya is one of the most historical cities in Turkey. It was first founded
in the 2nd century BCE by the Greeks and eventually bequeathed to the Romans. During the Roman period, Antalya flourished as a port city and an important center for trade and culture.
Under the Byzantine Empire, Antalya served as a take-off point for troops going to Palestine during the Crusades. After becoming part of the Ottoman Empire in the late 15th century, Antalya grew into an even more important trading port.
Thanks to its long history, Antalya is home to numerous archaeological sites such as Hadrian's Gate in Kaleici, the historic city center of Antalya. On the outskirts of the city the Aspendos Theater, an ancient Roman theater. There is also the Perge ancient city, and an old Lycian settlement that became a Greek city.
3. Amazing Weather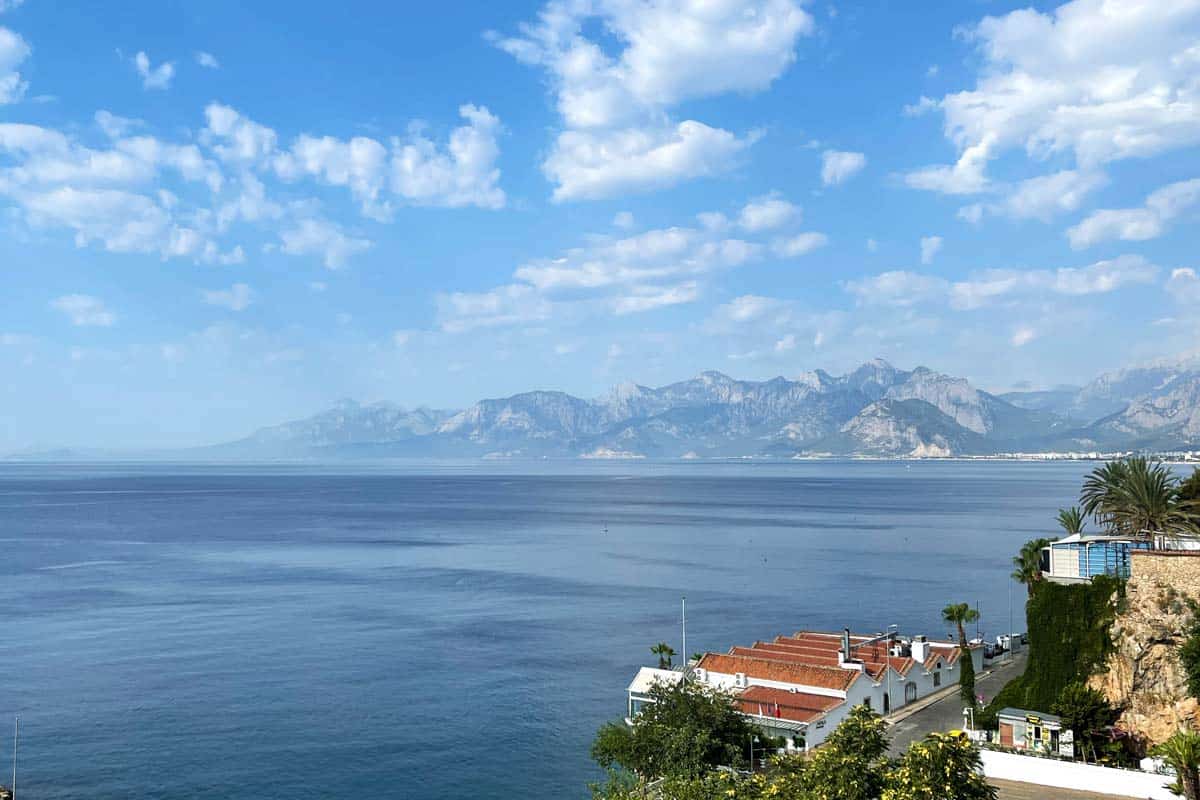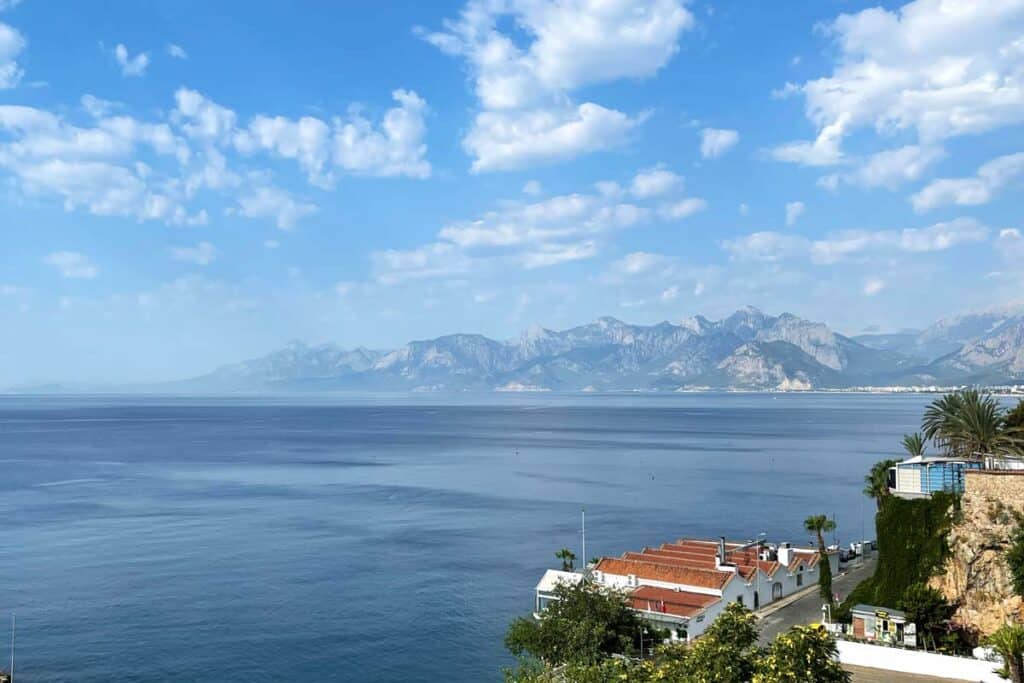 Perhaps one of the biggest reasons why Antalya draws so many visitors every year is its amazing warm weather all year round. Thanks to its geographical location and hot-summer Mediterranean climate, Antalya experiences hot summers and mild winters.
On average, Antalya sees about 300 days of sunshine every year, perfect for those that want to escape the bitter cold of winter.
The summers in Antalya see little to no rain, which makes it perfect for enjoying Antalya's beaches. Spring and Fall are also great seasons to visit Antalya. The weather is warm enough to go swimming but it isn't too hot to make walking around in the daytime debilitating.
Winter is mild in Antalya and rarely see any snow. There is a ski resort located a few hours away from Antalya up in the mountains. Visitors can literally go skiing and swimming in the Mediterranean Sea on the same day if they wish.
4. Delicious Food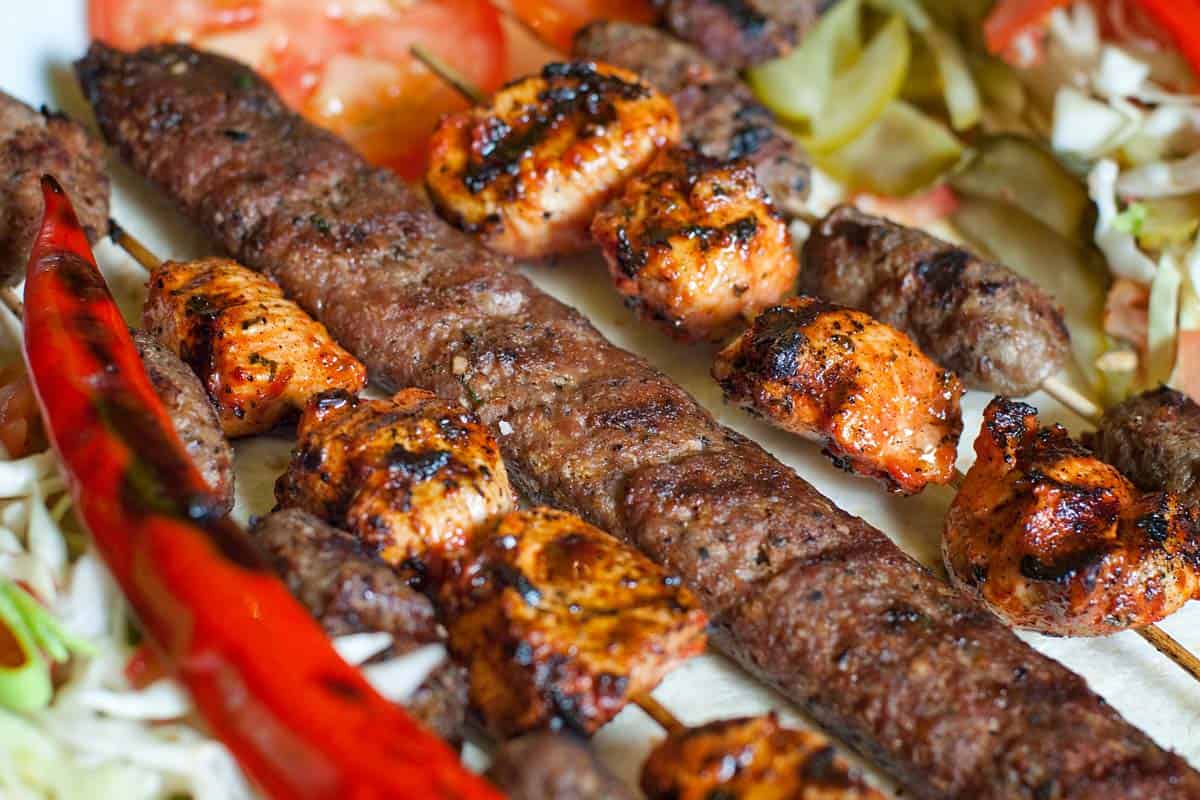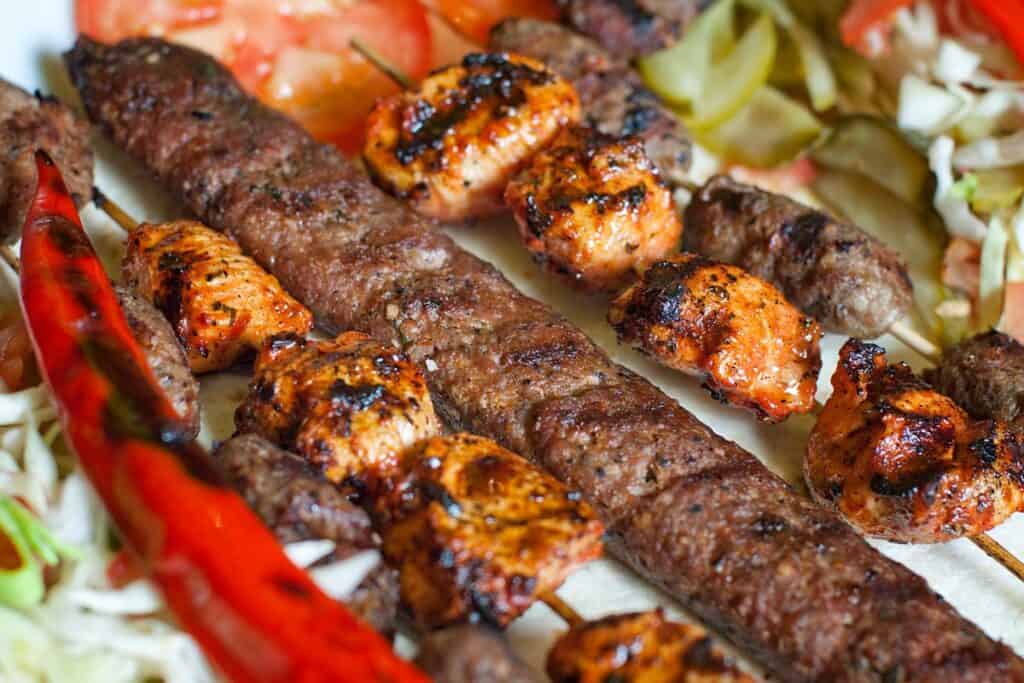 If your trip to Turkey is about sampling its rich and diverse cuisine, then Antalya is the perfect place to go. Similar to Istanbul, Antalya is situated by the coast, which provides fresh seafood to make some of the most delicious Turkish dishes.
For something savory, make sure you try the all-important kebab. There are many types of kebabs to choose from, and we highly recommend the Adana kebab or the Iskender kebab. For seafood specialties, visitors must try sea bass served in the many different restaurants around the city. Calamari and shrimps are also very fresh and delicious in Antalya.
Lastly, finish your meal with Baklava, the national dessert of Turkey. Its layers of honey-soaked filo dough filled with crushed pistachios or almonds are a favorite treat among locals and visitors alike.
There are plenty of restaurants in Antalya that showcase the best of Turkish cuisine.
5. Stunning Waterfalls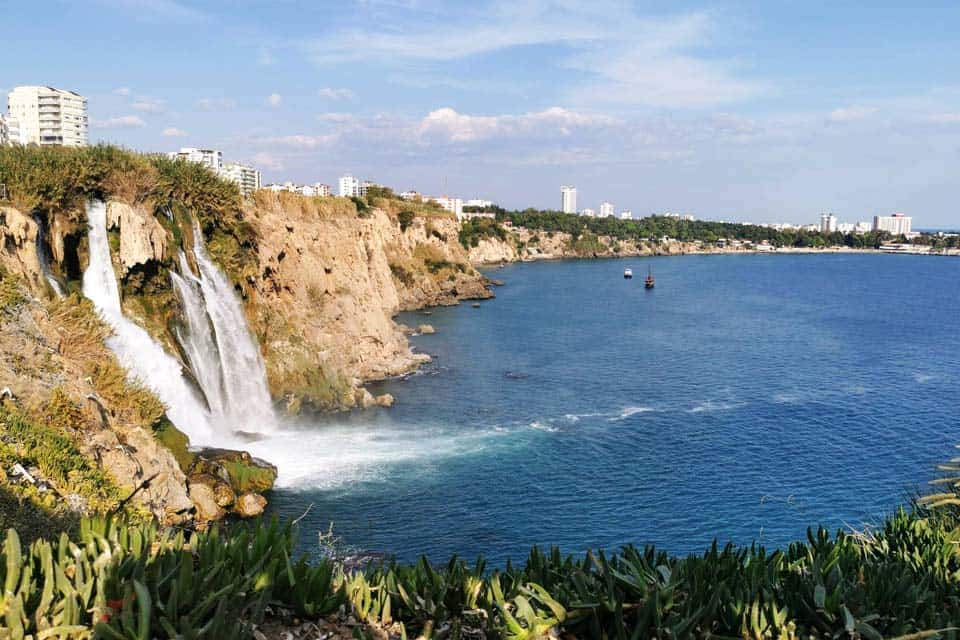 Antalya is the definition of a nature's paradise. Not only does it have the aforementioned beaches, but there are plenty of spectacular waterfalls in Antalya. Whether you are looking for a waterfall with a hike, or one you can see on a boat, Antalya has something for you.
The most famous Antalya waterfall must be the Lower Duden Falls. Situated on the edge of Duden Park, the Lower Duden Falls cascades 40 meters off a cliff into the Mediterranean Sea. It is quite a spectacle that can be observed on a boat tour if you wish.
Then you have the Manavgat Waterfall, which is often considered one of the most beautiful natural landmarks in Turkey. This waterfall is located near Side, which means you will need to take a day trip from Antalya. Stretching 40 meters wide and 2 meters high, it's an unusual and spectacular sight to behold.
6. Vibrant Nightlife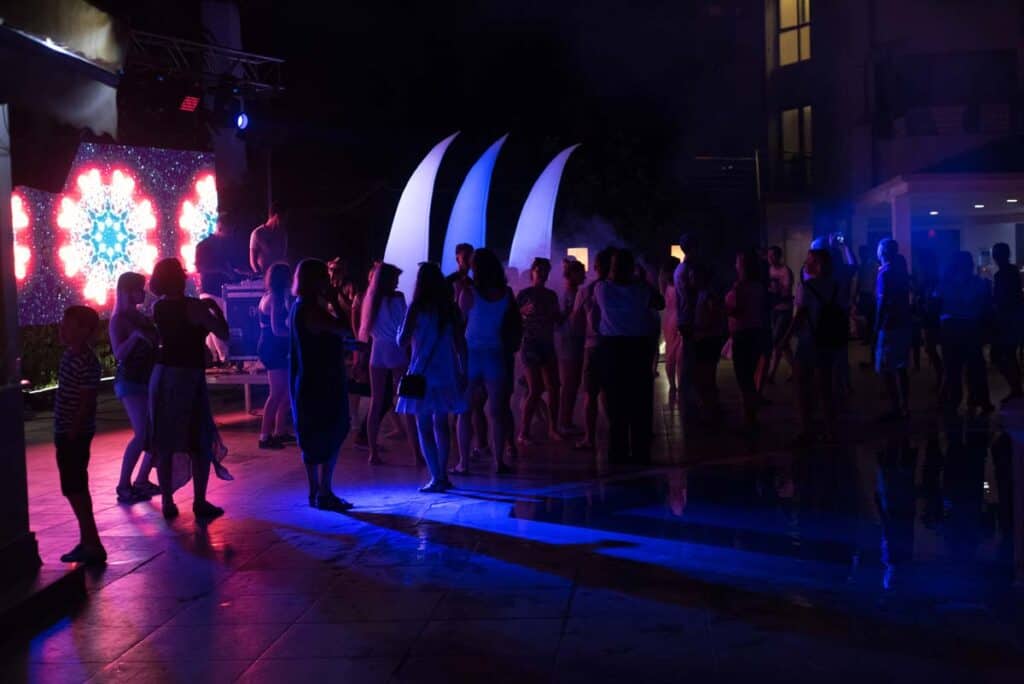 No vacation is complete without going out at night and enjoying the clubs and bars. Luckily, Antalya has a bustling nightlife scene with many bars, clubs and restaurants to choose from.
Unlike places like Istanbul, a huge portion of the people in Antalya are there for holiday. Combined with the warm temperatures and lots of sun, everyone is in a good mood and out to have some fun. The party atmosphere in Antalya is incredible.
If you want to party the night away, then you should head down to Kaleici Old Town for its variety of bars and nightclubs.
For something more laid-back, there are plenty of rooftop bars (such as Asmani Restaurant) that overlook the sea or have stunning views of the surrounding mountains. Of course, you also have beach clubs where you can dance on the sand and take shots of raki!
The nightlife in Antalya alone is a reason to visit Antalya!
7. There Is Something For Everyone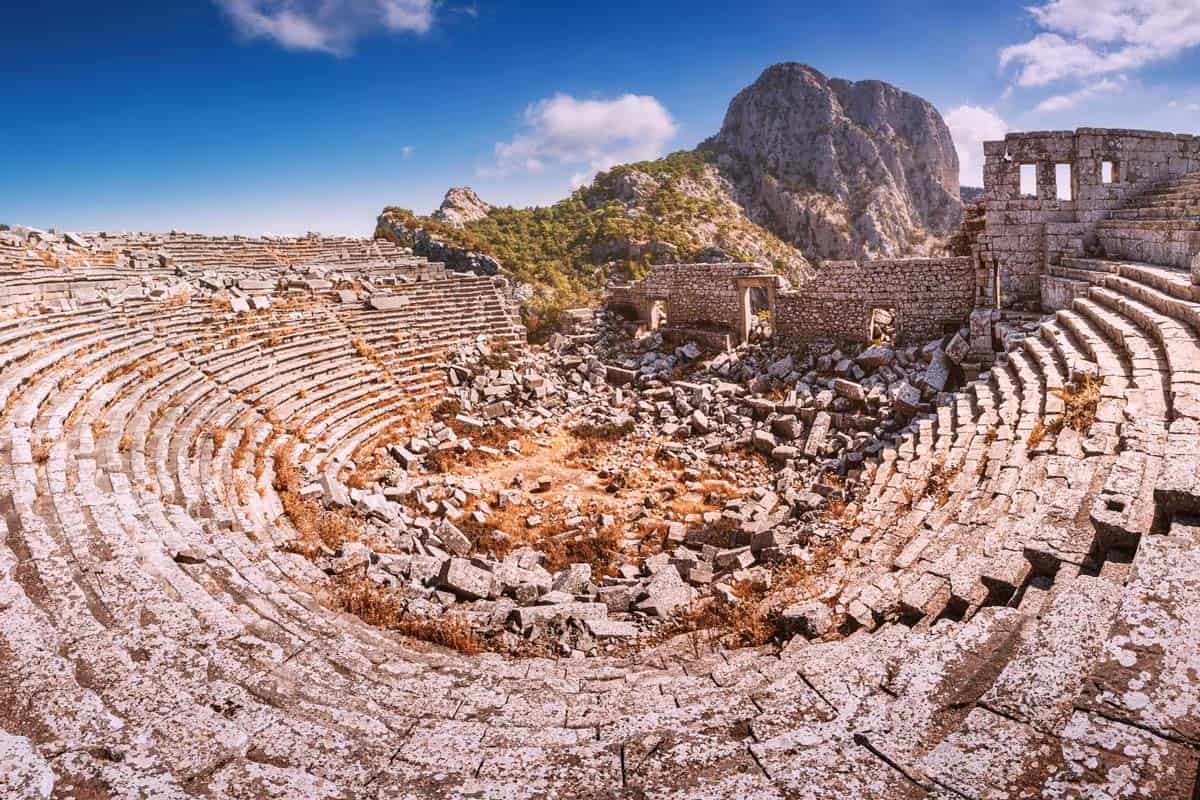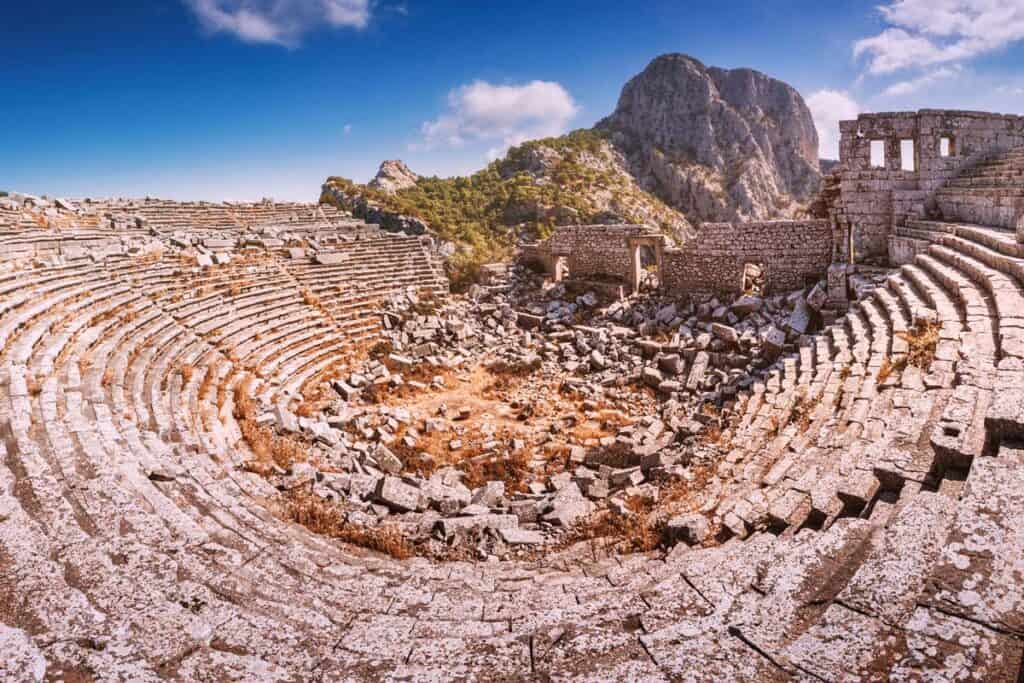 On the surface, Antalya might just look like a tropical destination that only beach lovers will adore, but Antalya is much more than that. In addition to the beaches and historical sites that we've mentioned, Antalya has plenty to offer for everyone in the family.
Travelers with kids will love the Land of Legends Theme Park. Sometimes referred to as the Disneyland of Turkey, this amusement park has everything from waterparks to rollercoasters!
If you are into hiking, the surrounding mountains of Antalya are home to National Parks with incredible hikes. One of our favorites is the ancient city of Termessos in the Termessos National Park. It is a one-hour hike that ends with spectacular views from this well-preserved Roman Theater.
If you just want to admire the epic landscape in this region of Turkey, then make sure you don't miss Mount Olympos. There is a cable car (Olympos Teleferik) that takes you from Kemer to the top of the 2,365-meter-tall mountain. The ride takes about 10 minutes and the panoramas are breathtaking. If you are lucky, you can even see the city of Alanya from the top.
If shopping is your thing, then Antalya has several bazaars where you can purchase locally made goods, crafts and other Turkish souvenirs.
No matter what type of traveler you are, you will find something to enjoy in Antalya!
---
Visiting Antalya FAQs
How Many Days To Spend In Antalya?
We recommend spending at least 3 days in Antalya. This will give you enough time to explore the city and other attractions in the region. You'll have time to relax on the beach, explore ancient ruins, and sample some yummy Turkish cuisine. If you decide to rent a car, you can use Antalya city as a base to take day trips.
When Is The Best Time To Visit Antalya?
If you want to enjoy everything that Antalya has to offer, the best time to visit would be in the Fall and Spring. The temperatures are warm enough to go swimming in the sea, but not too hot for exploring the outdoors, especially the ruins.
Is Antalya Too Touristy?
Antalya is a very popular tourist destination, but it's definitely not too touristy. There are still plenty of locals who genuinely welcome tourists (and their money) with open arms! The city has a welcoming and warm atmosphere that everyone can enjoy.
---
So, Is Antalya Worth Visiting?
If you have reached the bottom of this article, then you should know by now that Antalya is totally worth visiting. On the surface, it might seem like a tropical destination overrun with tourists with nothing but beaches, but that cannot be further from the truth!
From ancient ruins to mountaintops and bustling bazaars to lively nightlife, there is something for everyone in Antalya! Antalya is truly a destination that everyone should visit at least once in their life.
Disclaimer: Some of the links above are affiliate links. That means if you book or make a purchase through the links, we will earn a small commission at no extra cost to you! The money will help run this site! Thank you!