After hiking in over 20 countries, I can say that having the proper hiking gadgets can make or break your trip. Without the proper hiking gear or accessories, you might encounter situations where you can jeopardize your safety or enjoyment.
Of course, this depends on the type of hiking you are doing, how long is your trek, what elevation is it at, and what is the weather forecast going to be like. But generally, there are some essential things to bring hiking that everyone should consider.
Below we have selected went of the best hiking gadgets and accessories you'll need on your hiking adventures!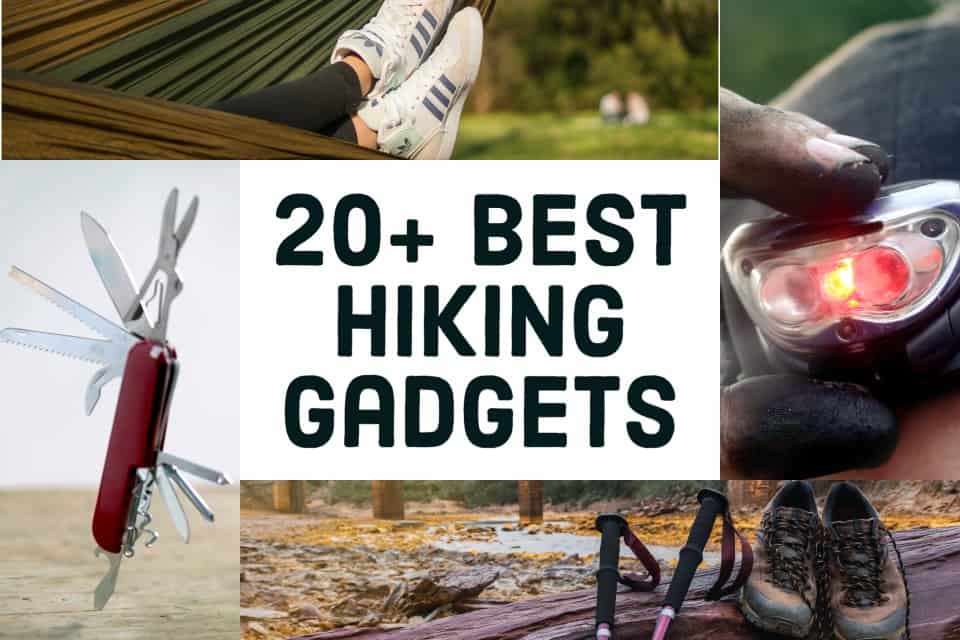 ---
What Are The best Hiking Gadgets?
Trekking poles are an essential hiking accessory. Especially suitable for rocky terrain, slippery trails, or ridge-line hikes, trekking poles are the type of gear that will keep you safe and steady on any adventure.
These carbon fiber Foxelli hiking poles are lightweight — weighing only 7.6 lbs! They are also shock absorbent. Shock absorbency is a must for hikers as it helps reduce the wear and tear on joints that come with any intensive physical activity.
Any hiker knows the importance of comfortable and sturdy hiking boots. Though some hikers swear by trail runners, hiking boots are recommended for longer trails, rockier terrain, backcountry hiking trips, or any terrain requiring ankle stability.
We recommend these Salomon hiking boots as they are durable, waterproof, and made with maximum traction. Complete with EVA foam insoles and a protective outer mud barrier, you will be able to continue exploring the outdoors in comfort.
You never know when you might need a water refresh or want to dip your water bottle into that perfect glacial stream. Whether you simply forgot to pack an extra water bottle on an all-day hike or you are stranded, a water purifying bottle is one of many cool hiking gadgets to keep in your backpack.
This bottle's water filter works for any water source by removing pathogens, bacteria, and viruses, and then purifies it so it is ready to drink.
At 24 oz, it is small enough to carry with you on the trail without needing to pack an additional water system. You can also use the replaceable purifier cartridge for up to 65 gallons.
4. Backpack With Hip Strap (Men's/Women's)
Day hikes, especially in the backcountry, require a whole list of hiking accessories and gadgets.
If you are hiking for five or more miles, you'll probably want to carry snacks, extra water, and at least a few useful gadgets for hikers like a map, water filter, multi-tool, and other supplies in case of an emergency.
An Osprey hip strap hiking backpack is perfect for any day trip.
Your snacks will fit perfectly in the mesh hip pockets for easy access and the backpack includes a hydration sleeve for your favorite bladder, exterior hiking pole attachments, and a design that will keep you cool and comfortable on a long hike outdoors.
Have you ever stayed out too late on a sunset hike or left at three in the morning for a sunrise hike?
A Petzl headlamp is a must for your hiking accessories. The lamp straps to your head and has two beams that allow you to change the brightness and a red light for night vision.
With the option to recharge the battery or use AAA batteries, this lamp is easy to throw in your backpack for your next sunrise hike or camping adventure.
Every steep mountain hike has an intense descent back. Though switchbacks and elevation gains get your heart rate up and are exhausting, descents can be just as painful on your joints. Especially on long descents, protecting your knee joints could be the key to feeling comfortable later in the day.
A knee brace that uses compression technology will support your muscles by providing stabilized pressure around the joint. This knee brace features breathable fabric in addition to compression technology.
A first aid kit could be the difference between life and death on a hike. Whether you just had a blister pop or you get stuck spending the night in the backcountry, a comprehensive kit will give you the tools to treat minor medical traumas or help you stabilize an injury while waiting for rescue.
This first aid kit contains 110 pieces of medical supplies. The kit consists of essentials such as band-aids, moleskins, antiseptic towelettes and tools you hope you'll never need like a CPR respirator and tourniquet.
You never know when you'll need a good knife or multi-tool. Whether you find yourself just cutting some gauze from your first aid kit, opening a trail beer, or cutting off a limb when your arm gets stuck between a rock and a hard place, a multi-tool is one of the most useful hiking gadgets.
A classic Swiss Army Knife multi-tool is one of the best outdoor gadgets. The tool has 24 functions including a saw, wine bottle opener, can opener, tweezers, scissors, pliers, and more! Made with stainless steel, the multi-tool won't rust and will last in any weather.
A map, trail guide, and compass are always handy when navigating new terrain. Even an established route could be washed out forcing you to detour. A preloaded trail guide on your phone may be a good start, but what if your phone battery dies?
Well, a GPS may be the best way to keep you on the trail or navigate your way out of the backcountry. This Garmin watch has a compass, a global positioning system, and an altimeter. The materials are military-grade and designed to last in any weather conditions.
This device can track your route and help you navigate back to where you started. If you've ever been lost in a forest, you'll love this feature.
For long treks or thru-hikes — like the Pacific Crest Trail — having a hiking gadget to communicate your location and messages to friends or family is important for your safety.
The Garmin InReach Mini is the perfect gadget to keep your friends and family updated. Using satellites the InReach Mini allows two-way texting and precise location tracking that you can send via cellphone. This communication device is light — only the size of your palm — and durable.
This gadget also comes with downloadable maps and weather tracking systems to keep you on trail and informed. It is one of the most useful hiking electronics money can buy!
Water is an obvious must-have no matter the length of hike you are embarking on. However, a water bottle may be a hassle to carry or too bulky for your backpack. Plus, drinking from a straw without breaking stride can do wonders for your efficiency and mileage.
A hydration bladder may be the piece of hiking gear you need to achieve maximum efficiency.
This two-liter water reservoir fits in most hiking backpacks and has a high flow bite valve. The large opening makes it easy to fill and clean at home or on the trail.
The bag itself is made of high-quality plastic that won't affect the taste of your water. No matter the length of hike you are on, a hydration bladder is a handy piece of gear.
12. Merino Wool Hiking Socks (Men's/Women's)
Blisters are a hiker's worst enemy and an important piece of hiking gear. Merino wool protects your ankles, arches, and toes from the friction hiking boots cause on long treks.
This four-pack of Merino wool socks is a must-have hiking accessory, with extra cushion on the soles of the feet and moisture-wicking properties. These socks offer protection for your feet on any trek and will keep your toes blister-free.
If you are a survival gear junkie, this tent may be one of the coolest on the market. If not, this tent could potentially save your life.
As any seasoned hiker knows, weather conditions or accidents could cause you to stay on the trail much longer than intended — even overnight.
Having an emergency survival tent can help make you feel more in control during a bad situation. A tent provides shelter from the elements and is a place to lay your head during an unexpected camping trip.
This tent is waterproof and built with NASA grade materials to retain 90% of your body heat. Even in cold conditions, the tent will stay warm. Large enough to hold two people, but still lightweight and compact, this tent is one of the best hiking gadget gifts out there.
There is really nothing more refreshing (or chilly) than a dip in a glacial lake or stream. The turquoise water calls to any exhausted or overheated hikers who are hiking or camping near the lake shores.
A Turkish towel is the perfect lightweight towel for your camping trip or hiking pack. Made of cotton, the towel folds up smaller than traditional pool towels and dries faster.
Whether swimming in a lake, river, or even the ocean, the Turkish towel will dry you off and keep you comfortable after taking a dip. It is even a great gift for beach lovers too!
Whether hiking in snow, sun, or along water, your eyes need protection. Contrary to popular belief, eyes can sunburn just as easily as skin. When your eyes sunburn, you begin to see orbs in your vision and your eyes turn pink.
This can even happen on an overcast day from beams of light bouncing off waves or snowbanks.
Luckily, it is easy to find a trusty pair of sunglasses to keep on your head. These come in a variety of styles and also offer ultraviolet coating on the lenses — a must for maximum eye safety!
Sunburns can be painful, especially on a multi-day hiking trip when you have a pack rubbing against your skin. Sun rays are also stronger at higher altitudes. This means if you are hiking on a ridgeline, you have an increased chance of sunburn!
Neutrogena 100 SPF sunscreen will keep you protected no matter the altitude or sun exposure. Lightweight and invisible, this sunscreen is the perfect item to bring with you hiking.
A buff is the multi-tool of clothing. Whether you are using it for neck and face warmth, scalp protection, wearing it as a balaclava, or using it as a rag, a buff is a versatile essential.
A merino wool Buff is the best blend of warmth and durability. The wool acts as a warming component in cold weather, but is moisture-wicking in the heat. The wool also offers natural odor control and dries quickly in wet weather. Due to its durability and comfortability, hikers will quickly consider buffs one of their hiking essentials.
---
Backpacking Gadgets For Hikers (Long Treks)
Nothing can beat the feeling of waking up on a camping trip. You simply unzip the tent, start a fire, and enjoy the sensation of being one with nature. When backpacking on a long trek, this sensation is intensified by the loneliness of the backcountry.
What could make these mornings even better? Well, for me a cup of coffee. Even when backpacking I need that extra kick of caffeine to feel awake and ready to tackle the trail.
This Aeropress travel coffee press is the perfect backpacking accessory for caffeine fiends and coffee snobs. Simply add your favorite coffee grounds or espresso and have your morning cup anywhere. The Aeropress is compact, lightweight, and worth the extra space.
For many of us, our phones are also our cameras, music players, maps, or GPS devices. Though you may not have service in the backcountry, you may still need a charged phone.
This Solar Power Charging Bank uses solar panels to keep your electronics charged and ready for use.
Simply clip the power bank to your bag, let the sun do its job and you'll have charged devices even in the most remote camping sites. In addition, this solar power bank is waterproof and dustproof, challenging any elements to get in the way of its charging capabilities.
For long hikes, you may want to relax at your campsite and enjoy the view. A hammock is the perfect lightweight option.
The Wise Owl hammock comes in a compact and sturdy pouch. Weighing just 24oz, the hammock is a convenient accessory for relaxation. Easy to hang — just wrap the included straps and carabiners around two trees — the hammock is a great way to end your hiking day outdoors. Plus it is a great value compared to competitors!
Having a speaker at your campsite, especially in bear country, could be one of your best gadgets for hikers.
When hiking in bear country, rangers will tell you to make noise as you walk. Music will do this for you and alert animals in the area that you are also there. In remote areas or on solo hikes, a speaker is a great way to do this without having to continually talk or sing on the trail.
This compact, waterproof, and durable speaker clips onto your backpack. With rechargeable batteries and playtime lasting up to 10 hours, this speaker will keep your music playing all day on any adventure. When it comes to cool hiking gadgets, this speaker is definitely on the list.
In my opinion, the worst part of hiking is the buzz and bite of mosquitoes. The bites itch, bleed, and are all around annoying. However, to get into nature, you have to put up with the mosquitos.
Mosquito repellent incense sticks will help keep your campsite mosquito-free so you can relax in peace. Simply place the incense sticks around the perimeter of your camping spot, light them, and the bugs will avoid the area.
The incense is also made of all-natural materials, so you'll be able to follow Leave No Trace principles while staying bite-free.
High-altitude hikes can get cold, especially when you are staying overnight. The altitude and changing mountain climates can cause unpredictable weather swings. This could mean unexpected snow or sub-zero temperatures on overnight trips.
If you find yourself in a sudden cold environment, an emergency blanket may save the day. Designed to retain up to 90% of your body heat, the blankets are also waterproof and moisture-proof so you stay both warm and dry in any condition. Though designed for emergency use, the blankets can also be used in your sleeping bag if it is not warm enough.
---
Hiking Gadgets FAQs
---
This concludes our post on the best gadgets for hiking. With these items, hopefully you'll be able to enjoy a safe and pleasant hike!
Disclaimer: Some of the links above are affiliate links. That means if you book or make a purchase through the links, we will earn a small commission at no extra cost to you! The money will help run this site! Thank you!