Bogota, the capital of Colombia, is filled with many amazing wonders. From the beautiful waterfalls to the comprehensive museums, Bogota is a city that will make many travelers fall in love. Many of the best things to do in Bogota are located in the city, but some of the best ones require a day trip from Bogota.
My favorite day trip from Bogota is definitely the Zipaquira Salt Cathedral. Known as the First Wonder of Colombia, Zipaquira Salt Cathedral is an architectural accomplishment as well as a religious landmark.
The Zipaquira Salt Cathedral is located about 200m below ground and contains the biggest underground cross in the entire world. It is a place that must be included in any Colombia itinerary.
Not only is Zipaquira Salt Cathedral a marvelous wonder, but it is also extremely easy to get to.
In this guide, you will find all the information on visiting the Zipaquira Salt Cathedral as a day trip from Bogota.
Enjoy!
---
How To Get To Zipaquira Salt Cathedral From Bogota?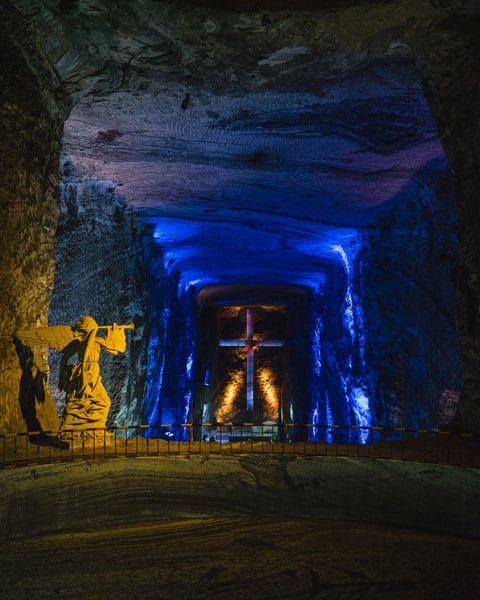 Getting to Zipaquira Salt Cathedral is probably the hardest part of this day trip.
The Salt Cathedral is located about an hour north of Bogota in a town called Zipaquira and is one of the must-see places when you visit Bogota!
The easiest way to visit Zipaquira Salt Cathedral is probably with a tour company, but that can be quite expensive.
The harder way, and more adventurous, is to take public transportation. There are two terminals where you can catch the bus from Bogota to Zipaquira. They are Portal Norte and Terminal del Norte.
Both terminals have buses that go directly to Zipaquira. The buses from Bogota to Zipaquira run quite frequently and are operated by multiple companies.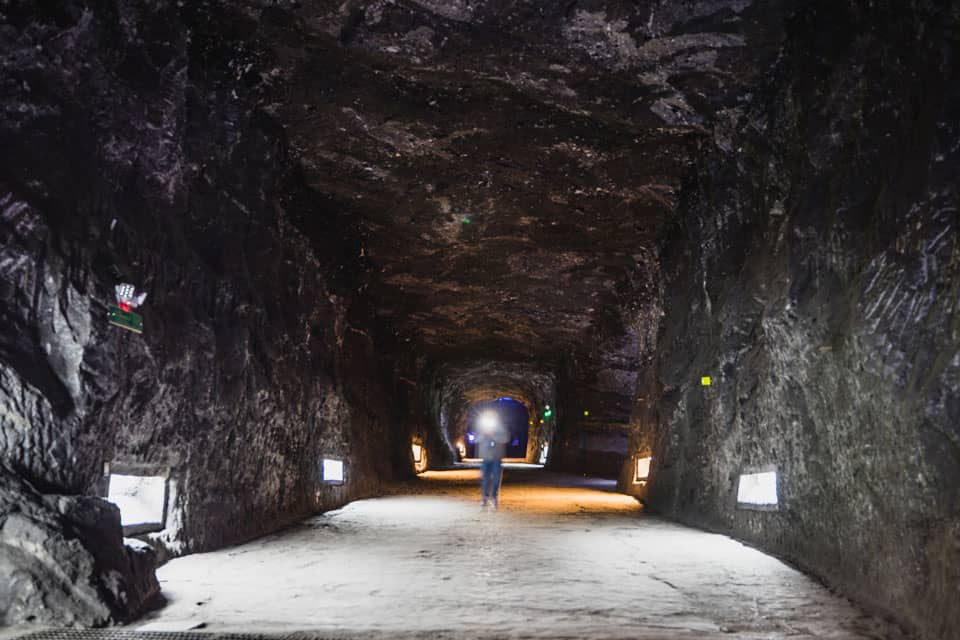 The two terminals can be reached by a convenient yet confusing system of TransMilenio. If you are not a local, it will be close to impossible to understand the different routes and their stops. We found that Google Maps wasn't very helpful in navigating the TransMilenio system.
My suggestion is to ask your accommodation which TransMilenio to take and where to take it. There is always the option to take an Uber or taxi!
Once you arrive in the town of Zipaquira, you will have to walk about 20 minutes to reach the ticket booth of the Salt Cathedral!
If you want to save yourself the hassle of finding your own transportation and doing it solo, check out our recommended tour!
Cost to Enter Zipaquira Salt Cathedral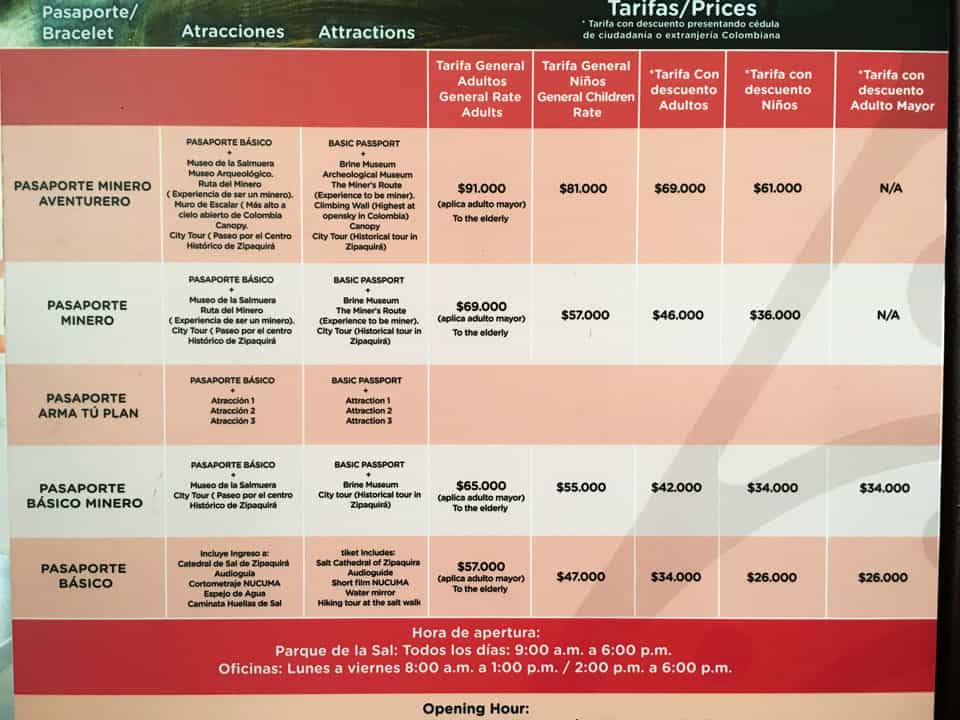 The price for the most basic entrance was $57,000 Colombian Pesos (~16 USD) as of July 2019. That includes access to a tour guide, a short 3D film, a light show, and the water mirror.
For updated information, visit their official site here. (Spanish only)
Depending on what kind of package you want, the prices differ. In our opinion, the basic package was enough for us to appreciate this incredible attraction in Colombia because it came with a tour guide!
Refer to the above image for the prices of the various types of packages. They were the prices in July 2019, the prices have changed significantly since then.
Audio Guide At Zipaquira Salt Cathedral
If has come to our attention that the latest addition to the Zipaquira Salt Cathedral is an audio guide. The audio guide is in addition to the tour guide, which might seem excessive. However, if you were not able to secure a tour in your language, then the audio guide is going to be very valuable.
No one is allowed to enter the Salt Cathedral without a tour guide, and sometimes they won't have one in your language for hours.
Short History of the Zipaquira Salt Cathedral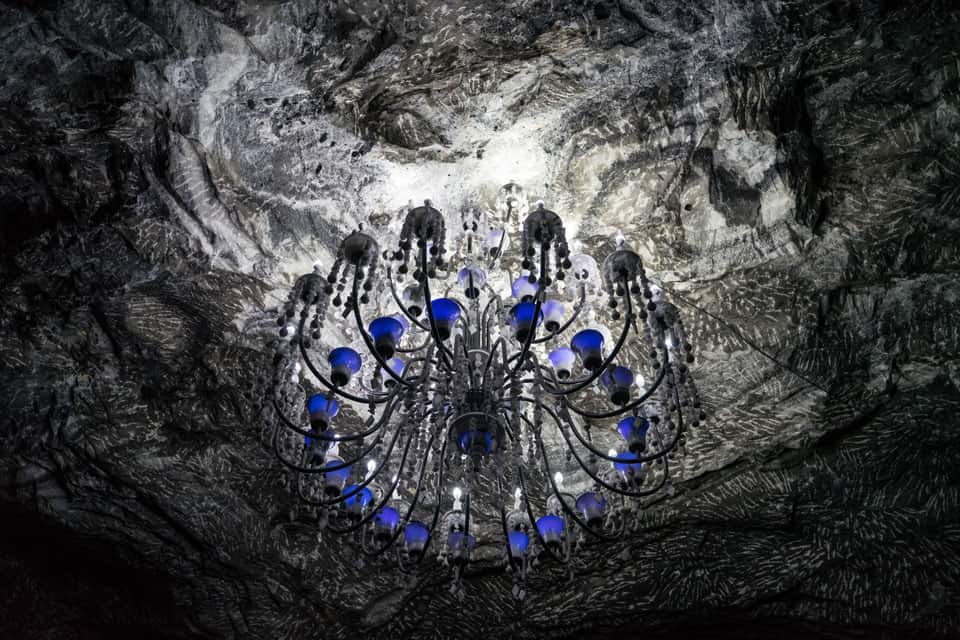 If you don't like spoilers, then skip this part. On your visit to the Zipaquira Salt Cathedral, you will learn about all of this with the tour guide.
The Zipaquira Salt Cathedral is an underground Roman Catholic church built inside the tunnels of a salt mine built around 1954.
Data shows that before the salt cathedral was inaugurated, there was a small altar that was built sometime around the year 1932. Because of how treacherous the miner's jobs were, they would pray daily and ask for protection before starting their work. Eventually, that altar became an actual cathedral.
However, the first construction of the cathedral proved to be too unstable and was closed. In 1991, the construction of the new cathedral began. It was officially inaugurated in 1995 and that is the iconic Colombia landmark you can visit today.
Historically, documents show that the salt mines were used since the 5th BCE. During this time, the Muisca people had economic prosperity by exporting a great amount of halite (salt rock).
---
Other Things To Do At The Zipaquira Salt Cathedral
Besides the Zipaquira Salt Cathedral itself, there are plenty of other related things to do. The Cathedral itself is located in somewhere called the Salt Park (Parque de la Sal), and within that park are other notable attractions of Zipaquira.
Many of these places to visit are included on your entrance ticket if you decided to get more than just the basic entrance. If you have some extra time, they are definitely worth checking out.
Here are some of the other attractions worth checking out near Zipaquira Salt Cathedral:
Brine Museum – Where you can find more about the engineering and architecture process in the creation of the Salt Cathedral.
Archeological Museum – Where you can learn about different native ethnic groups that occupy Colombia pre-Columbian era.
Mirador de Salinas – A vantage point inside the Salt Park, worth checking out for the view.
Ecological pathway – The park has a few short trails where you can stroll around, relax, and take in all the native flora and fauna.
Climbing Wall – The rock climbing wall is an unusual attraction in Zipaquira. It is 17 meters high and situated at the entrance of the Salt Cathedral.
---
Our Experience At The Zipaquira Salt Cathedral Near Bogota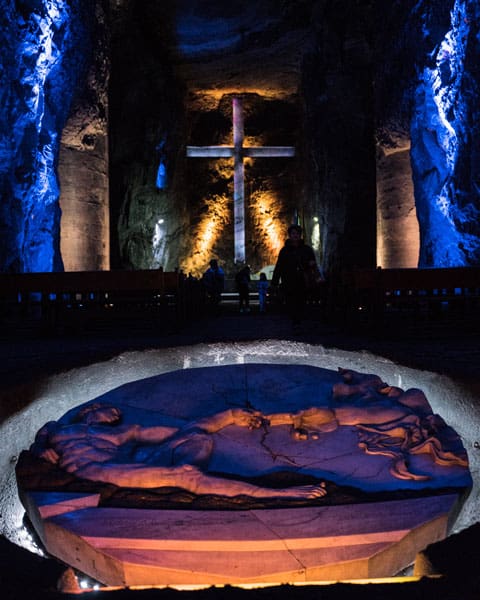 It was 10 AM and I was standing in front of Terminal Del Norte waiting for a Swiss friend I had met the day before.
He is a little late, but that's fine, considering how confusing the TransMilenio system is in Bogota.
Then I received a message from him saying "Where are you"?
I told him, "At the terminal."
Turns out, I was at the terminal, but there is another stop that has buses to Zipaquira from Bogota. That stop was Portal Norte, and my friend was there.
We decided to just meet up in front of the Salt Cathedral. The bus journey took me about 1.5 hours to arrive in Zipaquira, picking up and dropping passengers along the way. The Zipaquira Salt Cathedral is located on a hill about 20 minutes walk from the center of town.
After some time, my friend and I were finally reunited. Already somewhat tired from the journey, we bought our basic tickets to the Salt Cathedral. They cost us $57,000 Colombian Pesos each.
Luckily for us, the English tour that comes with the ticket started in the next 10 minutes. If we weren't lucky, the next English tour could've been more than 2 hours later.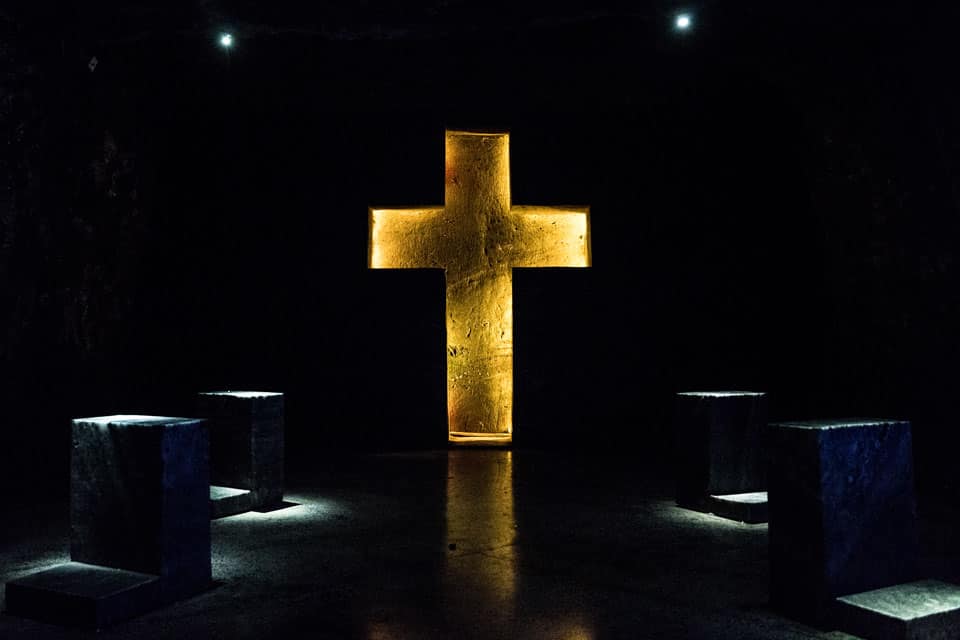 The salt cathedral itself was amazing. We were completely speechless. The moment we walked into the tunnels, we could feel a difference in the air. The smell of the sulfur from the minerals was attacking our senses. It was quite a surreal place.
The Zipaquira Salt Cathedral was much bigger than I thought it was going to be. We spent 3 hours in there, checking out every little crevice, the 3D movie, the light show, and the emerald shops. Apparently, Colombia is famous for their emeralds!
The whole thing was like a maze with surprises in every corner. There were many things we didn't know but our tour guide was very good at explaining.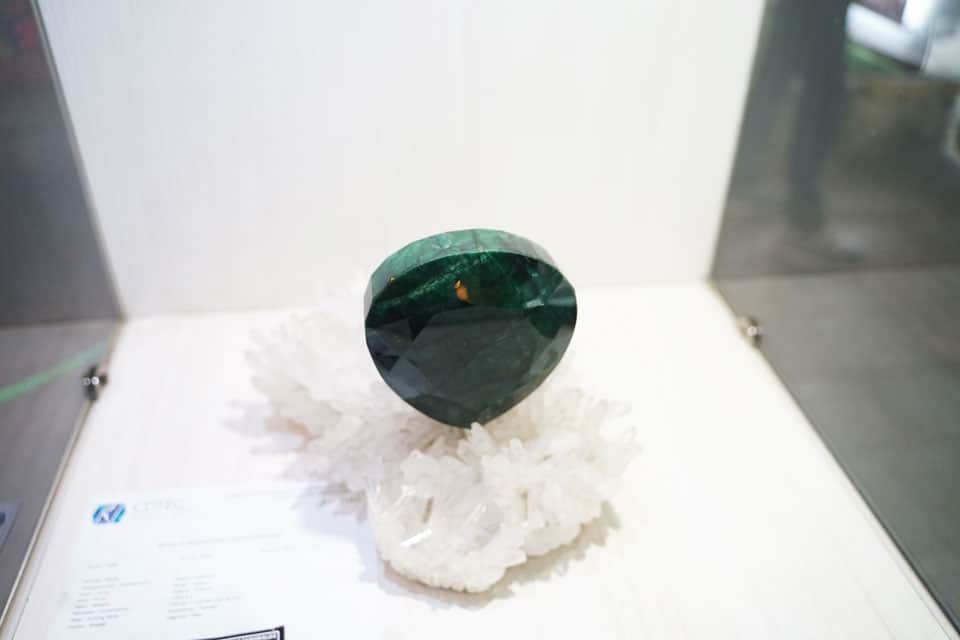 ---
Where To Stay In Bogota, Colombia
For a complete guide on where to stay in Bogota, click here.
Best Hostel In Bogota – Selina Chapinero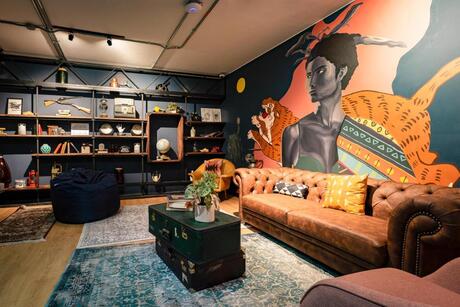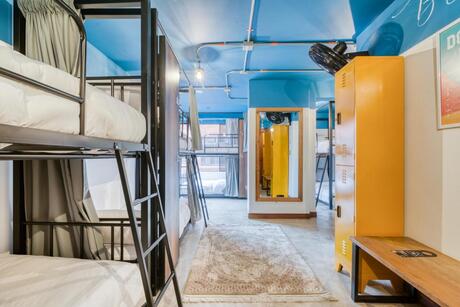 Selina Chapinero is a beautiful hostel with amazing amenities including co-working spaces, a restaurant, and a kitchen. The communal areas are well-decorated and the place feels like home.
Anyone that isn't traveling as a backpacker can stay in their private suites, which offer the same kind of luxury as some of the best hotels in Bogota!
It's located in one of the safer neighborhoods in Bogota, Chapinero, and allows visitors easy access to the entire city. Many of the city's best attractions and eateries are within walking distance away.
---
Best Luxury Hotel in Bogota – Casa Dann Carlton Hotel & Spa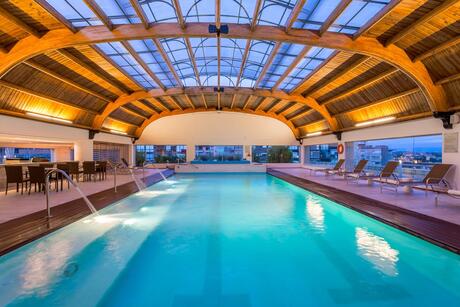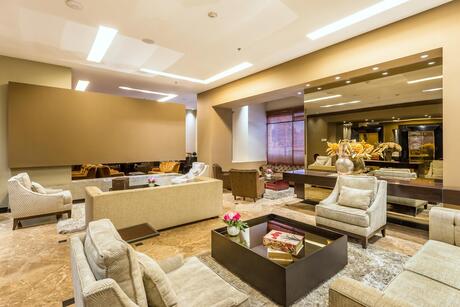 Casa Dann Carlton Hotel & Spa has extremely high standards for quite an affordable price. The gym, breakfast and the spa in the hotel are luxurious amenities. This 5-star hotel is not to miss if you have the money!
---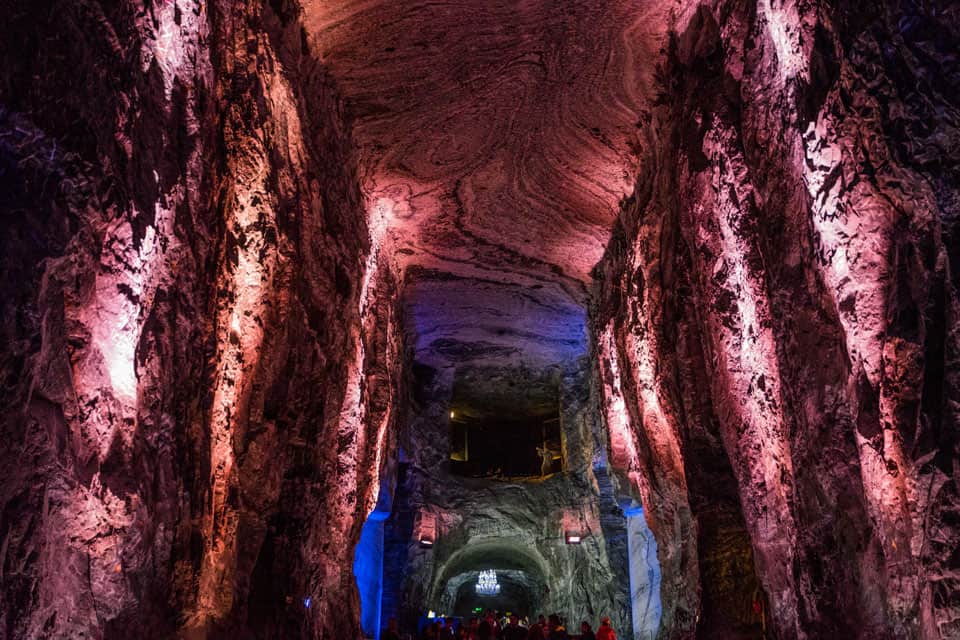 Zipaquira Salt Cathedral FAQs
Can You Visit Zipaquira Salt Cathedral Without A Tour?
No, visitors must have a tour guide when visiting the Zipaquira Salt Cathedral. Luckily, all tickets include a tour guide.
What Is So Unique About the Zipaquira Salt Cathedral?
Zipaquira Salt Cathedral is one of the most astonishing architectural achievements in Colombia. It is situated nearly 200 meters below the ground and houses the world's largest underground cross.
---
Like this post? Don't forget to save it on Pinterest!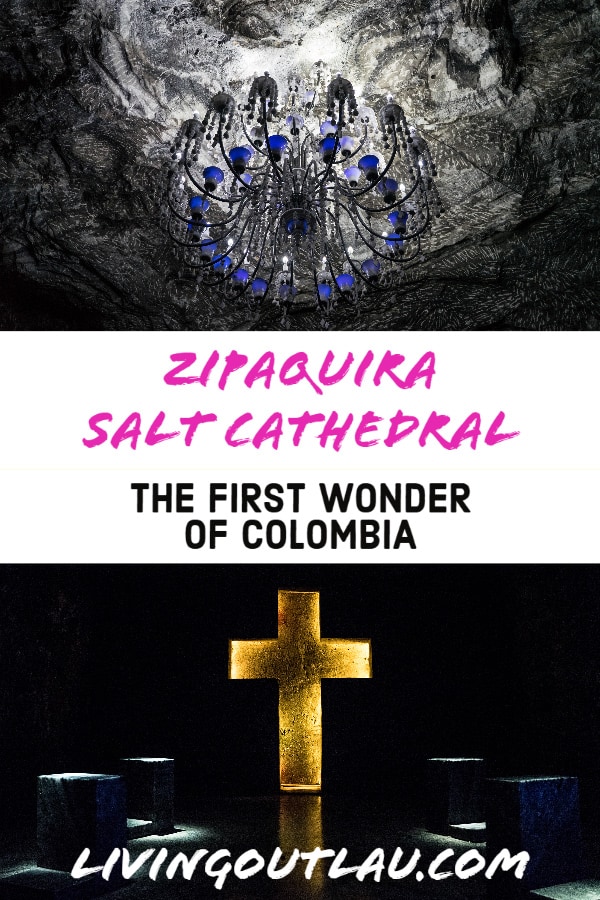 ---
Have you been to Zipaquira Salt Cathedral? It is definitely one of the best DIY day trips from Bogota. History, architecture, and religion, it just has everything that makes Zipaquira Salt Cathedral something you must include visit in Bogota!

If you have any questions, don't hesitate to contact us!
Disclaimer: Some of the links above are affiliate links. That means if you book or make a purchase through the links, we will earn a small commission at no extra cost to you! The money will help run this site! Thank you!