Not sure where to stay in Lake Atitlan, Guatemala?
To be honest, I am not surprised.
With more than 10 stunning villages in Lake Atitlan, choosing the perfect place to stay at Lake Atitlan is no easy task. After spending more than 2 months backpacking Guatemala, I can tell you that picking the wrong place to stay in Lake Atitlan will affect your Guatemala trip!
That is why I am here to help.
Below you will find our recommended hostels and hotels in Lake Atitlan and their location. Then we will also discuss the different Lake Atitlan villages and the pros and cons of staying in them!
Enjoy!
Want A Quick Tip on Where To Stay In Lake Atitlan?
There are many different villages in Lake Atitlan with their own pros and cons. The three most popular villages/towns are San Pedro, San Marcos, and Panajachel.
If this is your first time visiting Lake Atitlan, you cannot go wrong with choosing any of the three places to stay. These villages are great bases for exploring some of the best things to do in Lake Atitlan.
Here are some quick recommendations on the best places to stay in Lake Atitlan.
Best Airbnbs In Lake Atitlan, Guatemala
(Images Courtesy of Airbnb)
If you are looking for a romantic getaway in Lake Atitlan, consider this cabin. Featuring a beautiful terrace with a hot tub, guests can admire the breathtaking views as they soak their aching limbs after a day of exploring Lake Atitlan.
This Lake Atitlan Airbnb is located 10 minutes away from Panajachel, the biggest village in Lake Atitlan. Guests have their own personal paradise while still being close to some of the best restaurants in the area.
Besides the outstanding outdoor features, the interior is by no means lackluster. Guests that want to wind down the day can enjoy the 43″ Smart TV or go for a relaxing rain shower!
(Images Courtesy of Airbnb)
If the ideal place to stay in Lake Atitlan involves some of the most breathtaking views, then the Glass Hous is perfect for you. Like the name suggests, this accommodation's facades are mostly made out of glass, offering guests excellent views right from their bed.
Guests also have access to a private dock, where they can catch boats to explore the nearby Lake Atitlan villages. The dock has WiFi coverage, so guests can just relax, read a book, listen to music, or suntan.
Guests can also go directly in the lake for a swim from the dock, or use the SUP and have some fun in the lake!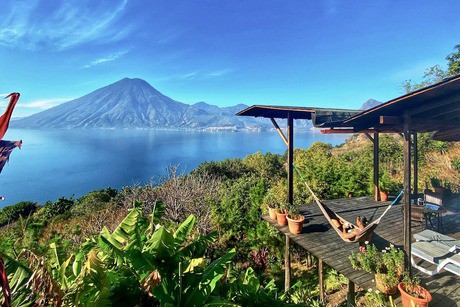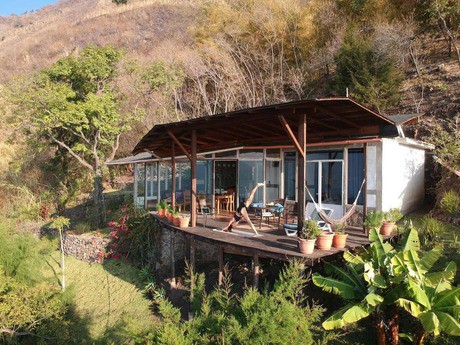 (Images Courtesy of Airbnb)
One of the most liked Airbnb on Instagram in 2020, Lakeview Lodge is simply a paradise. Its most outstanding feature is the gorgeous front terrace that offers a 180-degree view of Lake Atitlan. The terrace has a comfy lounge chair and a hammock, perfect for total relaxation. It is also an excellent place to sun tan.
Inside the Airbnb are more incredible amenities such as a fully-equipped modern kitchen, triple-filtered water purification system, and a king size orthopedic mattress for a dreamy rest. There is also a garden that offers fresh avocados, bananas, dragon fruits, mangos or coffee depending on the season.
Perched over a hill, this Lake Atitlan offers unparalleled privacy, making it a perfect romantic getaway!
Best Villages/Places To Stay In Lake Atitlan, Guatemala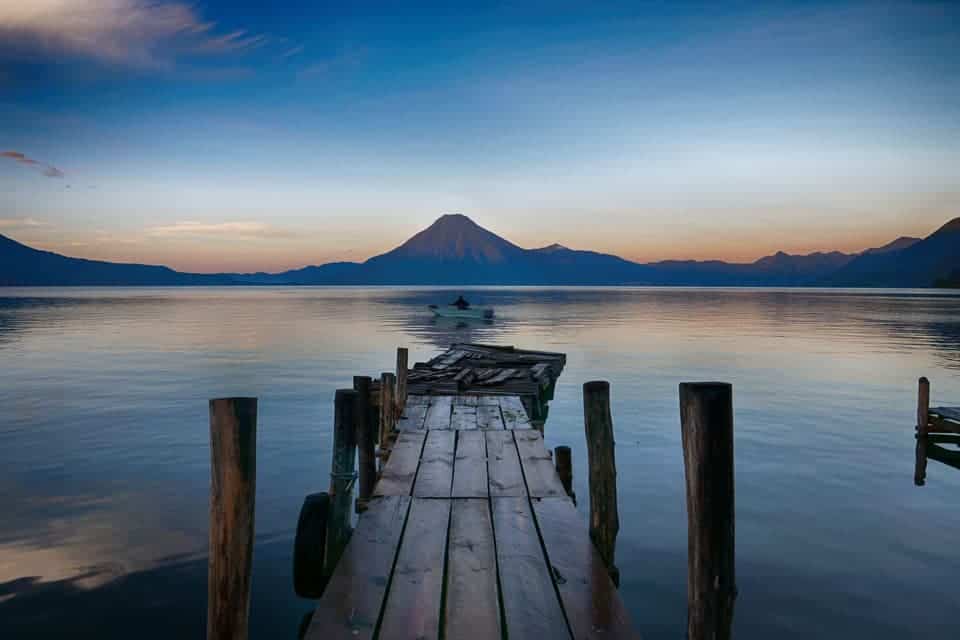 Panajachel is one of the most, if not, the busiest town in Lake Atitlan. With city-like facilities such as diverse accommodations, great food options, and a good mix between locals and tourists, it is not difficult to see why it is so popular.
If you are coming to Lake Atitlan from Antigua, chances are you will be dropped off in Panajachel or San Pedro because these two towns are the most connected ones in Lake Atitlan.
In general, Panajachel is great for more comfort-seeking travelers that are willing to pay a little more.
PROS: A variety of accommodations and restaurants. Lots of handicrafts and souvenir shops. Easily accessible.
CONS: Far from some of the best attractions in Lake Atitlan such as the Indian Nose Hike and San Pedro Volcano. Water is not the cleanest for swimming due to all the activities.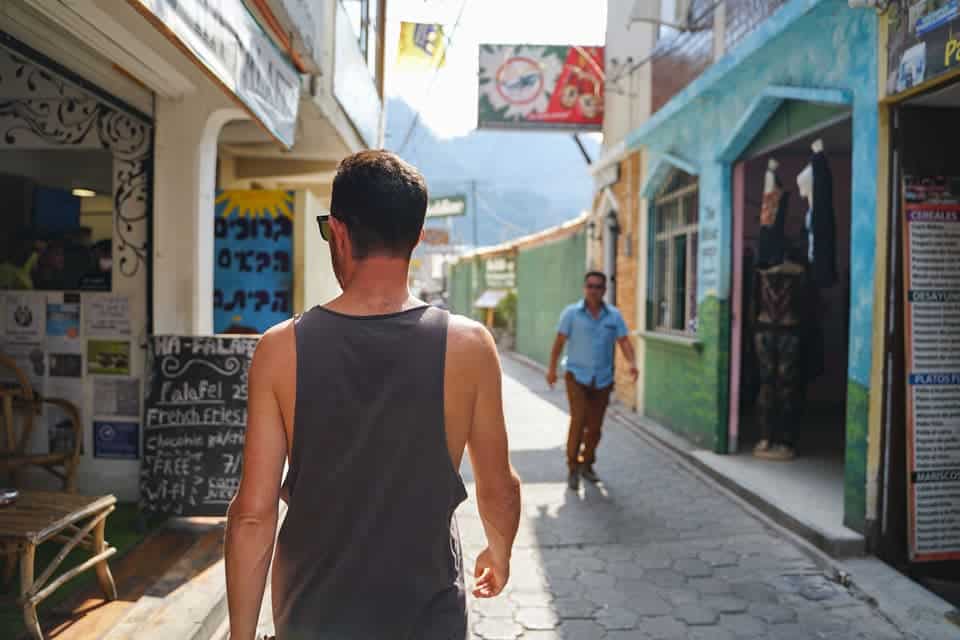 Filled with affordable hostels, good street foods, and popping nightlife, San Pedro is a backpacker's paradise. If you are solo backpacking Guatemala, you will meet many other travelers and have nights you won't forget (unless you drink too much).
You are also located close to some of the best activities to do in Lake Atitlan. You will find plenty of tour companies that offer you tours and transportation around the lake. The water is cleaner (though not the cleanest) compared to Panajachel.
PROS: Very lively with great nightlife and trendy cafes. Affordable hotels and hostels. Good accessibility.
CONS: Can be noisy at night. Not a lot of locals unless you venture deeper inland. 
Santa Cruz is one of the most relaxing places to stay in Lake Atitlan. Most of the hostels and hotels in Santa Cruz are located right next to the water so guests can swim and sunbathe under the Guatemala sun. 
The water in Santa Cruz is considerably cleaner than both San Pedro and Panajachel, making it a great option for any travelers looking to enjoy the refreshing waters of Lake Atitlan.
Many accommodations will have stand-up paddleboards and kayaks for anyone looking to do a little more than just swimming in the lake.
PROS: Affordable accommodations situated on the waterfront. Lots of water-related activities. Very quiet (except for Free Cerveza Hostel). 
CONS: Small town with not much going on. The town is quite steep to walk around. Could use a few more stores in town. Only accessible by water boat on the lake.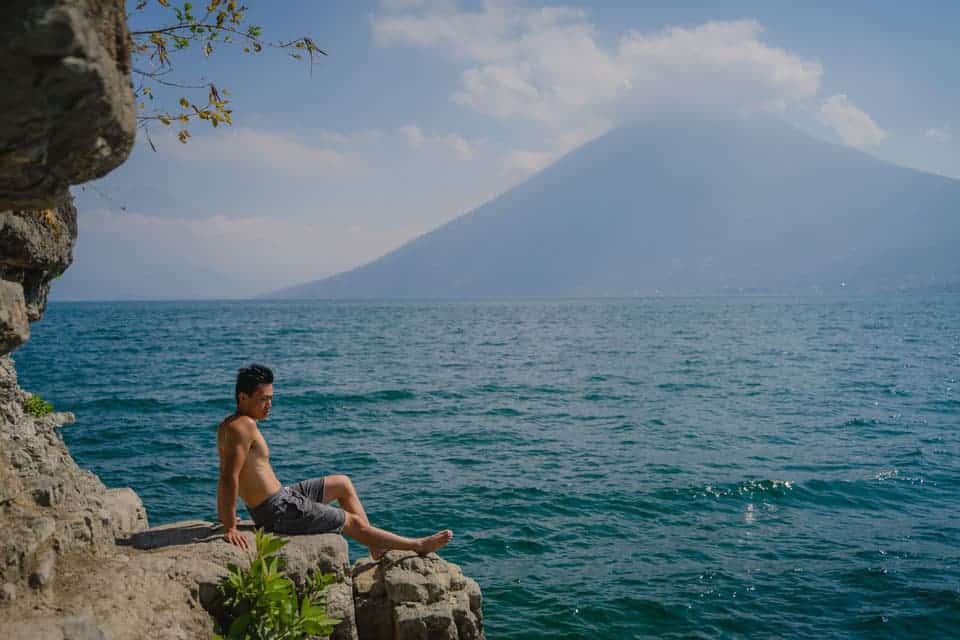 San Marcos has the nickname of hippie's haven and it is easy to see why. Along the narrow streets of San Marcos, you will see various handicrafts stores, people rocking dreadlocks, and health-oriented restaurants.
This Lake Atitlan village itself is quite small so all of it can be seen in one day. But what ultimately draws a lot of travelers to stay in San Marcos is the magical and relaxing vibes of the town.
San Marcos is also the home of Cerro Tzankujil Nature Reserve, which is arguable the best place to go swimming in Lake Atitlan. Adrenaline junkies will also fancy this place as there is a 10+ meter high platform where you can safely jump into the water.
PROS: Best place for swimming. Relaxing hippie vibes. Great healthy food options. Lots of yoga studios and retreats around.
CONS: Might be too "hippie" for some travelers. The town is quite small. Hard to reach by land so generally only accessible by boat.
5. Other Notable Villages to Stay In Lake Atitlan
With a total of 11 villages in Lake Atitlan, there are many worthy places to stay. The ones we have mentioned above are the most tourist-friendly and will most likely be able to cater to your needs.
Other notable villages to stay in Lake Atitlan are San Juan, Jaibalito, Santiago, and San Lucas Toliman. If you enjoy the utmost peace and quiet, you might want to consider these towns. Otherwise, a day-trip to these towns should be enough to see their wonders.
Like this post? Don't forget to save it on Pinterest! 🙂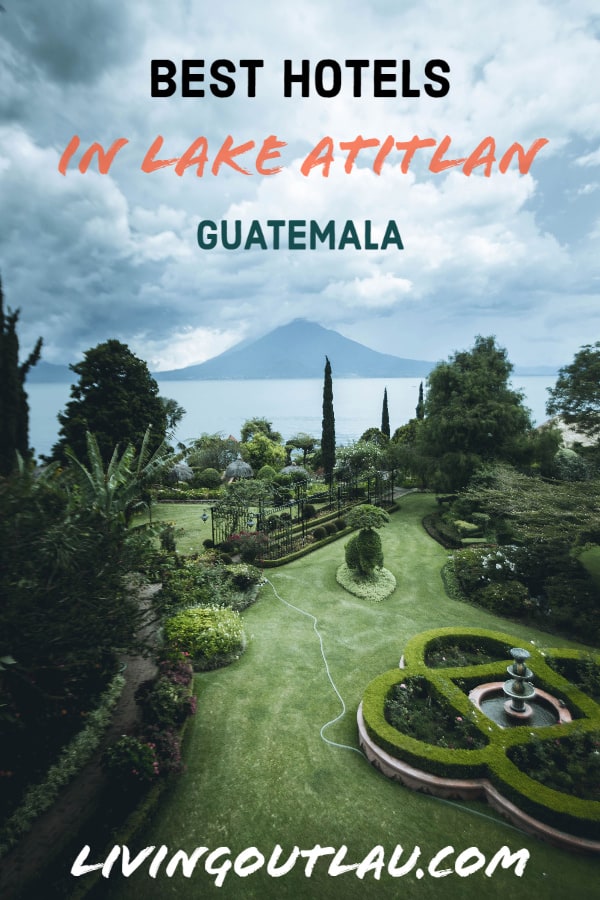 Falling in love with Lake Atitlan is inevitable, especially if you find the right town in Atitlan for you.
Hopefully, this guide has given you some insights on where to stay in Lake Atitlan.
Any questions? Leave a comment!
Disclaimer: Some of the links above are affiliate links. That means if you book through the links, we will earn a small commission at no extra cost to you! The money will help run this site! Thank you 🙂