Bogota, the capital of Colombia, is a giant sprawling city with many different neighborhoods. Each neighborhood has its own flair and choosing the right neighborhood is imperative for having a good trip to Bogota.
For first time visitors, it might be difficult choosing the best place to stay in Bogota. This guide will provide you the information you need to decide on where to stay in Bogota, as well as giving you the pros and cons of staying in those neighborhoods. We will also talk about safety in Bogota and how choosing the right area to stay in will keep you safe. 
Whether you are a traveler that wants to learn about the history of Colombia, party till the sunrise, or enjoy some top-tier Colombian cuisine, there is a neighborhood in Bogota that is right for you.
Best Places To Stay In Bogota, Colombia
Want a Quick Tip on Where to Stay in Bogota?
In a hurry to decide on where to stay in Bogota?
Our favorite neighborhood in Bogota is Chapinero!
A centrally located neighborhood known for its cool and relaxed hippie vibes, unique cafes and bars, best fine-dining establishments (Zona G), and its authentic Colombia culture, staying in Chapinero is guaranteed to enhance your experience in Bogota. It is easily accessible, not too far from the airport and not too far from the historical center, perfect for travelers on a short trip to Bogota. The area is not dangerous but increased precautions should be exercised, especially at night.
If this is your first time in Bogota, you cannot go wrong with the Chapinero neighborhood. 
Like this post? Don't forget to save it on Pinterest! 🙂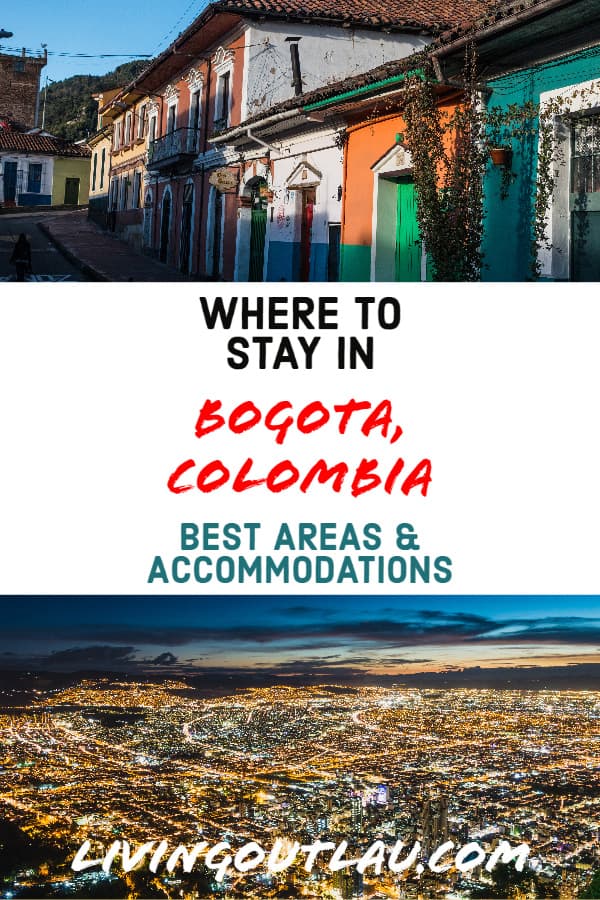 As you can see, there is no best place to stay in Bogota. If you have to decide on where to stay in Bogota, make sure you consider what type of traveler you are and what you want to get out of your visit to Bogota.
Any questions? Leave a comment below!
Disclaimer: Some of the links above are affiliate links. That means if you book through the links, we will earn a small commission at no extra cost to you! The money will help run this site! Thank you 🙂