Quetzaltenango, or commonly known as Xela, is the second-largest city in Guatemala after Guatemala City.
As the second-biggest city in Guatemala, it is surprising that Xela rarely gets any tourism. It is not the typical place travelers see when they close their eyes and imagine themselves on vacation.
There are no fancy hotels, no posh restaurants, and generally no luxury. There is no sugarcoating to the representation of Guatemala in this poor city.
Here you will experience true Guatemala culture and their ways of life. You will see the struggles and poverty that every family has to deal with every day. And in a way, I fell in love with the authenticity of this city.
Without a lot of visitors, I wasn't able to find any good information about things to do in Xela (Quetzaltenango) online.
So after spending one month in Xela studying Spanish, I decided to write a complete guide on Xela and answer any questions about what to do in Xela (Quetzaltenango).
Enjoy!
---
What To Do In Xela: 15 Best Things To Do In Xela (Quetzaltenango)
Go Hiking in Xela!
1. Tajumulco Volcano, The Highest Mountain in Central America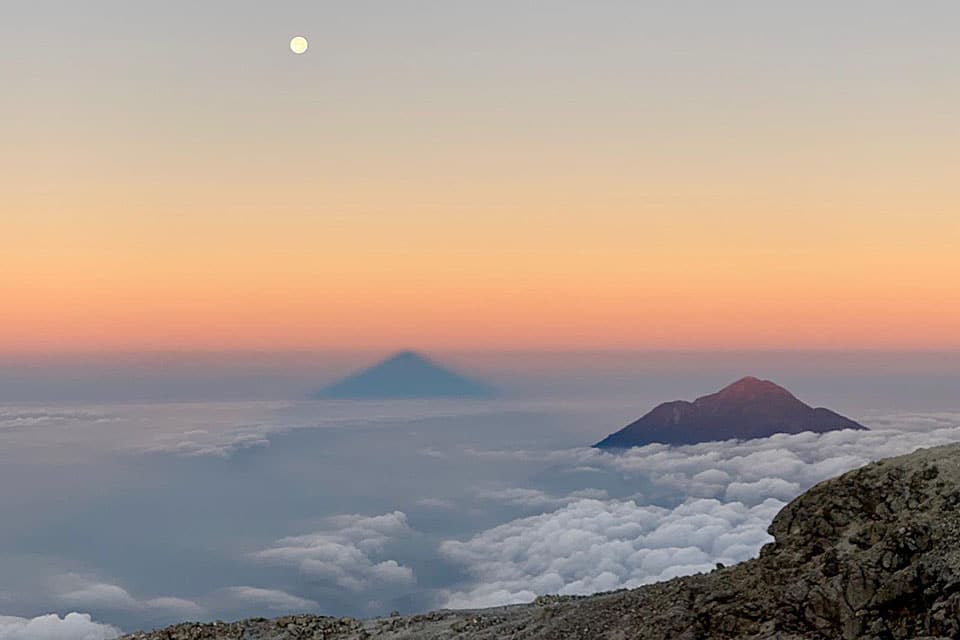 Volcano Tajumulco is the tallest peak and volcano in all of Central America at 4220 meters. You can say it is the Kilimanjaro of Central America. With such an intimidating title, hiking Tajumulco Volcano might seem like a daunting task at first.
Believe it or not, the Volcano Tajumulco hike is not so difficult.
Part of the reason is that you start relatively high at 3,000 meters, so I huge chunk of the work is already done for you.
You will ascend 1,200 meters to reach the top, and that is usually done in 4 hours. Then it takes about another 3 hours to reach back down. The whole journey is only about 7 hours of hiking.
Hiking Tajumulco can be done as a day trip from Xela, but most hikers prefer the two-day trek instead.
That is because on day 2 of the Tajumulco trek, you wake up in the morning to see the sunrise over the highest mountain in Central America. The panoramic view of Guatemala on Tajumulco is not something you will forget for a long time.
The hike itself is not so difficult but altitude sickness becomes a problem at such high elevations!
Duration: About 7 hours of hiking, either in 1 day or split into 2 days.
Difficulty: Moderate
Maximum Altitude: 4220m
2. Hike Volcano Santa Maria and See Volcano Santiaguito Erupt!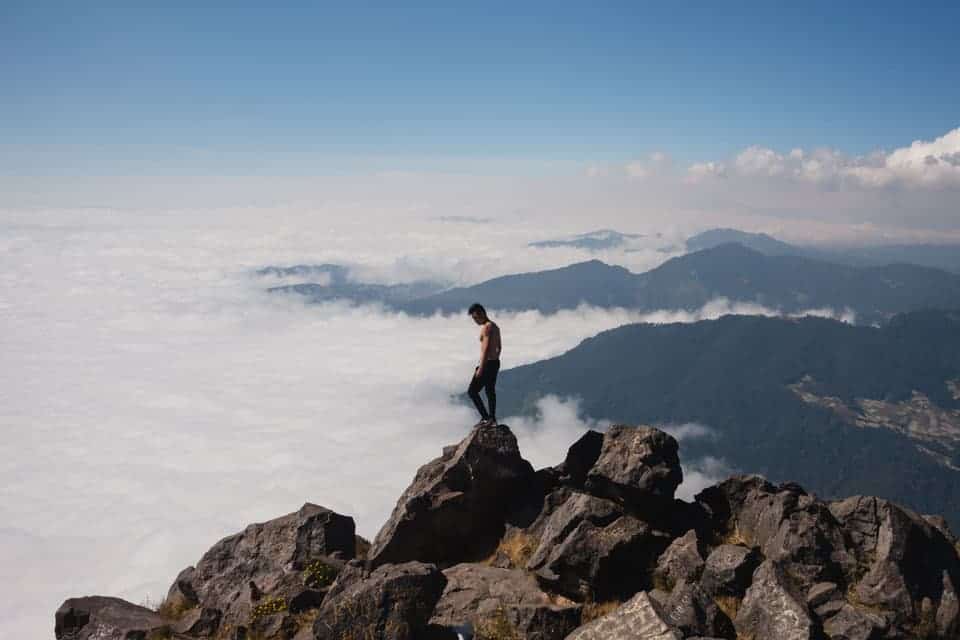 Volcano Santa Maria is an active stratovolcano located about an hour away from Xela. Its last eruption was in 1902 and now it is being monitored carefully.
Measuring at 3,772 meters above sea level, hiking Santa Maria is no easy task. However, when you are at the peak of Santa Maria Volcano, you can see the nearby Volcano Santiaguito erupt. The frequency of its eruption is very inconsistent compared to Volcano Fuego.
If you want to see a volcanic eruption with your own eyes, then I recommend going to Antigua and hiking Volcano Acatenango.
We waited for an hour at the top of Santa Maria and did not see Santiaguito erupt.
The hike to the top of the volcano takes about 3 to 4 hours. On the path, you will pass by many different biospheres and it's quite an interesting experience. The top of the volcano is also filled with offerings from the local Guatemalans.
To what? I am not entirely sure. But it is common for locals to hike up Santa Maria and lay down offerings on the weekends.
It is easy and safe to hike Santa Maria independently, so you can save that little bit of money you save on the tour guide for yummy Guatemalan food! But if you don't want to take a chicken bus, you can always opt for a trekking tour with Quetzaltrekkers.
Duration: 6 to 7 hours of hiking + 2 hours of transportation
Difficulty: Moderate-Difficult
Maximum Elevation: 3,772m
3. Hike Volcano Chicabal and See its Sacred Crater Lake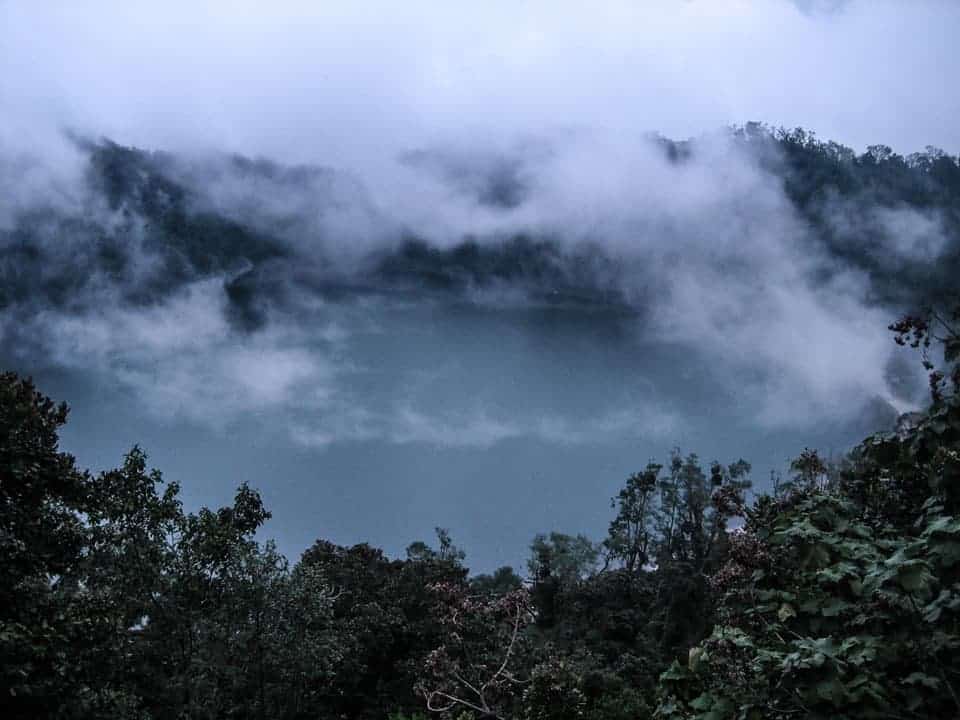 Volcano Chicabal is a 2,720-meter-high inactive volcano located in the Quetzaltenango Department. It is one of the most famous volcanoes in Guatemala not because of its height, but because of its sacredness to the indigenous people.
In the center of Volcano Chicabal is a holy lake called Laguna Chicabal, or Chicabal Lake in English. A sacred lake to the local Mayan people, it is not uncommon to see traditional rituals and practices on the weekends.
With the heavy fog that rolls in almost every day in the afternoon, sometimes you will hear shaman's chantings and not see where they are coming from!
Combined with the rainforest that surrounds the rim of the crater, it creates a mysterious atmosphere and an eye-widening experience.
Swimming in the sacred lake is prohibited. Oftentimes, you can see offerings floating on the surface of the water.
To get to Chicabal Volcano and its sacred lake take a chicken bus from the Minerva Market to San Martin Sacatepequez, also known as Chile Verde. Let the driver know you want to visit Volcano Chicabal and he will drop you off accordingly in San Martin.
Then either follow the signs to Chicabal or use an app such as maps.me to guide you. The path is quite straightforward.
Duration: 3 to 4 hours of hiking + 1.5 to 2 hours of transportation.
Difficulty: Moderate
Max Elevation: 2,720 meters
Don't want to navigate public transportation in Guatemala? (Who does!?)
Check out our recommended Lake Chicabal hiking tour here!
4. 3-Day Trek From Xela to Lake Atitlan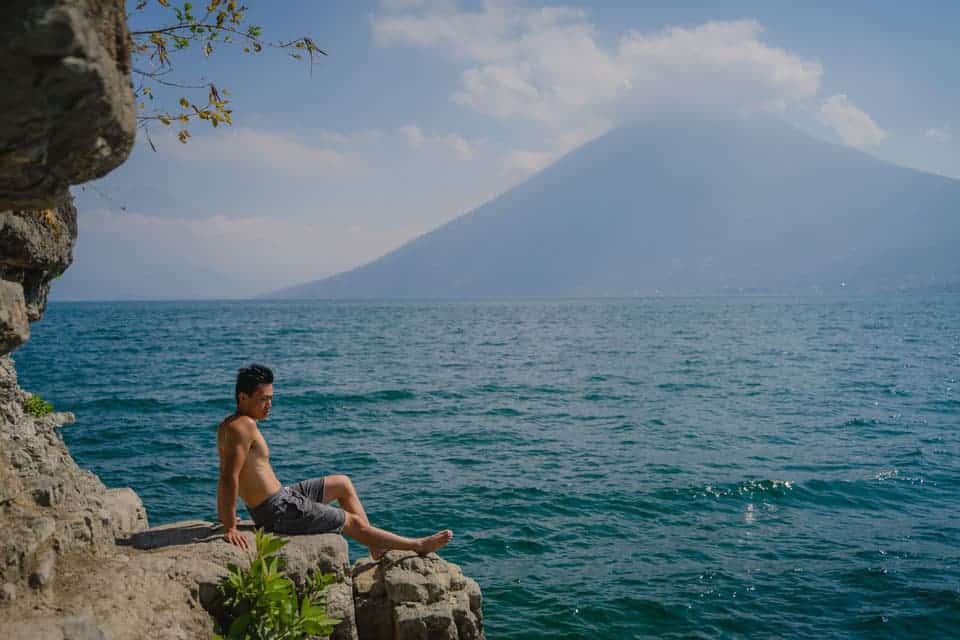 For anyone looking for a tough multi-day trek in Xela (Quetzaltenango), worry not. The intense 3-day hike from Xela to Lake Atitlan is a popular trekking option for experienced hikers. If Lake Atitlan is the next stop on your Guatemala itinerary, you can take this trek and have your luggage transferred to Lake Atitlan.
If Lake Atitlan isn't your next stop, it should be! There are so many amazing things to do in Lake Atitlan.
This 3-day trek from Quetzaltenango to Lake Atitlan is one of the most enriching experiences you can have in Guatemala.
You will hike through small villages, coffee plantations, crop fields, rainforest, and much more in your 3-day journey. On the last day, you will arrive in Lake Atitlan and watch the sun rise over the beautiful volcanoes that surround this serene lake.
You won't need to hike Indian Nose in Lake Atitlan if you do this trek!
Duration: 3 days
Difficulty: Moderate-Difficult
---
Visit Some of The Best Guatemala Markets
5. Minerva Terminal Market (Mercado La Terminal Minerva)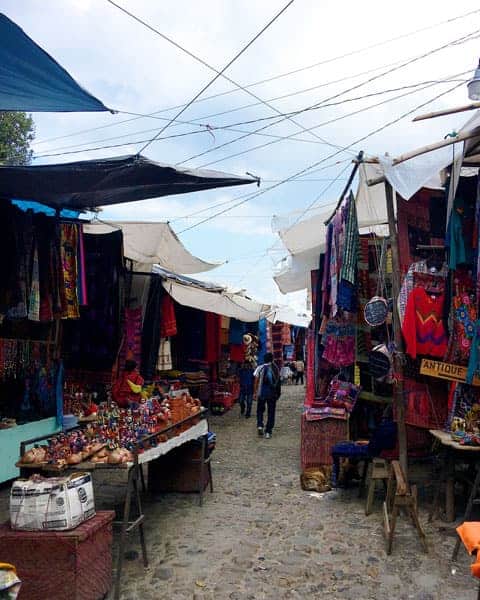 Minerva Terminal Market is one of the biggest markets in Xela. Located in front of the bus terminal, chances are you will have to pass through this market to get to the terminal.
Words cannot describe the chaos and insanity I witnessed in Minerva Market. You can try to make sense of it all you want but it won't work. It is messy, people are everywhere (sometimes cars), the whole market is like a maze and you are trapped inside.
Anything you want in this market, you will find it in the Minerva Market. The market does target local Guatemalans so you will see low prices and mostly produce.
I bought 15 avocados there for 3Q (less than 50 cents). Though a lot of them were rotten, it is just ridiculous how affordable Xela, or Guatemala in general, can be.
When visiting the Minerva Market, be careful with your belongings because pickpockets are common there, especially if you are the only foreigner in the entire market!
6. Democracy Market (Mercado La Democracia)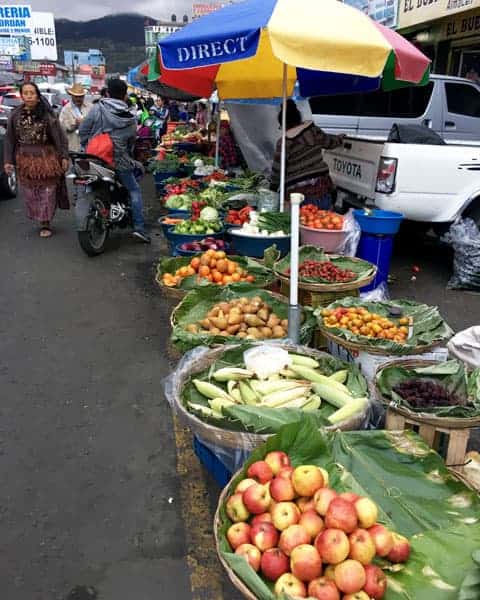 Democracy Market, or Mercado La Democracia in Spanish, is another hectic market in Xela. While the Minerva Market has a close resemblance to a traditional market with its stalls and tarps, the Democracy Market is quite the opposite.
Lined with baskets of fruits and vegetables on the side of a road (with cars), some of you might not even consider this a market. If chaos was for sale, you would find it for free in the Democracy market.
It is definitely one of the best places to visit in Xela because it is just so shocking.
The Democracy Market is the best place to shop for fruits and vegetables. The freshness and the prices are some things that even the Minerva Market can't beat.
7. Chichicastenango Market, The Biggest Outdoor Market in Central America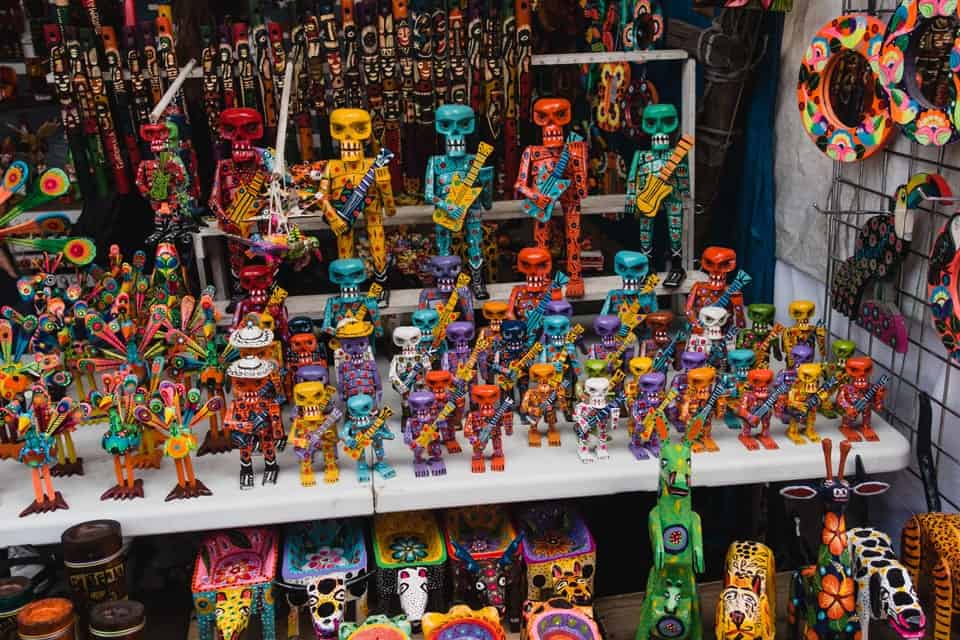 Chichicastenango Market is definitely one of the places you cannot miss in Guatemala. As the biggest outdoor market in Central America, you will find an endless amount of artisan crafts, Mayan souvenirs, traditional textiles, and much more.
Locals from all over Guatemala gather on Thursdays and Sundays in this mountain village to buy and sell their goods. Though it contains several vendors with Guatemalan souvenirs targeting tourists, the market is still dominated by local activities.
It is not uncommon to see a mother with her newborn baby wrapped behind her back with handcrafted textiles. Not only is this a place to shop, but the Chichicastenango Market is a great place to just people watch.
Situated a few blocks from the market is the Chichicastenango cemetery, a colorful cemetery that is worth making a quick detour for!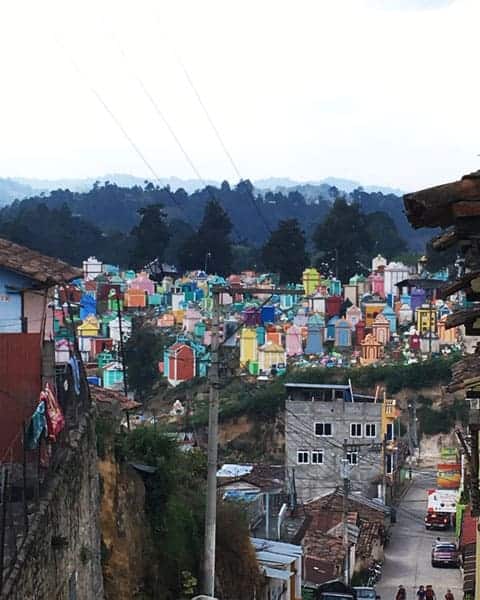 There is tourist transport that will easily take you to Chichicastenango from Xela. However, save yourself the extra buck and do it yourself. It is a very straightforward journey even if you struggle with Spanish!
To get to Chichicastenango from Xela, head to Minerva Market Terminal and take a chicken bus (camionetta, not pollo bus) to Los Encuentros. The bus station is located in the rear of the Minerva Market.
Once you get off at Los Encuentros, you will see many different buses headed toward different places. Find the one to Chichicastenango and you are all set!
Remember to watch your stuff on the chicken bus!
---
8. Visit The Quetzaltenango Cathedral in Parque Centro (Central Park)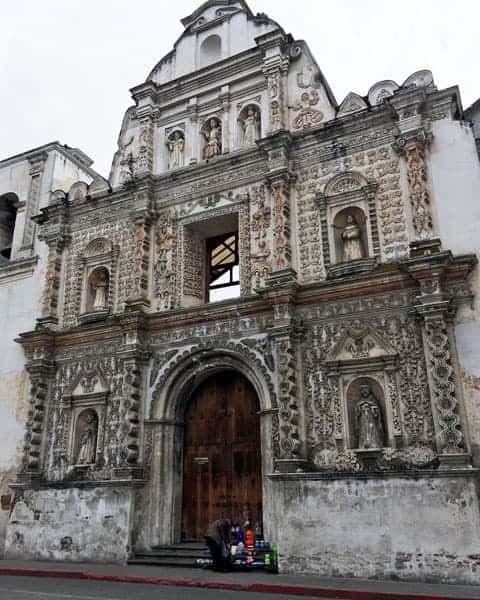 In every city in Guatemala, there is always a famous church as the most iconic landmark. In Xela, it is the Quetzaltenango Cathedral in Parque Centro (Central Park).
Located in touristy-friendly Zone 1 of Xela, this church is very easy to get to if you are staying in one of the few hostels in the area.
Called Catedral del Espiritu Santo de Quetzaltenango, this Catholic church was built by the Spanish conquistadors in the 16th century.
The church is by far the most impressive building in Quetzaltenango. You can see its well-preserved facade standing proudly in Central Park.
After a visit to the Cathedral, go enjoy some street food in Parque Centro. Nothing is better than sitting in the park and eating some cheap and delicious tacos!
Admission Fee: Free
Hours: 9 AM – 12 PM Saturdays; Sundays Closed; 9 AM – 5 PM Mondays to Thursdays
Location: Quetzaltenango Cathedral
9. Study in a Spanish School and Do a Guatemala Homestay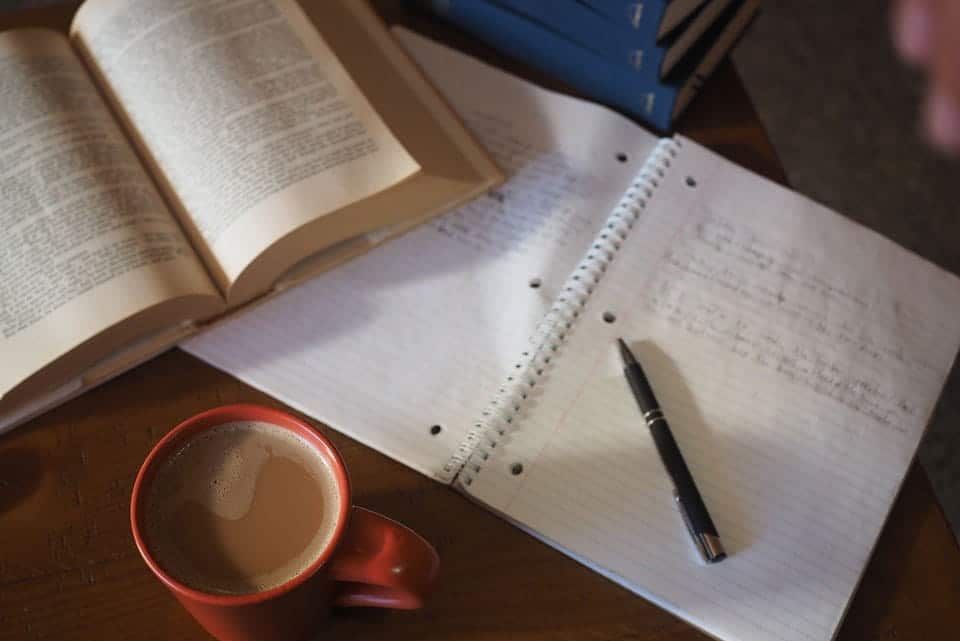 Studying in a Spanish school is probably the most popular thing to do in Xela (Quetzaltenango). The city itself is known for its professional Spanish schools that offers intensive programs for backpackers to medical personnel.
But why should you learn Spanish in Xela? Having studied there for 1 month, I will tell you why I've selected Xela as opposed to the popular alternative, Antigua.
The Spanish classes in Guatemala, especially Xela, are some of the most affordable in the entire world. Not only are the classes cheap, but the Spanish you learn in Guatemala is also known as one of the easiest types of Spanish to learn. There aren't that much slang, the tones are neutral, and the talking speed isn't that fast.
But what made me decide on Xela instead of Guatemala is the "total immersion" programs in Xela. A lot of the locals in Antigua will speak English to you when they see that you are pale-skinned with blonde hair.
In Xela, no one can speak English even if they want to. You are forced to speak Spanish every day at the restaurants, at the markets, and everywhere you go. It is a sink or swim scenario.
To top off the learning experience, you should definitely do a homestay in Xela! It is one of the best cultural-enriching experiences I had in Guatemala. Our "Guata-mama" made us some of the most delicious Guatemala cuisine (as well as hell-inducing spicy salsa).
If you come to Xela, you have to try some of the Spanish Schools They have short-term programs as well as long-term ones!
10. Visit the Hot Springs Fuentes Georginas
Xela, at 2,330 meters above sea level, can be cold most of the time. To combat the coldness, visit the nearby Fuentes Georginas Hotsprings!
Though I did not go myself (no way am I taking my clothes off in the Xela cold), a lot of my friends went and said it was amazing.
The pools are situated in a nearby town called Zunil. It is possible to do it yourself but the prices come out to be around the same because you need to take a taxi from Zunil town all the way up to Fuentas Georginas Springs.
Surrounded by lush mountains, visitors can relax in their hot natural volcanic springs and admire the beautiful scenery. A lot of my friends did not find the main pool to be hot enough, but you can pay a little extra to access the hotter lower pools.
When you visit remember to bring warm clothes, your bathing suit, cash, and a combination lock to use their lockers. To use the lockers, you have to pay an extra fee.
Hours: 9 AM – 6 PM
Admission Fee: 60 Q for the main pool, an additional 25 Q for the hotter lower pools (At time of writing)
Location: Fuentes Georginas
Looking to experience the Fuentes Georginas from Xela?
Check out our recommended half-day tour here!
11. Visit The Xela Cemetery (For Fun)!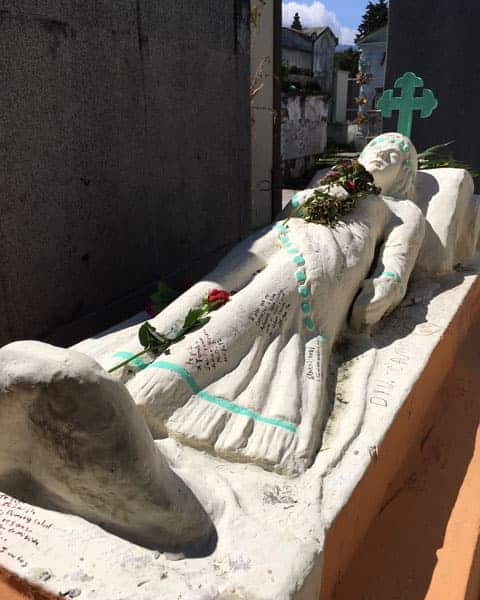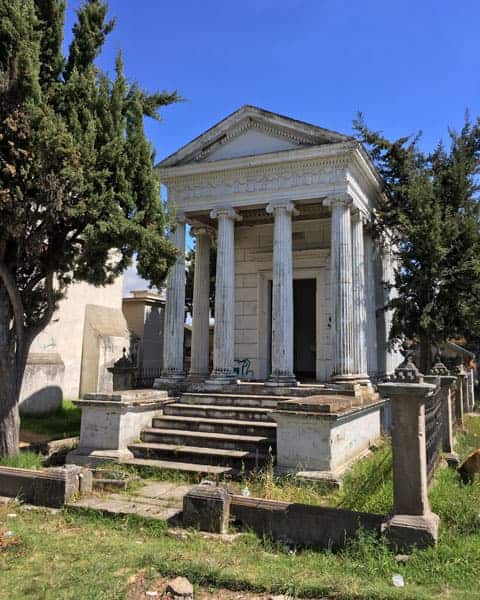 Believe it or not. One of the best attractions in Xela (Quetzaltenango) is its cemetery! Though this might be strange and downright disrespectful in some cultures, the cemeteries are quite popular attractions in Guatemala, Mexico, and more countries.
The Xela cemetery is a wide area filled with various different types of tombstones. You will see traditional tombs with just a cross contrasted with remarkable mausoleums.
Many of them are decorated really well (especially if it is around Day of the Dead, an important Guatemalan celebration) and it's a strange feeling seeing such a photogenic graveyard.
With a beautiful volcano as the backdrop, it's hard to not upload a photo on this beautiful scenery on Instagram.
Please be respectful when you visit. It is an active cemetery after all!
If possible, I recommend going with a tour guide as the cemetery is full of exciting history and interesting facts!
12. Do Yoga at The Yoga House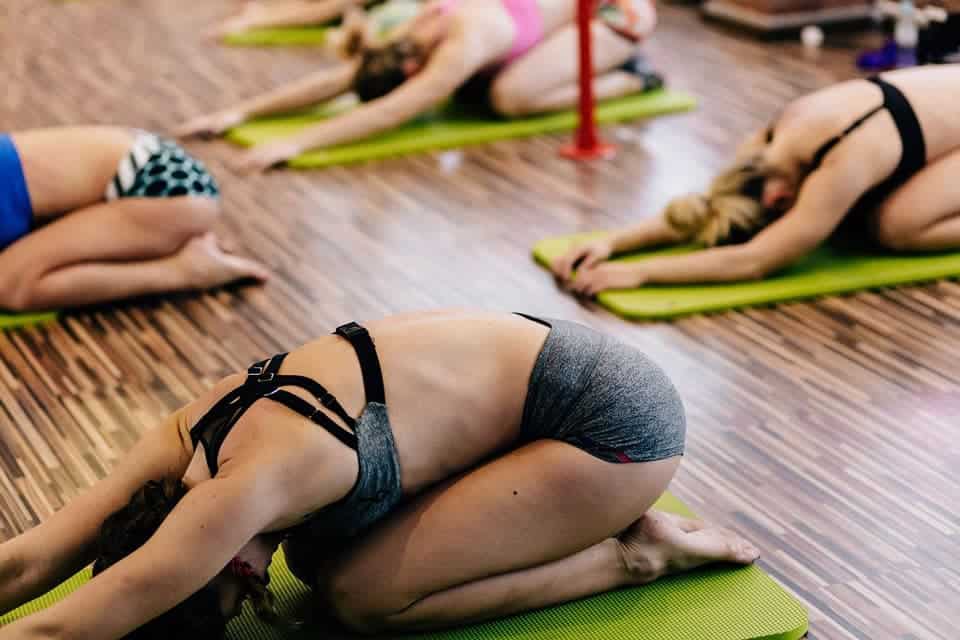 Feeling a little tight after doing so much hiking in Guatemala? Or are you a yoga extraordinaire? Come take a yoga class at The Yoga House!
Featuring daily classes of various difficulties, visitors are bound to find something they like. The teachers are very professional and come from various international backgrounds. The owner and head instructor Kevin will also give you a good high-intensity-interval-training workout if you want!
My favorite part of The Yoga House is the close-knit community. Frequently, you will hear chatters and laughter from students and instructors in the hallway. It is a good place to work out, get a nice stretch, or even to make some friends!
For more information, please visit their official website!
13. Get Wet at Xocomil Water Park
Though we have not personally been to Xocomil Water Park (Because we found out after we left Xela), a couple of my friends did and I will speak from their experiences.
Located an hour and a half away from Xela in the Retalhuleu Department, the Xocomil Water Park is the biggest and most-visited water amusement part in Guatemala. The park covers an area of 77,300 square meters and is themed after historic places in Guatemala, such as the Jaguar Temple in the Tikal National Park.

The quality of this water park matches that of the United States, without only a fraction of the entrance fee. You can spend a day relaxing in the numerous pools and get adventurous and jump in the slides.
If you are traveling Guatemala with kids, there are also kids-friendly pools such as the wave pools and baby pools for them to enjoy.
To get to Xocomil, head over to the terminal in Minerva Market and look for a chicken bus that goes to San Martin Zapotitlan in the Retalhuleu Department. It is the perfect day trip from Xela and the perfect way to escape the cold weather in Xela.
Hours: 9 AM – 5 PM Thursdays To Sundays; Closed Mondays, Tuesdays and Wednesdays (Hours change regularly)
14. Go Watch a Soccer (Football) Game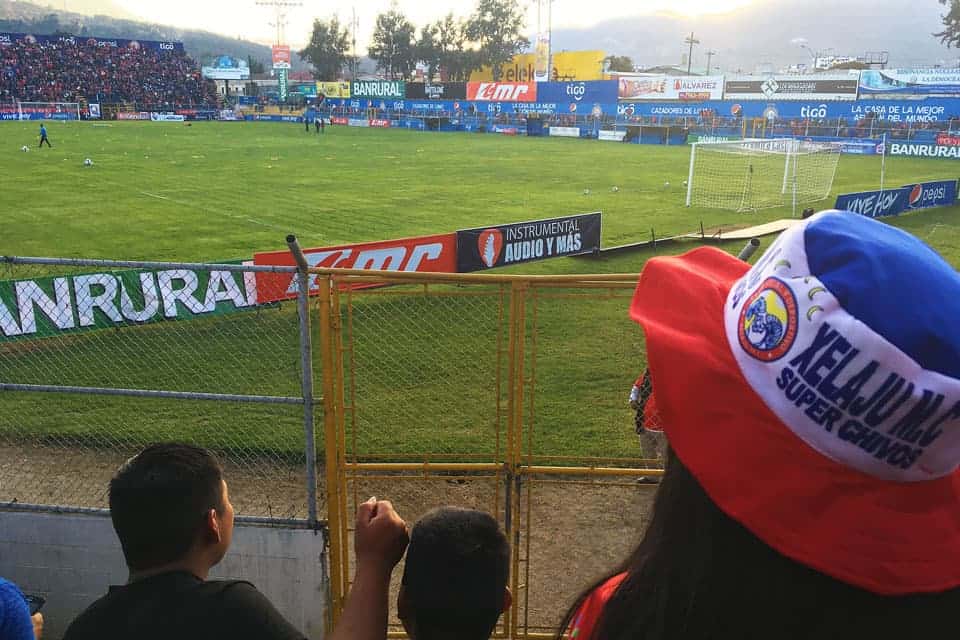 Xela is the home to some of the biggest soccer fanatics in the world. Their enthusiasm is just overwhelming and going to one of their games is such a good way to enjoy yourself and meet some locals.
Xela has its own soccer team called the Xelaju M.C. Their mascot is the Super Chiva (Super Female Goat). And if the fans had to pick between winning a match or living 5 years less, it would be a clear choice for them.
Insider Tip: It is also one of the best ways to learn some profanities in Spanish.
They play at the Mario Camposeco Stadium and you can purchase tickets by going to the ticketing booth a day in advance!
15. Go Thrift-Shopping at The Mega Paca!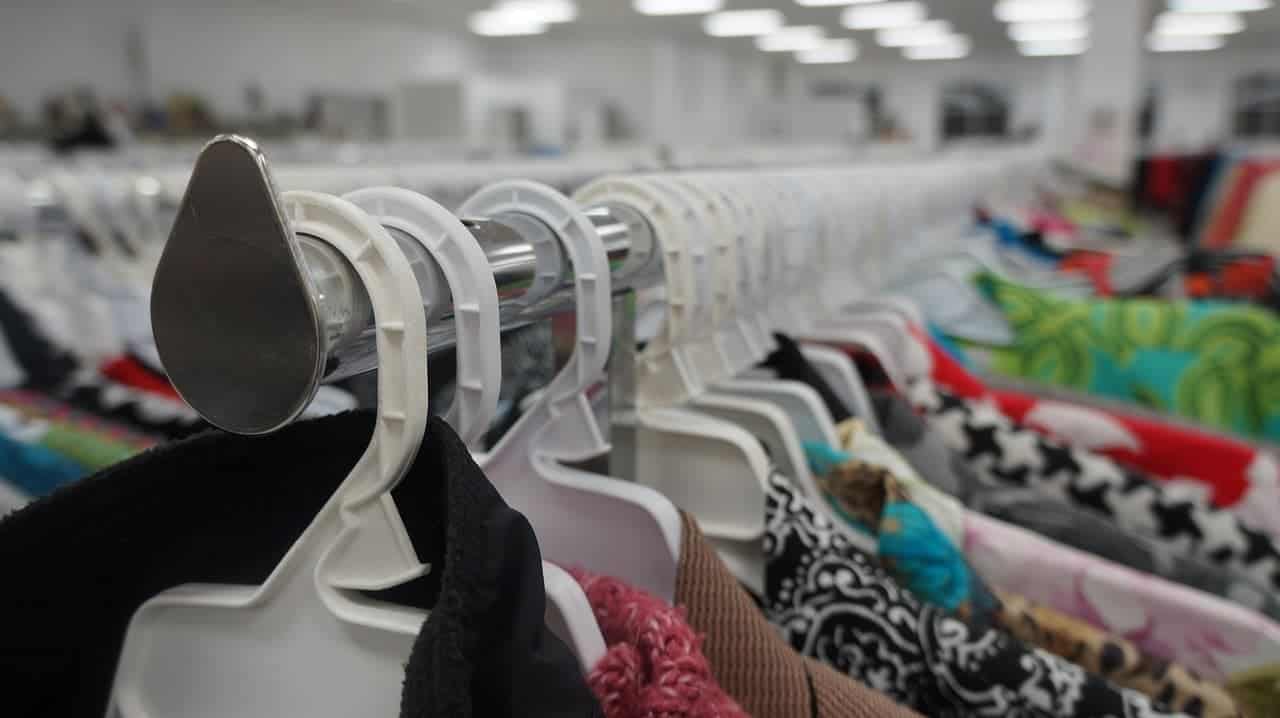 Shopping at a thrift shop? That's fun. Shopping at a thrift shop in Guatemala? That's even better.
Xela is filled with huge thrift shops and the most notable one is called Mega Paca. If you have the patience, you can spend an entire day here going up and down the aisle hunting for treasures.
Most of these clothes are leftover clothes from thrift shops in America. If no one buys them in the thrift shops in America for a long time, they get packaged and sent to Guatemala!
You can find lots of good brands here such as Levi's, J. Crews, and much more. If you are into denim jackets like I am, you will find lots of antique denim jackets!
---
Where To Stay In Xela (Quetzaltenango), Guatemala
Best Hostel in Xela – Casa Seibel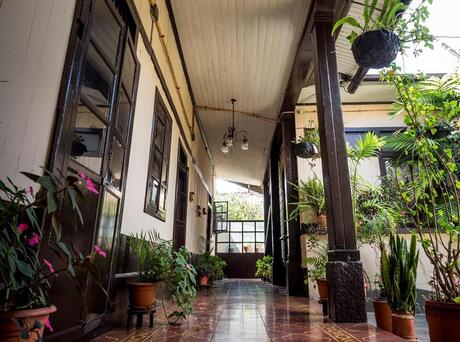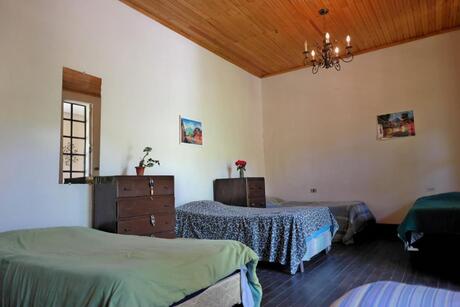 Casa Seibel is a beautiful and cozy hostel located in the touristy part of Xela. They have shared rooms with single beds so no more climbing up ladders in the middle of the night.
Their showers are hot, which can be hard to find in Xela sometimes. My favorite part is the sunny courtyards that make the perfect place to relax after a busy day in Xela!

If you want more of a party vibe, the nearby Casa Kiwi is the perfect place to stay in Xela!
---
Best Airbnb In Xela – Beautiful Historic House in Xela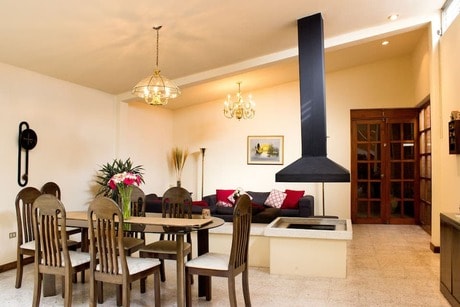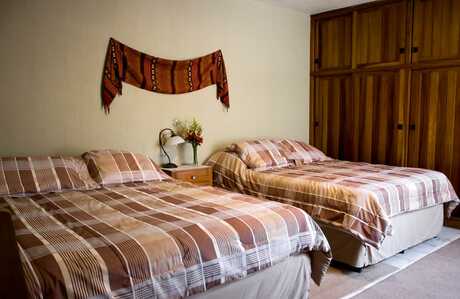 (Images Courtesy of Airbnb)

Whether you are traveling as a group, a couple, or solo, you cannot go wrong with staying at this cozy Xela Airbnb.

Featuring a total of 4-bedroom and 3.5 baths, a total of 9 guests can comfortably enjoy its amenities such as a fully equipped kitchen, a spacious living area, and two interior gardens! Here guests will find the comfort and luxury that is rather rare for Xela.

This Airbnb is located in Democracia next to the Democracia Market, so guests can experience the local culture right on their doorstep!
---
Best Hotel in Xela – LATAM Hotel Plaza Pradera Quetzaltenango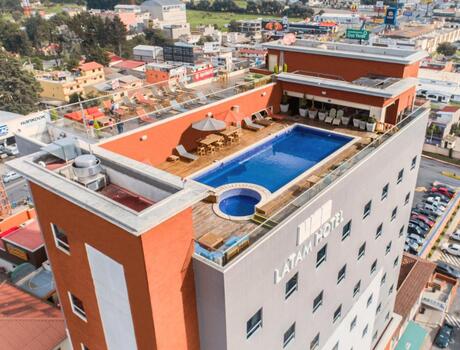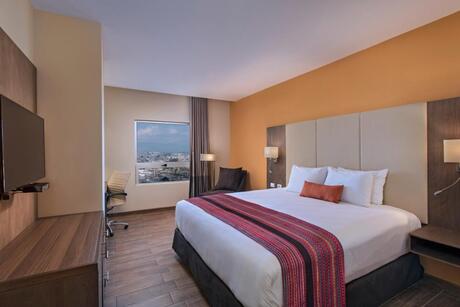 LATAM Hotel Plaza Pradera is one of the most luxurious hotels in Xela. This is the place celebrities and soccer players stay when they come to Xela! Guests can enjoy a panoramic view of Xela on their gorgeous rooftop swimming pool. The hotel also has a fitness center and an on-site restaurant!

However, this hotel is a bit far from some of the attractions in Xela.
---
Is Xela (Quetzaltenango) Safe?
One of the most frequently asked questions about Xela is whether it is safe or not. After spending more than a month there and learning from other travelers' experiences, I can conclude that Xela isn't exactly the safest place in Guatemala.
While nothing happened to me in my 1+ month in Xela, I avoided staying out at night and all the dodgy streets. I recommend exercising increased caution when visiting Xela. In the daytime, it is usually fine. But I encourage traveling groups at night, especially if you are a woman.
There are also safer neighborhoods in Guatemala. Generally, Zona 1 is quite safe and where most of the accommodations are located.
Don't let this discourage you from visiting the authentic city of Xela! We recommend purchasing travel insurance (even if it is just for the duration you will be in Xela) just to have peace of mind.
If you are still worried, you can skip Xela and head over to Antigua, probably the safest City in Guatemala.
---
Visiting Xela (Quetzaltenango) FAQs
How Many Days To Stay In Xela?
Spending at least 2 to 3 days in Xela will give you a good understanding of how the locals live in this city. With this amount of time, you can see all of the main attractions in the city as well!
Is Xela Guatemala Worth Visiting?
Xela might not be one of the most popular tourist destinations in Guatemala, but it certainly has a charm that makes it worth visiting. If you enjoy a laid-back city unspoiled by tourists, then you'll enjoy Xela. There are also plenty of things to do in the city, from hot springs to epic hikes!
---
Like this post? Don't forget to save it on Pinterest!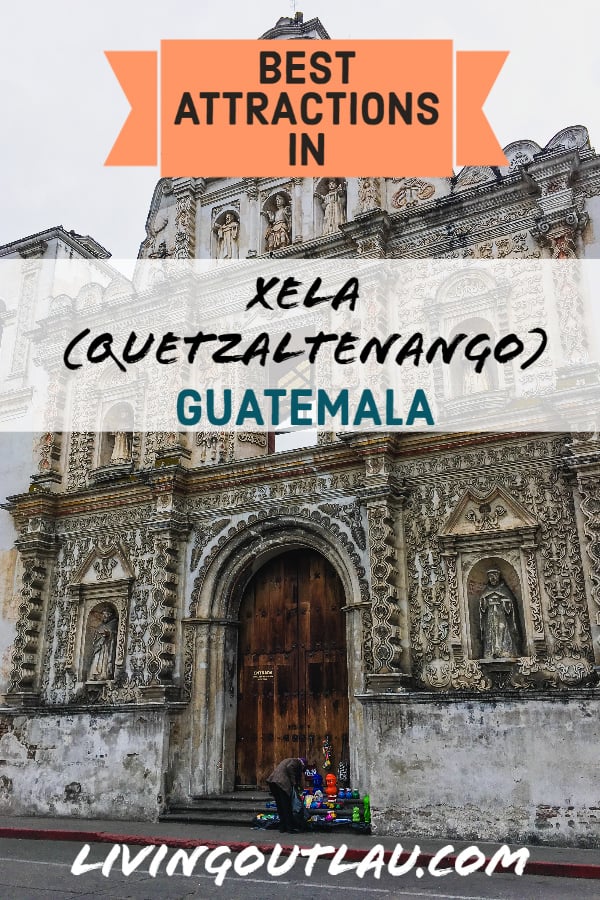 ---
I hope this guide answers your question on "What to do in Xela Guatemala". Xela has a special place in my heart and I hope you enjoy this authentic city as much as I did!

Questions? Leave a comment below!
Disclaimer: Some of the links above are affiliate links. That means if you book or make a purchase through the links, we will earn a small commission at no extra cost to you! The money will help run this site! Thank you!