Not sure what to do in Osaka at night? Don't worry. The fun does not stop when the sun sets in Osaka. 
A popular tourist destination in the Kansai region, Osaka is known for its architecture, quality cuisines, and amazing nightlife. 
When we visited Osaka on our Japan trip, we found that the Osaka attractions at night are even better than the ones in the day. 
So we have compiled a personal list of our favorite things to do in Osaka at night! 
Enjoy!
---
What To Do In Osaka At Night
1. Go For Late-Night Ramen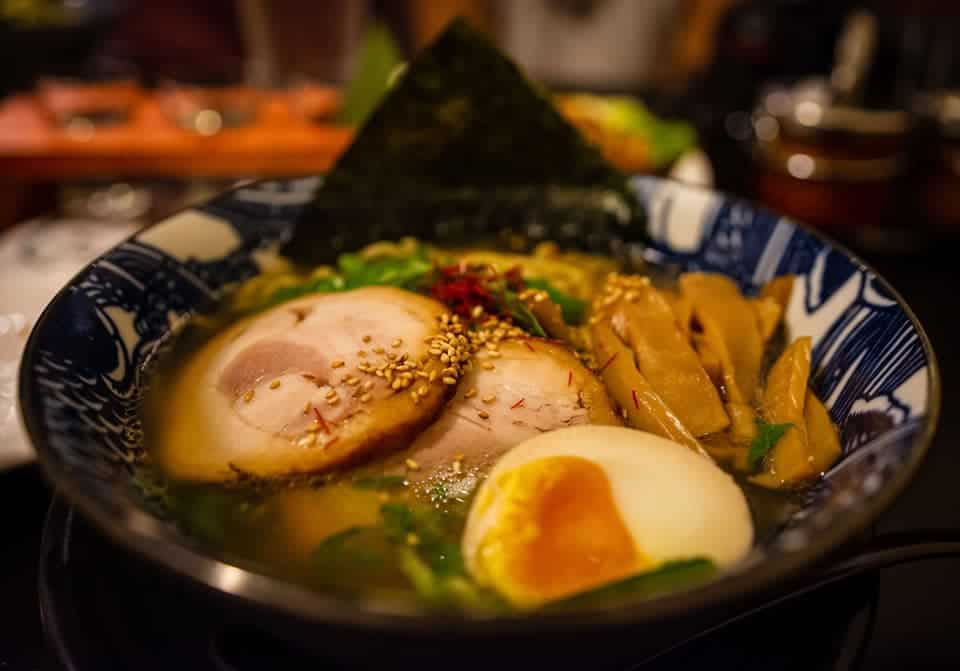 In the land of delicious cuisine and enticing street food, it is almost impossible to not think about Japanese food at all times. Luckily for you, one of the most popular things to do in Osaka is to go for late-night ramen.
Nothing soothes the mind and soul like a hot-steamy bowl of thick broth with al dente hand-made noodles.
It might sound strange to slurp a huge bowl of goodies in the middle of the night but it is actually a popular activity for the locals. In fact, many of the ramen restaurants in Osaka operate 24 hours!
My two favorite places for ramen in Osaka are Ramen Zundo-Ya Shinsaibashi and Hanamaruken Namba Hozenji, they are both open 24 hours.
When you are eating ramen, remember to slurp as loud as possible to indicate that you like the ramen. If you don't slurp at all, it means that you don't like the food and is actually disrespectful. There are many strange cultural differences in Japan!
2. Relax At Spa World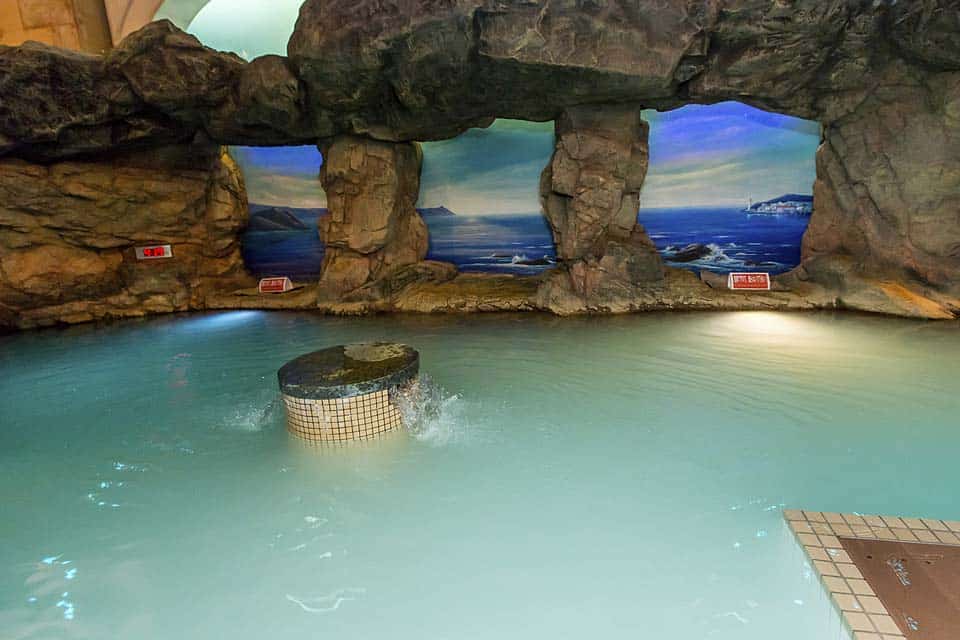 Are you tired after spending one day in Osaka visiting its amazing attractions?
Worry not.
I know the best place to relax in Osaka. Seven stories and filled with many different styles of onsens, Spa World is one of the largest hot spring complexes in the entire world. With a mix of European-styled baths and Japanese-styled baths, visitors can find Finnish sauna baths, Greek medicinal baths, as well as Japanese Cypress baths.
My favorite has to be the Finnish Sauna Baths. Nothing is more refreshing than jumping in the iced-cold water after sitting in the skin-melting Finnish Sauna Baths.
After visiting their onsens (natural hot springs), guests can also get a nice workout in their gym or a nice relaxing massage session. If you are traveling with kids in Osaka, there is an amusement park on their roof!
3. Shop At Shinsaibashi Shopping Arcade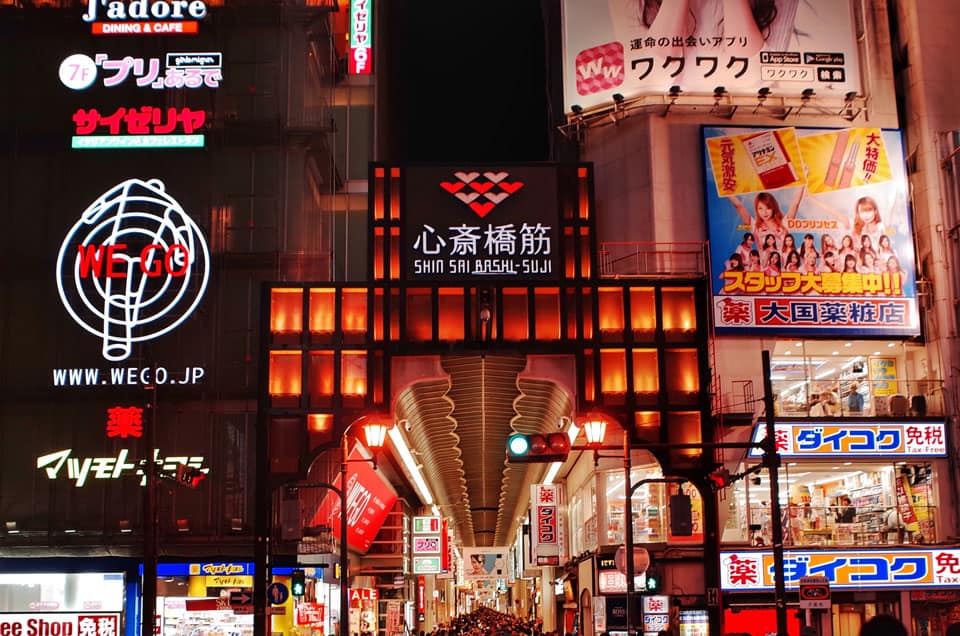 Osaka is known for its numerous shopping streets that span the length of many football fields. (The Tenjinbashisuji Shopping Street spans 2.6 km!)
The best shopping street to shop till you drop in Osaka is Shinsaibashi. You can finally work off all the calories (in a fun way) you got from eating all the ramen.
Spanning 580 meters, the hectic Shinsaibashi shopping street can receive up to 120,000 visitors in one day on the weekends. That is about one-third of the population of Iceland! At night, Shinsaibashi gets crazier.
Prepare yourself to be smacked by selfie sticks, intimidated by frenzy shopaholics and their overeagerness, and the sweaty tourists.
You will definitely have an unforgettable time shopping at Shinsaibashi. Located next to the famous area known as Dotonbori, visitors can see both of these famous Osaka attractions in one go.
4. Eat Okonomiyaki at Hozenji Yokocho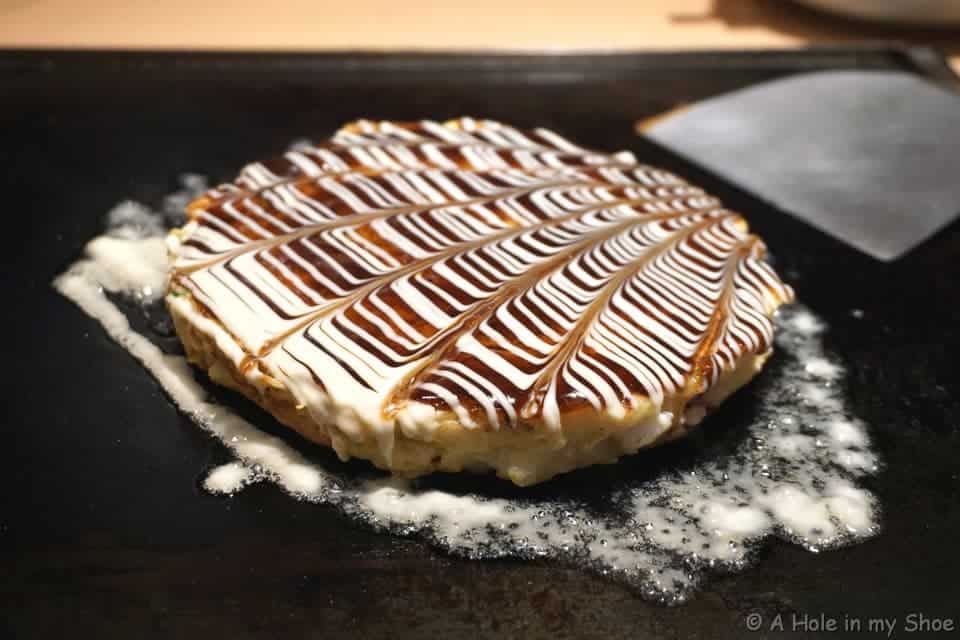 Suggested By: A Hole In My Shoe

Osaka is renowned for its food and Okonomiyaki originated there just prior to WWII. Eating this giant savory cabbage pancake, sometimes called Japanese pizza, is one of the best things to do in Osaka.
Okonomiyaki is made from a batter mixed with cabbage, meat, seafood and cooked on a flat iron griddle, then topped with thick brown sauce, mayo and bonito flakes that dance in the heat.
The anticipation of watching it prepared and cooked in front of you, listening to the sizzle as the scent lingers, entices the appetite and adds to the dining experience.
Surprising for only having a few ingredients Okonomiyaki is delicious and often there will be lines outside the popular okonomiyaki restaurants, but the wait is truly worth your while.
This iconic dish of Osaka is definitely a must-eat and there is no shortage of places to enjoy it. Stacked with restaurants and shops, Dotonbori is a great area to try Okonomiyaki. However, the place where the local Osakans go for a late-night Okonomiyaki is actually the traditional street name Hozenji Yokocho.
If you want to have the most authentic Okonomiyaki, you must try the restaurant called Yakizen.
5. Visit Dotonbori and Take a Photo at The Glico Man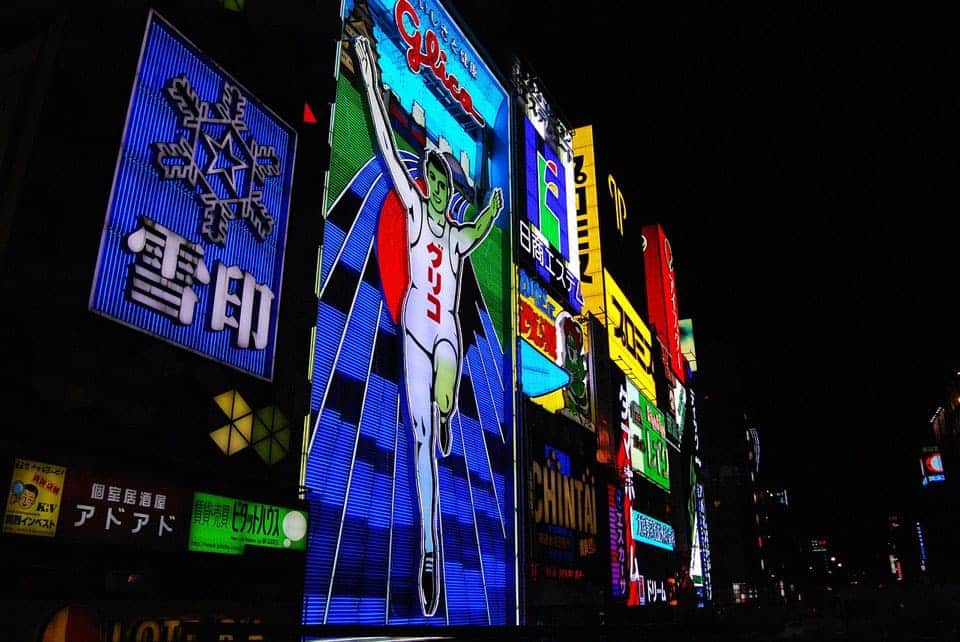 Suggested By: Swedish Nomad
Dotonbori is the main area for nightlife, shopping, and entertainment in Osaka. It typically refers to the canal as well as Dotonbori Street, and it's one of the most iconic areas in all of Japan, famous all over the world.
The area is known for its neon signboards and big advertising boards, including the Glico Man sign, which is a symbol for Osaka. It's a busy area that offers a lot of fun for all ages and interests.
While it's very popular among foreigners who visit Osaka, it's equally popular among the locals which makes it a great place to experience everyday Japanese life and culture.
There are abundant options for shopping with lots of shops as well as restaurants when you get hungry. It's easy to get to Dotonbori from all over Osaka, and it's well-connected by public transportation.
The area of Dotonbori is also a great place to try some local street food from Osaka, which is often referred to as the food capital of Japan.
6. 24/7 Thrift Shopping in Don Quijote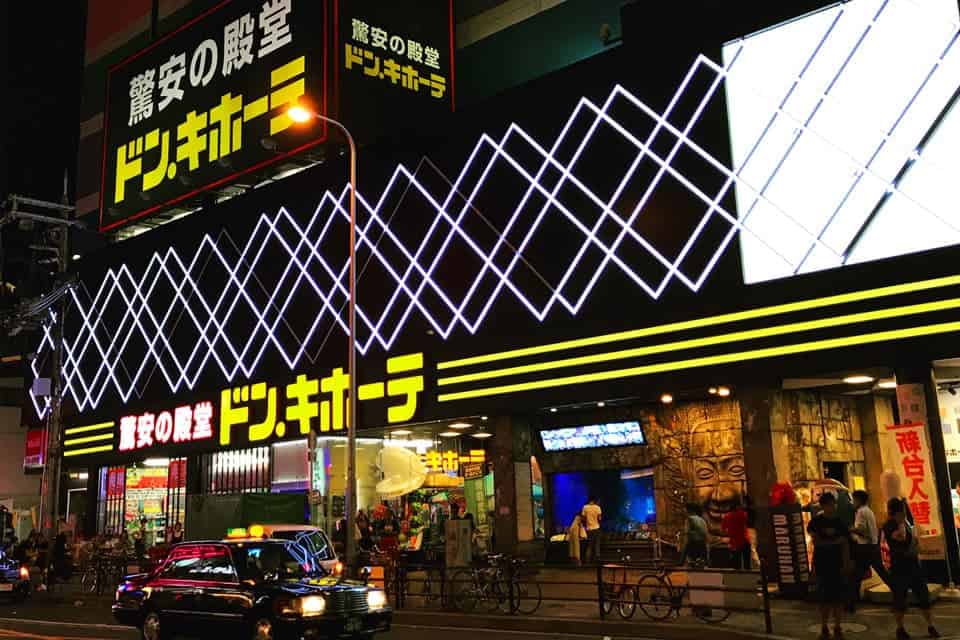 By: Knycx Journeying
Everyone knows that Japan is a shopping paradise from day to night. Japanese products have great diversity, supreme quality, and unimaginable creativity that not just the locals but also the visitors enjoy.
With so much to see and do during the daytime in Osaka, why not have your own shopping spree at night?
While a lot of shops and department stores close at 8 pm, Shinsaibashi never sleeps. At night, Dotonbori-Dori is ablaze with neon lights and the symbolic Glico Running Man billboard would be lit until midnight.
Don Quijote is one of those places where you want to be. The locals call it "Donki", and as charming as its name, it is a discount chain store that carries a vast array of goodies from groceries, snacks, cosmetics, to electronics and clothing.
The chain is expanding rapidly in the last decade overseas and they could be found everywhere. Some of them, like the Umeda and Shinsaibashi stores in Osaka, work 24/7.
A lot of interesting products are in very good value – so beware that there could be a long queue at the cashier, even at 2 to 3 am in the morning!
7. Go On A Night Food Tour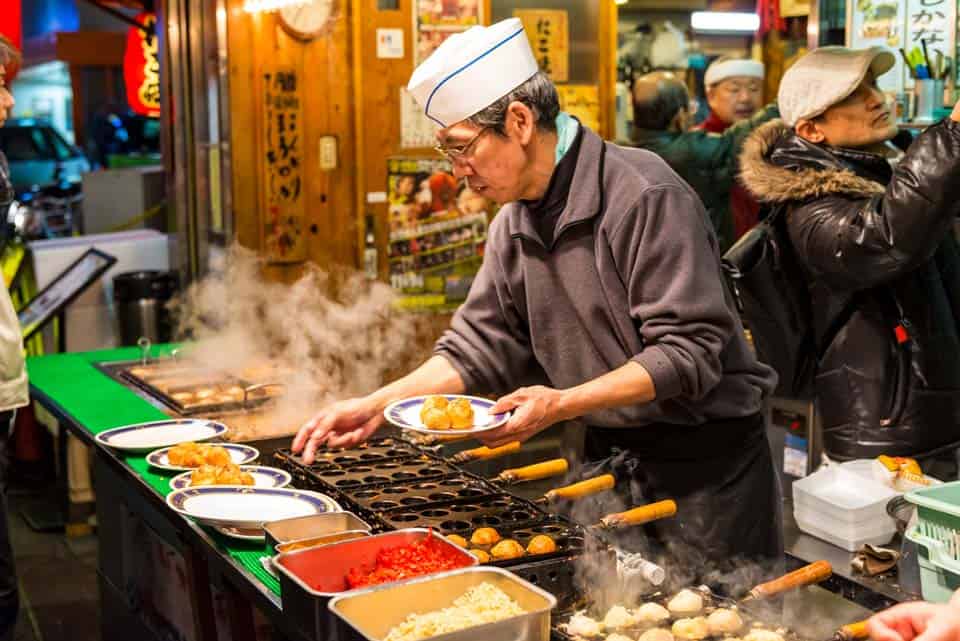 If you are looking to explore the culinary scene in Osaka (which you totally should), then perhaps going on a food tour at night would be perfect. Not only does that mean you can avoid all of the tourist traps in the city, but a local tour guide will explain everything about the local food and drinks.
The small-group tour explores some of the izakayas and backstreet bars in the neighborhoods of Namba, Shinsaibashi, and Amemura. At the end of the tour, not only will you have a belly full of delicious Japanese food and drinks, but hopefully some new friends!
---
Enjoy Osaka Nightlife
1. Craft Beer Crawl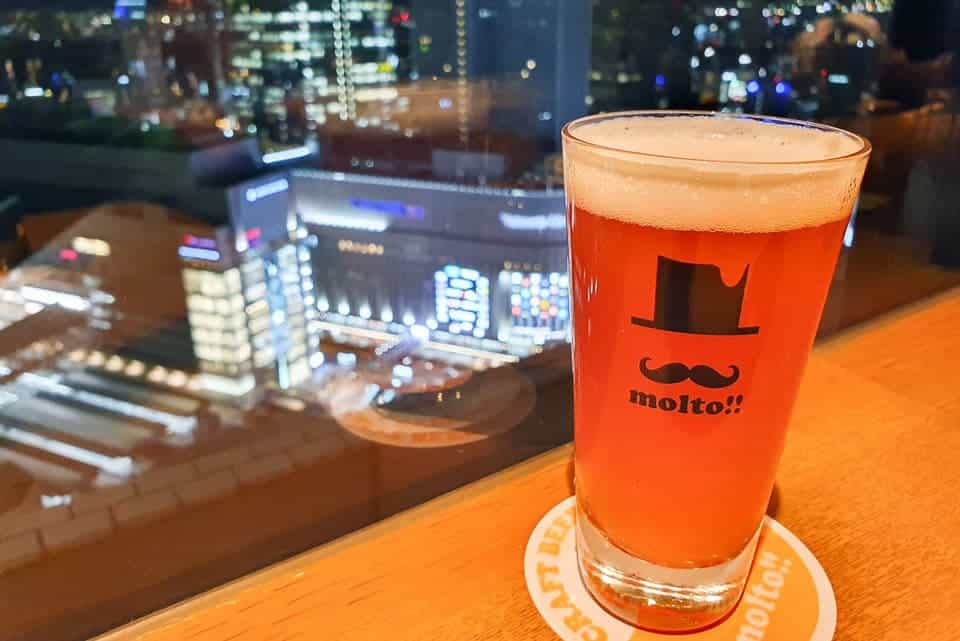 Suggested By: Food And Drink Destinations

In a country dominated by sake and mass-produced beer, you might be surprised to learn that Japan produces outstanding artisan craft beer.
At the heart of Japan's craft beer brewing is Osaka. Most famous for its food scene, Osaka is also home to several amazing craft beer producers. Throughout Osaka, travelers will find over a dozen bars and restaurants featuring locally brewed craft beers. The perfect amount to create your very own night-time craft beer crawl.
Several of the best craft beer in Osaka can be found in the neighborhood surrounding the Osaka Station. It's possible to visit 2 or 3 craft beer bars in one night. Check out Beer Belly Tenma, Craft Beer Bar Marciero, and Craft Beer House Molto, which has views over Namba station from the 31st floor of the Hankyu Grand Building.
Like many things in Japan, craft beer is relatively expensive. Craft beers can cost from ¥600-1500 ($5-$13) depending on the size and which craft beer you choose. Additionally, many bars include a "cover charge" ¥200-300 per person.
While this can add up on a craft beer crawl, the quality of Japanese craft beers more than makes up for it.
So if you visit Osaka, keep an eye out for one of the many craft beers and enjoy it. Kanpai!
2. ROR Comedy Club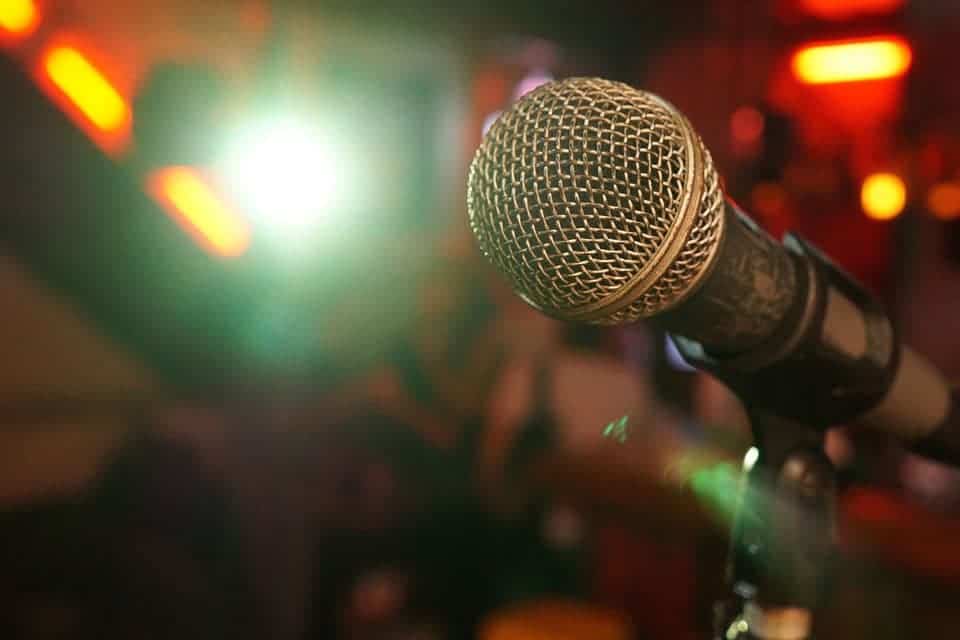 Do you like laughing? (Duh!)
Then you will enjoy our next Osaka night attraction!
ROR Comedy Club has been bringing joy and waves of laughter to all its visitors since 2011. They are the first English stand-up comedy club in Osaka so don't worry if you don't speak Japanese, all their award-winning performances are in English.
Personally, I have so much regret not visiting ROR Comedy Club when I was in Osaka. A lot of the travelers I have met said they were in stitches the whole entire night and left with a laughter-induced six-pack.
ROR Comedy Club also serves a variety of drinks and cocktails!
3. Go To An Izakaya And Try Japanese Sake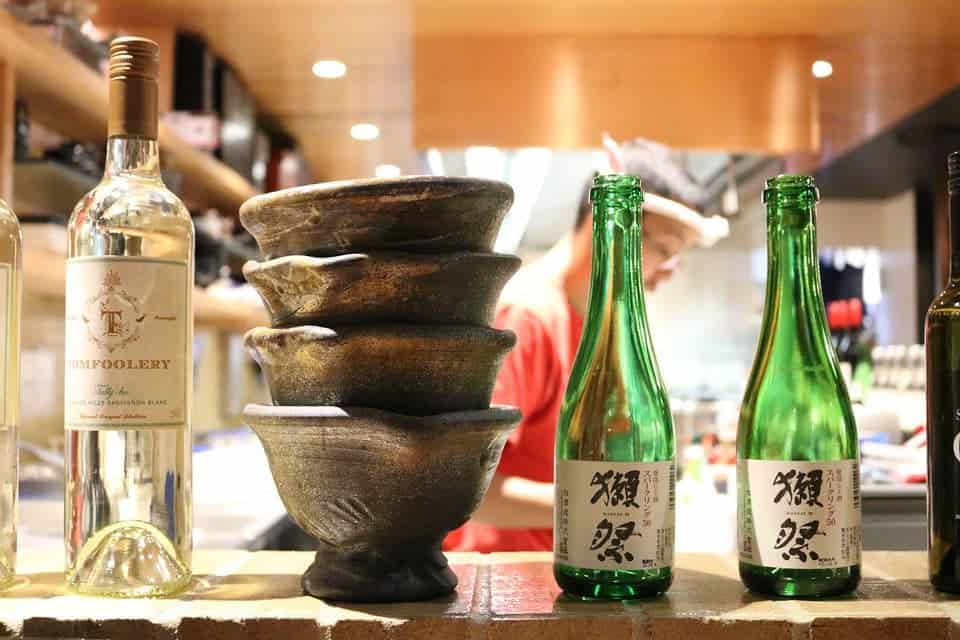 It doesn't matter how many days you spend in Osaka, you can't travel to Japan and not try some authentic Japanese Sake. Luckily for you, Osaka is known for its delicious food and drinks. The best place to try some Sake is at the timeless Izakayas.
Izakayas are Japanese casual bars where patrons can have drinks and snacks, similar to a tapas bar or a pub.
Izakayas are the place to hang out after a tiresome day at work and you just want to chat with your friends. If you want to meet locals, you will undoubtedly find a lot of chatty (but drunk) locals here.
Come try authentic sake and some local Japanese bar food such as Yakitori (Grilled chicken skewers), Edamame (boiled and salted soybean pods), and Karaage (bite-sized fried chicken).
My favorite Izakaya in Osaka is Izakaya Hisa! Make sure you try it out!
4. Late-Night Karaoke, One of Japanese Favorite Things to Do in Osaka At Night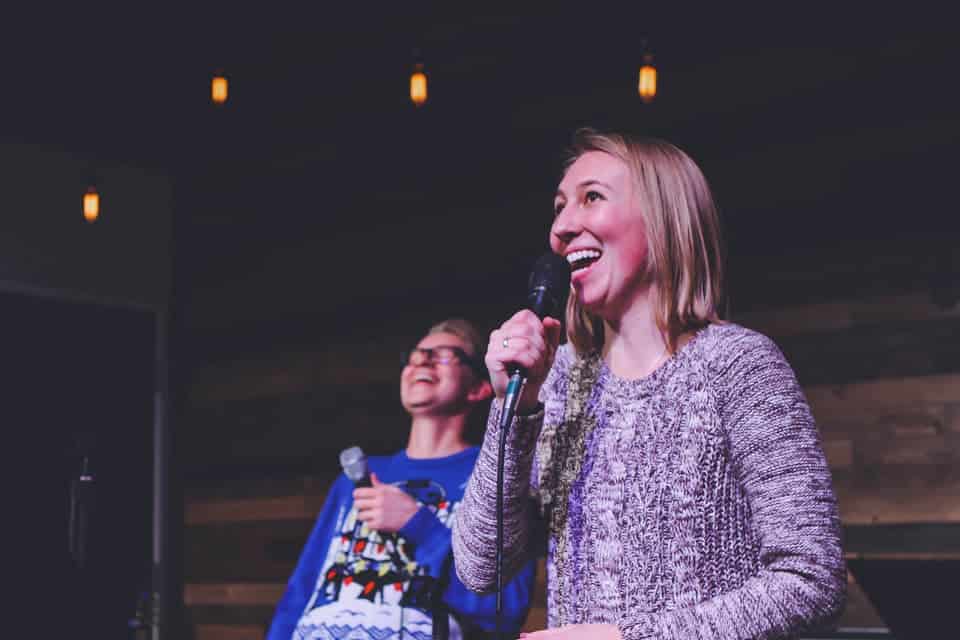 Tired of singing in the shower? Are you tired of radiating your beautiful voice and not having a loyal audience? Or do you just want to sing your heart out and not feel embarrassed?
Then you must try Karaoke in Japan. Karaoke is one of the most popular night activities and it's not surprising why.
Unlike its western counterpart where you have to stand up and sing in front of a group of strangers, Karaoke in Japan is very private. All karaoke establishments have private rooms where you and your friends can sing till they go mute.
Typically the karaoke spot will also provide snacks and drinks so everyone can really get loose. You can rent the rooms by the hour but people typically start out with 2 hours and sometimes end up staying the entire night!
Luckily, most karaoke places are open 24 hours. My favorite place in Osaka for karaoke is Karaoke Pasera Dotonbori. It is a family-friendly karaoke establishment that opens until 7 AM or 8 AM daily!
5. Go Party at An Osaka Night Club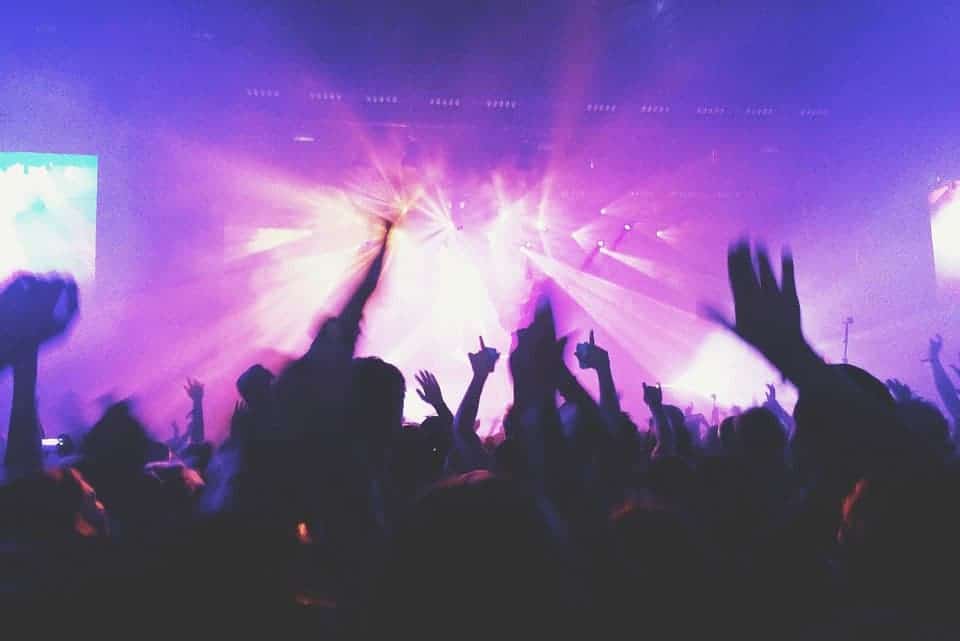 Osaka nightlife is one of the best in the world. It would be a shame to not visit one of the renowned Osaka nightclubs on your trip to Japan.
Japanese locals are known to be super friendly so chances are they might just approach you while you are in the middle of breaking out some moves.
The best nightclub in Osaka has to be Giraffe. A 3-story club featuring mostly a young crowd, this is the place to go crazy and dance till your feet hurt. They also have an all-you-can-drink option for all the alcoholics!
---
See Osaka Night View!
1. Kuchu Teien Observatory at Umeda Sky Building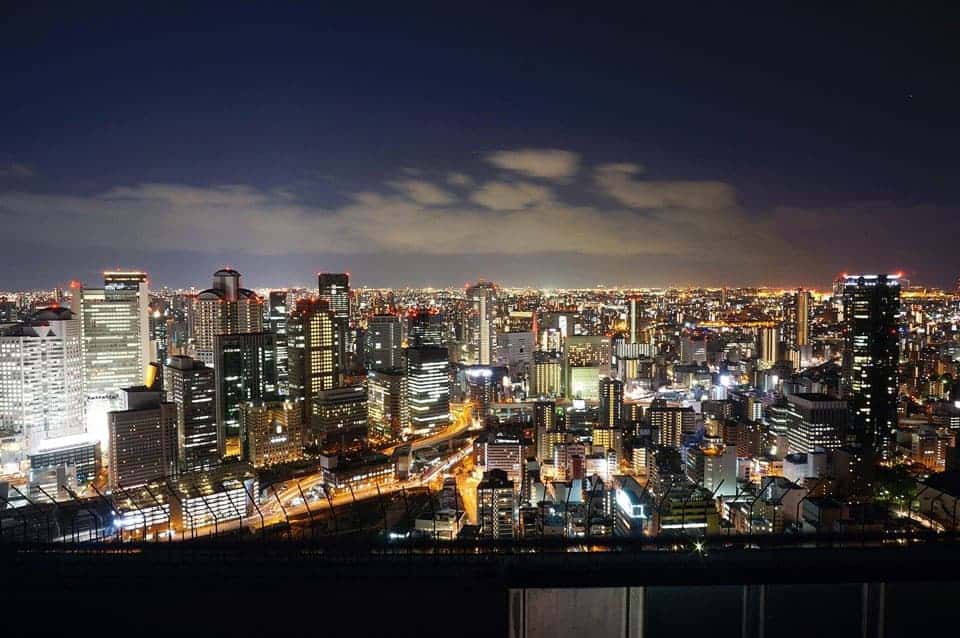 Towering 173 meters, Umeda Sky Building is one of the most remarkable skyscrapers in Osaka. Consisting of two 40-story tall buildings that connect on the uppermost floors, the architecture of the Umeda Sky Building is quite unique.
But the architecture isn't the most impressive thing about this giant, on the top of the Umeda Sky Building is the famous Kuchu Teien Observatory.
The Kuchu Teien Observatory, also known as the Floating Garden Observatory, is a 360-degree donut-shaped roof that provides panoramic views of Osaka from above. The views will stretch farther than your eyes can reach.
To reach the observatory, you must first take the elevator to the 35th floor on one of the buildings. Once you arrive on the 35th floor, there is an escalator that connects the two towers. Traveling on that escalator is a surreal experience that you cannot miss!
2. Harukas 300 Observatory at Abeno Harukas!
Measuring 300-meters tall, the Abeno Harukas is the tallest building in Osaka. It is a building that houses many individual establishments such as a department store, an art museum, and a hotel. The most remarkable of which is the Harukas 300 observation deck.
The observation deck occupies the top 3 floors of the building (from floor 58 to 60). At 300m above ground, the Harukas 300 observatory is the highest viewing platform to see Osaka at night.
With ceiling-high windows that surround the observatory, visitors can have a 360-degree obstructed view of the photogenic Osaka.
Though the observatory is higher than that of the Umeda Sky Building, I prefer the Umeda Sky Building over the Harukas 300. The architecture of the Umeda Sky Building is much more inspiring and traveling on the elevator that connects the two towers is an astonishing experience.
3. See Osaka Castle At Night
Osaka Castle is one of the biggest attractions in Osaka. Most people see it at night, but visiting in the nighttime is one of the off-the-beaten-path things to do in Osaka.
If you didn't get the chance to see Osaka Castle in the daytime, you can see get a glimpse of it at night. The Osaka Castle is lit up at night and seeing lights emitting from the interior of an ancient castle is quite a unique spectacle.
Though the interior of the castle is not open, visitors can walk around the outer moat of the castle and admire the lights from a distance.
If the hustle and bustle of Osaka and the number of tourists in Dotonbori are proving to be too much, a serene walk in Osaka park is sure to be appreciated. A night activity in Osaka doesn't always have to involve drinking and partying.
4. Tsutenkaku Tower
Also known as the Eiffel Tower of Japan, the Tsutenkaku Tower is one of the most recognizable landmarks in Osaka. When it was built in 1912, it was the tallest building in Japan at 64 meters. However, the current structure you see was rebuilt after World War II, and it stands 103 meters tall.
Admiring the structure on the ground level is impressive, but what many tourists do is go up to the 91-meter tall observation deck. From there, you can get beautiful panoramic views of the city.
This Osaka landmark is situated in the Shinsekai neighborhood, which is adjacent to one of our recommended activities above – Spa World. You can combine the two to create a night of sightseeing and relaxation!
---
Best Things To Do In Osaka At Night Map
Above is an interactive featuring all of the night activities we have mentioned. Click on the map to save it onto your personal device, so you can use it when you are visiting Osaka!
---
Where To Stay In Osaka
Best Hostel in Osaka- Nine Hours Namba Station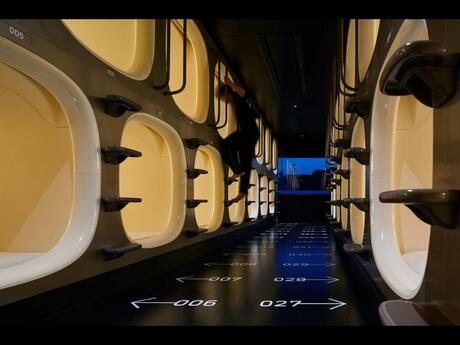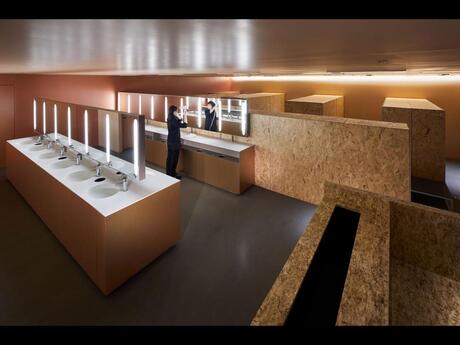 One of the most popular types of hostels in Osaka is the trendy capsule hostel. With each bed like your own little personal bubble, it is not surprising why they have become so popular. Once you get into your spacious and clean bed and close that curtain, it almost feels like you have your own private room!
The best capsule-style hostel in Osaka is the Nine Hours Bamba Station Hostel. Equipped with clean and high-tech facilities, you will surely have an amazing stay at this stylish hostel!
---
Best Vacation Rental / Airbnb In Osaka – 3-Bed Studio Next To Kuromon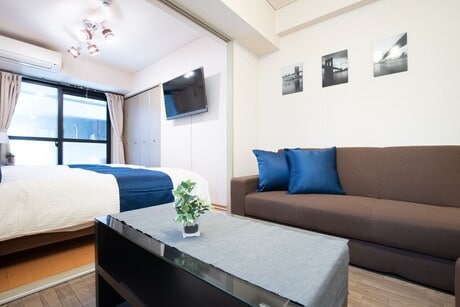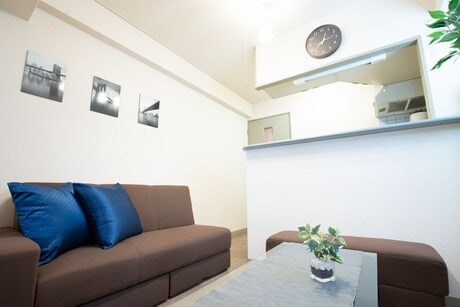 (Images Courtesy of Vrbo)

Staying in a Vrbo or Airbnb in Osaka is one of the best ways to support the locals, plus they usually offer more amenities and space than traditional hotels. This studio near Kuromon is the perfect example.

Though it is a studio, it has a partition in the middle that effectively turns this place into a 1-bedroom apartment. It features 2 double beds in the room and a sofa bed, and can comfortably accommodate up to 5 guests. With amenities such as a balcony, a fully-equipped kitchen, and a washing machine, this Vrbo has excellent value for money.

It is located less than a 3-minute walk to Kuromon market and Nipponbashi Station. giving guests access to the entire city of Osaka on their doorstep. Within walking distance are some of the best sights in Osaka such as Shinsaibashi, Namba and Dotonbori!
---
Best Luxury Hotel in Osaka- Swissotel Nankai Osaka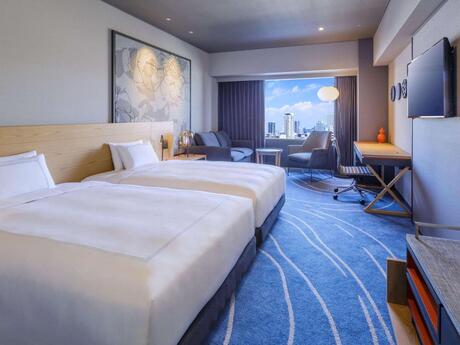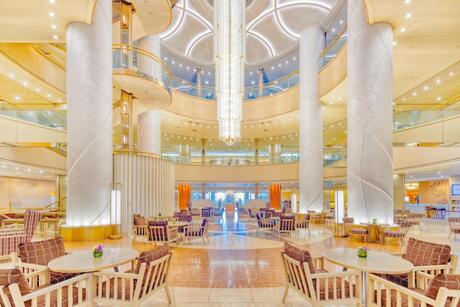 King of the luxury hotels in Osaka, Swissotel Nankai Osaka offers unparalleled amenities. The Namba train station is conveniently located underneath the hotel, making it very easy if you are going to the Kansai Airport.

The facilities of this hotel are simply unmatched. Every detail is perfect and the hotel is immaculate. Indoor swimming pool, spa, sauna, state-of-the-art gym, delicious cuisine ranging from Japanese to Mediterranean, guests will find nothing but luxury in this 5-star Osaka hotel.
---
Osaka At Night FAQs
Does Osaka Have A Good Nightlife?
Osaka has one of the best nightlife in Japan. There are plenty of bars, nightclubs, and Izakayas where tourists can experience a part of the local culture. Whether you want something more laidback like live music or a fist-pumping nightclub, you can find it in Osaka.
Is Osaka Safe At Night?
Just in the day time, Osaka is very safe at night. Matter of fact, safety is typically not a concern in Japan. It is one of the safest countries in the world!
---
Like this post? Don't forget to save it on Pinterest!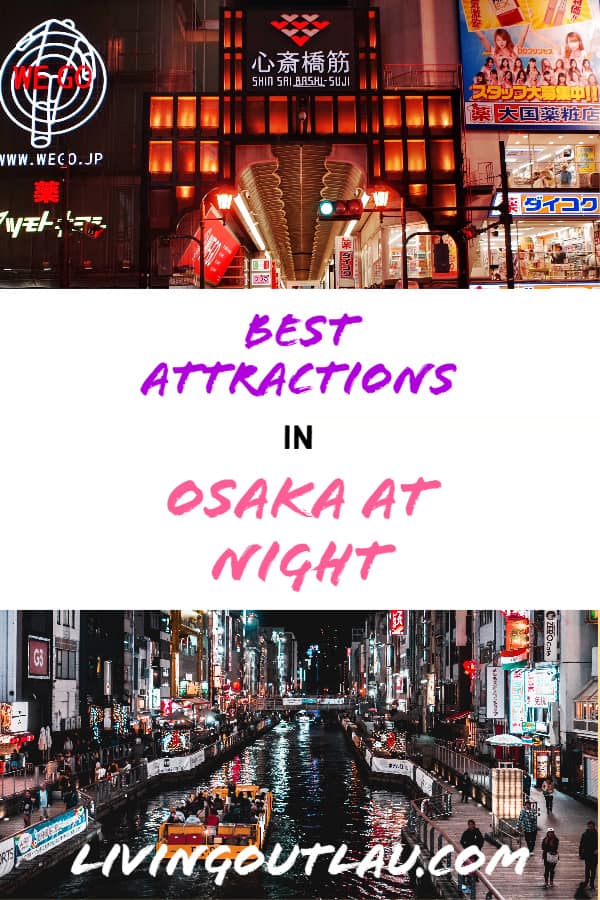 ---
This is the end of our guide for things to do at night in Osaka! We hope you find it helpful!

Any questions? Leave a comment!
Disclaimer: Some of the links above are affiliate links. That means if you book or make a purchase through the links, we will earn a small commission at no extra cost to you! The money will help run this site! Thank you!