Not sure what to do in Lake Atitlan? Worry not.
A lush blue lake surrounded by majestic volcanoes and traditional Mayan villages, Lake Atitlan is many people's definition of paradise. And after spending more than 2 months in Guatemala, it has easily become one of my favorite places in the world.
But what many first-timer visitors don't know is how big the lake is and how there are SO many things to do in Lake Atitlan.
That is why we've written this post to show you the 24 best places to visit in Lake Atitlan. We will also provide you with essential information on how to make your visit as smooth and memorable as possible!
Intro To Lake Atitlan
Before we jumped into all the best activities Lake Atitlan has to offer, we need to know a little bit about this area.
Unlike most of Guatemala where you can stay in a city and use it as your base to explore all your surroundings, Lake Atitlan is a little different. It spans a total of 130.1 square kilometers and is made out of 11 ethnic towns and villages.
Each town offers something slightly different in terms of atmosphere, views, and of course, traditions. So before you decide on what to do in Lake Atitlan, you need to find out which village you plan on staying.
We have written a separate detailed guide on where to stay in Lake Atitlan here, but we will also give you a brief overview of all the popular villages in Lake Atitlan.
San Pedro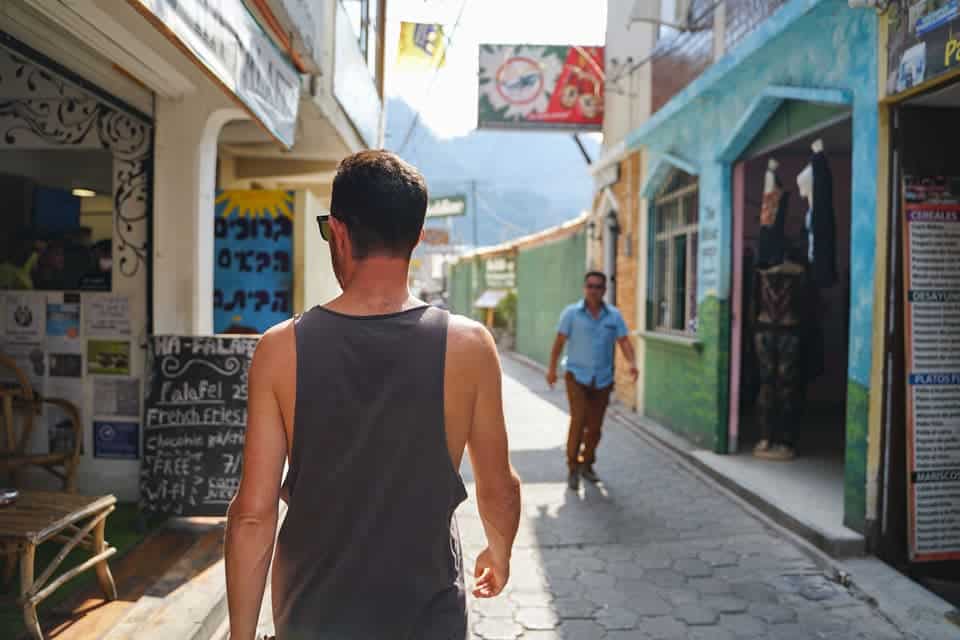 Located on the Southwestern shore, San Pedro La Laguna is the most popular village in Lake Atitlan, especially for backpackers. Visitors will find some of the region's most trendy cafes, bars and restaurants. The nightlife in San Pedro is one of the best in Lake Atitlan.
Even though there is a variety of accommodations for all types of travelers, the backpacker scene might be too hectic and noisy for some. When we were there, we really enjoyed chilling out in a nice restaurant by the lake in the daytime, and having a bit too many drinks at night.
This is where I experienced (with my eyes) what a shoey is. Don't look it up, you'll properly regret it.
San Pedro La Laguna is also very connected with other parts of Guatemala, making it very easy to visit other tourist attractions such as Chichicastenango and Antigua.
Overall Rating For San Pedro
Panajachel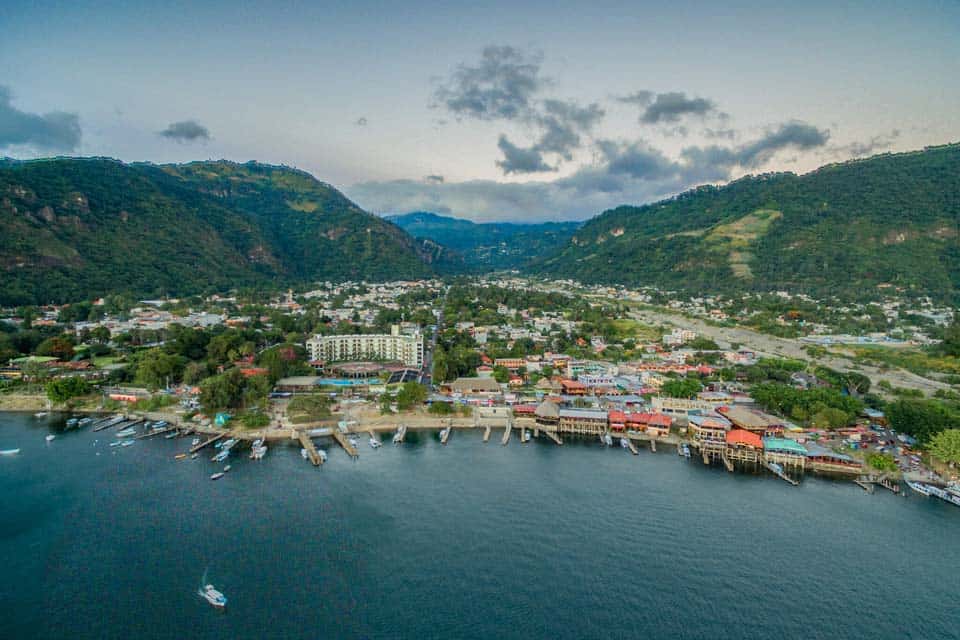 Serving as the transportation hub of Lake Atitlan, Panajachel is the busiest town in the region. Roads to Panajachel are some of the nicest in the lake area, so this village connects with cities such as Guatemala City and Antigua.
As a bustling town, Panajachel is home to an amazing variety of restaurants and bars. However, its nightlife is still quite lackluster when compared to San Pedro.
But unlike San Pedro where local cultural influences have mostly gone, Panajachel retains some of Guatemala's roots. You will find markets, plenty of street food, and lots of locals just going about their day. For us, it was the perfect mixture of western luxury and Guatemala traditions.
Panajachel is the gateway to the rest of Guatemala. The town is nice but it is far from some of the best things to do in Lake Atitlan.
Things to Do in Panajachel:
Shop in the local markets
Enjoy a cup of coffee at Crossroads Cafe
Go Paragliding
Overall Rating For Panajachel
San Marcos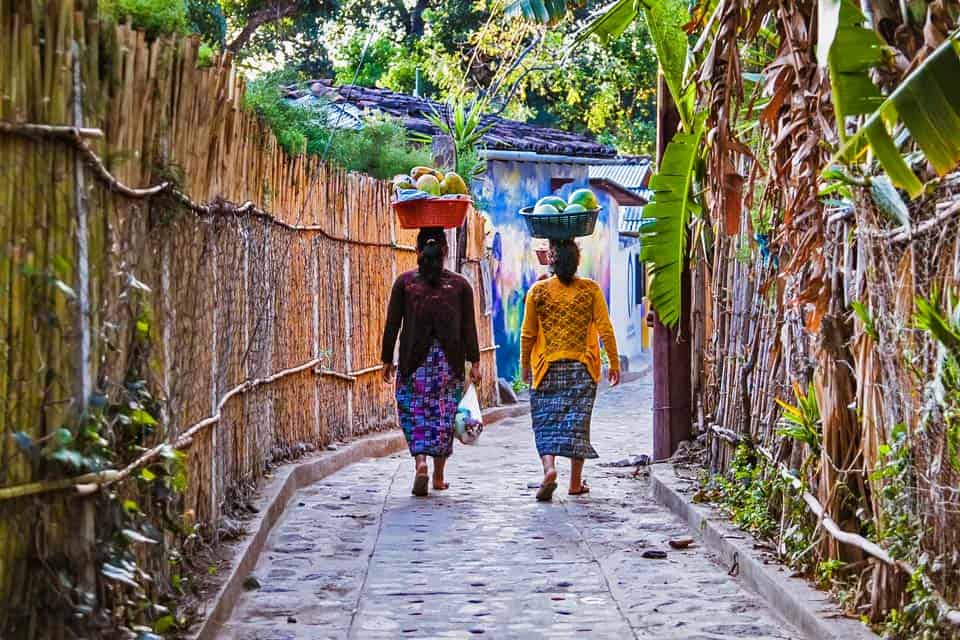 San Marcos La Laguna is situated on the northwestern shore of Lake Atitlan. This town is mostly known for its wellness retreats, health-conscious restaurants, and overall zen vibes. Some people consider this town a hippie heaven.
Seeing San Marcos is an experience in Lake Atitlan, but the town lacks a wide range of accommodations and a variety of amenities. It only got its own ATM not too long ago. WiFi is not a problem in San Marcos, but in general, it is a place where you want to be zen and detach yourself from social media.
Things to Do in San Marcos:
Take yoga classes
Swim at Cerro Tzankujil Nature Reserve
Relax
Overall Rating For San Marcos
As we mentioned, there are many more villages in Lake Atitlan. Almost all of them are worth a visit, but we would not recommend staying in them unless you want to explore off the beaten path.
What To Do In Lake Atitlan: 25 Best Things To Do In Lake Atitlan
1. Hike Indian Nose At Sunrise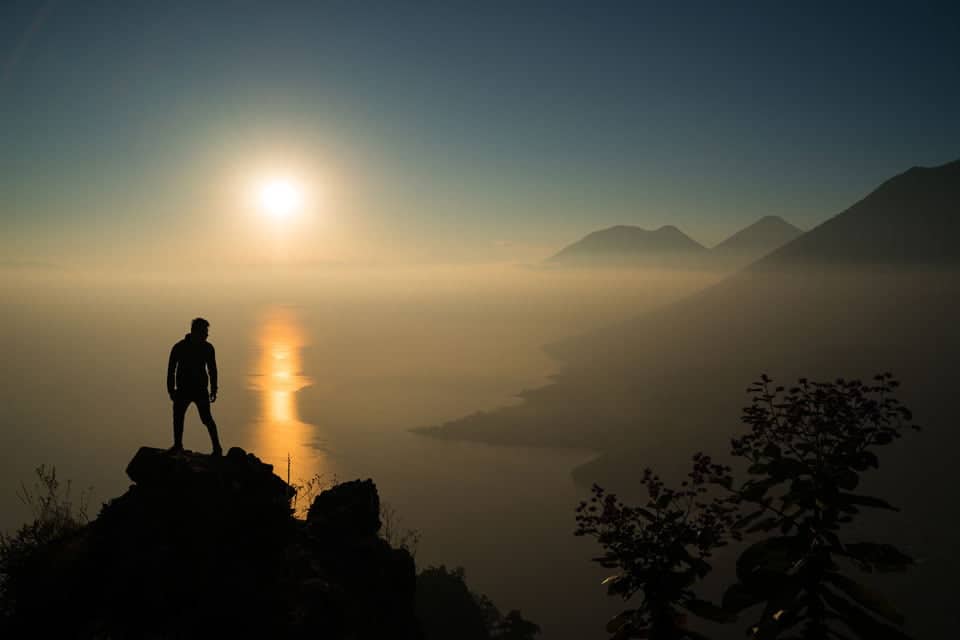 For any traveler looking for an epic sunrise where the sky burns with vibrant colors, the Indian Nose hike is one thing you must do in Lake Atitlan.
The viewpoint at the top of the Indian Nose rises above the mountains, and for a second it feels like you are the guardian of Lake Atitlan when you are overlooking the small villages down below. It is an unworldly feeling that can only be explained by experience.
A short 30-minute hike that will reward you with the best views of Lake Atitlan, hiking Indian Nose is one of the best activities in Lake Atitlan.
It is possible to hike the Indian Nose independently. However, I've heard of travelers getting solicited (aka robbed) by bandits on the way up there. Hence, I recommend you getting a tour in San Pedro or one of the other small towns.
It is also possible to get a tour online, especially if you want to secure your spot before you arrive!
2. Go Cliff Jumping at Cerro Tzankujil Nature Reserve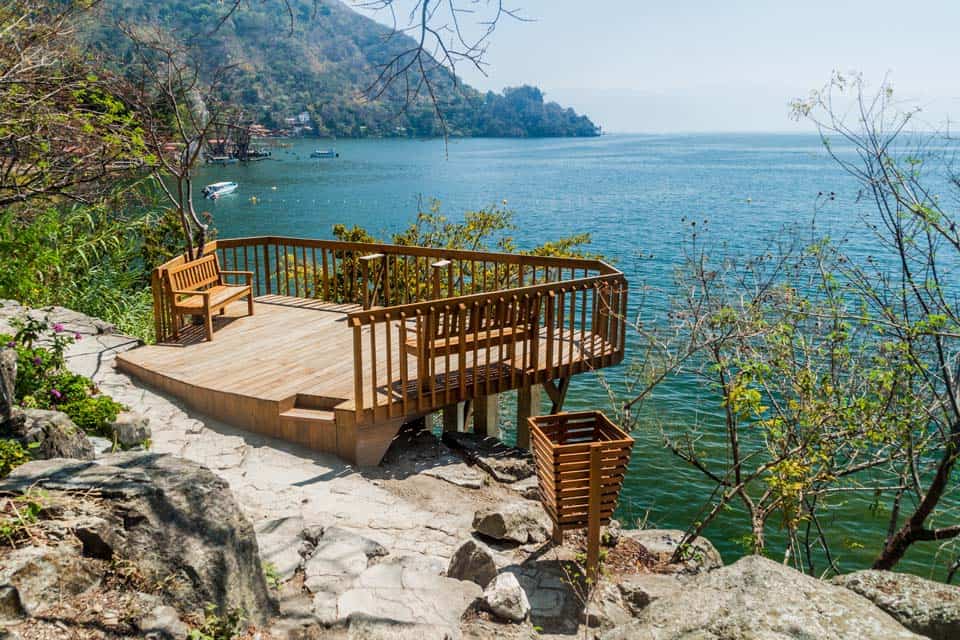 If you are tired of chilling in your fancy hotel in San Pedro and want to do something adventurous, go cliff jumping at Cerro Tzankujil Nature Reserve in San Marcos! The platform is about 10 meters above the lake and I have to be honest, I chickened out.
A few of my friends did it and they said it felt like they were falling forever, and falling forever doesn't sound like fun to me.
But if the platform in Cerro Tzankujil Nature Reserve is too high for you to cliff jump from, there are some rocks near the bottom where you can jump from as well. Also a great place to swim or relax in the beautiful environment, Cerro Tzankujil Nature Reserve is a hidden gem in Lake Atitlan!
3. Kayak From One Lake Atitlan Village to Another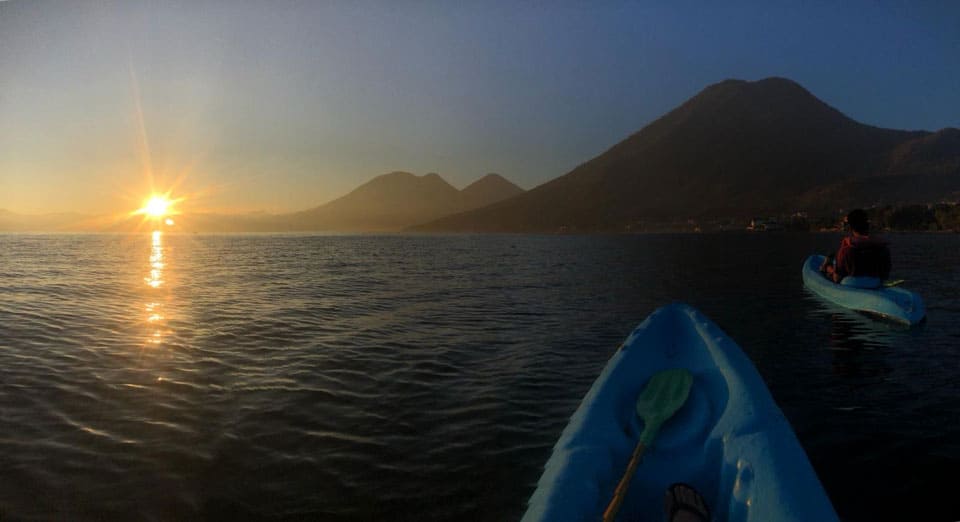 Not sure what to do in Lake Atitlan? Why not rent out a kayak for a few hours and kayak across the lake, from one village to another. It might seem like a daunting task but Lake Atitlan is actually not that big. We rented a kayak from San Pedro and kayaked to San Marcos and it only took 30 minutes (your results might vary).
If your heart desires, you can village hop on a kayak! It is a great way to stay in shape especially if you are backpacking Guatemala for a long time.
Another great time to kayak is during sunrise. It is a magical moment to be on the lake when everything is so calm and the only sound you hear is the subtle waves!
4. Do Yoga in Lake Atitlan at Yoga Forest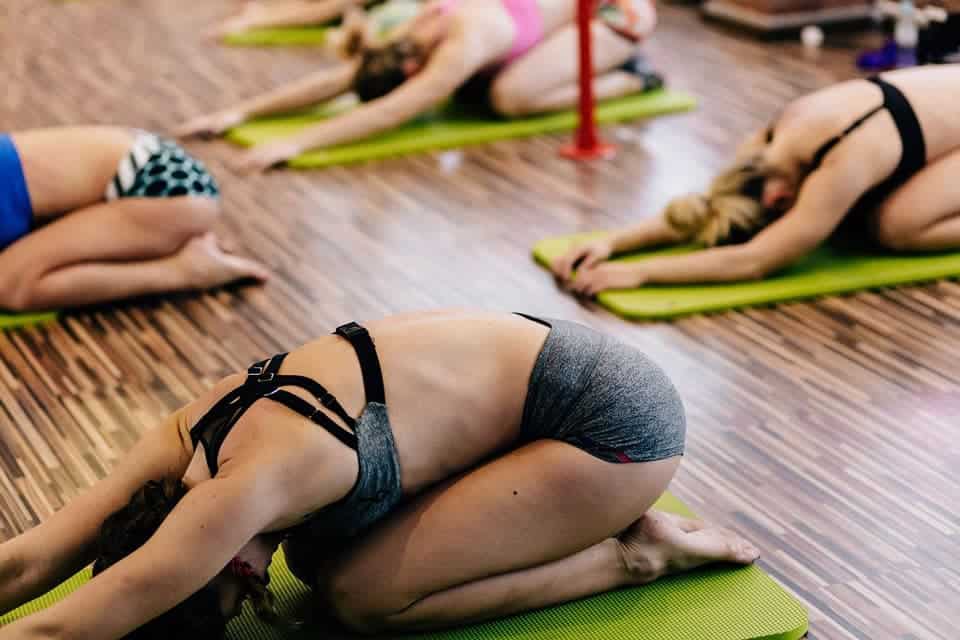 Taking a yoga class is one of the most popular things to do in Lake Atitlan. With beautiful and tranquil views, amazing natural environments, yogis and yoga-lovers can absorb the zen atmosphere while doing the upward-facing dog pose.
The best place to do yoga in Lake Atitlan is unquestionably Yoga Forest in San Marcos La Laguna. A fully-equipped yoga retreat facility featuring traditional Mayan altars and hot springs, yogis can connect with Mother Earth in a zen-like environment.
Yoga Forest has an activity for beginners to advanced yogis. First-time visitors are encouraged to try out one of their daily drop-in classes to see if they like it.
5. Visit San Juan La Laguna For Some Local Crafts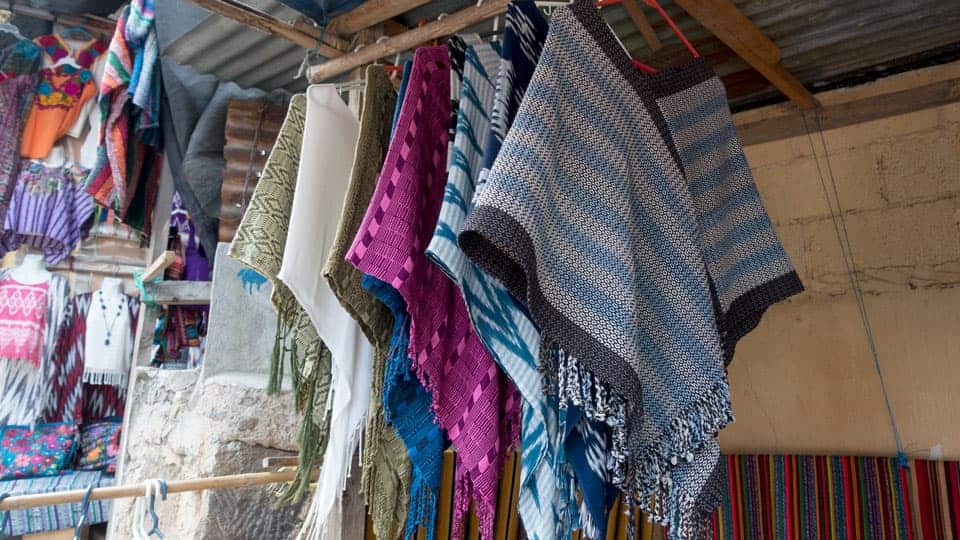 San Juan La Laguna is one of the most authentic indigenous towns in Lake Atitlan. With about 95% of the population Tz'utujil, one of 21 ethnic Maya groups, you can immediately feel that the vibe is different from the touristy San Pedro.
Marked by their colorful outfits and their vibrant hats, you can find many indigenous Tz'utujil people walking around the tranquil streets or selling some of their local crafts.
San Juan La Laguna is also one of the best places to buy souvenirs from Guatemala, as any purchase will go directly to the local communities you are buying from. Hand-woven clothing, paintings, other crafts, and jewelry, you will find lots of flavors of Guatemala not found anywhere else.
Buying directly from locals is one of the best ways to travel responsibly!
6. Go Swimming In Lake Atitlan!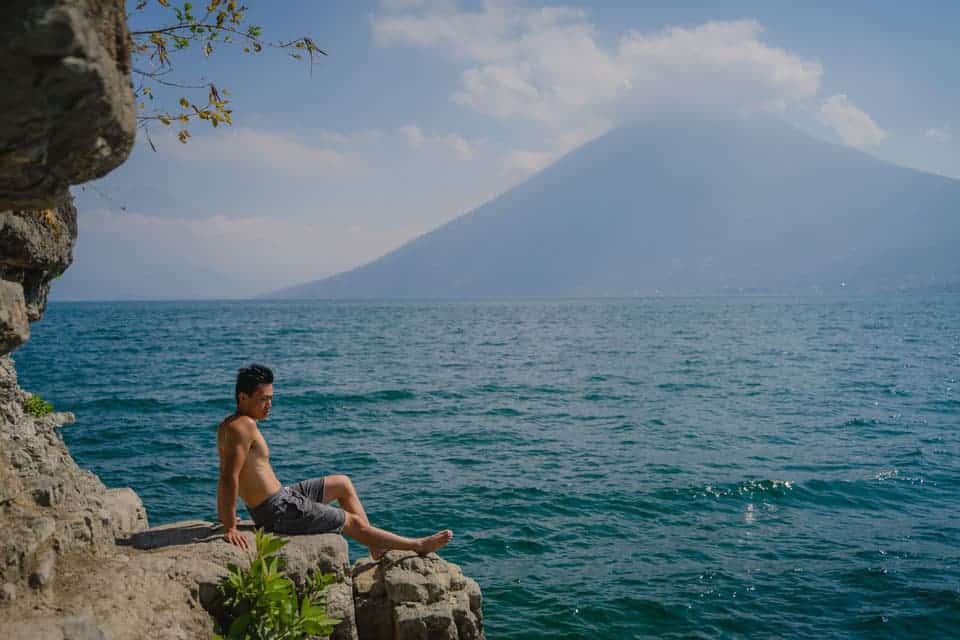 If you are traveling Guatemala on a budget and want some free things to do in Lake Atitlan, why not go swimming? This activity is probably on your mind the moment you arrive. Seriously, the glistening waters of the Lake are enticing.
But can you swim in Lake Atitlan? Sometimes. Lake Atitlan was labeled as a contaminated water source in 2009 due to an excessive amount of cyanobacteria.
Polluted by aging sewage systems, agricultural fertilizers, and locals tossing their trash in the water, Lake Atitlan's beauty is hindered.
However, when I visited, everyone seemed eager to go in the water. No one suffered from any rashes or illnesses. If you are afraid of the cleanliness of the water, I would suggest avoiding swimming in the big villages such as San Pedro and Panajachel.
Swim at the Cerro Tzankujil Nature Reserve in San Marcos if possible, the water was spotless there!
Remember to check to see if there is an algae bloom in the water. That is a good indication of whether you can swim in it or not!
For anyone looking for a proper swim session, there are plenty of beaches in Guatemala such as Monterrico and Playa Blanc!
7. Take a Day Trip To Chichicastenango, the Biggest Outdoor Market in Central America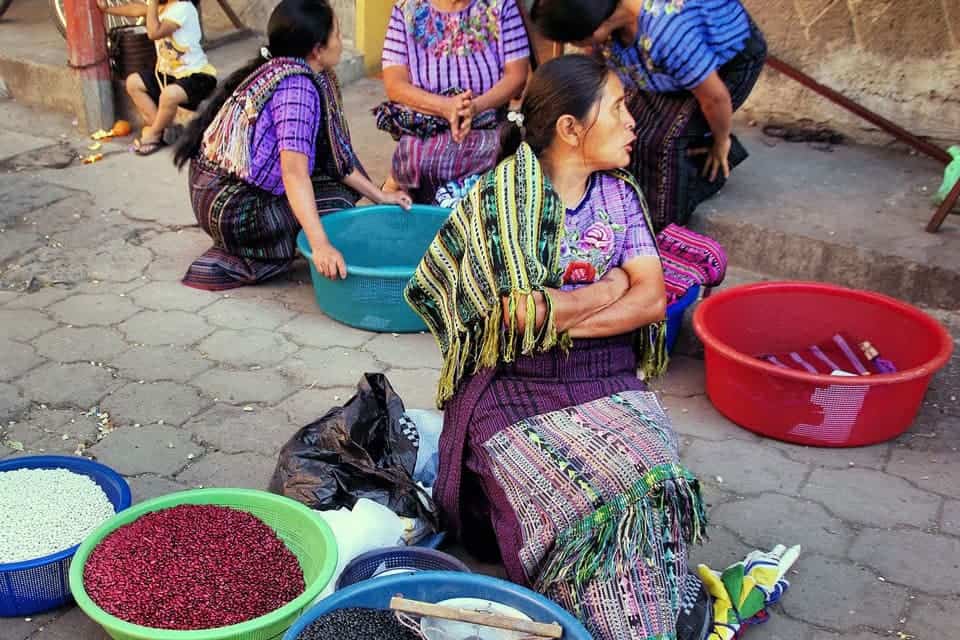 Anyone looking for the ultimate shopping experience in Guatemala cannot pass up a visit to Chichicastenango, the biggest outdoor market in Central America and one of the best places to see in Guatemala.
Hundreds, maybe even thousands of stores, including an indoor basketball court that has been transformed into an area with stalls and vendors, you can shop till your legs shake here.
I cannot count the number of times I have gotten lost there, as the tight little streets lined with vendors and stalls on both sides look very similar. It is a complete maze here and might seem overwhelming at first.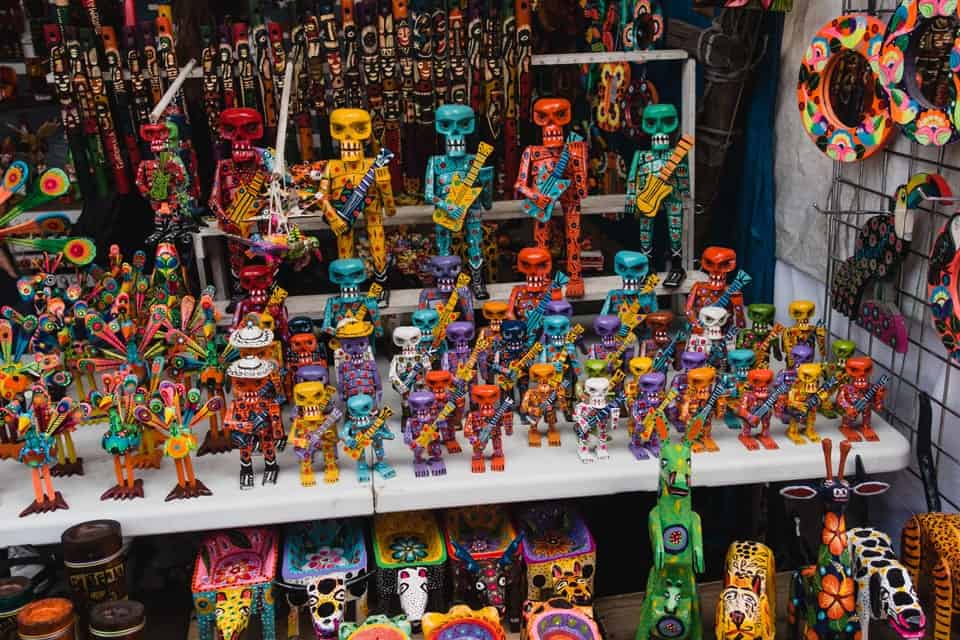 The cool thing about Chichicastenango was that it was never intended to sell things to tourists. It was a market for locals from around the country where they can buy and sell their goods. However, nowadays it is starting to transform as more and more tourists are visiting this beautiful and traditional market.
There is also a catholic church there for the local people that tourists are able to visit.
With beautiful textiles and mysterious Mayan artifacts amongst other unique things, it is not surprising that Chichicastenango has become so popular. So come visit Chichicastenango before it becomes a tourist trap!
You can visit Chichicastenango on a day trip with tourist transport from San Pedro, Panajachel, and even San Macros (though more difficult). If you are feeling adventurous, you can also take the chicken buses from San Pedro or Panajachel to Chichicastenango.
8. Stay at Free Cerveza, The Crazy Fun Hostel in Santa Cruz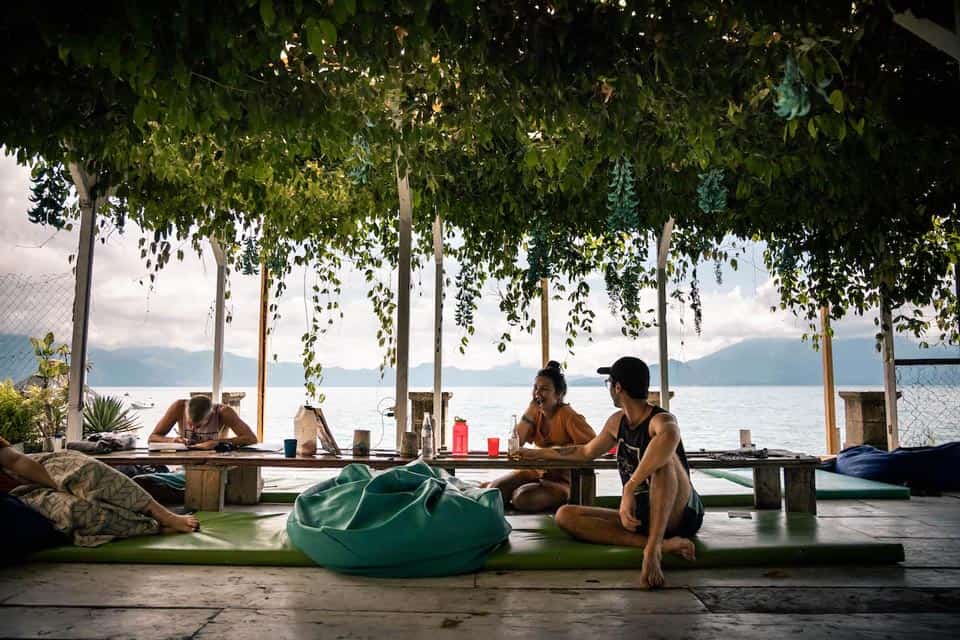 Looking for a fun hostel in Lake Atitlan? You have to check out Free Cerveza in Santa Cruz.
I am quite positive you already know what the word "Cerveza" means in Spanish because that's pretty much the first Spanish word you learn traveling in Latin America. If you haven't learned the word yet, free Cerveza means free "beer".
Every day right before dinner, Free Cerveza hostel offers unlimited beer (yes you heard that right) for one hour to everyone that has signed up with them for dinner.
One of the most social and fun hostels in Guatemala, come to Free Cerveza and get sloppy drunk on unlimited beer, wake up late with a hangout the next morning, and then jump into the lake with your new friends!
9. Participate in a Temazcal Ceremony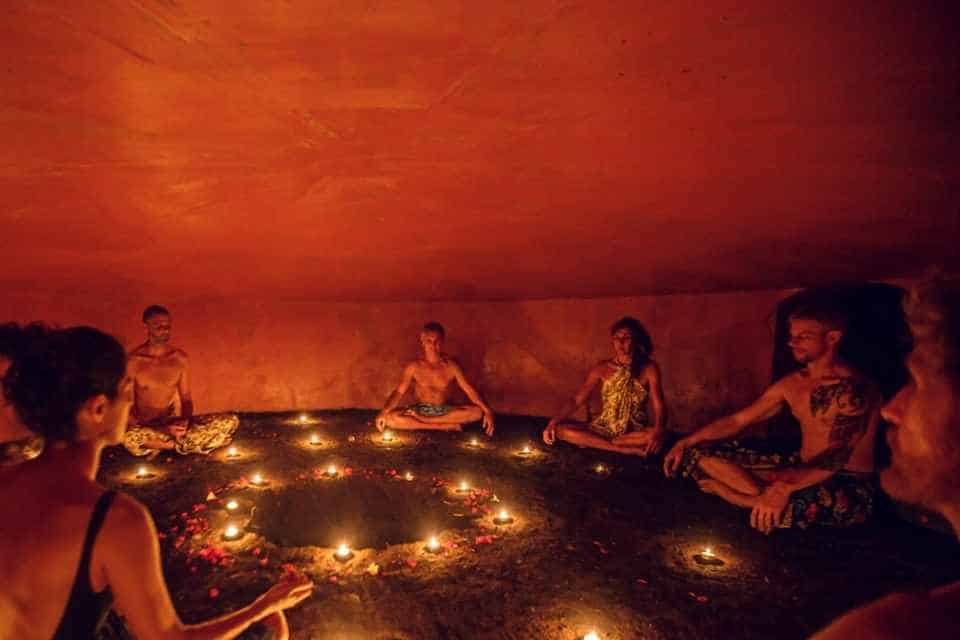 A Temazcal Ceremony is a traditional shamanic Mayan cleansing ritual.
Typically, you enter a tiny sweat lodge made of stone or other impermeable material to help trap the heat in. In the center of the hut is a dirt pit where several extremely (I mean EXTREMELY) hot stones will be put.
As you sit there inside this little hut without any ventilation, you will feel the heat amass even before the ritual begins. After they have put enough hot stones inside, they shut the door, leaving you, the shaman, and other members of the group in complete darkness. But your mind won't be focused on the darkness, but rather on the risk of suffocation in this trapped space.
Water will be poured on top of these hot stones, creating enough steam in the hut to feel like you are drowning. As you are trapped in this steamy and hell-like hot room, the shaman will chant as part of the ritual. Typically, sage and copal are added to this healing process that lasts for rounds.
The Temazcal Ritual is known for its power to purify the body and mind, heal the sick, and offer a haven for birth-giving mothers. Sometimes the effects can be hallucinogenic due to the condition you are in.
Though it's quite intense, it is one of the experiences you must have in Guatemala. You can find a Temazcal ceremony at Yoga Forest in San Marcos.
10. Explore Lake Atitlan On An ATV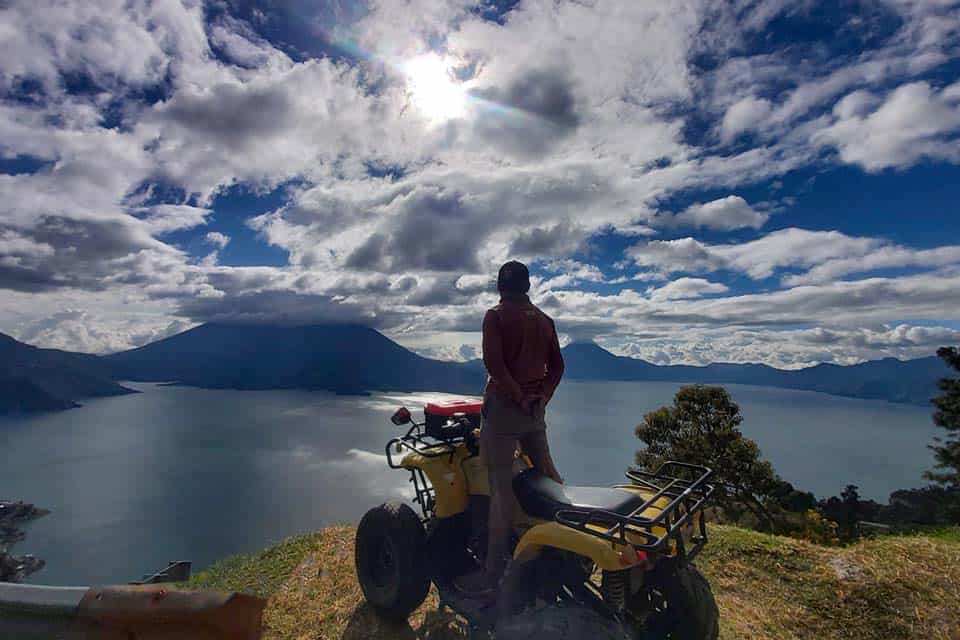 Tired of traveling by slow boat or the flimsy mototaxis? Why not try an ATV? Since the roads connecting the villages aren't in the best shape, an ATV is perfect for exploring this side of Lake Atitlan that many tourists don't get to see.
While it is possible to rent out ATVs, we recommend going on a tour such as this one. It starts in Panajachel before going all the way to San Antonio Palopo, nearly 10 kilometers away. Along the way, you are blessed with breathtaking views and a tour guide that will tell you more about Guatemalan culture and traditions.
Of course, you will get plenty of photo opportunities along the way!
Interested in doing an ATV tour in Lake Atitlan?
Check out our recommended tour here!
11. Hike San Pedro Volcano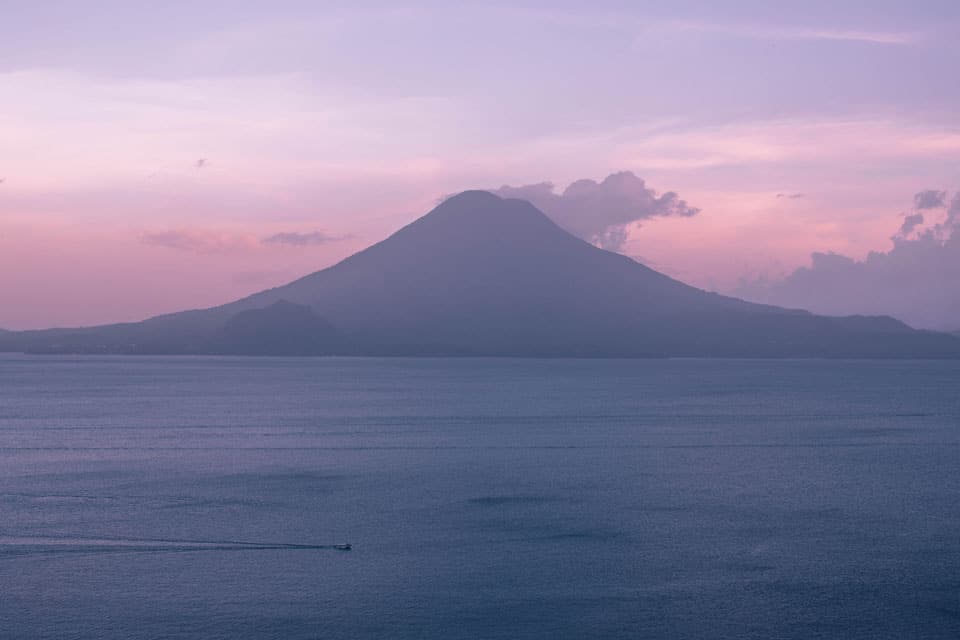 Lake Atitlan is surrounded by volcanoes, namely Volcano Atitlan, Volcano Toliman, and Volcano San Pedro. San Pedro is the lowest of the three peaks and still sits at 3020 meters above sea level.
If you are looking to do some serious hiking in Lake Atitlan, I recommend Volcano San Pedro. The view up top is incomparable to anywhere else on Lake Atitlan (maybe except Indian Nose).
On a clear day, you can also see Volcano Acatenango and Fuego near Antigua.
The hike takes about 5 hours in total round-trip and it is totally doable independently as the trail is clear. However, San Pedro has a reputation for its bandits on the path, people who will try to rob and solicit you. As a result, I recommend going with a local tour guide.
12. Stand-Up Paddleboard (SUP) on Lake Atitlan!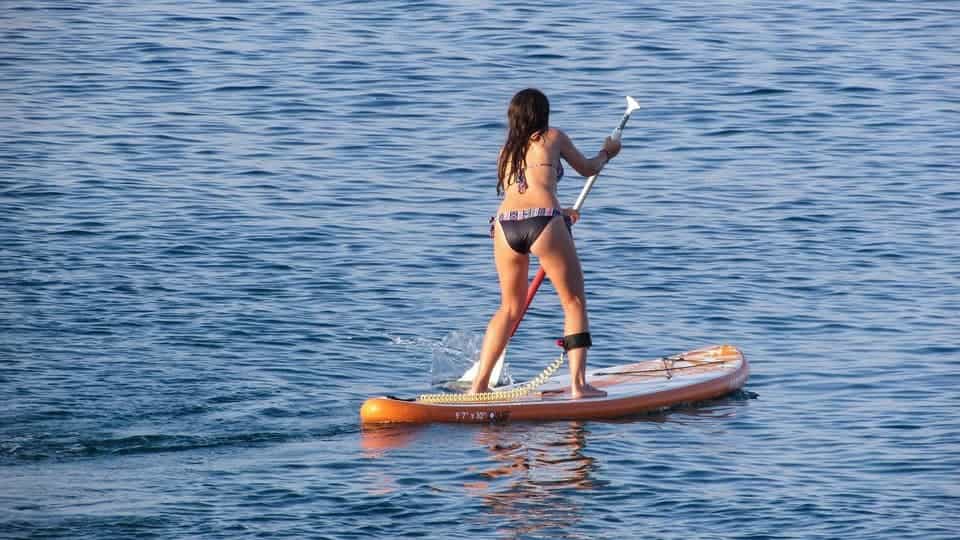 Rent a paddleboard at one of the towns in Lake Atitlan and go stand-up paddleboarding! It is one of the best activities in Lake Atitlan to enjoy the spectacular views of the lake and admire the majestic volcanoes that surround Lake Atitlan!
There are plenty of shops near the shore that rent out paddle boards. Chances are, if you are staying in a nice place in Lake Atitlan, your host might be able to provide you with one or two for free!
13. Try Guatemalan Coffee at a Cafe in Lake Atitlan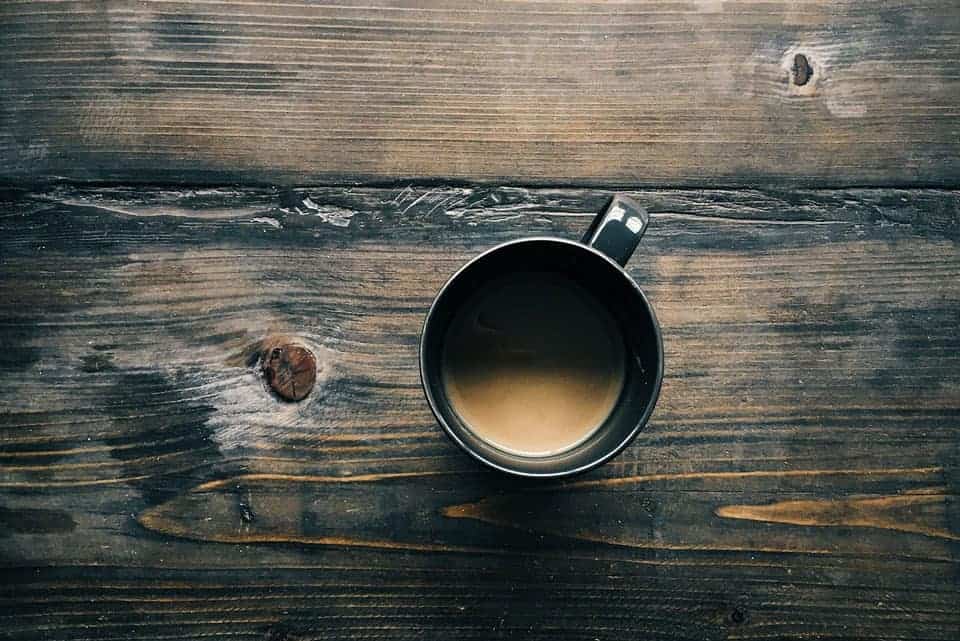 Disclaimer, I am not a coffee snob.
However, it isn't challenging to separate good coffee and bad coffee. Guatemala has some of the best coffee in the world due to its high elevation and warm and humid climate. Guatemala's coffee is known to be the perfect balance between full-bodied, sweet and strong, and with hints of acidity.
If you go to Starbucks, Costa Coffee, or any of the popular coffee shop chains, you will probably see Guatemalan coffee beans on the shelves. You probably have been drinking Guatemala coffee without knowing it!
The best place to try Guatemala coffee in Lake Atitlan is Crossroads Cafe in Panajachel!
14. Visit Cafe Sabor Cruceño for Amazing Views and Incredible Food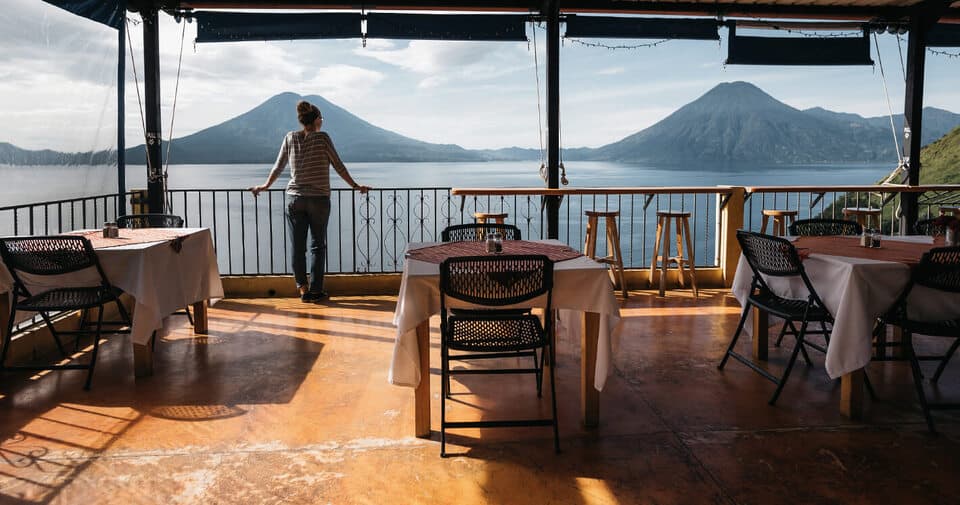 Situated on the hilltop of Santa Cruz La Laguna is one of the best places to visit in Lake Atitlan, Cafe Sabor Cruceño. Not only does this location offers panoramic views of the lake, but it serves delicious food at affordable prices.
Many of its dishes are also vegetarian-friendly, and we know how hard it is to find vegetarian food in Guatemala.
How does Cafe Sabor Cruceño do this? Well, the cafe is a program by CECAP (Continuing Education Course Accreditation Process). This cafe, particularly, is aimed at providing a steady income to culinary graduates in the area. So the food that you eat is prepared by a local and a professional!
Not only does this mean you get amazing Guatemalan food, but you can also support the local communities. A win-win for sure!
Adjacent to the cafe is an artisan store full of crafts from local textile graduates. Make sure you check it out before leaving!
15. Go Paragliding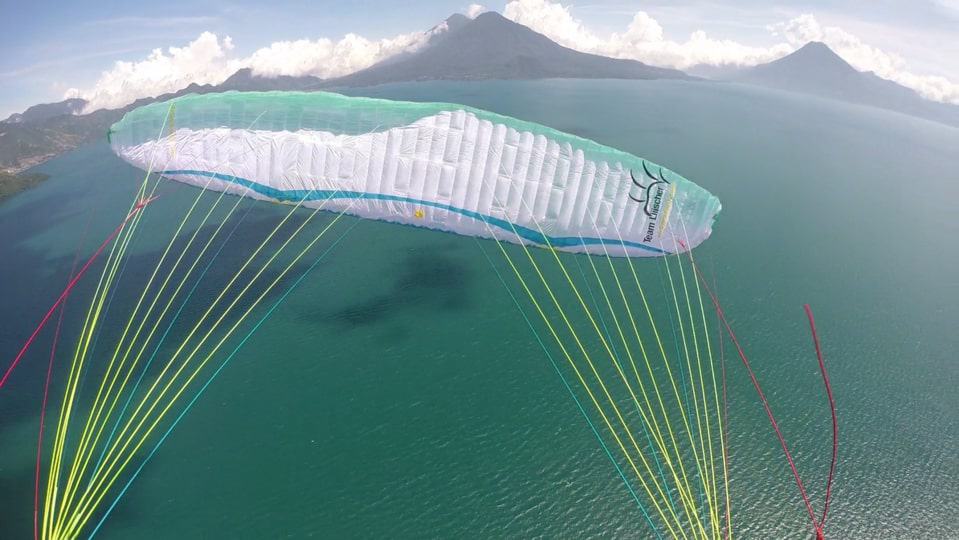 If there is a unique activity in Lake Atitlan, it is paragliding. Lake Atitlan on land might be beautiful, but the expansive bird's eye view from above is absolutely unparallel. Only from paragliding can you see the entirety of the Lake, the small villages on its shores, and the lushness around it.
As far as we know, there is only one place that does paragliding in Lake Atitlan, and that is Realworld Paragliding in Panajachel. You can contact them online but the best option is to go into their office in Panajachel.
A typical paragliding flight lasts about 20 to 45 minutes, depending on the weather and wind conditions. If you get motion sickness easily, we recommend taking some motion sickness medicine beforehand!
16. Take a Cooking Class
A mix of Spanish and Mayan influences, Guatemalan cuisine has very unique flavors. If tasting the delicious Guatemalan dishes in the restaurants has only piqued your interest, then consider taking a cooking class in Lake Atitlan.
We highly recommend this 4-hour cooking class from Viator. Not only do you get to learn to make three Guatemalan dishes, but you also get to eat what you make. At the end of the cooking class, the host gives you a cookbook of the popular dishes from Guatemala, so you can recreate some of the flavorful memories from your Guatemala trip.
17. Do a Homestay with a Local Guatemalan Family
Interested in taking a deep dive into Guatemala culture? There is no better way than doing a homestay with a local Guatemalan family. In a homestay in Lake Atitlan, you get to eat like a local, sleep like a local, and talk (if you can speak Spanish) like a local.
I have done a homestay with a Spanish school in Xela and it was just an eye-widening experience. Their food was so different and the meat was seldom served (which is something I am not used to).
One night all we had for dinner was vegetables and tortillas with hell-inducing spicy salsa. I had to sneak out that night and buy some street food!
18. Partake in a Cacao Ceremony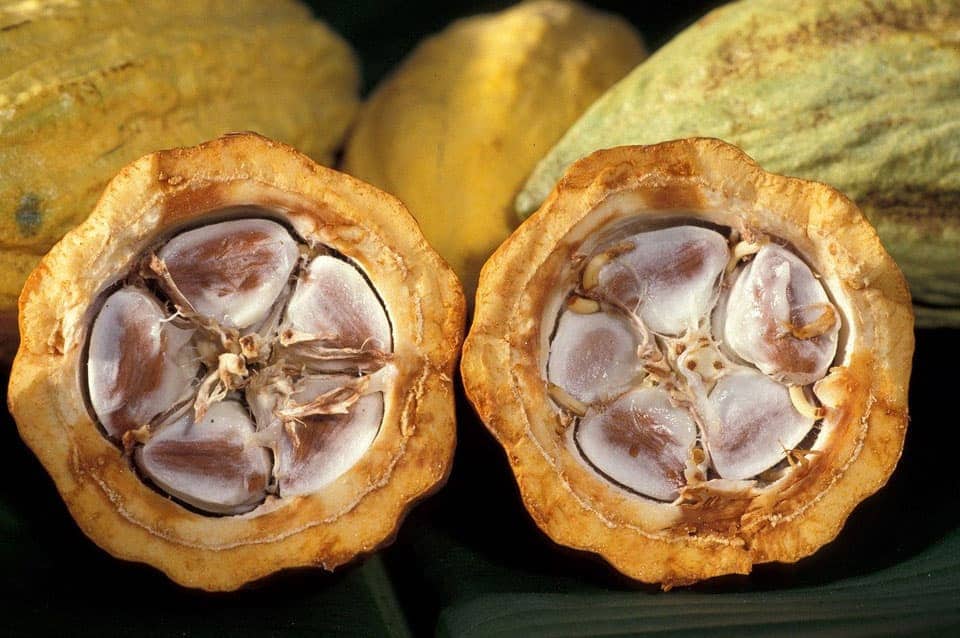 Cacao ceremonies are traditional Mayan and Aztec rituals that are used for spiritual inner awakening. If done properly, the process releases negative emotions and promotes inner healing.
Cacao translates into "Food of the Gods" and is believed to have magical powers in its rawest form. The chemicals in raw cacao, notably theobromine and phenylethylamine, are responsible for the euphoric feeling during the ritual.
In Lake Atitlan, there is a shaman named Keith. For anyone wanting to try a Cacao Ritual or want to find out more details about it, click here.
19. Take Some Spanish Classes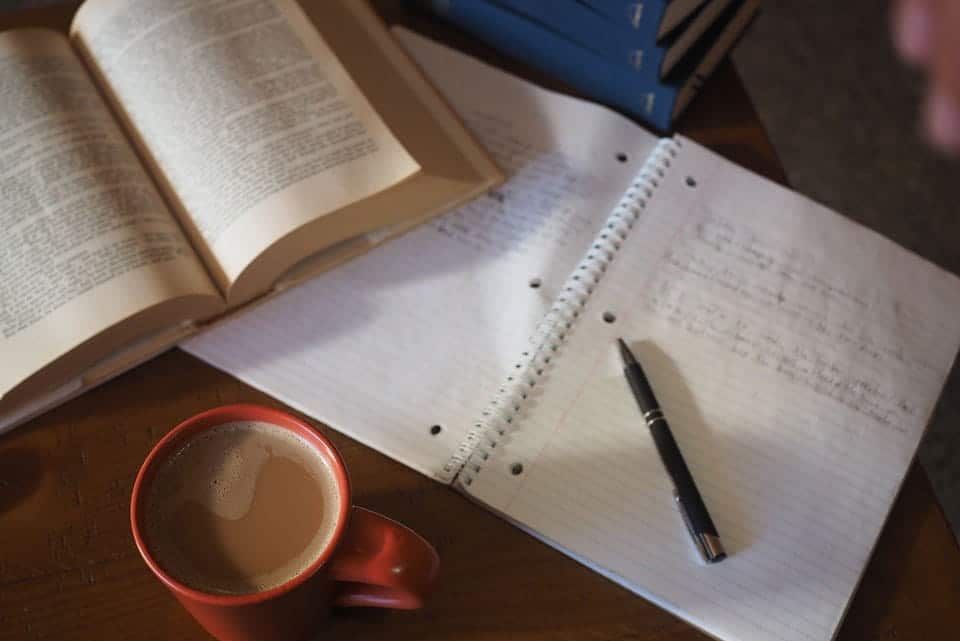 Guatemala is known as one of the best places in the world to learn Spanish. Its neutral accent, slow-talking speed, and minimal slangs make Guatemala Spanish one of the most versatile Spanish to learn.
If you are backpacking Latin America, make an effort to learn some Spanish in Guatemala!
The majority of the locals in Guatemala do not speak English, so you have to fully dive into the deep end. Many of the schools offer full immersion programs, 1-on-1 classes, and a homestay to expedite your learning process. Finally, you can drop your Spanglish and get some proper Spanish!
Though there are many Spanish schools scattered throughout Lake Atitlan, San Pedro has the highest number of them.
20. Go Village Hopping!
There are a total of 11 towns and villages in Lake Atitlan. Chances are you might only see the notable ones such as Santa Cruz, San Marcos, San Pedro, and Panajachel. Explore what is off-the-beaten-path in Lake Atitlan with the boats and go village hopping!
Here are some of the villages worth visiting:
San Pedro La Laguna
San Marcos La Laguna
Santa Cruz La Laguna
Panajachel
Santa Catarina Palopo
San Juan La Laguna
21. Soak in the Hot Springs at Santa Catarina Palopo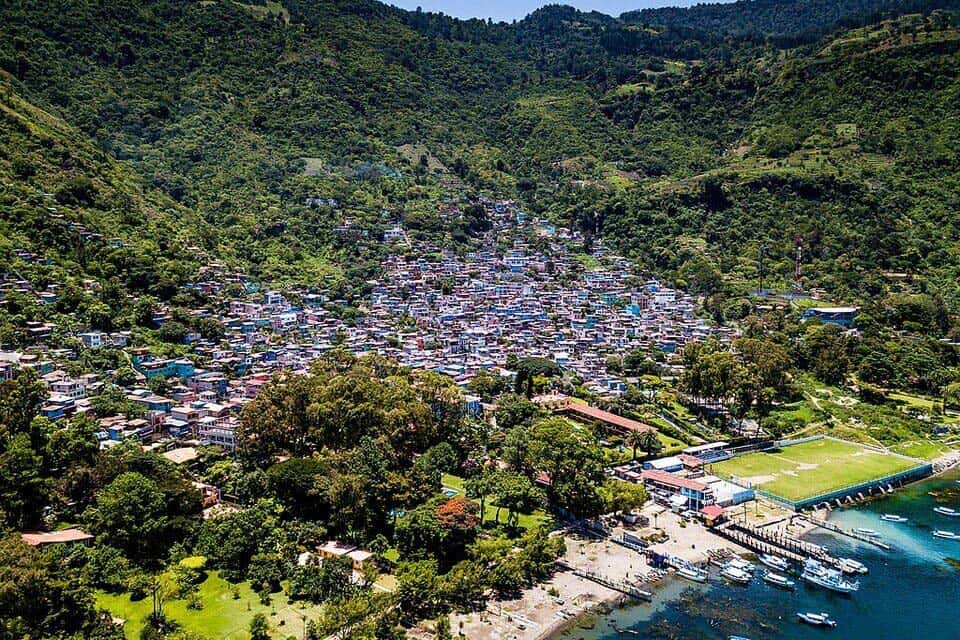 Before you get too excited about the hot springs, we need to warn you that they probably aren't how you imagine them in your mind.
Located in the small Lake Atitlan village of Santa Catarina Palopo, these natural hot springs are small pools on the side of the lake. On the surface, it might even look like they are part of the lake, but you can tell immediately once you put your feet in.
This is all made possible by the geothermal actions happening underneath your feet.
After you are done soaking in the hot springs, make sure you check out the cute little town of Santa Catarina Palopo. It is one of the indigenous villages in Lake Atitlan so you will find lots of traditional crafts and textiles. They also have really cool painted houses!
22.

Explore The Sacred Caves in Lake Atitlan and Experience a Mayan Ceremony
One of the most unique experiences in Lake Atitlan is exploring the hidden caves and witnessing a sacred Mayan ceremony.
The caves are located about a 20-minute walk from the village of Panajachel. Since this is a hidden gem, the exact location of their whereabouts is difficult to find.
That is why it is highly recommended to go on a sacred cave guided tour where your tour guide will lead you through the trail and take you to the sacred caves. If you are lucky, you will even see a shamanic ritual done by the indigenous tribes of the region.
Yourrrrr tour guide will explain to you the significance of the rituals and more about the tribes and their culture. It is the perfect thing to do for travelers looking to get into the indigenous culture of Guatemala.
23. Learn the Arts of Weaving at Trama Textiles in San Juan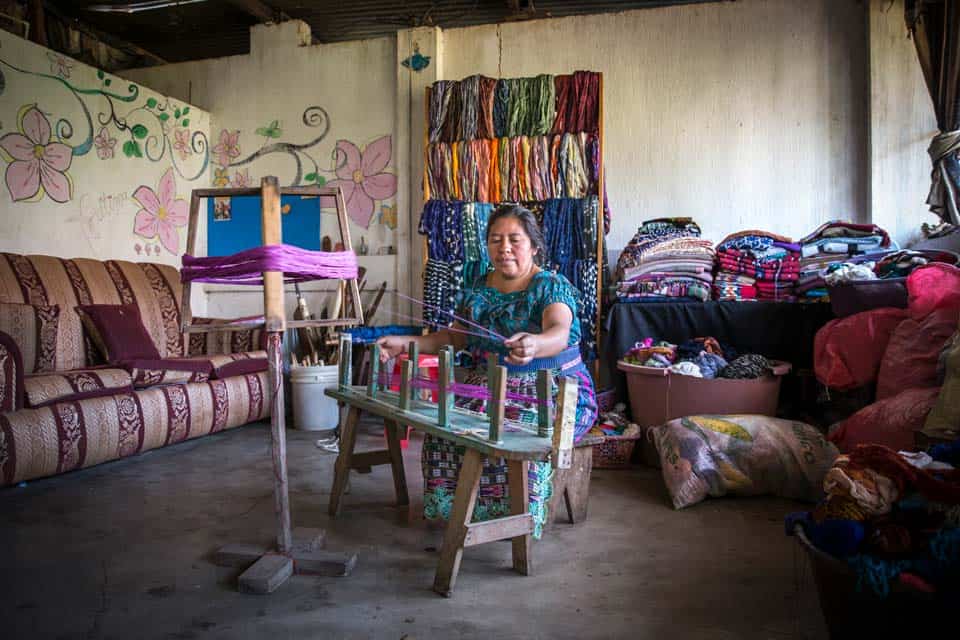 As we have mentioned above, San Juan La Laguna is a local traditional village where the culture of the Mayans is retained. In fact, when you walk down its streets, you will find lots of local crafts and textiles.
If you want to be more than just observers and buyers on the sideline, you can participate in weaving at Trama Textiles, a women's weaving co-op. Formed by several brave women in 1988 when they needed a way to support their families and children, Trama Textiles is now a weaving school, a shop, and a homestay.
Visitors can walk in and learn about the traditional Mayan process of backboard weaving through a 1-hour demonstration, weave a scarf in a 10-hour, and more!
24. Check Out The Ceramics At San Antonio Palopo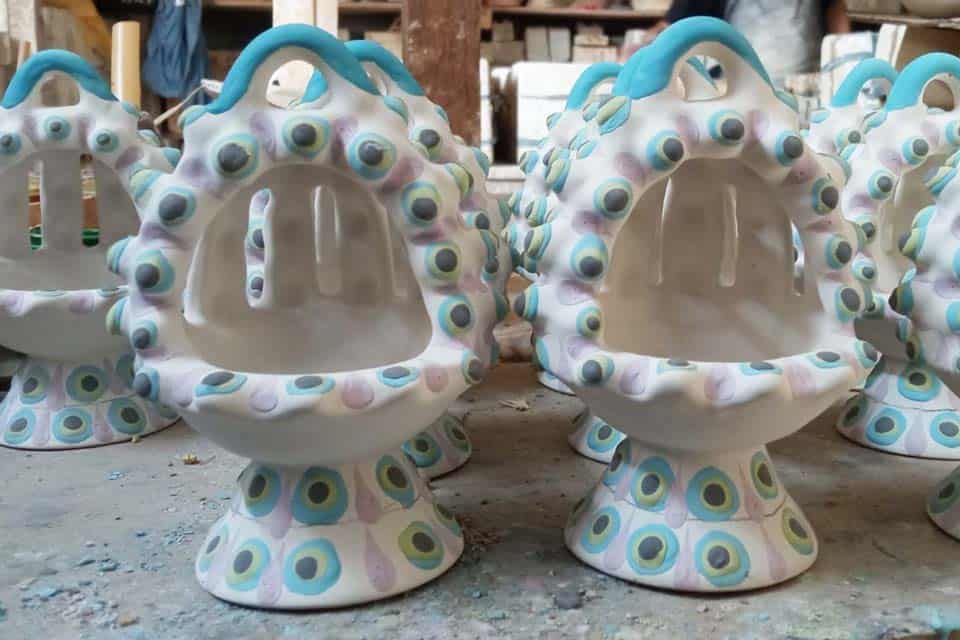 San Antonio Palopo is a small village located on the eastern shores of Lake Atitlan. Far from the rest of Lake Atitlan, San Antonio is usually very quiet and tourist-free. The town is mostly known for its handmade ceramics from local artisans using clay from the nearby volcanic region.
One of the best pottery shops in San Antonio Palpo is Ceramica Palopo Multicolor. Not only do they offer visitors the opportunity to bring home some authentic Guatemalan pottery pieces, but visitors can also take pottery classes from some of the masters of Guatemala here!
Besides the ceramics, the stress-free village of San Antonio offers a relaxing atmosphere and stretching views of Lake Atitlan. It is definitely worth a day trip!
25. Enjoy Sunset At A Lakeside Restaurant
Perhaps one of the most enjoyable activities in Lake Atitlan is simply to wind down and catch the sunset. Because of its unique location, travelers can watch the sun dip behind the mighty volcanoes that surround the lake. It is truly a remarkable sight that you'll never get tired of.
There are many places to catch the sunset, but we highly recommend somewhere in Panajachel. That is because the town faces west, so you'll have one of the best views. There are a few restaurants by the waterfront, our favorite is Restaurante Atitlan.
Where To Stay In Lake Atitlan
Lake Atitlan is made up of many small villages and towns. My recommendations on where to stay are based on the area as a whole, not just a specific village or town.
Best Hostel in Lake Atitlan- Sababa Resort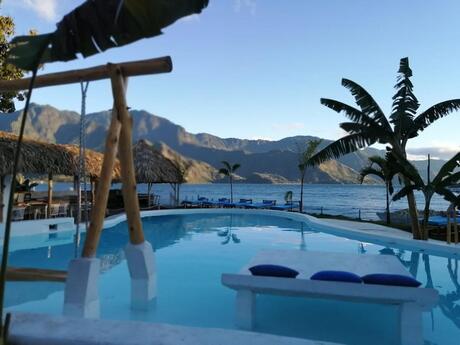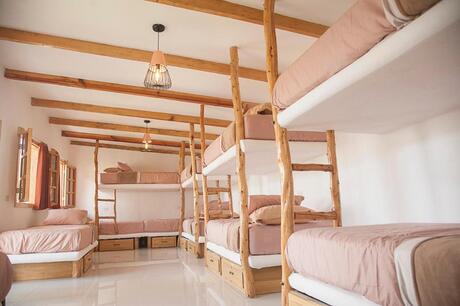 Located in the popular town of San Pedro, Sababa Resort is quite a unique accommodation. Boosting private rooms as well as dormitory rooms, the hotel (or hostel) has something for travelers on any budget.

For an affordable price, guests can enjoy their gorgeous pool with a view of the stunning lake. The establishment is a proper resort but with affordable dormitory rooms!
Best Vacation Rental In Lake Atitlan – Casa Tzampoc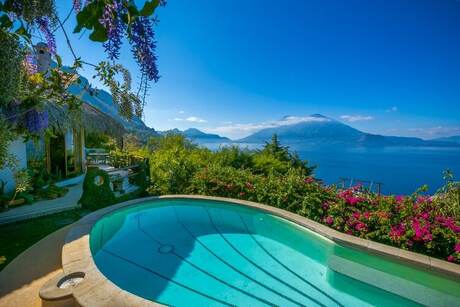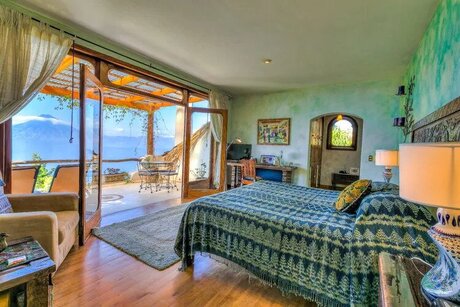 (Images Courtesy of VRBO)

If you are looking for a family getaway in Lake Atitlan, consider Casa Tzampoc. Featuring a beautiful private swimming pool, guests can admire the beautiful scenic views of the volcanoes as they rest their aching limbs after a day of exploring Lake Atitlan.

This VRBO is located a short drive away from Panajachel, the biggest Mayan village in Lake Atitlan. Guests have their own personal paradise while still being close to some of the best restaurants in the lake area.

If you don't wish to travel far, the fully-equipped kitchen is perfect for preparing a gourmet meal. A private chef can be arranged with the property if you wish.
Best Hotel in Lake Atitlan- Anzan Atitlan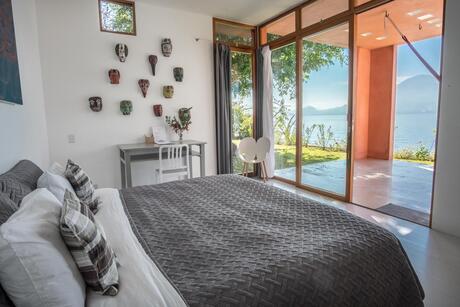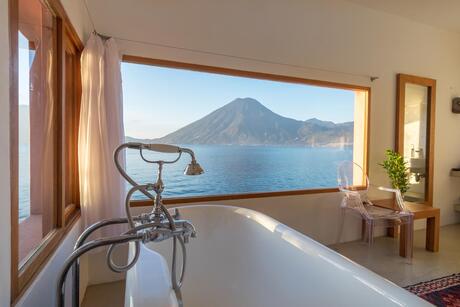 If the perfect place to stay in Lake Atitlan involves breathtaking views and supreme comfort, then the Anzan Atitlan is perfect for you. With wide windows, guests can enjoy stunning views of the lake from the bed or the gorgeous standing bathtub.

This Lake Atitlan vacation rental is located a few km from San Marcos La Laguna, meaning that guests are away from the craziness and can enjoy the lush nature of Lake Atitlan in peace. The property features a private dock where guests can go swim or suntan. If you can't be bothered, each apartment unit also features a private balcony facing the lake.

Anzan Atitlan is the perfect getaway for any type of traveler, from solo travelers to couples to families. Its onsite restaurant features mouth-watering dishes made from fresh local ingredients. Be prepared for the utmost relaxing and luxurious experience at Anzan Atitlan.
How To Get To Lake Atitlan, Guatemala
Before you pack your bags, how do you get to Lake Atitlan? If you are arriving from another country, your best bet is to fly to the La Aurora International Airport, or Guatemala City's airport. From there, you can either travel to Antigua and explore all of its amazing attractions, and then go from Antigua to Lake Atitlan.
Alternatively, you can go directly from Guatemala City to Lake Atitlan, but it would require booking getting a taxi, booking a transfer, or navigating through Guatemala's horrible chicken bus public transport system.
We usually like to do things DIY to save some money, but in this case, we highly recommend pre-arranging a shuttle ahead of time.
Check out our favorite shuttle company In Guatemala here!
Lake Atitlan's main transportation hub is Panajachel, so this is where you will need to arrive no matter where your accommodation is.
How to Get Around Lake Atitlan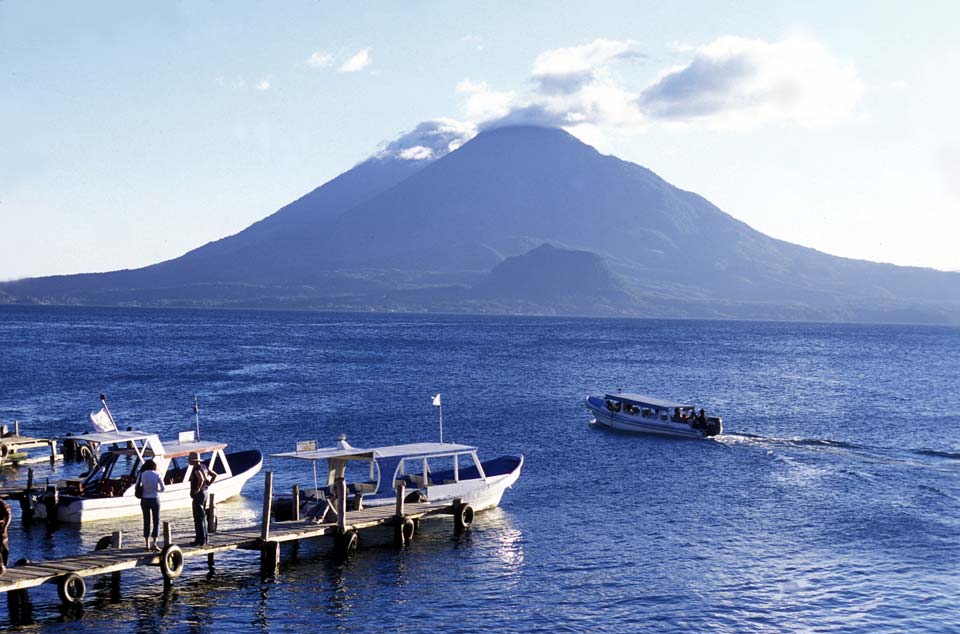 Since all the things to do in Lake Atitlan are spread out in different parts, learning how to get around is essential. Usually, the best way to get around is through one of the commuter boats that go from one village to another in loops. They are affordable and can even reach some of the more remote places on the shore.
Another way to get around Lake Atitlan is via a mototaxi (tuk tuk). Those aren't too different to find, especially near the dock or where tourists are dropped off. They are great for traveling from one village to an adjacent village. However, since the roads near Lake Atitlan aren't the best, the mototaxis usually aren't suitable for long distances.
In that case, the public boats are your best bet!
How Many Days To Spend In Lake Atitlan
Lake Atitlan is one of those places where you plan on visiting for a few days and end up staying for the rest of your life. The atmosphere, the views, the people, everything just sucks you in. If you are visiting as a tourist, we recommend spending at least 3 to 4 full days.
This will give you some time to explore some of the villages, enjoy its water activities, and just relax. We personally spent twice as much time as anticipated just because of how much we loved it.
Visiting Lake Atitlan FAQs
Is Lake Atitlan Safe?

Lake Atitlan is usually very safe, even at night. However, the remote hikes often have bandits, and a local guide is guided when exploring those parts.

Is Lake Atitlan Worth Visiting?

Absolutely! The crater lake boasts stunning landscapes surrounded by soaring volcanoes while the Lake Atitlan villages offer an authentic cultural experience.

When Is The Best Time To Visit Lake Atitlan?

The best time to visit Lake Atitlan is the dry season, which runs from November to April. Try to avoid the rainy season (May to October) because you won't be able to enjoy much of what Lake Atitlan has to offer during that time.
Like this post? Don't forget to save it on Pinterest!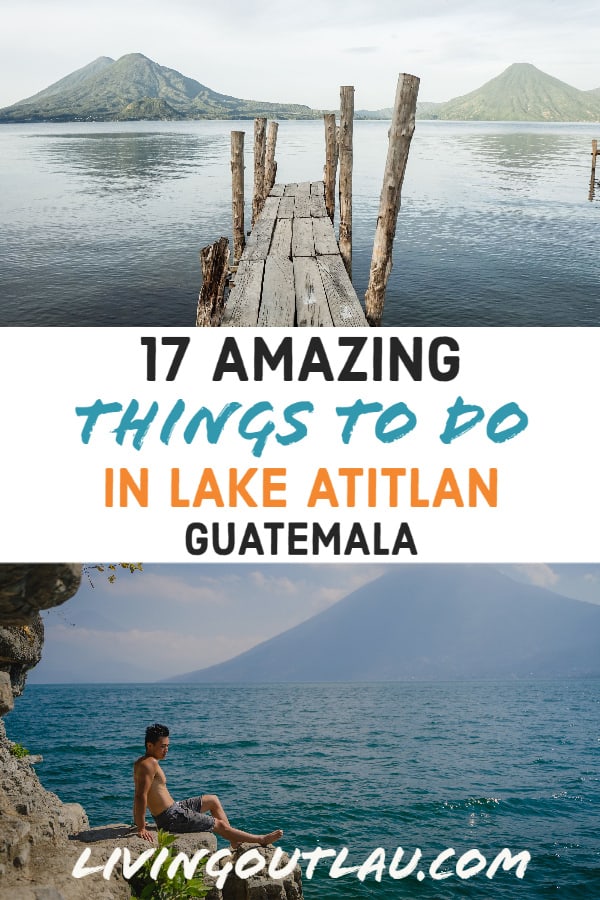 This is the end of our guide! Which one is your favorite activity in Lake Atitlan? Let us know in the comments!
Disclaimer: Some of the links above are affiliate links. That means if you book or make a purchase through the links, we will earn a small commission at no extra cost to you! The money will help run this site! Thank you!