Denali National Park & Preserve is located in Interior Alaska, centered on Mount McKinley, known as Denali, the highest mountain in North America, with a summit elevation of 20,310 feet (6,190 m) above sea level.

Denali National Park is a place for people who love the wilderness. With the majority of the park as wilderness, it might be difficult to find things to do in Denali National Park. Whether it is cycling, camping, or even hiking in Denali National Park, you should not improvise.

If you are not sure what to do in Denali National Park, our guide will tell you the best attractions in Denali and how to go about the activities. It is the best way to optimize your Denali trip.
---
What To Do In Denali National Park, Alaska
1. Go Flightseeing!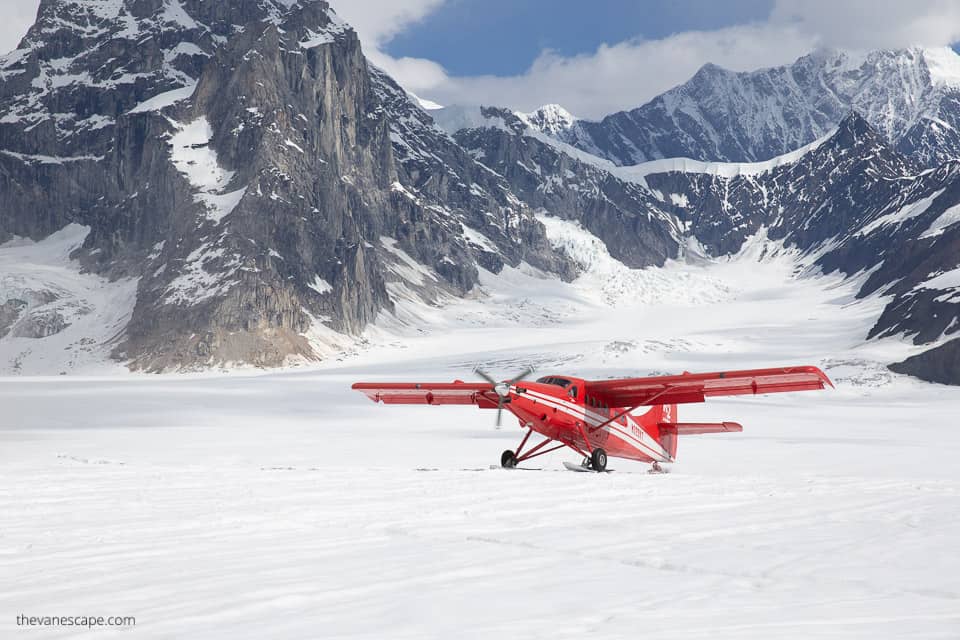 Flightseeing in Denali National Park is the best way to see its beauty. Flight over the mountains is possible from Talkeetna, Denali Park, and Healy. The majority of flightseeing companies offer both fixed-wing and helicopter operations.
It's a fantastic experience. Views from the window of a small aircraft are breathtaking and dramatic. You have a chance to take great Alaska Range stunning scenery photos during your flight and take glacier photos during glacier landing and a short hike.
Due to variable snow conditions, glacier landings are primarily offered during the spring and summer months. Check out our recommended flightseeing tours in Denali National Park.
2. Take A Shuttle Bus In Denali and Sightsee!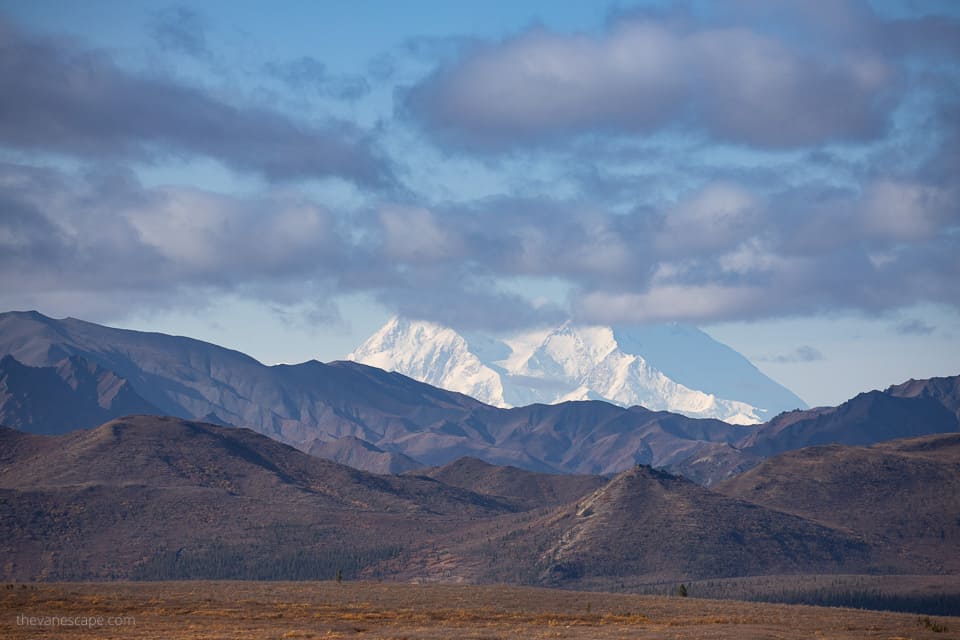 Taking a shuttle bus might not seem like a cool activity in Denali National Park, but it is a must-do.

The park road is 92 miles (148 km) long and runs from east to west. It is a scenic road made mostly of gravel. You can go to this Denali park road in your car only to Mile 15, to Savage River. If you want to go further, you must take a bus located 1 mile (1.6 km) within the park.

The Wilderness Access Center is the primary location to arrange a bus trip into the park or reserve/check-in for a campground site. All shuttle buses depart from here, as do some tours. The bus trip is excellent; there is a lot of stops to take pictures.

Bus trips are available only in summer (roughly mid-May through mid-September). There are two main types of buses in Denali:
narrated trips (tour buses)
non-narrated trips (transit buses)
Transit Buses In Denali
Non-narrated transit buses are exactly what they are described to be, buses that are intended to transport guests in and out of the park. They are cheaper than tour buses and more flexible in that you may disembark and re-board anywhere along the road (You cannot go off on your own on tour buses).
This is perfect for those that want to do a day hike and the trailhead is deeper inside the park.
But these buses provide more than transportation, they also stop for wildlife viewing, restroom stops, and beautiful scenery, just like tour buses. The main difference is that you won't have a narrator to tell you the wonders of Denali National Park.
Non-narrated buses are green in color.

There are four choices of non-narrated trips, of varying lengths. You can check the schedule and ticket prices on NPS website.
Narrated Tour Buses in Denali
Narrated tour buses are excellent options for travelers that want to learn more about the park with a professional. The tour bus driver is both the driver and a professional naturalist, capable of providing visitors with invaluable information about the park and all its wildlife.
Tour buses make the same stops for photos or restroom stops as the non-narrated buses. They cost more because all tours offer either a snack or a full lunch. There are three tour bus options, of varying length and time duration.
They are:
Natural History Tour
Tundra Wilderness Tour
Kantishna Experience
Narrated tour buses in Denali are tan in color.
Find out more information about the narrated tour buses on the Denali National Park website.
3. Camp In Denali National Park!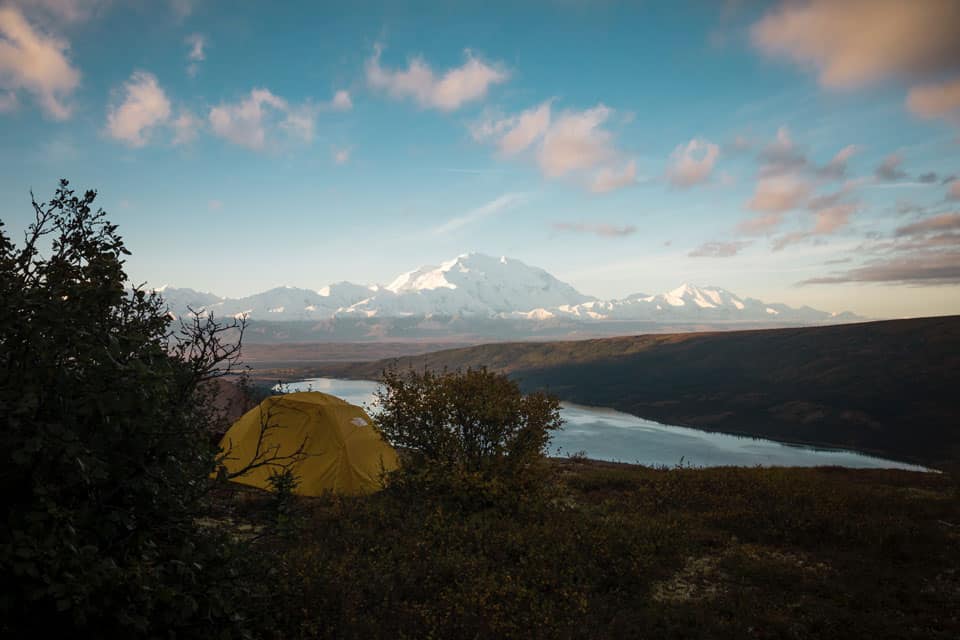 Camping in Denali offers a great way to experience this spectacular park. Sleep under the stars and admire the giants every morning and night. Denali is probably one of the best national parks to camp in as the wilderness there is so pristine.
If you like camping, you have six rustic campgrounds available in Denali Park. They are:
Riley Creek Campground at Mile 0.25
Savage River Campground at Mile 14
Sanctuary River Campground at Mile 22
Teklanika River Campground at Mile 29
Igloo Creek Campground at Mile 35
Wonder Lake Campground at Mile 85
There are no showers, no electricity, or coverage. But it's a fantastic experience to stay in a tent in Denali.
You may make campground reservations online, through a third-party reservation system here. Book it in advance, because during peak season it's difficult to get a campsite.

There is no water available (only water from the river) or shops, so you have to bring everything with you in your backpack. Denali's weather is unpredictable, summer nights and mornings are chilly, so take a warm sleeping bag and clothes.
If your campground is situated in a part of the park that is not accessible with your own private vehicle, you can take a transit or camper bus. Camper buses are designed to transport visitors to their designated campsites inside Denali.
4. Hike In Denali And See Some Wildlife (Hopefully!)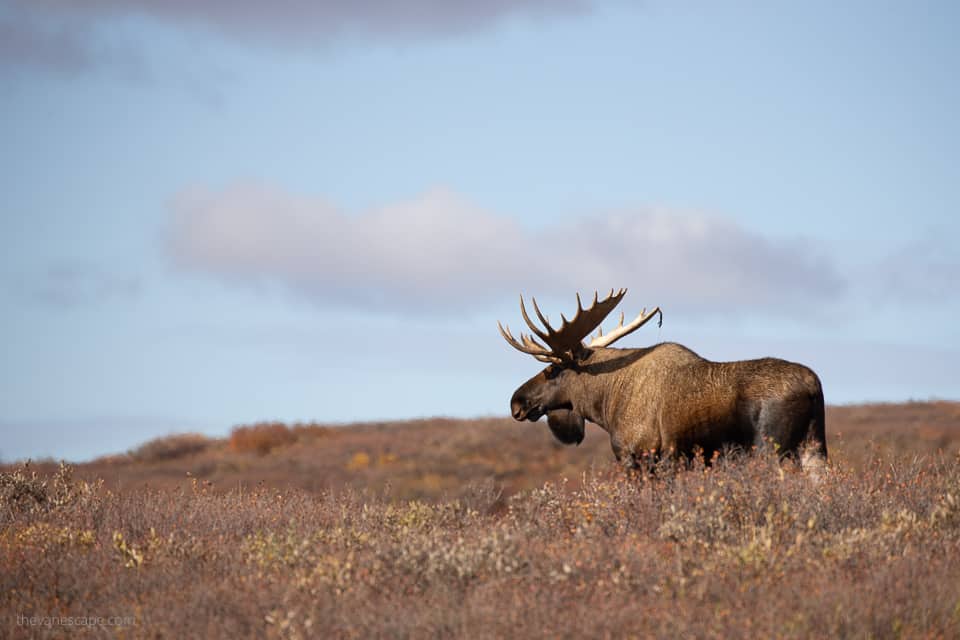 Hiking in Denali requires lots of preparation because Denali is pure wilderness. There are not too many marked trails and most of the trails here are short (less than 2 miles) and near the park entrance or next to visitors centers. The rest is wilderness. So you should prepare well for this off-trail hiking and expect lots of bushwhacking and stream crossing.

Take GPS, maps, food, water, warm clothes, hiking boots, travel insurance. Remember that it's a bear country and you should be prepared to encounter a bear during your hike. Take a Bear Spray and Bear Bell. Pack your food in bear-safe containers.
Marked Trails In Denali National Park
Wonder Lake is located at mile 85 and offers the nice McKinley River Bar Trail, leading from Wonder Lake Campground to the McKinley River. It is only 2.5 miles one-way easy hike with spectacular views.
You can admire the highest point of America, Mount Denali. The trail travels through spruce forests and past several small ponds.

Hikes From Eielson Visitor Center
From Eielson Visitor Center located at mile 66 you can take some short hikes, too. The Tundra Loop Trail is around a third of a mile through the alpine country, very close to the visitor center. The Thorofare Ridge Trail is a very steep hike of around 1,000 feet. But the trail is only one mile one-way, up Thorofare Ridge. The views are beautiful.
The Gorge Creek Trail descends 600 feet to the Gorge Creek and Thorofare River bars, with access to numerous day hiking opportunities and backcountry camping units.
Located around Miles 13-15 Savage River Area offers hikes too. The 2-mile-long Savage River Loop is a mellow walk along the river. Or you can take the more strenuous Savage Alpine Trail that runs more than four miles and connects the Savage River area with Savage River Campground.
Mount Healy Overlook Look
Mount Healy Overlook is one of the most popular hikes in Denali as it takes you through one of the best vantage points in the park. The 5.4-mile round trip trail is steep, and hikers should be ready for any changes in weather. It is also one of the few hikes where you can park your vehicle at the trailhead, though there is a limited amount of space.
At around 18.5-mi round trip, the Triple Lakes Trail is one of the longest trails in Denali National Park. As the name suggests, it passes through 3 beautiful lakes in the part, as well as offering hikers some of the best flora and fauna experience. But you've been warned, make sure you are well-prepared for this hike!
5. Go Cycling In Denali National Park!
If you like to cycle, visiting Denali by bike is a great idea. Prepare yourself well for this trip. You will need a good mountain bike and spare tires. The road is gravel, and it's easy to cut the tire on the stone. Remember to wear a helmet.
In summer, many businesses outside of the park rent bikes. If you have only one day you can mix cycling and bus. You can reserve a bus in advance, buy tickets for a transit bus, ride the bus into the park, and get off at whatever point you choose to start cycling.
You can either bike back to the park entrance, or bike part of the road and then board a different transit bus later in the day.
If you only have a few days, bike camping is a perfect solution for you. If you wish to camp overnight in the park during your cycling trip, you will need a backcountry permit or you can book campgrounds.
6. Visit The Magic Bus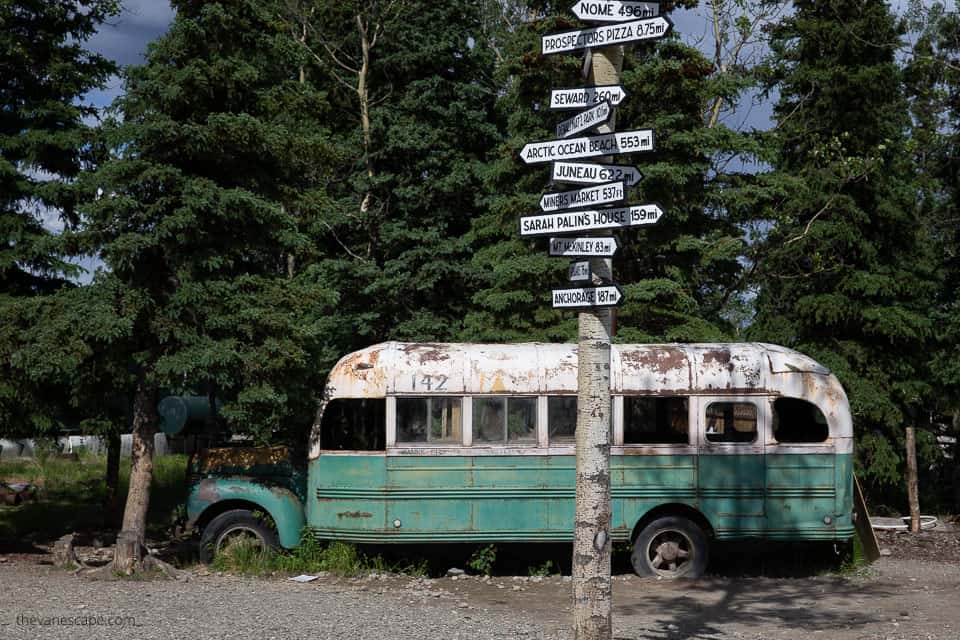 Have you seen the movie, "Into the Wild"? If you dream of Denali, you probably know this moving story. The young man Chris McCandless left family, friends, society, norms, and decided to pick loneliness and solitude.
He abandoned all civilization goods, and started his life in the Alaskan wilderness, in an old green bus. He holed up in the wilderness to discover that the real life of man and the recipe for happiness is when you share it with other people.

A replica of the movie bus, the green Magic Bus is something you must see when visiting Denali National Park. The bus is located just 11 miles from Denali Park in the town of Healy, it's a short ride away.
The Magic Bus opens at 11 a.m. and is on the premises of 49th State Brewing Company at Mile 248.4 Parks Hwy. After seeing the bus, try some of the local Alaskan beer and have lunch in the brewery.
Note: This is not the actual Magic Bus, aka Bus 142. It is a replica located in the rear of a brewery. The actual Magic Bus is located on the Stampede Trail and a ~3-day treacherous hike is required.
The real Magic Bus has been removed from the actual location because too many people have died trying to reach it.
---
Denali National Park Packing List
Visiting Denali National Park will require good preparation because you will be in the wilderness after all. Whether if you are camping or just hiking, make sure you consider these things for your Denali packing list!
A Proper Rain Jacket (Him / Her) – For the possibility of encountering a terrible rainstorm in Denali.
Travel Insurance – Because it is the almighty outdoors, anything could happen. We strongly recommend you purchase some travel insurance before visiting Denali.
Winter Hat – Keep your head warm even in the bitter cold!
Insulated Gloves (Men/Women) – Make sure you bring some insulated and water gloves because … we all like having fingers.
Binoculars – You don't want to miss the chance to see the native wildlife in Denali.
Insect Repellent – If you are visiting in the warmer months, pack some, especially the sin-friendly ones with Picaridin.
Bear Spray and Bear Bell – Let's hope you don't have to use it but you should keep a bear spray with you at all times.
Merino Wool Socks – At least two pairs to keep your feet warm and dry.
Filtration Water Bottle – Drink from any source of water you find using this filtration water bottle, perfect for the streams you encounter on your trails
Warm Layers – Pack warm layers even if you are visiting in the summer. The weather is variable and it could get cold at night.
Waterproof Hiking Boots (Him / Her) – The most important item to have in Denali. Make sure they are good quality, sturdy, and waterproof. Trails are tough and you will come across a few streams!
Sturdy and Light Trekking Poles – Many of the trails in Denali National Park are quite demanding. Trekking poles are your best friends on these hikes.
Leg Gaiters – To protect your legs and feet from getting wet, essential for hiking in the cooler months.
A Paper Map of Denali – Because you are not going to receive any service in the majority of the park, having an offline map is extremely important. If you are planning on doing any hike, don't think about going without a paper map.
A GPS Navigator – The GPS navigator is a fail-proof way of making sure you don't get lost in Denali, no matter if you have any signal or not. Ideal for visitors planning to do treks, hikes, or just want to explore off the beaten path.
---
Where To Stay In Denali National Park
There are no National Park Service operated lodges inside the park, only campgrounds. As a result, many visitors decide to stay in the town Healy, located about 11 miles away from Denali National Park. The amenities in Healy are much better, and visitors can take some time to explore this charming town.

If you wish to stay inside Denali, there are a few privately-owned properties. They are:
Just keep in mind that these lodges won't have as many amenities as the properties outside the park, and they will cost a lot more!
Here are the places to stay outside Denali National Park:
Best Stay Near Denali National Park – Denali Park Place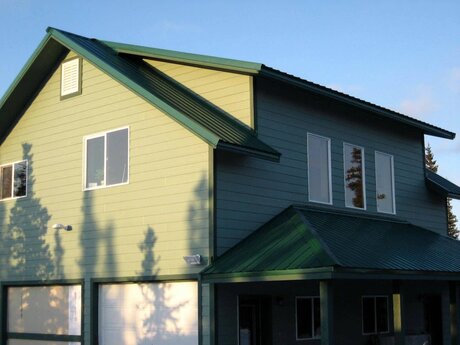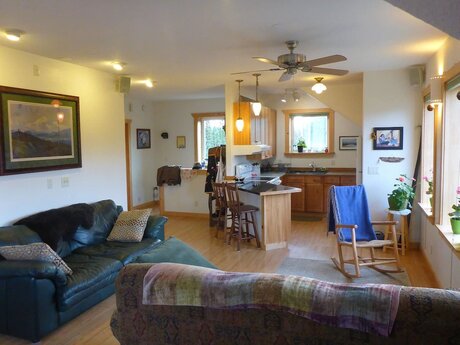 (Images Courtesy of VRBO)

If you wish to stay near Denali National Park, you must pick one of the vacation rentals close to Denali. This Denali Park Place is located in a tiny neighborhood nestled into the pristine nature of Alaska. Surrounding you are lush landscapes that most people can only dream of in their lives.

This Denali Vacation Home is located less than 10 miles away from the entrance of Denali National Park. One of Alaska's best restaurants, 229 Parks, is just a short drive away.

The biggest advantage of staying in this Denali VRBO is having an excellent host. The host has been living in Alaska for over 40 years and knows the area like the back of her hand. She is also a tour guide for Denali National Park, meaning that she can answer any questions you might have about your visit.

Amenities-wise, this vacation home features 1 sofa bed and 1 queen bed, allowing 4 guests to sleep comfortably in their Alaskan getaway. Guests will also find all the ingredients to make sourdough waffles, a traditional dish in Alaska.

Click here for more info!
---
Best Hotel in Healy – Denali Lakeview Inn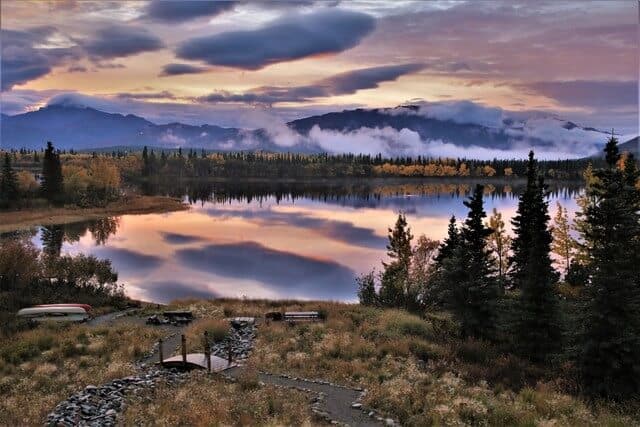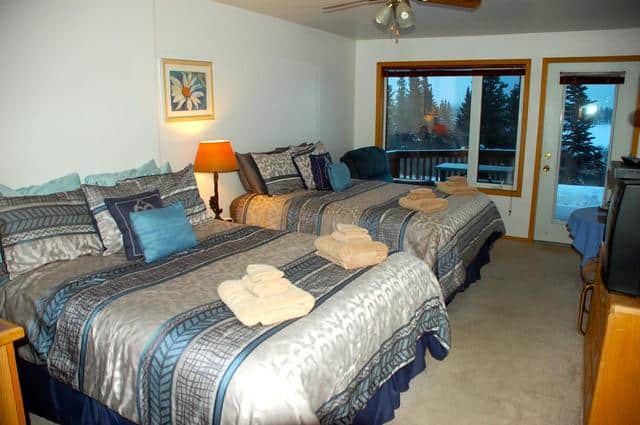 If you are looking for accommodation near Denali National Park, the Denali Lakeview Inn is your best bet.

Situated on the shores of a beautiful lake, guests can properly enjoy what Alaska is famous for – the pristine landscapes. Kayaks and mountain bikes are free to hire in the hotel, and guests can take it out onto the lake or in the surrounding areas. Did I mention the yummy free breakfast?

Click here for more details!
---
Like this post? Don't forget to save it on Pinterest!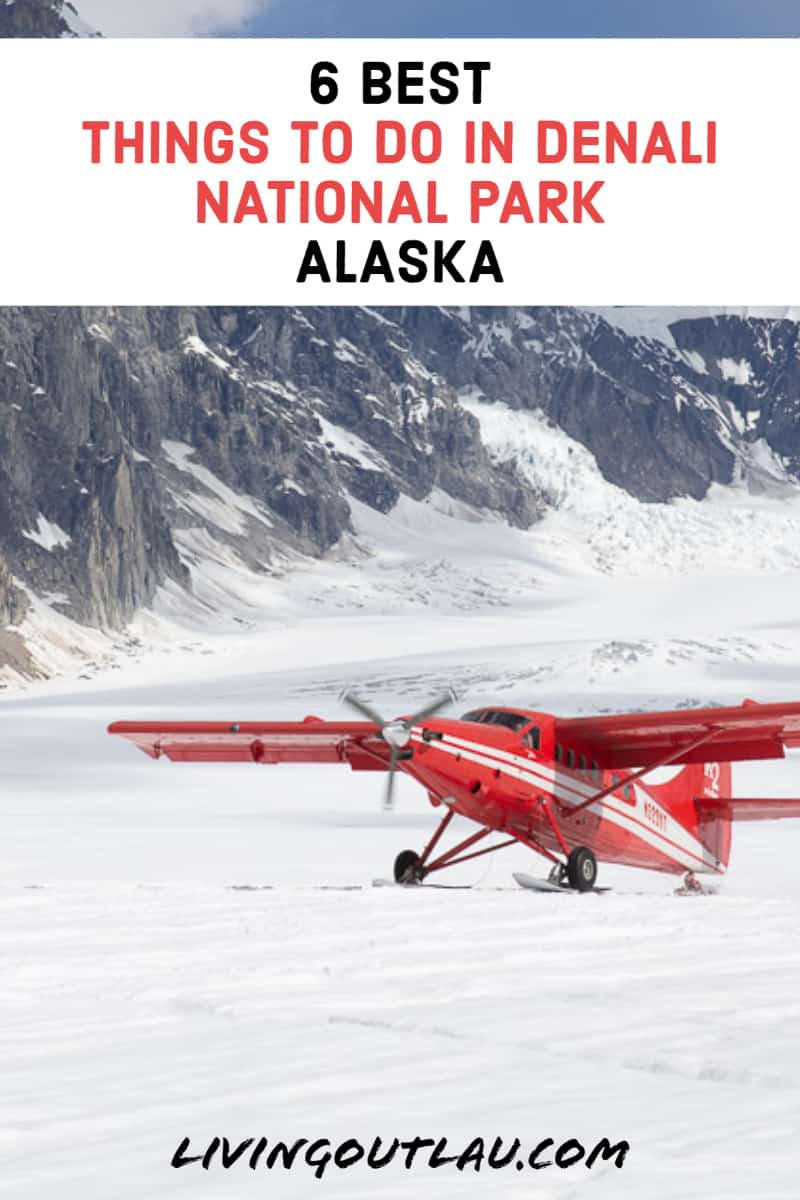 ---
These are the top things to do in Denali National Park. Have you been there? Let us know in the comments!
Disclaimer: Some of the links above are affiliate links. That means if you book or make a purchase through the links, we will earn a small commission at no extra cost to you! The money will help run this site! Thank you!