Looking for the best New York captions for Instagram and social media? Worry not.

As one of the most epic cities in the entire world, New York City holds a specific place in many people's hearts. It has an energy that enchants visitors and residents. No wonder it is one of the most visited cities in the U.S.

That is why we have written this post on epic New York City captions, because there is nothing better than an amazing quote to capture an unforgettable experience!

Enjoy!
Want to step off the beaten path in NYC? Check out some of the unusual activities in NYC.
Our Favorite New York Captions For Instagram
Having lived in NYC for 10+ years, there is a little part of NYC in me. Here are some of my favorite New York captions for Instagram that capture how I felt!
1. "One belongs to New York instantly, one belongs to it as much in five minutes as in five years." – Tom Wolfe

2. "The city is like poetry; it compresses all life, all races and breeds, into a small island and adds music and the accompaniment of internal engines." – E.B. White

3. "New York is a work of art in and of itself. It's a masterpiece that shouldn't make sense, yet somehow, it does." – Jacqueline E. Smith, Once Upon A Times Square

4. "New York State of Mind."

5. "Somewhere between living and dreaming there's New York."
6. "I would give the greatest sunset in the world for one sight of New York's skyline. Particularly when one can't see the details. Just the shapes. The shapes and the thought that made them." – Ayn Rand, The Fountainhead (1943)

7. "I love New York because within its borders you can travel the world." – Dennis Gonzalez

8. I get out of the taxi and it's probably the only city which in reality looks better than on the postcards, New York." – Milos Forman

9. "If you follow your heart just right, it will take you to New York City."

10. "Give me such shows! Give me the streets of Manhattan!" – Walt Whitman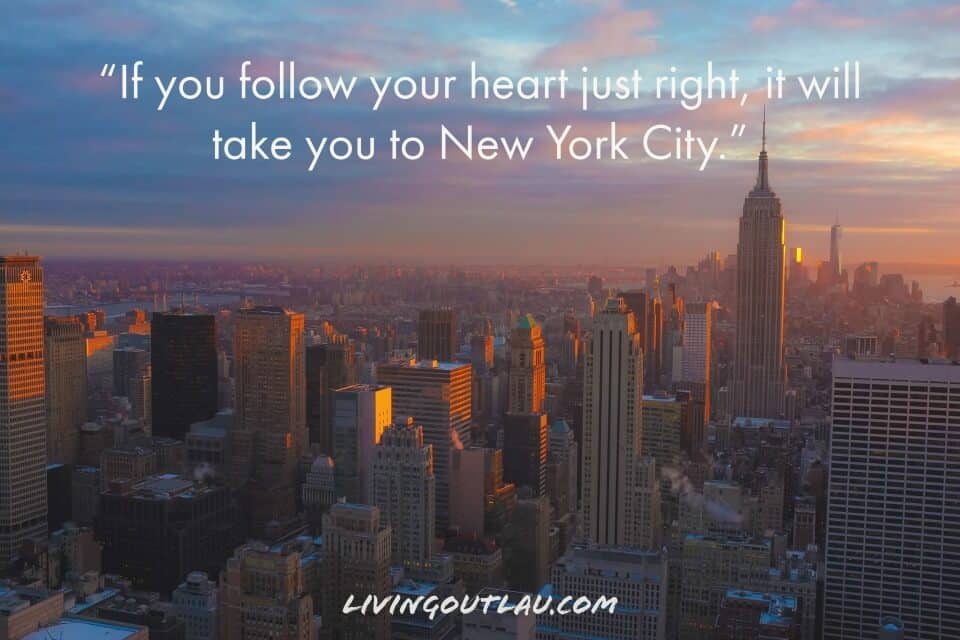 11. "No urban night is like the night there… Squares after squares of flame, set up and cut into the aether. Here is our poetry, for we have pulled down the stars to our will." – Ezra Pound

12. "New York is not a place. It is a feeling…"

13. "The only real advantage of New York is that all its inhabitants ascend to heaven right after their deaths, having served their full term in hell right on Manhattan Island." – Barnard Bulletin
Looking for a nice photo to accompany your NYC caption? Check out the most Instagrammable places in NYC!
Funny Quotes About New York
Funny quotes about New York is the best for Instagram and other social media channels. These are excellent to get your audience engaged and like your content!
1. "There is no question that there is an unseen world. The problem is, how far is it from midtown and how late is it open?" – Woody Allen

2. "New York is the only city in the world where you can get run down on the sidewalk by a pedestrian." – Russell Baker

3. "On a New York subway you get fined for spitting, but you can throw up for nothing." – Lewis Grizzard

4. "The Bronx? No Thonx!" – Ogden Nash

5. "New York, New York. A city so nice they named it twice."

6. "When I first moved to New York and I was totally broke, sometimes I would buy Vogue instead of dinner. I felt it fed me more." – Carrie Bradshaw

7. "Traffic signals in New York are just rough guidelines." – David Letterman

8. "Anytime four New Yorkers get into a cab together without arguing, a bank robbery has just taken place." – Johnny Carson

9. "Manhattan is an accumulation of possible disasters that never happen." – Edward I. Koch

10. "A person who speaks good English in New York sounds like a foreigner." – Jackie Mason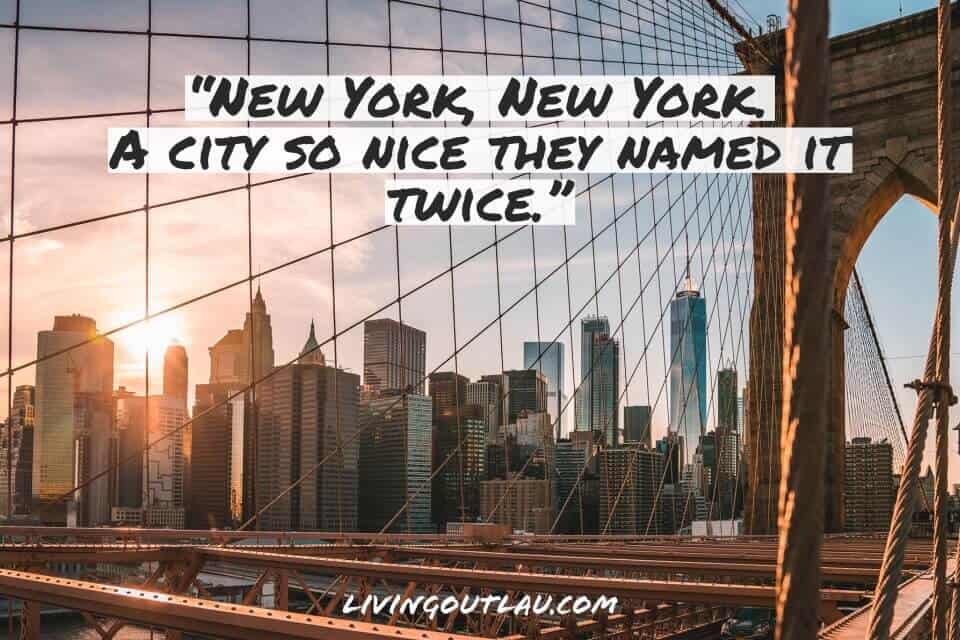 Inspiring New York City Captions For Instagram
If there is one thing about living in New York City, it is how inspiring the city can be. Check out one of our inspiring New York City captions for Instagram!
1. "I never feel as fully awake as when I'm in NY." – John Jeremiah Sullivan

2. "New York!" he said. "That's not a place, it's a dream." – Ralph Ellison

3. "I love New York. It's a little bit of the whole world. In New York, the whole world comes to you." – Billy Graham

4. "One can't paint New York as it is, but rather as it is felt." – Georgia O'Keeffe

5. "New York is a diamond iceberg floating in river water." – Truman Capote

6. "If you're greedy for life, that's what New York City is all about. If you're trying to get as much as you can every day, this city is the place to be." – Pam Nelson

7. "Things always change and New York teaches you that." – Richard Hell

8. "I'm just a little apple in the Big Apple."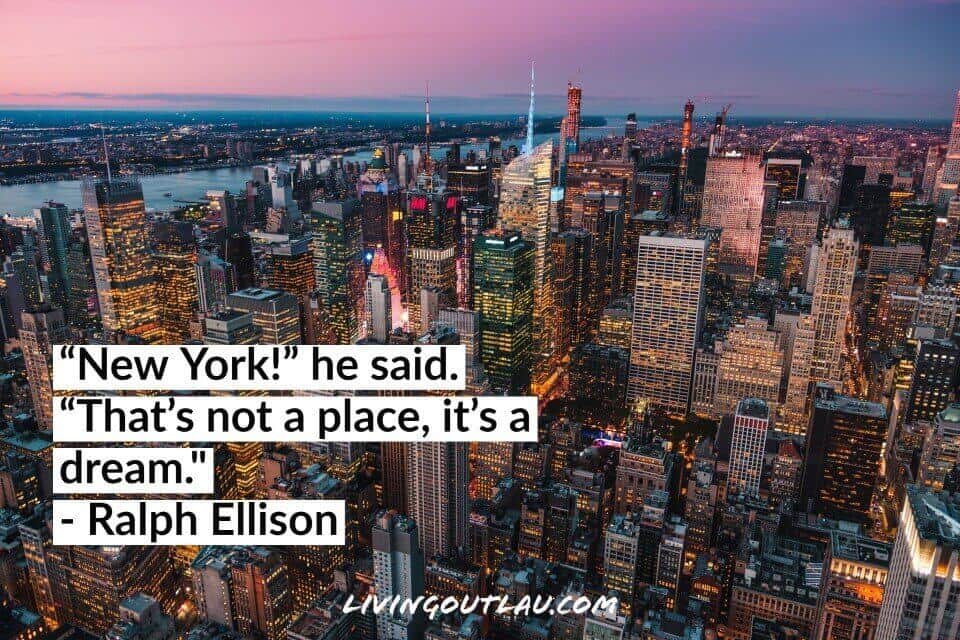 Short New York Instagram Captions
Short New York Instagram captions are perfect for your audience. These are concise and to-the-point but still packs a punch! They are our favorite captions to use on social media.
1. "If London is a watercolor, New York is an oil painting." – Peter Shaffer

2. "Skyscraper National Park." – Kurt Vonnegut

3. "If a man can live in Manhattan, he can live anywhere." – Arthur C. Clarke

4. "New York had all the iridescence of the beginning of the world." – F. Scott Fitzgerald

5. "The city was radiant and I felt untouchable." – Stephanie Danler

6. "Hell isn't fire and brimstone. It's New York City." – Karina Halle, Veiled (2016)

7. "Most cities are nouns. New York's a verb." – John F. Kennedy

8. "Hello, New York. You're gorgeous today."

9. "New York. It puts a spell on you."

10. "Let's pack our bags and move to New York."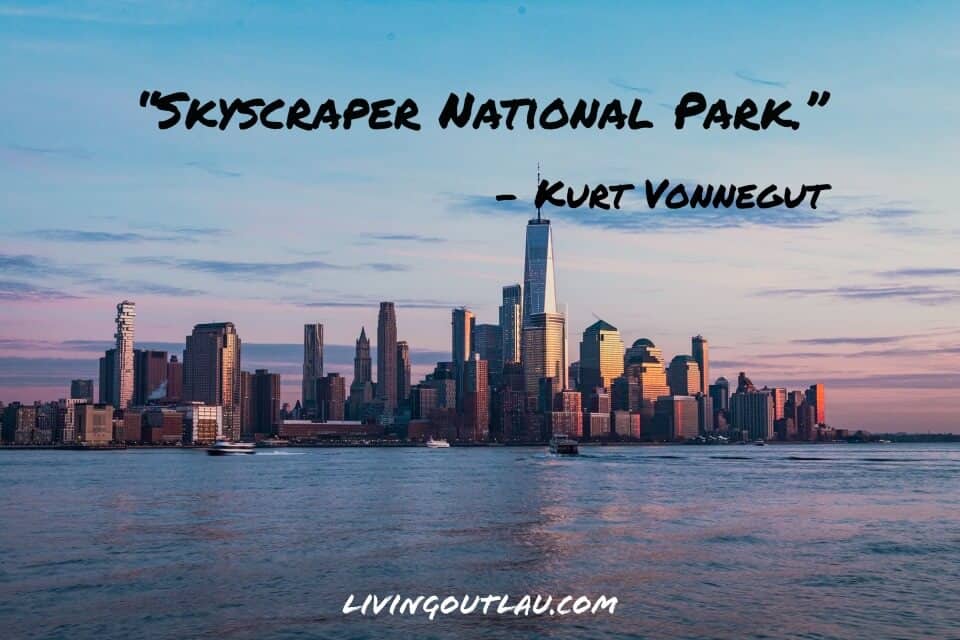 Profound New York Quotes For Instagram
Profound New York quotes for Instagram are ideal for people that want something more meaning as their caption!
1. "I love New York, even though it isn't mine, the way something has to be, a tree or a street or a house, something, anyway, that belongs to me because I belong to it." – Truman Capote

2. "New York provides not only a continuing excitation but also a spectacle that is continuing." – E.B. white

3. "New York City is where specks of dust aspire randomly with all their cunning to become grains of sand." – David B. Lentz, The Fine Art of Grace (2016)

4. "A hundred times have I thought New York is a catastrophe, and fifty times: It is a beautiful catastrophe." – Le Corbusier

5. "Every true New Yorker believes with all his heart that when a New Yorker is tired of New York, he is tired of life." – Robert Moses
6. "New York – that unnatural city where every one is an exile, none more so than the American" – Charlotte Perkins Gilman

7. "New York City, city of exaggerations. Place of Herculean ascensions and perilous falls." – Kurt Wenzel, Lit Life: A Novel (2001)

8. "The only credential the city asked was the boldness to dream. For those who did, it unlocked its gates and its treasures, not caring who they were or where they came from." – Moss Hart, Act One (1959)

9. "Whoever is born in New York is ill-equipped to deal with any other city: all other cities seem, at best, a mistake, and, at worst, a fraud." – James Baldwin, Just Above My Head (1979)

10. "My favorite thing about New York is the people, because I think they're misunderstood. I don't think people realize how kind New York people are." – Bill Murray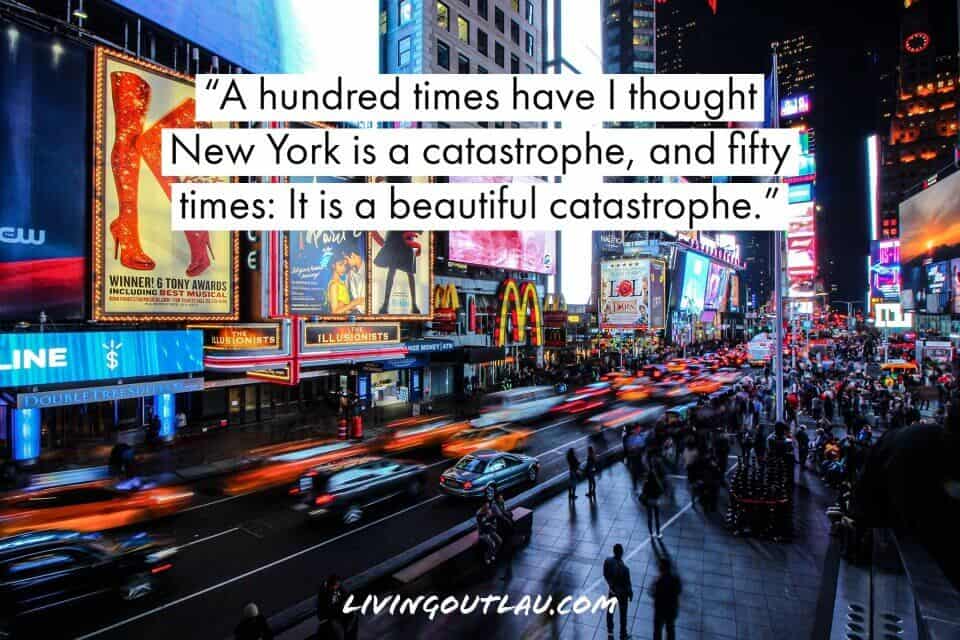 New York Instagram Captions From Poems
Poems are sometimes the best way to describe the energy felt in New York City. Use one of these as your New York Instagram caption!
1. I Am Dying – Leonard Cohen

I want to be lost among
your thoughts
the way you listen to New York City
when you fall asleep.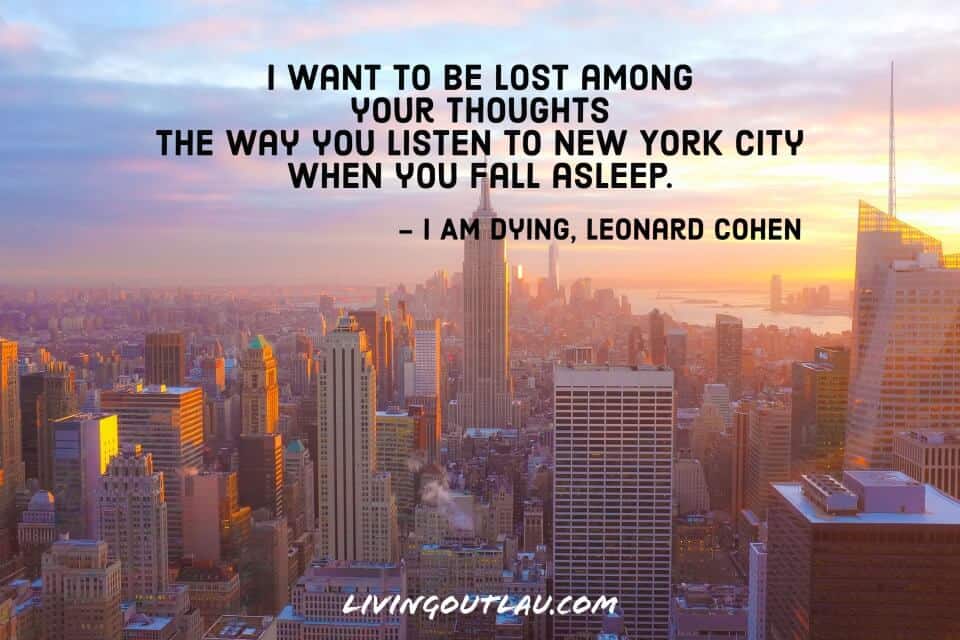 2. Juke Box Love Song – Langston Hughes

I could take the Harlem night
and wrap around you,
Take the neon lights and make a crown,
Take the Lenox Avenue busses,
Taxis, subways,
And for your love song tone their rumble down.

3. Let Me Please Look Into My Window – Gerald Stern

Let me please look into my window on 103rd Street one more time
without crying, without tearing the satin, without touching
the white face, without straightening the tie or crumpling the flower.

4. Dawn in New York – Claude McKay

The Dawn! The Dawn! The crimson-tinted, comes
Out of the low still skies, over the hills,
Manhattan's roofs and spires and cheerless domes!
The Dawn! My spirit to its spirit thrills.
Almost the mighty city is asleep,
No pushing crowd, no tramping, tramping feet.

5. On Mother's Day – Grace Paley

See Manhattan I cried New York!
even at sunset it doesn't shine
but stands in fire charcoal to the waist
Instagram Captions For NYC From Books
NYC has garnered a lot of attention from many famous writers. These Instagram captions for NYC from books are elegant and powerful!
1. "The city seen from the Queensboro Bridge is always the city seen for the first time, in its first wild promise of all the mystery and the beauty in the world." – F. Scott Fitzgerald, The Great Gatsby (1925)

2. "New York is an ugly city, a dirty city. Its climate is a scandal, its politics are used to frighten children, its traffic is madness, its competition is murderous. But there is one thing about it – once you have lived in New York and it has become your home, no place else is good enough." – John Steinbeck, America and Americans and Selected Nonfiction (1966)

3. "New York was a city where you could be frozen to death in the midst of a busy street and nobody would notice." – Bob Dylan, Chronicles: Volume One (2004)

4. "New York is made up of millions of different people, and they all come here looking for something." Lindsey Kelk, I Heart New York (2009)

5. "It was never built for the comfort and happiness of its citizens, but to astonish the world." – Susan Ertz, Anger in the Sky (1943)
6. "New York City is the place where people come to invent, reinvent, or find the room they need to be who they wish to be." – Siri Hustvedt, A Plea for Eros: Essays (2005)

7. "This isn't a fairy tale. It's New York City." – Alex Flinn, Beastly (2007)

8. "I look out the window and I see the lights and the skyline and the people on the street rushing around looking for action, love, and the world's greatest chocolate chip cookie, and my heart does a little dance." – Nora Ephron, Heartburn (1983)

9. "By comparison with other less hectic days, the city is uncomfortable and inconvenient; but New Yorkers temperamentally do not crave comfort and convenience – if they did they would live elsewhere." – E. B. White, Here Is New York (1949)

10. "The last time anybody made a list of the top hundred character attributes of New Yorkers, common sense snuck in at number 79." – Douglas Adams, Mostly Harmless (1992)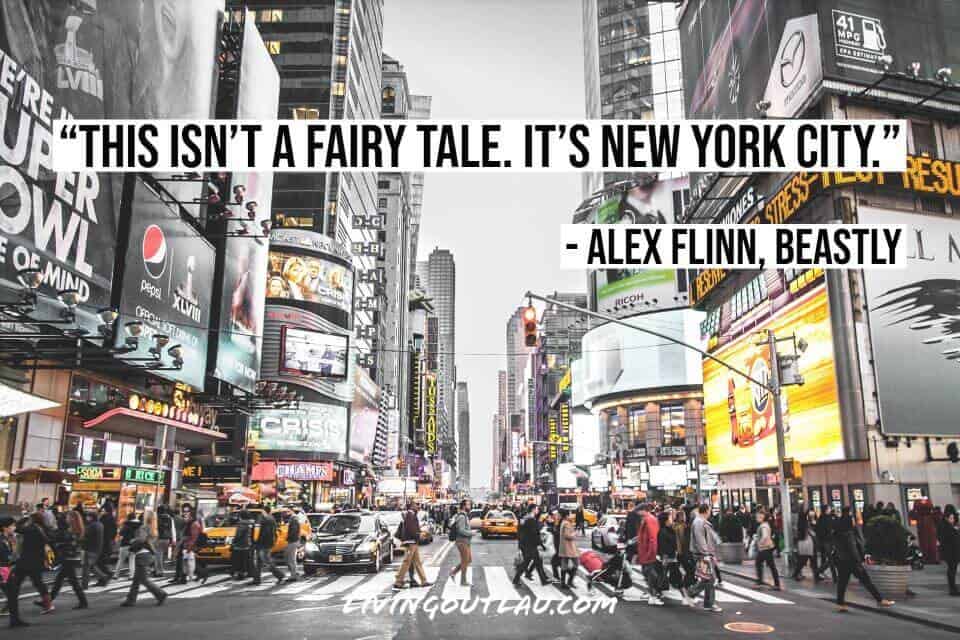 Captions For New York From Song Lyrics
There are more songs bout New York City than we can count. Here are some of our favorite captions for New York from song lyrics!
1. I Like Me Better – Lauv

To be young and in love in New York City…

2. Empire State of Mind – Jay Z. feat. Alicia Keys

Concrete jungle where dreams are made of
There's nothin' you can't do
Now you're in New York
These streets will make you feel brand new
Big lights will inspire you
Let's hear it for New York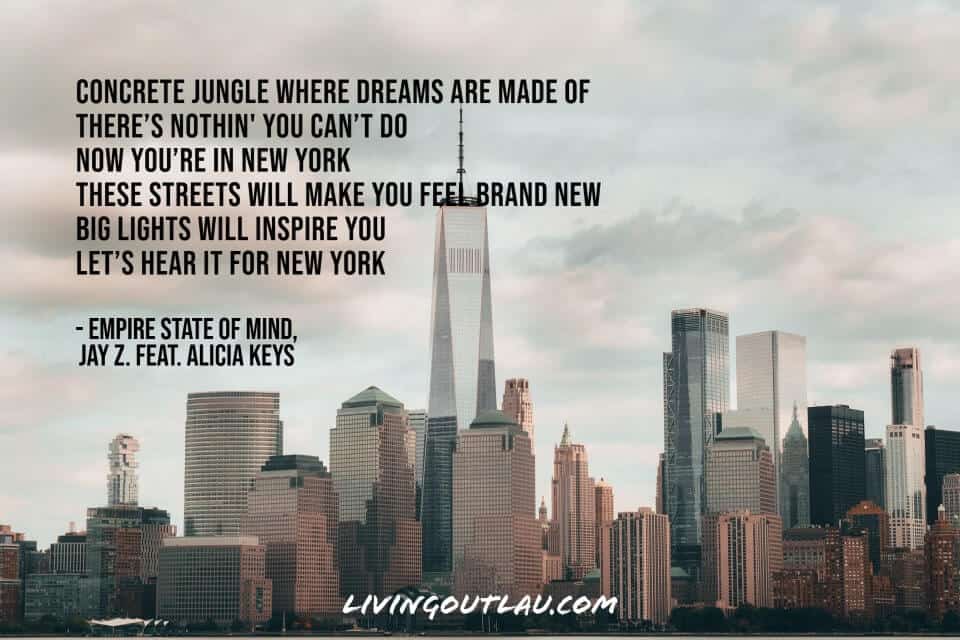 3. Juicy – The Notorious B.I.G.

Spread love, it's the Brooklyn way…

4. New York City – The Chainsmokers

New York City, please go easy on me tonight
New York City, please go easy on this heart of mine
'Cause I'm losing my lover to the arms of another
New York City, please go easy on me tonight

5. New York, New York – Frank Sinatra

Start spreading the news
I'm leaving today
I want to be a part of it
New York, New York

These vagabond shoes
They are longing to stray
Right through the very heart of it
New York, New York
Humor is one of the best ways to engage our audience on social media! There is no better way to do that than one of our New York puns!
1. "The state bird of New York is the Jaywalk." – Archie Bulger

2. "First Time-rs Square."

3. "Finally made it to the Statue of Liberty. It's a boat time!"

4. "The cold here snow joke."

5. "The views from up here couldn't be any NYCer."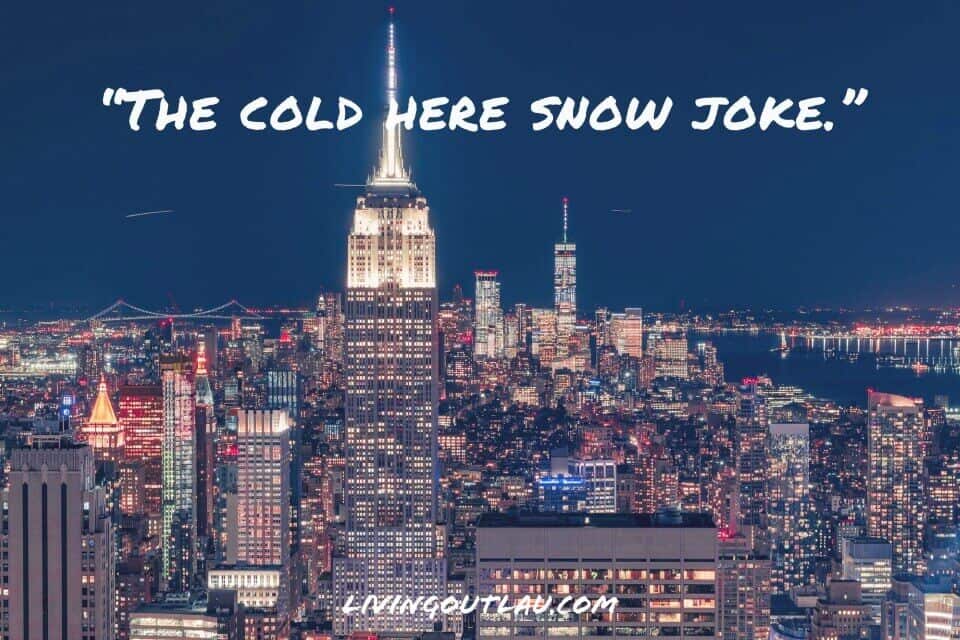 Simple NYC Instagram Captions
Use one of our simple NYC Instagram captions for something short and easy to understand!
1. "There is something in the New York air that makes sleep useless." – Simone de Beauvoir

2. "When you leave New York you ain't going anywhere." – Jimmy Breslin

3. "You haven't lived until you died in New York." – Alexander Woollcott

4. "So many lights you'd think we were living in a constellation" – Jodi Lynn Anderson, Midnight at the Electric (2017)

5. "New York is not a city. It's a world."
6. "Sleepless nights and city lights."

7. "Something's always happening here. If you're bored in New York, it's your own fault." – Myrna Loy

8. "The city that never sleeps."

9. "New York is always a good idea."

10. "Dear New York, I'll never get over you."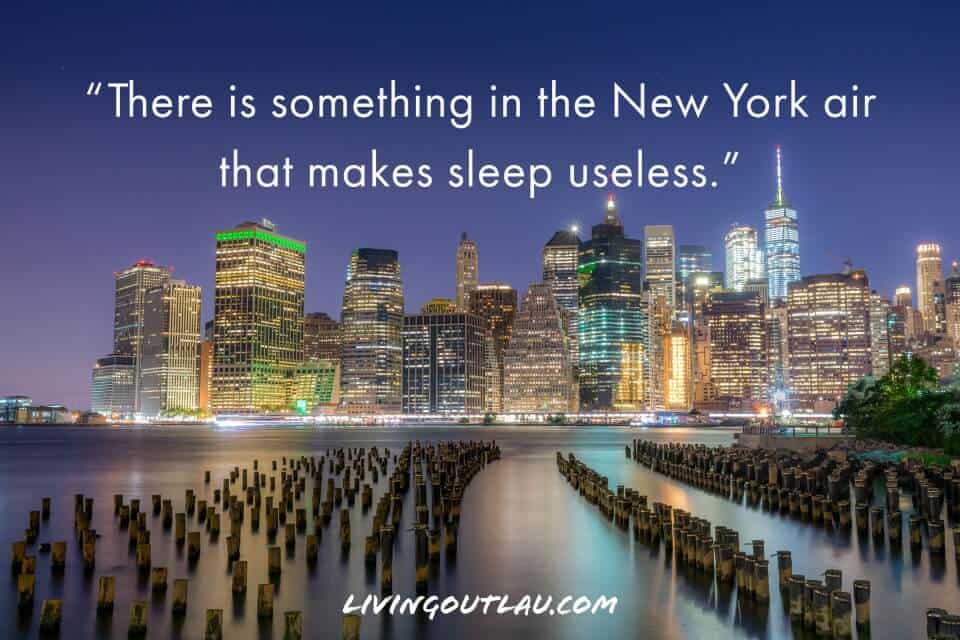 11. "When I'm in New York, I just want to walk down the street and feel this thing, like I'm in a movie." – Ryan Adams

12. "New York is the city that other cities can only dream of being."
New York City Quotes About Love
Falling in love in New York City is one of the most fabled notions in the world. Check out one of our New York City quotes about love.
1. "I have always lived in the myth of New York more than in its reality. It is what enabled me to live there for so long, loving the idea of something more than the thing itself." – Ling Ma, Severance (2018)

2. "Turn on every light in new york city I'd still be blind if you weren't with me."

3. "Quite simply, I was in love with New York. I do not mean 'love' in any colloquial way, I mean that I was in love with the city, the way you love the first person who ever touches you and you never love anyone quite that way again." – Joan Didion

4. "People never forget two things, their first love and their first day in New York City."

5. "New York was no mere city. It was instead an infinitely romantic notion." – Joan Didion
6. "Being in New York is like falling in love. Over and over again, every minute." – Rachel Berry

7. "Meet me in New York."

8. "I fell in love. His name is New York."

9. "Times Square can't shine as bright as you." – Hey There Delilah, Plain White T's

10. "New York, you stole my heart."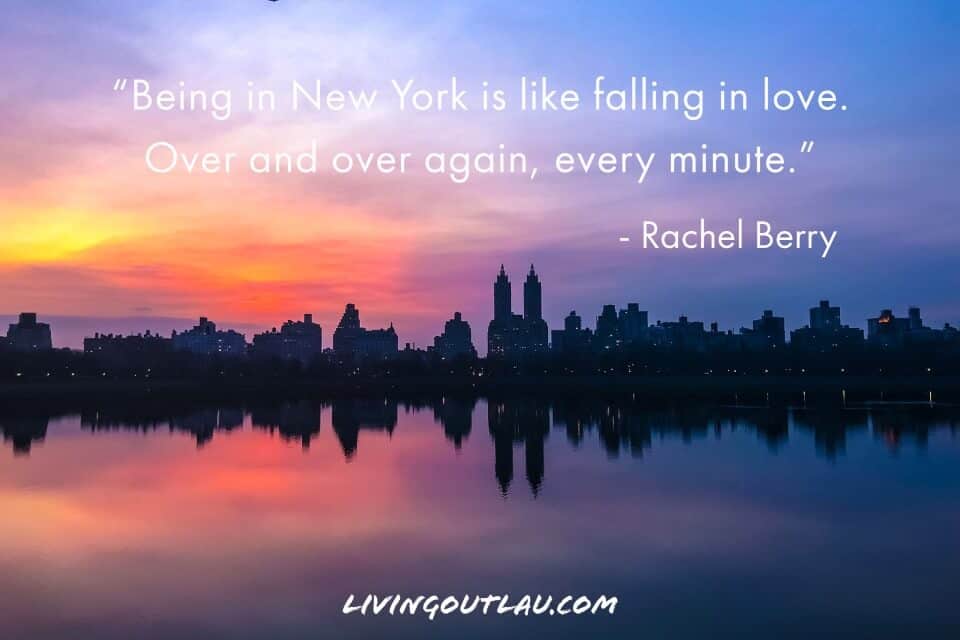 Like this post? Don't forget to save it on Pinterest!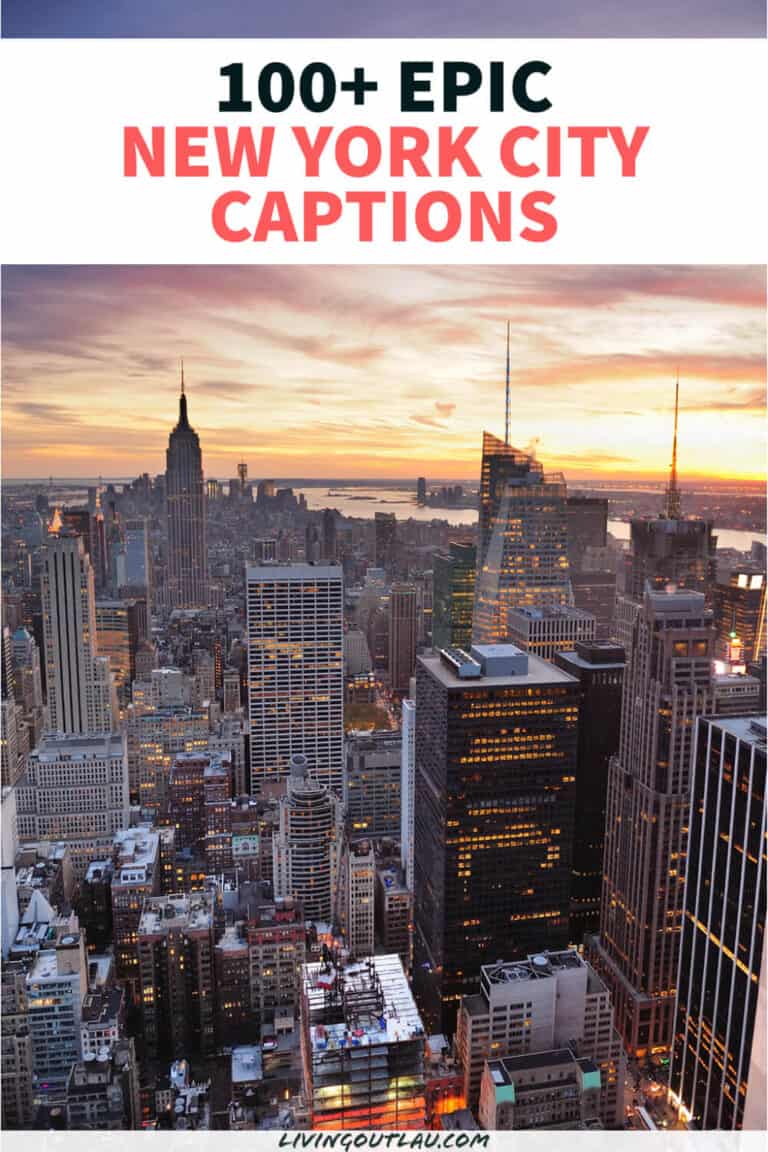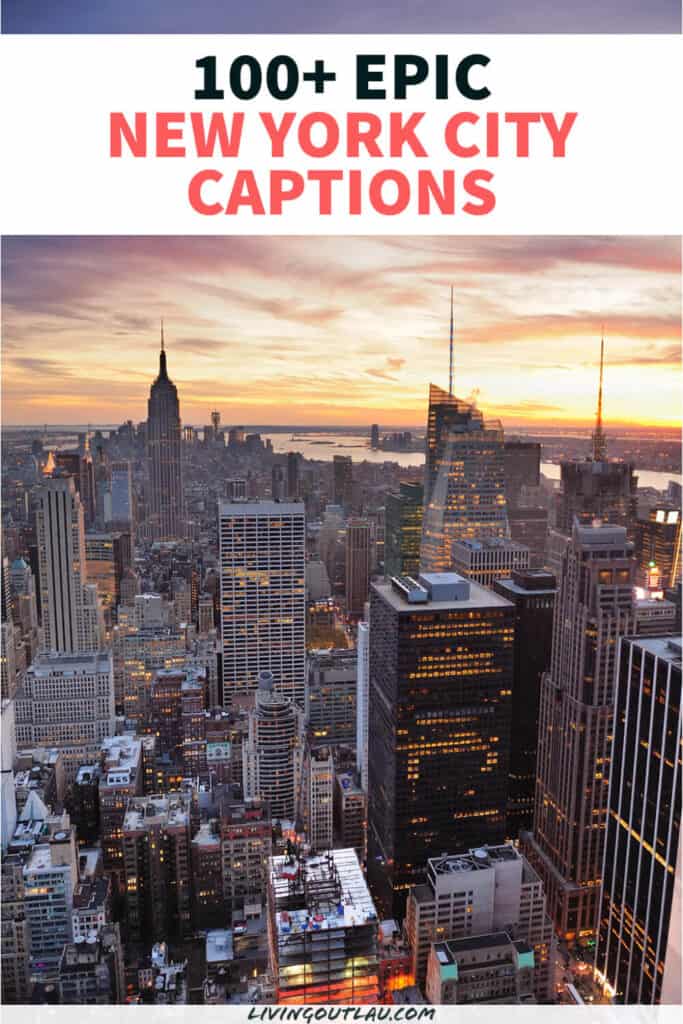 This ends our guide on the best New York captions for Instagram. We hope you found the perfect quotes for your social media.

Any questions? Leave the in the comments.
Disclaimer: Some of the links above are affiliate links. That means if you book or make a purchase through the links, we will earn a small commission at no extra cost to you! The money will help run this site! Thank you!