A day trip to Nara is one of the best ways to discover this charming Japanese City. Known mostly for its charming streets and adorable deers that freely roam Nara Park, visiting Nara is a must on any Japan itinerary.
But what many people don't know is that Nara was Japan's capital at one point in time. It was once the most powerful city in Japan. Nestled between its quaint streets and beautiful parks are plenty of culture and history waiting to be discovered by travelers.
Our Nara day trip itinerary will take you on an epic journey to explore the cultural significance of Nara through its UNESCO World Heritage temples and museums, as well as see some of the cute deers this Japanese city is known for!
Without further ado, let's see what you will be doing in Nara in one day!
---
How Many Days To Spend In Nara?
How long to spend in Nara?
If you are considering doing a day trip to Nara, you are probably wondering if you can see all of Nara in one day.
The answer is YES!
The best attractions of Nara are concentrated in a small area and you can see all of them in just 1 day.
But if you do want to stay for more than 1 day in Nara, you won't run out of things to do in the city. There are other attractions that are worth seeing other than the things on this one day Nara itinerary.
---
How To Take A Day Trip To Nara
From Kyoto To Nara Day Trip
Taking a day trip from Kyoto to Nara is one of the most popular options to visit Nara. From Kyoto, the cultural capital of Japan, it only takes about an hour to arrive in Nara via the train.
JR Nara Line
The easiest option to get from Kyoto to Nara is with the JR Nara Line. Visitors taking the JR Nara Line can get the train from Kyoto station or Tofukuji station, whichever is more convenient, to JR Nara station. The journey takes about an hour (depending on if you are taking the express or local train) and it cost 720 yen.
However, visitors with the JR Rail Pass can take any JR Rail Line, such as the JR Nara Line, for free.
There are 4 types of trains on the JR Nara Line, the local, regional rapid, rapid, and Miyakoji rapid. Any of those four types of trains will take you to Nara Station because it is the last stop on the line. Take the most express one if you can.
Kintetsu-Kyoto Line
The second option to go from Kyoto to Nara is via the Kintetsu-Kyoto. Owned by a different company, your JR Rail Pass will not work for the Kintetsu trains. The Kintetsu Express train costs 640 yen and takes about 45 minutes to arrive in Kintetsu-Nara Station, a place there is more optimal than the JR Nara Station.
However, if you do plan on taking the Kintetsu-Kyoto Line, make sure you don't take the Limited Express Kintetsu. The Limited Express Kintetsu, though a little faster, will cost you 1160 yen! You need to save every penny you can when traveling in Japan!
From Osaka To Nara Day Trip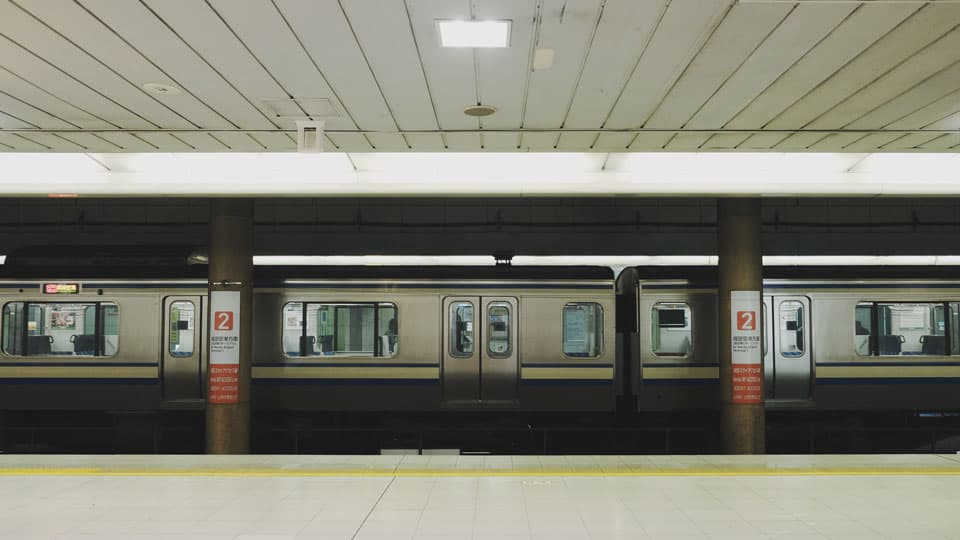 Taking an Osaka to Nara day trip is as easy as taking one from Kyoto. The JR Yamatoji Line passes through Nara Station and many of the stations in Osaka, make it a perfect transit option for a Nara day trip.
Similar to the JR Nara Line that takes you from Kyoto to Nara, the JR Yamatoji Line also has express and local trains. The fastest of which is the Yamatoji Rapid Service Line. The Yamatoji Rapid Service connects both the Osaka Loop Line and the regular Yamatoji Line, making it very convenient and fast for travelers wanting to visit Nara for one day.
You won't even have to switch trains if you are traveling on the Yamatoji Rapid Service train from Osaka.
The JR Osaka Loop Line and any Yamatoji Line are covered by the Japan Rail Pass.
From Tokyo To Nara Day Trip
If you intend on visiting Nara, I highly recommend you do a day trip from Osaka or Kyoto.
Taking a day trip from Tokyo to Nara is no easy task. Over 350 km apart, it is impossible to take a local train and have any time left to spend in Nara. This is a day trip to Nara guide, not a one day on a Japanese train guide. But luckily for you, Japan is filled with these wonderful things called shinkansen (bullet trains).
There is no shinkansen from Tokyo to Nara but there is a shinkansen from Tokyo to Kyoto. There are 3 types of shinkansen that go from Tokyo to Kyoto:
Only the Hikari and the Kodama are covered by the JR Pass. Don't take the Kodama because it takes about 4 hours to arrive in Kyoto. The Hikari takes only 2 hours and 40 minutes. The Nozomi is the fastest at 2 hours and 20 minutes but is not covered by the Japan Rail Pass. All the shinkansens cost 13,080 yen without the JR Pass.
That's why I highly recommend getting the JR Pass, especially if you are going to visit Nara from Tokyo.
Once you arrive in Kyoto, just follow the instructions above on how to get to Nara from Kyoto.
---
1 Day Nara Itinerary Map
This interactive map is personally designed for this 1 day Nara itinerary. It features all the things to do in Nara in 1 day in sequential order. Clicking on the star next to the title of the map will allow you to save it onto your device, so that you can use it when you are in Nara.
The red circles with a house in the middle are the places where you will arrive in Nara: The JR Nara station or the Kintetsu-Nara station.
You will also see red circles with a sequence of numbers: 1 to 6. That will be the sequence in which you will visit the Nara attractions on your itinerary.

If you have any questions about the map, leave a comment down below!
---
Nara Day Trip Itinerary: What To Do In Nara In One Day
To be able to accomplish all the activities on the Nara 1 day itinerary, it is important that you arrive early. I recommend arriving no later than 9 AM. By arriving that early, you will have ample time to enjoy the attractions in Nara thoroughly.
To be fair though, I am quite a slow traveler and I like to take breaks here and there!
If you do finish all the activities on the itinerary, check out the list of other popular attractions in Nara down below!
1. Kofuku ji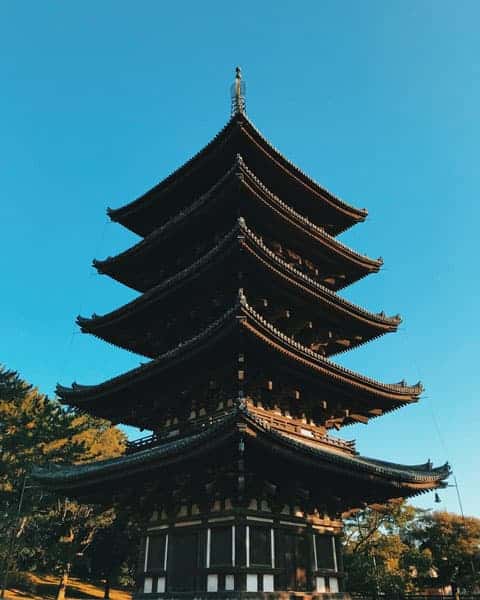 Conveniently located close to both the transit stations (JR Nara Station and Kintetsu-Nara Station), Kofuku ji is our first stop in our Nara one day trip.
Once one of the Seven Great Power Temples in the city of Nara, Kofuku ji is now one of the most beautiful temples and one of the few UNESCO World Heritage Sites in Nara. A trip to Nara would not be complete without a visit to this historically important building.
Established at the same time when Nara became the capital of Japan, Kofukuji contains relics of a time when Nara was the center of power.
Unlike most temples in Japan that contain one recognized treasure, this Nara's iconic landmark contains four national treasures: the 5-story pagoda, the 3-story pagoda, the Hoku-endo, and the Tokon-do.
At 50-meters tall, the 5-story pagoda is the second-highest pagoda in Japan. The tallest pagoda in Japan is Toji in Kyoto. Though not the tallest, it is one of the oldest pagodas, dating back to the 12th century. The 5-story pagoda of Kofukuji is the most recognized landmark and symbol of Nara.
There is plenty of history to be learned at Kofuku ji Temple. If you are a history buff, this is one of the places you must visit in Nara.
Admission Fee:

Temple Grounds: Free
Central Golden Hall: 500 yen
National Treasure Museum: 700 yen
Eastern Golden Hall: 300 yen
National Treasure Museum and Eastern Golden Hall Combination: 900 yen.

Hours: 24/7 hours for temple grounds, 9 AM to 5 PM for temple halls and museum.
Location: 48 Noboriojicho, Nara, 630-8213, Japan
2. Nara National Museum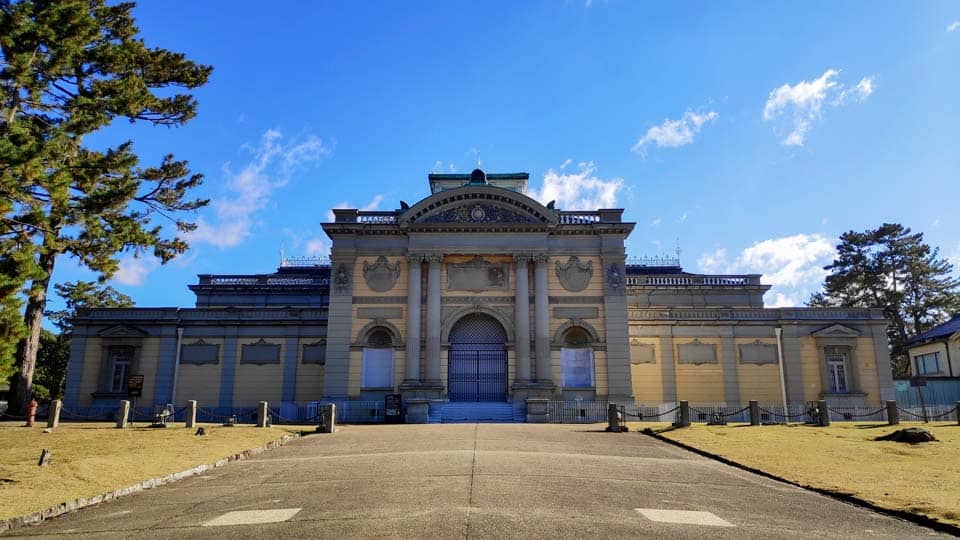 The Nara National Museum is situated at the entrance of Nara Park, and it is a great stop before you check out everything the park has to offer. The impressive building from 1889 houses a huge collection of Japanese Buddhist art – from statues to sculptures, paintings and more.
Little information is written in English inside the museum, so it is best that you rent one of the audio guides so you can get a deeper understanding of the museum's exhibit.
If you are visiting during cherry blossom season, the inner garden of the Nara National Museum is going to be very beautiful!
Admission Fee: 700 Yen
Hours: 9:30 AM to 5 PM Sunday, Tuesday to Friday. 9:30 AM to 8 PM on Saturday. Closed On Monday
2. Nara Deer Park And Feed The Deers!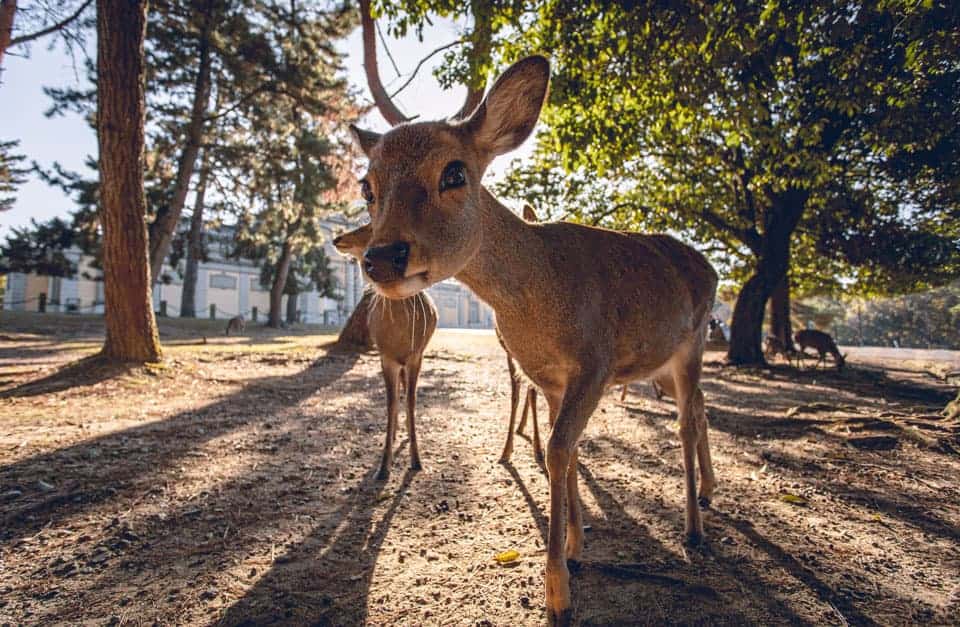 Nara is also known as Japan's magical city of deers. Do you know why? Because there is a park called the Nara Deer Park where deer freely roam the 502 hectares of land. It is certainly one of the most famous things about Nara. No Japan itinerary would be complete without seeing these beautiful animals with your own eyes.
In the Shinto tradition, deers are known to be messengers of God. Though they are no longer considered mythical creatures, these cute animals are still regarded as national treasures.
Also nicknamed the "bowing deers", the deers in Nara Park will bow back if you bow at them. We knew about the politeness of the Japanese people, but even the deers are more polite in Japan! Who knew that being respectful is most likely going to get you what you want?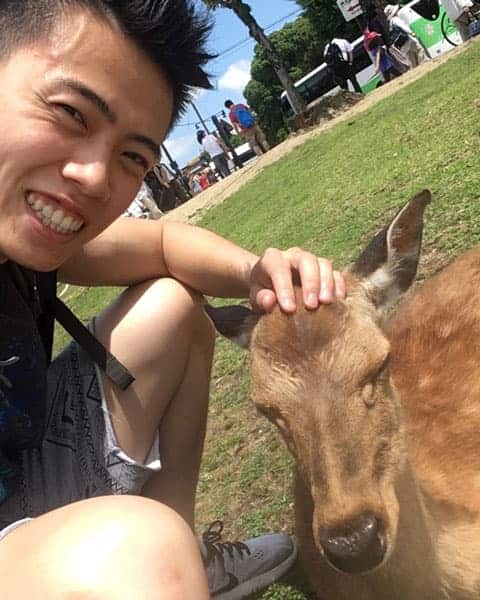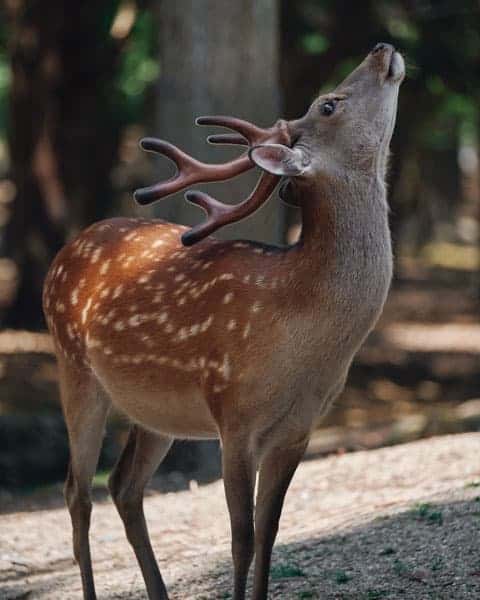 Once you enter the vicinity of the Nara Park, you will begin to see these lovely deers and vendors selling shika-senbei (special deer biscuits).
A pack of 10 biscuits costs 200 yen. It is quite affordable but just be aware of the attention you will receive once you hand over the money.
The deers in the park seem to have a special ability in detecting who has deer crackers on them. And once they spot you, you are not getting away. They will do anything to get those crackers from you.
Once seemingly docile, the deers will become a little more aggressive and start approaching you. They will gather around you and nip on your clothing and headbutt your rear until you give them the crackers. It is quite an intimidating experience.
My recommendation is don't buy the deer biscuits. You are essentially putting a target on your back if you do. You still can bow to the deers, pet them, and take photos with them without feeding them!
If you do, make sure you are aware of your environment and try not to get surrounded.

Nara Park is a great place to visit in Nara with kids!
3. Yoshikien Garden Or Isuien Garden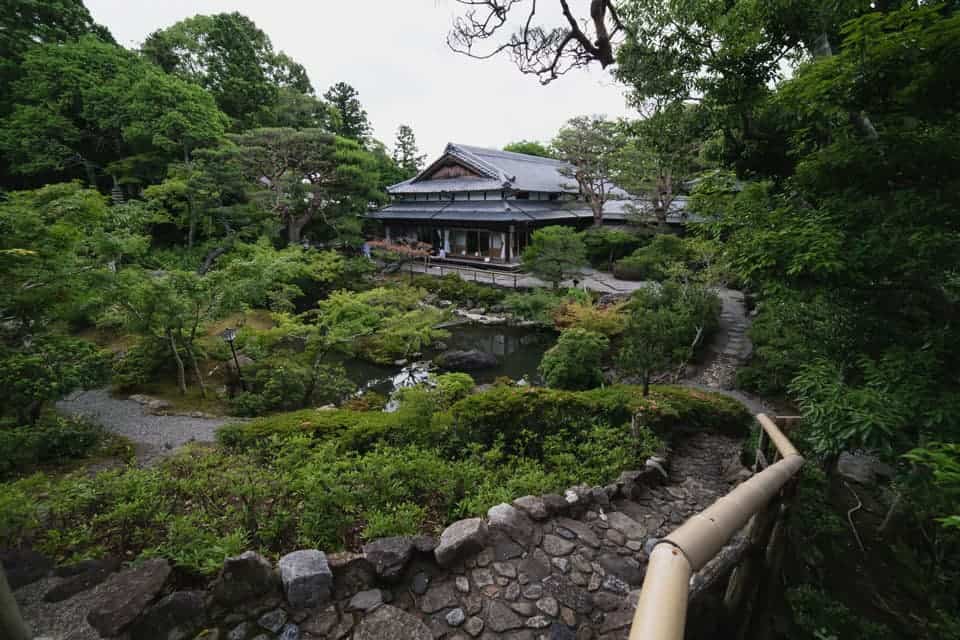 Inside Nara Park are many serene gardens that are worth seeing, my favorite of which is the Yoshikien Garden. Tourists usually never hear about the Yoshikien Garden and visit the neighboring Isuien Garden.
Which one is better?
Though I have never been to the Isuien Garden, I can highly recommend the Yoshikien Garden. I intended to visit the Isuien Garden on my Nara trip but saw that the admission fee for Isuien Garden is 900 yen. The cost of Yoshikien Garden? 0 yen (if you bring your foreign passport).
It was a clear choice for me which one to visit.
The Yoshikien Garden showcases three types of Japanese Gardens: The moss garden, the pond garden, and the tea ceremony garden. It is a lot less touristy than the Isuien Garden so you can enjoy these beautiful gardens in peace.
There are more techniques of Japanese Gardening in Isuien Garden for any visitors wanting to learn more.
4. Nandaimon Gate of Todaiji
Nandaimon Gate of Todaiji translates to the Big Southern Gate of Todaiji, which is one of the entrances to get into Todaiji. An ancient wooden gate measuring 25 meters high, it is a marvelous Japanese landmark with so much character to it.
Inside the gate stands two Nios, two wrathful and muscular guardians of the Buddha. The Nandiamon Gate and the two guardians are both considered national treasures.
I was immediately drawn to this beautiful wooden gate when I saw it. The wooden supporting elements of the gate were all very old and you could tell by its texture. Every grain in the wood holds its own history and it stands timelessly in Nara Park.
Don't miss this attraction in Nara.
5. Todai-ji Temple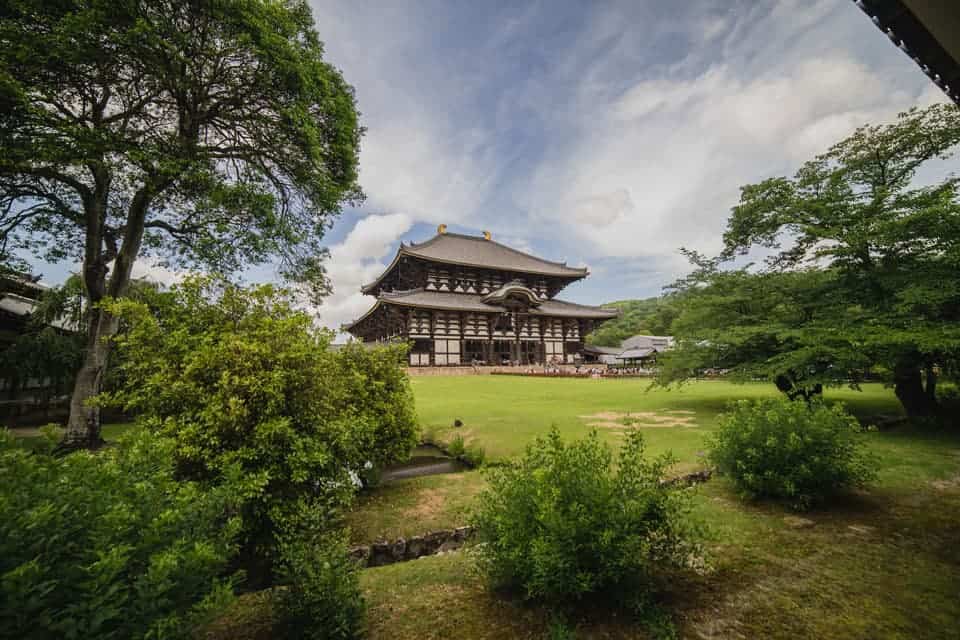 Todai-ji, translated to the Great Eastern Temple, is one of the most significant and influential temples in Japanese Buddhism history. When built in the 8th century, the Todai-ji was the biggest construction at that time.
Todai-ji is the home of the largest bronze Daibutsuden (Buddha) in the entire world. Measuring 15 meters tall and around 500 tons, its authority can be felt once you enter the temple.
Until recently, the main hall that houses Daibutsuden is also the largest wooden building in the world. Can you believe that the main hall you see is a reconstruction of only 2/3 of the hall that was destroyed?
After you are done admiring the Daibutsuden, look for a giant pillar with a hole in it adjacent to the statue. If you see kids giggling and crawling on the floor, then you are probably at the right spot.
That is not any ordinary hole in a pillar. By successfully crawling through that tight space, you are guaranteed enlightenment for your next life!
Other than the main hall, the Todaiji grounds contain many other attractions including the Todaiji Museum, the Nigatsudo Hall, and many more.
Today, besides being a tourist attraction in Nara, the Todaiji is the headquarter of Kegon Buddhism.
6. Kasuga Taisha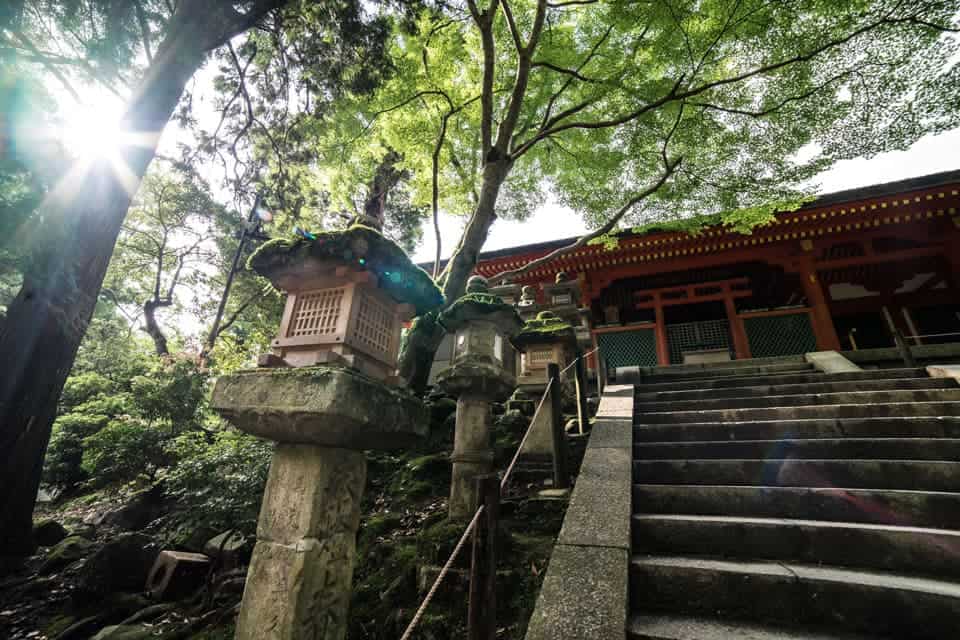 After you are done visiting some of the most renowned Buddhist temples in Nara, it is time to see some Shinto shrines. Located a short walk from Todaiji, the Kasuga Taisha is the most important shrine in Nara.
A place where four Shinto gods are enshrined, visitors can have an authentic Shinto experience at Kasuga Taisha. Built by the Fujiwara family in 768 at the same time when Nara became the capital of Japan, Kasuga Taisha was to honor the gods that help to protect the city.
This UNESCO World Heritage Site has been rebuilt every 20 years until the end of the Edo period.
Kasuga Shrine is also one of the most photogenic places in Nara. The shrines offering hall and the inner halls are filled with bronze lanterns donated by worshippers. These lanterns line up the halls of the Kasuga Shrine and are some of the most remarkable features of the shrine.
Along with the vibrant vermillion color of the shrine, they create a paradise for photographers.
The shrines offering hall is free of charge to visit. A paid inner area is also available for visitors that want a closer look at the Kasuga's intricate architecture.

Located adjacent to the Kasuga Shrine is the Kasuga Museum and the Shinen Manyo Botanical Garden. Home to many of the shrine's relics, a visit to the Kasuga Museum will deepen your understanding of this sacred place.
The Shinen Manyo Botanical Garden is home to over 200 types of plants. It is a popular spot for wisteria-watching, a type of flower that blooms from late April to early May.
The path to Kasuga Shrine is lined with stone lanterns that light up twice a year during the Lantern Festivals, one in early February and one in mid-August. The bronze lanterns in the shrine are also lit at that time.
Hours: 6:30 AM to 5:30 PM (April to September), 7 AM to 5 PM (October to March),
Inner area: 9 AM to 4 PM
Admission Cost: Free (Outer Area), 500 yen (Inner Area)
Location: 160 Kasuganocho, Nara, 630-8212, Japan
This is the end of the Nara one day itinerary! If you have extra time, we have listed some other notable attractions in Nara worth visiting! If you haven't had lunch yet, what are you waiting for? There are some amazing restaurants serving authentic Japanese cuisine here! Don't miss out!
One of my favorite restaurants in Nara is Tonkatsu Ganko Nara! Their Tonkatsu (Fried pork cutlet) is heaven-sent!
---
Additional Attractions for A Nara Day Trip
1. Mount Wakakusa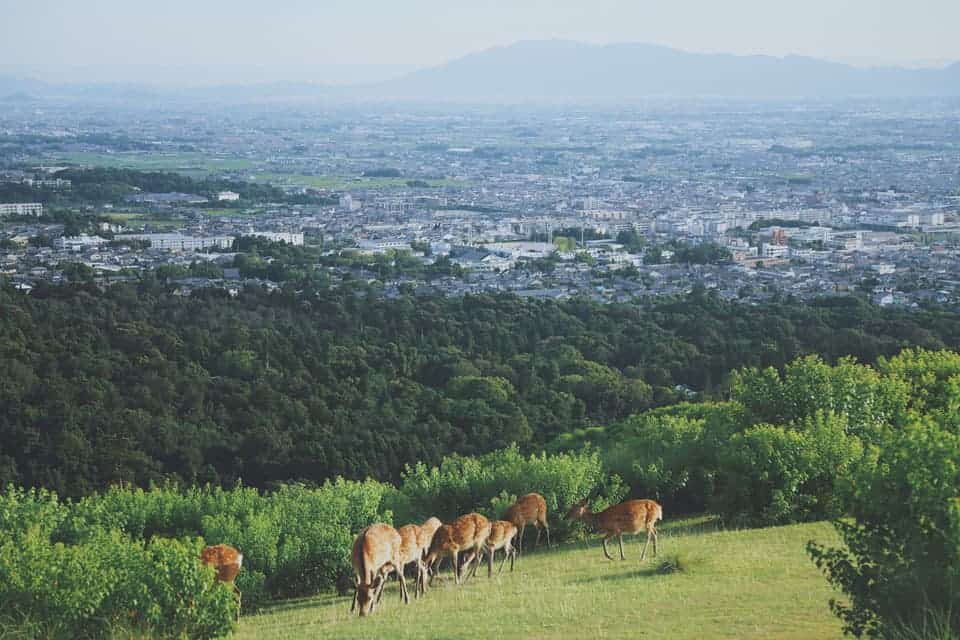 For visitors that want a panoramic view of Nara, Mount Wakakusa is the place to visit in Nara. About 350 meters tall, the viewpoint at Mount Wakakusa offers unobstructed views of the city down below. However, it is a 30-minute hike from Todaiji but it is worth the effort. The cities of Japan can get quite boring so I recommend this if you are an avid hiker!
2. Horyuji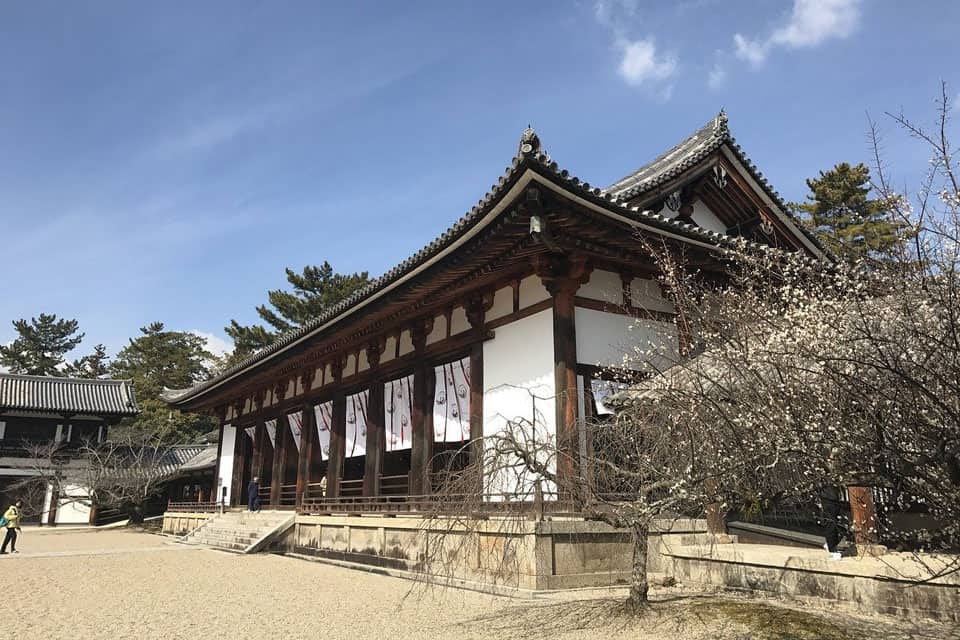 Horyuji, similar to Kofukuji, was once one of the Seven Great Temples. It is said that the pagoda at Horyuji is the oldest wooden building in the entire world. In fact, the temple was founded in 607 by Prince Shotoku, and the temple itself is one of the countries and most recognized in Japan!
The only downside to visiting this temple is that it is very far from the other attractions on our Nara day trip itinerary.
Hours: 8 AM to 5 PM (until 4:30 PM from early November to late February)
Entrance Fee: 1500 yen
3. Yakushiji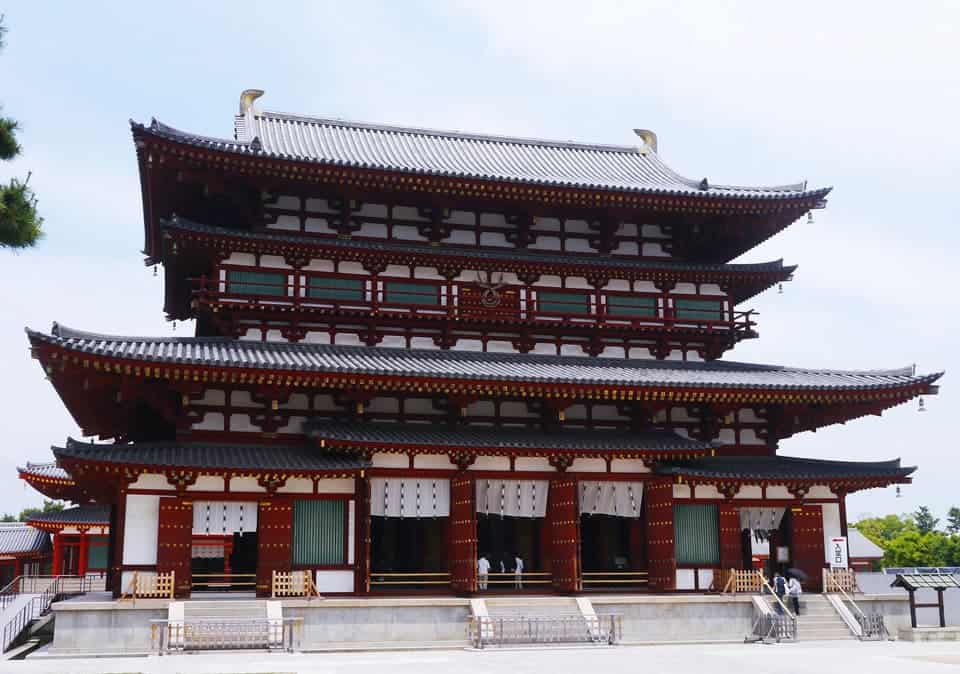 Yakushiji is another important Buddhist temple in Nara. Built in the late 7th by the emperor Tenmu, its purpose was to wish for a speedy recovery for his sick wife. You can see it in its name Yakushiji, which roughly translates to "The Pharmacist Temple".
Yakushiji is one of the most beautiful temples in Japan because of its symmetrical construction. The two beautiful pagodas are bisected in the middle by the main hall!
---
Where To Stay In Nara, Japan
Though you shouldn't need more than one day in Nara, here are some recommendations on places to stay if you do decide to spend more time!
Best Hostel in Nara – HARUYA Naramachi
A beautiful hostel inside an old Japanese house, Haruya Naramachi will give you a Japanese cultural experience unlike any other place. Once you step into this hostel, it is almost as if you are transported 100 years back in time. Besides the decor, the hostel is a very cozy place to stay for a short stay!
---
Best Luxury Hotel in Nara – Onyado Nono Nara Natural Hot Spring
Though not one of the most expensive hotels in Nara, the Onyado Nono Nara Natural Hot Spring is a great luxurious accommodation. An immaculate hotel, you can literally eat off the floor in this hotel. The multiple onsens on-site are the perfect place to relax after a long day in Nara.
---
Visiting Nara On A Day Trip FAQs
Is One Day Enough In Nara?
Because the majority of the attractions in Nara are concentrated in a small area, one day is usually enough time in Nara. You'll have enough time to explore the cultural attractions such as temples and museums, as well as time to explore the parks in Nara!
Is Nara Worth Visiting?
As the old capital of Japan, Nara is definitely worth visiting. The city is home to several important UNESCO World Heritage Sites in Japan, plus visitors can experience the adorable free-roaming deers in Nara Park!
---
Like this post? Don't forget to save it on Pinterest!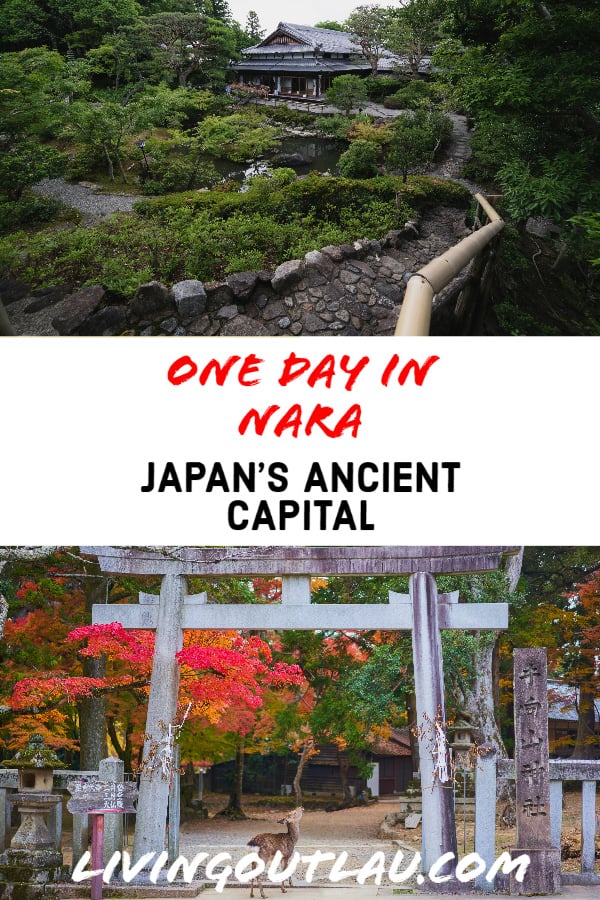 ---
This concludes the Nara day trip itinerary! I hope this guide helped you determine the things to do in Nara in one day. Any question? Leave them in the comments!
Disclaimer: Some of the links above are affiliate links. That means if you book or make a purchase through the links, we will earn a small commission at no extra cost to you! The money will help run this site! Thank you!