My father once said to me that the only thing you need in your backpack is your passport and your toothbrush; everything else is an accessory. And you know what? He was right!
When we start backpacking, most of us prepare for all eventualities and slowly learn to pack less. But when I started to really consider minimalist backpacking, that statement became the inspiration that stuck with me and inspired me to really pack less. A lot less.
When preparing for minimalist travel, the first thing you need to change is your mindset. Have you ever taken a trip and thought you needed to prepare for all possible weather conditions? "What if it rains? What if there's a snowstorm? What if the sun is too strong? What if it's too windy?" Don't worry, we've all been there. But you need to get out of this mindset.
If this sounds like you and you want to become a more minimalist backpacker. Then read on to find out how you can start experiencing more with less!
---
Why Start Minimalist Traveling?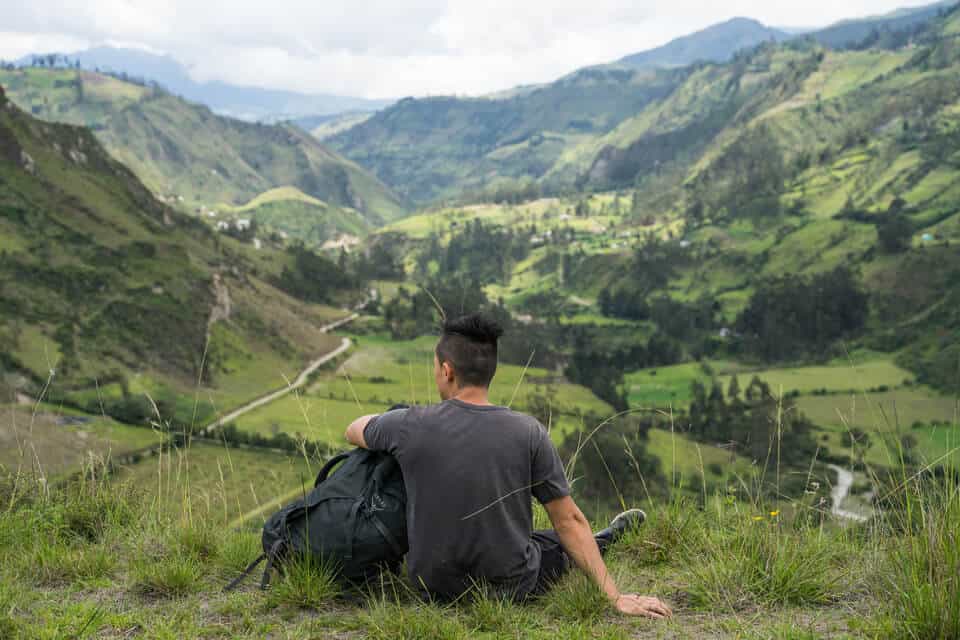 First and foremost, minimalist backpacking has a ton of benefits: there is less weight to carry, more room for souvenirs, you don't need to pay for checked-in luggage on planes, there is less of a risk of losing things, and you spend less time worrying about what to pack. All sounds great, right?
But is backpacking minimalist for everyone? Yes and no.
Minimalist traveling is great for people who live a carefree lifestyle – it is the difference between a traveler and a tourist. If you're someone who doesn't care about looking fashionable all the time, then you might find minimalist backpacking is for you.
It's also great for anyone who is spending a short vacation abroad. If you are only traveling for 1 or 2 weeks, you will be surprised how little you need to take.
Minimalist traveling is also ideal for people who like to travel in their home country. For example, many Irish holidaymakers often go on a staycation to nearby places in Ireland like Cork, Derry, and Galway.
However, it's not for everyone. For those who are planning to travel to multiple countries and experiencing several types of weather conditions or climates for an extended period of time…well, you might need to take a bit more.
However, that's not to say you cannot go a year of minimalist backpacking, but there are some extra steps you will need to take to make it work, such as you may need to throw out some clothes and buy new ones when changing climates, which can be quite wasteful.
---
Preparing For Minimalist Backpacking
To become a minimalist traveler, you need to start by changing your perception of backpacking and what you really need when you travel.
When I first started backpacking, I used to pack first aid kits, medicine for all kinds of diseases I had never heard of, trousers for cold days and shorts for hot days. My bag weighed more than I did.
It was a miserable way to travel. 
Often when you carry too much stuff, you tend to worry about forgetting things and that anxiety can feel like you have forgotten something really important. The best way to deal with that, in my opinion, is to limit the amount of stuff you need to worry about.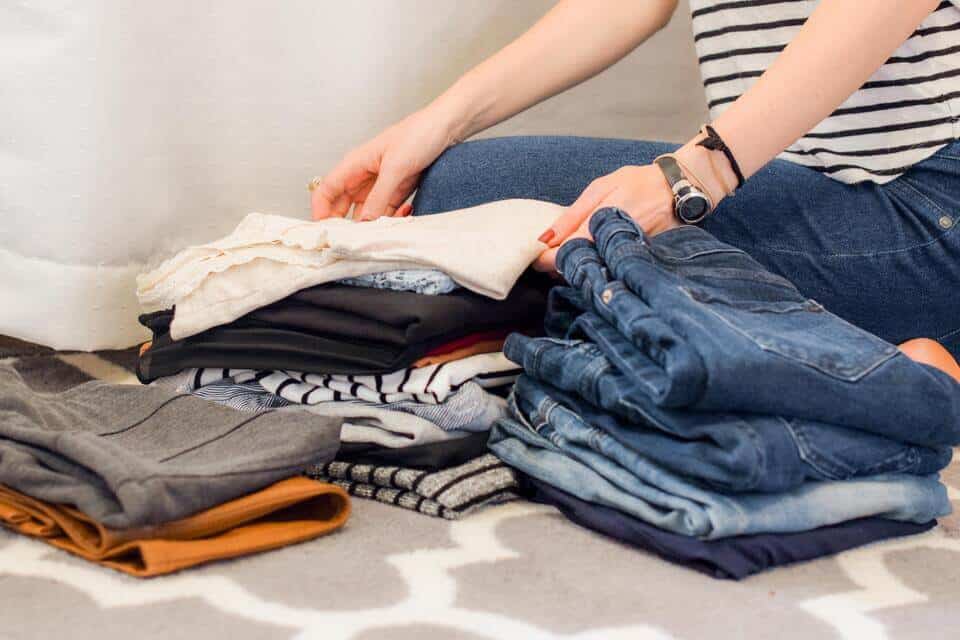 I soon realized that most of what I was carrying was dead weight. When I traveled to Guatemala back in 2018, I had finally had enough of traveling with a heavy backpack and I decided to dump a lot of my belongings that I felt I didn't really use or need.
After a few days I realized my father was right (don't tell him that), and all you really need is your passport and, because this is the 21st century, a phone, and everything else was an accessory.
Before you start your trip, the best way to prepare yourself is to spend some time deciding on what you consider to be essential and what would be a "nice to have".
Divide those items into two piles and then look at your 'nice to have' pile. Assess what you could buy in the country you are traveling to in this 'nice to have' pile and remove those items. What's left is what you will take, and the rest you can buy when you get there.
This way you will soon realize how much you don't really need to bring.
---
Best Minimalist Backpacks
Buying a minimalist backpack is not an easy task as there are so many out there. Personally, we would opt for nothing more than a 35L backpack that is lightweight and comfortable, with plenty of pockets for added security. 35L is at the higher end of the spectrum because we have so much gear to carry!
I have seen ultra minimalist travel with nothing but a 24L backpack. It is possible if you know what you are doing!
Here are a few of our favorite minimalist backpacks (don't forget to check out our list of best minimalist backpacks):
Cotopaxi Allpa 28L Travel Backpack
Features: 28L, stylish, carry-on friendly, durable, weather-resistant, laptop-friendly
We also recommend traveling with a fanny pack (bum bag/waist bag in other countries) or anything small that you can carry your valuables with you at all times. If you go on short hikes, you can also store snacks or even a small bottle of what in it. Fanny packs are starting to become a huge part of our travel gear arsenal.
We also really like how it looks, especially when you wear it across your chest. Yes, we said it, LivingOutLau likes fanny packs.
Here are a few of our favorite fanny packs:
Fjallraven Ulvo Medium Hip Pack
Features: 2L, waterproof fanny pack, spacious, stylish. a zippered security pocket
Features: 4L, slim & stylish, water-resistant, magnetic clasp on strap for convenience
---
Packing List For Minimalist Travelers
If you're not used to packing light, then don't worry, we have a list of all the essentials you need to take with you on any adventure.
1. Activewear and Versatile Clothing
First, let's talk about your travel wardrobe. Clothes take up a large proportion of your backpack, so it's important to pack light.
The best way to be a light traveler is to pack a few pairs of activewear…and that's all you need to wear for any trip. Climbing a mountain? Activewear. Long road trip? Activewear. Long haul flight? Activewear. Going to the gym? Activewear. 
Versatility is key when you are packing to travel minimalist. Think of clothing that you can wear on more than one occasion. For example, shorts are perfect for every setting from hiking to strolling around the city to nightlife. For women, a comfortable flowy and airy dress is ideal. That is why we love a good pair of sweatpants or yoga pants.
Leave your jeans at home.
Jeans look stylish but they are too heavy to carry and take up a huge portion of your backpack. They aren't exactly the most comfortable piece of clothing so their uses are quite limited.
When in doubt, pack activewear!
You should also get out of the mindset of needing 100 pairs of underwear and socks. You only need to pack a few pairs of underwear and you can wash them regularly.
All you need is some hand-wash laundry soap and then you can wash your underwear in the sink at your hotel/hostel at night.
Don't weigh your bag down with several pairs of underwear. I pack no more than 5 pairs of underwear. Choose the ones that are lightweight and dry quickly. I personally love these Exofficio Boxer Briefs. Not only are they comfortable and easy to wash, they always dry overnight.
Alternatively, there are five ways to wear one piece of underwear. Forward, backward, inside out forward, inside out backward, and no underwear! Just kidding (or am I?)
Likewise, you only need two pairs of shoes – one pair of sneakers for when you are being active and a pair of flip-flops to wear to the beach or in your hotel/hostel. That's all you need.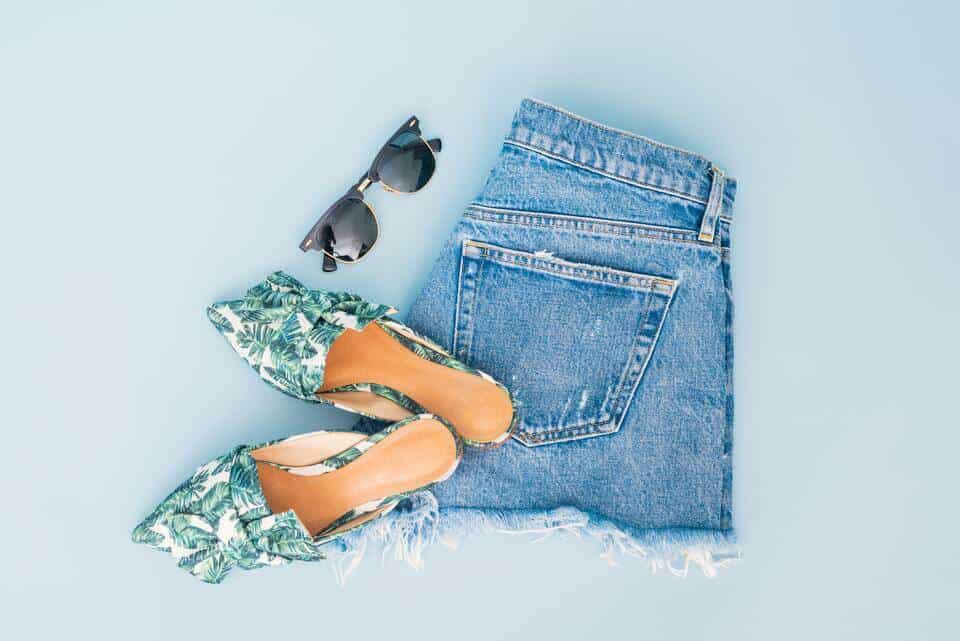 2. Technology to Take
Electronics are some of the bulkiest and heaviest things you bring with you on your travels. That is why it is imperative that you bring just the bare minimum.
As a blogger, I have the luck of lugging tons of gadgets around. If I didn't have to do all this blogging stuff, the only electronics I would bring is a nice phone.
Yes, not even a camera.
Unless you are a photography hobbyist or a professional photographer, a nice phone is enough for photos. Nowadays, a good phone is capable of taking excellent photos. Many of them even enhance your photos without you doing anything so you don't need to worry about editing them.
I recommend every traveler to bring a portable battery pack, as it is small but useful to have when you are on an extended trip.
Check out our favorite travel portable battery pack here!
Along with a portable battery pack and a phone (and a charging cable), you must bring a universal travel adapter with you. They allow you to charge your electronics anywhere in the world. No more worrying if you need to bring a different plug!
Check out our favorite universal travel adapter here!
Some hotels and hostels these days have USB charging ports, meaning you no longer need to carry a bulky travel adapter or a lot of cables. If you want to pack extra light, plan ahead and see what amenities your accommodation provides before deciding on which technology to take.
3. Minimalist Travel Toiletries
Most hotels and hostels come pretty well equipped in the toiletries department these days, and it's worth looking into what is provided with your stay before you leave for your trip.

This is going to surprise most of you but I usually don't bring any toiletries except a toothbrush with me.

That is because it is always much easier to purchase toiletries when you arrive. You can also see what toiletries your accommodation is missing and purchase accordingly. Without the extra weight of the toiletries (and the liquid restrictions), you are more likely to be able to have your backpack as a carry-on and avoid the hefty baggage fees.

When I am traveling with toiletries, I have these travel-sized bottles which I refill before I leave for my trip and at the accommodation whenever I run out.
4. How To Organize Your Minimalist Backpack
The best way to utilize the space in your minimalist backpack is to organize your bag well. When I first started traveling, I used standard packing cubes to keep all my belongings easy to access and organized.

Nowadays, technology has advanced and packing cubes have been upgraded. Meet packing cubes 2.0 – compression packing cubes. These compression packing cubes squished all your clothes so you can save even more space!
Check out our favorite compression packing cubes here!
Another minimalist backpacking hack is to bring a microfiber towel instead of your standard cotton towel. Microfiber towels dry super quickly, weigh next to nothing and pack down really small. You can also double it up as a curtain in a hostel if you want more privacy. Definitely a worthy investment!
I also like to keep my camera and technology gadgets together in a neat electronic travel organizer, so I can keep them tidy and have easy access to them.
It is also a good idea to have a travel organizer for your toiletries so if any of them spill it doesn't get over your clean clothes. As a backpacking minimalist, you can't afford your clean clothes to get messy for no reason!
5. Other Essentials
By now, you would have packed most of what you need. Depending on where you are traveling to, but you might want to consider taking insect repellent and sunscreen (as these can be expensive and unreliable in some countries) if you are visiting warmer climates, or more warmer clothing if you are visiting colder climates.
It's really personal preference as to what you consider essential, but remember, don't forget your passport!
---
Tips To Travel Minimalist Like A Pro
We know that preparing for your first minimalist backpacking adventure is not an easy task, so here are some key tips to remember when packing your first minimalist travel backpack.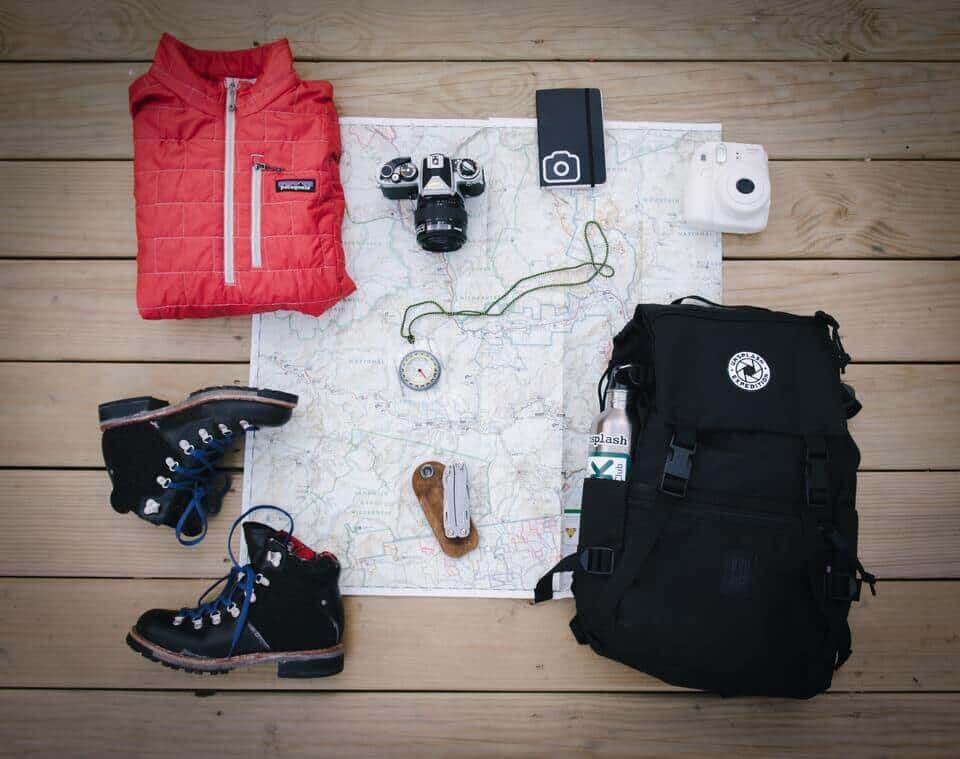 1. Buy When You Get There
Once upon a time, I forgot my suitcase when going on vacation. True story. I know what you're thinking, how does someone forget to take their suitcase…and without getting into the blame game, I thought I asked my brother (I definitely did) to put my case in the car but he didn't.
So I had to buy everything when I got there. And, it actually worked out amazingly for me.
Think about it, how often do you go shopping before a big trip? You want to look amazing and be prepared. It is ingrained in human psychology to overpack. Unless you are going to Antarctica, it is very likely that you can purchase what you need there.
This applies to anything from toiletries to clothing to even shoes! Not only is this an excellent way to go shopping (without guilt) in a foreign country, but you will also find locally-made items that are more suitable for your destination.
When I packed for Peru, I didn't bring enough warm clothes. That gave me the chance to wander around the charming markets looking for cheap, warm and stylish alpaca products! Some of those I have kept and are now a part of my travel memorabilia. 
There is a famous travel quote that has always stuck with me.
"When preparing to travel, lay out all your clothes and all your money. Then take half the clothes and twice the money"

– Susan Heller
This quote has become one of my favorite pieces of advice to beginner travelers. Buy when you get there.
2. Pack With A Purpose
Before every trip, there is always the anxiety of not being prepared. And this leads back to what I mentioned earlier about getting out of a mindset where the whole world is living in caves. You don't need to prepare for everything.
Here's a top tip for you. Pack your bag a week earlier and every time you need something, take it from your bag. If by the end of the week you have not used something in your bag, it is not essential and you might want to leave it at home.
Pack only the bare minimum. 
3. Choose Your Destination Wisely
One of the most important considerations when backpacking minimalistic is the climate of your destination. If you decide to visit countries that are cold or with drastic changes in temperature throughout the day, you have to pack layers and thick jackets that can take up lots of space.
If you want to embrace the art of minimalist traveling, you need to pick countries that are warm. Think of places where you can spend the entire day in just shorts and a t-shirt. Countries in Southeast Asia and Latin America are usually good choices, given that you pick the right seasons!
4. Opt For Clothing That Are Easy To Match
One of the biggest concerns about traveling light is wearing a similar-looking outfit every day. After all, you don't want to wear the same clothes for all your vacation photos.
When packing clothes, look for neutral colors that can go with anything. Blacks, greys, and whites are fantastic because they match anything.
If you have 5 shirts and 3 pairs of pants and they all match, you essentially have 15 outfits. Don't pick something that can only be in a limited amount of outfits.
After years of backpacking myself, I can say I now only have blacks, greys, and whites. If you have been to a backpacking hostel, you will see that those are the primary colors of everyone's clothes. We call those the backpacking colors!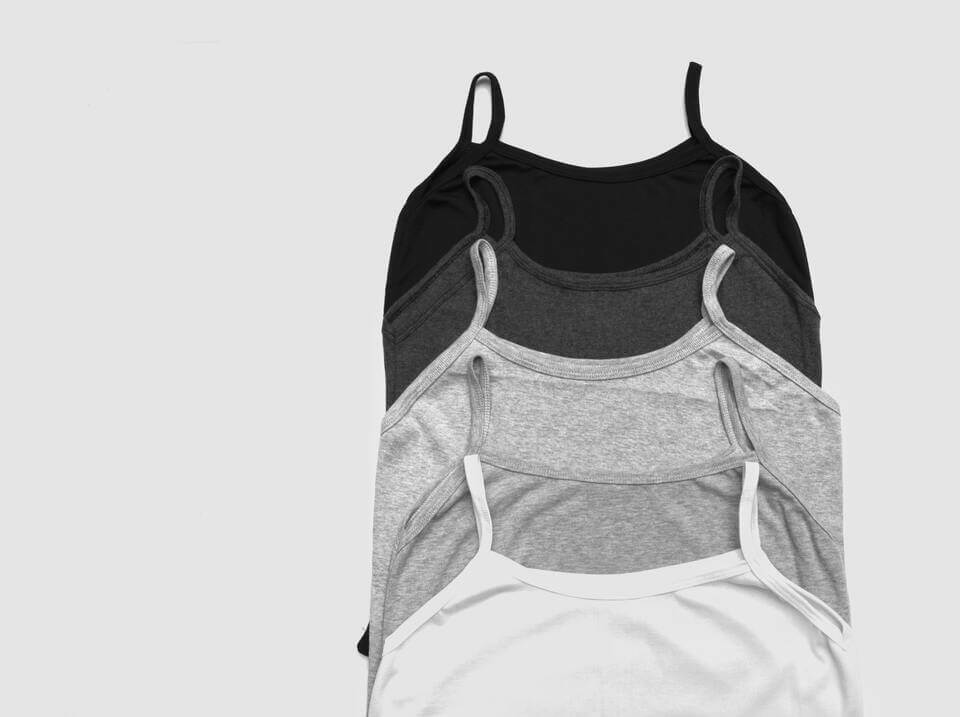 5. Worry Less, Enjoy More
Don't worry. This is the biggest advice we can give you. We know it's daunting leaving most of your possessions at home and opt for a lightweight travel option. But in time, you will learn to appreciate the art of minimalist traveling. 
Try to think of the positives and leave your worries at home. Remember, you can always buy what you need when you get there!
---
Minimalist Backpacking FAQs
Is 50L Enough For Backpacking?
50L is plenty of space for those going on multi-day backpacking trips. You can pack a wide variety of essentials – from shelter to clothes for various weather conditions and all your food.
Is 30L Enough For Backpacking?
30L is the perfect amount of space for those planning on doing a short trip. Experienced ultralight backpackers might be able to get by with this amount of space, but generally, we recommend you get at least 45L for your backpacking needs.
---
Like this post? Don't forget to save it on Pinterest!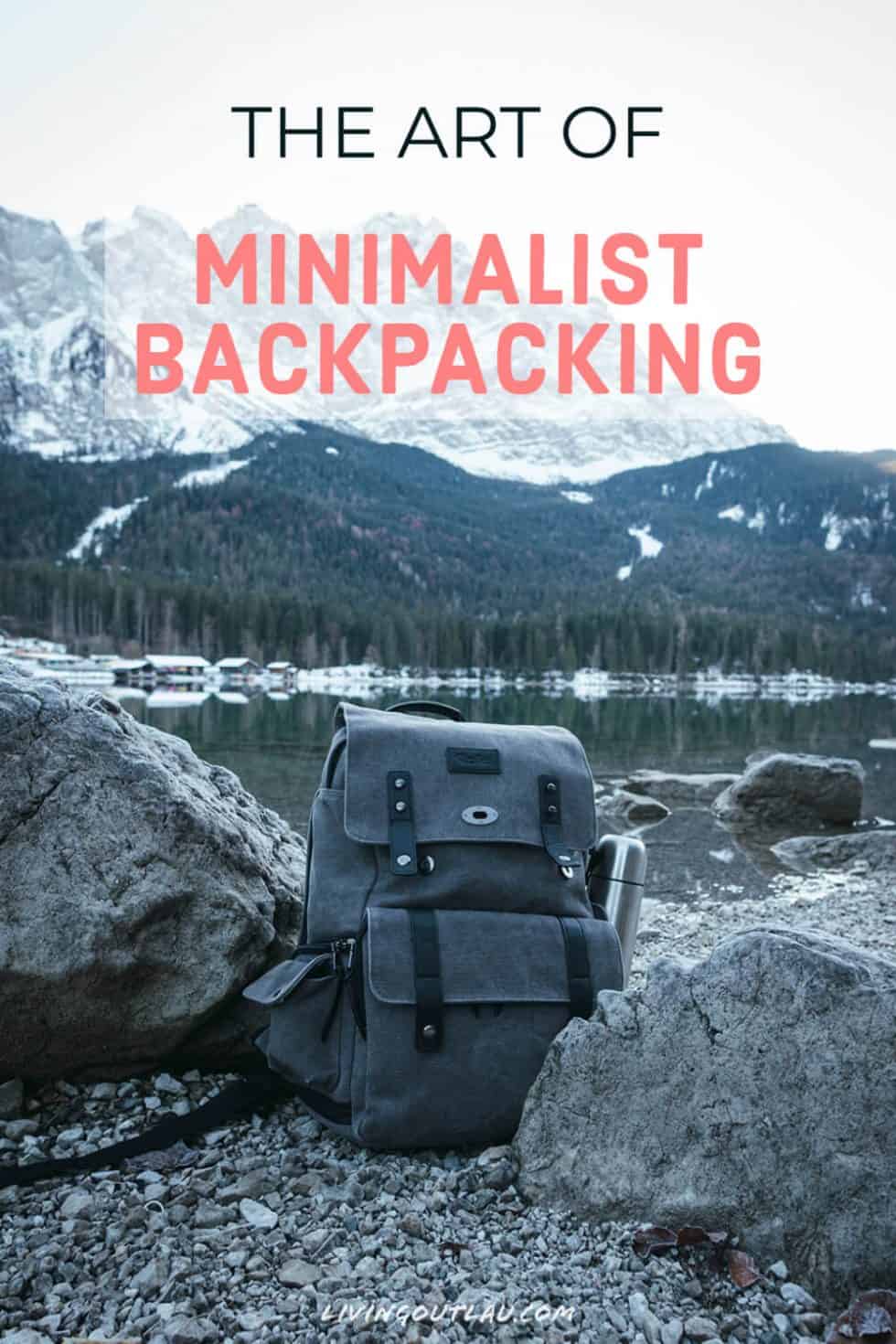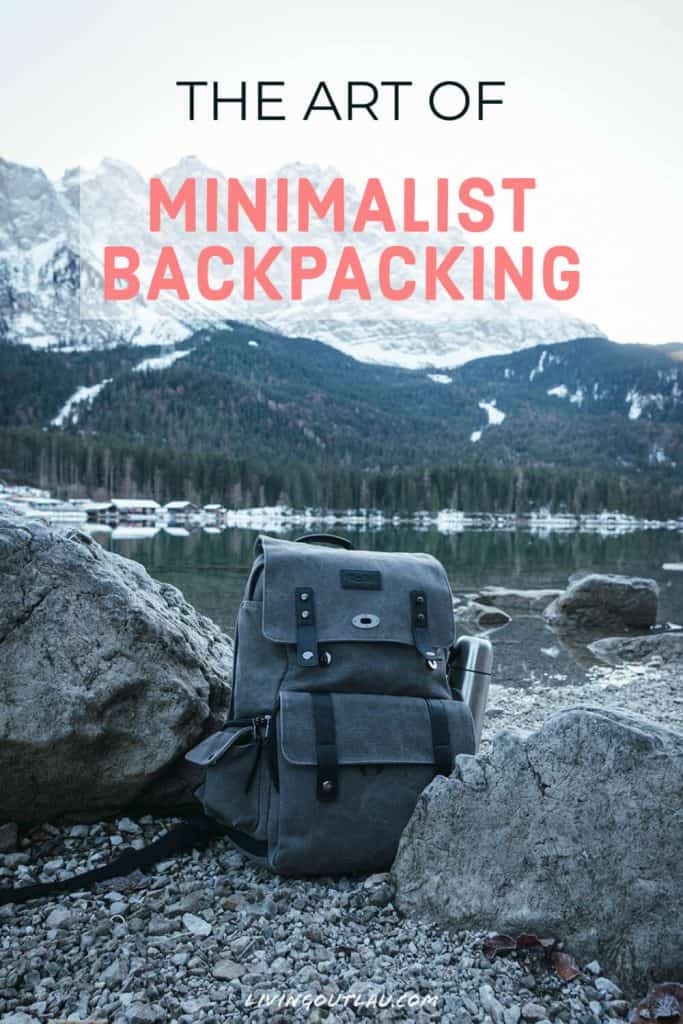 ---
So there you have it! This is our essential guide on minimalist backpacking and how to pack for your minimalist travel adventure. We hope you found it useful and inspiring.
Any questions? Let us know in the comments!
Disclaimer: Some of the links above are affiliate links. That means if you book or make a purchase through the links, we will earn a small commission at no extra cost to you! The money will help run this site! Thank you!