Did you just arrive in Flores Guatemala? You don't have a plan yet besides visiting the amazing Tikal Ruins? Don't worry, I have a great suggestion that you can do right now, today. Jorge's Rope Swing.
Located on the edge of Lake Peten Itza, the same one Flores Island is on, Jorge's Rope Swing is one of the most unique things to do in Flores Guatemala.
That is why we have written this guide on Jorge's Rope Swing so you can enjoy it as much as we did!
Enjoy!
Why Visit Jorge's Rope Swing in Flores, Guatemala?
A rope swing might be a little outrageous for some travelers, especially if you are not adventurous.
But before you scratch this off your list yet, this place not only has rope swings and a platform to jump off into the water, but it also has a very relaxed area with hammocks, places where you can sunbathe, and benches where you can lounge in or even play board games with your friends.
Sip a beer while you watch the gorgeous sunset, eat some homemade Guatemalan food, or go swimming in the lake. The atmosphere is comparable to some of the best beaches in Guatemala.
There is something for everyone and no one should miss this on their Guatemala trip!
How to Get to Jorge's Rope Swing From Flores
Jorge's Rope Swing is easily accessible from the main island of Flores.
You can either tell your accommodation that you want to go to Jorge's rope swing or take one of the boats around the island. You cannot miss those, they are everywhere. We informed our hostel that we wanted to go to Jorge's rope swing and the son of the family came in his own little boat and picked us up.
The whole round trip was 50Q. On top of the transport, there is a 25Q entrance fee. The boat ride is pretty tranquil and only about 20 minutes. The average person should not get seasick from this.
Another option to get there is to rent a kayak and just kayak there yourself! You can easily rent those on Flores Island.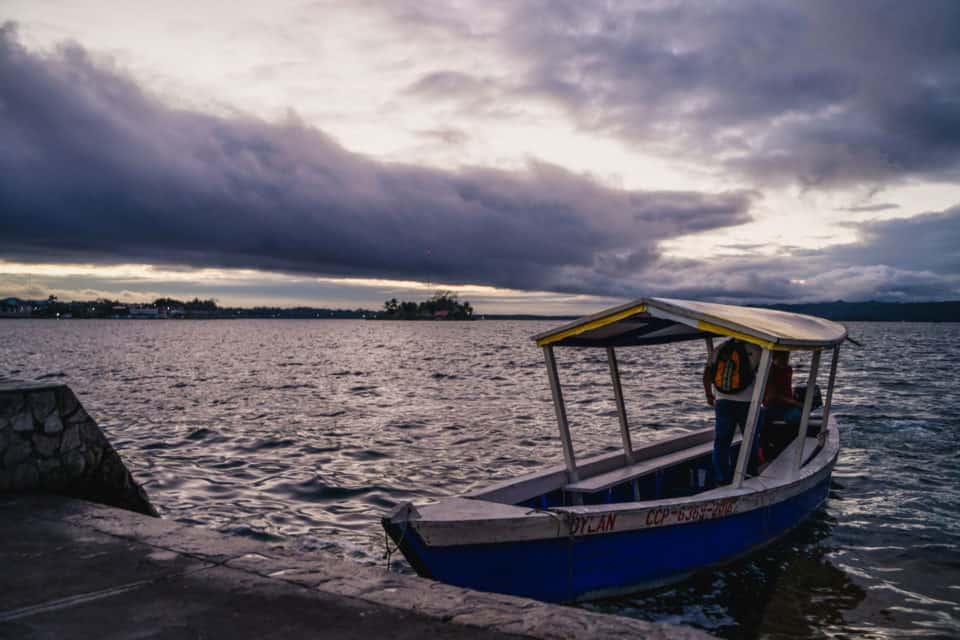 Food at Jorge's Rope Swing
There are a variety of options for food in Jorge's rope swing. Keep in mind that you are pretty far away from the main island and some options might not be available at the time. When we were there, they offered mostly vegetarian options such as rice or pasta with veggies, nachos with guacamole, and more.
They also had water, soda, and beer for sale. For those interested in meat, they did offer BBQ for 50Q per person. However, you have to have more than 4 people that are willing to order to get it because they have to send someone to the main island of Flores to buy meat and come back.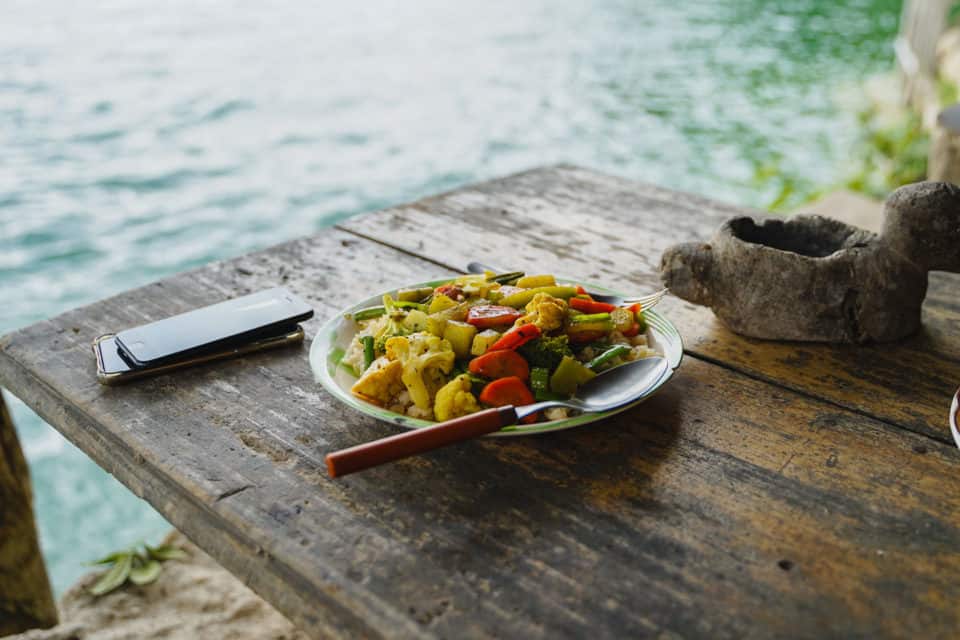 Cautions With Jorge's Rope Swing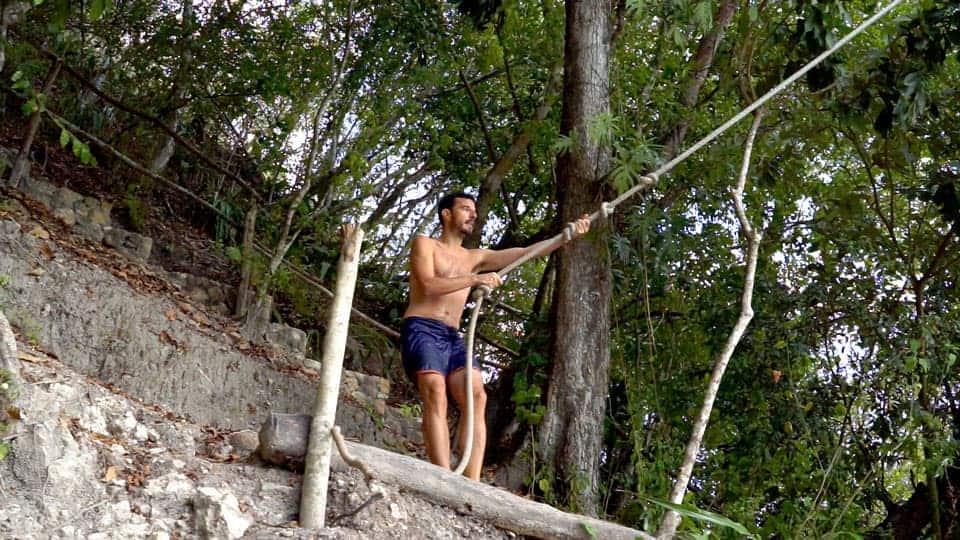 Rope swings might sound like a very intuitive thing, but trust me, a lot of people get hurt from it. I have a messed-up finger from it that needs surgery to get better. Here are some tips to make sure you don't hurt yourself.
Don't run into the rope and try to grab onto it. You are not Tarzan, that's the stuff you only see in movies. Stand on the edge and hold the rope tight to your body and jump off the cliff.
Rope burn is a serious business. Be careful where your forearm is in relation to the rope. When you let go, throw the rope away from you to avoid the knots hitting your crotch.
Don't forget to let go! If you forget to let go, then you are in big trouble. You run into the risk of falling onto the rock and that would seriously injure you really really bad.
Like this post? Don't forget to save it on Pinterest!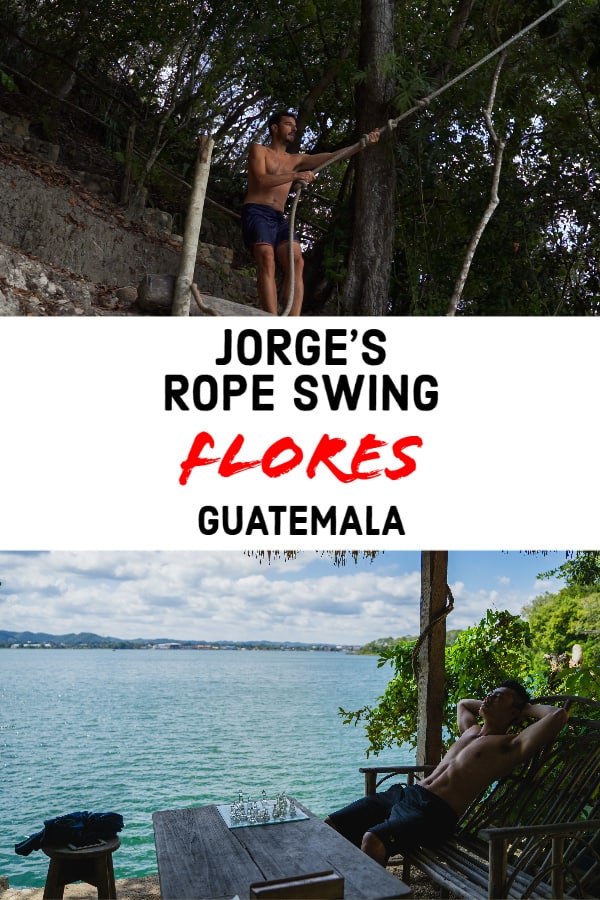 Have you been to Jorge's Rope Swing? What did you think of it?? This was definitely one of our favorite gems in Flores, Guatemala. Let us know in the comments!!!
Disclaimer: Some of the links above are affiliate links. That means if you book or make a purchase through the links, we will earn a small commission at no extra cost to you! The money will help run this site! Thank you!