Located 2 hours away from the capital city Quito, there is a hidden gem for all nature lovers called Mindo. Mindo is a small town located in something called the Mindo-Nambilo Cloud forest. The weather is very different than that of Quito and It's a very popular spot for bird-watching and other adventurous activities. In fact, many of the birds in the Mindo cloud forest are on the verge of extinction.

It is a place that you must include on any Ecuador itinerary.

Other than bird-watching, the other popular activity is visiting the waterfalls. There are hundreds of waterfalls in that area but there are 7 that are easily accessible and very rewarding.

If you want to know how to see the waterfalls in Mindo Ecuador, keep reading!
How to Get to Mindo From Quito
To get to Mindo you will have to take a bus from Terminal Norte in Quito, also known as Terminal de La Ofelia.

To get to the Terminal Norte (Terminal Ofelia), you can either take a taxi/Uber or take public Metro buses. The fare for the local metro buses is $.25 USD.

If you are on a budget, I highly suggest taking the metro buses. They are relatively safe and fast. Just make sure you keep an eye on your belongings.

An Uber/taxi to Terminal La Ofelia will cost a little less than 10 USD depending on where you are coming from.

At Terminal Norte(Ofelia), the company with the buses to Mindo is called Flor de Valle/Cayambe. If you cannot find it just ask at the counters.

The trip to Mindo from Quito Ecuador is a little less than 2 hours.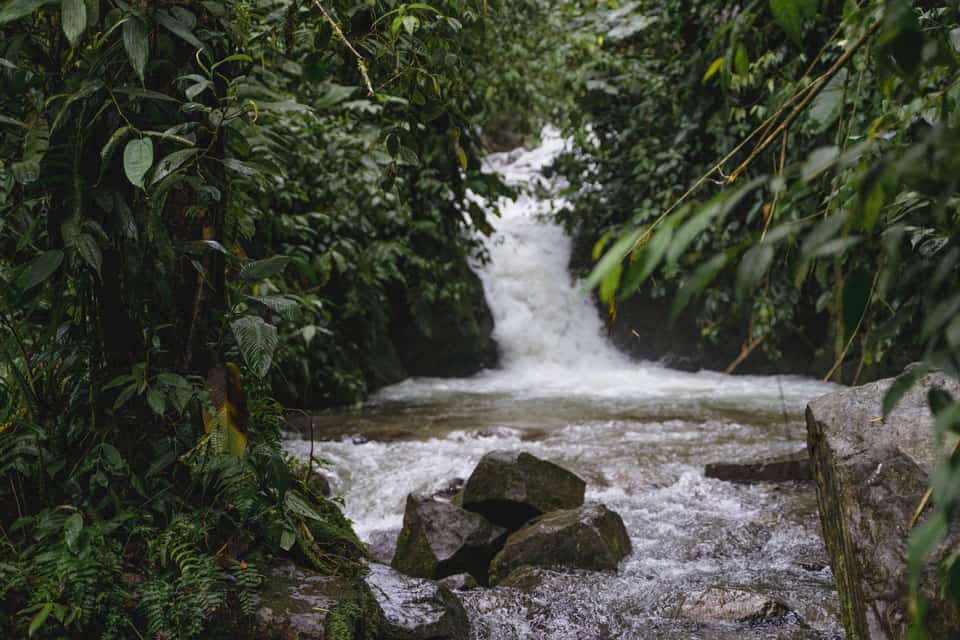 Should You Do A Mindo Day Trip From Quito
Many people do Mindo as a day trip from Quito. However, if you plan on doing more than one activity in Mindo, I would advise against it.

But if you just intend on just doing seeing the 7 waterfalls, it is extremely doable as a day trip. You just have to get up early and return late in the evening.

My personal recommendation is to stay in Mindo for one night. It is a small and peaceful town with many other activities such as zip-lining, rafting, cycling, bird-watching, butterfly garden, and much more.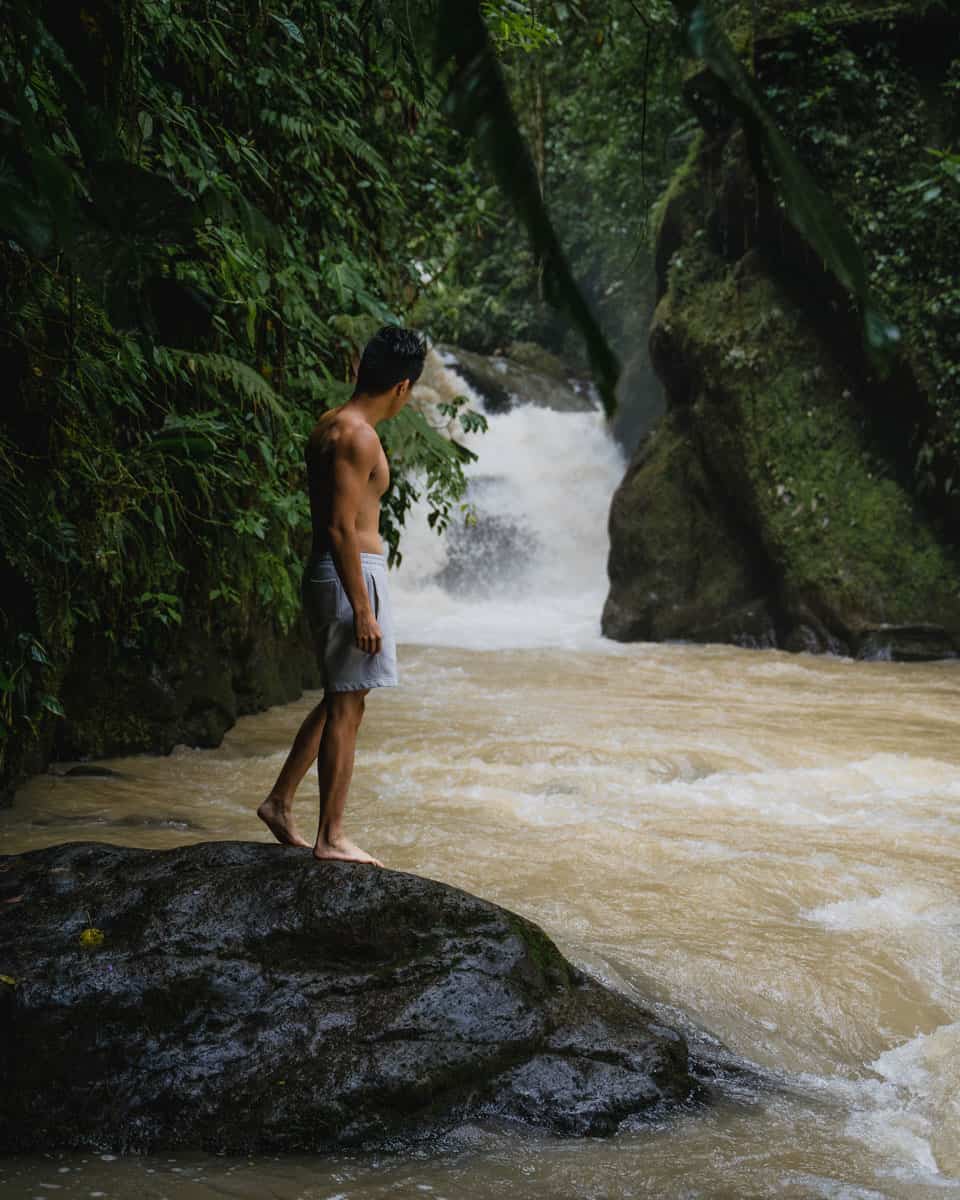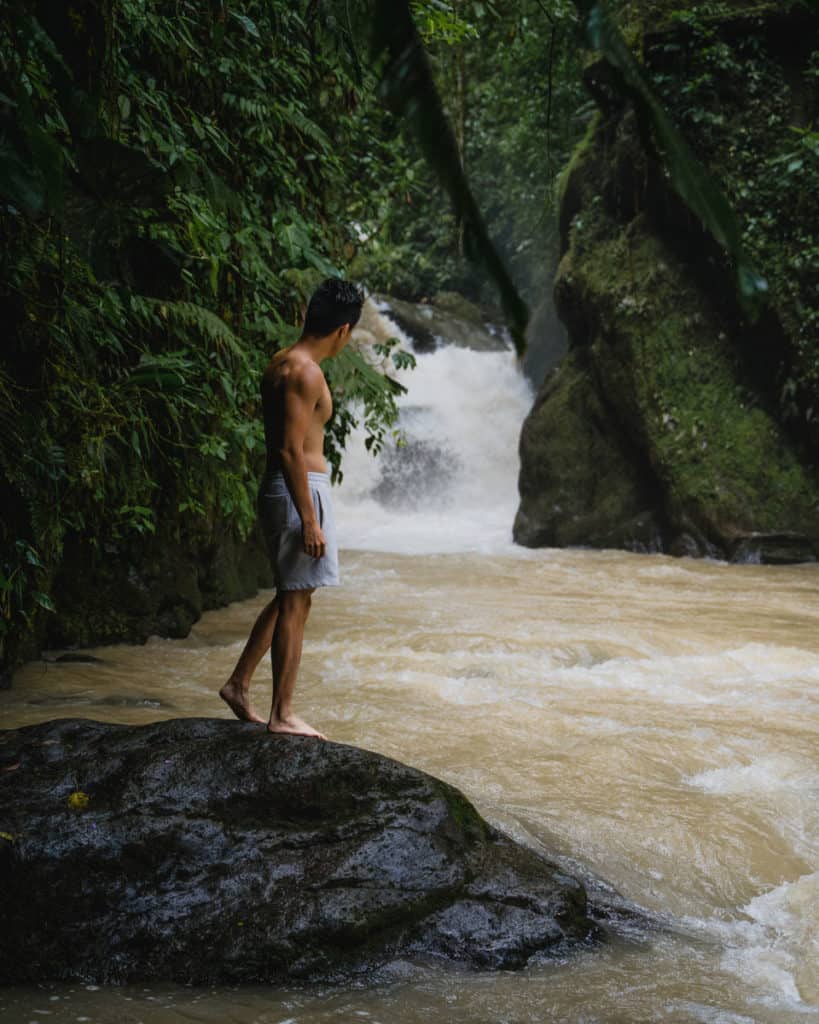 What to Bring With you To Mindo Ecuador
Mindo Ecuador is located in the cloud forest. If you have been to a cloud forest before, you know how wet and rainy it can get. And the Mindo cloud forest is exactly the same.

We hiked for two hours in the rain when we visited the waterfalls. Sometimes the rain can last for hours in a cloud forest.

1. Rain poncho or raincoat – This is the first and most important thing you should bring with you. Keep yourself dry!

2. Insect Repellent – This one has Picaridin and is proven to be more effective than DEET.

3. Filtration Water Bottle – It will help you in dire circumstances. You are hiking to waterfalls so there are many places to fill up your bottle. 

4. Mud shoes – Or shoes that you are willing to sacrifice to the mud and water.

5. Food/Snack/Water – Pack accordingly to how much you need. You should carry around 1-2 L of water with you for your hike to the waterfalls.
How to See the Waterfalls in Mindo Ecuador
So you have finally arrived in Mindo after 2-hours of windy roads, how do you get to the waterfalls?

The waterfalls are a little far out of town. You will need to take the cable car (tarabita) to get there.
How to Get to The Tarabita in Mindo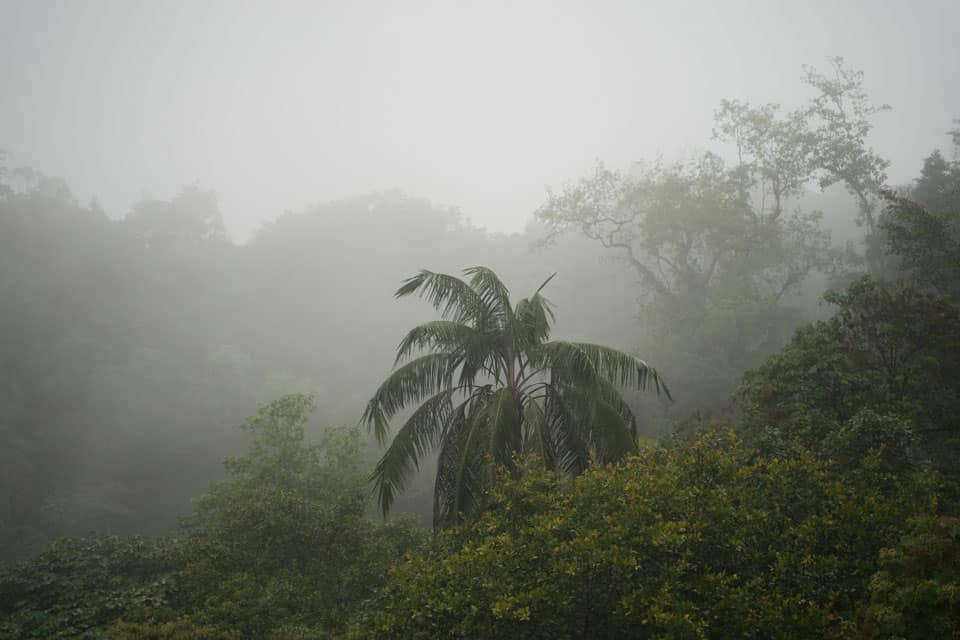 There are two ways to get to the Tarabita (cable car) in Mindo. Assuming you are in the center of the town, you can either walk or take a cab.

Walking will take about 1.5 hours and the journey is almost entirely uphill. I don't recommend this because you will be hiking more after you take the tarabita.

The cost for a cab will differ depending on how many people are with you. A ride to the tarabita cost me $2 when the cab was full in April 2019. The cab ride will take you about 20 minutes.

The tarabita (cable car) itself will cost you $5 USD for a round-trip.
Which Route to Take to The Waterfalls in Mindo?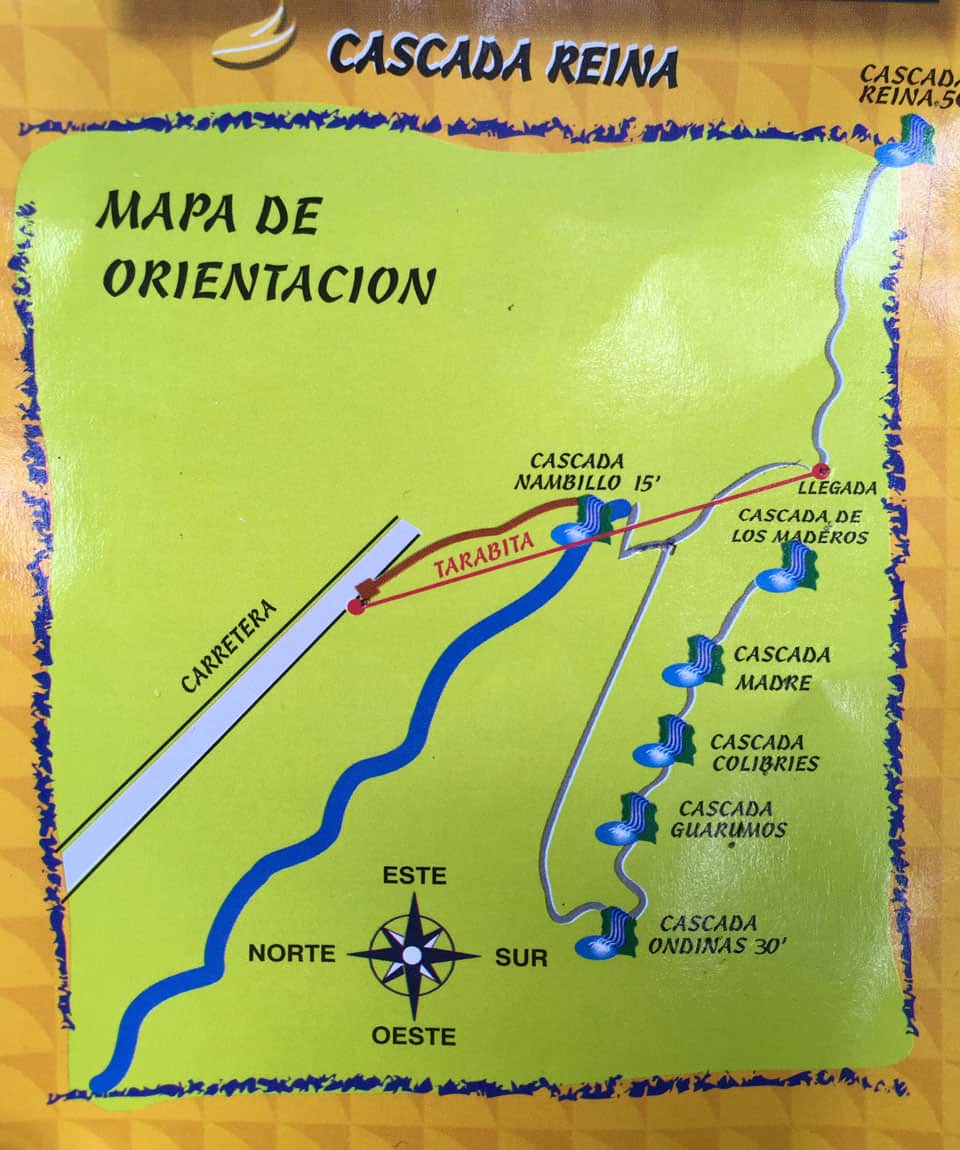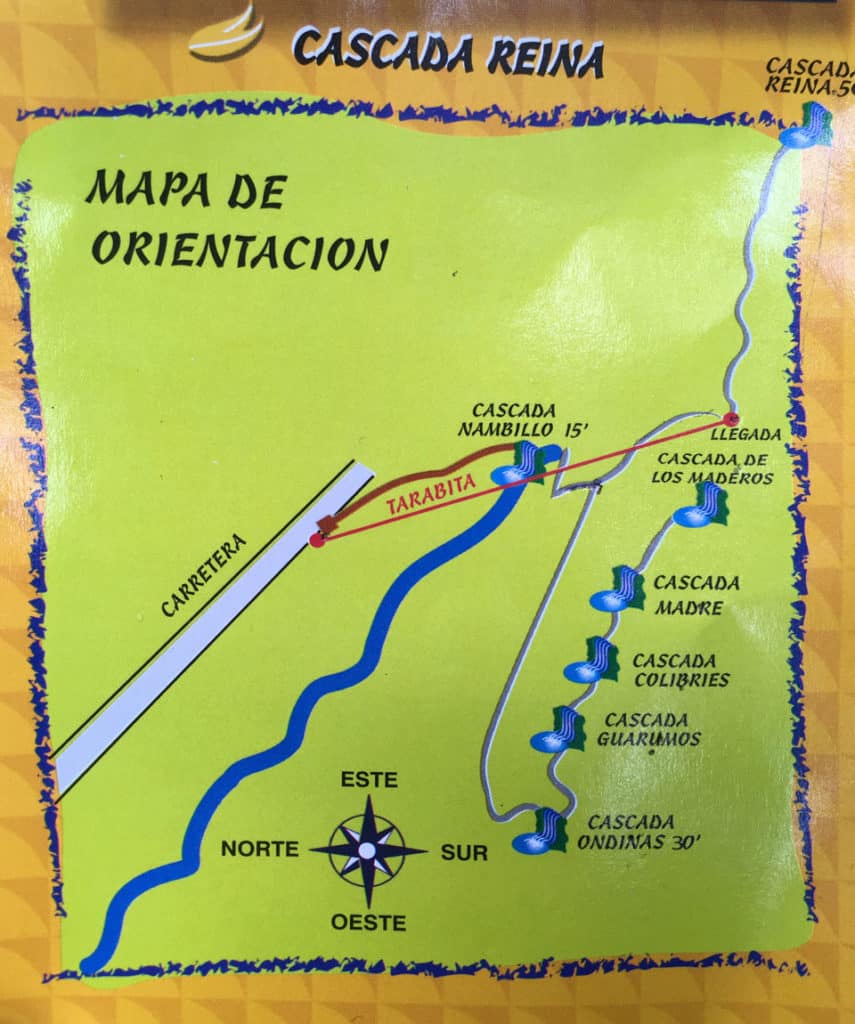 So you have taken the tarabita (cable car) to the other side of the forest. The guide should have given you a map that looks similar to the one above.

Now you have to decide if you want to see the 6 waterfalls first to the west and northwest, or the bigger one up in the east called waterfall Reina.

Waterfall Reina is definitely a must-go-to. It is absolutely amazing but it is also a 50-minute walk away. If there is one waterfall you see today, make it waterfall Reina. Waterfall Reina should be on everyone's itinerary when backpacking Ecuador. It reminded me of the Giron waterfall near Cuenca.

But if you have time to see all of them, go to the smaller ones first, and then go to waterfall Reina. If you see waterfall Reina first, none of the rest will compare to it.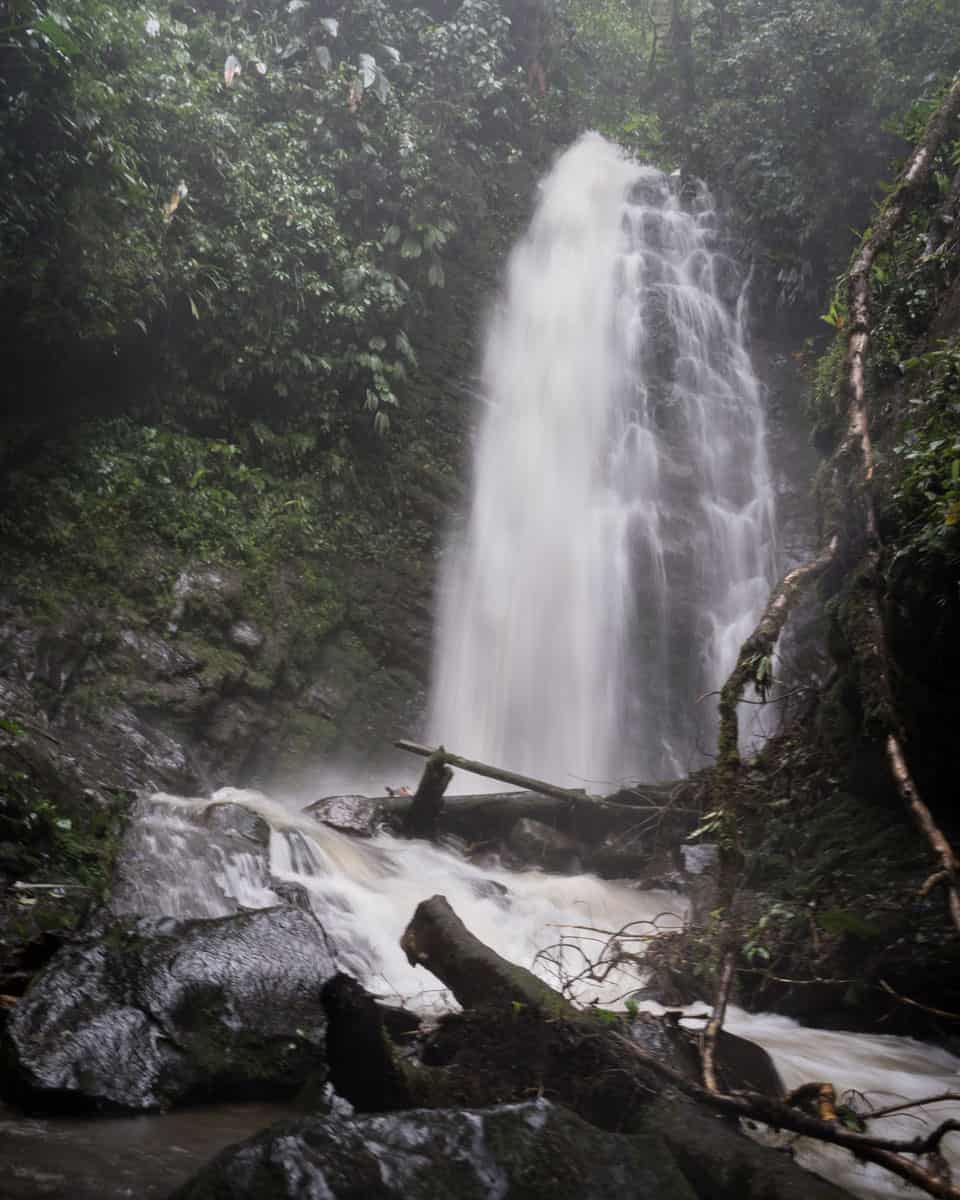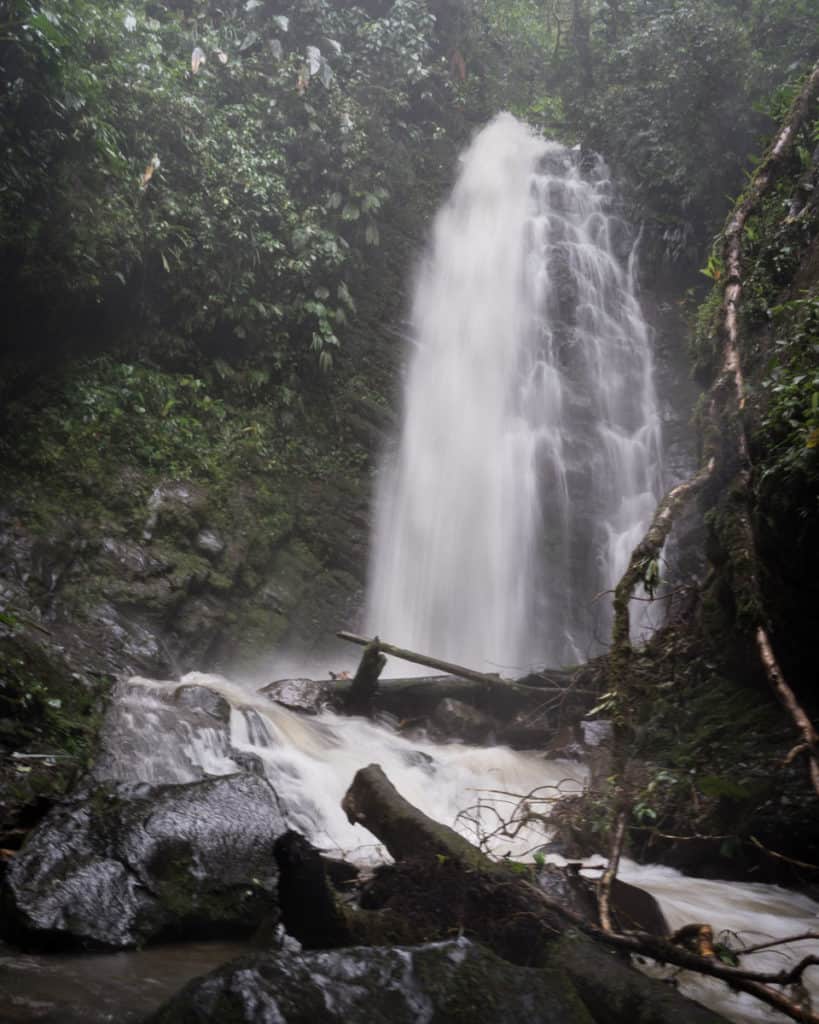 Our Recommendation:

See waterfall Reina if you are short on time. Otherwise, see the other ones before you see Reina.

A little tip on the waterfalls. If you go to waterfall Nambilo (Cascada Nambilo), this is a waterfall you can jump off of. But to jump off waterfall Nambilo, you have to take another entrance that is not accessible through the tarabita (cable car).

Also, the last waterfall of the 6, Cascada de Los Maderos, requires you to cross a river. The water in the river can go up to your shins so it is recommended that you take your shoes off. However, the water level definitely depends on the rainfall Mindo has been getting recently. It wouldn't surprise me if the river is crossable in the dry season.

If you see all the waterfalls, it will be around 3 hours of hiking.
Where to Stay in Mindo Ecuador
Best Hostel in Mindo – Guesthouse Mindo
A cheap hostel that has all the basics amenities included. Guests can enjoy its beautiful sun terrace with a view of the city and a clean kitchen. The owner is extremely friendly and will help answer all your questions about Mindo. Private rooms are also available for an affordable price.

Click here for more details!
Best Cheap Hotel in Mindo – Mindo Green House
Mindo Green House is a beautiful hotel located just far enough from the center of town to give you that jungle vibe. The setting is beautiful and the rooms are amazing and at a reasonable price. 

Click here for more details!
Best Luxury Hotel in Mindo – Coffee Lodge & Spa
Coffee Lodge & Spa is one of the best luxury hotels in Mindo. Featuring a delicious buffet breakfast and amazing views of the lush scenery in Mindo, guests can enjoy the tranquility Mindo is known for.

The garden is beautiful and well-planned that it attracts many different butterflies and birds there. The downside is that the hotel is a little far away from the center of town.

Click here for more details!
Like this post? Don't forget to save it on Pinterest!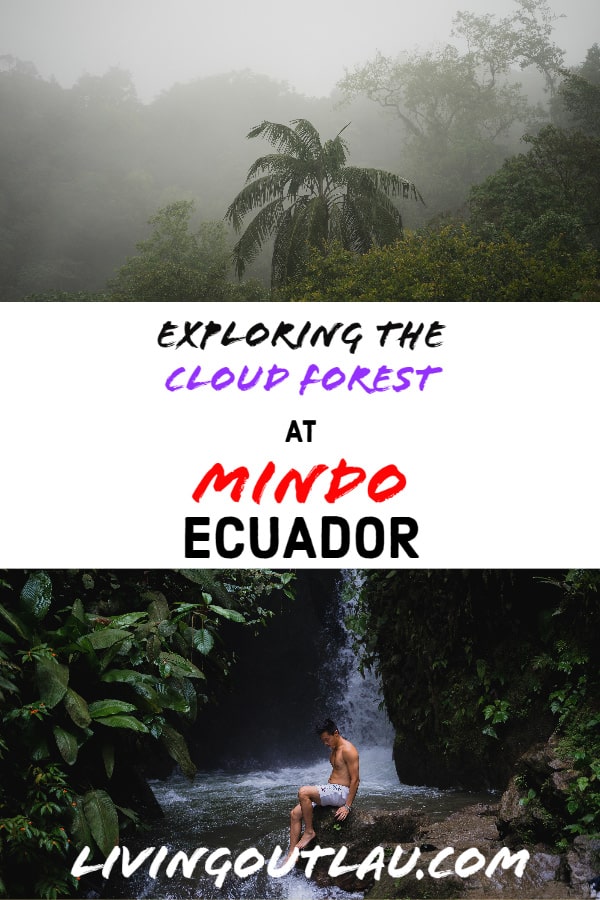 How did you like the waterfalls in Mindo Ecuador? Waterfall Reina completely blew my mind. Which waterfall is your favorite? Let us know in the comments below!
Disclaimer: Some of the links above are affiliate links. That means if you book or make a purchase through the links, we will earn a small commission at no extra cost to you! The money will help run this site! Thank you!