How to get from Guatemala City airport to Antigua?
Anyone that is traveling to Guatemala by plane will inevitably have this question.
Having been to Guatemala City and its La Aurora International Airport a few times, I can tell you it's a nightmare if you don't prepare ahead of time.
In this guide, I will tell you the best ways to get from La Aurora International Airport to Antigua, Guatemala! 
Looking for a cheap and reliable shuttle from Guatemala City Airport to Antigua?
Check out our recommended tour company here!
---
Getting To Antigua From Guatemala City Airport Overview
Here are the 7 ways to get to Antigua from GC Airport (6 we recommend and 1 we do not).
Taking an official Guatemala City Airport Taxi (not a regular taxi)
Getting an Uber (Yes! Uber is legal in Guatemala)
Arranging a shuttle through your accommodation in Antigua
Arranging a shuttle through a third-party site such as GuateGo
Taking a shared shuttle bus right outside the airport (can be unreliable)
Renting a car at Guatemala City Airport
Taking a public bus aka the chicken bus (NOT RECOMMENDED)
---
Is Guatemala City Worth Visiting?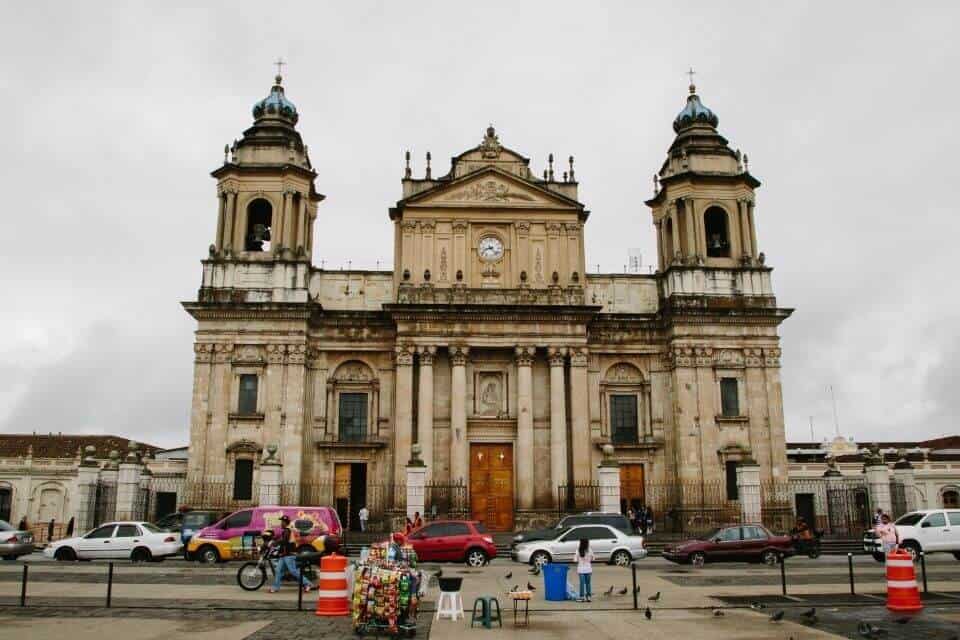 Before you get on your transport and head to Antigua, did you ever wonder why we are skipping Guatemala City? Is it worth visiting Guatemala City, the capital of Guatemala? Probably not. 
Guatemala City is not what you think of when you close your eyes and picture Guatemala. Guatemala is known for its rich Mayan culture, beautiful volcanoes, rich landscapes, and ancient colonial town.
Unfortunately, Guatemala City doesn't have much of those.
Mainly a metropolis, Guatemala City is just similar to any other big city. Bad traffic, work-heavy atmosphere, and skyscrapers. But what is the most unappealing thing about Guatemala City is its safety.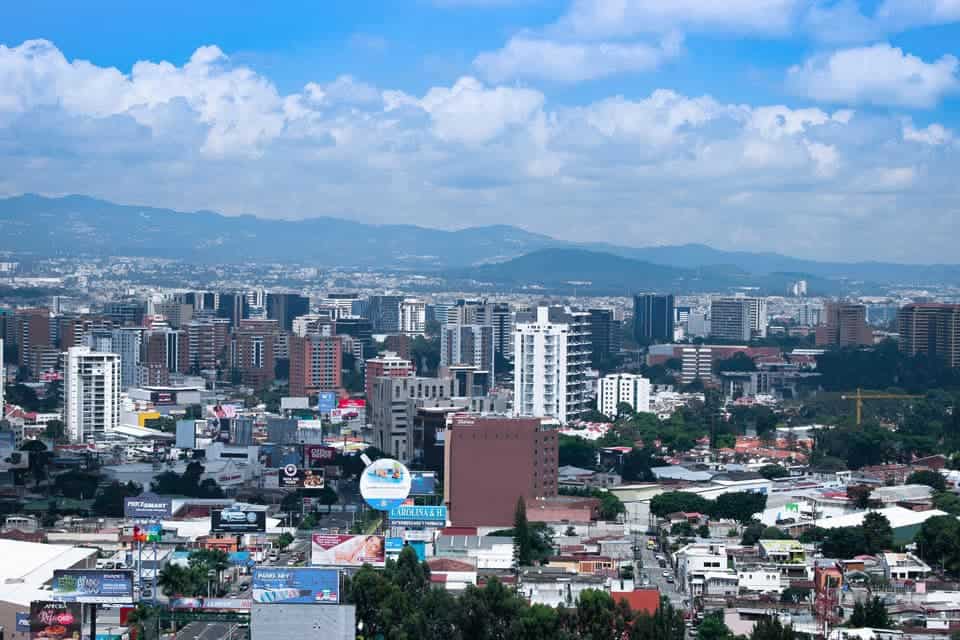 Parts of the city are safer than others, namely the touristic Zone 1. Even then, walking around Zone 1 in Guatemala City can be dangerous. Armed robberies, mugging, and pickpockets are common in Guatemala City, especially at night.
On the other hand, you have Antigua, the old historic capital of Guatemala, filled with amazing things to do, charm, and culture.
If you have to choose between the two, I would not visit Guatemala City if I were you, especially if you have a tight Guatemala itinerary.
If you arrive in Guatemala City at night and there is no way for you to get to Antigua, stay at one of the hotels near the La Aurora Airport with a free shuttle. I recommend Barcelo Guatemala City.
---
Distance From Guatemala City To Antigua
To decide which mode of transportation you take from Guatemala City to Antigua, you need to know how far apart the two cities are and how long it takes to travel between them.
The distance from Guatemala City to Antigua is about 40 km and takes about 60 minutes to go between the two. It is, however, under one condition: without traffic.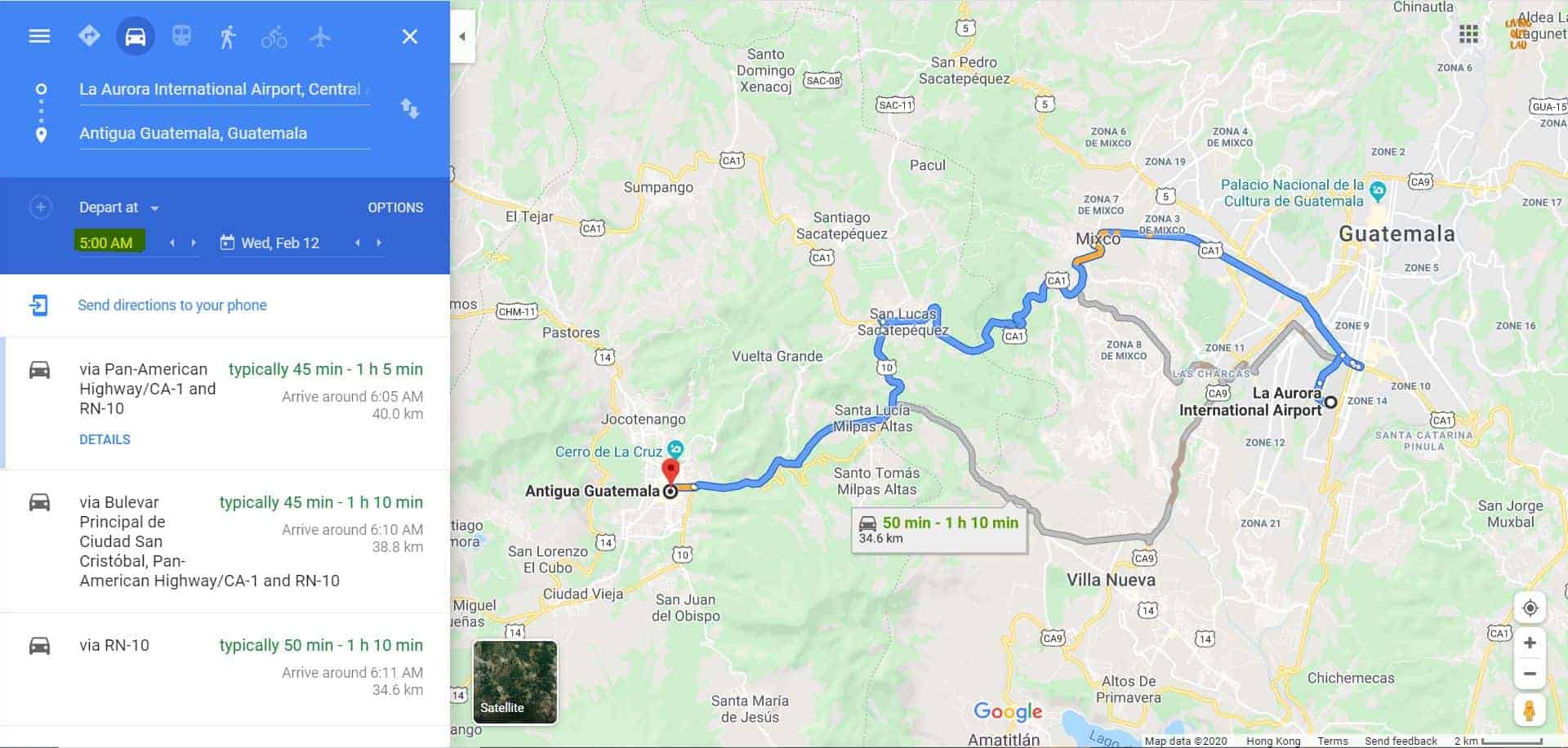 With traffic, it is a completely different story. I found out the hard way. Being stuck on a shuttle bus for a 5-hour journey that was supposed to take 2. When it is rush hour in Guatemala City, it could take 3 hours or more to get from Guatemala City to Antigua.
So please be aware of that when you are traveling between the city, whether you are just arriving or departing and trying to catch a flight!
Consider which kind of transportation you want to be stuck in for 3 hours!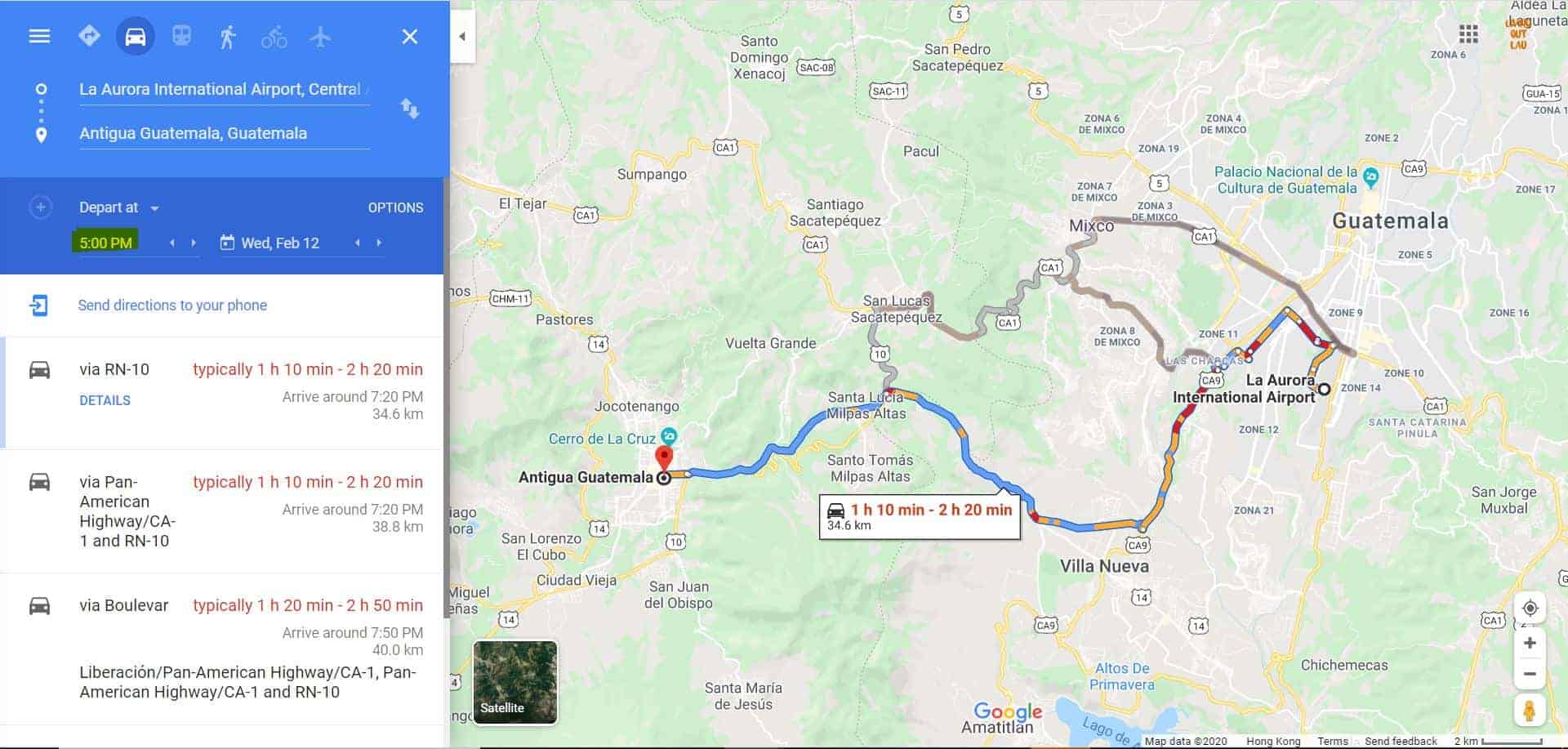 ---
How To Get From Guatemala City To Antigua
1. La Aurora International Airport Official Taxi
If you hadn't done any planning before arriving at the Guatemala airport, taking the airport taxi is probably the most convenient and safest way to get to Antigua.
There are airport taxis once you grab your bags and exit the airport. They are white so they shouldn't be too hard to miss. They are safe and reliable but do charge quite a bit.
A trip to Antigua from Guatemala City on an airport taxi cost about 40 USD.
Make sure you are getting into an airport taxi and not a normal taxi! Normal taxis can be dangerous!
2. Calling An Uber From Guatemala City Airport To Antigua
When I found out that Uber works in Guatemala City, I was literally in tears of joy. Nothing easier than going on your phone, pulling up the app, typing the address, then happily waiting for your driver to arrive.
Uber is my favorite option to get from Guatemala City to Antigua because it is safe and reliable. If your flight is delayed, that's fine. Just call your Uber when you are ready. If you had arranged a shuttle from a third-party company and you arrived late, who knows if they will wait for you?
The Uber cost around 160Q to 200 Q (21 USD to 26 USD), depending on the traffic. If there are huge traffic jams, expect the price to be even higher.
If you have to pay per person to take a shuttle, then getting an Uber to Antigua is a much more economical option.
Getting A Sim Card At The Guatemala City Airport
It's great that you can get an Uber at the Guatemala City Airport. But without a SIM card and data in a foreign country, how can you call an Uber?
Don't worry.
There is a Claro (one of the top phone service providers) sales counter at the Guatemala City Airport.
They offer various packages depending on your needs. However, like everything in the airport, prices are inflated, including SIM cards.
Depending on how long your Guatemala trip is, it might be cheaper to buy the cheapest SIM card with data to call an Uber, and then buy another one in other cities in Guatemala, like Flores, Lake Atitlan, or Xela.
You MUST have an unlocked phone for the Guatemalan SIM card to work!
WiFi At The Guatemala City Airport
What about WiFi at La Aurora International Airport? Is there WiFi that we could use to order an Uber?
The answer is… Yes and No.

Guatemala City airport does have an official airport WiFi, but it can be quite difficult to get it to work.

However, there is a trick that you could use. There is a dining area in the airport with restaurants and cafes. Some of the cafes there will have WiFi for the public to use. All you have to do is either have to buy something from them or pay in order to use one of their WiFi services.
I paid 5Q (2020) for an hour of WiFi at one of the cafes at the airport.
With WiFi, you can call your Uber to meet you in front of the airport and walk out when you see that the driver has arrived.
There are also currency exchanges at the airport.
3. Arranging A Shuttle From Your Accommodation In Antigua
If for some reason ordering an Uber from the airport doesn't sound feasible, the most reliable way is to have your accommodation in Antigua arrange a shuttle for you.
Many of the accommodations in Antigua will offer a shuttle service for visitors arriving at the Guatemala City airport. You tell them your flight number, estimated time of arrival, and they will come with a paper sign with your name on it.
This option is great for anyone that prefers luxury and reliability over cost because shuttle service from a hotel is usually much pricer than an Uber.
It is also a great option if you are arriving late at night!
4. Shuttle Services From GuateGo
Websites like GuateGo offers stress-free shuttle service from Guatemala City to Antigua. Their services are reliable and I would recommend them for anything transportation-related in Central America.
For shared shuttle services, the price is 19 USD per person from La Aurora International Airport to Antigua, which is quite a good deal for solo travelers. Travelers can also have the option to get an entire private shuttle, but the price is much higher.
The shuttles depart several times throughout the day, so if you miss one because of flight interruptions (welcome to 20221), then you can simply get the one after.
For being both reliable and affordable, GuateGo is an excellent choice if you are in Guatemala for the first time.
5. Shared Public Shuttle from Guatemala City Airport to Antigua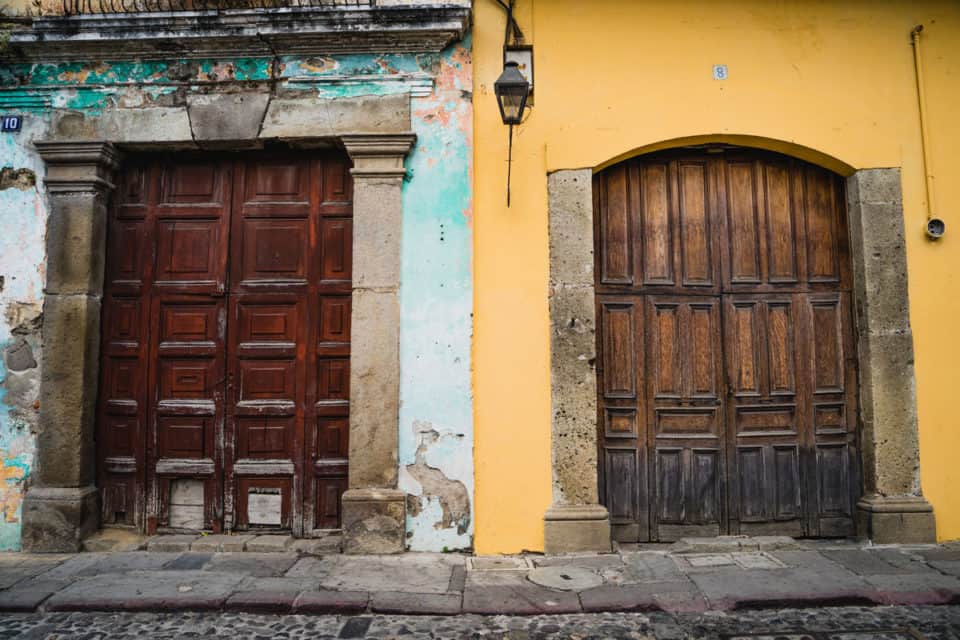 The public shuttle transport from Guatemala airport to Antigua might be the best option for anyone traveling Guatemala solo. It is the most economical option and doesn't require any pre-planning, except for making sure they still run when you arrive.
I am not exactly sure when the first and last shuttle is, but I've heard that after 8 PM it is unlikely to find a shared shuttle from Guatemala City to Antigua
Once you exit the airport, you will see people holding a sign that says "Antigua". Go up to them and tell them you are interested in going to Antigua. Make sure you are getting into a shared shuttle instead of a private taxi.
The price is around 10 USD.
Pro Tip: If you are paying someone, it should be the driver, and not the middle man. If you pay the middle-man, you will end up paying twice!
The only downside about the public shuttle to Antigua is that it only goes when it is full. So sometimes you might end up waiting for another plane to land just so there are enough passengers.
The public shuttle drops you off at your accommodation in Antigua but you need to clearly convey your destination to the driver. There are many hotels and hostels with similar names in Antigua.
I recommend having the name of the accommodation and address clearly written on a piece of paper or on your phone.
6. Renting a Car in Guatemala City
If you have other places to visit in Guatemala besides Antigua, then it might be a good idea to rent a car in Guatemala City. Renting a car is a stress-free way to get to Antigua from Guatemala.
Not only do you get to avoid dealing with possible scammers and people taking advantage of you, but you also don't need to worry about riding on the infamous public buses of Guatemala.
You can avoid all the crazy drivers and visit faraway places in Guatemala such as Quetzaltenango, Flores, Livingston, Paredon, or the historic Tikal Ruins.
7. The Crazy "Chicken Bus" (Not Recommended)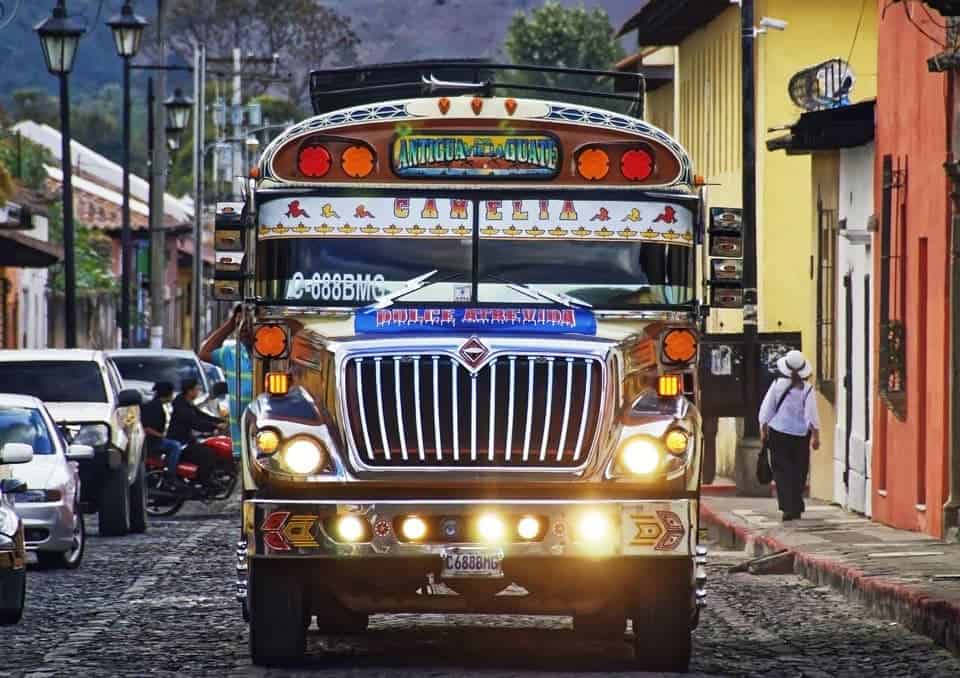 The chicken bus is the main form of public transportation in Guatemala. They are old retired American school buses that have been sold/donated to poorer countries such as Guatemala.
In Guatemala, they are known as camionettas, and not "bus de pollo" or "pollo bus". (Pollo is the word for chicken in English.) Unless you want Guatemalans to laugh at you, please don't call it "pollo bus".
Note: Theft is common on chicken buses, and the chicken bus drivers think they are Formula-1 drivers. They aren't exactly the safest mean of transportation in Guatemala.
No one knows exactly why they are called chicken buses. Maybe it is the fact that passengers are crammed like livestock on the bus? (Seats intended for two will fit at least four.) Or maybe the fact that chicken buses sometimes transport chickens? Though I have not seen any.
Either way, locals take chicken buses from Guatemala City to Antigua. There are no chicken buses that go from the Guatemala airport to Antigua. All chicken buses must be taken from the city center.
Read More: Best Way To Get From Antigua to Lake Atitlan
---
Should You Purchase Travel Insurance For Guatemala?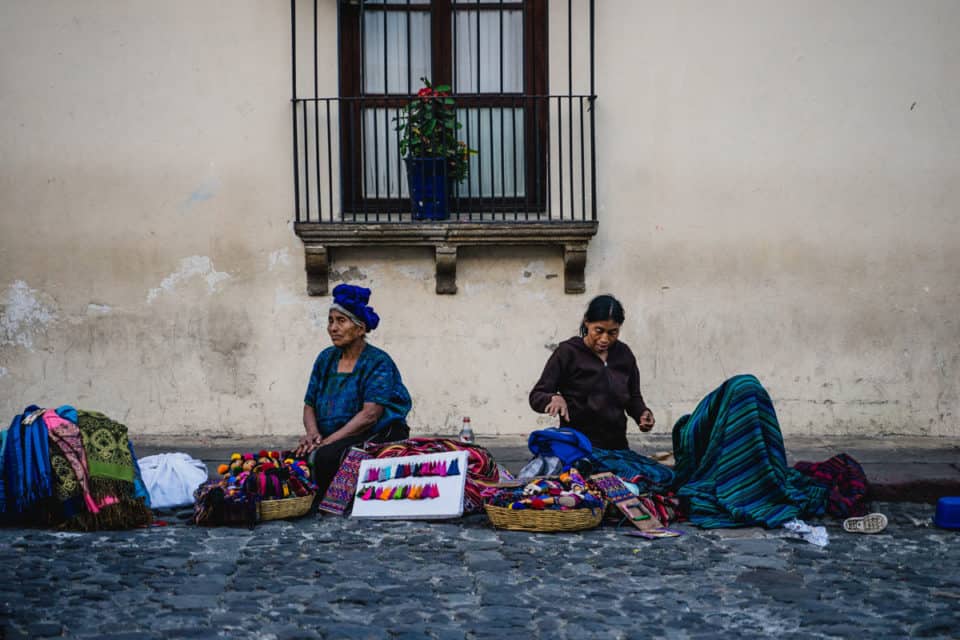 We highly recommend you to purchase travel insurance before visiting Guatemala. Guatemalans are very friendly and nice people. However, because of the widespread poverty in the country, some people have to do things that they don't want to just to support their families.
Your iPhone to them is probably over a month of their salary. Just imagine that.
---
Things To Do In Antigua, Guatemala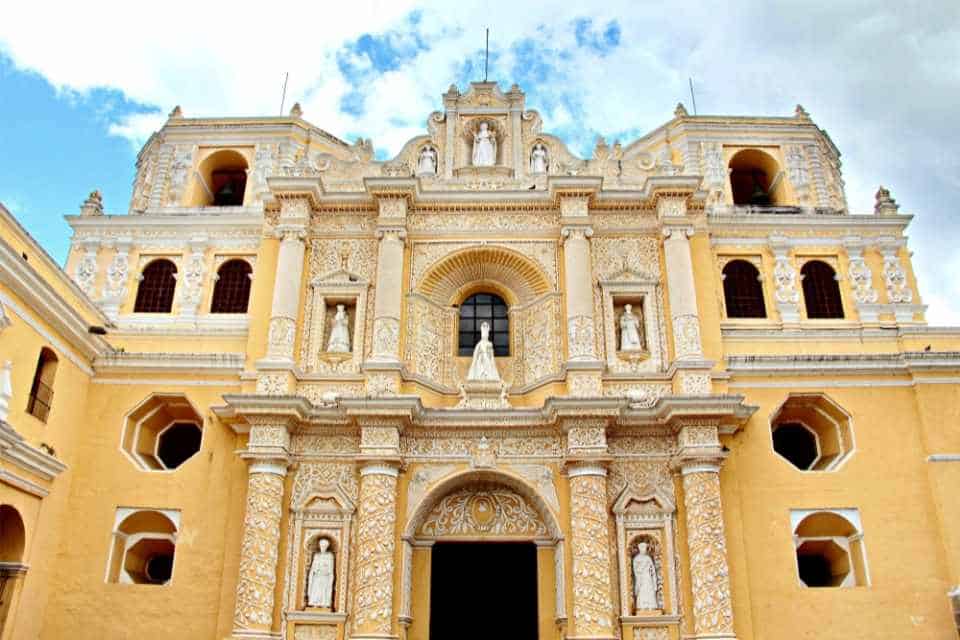 Now that you have arrived safely in Antigua, you must wonder what to do. Luckily, there are plenty of attractions in Antigua. In fact, there is so much that we decided to write a full guide on it here. But here is a good preview of what to do in Antigua:
Hike Volcano Acatenango and see an active volcano erupt
Check out the panoramic views at Cerro de la Cruz
Get an iconic photo at the Santa Catalina Arch
Take a day trip to the biggest outdoor market in Central America, Chichicastenango
Explore a Hobbit-theme eco park – Hobbitenango
Looking for some professional guides and tours in Antigua? Check out our recommendations below:
---
Where To Stay In Antigua, Guatemala
Best Hostel in Antigua – Adra Hostel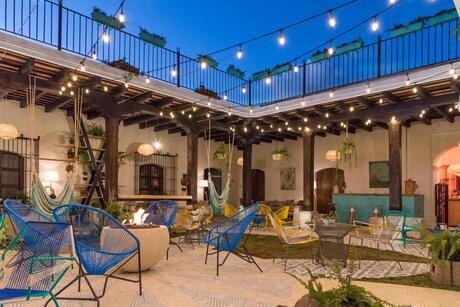 Adra Hostel is one of my favorite hostels in Antigua. Its beautiful common area is a great place to relax and meet other travelers or locals. The beds are comfortable and each bed is capsule-like with its own light and electric socket. Guests are provided with their own individual locker, though they will need to bring their own lock.

The on-site cafe offers incredible foods and drinks made from fresh local ingredients!
---
Best Luxury Hotel in Antigua – Hotel Palacio de Dona Beatriz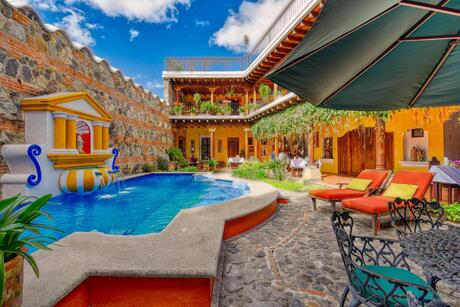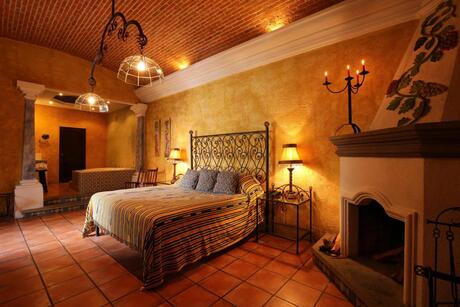 Hotel Palacio de Dona Beatriz is a proper luxury hotel in Antigua Guatemala. The colonial-style architecture is breathtaking and the pool cannot be more perfect. The hotel also offers shuttle services from the Guatemala City airport to Antigua.
If you want a quiet and luxurious place to stay in Antigua, don't look any further.
---
Guatemala City To Antigua FAQs
How Long Does It Take To Get From Guatemala City To Antigua?
Typically speaking, it takes anywhere about 1.5 hours to get from Guatemala City to Antigua. However, this number can drastically change depending on the traffic condition, and which mode of transportation you decide to take.
What Is The Safest Way To Get From Guatemala City To Antigua?
The safest way to get from Guatemala City to Antigua is definitely with one of the licensed airport taxis. However, they are expensive, which is why we recommend private shuttle companies such as GuateGo.
---
Like this post? Don't forget to save it on Pinterest!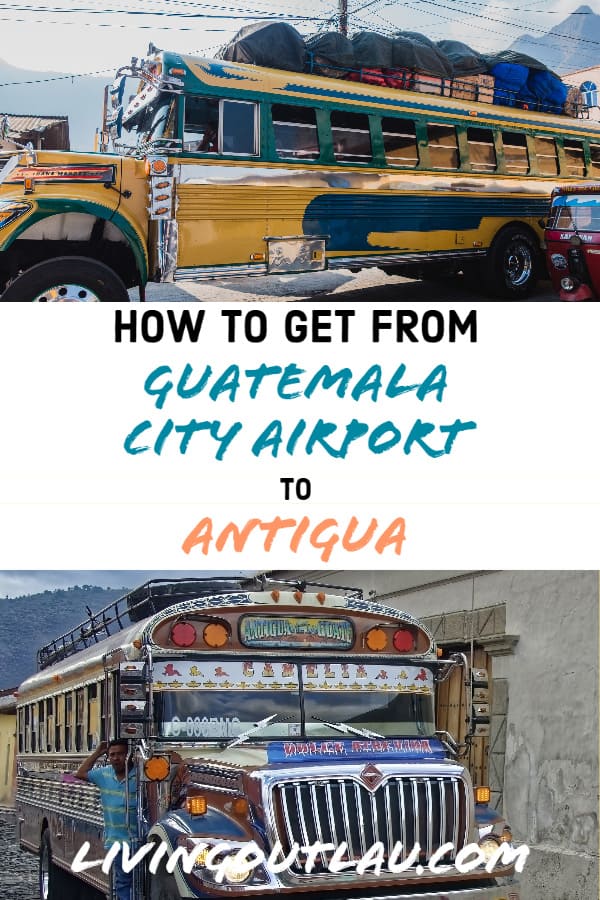 ---
I hope this transportation guide on how to get from Guatemala City to Antigua was helpful to you.

Any questions? Leave a comment!!
Disclaimer: Some of the links above are affiliate links. That means if you book or make a purchase through the links, we will earn a small commission at no extra cost to you! The money will help run this site! Thank you!