There are many different ways to get from Antigua to Lake Atitlan, but for the best value-for-money option, a shared shuttle transport is the best option. Not only are they affordable, but they also are comfortable and pick you up at your accommodation in Antigua and drop you off in Lake Atitlan.
After spending a few months in Guatemala, we have taken this route several times. We have a good understanding on which route is the most comfortable, where to take the transport, and which shuttle companies are the best.
In our guide, we will show you the 6 best ways to get from Antigua to Lake Atitlan. There are more than 6 ways to get there, but these are the quickest, most comfortable, and most reliable ways.
Enjoy!
Looking for a cheap and reliable shuttle to Lake Atitlan from Antigua?
Check out our recommended shuttle bus agency here!
---
Which Lake Atitlan Village Should You Go To?
Before you book your transport from Antigua to Lake Atitlan, you must be wondering which village you would need to go to. After all, there are more than 10 villages in Lake Atitlan and they aren't exactly close to each other.
Your accommodation in Lake Atitlan could be in San Marcos, which is almost an entire lake away from another village like Panajachel. Keep in mind that the area of Lake Atitlan is 130 square kilometers big!
But we are here to tell you that no matter where you are staying in Lake Atitlan, Panajachel is going to be where you get off. Panajachel is one of the bigger villages in Lake Atitlan and acts as the main transportation hub.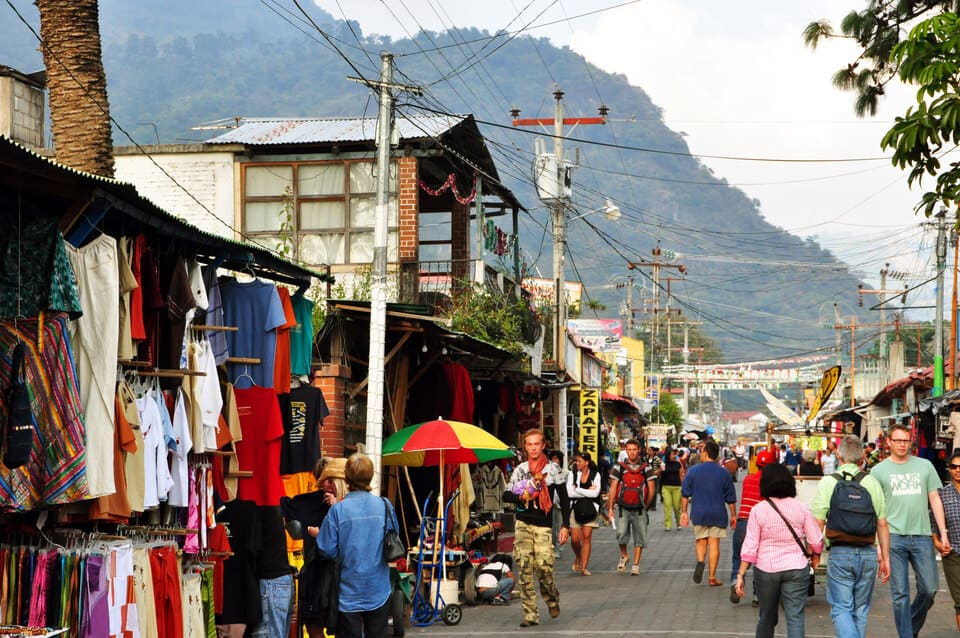 It takes about two and a half hours to get from Antigua to Panajachel, and the views are gorgeous when you are descending toward the lake. Not only is Panajachel one of the closest villages to Antigua, but the road between them is also one of the best which means a safer and quicker ride.
From Panajachel, you will need to catch one of the local boats or a tuk tuk to the village you are staying. The boats (lanchas in Spanish) depart regularly and have a standard route:
Panajachel
Santa Cruz
Jaibalito
Tzununa
San Marcos
San Juan
San Pedro
Return to Panajachel
If your destination isn't in one of the villages mentioned, you will need to tell the boat driver where your accommodation is (either name of the town or name of the accommodation). Only then will he drop you off at your desired dock.
It is quicker and safer to go to Panajachel and take a boat to your final destination than taking a land transport directly to your accommodation location.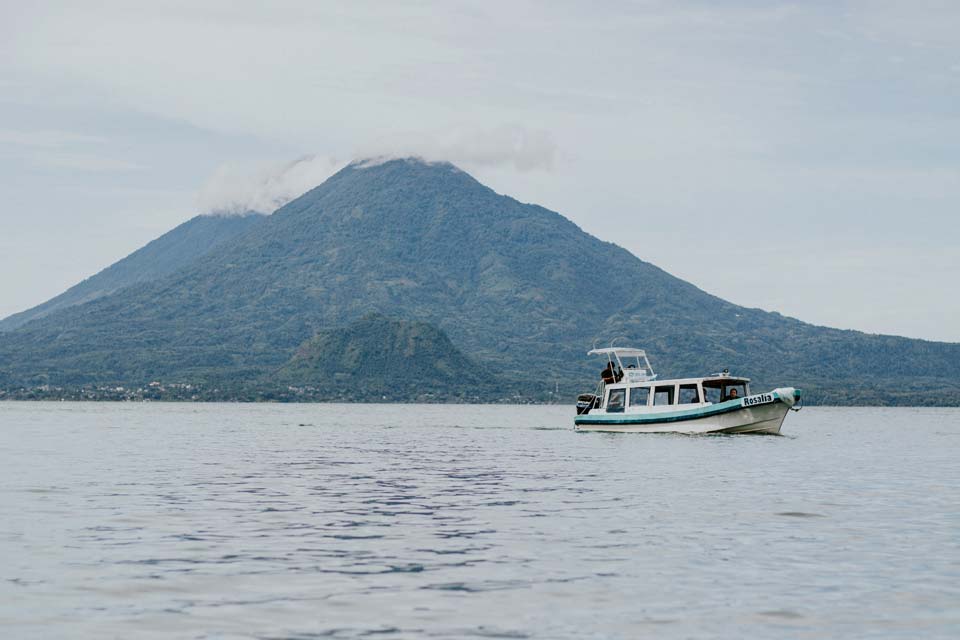 ---
6 Best Ways To Get From Antigua to Lake Atitlan
Now we have established which village in Lake Atitlan we will be going to from Antigua, we will now talk away the different ways to go there. We'll cover all the best options – from safest to quickest to most economical.
Taking a Shared Shuttle Bus From Antigua to Lake Atitlan
As we mentioned, the shared shuttle service from Antigua to Lake Atitlan is arguably the best option. These shared shuttle services are directed mostly toward tourists, but it isn't uncommon to see local Guatemalans that prefer a little more comfort there.
The nice thing about the shared shuttle buses is that they pick you up at your accommodation in Antigua, so you don't have to find the exact spot to get on the bus. They usually come with a functioning air-conditioning, ideal for hot weather in Guatemala.
When it comes to the type of shuttle buses used, they are typically full-sized passenger vans that can accommodate around 15 people, much better than the public transportation (chicken bus) in Guatemala which has over a hundred passengers at once.
If you walk around the streets of Antigua, you should be able to find a handful of tour companies offering shuttle services.
Personally, we prefer booking online as we can see all our options and there is no other reliable company that does this than GuateGo. They have a great cancelation policy where you can get the ticket's full price in credit for future use, even just a few hours before your scheduled departure time.
Taking A Private Transfer
Alternatively, if you are traveling in Guatemala as a family or group and want extra privacy and comfort, then a private transfer might be what you want. For a private transfer, you are paying for the entire vehicle instead of paying per person, so it is more economical if you have a big group.
Similar to a shared shuttle, the private transfer includes hotel pickup and air-conditioning onboard. You are also more likely to arrive in Lake Atitlan quicker, as the shared shuttle service needs to pick up passengers from all around Antigua.
You can find private transfers in some of the tour agencies around Antigua. Alternatively, if you are like us and want to be prepared in advance, you can book your private shuttle service here with GuateGo!
Looking for a private shuttle to Lake Atitlan?
Check out our recommended tour company here!
Chicken Buses to Lake Atitlan From Antigua
If you are traveling Guatemala on a budget, then the chicken buses, aka Guatemala's infamous public buses, might be your only option. For those that are unfamiliar with chicken buses, they are old refurbished school buses from the United States. People buy them for cheap in the United States and drive them all the way to Guatemala to be used for public transport.
Once upon a time, they were used to transfer livestock (which you still can see nowadays sometimes), hence earning them the name "chicken bus".
But before they are ready to pick up passengers, they get a complete visual makeover. Gone are the dull yellow colors (and seat belts… gosh, why are all the seat belts gone?) and comes the new shiny look with edgy colors, bright lights and lots of swaggers.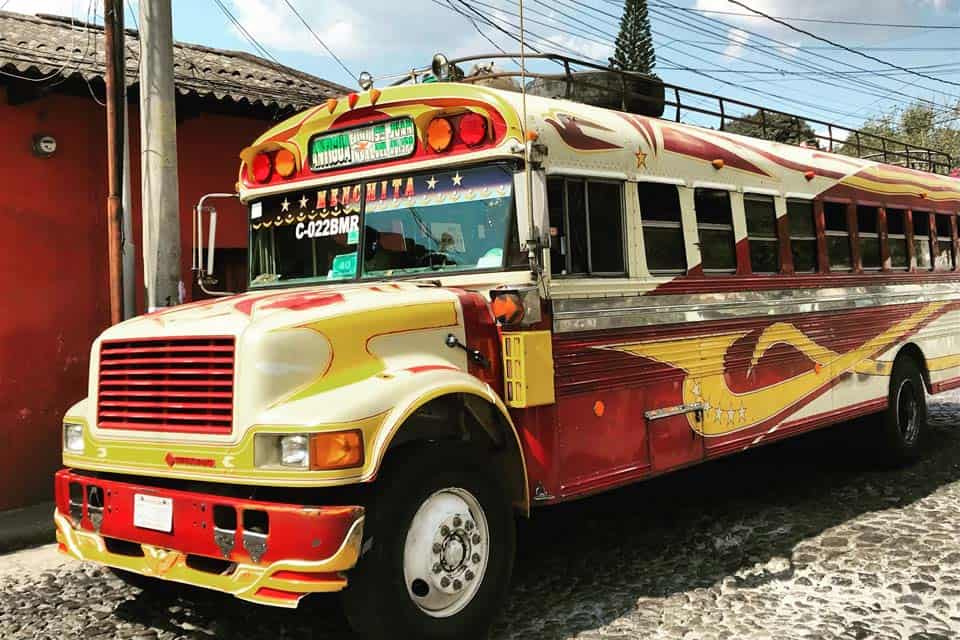 Now they are ready to speed now the poor Guatemala highways, bumping loud music and ignoring all the proper safety regulations (I wish I was joking). Yes, chicken buses aren't exactly safe and reliable, as most of them break down more often than anyone would like. Your luggage is also most likely going to be tossed on top of the bus.
But the good thing about the chicken bus from Antigua to Lake Atitlan is that is it super affordable. You can get to there for a fraction of the price you would pay for a shuttle.
The trick with the chicken bus is that there is only one direct bus per day at 7 AM (Guatemala time, meaning plus or minus 1 hour). And if you do happen to miss that bus, your alternative is taking 3 chicken buses (via Chimaltenango, Los Encuentros, Solola, then finally Lake Atitlan). Talk about a nightmare!
The chicken bus to Lake Atitlan departs at Antigua's main bus station near the market (check location here). When you get there, ask one of the drivers for Panajachel and they should be able to direct you to the proper bus! We recommend getting there 45 minutes early!
Note: If you get motion sickness easily, then the direct chicken bus to Lake Atitlán is a ticket to hell! Make sure you have some motion sickness medicine. We also recommend you to get some travel insurance, as pickpocketing on chicken buses isn't exactly uncommon.
Looking for some travel insurance for Guatemala?
Check out our recommendation here!
Getting a Rental Car and Driving Yourself
Getting a rental car in Guatemala is one of the most liberating things as you don't have to rely on the chicken buses or the shuttles. However, keep in mind that Guatemala is full of winding mountain roads and aggressive drivers that don't exactly adhere to the rules.
Depending on the location of your accommodation, it might not be accessible by car. In the end, you might have to rely on the boats that transport passengers across the lake. This is especially true if you plan on visiting some of the other villages and exploring the best attractions Lake Atitlán has to offer.
The one good thing about a rental car is you can stop anywhere you want and admire the stunning landscapes this region is known for.
To be honest, a rental car to Lake Atitlán might not be the best option, but it sure is when you want to explore the rest of Guatemala. There are plenty of places where a private car in Guatemala would be useful, such as Guatemala City, Flores (to see Tikal), and Semuc Champey.
Looking for a car rental in Guatemala?
Check out our recommended car rental company here!
Taking an Uber or Hiring a Taxi
Another feasible option to go to Lake Atitlán from Antigua Guatemala is to take an Uber or hire a private taxi. Uber is legal in Guatemala and actually quite popular in Antigua and Guatemala City.
Surprisingly, an Uber or hiring a taxi can sometimes be cheaper than a private shuttle, but the difficulty is finding a driver that will accept your offer. The journey takes about 2.5 hours, and that is an extra 2.5 hours they will need to drive back to Antigua after dropping you off.
Depending on your luck, you might find a taxi driver that would be willing to negotiate a fair price with you. But with this strategy, it is best that you have 4 total passengers to make it more economical.
Taking a Guided Tour From Antigua Guatemala
If you don't have much time on your Guatemala itinerary, then the best option for you might be to take a guided tour to Lake Atitlán. There are plenty of tour companies that offer day trip tours.
We recommend this one as it includes a sightseeing cruise, a visit to 3 villages, and a visit to the handicraft market in Panajachel.
If you are coming from Guatemala City, worry not. There are also day tours that run from Guatemala City to Lake Atitlan. This is the one we recommend; its itinerary is very similar to the one leaving from Antigua.
Not sure how to get from Guatemala City to Antigua? Check out our dedicated guide here!
---
How to Get Around Lake Atitlan, Guatemala?
Getting to Lake Atitlán is only half the battle, because now you need to figure out how to get around Lake Atitlan.
Luckily, most villages such as San Pedro and San Marcos are small enough that you can discover on foot comfortably. And for things that are a little bit farther away from town, you can take a tuk tuk to your destination. Just remember to arrange a time to go back if you are going somewhere remote (such as the Indian Nose Hike).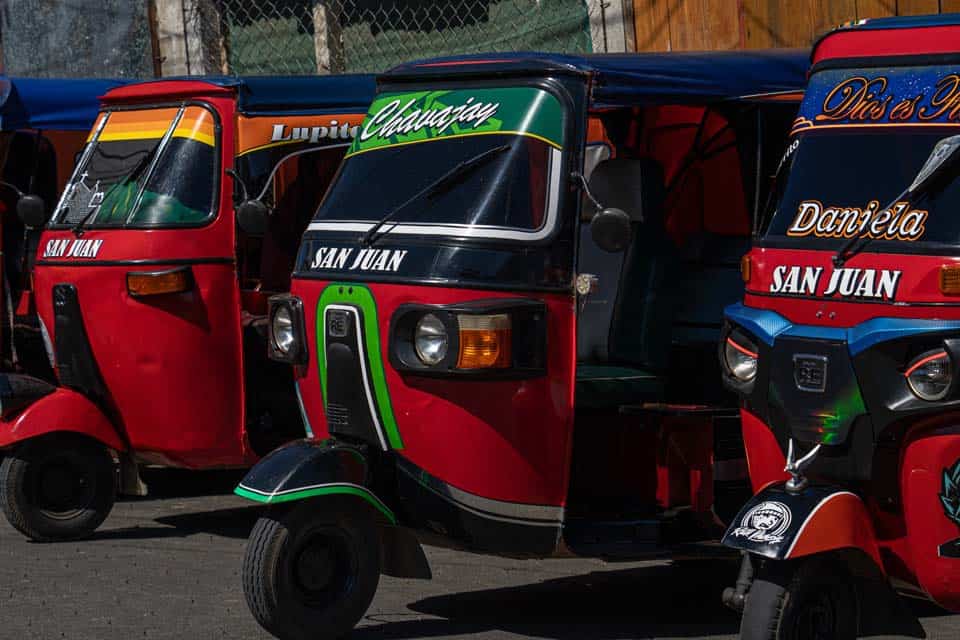 If you are planning on visiting one of the nearby villages, you can take a boat trip using one of the public boats from each village's dock. What we like to do is go on a day trip and spend a day hopping from one village to another.
---
How Far Is Lake Atitlan From Antigua?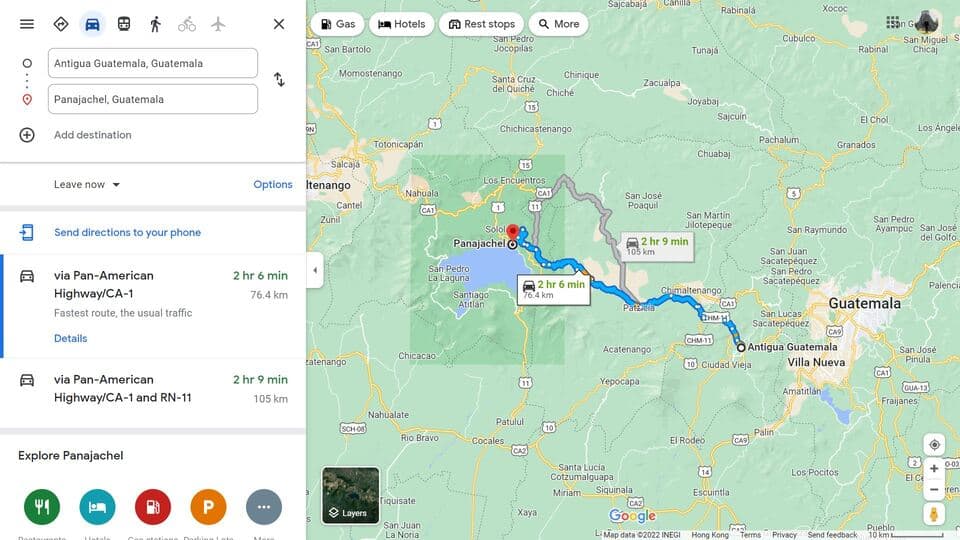 Before we wrap up our guide, we would like you to familiarize yourself with the distance between Lake Atitlan and Antigua.
It is about 80 kilometers between Panajachel and Antigua, and usually takes around 2.5 hours to 3 hours to get there thanks to the winding roads.
If you are short on time, you must decide whether you want to stay in the beautiful UNESCO World Heritage Site and explore more of the best things to do in Antigua, or head over to Lake Atitlan and enjoy its scenic landscape and relaxed vibes.
---
Antigua To Lake Atitlan FAQs
How is the drive from Antigua to Lake Atitlan?

The drive from Antigua to Lake Atitlan takes about 2.5 hours, and you must go through some of the winding roads of Guatemala's highlands. Luckily, you are spoiled with some dramatic views as you approach Lake Atitlan

How much is the shuttle from Antigua to Lake Atitlan?

A shared shuttle bus from Antigua to Lake Atitlan costs around 20 to 30 USD per person, depending on which tour company you get it from.

Where to stay in Lake Atitlan?

Each Lake Atitlan village offers something different, so we recommend you stay in a few. The best ones are Panajachel, San Pedro, and San Marcos, but check out our full guide here for the complete list!
---
We hope our guide has helped you figure out your transport to Lake Atitlan from Antigua! We still highly recommend the shared shuttle option, unless you are traveling with a group and can save money by sharing the cost!
Any questions? Let us know in the comments!
Disclaimer: Some of the links above are affiliate links. That means if you book or make a purchase through the links, we will earn a small commission at no extra cost to you! The money will help run this site! Thank you!