Not sure when is the best time to visit Romania? We are not surprised.

As one of the biggest countries in Europe, Romania's diverse landscapes offer something exciting at any time of the year. Each season represents a different side of Romania and your experience will greatly vary season by season.

This is why we have written this Romania guide to tell the pros and cons of visiting Romania in each season. That way you can decide when it is the best time to travel to Romania!
---
Want A Quick Tip On The Best Time To Visit Romania?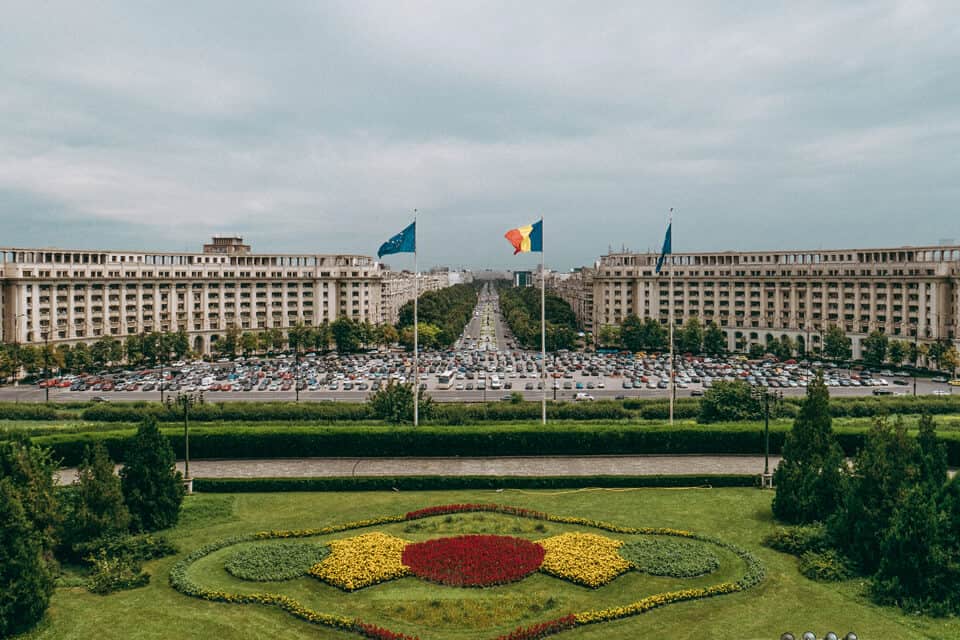 Generally speaking, the best time to visit Romania is in the summer, when the weather is at its best and everyone is out to have a good time.
During this time, tourism in Romania is at its peak, nationally and internationally. Beach towns and cities in the mountains are popular destinations as local and foreign tourists seek refuge from the summer heat.
Bucharest, the capital of Romania, is saturated with tourists as it serves as an entry point to the rest of Romania.
Nightlife in Bucharest is in full bloom, and the streets of Old Town Bucharest are flooded with people. The vibes are young and lively, perfect for anyone looking for a fun summer vacation in Romania.
Many spectacular events and festivals in Romania occur in the summer, and no Romania trip is complete without participating in one of them. No matter which city you decide to go in Romania, there will be something happening!
Because summer is the peak season in Romania, we recommend booking your accommodation in advance.
---
Best Time Of The Year To Visit Romania
We all have our own interests and hobbies, so saying that summer is the best season to travel to Romania might be prudent. There is no "best" time to visit Romania because it depends on what your intent is.
Below we will discuss the pros and cons of visiting Romania in each of the seasons so you can have a better idea of how to plan your Romania trip.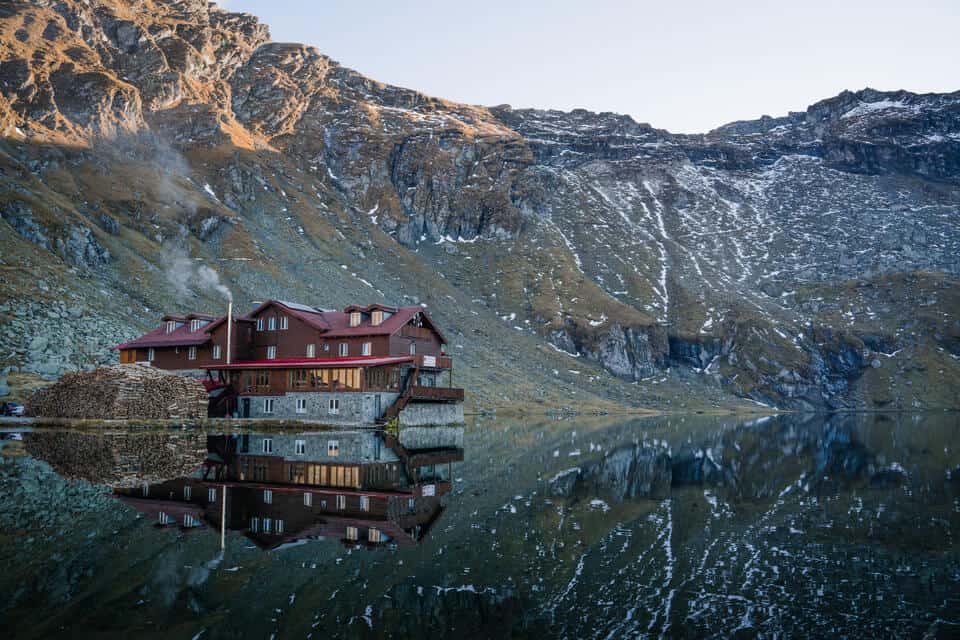 Winter in Romania (December to February)
Winter in Romania is one of the lowest seasons for tourism. Temperatures drop below freezing on most days and frequent snowstorms ravage the country. The streets of Bucharest that were inundated with tourists are now desolate, and the lively atmosphere becomes grey and uninspiring.
If you plan on doing a Romania road trip, you can forget about it. With the amount of snowfall, most roads are nearly impossible to drive on. The famous Transfagarasan Highway (the best driving road in the world) is usually covered in snow in the winter, and you definitely don't want to leave Romania without seeing it!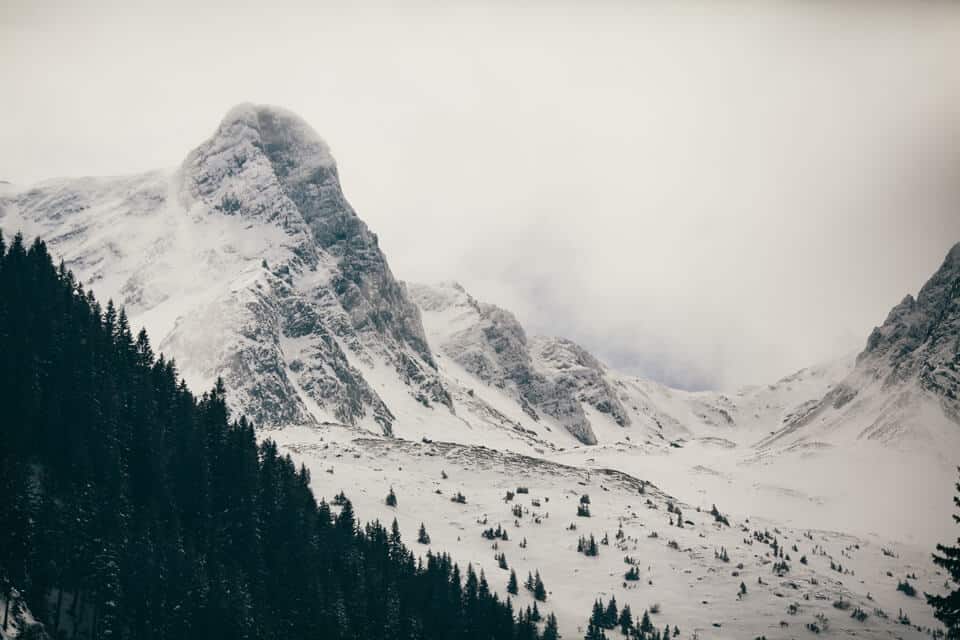 Fortunately, the thick layer of snow creates the perfect slopes for winter sports. Skiing and snowboarding are popular in Romania during the months of January and February.
As one of the cheapest EU countries, visitors don't have to pay a hefty price for winter sports, unlike in Switzerland or Austria.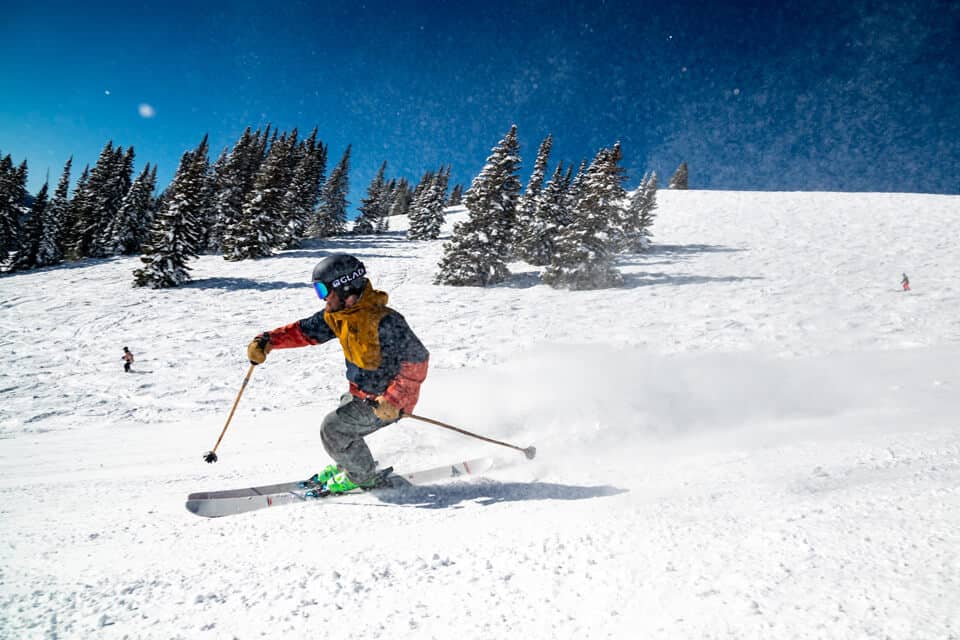 The ski resort town of Poiana Brasov is one of the best places to visit in Romania in the winter. When you are done skiing, enjoy some hearty Romanian food and soak in a spa to soothe your aching limbs!
Even when it is not winter, Poiana Brasov is one of the best places to visit in Brasov, as it is filled with hiking trails and beautiful scenery.
If you are not into winter sports, the Christmas Markets in Romania are sure to impress.
Romania might not be well-known for its Christmas Markets, but it surely won't stay like this for long.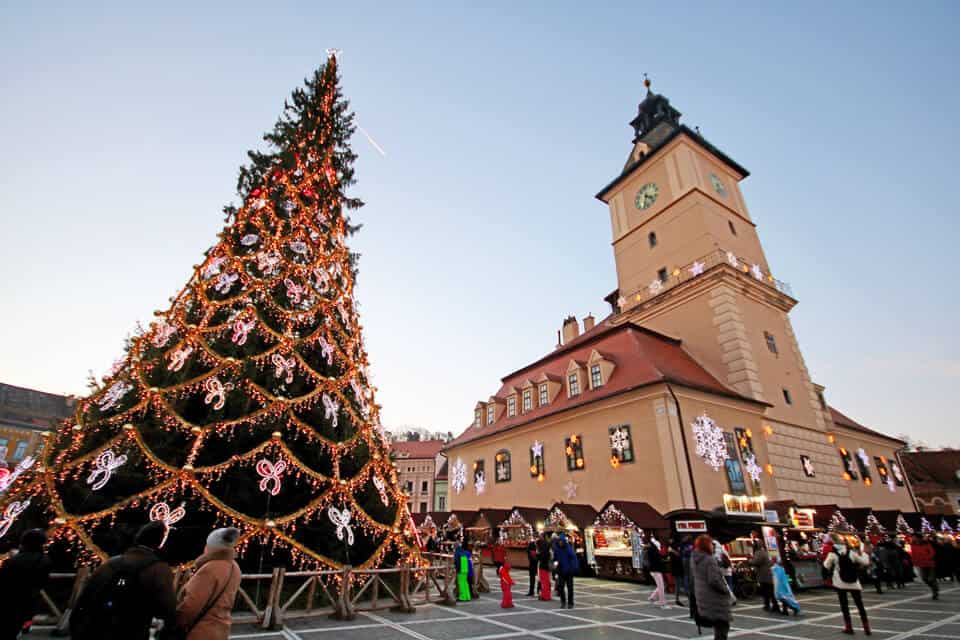 When it comes to Christmas Markets, the ones in Sibiu and Cluj-Napoca (the capital of Transylvania) are the most spectacular. Hundreds of merchants set up traditional wooden cottages in the historic center of these ex-Saxon settlements, selling anything from mulled wine to traditional handicrafts to sweets like kurtoskalacs!
Along with the beautiful Christmas decorations, the whole town comes alive. The energy that swept the streets of Romania in the summer is revived, and Christmas just cannot be more perfect in Romania.
Though Sibiu and Cluj are known to have the most beautiful Christmas Markets, cities like Bucharest, Brasov, Sighisoara, and Timisoara also have Christmas Markets that won't disappoint.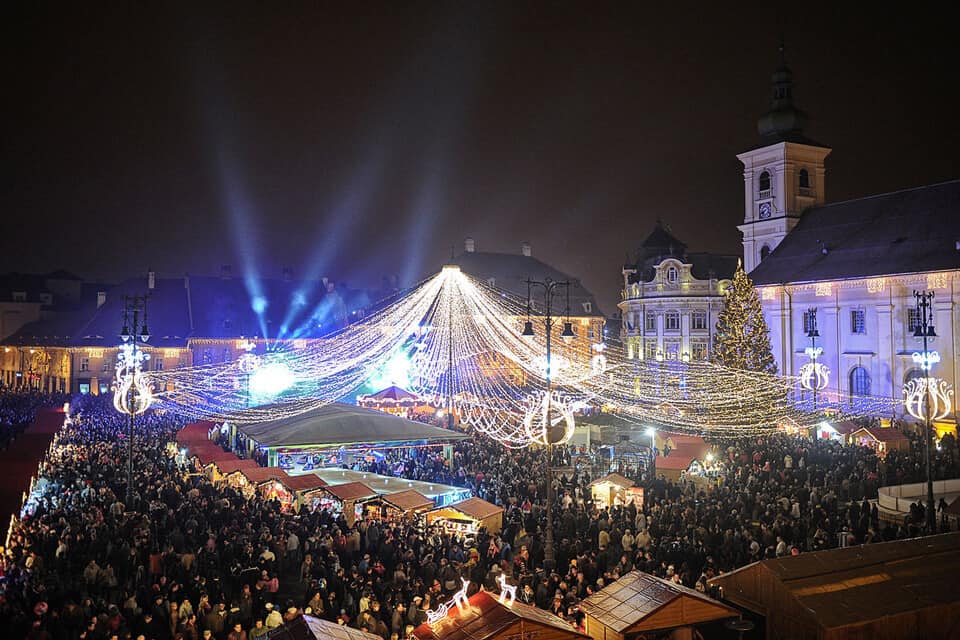 Winter Festivals And Events In Romania
Christmas Markets Throughout Romania
As we have mentioned above, Christmas Markets are some of the best winter attractions in Romania. Most of them will start in mid-November and last till mid-January, giving travelers plenty of time to explore them all!
The annual bear festival (yes bear, not beer!) is one of the most unique and traditional festivals in Romania. It usually takes place in a small town called Comanesti in the northeastern region of Romania, where traditions and customs are engrained deep into their everyday lives.
Between Christmas and New Year, hundreds of participants in bear fur costumes would go from house to house, singing and dancing to ward off evil for the new upcoming year. Many of the fur costumes are real and weigh up to 40 kg; they can also cost as much as 2,000 euros.
This unique festival is an unusual thing in Romania, but if you are willing to venture out there, you will get a glimpse into some of the most authentic Romanian heritage.
Autumn In Romania (September To November)
Autumn is our favorite season to travel to Romania. Flocks of summer tourists are now gone, leaving the cities with a surreal sense of serenity. Many of the Romania attractions that were filled with visitors are now nearly empty, allowing visitors to fully enjoy their grandeur.
Autumn is the best time to visit Transylvania, a historic region with charming castles and medieval towns. Fewer tourists will allow you to enjoy the attractions more, and any photo you take will be accompanied by the colorful autumn foliage.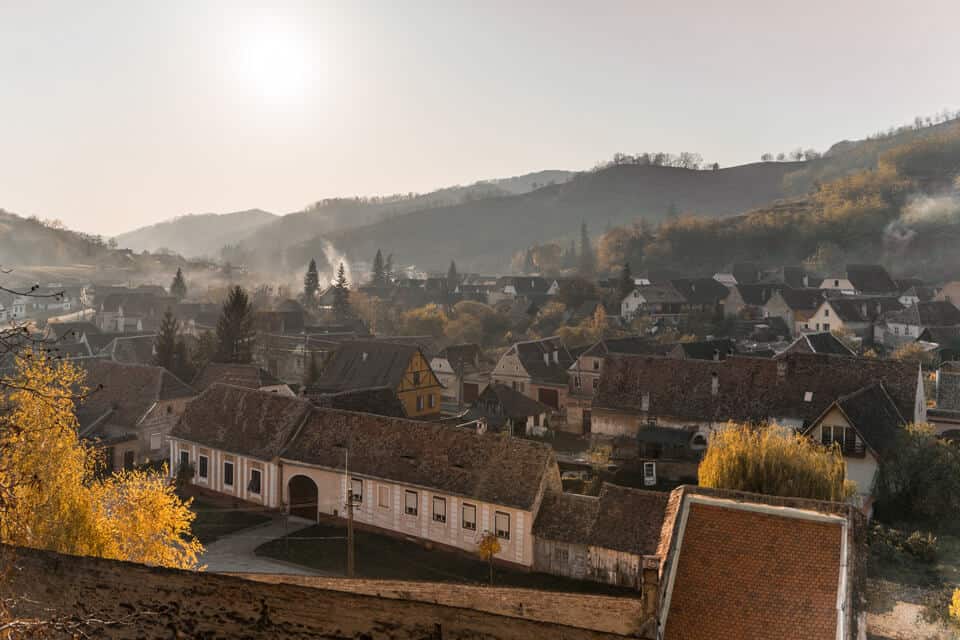 Small towns such as Rimetea that were busy in the summer are now ghost towns with no one on the streets and everything closed on the weekdays.
Nature starts showing us its true color, and slowly the countryside of Romania becomes saturated with colorful foliage. It is the best season to do a Romania road trip, as the landscape itself is enough to bedazzle you.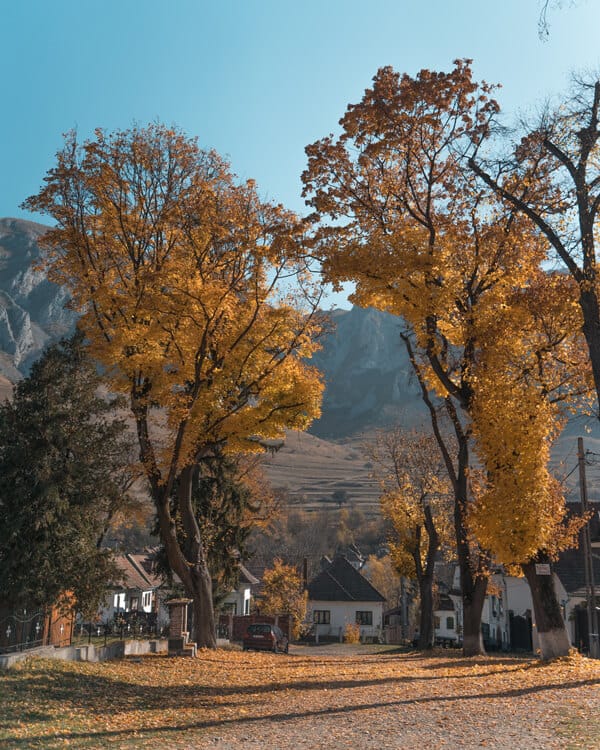 Autumn is also harvest season, giving visitors an opportunity to get a glimpse into traditional Romanian life in the countryside.
With fewer tourists, demand and prices have lowered. Fully-booked hotels are now eerily empty, and some accommodations won't even operate in autumn. Entrance fees to many attractions are also cheaper in autumn, perfect for anyone traveling Romania on a budget.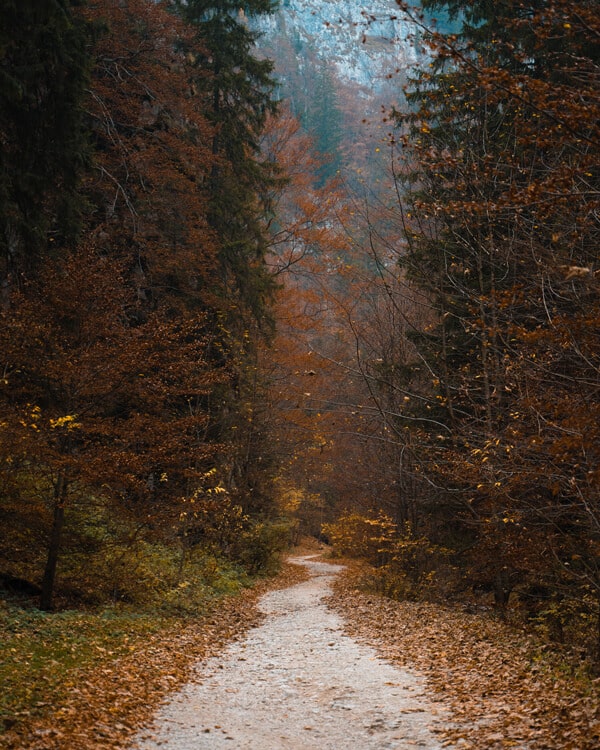 Autumn is a great season for hiking, as the weather is moderate with low chances of rain.
However, the mountainous areas of Romania can get quite chilly, especially toward the end of autumn. It is not uncommon to see some snowfall towards the end of autumn.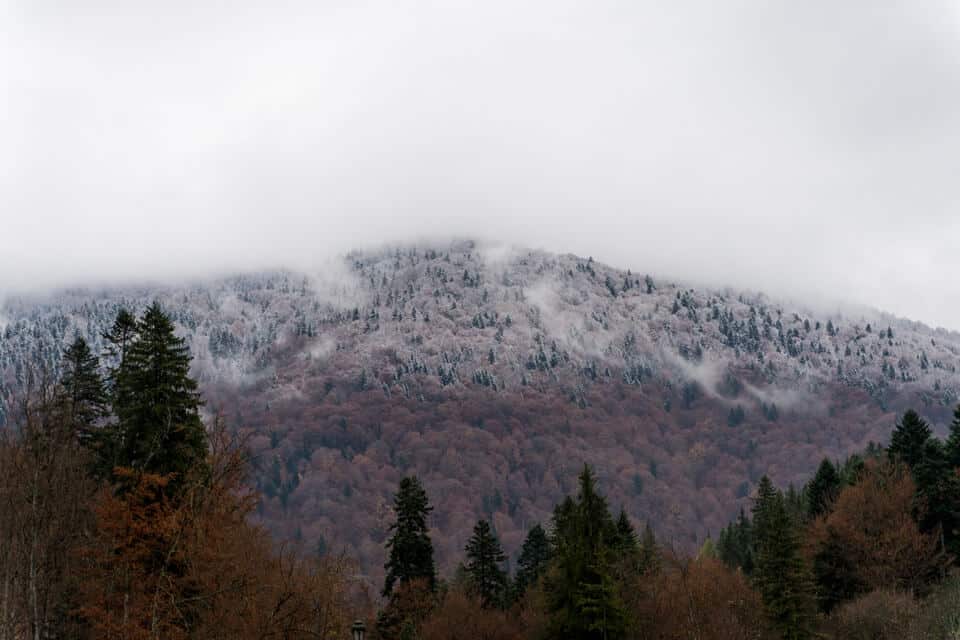 Autumn Festivals And Events In Romania
Because of the Transylvania Saxon influences, many of the cities in Translyvania still hold German influences. Brasov is one of those medieval Saxon cities.
In the city of Brasov, autumn is extra delightful. The Carpathian Mountains that surround the city are darted with autumn foliage, and the annual Oktoberfest Brasov gives you "beer goggles" to further enhance the landscapes, which can be explored independently or on a tour from Brasov.
With traditional music, Bavarian costumes, sausages, and enough beer to cure a drought, Oktoberfest Brasov is an amazing time to visit Brasov.
CibinFEST (OktoberFEST Sibiu)
A similar Oktoberfest also happens in the nearby city of Sibiu, another medieval Saxon walled-citadels. This annual event celebrates the seasonal harvest in the best way possible, with loads of Bavarian beer, cuisine, music, and dancing.
Starting in a big tent in the Large Square ( the center of the historic district), the party spreads and engulfs the entire city. It is certainly one of the most fun things to do in Sibiu!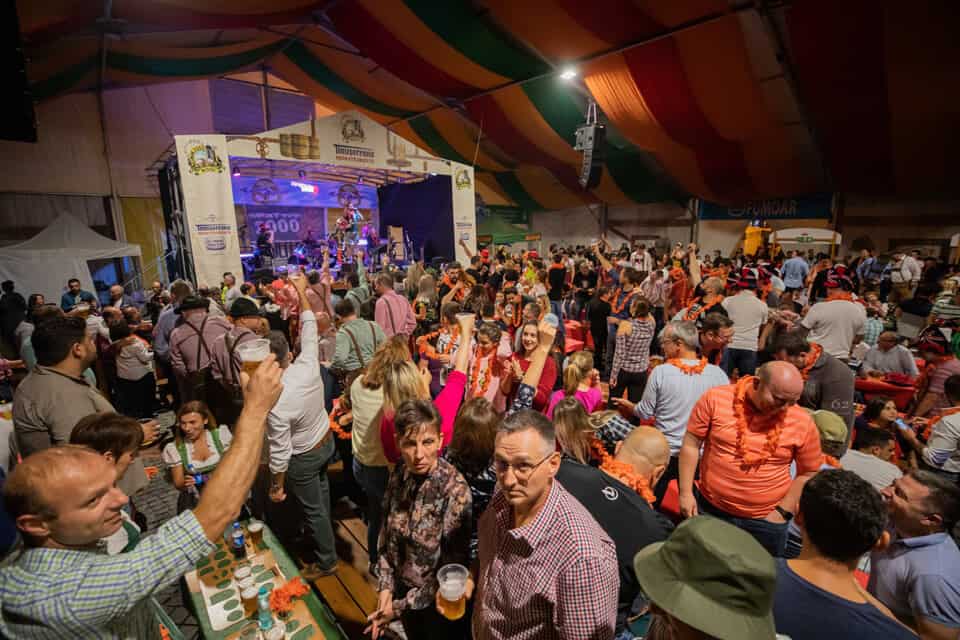 ASTRA Film Festival (Sibiu)
If you are a film or documentary enthusiast, the ASTRA Film Festival (AFF) in Sibiu is an event you cannot miss. As the oldest international festival in Romania, the world-recognized AFF features mainly films from Eastern and Central Europe.
Many of these films tell a story about Romanian culture and traditions. Visitors will surely learn something interesting about the traditional Romanian ways of life when attending the AFF.
Halloween Party At Bran Castle
Bran Castle is the alleged birthplace of the legend of Dracula, a skin-tingling horror character from Bram Stoker's famous novel. During Halloween, Bran Castle becomes one of the biggest attractions in Romania, hosting its own Halloween party. The party usually consists of vampire costumes, delicious food, drinks, dancing, music, and a hint of spookiness.
This is your one and only chance to party the night in Dracula's Castle!
If you are traveling Romania with kids, the Halloween special at Bran Castle also has something for them, but they will not be able to participate in the adult-only afterparty.
Find out more about the Halloween Party on the official Bran Castle site.
Spring In Romania (Mid-March To May)
By mid-March, the weather in Romania has started to improve. Gone are the dreadful winter days and comes the mild spring, along with frequent rain and spring blossoms.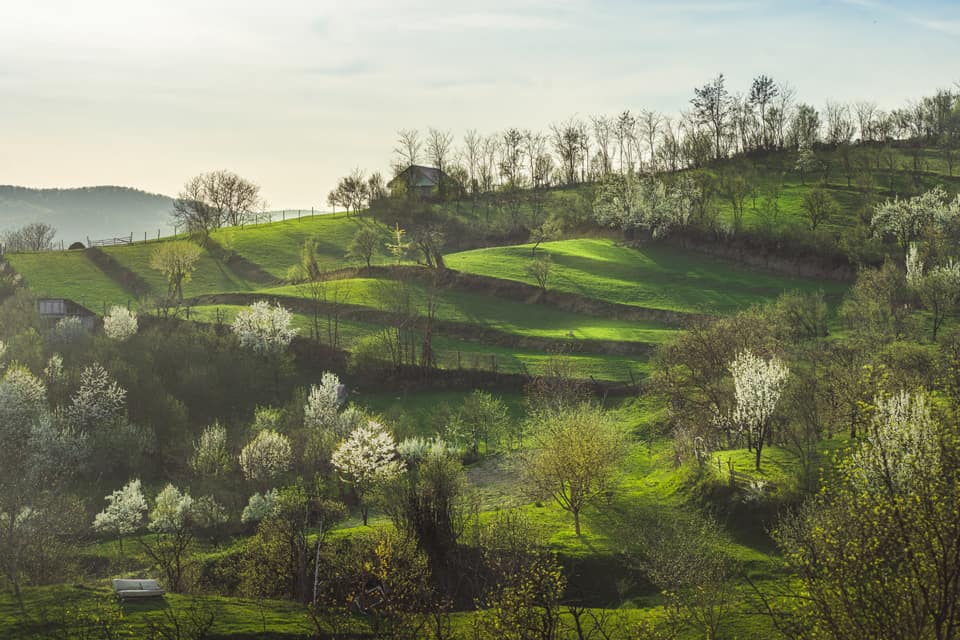 Spring is the best time to go to Romania for birdwatchers, as migratory birds find shelter in Danube Delta. Even if you are not a bird enthusiast, you will find joy slowly cruising down the Danube Delta, admiring at the numerous species of wildlife that inhabit the area.
As the snow melts, hiking becomes more popular in Romania. Though the temperature might be ideal, hikers must beware of the rainstorms that frequent the area.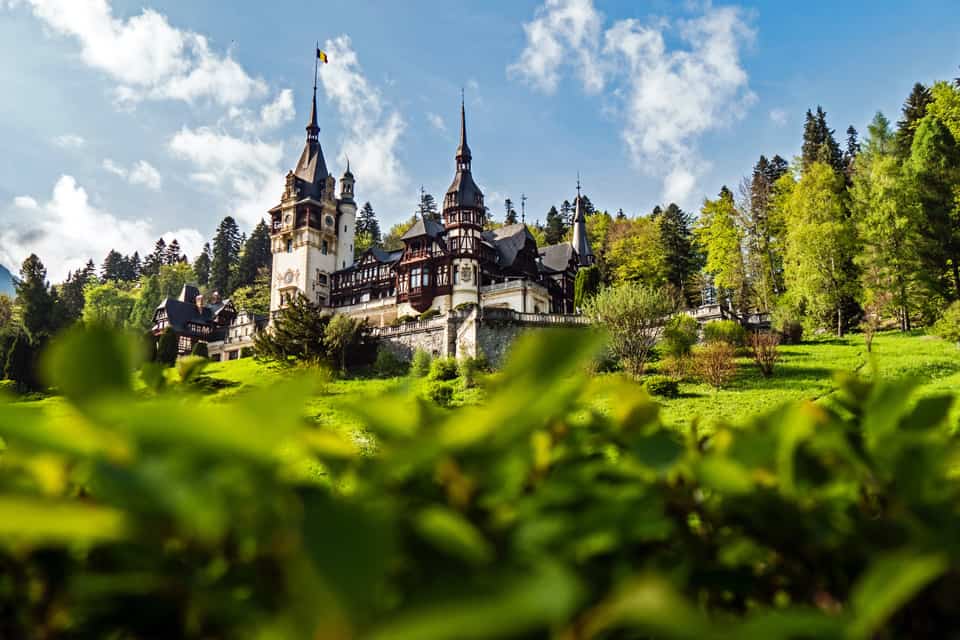 The month of May is usually the month with the highest rainfall in Romania.
Accommodations and entrance fees are cheaper because of the lowered demand, similar to autumn. If you enjoy nature and a more authentic side of Romania, spring is a good time to visit.
Spring Festivals And Events In Romania
Martisor is a Romanian traditional holiday celebrated on March 1st to welcome the arrival of spring.
To commemorate this seasonal tradition, small talismans (also called Martisor) made of red and white string in the form of a tassel are given to the ladies. These small trinkets are said to bring prosperity and health to anyone that receives one.
A week before Martisor, "Martisor" fairs will pop up in the big cities such as Brasov and Bucharest. There you will find local vendors selling Martisor-related items, accessories, and other handicrafts. With the "Martisor" fairs arrival, Romania is in high spirits once again!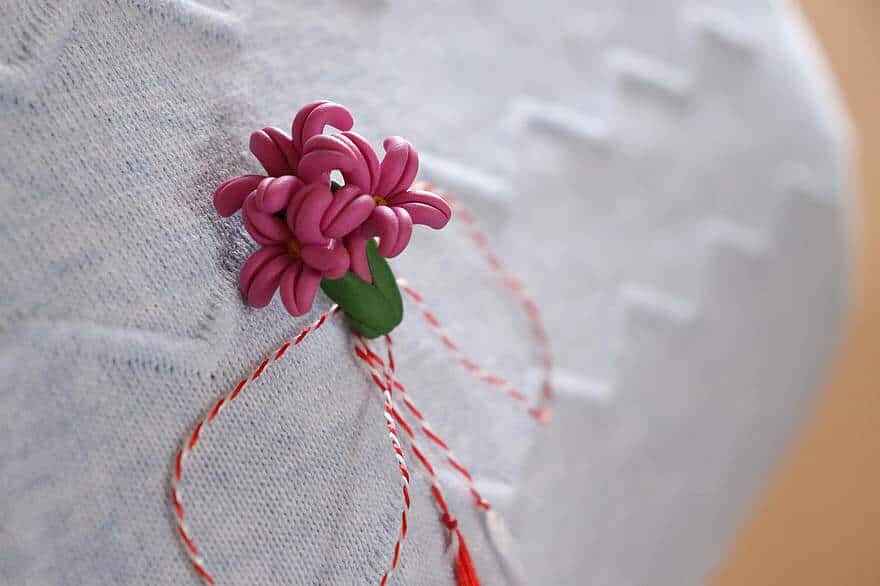 Film Festivals (Cluj Shorts, Este Film Festival, Transylvania International Film Festival)
Spring is the season of film festivals in Romania. Many big film festivals such as Cluj Shorts, Este Film, and Transylvania International Film Festival take place in Cluj-Napoca or Sibiu. If you are a film-lover, don't forget to check some of these out.
Spotlight Festival (Bucharest)
The Spotlight Festival in Bucharest is one of the most stunning festivals in the world. To call it a festival would be a little misleading because there usually isn't loud music, dancing, or lots of booze (but that can be arranged).
A series of light installations and projections transform the Old Town Bucharest into its own art museum. Using these projects and installations adds another dimension to the already stunning buildings of Bucharest. This unique expression of art is a must-see if you are in Bucharest in the spring.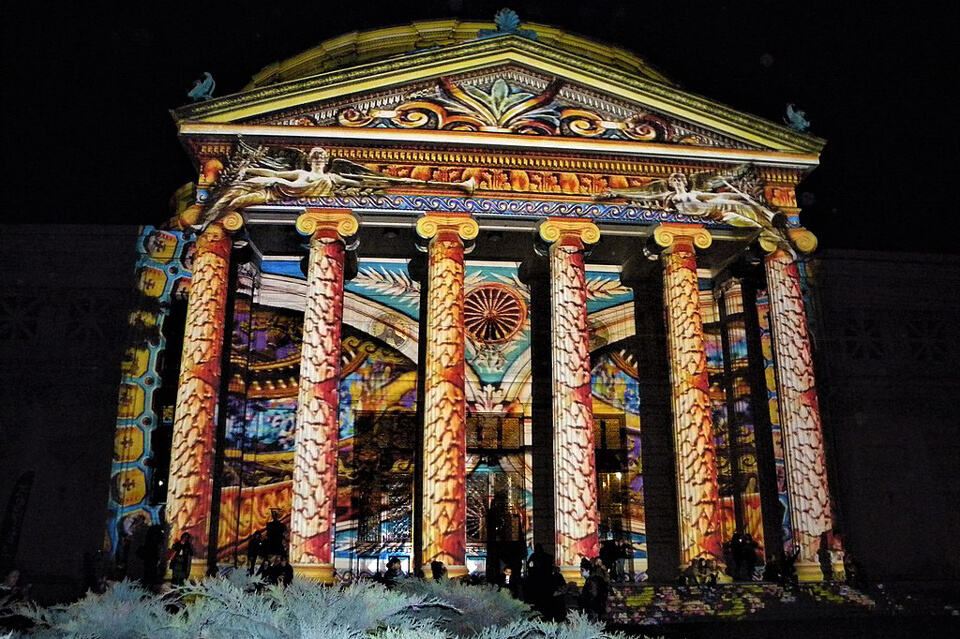 Sunwaves Music Festival (Constanta)
With the temperature on the rise, music festivals start to make a comeback in the spring. The most famous of which is the Sunwaves Music Festival that takes place on Crazy Beach in Mamaia, a resort town in the coastal city of Constanta.
As one of the biggest music festivals in Romania, Sunwaves Festival features a wide variety of famous and rising artists. Come enjoy some nice music under the spring sun, dance on the soft sand of Crazy Beach, and wake up to the sounds of crashing waves!
Since most of Romania is Orthodox Christian, Easter is one of the most celebrated holidays in Romania. Because of this, Romania usually celebrates Orthodox Easter, which occurs around a week after Catholic Easter. This might mean you get to celebrate Easter twice if you decide to travel to Romania after Catholic Easter!
Easter markets will spawn in many parts o the city, perfect for visitors looking to purchase some Easter-related gifts or try some traditional Easter food in Romania. Hand-dyed easter eggs are a big part of Romanian Easter, so make sure you check them out.
Be aware that some shops and attractions might be closed during the Easter holidays.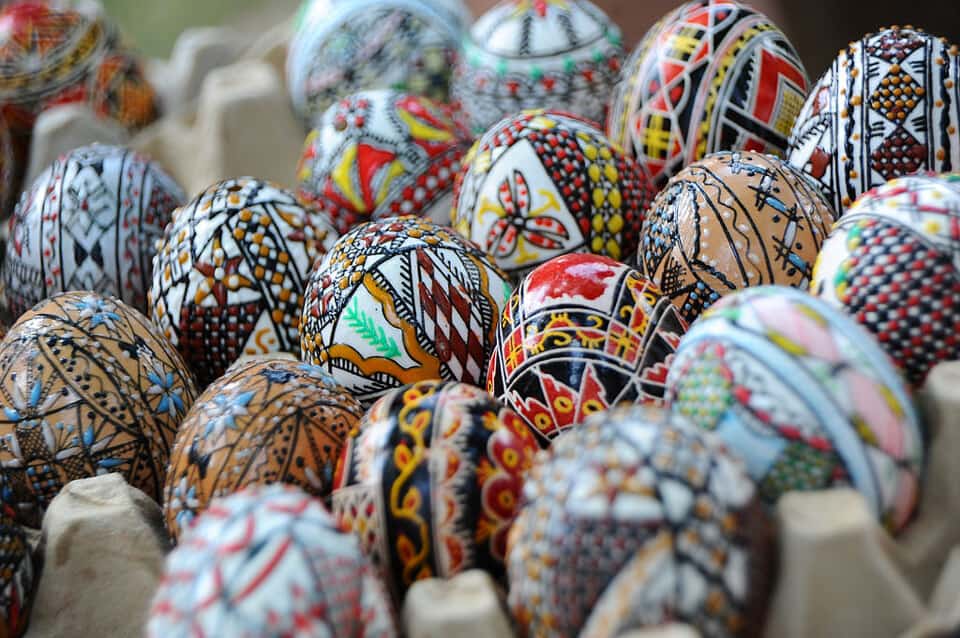 Summer In Romania (June To August)
As we have mentioned above, summer is generally the best season to go to Romania,. Why? The weather is at its best, rainfall is infrequent, and the streets are filled with energy and good vibes.
However, keep in mind that you will be paying more for accommodations and activities, though the prices will still be cheap for Europe.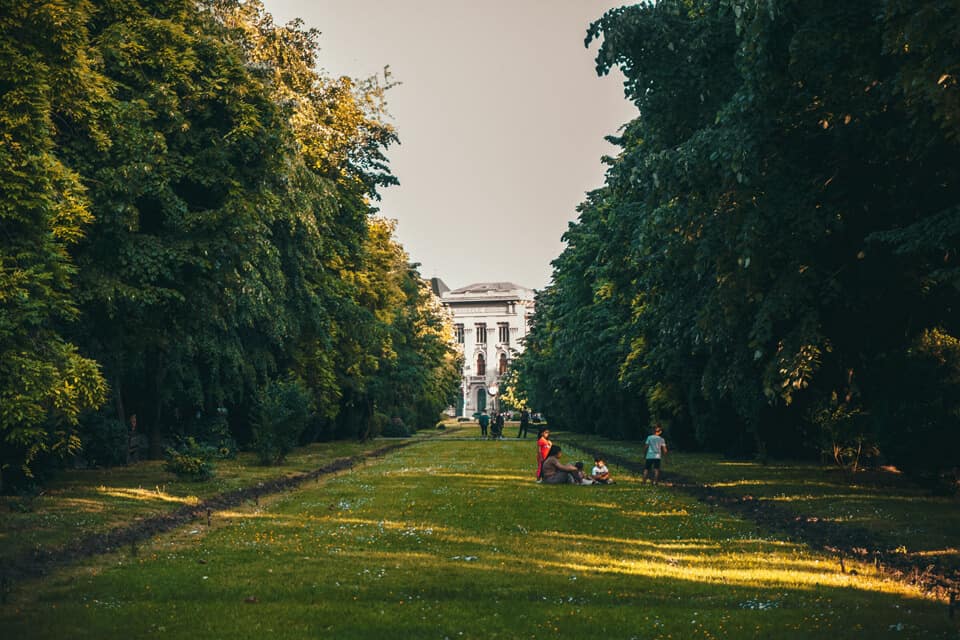 On average, the temperature is around 30 °C (86 °F) in lower areas like Bucharest, but it can reach upwards to around 35 °C (95 °F). The temperature in the higher-elevated regions tends to be a few degrees cooler.
Hiking is one of the most popular summer activities in Romania, as the mountains offer lush landscapes and a way to escape the heat. If you don't like hiking, head over to Constanta and cool off in the Black Sea.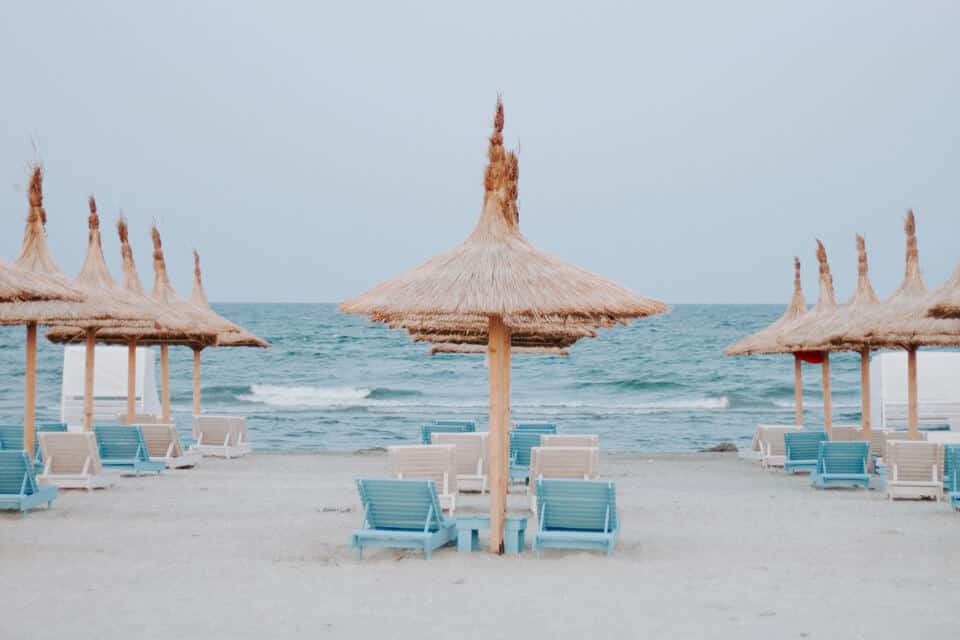 Summer is not a bad time to visit Transylvania, but keep in mind the long queues and crowded attractions. Overcrowdedness diminishes even the more beautiful thing on earth.
However, summer is the best time to visit Bucharest, the capital of Romania.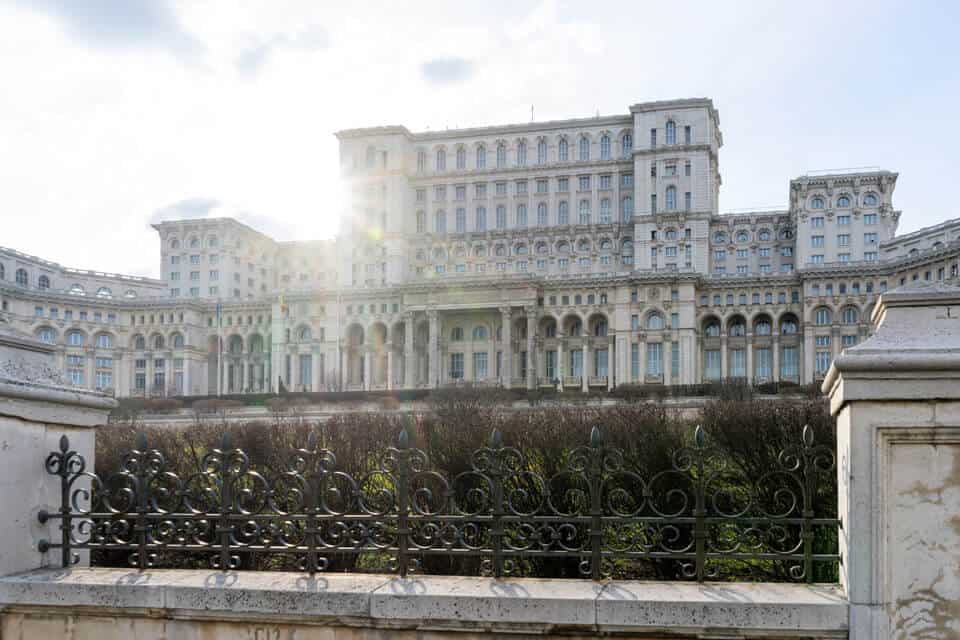 During the other seasons, the cold weather and the grey communist-era buildings suppress any kind of enjoyment. As more tourists flock to the streets in the summer, the winter curse is lifted, and sightseeing in Bucharest becomes fun and cheerful again.
Another reason to visit Bucharest in the summer is its spectacular nightlife, all at the fraction of the cost of other popular European cities such as Berlin or Prague. With its trendy bars, charming outdoor cafes, and beautiful historic buildings, "Paris of the East" is once again in full bloom.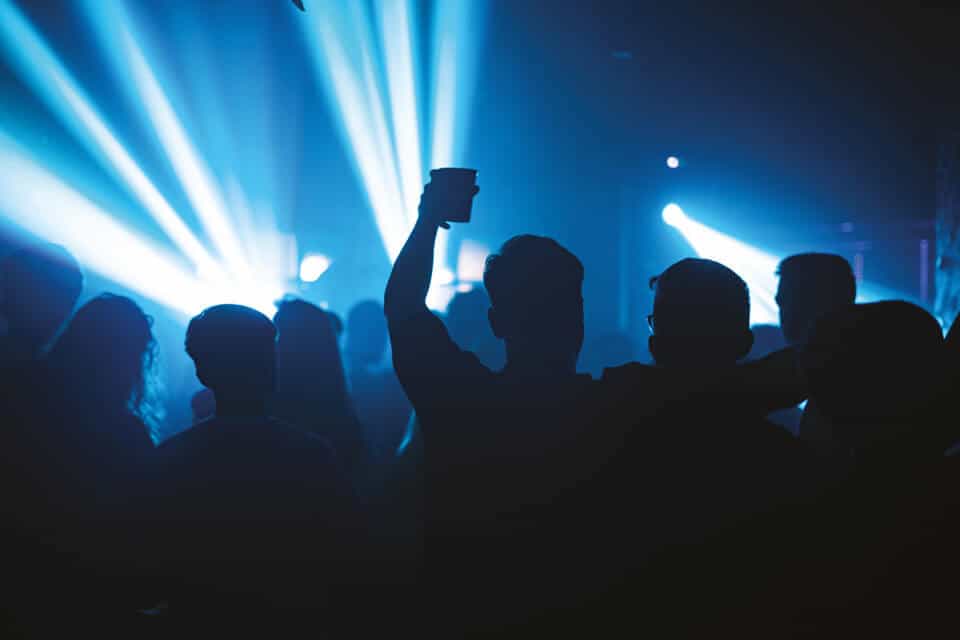 Summer Festivals And Events In Romania
Music festivals are some of the best summer attractions in Romania. From the mega UNTOLD Festival (2015 Best European Festival) to the seaside NEVERSEA Festival to the hippie Dakini Festival, there's surely a music festival you will enjoy.
Because of how popular they are, we highly recommend you to reserve your ticket in advance, especially if you plan on visiting multiple music festivals in Romania.
Other notable music festivals are the fun and chill Awake festival, the alternative Summer Well festival, the hardcore rock Rockstadt Extreme Fest, the unique Electric Castle (You party in a castle!), and the mysterious Waha Festival (it takes place in the woods!).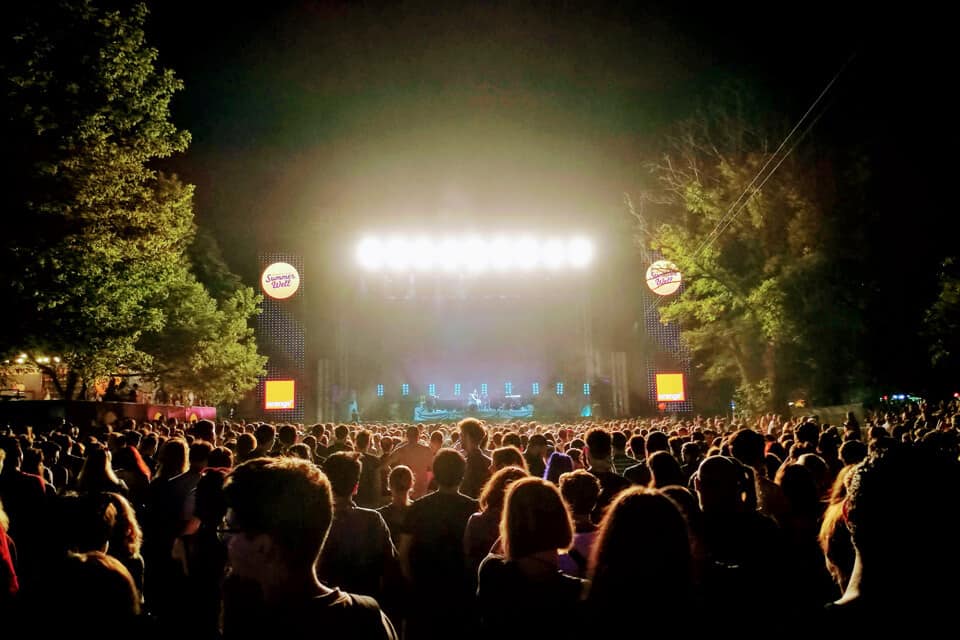 International Vampire Film and Arts Festival (Sighisoara)
As we mentioned above, Romania has a reputation as the land of vampires because of Bram Stoker's famous novel, Dracula. In summer, Sighisoara (the birthplace of Vlad Dracula) holds the annual International Vampire Film and Arts Festival (Vampfest).
Here you will find different genres of vampire-related arts, such as films, literature, performing arts, and more. If you want to learn more about vampires and Dracula, Vampfest is worth a visit.
Sighisoara Medieval Arts and Crafts Festival
Sighisoara, one of the old Transylvania Saxon walled citadels, holds the unique Sighisoara Medieval Arts and Crafts Festival in the last few days of July. During this time, Sighisoara travels back to medieval times, and visitors will find costume parades, performances, concerts, traditional handicrafts, and much more along the well-preserved cobblestone streets.
This is one of the best times to visit Transylvania as the reenactment gives visitors a glimpse into life in a medieval Transylvania Saxon walled citadel.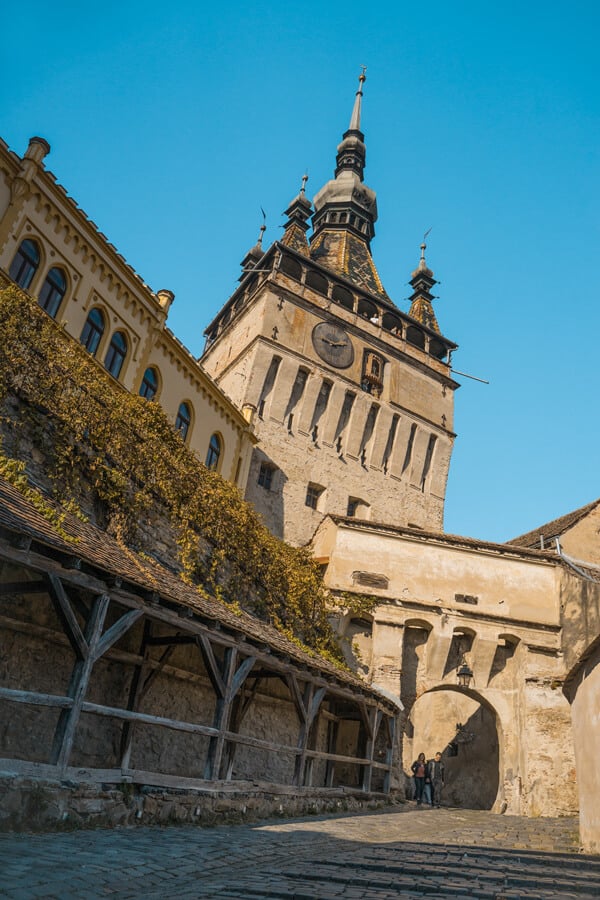 Maiden's Fair (Mount Gaina & Avram Iancu)
The Maiden's Fair is one of Transylvania's oldest and most popular folk events. In the past, the Maiden's Fair was a matchmaking event that arranges marriages for young men and women.
Nowadays, the practice of arranged marriages has died out in Romania, and the Maiden's Fair is mostly an ethnographic festival promoting local cultures. Here you will find music, performances, gorgeous local outfits, and as always, lots of traditional Romania food.
---
Like this post? Don't forget to save it on Pinterest!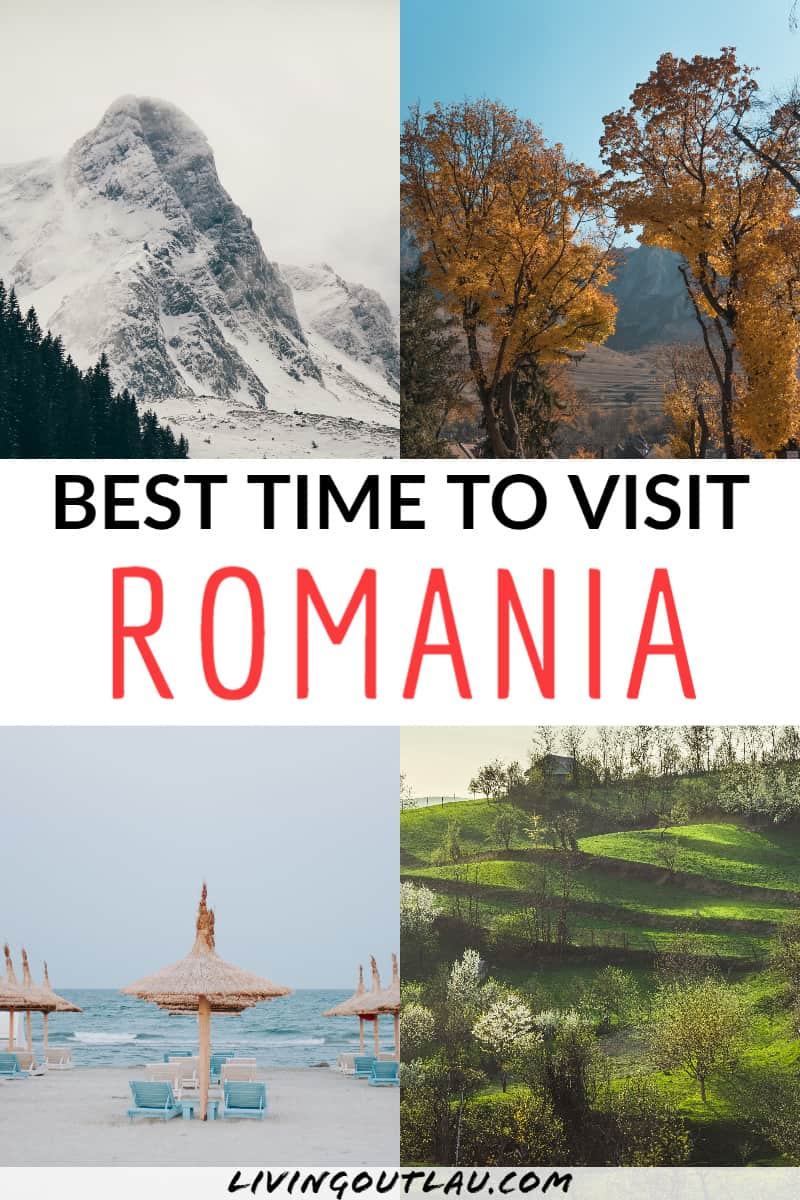 ---
As you can see, the best time of year to visit Romania depends on you. We hope our guide has given you some crucial information to help you plan your trip to Romania!

Any questions? Leave a comment below!
Disclaimer: Some of the links above are affiliate links. That means if you book or make a purchase through the links, we will earn a small commission at no extra cost to you! The money will help run this site! Thank you!