Not sure what to do in Tokyo at night?
As the capital of Japan, Tokyo is a thriving metropolitan city that never sleeps. With an incredible range of things to do, there is never a dull moment at night in Tokyo.
Here on our Tokyo blog post, we will talk about the 18 best things to do in Tokyo at night and why you should add them to your Tokyo itinerary!

Enjoy!
---
What To Do In Tokyo At Night: 18 Best Things To Do In Tokyo At Night
1. Visit Sensoji At Night, Tokyo's Oldest Temple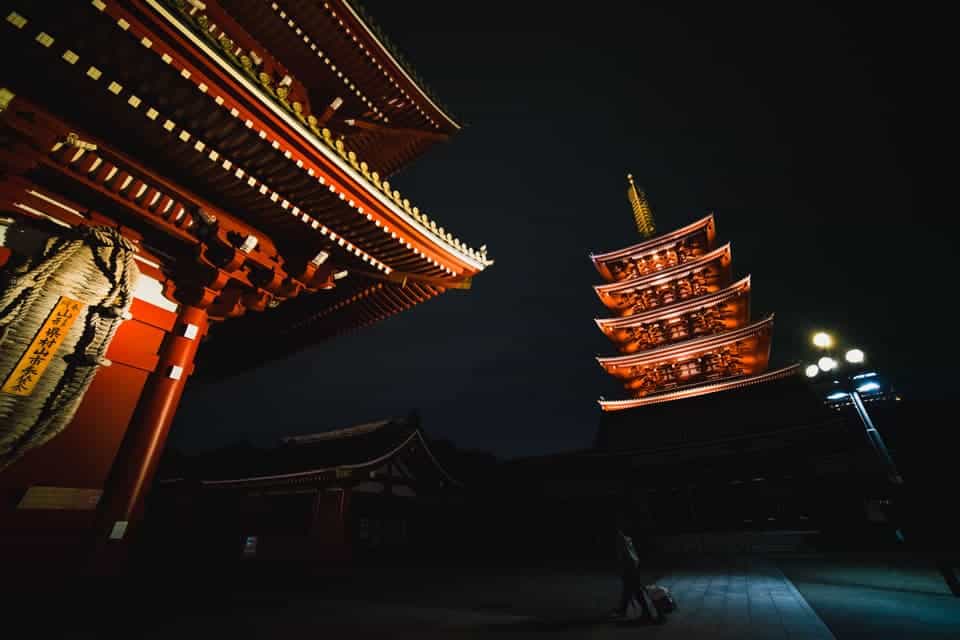 Sensoji, otherwise known as Asakusa Kannon Temple, is the most famous Buddhist Temple in Tokyo. As the oldest temple in Tokyo, visiting the Sensoji Temple is a must on any Tokyo trip. But is it worth visiting it at night? Totally!
In the daytime, Sensoji is teeming with tourists and locals. Everywhere you go, you are overwhelmed by the noise and crowds, diminishing the sacred grounds of Sensoji.
The famous Nakamise Street with vendors lined up on both sides of the street is a maze of people. The only way you can get through is by repeatedly saying the word "Sumimasen (Excuse Me)" like a broken record.
However, Sensoji at night is a completely different universe. Though the vendors on Nakamise Street are closed, the temple grounds are open at all hours. Both the gates that guard the temple and the famous 5-story pagoda are lit up, enchanting the place in a unique way.
The experience of walking through such a sacred place is calm and meditative, and honestly one of my favorite things to do in Tokyo at night alone. Sensoji at night is also one of the best places for photography in Tokyo!
If you are a lover of history and temples, make sure you give the city of Kyoto a visit!
2. Challenge Your Friends At One Of Akihabara's Top Arcades!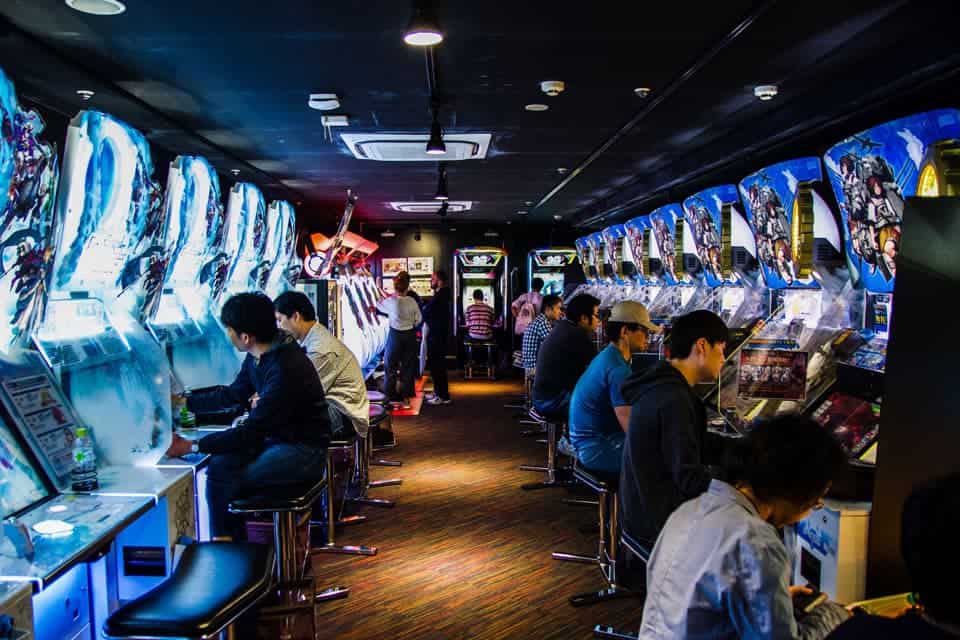 One of my favorite Tokyo night activities is to visit the addicting arcades in Akihabara. Nicknamed the Electric Town of Japan, Akihabara is filled with electronic stores, otaku culture, and arcades as tall as skyscrapers!
If you are a big fan of arcades such as Dave and Buster's make sure you give the arcades in Tokyo a go. The gaming machines in the Tokyo arcades are much more high-tech and complex than any other ones I have seen. Virtual reality, jockey simulation, Taiko rhythm game, if there is a game you like, you will find it at the arcades in Akihabara.
Are you are traveling to Tokyo with friends or kids? Take them to the arcades for a fun night of competitive or cooperative gaming. Whichever one you choose, it is a great bonding experience!
If you want to test your luck and win a mega adorable Japanese plushie, there are plenty of crane machines to every arcade. However, like everything in Japan, extreme precision and patience are required to emerge victoriously.
There are several SEGA arcade megastores in Akihabara. SEGA Building 3 needs to be your first stop in Akihabara.
3. Admire The Neon Lights At Akihabara, Shibuya, or Shinjuku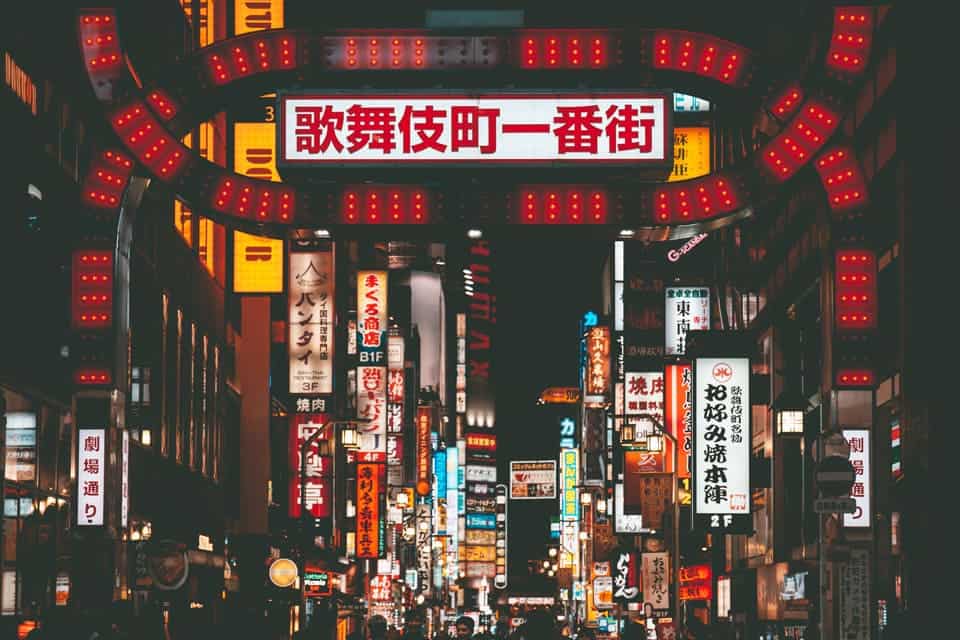 One of my favorite free things to do in Tokyo at night is just to stroll around and admire the bedazzling neon lights. Part of the quintessential Tokyo experience, the neon lights are iconic symbols of a city that never sleeps.
These vertical catchy advertisements are plastered throughout the city of Tokyo, and many locals have already taken them for granted. For travelers, the neon signs are a top Japanese sightseeing spot on their own.
The 3 best places for seeing the neon lights are Shibuya, Shinjuku, and Akihabara.
In Shibuya, the best place to see neon lights is the area surrounding the "Shibuya Crossing". In Shinjuku, the red-light district Kabukicho is filled with these captivating neon signs!
In the Electric Town of Akihabara, you don't find neon lights, they find you! You won't have any problems finding neon lights in Akihabara!
If you are traveling alone and would like some company, check out this night walking tour in Tokyo!
4. Visit The Hottest Attraction in Tokyo, Robot Restaurant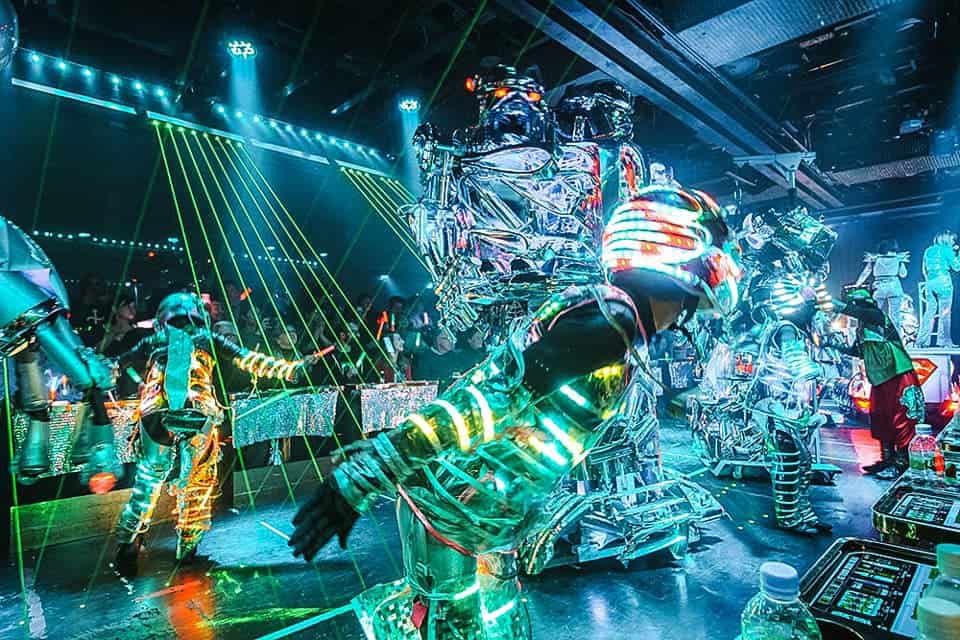 By: Caroline of CKtravels

There are several Shinjuku night-time activities worthy of your Yen but none more so than the weird and wonderful world of the famous Robot Restaurant.
Located in the entertainment district of Kabukicho just a 5-minute walk from Shinjuku station, this is a cabaret show like no other.
Your experience starts as soon as you arrive and enter the cocktail waiting lounge – the room is filled with so much color and glitter and the lounge music is provided by musicians who look like they've just walked off a Daft Punk video.
But nothing really prepares you for the 'main act', as you're ushered into a darkened room and begin to watch a terrific techno cabaret unfold.
A cavalcade of dancers, dinosaurs, robots, ninjas and all manner of eclectic entertainers vie for your tension – neon madness ensues, like an overspill from Bladerunner. After visiting the Robot Restaurant in 2013, the legend Anthony Bourdain announced: "This is the greatest show I have seen in my life".
The 90-minute show costs around 8000 yen per person (you can pre-order a bento box meal at an additional cost). We recommend booking your tickets as far in advance as possible because the shows always sell out!
5. Dine At The Uniquely-Themed Ninja Akasaka Restaurant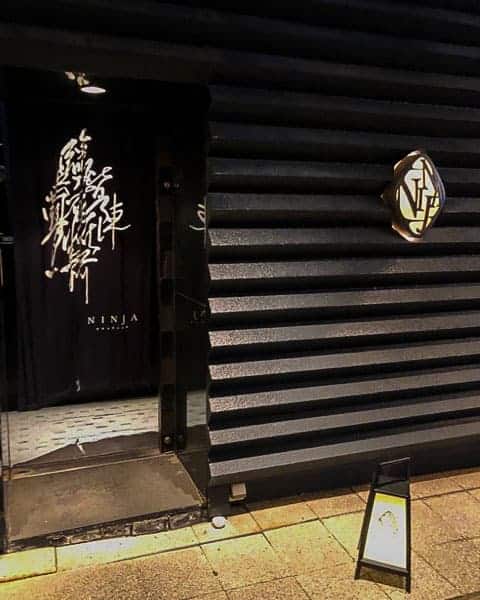 Suggested By: Paula of TrulyExpat

When people ask where to eat in Tokyo, I always recommend the ninja restaurant in Akasaka. (They recently opened one in Shinjuku as well)
Why may you ask? Doesn't the name speak for itself? This fun restaurant is for all ages and don't let the name fool you, the food here is just as amazing as the experience itself.
When you arrive, you are shown to your table by a ninja. Once you venture through the cave-like mazes and arrive at your ninja cave, then the fun begins.
As your ninja waiter brings each course that is ninja worthy, he also brings with it some light entertainment (this includes magic tricks). Each course is like a little magic show in itself, and each course is more delicious than the next.
You can choose from the set menu or order individual items. Every item is created into a piece of art, and you will be impressed by the precision of each dish. This restaurant is great for all ages, as we have been many times with all types of visitors.
Akasaka is easily accessible by train and is only a short walk from the station. The walk to the station won't take you long, approximately 10 mins.
Remember to book in advance because the Ninja Akasaka Restaurant is always busy, every night of the week.
6. Late Night Shopping At Shibuya's Don Quijote
If you are looking for a place to do some late-night shopping in Tokyo, look no further. Don Quijote, sometimes referred to as DONKI, is the ultimate department store in Japan.
If you combined Target, Costco, Toys R Us, and a hint of naughtiness, and put them in the same building, you will have yourself a typical Don Quijote store.
Luckily for you, the popular district of Shibuya is the home to the biggest Don Quijote in Japan. A 7-story building with all various kinds of merchandise, visitors can spend hours (maybe even days) walking down the isles and discovering unique Japanese items.
I specifically loved the aisle for costumes. Though I visited in May, a month nowhere near Halloween, there were aisles dedicated to various costumes. Some of them were your typical ones such as a nurse or a ghost costume, but if you venture deeper into the aisle you will find strange costumes of a sumo wrestler, a Taoist (?), a Teletubby (?), and much more.
Honestly, the section is full of fun and laughter, the perfect place to bring your friends for some silly shenanigans. The Don Quijotes all operate 24/7, which means the only thing that is stopping you from shopping all night in Tokyo is… you yourself.
Another great thing about DONKI is its affordable prices. If you need a place to purchase some unique and cheap souvenirs in Tokyo, Don Quijote is the perfect place for you!
If you love shopping, you can't miss the Shinsaibashi Shopping Street in Osaka!
7. Sing Your Heart Out At Japanese-Style Karaoke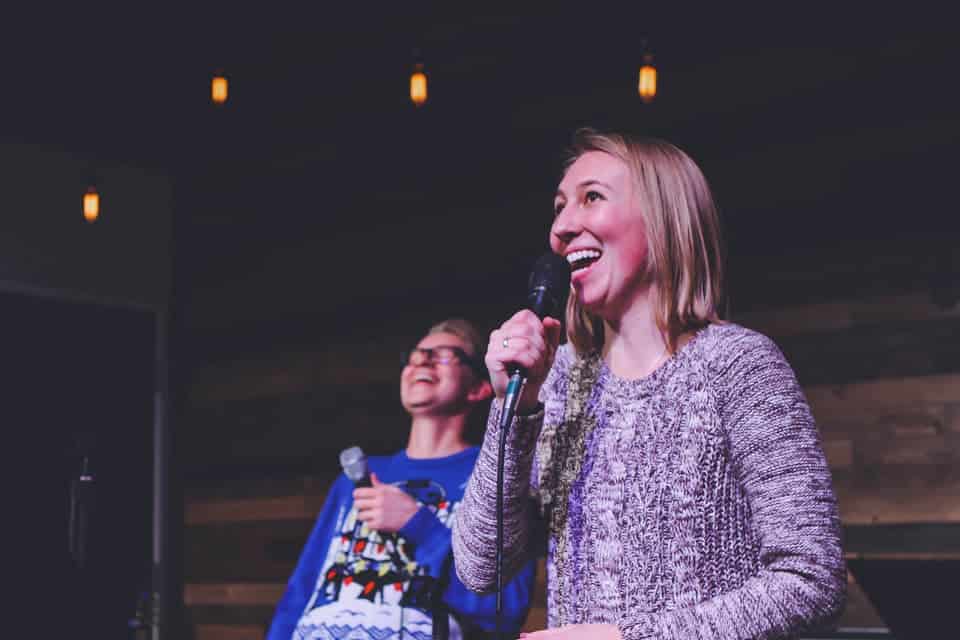 Singing karaoke is one of the popular activities at night for Japanese locals. Why?
Unlike the western counterpart where you have to stand in front of a group of strangers and public humiliate yourself, Japanese-style karaoke is much more private. Typically, you either rent out a single-person booth (yes, that's a thing) or a room for a few to several people.
Now if you don't want strangers to be blessed by your amazing voice, you don't have to!
Each of these private rooms comes with a television, a few microphones, and a songbook, where you will pick out the song you want to sing! It is easy, efficient, and one of the best ways to spend a few hours at night in Tokyo!
Many of these karaoke places also serve snacks and (alcoholic) drinks. It is no surprise why they are so popular. Instead of partying all night at a nightclub in Tokyo, many locals prefer to just sing karaoke with several friends!
You will find that the majority of karaoke places are open 24 hours. If your heart desires, you can spend all night at karaoke! Your voicebox might hate you the next day though.
Pasela Shinjuku or Rainbow Karaoke Shibuya are two great places for karaoke in Tokyo!
8. Relax In A Traditional Japanese Onsen or Sento (Public Bath)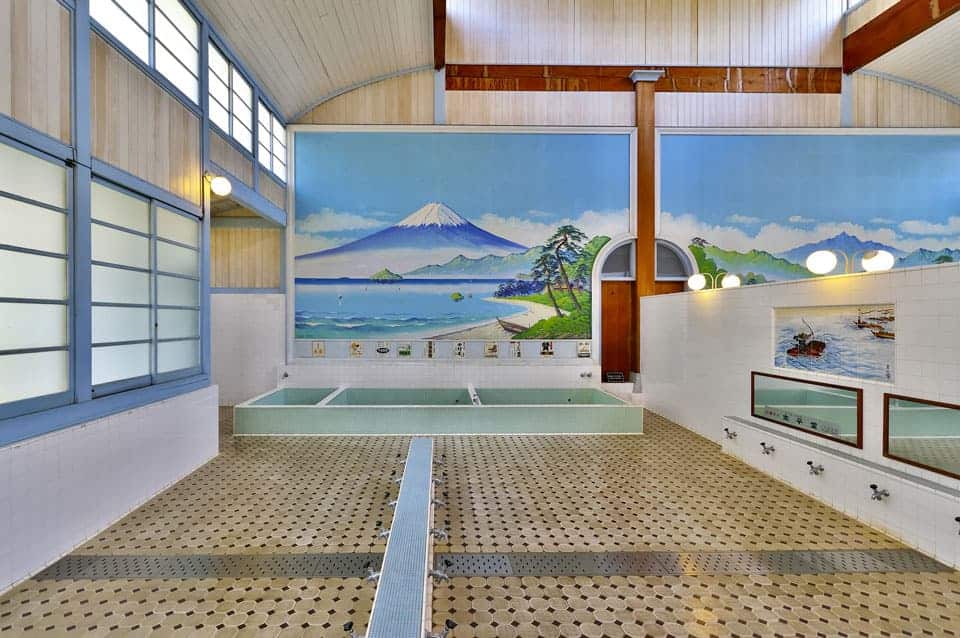 Exploring Tokyo in the day can be a tiresome task. If you are not sure what to do in Tokyo at night, why not relax in one of Japan's most iconic geological features? An onsen (natural hot spring).
As a volcanically active country, Japan has numerous onsens scattered throughout the country.
Many of these onsens used to be outdoors, but nowadays you will find many indoor facilities built around them. Though some onsens naturally appear near the ground level, many of these natural hot spring waters actually exist underground.
Drilling machinery was used to extract these natural hot spring water to build some of the best onsens in Tokyo!
For places where the mineral-rich hot spring water cannot be extracted, they have built sento (public baths) that model after the onsens. The facilities inside a sento are almost identical to that of an onsen, sometimes even better.
The only difference is that onsens use natural spring water from underground and sento make their own hot water.
The onsens and sento are gender-separated, as they expect the guests to be completely nude when bathing. This might seem strange from a western point of view, but it's something completely normal in Japan.
Visitors with tattoos are forbidden to bathe in the onsen or sento, as Japanese locals equate tattoos to the Yakuza.
9. Check Out Harajuku's Top Attraction: The Kawaii Monster Cafe (Permanently Closed)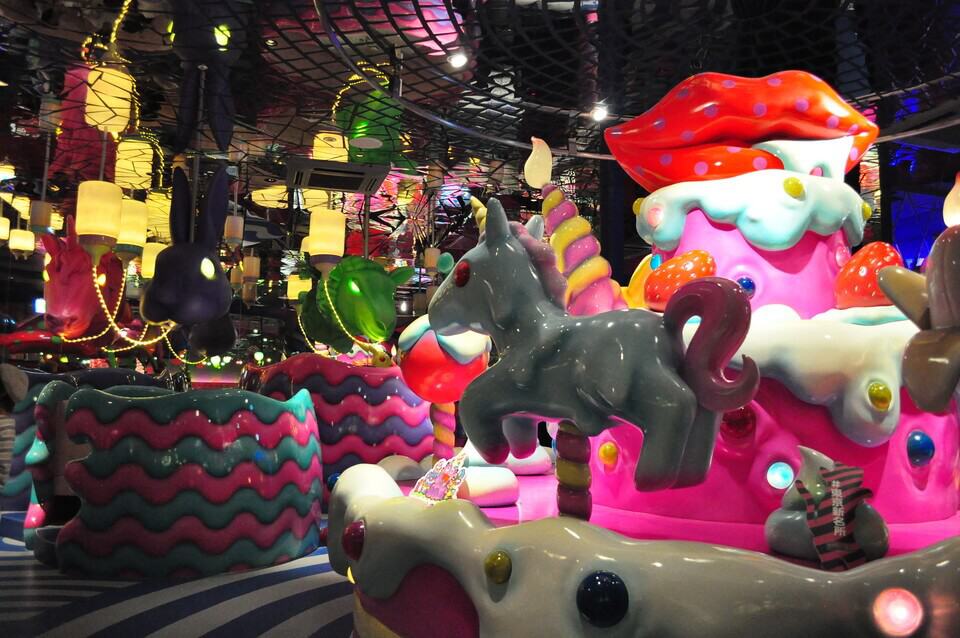 If I have to summarize the Kawaii Monster Cafe with 3 words, they would be: crazy, weird, and crazy. Oops, did I say crazy twice? It's almost like I've gone crazy, as if I have just visited the Kawaii Monster Cafe!
Kawaii Monster Cafe is very similar to the famous Robot Restaurant, in the way that they both contain a ridiculous show full of sensory overload and absurdity. Many visitors compare the Kawaii Monster Cafe to the movie "Alice in the Wonderland", but with some added psychedelics and 2-day sleep deprivation.
Though a maniacal experience, the artwork and decoration are very creative and unique. In any other part of the world, you wouldn't see anything similar. Along with the decor, food and drinks are served here, though they are not anything worthy to mention.
Shows happened regularly throughout the day. As long as you are in the Kawaii Monster Cafe when the show happens, you can watch it. You don't have to pay extra money to watch the show, though the cafe has a cover charge of 500 Yen.
There are events on certain nights, such as the burlesque performance on Thursday. If you are traveling Tokyo with kids, that might not be appropriate. Plan accordingly by referring to their website first!
(Note: Kawaii Monster Cafe is now permanently closed.)
---
Enjoy Tokyo Nightlife!
1. Go Bar Hopping At Golden Gai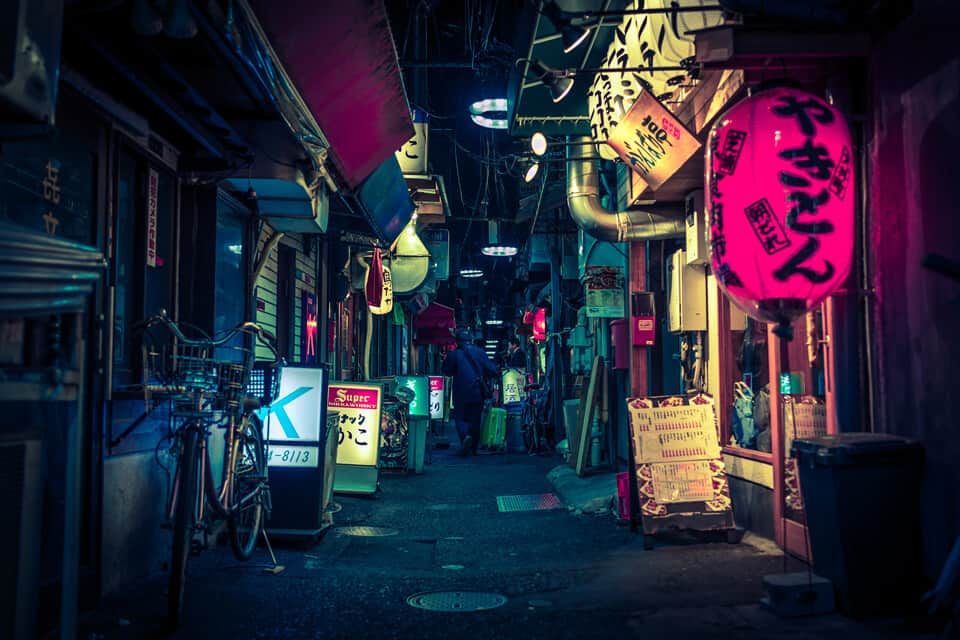 Suggested By: Sydney from A World in Reach

Golden Gai is one of Tokyo's most famous nightlife spots and should be on any visitor's Tokyo bucket list. Located in a corner of Kabukicho, the red light district of Shinjuku, Golden Gai is a network of alleys full of tiny bars, clubs, and restaurants.
In the 1960s, Golden Gai was known as a prostitution hot spot; since then, the area has transformed into a nightlife hotspot for locals and tourists alike. To get to Golden Gai, take the subway to Shinjuku Station and leave from the east exit. From there, Golden Gai is just about a 10-minute walk away.
Golden Gai is made up of six alleys, each lined with several bars. Most of the bars are extremely small, some only seating a handful of people. There is simply no better place to go bar hopping in Tokyo than Golden Gai.
Many of the bars are themed – some of the Golden Gai bars have a unique theme, like a hospital, while others have more typical themes such as jazz or R&B.
Unfortunately, many of the bars only admit locals. It's pretty easy to tell which bars are for locals only; a bar with a closed door is a good sign that foreigners won't be allowed in. Many of the bars have cover charges and almost all are cash-only, so bring along plenty of yen for the night.
With its dimly lit lights and unique architecture, Golden Gai is one of the best places for photography in Japan. However, many of the bars do not permit photography – inside or out.
If someone asks you to stop taking photos or there are signs stating that photography is not permitted, make sure to follow the rules.
If you are traveling alone in Tokyo, you might want to consider this bar hopping tour!
2. Find A Unique Nightlife Experience At Tokyo's Gay Bars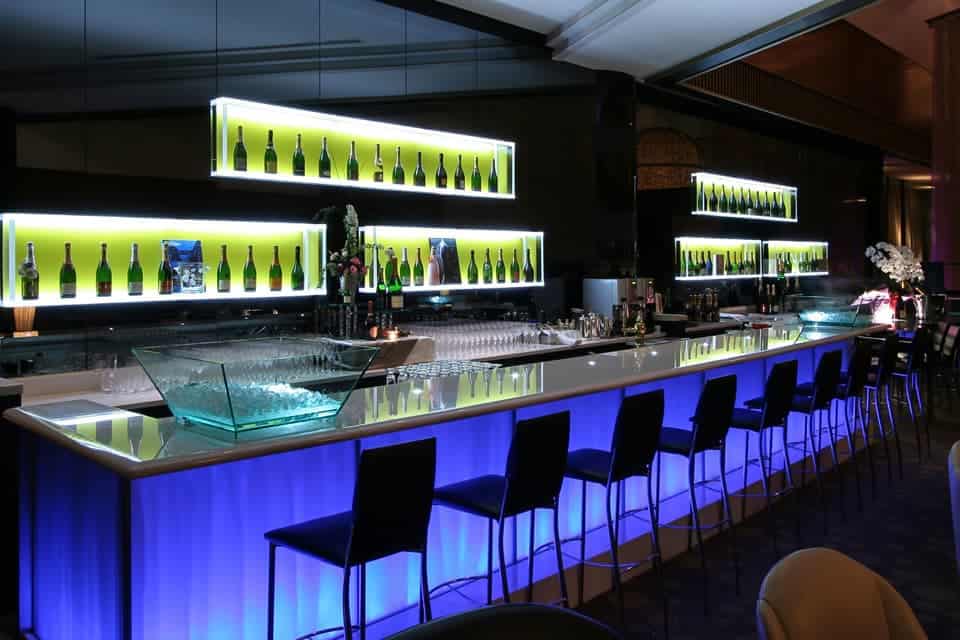 Suggested By: Derek & Mike of Robe Trotting

Wherever I'm traveling, I like to check out the gay bars. Whether I'm alone or with my partner, it's always neat to see how the gay bars and community are in other countries. I had heard that Japanese gay bars were unique and that's what I experienced in Tokyo.
In Tokyo, the Shinjuku Ni-chome district is the home of the gay bars.
I was told before my visit there that Tokyo's gay bars were tiny compared to what I was used to in the United States. This was true once I explored them and I noticed it right away. Most of the bars I stopped into had only 10-15 people. It was an interesting experience to share a drink in such a cozy environment.
Another thing I noticed is that the gay scene in Tokyo is extra-specific and tailored to a niche crowd. The gay culture in Tokyo was also closed off and not very welcoming to foreigners. Still, there were plenty of fun bars to explore that I was recommended as foreigner-friendly.
The two that would suit any tourist were Dragon Men and the club Arty Farty. Both gay bars cater to an international crowd and I was surprised and happy at how diverse they were. I met great people who were locals and travelers from all over Asia and the West.
My night out in Tokyo's gay district was a lot of fun and the city is a perfect destination for gay travel.
3. Dance The Night Away At One Of The Hottest Tokyo Nightclubs At Roppongi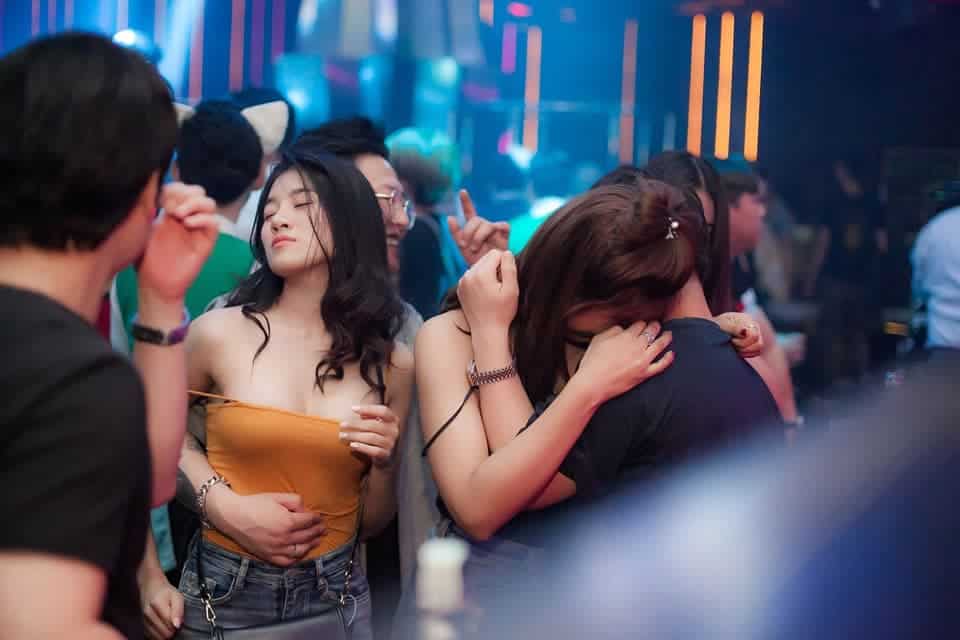 Anyone in Tokyo knows that if you want to go to the best nightclubs in Tokyo, you either go to the posh neighborhood of Roppongi or the mega-club AGEHA at Koto City.
If you are lucky enough to be in Tokyo when there is an event in AGEHA, try to go by all means. It is the ultimate nightlife experience in Tokyo. If you go, just be prepared to party until sunrise because it is located in the Tokyo Bay area and most trains stop running past midnight.
They do have a shuttle bus that departs every hour or so back to the center, but an hour is a long wait!
If you don't feel like venturing into the outskirts of Tokyo and prefer to stay inside the center of Tokyo, Roppongi has some of the most top-notch foreigner-friendly Tokyo nightclubs. These nightclubs usually have a good mixture of foreigners and friendly Japanese locals.
Nishiazabu A-Life and 1OAK are two reputable clubs in Roppongi worth checking out.
If you are traveling solo in Tokyo and want to go out, consider getting a pub crawl!
4. Eat Yakitori And Drink Sake At The Famous Piss Alley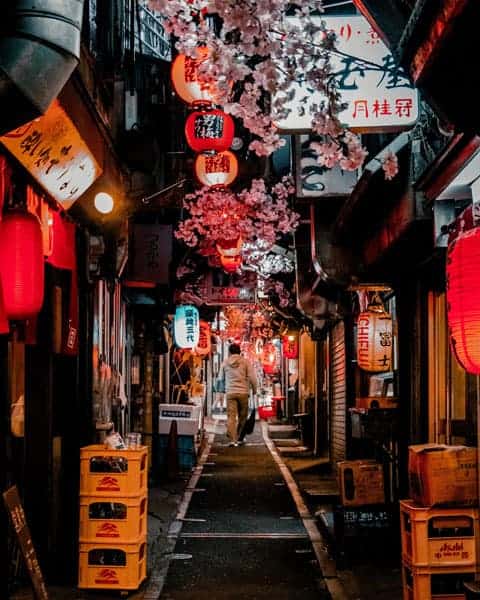 While the name Piss Alley isn't exactly enticing, the food and drinks served here are. Piss Alley, also known as Memor Lane, Yakitori Alley, or Omoide Yokocho, earned its name during a time when that area was lacking in toilets.
Nowadays, the area is one of the best places in Tokyo for delicious street food and affordable drinks. As the name suggests, the Piss Alley isn't really a fancy place. Compared to the fancy places in Roppongi, the restaurants and bars in Omoide Yokocho are much more relaxed and casual.
One of the most famous dishes in the Piss Alley is Yakitori, a type of traditional Japanese skewered chicken. Pair that with some Japanese booze and you have a recipe for a great night in Tokyo!
Though the alley is very narrow, it preserves some of the old traditional aspects of Japanese architecture. Even if you don't intend on eating or drinking at Piss Alley, come take a walk and marvel at the buildings that stood the test of time.
If you are a lover of Japanese street food (honestly, who isn't), check out this amazing food tour!
5. Explore Kabukicho, Tokyo's Red Light District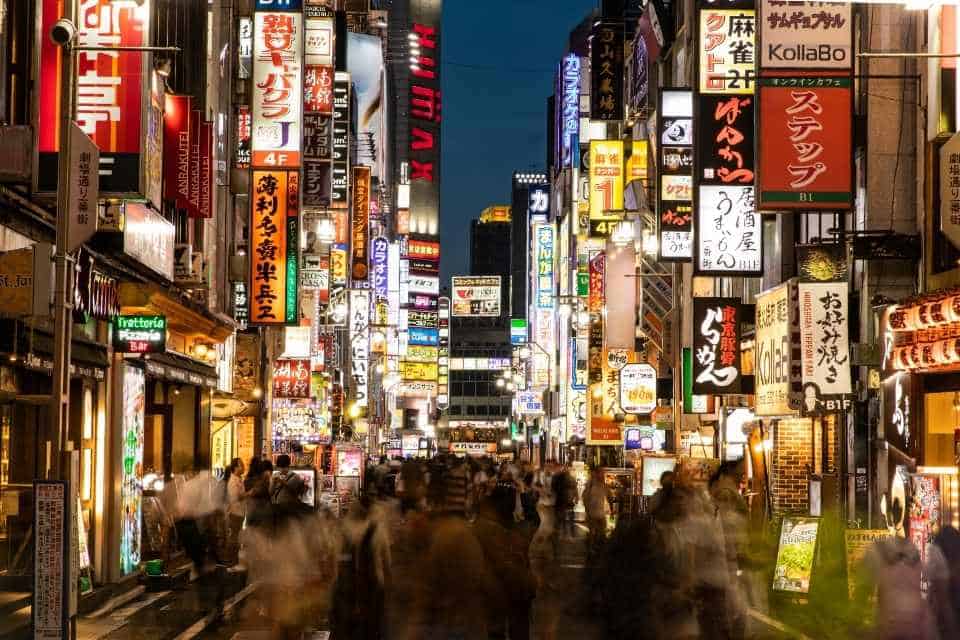 Bordering Golden Gai and to the Northeast of the Shinjuku Station is a neighborhood known as Kabukicho, most famously known as the red light district of Tokyo. This neon-filled district is filled with the city's best hostess clubs, love hotels, nightclubs, and massage parlors.
Unlike lots of the red light districts in other parts of the world, Kabukicho is completely safe to walk around. In fact, it is one of the most touristy areas in Tokyo with many tour buses stopping by daily.
This red light district mostly targets local clientele, and it is rare that a foreigner will come into interaction with any of the "employees" there. Most of the businesses come from hostess bars, a huge part of Japanese entertainment culture.
If you are interested in a seedier side of Tokyo, then Kabukicho is where you will find it. However, you need to be aware of how likely it is that you will be overcharged, sometimes against your will.
---
See Tokyo Night View!
1. Free Tokyo Skyline View at Tokyo Metropolitan Government Building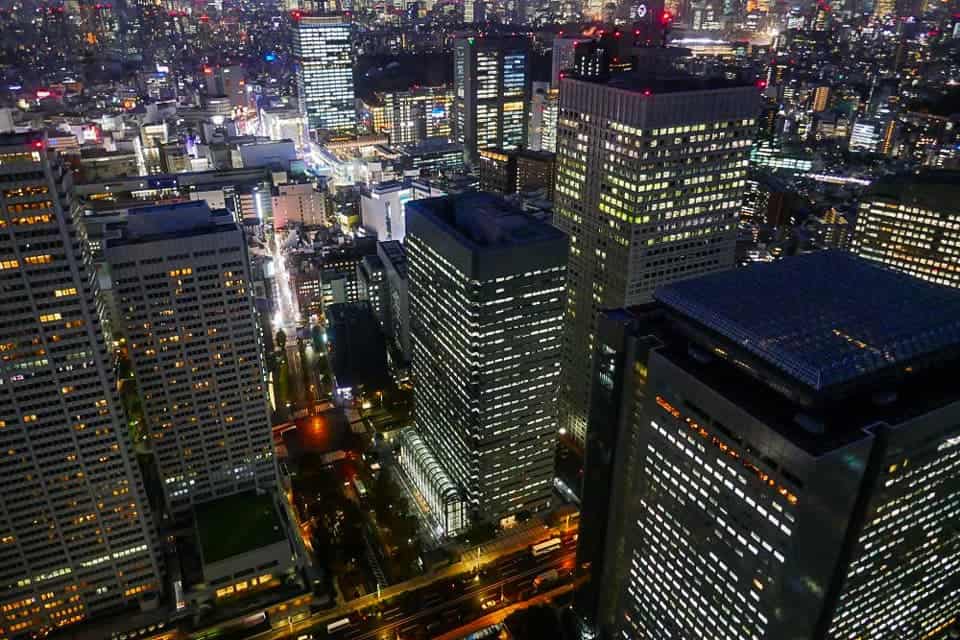 Suggested By: Wendy Werneth of The Nomadic Vegan

The Tokyo Metropolitan Government Building offers the best free view of the Tokyo skyline at night. The building comprises two different towers, both of which have observation decks, but only the north tower stays open late, until 11 pm.
You'll find the viewing deck on the 45th floor. In addition to being free, another advantage of this view over the views at Tokyo Tower and Tokyo Skytree is that you can actually see both those monuments from here.
Since this is a government building, you'll have to go through security and have your bag searched. On your way out, stop in at the tourist information center on the second floor to get information to help you plan your trip.
You might also want to come back during the day to have lunch at the cafeteria on the 32nd floor. It's mostly frequented by government workers, but they also have an English menu and even allergen labeling, helpful for those with allergies but also for vegetarian and vegan travelers in Japan.
The easiest way to get here is to take the Oedo Subway Line and get off at Tocho-mae Station, which is actually located in the basement of the building. Or, if arriving at JR Shinjuku Station, take the west exit and walk for about 10 minutes.
2. Tokyo Tower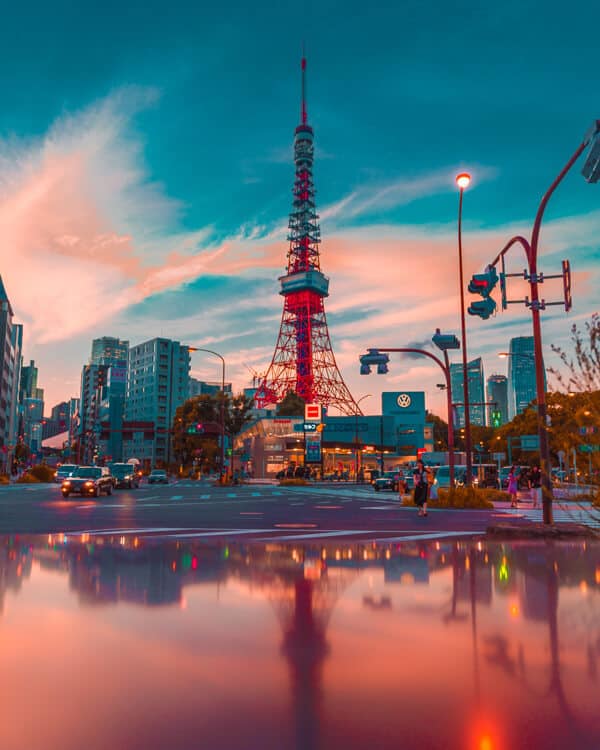 By: Clemens of Travellers Archive

If anyone counted all the lights that light up Tokyo at night, this person would still be counting. Japan's capital is truly magical at night and the best way to get a glimpse of this magic is by visiting the Tokyo Tower at night.
The Tokyo Tower is 332.6 meters high and has one viewing platform at 150 meters and a second one at 250 meters. When standing right in front of the tower, you might recognize similarities to another, quite a famous tower.
Yes, you're right. The Tokyo Tower has been built in 1958 and is basically the Japanese copy of the Eiffel Tower in Paris. The main difference? Definitely the bright color of the Tokyo Tower, which is a fundamental part of the city's skyline.
Also, the Tokyo Tower is the symbol of Tokyo's reincarnation after the Second World War.
The Tokyo Tower is located at the Shiba park in Tokyo's district Minato. Simply take the Toei Mita line to Onarimon and follow the ten-minute walk.
Fun fact: The Tokyo Tower has been the city's largest tower until the year 2012, when the 634-meter tall Tokyo Skytree opened.
3. Shibuya Sky Observatory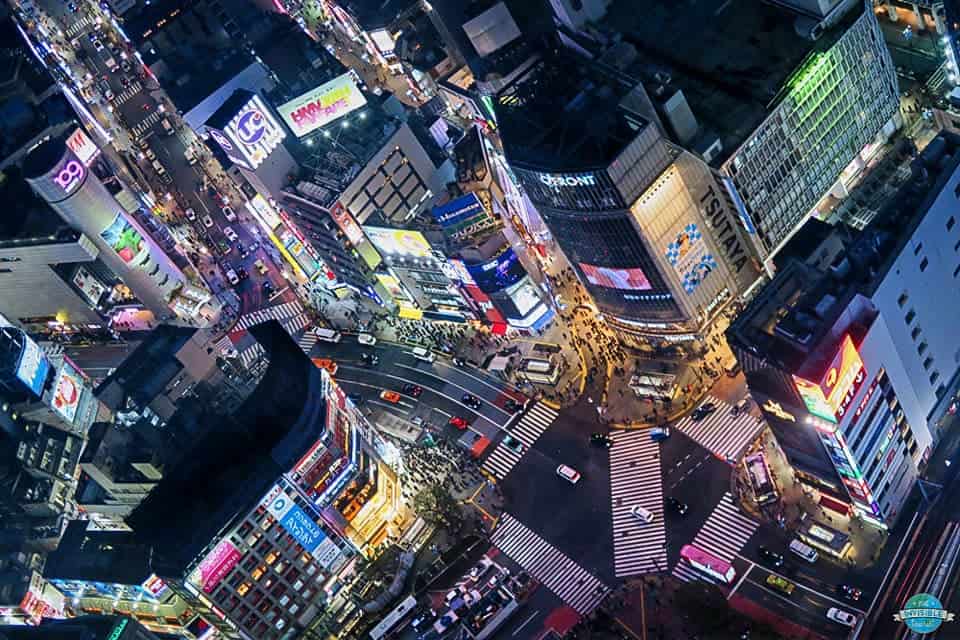 Suggested By: Alyse of The Invisible Tourist

As one of Tokyo's newest attractions, a visit to Shibuya Sky Observatory is one of the more amazing things to do in Tokyo at night.
Towering over the famous Shibuya "Scramble" Crossing at 47 stories high, Shibuya Sky is one of the best viewpoints in Tokyo to gauge the enormity of Japan's bustling capital from above. It's currently one of Tokyo's hidden gems because it's hiding in plain sight and yet to be discovered by the masses!
Visiting at night is a special experience because you're able to see the entire city illuminated by its vibrant lights, something that's missing during the day. As the rooftop offers 360° panoramic views, the soft glow of Tokyo reflecting off the clouds can be seen all the way to the horizon.
In addition to the open-air rooftop viewing platform, there is also the Sky Gallery, an indoor viewing area on the 46th floor if vertigo gets the best of you. Keep your eyes peeled for popular landmarks such as the Tokyo Tower, SkyTree, and the NTT Docomo Yoyogi Building in Shinjuku piercing the night sky.
Shibuya Sky is located atop the new Shibuya Scramble Square skyscraper at Shibuya Station. Entry costs 2000 JPY plus 100 JPY to store your belongings in a locker whilst you're on the rooftop. Enjoy your visit to Shibuya Sky!
4. See Tokyo From Above On A Helicopter!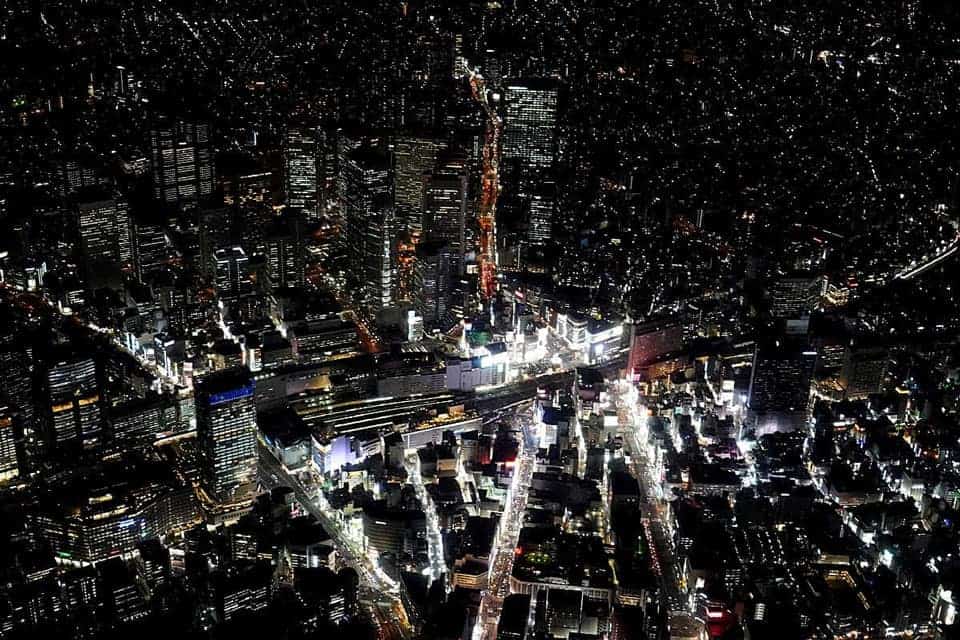 Suggested By: Anne of Pretraveller

A great option to see Tokyo at night that you may not have considered is to take an evening helicopter flight over the city! It is a great option to fly around the city and see all of the major attractions from a very different perspective.

The 15-minute night-time helicopter flight takes a circuit from the Tokyo Disneyland Resort area over Odaiba, Shibuya, Shinjuku, Asakusa, offering some of the best city views before returning to home base.
We had a lovely clear night for this experience and it was great to see the views both close up and far, and to take in the vastness of Greater Tokyo region and its population of around 40 million people.
You will need to book ahead to ensure you get on a flight, we booked this experience through Klook and the process went smoothly.
Note that weather can impact your ability to do this experience so plan to book earlier during your visit to Tokyo so you have backup date options in the event that your flight needs to be rescheduled.
Getting to the Urayasu Helipad is very easy, you can catch the JR Keiyo Line to Maihama Station which is a 20-minute train ride from Tokyo Station. Maihama Station is also the entry station to the Tokyo Disney Resort area so it is well serviced by public transport.
The helicopter provider provides a free shuttle bus service from and to Maihama Station.
---
Where To Stay In Tokyo, Japan
Best Hostel in Tokyo- UNPLAN Shinjuku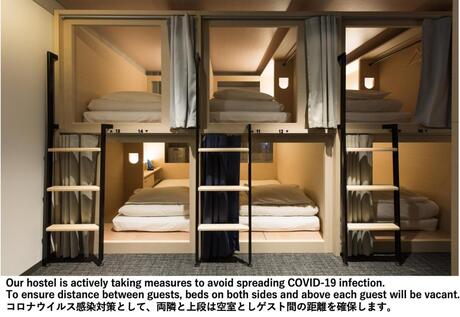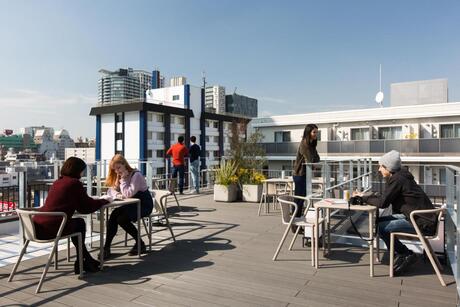 UNPLAN Shinjuku is located in the Shinjuku neighborhood, one of the best places to stay in Tokyo for nightlife. Many incredible places such as the Golden Gai and the Kabukicho neighborhood are located within walking distance.

The hostel features capsule-style beds, cozy common areas, and a smartphone for every guest to help navigate the city!
---
Best Luxury Hotel in Tokyo- Shibuya Stream Excel Hotel Tokyu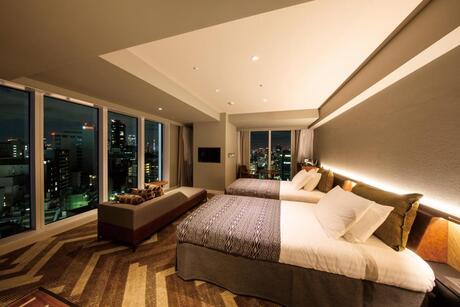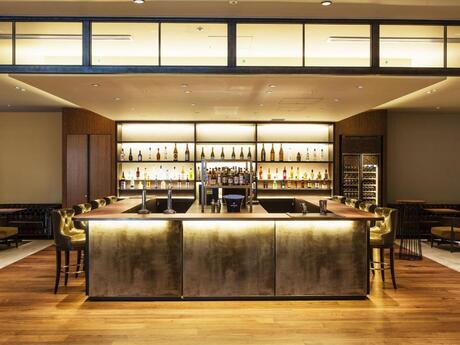 King of the luxury hotels in Tokyo, the Shibuya Stream Excel Hotel is the place you want to be if you want an unforgettable experience. Elegantly designed with trendy vibes, this high-end hotel is your home away from home. Come here and experience all the rave about Japanese hospitality!
---
Tokyo At Night FAQs
Does Tokyo Have A Good Nightlife?
Tokyo has one of the most legendary nightlife in Japan. From laid-back bars in Shibuya to high-end clubs in Roppongi, there is something for all types of nightlife lovers. Matter of fact, one of the best things to do in Tokyo is to enjoy its nightlife!
Is Tokyo Safe At Night?
Without a doubt, Tokyo is very safe at night, even for solo travelers who are walking around in the streets. However, travelers should still beware of pickpockets in nightclubs and bars, as that can sometimes happen if you don't keep an eye on your belongings or get too drunk.
---
Like this post? Don't forget to save it on Pinterest!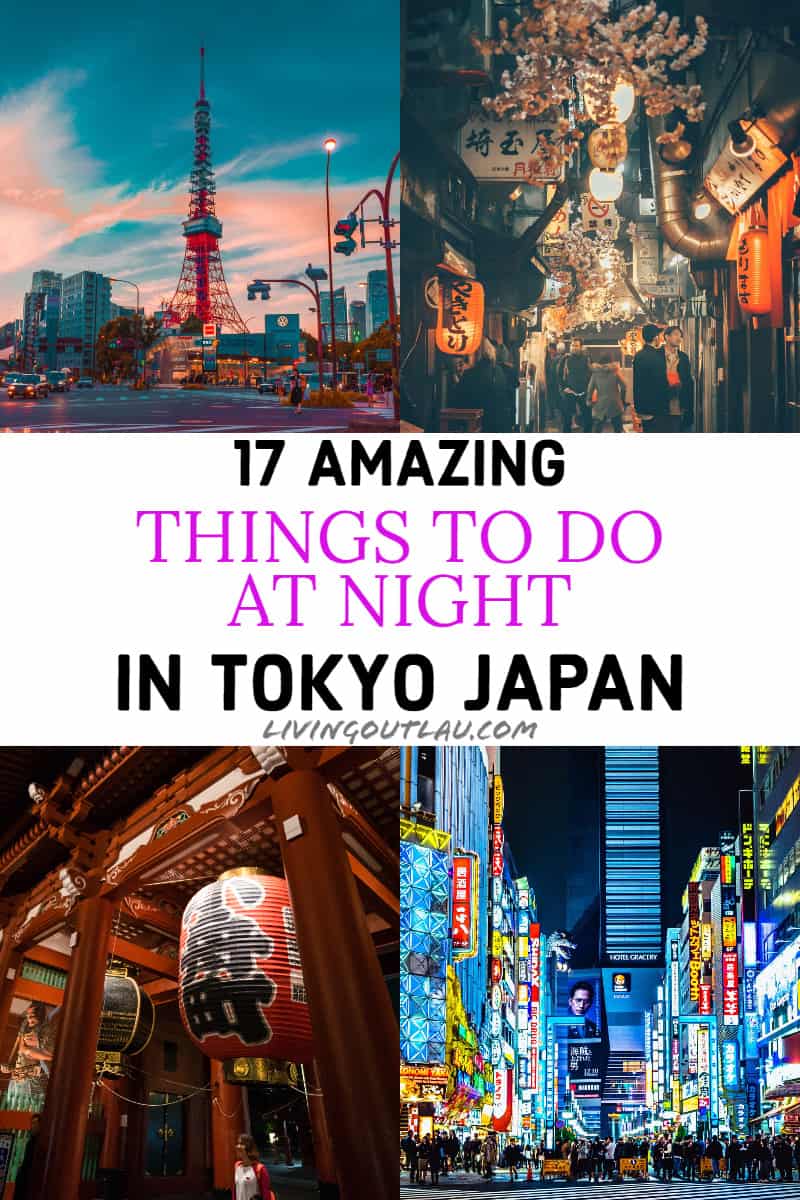 ---
This is the end of our guide for things to do at night in Tokyo! We hope this has at least given you a rough idea of the available night activities in Tokyo!

Any questions? Leave a comment!!
Disclaimer: Some of the links above are affiliate links. That means if you book or make a purchase through the links, we will earn a small commission at no extra cost to you! The money will help run this site! Thank you!