Bogota, the capital of Colombia, is a place filled with culture and some of the best Colombian cuisine. With so many top attractions to do in Bogota, it might be difficult to cover all the amazing activities. 

In our itinerary for 3 days in Bogota, you will visit the best places in Bogota, learn about the complicated history of Colombia, immerse yourself in the culture, and of course, try the local Colombian food. 

Not only will this guide give you every step to plan your 3 days in Bogota, but it will give you information on the best places to stay in Bogota and what to pack for your trip.

Without further ado, let's get down to the details!
---
Where To Stay In Bogota, Colombia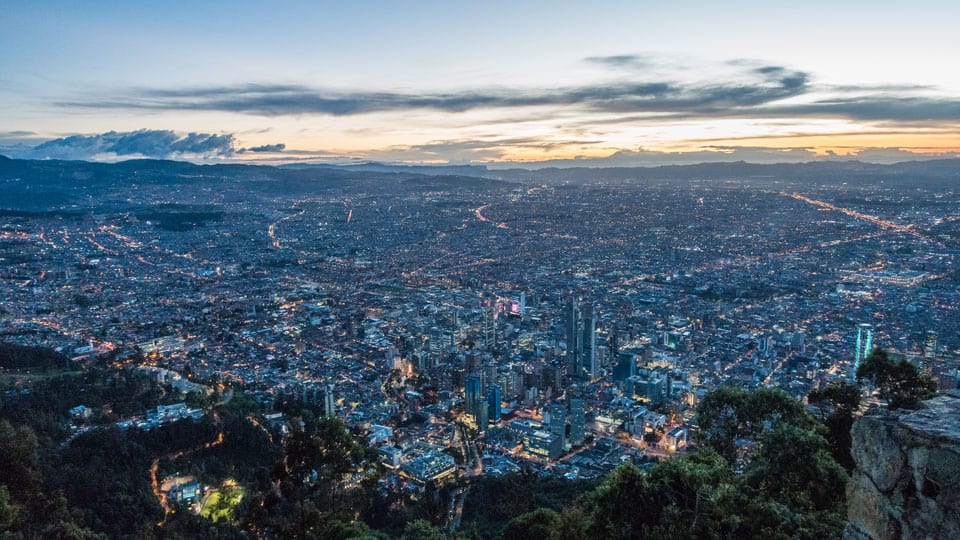 We are going to start our 3 day Bogota itinerary by deciding where to stay because not every area in Bogota is safe. Most accommodations are located in 2 areas in Bogota: La Candelaria or Chapinero.
La Candelaria is the old Bogota, full of historical buildings, culture, and museums. If you backpacking Colombia on a budget, La Candelaria is full of affordable backpacker hostels. However, the area can be unsafe at night.
Chapinero is the modern Bogota, full of hippie cafes, the best bars and clubs, and good food. The area is much safer than La Candelaria and I highly recommend you to stay in Chapinero.
Make sure you have travel insurance when you visit Bogota!
Best Hostel In Bogota – Selina Chapinero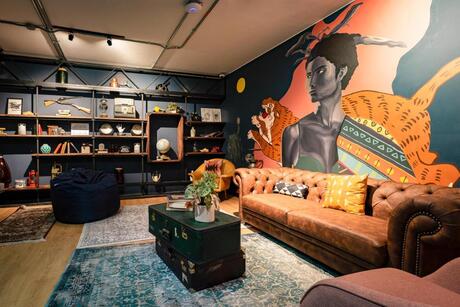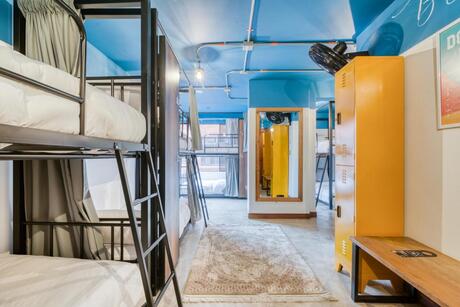 Selina Chapinero is a beautiful hostel with amazing amenities including co-working spaces, a restaurant, and a kitchen. The communal areas are well-decorated and the place feels like home.
Anyone that isn't traveling as a backpacker can stay in their private suites, which offer the same kind of luxury as some of the best hotels in Bogota!
Its location in Chapinero allows visitors access to the entire city. Many of the city's best attractions and eateries are within walking distance away.
Best Hotel in Bogota: bs Rosales Hotel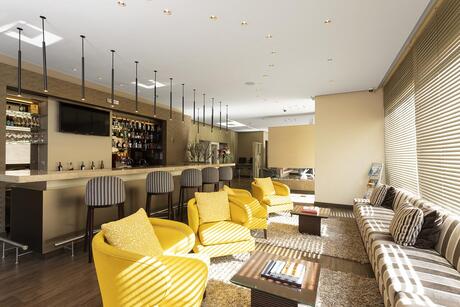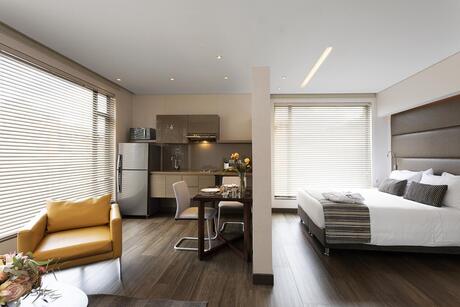 When it comes to value for money, there is perhaps no better place to stay in Bogota than bs Rosales. Centrally located in Chapinero, travelers can reach many of the attractions in Bogota effortlessly, including the historic center
After a day of exploring Bogota's best attractions, you can come back to the hotel and enjoy a sauna, a nice drink at the bar, or an invigorating workout at the gym. Finish the day off on one of their comfortable and dreamy beds with a sweet dream!
---
3 Day Bogota Itinerary: What To Do In Bogota In 3 Days
Above is an interactive map giving a rough outline of our 3-day Bogota itinerary.
Day 1 (Paloquemao, Museo del Oro, Tejo)
Morning
Welcome to Bogota! Your 1st day in Bogota is going to be a lot of exploration. If you are staying in the Chapinero neighborhood as I recommended, go outside and look for some breakfast.
That area is filled with amazing cafes and restaurants. There are some foods you must try in Colombia for breakfast: Pan de bono (soft cheesy bread), tinto (like an espresso shot), and arepas.
Once you are done enjoying your Colombian breakfast, head over to Plaza de Mercado de Paloquemao. Paloquemao is the biggest local farmer's market in Bogota. Come and try the exotic fruits and vegetables of the region, like guanabanas and lulos.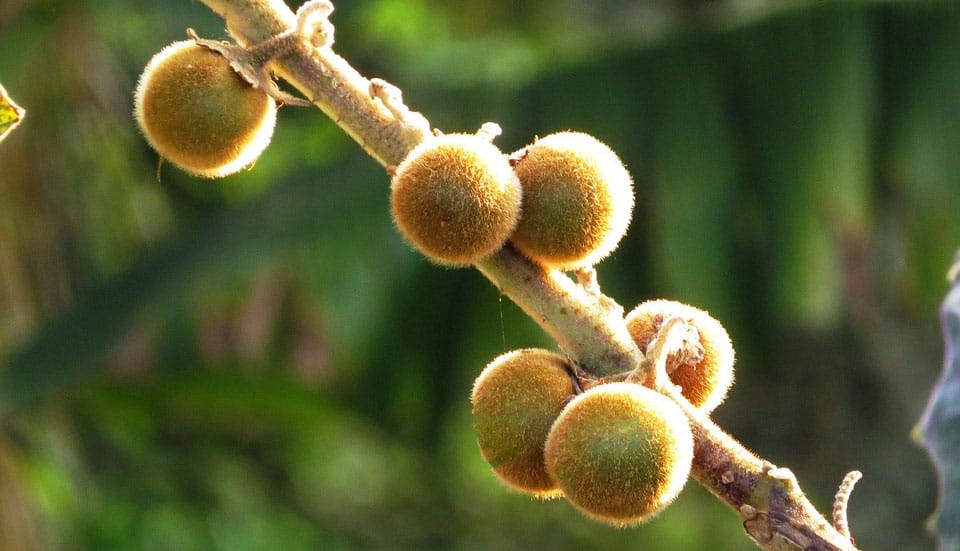 Afternoon
Spend the afternoon wandering around La Candelaria, the historical parts of Bogota. Walk through the cobblestone alleys, check out some of the cool souvenir shops, and don't hesitate to try something new. Colombians are some of the friendliest people I have ever met.
Make sure you stop by the Plaza de Bolivar, the main square in Bogota. This used to be the center of life even in the pre-Columbian periods. Nowadays, it is home to some of the most important buildings of the country, such as the Palace of Justice and National Capitol.
For lunch, you must try Ajiaco, the most famous Colombian dish in Bogota. Popular in the mountainous Andes region of Colombia, Ajiaco is the perfect warm meal for a cold day.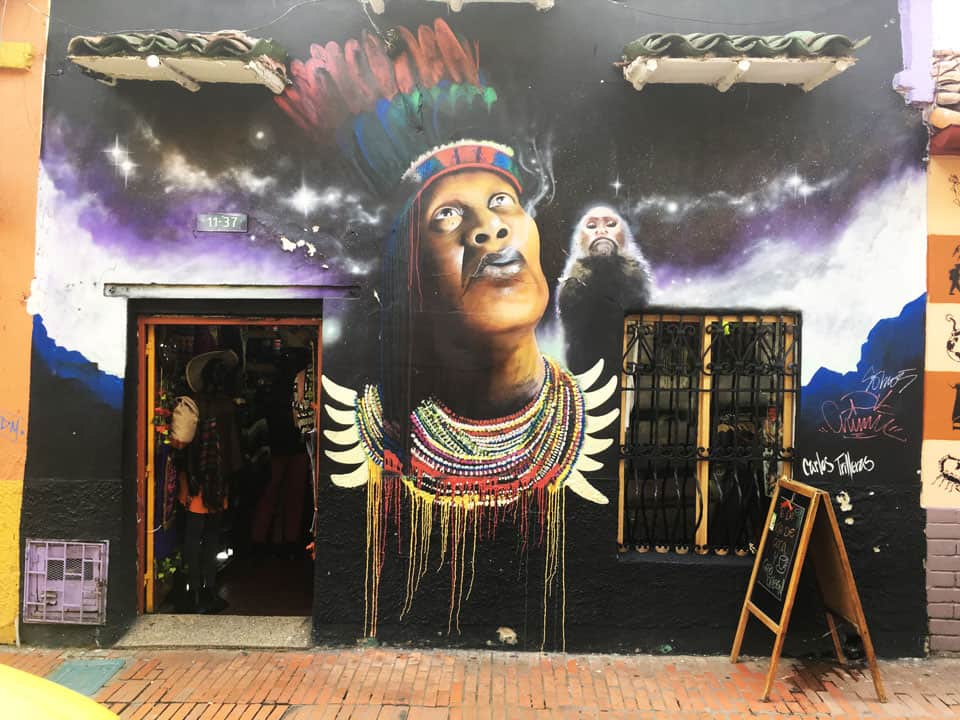 The best restaurant in Bogota to try Ajiaco is La Puerta Falsa. A cheap and traditional Colombian restaurant that Anthony Bourdain has visited himself, you will not be disappointed by the food. You must try the Ajiaco and Tamales at La Puerta Falsa.
After having lunch, you will visit the Gold Museum, or Museo del Oro in Spanish. As Bogota's most famous and prestigious museum, you can easily spend 2-3 hours here. Explore the 55,000 gold pieces and learn about their historical significance, it is quite fascinating. On Sundays, admission to the Gold Museum is free.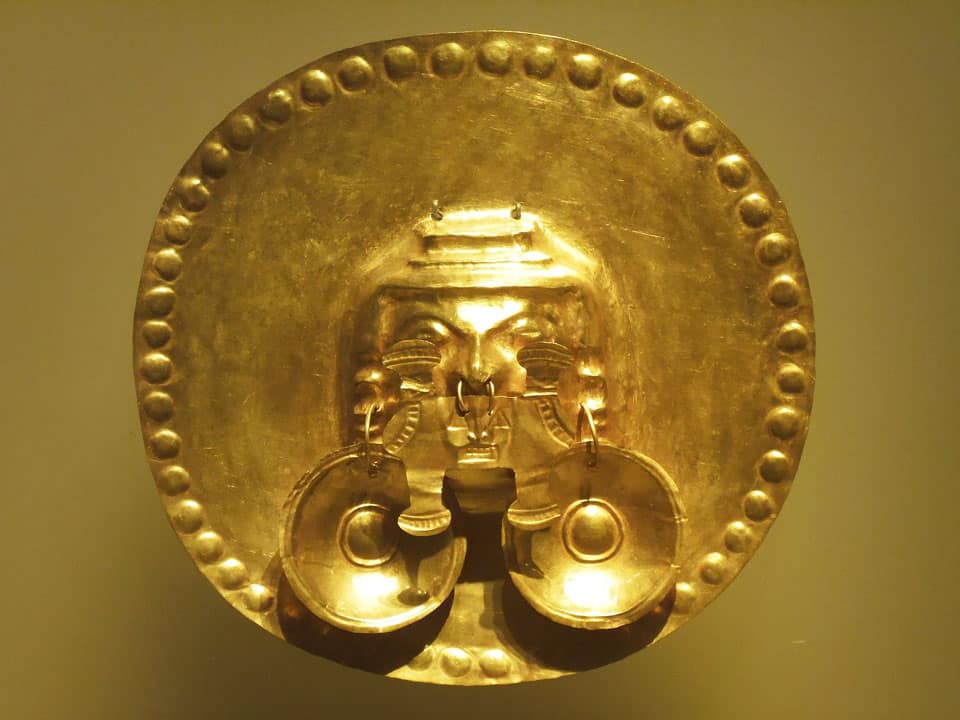 You might see people selling "Big Ass Ants", or hormigas culonas outside of Museo del Oro. Make sure you give it a try because they are a special Colombian snack!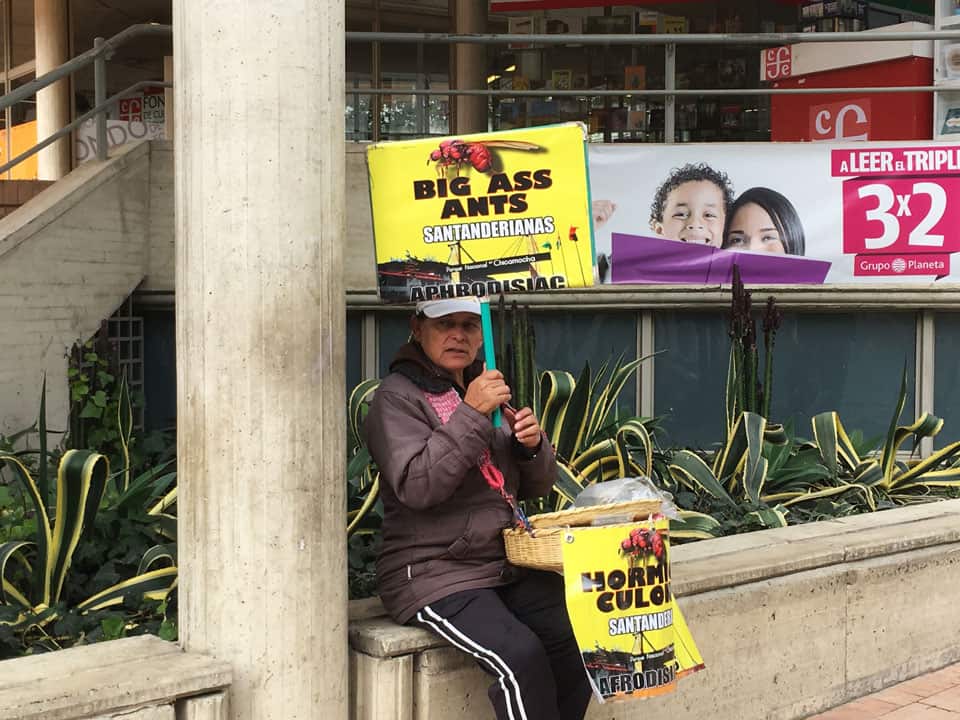 Night
Nighttime is a little tricky in Bogota, as some areas such as La Candelaria become quite dangerous. It is still one of the best places to visit in Bogota, but I would recommend you to walk in groups or take an Uber.
Tonight you will be playing Tejo, the national sport of Colombia. Tejo is a game filled with alcohol and explosives usually played at a bar. Recipe for disaster? Maybe. Recipe for fun? Definitely.
Head over to Club De Tejo 76, an amazing local bar with cheap drinks and good food. The staff will explain the rules of Tejo and make sure everyone is having fun!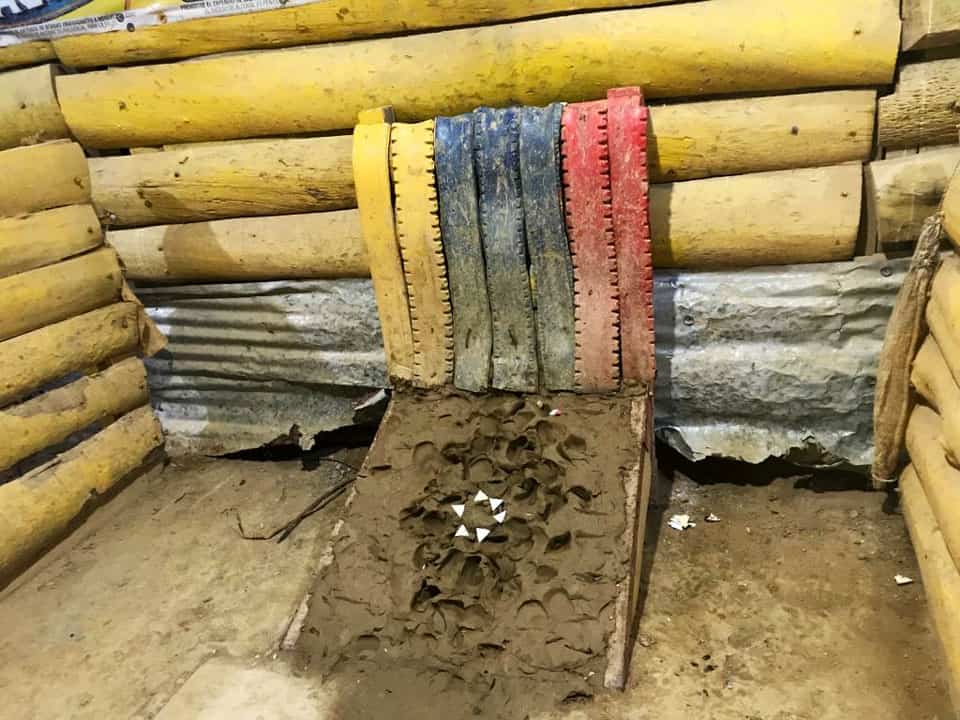 ---
Day 2 (Bogota Walking Tour, Botero Musem, Monserrate)
Hope you are not too tired from your crazy Tejo night yesterday because you will be seeing some of Bogota's best attractions today.
Morning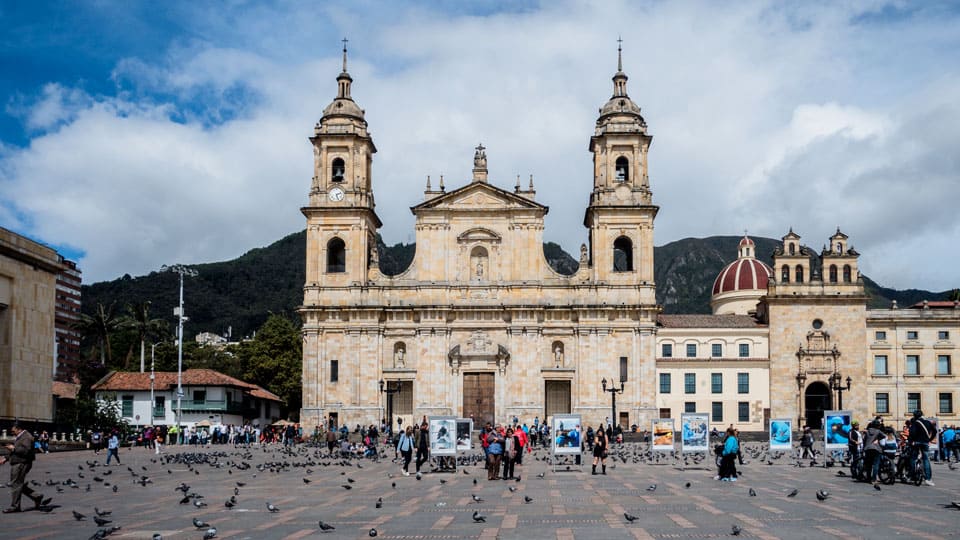 Today you will go on a FREE walking tour and learn about the history and the best places in Bogota. The tour starts at 10 AM at the Museo del Oro, a place you should be familiar with already. The tour is based on tips so if you didn't enjoy the tour, you don't have to pay a dime.
The tour will also take you to see some of the best street art and graffiti in Bogota. However, if you would like a more in-depth graffiti tour, check out this free graffiti tour.
Afternoon
You must be hungry after all that walking. For lunch, stay near the La Candelaria area. Look for a restaurant that serves chicharron, papas criollas (traditional Colombia potatoes), empanadas, and more.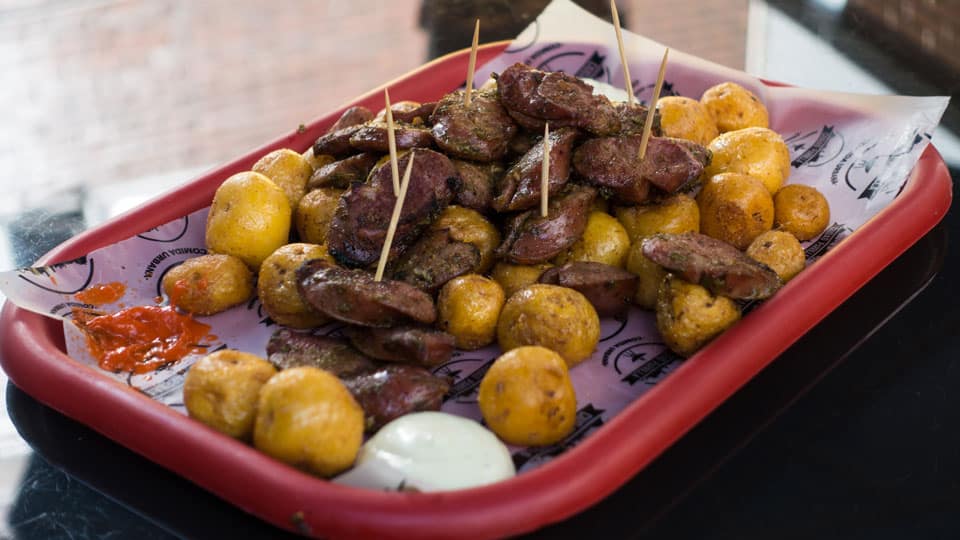 Chicharron is delicious deep-fried pork but it is the most unhealthy food on this planet. You are not on vacation to be healthy though, are you?
After lunch, head over to the Botero Museum, or Museo Botero del Banco de la Republica. Fernando Botero is one of the most famous painters and sculptors of Colombia. His work is unique because of his depiction of fat things.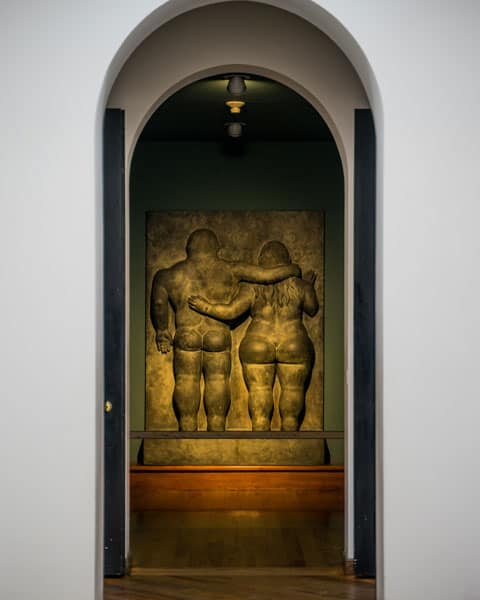 Women, Animals, the Mona Lisa, anything and everything. Spend a few hours here admiring the quirkiness and audacity of his work. However, keep the clock in mind, because you are going to go watch the sunset from the best viewpoint in Bogota, Monserrate.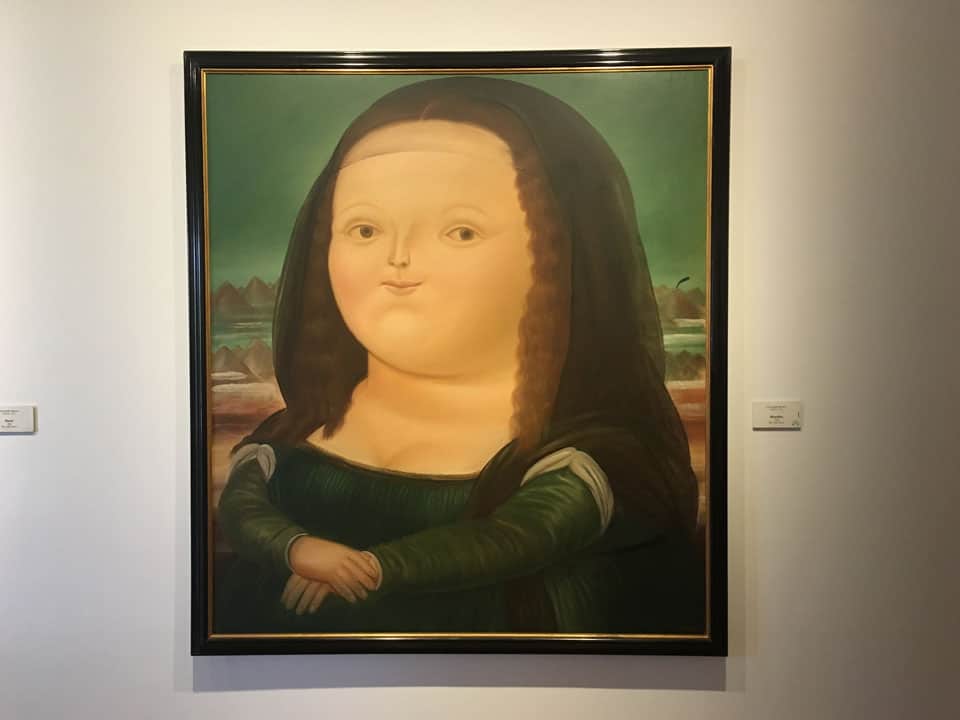 To arrive at the viewpoint of Monserrate, you must take a cable car from the cable car station. You could also hike up from the station BUT only in the daytime. In the evening, the path is known to be dangerous.
Also, you MUST take an Uber or Didi from wherever you are to the cable car station. Don't take a taxi and don't walk. Taxis could be dangerous and the area surrounding Monserrate is dangerous as well.
Night
After the sun sets at Monserrate, stay behind to watch the city of Bogota glorified by its light. Bogota is a beautiful place with all its bright lights.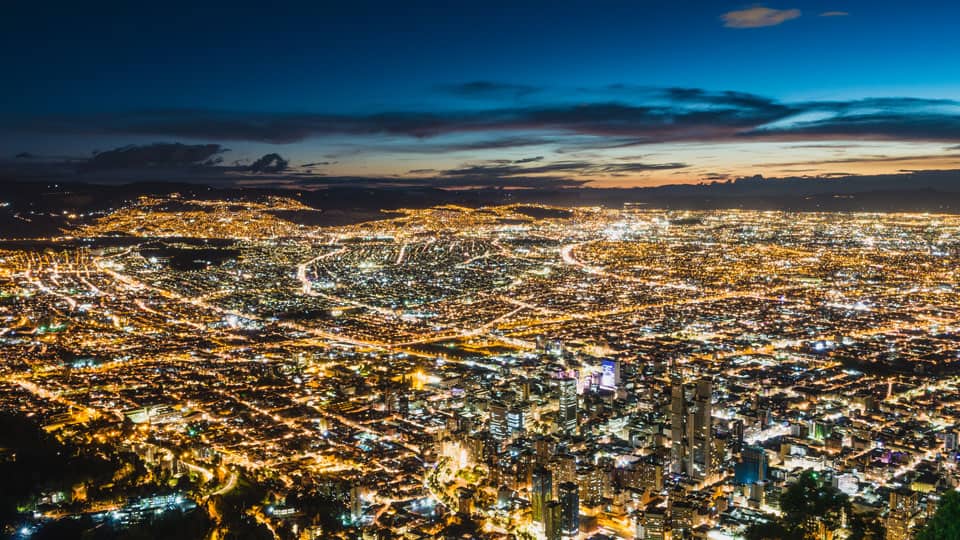 When you get back down to the cable car station, take an Uber (Update: Uber is now banned. Use Beat, Cabify, or Didi) to Andres Carne de Res, the most famous restaurant in Colombia.
Andres Carne de Res is not just a restaurant, it is also an entertainment joint, a nightclub, an art gallery, and a hell of a good time in one. It is a place where you cannot summarize with just words and must experience it for yourself.
The original Andres Carne de Res is located in Chia, about 30 minutes away from Bogota. I highly recommend going to that one if you can afford the trek. If not there is one in Andino Shopping Mall.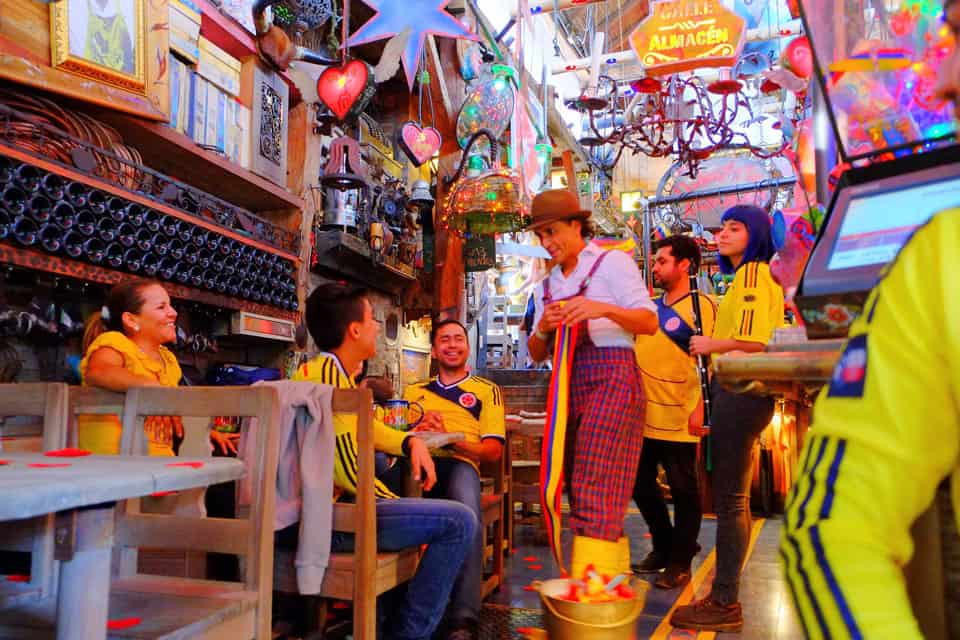 ---
Day 3 (Zipaquira Salt Cathedral Day Trip)
On day 3 of the Bogota itinerary, you will take a day trip to Zipaquira to visit the underground salt cathedral. As the First Wonder of Colombia, visiting Zipaquira Salt Cathedral is the top thing to do in Bogota and be on any Colombia itinerary.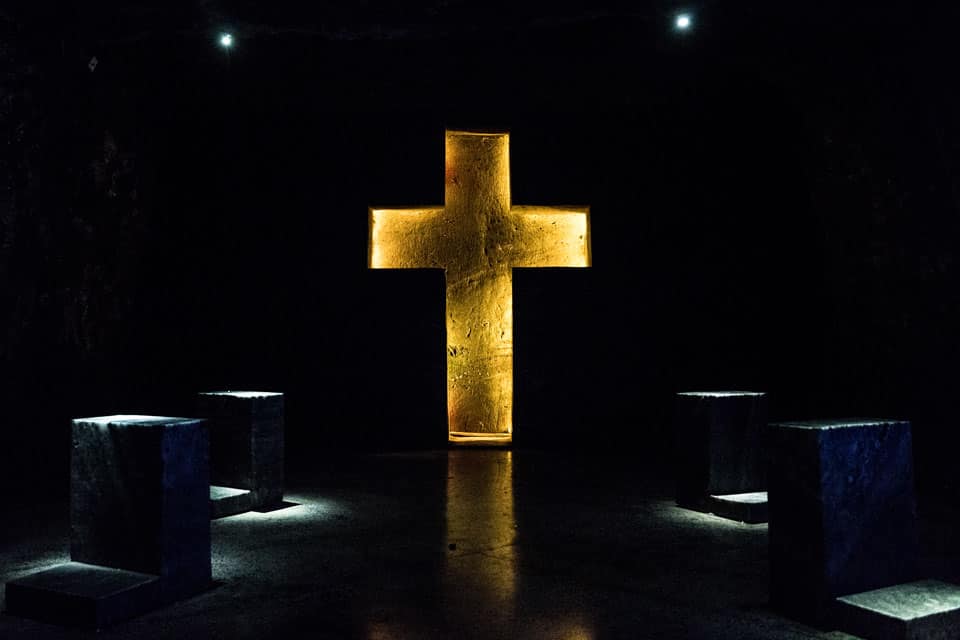 So get yourself a nice breakfast and a lot of tintos and head towards Portal Norte or Terminal del Norte and catch a bus to Zipaquira. The buses depart frequently and the journey lasts an hour.
Once the bus drops you off in Zipaquira, walk to the entrance of the Zipaquira Salt Cathedral and buy your ticket. A tour guide is included with the purchase of the ticket.
Then spend the next few hours learning about the magnificence of the construction of the salt mine and cathedral. The salt cathedral is located 200m underground and it is a functioning church with many visitors on Sundays.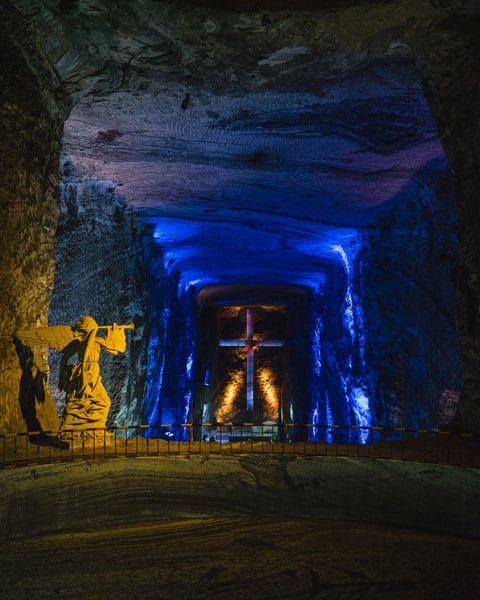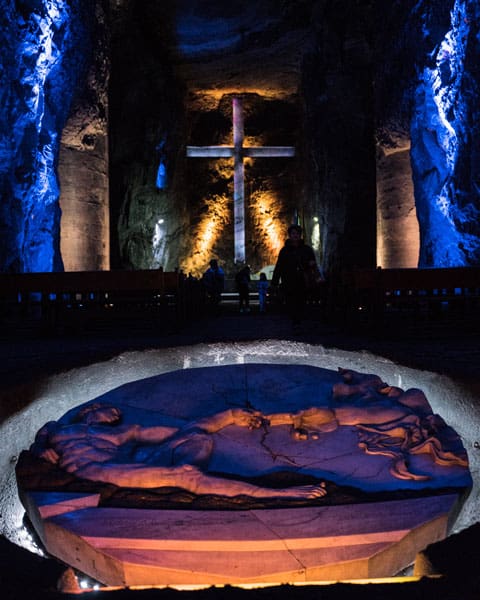 Grab a local meal in the town of Zipaquira and watch how the locals live outside of the big cities. It is an eye-widening experience.
When you are done, head back to Bogota. You should arrive just in time for dinner. Feel free to walk around to search for your final meal in Bogota, Chapinero has a lot of great options. I personally recommend you check out Dona Elvira, a restaurant with 80 years of history. The food there is as authentic as it can get.
---
How Many Days Is Enough For Bogota?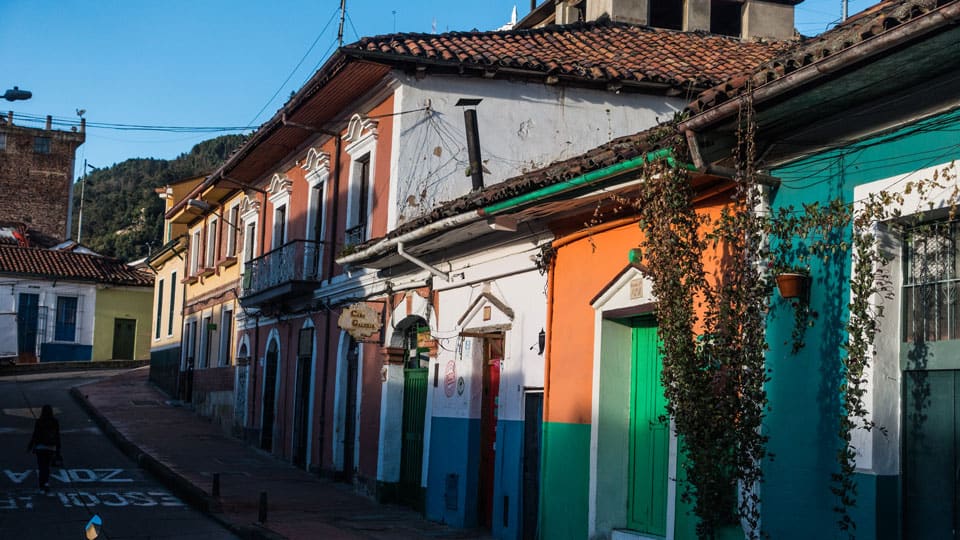 You might be wondering if 3 days in Bogota is enough time to see all of its attractions. After all, this is the capital of Colombia and home to over 7 million people.
Generally speaking, 3 days is just the right amount of time to spend in Bogota. With this number of days, you have enough time to explore all of the historical attractions of the cities, see some of the museum, enjoy the nightlife, and even time to take a day trip!
We wouln't recommend spending any less time in Bogota because the city is huge and you'll miss out on some places if you do that. But spending more days wouldn't be a bad idea, especially if you have a long trip.
---
Packing List For Your 3 Days In Bogota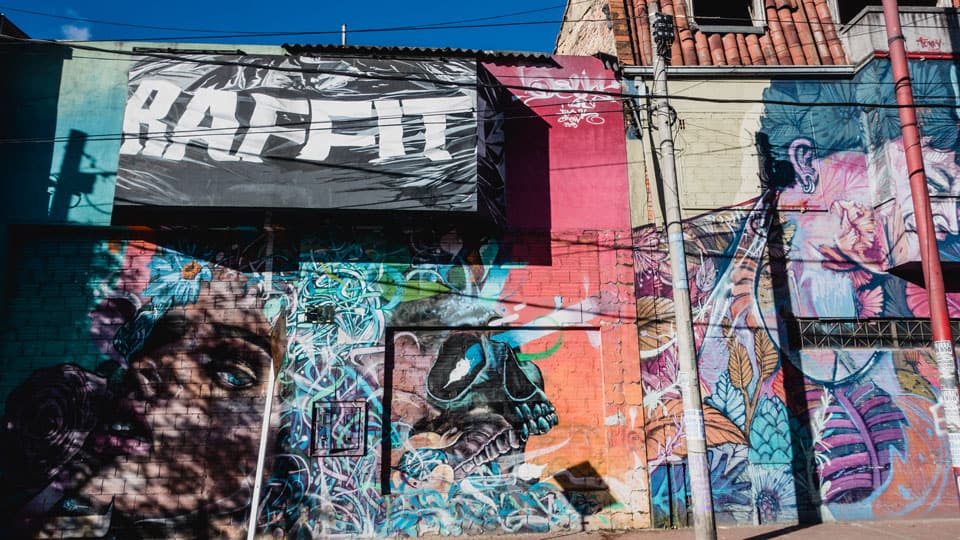 Bogota, located at 2640m, is surprisingly cold for Colombia. Not only is the weather cold, but it also rains daily at the most random times. Besides the usual things you travel with, here are some items you might also need.
---
Is Bogota Safe?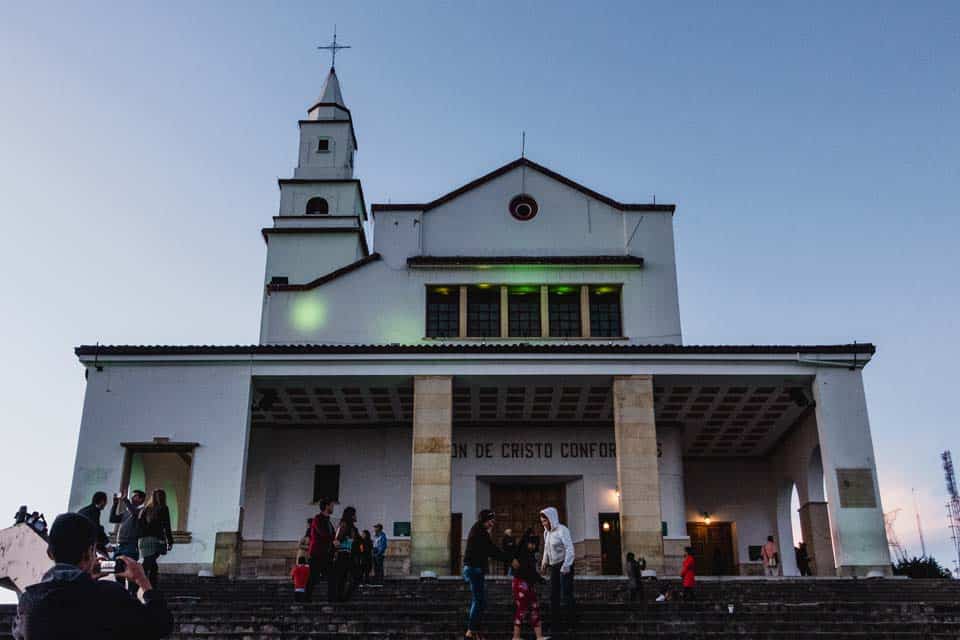 Though Colombia certainly does not have a good reputation when it comes to safety, Bogota is generally quite safe. Yes, there are dodgy areas of the city, and even the historical center can be dangerous, especially at night.
However, as long as you avoid the dodgy areas and be aware of your surroundings, you typically won't become a victim of crime. Of course, there are exceptions. But just know that tons of visitors go to Bogota every year and have a fun and safe time!
If you are looking for more information about safety in Bogota, make sure you read our dedicated guided here where we go in depth!
---
Altitude Sickness In Bogota, Colombia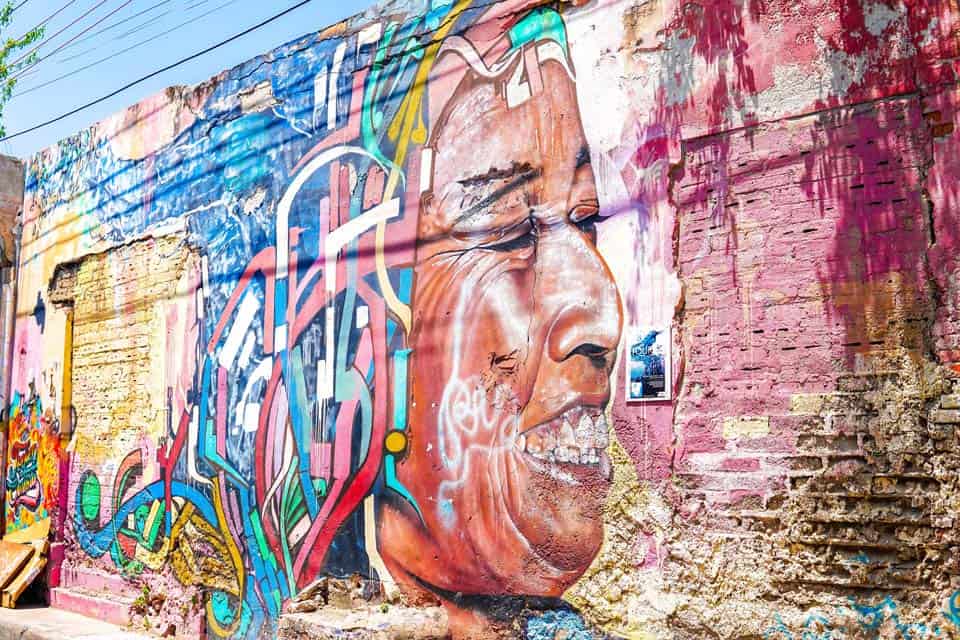 If you are visiting Bogota, you might want to familiarize yourself with altitude sickness. The city of Bogota is situated at a staggering 2,640 m (8,660 ft) above sea level, an elevation that could easily cause altitude sickness, especially if you are flying in from a place near sea level.
If you find yourself having mild symptoms of altitude sickness, it is recommended that you take it nice and easy for a few days. Some parts of Bogota can be quite hilly, which could make it more exhausting than usual to just walk around.
If your symptoms get worse, make sure you seek some professional medical attention!
---
Visiting Bogota FAQs
When Is The Best Time To Visit Bogota?
The best time to visit Bogota is between the months of January and March and June to September. These months are considered some of the driest times of the year, so you can avoid the rain that could ruin your day!
Is Bogota Worth Visiting?
The capital city of Colombia, Bogota, is definitely worth visiting! The city is home to a large collection of the finest museums in Colombia, such as the Botero Museum and the Museo del Oro. Visitors can also some of the best nightlife in Colombia, as well as a well-preserved historical center with colorful buildings and graffitis!
Is 3 Days Enough For Bogota?
For travelers, 3 days is plenty of time to see the capital of Colombia. The historical center is very compact, which makes sightseeing very convenient. With 3 days, you might even have time to take a day trip!
---
Like this post? Don't forget to save it on Pinterest!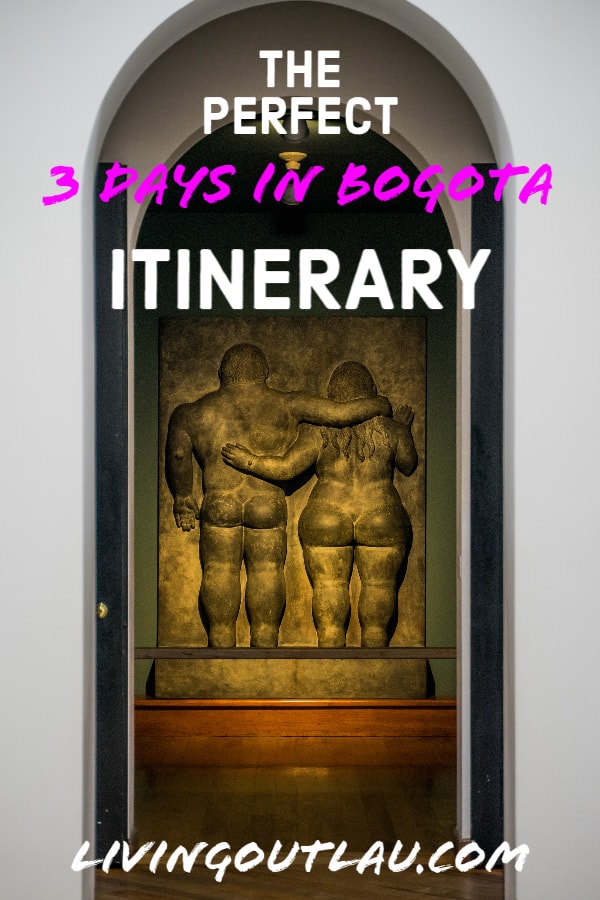 ---
This concludes the 3 day Bogota itinerary. I hope this helped you to find some of the best things to do and places to see in Bogota! Don't worry too much about following it to the T, enjoy Colombia. It is full of surprises and greatness!
Disclaimer: Some of the links above are affiliate links. That means if you book or make a purchase through the links, we will earn a small commission at no extra cost to you! The money will help run this site! Thank you!