One of the best reasons to visit Peru is gastronomy. In fact, Peru has been the best culinary destination in the world for many years now. The wide variety of climates, ecosystems, and environments allow for a multitude of products to be grown, making the Peruvian cuisine very diverse. 
By the coastal region of Lima, you can have some of the best Peruvian ceviches in the world. While higher up in the mountains in the city of Cusco, dishes using alpaca meat are more common. In the southern part of Peru near Pisco, you will find a region where they produce a liquor called Pisco. Peru has so much diversity when it comes to food.
In fact, the capital of Peru, Lima has 2 of the top 50 restaurants in the world.
However, there are hundreds of Peruvian dishes. Below we have selected our favorite 27 foods you must try in Peru.
I have to be honest when I first went to Peru I was overwhelmed by the various types of drinks. Food will always be familiar, a chicken will always look like a chicken, beef will always look like beef. But drinks, those are some things that will confuse you.
Here are some of the drinks in Peru that you must try.
18. Chicha Morada, The Most Popular Peruvian Drink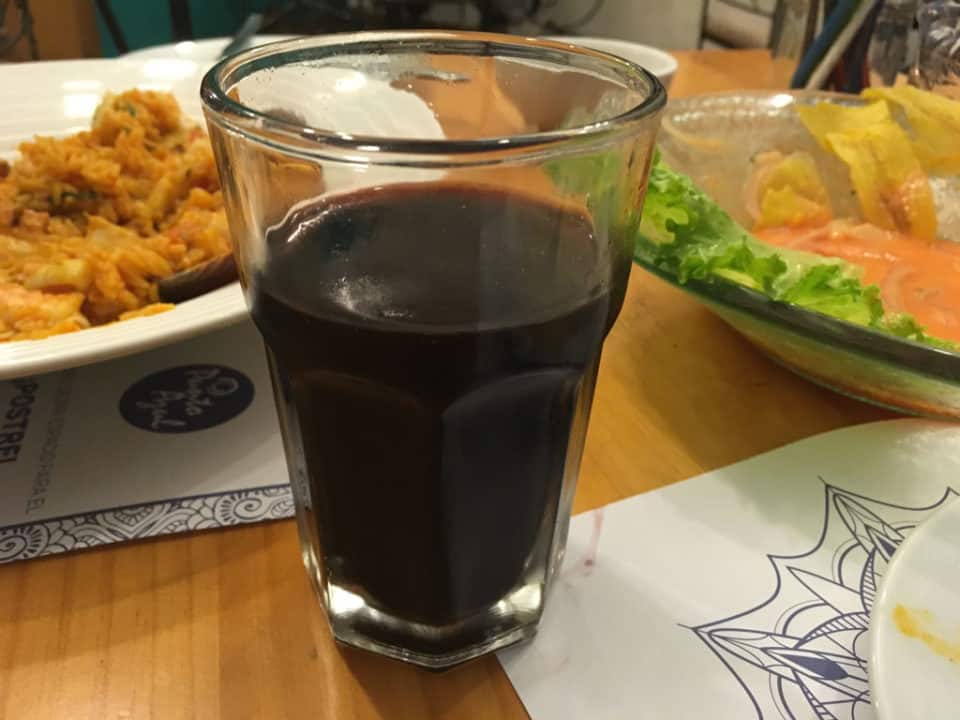 Chicha Morada is the number one local drink in all of Peru. I can guarantee that you will find it in every restaurant that you encounter. You will find it on the streets, in the markets, in a cheap restaurant, or even in the fanciest restaurants. Peruvians drink Chicha Morada like it's water.
Chicha Morada is made using purple corn grown in the Andes mountains. Yes, there is a thing called the purple corn. In fact, Peru has 55 different varieties of corn. Chicha Morada is a mildly sweet drink that tastes like some kind of expired grape juice. One thing for sure is that it definitely has its own unique taste.
Can you believe that the Incans used to drink chicha?
Where can you find Chicha Morada?
In Peru, you don't find Chicha Morada. Chicha Morada finds you. You can run and you can hide, but Chicha Morada will find a way to you.
You can find Chicha Morada in literally every restaurant in Peru.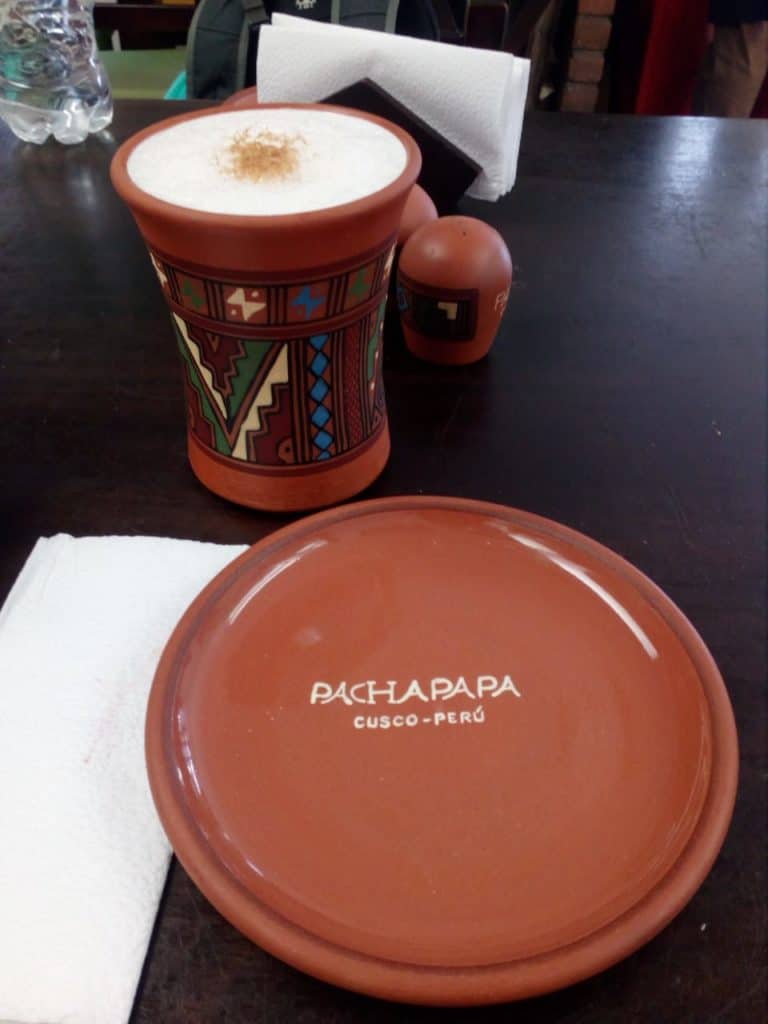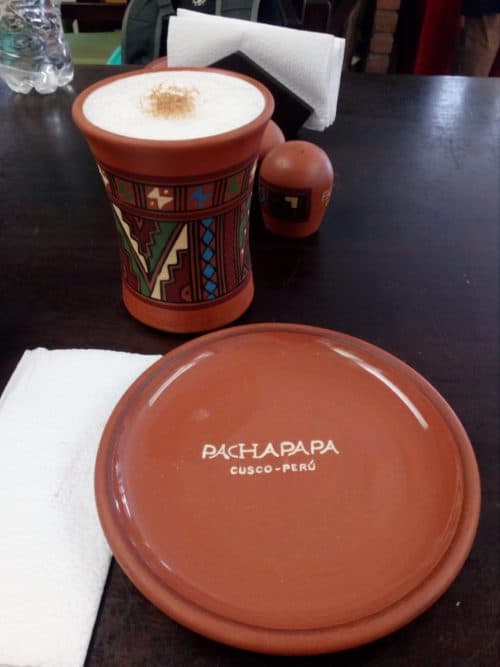 Chicha de Jora is pretty much Chicha Morada's cousin, expect that Chicha de Jora is fermented and has alcoholic content. Jora is a type of yellow corn found commonly in the Andes mountains.
The process of fermentation is very similar to the fermentation process of European-styled beers. However, Chicha de Jora usually contains only around 1-3% alcohol.
Chicha de Jora is known as the corn beer of Peru.
Where can you find Chicha de Jora? 
Chicha de Jora is a lot harder to find than its counterpart, Chicha Morada. I have only seen Chicha de Jora is some of the fancier restaurants. The restaurant that had the best Chicha de Jora was Pachapapa in Cusco.
Address: Carmen Bajo 120, Cusco 08003, Peru
Hours:11 AM – 11 PM Daily
20. Inca Kola, Peru's Most Popular Non-Alcoholic Drink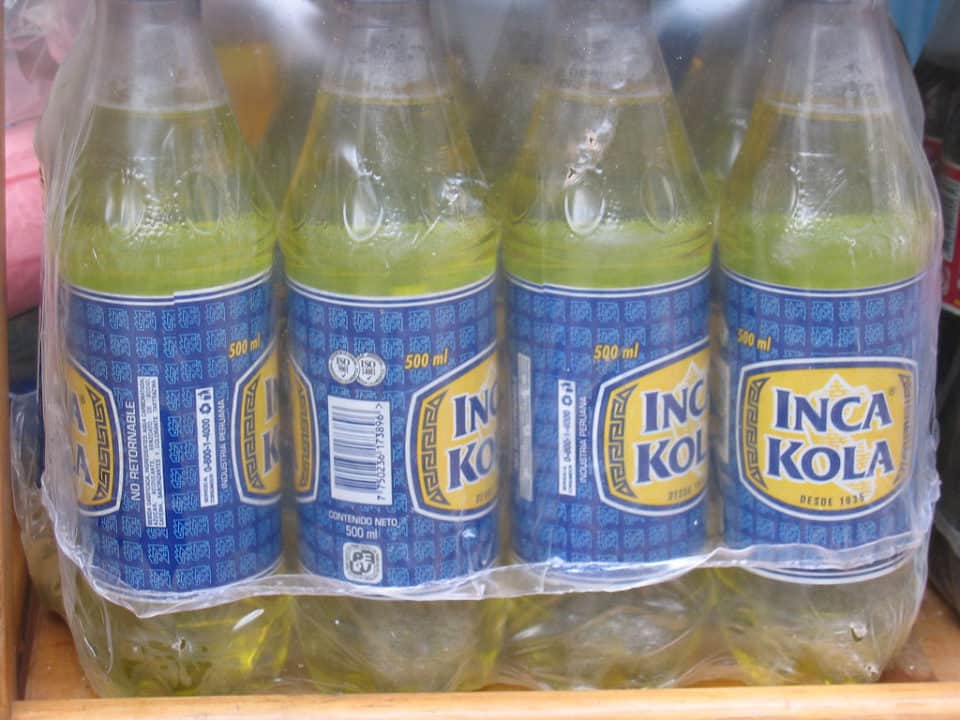 Credit: Amanda Kelso
The second most popular drink in all of Peru after the Chicha Morada is definitely the Inca Kola. Inca Kola, with a yellowish appearance, might not look appetizing at first. But once you take a sip of it, you will understand what the hype is all about.
Inca Kola is a drink that originates from Peru but can now be found in many parts of the world. Many say it has a bubblegum flavor to it. Honestly, at first taste, yes it has hints of bubblegum flavor to it. But soon your brain forgets about it due to the heavy amount of sugar they put into Inca Kola.
Where can you find Inca Kola?
Literally everywhere in Peru. Restaurants will have it. Bars will have it. And grocery stores will have more than you will ever need. 
21. Mate de Coca (Coca Tea), aka Peruvian Coffee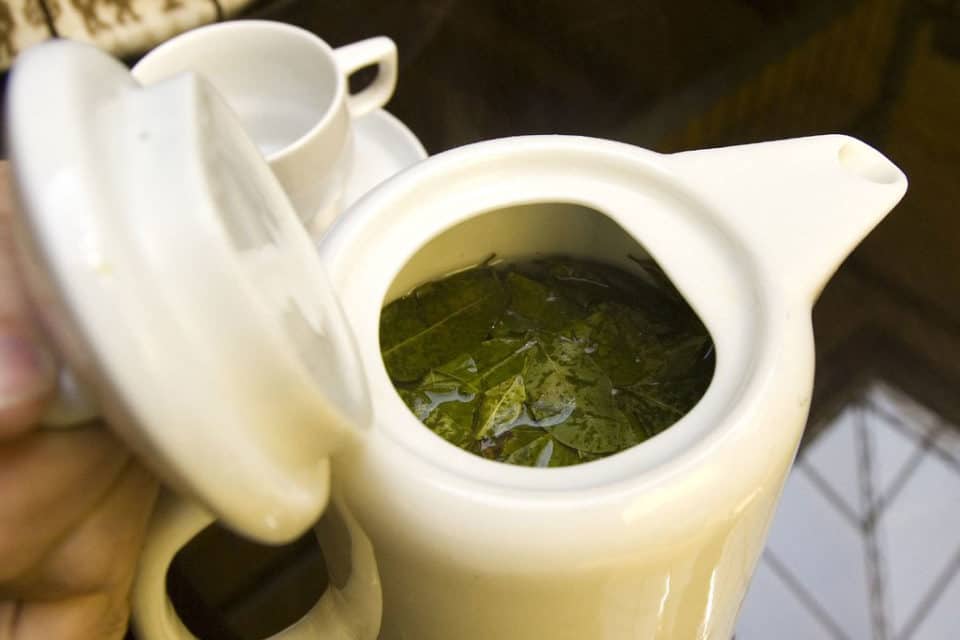 Credit: audrey_sel
Mate de Coca, or coca tea, is a traditional drink that originated from the Andes. There are certain myths surrounding coca leaves and if they actually contain cocaine or not. The answer is YES. The cocaine alkaloid content in coca leaf ranges between 0.5 and 1 percent.
Coca leaves are used to make cocaine. And if you ingested coca tea or coca leaves in Peru, you are at risk of failing any upcoming drug tests. Many countries such as Canada and Netherlands consider coca leaves the same as cocaine! And if you fly into Singapore airport with coca leaves, you might receive the death penalty! Even though the actual amount in coca leaves are minuscule compared to actual cocaine.
History says coca leaves were used by the Incas to help build some of their ruins such as Machu Picchu. The coca leaves give them the energy to work for long hours a day and can suppress hunger in large quantities.
Nowadays, coca leaves are used to give people a little extra boost. They are also known as Peruvian coffee. Coca leaves will help you overcome the high attitude in many regions of Peru.
And most definitely don't hike in Huaraz without having a few coca leaves with you.  
Where to find coca tea/leaves?
You can easily find coca leaves at markets and stores around Peru. Cusco is the best and easiest spot to find them. You can pay 1 sol for a huge bag of coca leaves in the central market in Cusco.
Coca tea can be found at restaurants and hostels. There are also tea bags they sell in the supermarkets.
22. Pisco Sour, The National Drink Of Peru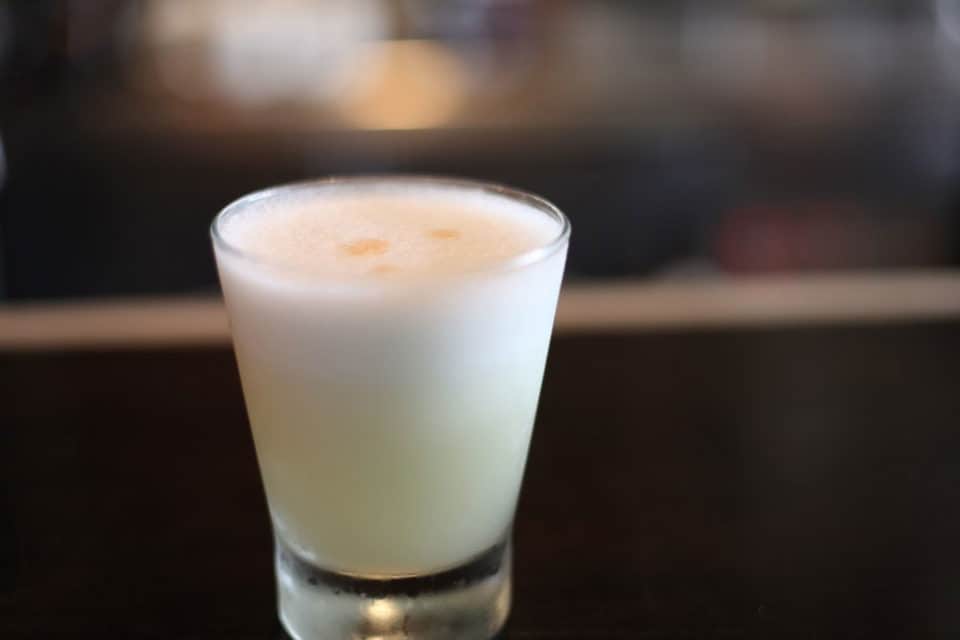 Credit: Cathrine Lindblom Gunasekara
Now let's get to our favorite drink in Peru, the Pisco Sour! Pisco sour is an alcoholic drink that uses Pisco as the base liquor. Different ingredients such as fresh lemon juice, syrup, bitters, and egg white are then added to it.
Yes, you got that right. Raw egg whites are added to the drink, creating that foamy substance you usually see at the top of a Pisco sour.
However, unlike the name sounds, the drink itself isn't really that sour.
Peruvians love their Pisco sour so much that they named it after the city of Pisco, similar to the city Tequila in Mexico!
Where can you find Pisco sour?
Lima has some amazing Pisco sours. But obviously, you can also visit the city of Pisco to sample the drink directly from the source.
Traditional Desserts In Peru
No meal is complete without a nice dessert. Luckily for you, the amazing traditional desserts in Peru will send your taste buds to heaven. Here are some desserts you must try in Peru. 
23. Arroz con Leche (Rice with Milk)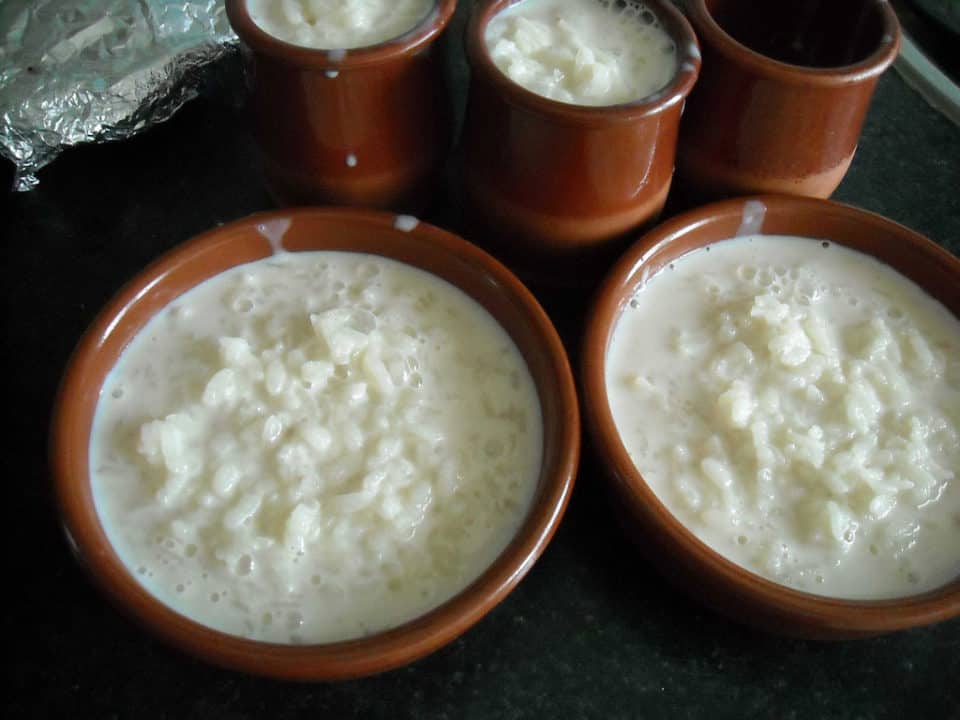 Credit: Dario Alvarez
Arroz con leche is the Peruvian form of rice pudding. However, they are known to be a lot sweeter than their western counterparts. Arroz con leche is not the fancy dessert that you have in a French restaurant. In fact, it takes pride in its simplicity. Arroz con leche is simple and delicious but not too heavy on your stomach. It is the go-to dessert when I am stuffed from eating other delicious food Peru has to offer.
Where to find Arroz con Leche?
Many bakery shops, or pandeleria in Spanish, will sell arroz con leche. With a proclaimed origin of Lima, your best bet would be to try it there.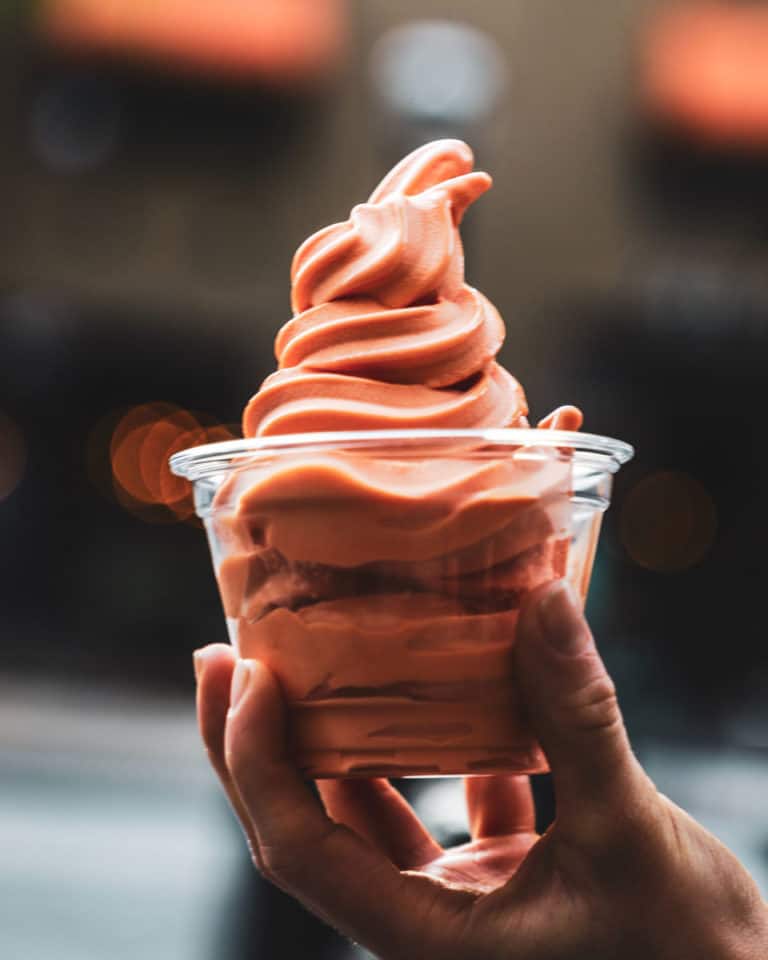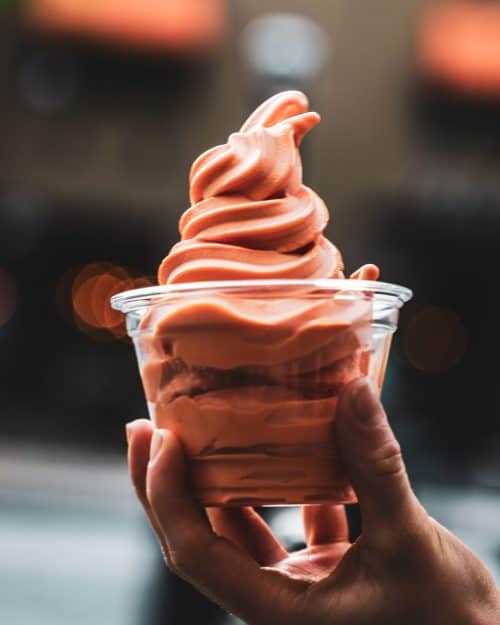 Is there any other dessert better in the world than the classic ice cream? The answer is YES!!
A lucuma ice cream!
Lucuma is a fruit native to the regions of Ecuador and Peru. When eaten raw, the fruit is very dry and not very tasty. But for some miraculous reason, when you put it into a milkshake or an ice cream, it suddenly becomes a gastronomical masterpiece.
Where can you find lucuma ice cream?
You can find it in most ice cream shops in Peru. However, my favorite lucuma ice cream was definitely from Blu il Gelato del Barrio in Lima. 
Address: Calle Miguel Dasso 115-101, San Isidro 15073, Peru
Hours:12 PM – 8 PM Monday to Saturday | 11:30 AM – 8 PM Sunday
25. Picarones, Popular Dessert Street Food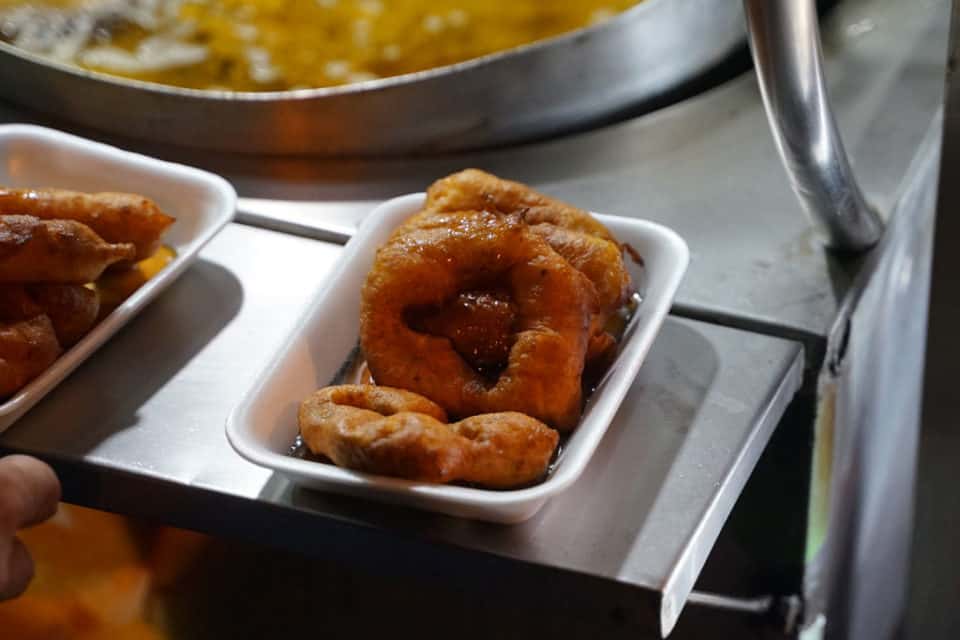 If you have been on the road for too long and miss the donuts from Dunkin Donuts, fear not. Picarones, or what I call the Peruvian donuts, will have your cravings satisfied.
Picarones are made from squash and sweet potato, making the donuts themselves mildly sweet. Then they are fried until they are nice and crispy on the outside and served with syrup.
Where to find Picarones?
Picarones are common street food in all of Peru. Go to your nearest Plaza de Armas and you will be able to find these sweets quite easily. If you are in Lima, head to Puente de Los Suspiros or Parque Kennedy and you will find quite a few places selling them!
26. Queso Helado, Arequipa's Traditional Dessert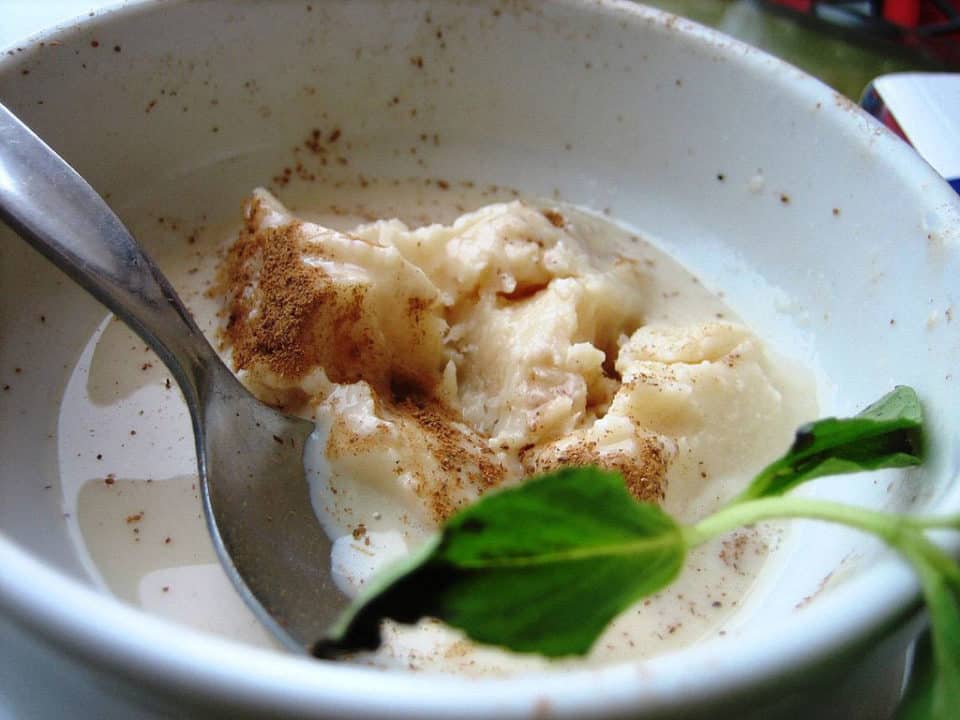 Credit: _e.t
Queso Helado, translated literally to cheese ice cream, is a dessert strictly from the city of Arequipa in Peru. I mean strictly. I was not able to find it in any of the big cities like Lima or Cusco.
It is such a popular dish that every 4th Sunday of January, it is "Day of Queso Helado". Yes, Queso Helado has an official day of celebration like Day of the Dead in Mexico or Thanksgiving in the United States.
That's how big of a deal Queso Helado is.
A little misleading but Queso Helado actually does not contain any cheese. It is a Peruvian dessert that is made with condensed milk, through a very complicated procedure.
Where can you find Queso Helado?
I am sure there are vendors that sell Queso Helado throughout Peru but I was only able to find them in Arequipa!! My favorite Queso Helado was in an old traditional restaurant called Tipika Restaurante.
Address: Av. Luna Pizarro 407, Arequipa 04001, Peru
Hours: 9 AM- 5 PM Daily
While you are in Arequipa, make sure to check out Colca Canyon. It is twice the height of Grand Canyon in the US!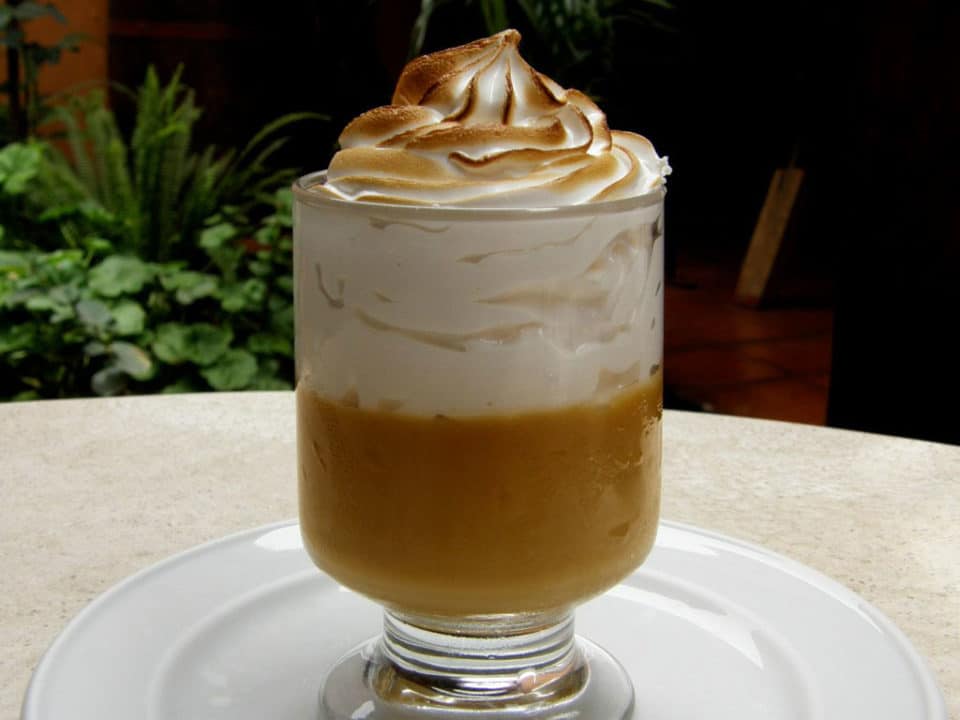 Credit: astuviaje
Suspiro a la Limeña, or sigh of the Lima lady, is a traditional Peruvian dessert that should have some interesting history. However, the history of the Suspiro a la Limeña is actually quite simple.
A poet named Jose Galvez tried this dessert that was made by his wife and found it sweet and light, "like a woman's sigh." Just like that, the dessert has been called Suspiro a la Limeña ever since.
Suspiro a la Limeña is made out of manjar blanco, which is something made out of milk, sugar, almond vanilla, and egg yolks.
Where to find Suspiro a la Limeña?
Many dessert shops around Peru will sell Suspiro a la Limeña. But the best place to try it is definitely where it originated from, Lima. The shop called El Buen Gusto is one of the most famous pastry shops for Suspiro a la Limeña.
Address: Torre Tagle 249, Lima 15074, Peru
Hours: 8 AM – 8 PM Daily
Like this post? Don't forget to save it on Pinterest! 🙂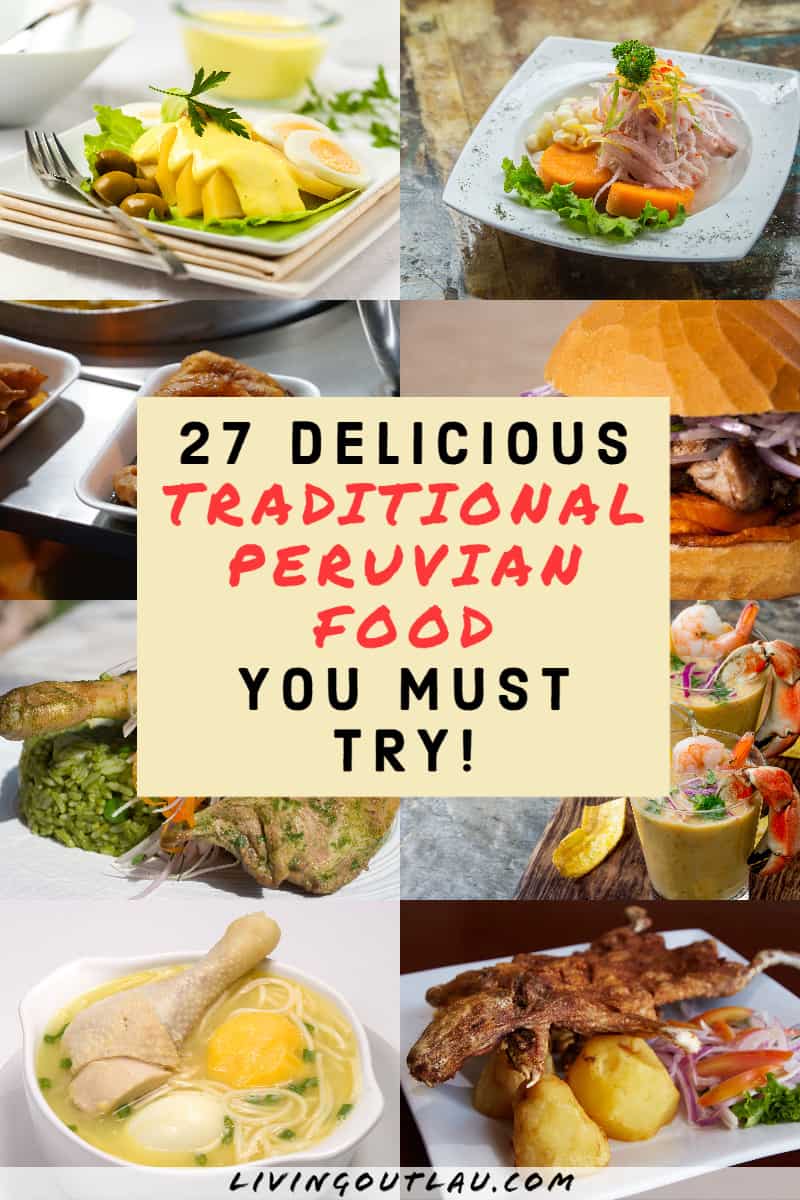 There you have it, the 27 foods you must try in Peru. Have you tried any of these Peruvian foods? Which one is your favorite? Let us know in the comments!! 
Disclaimer: Some of the links above are affiliate links. That means if you book or make a purchase through the links, we will earn a small commission at no extra cost to you! The money will help run this site! Thank you 🙂