Not sure what to do in Krakow in 2 days?
Worry not.
Unlike the capital of Poland (Warsaw) which was nearly obliterated during World War II, Krakow did not suffer the same fate due to a timely surrender. Consequently, over a thousand years of history in Krakow is well-preserved, offering visitors a unique but overwhelming experience.
Kazimierz, Krakow Old Town, Wawel Castle, Vistula River, Krakow's numerous attractions might intimidate visitors at first, especially if they have only two days in Krakow. That is why we have written this 2 days in Krakow itinerary to help you plan your trip to Krakow!
Enjoy!
---
How Many Days In Krakow Is Enough?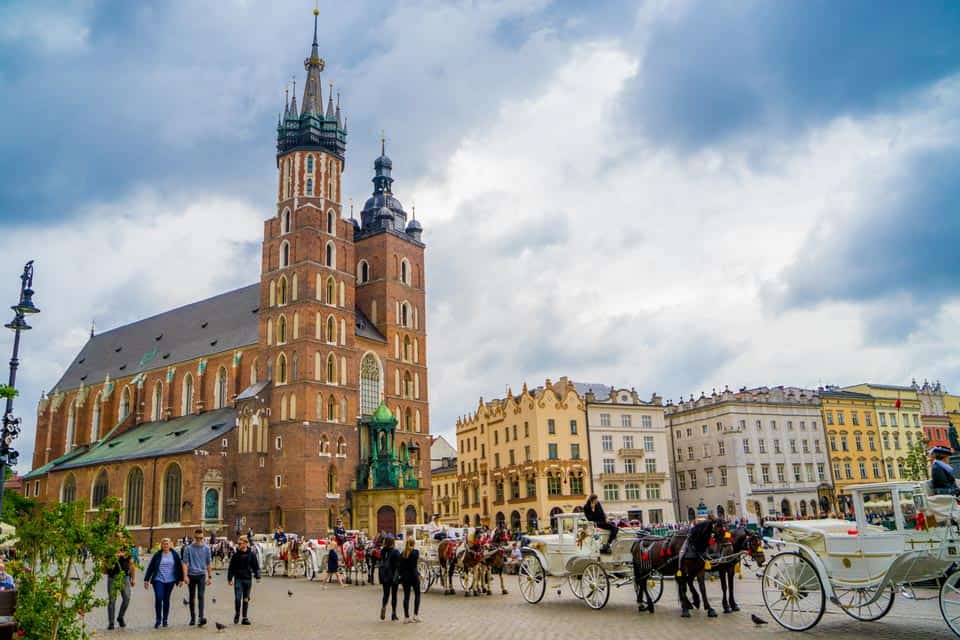 If you are planning a trip to Krakow, you must wonder how many days to spend in Krakow. After all, this is a city that was once the royal capital of Poland. Its historic center (Old Town) of Krakow has over a thousand years of history and it is one of the first UNESCO Heritage Sites in the world.
So is two days in Krakow enough? Most likely, yes.
While there are many amazing things to do in Krakow, they are all located in or next to Old Town Krakow. If you are staying in Krakow Old Town (or even just right outside it), you will be able to walk to the furthest attraction in Krakow in just 20 minutes. Krakow is an extremely walkable city!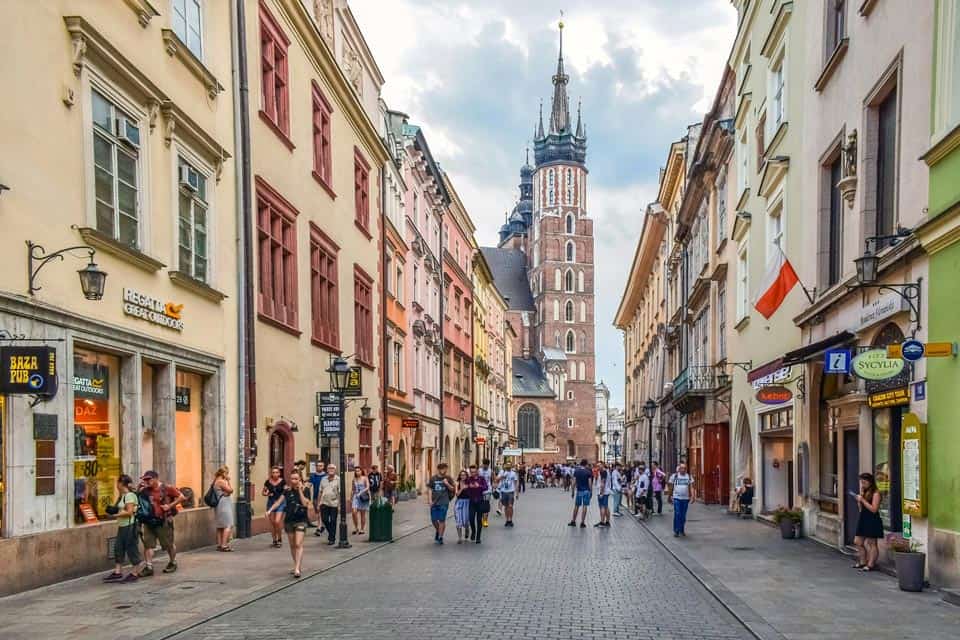 Though it is possible to spend 2 days in Krakow and see all the majority of the attractions, you might want to spend more time in Krakow if you prefer a slower pace of travel. If you have the choice, we recommend you to 3 or 4 days in Krakow to really get a feel of this historic city.
Because we are the type of travelers that like to sit in the park and people-watch and catch sunsets next to a river, we spent about 5 days sightseeing in Krakow. We really enjoyed this quaint little city and recommend anyone to spend a bit more time in Krakow if possible.
If you need help determining how much time to stay in Krakow, check out our full guide here!
---
How To Get To Krakow Old Town
If you have a short visit to Krakow, you will probably arrive at John Paul II Kraków-Balice International Airport, Krakow's international airport. From here there are many ways to get to the historic center of Krakow, or sometimes referred to as Krakow City Center.
Train From Krakow-Balice International Airport To Krakow Old Town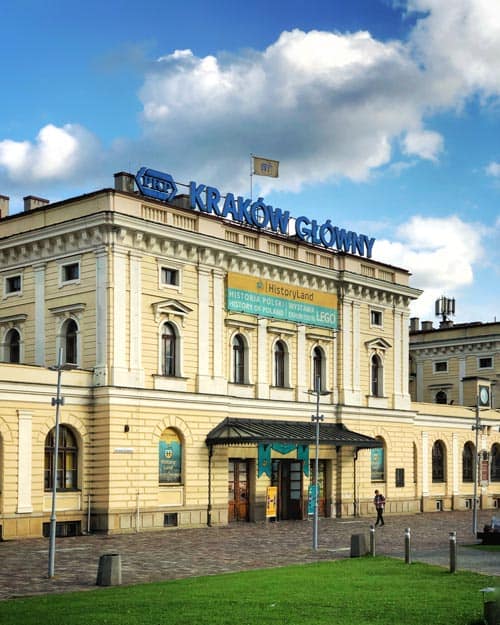 The best way to get from Krakow Airport to the city center (Old Town Krakow) is via train. Visitors can find trains departing every hour from Krakow Lotnisko (Krakow Airport Train Station) to Krakow Glowny (Krakow Main Station).
The journey takes about 20 minutes and costs 12 PLN (at the time of writing). The first train departs at 5:18 AM and the last one departs at 12:27 AM (at the time of writing).
You can buy the train tickets in a machine before you board (cash/credit card), on the train in a machine (cash/credit), or with the conductor (cash only). Make sure you purchase your ticket ASAP once you board or you might get fined!
Double-check with the official train schedule site here for up-to-date information!
Bus From Krakow-Balice International Airport To Krakow Old Town
If you are traveling to Krakow on a budget, there are two buses that depart from Krakow International Airport to the historic center.
These buses take around 50 minutes to get from Krakow's airport to Krakow Glowny (Krakow Main Station) and the duration can vary dramatically depending on the time of the day, especially during rush hour. The fare is 4 PLN at the time of writing.
Get the Krakow City Pass for free rides on buses and trams in Krakow as well as free admission to over 40 Krakow museums!
The two buses that run from Krakow-Balice Airport to Krakow Glowny Wschod are:
Bus number 208
Bus number 902
These buses take the exact same route and both end at the Krakow main station next to Krakow Old Town, so you don't have to worry about missing your stop. The only difference is that 208 runs in the daytime and 902 runs at night.
If you are arriving in Krakow at 3 AM at night, though there won't be any trains, you will still have buses to take you to the city center.
Buses To Krakow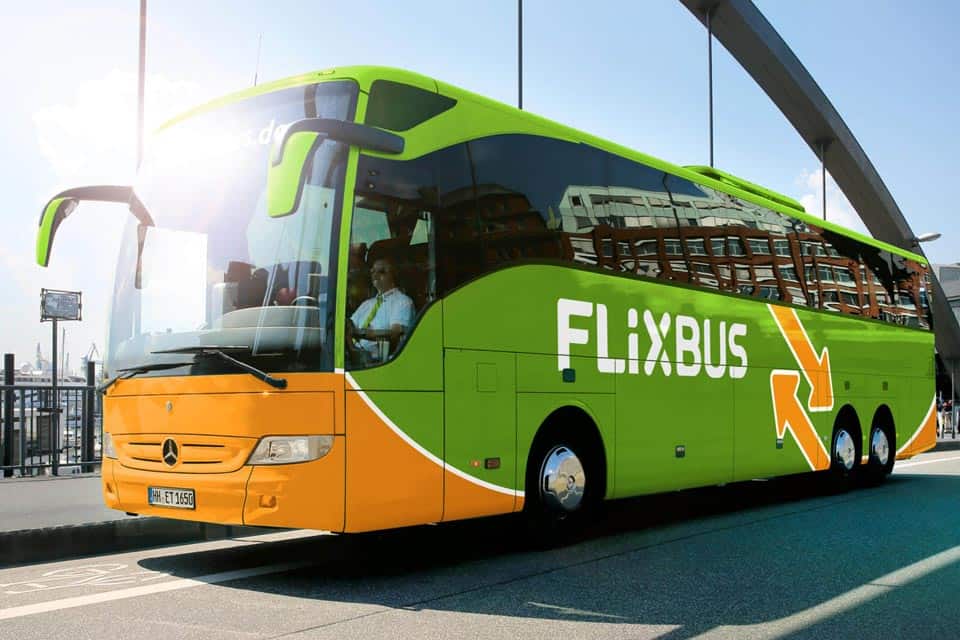 If you are traveling on land to arrive at Krakow, then you have plenty of bus companies to choose from. We highly recommend FlixBus, a reputable company with an easy user interface. Each bus is equipped with a toilet and free WiFi. Their timeliness, affordability, and comfort are unmatched.
If you are not short on time, you could arrive at a cheaper airport in Poland like Warsaw Airport, spend one day in Warsaw exploring, and then take the bus to Krakow. The bus will arrive at Krakow Glowny, so you are a short walk away from Krakow Old Town!
Traveling to Krakow with family or a group of friends?
Check out this easy private transport from Krakow Airport to the city center!
---
Things To Do In Krakow In 2 Days
Our itinerary for Krakow is designed so that you minimize your commute time and maximize the number of attractions you can visit. It is not the only way to go about your trip, but we highly recommend you to follow this step-by-step.
Day 1: Krakow Old Town, Wawel Castle, Kazimierz (Jewish Historic Quarter)
1. Join A Krakow Free Walking Tour (2.5 Hours)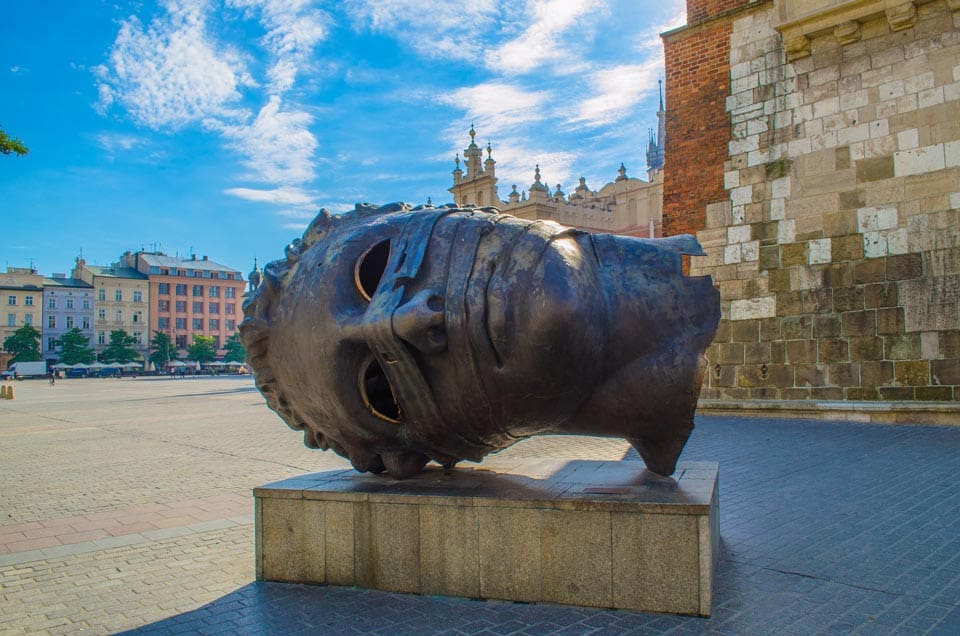 If you only have two days in Krakow, then joining a tour is a must. Tours are a great way to get lots of information in a short period of time, and they are led by local professionals who have tons of knowledge.
At LivingOutLau, we want to give you the best value for your money. That is why we highly recommend the free walking tours in Krakow.
Run by local professionals, the tour guides earn their living by the tips that they get at the end of the tour. As a result, each tour guide puts the best of his or her ability to ensure the participants leave with newfound knowledge.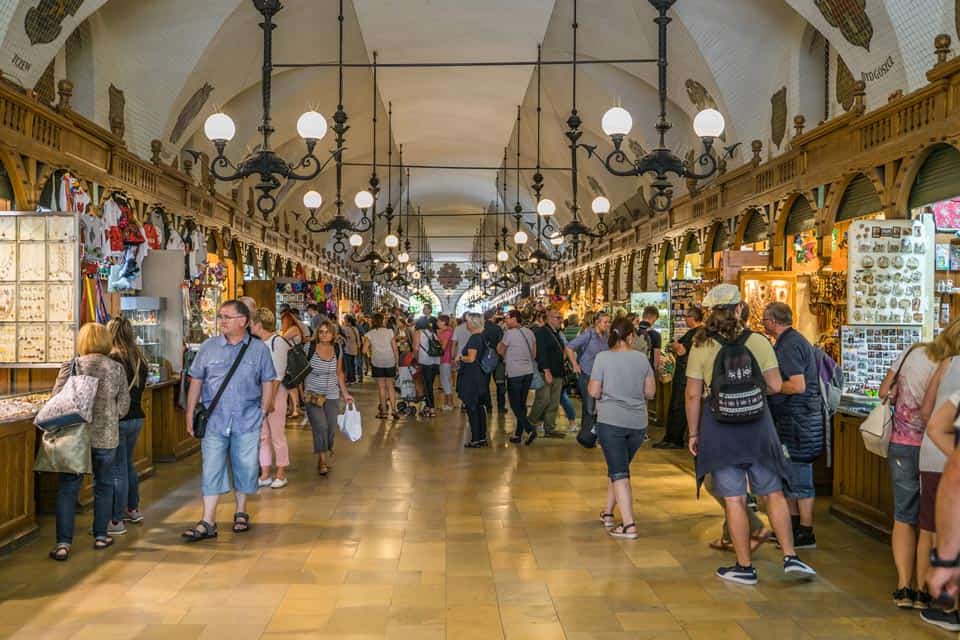 The tour company we suggest is called Walkative! Free Walking Tour.
Having participated in their free walking tours in Krakow and Warsaw, we were extremely pleased and would recommend this walking tour company to anyone.
At the end of the tour, the tour guide gives you a small cheat sheet to Krakow. The cheat sheet features some of Krakow's best attractions such as restaurants, bars, nightclubs, museums, and other tourist activities!
This 2.5-hour Krakow free walking tour will cover the basics of Krakow, from its thousand years of history to the historical buildings that have withstood the test of time. Visitors will learn about the medical city walls, check out the Main Market Square with St. Mary's Church and the Cloth Hall, learn about Wawel Castle, and much more!
The best thing is that this is all free! If you did not enjoy the free walking tour, you don't have to tip a single penny!
Don't like that much walking? Check out this guided cycling tour or segway tour instead!
2. Try Authentic Polish Cuisine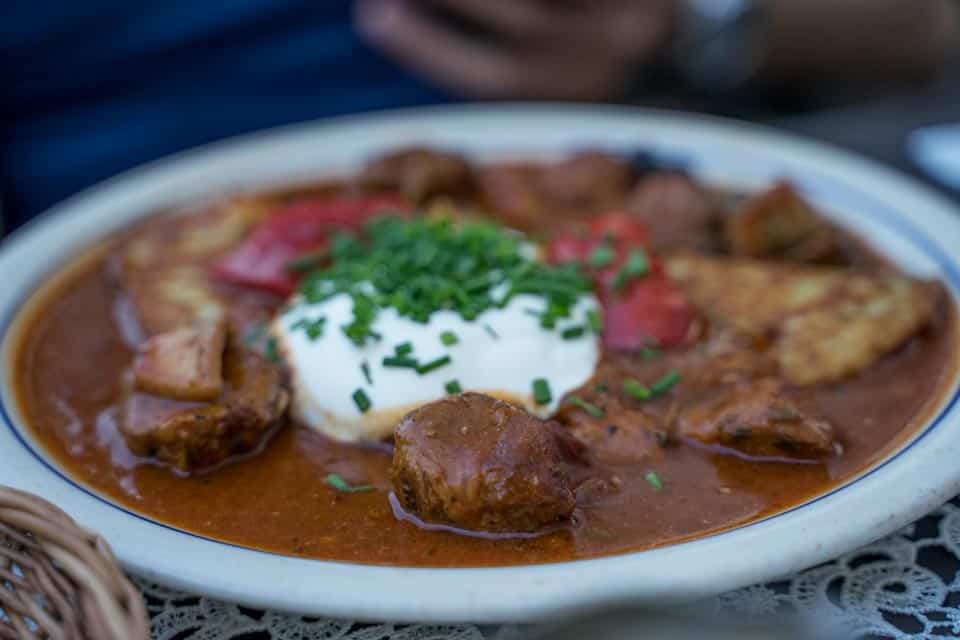 After your long free walking tour in the morning, you must be hungry for some lunch. Luckily, as one of the most-visited Polish cities, Krakow is inundated with delicious traditional Polish restaurants.
✅ Pro Tip: If your budget allows, we recommend you go on a Krakow food tour. It is the best way to sample some of the most popular local dishes and learn how they are made.
There are many Polish dishes that you must try when visiting Krakow, such as
Pierogi (Polish dumplings)
Bigos (Hunter's Stew)
Zurek (classic Polish sour rye soup), our personal favorite.
Pierogies are something that we didn't quite fancy at first, but they quickly grew on us as we spent more time in Poland. Known as Polish dumplings, it is not quite what we imagined them to be.
Unlike the Asian variance where the inside filling is usually meat and vegetable, pierogies usually have potatoes, cheese, or sweet berries inside. It is a dish that can be both a starter, a main course, or a dessert, depending on what you decide to stuff it with.
We aren't a big fan of the potato ones, but the cheese ones are nice. Surprisingly, the sweet pierogies are our favorite type of pierogies!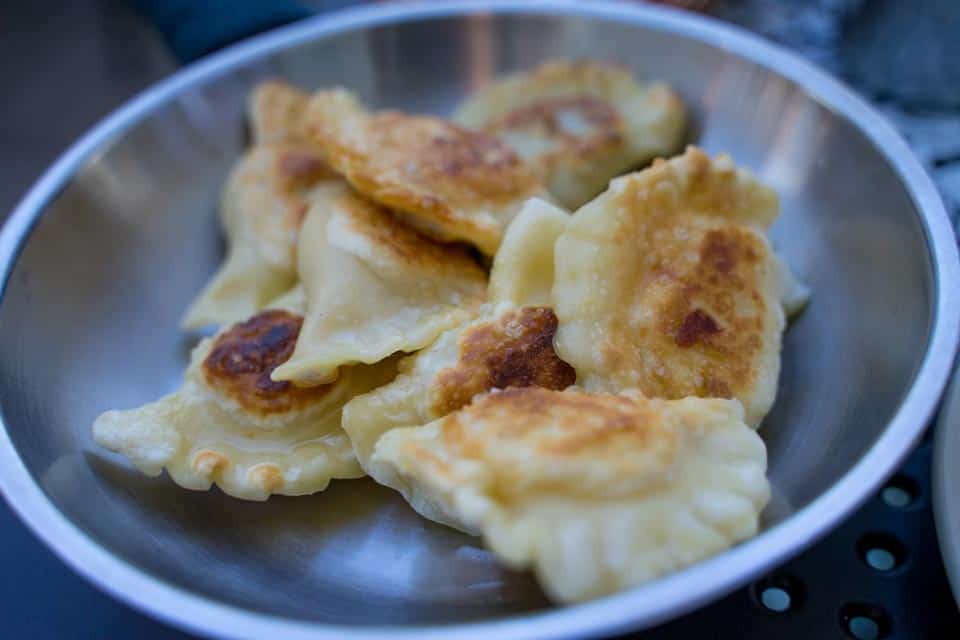 Bigos, or Hunter's Stew in English, is the national dish of Poland and it did not disappoint. It is exactly what we thought Polish cuisine was (before visiting Poland) – lots of meat, bold flavors, and hearty.
Made of various chopped meat stewed with sauerkraut and shredded fresh cabbage, Bigos is the perfect dish for meat-lovers.
Though Bigos is one of our favorite Polish dishes, it certainly isn't No. 1. The number 1 spot unwaveringly goes to zurek.
A soup made from the fermentation of bread and rye flour, it has a unique taste that we have never tasted anywhere else before. Various meats such as sausages, ham, bacon are cooked with the soup. Sometimes, you will even find vegetables such as potatoes and mushrooms.
Its savory and slightly sour taste makes zurek a great appetizer. Travelers might find zurek in a traditional bread bowl as well, and depending on which and how much ingredient is inside, zurek can certainly be the main part of a meal.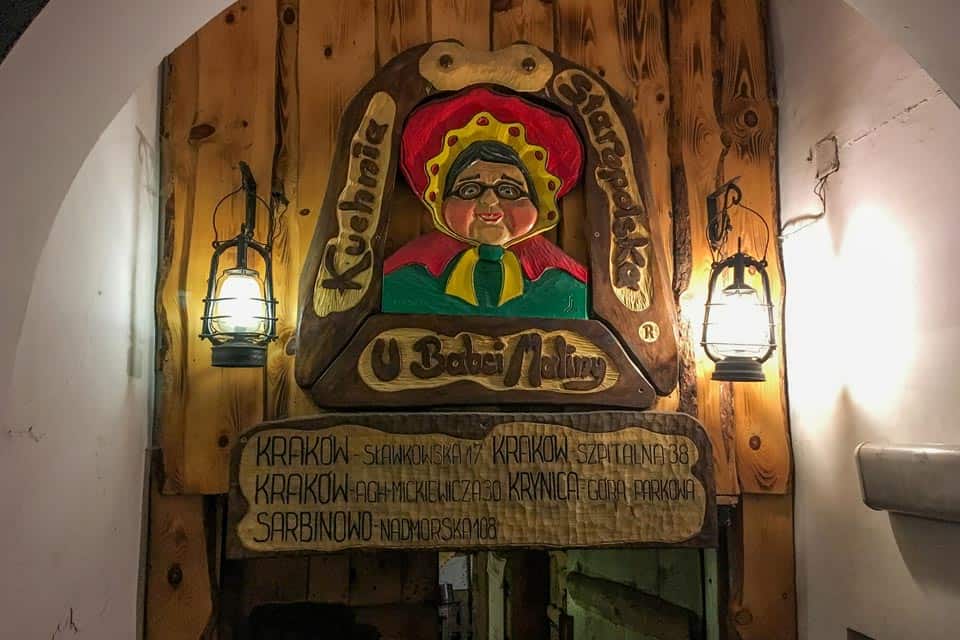 If you are looking for a nice Polish restaurant in Krakow, we would recommend Pod Aniołami Restaurant. Its charming decor and great selection of meat are perfect for meat lovers. They also serve some of the best pierogies in Krakow!
If you want a pierogi-specialty restaurant, check out Pierogarnia Krakowiacy on the upper west side of the Old Town. Its wide selection of pierogies is perfect for anyone giving them a try for the first time.
Lastly, check out Kuchnia U Babci Maliny, our favorite restaurant in Krakow. Its quirky and homey decor combined with affordable, delicious, and big-portioned food is irresistible! It is the perfect place to try some grandma's cooking!
3. Explore Wawel Castle and Wawel Cathedral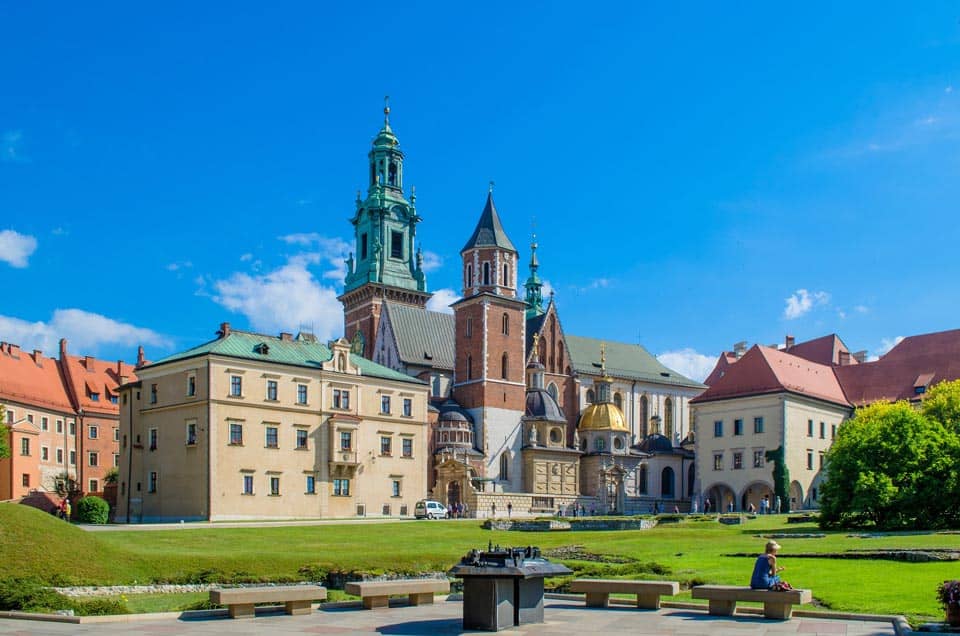 Located on the southern tip of Krakow Old Town is Wawel Hill, home to the biggest attraction in Krakow – Wawel Castle and Wawel Cathedral.
Considered the most culturally and historically important site in Poland, the Wawel Castle (sometimes referred to as Wawel Royal Castle) is a must on any Krakow itinerary. The Wawel Castle and the historical buildings on Wawel Hill are some of the first established UNESCO World Heritage Sites in the world.
Once the royal residence of the kings of Poland and the symbol of Polish statehood, Wawel Castle is now one of the country's finest museums.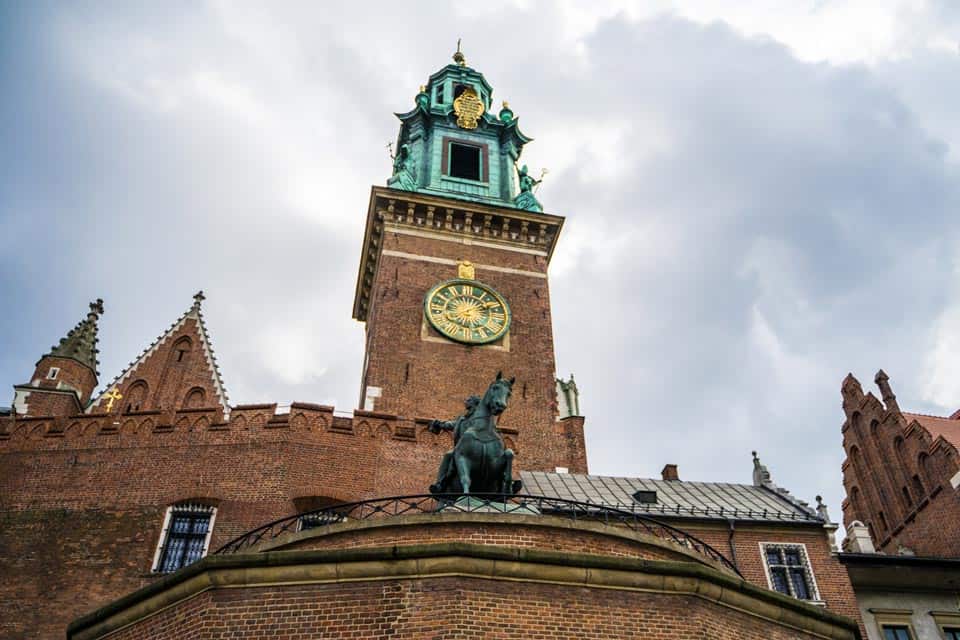 It is said that the castle dates back to the 970 A.D., and the earliest examples of Romanesque and Gothic architecture do hint at that time period. In fact, Wawel Castle represents all European architectural styles of the medieval, renaissance, and baroque periods!
It is a historic landmark in Krakow that has withstood the test of time.
The Wawel Castle grounds are free to enter, perfect for anyone traveling in Krakow on a budget. Don't miss out the arcaded Wawel Castle Courtyard, a masterpiece of Renaissance architecture., which is also free to enter.
Inside the architectural complex where the Wawel Castle resides, visitors will also find numerous other buildings of significance, such as the Wawel Cathedral.
Also known as The Royal Archcathedral Basilica of Saints Stanislaus and Wenceslaus, Wawel Cathedral is the Polish national sanctuary and coronation site of Polish monarchs for over 900 years.
The main part of the Wawel Cathedral is free to enter, but a ticket is required for the Royal Tombs, Cathedral Museum, and Sigismund Bell Tower.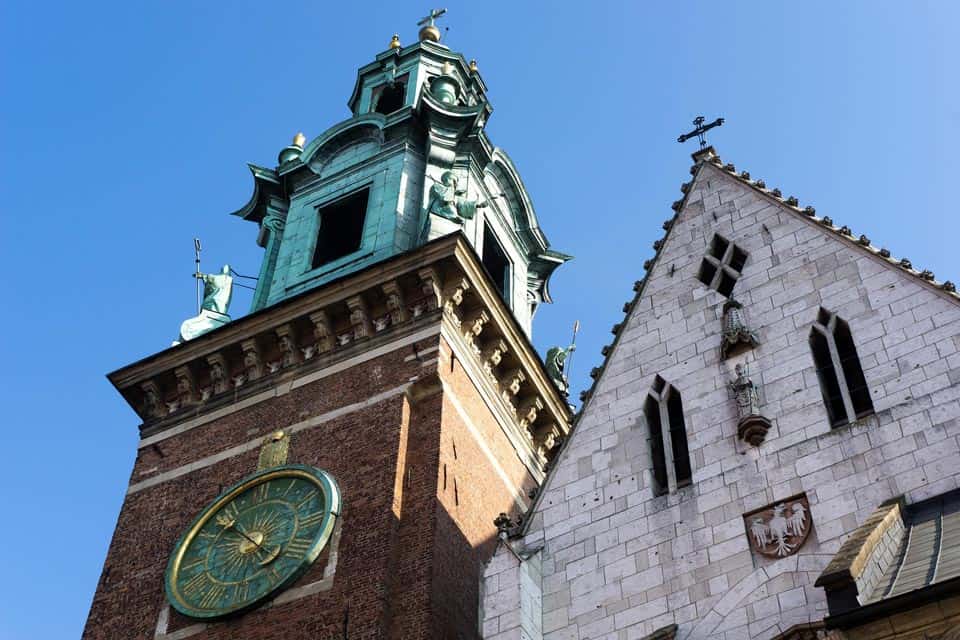 At the time of writing, the admission cost to these additional parts of the Wawel Cathedral cost 14 PLN. The Sigismund Bell Tower alone is worth the small entrance fee as visitors can see one of the largest church bell systems in Poland. It takes 12 bellringers to swing the 30-ton bell!
At the top of the Sigismund Bell Tower, visitors are also blessed with gorgeous views of Krakow Old Town and the Vistula River.
✅ Pro Tip: If you are visiting during peak season (summer) or on the weekend, we suggest you reserve your Wawel Cathedral ticket online and save the headache of waiting in the queue. It even comes with a guided tour!
Check the official opening hours of Wawel Castle, Wawel Cathedral, and the extra exhibits before your visit. Depending on the day of the week, the open hours vary drastically. For example, the Cathedral Museum is closed on Sundays!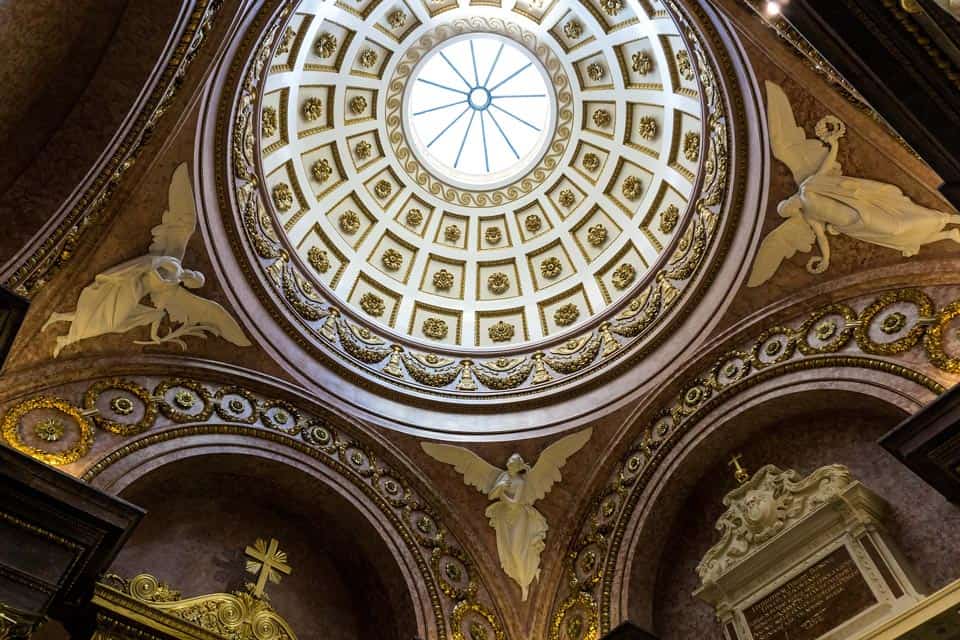 Can't get enough of Wawel Castle? Besides the stunning castle grounds, jaw-dropping courtyard, and the Wawel Cathedral, there are multiple museums in Wawel Hill.
These include the State Rooms, Crown Treasury and Armoury, Art of the Orient. Ottoman Turkish Tents, The Lost Wawel, The Church of St. Gereon, Wawel Recovered, Sandomierska Tower, and more!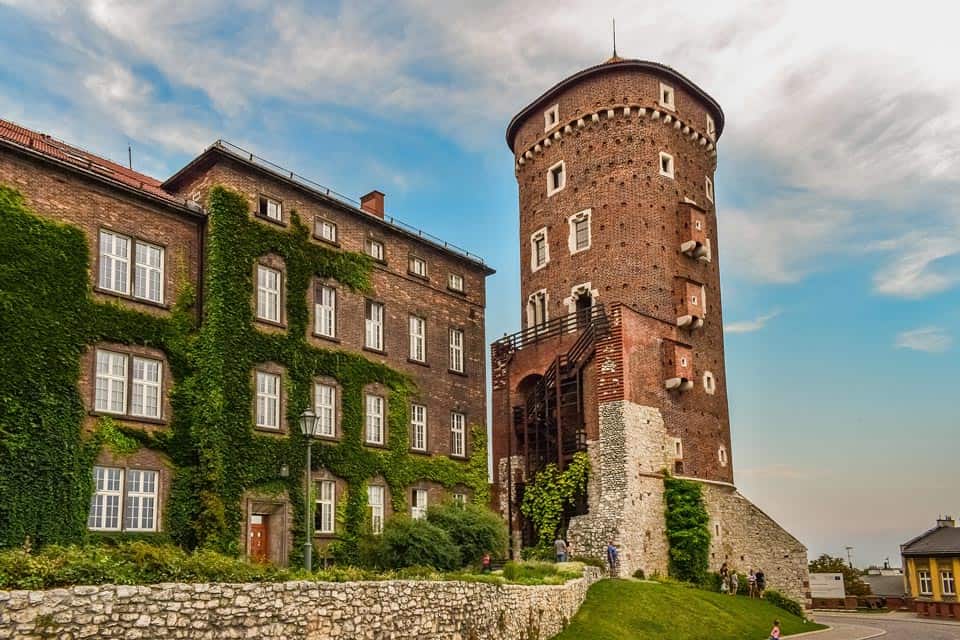 Before you leave Wawel Castle, make sure you don't miss the Wawel Dragon next to the Vistula River. A famous dragon in Polish folklore, the Wawel Dragon statue breathes out fire every 5 to 10 minutes!
4. Visit Kazimierz, The Historic Jewish Quarter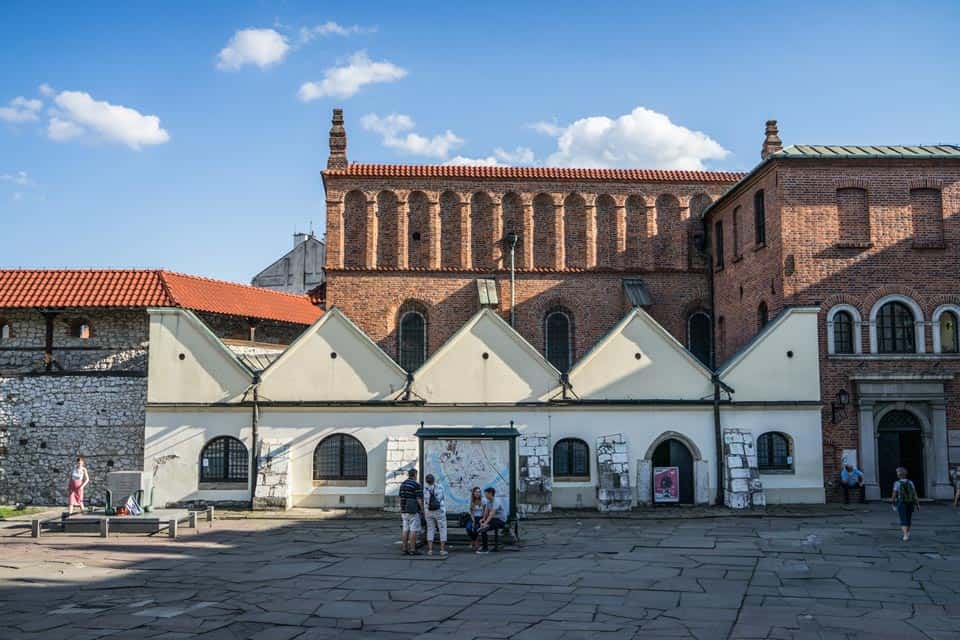 The Kazimierz neighborhood in Krakow is one that is filled with tragic stories. During World War II, all Polish Jews were transported to Kazimierz, the Jewish ghetto, before getting sent off to the death concentration camps.
As a result, many of the houses were left empty. Eventually, poor and homeless people took advantage of this and moved in, often bringing crime-related activities with them. Kazimierz was considered one of the most dangerous neighborhoods in Krakow.
Nowadays, that reputation no longer exists. Kazimierz is dotted with trendy coffee shops, boutiques, synagogues, and some of the best nightlife in Krakow. Its hipster and vibrant community is quite different than that of the Old Town.
There are some notable attractions in Kazimierz that you should visit, such as the Church of Corpus Christi, the Galicia Jewish Museum, and the Old Synagogue. Of course, don't forget to try out a Zapiekanka, or Polish Pizza, from one of the cafes!
5. Finish Your Day In Krakow Old Town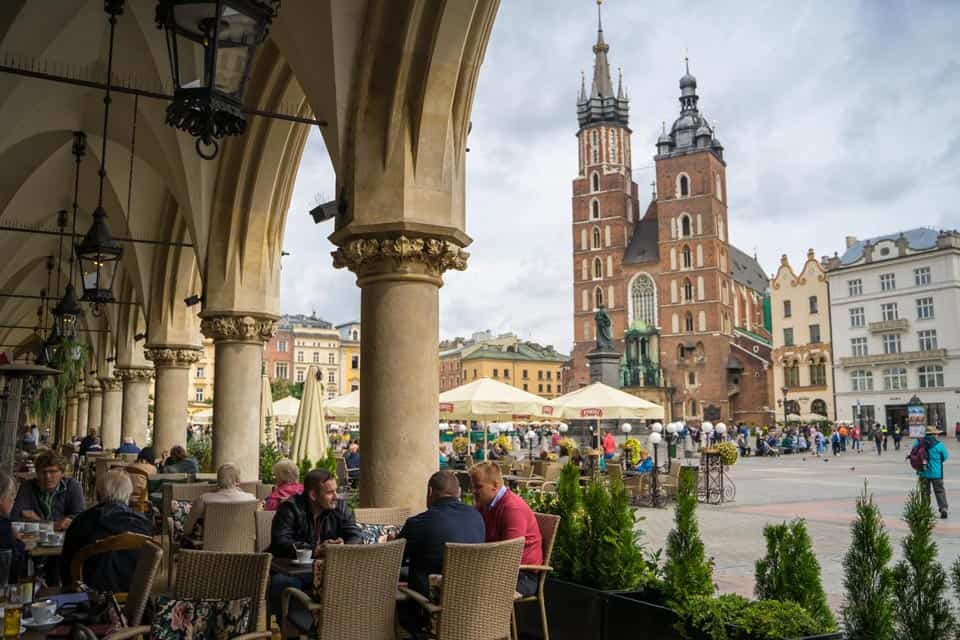 Finish off your day exploring UNESCO World Heritage Krakow Old Town, arguably the most famous sightseeing spot in Krakow. Your morning free walking tour will briefly touch upon the Old Town, but there are many places you have yet to see.
Take this time to explore St. Mary's Basilica and its exemplary Polish gothic architecture. With foundations dating back to the 13th century, it is one of the oldest landmarks in Krakow! Though the exterior of the church is spectacular, the interior is where the money is at!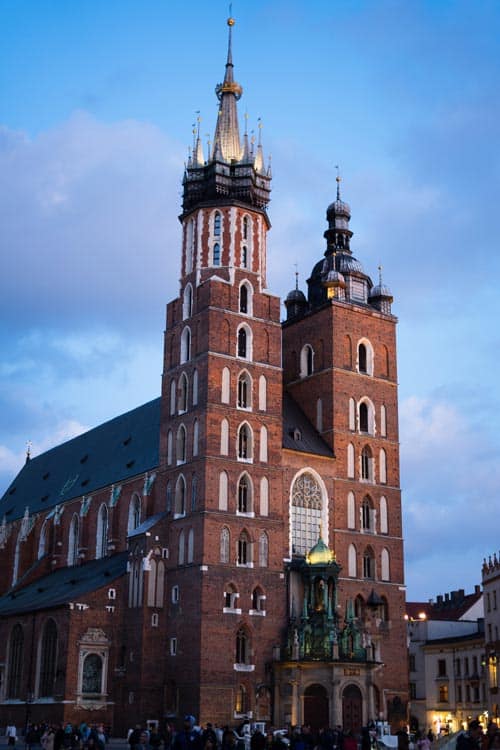 Its ornate decor, drop-dead gorgeous stained glasses, and immaculate details in every corner will leave you awestruck. It is certainly one of the most beautiful places in Poland!
Visitors can also climb the bugle tower, where a trumpeter performs the trump call every hour on the hour. This trumpet call was traditionally used to warn against foreign invasion. The call ends abruptly every time to honor the moment the bugler was shot by an arrow in the Mongol invasion.
Don't forget to take some time and admire the epic views of Krakow Main Square from the tower.

If you are following this Krakow itinerary, make sure you don't miss it before it closes. The St. Mary's Basilica is usually open until 6 PM daily, but its opening times are known to change.
Refer to the St. Mary's Basilica official site for information on how to visit the Bugle Tower, Bell Tower, and up-to-date opening hours!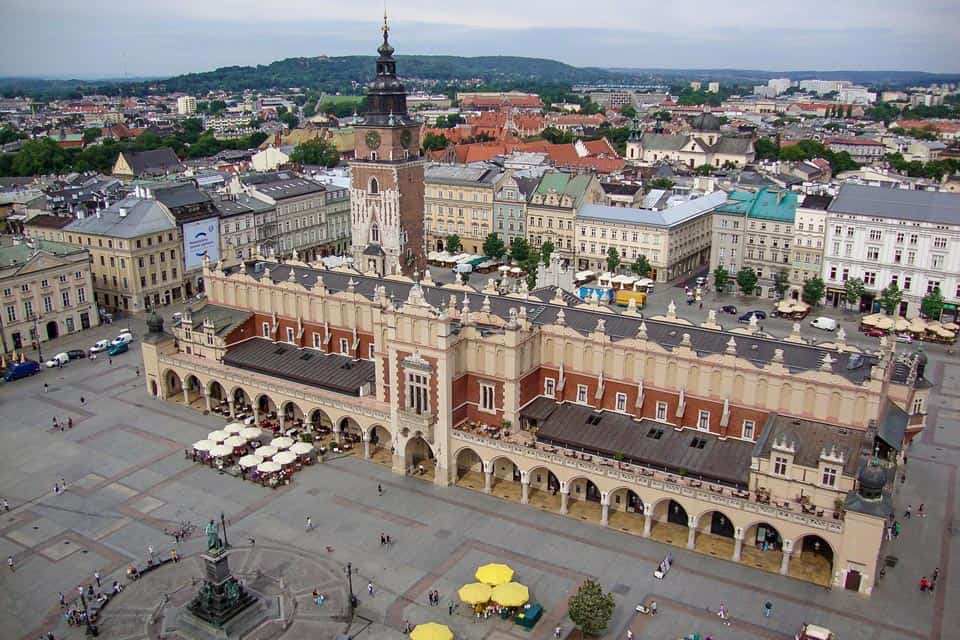 Spend some time wandering around the Main Square (Rynek Glowny), the largest medieval town square in Europe. Dating back to the 13th century, the Main Square is dotted with gorgeous historical buildings and glimpses of the past.
The horse carriages in the square are one of the most popular tourist attractions in Krakow, though a bit controversial. Nevertheless, their majestic presence adds to the overall ambiance of the main square.
There are a few streets that exemplify the glory of Krakow Old Town, such as Grodzka and Florianska. Don't miss those charming streets on your Krakow trip!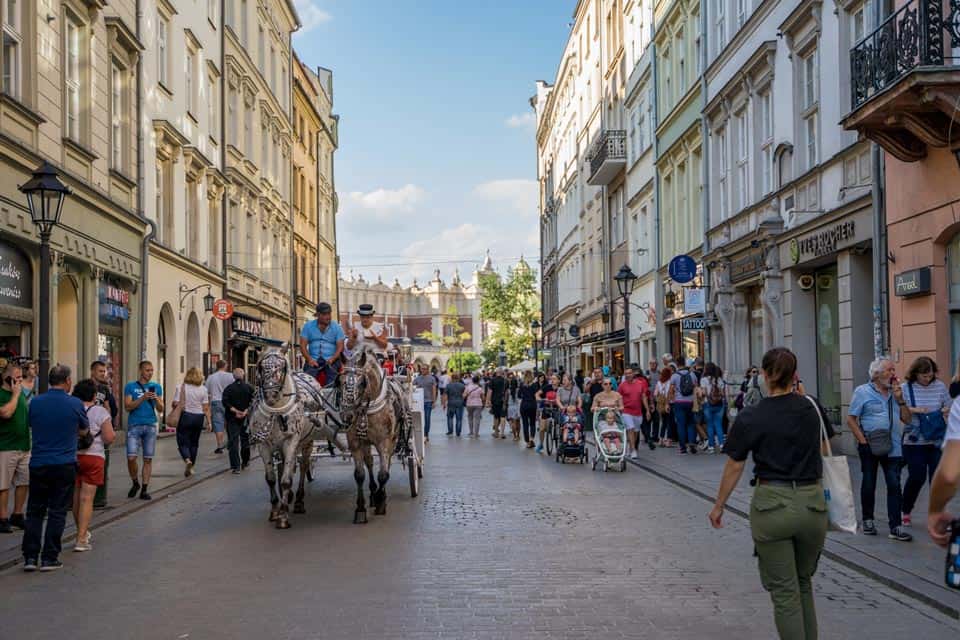 Last but not least, spend your night enjoying some of the best nightlife in Krakow. Krakow's nightlife is some of the best in the world and is often compared to that of Prague. The only difference is the nightlife in Krakow is much more affordable (and Polish vodka is slightly better than Absinthe).
Traveling alone? Or want to find a nice group to go out with? Check out this pub and club crawl!
Day 2: Day Trip To Auschwitz-Birkenau Memorial And Museum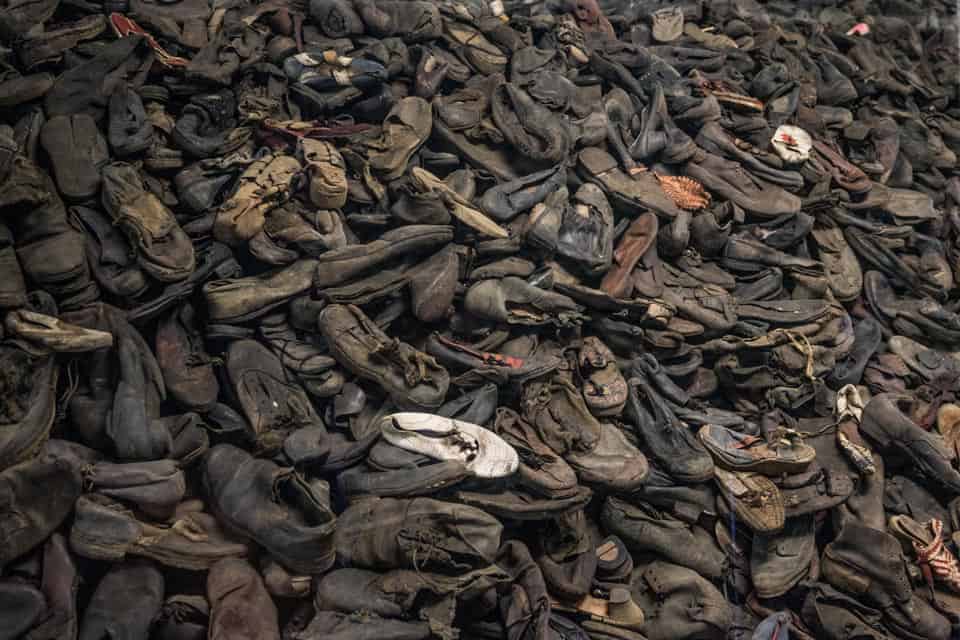 No Krakow itinerary is complete without a visit to the solemn Auschwitz-Birkenau Memorial and Museum. As the largest German Nazi concentration camp and extermination center in World War II, over 1.1 million men, women, and children lost their lives there.
A visit to this UNESCO World Heritage Site reminds us of the destruction of mankind if left unchecked. It shows us what happens when we dehumanize another ethnic group.
Visitors can learn about the Holocaust, the largest genocide in the world, through the exhibits and historic buildings at Auschwitz-Birkenau.
Your day trip to Auschwitz will last about 7 hours, with around 3 hours for transit (there and back) and 4 hours in the museum. There are two parts to your Auschwitz visit, the first one at the Auschwitz 1 concentration camp and the second one at Birkenau.
No matter what you do, don't skip out on this famous Polish site!
How To Visit Auschwitz-Birkenau Memorial And Museum From Krakow (Independently)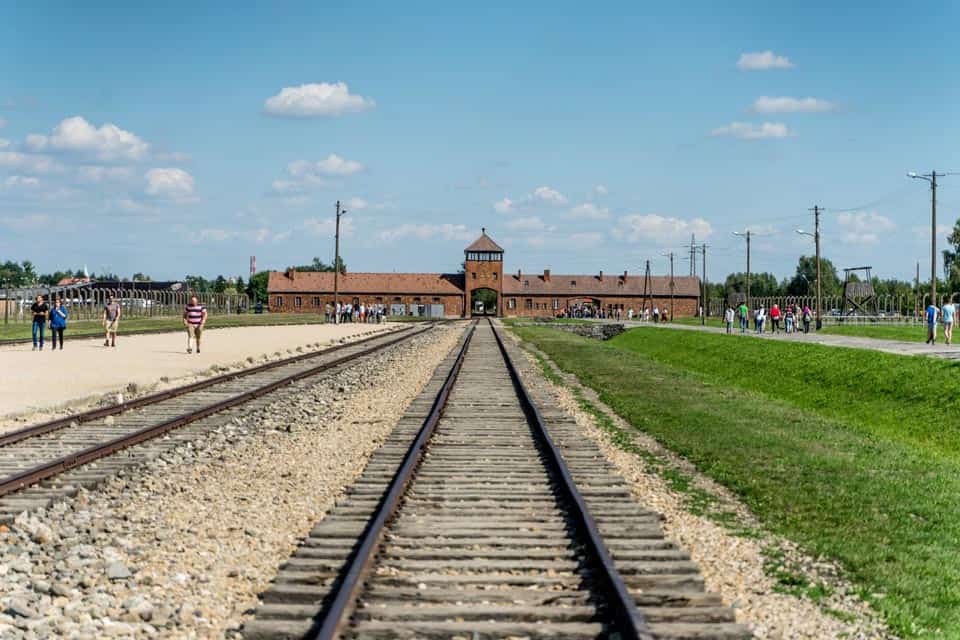 Because Auschwitz-Birkenau Museum is located a 1.5-hour drive away from Krakow, you need to properly plan your day trip to Auschwitz, especially if you don't plan on taking a tour from Krakow.
When it comes to public transportation, you have the option of bus or train. Buses are cheaper than trains but tend to be a bit slower, taking about 1 hour and 45 minutes.
Depending on the bus company, you might even be dropped off far from the actual museum, because the buses tend to drop you off at the Oswiecim train station or bus station. We recommend taking Lajkonik buses, because they drop you off in front of the Auschwitz Museum.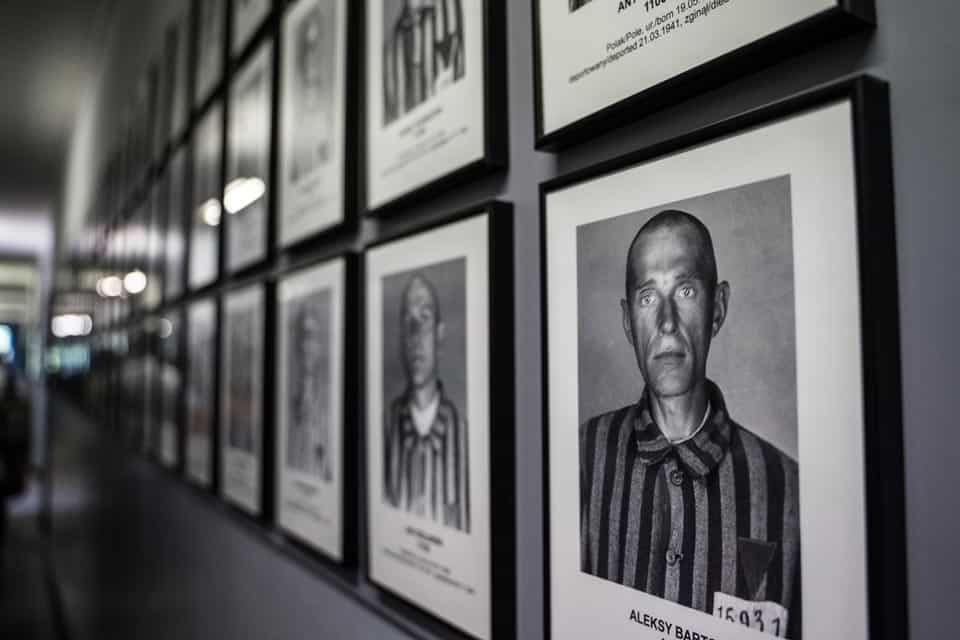 Trains take around 1 hour and 15 minutes to get from Krakow to Oswiecim, the town where the Auschwitz-Birkenau Museum is located. From there, it is a 20-minute walk to the museum.
If you decided to DIY your Auschwitz visit, make sure you purchase a ticket well in advance. Visitors are allowed to enter without a guide (at certain hours of the day) for free, but a guide is essential to learning about the tragic events that happened at Auschwitz.
Make sure you reserve your ticket well in advance (and tour guide) if you plan on visiting Auschwitz on your own. You can do so on the official Auschwitz-Birkenau website here. If you do not make a reservation in advance (and you are lucky), you can join a tour that isn't full yet, but that rarely happens.
Getting an Auschwitz Guided Tour (From Krakow)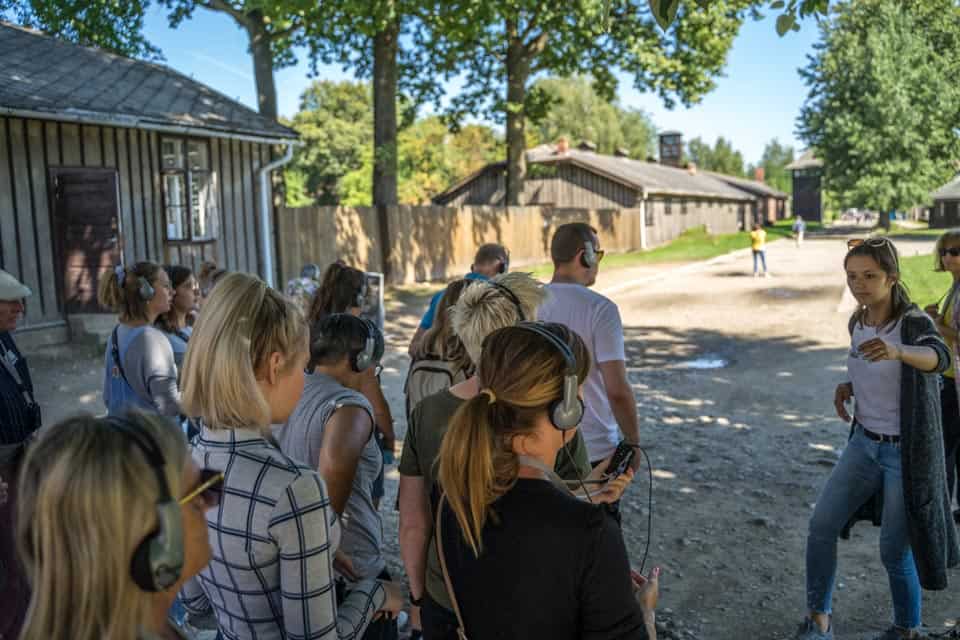 Because arranging your own visit to Auschwitz is a huge headache, we highly recommend you to get a tour before you arrive. Not only are Auschwitz tours cheap, but they provide you with transportation, tickets to Auschwitz, and a professional guide.
There are many small tour companies in Krakow that will offer tours to Auschwitz. However, with your short stay in Krakow, it is going to be difficult to find an Auschwitz tour for the next day, especially in the language you prefer.
That is why we HIGHLY recommend you to book your Auschwitz tour prior to arriving in Krakow.
---
More Time? Add These Attractions To Your Krakow Itinerary
1. Stroll Around Krakow Planty & Check Out The Barbican Of Krakow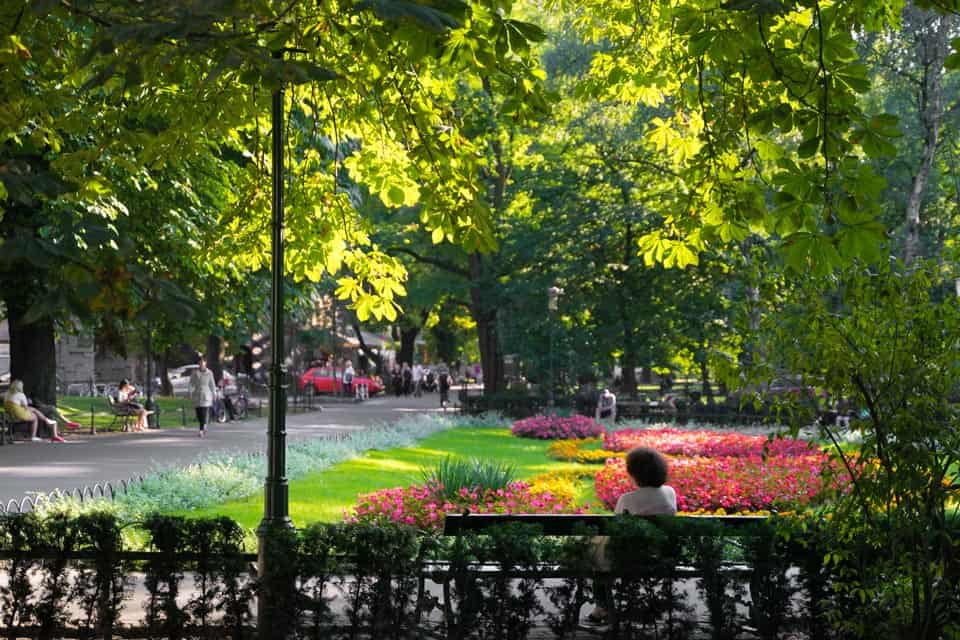 If you spend a lot of time in Krakow Old Town, you might find it a little too overbearing. Luckily, surrounding Krakow Old Town is a beautiful park known as Krakow Planty.
Krakow Planty is the perfect place to just relax. Sit on one of the benches, sip on your cup of coffee, have yummy ice cream, people-watch, or just admire the beautiful scenery (especially during autumn).
Krakow Planty is the home to the Barbican of Krakow, a defense gateway from the 1490s that was part of the medieval city's wall. It is now part of Krakow's Historical Museum.
2. Visit the Rynek Underground Museum (1.5 Hours)
If the free walking tour of Krakow only sparked your interest in the history of Krakow, head over to the Rynek Underground Museum located in the main square of Krakow Old Town.
Located underneath the surface of the bustling Main Square of Krakow Old Town, Rynek Underground Museum is one of the best hidden gems in Krakow.
Visitors will find artifacts that were discovered during the excavation of the historic center and exhibits detailing the rich history of Krakow. Through multimedia presentations such as architectural holograms, AR technology, archeological games, and projections, the museum keeps it interactive for everyone in the family!
Because this museum closes late at 7 PM or 8 PM (except on Tuesdays), it is a good activity after your visit to Auschwitz-Birkenau. However, admission is free on Tuesdays.
3. Oskar Schindler's Enamel Factory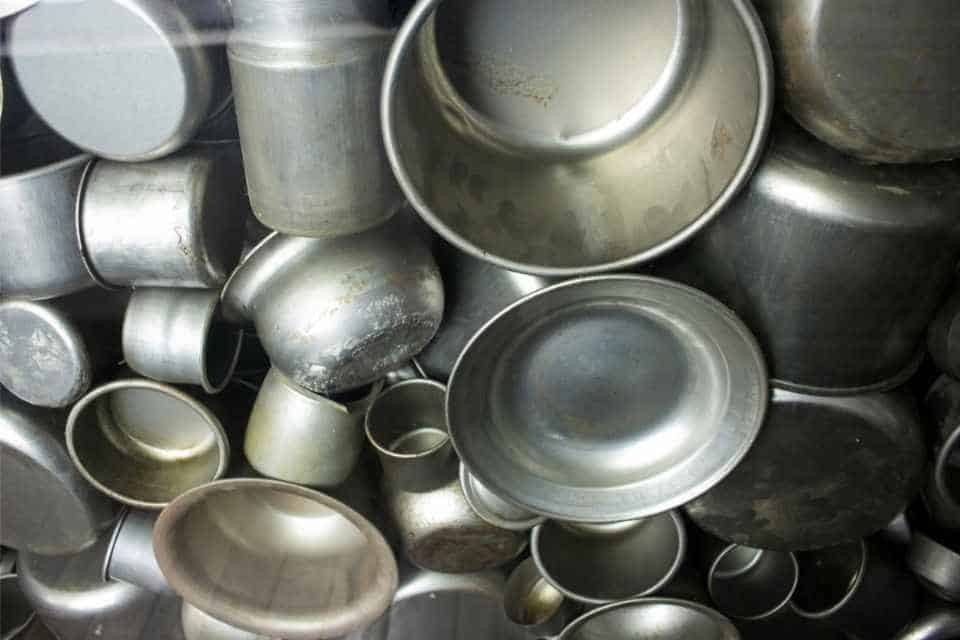 The Oskar Schindler's Enamel Factory is a former metal item factory and now houses a permanent exhibition called "Krakow Under Nazi Occupation 1939-1945". Here visitors will learn about the tragedy that was brought upon the Polish citizens.
The museum is dedicated to Oskar Schindler, a German entrepreneur and member of the Nazi party. He is credited with saving about 1,200 Jews by employing them to work in his factory (instead of getting sent to concentration and death camps).
This museum is worth it (and free on Mondays) if you want to learn more about the Nazi's occupation and the Jews. It is a great place to visit in Krakow if you have more time.
4. Wieliczka Salt Mine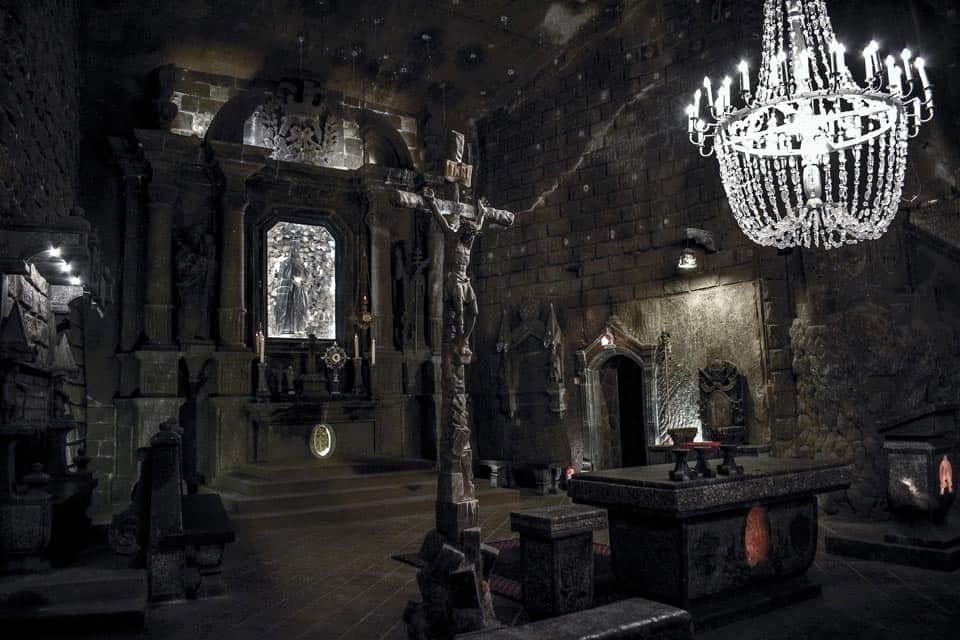 The Wieliczka Salt Mine is a UNESCO World Heritage Site dating back to the 13th century. It earned its title by being one of the oldest operating salt mines in the world. The Wieliczka Salt Mine illustrates the historic development of salt mining techniques.
Discontinued in 2007, the Wieliczka Salt Mine is now an official Polish Historic Monument. Visitors can visit up to a maximum depth of 135 meters below ground, where there is a saline lake, chapels, and statues.
Wieliczka Salt Mine is located about 30 minutes away from Krakow by car. If you are spending 3 days or more in Krakow, you can visit it on one of your extra days.
5. Town Hall Tower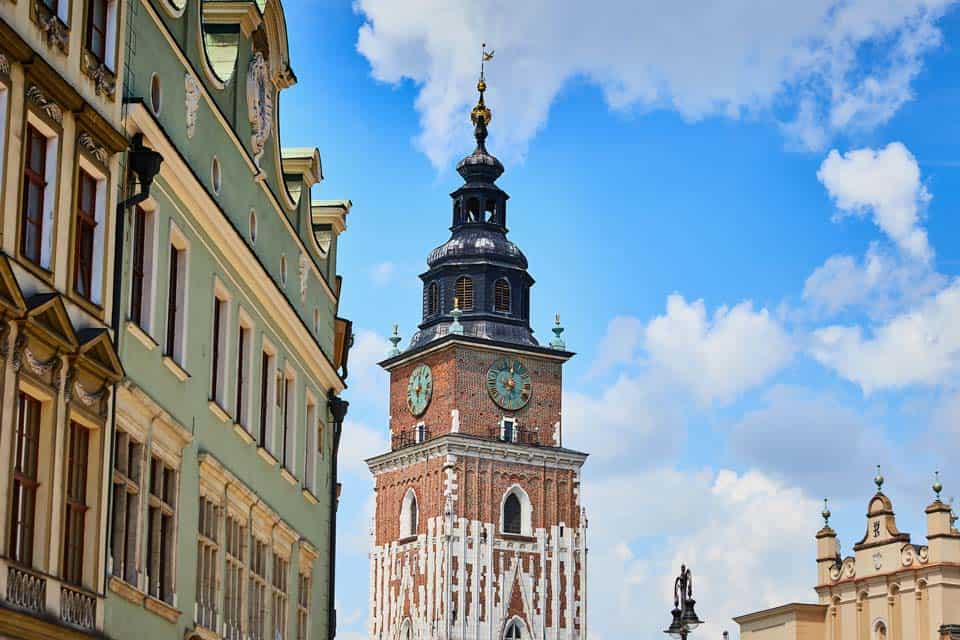 Town Hall Tower is another landmark situated in the main square of Krakow's Old Town. Though it is technically considered a museum, there is very little information, especially when compared to the other ones we've highlighted on our Krakow itinerary.
Most travelers visit the Town Hall Tower for the spectacular views from the top of the tower. Visitors can look out a glass window after climbing over 110 steep steps and have excellent views of the Old Town.
There is a small entrance fee for the Town Hall Tower, which might not appeal to budget travelers.
---
Where To Stay In Krakow, Poland
Since most of the Krakow attractions are located in Krakow Old Town or Kazimierz, it is recommended to stay in one of those areas to maximize your time.
If you want more options on where to stay in Krakow, make sure you check out our Krakow accommodation guide!
Best Hostel In Krakow – One World Hostel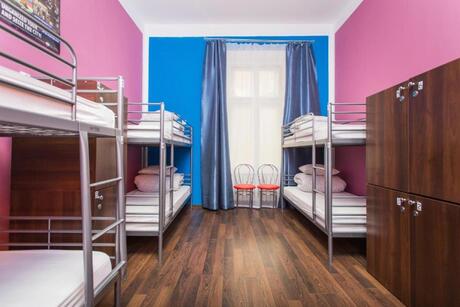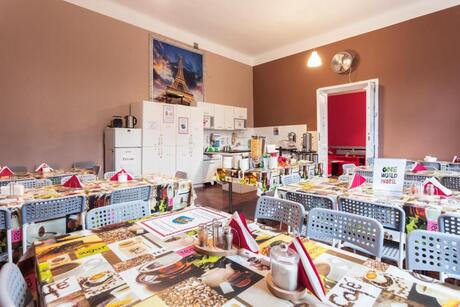 One World Hostel in Krakow is one of our favorite hostels in Krakow. Spanning a total of two floors in a historical building, One World Hostel has both dormitory-style rooms and private rooms.
The dormitory rooms are spacious and each guest is provided his or her own locker, so security and comfort are not an issue here. Its most outstanding feature is the complimentary breakfast. Unlike most hostels that only serve toast on bread, the breakfast at One World Hostel is diverse and delicious.
Guests can have eggs, cold-cut meats, cereal, and much more to prepare for their day in Krakow!
---
Best Hotel In Krakow – Hotel Unicus Palace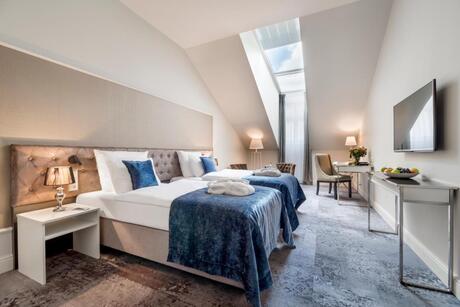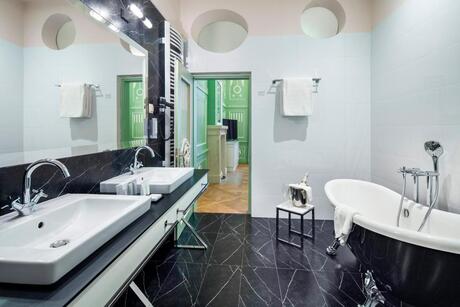 Hotel Unicus Palace is a 5-star hotel located in Old Town Krakow. Within a 4-minute walk are some of the best attractions in Krakow, such as the main square, St. Mary's Basilica, and the Cloth Wall. The lush Krakow Planty is only located 1.5-block away, giving guests the perfect serene escape from the hustle and bustle of the Old Town.
However, you might not need to visit Krakow Planty for your daily escape, because this luxury hotel in Krakow will offer you comfort beyond your imagination.
Each stylish room features modern decor, and the rooms are so clean you can eat off the floor (not that we would recommend it).
Guests will also have access to the wellness center, where they will find an indoor pool, a hammam, and a hot tub. It is the perfect place to soothe your aching limbs after a long day of walking around Krakow or exploring Auschwitz.
---
Best Time To Visit Krakow, Poland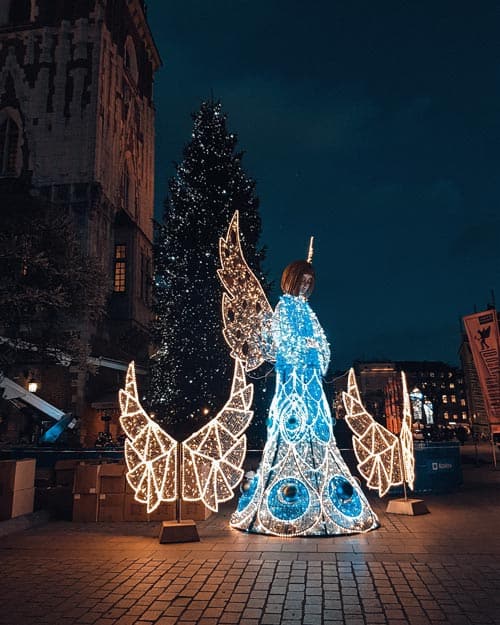 When it comes to the best time to visit Krakow, it all depends on what you are looking for. Generally, the summer months (June to August) are the best months to visit Krakow, as the weather is at its most pleasant. Many of the city's festivals also occur during the summer.
However, it is unbelievable how crowded Krakow can be during the summer. Long queues, high prices, and the risk of not being able to secure tickets for some of Krakow's attractions are some things you need to worry about when visiting Krakow in the summer.
That is why our favorite time to visit Krakow is during late spring (April to May) or early autumn (September to October). At these times, the weather is still pleasant enough for a nice stroll in Krakow Planty or relaxing by the Vistula River. The summer flocks are gone and the charm of historic Krakow returns. Prices are also generally cheaper.
Winter is generally not a good time to visit Krakow or Poland. The temperature hovers around freezing and you can't feel your face when you go out. The only pros of visiting Krakow in the winter are cheaper prices and winter celebrations. Christmas in Krakow is a magical time!
---
Krakow Itinerary FAQs
How To Get Around Krakow?
As a tourist, the best way to get around Krakow is simply by walking. The tourist attractions are all situated near or in Krakow Old Town, and it doesn't take long for visitors to walk from one side to another. Otherwise, you can call an Uber or a taxi.
Is 2 Days Enough In Krakow?
2 days is just barely enough time in Krakow. It is the minimum amount of time we would recommend because you can spend one day exploring the historic center and another day at the Auschwitz-Birkenau Museum.
Can You Do Krakow On A Weekend?
A weekend is just enough time to visit Krakow. You can spend the entire Saturday exploring Krakow Old Town and its surrounding sights. Then you can visit Auschwitz-Birkenau Museum on Sunday morning and afternoon, before heading back home Sunday night.
Like this post? Don't forget to save it on Pinterest!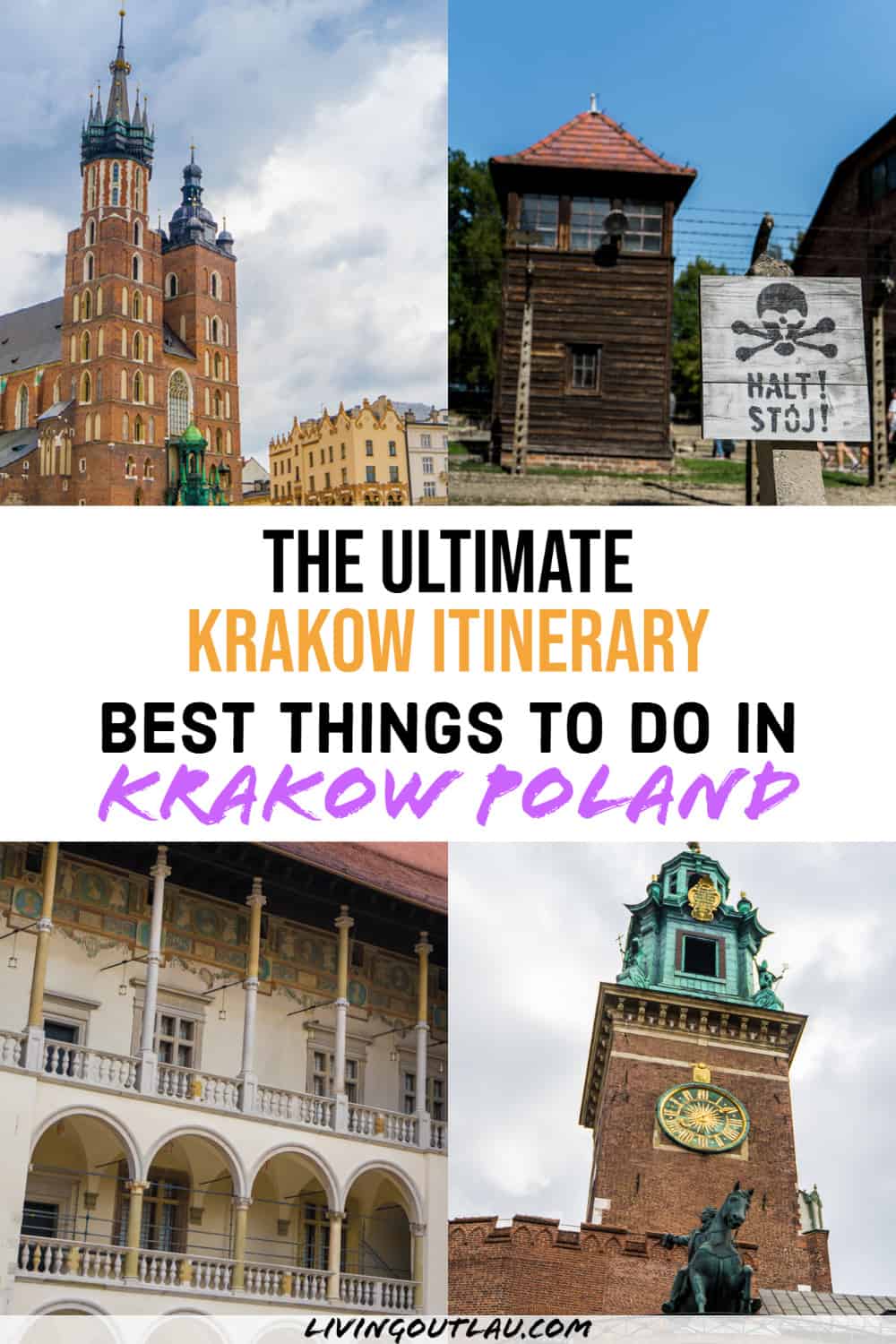 ---
This is the end of our Krakow 2-day itinerary! We hope this guide has helped you plan your trip to one of the most culturally-enriching eastern European cities!

Any questions? Let us know in the comments!
Disclaimer: Some of the links above are affiliate links. That means if you book or make a purchase through the links, we will earn a small commission at no extra cost to you! The money will help run this site! Thank you!