Wondering if visiting Yellowstone in May is a good idea? Worry not.
May is one of the best months to visit Yellowstone National Park. It is the first official month of the summer season. Crowd levels are still low, the weather isn't too hot or too cold, most roads are open, and park amenities are ready for tourists.
Yellowstone in May is perfect for a relaxing, yet action-packed trip to one of America's most popular national parks. Whether you've been dreaming of a geyser trip, wildlife viewing, hot springs, or epic views of the Grand Canyon of the Yellowstone, a May trip may be exactly what you need.
In our guide, you'll find everything you need about planning a trip in May to Yellowstone, including information on accommodations, attractions, and other essential tips!
---
Yellowstone in May Quick Facts
Park Roads:
The West Entrance to Madison Junction, Mammoth Hot Springs to Old Faithful, and Norris to Canyon Village are usually open all of May.
The rest of the roads in Yellowstone have scattered reopenings sometime in May, but when they actually open hugely depends on the weather of the season.
Campgrounds:
Campgrounds are starting to re-open in May. Each campground has a different opening date, and the last one to open is usually in early June.
Lodging Inside Yellowstone:
Lodges have scattered opening dates throughout the month of May. A few reopen in late April and a few reopen in early June. All of the opening dates are weathe

r dependent on the season.
Weather:
The weather is usually chilly, but sunny. There is, however, always a chance of snow or rain in May in Yellowstone.
Crowd Level:
May sees fewer crowds throughout the park compared to other months such as June, July, and August.
Visitor Centers:
Albright Visitor Center is open year-round. West Yellowstone Visitor Center, Old Faithful Visitor Center, and Canyon Education Center are typically all open during May. Most of the other visitor centers remain closed until the end of May.
---
Pros of Visiting Yellowstone In May
An Abundance of Wildlife
The month of May is the peak for wildlife sightings. Bears, bison, elk, moose, and wolves are all out in abundance. Tourists who visit Yellowstone in May are more likely to see wildlife than in any other month.
Bison calves are wandering through Lamar Valley. Elk calves are walking the boardwalks surrounding Mammoth Hot Springs. Bears are coming out of hibernation and starting to make their first big kills of the year.
Roads are Usually Open
Another benefit of visiting Yellowstone in May is that most park roads are usually open. During the winter, all of the roads in the park shut down with the exception of one connecting the North Entrance and Cooke City.
This means that visiting some of Yellowstone's most famous sites (such as Old Faithful and Grand Prismatic Spring) is nearly impossible without overland snow transportation. However, in May, the roads begin opening back up and visitors can once again access all that Yellowstone National Park has to offer.
For the status of the roads in the park, see the official National Park site here!
Well-Stocked Fishing Opportunities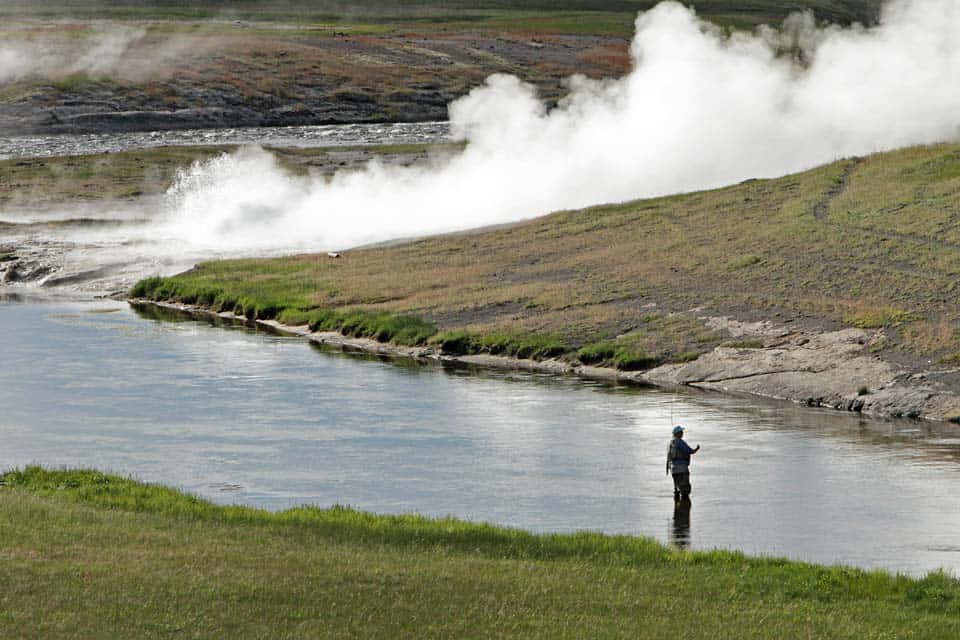 May is the beginning of the fishing season in the Yellowstone region. After Memorial Day, permits become available and anglers begin flocking to the rivers of Madison Valley and Yellowstone National Park. May has some of the highest river run-off meaning that rivers are well stocked with trout.
Read More: Yellowstone In April – Is It A Good Time To Visit?
Lodges Are Re-Opening
If you are visiting Yellowstone in the offseason or peak season, lodging can be difficult to find. However, May is a part of the shoulder season, and it's great time to visit Yellowstone National Park because lodges have just started opening for the season.
Though the dates vary significantly throughout the month — you can find out when each lodge opens on the Yellowstone National Park website — it is easier to get a reservation during May.
There is also a new reservation system for the lodges in Yellowstone, check it out here.
Access to Grand Teton National Park
One of the best things to do in Yellowstone National Park is to take a take trip or two to Grand Teton National Park. The two are connected by Yellowstone's southern entrance and despite being neighbors, offer diverse outdoor experiences. The month of May is the best time of year to visit Grand Teton National Park to watch wildlife.
The park's grizzlies are coming out in mass and Grand Teton is home to many more moose than you'll find in Yellowstone. For any wildlife lover, a trip to Yellowstone's southern neighbor is the perfect addition to a May trip. Plus, due to their proximity, the National Park Service offers a joint pass to experience both parks.
If you have many days to spend in Yellowstone, consider checking out one of the sunrise viewpoints in Grand Teton!
---
Cons of Visiting Yellowstone In May
Muddy Trails
Due to the melting winter snow and warming temperatures, many hiking trails are muddy. Though you can still hike on many of the lower elevation trails, you need to expect mud and possible trail closures while hiking.
The best time for hiking in May is in the early morning to midday. Though chillier temperatures, the mud will be frosted over and easier to navigate. Once the sun begins melting the frost, however, be prepared for muddy boots.
Weather Can Be Unpredictable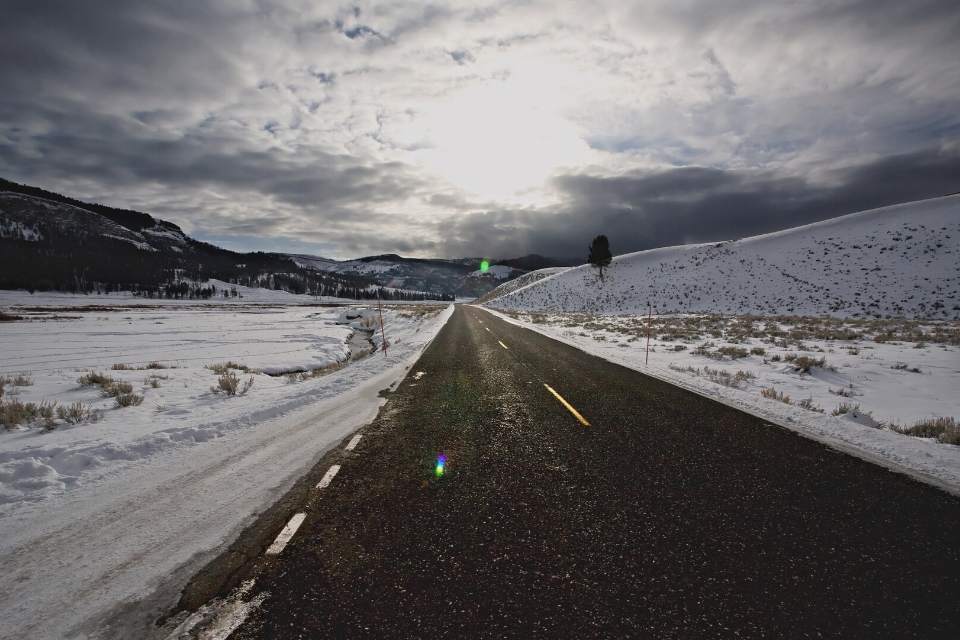 Like most months in Yellowstone, May can have unpredictable weather. With the highest level of precipitation in the year, snow or rain is more likely than not. This means that visitors should be prepared for any type of weather in Yellowstone and also prepare for possible closures that could result from it.
It is not unsure for snow to hit in the higher elevation of the park, so many sure you plan for the worst-case scenario! Make sure you have a good packing list for your Yellowstone trip!
Unexpected Closures
Though many of Yellowstone National Park's facilities, roads, and lodges are open during the month of May, there is still the possibility of unexpected closures. Much of Yellowstone's seasonal staff are just arriving to the area and the weather can still take unexpected turns during May.
This means that certain areas may be unexpectedly closed due to staffing issues, weather, and other surprise issues. You can stay updated on possible closures by monitoring Yellowstone's website.
Lodges and Camping Have Staggered Opening Dates
Though many of the lodges and campgrounds are opening during the month of May, they do have staggered opening dates. This can be confusing if it is your first time visiting Yellowstone and you are trying to navigate the reservation process.
During this time of year, make sure to plan what areas of the park you want to focus on. Keep updated on the opening dates of the lodges and schedule your stays accordingly. You can also consider other lodging options in entrance cities such as Gardiner, Cooke City, or West Yellowstone.
Entrance City Activities Haven't Begun
Yellowstone National Park is more than just a national park, it is also the entrance towns that support visiting tourists and maintain the regional beauty. Though a visit in May lets visitors experience the national park's beauty, you may miss out on some of the cultural activities in Yellowstone's entrance towns.
The evening shoot-out in Jackson, WY, doesn't begin until June, West Yellowstone's Playmill Theatre doesn't have shows until the last weekend of May, rafting in Gardiner doesn't begin until late May if not early June.
---
Yellowstone Weather In May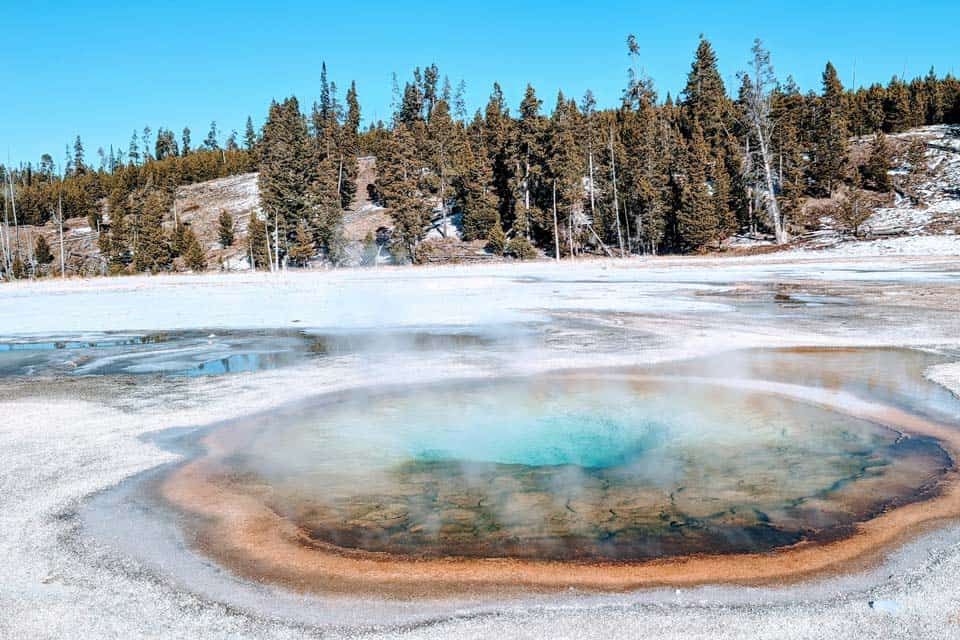 Weather in Yellowstone is still unpredictable in May. The region is famously known for unexpected snow and rain. However, May is when the winter weather finally starts warming up. Though still chilly, many of the days are sunny, and the weather isn't considered frigid.
The average weather in May is between 28°F (-2.2°C) and 52°F (11.1°C). Yes, these temperatures are still cold, but the beginning of warmer weather is on its way.
Yellowstone also receives approximately 11.5 days of rainfall during the month of May — the highest rain levels of the year. Depending on the temperature, this precipitation could also be snow.
---
Things To Do in Yellowstone in May
Hiking to the Grand Prismatic Spring Overlook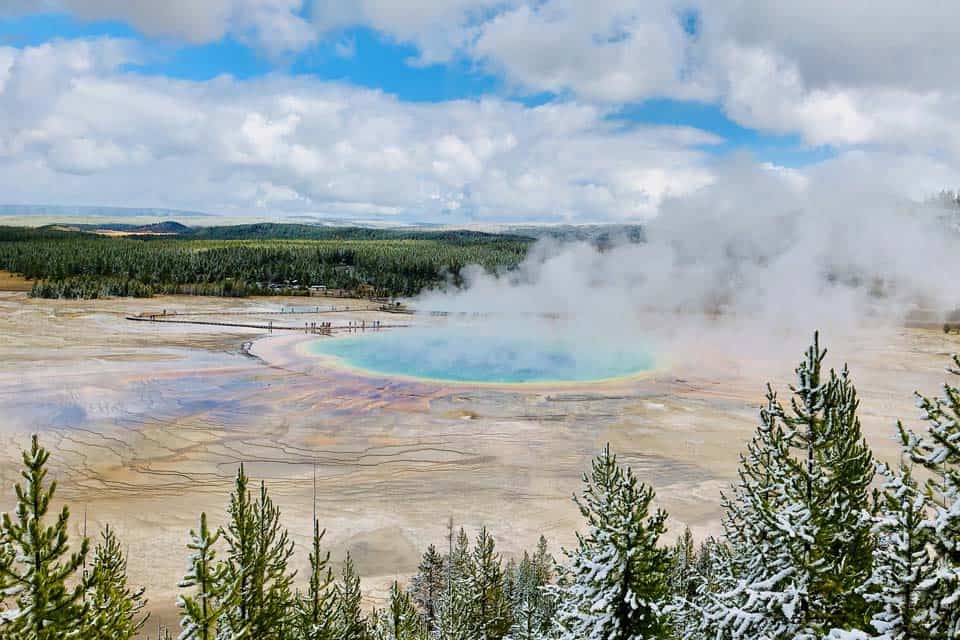 Grand Prismatic Spring is one of Yellowstone National Park's most famous geothermal features. The rainbow-colored spring is the park's biggest hot spring and measures approximately 370 feet in diameter.
The best way to truly experience the vastness of this geothermal wonder is by hiking to the overlook. Located on a hill behind the spring, the overlook provides panoramic views of Grand Prismatic's mineral beds, Excelsior Geyser, and the Midway Geyser Basin.
To get to the hiking trail to Grand Prismatic Overlook, you should park in the Fairy Falls trailhead parking lot and follow the Fairy Falls trail for approximately 0.75 miles. When the trail splits, a sign will direct you left and uphill toward the overlook. The right split of the hiking trail will take you to Imperial Geysers and Fairy Falls — this is a wonderful addition to your overlook hike.
Keep in mind that sunny days are the best for visiting Grand Prismatic Spring and Excelsior Geyser and hiking to the overlook. The microorganisms living in the spring's mineral beds are thermophilic, or heat-loving. They use photosynthesis to produce the colors they are so famous for.
Don't miss this on your Yellowstone itinerary!
Visit the Bison and Elk Calves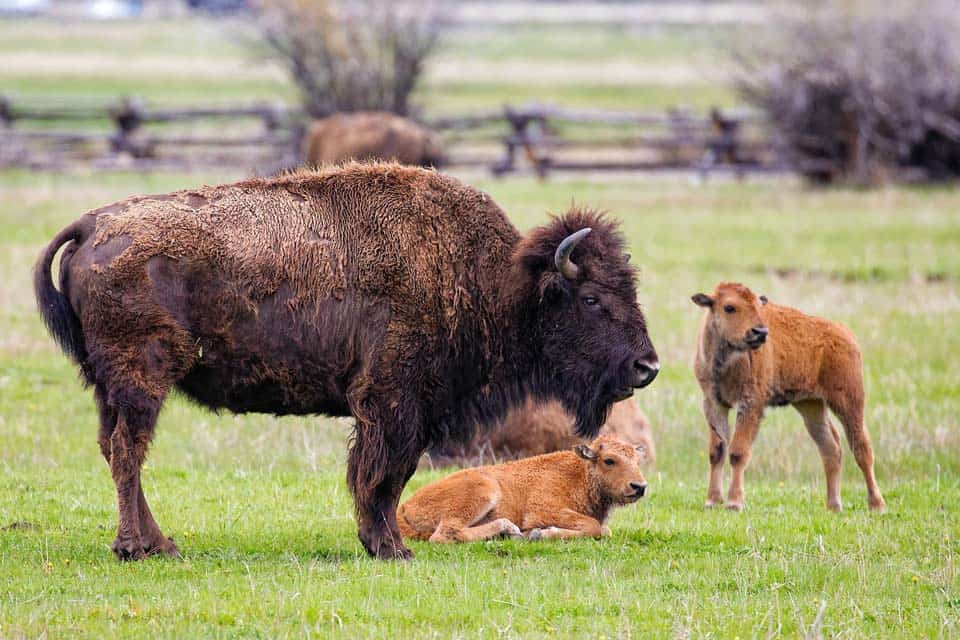 May in Yellowstone means that elk and bison calves are in abundance. Wildlife fanatics travel to the region to get a glimpse of the young animals as they explore lower elevations.
Visitors can usually find bison calves in the areas near the Madison Junction on the West side of Yellowstone National Park or in Lamar Valley in the park's North.
As one of the only free range herds in the lower 48 states, you will more than likely see the herds in valleys or even walking along the roadside. Be aware that Yellowstone does have bison-caused traffic jams that can delay your schedule due to a bison standing in the middle of the road.
Elk herds usually frequent the town of Mammoth near the North entrance of Yellowstone. The herds hang out in town with their calves near the Mammoth Hot Springs boardwalk and trails. Be aware while hiking that elk can be aggressive and though they are in town will charge you if they feel threatened.
Fishing in the Western Areas of the Park
For anglers, fishing in Yellowstone National Park is a dream come true. Fishing season begins each year on the Saturday of Memorial Day weekend.
To fish in Yellowstone National Park, you do need a special permit. It is important to purchase a pass prior to arriving at the park. With so many anglers, getting in and finding a spot early is imperative to your fishing success.
Firehole River is one of the best places to fish in Yellowstone National Park. Anglers consistently have a good opening day on Firehole River. One reason is that the Firehole River doesn't have as much mud as others during May. This makes it easier to fish during high run-offs. The Firehole River is unique in this way compared to other rivers in the region.
Visit Yellowstone Lake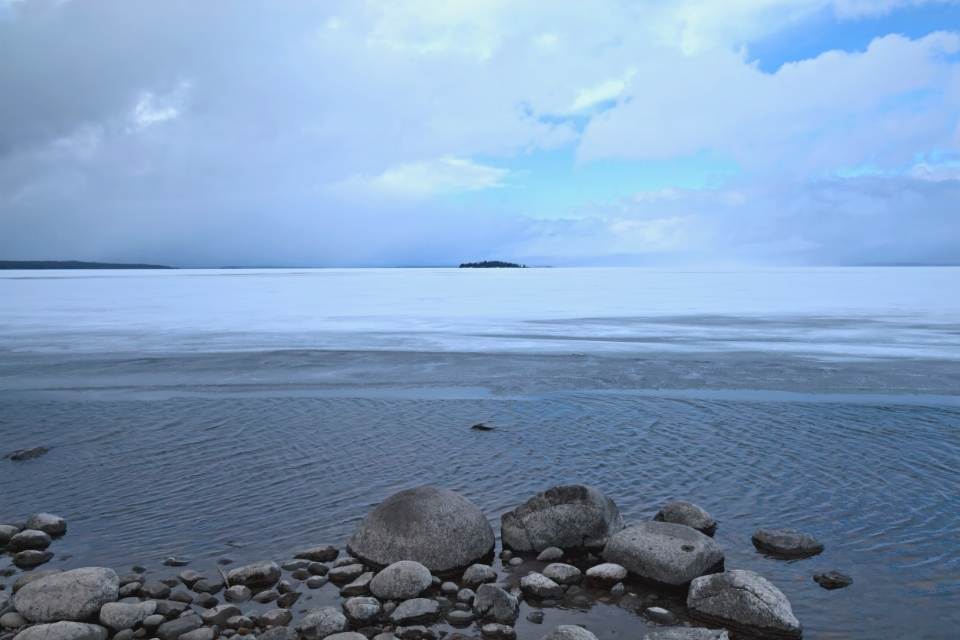 Though Yellowstone Lake has more activities in the later summer months, May is the best time to see it before it thaws. Yellowstone Lake sits at 7,733 feet (2,357 m) above sea level and is the largest high-elevation lake in North America. It covers 136 square miles and is a site to see no matter the time of year.
However, May in Yellowstone is a unique time to visit West Thumb. The lake is still frozen over and has just barely started to thaw. Though this means no paddleboarding or boating, May is the only month visitors can see Yellowstone Lake frozen over.
The expansive ice is magnificent and a unique way to experience this underrated attraction in Yellowstone National Park. You can also visit the West Thumb Geyser Basin to do some hiking among some of the area's geothermal features.
Wildlife Viewing in Lamar Valley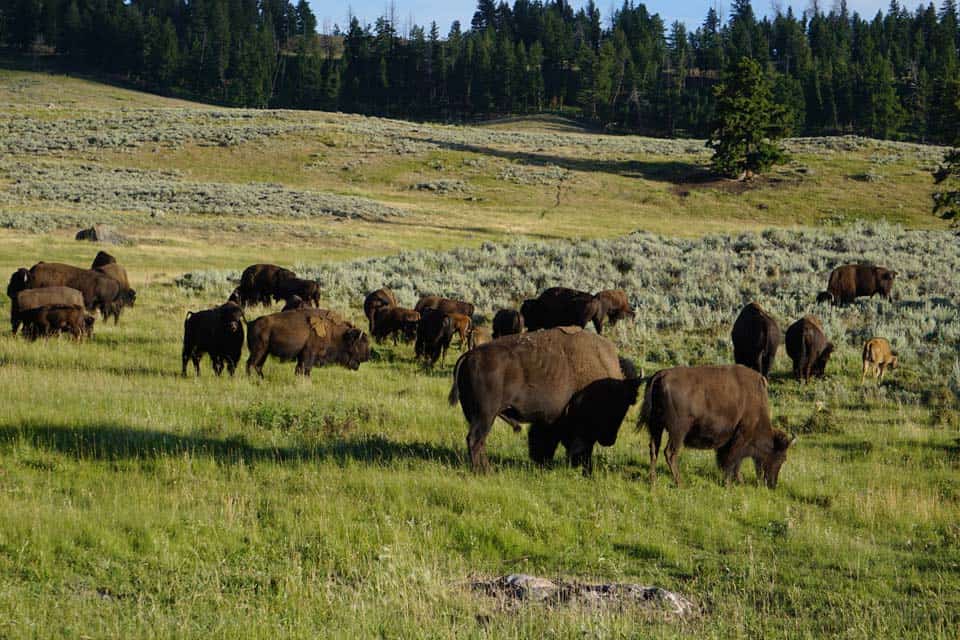 Bison and elk aren't the only wildlife out and about in May. Grizzly and black bears are finishing up their hibernation and starting to move into their big-game hunting and scavenging.
During the month of May, many grizzlies stake out carcasses providing wildlife photographers and fanatics alike the perfect opportunity to see these animals in the wild.
Bear sightings are most likely to happen along the Yellowstone River in Lamar Valley or near the park's south entrance in both Yellowstone and Grand Teton National Parks. Please remember that these are wild animals and to always stay at least 100 yards from them.
You can also spot bighorn sheep while visiting Yellowstone near the north entrance in Gardiner Canyon and Mammoth Hot Springs. You can also book one of the areas' many wildlife tours to help you locate the animals and find the best times to see them.
---
Yellowstone In May FAQs
Is May A Good Month To Visit Yellowstone National Park?
May is one of the best months to visit Yellowstone. It is considered to be the first month of summer, which means that all of the attractions in the park are starting to open. But visitors won't find the big crowds and marked-up prices as they would in the summer months.
Is Everything Open In Yellowstone In May?
Everything could be open in Yellowstone in May, but it largely depends on the weather conditions of the year. If the warm weather comes earlier than usual, they most things will be open in May. But if the weather remains cold and the ice has not melted from the winter, you might not see everything open until early June.
Do You Still See Snow In Yellowstone In May?
Yes, snow is definitely a possibility in May, especially in the earlier parts of the month. It is more common in the higher elevations of the park, but is usually quite rare in the part with lower altitudes.
Can You Visit Old Faithful In May?
Generally speaking, there is at least one road open to Old Faithful in May, which is usually from the West Entrance or North Entrance. The road from Old Faithful to the South Entrance usually opens something in May, so visitors might be able to take that to get to Old Faithful as well.
---
There are plenty of advantages and disadvantages when visiting Yellowstone in May, but in this case, the pros outweigh the cons. So if you were deciding whether you should take a trip to Yellowstone during this month, I hope you can make an informed decision now!
Disclaimer: Some of the links above are affiliate links. That means if you book or make a purchase through the links, we will earn a small commission at no extra cost to you! The money will help run this site! Thank you!