Not sure where to stay in Tampa, Florida? Worry not.

As one of the biggest cities in Florida, there are many places to stay in Tampa. Too many actually. Its perfect balance of historical attractions, charming houses, lively nightlife, and upscale living has attracted tens of thousands of visitors to Tampa per year.

As a result, many accommodations in Tampa have spawned up and choosing the right one just cannot be more difficult.

That is why we have written this Tampa guide on the best Airbnbs in Tampa!
Staying in an Airbnb is a great way to give back to the locals and get insider information from your hosts!
Where To Stay In Tampa, Florida?
Depending on your traveling needs, different areas in Tampa will appeal to you more than others. In this section, we will talk about the 4 most popular areas to stay in Tampa Florida and why you might want to stay there.
Downtown Tampa
If it is your first time in Tampa, then we highly recommend staying in Downtown Tampa. As the center of Tampa, Downtown Tampa is the heart of the action and is well-connected to other parts of Tampa.

Skyscrapers, trendy cafes, historical places, family-friendly parks, and museums dot the busy streets of Downtown Tampa. If you are traveling for work, downtown Tampa might just be perfect for you, as it is also the main business district in Tampa.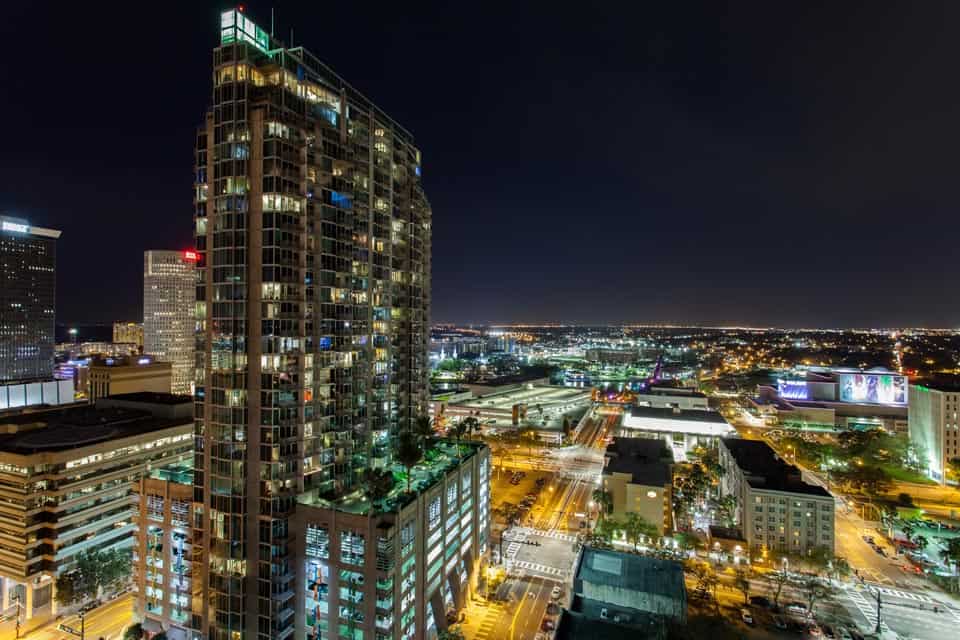 Ybor City
Ybor City is a designated National Historic Landmark District with several structures in the neighborhood listed in the National Register of Historic Places. Located to the immediate northeast of Downtown Tampa district, visitors are still within close vicinity of the best modern facilities of the city.

Once the "Cigar Capital of The World", Ybor City is now a tasteful historic district with nice restaurants, trendy bars, and a cocktail-serving movie theater. Visitors can also get a glimpse of the past through one of its cigar tours.

Ybor City is arguably the liveliest nightlife district in Tampa and arguably Tampa's most famous area. Anyone staying in Ybor City should be aware of the possible noise pollution, especially if you are not a nightlife lover.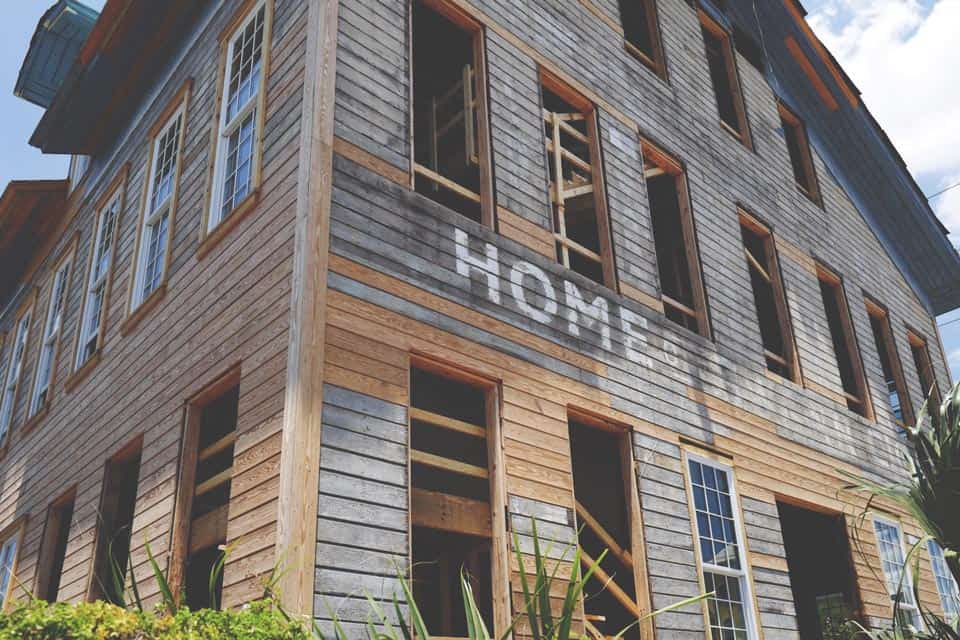 Hyde Park
Hyde Park is one of the most upscale and trendy places to stay in Tampa, Florida. This highly desirable Tampa neighborhood is located close to the University of Tampa and Downtown Tampa, offering visitors great accessibility to various places in Tampa.

With lots of fine-dining establishments, expansive shopping options, and the modern Hyde Park Village, Hyde Park is the perfect place to stay for visitors seeking luxury and don't mind paying a little extra.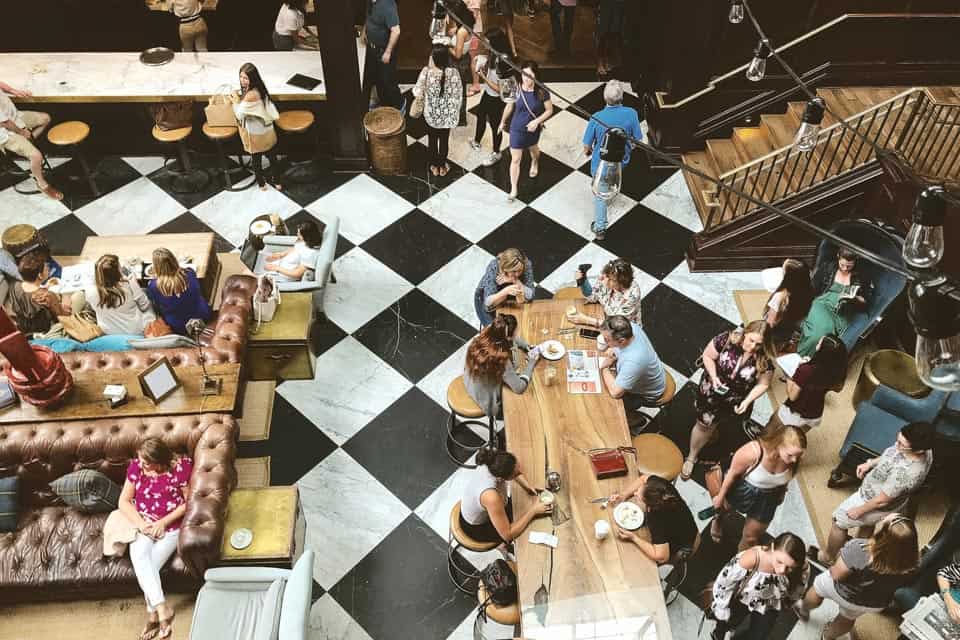 Seminole Heights
Seminole Heights is a historic district located in Central Tampa. Known for its old bungalows, bohemian appeal, and quirky bar scene, it is one of the best places to visit in Tampa. Luckily for you, many Airbnbs in Tampa are located in Seminole Heights, like the historical bungalows we mentioned.

With its central location in Tampa, Seminole Heights is within a 15-minute drive from most of the attractions in Tampa. Staying in Seminole Heights will never be a bad idea when visiting Tampa.
Want A Quick Tip On The Overall Best Airbnb In Tampa Florida?
Luxury Townhouse In South Tampa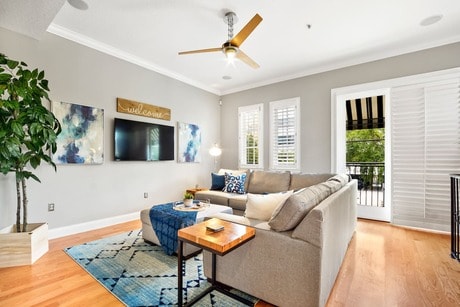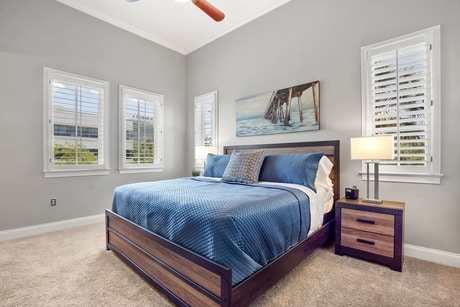 If you are looking for a well-rounded place to stay in Tampa that is perfect for families, groups, couples, or even luxury travelers, then this 3-story townhouse is perfect for you.

With its superb location in Hyde Park of South Tampa, visitors are within walking distance from some of the best things to do in Tampa such as Hyde Park Village and the scenic Bayshore Boulevard. The historic Ybor City District is also within a 5-10 minute drive away.

When you are not discovering the best of Tampa, travelers will find the utmost comfort in this Tampa Airbnb. A total of 5 dreamy beds are ready to provide you with the perfect night's rest. If you don't feel sleepy, cozy up on the second-floor living room and watch something on their 50″ Roku TVs.

On the second floor, guests will also find a fully-equipped kitchen along with a coffee maker and a Keurig machine. With a freshly brewed cup of coffee, step onto the balcony and soak in the refreshingly Florida sun!

Location: Hyde Park

Maximum Guests: 7 Guests
Best Tampa Airbnbs For Luxury Travelers
1. Urban Oasis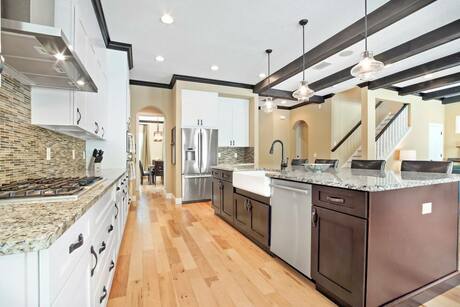 Luxury matched with privacy and comfort, this Urban Oasis Airbnb in Tampa is the perfect dream vacation home. Its most outstanding feature is the immaculate backyard with a perfect turf and a relaxing pool. Visitors can find the utmost comfort sun lounging or cooling off without having to visit one of the beaches in Tampa.

When you are not "chilling like a villain", this Airbnb's ideal location in Hyde Park allows you to explore the best of Tampa. Many fine-dining establishments and upscale shopping centers are all within walking distance away. The Bayshore Boulevard with its sweeping views of Hillsborough Bay is also a short walk away.

The interior of this elegantly designed, featuring granite counters, a freestanding tub and other modern amenities. Guests will inevitably find a pleasant stay at this urban oasis.

Location: Hyde Park

Maximum Guests: 12 Guests

Click here for more details!
2. The Urban Perch w/ Private Rooftop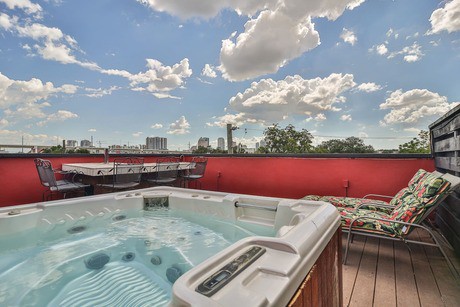 The Urban Perch is a luxury modern home located in the historic Ybor City District in Tampa, FL. Two blocks away from the famous 7th Street in Ybor City, guests have access to some of the best dining options, nightclubs, and cigar shops.

When guests are not exploring Tampa, they will find the utmost luxury and comfort at The Urban Perched. The mid-century modern interior decor along with the warm contemporary style creates the coziest atmosphere anyone can dream of.

However, it doesn't just end with its spectacular interior. Guests have access to the open-air rooftop that offers incredible views of Tampa as well as a hot tub to soothe their aching limbs after a tiresome day. Soak your worries away in the hot tub as you watch the Floridan sun set below the horizon!

Worried the Ybor City District might be too noisy? Each room is equipped with a white noise machine that can drown out any noise from the streets!

Location: Ybor City

Maximum Guests: 6 Guests

Click here for more info!
3. The Wright Place – F.L Wright Inspired Home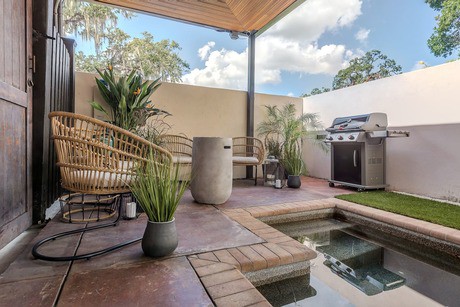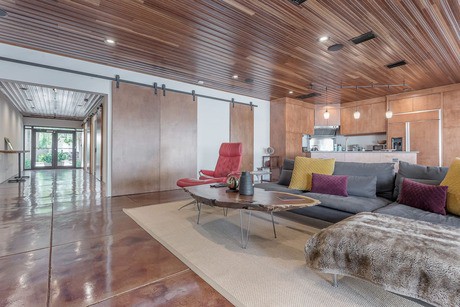 Inspired by the famous architect Frank Llyod Wright, The Wright Place is an accommodation in Tampa unlike any other. Guests will find elegant designs and beauty in every corner.

In the rear garden, guests will find the utmost privacy as they enjoy doing laps in the large swimming pool. Sunbathe on the turf or just relax on one of the 1-person cushioned seaters. Better yet, fire up the grill and have a barbecue with the whole family!

If you thought the backyard was beautiful, then the interior will drop your jaws. From the open-concept space to the luxurious decor, this Airbnb in Tampa will leave you awestruck. With so much space, this is the perfect place for a big gathering or a party.

With the ability to comfortably accommodate up to 9 guests, this small villa is perfect for families, groups, couples, or even solo travelers who want to indulge in some of the finest things to life. Its location in Hyde Park, one of the most upscale neighborhoods in Tampa, will also ensure that you have nothing but luxury here.

Location: Hyde Park

Maximum Occupancy: 9 Guests

Click here for more information!
Best Airbnbs In Tampa For Families Or Groups
1. Resort-Style Home w/Jacuzzi, Pool & Grill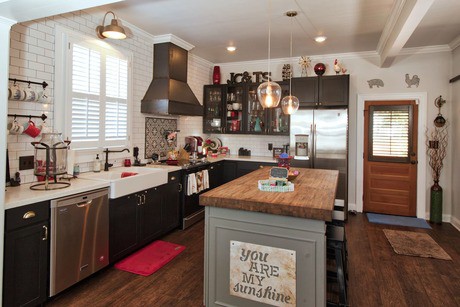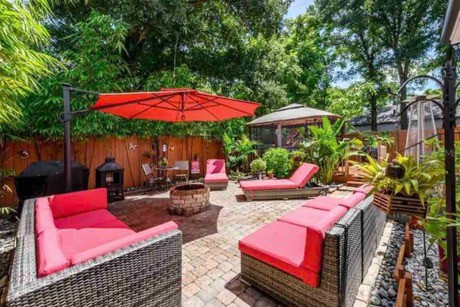 Known as "The Pickett Fence", this historically recognized Cape-Cod style home was built in the 1920s. It was recognized as the best historic business and best Airbnb in Seminole Heights for 3 years in a row!

The spacious private outdoor patio is definitely the gem of this home. Featuring a hot tub in a gazebo, a large sweet pool and a grill, there is something for everyone in the family. Days will fly by as you completely de-stress in the incredible outdoor patio.

The interior of this Airbnb is far from lackluster. Guests will find a chef gourmet kitchen, homey decor, and entertainment services such as Netflix, Disney+ and FireStick all ready for your enjoyment.

This Tampa Airbnb vacation home also features a karaoke machine, perfect for making some fond memories with your friends or family.

Located in the historic Seminole Heights, guests will find many early 20th-century bungalow homes and historic buildings in this area. You will also find many restaurants and bars in this area, but not as much when compared to Ybor City or Downtown Tampa.

Nevertheless, Seminole Heights is a great place to stay in Tampa, Florida.

Location: Seminole Heights

Maximum Guests: 6 Guests

Click here to see more photos and availability!
2. Urban Bungalow w/ River Views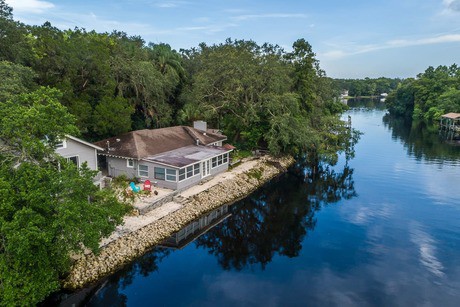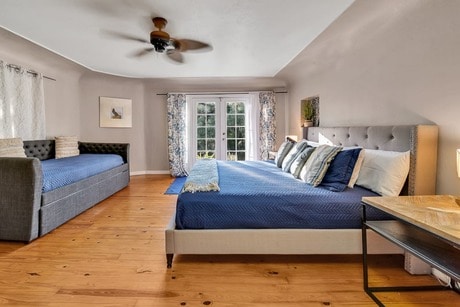 This 6-bed 2-bath urban bungalow is perfect for any traveler that prefers a balance of nature and urban city. Located on the shores of the Hillsborough River, guests are blessed with serene river views. If you are lucky, you might even see marine life such as egrets, ibises, fish, and even dolphins and manatees!

Kayaks and life jackets are also free to use in this 2,200 sqft vacation home in Tampa. Visitors can kayak up and down the Hillsborough River with their family or friends, or go for a refreshing swim without heading to one of Florida's beaches. Either way, it is a unique experience that will surely be cherished.

Guests can also enjoy the beautiful fire pit, especially at sunset or sunrise. The warming flames provide comfort unlike any other thing in the cool Florida nights and mornings. The outdoor space is also an excellent place for kids to play around.

Inside the Airbnb guests will find spacious living spaces, a kitchen with refrigerator, stove, vintage marble top breakfast bar, and 3 bedrooms for the perfect night's rest.

Located in Seminole Heights, you are not far from the best attractions of Tampa. Places such as Hyde Park, Downtown Tampa, Ybor City, or the family-friendly Busch Gardens are all within a short drive away.

Location: Seminole Heights

Maximum Guests: 10 Guests

Click here for more details!
3. Pet-Friendly Bungalow w/ Pool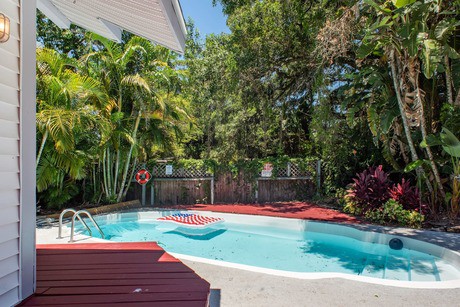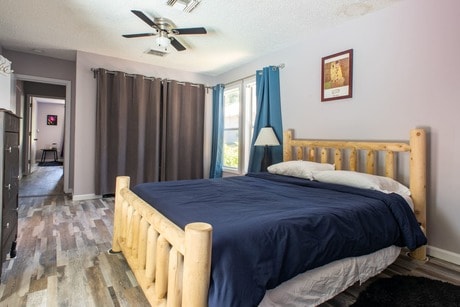 This classic 1940's pet-friendly Tampa bungalow is the perfect place for a Florida getaway. Featuring a private lush garden with a pool, guests can enjoy the glorious Florida sunshine in the rear patio. Pets are also allowed for NO extra fee whatsoever, something rare when it comes to Airbnbs.

If you are traveling to Tampa with kids, they will fall in love with the game room. With games such as darts, air hockey, and foosball, expect many hours spent here! A variety of board games are also available for some family bonding time.

Netflix, Hulu, and prime TV are also available on the Smart TV, so guests can just lounge around in the cozy living room after an exhausting day.

Similar to many family-style Airbnbs, this one is also located in Seminole Heights. In this historic district, guests will find restaurants, bars and cafes for their everyday needs. Traveling to other top sightseeing places in Tampa is easy, as they are all within a short drive away.

Location: Seminole Heights

Maximum Guests: 6 Guests

Click here for more info!
Best Tampa Airbnbs For Couples
1. Romantic Luxury Getaway w/ Private Jacuzzi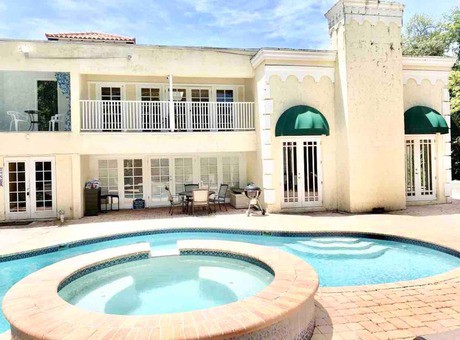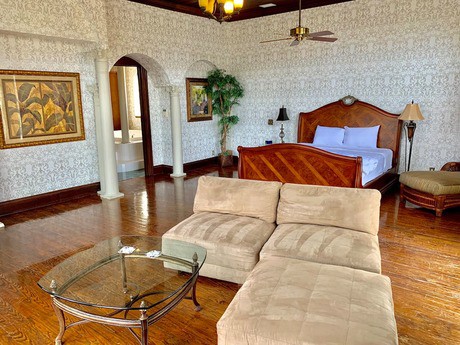 If you are looking for a romantic experience in Tampa, this luxury villa is perfect for you. The most iconic feature is unquestionably the jaw-dropping private hot tub. With its high-rising columns and pure white tiles, it feels like you are a king in the Roman Empire.

Spacious enough for two people to fit in comfortably, you and your loved one can share this intimate experience!

Guests will stay at one of the four luxurious suites in this Spanish style villa. Consequently, there are many amazing amenities that are shared. Those include a huge outdoor patio with a swimming pool, a pool table, a ping pong table, a fishing dock (because this Airbnb is situated adjacent to the Hillsborough River), and a chef's kitchen.

Located in Seminole Heights, many of the city's best attractions are within a 10-minute drive away, though you probably won't want to step out of your romantic Airbnb!

Location: Seminole Heights

Maximum Occupancy: 2 Guests

Click here for more info!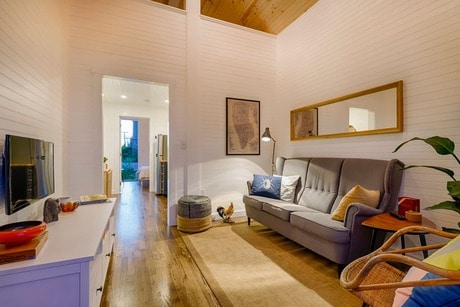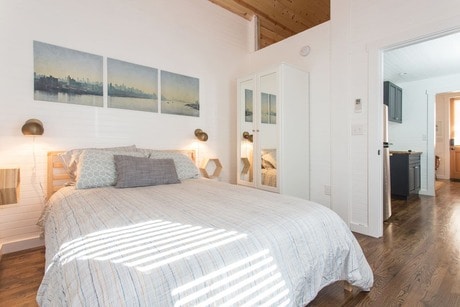 Located in the historic district of Ybor City, this award-winning small house (casita) is the ideal base for exploring Tampa. It is less than 5 minutes from Amalie Arena, the convention center, downtown Tampa, cruise ports, and historic 7th Street, offering guests many entertainment and dining options.

When you are not exploring Tampa, the small casita will provide comfort and intimacy for you and your partner. Though relatively small compared to some of the other Airbnbs in Tampa, it has everything to make your stay comfortable.

The small kitchen houses a sink, two-burner electric cooktop, stainless steel fridge, coffee maker, and electric kettle. A small foldable table serves as the perfect place for a quiet, sunlit breakfast at home, or used as a desk for an afternoon of work.

The most heart-warming thing about this Airbnb is the "cheat sheet" left by the hosts. This "cheat sheet" contains 15 years of expertise about Tampa and you are sure to get the best recommendations from your friendly hosts.

Location: Ybor City District

Maximum Guests: 2 Guests

Click here for more info!
3. Modern River Cottage w/ Kayak & Hot Tub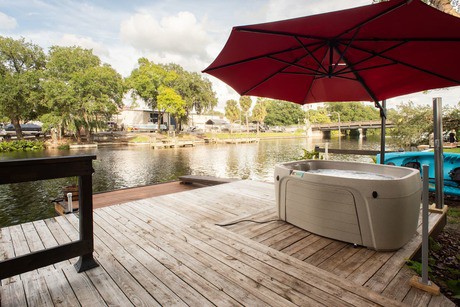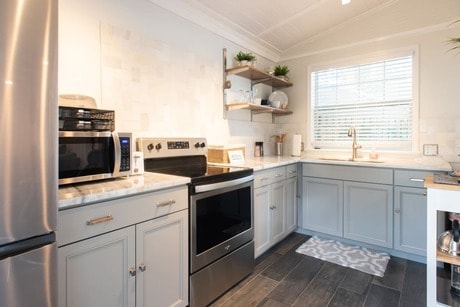 Located on the Hillsborough River, this 2-person chalet is one of the most romantic accommodations in Tampa. Guests can relax on the beautiful large deck that overhangs the river, offering zen and peace unlike any other place in Tampa.

The view from the outdoor deck is spectacular, especially at night. The historic Sulfur Springs Water Tower lights up at night, and guests can admire its beauty from the soothing hot tub on the deck! Want to shock your system? Jump into the cold river right after you get out of the hot tub.

The Hillsborough River also offers plenty of activities in the day time. Guests can make use of the tandem kayak and explore everything the river has to offer. Or, you can take advantage of the grill and cook your favorite food!

The interior of this Tampa Airbnb is equally spectacular. Guests will find the perfect king bed with a cable TV, all ready to ensure you an amazing rest. The fully-stocked kitchen is a great option to make your meal if you don't want to fire up the grill!

Location: Seminole Heights

Maximum Guests: 2 Guests

Click here for more information!
Like this post? Don't forget to save it on Pinterest!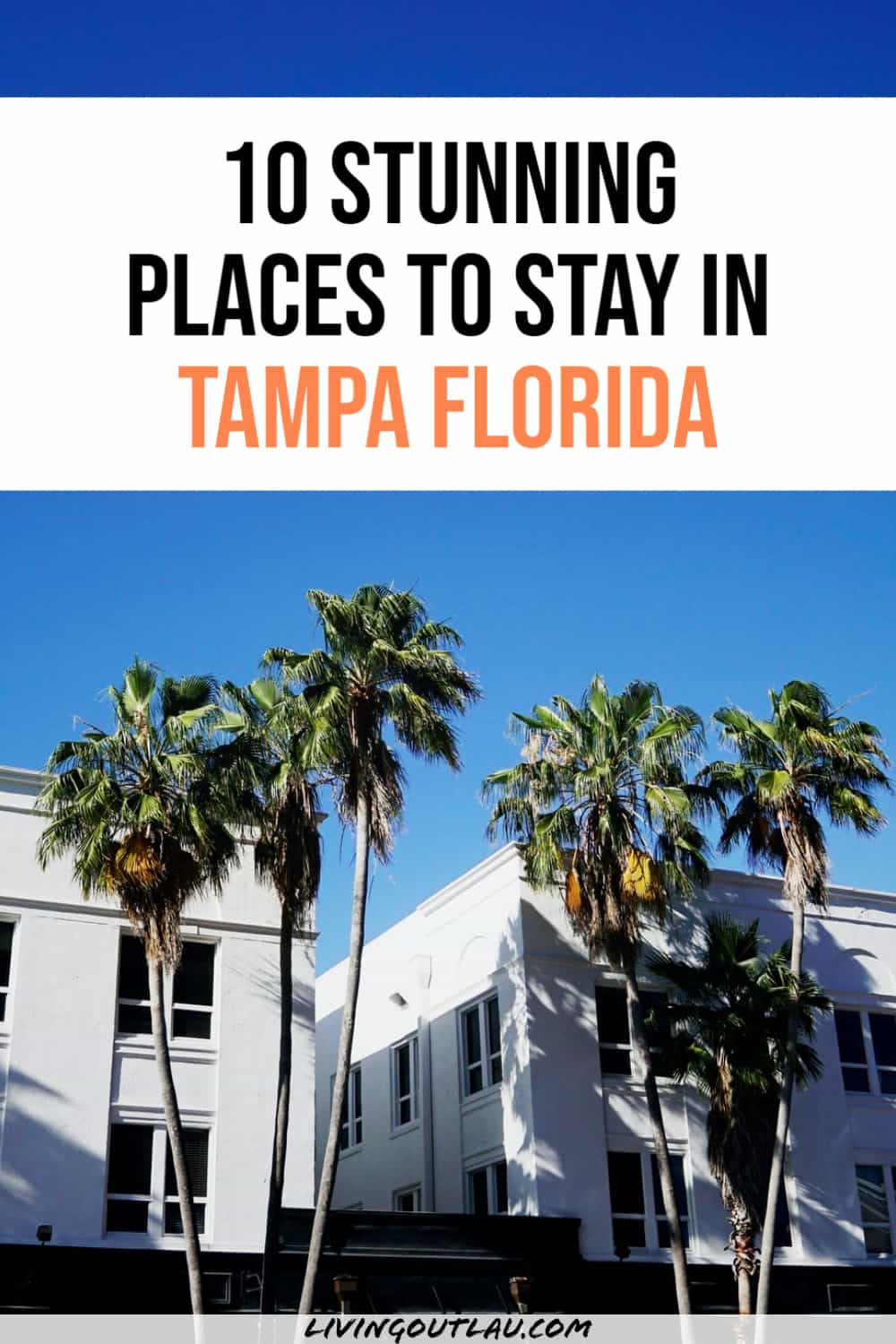 If you are not sure where to stay in Tampa, one of the above Airbnbs will be perfect for you! We hope our Tampa guide has given you a good idea of the best places to stay in Tampa so you can have the perfect trip in the Florida sun!

Any questions? Leave a comment below!
Disclaimer: Some of the links above are affiliate links. That means if you book or make a purchase through the links, we will earn a small commission at no extra cost to you! The money will help run this site! Thank you!
All Images Of Properties Courtesy of Airbnb